The last few years have witnessed the rise of the eCommerce platform with tons of features and looks that suit each business's requirements for eCommerce websites. An eCommerce platform makes it possible for businesses to reach customers in online channels, hence helping increase the market size of the businesses.
While traditional eCommerce software is costly, not scalable, difficult to work with, and time-consuming considering customization and integration with other systems, the eCommerce platform is a better solution for creating relevant, engaging, and personalized online experiences.
Among hundreds of eCommerce websites, you have to pick one that can decide the future of your business. In this article, we'll explore 7 of the best eCommerce platforms and also cover their features, pros, cons, and whom they're recommended for most, so take a look below, you can have all the key details and see which is a perfect fit for your unique business needs.
7 Best eCommerce platforms in 2023
An eCommerce platform is an important tool that enables businesses to reach more customers and earn more profits. Listed below are the TOP 7 eCommerce platforms for businesses to develop their eCommerce websites.
# Magento
On the top of the list, here comes the Magento eCommerce platform. Established in 2017, Magento soon became a leading platform when it comes to deciding one of the best open-source eCommerce platforms for online business setup.
Magento stands out as an open-source CMS that provides businesses the ability to extend whenever needed. Magento has gained popularity among businesses around the world as the preferred choice for an online store.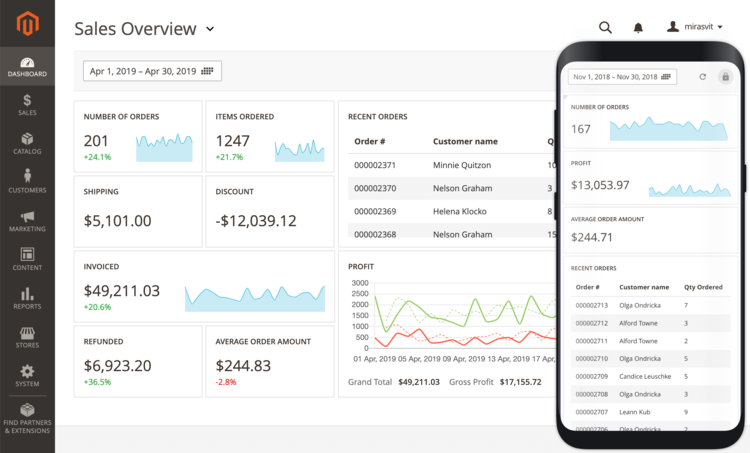 Advantages of Magento:
Open-source with cost-effective features: With its open-source characteristic, it allows developers to modify and adjust features following the company's requirements. Companies can also improve the site at any time for their business growth. Magento eCommerce platform is available in two versions, one of which is totally free of charge for small businesses to give it a try.
Built-in functions: Magento eCommerce platform provides many backend administration and tons of useful frontend features that allow you to create the best customer experiences possible. Regarding multicurrency, languages, taxes, discounts, coupons, and types of reports, Magento is at top of the list.
Scalability: When your business extends, you can change to the Enterprise version instead of using the Community one with absolutely no problem with migration. All of your data will be stored in just one backend office, hence helping you save a lot of time and effort when your business grows.
However, there are still some minor disadvantages to this eCommerce platform as follows:
Hosting: Hosting, however, is not included in Magento. Therefore, you have to pay for hosting separately. But it also means that you have a chance to find the best hosting that suits your own business's purpose and requirements.
Customization: It seems easy for most online merchants to set up an online store on Magento, however, it's a different thing when it comes to sophisticated customization. It would be challenging for people with poor technical knowledge to make deep customization. But, you can always have qualified developers to handle these things for you.
If Magento is your chosen eCommerce platform and you need help optimizing your stores for the most sales possible, take a look at our Magento services to see how we can help you.
# Shopify
Just like Magento, Shopify is also an eCommerce platform that allows you to set up and run an online store. With Shopify, you don't have to worry about website maintenance or server updates.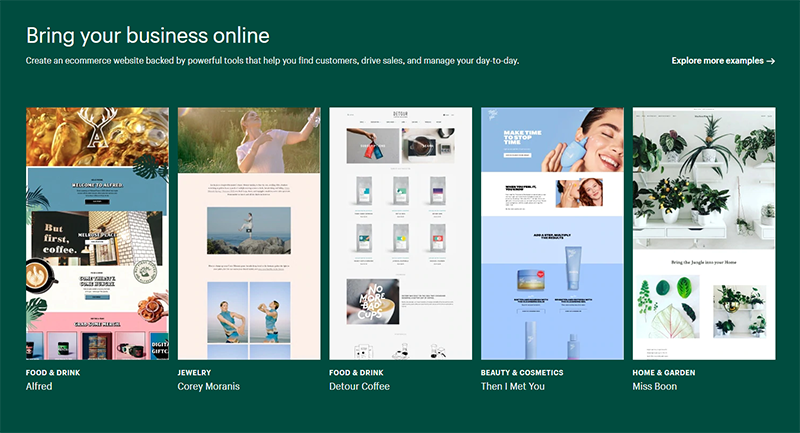 There are a few advantages along with disadvantages of Shopify as listed below:
Advantages:
Easy use: For less tech-savvy people, Shopify is one of the most popular eCommerce platforms. It not only helps you with managing your store's technological needs but also provides you with a simple and clear interface for navigation.
A great range of payment processors: With over 100 payment processors integrated into Shopify, you can operate your store accepting different currencies.
Various themes and designs: Shopify provides you with many themes and designs classified into specific categories. This would help you with your store's look and design.
Disadvantages:
Theme customization: although the Shopify eCommerce platform offers you a lot of theme choices, if you want to make your store have your personalized theme that fits your brand's image, you will need the help of a professional developer to do the coding for you.
Hosting email: A huge inconvenience of Shopify is that it doesn't provide you with a hosting email. You can't have your personalized hosting email.
Cost: If you want to have a professional online store on this eCommerce platform, you will have to invest an amount of money that can go up to 299$. You will probably have to pay more if you also subscribe to some more applications or third-party gateway.
Even though Shopify is one of the most friendly eCommerce platforms for beginners, the optimizing process still yields quite some difficulties. If you need help speeding up the optimizing process of your stores, drop us a message and Magenest's Shopify experts will be with you in no time.
# Oracle Commerce (OCC)
This is one of the best platforms for eCommerce websites which is being developed gradually with frequent updates. Here are some advantages and disadvantages of this eCommerce site.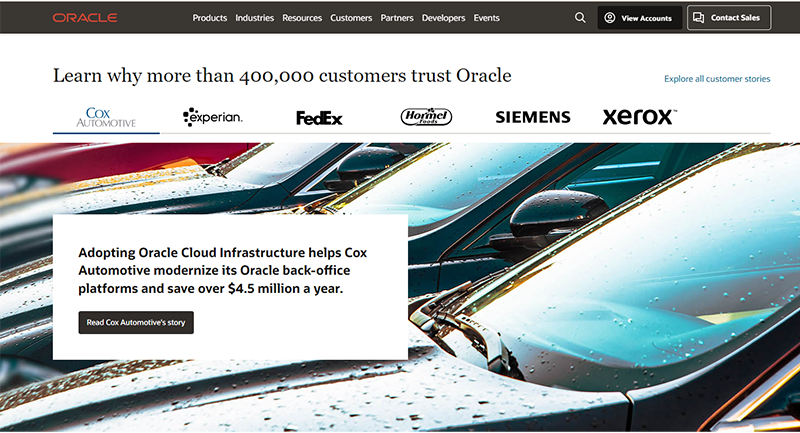 Advantages:
User-friendly: You don't need to have a strong technical background to use this eCommerce platform. With the limitations of backend programming and developing requirements, support staffs are not necessary for operating your online business.
Accessibility: The site is accessible through multiple channels whether it is a laptop, desktop, or smartphone.
Customer service: OCC provides you with the help of its customer service team which is available 24/7.
Disadvantages:
Pricing models: Its price for site maintenance is pretty harsh for medium-sized companies and smaller ones.
Security: Its shared cloud data poses a great risk to users' virtual machines being accessed by other users.
Performance rate: As a cloud platform, OCC may run slow which is a result of the cloud provider when sharing the space for multiple users at the same time.
# WooCommerce
Another open-source eCommerce platform to consider in the eCommerce platforms list is WooCommerce with its great features and flexibility. Down below are its advantages and disadvantages.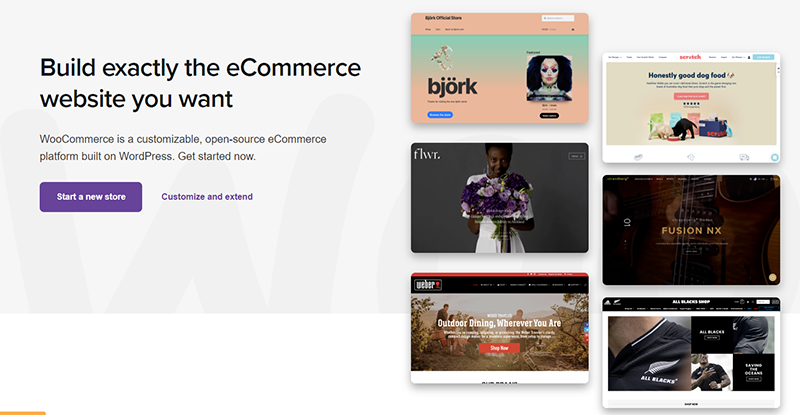 Advantages:
Free and open-source: Although some of its extensions will require you to pay an amount of monthly fee, most of the site's features are free for you to set up a basic online store. With it being an open-source eCommerce platform, designers and programmers can alter its code easily.
Flexibility: WooCommerce is updated regularly to keep up with cybersecurity, however its lack of an SSL certificate is worth your consideration.
Support community: This platform has a large community of users which makes it easier for you to find any necessary documents.
Disadvantages:
Slow performance: WooCommerce will have you install many extensions and plugins that can affect your site's performance.
Extension cost: Downloading and installing some extensions may require you to pay a monthly or subscription fee.
# BigCommerce
Last but not least, BigCommerce is on the list of the best online store builder for its advantages but also some disadvantages as listed below.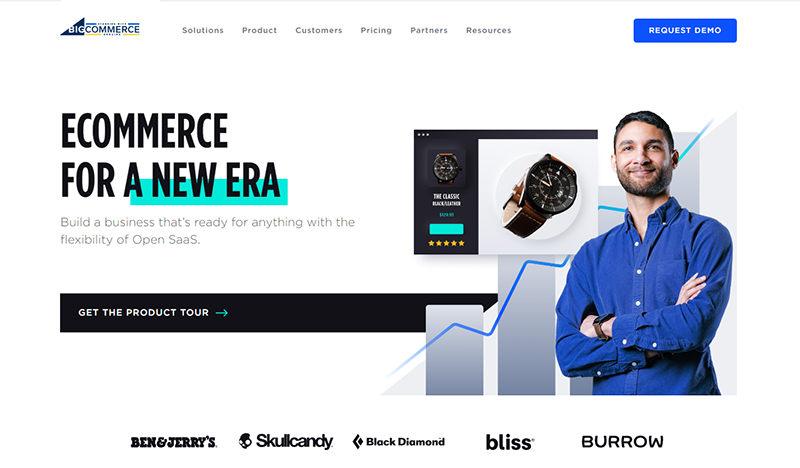 Advantages:
User-friendly: This eCommerce platform is also a user-friendly website that doesn't require you to have much knowledge of programming or coding.
A great deal of tools: BigCommerce comes with many apps that help you with marketing and all sorts of things.
Disadvantages:
Lack of themes: You have many choices when it comes to picking themes on BigCommerce as it doesn't have many themes for you to customize your own store's look.
Payment gateway: BigCommerce also lacks decent payment gateways for stores operating outside the U.S.
SEO limitation: Compared to other top eCommerce platforms, BigCommerce is far behind considering SEO optimization.
# Square Online
When it comes to online selling, Square is the most popular eCommerce platform out there. Starting as one of the few ways that people could accept "mobile" transactions on the go, Square changed the marketplace with rapid, affordable monetization strategies.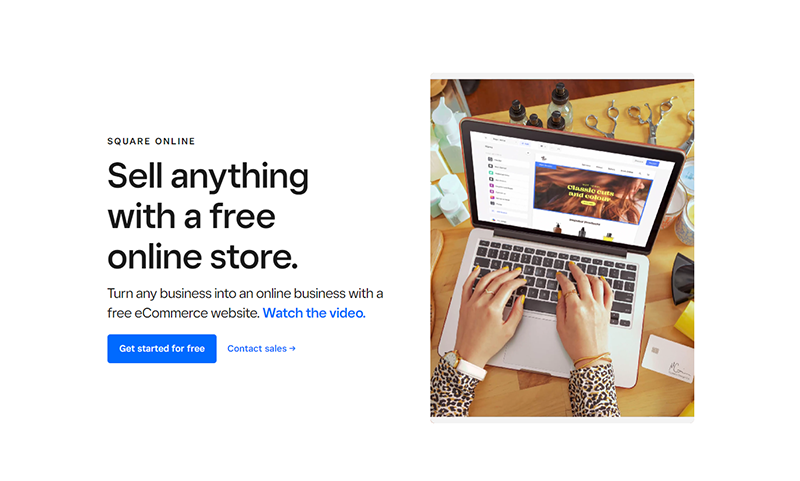 Advantages:
Simple and Powerful: Square Online is a very user-friendly and straightforward platform. You can have a website up and running in minutes after joining up with Square. You just select Online Store and then the Get Started button to start creating your website. You can also connect Square Online to BigCommerce, WooCommerce, or another eCommerce platform and set up your store there.
Mobile-friendly: Square Online's site designs are amazing, and they function well on both desktop and mobile devices as well. If social commerce is your thing, the platform also integrates with Pinterest, Instagram, and Facebook.
Disadvantages:
There are relatively few options for determining shipping fees, and there is no option for real-time shipping calculations.
Having some difficulties with account stability.
Not ideal for big companies with huge transactions.
# Wix eCommerce
Wix is well-known as the best online store builder. If your small business needs to quickly pivot to digital sales, Wix offers an easy-to-use platform with everything to start selling online within minutes.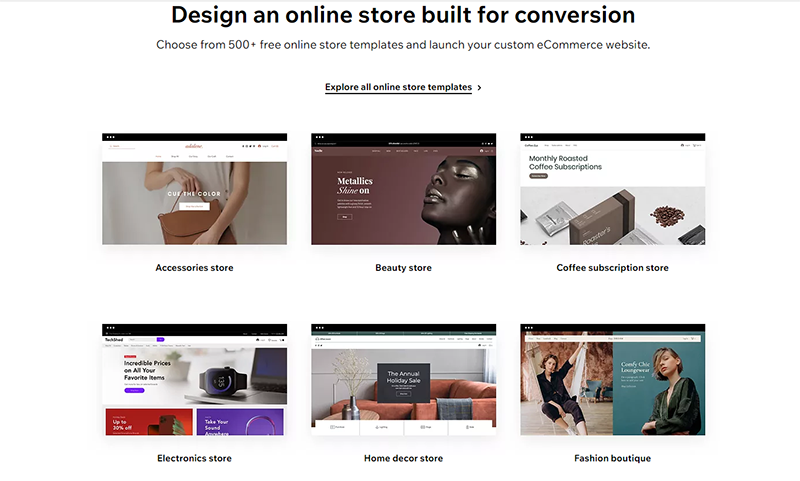 Advantages:
Multichannel selling — take use of Wix's built-in ability to sell on Instagram to reach millions of new potential consumers.
Advanced eCommerce technologies, such as abandoned cart recovery, can help you capture clients who have left items in their checkout.
Never edit blindly – The Wix editor shows how your changes affect your storefront's look.
Disadvantages:
There are no unlimited plans. Wix websites will not allow you the unlimited bandwidth or storage solutions some others offer. This is even true for commercial plans sold at higher costs.
There are fewer tools available than other dedicated eCommerce systems.
There are several customization options that are lacking.
How to Choose the Best eCommerce Platform?
Every online shop has unique needs, and choosing the best eCommerce platform is wholly dependent on the platform's ability to solve the day-to-day challenges inherent within your organization.
To help you decide how to choose the best eCommerce platform, we've put together this guide that details all the essential features you need to keep in mind.
Security
Security is perhaps the most essential factor to consider. Your e-commerce platform should have top-notch security, adhering to the highest standards to protect customer data. Also, make sure that the platform you select supports PCI (Payment Card Industry) standards and HTTPS/SSL, so that your customers feel comfortable shopping on the site.
Integrations
Your eCommerce site needs to work smoothly with your back-office operations. List the capabilities you need the platform integrates with several different apps, ensuring you can run everything from inventory to customer relationship management from one platform.
Mobile-friendliness
A mobile-friendly platform is required. Mobile optimization is a fancy way of showing how effectively your store adapts when customers view it on multiple devices with varying screen sizes (think smartphone, tablet, and laptop). Top eCommerce platforms ensure that your business appears fantastic regardless of the device your consumer is using.
SEO-friendliness
eCommerce platforms with extensive SEO capabilities will allow your eCommerce site to rank well in search engine results. You need customers to find your store while they are looking for items similar to the ones you sell.
Ease of Use
The best eCommerce platform dashboards are easy and quick to use. They also offer great customer service and setup wizards that guide you through the process of creating your online business.
Having high-quality support is like hiring a full-time business coach. They are always on your side and can lead you in the right direction if something goes wrong.
Payment Options
The best eCommerce platforms for small businesses provide a range of payment options, The more options you can give your shoppers, the more chance you have of making a sale.
Let Magenest help you choose the best eCommerce platform
Magento is quite possibly the most polarizing eCommerce stage on earth. The advantages of this platform are an open-source base, deeply customizable features, and many extensions. Magento has received countless positive reviews for its overall productivity, as well as good customization capabilities, and ease of utilization.
Magenest is proud to be one of the most remarkable Magento's Solution Partners in the Asia-Pacific region. We focus on Magento eCommerce solutions, as well as other world's leading technology solutions to ensure smooth, responsive eCommerce system construction and deployment to meet all needs of the business. Our solid in-house team of dedicated certified Magento 2 developers has acquired profound expertise in implementing Magento solutions for clients across the globe. How we can help you with Magento development projects:
eCommerce website development.
Website maintenance, audit, and optimization.
Extensions integration.
Hosting.
Native mobile app development.
Magenest also uses information technology to help businesses solve management and operational issues. The combination of four platforms Odoo, AWS, and Salesforce creates the power of One-stop Solution – the unique and comprehensive set of enterprise technology solutions in Vietnam.
Conclusion
With social distancing and lockdown being a must in COVID times, businesses and companies must adjust themselves as a result. COVID-19 has given eCommerce a push with the emergence of eCommerce platforms as a great solution for business leaders to cope with hard times. After reading this article, you know where to start and which solution you should follow. Hope that you can make the right choice for the best free eCommerce platforms to get started with.