As a member of the Central Retail Group, Come Home stands out as a high-end furniture company, offering an array of exclusive, top-quality products that harmoniously blend modern aesthetics and global trends while preserving Vietnamese cultural values. Come Home provides a wide selection of home furnishing with 3 style groups: Modern Simplicity, Modern International, and Vietnamese Roots.
Committed to elevating the standard of living for Vietnamese families, furnishing every customer's dream home, and bringing unforgettable customer experiences, Come Home has blazed a trail as Vietnam's pioneering "One-Stop Shopping" destination - creating a convenient and comfortable shopping environment where customers can find a broad product range, easily tailored to meet their specific requirements.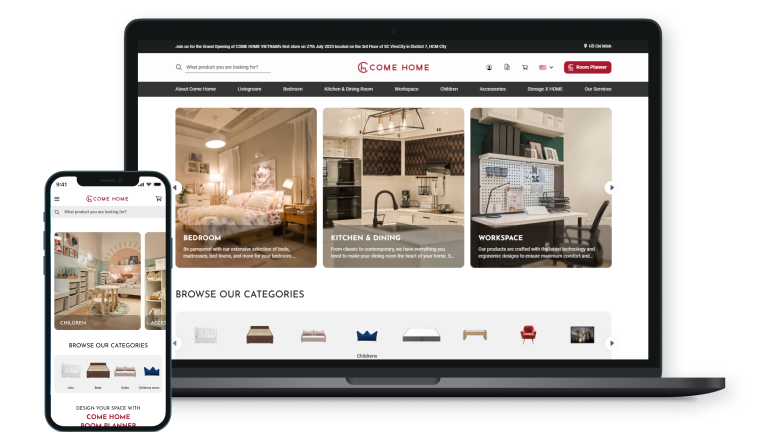 The Challenge & Expectation
As a recent entrant into the furniture industry, Come Home confronts the challenge of augmenting brand awareness and achieving sustainable revenue growth in domestic and international markets. In addition, Come Home struggles with managing and processing the massive and complex amount of product and customer information. To scale and achieve long-term growth, Come Home quickly realized the importance of eCommerce and the advantages that a well-operated eCommerce system can offer.

Therefore, when cooperating with Magenest - a leading agency in the APAC region specializing in providing digital transformation solutions for businesses - Come Home shared the desire to build a new eCommerce system, with an appealing interface, and intuitive product information to ensure a convenient, and seamless online shopping experience for customers.

Especially, with the goal of blurring the lines between online and offline shopping, Come Home hopes that the new system will bring a seamless shopping experience by allowing customers to virtually design their furniture spaces using Come Home's products via 3D interactions in a digital environment, thereby making it easier for customers to choose the products that best meet their satisfaction.
Bring a seamless shopping experience and sustain revenue growth with a robust system
Building an eCommerce website on Magento Commerce
After evaluating the cost, scalability, customization, and flexibility of different eCommerce platforms, Magenest consulted and implemented the new eCommerce website on Magento Commerce for Come Home. Magento Commerce perfectly fulfills Come Home's basic business needs and allows Come Home to easily integrate all the software/applications in use, as well as deploy online 3D interactive features for customers.
Competitive and 3D interactive features
The new eCommerce website has an intuitive user interface providing detailed information about the product's sizes, materials, colors, and prices. Notably, customers can preview furniture products and design their own experimental household furnishing in a 3D interactive environment on this website. This virtual experience gives customers a realistic view of the products, similar to offline shopping, and helps them easily choose the right products.
Omnichannel shopping experience
The new eCommerce website integrates with online and offline sales channels, and data is synchronized in real-time. As a result, our solution helps Come Home brings a seamless shopping experience on all platforms to customers even when they place an order on different devices.
Product management and after-sales support
We have integrated complex management software systems of Come Home to simplify the management process – update product information synchronously and easily across all sales channels.
Integration with VFC (stocks/delivery status)

Integration with VLL system (customer information)
Integration with the OMS system that the company is currently using internally

Integration with Coohom system (3D render system)

Integration with the Akeneo (PIM) system for product information management
With these integrations, Come Home's management team can easily manage inventory, handle product-customer information, and resolve problems if there is a problem with an order – all from a single backend, saving time and effort while still ensuring maximum efficiency.
Social interaction and sharing features
To meet the customers' need for sharing information, Magenest has integrated direct interaction features with social platforms into the new system. This website allows customers to share images, reviews, and opinions about Come Home's products, fostering a community of brand-loyal customers. Furthermore, by promoting sharing, Come Home can acquire additional user data to gain a deeper understanding of their customer's preferences and emerging trends.
Integration of diverse payment methods and installment payment options
In addition to the ability to integrate with the existing systems of Come Home, Magento Commerce also offers support for the integration of different payment methods. Furthermore, Magenest has implemented an installment payment system on the new eCommerce website, which equips Come Home with the capability to offer enhanced support to their customers.
Developing Mobile App for promotion programs
Developing a Mobile App is an effective solution to enhance promotion programs, improve customer loyalty, boost sales, and create great interactions between Come Home and customers during the shopping experience. The Mobile App provides customers with an easy way to browse products, look up information, and engage in promotional programs at any time and anywhere via their smartphones.
Deploying AWS cloud infrastructure
Magenest has implemented an AWS cloud infrastructure to store Come Home's database. This Cloud Computing platform ensures security, flexibility, stability, and cost-efficiency, allowing Come Home to focus on providing a seamless shopping experience for customers and efficiently growing their business. Moreover, when Come Home's operation scales up and requires greater data storage, the AWS system effortlessly adapts to this growth, saving expenses on physical infrastructure and system management costs.
Thanks to the support of Magenest for implementing robust technology solutions, Come Home has a new eCommerce website system that operates stably and smoothly, helping them improve product management processes and synchronize information on multiple sales channels. Furthermore, this new website enhances the online shopping experience, attracts and builds customer loyalty, increases sales, and promotes the reputation of Come Home.
The new system is a strategic step towards fulfilling Come Home's mission - to enhance home life for Vietnamese people and to lead the household furnishing market in Vietnam. Magenest is proud to collaboration company with Come Home on this journey of developing a seamless online shopping experience, bringing sustainable value not only to businesses but also to customers.