The Magento PWA theme has revolutionized the way eCommerce sites are built and operated. By leveraging the power of Magento's progressive web app technology, users can experience a streamlined shopping experience that promises lightning-fast page speeds, and optimized mobile performance. With Magento PWA themes, eCommerce stores can now provide customers with a better shopping experience without investing in costly mobile apps.
But Magento PWA themes come in all shapes and sizes. It can be difficult for store owners to decide which Magento theme is best for their business. This article provides an overview of this specific type of theme, the benefits it brings to eCommerce sites, and how to choose an ideal PWA theme for your Magento stores. It also offers bright examples of some Magento PWA themes, both free and paid, that are worth considering for your Magento store. Read on to learn more about Magento's progressive web app technology, the benefits it can bring to your eCommerce website, and how to find the suitable one for your business.
What Is Magento PWA Theme?
A Magento PWA theme is a special type of Magento theme designed to provide customers with an improved user experience by utilizing Progressive Web Applications (PWAs) technology. Your Magento 2 store is transformed into a PWA store via Magento 2 PWA themes. It mimics the functionality and components of an app while maintaining the functionality of your website and giving consumers an experience similar to that of a native app.
What are the Benefits of Magento PWA Theme for eCommerce Websites?
Responsive and Dynamic Web Experience
Magento PWA theme is a great way to create responsive, dynamic web experiences for eCommerce websites. Any device, running any operating system, can flawlessly display the PWA theme as long as it has a browser.
You may quickly convert visitors into customers by providing easy access to your website, which will help you maintain a positive and consistent relationship with visitors. Additionally, Magento 2 PWA themes enable a cross-browser interface so that users may access your website from any location.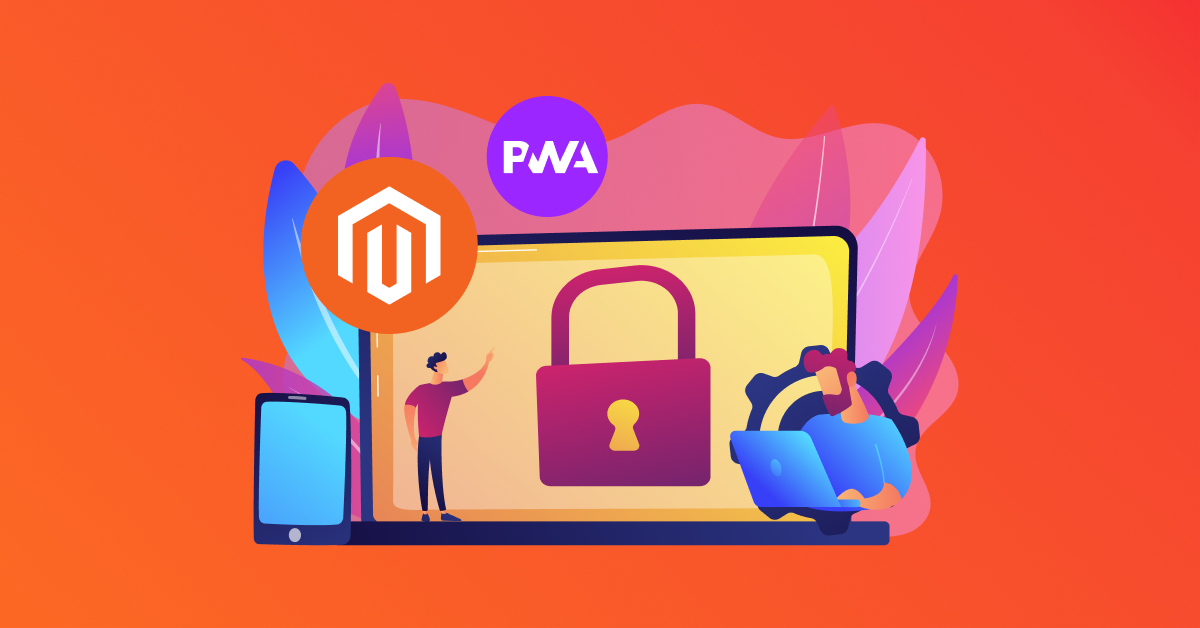 This technology also allows for faster loading speeds and improved user experience with high-quality visuals across all devices that can help improve search engine rankings and user engagement. In addition, Magento PWA themes are optimized for mobile devices as well as desktop devices, making them an ideal solution for businesses looking to provide a seamless online shopping experience no matter where their customers are browsing from.
Cost-Effectiveness
Magento PWA theme brings tremendous cost-effectiveness benefits to eCommerce websites. They are built on Magento API, providing a reliable and secure environment for online purchases. By leveraging Magento API and the Magento 2 platform, Magento PWA themes can reduce development times significantly compared with traditional web applications.
If you run a platform-based website, you will frequently require assistance from the developers or anyone with technical knowledge once you need to transfer your store to another platform, for example. If the conversion procedure takes a long time to produce intricate and advanced features, it will cost you quite a bit. Using Magento 2 PWA themes will make this work much simpler because you can complete it all by hand without writing a single line of code. Many Magento 2 PWA themes are available, both for free and paid.
Additionally, you save a considerable amount of money by switching your website to a PWA. PWA websites require less maintenance because you only need to care for one web app rather than several apps in various app stores. Additionally, it is more expensive to immediately convert your website into a PWA website using an intuitive Magento 2 PWA theme than to make your website mobile-friendly by building two native applications for Android and iOS.
Natural & Interactive as a Native App
Your users will get a native app-like experience thanks to progressive web apps. They can install an icon for your website on their home screen and utilize it similarly to an app on their phone. Users can engage with your app, explore it, conduct standard product searches, and complete purchases with ease thanks to a responsive and intuitive user experience.
Better UX for B2C
The themes are PWA-compliant in terms of quick loading, fullscreen display, network independence, background syncing, little data usage, and other factors.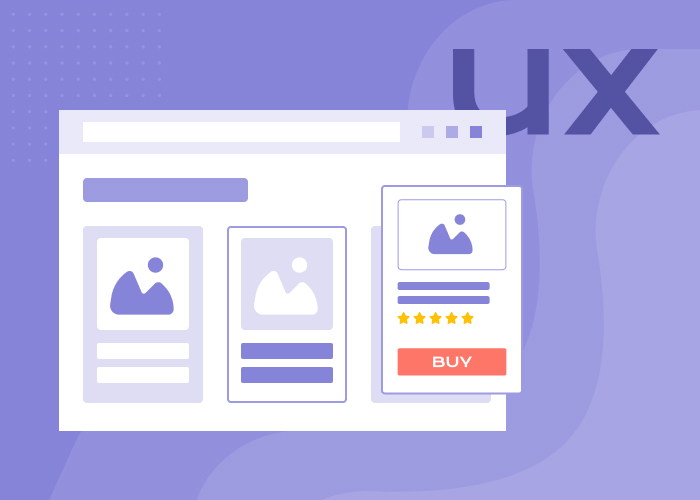 They are also optimized for performance, with features like lazy loading of images, minification of CSS and JavaScript files, compression of resources to reduce page load times, and caching to speed up responsiveness. This improved user experience makes Magento PWAs an excellent choice for eCommerce websites.
Easy & Effective Re-Engagement
Magento PWA themes offer native app-like experiences, allowing customers to easily navigate pages and quickly find the products they need. This helps to keep customers engaged on the website, resulting in higher conversion rates and increased sales.
By utilizing push notifications, Magento 2 PWA themes turn your Magento 2 website into a progressive web app, increasing the likelihood of client re-engagement. Push notifications are brief, condensed messages that notify users of updates, new information, or to take a particular action. The clients' phones will be the only place they receive these notifications; neither the app nor their emails will be used. Customer personal information is not required.
How to Choose the Perfect Magento PWA Theme?
When building an online store, choosing the right Magento PWA theme can make a big difference in the overall user experience. Magento PWA technology offers an engaging and fast mobile-first experience that combines the power of Magento with the convenience of a native app. Consider the following factors when choosing yours:
List Down Requirements
You must first specify what you require from the PWA theme for Magento 2 at the outset. To ensure that your PWA theme purchase is a success, establish a list of all your expectations for the PWA in advance. When selecting the finest PWA theme, laying down the specifications will assist you in reducing the range of possibilities.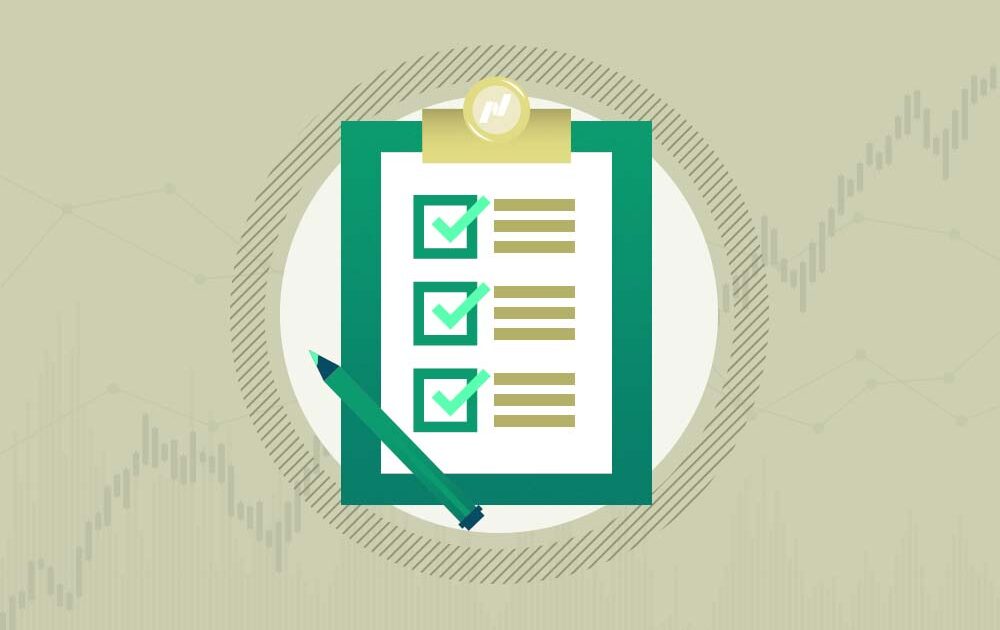 You may quickly and easily weed out the PWA themes that aren't relevant to your list of requirements. You will also be able to concentrate on the more significant issues. So, start by making a list of the features you want in your PWA theme for your Magento 2 business. Be precise about your needs, whether they are faster page loading, better views, and navigation, or higher sales.
Consider Your Budget
When it comes to choosing a Magento PWA template, the budget may be a limiting factor. The cost of the Magento PWA theme will depend on the features and functionality you require for your store—the more complex the theme is, the higher the cost. However, there are plenty of themes available at different price points, so you should be able to find one that matches your budget. Make sure to do some research and compare themes before making your purchase—this will help ensure that you get the most for your money.
Furthermore, if you're looking for extra features or customization options, consider the one that's built on an open-source platform, as these can usually be modified to suit your needs.
Check the Demo
Remember, when it comes to Magento PWA themes, don't forget to check the demo before making a decision. Doing so will help you find the one that is right for your project.
Taking the time to review a demo version can save you time and frustration in the long run. A Magento PWA theme should provide an intuitive user experience, be easy to customize and have responsiveness built into its design.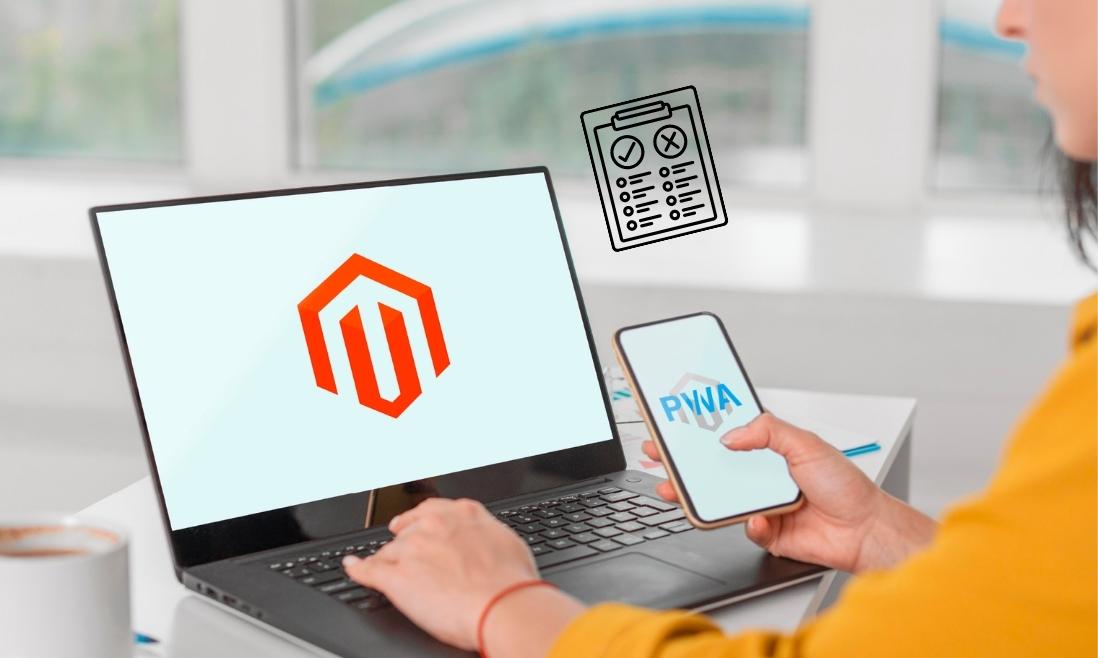 By previewing the theme in a demo, you can ensure that all of these qualities are met before making your final selection. Additionally, make sure to review the theme's documentation and support resources, as this will help you maximize its effectiveness once implemented. Ultimately, by researching Magento PWA themes to find the best fit for your project, you can get the most out of your Magento PWA development.
Look for a Suitable Design for the Magento PWA Theme
When it comes to picking the Magento PWA theme, you should look for a design that suits your company and its goals. To ensure an optimal user experience, consider factors such as responsiveness, SEO friendliness, accessibility, and ease of use. You should also make sure that the theme supports all the features you require.
Additionally, you should ensure that the theme can be easily customized to meet your specific needs. With all these considerations in mind, you can make an informed decision on the theme that is best suited for your company. Ultimately, by choosing a Magento PWA theme that meets all your criteria, you'll be able to create an engaging and user-friendly website that is sure to impress your customers.
Compare Different Themes
Even though a PWA theme does not provide the performance that your Magento PWA store requires, you shouldn't be concerned. You might also try a different theme. Making comparisons is another crucial step in selecting the best PWA theme.

Examine which one makes the store move faster and which one has a more pleasing appearance. Verify the themes' compatibility with the browser and how mobile-friendly they are. If you're still having trouble deciding which is best, consult a third party and obtain their opinion.
Directly Work with the Developer
In case you find out a Magento PWA theme quite suitable for your store but you'd like to add some extra features to enhance the expected performance, request the developers for customizations according to your demands. Working with the theme designers can ensure that your theme is tailored to your specific requirements, giving you access to features and customizations that meet the needs of your business, as well as upgrading its performance. Additionally, the providers can even offer valuable advice and guidance on how best to use their themes for maximum effect.
10 Best Magento PWA Theme Free and Paid
Magento 2 PWA Theme by Mageplaza
Mageplaza Magento 2 PWA theme is designed to help merchants deliver an enhanced shopping experience for their customers. Customers can interact with your website in the same manner they would with a native mobile app because they already have the app on their phones. Your new Magento 2 PWA store improves the purchasing experience for your customers by removing the restrictions and drawbacks associated with native apps. Push notifications, automatic updates, and quick loading times are essential for boosting visitor engagement, store conversions, and revenue.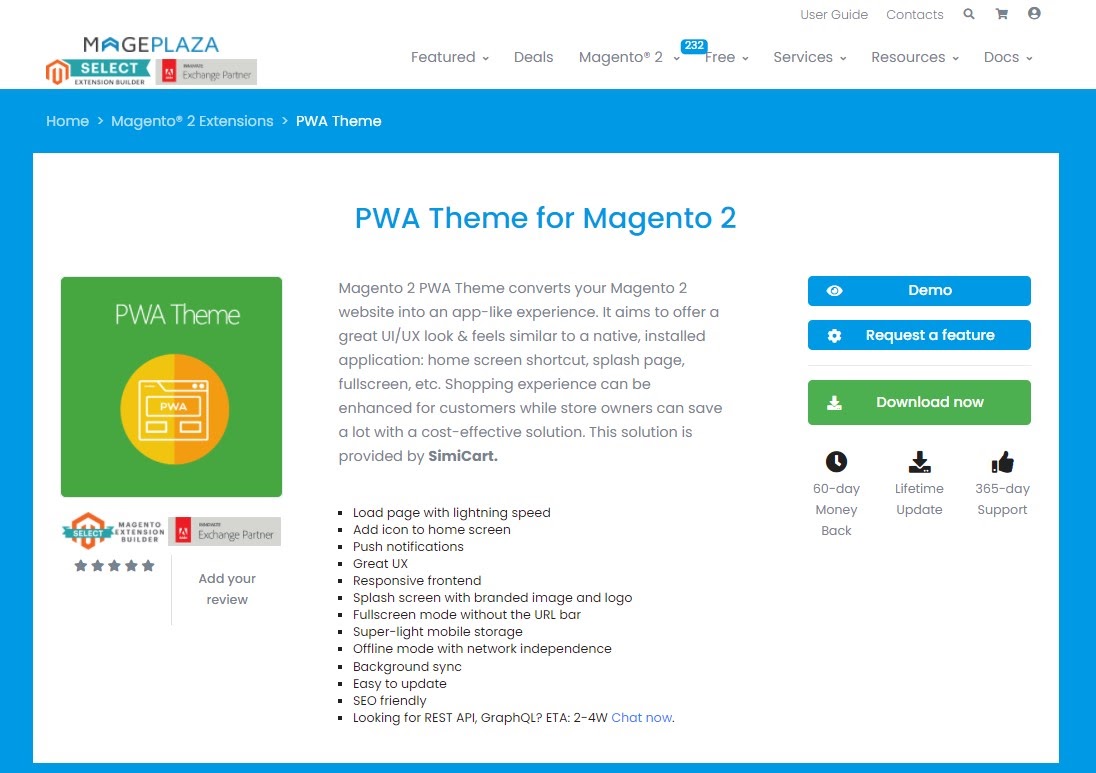 Compatible with: Magento 2.2.x, 2.3.x, 2.4.x
Price: FREE
Highlighted features:
Speed loading page
App-like feel
Low storage space, low cost
SEO support
Magento 2 PWA Theme by ScandiPWA
The ScandiPWA Magento 2 PWA theme promotes itself as the quickest way to get a PWA that is ready to use for any Magento 2 store. The PWA app can be built up in under a minute using your standard Magento stack alone, with just three commands, and no middleware.
This Magento 2 PWA theme's support for a number of Magento features, including multi-store, layered navigation configuration, checkout configuration, CMS pages, all product types, widgets, branding, and marketing, is one of its standout qualities. This keeps your Magento 2 website's original features and doesn't reduce any of its capabilities. Therefore, if you want to create a more or less typical PWA faster and at a lower cost, this theme can be a fantastic option.

Compatible with: Magento 2.3.x & 2.4.x
Price: FREE
Highlighted features:
Support 350+ Magento features
PWA set up in a flash without middleware
Flexible PWA extension, customization, and reuse
Magento PWA Theme by Vue Storefront
An open-source PWA framework built on Vue.js is called Vue Storefront. It is more of a core supplied for making your own theme, similar to Magento PWA Studio. However, a simple interface is also offered, and the demo allows you to see how it functions.

Compatible with: Magento 1 and Magento 2
Price: FREE
Highlighted features:
Mobile-like look and feel
Customizable for third-party platforms
Lightning speed
Offline capabilities
Magento PWA Theme by SimiCart
Simicart's open-source PWA theme for Magento 2 is a simple method to turn your store into a headless storefront that is quick, interesting, and mobile-friendly. It is based on PWA Studio.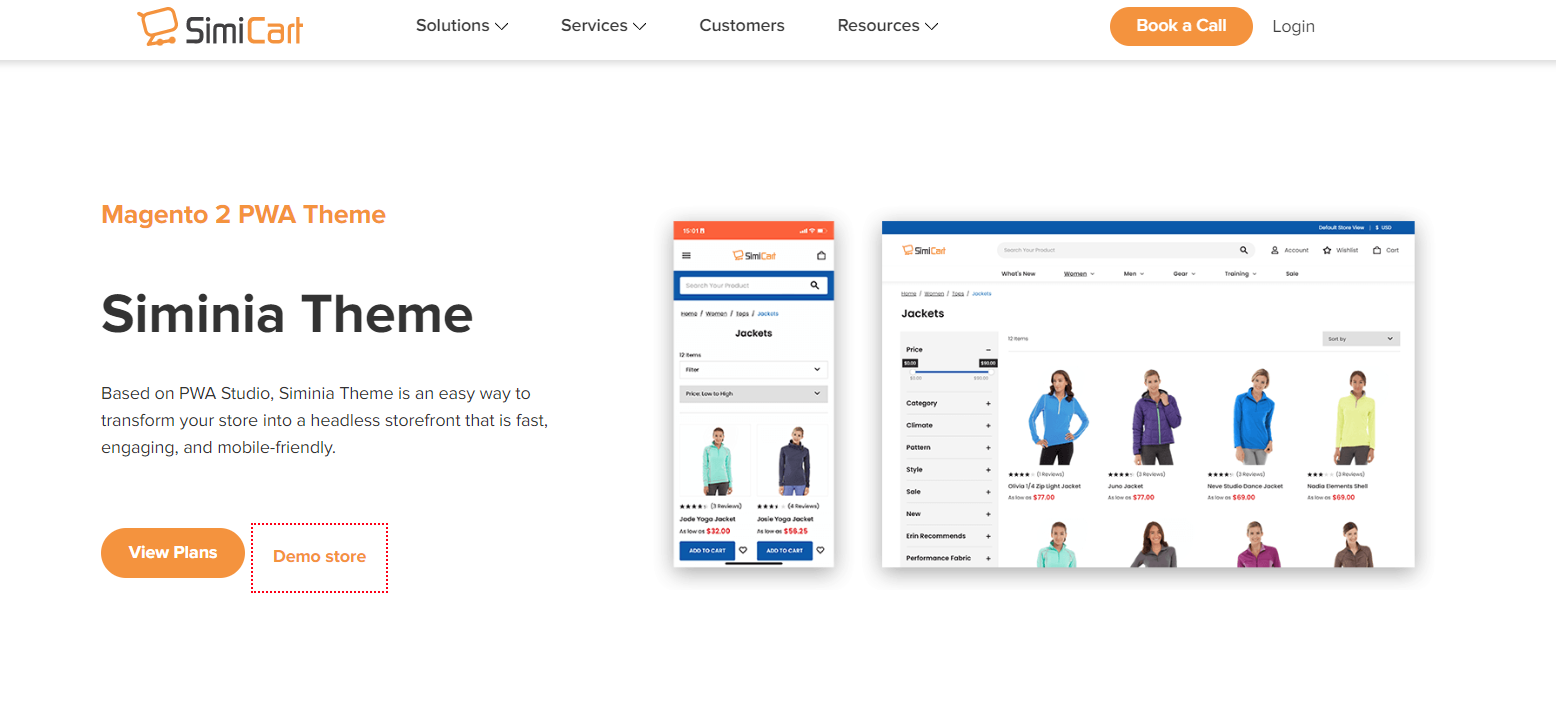 Compatible with: Magento 2
Price: FREE
Highlighted features:
40+ pre-built templates
app-like experience
stunning UI/UX design
Easy preview & publish
Magento 2 PWA Studio Theme by CedCommerce
A dependable and quick PWA integration option for eCommerce is the Cenia Magento 2 PWA theme from CedCommerce. The CedCommerce Cenia Theme for Magento 2 PWA enables you to build a Magento 2 PWA website with faster data loading, an app-like user interface, and improved user experience by employing the powerful technology of Magento PWA Studio, ReactJS, and GraphQL.
Users can easily add your PWA to their mobile home screen and take advantage of your website's purchasing experience even when there is a poor or nonexistent Internet connection.

Compatible with: Magento 2.3.x & 2.4.x
Price:
PWA Cenia Theme: $0
PWA Cenia theme Pro: $299
Highlighted features:
Updated automatically
Cost-efficient and high performance
App-like feel
Support various Magento 2 features
Speedy loading
Magento 2 PWA Theme by Tigren
Tigren's Magento 2 PWA themes were created with speed, SEO, and conversion in mind and are built on the rock-solid foundation of PWA Studio.
In addition to practically all of the Magento default capabilities, TigrenPWA themes come with a number of cutting-edge eCommerce features like Live Chat, Google Tag Manager, One-Step Checkout, Quick View, etc.
Aside from that, TigrenPWA is one of the top SEO-optimized PWA themes for Magento because of its fantastic speed, image optimization (provided by Fastly CDN), enhanced category and subcategory descriptions, UX, and conversion-focused designs.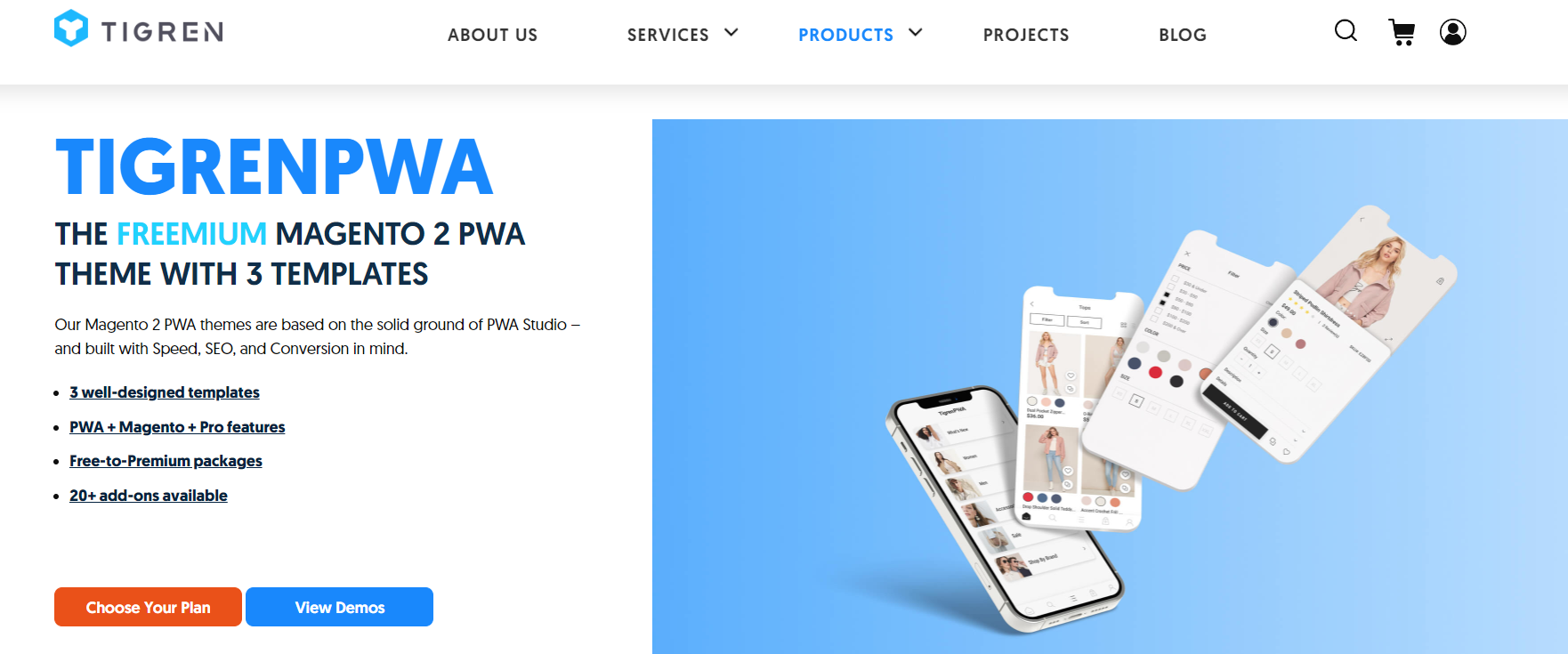 Compatible with: Magento 2.3.x & 2.4.x
Price:
FREE
Lite: $399
Pro: $799
Premium: from $3,000
Highlighted features:
20+ add-ons available
PWA + Magento + Pro features
Free-to-Premium packages
3 unique storefront designs
Free lifetime updates
Magento 2 PWA Theme by GoMage
The GoMage Magento 2 PWA theme is a fantastic tool for building a Magento 2 PWA store with lots of features. With additional features and integration, you will have all the advantages of an out-of-the-box theme, including excellent performance, SEO friendliness, Add to Home Screen, support for offline mode, cross-platform compatibility, and more. Furthermore, because the page builder is clear and simple to use, creating new store pages does not require technical know-how or complicated configuration.

Compatible with: Magento 2.3.x & 2.4.x
Price:
Highlighted features:
Theme Style Customization
Easy to install and maintain
Drag and drop page builder
Powerful online promotion features
Magento 2 PWA Theme by BSS Commerce
For your Magento 2 store, the BSS Commerce Magento 2 PWA theme – SPEEDY offers you a complete solution to increase traffic and conversions. Speedy is great if you want a PWA theme that loads quickly. As its name suggests, Speedy enables your site to have a conversion rate that is 110% faster than average.
Additionally, the theme offers many advantages for your Magento PWA site. In particular, employing Speedy can improve your SEO results. The theme aids in improving your position in Google Search Results. You can also have a fantastic UX design.

Compatible with: Magento 2.3.x & 2.4.x
Price: contact for detailed information
Highlighted features:
Boosting SEO
Lightning loading time
Icon adding to the home screen
App-like experience
Good UX design
Magento 2 PWA Theme by Onilab
PWA theme has been developed by Onilab, a Magento PWA development company, successfully more than ten times. The team of experts gives a customized approach to each project and is intimately familiar with the procedures. The main objective is to produce a top-notch PWA that will offer the eCommerce store flawless UX/UI, top performance, and a fantastic shopping experience.
Compatible with: Magento 2.3.x & 2.4.x
Price: contact for detailed information
Highlighted features:
App-like experience
Strengthened SEO
Offline browsing
Unbeaten UX
Magento 2 PWA Theme by NexPWA
A PWA solution for Magento that is exceptionally quick and ready to use is NexPWA. NexPWA can be installed on a Magento store in two weeks and has a large number of production-ready capabilities. The Magento PWA theme has all Standard PWA features such as feels and works like a native app.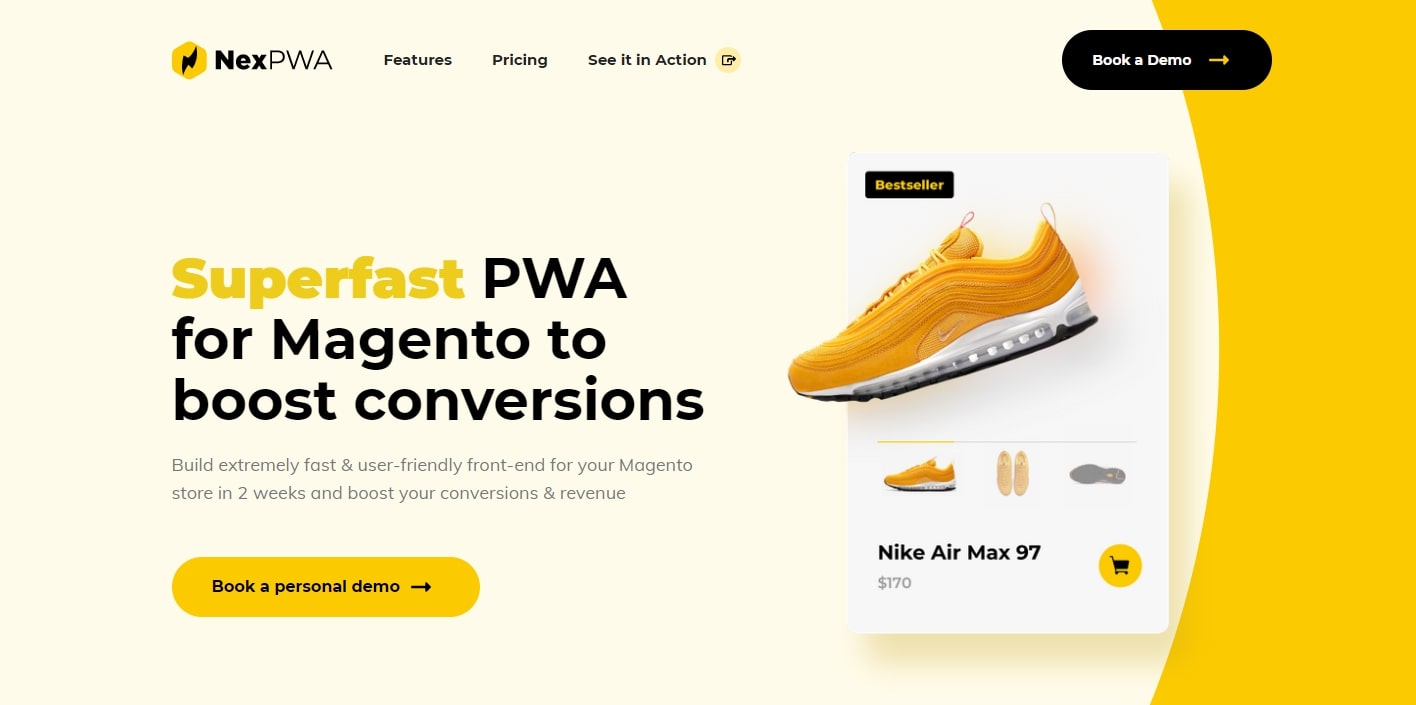 Compatible with: Magento 2.3.x & 2.4.x
Price: contact for detailed information
Highlighted features:
Add to Home Screen
Offline Browsing
Push Notifications
App-Like Experience
In conclusion,
Magento PWA themes provide an excellent solution for eCommerce website owners to create powerful and engaging stores. They offer greater flexibility than traditional Magento websites and allow merchants to create a seamless user experience that is optimized across devices. When choosing a Magento PWA theme, merchants should consider the features they need, the amount of customization they want, and the cost of ownership. Many Magento PWA theme providers offer a range of free and paid themes that cater to different business needs, so merchants can find one that meets their requirements. By leveraging Magento PWA themes, businesses can create powerful stores that offer enhanced functionality and great user experiences.
By using Magento PWA theming, merchants can quickly and easily create a store that provides an engaging experience for shoppers and meets their specific requirements. With the right Magento PWA theme, businesses can provide customers with a great user experience and improve conversions. To receive more advanced consultancy about selecting Magento PWA themes, you can discover our seasoned package of custom Magento development services. We have a complete solution pack for your Magento store.