Magento 2 is still a popular eCommerce platform, and in this Magento pricing guide, we'll go through how much Magento 2 costs to establish and manage a Magento store. Among a number of eCommerce platforms, Magento will not disappoint you with a wide range of functionalities, enhanced security mechanisms, and, most importantly, completely free customization. Many merchants, though, wonder, "How much does Magento cost?" This includes the fees of purchasing a license, hosting alternatives, and other necessities for running a successful Magento store.
What is Magento 2?
Magento 2 is an open-source eCommerce platform developed by Varien Inc's Roy Rubin and Yoav Kutner. Magento was first made available on March 31, 2007. It is handy software for online businesses and the world's largest eCommerce platform. Because of its sophisticated, scalable architecture, Magento 2 is the most popular CMS (Content Management System) for creating online stores all over the world. It is compatible with the most recent technology, such as PHP7, which implies that it loads faster than Magento 1. Magento 2 enables the user to automatically update the eCommerce website.

Magento 2 meets practically all online business requirements, such as catalog, inventory, customer, and order management, marketing and SEO assistance, different shipping and payment methods, and so on. Furthermore, Magento 2 users can freely alter source code and add third-party modules to personalize or extend default features.
Magento 2 is presently one of the top three most popular eCommerce platforms among the first million websites. Magento powers 8 of the top 100 well-known online stores. Magento 2 is now used by many large corporations like Nike, Samsung, Coca-Cola, and others. Magento 2 is popular among website developers because of its customizability, extensibility, and scalability.
Why should firms consider eCommerce and Magento 2?
The release of the Magento 2 merchant edition in 2015 catapulted the platform to new heights.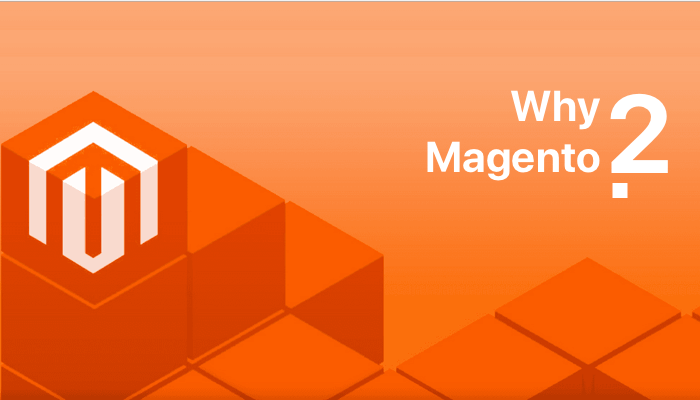 Technology
Magento 2 is compatible with the most modern developments, like voice search, UI/UX, AI, speed and performance optimization, and so on. Magento 2 continues to deliver increasingly advanced features, aided by an active community.
Architecture
The platform's performance is considerably improved by supporting newer versions of PHP (programming language), MySQL (database), Apache, and Nginx (webserver).
Performance
Magento 2 loading time is around 30 to 50% faster than Magento 1. Magento 2 sites can manage 10 million page views per hour, whereas the predecessor could only handle 200,000. The number of orders completed within one hour improves by up to 39%.
Dashboard
In comparison to Magento 1's jumbled appearance, the Magento 2 admin interface is simpler and modernized. Users can manage their stores more efficiently with a more responsive, interactive, and user-friendly backend.
Security
Magento 2 features a high level of security and stability. It protects most forms of attacks by enhancing password hashing techniques.
Overall, Magento 2 is far more functional, adaptable, and dependable. Furthermore, Magento 1 upgrades and security patches have been totally discontinued as of July 2020. As a result, there is no reason to build a website on Magento 1 or postpone the migration from Magento 1 to Magento 2.
What types of Magento 2 costs do firms need to consider
Magento 2 price (Magento Community and Magento Enterprise cost)
Magento 2 is available in two editions: Community Edition (CE), which is free, and Enterprise Edition (EE), which requires an annual Magento license. Each version is tailored to a specific sort of business, ranging from tiny to large corporations. As a result, choosing which version to use requires you to consider the size of the business you intend to establish as well as the amount of money you are willing to invest.
Magento Open Source pricing — free
Magento Open Source is free to download, modify and edit any files, code all stored data, and host it anywhere. Magento Open Source also has a basic feature set that enables merchants to launch a modest online business and test Magento capabilities before upgrading.
Magento 2 Commerce pricing — starting at $22,000 per year ($1,833 per month)
With its fixed pricing, Magento Commerce has far more advanced capabilities than its younger sibling Magento Open Source, including a drag-and-drop page builder, a built-in B2B module, powerful content staging, rich business intelligence reports, and 24/7 support. Magento Commerce pricing is similarly tiered and will rise in tandem with your Gross Merchandise Value (GMV) and Average Order Value (AOV) (AOV).
Magento 2 Cloud pricing — starting at $40,000 per year ($3,333 per month)
In addition to the features listed above, Magento 2 Cloud's price includes the obvious benefit of cloud hosting, improved page performance, and security, among other things. Magento Commerce Cloud pricing is tiered, just like its on-premise counterpart: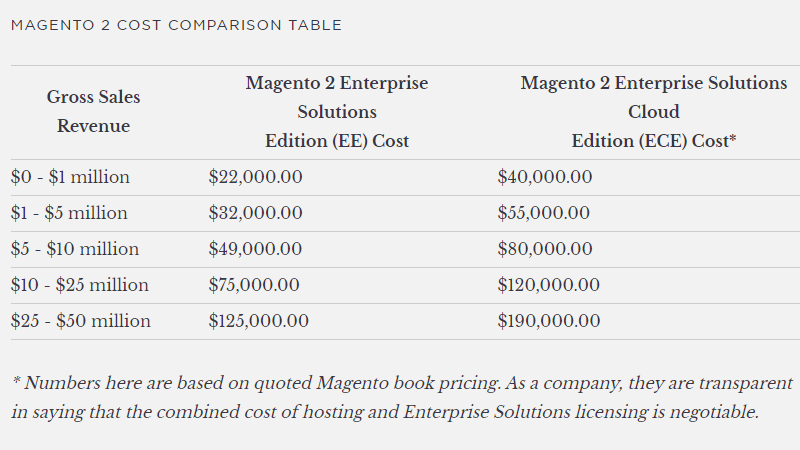 Domain establishment cost
Aside from Magento prices, store owners must factor in domain costs in their budgets. The domain of a website is the sole method for customers to find you and begin exploring what you have on your website.
As a result, getting a domain for your site is not an easy process when you need to look for a unique domain name to make an impact on clients, but its price must be reasonable given your business condition.
As previously advised, there are two ways for you to obtain a domain:
A brand-new domain will cost you between $10 and $15 a year, depending on the domain name extension you choose. For example, top-level domains (TLDs) are always more expensive than other forms of registries.
An aged domain will cost you hundreds, thousands, or even millions of dollars, depending on the domain value and other linked data of the corresponding website.
However, if you buy an old domain, you will inherit a lot of useful site data from that domain, such as Domain Authority (DA) and Page Authority (PA), which is extremely important for SEO. This is also one of the primary reasons why store owners frequently consider purchasing an older domain rather than a brand-new one.
The SEO benefits of an old domain are still a mystery, and there is no visible confirmation of this. As a result, as a store owner, you need to carefully consider which domain to use to develop a Magento website.
Hosting service cost
If you choose to host your Magento shop on-premises, whether Commerce or Open Source version, you will need to select a third-party hosting provider. The cost of eCommerce hosting is determined by the type of hosting you select, which can be shared, virtual private, or dedicated. The cost of a server can range from $4 to $1000+ per month, depending on its features, support, and security. Nexcess, Cloudways, and Bluehost are a few instances of Magento merchants' preferred hosting providers.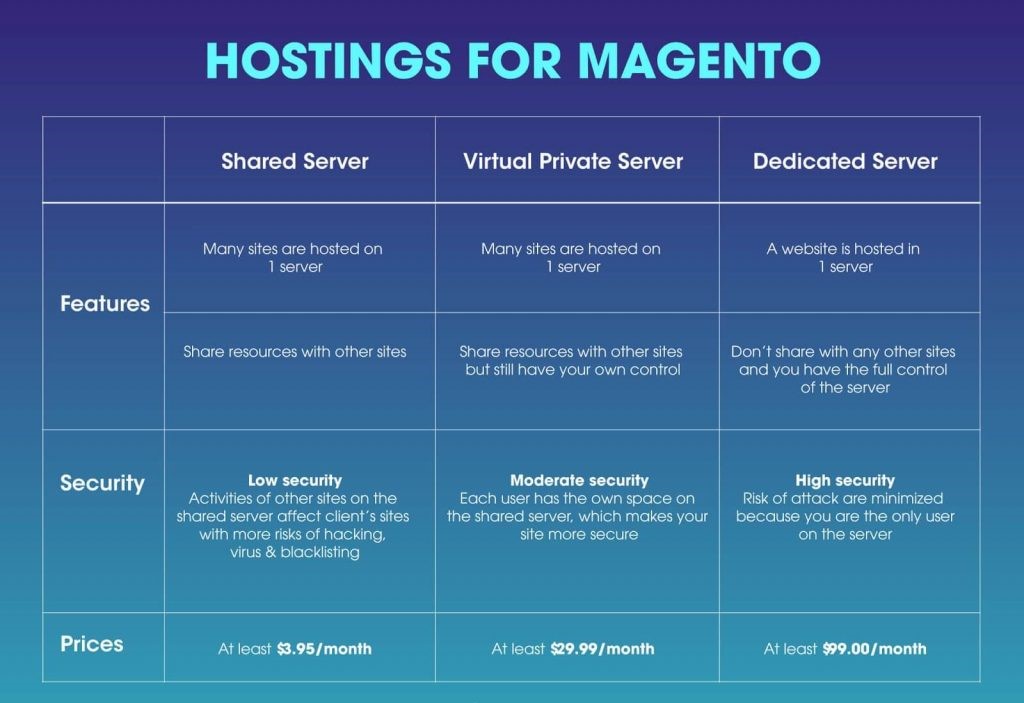 Magento 2 website design cost
In general, getting a Magento 2 theme to install rather than engaging web designers to perform the entire thing is the most straightforward and time-saving method that any new website store owner should follow.
Although adopting a theme may limit business owners' ability to express their ideas for product or content presentation, it is a very safe way to get a comprehensive site with a beautiful interface in the shortest amount of time.
Normal themes range in price from free to around $200 if you visit several Magento 2 theme marketplaces or theme vendors. Furthermore, if you want to customize themes, the costs rise steadily and may become unpredictable owing to varying consumer requests.
However, we believe that a customization pricing range of $1000 to $2500 is reasonable if you don't require developers to do too much.
You could employ a web design firm or a web designer to sketch and shape a new site for you. Prices to develop a Magento website for these services are likewise flexible, with a custom design potentially costing more than $10,000.
Cost of Magento 2 development
Web Development Fees
The website creation cost is among the most expensive Magento costs. Store owners often have three options: hire a web agency, hire a web developer (freelancer), or use an in-house developer.
Hire a Web Design Company
Assigning a website to a web agency benefits you in terms of both quality and professionalism. Experienced and Certified Magento Developers develop your site from start to finish, and you may obtain further assistance to help you with your job. 
Nonetheless, in addition to the high-quality and end-to-end solution, the prices for this style of development are significantly more than the two remaining options.
The overall cost to establish a Magento site for a CE website starts at $50,000, while a website with Magento Enterprise Edition pricing can cost up to $250,000. (costs include both design and development).
Without a doubt, Magento eCommerce development pricing varies from company to firm; however, they can provide evidence that we require significant expenditure to accomplish a comprehensive webpage.
Employ a Web Developer (Freelancer)
You have complete control over the selection of developers, and you can freely assess their qualifications and expertise before hiring them. Furthermore, you have complete control over your job when you communicate with them on a daily basis about the project.
This option typically costs between $15 and $80 per hour, depending on the developer's skill and portfolio. However, there are several exceptions that can cost hundreds of dollars per hour or more.
In these circumstances, superb developers with many qualifications and a lot of experience or occasionally exorbitant prices are also dependent on the complexion level of the website or the number of required functions to be implemented are frequently involved.
Make use of an in-house developer
In-house development is a solution that is always used by large firms having a dedicated Information Technology department. This option allows you to stay on top of their work and directly evaluate and provide feedback.
The necessary costs incurred by the in-house development team are totally based on your contract with them, and there may be some additional charges incurred during the working process.
Extensions and Third-Party Apps
You can add unique modules built by yourself or a Magento development service, just like you can with themes, or expand your store capabilities with already developed ones. The cost ranges between $0 to $500, depending on the uniqueness and complexity of the feature you want to integrate. When it comes to third-party integrations to expand your Magento eCommerce architecture, you may have to pay for the licensing of the system you want to integrate, such as SAP ERP or Akeneo PIM. Furthermore, the cost of custom modules to integrate third-party software is determined using the Magento developer's hourly rate.
Maintenance cost
Running an online store necessitates routine checks and bug repairs, which a qualified Magento developer can deliver. Unless you've purchased a Magento Commerce or Commerce Cloud edition, you'll need to budget for scheduled support and maintenance. The cost of Magento continuous support varies by agency and is often calculated based on a developer's hourly rate. Elogic provides support packages of 50, 100, and 150 support hours at reasonable pricing.
Performance optimization cost
Performance optimization is also an essential cost for any Magento 2 website. A well-optimized website can improve user experience, increase customer satisfaction, and boost search engine rankings, leading to increased traffic and sales. Additionally, an optimized website can reduce server load and page load times, which can result in lower bounce rates and higher conversions. The cost of performance optimization for Magento 2 can vary depending on the specific requirements and scope of the project, so it's important to discuss beforehand with the agency or developer to get an accurate cost estimate.
Magento 2 Pricing Takeaways
When determining Magento pricing, consider the costs of the Magento license, themes and graphics, hosting, extensions and modules, and store maintenance. Making decisions in each of these areas and adding up the costs will result in the Magento pricing for your specific business.
But, as the last note, we'd like to recommend a few factors that may influence your Magento cost. We've found the following trends while working with Magento clients of various scales and sizes
Despite its initial allure due to its inexpensive (or better yet, free) pricing, Magento Open Source will incur additional customization and maintenance fees. If you're just getting started with Magento, this is an excellent edition to start with, but don't fall into the trap of free cheese in the mousetrap. When personnel and maintenance costs are considered, the overall costs of Magento Open Source and Magento Commerce may not be so disparate.
Not everyone requires Magento Commerce Cloud's horsepower and excellent security ratings (just like a city race car, remember?). Before you break the cash to acquire the most expensive Magento edition, consider the size and aims of your business and evaluate the features of the Magento editions.
A proper way to install Magento 2 with low cost but high quality is by hiring Magento development projects. One of the best Magento 2 partners with high experience, information security, and certificated developers in Vietnam is Magenest.
Conclusion
Magento pricing is merely a portion of the entire cost of eCommerce development. To design your eCommerce budget, consider the costs of marketing, website upkeep, and security precautions. However, considering all of Magento 2 costs will help businessmen make better decisions in the future.