Tailored and streamlined solution to nitro-fuel your business into flawless omnichannel retail.
Empower your retail operation
As businesses grow in scale, managing and processing orders from multiple sales channels without capable technology will eventually become a challenge. But implementing complex, manual-heavy, and disconnected systems and processes also leads to business inefficiency and customer dissatisfaction.
After years of development projects, we understand this pain point on the journey toward an ideal omnichannel retail. Thus, we have built a streamlined and focused Order Management System based on Odoo that reduces laborious tasks and can connect to almost any digital platforms in existence.
the road to true omnichannel retail starts here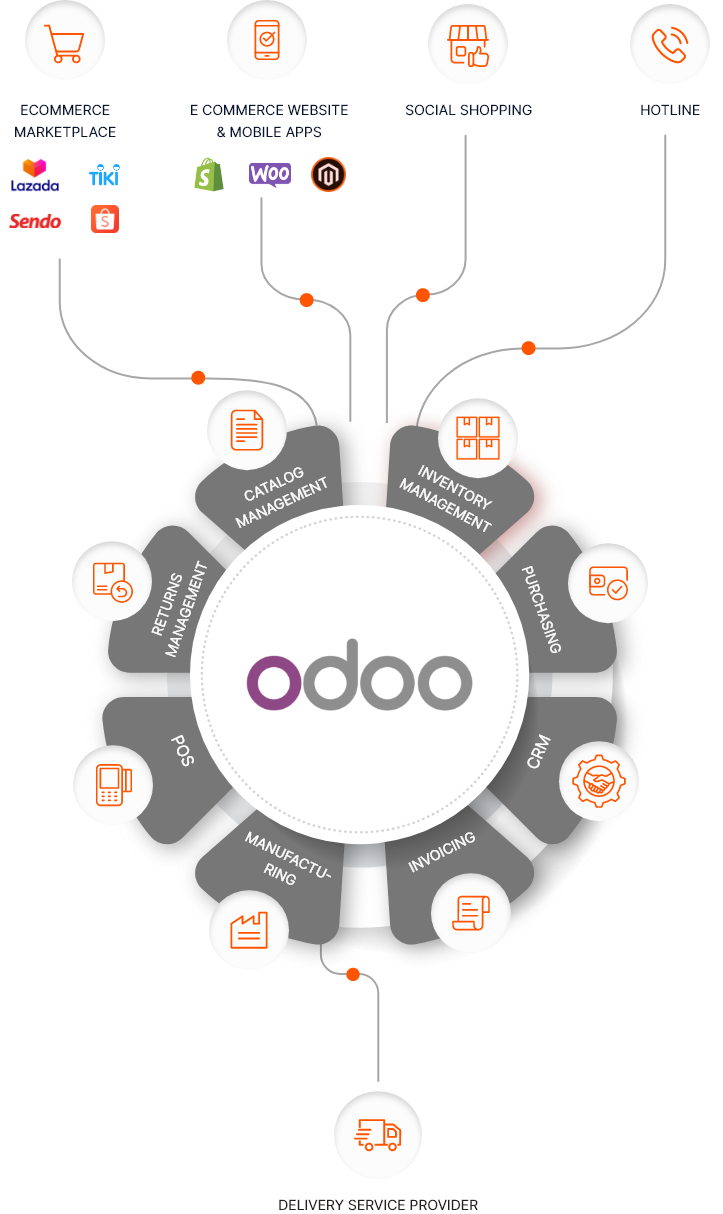 The benefits of omnichannel retail
When you are relying on multiple channels for your business, managing sales orders is a recurring chore that takes up enormous. Our tools automate these laborious tasks from order fulfillment to accounting so that your business can be standardized into the most optimal processes.
REAL-TIME ACCURATE REPORT
The most difficult part in running any companies is having to constantly make management decisions and anticipate shortcomings based on business intelligence. With our platform acting as your central data processing hub for customer and inventory data, you are provided with real-time and accurate reports that would have taken days of preparation if done by hand.
CENTRALIZED DATA MANAGEMENT
We partner with eCommerce platforms, marketplaces and logistic service providers to offer native integration with almost every platforms available out there. Thanks to data continuity, your business can provide your customers with an unified experience, regardless of the platform they are interacting with.
What makes us stand out from the competition is that we don't use a one-size-fits-all solution.

Process + Technology Planning
We help you plan out new business processes, embedded with technology, to increase your workforce efficiency.

Technology Implementation
Certified solution specialists and developers experienced in platform integration will map out project deliverables.

Business Intelligence Application
Leveraging reports and data analysis to empower business decisions is the next stage in business success. We will personalize the automating-generated reports based on your company specifications.
SEE YOUR BUSINESS TRANSFORM.
CONTACT US FOR A DEMONSTRATION.