Are you looking to upgrade your eCommerce business to the next level? Deciding between Shopify Plus vs BigCommerce Enterprise can be a daunting task! With so many features that both platforms offer, it's hard to know which one is right for you.
In this blog post, we will break down the differences between the two options to help you decide easier. We'll provide insight into key areas including pricing breakdowns, feature comparisons, security measures taken by both platforms, scalability options, integrations support offered by each platform, as well as more – helping you make an informed decision on which platform better suits your needs.
Keep reading if you're ready to dive deep into the world of Shopify Plus vs BigCommerce Enterprise!
Shopify Plus vs Bigcommerce Enterprise: an Overview
What is BigCommerce Enterprise?
BigCommerce Enterprise is a reputable platform choice that has been in existence for a long time. BigCommerce Enterprise is a subset of the greater BigCommerce platform, just like Shopify Plus.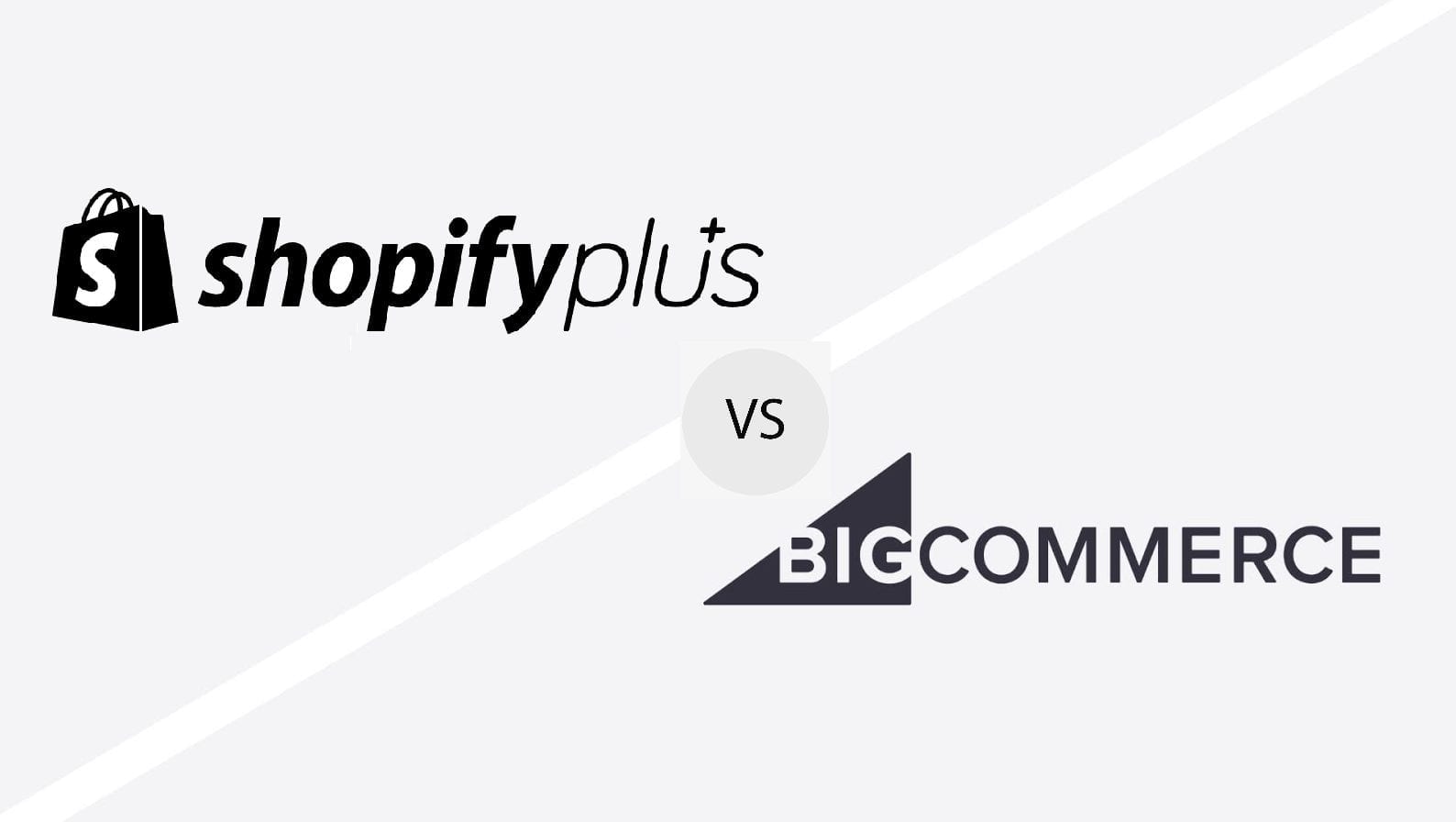 The fundamental BigCommerce platform primarily targets the SMB market. And it is renowned as a helpful platform with a wealth of resources for your online shop (apps, third-party solutions, and so on) — all at a surprisingly low price.
BigCommerce Enterprise provides better resources with a ton of additional features. It's geared toward more sophisticated retailers and is built to manage a higher volume of traffic. The next layer up, BigCommerce Enterprise, may provide much more than the core BigCommerce platform.
Essentially, you might want to think about investing in BigCommerce Enterprise rather than the normal BigCommerce platform if you require a stronger, bigger platform for a large organization.
What is Shopify Plus?
Another reputable SaaS platform, Shopify Plus is a subset of the main Shopify platform. Big-name firms are known to use Shopify, which has been around a little longer than BigCommerce. Gymshark, Decathlon, and Kylie Cosmetics are some names here.
Although it is actively extending out toward B2C users, the original Shopify platform is primarily geared toward SMB users. Compared to BigCommerce, Shopify offers a better ecosystem and a stronger focus on clients like fashion businesses.
Additionally, BigCommerce is less international than Shopify. It is well-known in the international market, with the UK, North America, and Australia having the largest populations of users.
Detailed Comparison between the 2 platforms:
Pricing
BigCommerce Enterprise and Shopify Plus both provide a scalable price structure to meet the demands of the target market.
The options from BigCommerce and Shopify don't have clear pricing associated with them, like the majority of Enterprise solutions. BigCommerce Enterprise doesn't have a predetermined price. Instead, the business urges customers to get in touch and talk about their needs with a specialist.
Your spending will vary depending on the type of growth stage you're in. It's important to note that switching to BigCommerce is free. And there aren't any additional transaction costs to worry about, which isn't the case with Shopify.
Using the Shopify Payments solution is your only option if you want to utilize Shopify's Enterprise edition without paying transaction fees. Even while the Shopify Payments service is excellent, not all business owners will think it's perfect.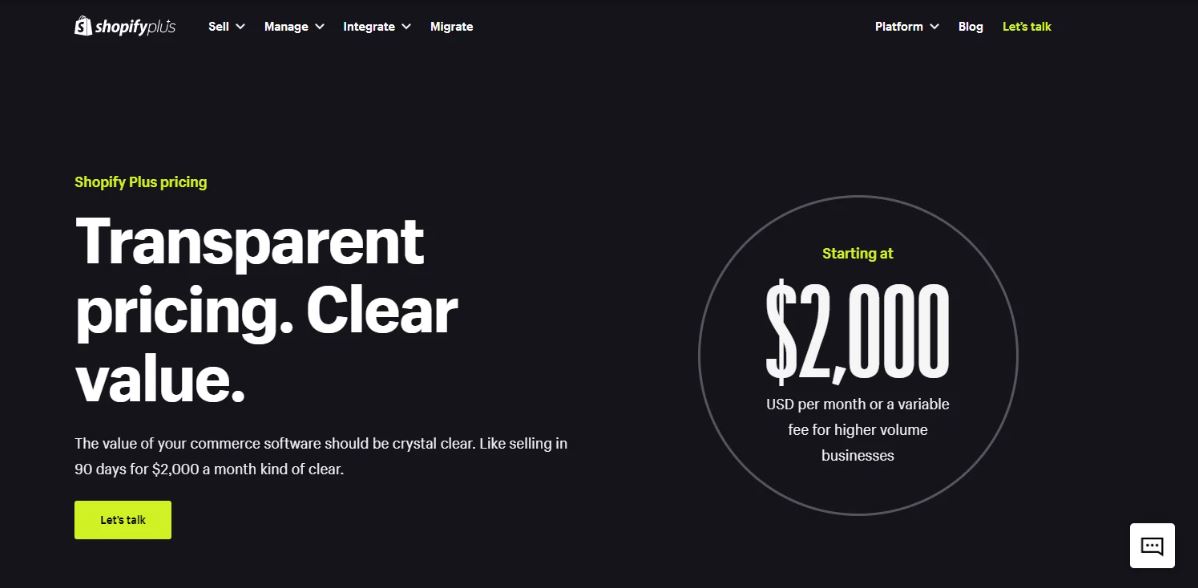 Between Shopify Plus vs Bigcommerce Enterprise, Shopify Plus is a little more upfront about its cost. It tells buyers that their plan would typically start at roughly $2000 per month. This is only a base price, though. To fully address your budgetary needs with the staff, you'll need to get in touch with them again, which might result in you spending more money.
Once again, if you don't use the Payments service with Shopify Plus, you'll need to factor in the additional charges of transaction fees, which may be as high as 2%.
Ease of Use
Both BigCommerce and Shopify provide mobile-optimized websites as standard, allowing consumers to browse on their smartphones or tablet. Unlike BigCommerce, which is unable to provide this capability, Shopify Plus offers access to Shop Pay, a one-tap checkout that is mobile-friendly.
Because Shopify is created to be as user-friendly as possible, it is a little simpler to use than BigCommerce. Shopify makes sure that even if you've never created your own website before, you'll feel comfortable getting started, even if BigCommerce may be incredibly scalable.
However, BigCommerce is rather more powerful. BigCommerce has a drag-and-drop option. And because you can specify where you want each component to go, this solution is really a little more versatile than Shopify's.
Design
With your BigCommerce Enterprise solution, you have access to a number of premium theme selections. But they cost nearly twice as much as those on Shopify. Additionally, there are a few distinct styles available for each theme.
If you don't mind spending more money or if getting a custom theme was something you were thinking about in the first place, this might not be an issue for you. The themes are really appealing despite the price.
Moreover, Shopify makes it really simple to create a strong store using your Enterprise solution. To edit CSS and HTML in Shopify, you may access the underlying code. Also, Shopify features a big collection of themes, many of which are contemporary and expert.
Features
The ability to sell on a variety of channels is something that both BigCommerce and Shopify provide, which is excellent for corporate businesses. BigCommerce's admin system includes a channel manager, which enables multi-channel commerce easy and convenient. You don't have to switch between several settings to assess your performance. Instead, you can monitor sales across many channels in a single location.
You may sell on a variety of channels with the help of BigCommerce Enterprise, including in-person POS systems, eBay, and Amazon. There are no boundaries to what you can do with B2B and B2C capabilities. And businesses may design shopping experiences everywhere using application devices, DXP, and CPS systems.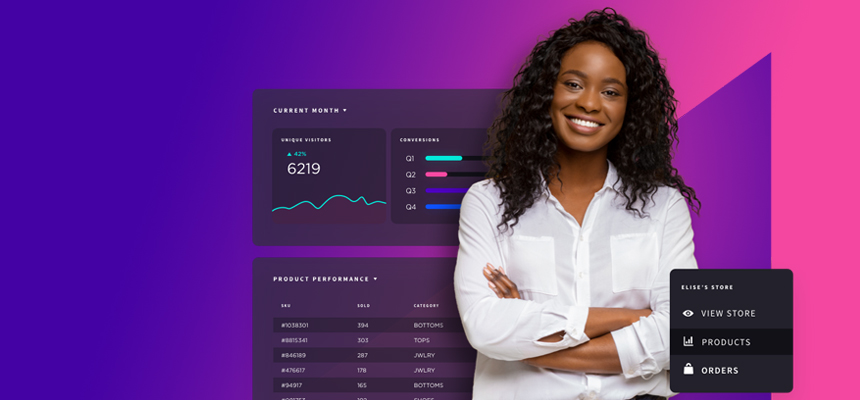 With Shopify Payments, Shopify Plus businesses can sell in a wide variety of advanced currencies and receive payments from each store in their own currency. The storefront is quite user-friendly, and the checkout processes guarantee that businesses may provide their clients with pleasurable results.
Sales Features
Both BigCommerce Enterprise and Shopify Plus are top-notch sales platforms. But they approach providing the capabilities that businesses want in somewhat different ways.
For instance, BigCommerce is definitely your best option if you want to manage credit card payments, marketing, and other duties using built-in features. You may use BigCommerce right away after registering because it already contains the capabilities you require.
In contrast to Shopify, which provides over 100 variants based on three selections, BigCommerce enables customers to give several samples of the same product, such as a shirt in different sizes and colors. Although 100 possibilities might seem like a lot, they are nothing compared to BigCommerce's 600 variants.
While BigCommerce offers a ton of fantastic features right out of the box, Shopify is the go-to option if you want to tailor your website to meet the needs of particular consumer segments. To build a deeper bond with your consumers, you may use one of the several third-party apps offered in the Shopify Plus app store.
Marketing
Comparing Shopify Plus vs Bigcommerce Enterprise, BigCommerce Enterprise has more built-in solutions, including a fully functional online shop with unlimited employee accounts. Along with a variety of SEO options, BigCommerce offers you professional help.
To provide you with the finest experience when attempting to reach your consumers, BigCommerce default URLs adhere to best-in-class standards. There are also a ton of webhooks for integrating further tools, automated sitemaps, metadata, and one-click interaction with Google Shopping.
Making it simpler to produce significant revenue is Shopify Plus' primary objective. As was already said, Shopify makes it simple to sell in a variety of ways, including with augmented reality systems that let your digital clients try things before they buy them — a capability that you just can't get from other suppliers.
Support and Security
Both BigCommerce and Shopify include email support, a community forum, live chat assistance, help center access, and phone support that is available around the clock. It's no wonder that the support strategy is so extensive because many website-building solutions prioritize the clients that spend the most.
With so many options available for consultation and instruction, neither website builder should provide a problem. It's important to keep in mind that some BigCommerce and Shopify operations, such as performing API requests, can call for expert assistance.
You also receive a ton of specialized help from a security standpoint. The SSL certificates for your Shopify and BigCommerce stores are automatically generated. And BigCommerce even allows you to upgrade to a more complex certificate.
Shopify Plus vs BigCommerce Enterprise: Pros and Cons
Shopify Plus Pros
Scalability: Shopify Plus offers countless options and capacities for your company. Thanks to boundless bandwidth and sales capabilities, as well as nearly flawless uptime, your website will expand without worrying about technological obstacles.
Affordable and Predictive Pricing: Since many of you may lack web-building expertise, you may need to pay an outside agency a sizable sum of money to assist you with your website. You may invest in the product, new marketing strategies, etc. instead of paying this price if you use SaaS platforms, which include Shopify Plus. As soon as you sign up for your chosen price plan, the monthly cost of Shopify Plus stays at around $2000. Even if the overall price increases due to various circumstances, this charge is long-term steady and predictable.
Built-in tools: Shopify Plus has a variety of integrated tools and built-in features to help you operate your business as efficiently as possible. In order to set up the business, Shopify Plus offers a ton of preconfigured features, from reliable APIs to more than 1,500 apps and plugins.
Shopify Plus Cons
Limited Backend Customization: Although frontend customization is flexible and limitless, some businesses that employ specific inventory suppliers may find it challenging to do some backend customization. This is because their API must function with any backend integration.
Limited Content Management: It is clear that Shopify Plus is far less capable of managing content than WordPress. Because Shopify is primarily designed for business, Shopify Plus websites are information-rich rather than having a lot of features.
Expertise Needed: As we've already established, Shopify Plus does require some level of expertise, so you may need further training.
Limited Payment Gateways: Since Shopify payments aren't available in every area, you can run into some problems with payment methods along the route. Additionally, Shopify charges you an expenditure for chargebacks, which may cause an unplanned asset freeze while they look into the situation.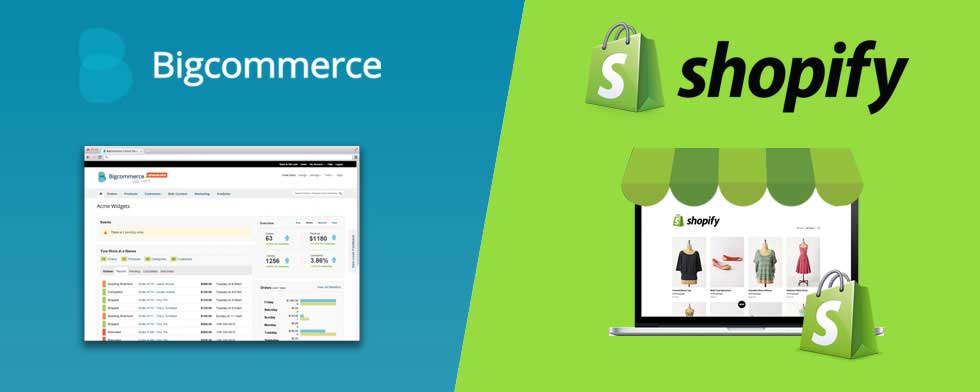 BigCommerce Enterprise Pros
Benefits of SEO: BigCommerce Enterprise provides a wide range of sophisticated SEO optimization functions in addition to fundamental SEO features. One excellent example is the built-in mobile version of websites, which works on both mobile and tablet displays.
Large selection of product options and variations: BigCommerce Enterprise provides over 600 variants and 250 values in one product option as opposed to 100 variants on Shopify Plus. A large range of styles for drop-down menus, radio buttons, checkboxes, text/number fields, date fields, etc. is also available for each choice.
BigCommerce Enterprise Cons
Limited add-on options: BigCommerce Enterprise falls short of Shopify Plus in this area because of the vast app and agency ecosystem it possesses. The BigCommerce app store is quite tiny and lacks a wide variety of advanced add-ons.
Complex pricing structure: The monthly cost of BigCommerce Enterprise ranges from $1,000 USD to $15,000 USD. However, the exact cost is uncertain because the pricing system is based on sales figures. As a result, it might be challenging to estimate the precise cost of utilizing BigCommerce Enterprise to manage your business.
Between Shopify Plus and BigCommerce Enterprise: Which is for you?
Making a list of the most important features to you is a good idea in any situation. Do you desire a wide selection of integrations with PIM and other tools to manage your inventory? Are you trying to locate a similar marketplace to Shopify's so you can discover Shopify apps to deal with things like multi-currency conversions?
Along with the monthly charge, you might want to consider other costs such as processing fees. The enterprise versions of Shopify and BigCommerce will cost more than a shop for a small business. That doesn't exclude business owners from negotiating well, though.
For instance, BigCommerce may help you save money because the functionality you require is already included. In contrast to Shopify, which has a lot of API, SKU, and integration possibilities.
Generally, you ought to think about BigCommerce if:
You desire immediate access to all necessary functions.
You have a sizable inventory with a variety of product choices.
Drag-and-drop creativity and straightforward processes are what you seek.
You like receiving first-rate customer care.
Instead, you could choose to use Shopify if:
You'd want to have greater power over website features.
There should be additional options for third-party apps.
You value already-made, distinctive theme selections.
You appreciate interfaces that are clear and effective.
In conclusion,
It's clear that both Shopify Plus and BigCommerce Enterprise are excellent solutions for businesses who want a flexible eCommerce platform. Both offer flexibility to customize their platforms and provide the support needed to help their customers succeed.
When choosing which platform is better for your business, consider the most important features that can meet your needs. The pros and cons of each platform should be carefully weighed before deciding which is right for you.
Ultimately, choosing the right platform will depend on what your business objectives are. They come with regard to scalability, functionality, design, automation, support, and pricing. If you find yourself stuck between Shopify Plus vs Bigcommerce Enterprise or have any additional questions about this topic, contact us and we can provide further assistance in navigating these choices.