Are you looking for some Shopify fitness stores that offer fitness products and services to refer to? If so, then you've come to the right place! In this blog post, we'll be discussing some of the best Shopify stores related to fitness, as well as how you can use Shopify to set up your own online store.
Whether you're a gym owner or just looking for ways to get in shape at home, there are plenty of options available on Shopify today. We'll provide an overview of some leading shop sites, their product offerings and sales strategies, and tips on setting up your own store using Shopify's easy-to-use tools.
With this information in hand, you'll soon be ready to take advantage of all that Shopify has to offer when it comes to selling health & fitness items online. So let's dive into our list now!
10 best Shopify fitness stores to consider
MMA Apparel
One of the best Shopify fitness stores is MMA Apparel. By anticipating what customers would want and making it easier for them to purchase it, MMA Apparel, the top-ranked combat gear and clothing retailer in Europe, has found success online.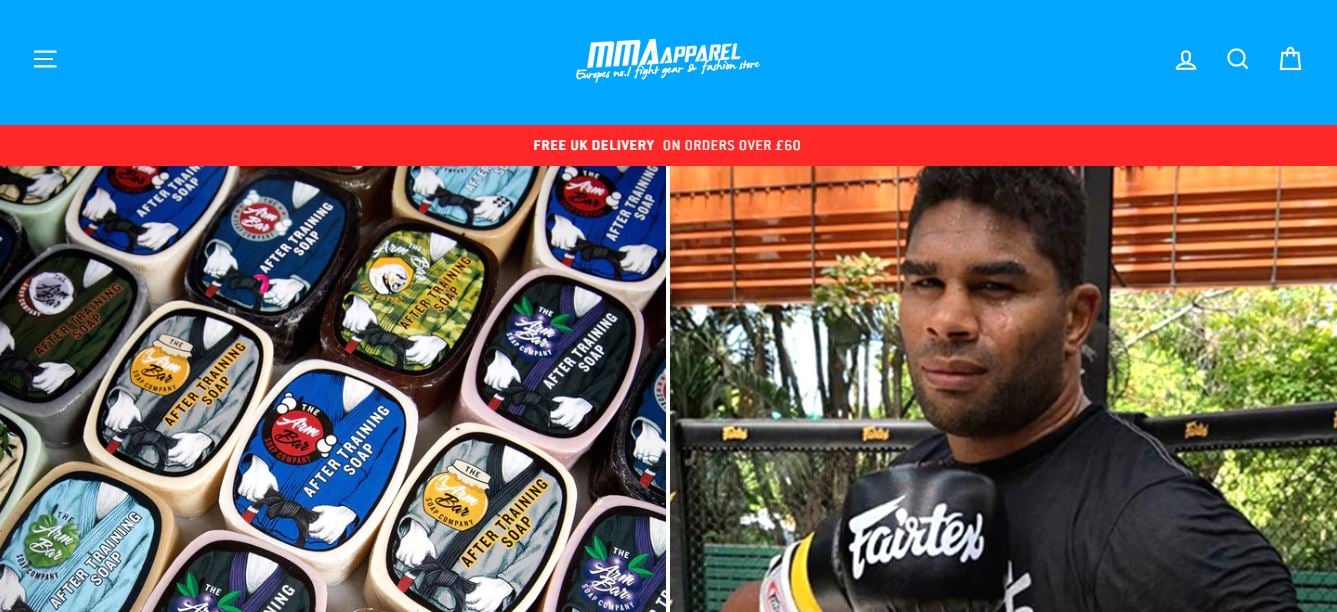 After switching to Shopify Plus, they were able to build a mobile-friendly site that accounted for 35% of sales in a single month and witnessed a 60% increase in sales over their prior platform.
Additionally, being on Shopify Plus made it simpler for MMA Apparel to add applications to enhance the shopping experience.
Products can be recommended (depending on what the customer has been seeing or adding to their basket), which enhances cross-selling and upselling and contributes to a more specialized, customized shopping experience.
Rhone
Using odor-fighting technology, the men's sportswear line Rhone keeps you looking fresh and clean even after a workout. Customers are encouraged to go discover the whole website. Business Insider named Rhine as the best men's athleisure brand for 2021.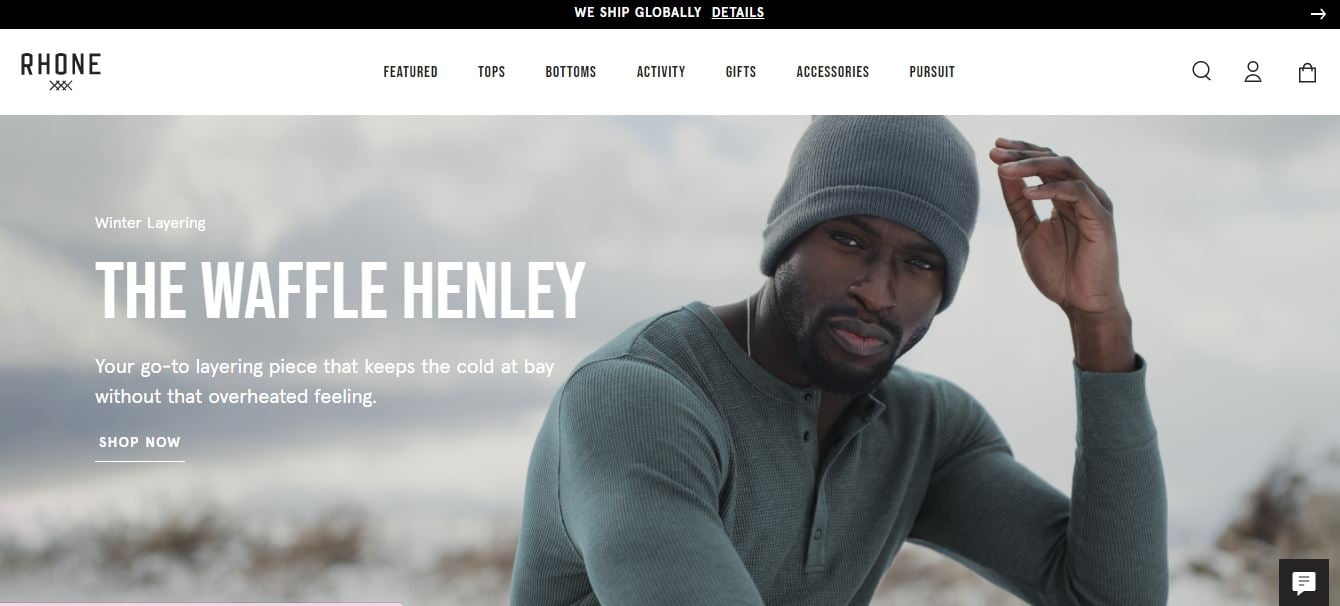 Rhone's collection features athleisure-inspired loungewear, business casual items, and athletic gear.
On a product's PDP, customers may read more about each feature, including a section devoted to close-ups of items like the seams and fabric.
On specific sites, the sustainable materials used to make the garments are displayed, and website users can purchase according to the material.
Balance Athletica
Balance Athletica, a family-owned and -operated business, was founded on the idea that you must balance your mind, body, and spirit in order to live your best life. Through their outfits, they also hope to create a community that is inclusive of all cultures.
The stunning video ads show straightforward images of a model wearing the merchandise on a white background.
Visitors can see huge, high-quality images on the homepage without experiencing any site speed slowdown.
On the PLP, Almost Gone is added to the low-stock goods to create a sense of scarcity, and the product's star rating is displayed to demonstrate the standard of the apparel.
The "quick add to cart" button allows customers to make purchases straight from the PLP.
Gym + Coffee
The lockdown times of the Covid-19 outbreak caused a major problem for the athleisure business Gym+Coffee since brick-and-mortar stores are so essential to their brand goal and profitability. But this Irish business not only made it through the epidemic, they rather prospered.
Gym+Coffee's physical storefronts, which its fans referred to as Clubhouses, served as gathering places for the community to mingle, connect with like-minded individuals, hear about forthcoming events, and, of course, purchase the newest athleisure fashions. Gym+Coffee had to act quickly when the lockdown periods meant temporary business closures.
They already used Shopify to operate their online business, and they processed in-person transactions using Shopify POS, fully integrated hardware, and Shopify Payments. Because they used a comprehensive strategy, they were able to maintain a consistent customer experience despite the fact that their business was shifting from physical to online sales.
Gymshark
The Gymshark Shopify fitness store, a UK-based company, offers fitness clothes for sale in more than 131 nations. Like many successful businesses, this one had its start in a garage. Through cozy and fashionable exercise clothing, the owner hoped to motivate consumers to be all that they dreamt you might be.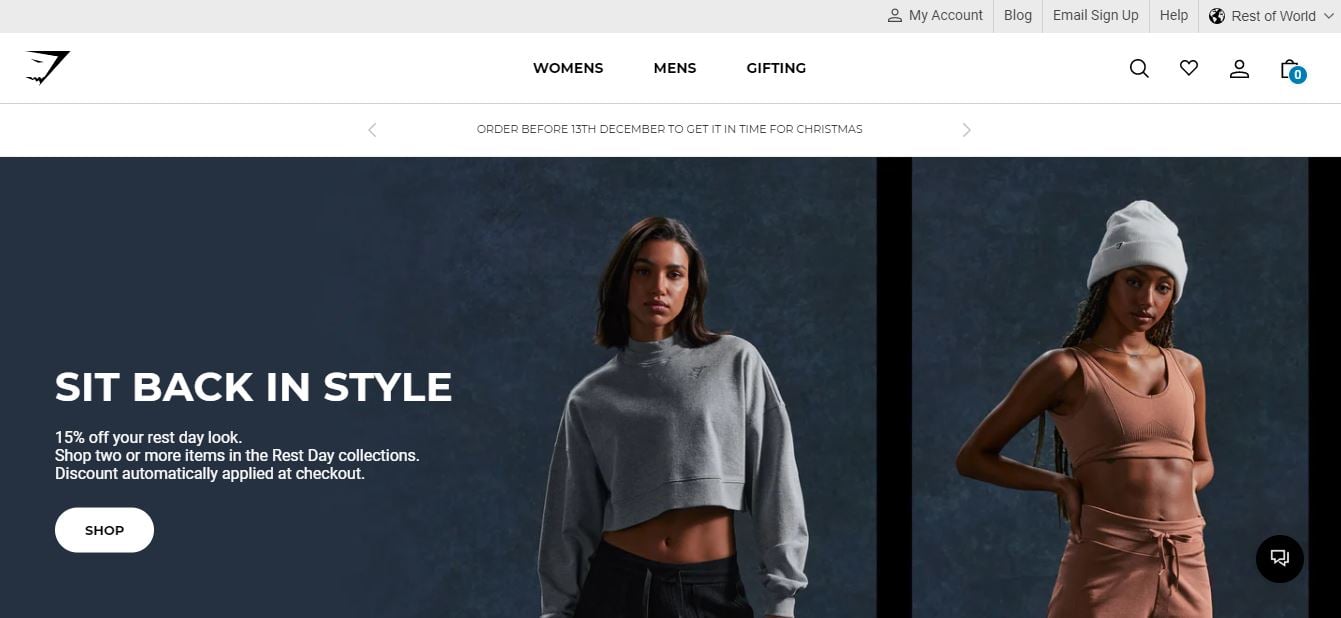 In an effort to be transparent about their sustainability, there is a report on the brand's carbon footprint on the creation of CO2 emissions.
The site showcases pictures from a current partnership with fitness digital creative Whitney Simmons, who has 3.2 million Instagram followers.
On the top of each PDP, videos of a model exercising while wearing the gear demonstrate the stability and comfort of the product.
The Gymshark Central section of the website offers blogs with advice on grooming, conditioning, and general health.
Sweat
Kayla Itsines, an Australian fitness specialist, developed the mobile app called Sweat. Sweat.com is where you can get information about it. The app provides new users with a free trial as well as a selection of routines and trainers. It costs only $20 per month, which is 40% less than the typical US gym subscription. Sweat has received over 35k reviews and a 4.6-star rating on the Apple app store.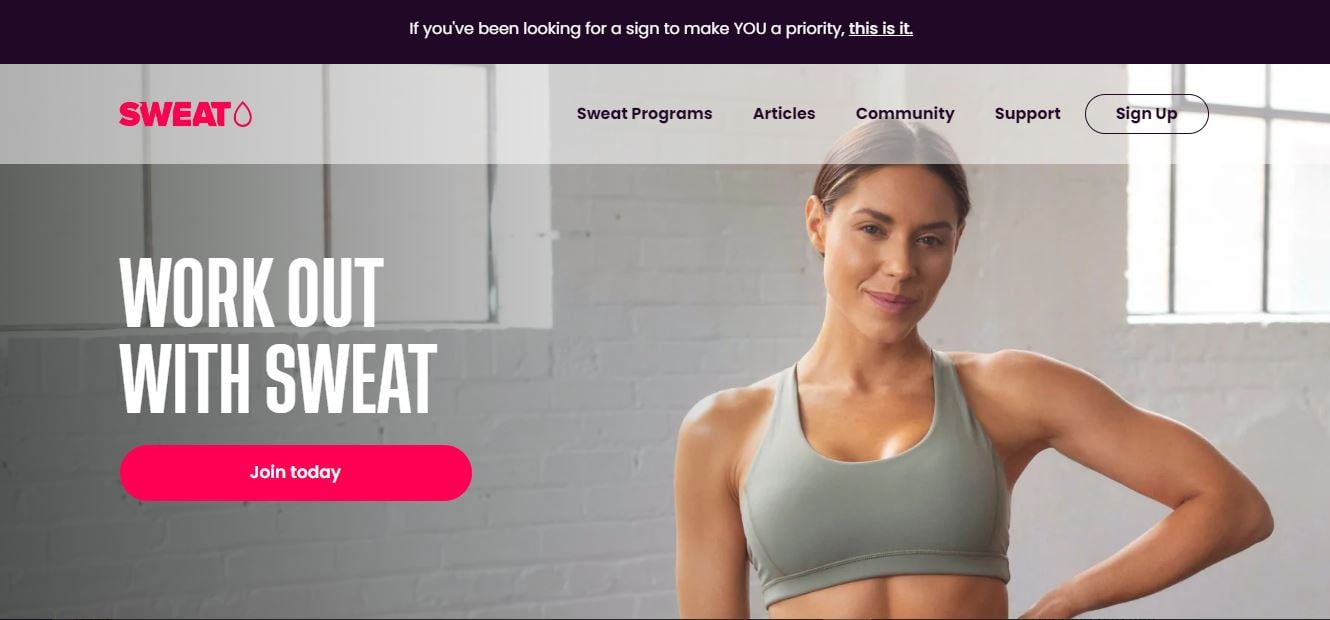 The Meet the Trainers section has exercises and biographies for 14 different trainers.
The website offers a function that resembles an app.
The site of the app features images, providing users with a preview of what it will look like before they ever download it.
Through the app's forum, you will communicate with other users. For ease and convenience, you can also link the exercises to your Apple Watch.
Alo Yoga
Alo Yoga offers both men's and women's yoga attire and accessories, as the name implies. The company makes apparel for both on and off the yoga mat and has a strong emphasis on community, wellness, and mindfulness. Taylor Swift and Kendall Jenner are just two of the famous people that have been spotted wearing the products of this one of the top fitness Shopify stores.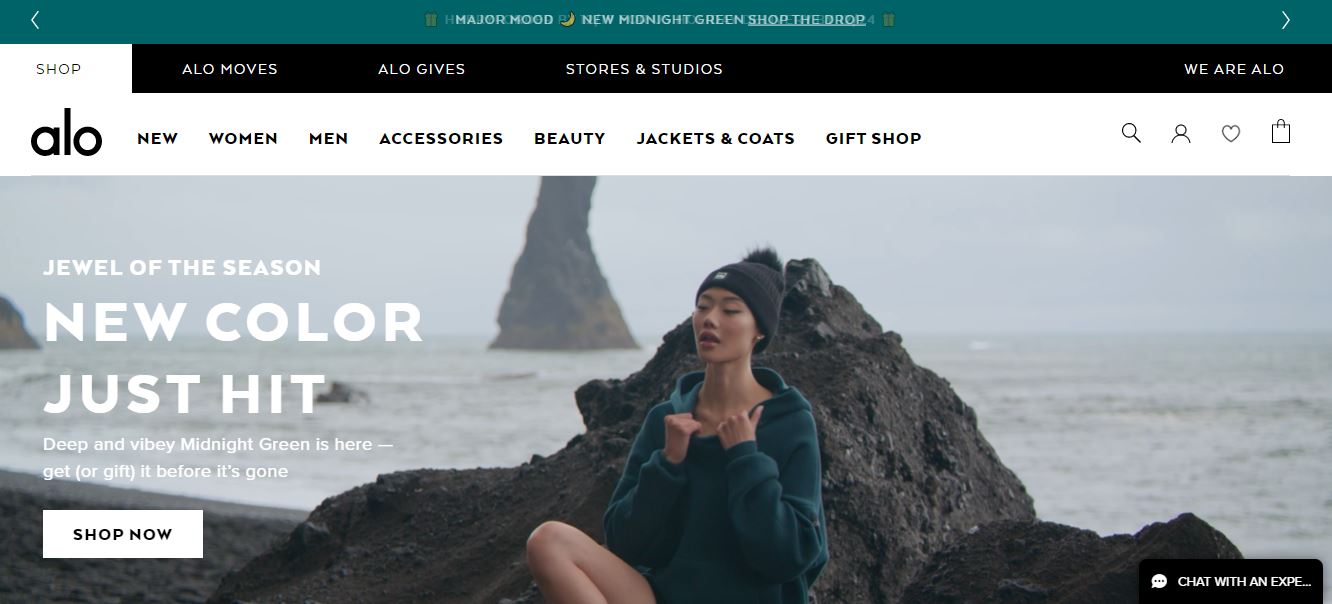 The message on the popup that asks for email addresses contains the phrase Get it on, which incorporates amusing yoga language.
Despite having a lot of items, the website is easy to explore and has a clear, straightforward structure.
Customers may shop in a section below the fold called Shop Kendall Jenner's Look where they can get the exact same clothes that their favorite fashion icon is wearing.
Alo Moves is a $20/month program that offers users yoga, fitness, and meditation classes as part of the company's commitment to giving back. And Alo Gives is a nonprofit that collaborates with Scholastic to offer children's activity sheets and videos on yoga and mindfulness.
GuardLab
Customers may customize their mouth guard by adding their name, number, and custom graphics. They can even collaborate with GuardLab's design staff to bring a concept to reality.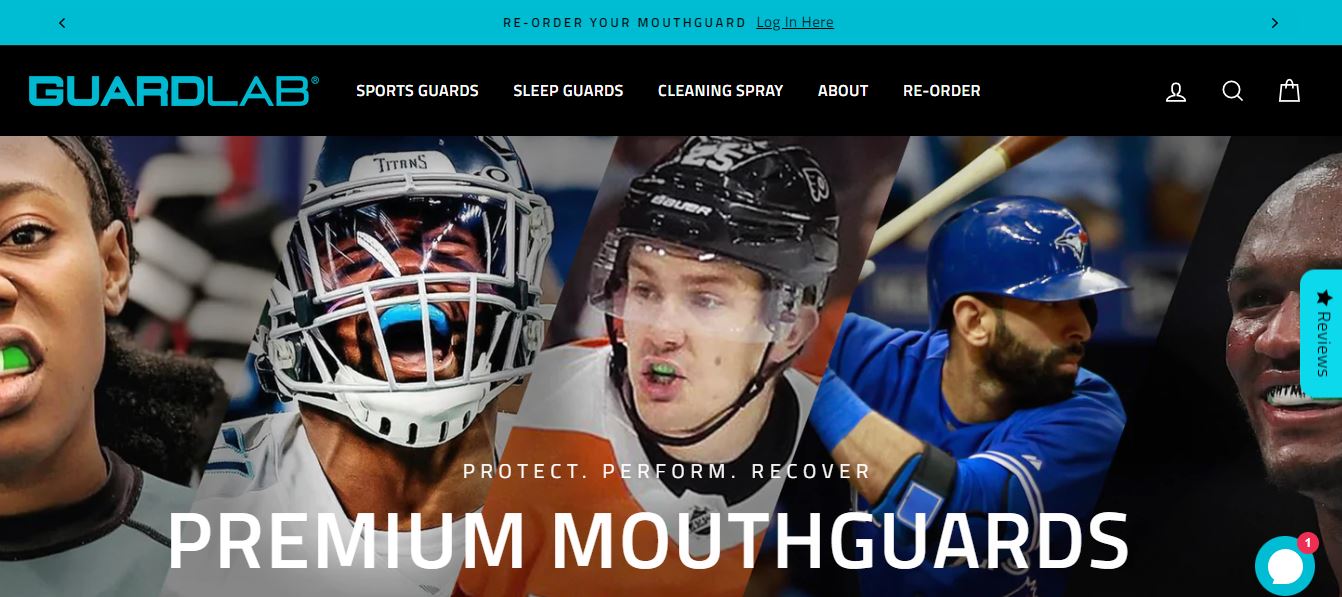 More importantly, the guards may be precisely fitted to the teeth of the consumer, which facilitates breathing and speaking, offers greater protection for the teeth and gums, and lowers the danger of impact damage.
An in-person 3D scan at a dentist or a home impression kit is an effective way to obtain this custom fit. Among the top Shopify fitness stores, GuardLab offers free data storage to its clients so they won't have to go through the fitting procedure again if they decide to place another purchase in the future. The shopping experience is easy thanks to this online-to-offline approach.
Altitude Sports
Being early internet adopters has been advantageous for Altitude Sports. Before starting online in 1999, this outdoor gear and apparel company first existed as a brick-and-mortar business in Montreal throughout the 1980s. They have maintained a lead by embracing the eCommerce revolution early and growing and evolving along with it.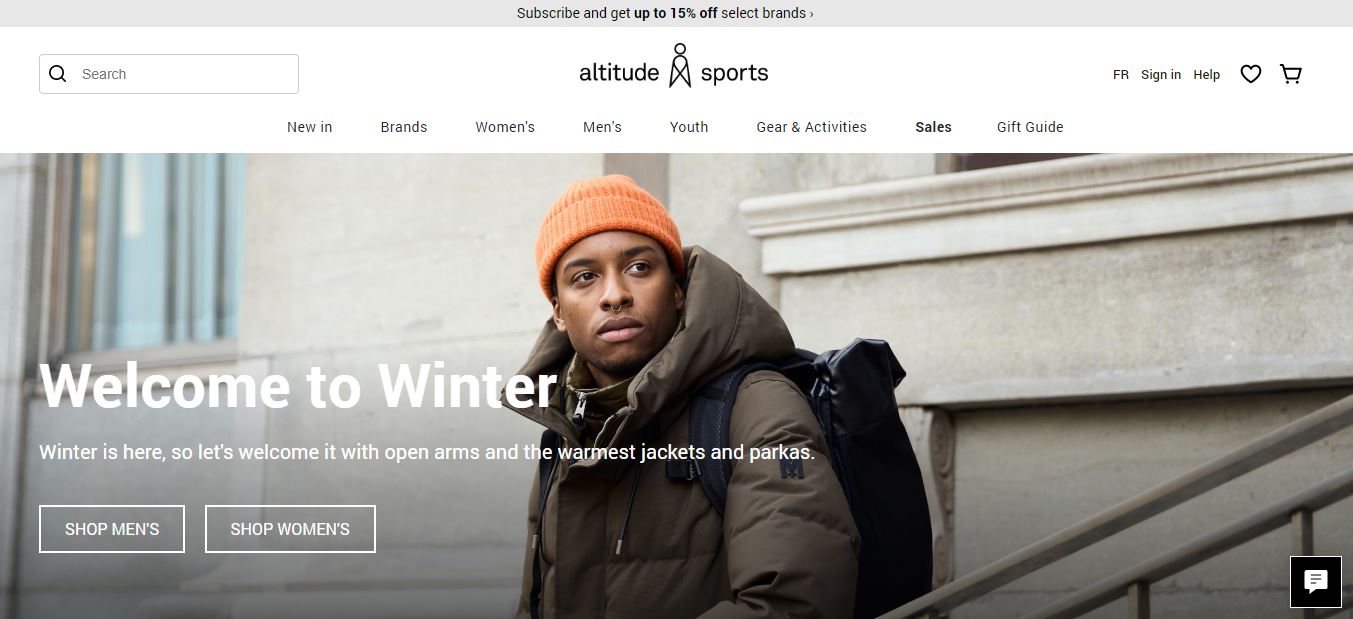 The search tool on their current website has a fascinating tech function that returns results as users input and graphically shows them before users clicks the Enter key. This smart feature either makes it easier for customers to locate what they were seeking or persuades them to buy something else they would not have otherwise thought to buy.
Alphalete
Alphalete began as a 2012 YouTube channel providing health and nutrition advice, but it has now developed into an aspirational sportswear business.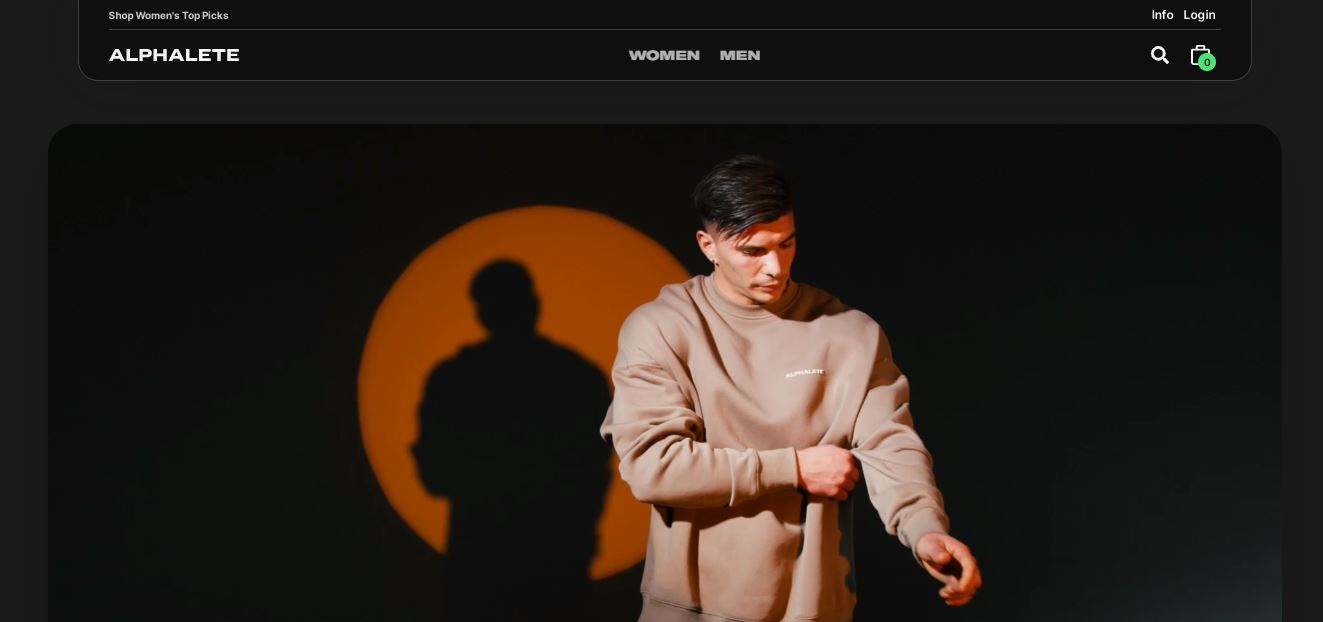 Their compelling homepage design includes sections like Shop the Look, fast-paced training videos, and blocks of gorgeous graphics. Here, visitors may quickly add the item to their basket by clicking on various components of a modeled suit.
The Alphalete website is elegant, athletic, and appealing just like their products.
3 steps to build a Shopify store for fitness products
Step 1: Select an appropriate theme
Check out these themes if you need to set up an online fitness store Shopify to offer exercise or gym equipment. These Shopify templates were created with gym and fitness websites in mind and provide practical features. You can develop a fantastic online Shopify fitness store using any of the themes on the list below.
GymFit: This is a brand-new, perfectly clean, and expert Shop Theme. It enables you to maximize the use of eCommerce as the basis for your online business. All contemporary markets, vendor-based marketplaces, and affiliate websites may effectively use the concept.
Firtue Shop: It's a simple yet gorgeous website theme. Additionally, this calls for advanced visual effects. This theme comes with pre-built Sale, Catalog, and Category Set pages. The product and category sections on these websites are considerably more numerous.
Apparelix: This Shopify fitness eCommerce template is the ideal choice for building a website business that sells sportswear for men and women. It features all the pages you'll need to make your future sports website really attractive to new visitors, has a modern layout, and is well-equipped.
Fitt: It is a sensitive fitness website template for gym Shopify stores selling athletic wear and sportswear. It was created by a group of expert programmers and has a well-balanced, contemporary design with a well-structured interface that works well with all screen resolutions.
Step 2: Show the best photos on your website
The key to successful fitness photography is liveliness and a healthy lifestyle. Your task while photographing fitness items is to spot this and make the images appear to be from a health publication. Here are some suggestions for doing it. You'll want a camera and some photography knowledge.
Link your items to the model's narrative. Every athlete has a unique fitness journey to share. It will provide you with inspiration, enable you to pair up with an athlete, and reveal their comfort zones.
Before the picture shoot, take practice shots. By shooting practice shots with a partner before your session, you may avoid mistakes.
To make your goods stand out, shoot in a plain setting. Your photos don't look well when you shoot them in a busy gym. A simple background that doesn't go with your model's clothing is all you need.
Shoot through things to create natural-looking fitness photos. Although fitness imagery is not often raw, you may nonetheless fake it. You may make your photographs appear random by shooting through artifacts.
Obtain attractive fitness portraits by taking pictures next to a window. A really good illustration of this is yoga. A large window can produce direct light, side light, or backlight.
To highlight the athlete's strength, pay attention to the details. When your picture session is over, you should do this. Prioritize getting the most crucial photos first, and then concentrate on the details that will advance your story.
Eliminate vibrant distractions by using selected colors. Your fitness photographs may appear gorgeous with a little color adjustment. Your best friend is selective about color, especially if you have a lot of photographs of the gym.
Step 3: Install helpful apps
There is always room for improvement and more that can be done to increase sales. Listed below are some straightforward Shopify applications for fitness retailers. Even though they may not be well-known, they will improve the way you run your health and fitness Shopify stores.
Photo Review: Concerned about whether or not newcomers would see your shop as reliable? Where Photo Review comes in is in this situation. It assists you in gathering customer and user-generated content feedback.
McAfee Secure: For Shopify gym stores and any online business in general, trust is key. If your store doesn't appear secure, customers won't ever give you their money. You can keep your shop secure with the McAfee Secure Shopify software, which also converts worried consumers into paying customers.
Quizify: With the help of Quizify, eCommerce shops can provide their consumers with unique, dynamic, and interesting buying experiences. You will quiz your consumers using Quizify and reward them with a voucher for a discount.
In Conclusion,
The best fitness Shopify stores in this post have everything from workout clothes and accessories to supplements and healthy snacks. Not only do they have an extensive inventory of products, but they also offer excellent customer service and fast shipping.
So if you are looking to improve your health and fitness, be sure to check out these top-rated Shopify fitness stores. Have you found any other great fitness stores on Shopify? Ready to get started? Contact us today and let us help you take your business to the next level. We have selected Shopify website development services and multiple experienced Shopify experts, who are always ready to support you reach a new high level in the eCommerce market.