When you run a physical store, it's straightforward to charge your customers right after each purchase they make. This process is totally different compared to running an online store, particularly on the Shopify platform. Your customers need another method to check out for their purchases and you need to know how to receive these payments. That's why if you're looking to set up an online store, one of the most important decisions you'll make is choosing the best payment method for your store. Shopify is an excellent eCommerce platform that offers many payment gateway options, including Shopify Payments, PayPal, Stripe, and more. But with so many options to choose from, it can be challenging to know which one is the best fit for your business needs. In this article, we'll explore the best Shopify store payment methods that can help you increase sales and drive growth for your eCommerce business.
What Are Shopify Store Payment Methods?
Shopify payment methods are the various options that customers can use to pay for products or services purchased from an online store hosted on the Shopify platform. These payment methods allow customers to make secure transactions using various payment gateways supported by Shopify.
When customers initiate payment for products they purchase from your Shopify store, the payment provider starts processing the transaction. This involves sending the confidential details of the paying customer to the bank issuer for the card used for the transaction. The payment provider then receives a response to confirm if the transaction has been successful or if it has failed.
For larger transactions, the Shopify payment provider employs more stringent measures to verify the customer's account before processing the transaction. This can include security procedures such as Address Verification System (AVS) checks and velocity pattern analysis. Additionally, some Shopify store payment methods are able to calculate the payable tax on transactions you have received.
10+ Best Shopify Payment Methods
As an eCommerce platform, Shopify offers various payment options that online merchants can integrate into their stores, including Shopify Payments, PayPal, Stripe, Apple Pay, and Google Pay… Each of these payment methods has its own set of advantages and disadvantages, depending on the needs of the online store.
Shopify Payments
If you're looking for a payment method for your Shopify store, it sounds reasonable when we start with the built-in payment tool owned by this powerful eCommerce platform. Shopify Payments is the default payment provider for Shopify stores, offering an all-in-one solution for processing payments online. With Shopify Payments, merchants can accept payments from customers using various payment methods, including major credit and debit cards, digital wallets, and even local payment methods.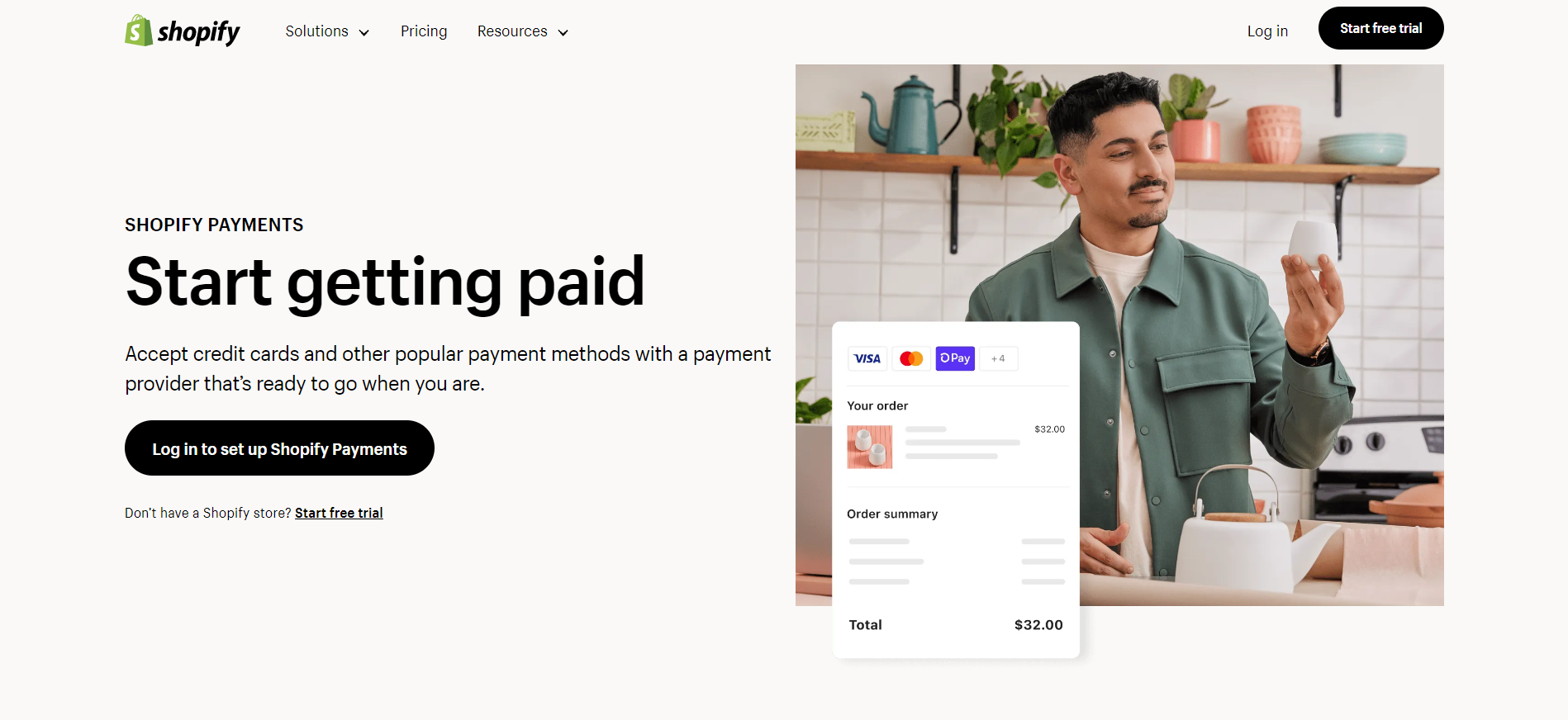 One of the benefits of using Shopify Payments is that it seamlessly integrates with your Shopify store, allowing you to manage orders, payments, and payouts all from one place. Additionally, Shopify Payments provides a straightforward pricing structure, with no setup fees, transaction fees, or hidden costs. When customers make a payment using the card reader, the transaction typically takes up to 3 business days to reflect in the merchant's bank account. While this may not be as fast as some other payment methods, it is a reasonable timeframe for most merchants.
Another advantage of using Shopify Payments is the ability to offer customers a seamless checkout experience. When customers make a purchase on your Shopify store, they can complete the payment process without being redirected to a third-party payment gateway. Shopify Payments also uses industry-standard encryption to protect sensitive customer information, helping to prevent fraud and unauthorized transactions. Shopify Payments also offers chargeback protection and fraud analysis to help merchants identify and resolve suspicious activity.
While Shopify Payments is a great option for many Shopify merchants, there are some limitations to be aware of. For example, Shopify Payments is not available in all countries, so merchants operating in certain regions may need to use alternative payment providers.
PayPal
PayPal is a popular payment method used by millions of people worldwide. It is a trusted and secure way to accept payments online, and it is also a widely accepted payment method among customers. As a Shopify store owner, you can easily integrate PayPal as a payment option on your website.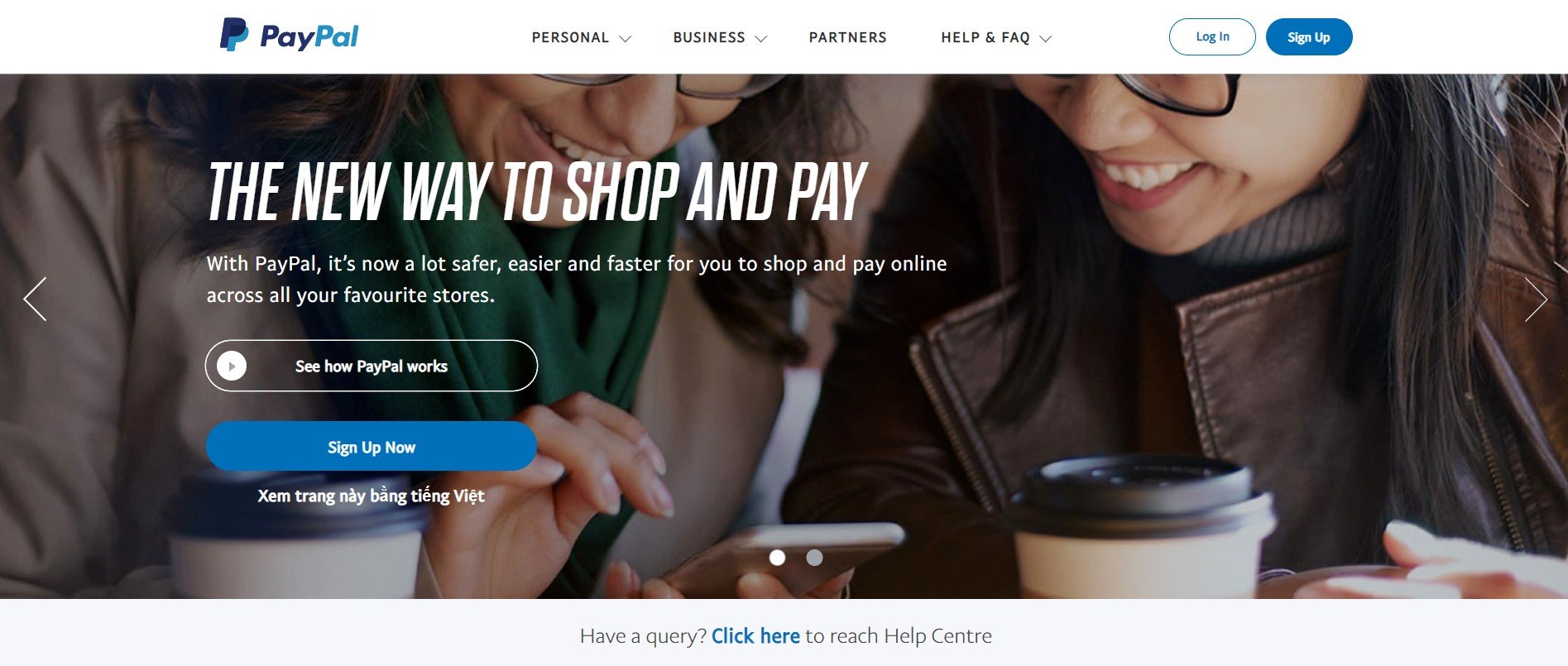 One of the key benefits of using PayPal is that it offers a fast, easy, and secure checkout process. Customers can quickly enter their payment details and complete their transactions without having to enter their shipping and billing information again. PayPal uses advanced encryption and fraud detection technology to protect your customers' financial information. This helps to reduce the risk of fraud and chargebacks, which can be costly for merchants.
PayPal offers both free and paid plans for Shopify store owners. With any of these plans, you can access PayPal's support team, which can help you resolve any issues or questions you may have. The basic plan starts at 2.9% + $0.30 per transaction, which is competitive compared to other payment gateways. This plan is suitable for businesses that process a moderate volume of transactions. For large-scale businesses, PayPal offers the Pro plan, which costs $30/month. This plan comes with advanced features such as a virtual terminal, fraud protection, and the ability to customize your checkout page.
Additionally, PayPal offers a dispute resolution process that helps to resolve issues between customers and merchants. This provides an added layer of protection for both parties and can help to avoid negative feedback or reviews.
Stripe
Stripe is a widely used payment gateway that integrates seamlessly with Shopify. It offers a user-friendly interface, competitive pricing, and advanced features that make it a top choice for Shopify store owners, especially big eCommerce enterprises.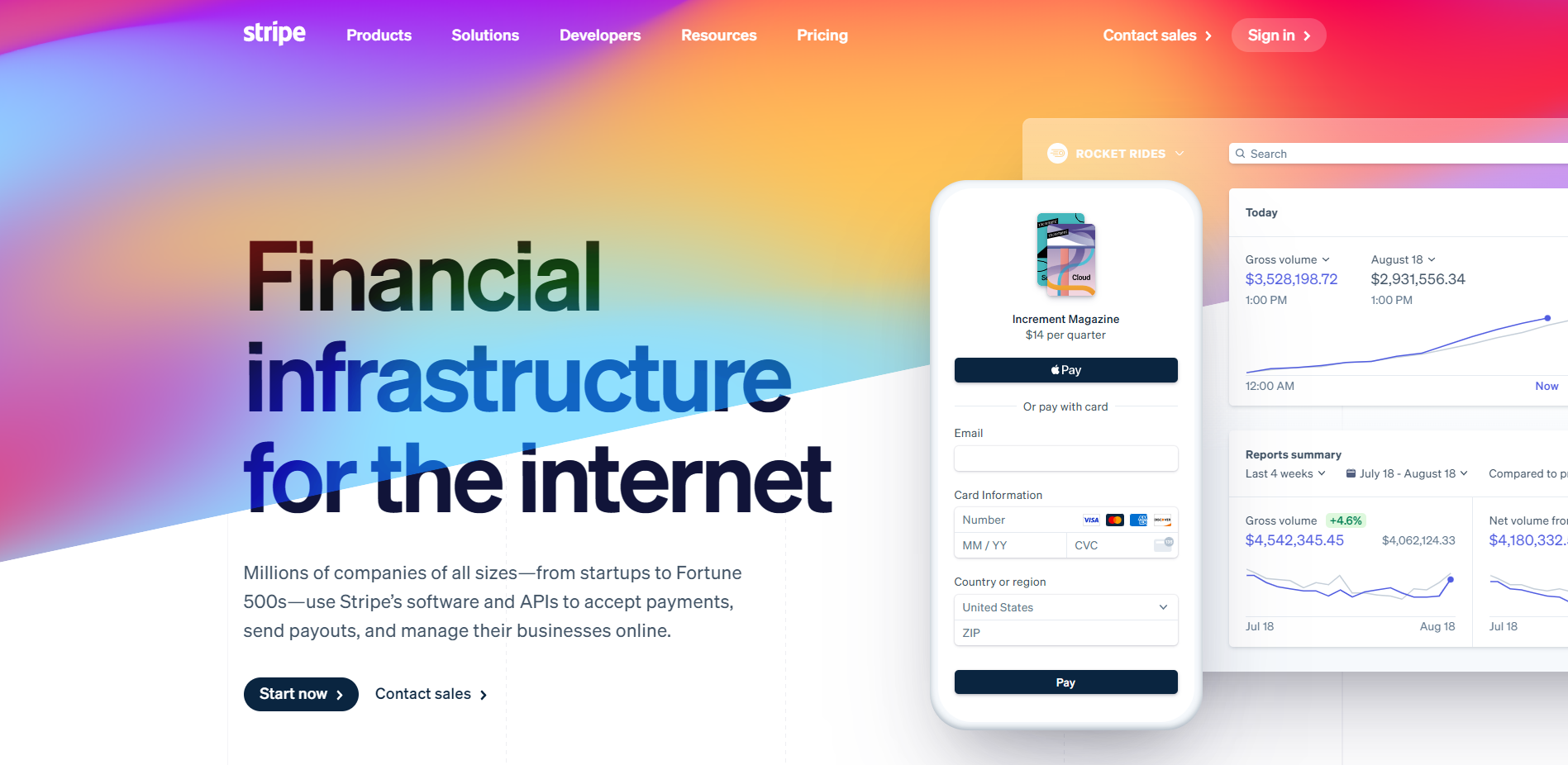 One of the notable features of Stripe is its ability to support a wide range of payment methods, including credit and debit cards, Apple Pay, Google Pay, and more. This makes it easy for customers to make payments using their preferred method, which can improve the overall shopping experience.
Another feature that makes Stripe popular is its advanced fraud prevention tools. Stripe uses machine learning algorithms to detect and prevent fraudulent transactions, protecting your business and your customers. Stripe also offers customizable checkout forms, which allow you to create a checkout experience that matches your brand's look and feel. This can help improve customer trust and confidence in your store.
You can create and send invoices to your customers, as well as set up recurring subscriptions using Stripe. With Stripe, you efficiently track your sales and minimize your operational costs. The Stripe support service is excellent through various channels, including phone, email, and live chat. This ensures that you can get help quickly and easily if you encounter any issues with your payments.
When it comes to pricing, this payment brand also offers competitive pricing, with a transaction fee of 2.9% + 30 cents per transaction. For large eCommerce businesses, Stripe offers customized pricing quotes upon request. If you require instant payouts to your bank account, Stripe charges a fee of 1%. If the payment originates from overseas, an additional fee of 1% is applied.
Authorize.net
Authorize.net is a widely recognized payment gateway that is widespread among Shopify store owners. It supports over 100 currencies and allows you to accept various payment methods, including credit and debit cards, PayPal, Apple Pay, Visa, JCB, Discover, MasterCard, Diner's Club, and American Express…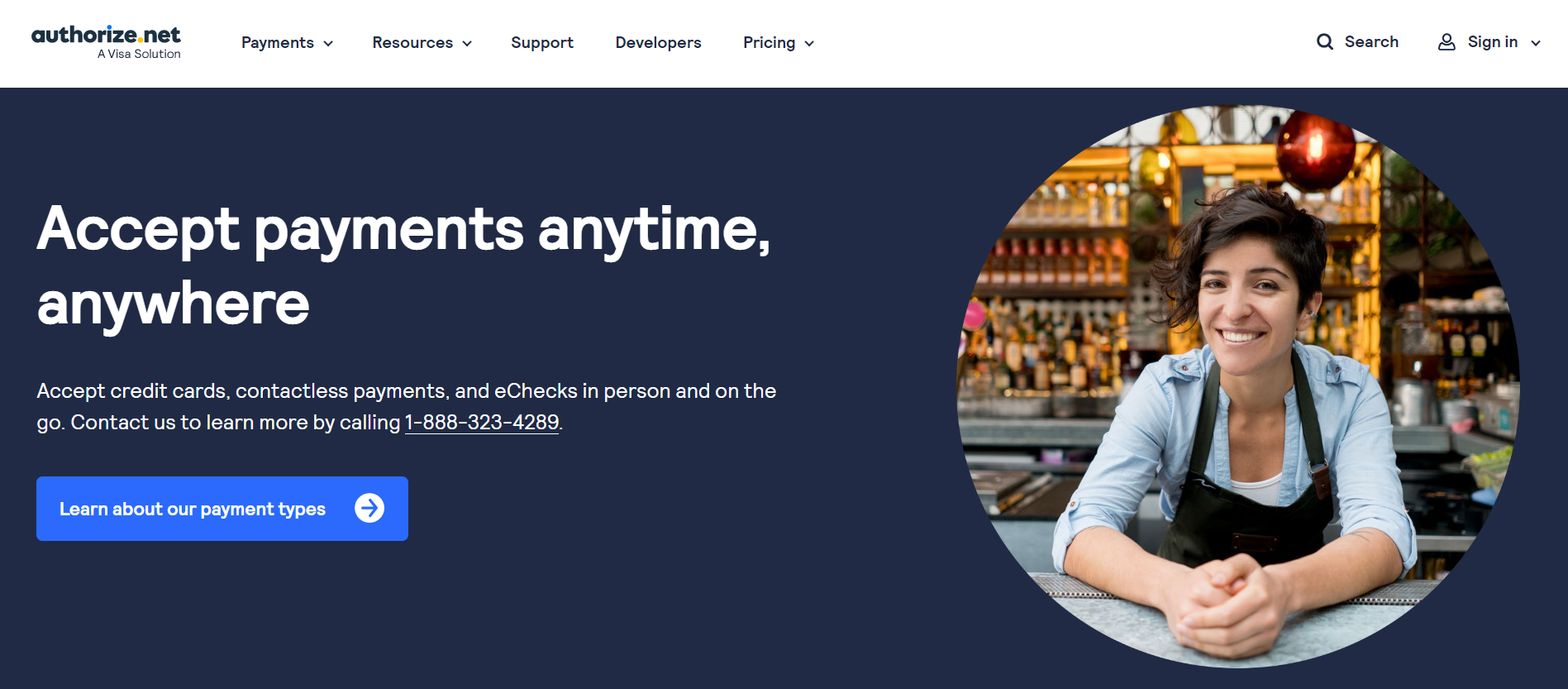 Authorize.net's payment processing features are well-suited for all kinds of businesses with low or high transaction volumes. It supports recurring billing, fraud detection, and data security. Additionally, it provides access to a suite of customizable fraud prevention tools, including Address Verification Service (AVS) and Card Code Verification (CCV).
In terms of pricing, Authorize.net charges a setup fee of $49, plus a per-transaction fee of 2.9% + $0.30. Although this fee structure is higher than some other payment providers, it offers a robust set of features that can be valuable for larger businesses.
Elavon
Elavon, previously known as Opayo or SagePay, is a well-known payment solution for Shopify merchants in the United States and the United Kingdom. Unlike other high-risk payment solutions, Elavon has a unique pricing structure.

This payment method supports a wide range of payment options such as credit and debit cards, PayPal, Apple Pay, and Google Pay. With Elavon, you can easily process payments in various currencies. This is beneficial for international transactions. It also allows customers to save their payment information for future purchases, providing a convenient shopping experience.
Additionally, Opayo's payment software can be utilized for both online and offline transactions. Its dependable system grants access to various card terminals, phone orders, online payments, and more. Ensuring secure transactions is a top priority, which is why Opayo offers customers the option to pay using PayPal.
Elavon has an extensive fraud detection system that minimizes the risk of fraudulent transactions. It uses industry-standard security protocols to keep sensitive customer information safe. Nevertheless, its customer authentication process's security level can pose some challenges. One significant issue with Opayo is its time-consuming account verification process, which takes around 5 weeks. During this time, you won't be able to manage any transactions.
Unlike most other Shopify payment options on this list, Opayo's pricing structure is a bit different. Instead of transaction fees, you will need to pay monthly fees, starting at 19 GBP for 350 transactions or less per month.
WorldPay
WorldPay is a payment provider for Shopify that is known for offering various secure transaction options for both small and large-scale stores. This payment method enables you to sell your products through different channels, including online sales, phone orders, and credit/debit card payments. It also provides a variety of features such as fraud protection, recurring payments, and a virtual terminal for manual card entry.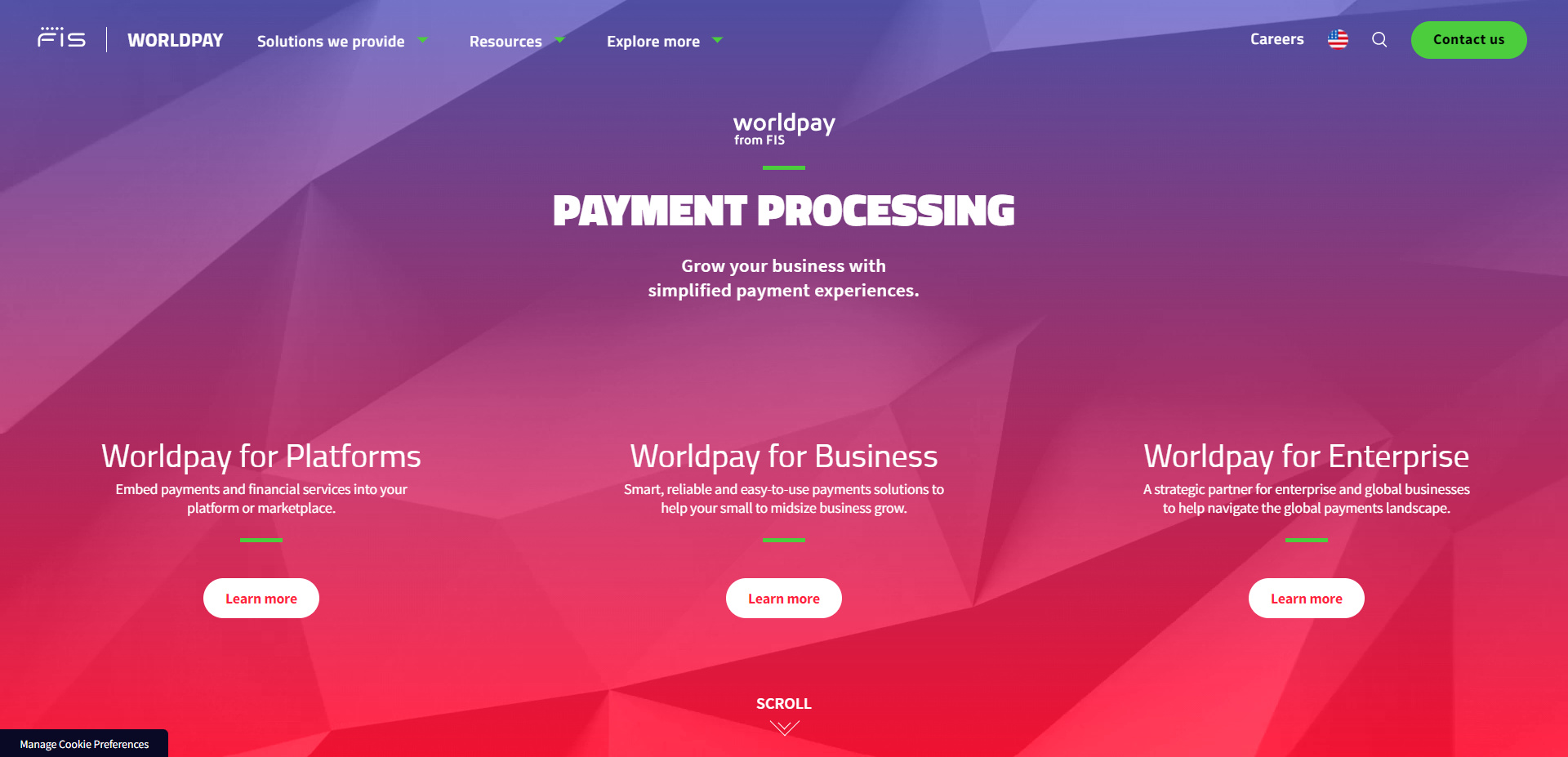 WorldPay operates in over 120 countries and has established a global reputation as a reliable payment provider. They have efficient sales, management, and support teams, enabling them to maintain their trusted position. With 24/7 customer support, they ensure that merchants can resolve any issues that may arise quickly. WorldPay's pricing is based on a sliding scale, with fees determined by the store owner's turnover. This allows for cost allocation based on business performance. Getting started with WorldPay takes only 3-5 business days.
Amazon Pay
Amazon Pay is a payment solution that is integrated with Shopify, allowing customers to easily make payments using their Amazon account. This payment method is easy to set up, and customers can use their stored payment methods on Amazon to complete purchases on your Shopify store. It is a popular payment method as it is already trusted by millions of Amazon customers worldwide.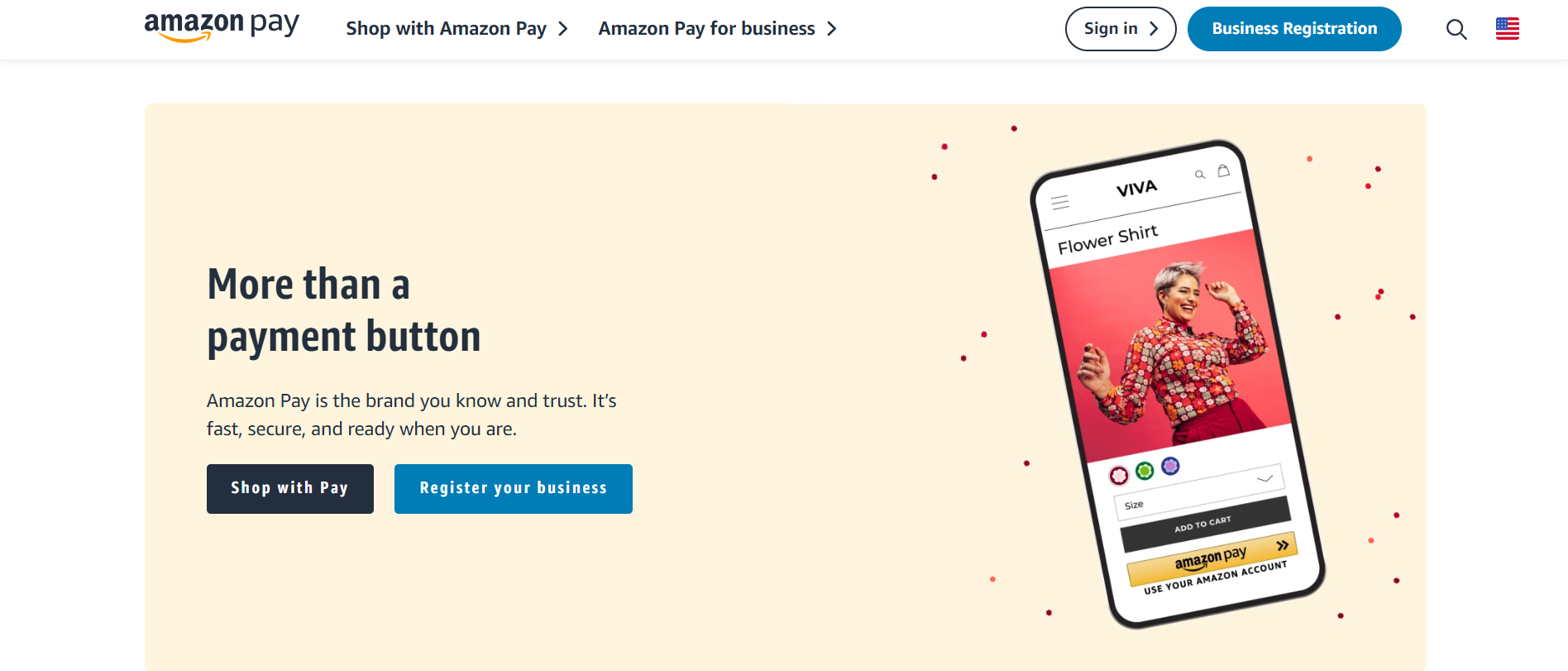 One of the key benefits of using Amazon Pay on your Shopify store is the streamlined checkout process. Customers can easily select Amazon Pay as their payment method and log in to their Amazon account to complete the purchase. This eliminates the need for customers to manually enter their shipping and payment information, making the checkout process faster and more convenient.
In terms of pricing, Amazon Pay charges a transaction fee of 2.9% + $0.30 per transaction, which is comparable to other payment methods. Additionally, there are no setup or monthly fees, making it a cost-effective option for Shopify merchants.
However, one potential drawback of using Amazon Pay is that it may not be cost-effective for small-volume merchants. Additionally, there may be a delay in receiving payments from customer purchases, which can make the transaction process longer.
Verifone
Verifone, formerly known as 2CheckOut, is a Shopify payment solution that offers various payment services for merchants to accept payments from customers. It supports a wide range of payment options such as credit and debit cards, EMV chip cards, mobile payments, and gift cards. Verifone's platform is designed to provide secure, fast, and reliable payment processing services for small and large businesses.

Verifone is a unique Shopify payment method that offers a customizable pricing plan, allowing you to select and pay for only the features that fit your business needs. One of its noteworthy features is the risk management and compliance section, which helps you identify and track potential fraud and privacy concerns. Additionally, Verifone provides a tax calculation feature that simplifies tax management for your business.
Klarna
Klarna is a popular payment method available on Shopify that enables customers to purchase items on an installment basis or pay later. This payment method is widely used in Europe, and it's rapidly gaining popularity in the United States. It offers various payment options, including Pay Now, Pay Later, and Slice It.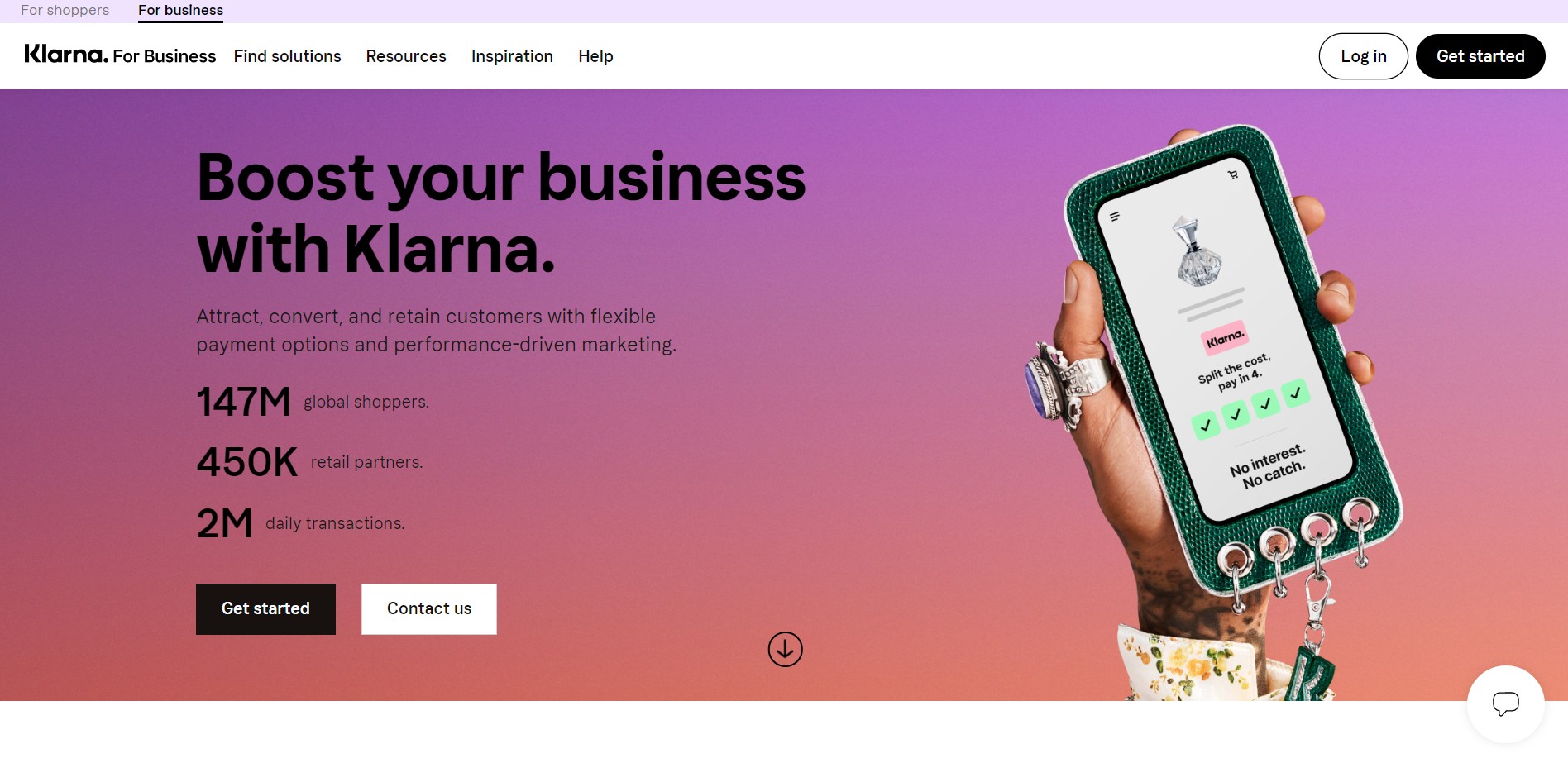 Klarna offers instant credit checks, which enables customers to make purchases quickly and efficiently. The payment method also features a mobile app that customers can use to manage their payments, track their orders, and receive payment reminders.
Merchants who use Klarna on Shopify can access various features, such as fraud detection and prevention, as well as chargeback protection. Klarna also allows merchants to customize their payment options, such as payment schedules and payment thresholds.
Klarna offers straightforward pricing plans. For payments received from the United Kingdom or Ireland, the charge is 2.49% plus 0.20 GBP per transaction. However, the pricing structure may vary for payments received from other parts of the world.
Square
Square is a popular payment solution for Shopify merchants. It's easy to set up and use, with no monthly fees or hidden costs. Square provides a range of payment options, including online payments, in-store payments, and mobile payments.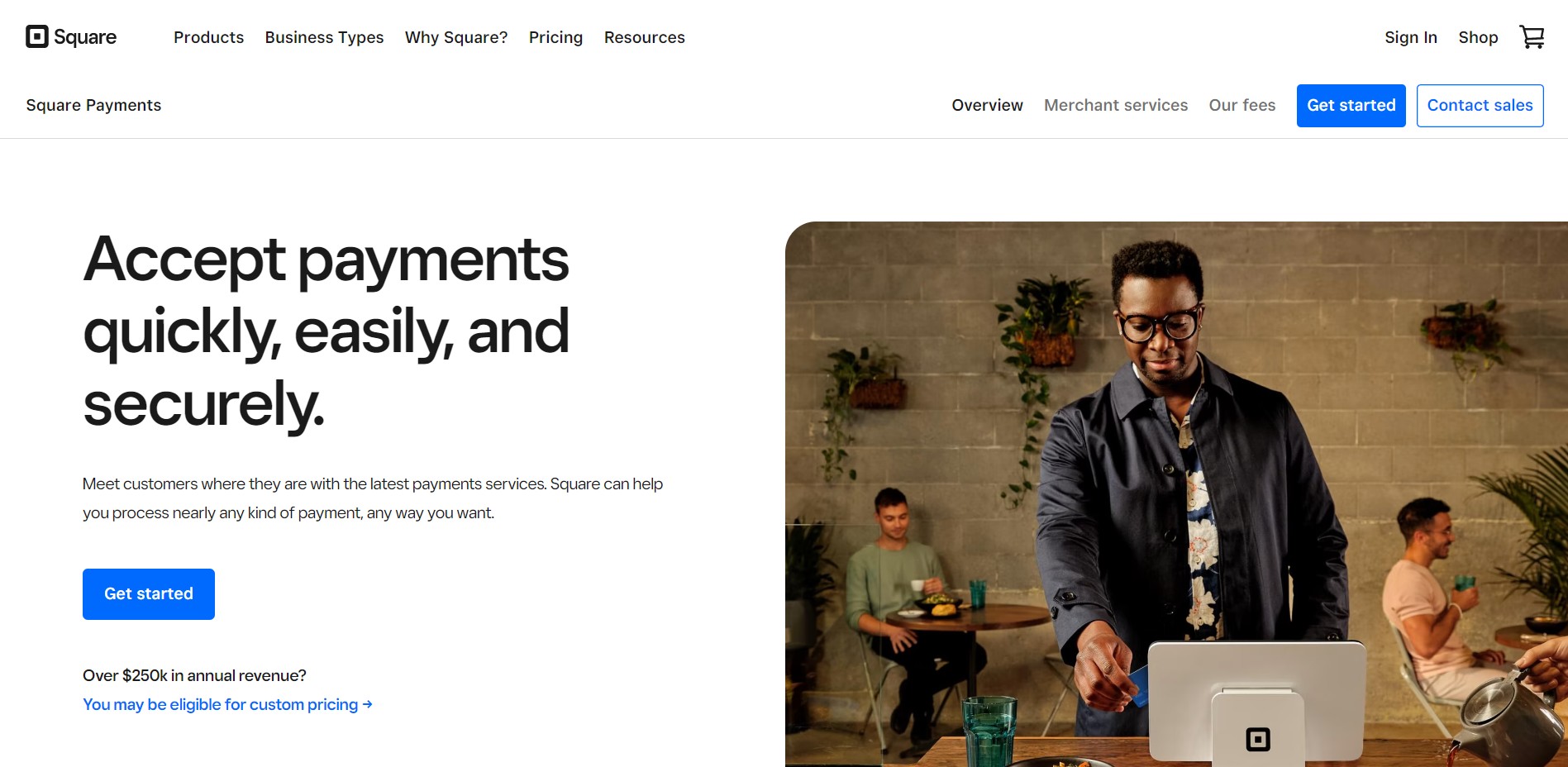 One of the main benefits of using Square is its compatibility with a variety of devices. You can use Square on your computer, tablet, or smartphone. Additionally, Square offers a range of hardware options, including card readers and point-of-sale systems, to fit your specific business needs.
Square also provides additional features, such as inventory management and sales reporting, to help merchants manage their businesses more efficiently. Different payment structures such as donations, membership fees, appointment scheduling fees, and standard transactions are offered by this payment method. Transactions processed through Square are highly secured since it is PCI compliant and utilizes end-to-end encryption. Additionally, you can receive payments to your bank account within one to two days.
Square's payment processing fees are also competitive. For online transactions, the fee is 2.9% + 30¢ per transaction, while in-store transactions are charged 2.6% + 10¢ per transaction. Square also offers custom pricing for businesses with more than $250,000 in annual sales.
Apple Pay
Apple Pay is a digital wallet payment option that is widely accepted by Shopify merchants. With Apple Pay, customers can easily make payments on your Shopify store using their iPhone, iPad, or Apple Watch.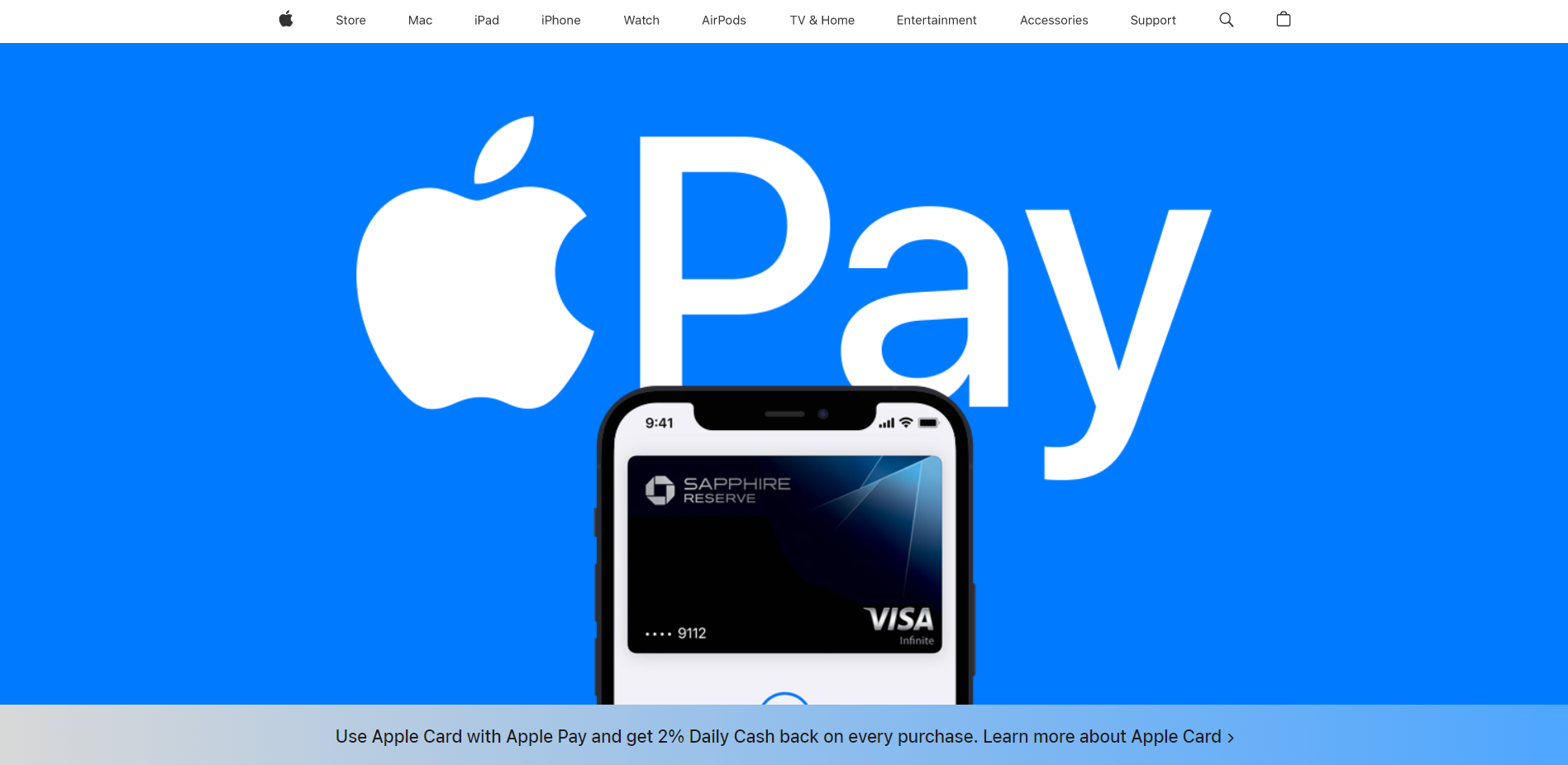 One of the benefits of using Apple Pay is that it provides a seamless checkout experience for customers, as they can complete transactions with just a touch or a glance. This can lead to higher conversion rates and more sales for your store.
Another advantage of using Apple Pay is its strong security features. Transactions made using Apple Pay are encrypted and authenticated, which makes them more secure than traditional credit card payments. Apple Pay also uses biometric authentication, such as Touch ID or Face ID, to ensure that only the authorized user can make a payment.
Setting up Apple Pay on your Shopify store is relatively easy, and there are no additional fees for using it as a payment option. However, it's important to note that Apple Pay is only available in certain countries and regions.
Google Pay
Google Pay is a popular payment method that allows customers to easily and securely pay for products and services online, including in Shopify stores. With Google Pay, customers can store their payment information and make purchases with just a few clicks or taps, eliminating the need to manually enter payment and shipping details each time they make a purchase. Google Pay uses advanced security features like tokenization and encryption to protect customers' payment information.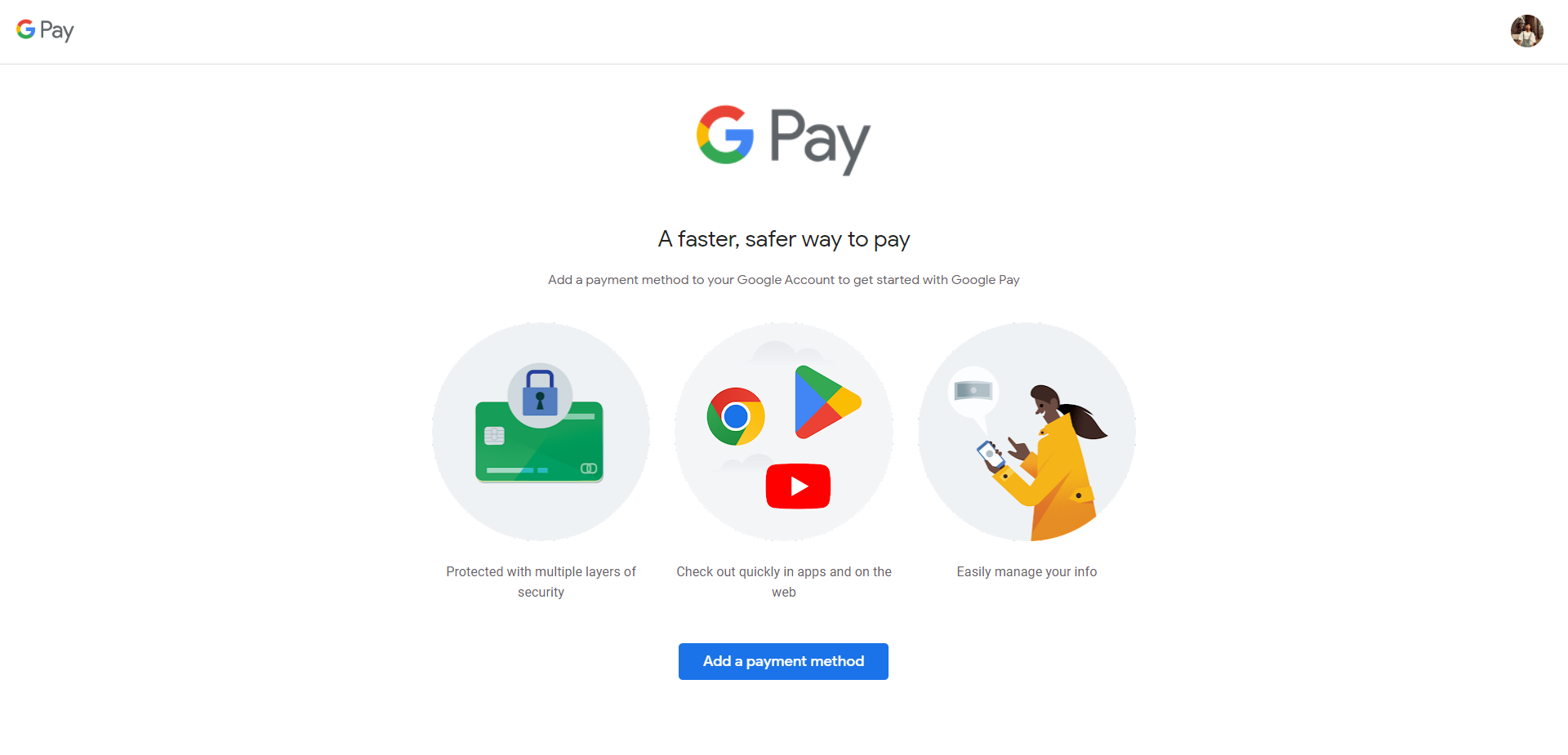 Thus, using Google Pay on Shopify can help reduce cart abandonment. By providing customers with a fast and easy checkout process, they are less likely to abandon their cart before completing their purchase. This can ultimately lead to higher conversion rates and increased sales for Shopify store owners.
Features To Look For In Shopify Store Payment Methods
When it comes to choosing a payment solution for your Shopify store, there is no one-size-fits-all option. Each payment method has its own advantages and disadvantages, making them more suitable for specific types or sizes of businesses. However, it is important to consider the following factors when selecting a payment solution for your Shopify store.
Security
One of the most important features to consider when choosing Shopify store payment methods is security. Customers want to know that their personal and financial information is safe when making a purchase. Having a reliable payment gateway is crucial for any business, as it provides fraud protection and security features that ensure the safety of your transactions. Therefore, look for payment methods that use encryption technology and are PCI-compliant.
Convenience
Your Shopify store payment methods should be easy to use and available to all customers, regardless of location or device. It is important to offer various payment options such as credit cards, debit cards, PayPal, or any other popular payment method. Failing to provide a suitable payment method can lead to customers abandoning their shopping cart, which is not ideal for any business. Therefore, it is crucial to prioritize convenience and ease of payment for your customers.
Transaction Fees
When selecting a payment provider for your Shopify store, the transaction fees charged by each provider should be a critical factor to consider. The fees directly impact your profit margins and the pricing of your products, so it is important to take them into account.
When reviewing transaction fees, it is crucial to examine both the rate per transaction and the monthly payment charged by the payment provider. It helps you determine if you are getting the best value for your money. Some Shopify payment options have high transaction fees with no monthly charges, while others have lower transaction fees with monthly charges.
Aside from transaction fees, it is also essential to check for other fees such as annual fees, settlement fees, chargeback fees, statement fees, anticipation fees, and cancellation fees. All of these fees need to be considered to determine the actual cost of the payment option you choose.
Integration
Integration ability is a critical feature to consider when selecting a payment method for your Shopify store. You want to ensure that the payment method you choose can easily integrate with your existing systems and applications. Choosing a payment method that does not integrate well with your Shopify store can cause significant operational challenges, such as manual data entry and reconciliation, which can be time-consuming and prone to errors.
Customer Support
Finally, customer support is an important consideration when choosing a payment method. If you encounter any issues with your payment system, you want to know that there is a support team available to help you resolve the problem quickly. Moreover, it is essential to ensure that the customer support team of your chosen payment provider is available 24/7 to assist you with any inquiries or concerns you may have.
In Conclusion,
As you can observe, there are several payment gateways accessible to Shopify merchants. Each gateway has its own advantages and disadvantages, hence selecting the most suitable gateway for your business is crucial. The top best Shopify store payment methods discussed in this article are some of the prevalent choices currently accessible. All of them provide merchants with different features that can assist in receiving payments and operating an online store. Therefore, to address your question, it relies on the requirements and preferences of your business. Conduct some research, experiment with various gateways, and determine which one is the most appropriate for you.
Looking to integrate a great payment gateway for your Shopify stores? Talk with our expert team now!