As a business owner, you understand the importance of choosing the right eCommerce platform for your company. Consider Shopify Plus – an enterprise-level platform with pricing that fits businesses of all sizes. In this post, we'll outline some of the key features that make Shopify Plus an attractive option, as well as provide additional insights on Shopify plus pricing. Let's get started!
Monthly Shopify Plus licensing fee
As previously mentioned, the annual licensing cost for Shopify Plus starts at $2,000 per month. Therefore, you should budget at least $24,000 each year for the license alone. Additionally, you will have additional expenses based on your income. The license price increases when you surpass $800k in a month because Shopify Plus bases pricing on usage and sales volume. This is the platform's actual pricing. However, the pricing has a cap as the maximum monthly licensing fee is $40,000.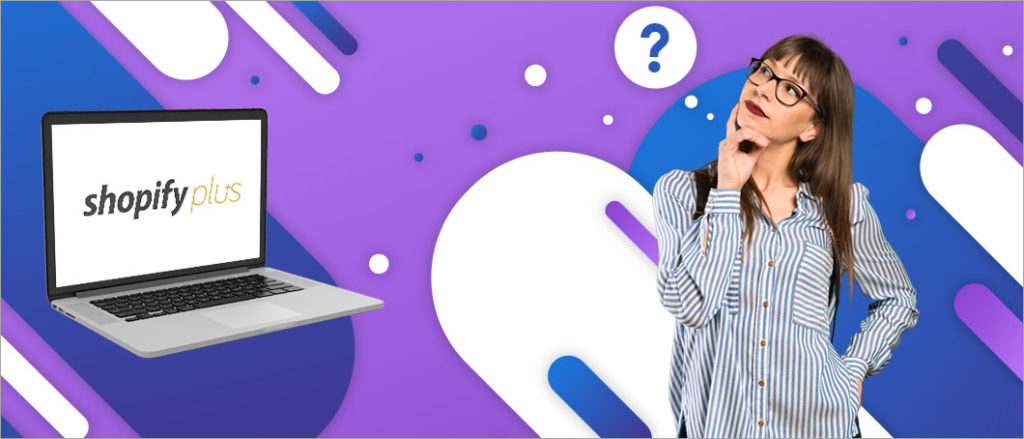 For instance, a firm with monthly revenue of $1,000,000 would pay $2,500 in licensing costs per month, according to Shopify Plus pricing. The same merchant would have to generate $16 million in monthly sales in order to pay the maximum $40,000 monthly license cost.
What exactly does $2,000 a month on the Shopify Plus platform get you? This monthly license includes coverage for the following services:
Hosting Fees
Maintenance Costs
Version Upgrades
Native Multi-channel Capabilities
Shopify's POS solution — along with integrated selling solutions for eBay, Facebook, and Amazon
Account Management — including a dedicated Launch Manager and Account Manager
General Shopify support and suggestions
About 3 hours per month of basic front-end development work
Guidance for growing your store
Onboarding support
General Shopify Plus solutions advice
The pricing structure for Shopify Plus is competitive overall, in particular, because hosting is included in the price. With regard to enterprise-level eCommerce systems, this pricing places the platform specifically towards the lower end.
What are the additional prices of Shopify Plus?
Site design and build costs
Shopify Plus does provide templates for website design and development. However, if you decide on a template, you'll surely want to customize it to set your site apart from all the other eCommerce websites available. This implies you'll have to pay extra for customization, whether it's a custom website or a template that has been significantly altered.
It's significant to account for this expense regardless of whether you handle the building project internally, through a contract with a design firm, or independently. The estimated price for this service could range between $75,000 and $100,000 depending on your needs.
Of course, the actual cost also depends on how complicated your website is and what your company needs. Larger retailers with more complicated requirements will spend significantly higher construction and design costs.
Shopify Plus credit card rates
The cost varies by nation, but if you don't use Shopify Payments, there is an additional Shopify Plus transaction fee of 0.15%.
Shopify offers payment processing in addition to their eCommerce platform under the name "Shopify Payments" (which is backed by Stripe). You don't need a merchant account or payment gateway if you utilize Shopify Payments because it handles those things for you.
What about the card processing costs associated with a Shopify Plus subscription? The Shopify Plus payment fees are 2.15% + $0.30 for each domestic Visa and MC transaction, plus an additional 1% for AMEX and foreign cards.
You might occasionally be able to get Shopify to reduce this price even further. The extent to which you can do so depends on a variety of elements, including your merchant history and sales volume.
You'll pay an extra 0.15% on top of your current credit card processing fees if you don't use Shopify Payments.
Because they have a negotiated rate with lower fees than what Shopify Payments can give (even with the 0.15% charge), some merchants opt to use a third-party payment gateway. It's worthwhile to compare prices because Shopify is integrated with more than 70 gateways worldwide, each of which has a distinct credit card processing fee.
App fees
There is a ton of feature with Shopify Plus. Additionally, third-party apps enhance and increase its capabilities. These programs satisfy demands for improved SEO tools, business-level functionality, and improved site customization. As a result, when discussing Shopify Plus pricing, keep in mind that you'll need to spend money on additional apps for your eCommerce site's greater expertise.
The cost for apps is also different in other locations. Although Shopify Plus includes a strong foundation of capability, some more advanced capabilities may be available only through third-party apps (think loyalty programs, subscription services, robust search solutions, etc.).
It's difficult to put a price on these apps because they might cost you anything from a few dollars to thousands of dollars per month. However, it's important to note that Plus stores frequently spend less money overall on apps since they may incorporate unique answers to problems straight into their themes.
In any case, it's useful to take into account potential app costs when calculating your entire monthly cost.
Maintenance fees
The expense of routine maintenance is something to be aware of. It's important to note that the maintenance costs will be quite low when compared to those of other systems (like Magento).
Simply said, this is due to the hosted platform structure of Shopify, which means you'll never have to worry about server maintenance, kernel upgrades, or security patches. This expense also varies, so contact the Shopify team to know the exact amount for your case.
Overall Shopify Plus pricing
The pricing for Shopify Plus is not always evident and might change depending on specific elements of your business, as you can see from the information above. In order to wrap up this part, we will provide you with a brief overview of the probable overall cost if you choose to use Shopify Plus as your eCommerce platform.
The first and most important factor is the monthly fee. You will be required to pay at least $2,000 each month. The total cost per year comes to $24,000. You might have to pay a variable charge, depending on how much you make. This variable cost is equal to 0.25 percent of your monthly income. Nevertheless, you won't ever have to hand over more than $40,000 per month or $480,000 annually.
You could also need to include it in development expenditures. If you want to establish a unique theme for your company, you might need to employ a developer. Depending on the scope and specifications of your project, the cost of a developer can be very variable. But Shopify Plus covers all hosting and security costs.
Advantages of Shopify Plus to your business
While Shopify works well for most eCommerce businesses, larger companies have more complex c-commerce requirements. As a result, these enterprises prefer solutions that are above ordinary.
Despite the fact that all of Shopify's plans, including Shopify Plus, share the same dashboard, editor, and support center, Shopify Plus provides these enterprise-level businesses with significantly more capabilities than any of Shopify's other plans.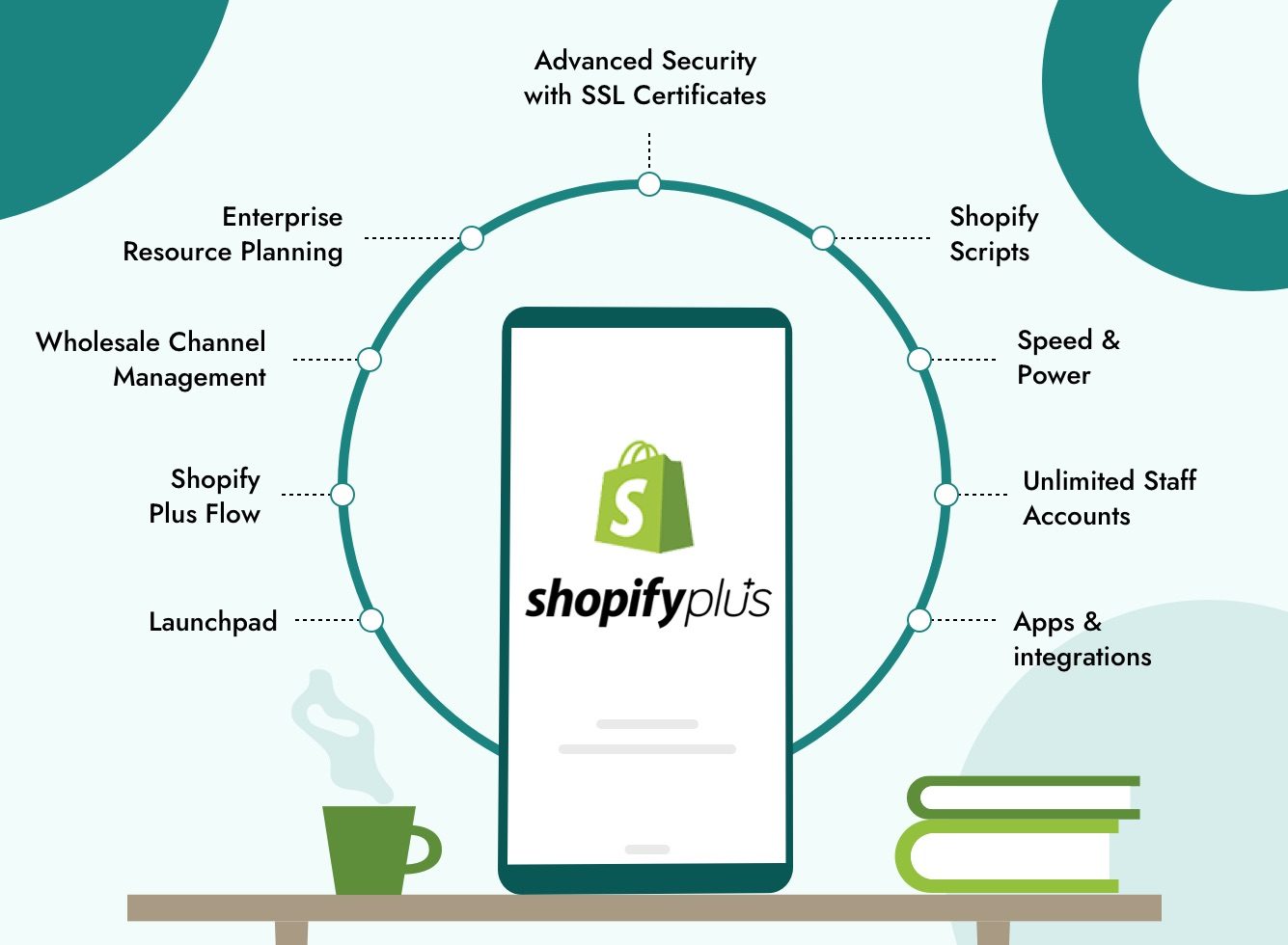 For instance, Shopify Plus offers individualized support and help along with limitless employee accounts. Additionally, it can process more than 10,000 transactions per minute. Large-volume retailers can stop worrying about their websites crashing as a result of this. Here are a number of additional Shopify Plus perks:
Scaling: Proven infrastructure that supports enterprises or enables enterprises to scale up; also advantageous for retailers who require seasonal scaling to handle higher holiday traffic.
Global deployment: Geo-targeting, currency, and language options are built-in capabilities that make it simple and quick to expand globally.
Development and maintenance: The platform's development and maintenance include hosting, servers, bug updates, order administration, bandwidth, feature implementation, and file storage.
Technical support and account management: Each client has a personal account manager.
Marketing: Shopify Plus contains a variety of common marketing tactics.
Omnichannel commerce: You can use a single platform to combine your offline and internet sales channels. Additionally, retailers can sell on more than 100 social media sites, 80+ online marketplaces, and other channels.
Seamlessly integration: Utilize Shopify apps to increase the capabilities of your store. To handle inventory, bookkeeping, customer service, marketing, discounts, or wholesale clients, you can choose the best apps for your company.
Centralized system: Other advantages of Shopify Plus include the ability to manage the inventory of all locations and examine all of your transactions in one location.
Is Shopify Plus pricing worthier than other choices?
How does the cost of Shopify Plus compare to those of competing eCommerce platforms? We look at a couple of the most well-liked platforms and contrast them to Shopify Plus below:
Vs. Shopify
It's helpful to start with standard Shopify when discussing Shopify Plus plan pricing. With this plan, there are no upfront setup costs and a 14-day free trial period. While deciding which pricing strategy best suits your needs, you may simply dive in and set up your store. There are three options for monthly pricing:
Basic Shopify (for starting a new business) – $29 per month
Shopify (for growing your business) – $79 per month
Advanced Shopify (for scaling a business) – $299 per month
Each of these plans offers various options and degrees of service for your company. All three offer limitless products, the Shopify POS app, a 24/7 customer support team, an online store, and other features. However, as you might expect, the more you pay, the more possibilities are available to you for your enterprise.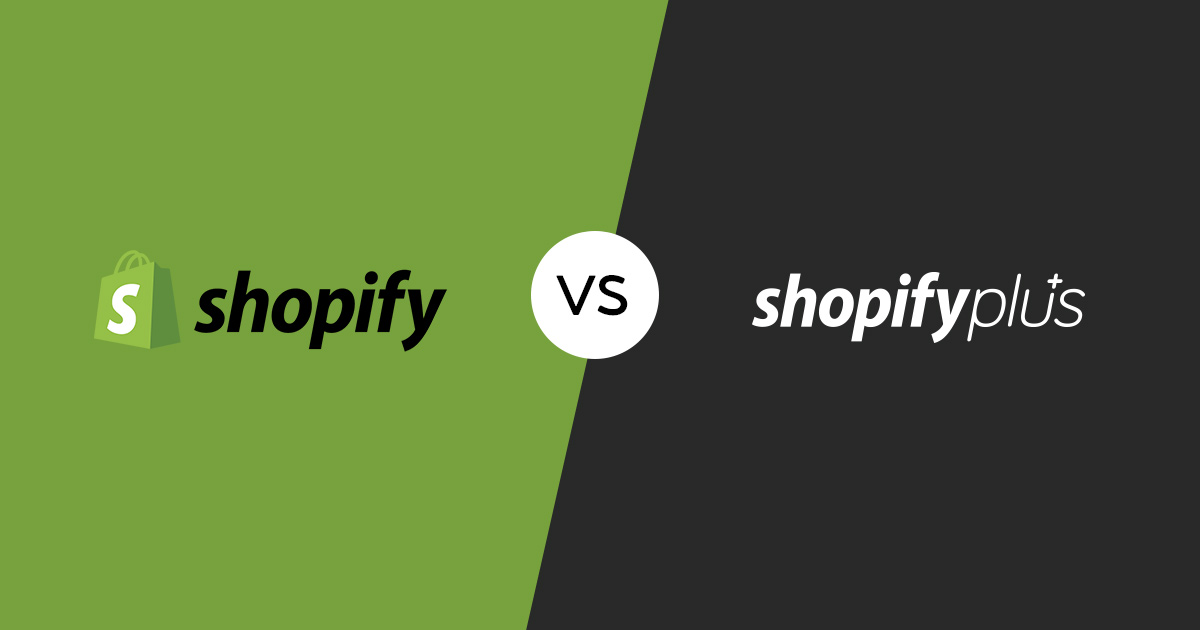 For instance, the Shopify and Advanced Shopify plans each feature 5 and 15 staff accounts, however, the Basic plan only contains 2 staff accounts. Additionally, Advanced Shopify provides unique capabilities including Third-party Calculated Shipping Rates and an Advanced Report Builder. Shopify Plus, though, unquestionably has more to offer.
Vs. Magento 2 Commerce
Magento is a platform that was first made available as an open-source project in 2008. Overall, Magento 2 Commerce is more expensive than Shopify Plus. And Shopify Plus is a better choice for companies with lesser revenue levels right now because of its reduced price.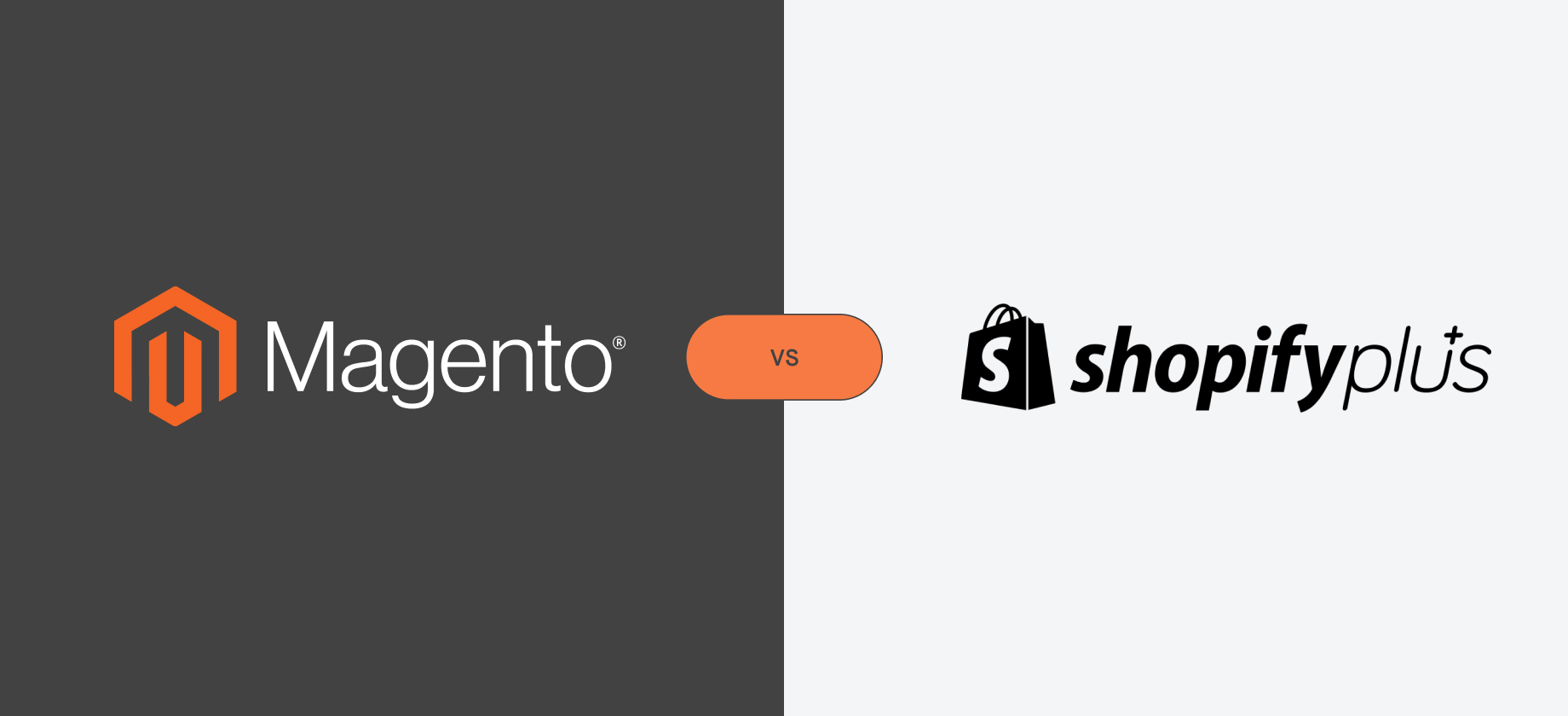 Website building – Projects using Shopify Plus typically cost less than those using Magento Commerce. One reason for the lower build cost of Shopify Plus is that the builds require less integration work and backend development. In the end, spending less money upfront means you spend less time working on the build.
License fee – Although there is a license charge associated with both Shopify Plus and Magento 2 Commerce, Shopify Plus charges a monthly subscription whereas Magento charges an upfront, annual license fee. Magento bases its pricing on your company's revenue, just like Shopify Plus does. However, Magento charges you a one-time fee known as "Gross Merchandise Value" per year. Therefore, if you're paying the lowest monthly level charge, you may consider paying roughly $2,000 in licensing fees for Magento Commerce.
Hosting – As was already mentioned, hosting is included in the $2,000 monthly licensing charge for Shopify Plus. Hosting for Shopify Plus comes with security updates, SSL certificates, PCI compliance, and other features. In contrast, Magento provides two choices. Similar hosting is available through Magento 2 Commerce Cloud, however, it costs a little more each month. Including the license and hosting, Magento's base price is approximately $3,333.
Site maintenance – Shopify Plus fees for maintenance, fixes, and updates are often less per month than Magento.
Vs. BigCommerce Enterprise
BigCommerce has also introduced a platform at the enterprise level called BigCommerce Enterprise, similar to Shopify. The platform, which went live in May 2015, was created to support high-volume sellers. And like Shopify Plus, BigCommerce is host to a number of well-known companies, like Skullcandy and Ford.
Shopify Plus monthly cost starts at $2,000 and rises depending on your sales volume, as we've already mentioned a few times. Additionally, Shopify Plus offers no monthly maintenance fees, hosting expenses, or support fees. Pricing for BigCommerce Enterprise, however, varies considerably. BigCommerce, like Shopify Plus, doesn't specifically mention prices for its Enterprise platform. However, a basic plan costs about $400 per month, according to WebMakeWebsites.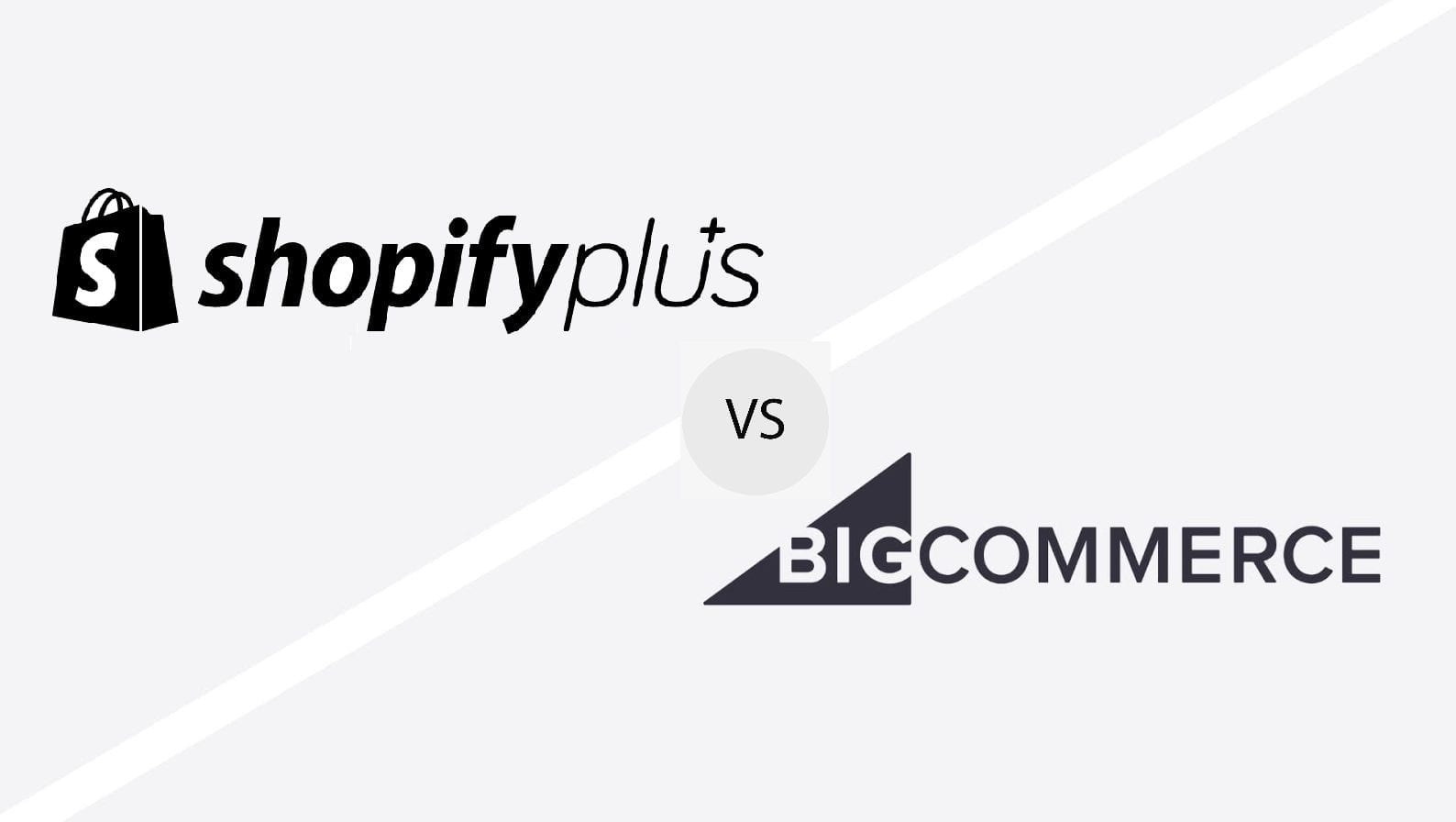 The BigCommerce Enterprise costs about $1,000 per month. The highest monthly charge, however, can reach $15,000 per month, depending on the needs and capability of your company.
The license is comparable (BigCommerce Enterprise is based on order volume, whereas Shopify Plus is a GMV model with a minimum charge), and build expenses are typically in the $75k to $200k range for both.
Overall, the BigCommerce and Shopify Plus rates are relatively similar. If you decide to utilize an outside payment source, Shopify Plus does have some extra fees, although they are quite little (0.25%).
The actual BigCommerce monthly pricing is based on your sales, traffic, and other factors, similar to Shopify Plus pricing.
To include,
Although Shopify Plus pricing can be a little complicated at first, it is important to understand what you are getting for your money. With Shopify Plus, you have access to features that can help you grow your business and reach new customers. Not only that, but the team at Shopify Plus is always available to help you get set up and answer any questions you may have. If you are looking for a powerful eCommerce platform with all the bells and whistles, then Shopify Plus is definitely worth considering.