With millions of active stores and counting, Shopify has become one of the most popular eCommerce platforms in the world. The eCommerce market is witnessing incredible growth over the past few years and Shopify Plus has helped multiple merchants launch their online businesses successfully thanks to its reliability and ability to integrate and customize. To understand more about this powerful platform and its features, in this article, we'll take a look at some of the top Shopify Plus stores examples, and how they've used the platform to achieve success.
Top 10 Shopify Plus Stores Examples For Inspiration
Gymshark
Gymshark, a UK-based fitness apparel and accessories brand, is one of the prime examples of top Shopify Plus stores. With its focus on providing high-quality workout clothes, Gymshark has grown from a startup into a global powerhouse, reaching over 180 countries worldwide.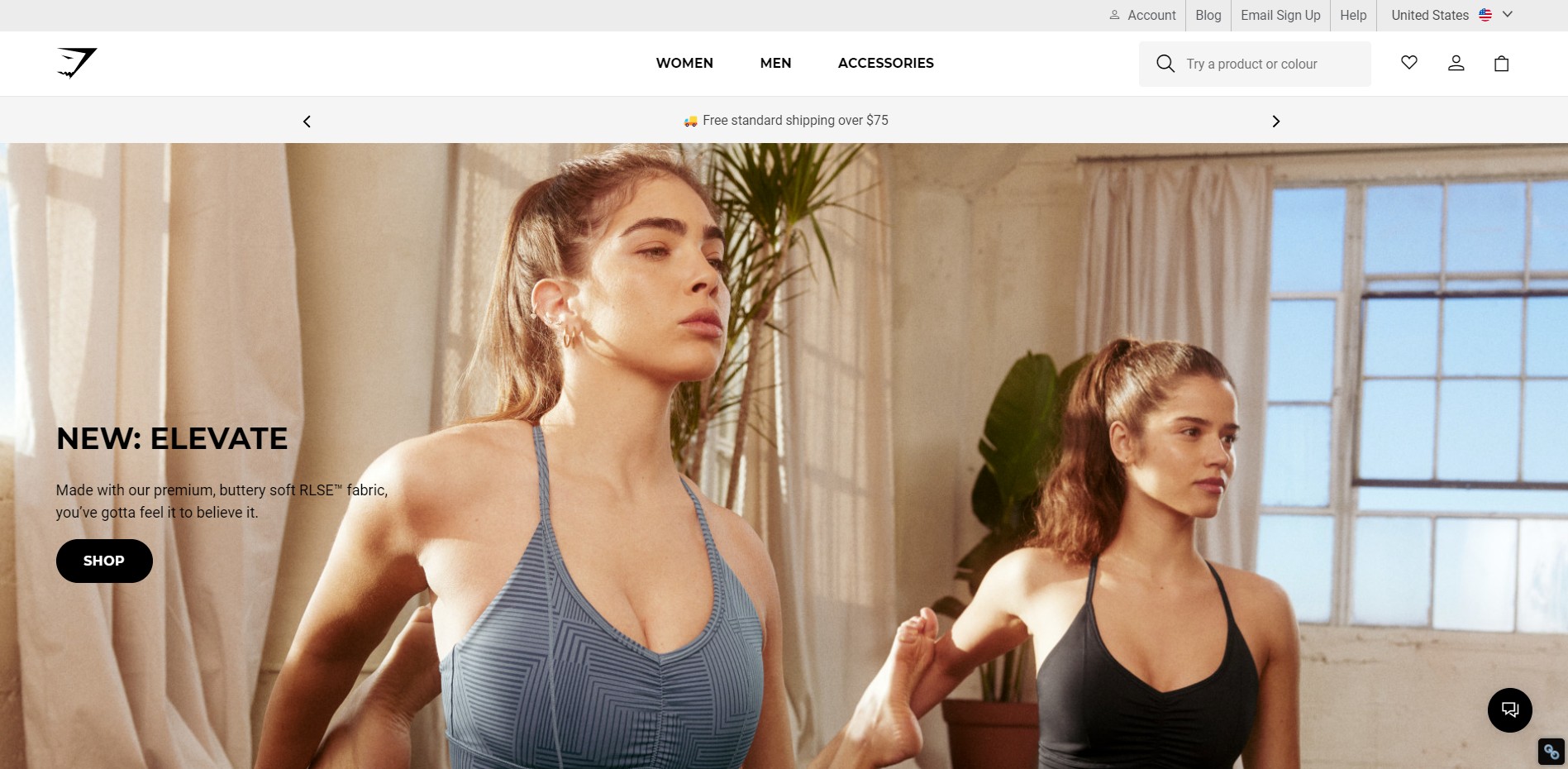 The brand's Shopify Plus store boasts a sleek and user-friendly design that caters to Gymshark's target audience: fitness enthusiasts. Its mobile-responsive interface ensures a seamless shopping experience for customers, while features such as one-click checkout and multiple payment options make the buying process hassle-free. Their desktop version brings a smooth experience too, from the high-resolution product images to the innovative quick flip feature, which enables customers to view the product from all angles in seconds by hovering their mouse over it. Additionally, the website features an intuitive menu and exceptional product pages, contributing to the overall positive shopping experience.
Gymshark also takes advantage of Shopify Plus' ability to handle high volumes of traffic and sales, allowing the brand to successfully execute major online events such as Black Friday and Cyber Monday. With Shopify Plus' scalable infrastructure, Gymshark can confidently handle sudden spikes in traffic without worrying about website crashes or slow loading speeds.
Fashion Nova
Fashion Nova is a popular fashion retailer that has made a name for itself through its trendy and affordable clothing options. The company's success can be attributed in part to its well-designed Shopify Plus store, which offers a seamless and engaging shopping experience for customers.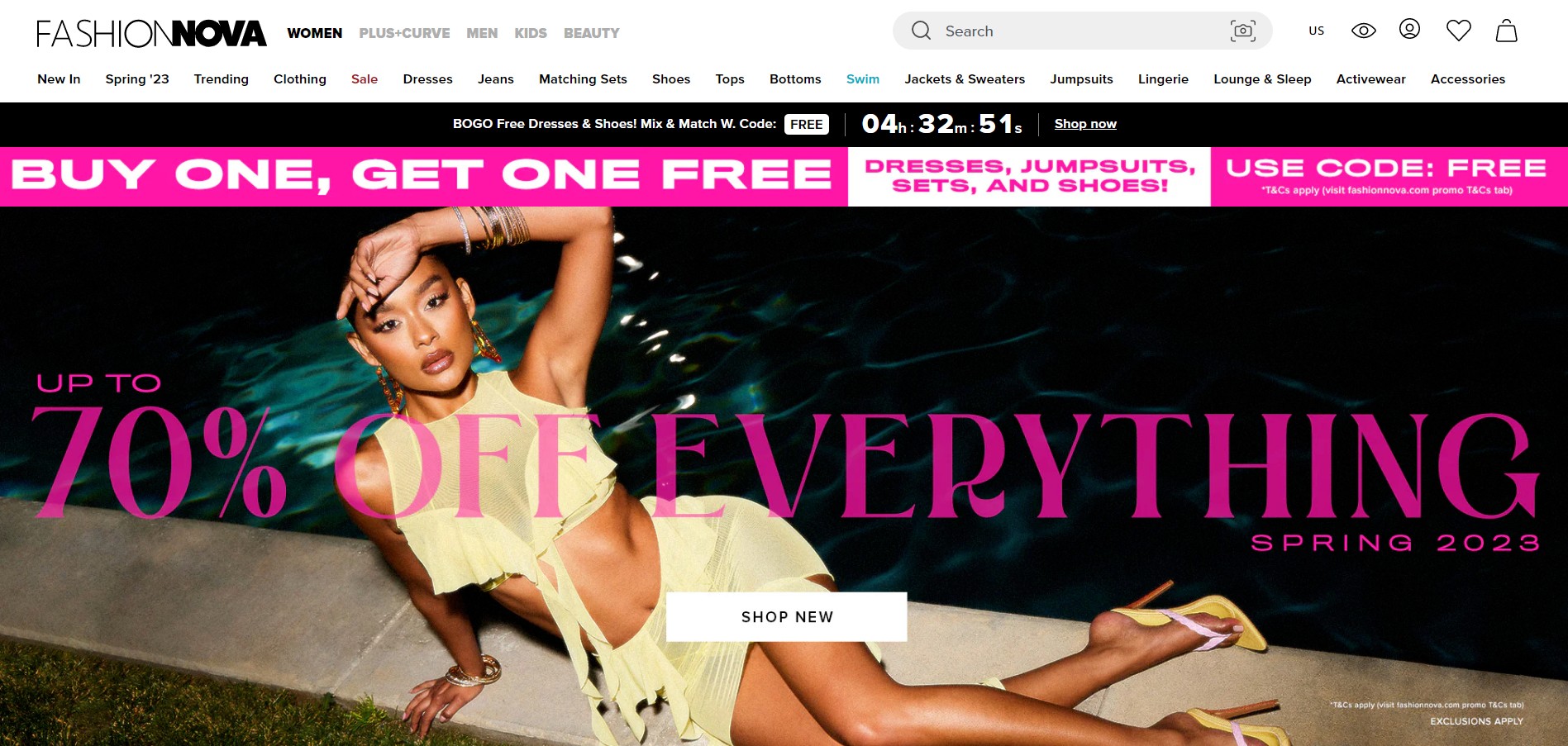 One of the standout features of Fashion Nova's store is its use of high-quality product photography. Each item is displayed with multiple high-resolution images that showcase the product from different angles, allowing customers to get a clear view of what they are purchasing. Additionally, the store offers a variety of product categories and filters, making it easy for customers to find what they are looking for.
Fashion Nova's store also features a range of tools designed to encourage customer engagement and increase sales. For example, customers can sign up for the store's email newsletter to receive exclusive discounts and promotions. The store also offers a rewards program that allows customers to earn points for making purchases, leaving product reviews, and referring friends. These points can be redeemed for discounts on future purchases.
Touchland
Touchland is a hygiene brand that offers sleek, colorful, and innovative hand sanitizers. The company's mission is to make hand hygiene fun and convenient. Touchland's Shopify Plus store owns user-friendly and visually appealing that showcases a product in an effective way.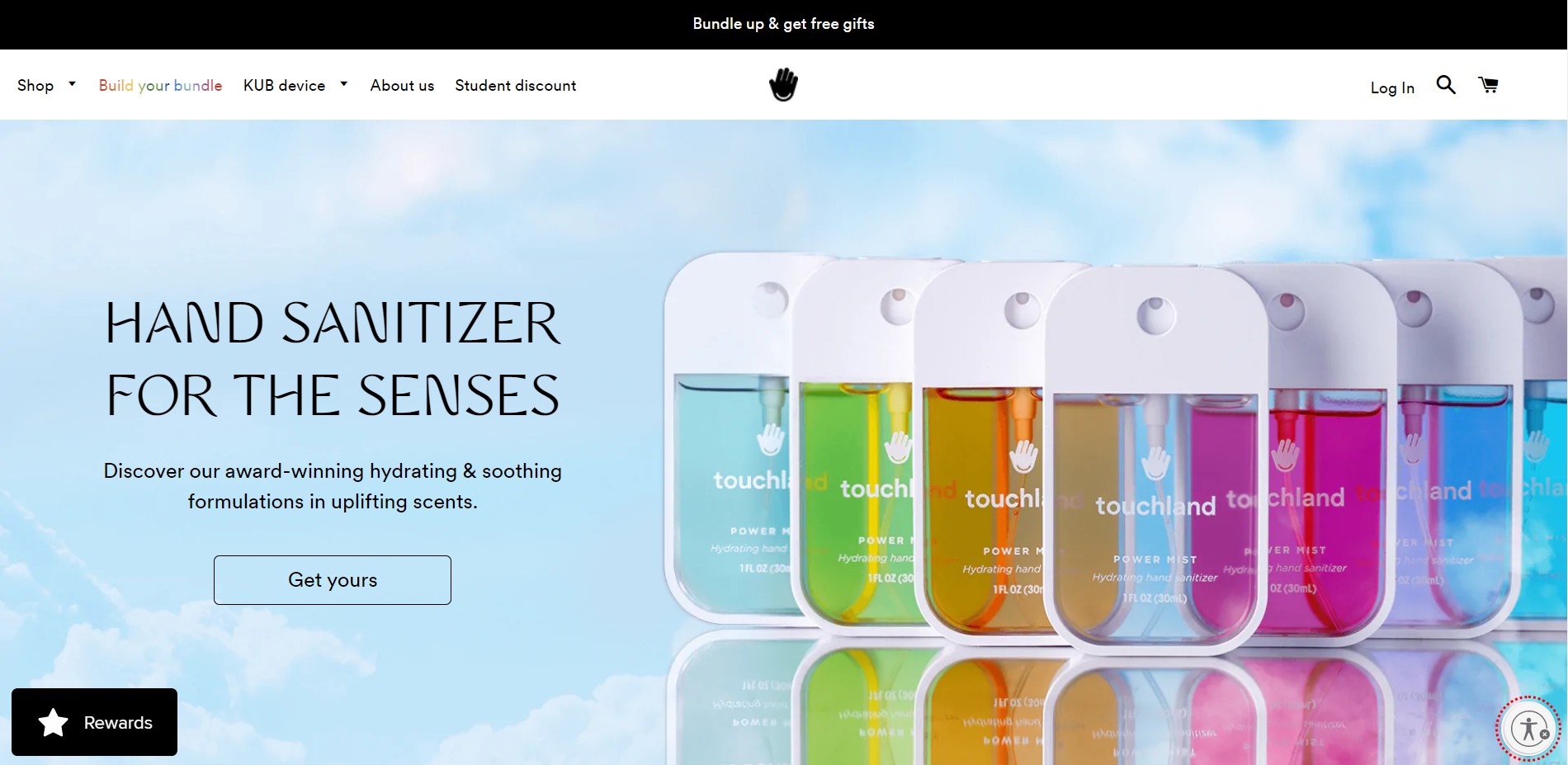 The Touchland store is easy to navigate, with a well-organized menu that allows customers to browse by product type or collection. The product pages themselves are visually stunning, with high-quality images and animations that show the product in use. The product descriptions are concise and to the point, highlighting the unique features and benefits of each product.
Additionally, this store opens a customer review section. Each product page includes this section that shows customer reviews and ratings, which can help build trust and credibility with potential customers. The store also includes social proof elements, such as As Seen In logos and customer testimonials, to further boost credibility.
Kylie Cosmetics
Kylie Cosmetics is a popular makeup brand founded by the well-known celebrity Kylie Jenner and her mother Kris Jenner in 2014. The brand offers a wide range of beauty products including lipsticks, eyeshadows, blushes, and more.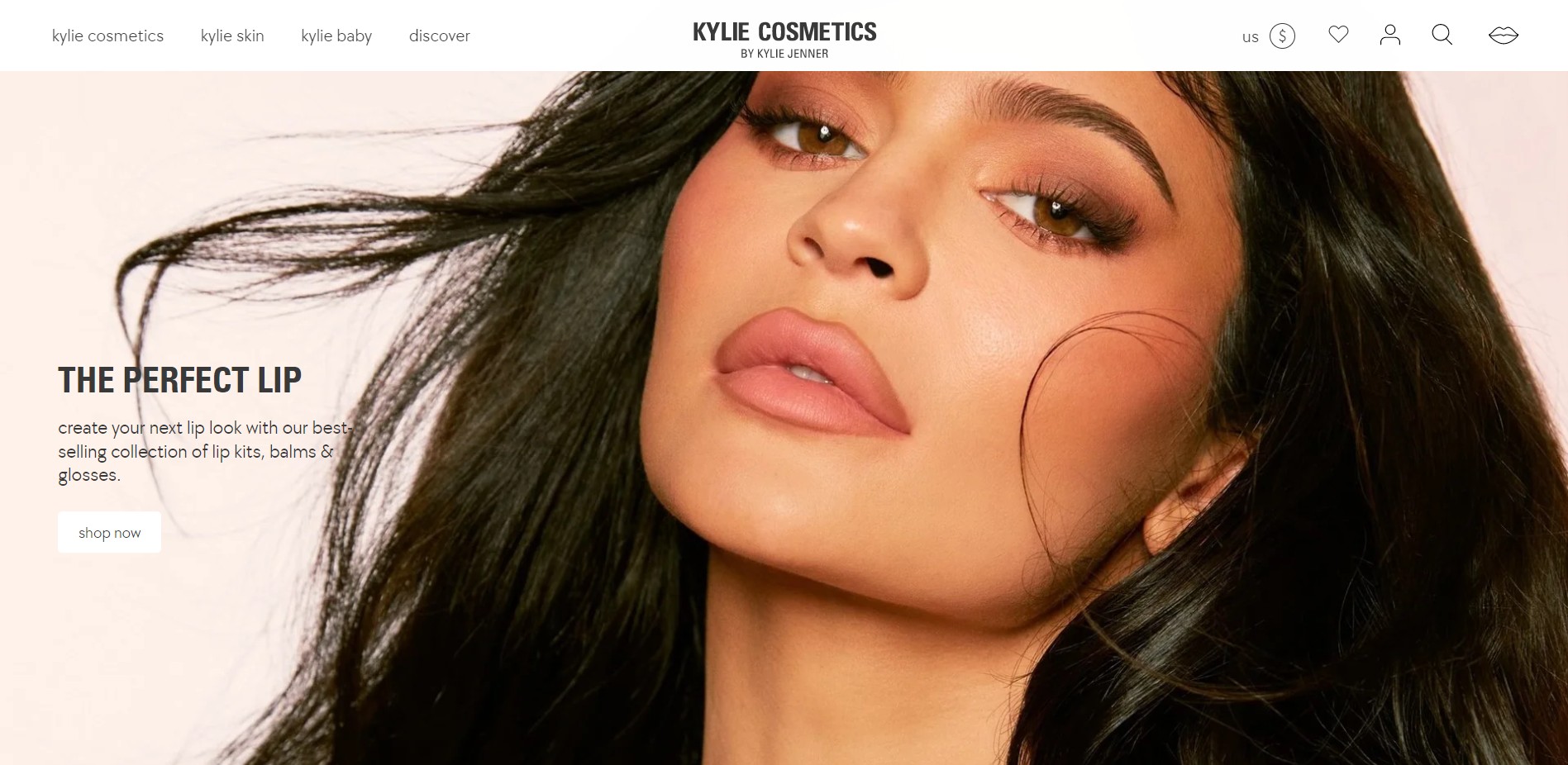 Kylie Cosmetics' website is built on Shopify Plus. The website's design is sleek and modern, featuring high-quality product images and a minimalist layout that makes it easy for customers to browse and shop. One unique feature of the Kylie Cosmetics website is the ability to shop by collection or by product type, allowing customers to easily find what they're looking for. The product pages are also well-designed, featuring detailed product descriptions, customer reviews, and multiple product photos.
In addition to its online store, Kylie Cosmetics also utilizes social media to drive sales and engage with customers. This brand and the owner Kylie Jenner have a large following on Instagram and often feature user-generated content on its website to showcase its products in use. With the combination of all the elements above, Kylie Cosmetics is totally deserved to appear in this list of top Shopify Plus stores.
Bombas
Bombas is a vibrant and playful clothing brand that's recognized for its inventive styles and donation program for socks. With the support of the show Shark Tank, Bombas was established in 2013. While working full-time jobs, the founders worked tirelessly with manufacturers from all over the globe to produce the ideal socks. They are also well known for their charitable donations, particularly for donating a pair of socks to homeless shelters for every pair purchased by customers. This makes Bombas become the most unique example in our list of top Shopify Plus stores.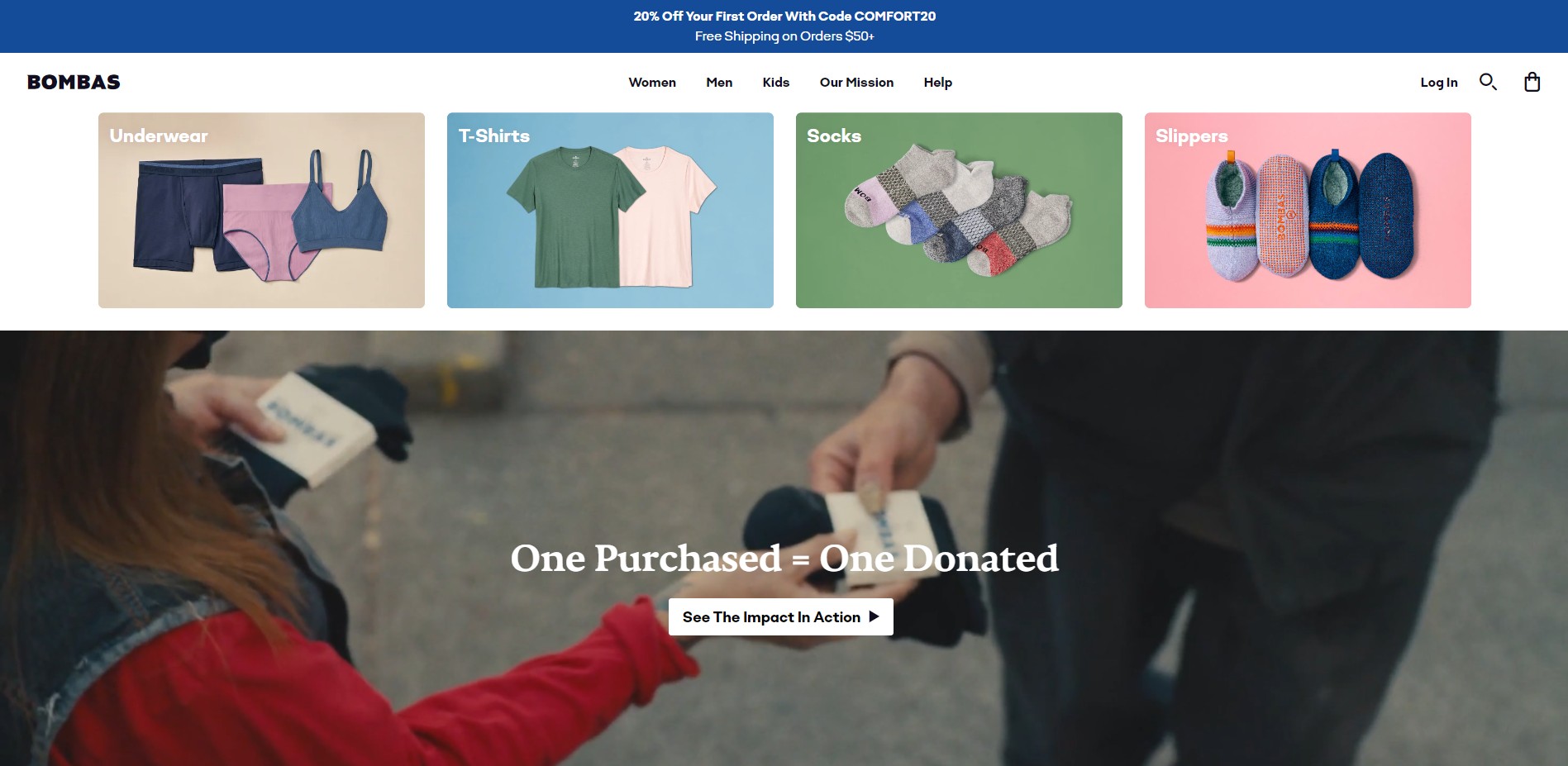 About Bombas' Shopify Plus store, its design is elegant and stylish, making it easy to navigate and find products quickly. Their product pages are comprehensive, with detailed descriptions, high-quality images, and customer reviews. Customers can also easily add products to their cart without leaving the product page, streamlining the shopping experience.
Additionally, Bombas uses several marketing tactics to encourage customers to purchase. For example, they offer a discount code to new subscribers who sign up for their email newsletter, and they also offer bundle deals to incentivize customers to purchase multiple pairs of socks at once.
Lord & Taylor
Lord & Taylor is a well-known fashion retailer that has been in business since 1826. They have a wide range of products, from clothing to home goods. However, with the rise of eCommerce, the company struggled to generate revenue due to the lack of an online store to attract and serve its customers.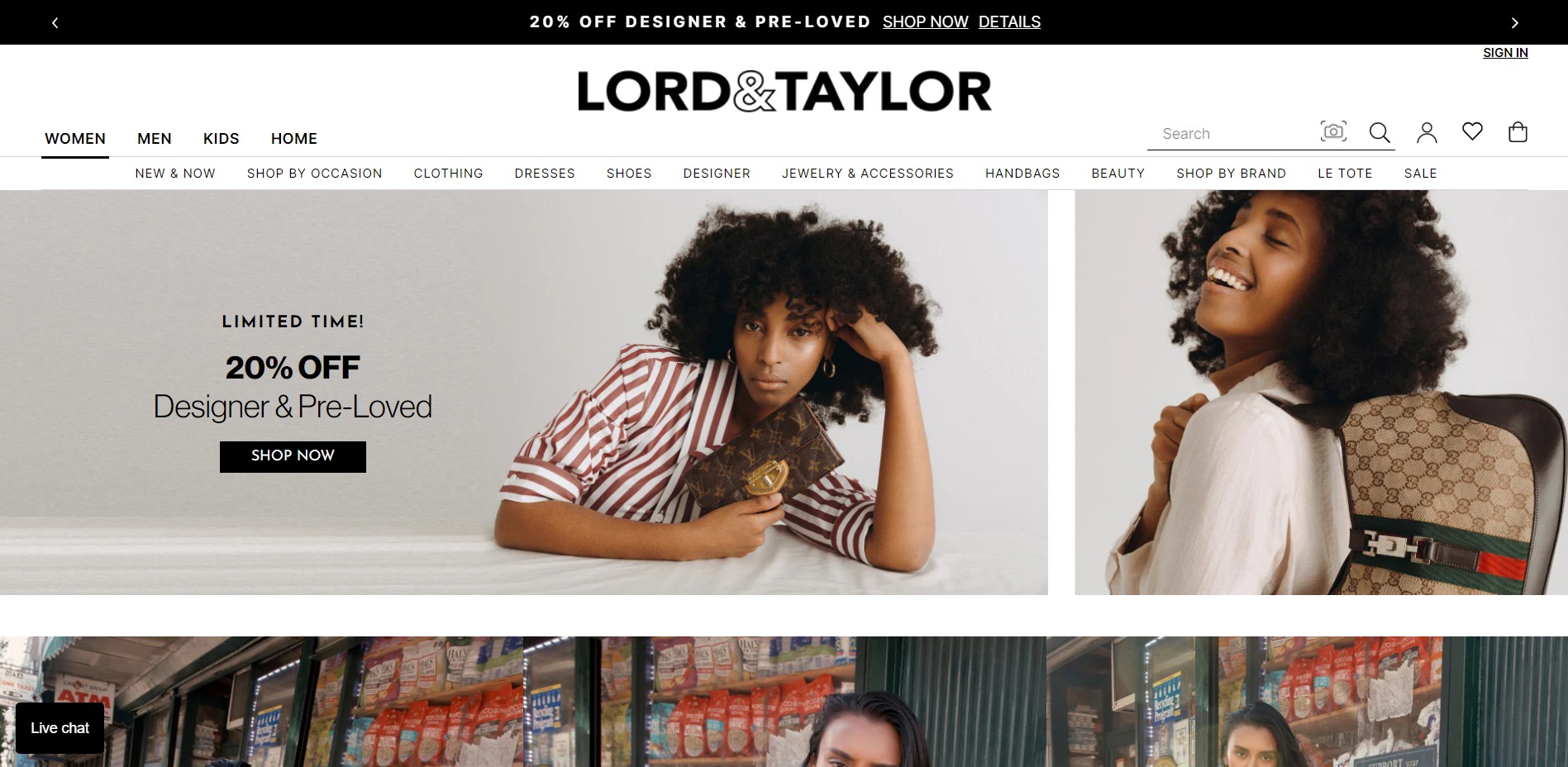 Lord & Taylor decided to use Shopify Plus to launch their online store, which was completed in less than 100 days. The store quickly gained traction with around 2.14 million site visitors, and they utilized Shopify's payment system, Shop Pay, to make purchases. In just a few months, the well-established brand was able to transition from a physical store to an online store, including mobile sales, and increase its revenue by 44%.
These remarkable results are achieved through its website's beautiful design and useful functions installed. The website features beautiful imagery, easy navigation, and a seamless checkout experience. Lord & Taylor also offers various promotions and discounts to encourage customers to make purchases. With Shopify Plus, they have been able to provide their customers with an exceptional online shopping experience while also managing their operations efficiently.
Allbirds
Allbirds is a sustainable shoe brand that was founded in 2016. The brand gained popularity due to its eco-friendly approach to footwear and comfortable designs. The company has a strong online presence, with an impressive online store powered by Shopify Plus.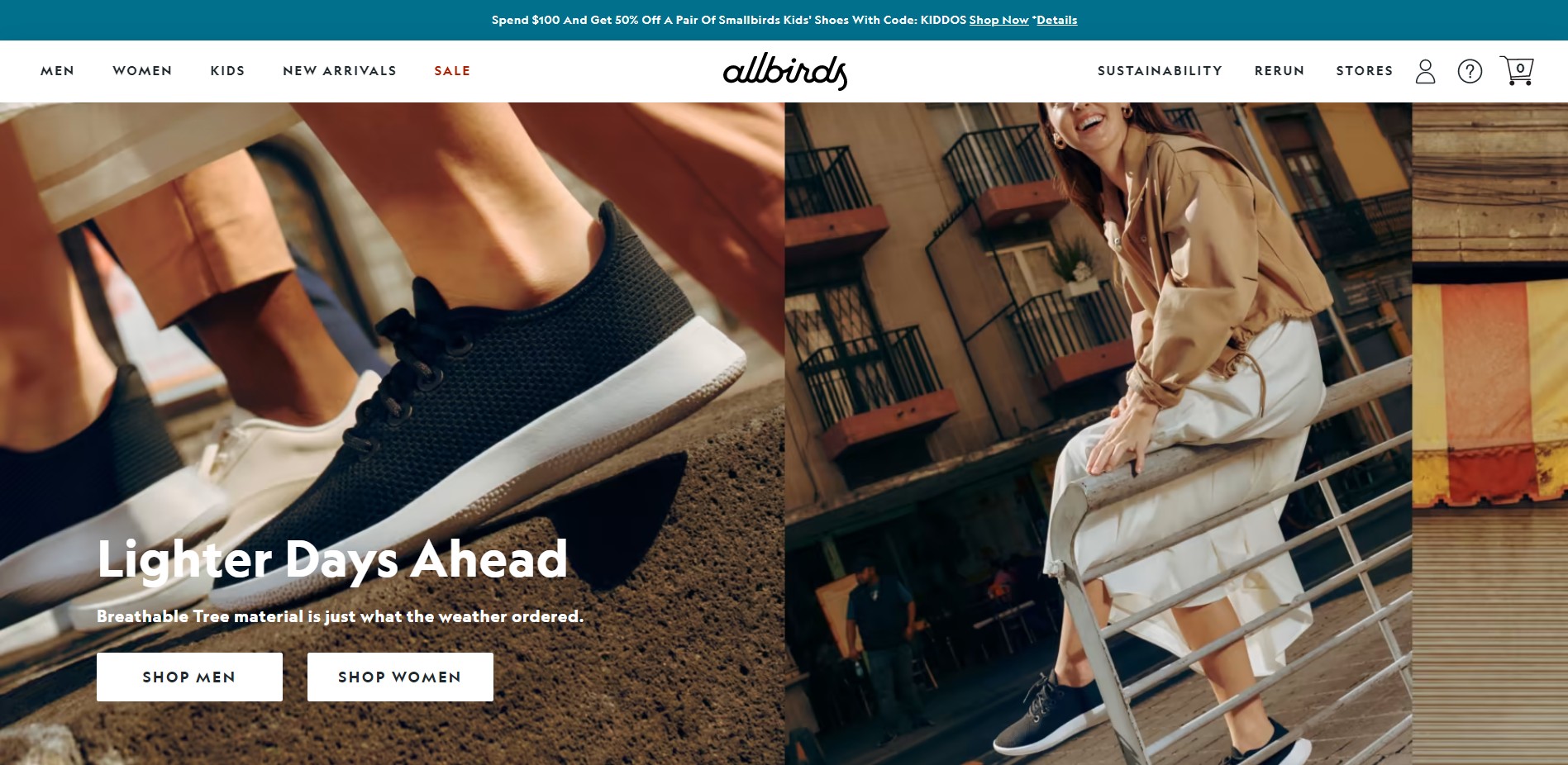 The store features beautiful product photography and a clean, modern design. Their limited edition designs are particularly valuable to their customers. However, what stands out the most are their product pages, which offer color and size options, as well as additional content such as Instagram feed displays, material information, and product benefits.
Allbirds also uses Shopify's advanced features to provide a seamless shopping experience for customers, including personalized recommendations and quick, easy checkout options. With the help of Shopify Plus, Allbirds has been able to scale its business and expand its reach, while maintaining its commitment to sustainability.
Red Bull
Red Bull is a well-known energy drink brand that has also made a name for itself in the world of extreme sports and events. In addition to its physical stores, Red Bull has also developed an impressive online presence through its Shopify Plus store.
With Shopify Plus, Red Bull is able to create an engaging and immersive online shopping experience for its customers. Their website features high-quality product images, seamless navigation, and an easy-to-use checkout process.
Red Bull also uses Shopify Plus to offer its customers a subscription service, providing them with a convenient way to regularly purchase their favorite energy drinks. Additionally, the website offers personalized product recommendations based on the customer's browsing and purchasing history. This enhances the customer experience and helps Red Bull to increase its sales and customer loyalty. This brand name always shows up in the top list of top Shopify Plus stores examples for inspiration.
Ooni
Ooni is a company that designs and sells high-quality outdoor pizza ovens. They started as a small Kickstarter campaign and quickly grew into a successful eCommerce business. With the help of Shopify Plus, Ooni was able to provide an amazing online shopping experience for its customers.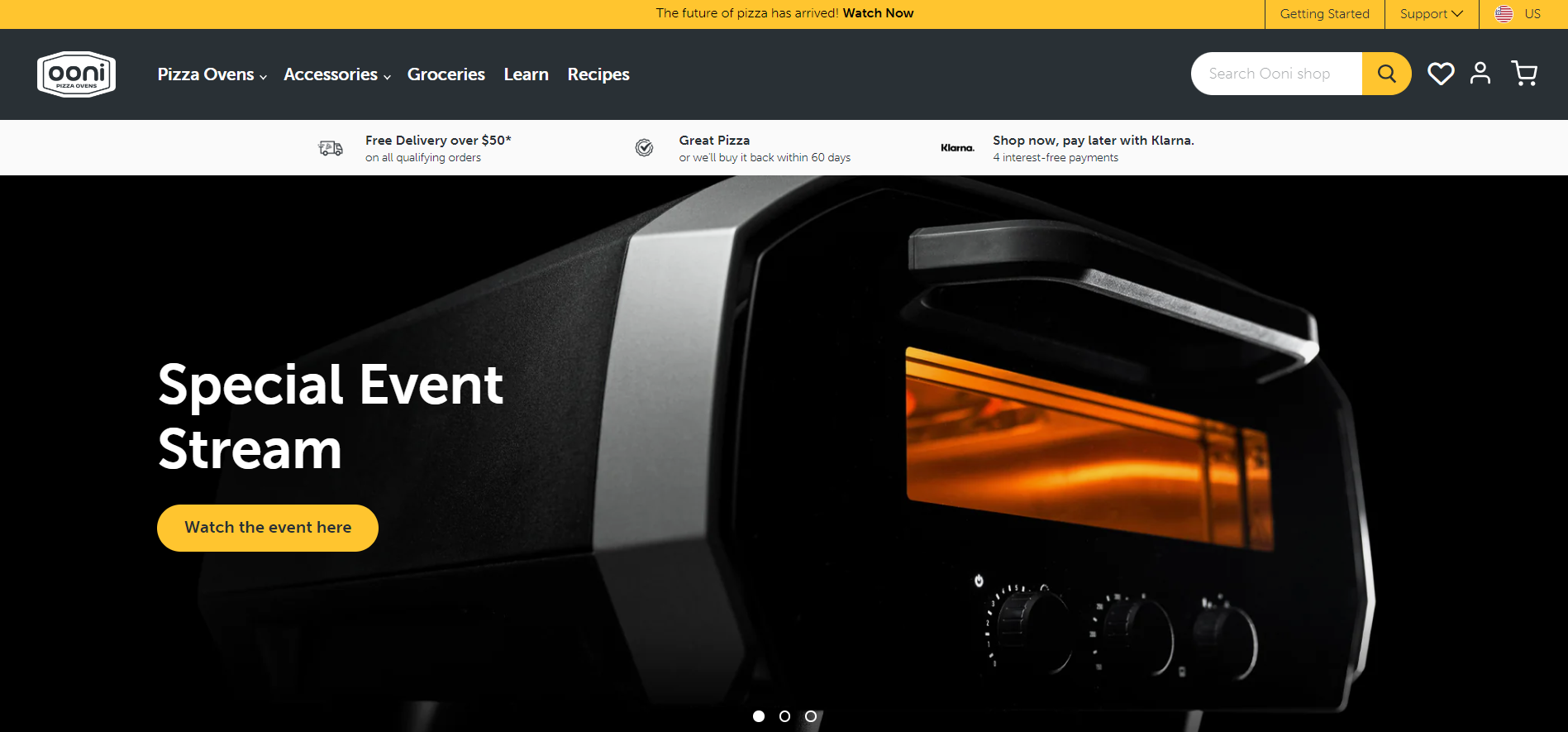 Their website is well-designed, easy to navigate, and has a lot of features that make the shopping process smooth and enjoyable. One of the remarkable features is its product pages, which include detailed information about each product and helpful customer reviews. Ooni's use of Shopify Plus has helped them to build a loyal customer base and become a well-known brand in the outdoor cooking industry.
Wild Deodorant
Wild Deodorant is a Shopify Plus store that offers eco-friendly and natural deodorant products. Their site features a clean and modern design, with easy navigation and product pages that showcase their unique scent offerings. The special point about their store is that they provide a subscription service for customers to receive regular deliveries of their favorite deodorant scents, making it a convenient option for those looking to make sustainable choices in their personal care routine. Additionally, Wild Deodorant uses Shopify's payment system, Shop Pay, to offer customers a seamless and secure checkout experience.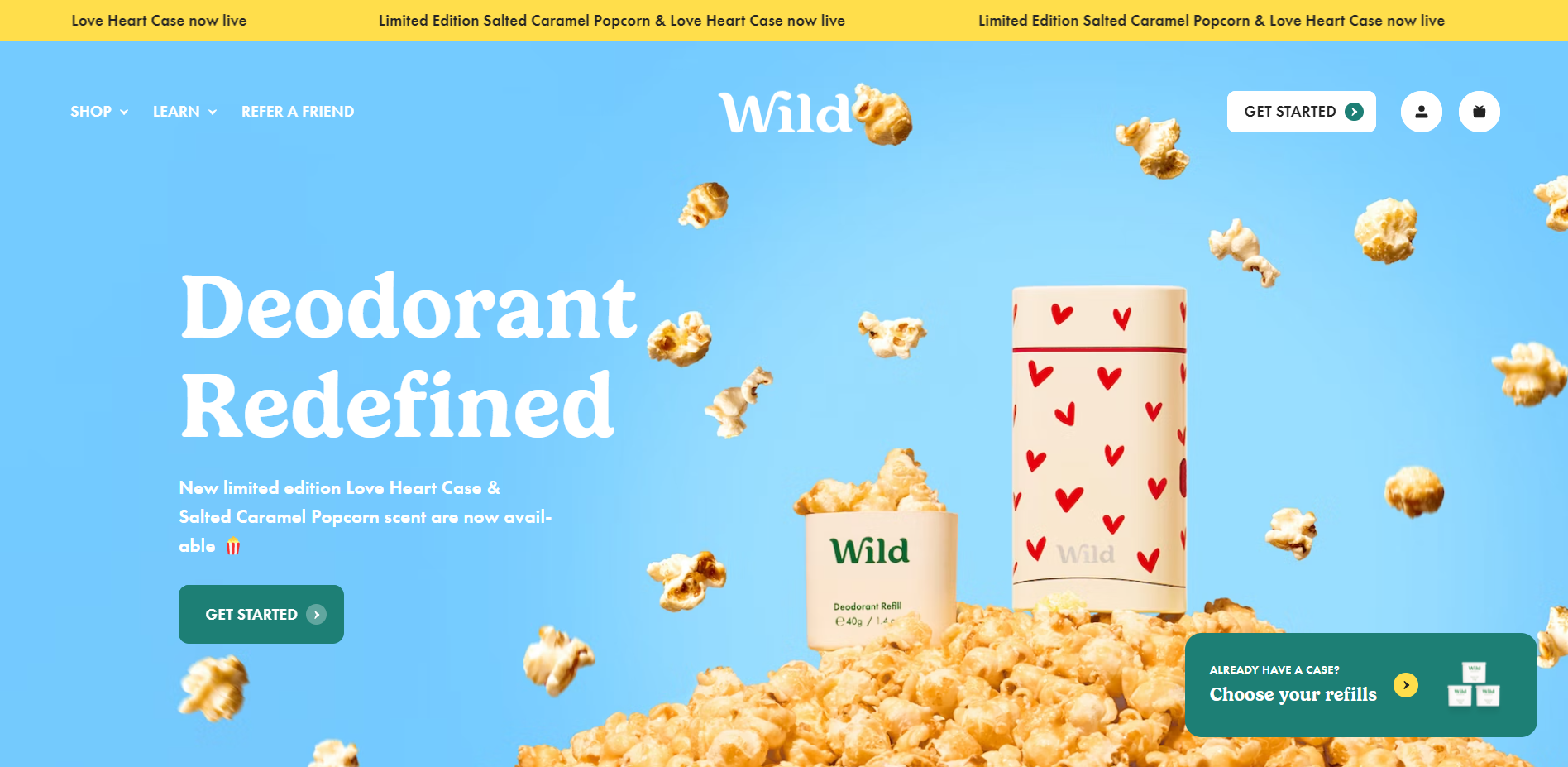 Tropic Skincare
Tropic Skincare is a UK-based Shopify Plus store that offers natural, vegan, and cruelty-free skincare products. The company was founded in 2011 by Susie Ma after her appearance on The Apprentice and has since grown to become a leading player in the beauty industry. Tropic's online store features an elegant and user-friendly design, with a focus on visually appealing product pages and a seamless checkout process.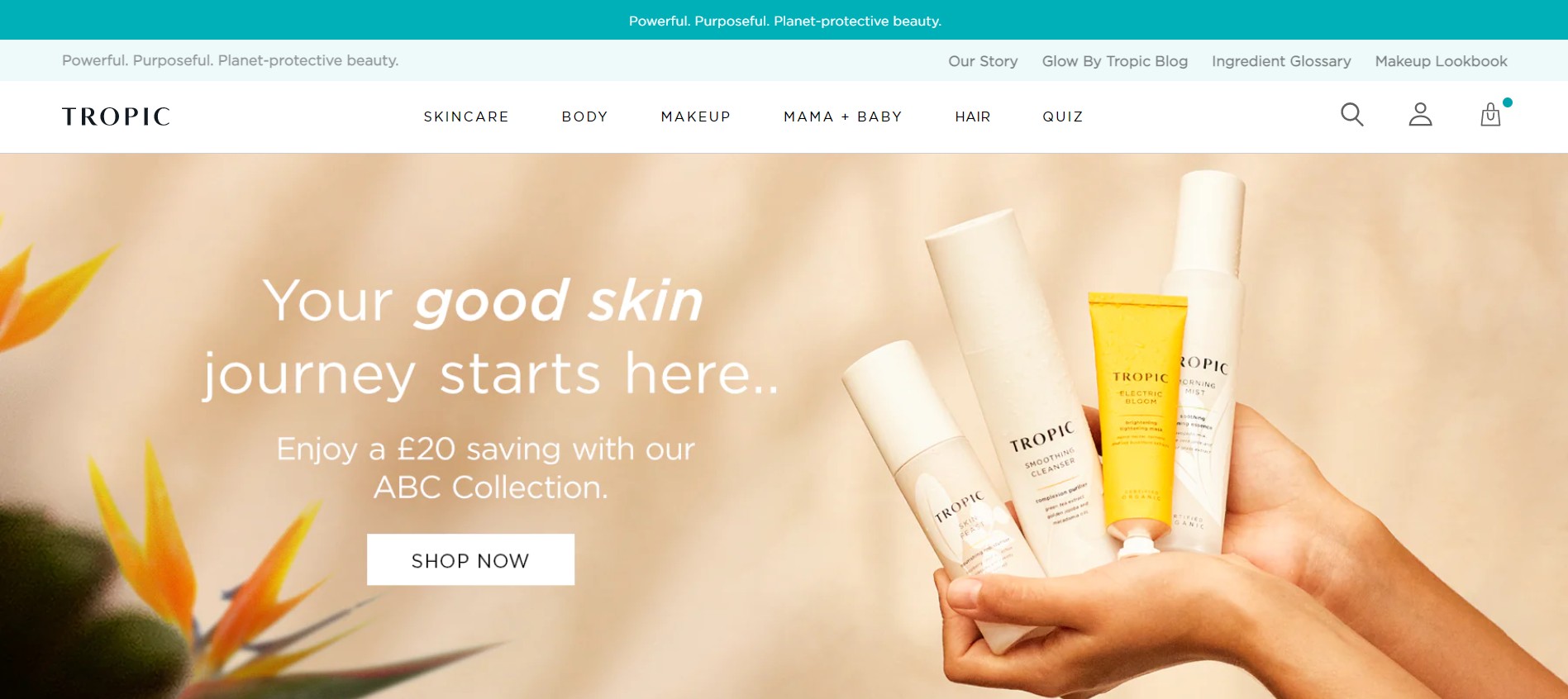 Another powerful feature of Tropic's Shopify Plus store is its use of high-quality product photography and videos to showcase its products. They also offer a personalized skincare consultation service, which helps customers find the right products for their specific skin concerns. Tropic's commitment to sustainability and ethical production is reflected in its use of recyclable and biodegradable packaging materials.
Why Should Large-scale Businesses Utilize Shopify Plus?
As you may know, Shopify Plus is an eCommerce platform that especially serves large-scale businesses that require more resources and customization to sell more products effectively. It offers a range of advanced features and tools that can help businesses streamline their eCommerce operations, improve their online sales, and ultimately, increase their revenue. So, why should big companies utilize this platform?
Scalability And Reliability
Shopify Plus will solve all your worries about handling an out-growth business. It is a platform that can effectively manage even the largest online sales events. For brands, times of high traffic can be exciting, but Shopify Plus users need not be concerned during these periods. Shopify Plus has taken measures to ensure that its platform can provide limitless scalability to meet the increasing demands of expanding brands.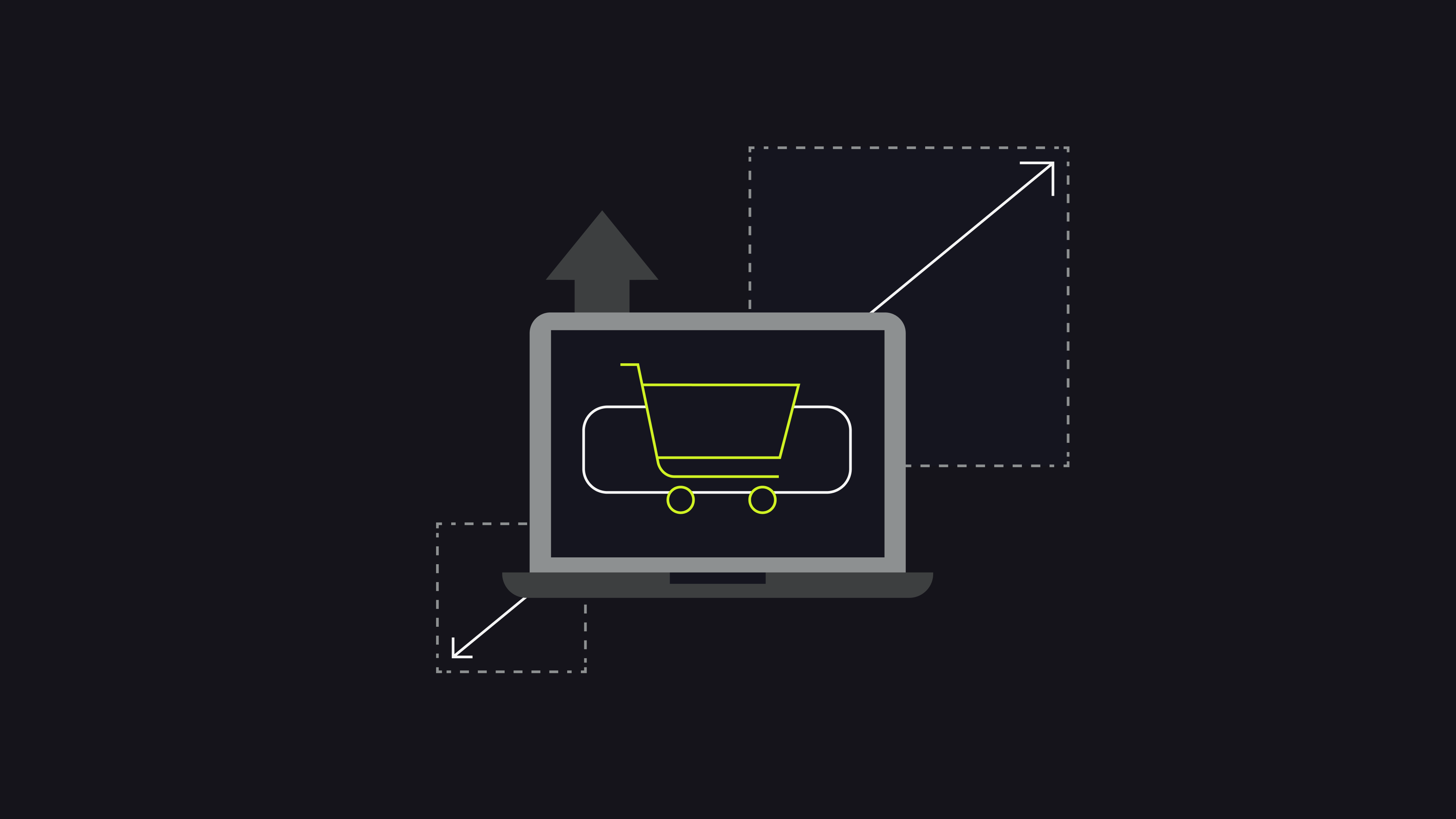 Shopify Plus has the ability to endure 1 million pageviews and 10,000 checkouts per minute and boasts an impressive uptime of 99.99%. Even during peak traffic periods, your store's performance remains unaffected. You can celebrate knowing that you made the right choice, without any worry or concern when your store is bustling. Your customers can easily make their purchases, and your team can relax, reassured that they have chosen the right platform in Shopify Plus.
Additionally, many merchants also worry about security problems. Reliability, or security, is always of the top priorities for any large-scale business, and Shopify Plus offers a range of security features to protect your online store and your customers' data. The platform is Level 1 PCI compliant and uses SSL encryption to protect against online fraud and data breaches.
Customization
Shopify Plus offers a range of customization options, allowing businesses to tailor their eCommerce operations to their specific needs. From custom themes and integrations to bespoke checkout experiences, Shopify Plus offers a level of flexibility that is unmatched by other eCommerce platforms. Especially about the checkout features of this platform, to enhance the shopping experience for identified customers, Shopify Plus provides the ability to personalize the checkout process with a variety of fast payment options. By accepting popular payment methods like Apple Pay, Google Pay, Amazon Pay, and Shopify Pay, especially on mobile devices, you can increase conversions and offer a smoother checkout experience for your customers.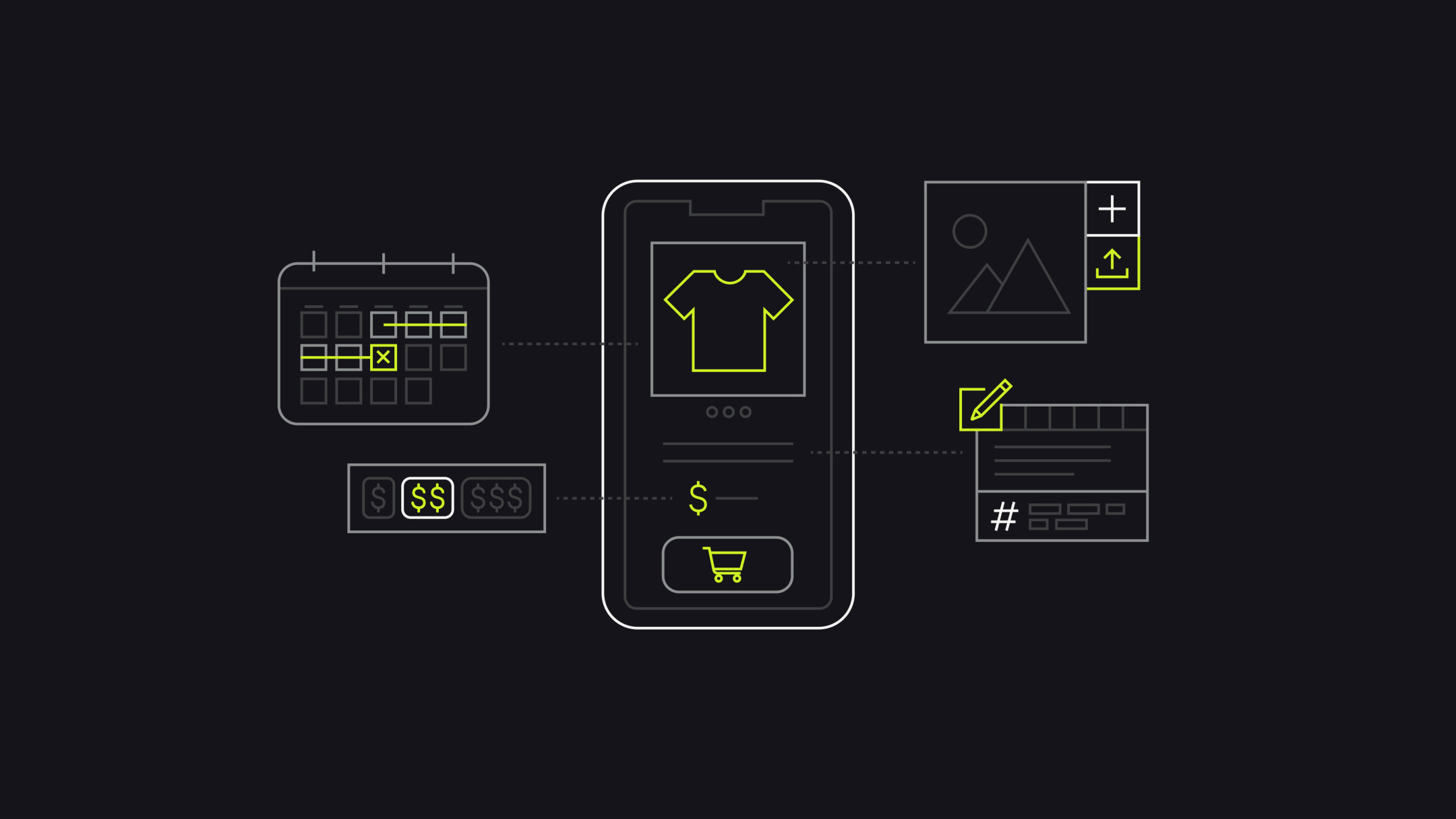 Multi-channel Selling
Shopify Plus is designed to simplify international sales, whether through multiple expansion stores for different regions or seamless multi-currency sales within the same store. With Shopify Plus, merchants can create up to nine additional stores for various sales channels, each with their own products, integrations, and content. Additionally, foreign customers can be charged in their native currency.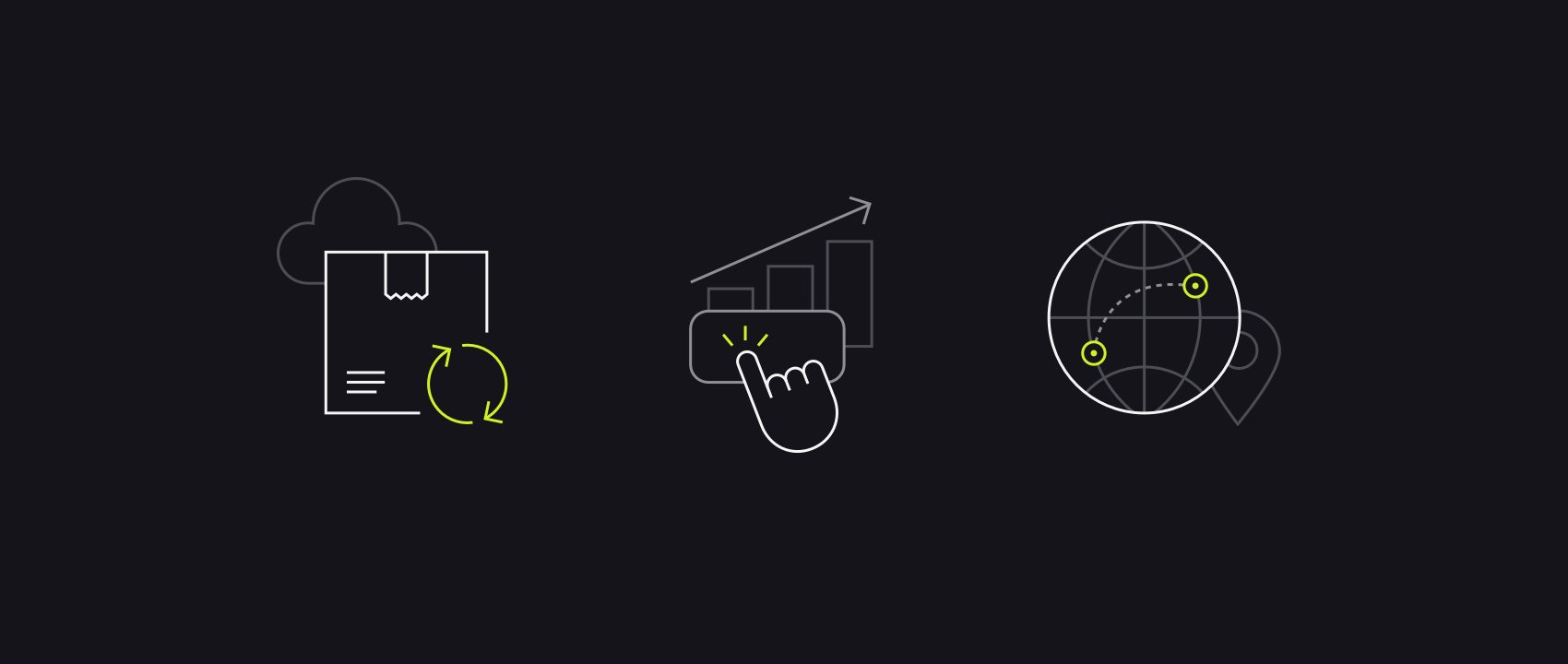 For businesses seeking to expand globally, Shopify Plus offers flexibility in approaching international markets. Starting with a single multi-currency store is a low-commitment way to test the waters in new markets. If successful, merchants can justify opening a second store in that region, providing a localized shopping experience. The Shopify app store also offers options for improving regional localizations and boosting foreign sales operations.
Merchants also have access to multiple sales channels through Shopify Plus, with native integrations for Amazon, eBay, Twitter, Instagram, Pinterest, and third-party integrations for platforms like Wanelo and Wish. Shopify Plus simplifies the process of managing all sales channels for merchants.
Reduced Overhead Costs
Shopify Plus offers a range of tools and features that can help businesses reduce their overhead costs. It eliminates the need for businesses to invest in their own infrastructure, such as servers and IT personnel, as the platform provides hosting services and technical support. In addition, Shopify Plus offers a range of tools and integrations that can streamline business operations and reduce the need for manual labor. For example, inventory management, order tracking, and shipping integrations can help merchants save time and reduce errors.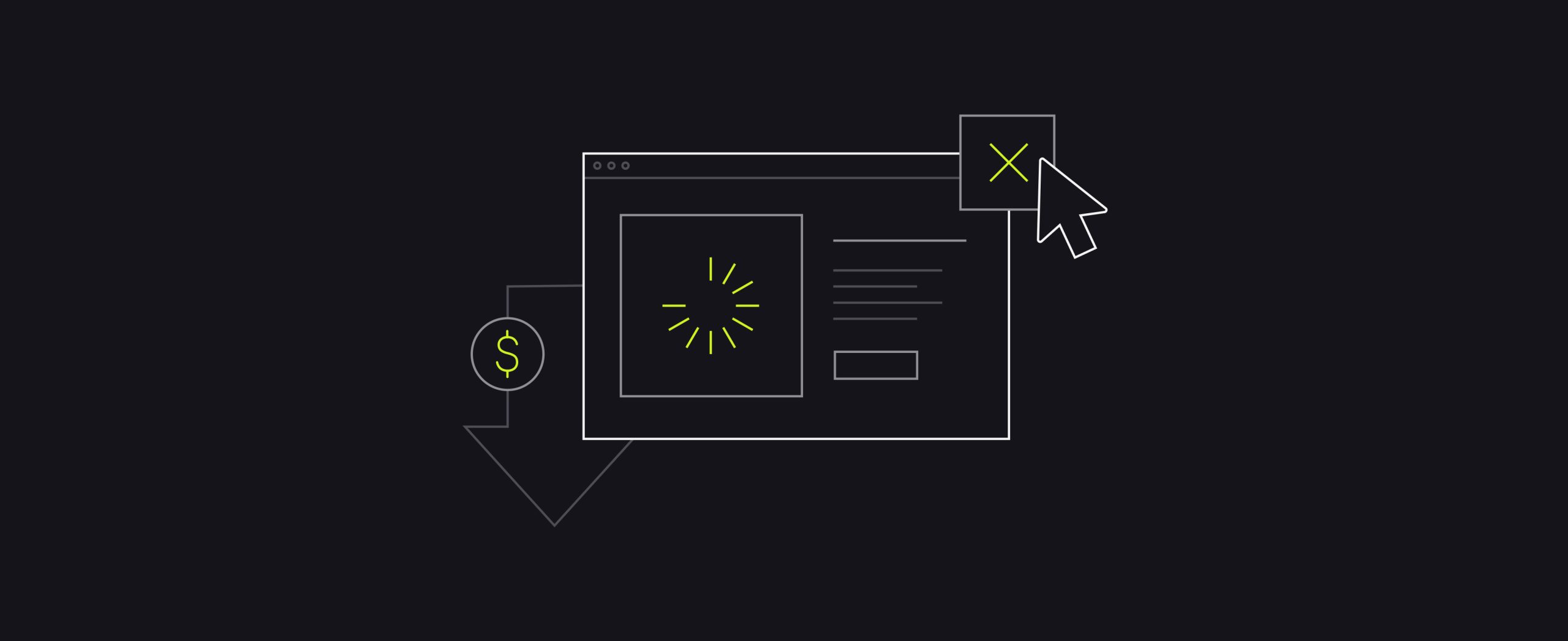 Shopify Plus also provides a range of marketing tools and integrations that can help businesses to attract and retain customers, without incurring high marketing costs. For example, Shopify offers social media integrations, email marketing, and SEO tools, which can help businesses to reach their target audience and generate sales.
24/7 Support
Shopify provides excellent service and support, even before upgrading to Shopify Plus. In other words, while Shopify serves as an ideal foundation for building eCommerce websites, Shopify Plus serves as a technical partner, offering a wealth of resources and humanitarian assistance that allows businesses to concentrate on the operational aspects of their store.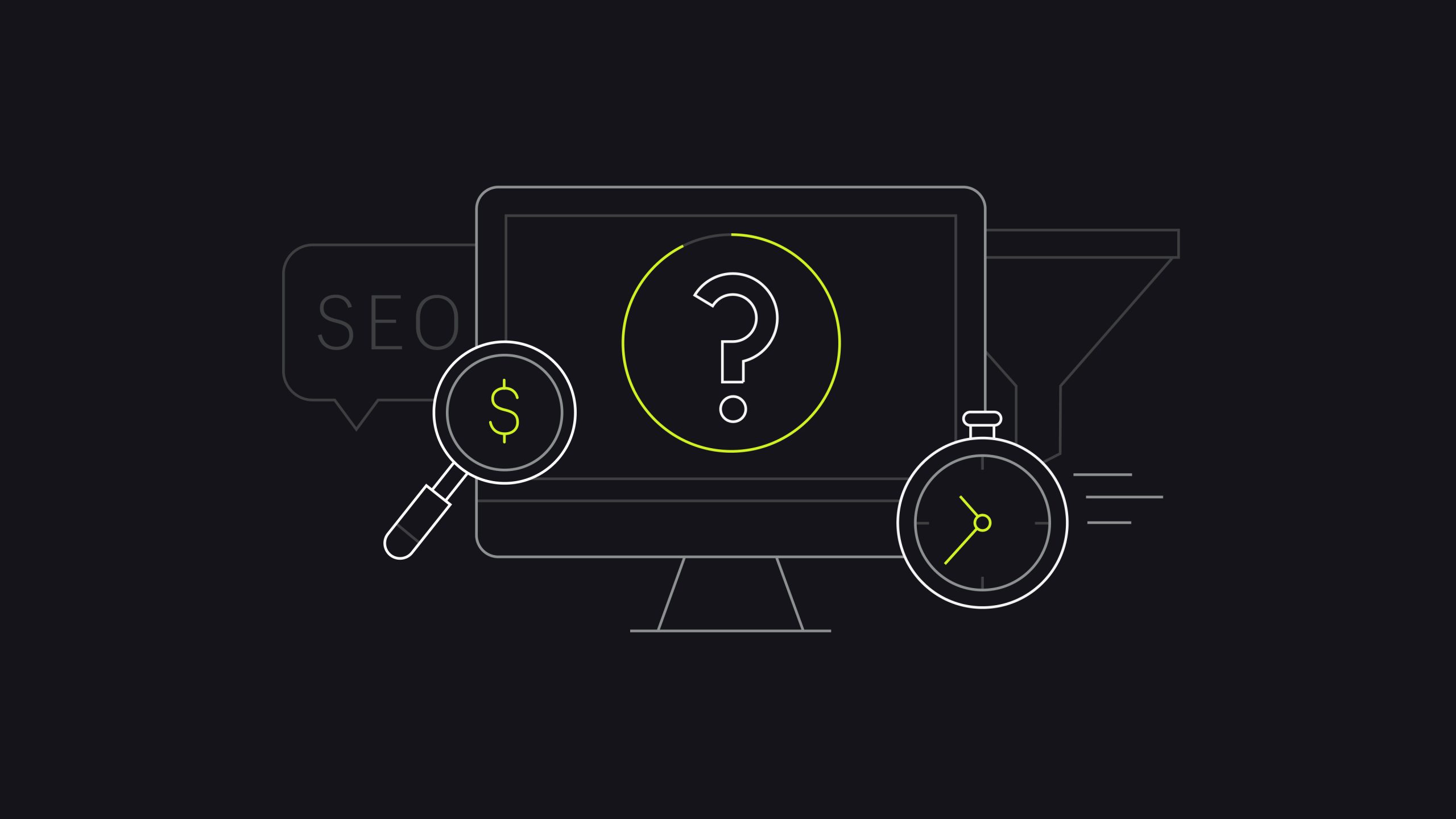 In addition, Shopify Plus offers a Facebook group where like-minded individuals can connect and share their experiences. This provides an opportunity to learn from other business owners who have faced similar challenges and overcome them.
Shopify Plus prides itself on having the best app ecosystem and partners available. With all the essential features needed to launch an online store immediately, the platform provides limitless potential for advanced functionality.
Furthermore, Shopify has an unparalleled app marketplace, with Shopify Plus boasting the widest range of world-class technology partners. From rating systems to search engines, and payment processors to shipping providers, Shopify Plus has everything businesses need to take their operations to the next level.
In Conclusion,
Many successful brands have chosen Shopify Plus as their eCommerce platform. From fashion to food and everything in between, these brands have utilized Shopify Plus' features and resources to create user-friendly, visually appealing, and profitable online stores. With its robust app ecosystem, excellent support, and scalable infrastructure, Shopify Plus offers businesses the tools they need to take their online presence to the next level. We hope that with the diverse top Shopify Plus stores discussed above, you can gain insight into various industries and learn about the innovative and distinctive features that many successful businesses incorporate into their online stores.
If you want to approach more detailed Shopify Plus projects to have a deeper understanding and find out a project that's close to the one you want to build, you can contact our Shopify specialists now. We have many experienced Shopify experts who are eager to support you in boosting your business to a higher level.