Coming up with Shopify store names can be difficult, as there are many factors you need to take into account. You need to research and pick a professional and memorable name for your Shopify business because it serves as your brand's online representation. It should accurately reflect what you sell or who your target market is, which in turn, positively affects SEO.
So if you're having trouble coming up with good Shopify store names, don't worry, you're not alone. This guide will show you how to choose possible names for your Shopify business, with store name generators and examples to help you find the best one for your needs.
Choosing Shopify store names – 8 Simple Steps
If you want your eCommerce business to be successful, having a great name is key. It's necessary to find the perfect title for your online store in order to make it distinguishable from all the other businesses out there, and this goes for both branding and search engines. Here are some helpful steps on how you can create unforgettable Shopify store names:
Creative with Your Domain Name Extension
The first step in starting your new website is picking the perfect domain name. This can be difficult because you not only have to find a good name, but also choose an extension. An extension, which is also called the top-level domain (TLD), is the last part of any domain name. For example: in Facebook.com, .com would be considered the extension.
Many domain extensions are available, but deciding on one ideal for your business or purpose can be tough. According to W3techs, .com, .net, and .org domains make up 59% of all websites. Of these three options, .com is the most common (50%). Because most people automatically assume a website ends in .com if they can't remember the exact name, we always recommend registering with this extension.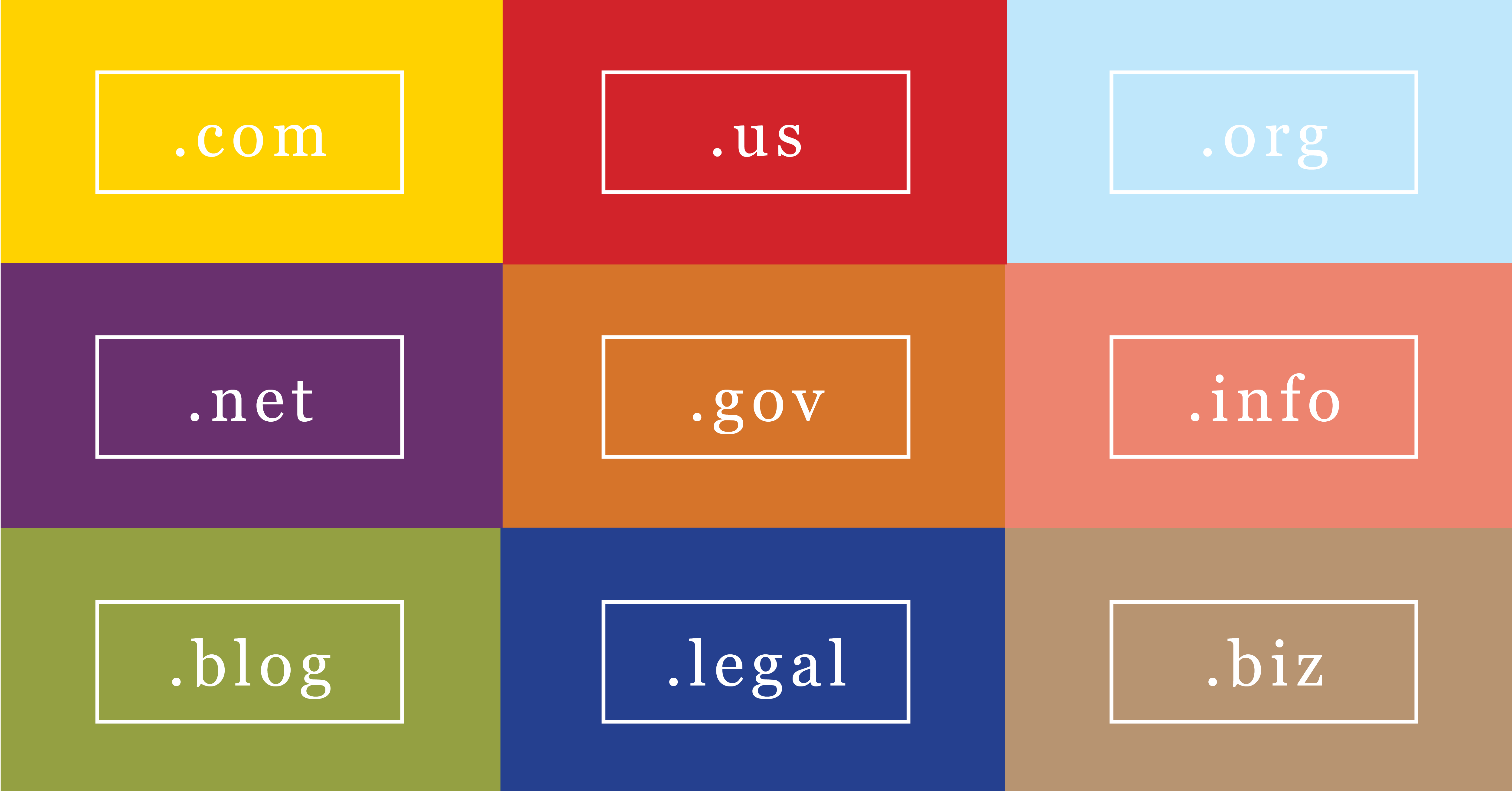 While it may not be possible to get the .com domain name for your chosen word, don't worry, you can always opt for a different top-level domain. The reason that .com is seen as the best option is that everyone recognizes it. However, this doesn't mean you should write off other TLDs which are slowly becoming more popular due to the lack of available .com names.
Although some may say that Google is not as inclined to rank uncommon domains high, if you have a well-made site with great user experience, you should be able to rank just as well as a .com. An added bonus of going for something more unique is it makes your domain name stand out more.
Keep your Shopify Store Name Short and Simple
A shorter domain name is ideal for these reasons: it's memorable, easy to pronounce, and takes up minimal space on your store's homepage. Conversely, a longer name is more difficult to recall and often results in typos that lead customers amiss. It's not just frustrating for them, it also means lost traffic and potential sales for you.
Although it may be difficult, try to brainstorm a few name ideas that you think would fit your brand well. Recently created brands are often fighting for the same names, so if one appeals to you, chances are it will also attract others. However, with such a vast array of Shopify store names out in the world, there's surely room for yours too! Be unique and stand out from the rest by thinking of an original concept.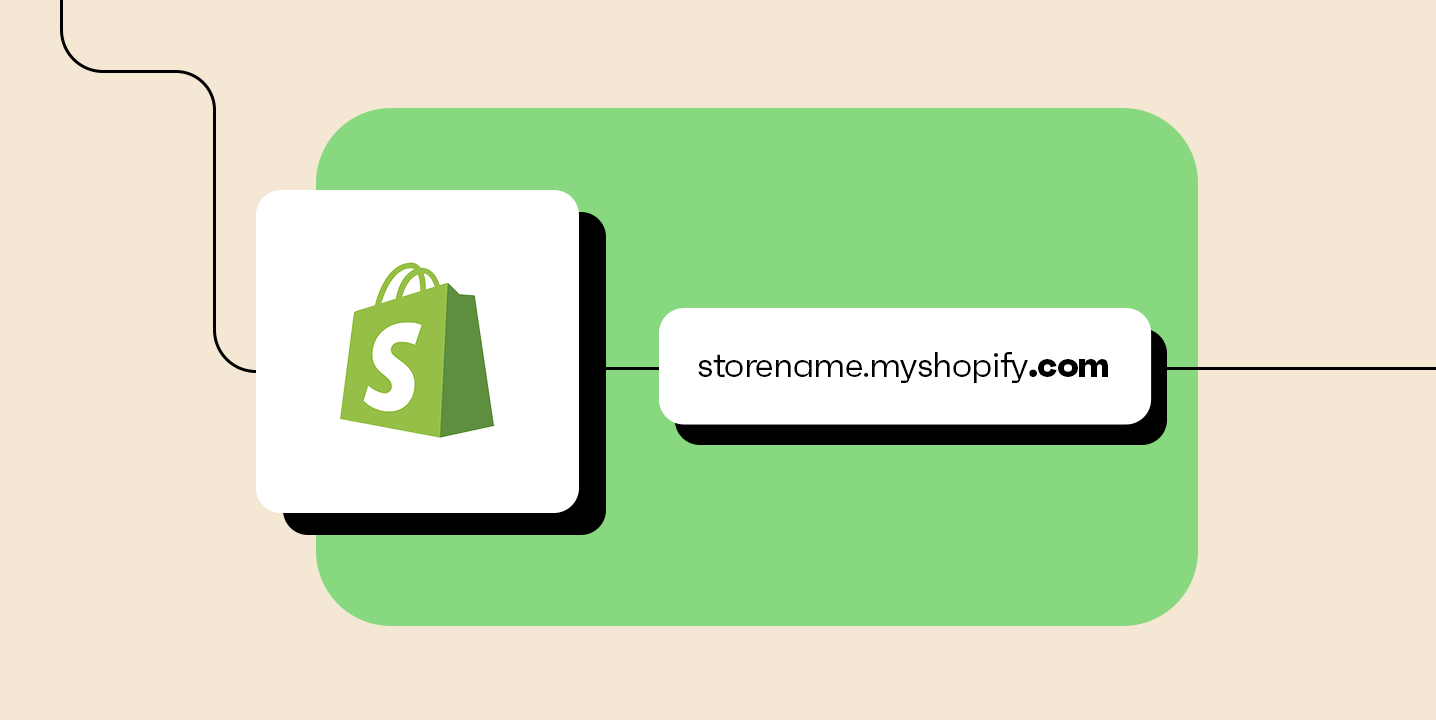 Here are a few ideas to jumpstart your creativity:
Try mixing up some shorter words. More often than not, two little words that rhyme or have alliteration are easier to remember.
Creating a new word or slightly altering an existing one can make your brand more memorable. You can take inspiration from companies such as Google, Amazon, Apple, and IBM.
Use a word that has meaning to you personally. It could be something your significant other calls you, your pet's name (a great idea if your store is animal-themed), or even just your own name. Having a personal connection to the name of your shop makes it more relatable to potential customers. Though keep in mind that online stores built around personal brands can be harder to sell down the line.
A simple way to test if your Shopify store names are easy enough to pronounce is by writing them down on a piece of paper and asking some friends or colleagues to say them out loud. If most of them struggle, then you should look into coming up with a list of new names.
Make Your Shopify Brand Name Unique, Different, and "Brandable"
Your business name should be creative and differentiating so that it is memorable and sets you apart from the others in your industry. A brandable name can be anything without any specific meaning attached to it. Google is a perfect example of this. The word has no literal meaning, but the company is one of the most well-known tech firms globally.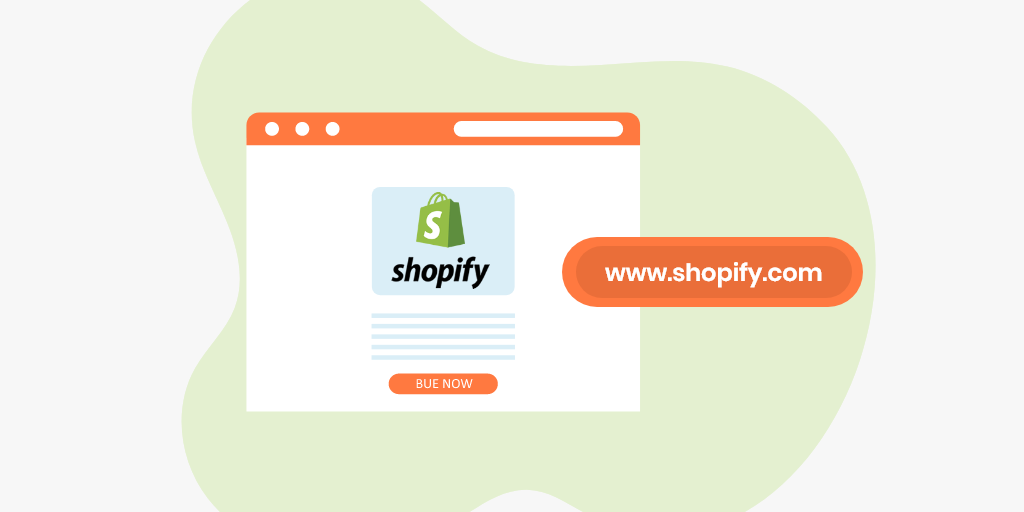 If you want to avoid any negative consequences, don't copy or slightly change your competitor's name. For example, let's say you have an eCommerce store called Abidas.com which is slightly similar to Adidas.com. Because Adidas.com is a famous and fairly authoritative brand in the sporting realm, many people visit their website instead of others to purchase shoes and other sports apparel items.
Therefore, to differentiate your business, you need to do market research to find out which online shop names are used by your direct competitors and come up with something original. The challenge is to come up with a name that accurately reflects both your niche and the type of products you sell without copying anyone else in the process. When everyone else is moving one way, be different by going in the other direction.
For example, if you sell tech products, your competitors might use words like technology, or electronics in their names. To set yourself apart from the competition and appear more creative, try to avoid using similar wording.
Add keywords to your Shopify store names if possible
While we don't recommend it too high, adding keywords to your Shopify store names is still a great idea. By including a relevant keyword in your domain name, you let customers know what your business is all about or who your target market is. However, this can make your store name for Shopify longer and more difficult to remember or pronounce.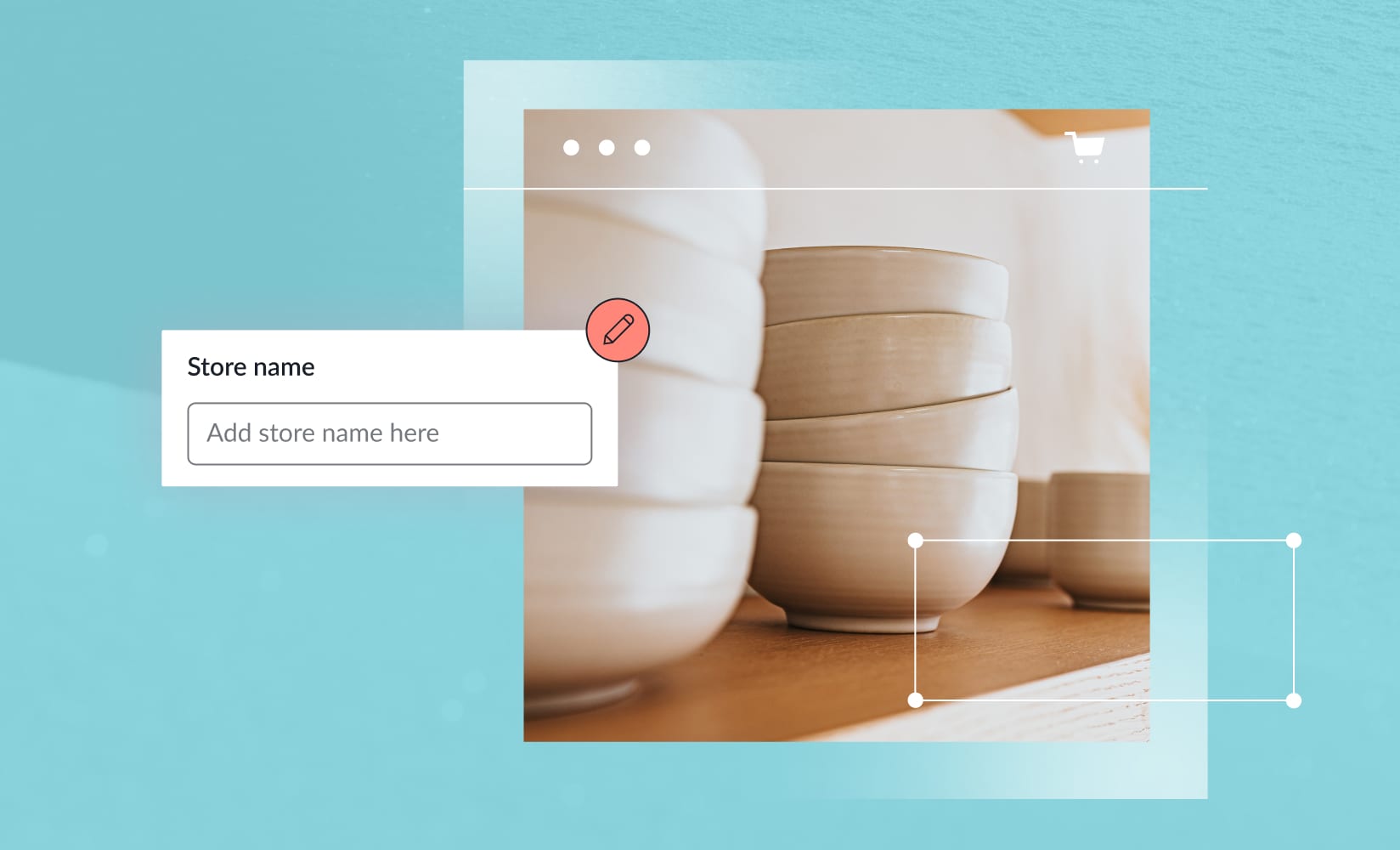 For instance, let's say you want to sell fashionable accessories. You could name your store something like "saturnfashion.com" or "urbanclothing.com". This would make it clear to customers what kind of products they can expect to find on your website.
By placing keywords in your domain name, you can improve SEO and CTR on search results. More often than not, searchers click on a website when it's relevant to what they were looking for.
Avoid Using Numbers, Hyphens, and Repeat Letters
Earlier, we mentioned that .com is the most popular domain name. And since all the good names are already taken, many beginners repeat letters in their chosen name to make it available for registration. Unfortunately, this often leads to confusion among people trying to visit the site.
Also, stay away from registering a domain name with hyphens or numbers. Those containing hyphens or numbers look less credible and trustworthy. Plus, spam websites mostly use names like these. For example, some of the most popular websites around have simple, short names without any numbers or hyphens: Facebook, Google, Instagram, and YouTube.
Check That Your Store Name Is Not Trademarked
Registering a domain name is simple, but it's much wiser to do a quick trademark search first to make sure that somebody hasn't already claimed the business name.
If you're a store owner in the United States and want to make sure your business name ideas aren't already trademarked, start by checking out the United States Patent and Trademark Office (uspto.gov). Although their free database is difficult to search, it's definitely worth taking the time to do so.
Note that the US does not have one central trademark registry. This means that trademarks can be filed in another country or just in a single state. If you're looking for information in Canada, you can search through the Canadian Intellectual Property Office website.
Once you have determined that your desired name is available, head on over to search engines like Google and Bing. See if the Shopify store names on your list come up in a search. If you're aiming for a generic name, it'll be tough to rank well. Another important step is to check social media sites such as Instagram or Facebook for the availability of the name you want.
Register The Domain
After you decide on a domain name for Shopify store, register it right away. Over 100,000 domains are registered each day, so someone may take yours if you wait too long. A domain name is like property, whoever buys it first owns it.
Many are scrambling to find the perfect domain name for their upcoming online store, website, or business blog. If you hesitate too long and somebody else grabs the one you wanted, you'll have to start your search from scratch. To avoid this situation, we recommend registering a domain name as soon as possible, it's only $10-$14 per year. Plus, there's no rush to create an online store right away if you don't want to.
Use Domain Name Generators for Inspiration
More than 370 million domain names are already registered, which can make it seem impossible to find a good name that is still available for your website.
If you want to find an original domain name, you have to come up with the ideas yourself and check if it's available. And if you are stuck with your domain name, you can utilize a domain name generator tool for inspiration. A domain name generator tool can help with that by providing hundreds of new domain names with a single click. In the section below, we will introduce you to some of the best domain name generators in the world.
Top 9 Online Store Name Generators
If you're stuck trying to come up with an unforgettable, meaningful name for your online shop, don't despair. To ensure that your brand gets off on the right foot, use one of the following best Shopify store names generator tools.
Shopify
Brainstorming names for your new eCommerce shop doesn't have to be a headache. Shopify's business name generator does all the work for you in less than 10 seconds. Just enter a keyword related to your product or niche, click Generate names, and browse through thousands of results. You're sure to find something perfect for your brand, whether it's clever or modern, classic or pragmatic. And if you need help getting started, try browsing by industry: clothing, fashion jewelry, crafts, or flowers.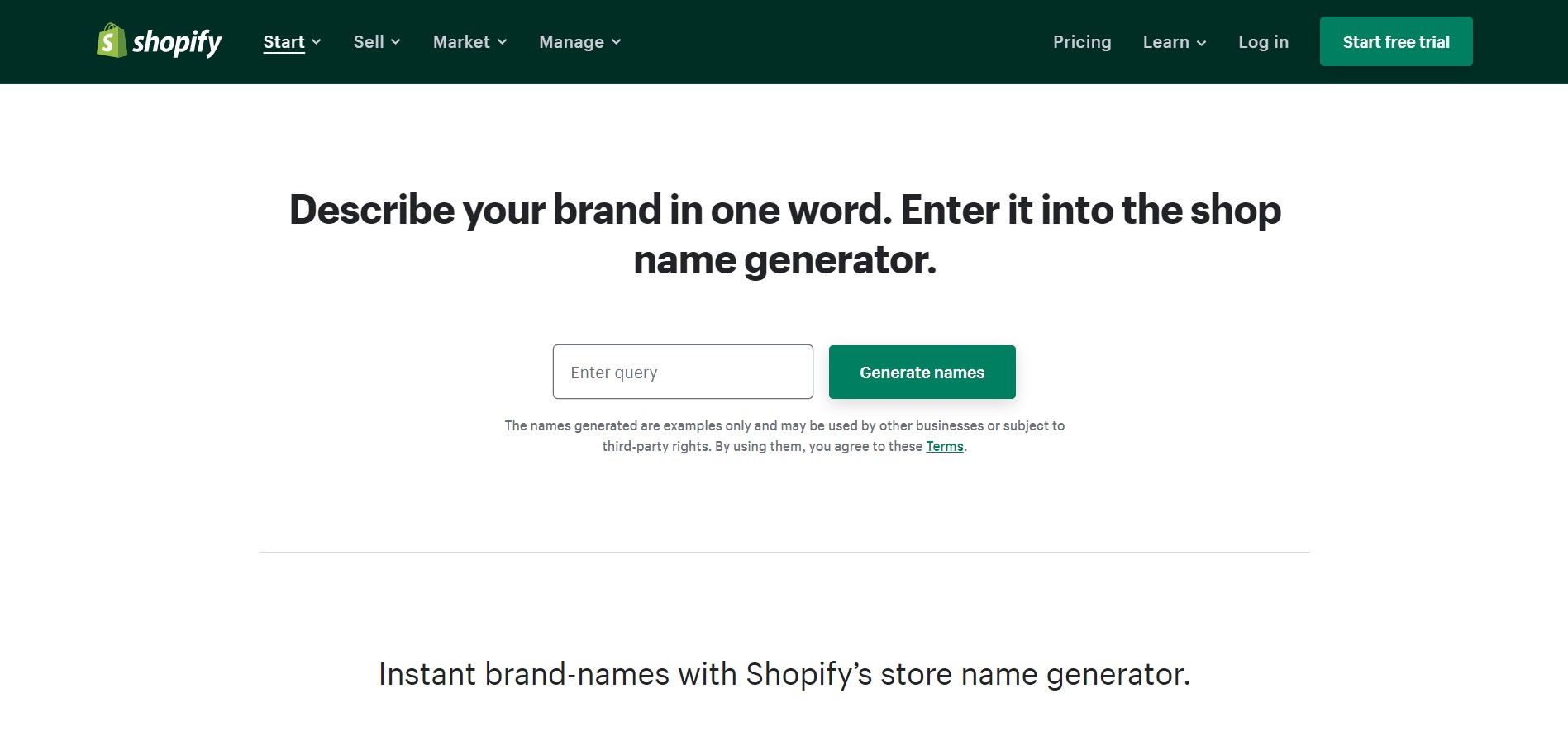 If you're stuck on what to name your new business, this tool is perfect for a little bit of extra inspiration. Once you've found Shopify store names you like, securing the matching domain only takes minutes. New business owners can use this method to start selling online quicker than ever before.
Business Name Generator
Business Name Generator is a fantastic option if you're on the hunt for a new name for your business. With the standard generator, simply enter in some basic information and hit generate. If you want to get a little more creative, scroll down to find trending and popular generators like the startup name generator, creative business generator, podcast name generator, or photography company name generator.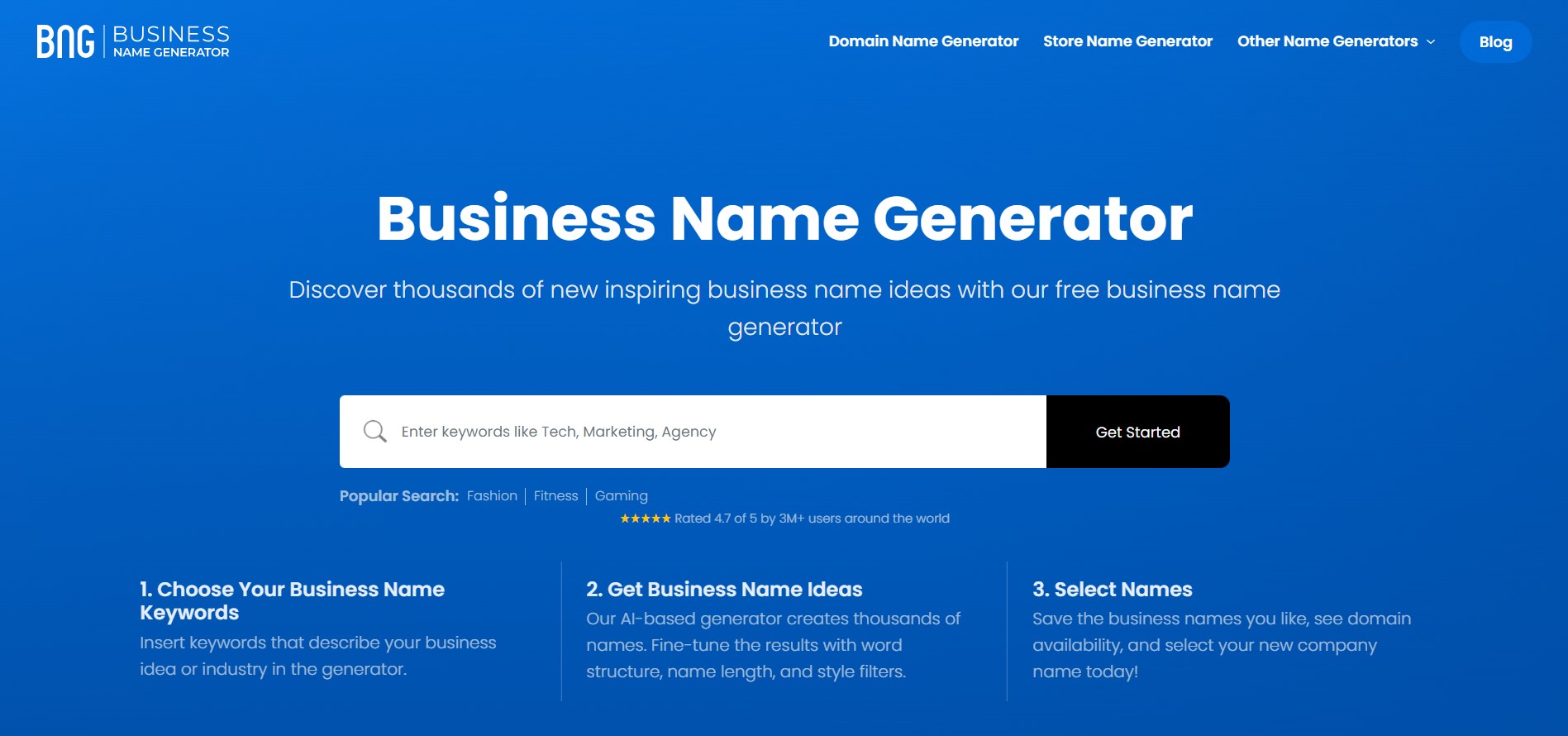 Select the generator you would like to use, input your desired keywords, and receive a list of the best store names for Shopify. If you see one you particularly like, register it with GoDaddy so that you can begin using it right away.
Anadea
Anadea's business name maker is a free tool that takes a word or phrase describing your business and combines it with other words to generate suggestions for names. To start, think of a word that represents what you're selling, then enter it into the field on the site. After clicking Generate names you'll be given 24 unique ideas for an online shop name.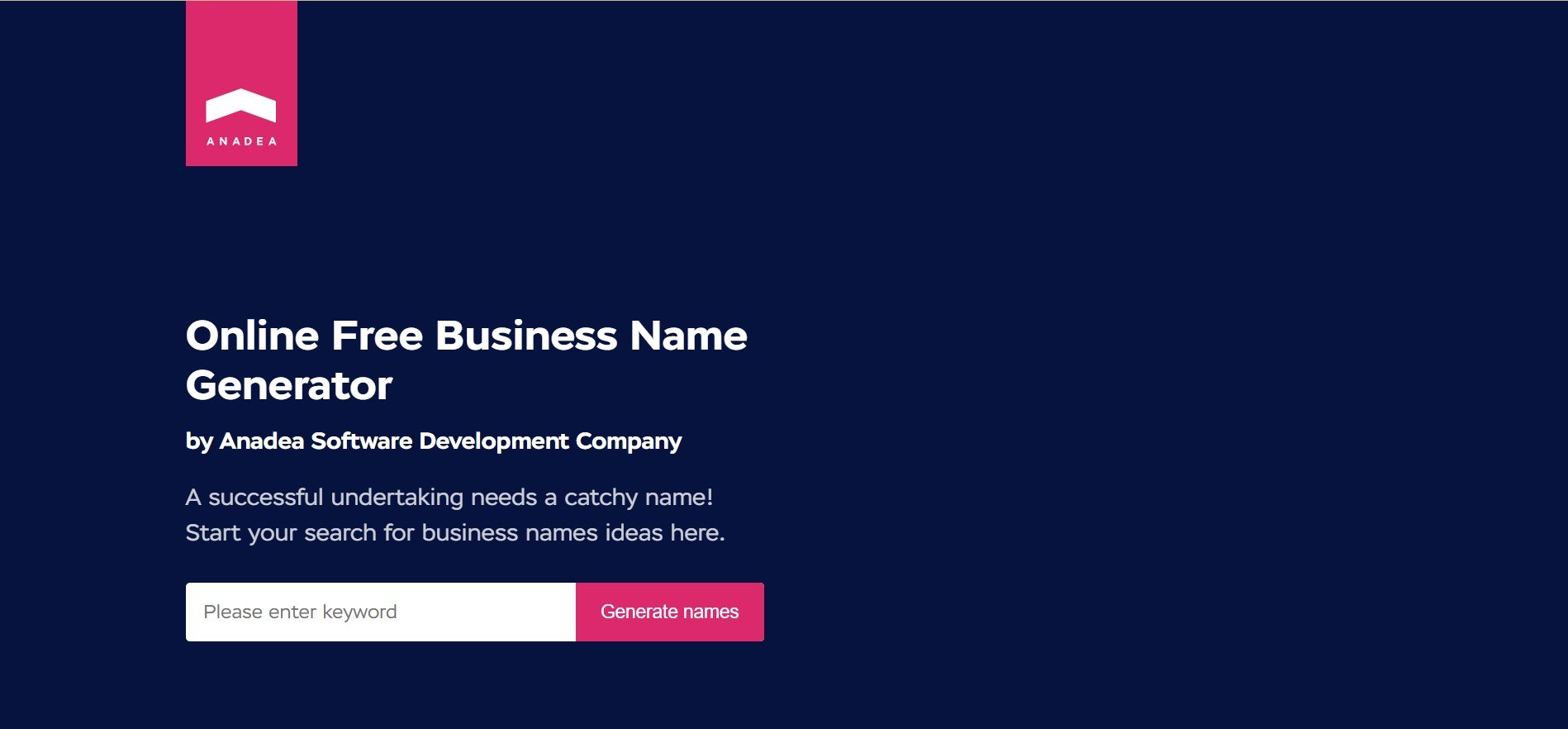 Get relevant Shopify store names by scrolling through pages of its database or entering a new keyword to get more ideas. After you find one you like, receive a quote for registering the domain and building your website.
Oberlo
Oberlo's business name generator is a fantastic, free resource for anyone looking to find potential names for their new online store. Simply enter a word you would like included in your shop name, and the tool will give you hundreds of creative options to explore. Once you've found the one you like, simply register its .com domain. The name generator can even check for availability to make starting your new company as easy as possible.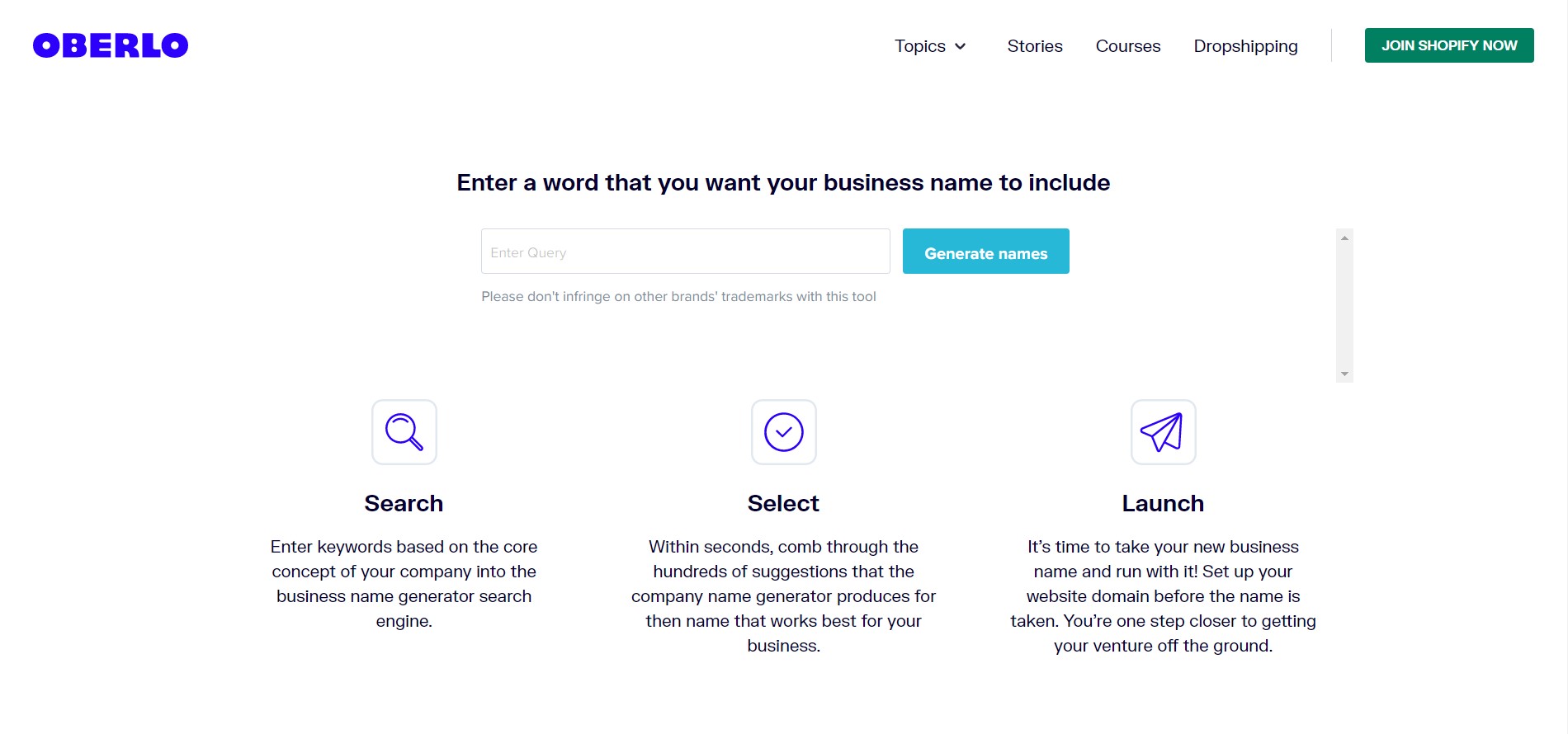 Getsocio
Getsocio offers a free business name generator that helps you come up with store name ideas for Shopify based on keywords you type in. Once you find a name you like, simply choose it and register for it. The only downside is that your domain will end in .getsocio.com rather than the standard .com extension.
FreshBooks
With FreshBooks' name generator, finding a name for your online store has never been more fun or interactive. Simply click Let's Get Started and then select your industry: creatives and marketing, legal services and business consulting, trades and home services, or information technology. From there you'll be prompted to suggest any keywords you want to be included in your desired Shopify store names.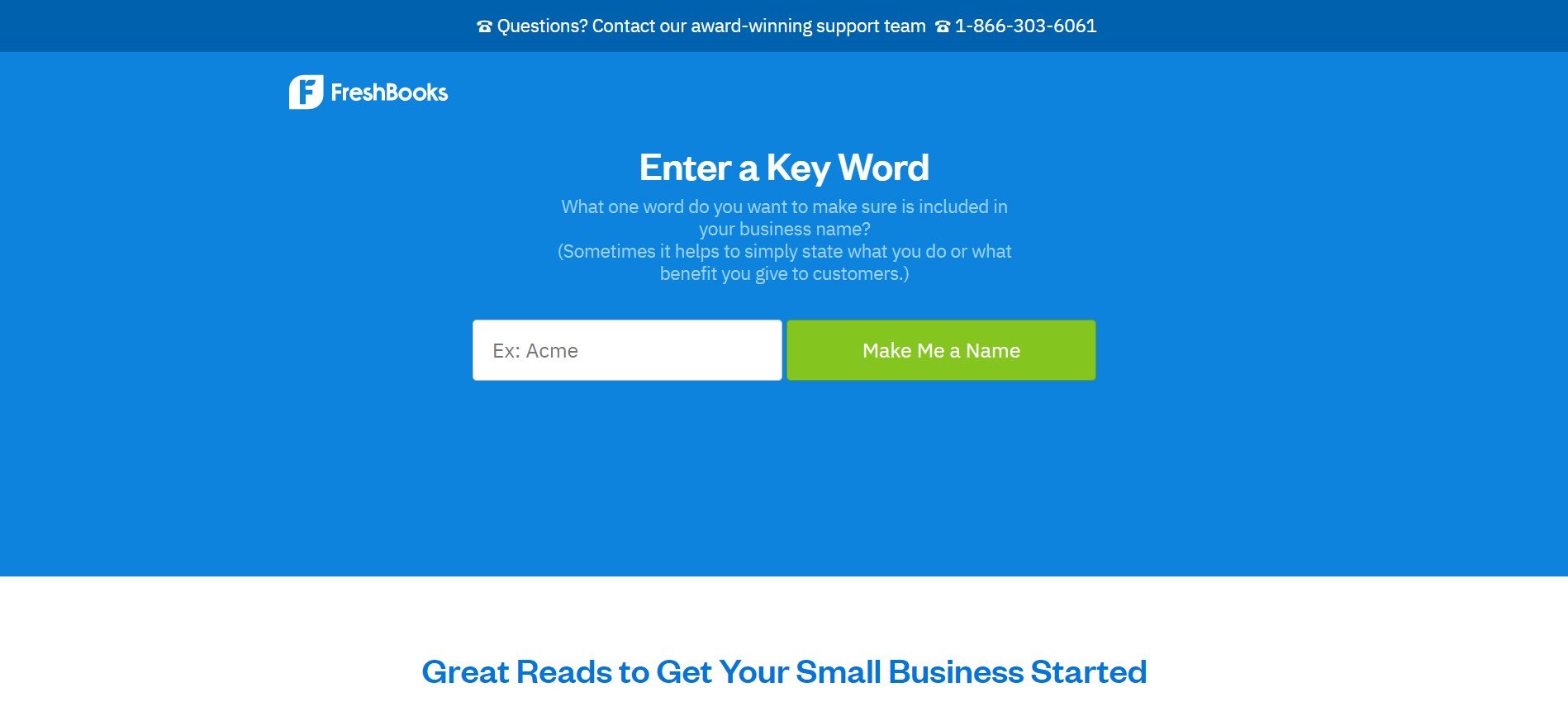 This tool will generate a batch of online store name ideas based on your input. If you don't like any of the options, you can click Show me more names or Go back and change keyword to see more choices.
Namesmith
With Namesmith's business name generator, simply add up to five keywords related to your desired shop name. After you click Search, the algorithm will provide new names for your business idea that include those exact keywords (and domains), as well as blends, rhymes, prefixes/suffixes, and modifications. In other words: it takes your keywords and mixes them up in cool ways to create great Shopify store names. If you're having trouble brainstorming, click Just Generate Some Random Names Please! will help guide your thinking.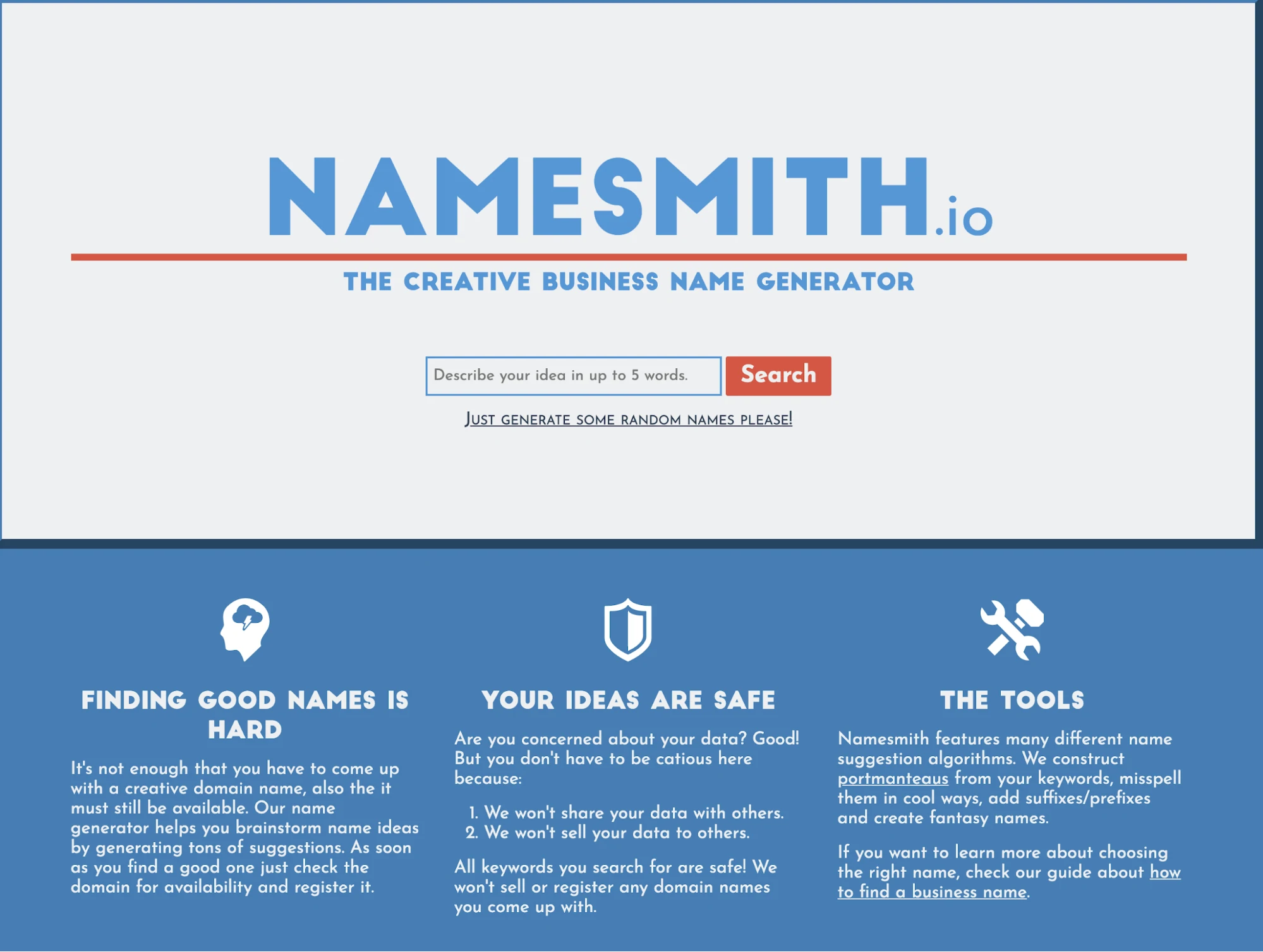 Namelix
Namelix uses artificial intelligence to come up with clever online shop names and logo design ideas. Just enter one or multiple keywords into Namelix, and similar words will populate an online shop name list. You'll also get told if there is a domain available for purchase.
Hipster Business Name
If you want a truly unique name for your business, Hipster Business Name is the store name generator for you. With random cool name ideas that are fun, catchy, and clever, think as if you were starting a business in Brooklyn, this site will give you plenty of inspiration. Plus, if you see a name you like but need more options, simply click Refresh to see more names.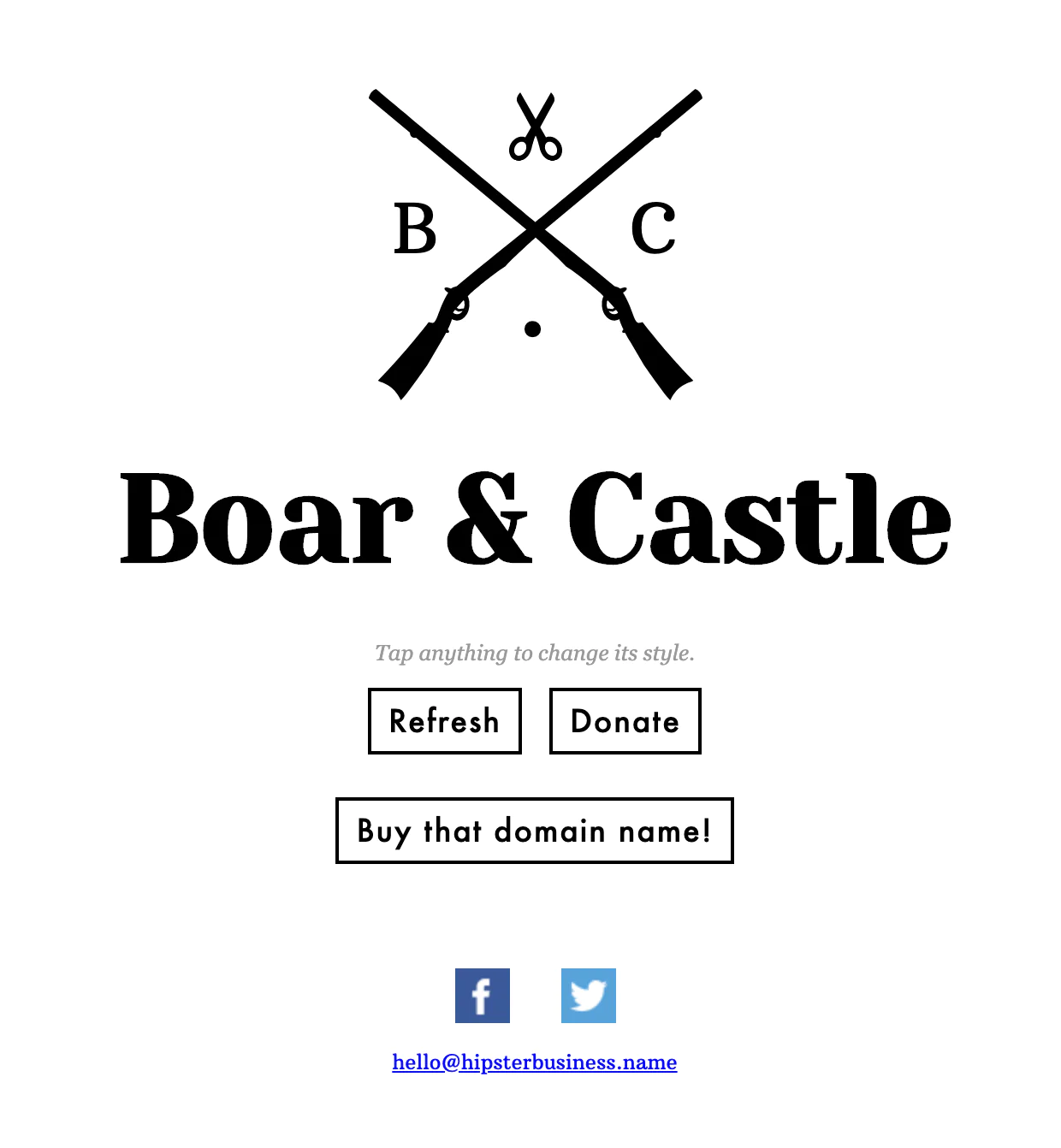 10 Succesful Shopify Store Names for Inspiration
A catchy eCommerce business name is critical for success. Check out the list below for some cool store names for Shopify to get inspiration from.
Taylor Stitch
In 2010, Taylor Stitch started selling trendy, customized clothing online through Shopify. Three years later, they reported close to $1.5 million in sales! The name Taylor Stitch is a play on the word tailor, substituting a familiar surname for the occupation. Meanwhile, stitch refers to a loop of yarn or thread.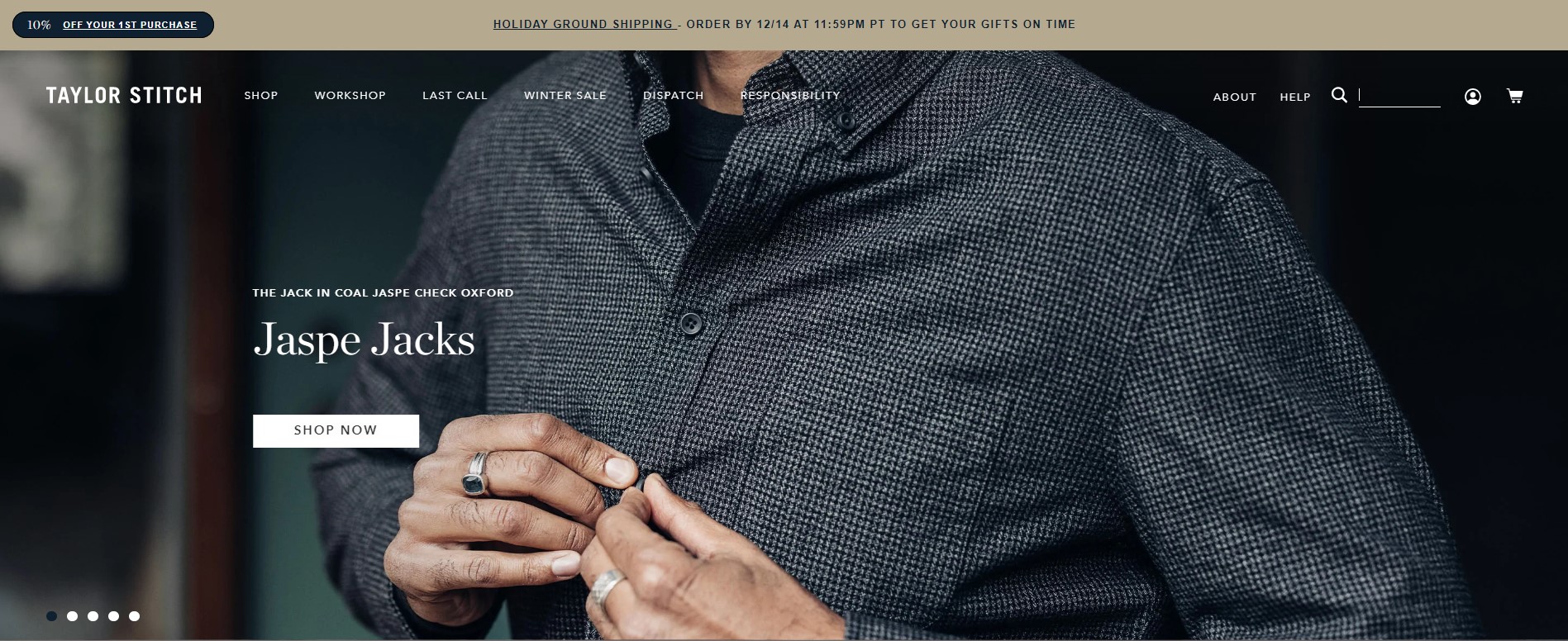 This store name is one of the best Shopify store names. They took the ordinary word tailor and turned it into an iconic brand without losing meaning. By adding the word stitch, they also make it clear that they sell clothes.
Super Ink
Super Ink is a store that specializes in printed clothing and accessories catered to people with an adventurous lifestyle. According to the company's About page, Our paradise lifestyle was made for creative individuals who constantly live in a state of wanderlust!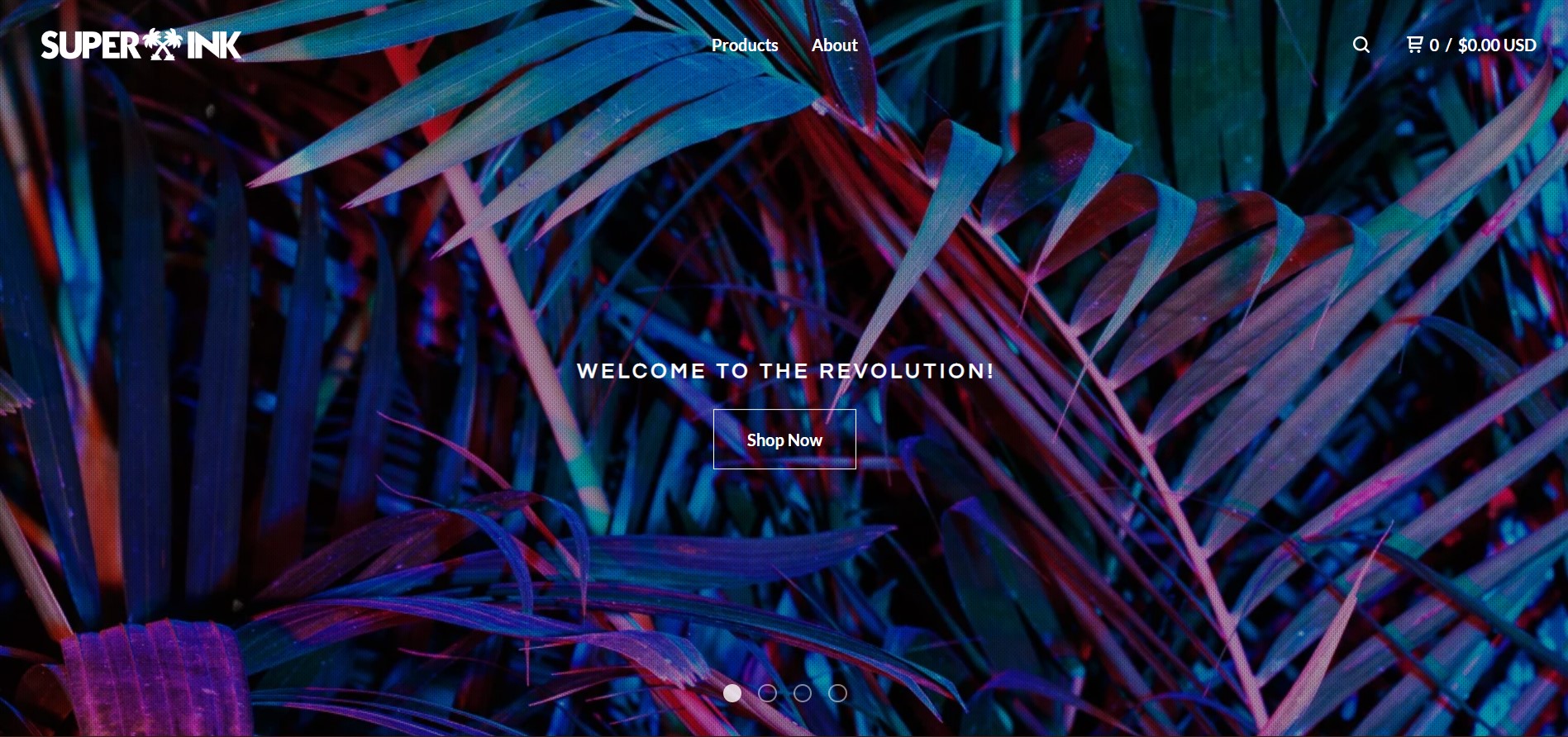 Super ink was created by combining the word super, which connotes positivity and quality, with ink. The implication is that the clothes are printed with high-quality inks. If you can't decide among many ideas for your Shopify store names, try meshing them together instead of choosing one over the other.
Unconditional
Unconditional has a website that is both visually appealing and easy to navigate. This store started over a decade ago and has made millions of dollars in sales from Shopify. The brand name Unconditional was chosen because the company sells clothing merchandise without prejudice.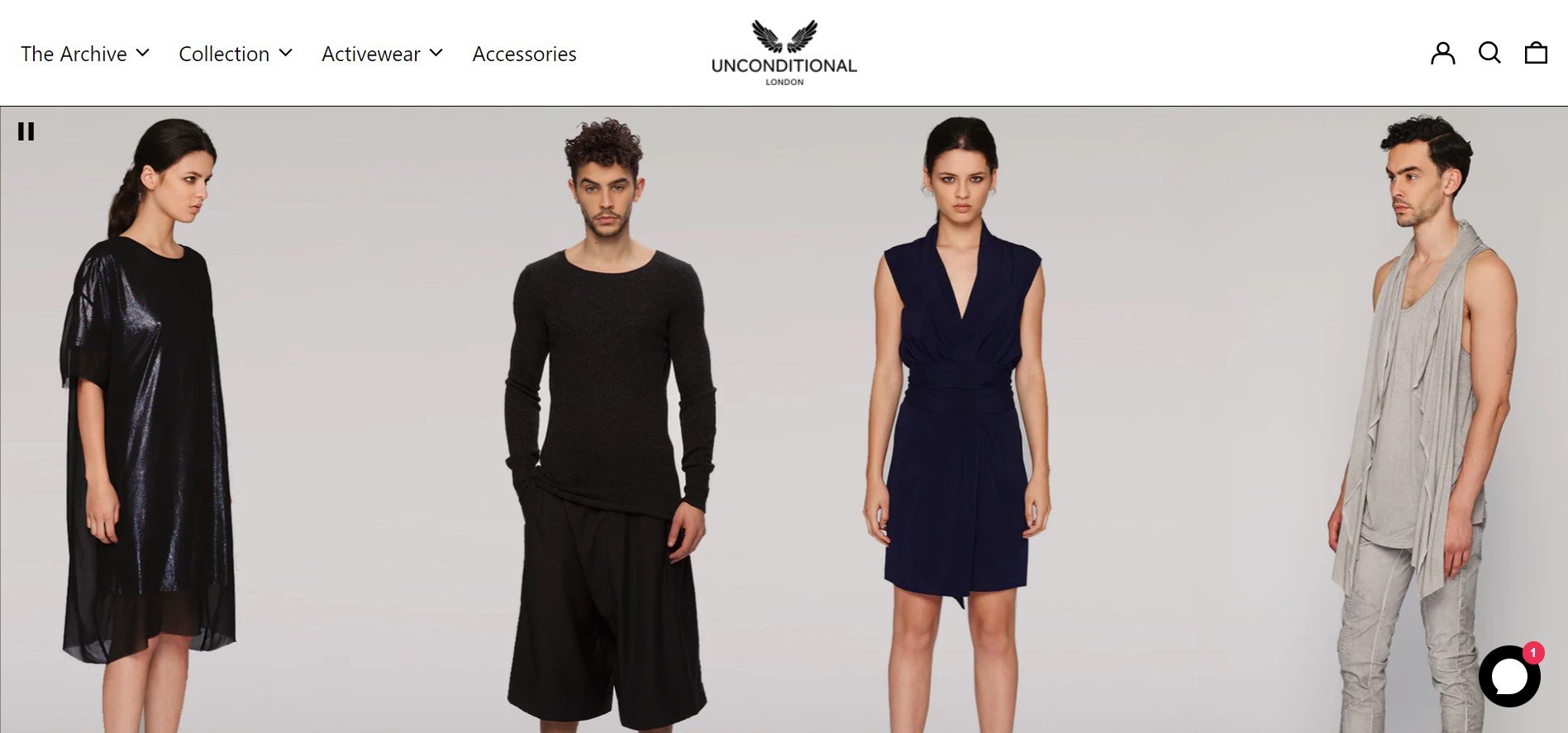 This brand is an excellent example of a company that stands up for its customers. Their store name demonstrates their commitment to promoting equality, which makes it easy for customers to connect with the brand regardless of whether they are repeat customers or making their first purchase.
Sock Market
Sock Market has followed a more inspired approach for its brand name. The store does not just target a specific group of people, but it is open to selling socks for anyone who needs them. With the saying "the place to go for all your sock needs", the online store promises good quality socks that everyone can enjoy.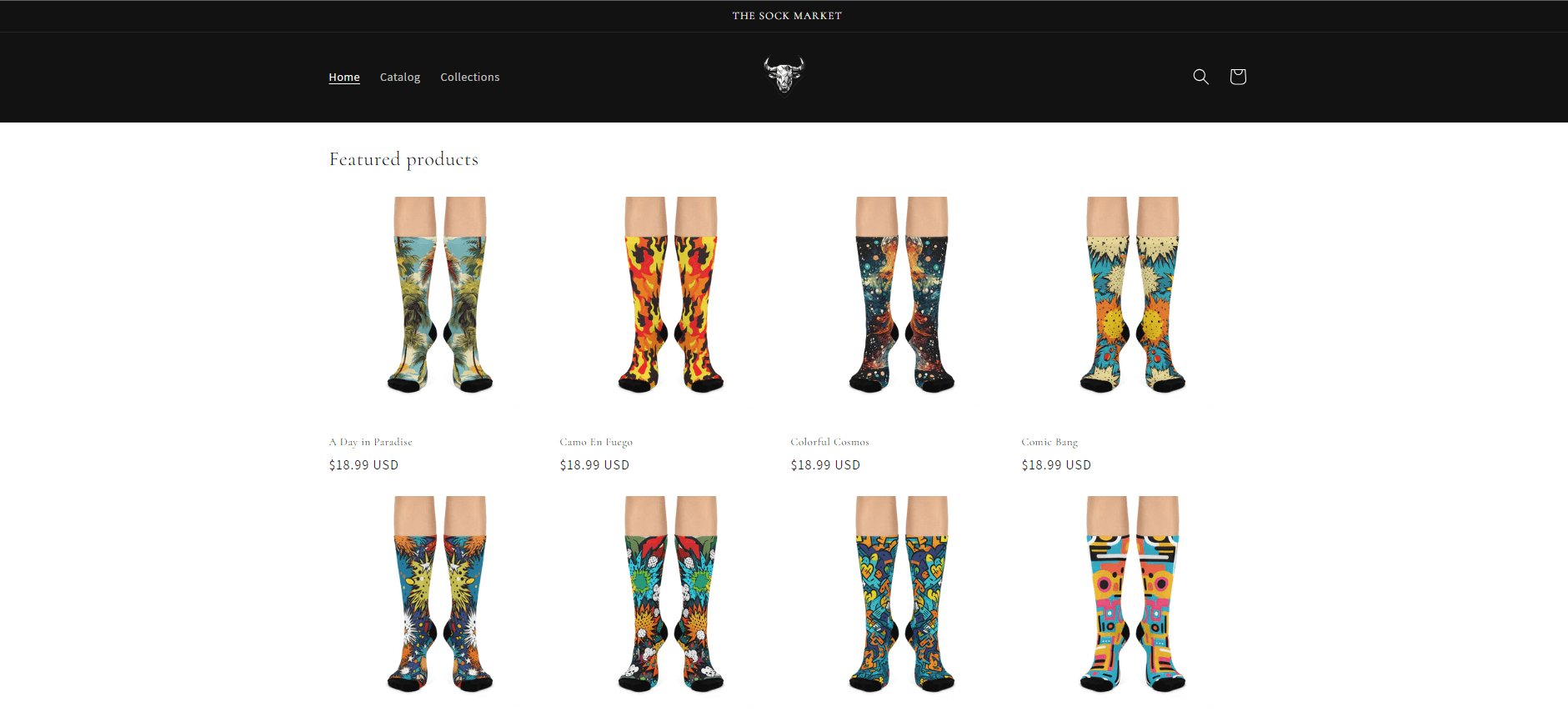 So, whether you're a fashion-forward trendsetter or someone who appreciates classic comfort, Sock Market has something for you. Step into a world of creativity, expression, and unmatched comfort – welcome to Sock Market, where every sock tells a story.
Gymshark
Ben Francis and his high school friends established this store in 2012. Presently, Gymshark has advanced from a garage-based screen printing company to one of the fitness world's quickest-developing and most popular brands. The brand got its name because the founders want to attract gym enthusiasts who are also ambitious individuals.
Gymshark is an effective name because it immediately tells the consumer who the target market is. Furthermore, shark alludes to qualities that many of their customers have: ambition and a drive to be successful. Lastly, the business title also communicates why spending time at the gym is important for its visitors.
Coffee Joulies
The makers of Coffee Joulies designed their company name to reflect the science behind their products. According to a 2011 article by the founders, they "found a word that embodied the science [they] put into the product and tweaked it to make it their own, and make it more memorable to customers." By basing their business moniker off of Joule, the SI unit of energy, they formed a unique brand identity in both name and mission.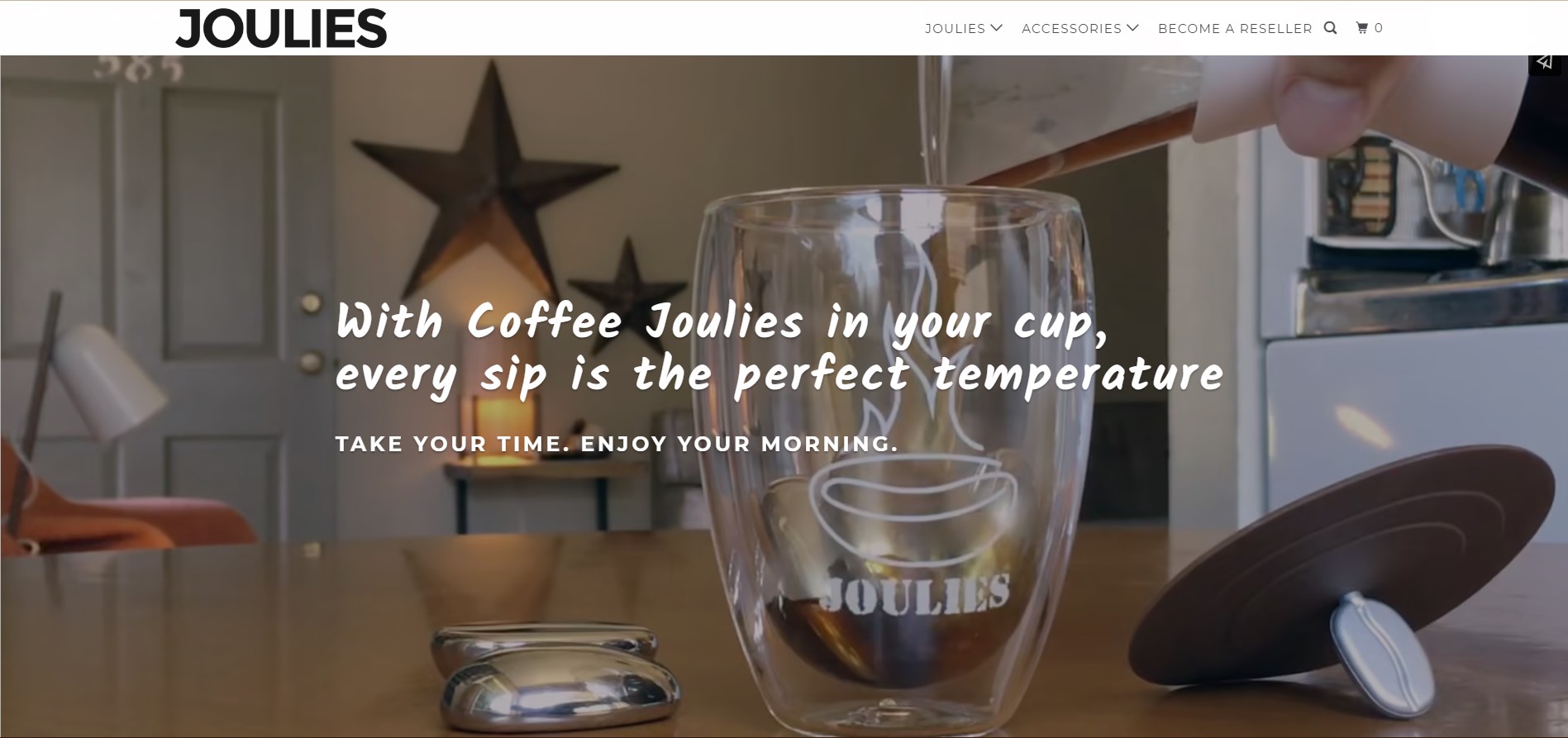 Conquest Maps
Conquest Maps sells stunning and one-of-a-kind maps, with its flagship product being a pinboard map that is popular among people who love to travel. By keeping the name of the product (maps) in the store name, it added a descriptor in front to convey brand identity and what journey the product represents. Conquest is a trip, and customers are reliving their trips through Conquest Maps products.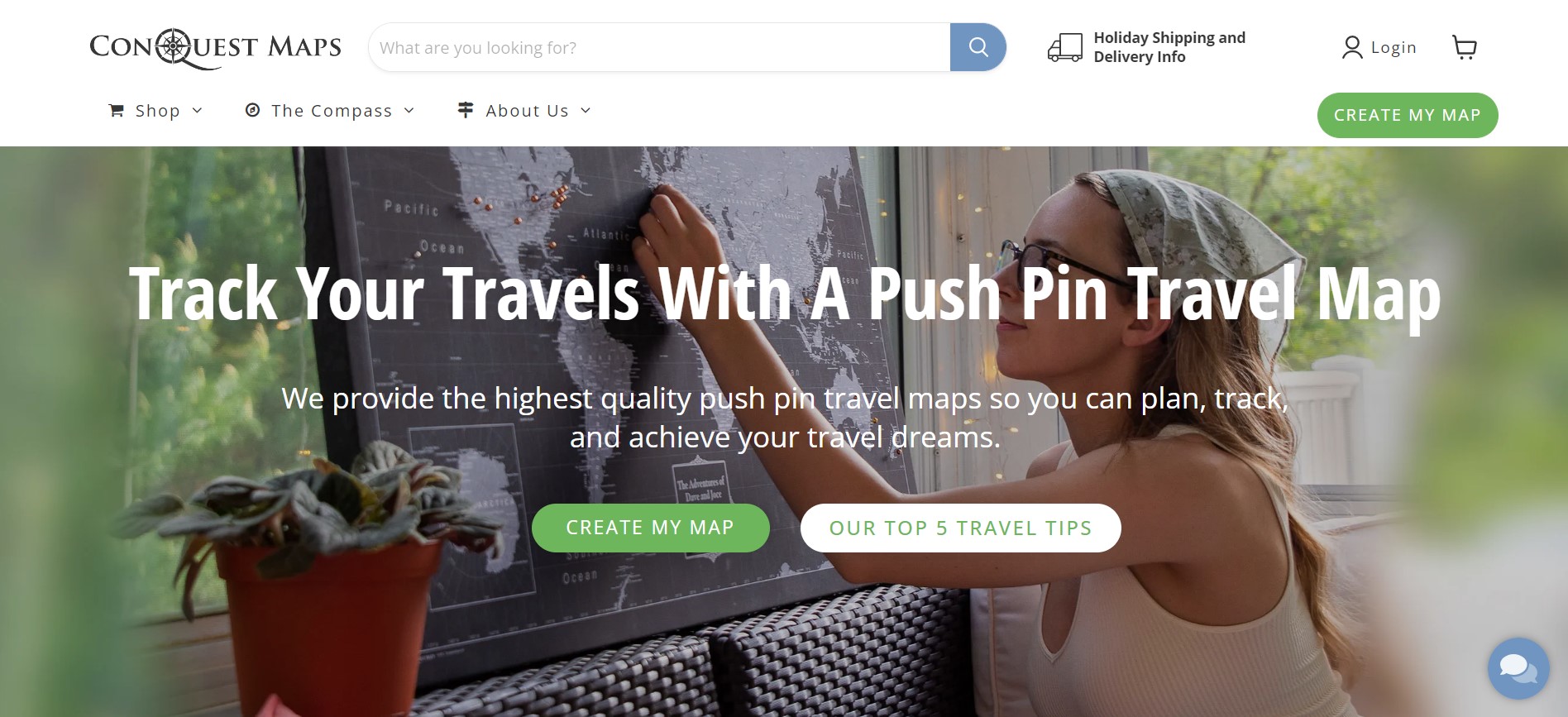 United By Blue
United By Blue isn't simply a brand, they've created an entire movement focusing on environmentalism and taking care of the planet's oceans and waterways. They have beautiful products, perfect for enjoying time outside, that their customers can connect to on a much deeper level than just apparel through shared love and passion for all things aquatic. This creates not only a loyal customer base but also reiterates United By Blue's original philosophies concerning community and sustainability.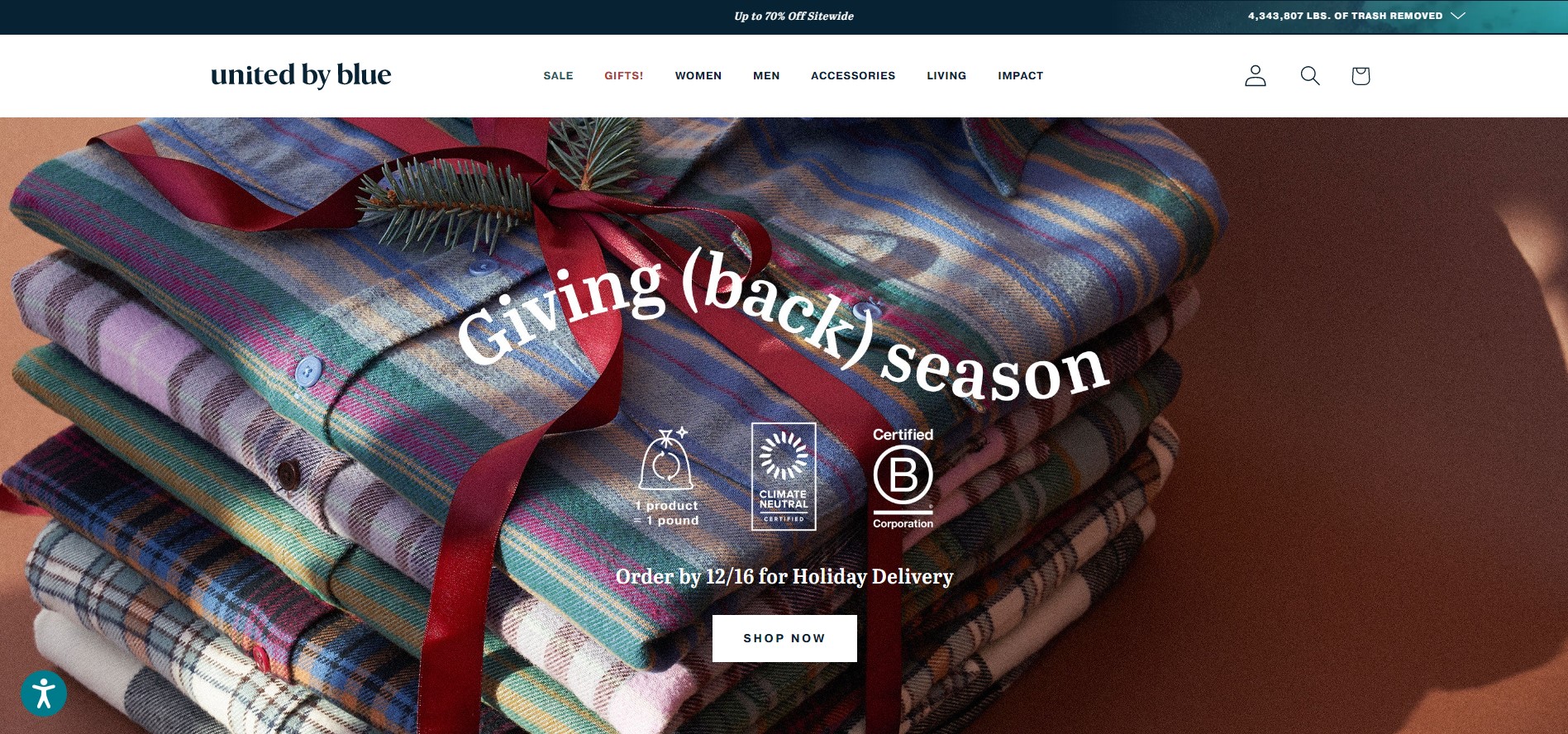 Triangl
Erin Deering and her partner founded this swimsuit company in 2012 after Erin realized that she couldn't find a bikini she liked that was also reasonably priced. They named the store Triangl as a reference to the shape of most swimwear.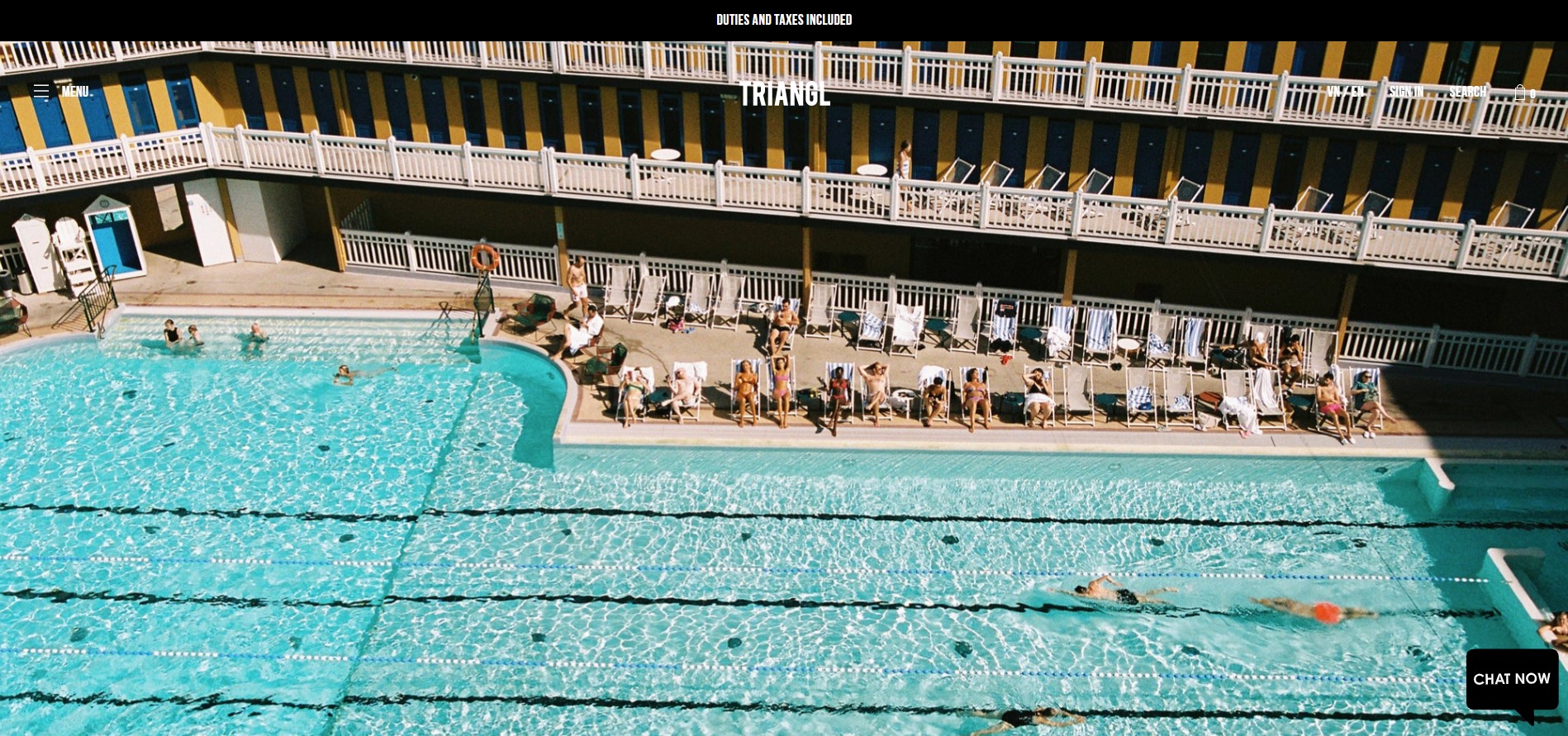 Triangl is an excellent name for a brand because it's easy to spell and remember, even if the store seems to be misspelled. Additionally, there is also a clear meaning behind the brand. The store manages to be different enough from its competitors that it doesn't get lost in the shuffle.
Star Cadet
Star Cadet has a long and eventful history, dating back to 2010. The brand has seen several successful and unsuccessful business ventures over the years, culminating in its current form. Originally called Olan Rogers Supply, after the founders' names, the online brand changed its name to Star Cadet – which also reflects its future production aspirations.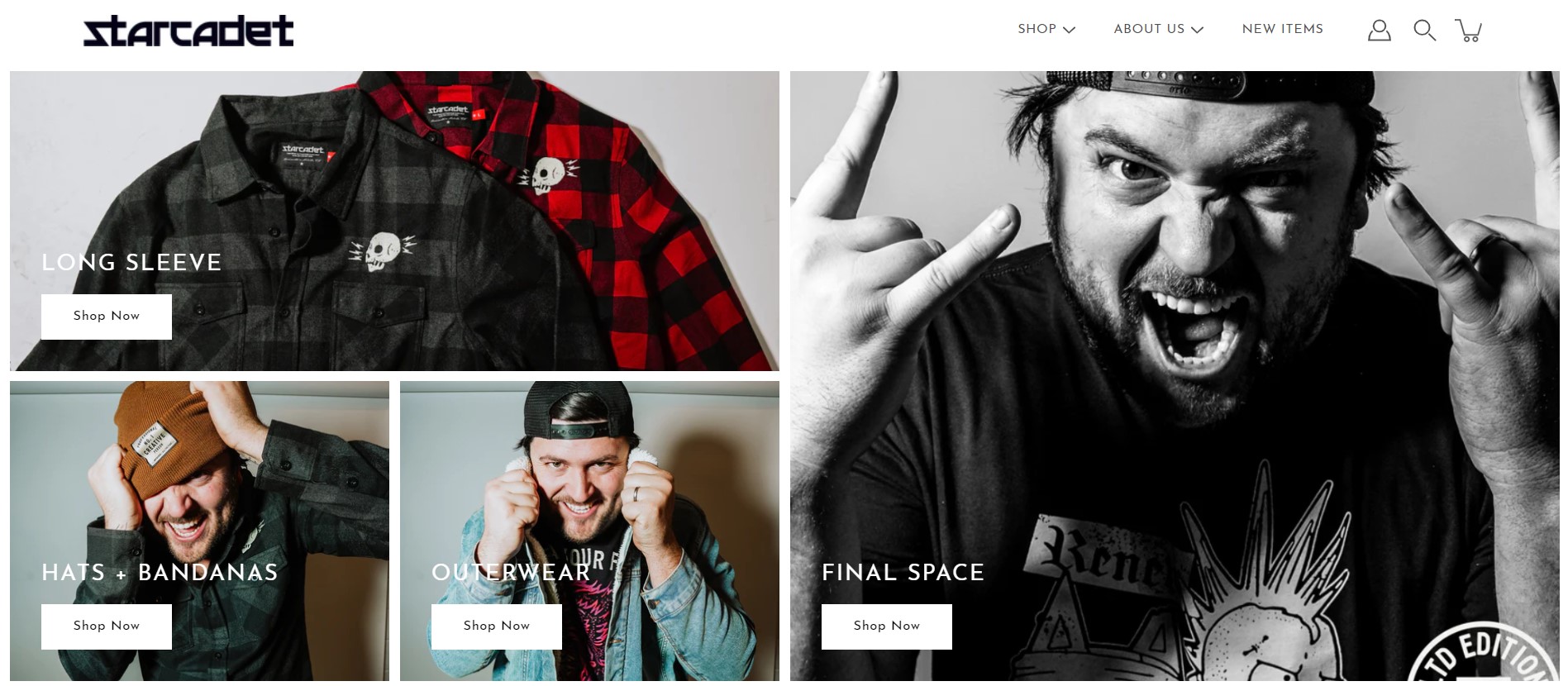 Tips to find your Shopify store names
If you're really struggling to come up with ideas for your Shopify store names, online tools can be a big help. Just keep in mind that they should only be used as a starting point, there are plenty of other ways to get inspiration from your everyday life. To help get those creative juices flowing, here are some brainstorming tips:
Researching what is available: this will help you understand the gaps in the market, as well as give you some ideas for business names. Have a look at your competition and explore different marketplaces.
Be creative with your brainstorming: There are no bad ideas when you're thinking up your potential Shopify store names. It may seem strange to come up with wacky names at first, but you never know what usable ideas will come from them. By generating a lot of possibilities at the start, you'll have more to work with when it's time to narrow your focus later on.
Don't be afraid to ask for help: Brainstorming is a creative process that can sometimes be more effective with other people, so don't hesitate to utilize your team or friends and family. You never know what great ideas they might have!
Narrow down your ideas: Now that you have a list of them, it's time to go back and see which ones are the best fit. You can do this by organizing your list with word banks or categorizing them based on a theme. This could also help give you some new post-brainstorming ideas.
Try out your name: If you want to test which names would be most successful, use a focus group that fits your target market and ask people who didn't help you come up with the original idea. Friends and family are good choices, but you could also survey shoppers in the area.
In Conclusion,
Deciding on Shopify store names may feel complicated. However, it is crucial to put time and effort into naming your online store. Remember, this is how customers will get to know you, recognize you, and talk about you with others. By the end of this guide, you will be able to choose a domain name for your Shopify store in less time. Feel free to let us know which information was most helpful to you! And if you want to implement your own Shopify store, contact our specialists or directly refer to our elite Shopify website development services to know more information and discover our team.