Since its launch in 2006, Shopify has transformed from a snowboard store website to a well-known eCommerce ecosystem. Today, it is one of the most popular platforms for merchants wishing to sell their products and services online, with millions of businesses being powered by it worldwide. In this article, we'll share some incredible Shopify statistics on market share, revenue earned, number of users supported, traffic trends, and more so that you can gain insight into just how powerful this eCommerce giant is.
Shopify Key Facts That You Should Know
When it comes to the eCommerce field, Shopify has arisen as the most powerful platform in the world right now. Therefore, there're some exhilarating facts that you should understand and maybe these interesting facts can help you feel enjoyment and excitement before we jump right into the concrete and dry metrics and statistics.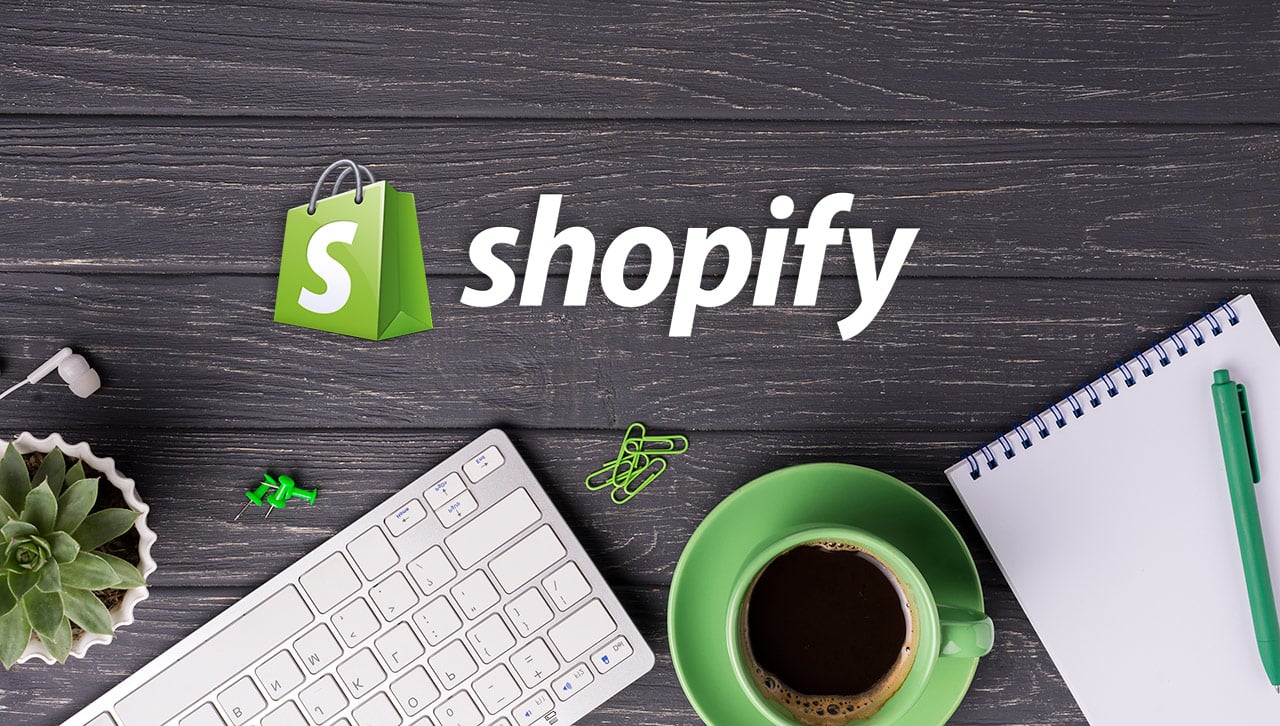 Basically, Shopify is a comprehensive cloud-based eCommerce platform that allows you to create and operate an online store. Turn back time, it was developed in 2006 by three Canadian (Tobias Lütke, Daniel Weinand, and Scott Lake) for selling snowboarding gear over the web because they felt their eCommerce experience was so terrible. However, it soon evolved into an all-inclusive eCommerce solution servicing different industries of any size.
Shopify provides online store owners with an all-inclusive set of eCommerce features to help them manage their online businesses efficiently. Shopify merchants have everything they need for success: customizable themes (Shopify Themes), payment gateways like Shopify Payments, digital marketing tools to the convenient point of sale hardware (Shopify POS) and email marketing tools (Shopify Email), international selling capabilities (Shopify Markets), tax calculation services, shipping solutions, and other features installed – configured through integrating Shopify apps.
Moreover, Shopify also empowers merchants to reach customers on a multitude of platforms and marketplaces, including Facebook, Instagram, eBay, Amazon, TikTok, and from their own existing websites. The vendor's buy button feature allows anyone to conveniently purchase products from your Shopify store via any website or blog.
There's an interesting fact that in 2018, Shopify opened its very first physical store located in Los Angeles because there are plenty of successful merchants using Shopify to empower their online store in this city. This physical store of Shopify is a perfect place to showcase Shopify's products and services, how features work, tutorials on using tools, and how they can bring their values to merchants, helping them boost and leverage their online businesses. Additionally, they have a generous affiliate program that allows affiliates to gain up to $58 for every single paid plan signup they bring into the program. Thanks to this partially, Shopify now can expand so quickly to all corners of the world.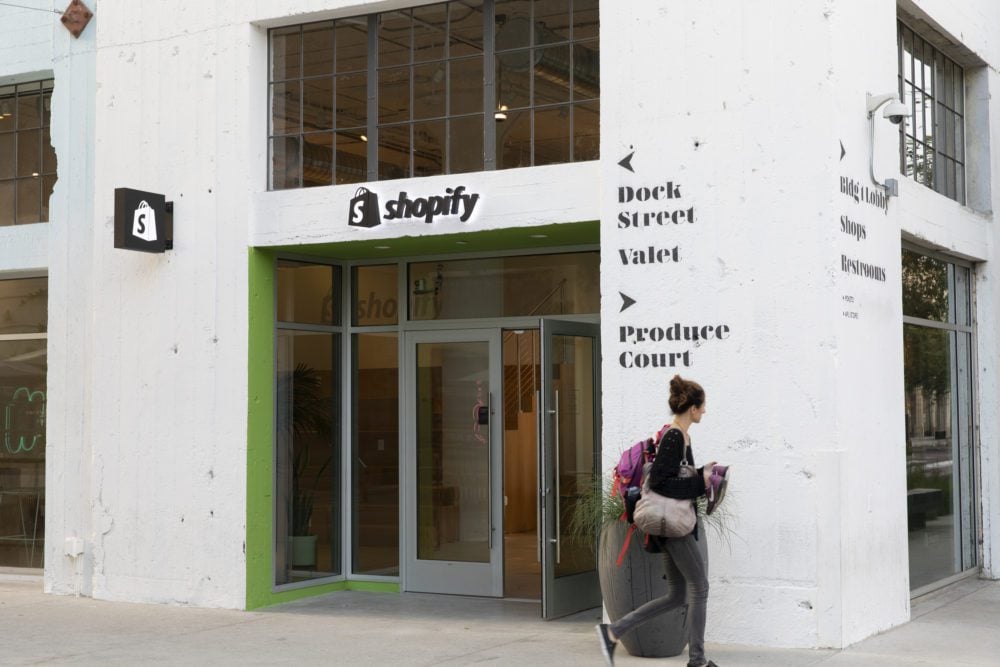 Through 17 years of development, Shopify is now a publicly traded company and is owned by its shareholders. Over 65% of Shopify shareholders are institutional investors like Morgan Stanley (7.48%) and Baillie Gifford (6.45%). In total, 1,290 separate institutions hold Shopify shares, and 0.18% of shares are held by company insiders. Shopify's CEO and founder Tobias Lütke has an estimated net worth of $3.8 billion according to Forbes, and currently owns 6% of the company. Furthermore, he holds 40% voting power in Shopify through his non-transferable founder share which was granted at Shopify's annual general meeting on 7 June 2022.
General Shopify Statistics
So now you captured some interesting facts about Shopify. To have a deeper knowledge of this wonderful eCommerce platform, we will dig into some general statistics about Shopify together. Let's get started.
In terms of market share of eCommerce sites, in 2022, WooCommerce dominated eCommerce sites with a commanding 36.68% of the total market share. Squarespace Online Stores and Woo Themes followed in second and third place respectively at 14.49% and 14.42%. Although they were fourth overall, Shopify and Shopify Plus combined (with 11.2%) still held incredible one-in-ten online stores worldwide. This put them far ahead of other platforms like MonsterCommerce, WixStores, and BigCommerce … solidifying their position as the world's leading platform for modern eCommerce solutions (Source: Statista, Meetashi).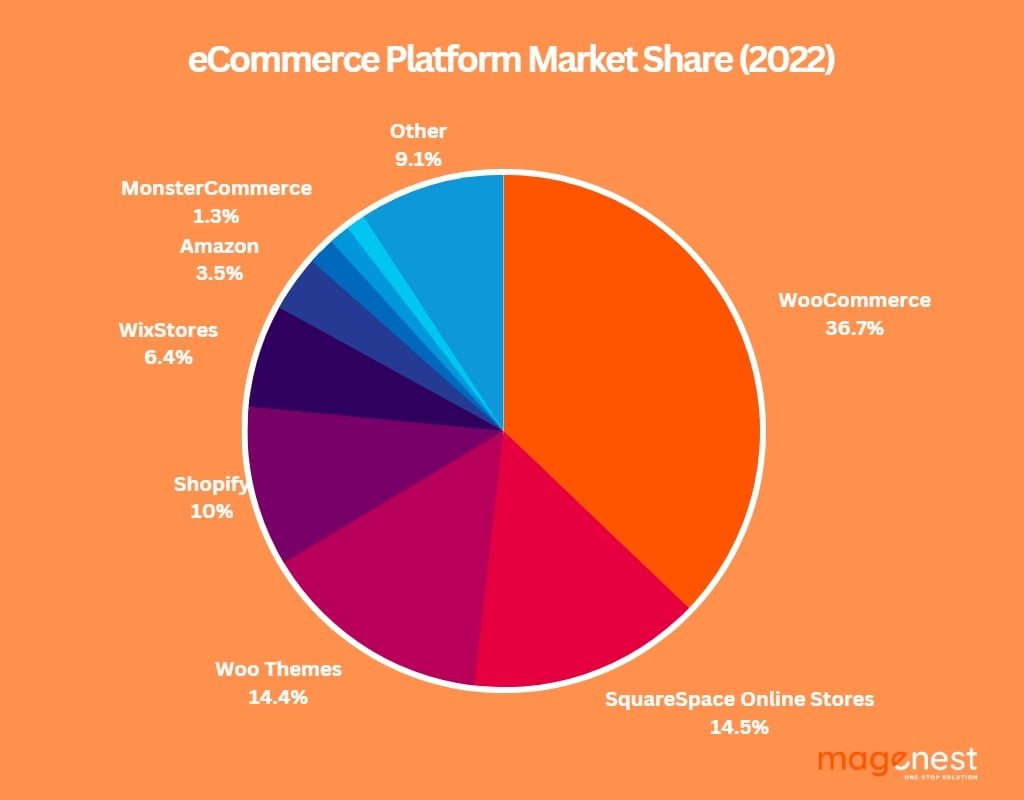 Additionally, one of the most critical metrics that should be taken into account is the platform's portion of the top million Internet sites. This metric uses usage distribution in the Top 1 Million Sites on the Internet to organize the ranking. Despite only standing 4th in the overall ranking of all websites in terms of market share, Shopify is the second biggest eCommerce platform provider on this list with 20% ownership when we exclude its subsidiary platforms such as Shopify Plus. Surprisingly enough, WooCommerce surpasses even them by possessing 23%, making it number one overall in terms of usage distribution in the top million Internet sites (Source: Builtwith).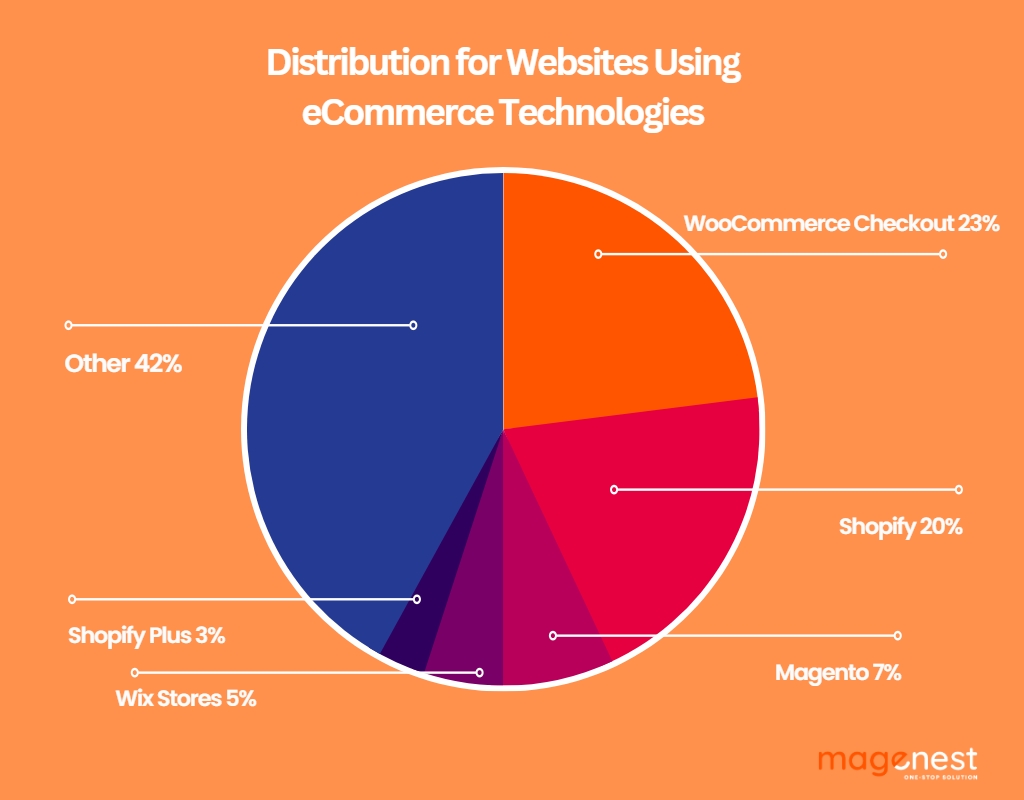 Shopify Revenue Statistics
Shopify's incredible growth is evidenced by its successful 2015 Initial Public Offering of around $130.9 million, showcasing just how far the company has come since then. Shopify has consistently earned profits with its revenue and net worth continuing to multiply. As per the data presented in their latest quarterly report, Shopify's first two quarters of 2022 had a total income of $2,498 Million. Their past nine years have seen immense growth as shown by the chart below – starting from 2012 right up till 2021. (Source: Meetashi)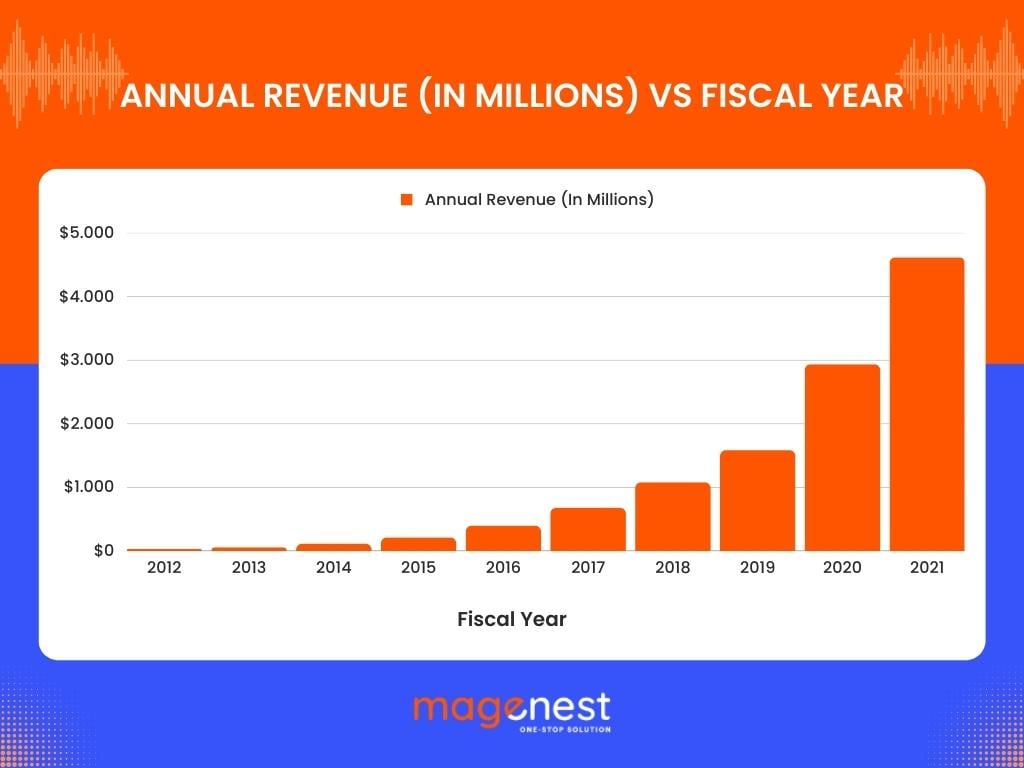 Shopify Contribution Statistics
According to the chart above, Shopify has had immense growth over the years, with its revenue rising from $205 million in 2015 to a staggering $2.9 billion in 2020. This remarkable achievement is evidence of Shopify's ongoing success and popularity among online businesses around the world.
With this sky-rocketed increased revenue, Shopify has certainly made a major impression on the global economy, with more than one million businesses operating through this platform having already accumulated $319 billion in just late March 2021. It will be fascinating to observe how far Shopify goes over the following decade as they continuously innovate and take its success further.
Shopify Employees Number
Shopify has seen tremendous growth since 2019, with over 10,000 employees on its staff in 2023 and an additional 3,000 new people joining the team. Not to mention their network of 780 Shopify experts plus 700,000 app developers, designers, and partners that form a profitable employment ecosystem (Source: Shopify). By utilizing these resources available to them, they have positioned themselves as one of the leading eCommerce platforms in the world.
Shopify has revolutionized the eCommerce landscape, with partners and developers generating an incredible $12.5 billion in revenue through businesses and products servicing Shopify sellers. Furthermore, it is estimated that 3.6 million jobs have been created by Shopify merchants worldwide. With such a vast impact on our global economy, it's no surprise that millions of individuals are turning to Shopify for their business ventures every day (Source: Shopify).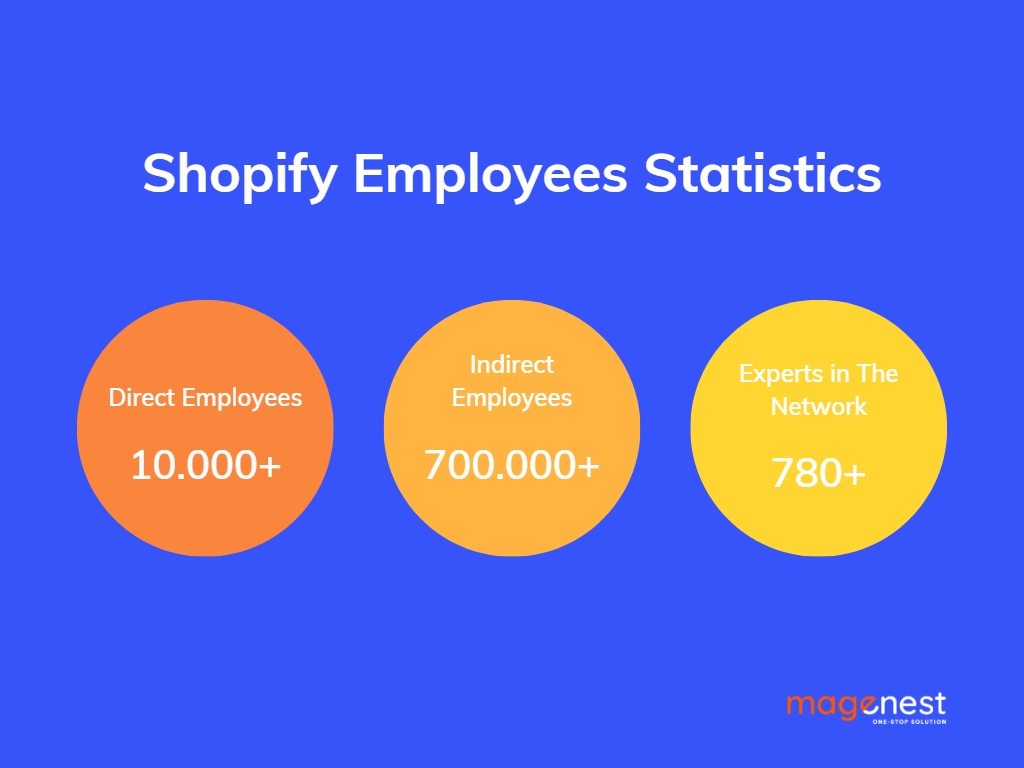 Shopify Stores in America
For those who are planning to establish an online store, a wide range of solutions exists. Yet when it comes to the eCommerce software market in the United States, Shopify is known as one of the most reliable and successful providers available (Source: Statista). By September 2021, nearly a third of all eCommerce websites had adopted Shopify as their platform. Its biggest rivals are Wix, WooCommerce, and Squarespace, each with at least an 11% market share.
In addition to American success, Europe also plays an important part in this story and provides plenty of opportunities for your business. 51,394 shops (17% of the market) are located within Europe so there is potential for expansion across both continents.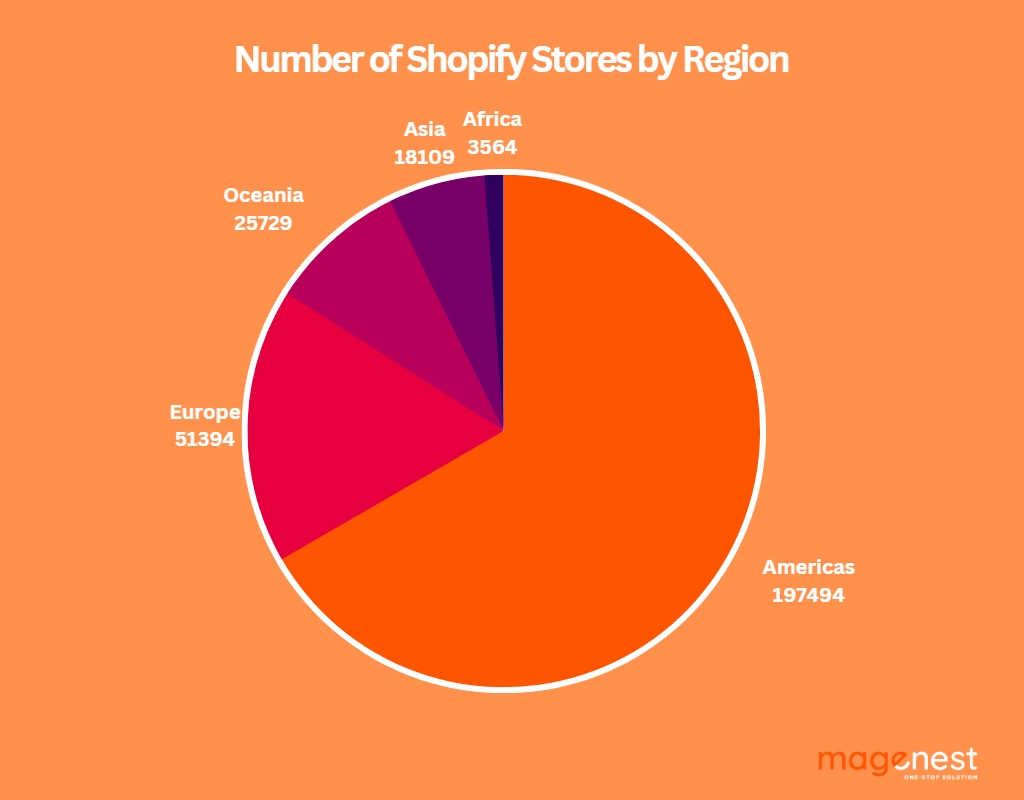 According to Shopify website statistics of Builtwith, a total of 2,858,269 websites in the US are empowered by Shopify. California alone has an impressive 72,786 customers using this platform, followed by New York and Florida with 30,874 and 27,489 users respectively.
Top Business Verticals Using Shopify
Shopify is the perfect eCommerce platform for businesses of any size. Whether you're selling apparel or pet supplies, Shopify has an online store that's tailored to meet your needs and help increase brand visibility. Plus, its easy-to-use interface makes it simple for anyone to set up a successful shop and start selling in no time.
With everyone eager to discover the latest fashion trends and shop online, it makes sense that apparel is the highest-grossing business vertical utilizing Shopify. According to data from Meetashi, an impressive 27% of all Shopify stores are dedicated solely to selling clothes and other fashionable items. Home & Garden is next in line as a popular category on Shopify with Beauty & Fitness coming close behind. See below for a visual breakdown of how these three major industries compare when using Shopify.
| | |
| --- | --- |
| | Number of Stores Selling It |
| | |
| | |
| | |
| | |
| | |
| | |
| | |
| | |
| | |
| | |
Shopify Usage Statistics
Shopify Daily Active User
It's no surprise that Shopify is one of the most popular online platforms for eCommerce. But do you know just how many people are using it day to day? In fact, 2.1 million active users log into the platform on a given daily basis, with varying numbers depending on the time and season. This indicates that plenty of web shoppers flock around Shopify stores throughout their seek-and-shop journey, making it a must-have platform if your business wants in on this success.
Shopify App Store and Third-Party App Usage Statistics
As a Shopify merchant, you have access to 8,639 phenomenal apps that can enhance the performance of your business. Recent Shopify statistics suggest that most merchants take full advantage of these applications. In fact, 87% make use of at least one. Oberlo, Klaviyo, and Shopify Inbox are some popular choices from the Shopify App Store.
It's reasonable to assume that merchants would invest in paid apps on the Shopify App Store as a way of improving their operations. Even so, it is shocking that there has been an astonishing expenditure of up to $100 million towards these types of applications alone.
Shopify merchants recognize the power of apps from the official Shopify App Store, but they also know that their store needs more. That's why over 80% rely on third-party applications from leading industry developers to truly grow their business.
Shopify POS Usage
Shopify's POS system is a hit among merchants and has been for many years. In 2019, Shopify statistics revealed that over 100,000 have used it to date. Its success story continues as more businesses are adopting the technology each day.
Shopify Stores Statistics
With Shopify as the world's most popular eCommerce platform, it goes without saying that its stores boast remarkable performance metrics, regardless of what you offer. To give an idea of just how successful your store can be when hosted on Shopify, here are a few inspiring statistics about this powerful service.
Total Sales of Shopify
Shopify has experienced tremendous success since it was founded in 2006. Its sales have skyrocketed to an impressive $590 billion, and though this is just a fraction of the entire eCommerce industry, it's still a noteworthy number. Nowadays, Shopify serves customers from all over the world; its stores generate billions of dollars in annual revenue.
Shopify Store Growth Statistics
Since 2006, Shopify has experienced an unprecedented level of growth in both the number of merchants joining their platform and the number of customers making purchases. Just take a look at these remarkable figures to observe how expansive they have become over recent years.
The Covid-19 pandemic has resulted in an extraordinary surge of Shopify store users, increasing its merchant count threefold since 2020. This creates a staggering 200% annual growth rate that is projected to last till 2022. Here's what we have seen through the years:
41,000 merchants in 2012
609,000 merchants in 2017
More than 1 million merchants in 2019
3,800,000+ merchants in 2022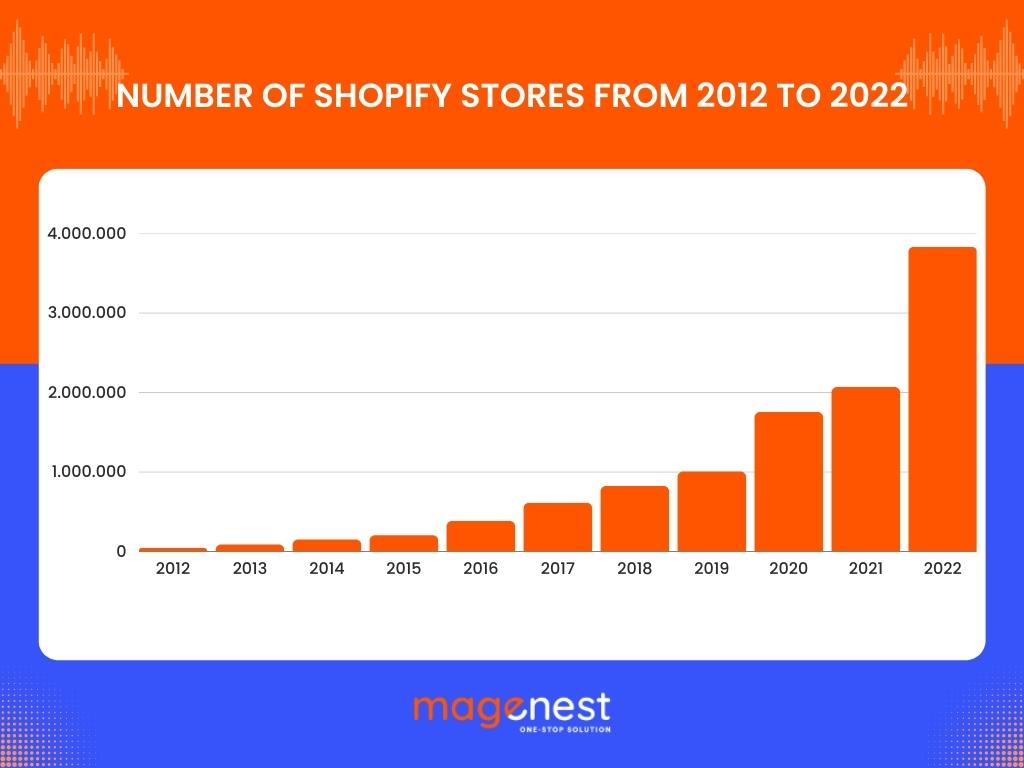 The number of Shopify-powered Stores
By 2022, almost 4 million businesses used Shopify to develop and host their online stores and 25,000+ live sites using Shopify Plus. Considering there are significantly more than double that amount of live websites powered by Shopify, this implies each merchant on average creates two distinct web stores using the platform.
Additionally, more than 2 million stores have opted for Shopify's services to construct and manage their online shops. Taking into consideration the fact there are almost twice as many live websites developed with Shopify, each store has roughly two different Shopify sites on average.
Average Shopify Customer's Revenue per Shopper
According to a study of 2,608 Shopify stores conducted in July 2022, the average total revenue earned per customer is approximately $90. This means that if you are a Shopify merchant, you can expect to earn approximately $90 per customer acquired. The top 10% of these shops saw remarkable results with their customers generating an average revenue of $343.
More Than a Half of Shopify Stores Get Retention Purchases
What's truly fascinating is that over half of shoppers who buy from Shopify stores make more than one purchase. To be exact, the average shopper purchases 3.8 times from the same store. This indicates just how successful Shopify stores are in building a loyal customer base and encouraging customers to come back for more business.
This Shopify statistic is evidence of the remarkable customer experience that all stores using this platform are providing. It is a strong indicator that more shoppers come back than not, showing that they're consistently delivering an extraordinary shopping experience.
Success Rate for Shopify Stores
According to industry experts, the success rate of eCommerce stores is appropriately 10%. This means only one out of ten stores survive for more than 120 days after launching. Unfortunately, no official data exists regarding Shopify store success rates. However, with this in mind, it's pretty sure to say that establishing an online store can be a risky business.
Although the industry average of Shopify stores is estimated between a 5%-10% success rate, tens of thousands have managed to break that mold and construct successful businesses from its platform. After all, with 16 years in existence, it has produced nearly $590 billion worth of sales. Clearly, there's something special about this fruitful eCommerce platform.
Shopify Themes
Shopify themes are a keystone of the platform, representing one of its most vital services for merchants. As you create your Shopify store, you can select from well over 100 different website themes to customize and tailor the appearance of your site. With so many options available to personalize your online presence however you want, it's easy to make sure that every detail is perfect before customers ever reach checkout.
Shopify Store Traffic and Performance Statistics
Comprehending where your eCommerce store's traffic is generated can be immensely beneficial. In order to maximize your store's customer base, it's imperative that you have knowledge of effective strategies for enhancing said traffic. Henceforth, here are some insightful statistics on Shopify store site visits that will arm you with the necessary information needed to valuably drive more visitors towards your own business.
79% of Shopify traffic comes from mobile devices
We've seen an impressive surge in mobile traffic to eCommerce stores over the past half-decade. In 2014, just more than 50% of Shopify store visits were from a mobile device. However, that figure has skyrocketed by nearly 30%, reaching 79% this year. It's clear that when it comes to online shopping and browsing, consumers are turning increasingly to their phones and tablets for convenience and access.
If you don't optimize your storefront for mobile devices, it could spell disaster and lead to losing a multitude of potential customers. To ensure success in the eCommerce market, make sure that your website looks amazing and performs well when accessed on a smartphone or other handheld device. This is arguably one of the most essential statistics to remember while designing an online store.
69% of Orders from Shopify Stores Come from Mobile
To generate a substantial amount of sales, Shopify mobile users account for about 69% of total purchases. That's why it is important to prioritize creating an effortless checkout experience on mobile devices. To achieve this goal, consider taking the following steps:
Streamlining the process for users to access and edit their shopping basket
Keeping the form fields to a minimum
Providing an option for guest checkout
Utilizing full-width text rows, users can effortlessly input their information
Repeat Customers Generated More Revenue than First Customers
We took a look at Gorgias' data and observed that customers with multiple orders generate a staggering 300% more revenue than those who only have one order. Although these repeat buyers represent 21% of the customer base, they make up 44% of overall profits. Clearly, having loyal purchasers is essential to any business's success.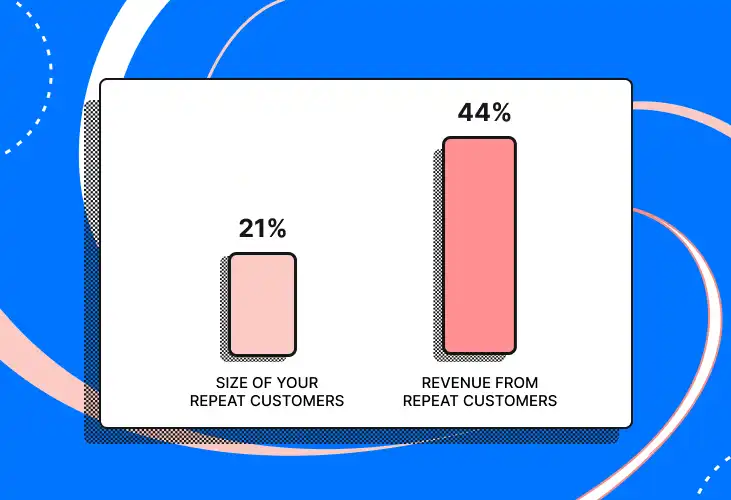 Delighted customers are the ultimate driving force for success. Not only do they leave fantastic reviews and share their experiences with others, but also place bigger orders more often and offer recurring revenue at a fraction of the cost compared to new buyers.
70% of shopping carts get abandoned before checkout
Shopping cart abandonment is a prevalent issue with the Baymard Institute reporting that 70% of online shopping carts are never converted into orders, while 86% are not completed on mobile devices. The primary reason for this phenomenon? Shockingly high prices are associated with shipping and other fees. Moreover, many consumers face challenging roadblocks when attempting to complete their purchase due to long checkout processes, another leading cause of abandoned purchases.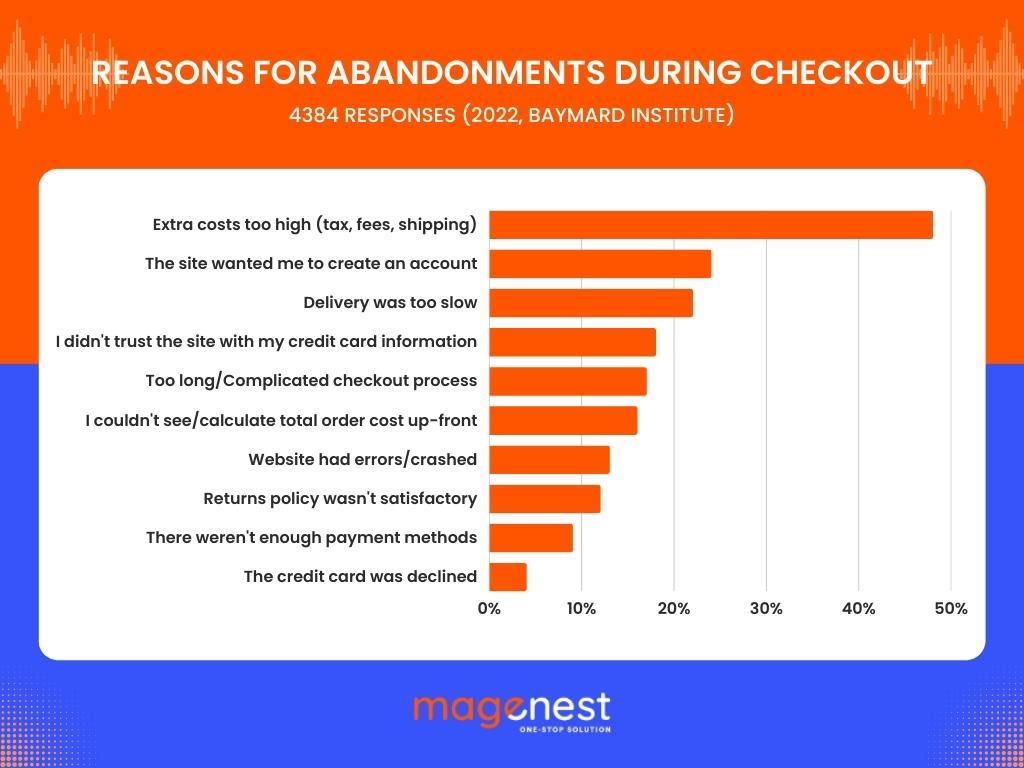 To significantly reduce the amount of cart abandonment on your website, you should:
Make use of Shopify POS's straightforwardness and remove any excess steps.
Offer free or reduced shipping as much as you can and advertise it throughout your site for maximum visibility. This approach will help to encourage shoppers to complete their purchases quickly and easily.
Send compelling abandoned cart emails to win more sales that could be lost.
Top Online Stores Lead in Customer Experience
Crafting an exceptional customer experience is essential to building a thriving eCommerce business. From when customers first discover your brand, to their final purchase and product reception, the entire process needs to be seamless and enjoyable if you want them to come back for more.
Customers that have a great experience with your company will be more likely to return for future business. In fact, Shopify reports show that companies that prioritize customer satisfaction outperform those that don't 80% of the time. Creating an outstanding customer experience is essential for any organization's growth and success.
Paid Advertising for Shopify Stores may be less effective
For a long time, pay-per-click advertising was the concentration of digital marketing. But people became so overwhelmed with online ads that they simply disregarded them, leading to a diminishing return for Shopify stores. In fact, according to research by Shopify itself paid advertising is now 15%-20% less successful than it used to be in its peak performance days. With this reality before us, we must find other avenues and strategies if we want our business growth trajectory continues in the right direction.
Emails Generate The Highest Conversion Rate for Shopify Stores
Recent research from BuiltWith demonstrates that email marketing remains the most successful approach for eCommerce sales. Shopify sellers have seen a staggering 4.29% conversion rate on emails, outmatching SMS campaigns, social media messaging, and pay-per-click advertising combined. Even though it may appear outdated compared to modern digital methods of communication, your customers still rely heavily on their inboxes every single day. This is why email campaigns remain one of the most valuable weapons in an online business's arsenal today.
Shopify Plus Statistics
Shopify Plus Usage
In 2014, Shopify Plus was launched with an extensive range of features and functionalities designed for larger businesses and popular brands engaging heavily in eCommerce operations. But how many organizations are currently taking advantage of the power behind Shopify Plus? Currently, more than 25,000 live sites are running on this fantastic platform that is specifically tailored to top brands.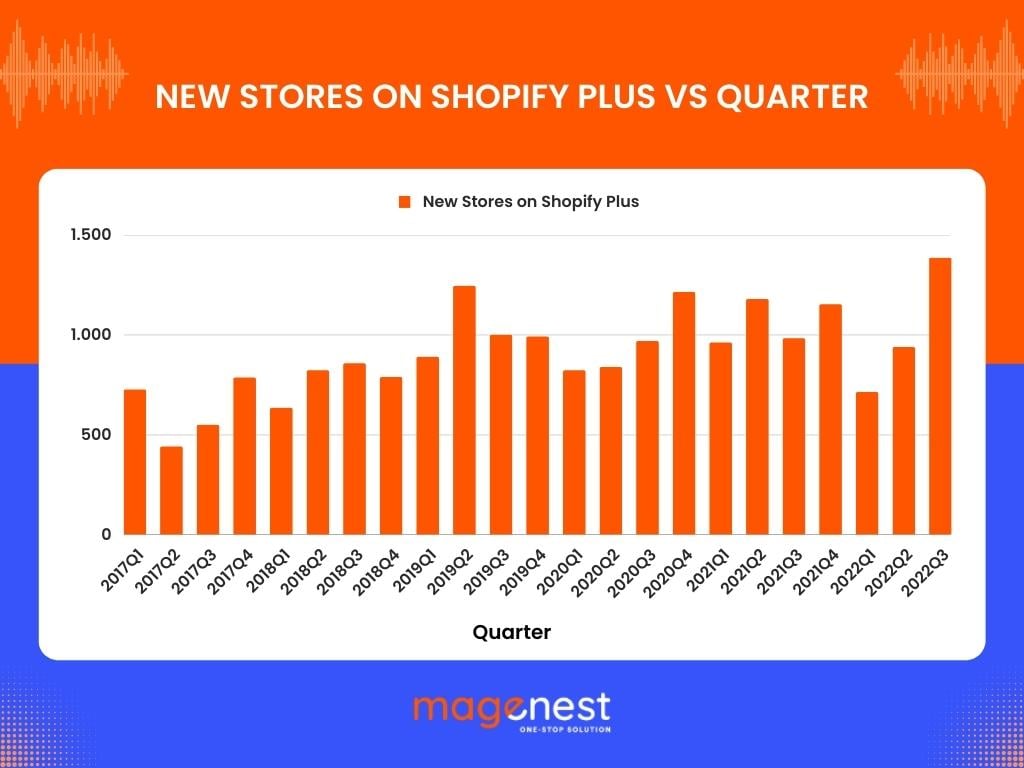 With an impressive 60% of all Shopify Plus stores based in the USA, leading brands worldwide trust Shopify Plus to process their huge amounts of online traffic. The following table offers more detailed insights into the number of Shopify Plus stores situated in different countries.
Number of Shopify Plus Stores by Countries
Shopify Plus Biggest Industries
Brands from all industries have decided to use Shopify Plus, the premium version of the platform, as their go-to eCommerce store. Leading this list is retail (17%), fashion (14%), and computer software at over a third collectively. Rounding out the top three are
Wholesale
Consumer goods
Health, wellness, and fitness
IT
Internet
Marketing
Cosmetics
Here's how this distribution appears in visual form.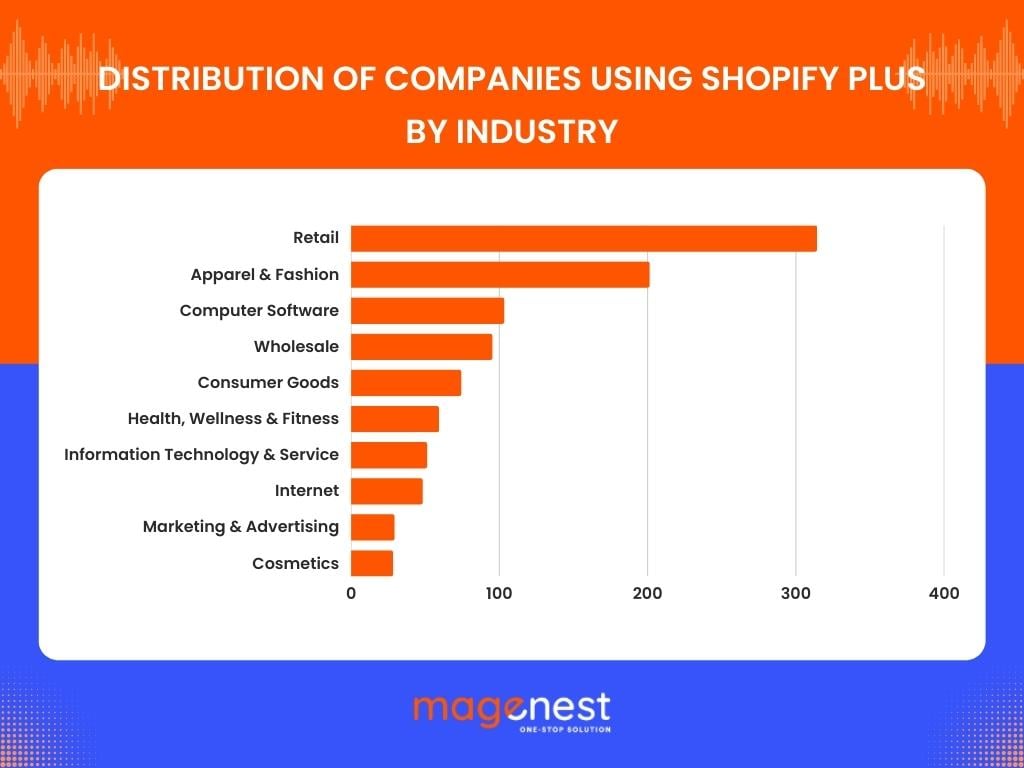 Shopify Plus Region Statistics
When it comes to the countries with the most Shopify Plus users, The US dominates the market by far, representing roughly two-thirds of all stores. The UK and Canada follow at 10% and 9%, respectively. Subsequent leading locations include:
Australia
France
India
Denmark
Spain
Hong Kong
Finland
This is the visualization of the results: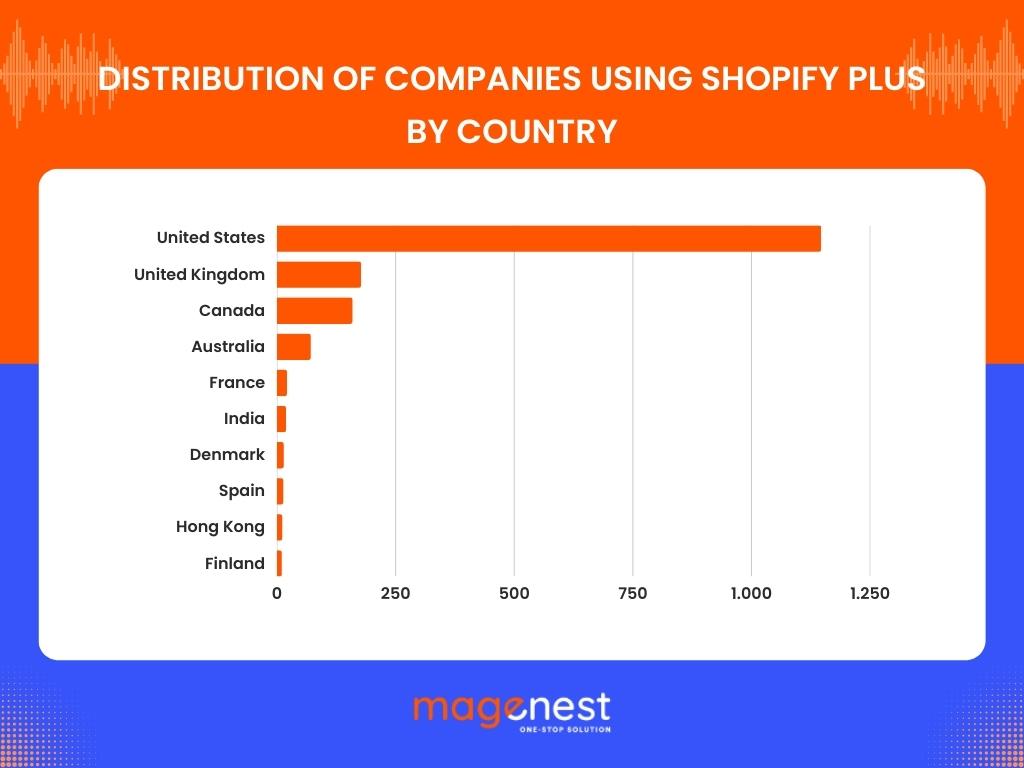 Shopify App Statistics
With more than 8,000 apps available on the Shopify App Store marketplace, there is an abundance of offerings from 5,462 vendors. The most popular app of them is Product Reviews, installed in a whopping 21% of stores. Chasing close behind at 13.3%, Shopify Inbox has sealed its spot as the second-most used application offered by the store. If you're looking for top-rated apps to add to your site, check out this list below:
Most Popular Shopify Apps

Klaviyo: Email Marketing & SMS

Mailchimp: Email Marketing

Loox Product Reviews & Photos

Instafeed - Instagram Feed

Printful: Print on Demand
Shopify's tremendous success can be attributed to its exceptional customizability, even for those with minimal expertise. Shopify enables users to craft a store that their customers will love without breaking a sweat. The app store is fundamental in this process since it provides an array of apps tailored to every user's need and requirement.
Shopify merchants are continuously taking advantage of their ever-growing database of applications, covering anything from checkout to bookkeeping, with 87% using a minimum of six apps. As the list increases and changes, Shopify users remain up-to-date in order to stay ahead in today's competitive eCommerce world.
Shopify Statistics by Regions
Shopify's country data demonstrates that the platform is well-loved by merchants in 175 countries across the globe. Additionally, Shopify's statistics also divulge that with 52%, female merchants exceed their male counterparts. Furthermore, more than one-third (37.5%) of these business owners are aged between 25 and 34 years old (Source: Shopify).
As of 2019, Shopify has expanded its language offerings to a total of twenty with the addition of Norwegian, Turkish, Portuguese, Dutch, Hindi, Korean, Malay, Thai, Traditional Chinese, and Simplified Chinese. Now more users than ever can experience all that this powerful platform has to offer in their native tongue. (Source: Shopify)
As we mentioned above, roughly two-thirds of the over 4 million Shopify stores are in the U.S., with a total count of 2,858,269. This is an incredible statistic that demonstrates how quickly and effectively merchants around America have adopted this platform for their businesses. In 2021, Shopify's US stores accounted for more than 10% of all eCommerce sales in the United States.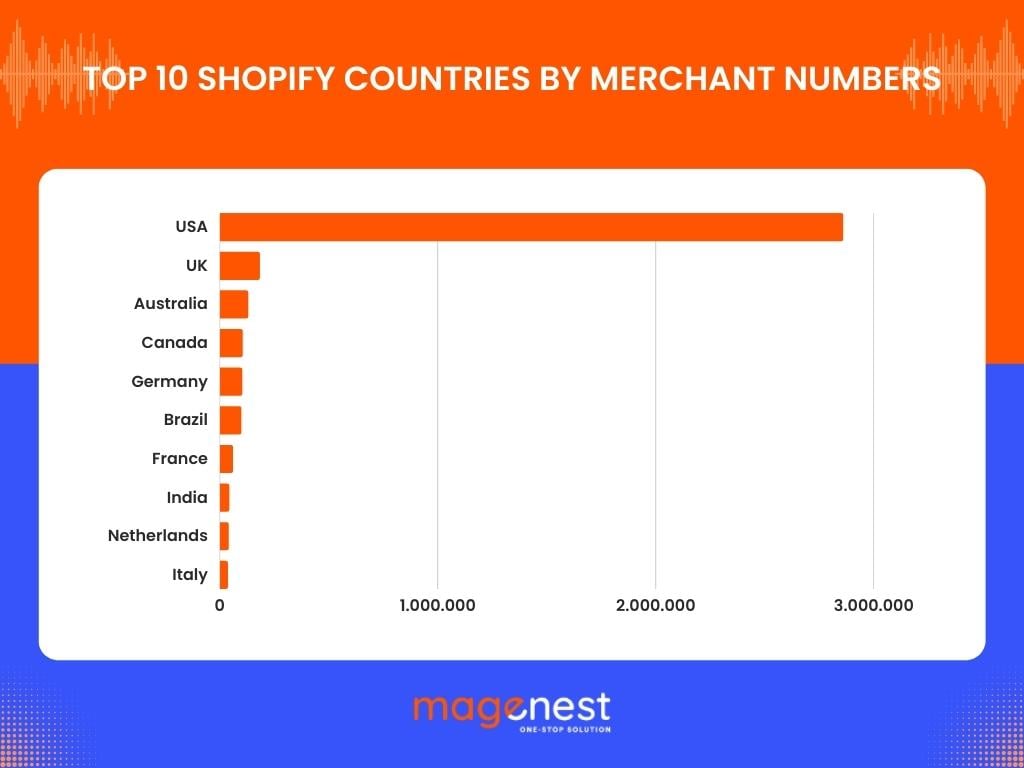 Not only that, but Shopify has also developed a large presence in the UK, with over 182,254 storefronts operating within its $871 billion eCommerce market. According to BuiltWith, this formidable figure makes it Shopify's second-largest market globally. Holding the third and fourth spots for Shopify's top markets, both nations are English-speaking countries. For third place, we have Australia with 129,432 stores using Shopify, followed by Canada in the fourth position as its home country boasting 103,948 shops that utilize this eCommerce platform.
Across Latin America, Shopify is a popular choice for businesses. In this area, Brazil leads the way with 98,141 stores running on the platform. Mexico and Chile follow closely behind at 17,806 and 9,567 merchants respectively. Shopify's widespread popularity among users in Latin American countries speaks volumes of its ability to provide reliable eCommerce solutions.
What about the Asia market? Shopify has found success in English-speaking countries and is now rapidly expanding into the Asian-Pacific eCommerce market through brand-new relationships with Indonesia, Thailand, and the Philippines (Source: Techwireasia.com). China is the global leader in eCommerce, estimated to be worth a staggering $3.3 trillion by 2025 and it's believed that over half of China's total retail sales will take place online in only three years' time. Despite this immense potential for success, Western companies have fared poorly trying to enter the Chinese market with Shopify powering just 7,459 stores across the country as an example.
Conclusion,
This concludes our compilation of Shopify statistics in early 2023. The international eCommerce platform is flourishing exponentially, and although not the largest market share provider currently, over the last few years, it has experienced unprecedented growth. Year after year, the number of merchants, online buyers, and gross merchandise volume continues to grow. The staggering figures show that Shopify is way ahead of most eCommerce platforms in comparison.
For those seeking the best in eCommerce platforms, these Shopify statistics are clear: partner with them and you'll be joining a successful network of merchants. From user satisfaction to customer success stories, Shopify is unrivaled when it comes to quality. Put simply, if you're looking for an experienced platform that caters to all your needs as a business owner, look no further, this should absolutely be your top choice. If you want to thrive more on Shopify, don't hesitate to contact Magenest. With years of experience providing website development services, we have a plethora of experienced Shopify experts who are always ready to help you develop your own successful online business.