Are you looking to set up an eCommerce store but not sure which platform will best suit your needs? If so, then you've probably been considering both Samcart vs Shopify as potential options. Choosing the right eCommerce platform can be a difficult decision due to the various factors involved and it's important that you make the right choice for your business.
To help with this decision process, we have created a detailed comparison between these two popular platforms – breaking down each of their features, benefits, and overall usability. Here, we'll look at how they compare in terms of pricing plans, ease of use, payment processing capabilities, customer service support, and more!
SamCart vs Shopify: Overview
About SamCart
SamCart is a platform for eCommerce businesses that also provides thorough drop shipping services for real products.
SamCart was established in 2014, making it a more recent eCommerce platform than Shopify. But because of its outstanding features, which make it simple for anybody to start selling and taking orders online, it has expanded at an astounding rate. Over 17,000 companies from across the world use SamCart today.
If you require a technique to build unique eCommerce funnels and you have fewer goods, this platform is excellent. SamCart is exceptional in this area.
The eCommerce platform is especially useful for those who offer digital goods (such as courses and ebooks) and need a platform with upselling and split-testing features for sophisticated online enterprises. It also helps you sell things online via a sales funnel.
SamCart has a few important characteristics, including:
Drag-and-Drop Builder: Using Samcart's eCommerce tools and sales funnel, you can quickly design your website, including checkout pages, without knowing any code.
Premade Samcart Templates: With templates and template code, all the labor-intensive work has already been completed. Using just a few plug-ins, you can start selling your goods and designing your checkout pages with professional eCommerce themes.
Unlimited Things: With the user-friendly platform's eCommerce capability, you are free to offer as many or as few products as you choose.
Localization: The platform enables you to sell in whatever language or currency you desire in order to reach a worldwide audience.
Digital wallet: To speed up the checkout process, add one-touch purchases with Google Pay and Apple Pay.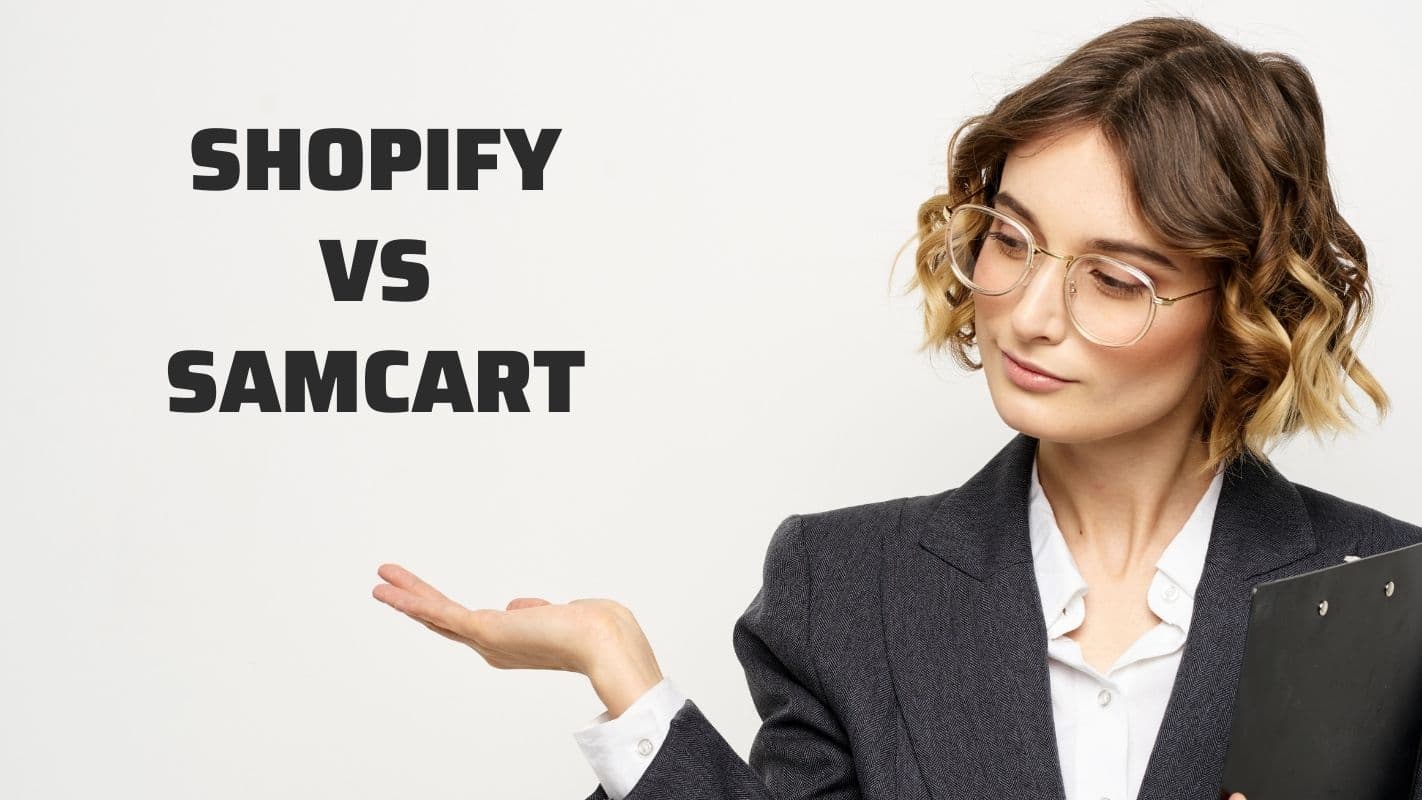 About Shopify
Shopify, one of the biggest eCommerce builders in the world today, was established in 2006. It works well for those who have a variety of physical things to sell and need a storefront where customers can browse inventory and make purchases.
Although the platform has many fantastic features, unlike SamCart, it doesn't come with upsells and split testing. This implies that eCommerce business owners must find a method to incorporate third-party software into Shopify so they can create funnels and checkout pages without having to rely on other websites for transactions.
Additionally, Shopify makes it more difficult to customize checkout pages than SamCart does. Shopify's essential attributes include:
Sell Anywhere: Shopify gives you the freedom to engage with a variety of selling platforms, including websites, social media, and online marketplaces.
Strong Promoting Features: The platform has capabilities built in that make marketing your items simpler.
Easy management: From orders and fulfillment to payments, payment systems, and more, you can manage all areas of your business from a single practical dashboard.
Feature Comparison Between SamCart vs Shopify
eCommerce Capability
Samcart contains the capabilities required to provide its target users with an excellent eCommerce experience, even if it may not be ideal for heavy eCommerce selling. These consist of:
Aesthetically constructed templates
Product specifications and attributes
Files for products like images, music, and videos
Call-to-action
Support for popular payment processors including Stripe and PayPal
Product Assurance
Integration with programs that let you create successful pre- and post-purchase marketing campaigns
Managing your product's end-of-life or stock-out situations
After-sale services like refund processing
To enable more complex eCommerce operations, Shopify, on the other hand, offers a wide range of tools and features, including:
Inventory tracking
Marketing
Product categories, or collections
Product features and discounts
Pages and themes
Blog entries, among other things
Result: Shopify
Because SamCart has its target market, we cannot criticize it. SamCart will work perfectly if you only sell a few physical goods or digital goods. SamCart, however, does not scale. Shopify's features, on the other hand, provide it with more advanced eCommerce capabilities.
Reporting And Analytics
On Shopify, you get incredibly thorough analytics. There are crucial reports that will provide you with store performance data, such as total sales and total orders and the following:
Marketing's contribution to sales. This informs you of the effectiveness of your paid campaigns' sales conversion rates. You may view the rate of sales checkout in this sales funnel report. You may launch programs to re-engage cart abandoners.
The number of repeat customers. It is useful to know which of your clients are loyal repeat consumers. More upsell opportunities result from this.
Online shop sessions broke out by traffic source, location, device type, and social source. These reports, which are all distinct, offer important information on which to build your remarketing operations.
Top landing sites according to session. This is the report to consult if you want to know which of your landing pages is the most popular.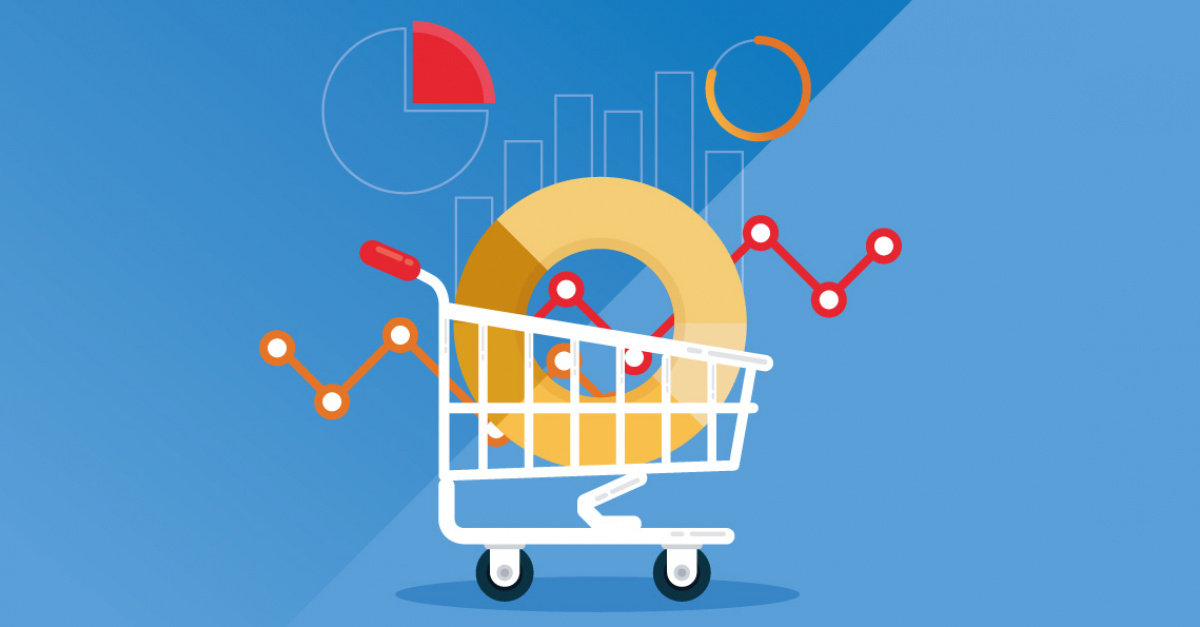 Samcart allows you to monitor and examine sales data, which is shown in reports like these:
The costs report keeps track of every subscription you have.
The sales and their source are tracked by the traffic report.
SamCart also offers helpful metrics like custom conversions, Facebook pixel monitoring, UTM parameters, Google Analytics eCommerce tracking, and Facebook LTV lookalike audience.
The only drawback is that some of those insights require extensive settings before you can access them. For instance, before you can get any data about your traffic sources, UTM parameters must be configured in the marketplace settings.
Result: Shopify
Both Samcart vs Shopify offer quite thorough and insightful reports. However, SamCart's setup can be a little complicated.
Page And Funnel Templates
As soon as you pay for Samcart, you'll have access to a huge selection of product templates, many of which are either blank layouts or have already been created for you. These two solutions are suitable for people who wish to completely customize a page from scratch or for people who don't require a lot of page modification before launching a product. In either case, you will appreciate how convenient it is to utilize the drag-and-drop editor.
Themes are the term used for Shopify templates. You have the choice to pick either free or premium themes when setting up your store. Every theme is designed to handle a variety of product kinds.
If you offer active apparel, for instance, you may select an activewear theme. It's possible to use a pasta theme if you offer food. You may choose and work with a theme for your online store that best reflects your brand thanks to the range of themes available.
Result: Both
Both Shopify and Samcart provide a selection of templates and editing tools that make it simple to modify themes to fit your brand.
Ease Of Use
With tabs for items, activities, upsells, reports, and applications, Samcart provides an intuitive user experience. Once you log into these tabs, things start to become a little more specific.
Samcart, for instance, makes it incredibly simple to upload items. You just need to enter the product name, description, price, and payment frequency after you log in to the new products page. From there, you can simply click the add new product button to be sent to this page.
However, you are taken to all of these additional options after you click to create a product. You must provide more information and specifics for each tab. Only Samcart advertises itself as a one-page funnel. Therefore, users anticipated that the setup procedure would be far simpler and would provide you with everything on a single page.
For individuals looking to sell products online, Shopify is both simple to use and quite thorough given that you will be putting up a whole site. Many elements of your store may be customized to better reflect your brand. The customization feature's one drawback is that users had to search and switch between tabs before they eventually discovered the customization tab.
Both Samcart and Shopify might take some effort to set up and customize at first. But once you get beyond the first confusion, both are user-friendly. Additionally, after everything is set up, you may submit your items and start using your store.
Payment Processors
Samcart accepts payments using digital wallets like Apple Pay and Google Pay as well as PayPal, Stripe, Braintree, and Authorize.net.
Both Apple Pay and Google Pay support quick mobile payments and employ card tokenization. This substitutes a virtual credit card or debit card for a physical one, to protect client data.

Payment using credit cards is made possible by integrating your SamCart account with Braintree.
PayPal, Stripe, Skrill, Authorize.net, World Pay, and Amazon Pay are just a few of the payment processors that Shopify interacts with. But Shopify goes a step further by collaborating with payment processors in certain nations. This implies that you don't need to utilize any of the big payment processors, like PayPal, in order to operate a Shopify site and receive money from your sales.
Result: Shopify
Being able to interface with payment processors at the national level gives Shopify additional transactional flexibility.
Customer Support And Community
Through their blog, training center, and knowledge base, Samcart enables you to access support when you need it. But other than that, their customer service staff is quite receptive and helpful. SamCart offers email and lives chat services around the clock.
Additionally available 24/7 through chat is customer assistance from Shopify. In addition to that, the website features a help section that contains information to assist you in starting, selling, managing, marketing, and growing your business.
Also, Shopify has discussion boards where members of the Shopify community talk about things like marketing tactics and shop performance. The look of stores is rated as well.
Shopify provides help on business-related issues through their business encyclopedia section in addition to presenting podcasts and providing guides, and business courses.
Result: Both
Samcart vs Shopify both provides 24/7 customer care as well as a wealth of free resources in their libraries.
Shopping Cart Platform
If Samcart is merely a shopping cart, why not just use a PayPal button to take payments, you might be asking. Samcart may be integrated with a variety of different software programs, which will improve how you conduct business. Additionally, you will receive thorough statistics, discover the lifetime value of your clients, and automate the customization of your campaigns.
However, you are unable to stop billing your Samcart account on your own. If for whatever reason you decide to stop utilizing Samcart on your website, you must email their customer service staff three days before your subsequent due date, letting them know your intention to cancel the subscription. The only way to stop using the service and make sure you aren't charged for it is to do this.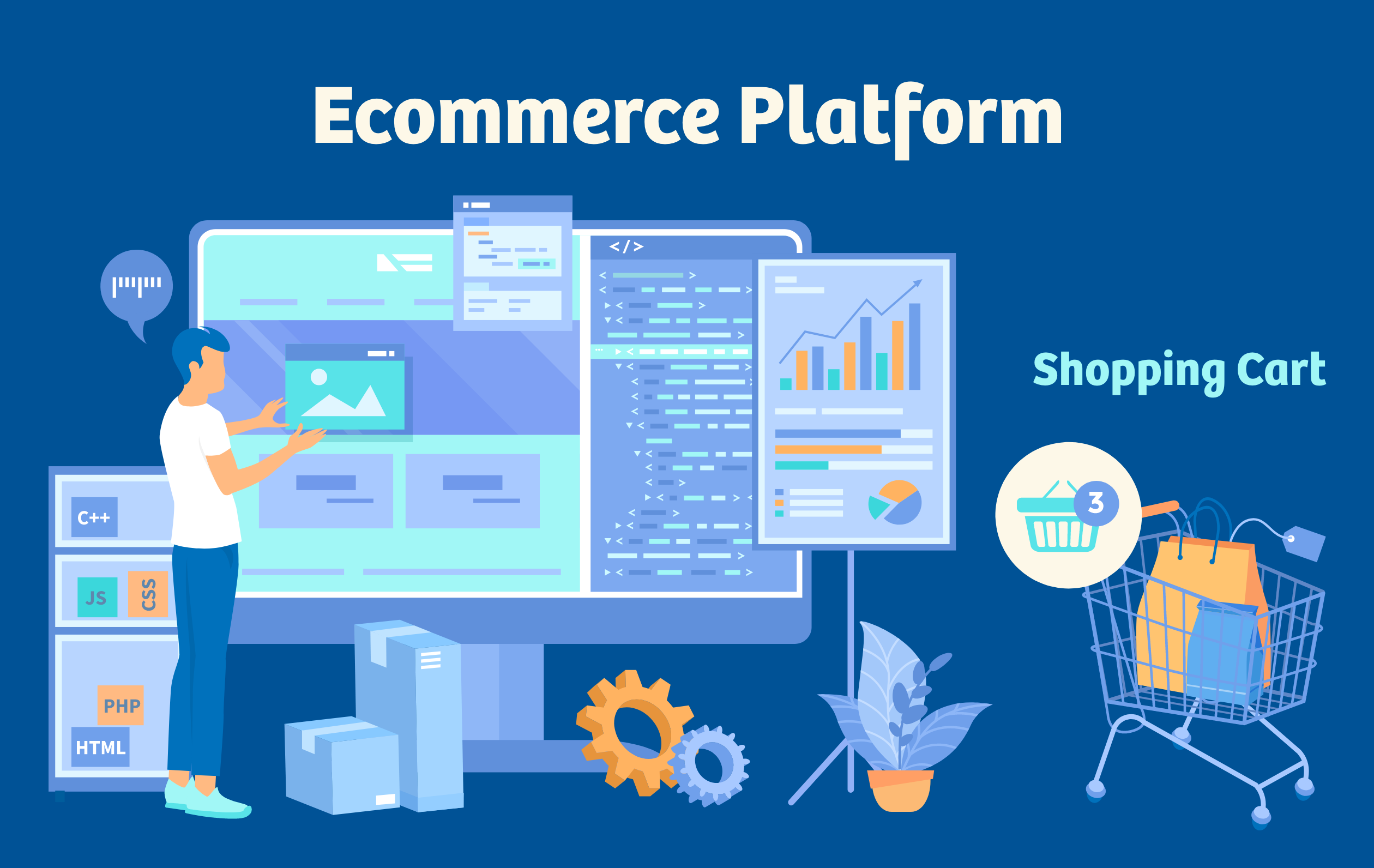 A complete eCommerce setup is supported by Shopify. Therefore, it seems natural that there is an entire area of it devoted to marketing. Shopify email is one of the essential tools in this category. Using it, you can design paid and free campaigns to drive traffic, grow a following, and boost interaction on the internet and on social media.
Additionally, Shopify includes a ton of applications that improve various businesses' sales and interaction with their clients. For instance, there are applications designed just to help restaurants fulfill orders. Additionally, there are apps that offer product variations, fraud protection, live streaming, video and photo production, etc.
Pricing And Transaction Fees
The SamCart price plans consist of:
Launch: The lowest tier is this one. You may receive access to everything you need to create and market your product for $59 monthly or $468 yearly. However, you won't have access to some customization and conversion capabilities.
Grow: Unlike the launch plan, the expand tier includes sophisticated reporting, conversion, and client management services for $119 per month or $948 yearly.
Scale: The scaling plan is designed to help you scale your sales and costs $299 per month or $1908 yearly. The only real distinction between this tier and expand is that the former supports self-cancellation while the latter lets you choose responsibilities for your admin users.
Three plans are also included in the Shopify price:
Basic: If you're just getting started with internet retailing, this is the finest option at $29 per month.
Shopify: This $79 package is recommended if you have experience selling internationally. Also, you have at least 5 employees managing your account, and need to handle inventory across several locations. But with this tier, you won't get advanced reports.
Advanced: This Shopify package, which costs $299 per month, offers additional eCommerce tools geared for large retailers. For instance, it accommodates an inventory in 8 locations and up to 15 employees.
Additionally, Shopify offers the $9 Shopify Lite subscription, which enables customers to add a checkout button and sell products from any website.
Samcart vs Shopify: Which one to use?
Use SamCart if
You simply have one thing to sell, or you work online as a blogger, digital marketer, or course designer offering digital goods.
SamCart is also the best option if you already have a process for building sales funnels and only need a shopping cart to facilitate the sale of your items.
In this situation, SamCart would be a fantastic choice for you as it is made to assist you in developing stunning one-page websites to sell a limited number of items and increase your sales using order spikes, one-click upsells, etc.
The platform is made with the intention of maximizing your revenue from each visitor to your checkout page.
Last but not least, it's important to note that Samcart also developed CreatorU to aid online company entrepreneurs in their endeavors.
Use Shopify if
You only participate in internet sales, thus you need a store. If you require more than simply a shopping cart to sell your eCommerce goods online, Shopify is the best option for you. The platform will provide you with all the resources and freedom you require to create pages that convert well, including blogs.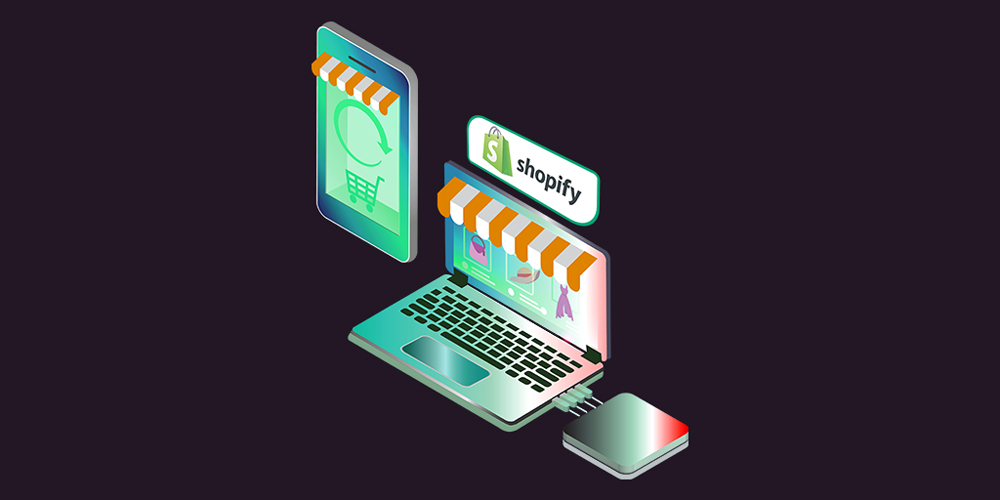 Additionally, it includes more capabilities that may help you promote and sell your goods to a worldwide audience via a variety of methods. To learn more about SamCart and Shopify, you may read my complete reviews of each service.
In Conclusion,
Both Samcart and Shopify offer different features that may help or hinder your success depending on your business needs. This blog post outlined a detailed comparison of Samcart vs Shopify, allowing readers to gain an in-depth understanding of each platform's unique functionalities to help them determine which one would be better suited for their business.
Ultimately, the choice of eCommerce platform should hinge upon the type of online store you're looking to create and the special considerations you need it to have. If you have any further questions about this comparison or wish to learn more about how we can help maximize the potential of your online store, contact us today!