It's no secret that eCommerce has become a major driving force in the UK retail market. Shopify Stores in the UK are leading the charge, offering entrepreneurs an accessible and cost-effective platform to launch their very own online businesses. Selling products online requires much more than simply setting up shop; you need to create an effective plan for success, from digital marketing strategies and promotion techniques to creating a user-friendly website design. 
That's why it's so important for new Digital Marketers to look at successful Shopify Stores as examples of what can be achieved when done right. Let's take a closer look at some of the top Shopify Stores in the UK and explore how they have been able to achieve success with this versatile eCommerce platform.
How many Shopify Stores are there in the UK
Shopify saw remarkable international expansion over the past several years, with impressive quarter-over-quarter growth visible in many countries. In particular, Shopify Stores in the UK have had a banner year so far – increasing by 12% since Q2/2022 and growing an astonishing 35% compared to Q3/2021. Q3/2022 marked a notable increase in Shopify Stores across the UK, with an impressive jump of 10,000+ Stores over just one quarter. That figure has continued to grow through early 2023 and now there are nearly 23,500 active Stores on the platform.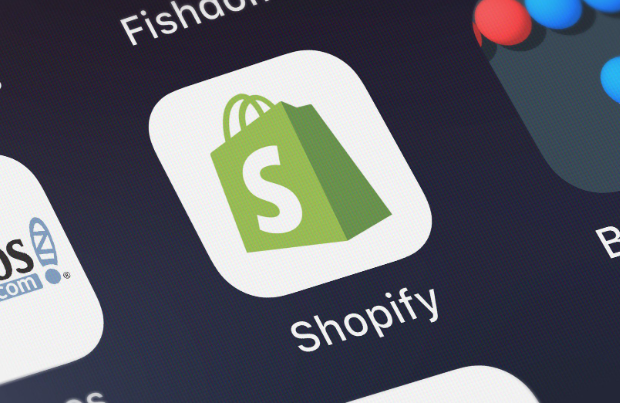 The United Kingdom is home to a thriving e-Commerce landscape, with Shopify having an extensive presence across the country. In terms of national distribution, 129,508 Stores are based in England while Wales and Scotland account for 7,300 and 4,138 respectively. London stands out as it hosts 35,769 Stores – significantly more than any other city – though 13461 shops remain unknown when their location comes into consideration; Manchester follows with 3,505 establishments rounding off this list.
Top Business Niches for Shopify Stores in UK
Shopify Stores in UK have a dynamic and diverse selection of products. Apparel commands a 26.3% market share while Home & Garden and Beauty & Fitness trail closely with 15.8%, and 11% respectively – demonstrating that there are many options for shoppers to explore.
The following are top 5 Business Niches for Shopify Stores in UK:
| | |
| --- | --- |
| Business Niches | Shopify Stores (est) |
| Apparel | 39,400+ |
| Home & Garden | 23,600+ |
| Beauty & Fitness | 16,400+ |
| Food & Drink | 11,600+ |
| People & Society | 6,500+ |
Top 10 Successful Shopify Stores in the UK: How their approaches
The following are the 10 best Shopify Stores UK: GymShark, Kylie Cosmetics, Luxy Hair, Fashion Nova, Ugmonk, Tattly, Bulletproof, All Birds, Best Self Co., and Happiness Abscissa.
GymShark
Gymshark is an acclaimed Apparel retailer in the UK, having climbed to success as one of the top UK Shopify Stores.
GymShark, a UK-based Fitness business offering Apparel and Accessories, has seen tremendous success since its establishment by Ban Francis in his garage back in 2012. Now garnering over 3 million Instagram followers from 130 countries across the world with annual revenue growth of 200%, it comes as no surprise that GymShark achieved USD 236 million turnover for 2019 – up from 138 for 2018.
So how did this little start-up become one of Shopify's top stores? The answer lies within their focus on community building; consistently engaging fans through interactive and informative blogging keeps people connected to the brand at every level – so mission accomplished.
GymShark has leveraged its central blog to become an inspirational hub for the fitness enthusiast community, helping them build a highly recognized brand. This popularity attained from these blogs enabled GymShark not only to attract new customers but also to keep previous ones as part of its dedicated following. Content is at the heart of this success story, proving that it truly reigns supreme in driving online success for brands today.
Kylie Cosmetics
Kylie Cosmetics is leading the way in UK Beauty & Fitness, claiming its spot as one of the best Shopify Stores in UK.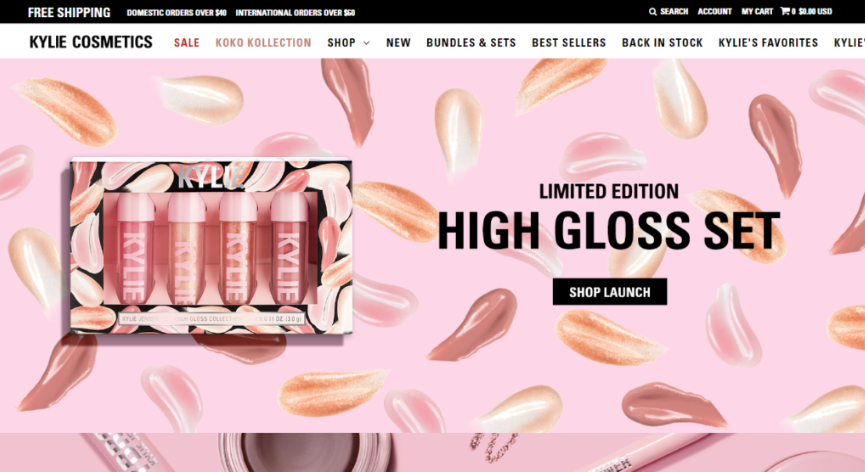 Kylie Jenner has made waves in the business world – thanks to her highly successful Makeup brand, "Kylie Cosmetics". Powered by Shopify and driven forward by her entrepreneurial mindset, Kylie's cosmetics empire is now worth a staggering $630 million.
Of course, given that she belongs to one of the most famous families on earth helps too. But despite this advantage, it would be wrong not to learn from how hard work combined with clever action has allowed Ms. Jenner to become history's youngest billionaire – truly an inspirational success story for entrepreneurs everywhere.
Kaylie Jenner has an impressive track record of success. By leveraging the skills and connections of her mother Kris, she was able to secure excellent business management for her own ventures – allowing them to thrive by running efficiently in the background. Her social media presence is world-renowned at 130+ million followers before launching a successful "Lip Kit" product line that had immediate appeal due to its precursory fame from Kaylie's already possessing attractive lips.
As we can learn from Kaylie's story: Don't be afraid to ask experts you trust their opinion when starting something new; additionally have authority & visibility within your chosen field beforehand as this increases potential sales opportunities too.
Luxy Hair
Luxy Hair has quickly made a name for itself as one of the best Shopify Stores UK in the ever-growing world of Beauty & Fitness.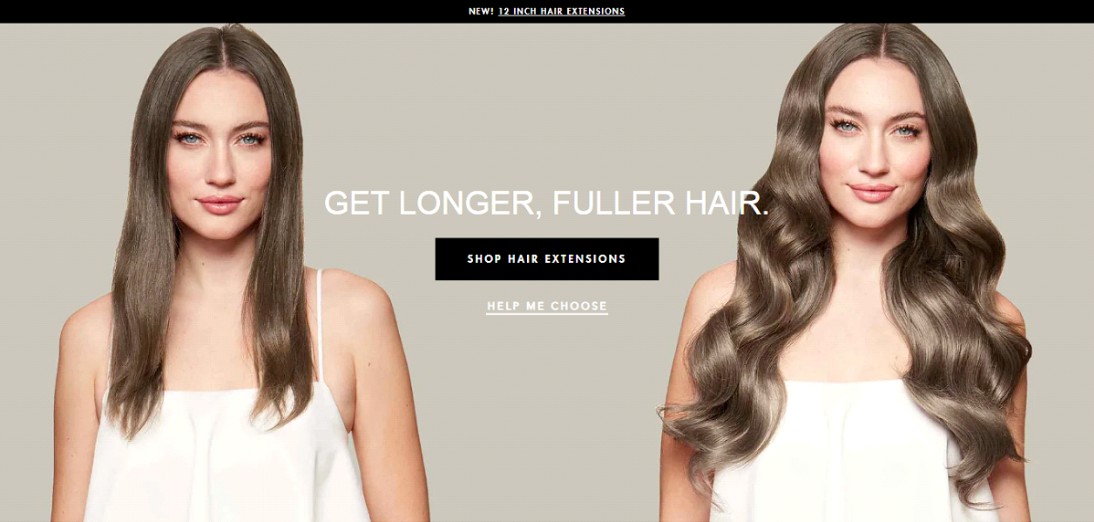 Alex Ikonn and Mimi's story is one of bravery, commitment to their vision, and savvy marketing. From nothing more than an idea born out of frustration with a lack of online options for hair extension products came Luxy Hair – the highly successful Shopify Dropshipping Store now owned by Alex Ikonn and Mimi.
Their business was built on organic traffic generated from YouTube tutorials about hairstyles that earned them an engaged community following – all without relying heavily (if at all) on paid advertising. To make sure they can offer competitive prices to their customers, Luxy sources its products directly from China via well known eCommerce platform Alibaba.
The Alex and Mimi of Luxy Hair, a thriving hair extension store that generates 7-figure revenue each year, are living proof of what hard work can earn you. To reach their current level of success with over 3M YouTube subscribers & 470 million views they leveraged two key strategies:
1- Offering value to people through content marketing
2- Creating tightly knit communities that sustained the business growth in turn.
This proves how even mundane problems such as product delivery can be tackled by partnering up with platforms like Shopify App Shipware – further proving the old adage 'where there's will there's away.
Fashion Nova
Among Shopify Clothing Stores UK, Fashion Nova stands out as a leader in style and trendsetting. With its vast selection of up-and-coming designs and innovative approach to fashion, shoppers everywhere are enthralled with this go-to source for the latest styles.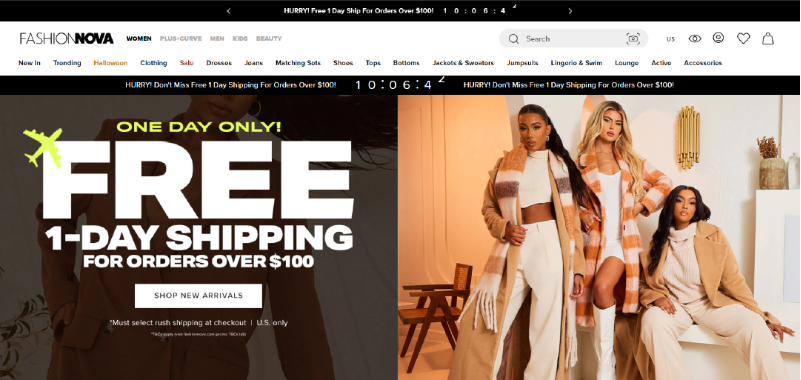 Fashion Nova achieved an astonishing success story for 2018, rising to the top with its coveted searches of Fashion brands. Unbelievably surpassing iconic industry giants such as Versace, Louis Vuitton, and Gucci in terms of search rankings – it is not hard to see why Fashion Nova has come so far from their humble start back in 2013 when they began eCommerce operations with only 60,000 Instagram followers.
But how did they reach 19 million now? The rise can be largely attributed to two key strategies; leveraging powerful influencers within the industry and offering highly competitive prices.
Fashion Nova's strategic use of influencers and social media platforms has set the benchmark for digital marketing success. By leveraging well-known fashion icons' power, they've gained an impressive 19 million followers on Instagram – a surefire way to skyrocket their brand recognition and sales. With competitive pricing key in this sector, Fashion Nova proves that advertising through renowned industry figures is just as important when it comes to maintaining a market presence.
Ugmonk
Ugmonk is one of the top UK Shopify Stores, with its exclusive line of Apparel making it a favorite destination for shoppers.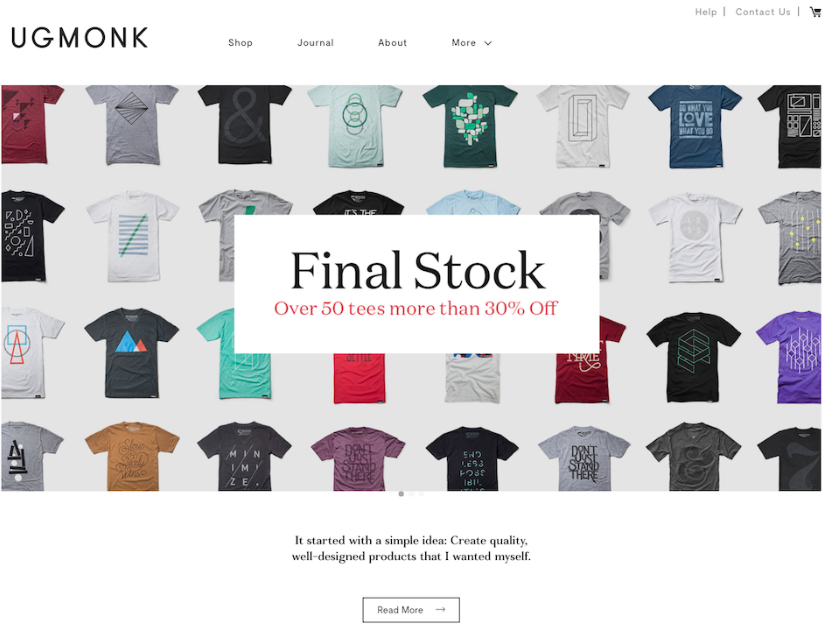 Ugmonk is an incredible success story of Jeff, the founder, and force behind this lifestyle brand. His side hustle quickly blossomed into a global empire delivering hundreds of thousands of products each year to customers in over 60 countries while providing them with contemporary designs crafted from only premium materials.
At Ugmonk's core lies its commitment to finding reliable partners who can help bring their vision for excellence alive; as Jeff often reminds us, businesses must be able select manufacturers capable and diligent enough when it comes to producing superior quality items at scale. Jeff leveraged blogging websites to make a name for his products and generate recognition.
This successful strategy enabled him to identify dependable suppliers, ensuring consistent product sourcing of the highest quality.
Tattly
Tattly is a trendsetting Shopify Store in the UK that offers an array of stylish and unique tattoo designs. An online destination for fashionista's seeking expressive tattoos, Tattly prides itself on delivering only the best quality products to its customers.
What started off as a fun way to celebrate the creativity of her daughter and challenge limitations, is now an incredible success story for Tina Roth Eisenberg. Starting with temporary tattoos in 2015, this talented entrepreneur has exponentially grown her business: Tattly.
With over 2.6 million products sold worldwide within 5 years – generating more than 10M in sales – it's clear that clever ideation combined with hard work will always pay off. On top of commerce online and through retail stores, she even opened up Pop-up Stores to further extend reach beyond borders; inspiring all future entrepreneurs out there who dare dream big by making their vision come true.
Bulletproof
Bulletproof is also in the top UK Shopify Store, renowned for its superior Health & Nutrition products.
Founded by acclaimed nutrition author and entrepreneur Dave Asprey, Bulletproof offers an impressive array of energy-boosting foods and supplements. With a captivating website that reveals the detail behind its mission to promote human performance optimization, one can quickly understand why this brand is so well established within nutritional circles.
The story stems from Mr.Asprey's personal experience while trekking in Tibet at -10°F temperatures when stumbling upon a local house where he was offered Yak Butter Tea – giving him the much-needed energy boost his body required! This memorable event led directly to the founding of Bulletproof and offering health enthusiasts these remarkable food choices ever since then.
Drawing from a combination of ancient Chinese and Ayurvedic medicine & cutting-edge research, Dave Asprey founded Bulletproof: an innovative energy food/ supplement brand. To expand its reach further, the company leveraged social media platforms to boost sales & marketing while providing helpful content – such as health insights & tutorials – that continues to engage customers even after purchase.
There is much we can learn from this commercial success story; most importantly it emphasizes the necessity of having expertise in one's chosen product niche before venturing into entrepreneurship or investing resources for maximum returns on investment.
All Birds
All Birds is a leading UK Shopify Store renowned for its Shoes. They take pride in offering first-rate products to satisfy their customers' desires and needs.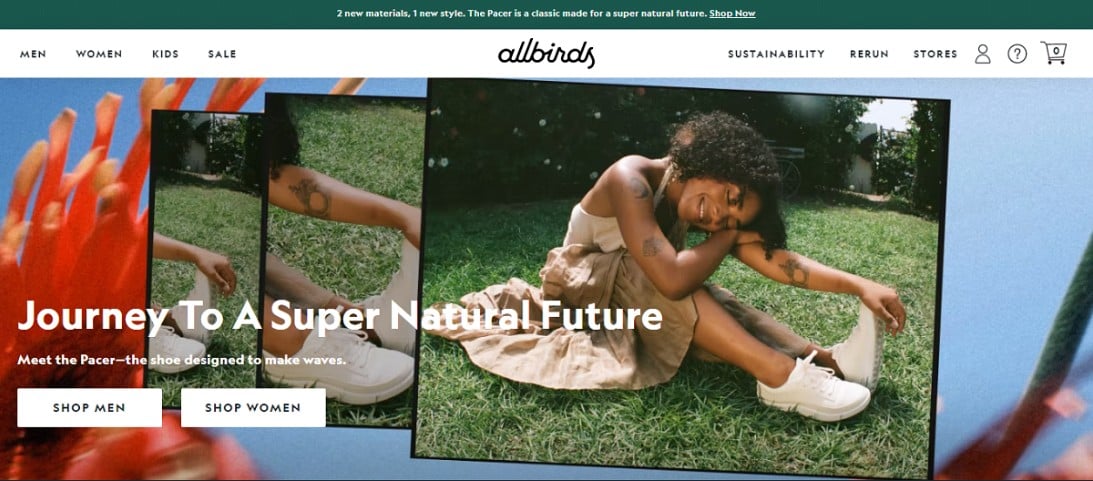 In 2016, Tim Brown and Joey Zwillinger launched All Birds – the leading shoe brand revolutionizing fashion with comfortable footwear design. Together they achieved unprecedented success by leveraging merino wool to create shoes that offer the "World's Most Comfortable" product experience.
It was thanks to Mr. Brown recognized a major gap in the market for luxurious yet incredibly cozy footwear which inspired this fresh concept to come to life. All Birds is an extraordinary success story that proves the power of great products and innovative design. By filling a gap in the market with eco-friendly, comfortable shoes, All Birds has become one of Shopify's top eCommerce Stores worldwide; valued at USD 1.4 billion.
Businesses everywhere can learn from this example to see how they too can gain immense success by finding their own niche specialties to serve customers' needs.
Best Self Co.
Best Self Co. is in the top UK Shopify Store, proudly boasting their impressive presence in the eCommerce world of the People & Society field.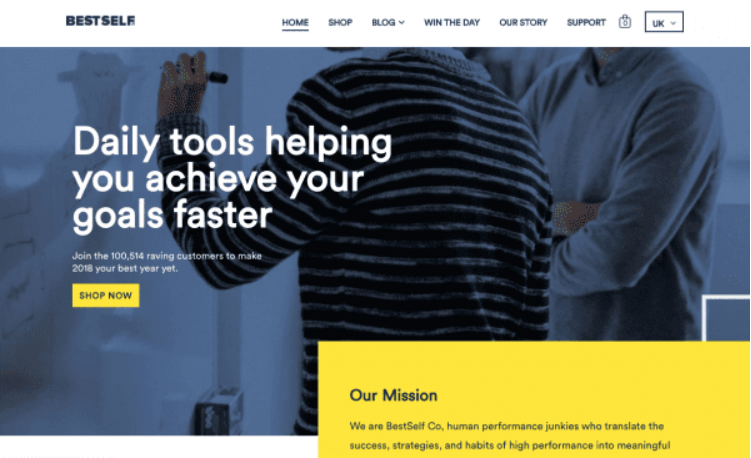 Best Self Co. is revolutionizing productivity with the launch of its innovative, motivational products that are designed to help individuals maximize every day and achieve success. Their standout product – The Self-Journal Planner – encourages users to be proactive by recording daily activities and planning for progress in a fun way.
On top of this unique offering, Best Self Co also stands out due to its creative marketing content; setting them apart from other businesses selling journal planners.
Best Self Co. understood the importance of engaging content in its marketing strategy to reach out and effectively communicate with its target audience, thus creating a strong sense of community on social media platforms. Eventually channeling this engagement into successful product pitches by showcasing compelling presentations that could change how people think about becoming more productive.
The brand's success lies firmly rooted in creative storytelling techniques which capture viewers' attention – ultimately leading them toward taking action.
Happiness Abscissa
The last in the list of Shopify Stores in the UK is Happiness Abscissa, one of the leaders in Beauty & Fitness products that helps customers feel their best.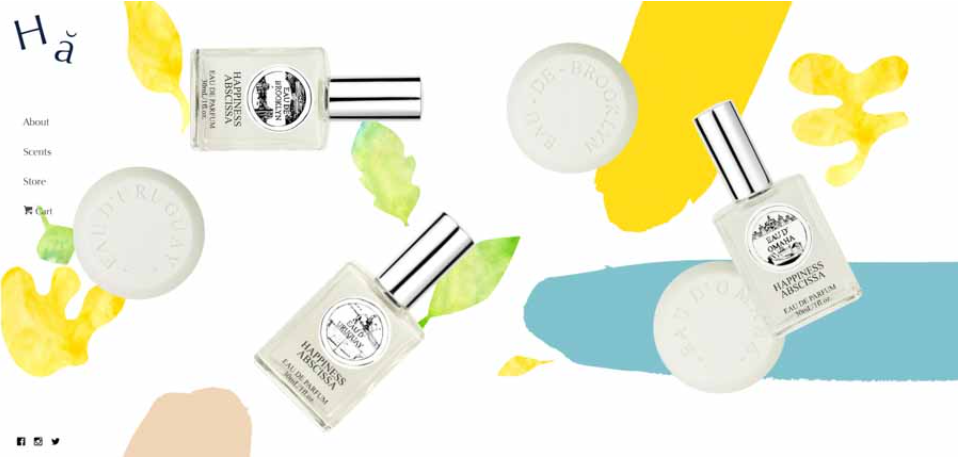 Happiness Abscissa has revolutionized website design with its interactive and inquisitive layout. This store, founded by Emilio (Neurologist) and Ann (Psychiatrist), spreads joy through their sensual scents in the form of soaps and perfumes – a feature that speaks to their core values as a brand.
Already featured on various "Best Lists" for Shopify Stores, Happiness Abscissa exemplifies how an effective web presence can directly reflect your business objectives – allowing customers to connect emotionally with what you have to offer.
Conclusion
It is evident from the aforementioned points, that a successful Shopify Store in the UK is not just about following trends and copying others. It involves having a sound understanding of eCommerce principles and adjusting one's business practices according to fluctuations in demand and consumer trends. Additionally, it requires enough dedication and patience, along with some much-needed luck to make it big.
This article provides a useful first insight into discovering which shops are most popular on Shopify in the UK, what lucrative business niches they tend to attempt, and how they navigate their businesses in an ever-changing market. Furthermore, our experts at Magenest can provide additional tools, information & assistance for anyone wanting to pursue this venture further. For more detailed information & knowledge about running a Shopify Store – get in touch today!