Deciding between Shopify vs OpenCart for your business can be a difficult decision due to the distinct strengths and weaknesses of each platform. While OpenCart is outstanding as one of the best open-source eCommerce solutions, Shopify boasts the top position amongst hosted website builders. Each serves its own purpose and must be carefully considered in order to make sure you're making the most beneficial choice for your business. Therefore, in this article, we'll compare the features and benefits of each platform, so you can make an informative decision on which one is right for you.
Shopify vs OpenCart: An Overall Introduction
Shopify
Shopify is a leading cloud-based eCommerce platform that enables businesses of all sizes to create an online store and sell their products. With Shopify, merchants can create professional-looking websites with minimal technical knowledge because it provides a range of tools and features to help them manage their online stores. Till now, more than 4.4 million websites across 175 countries over the world have their stores empowered by Shopify.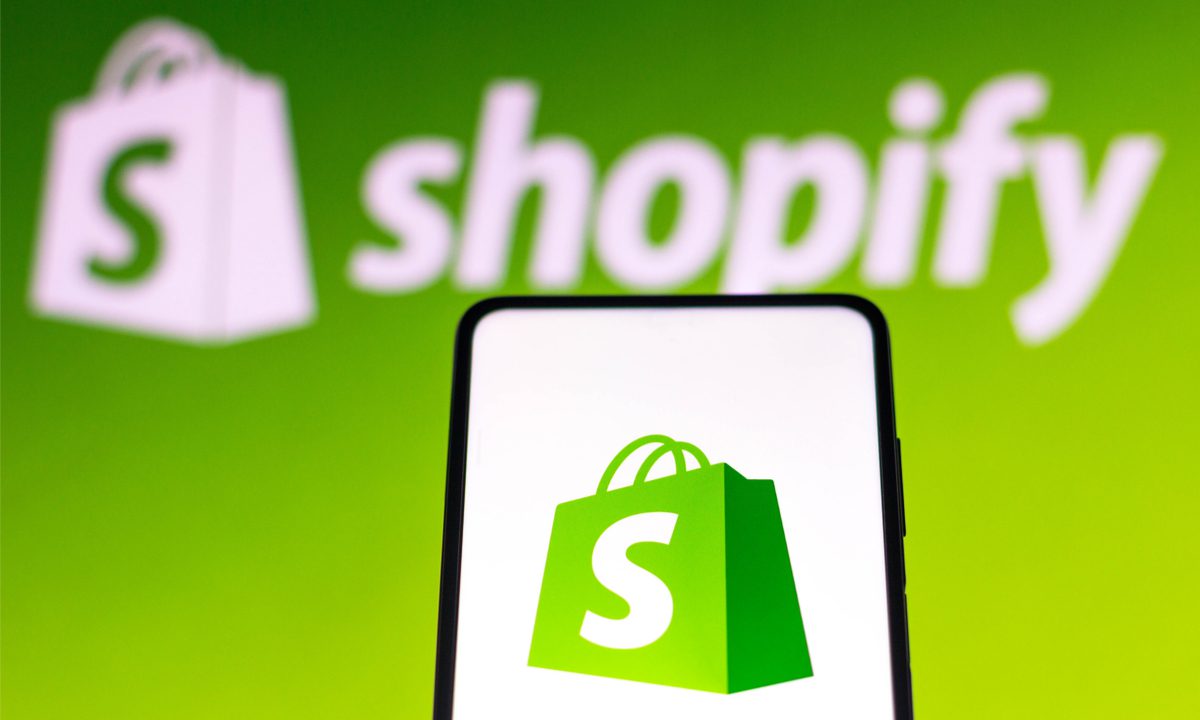 One of the biggest advantages of using Shopify is that it is a fully hosted solution, which means that Shopify takes care of the technical aspects of running your online store including server maintenance, security updates, and software updates. As a result, you can focus on growing your business rather than worrying about the technical details. Moreover, it also offers a wide range of customization options, hundreds of pre-designed templates, and themes. 
OpenCart
OpenCart is an open-source eCommerce platform that allows merchants to create online stores and sell products. With OpenCart, you have more control over your website design and functionality. This means that you can customize your website to meet your specific requirements, and you have access to the source code.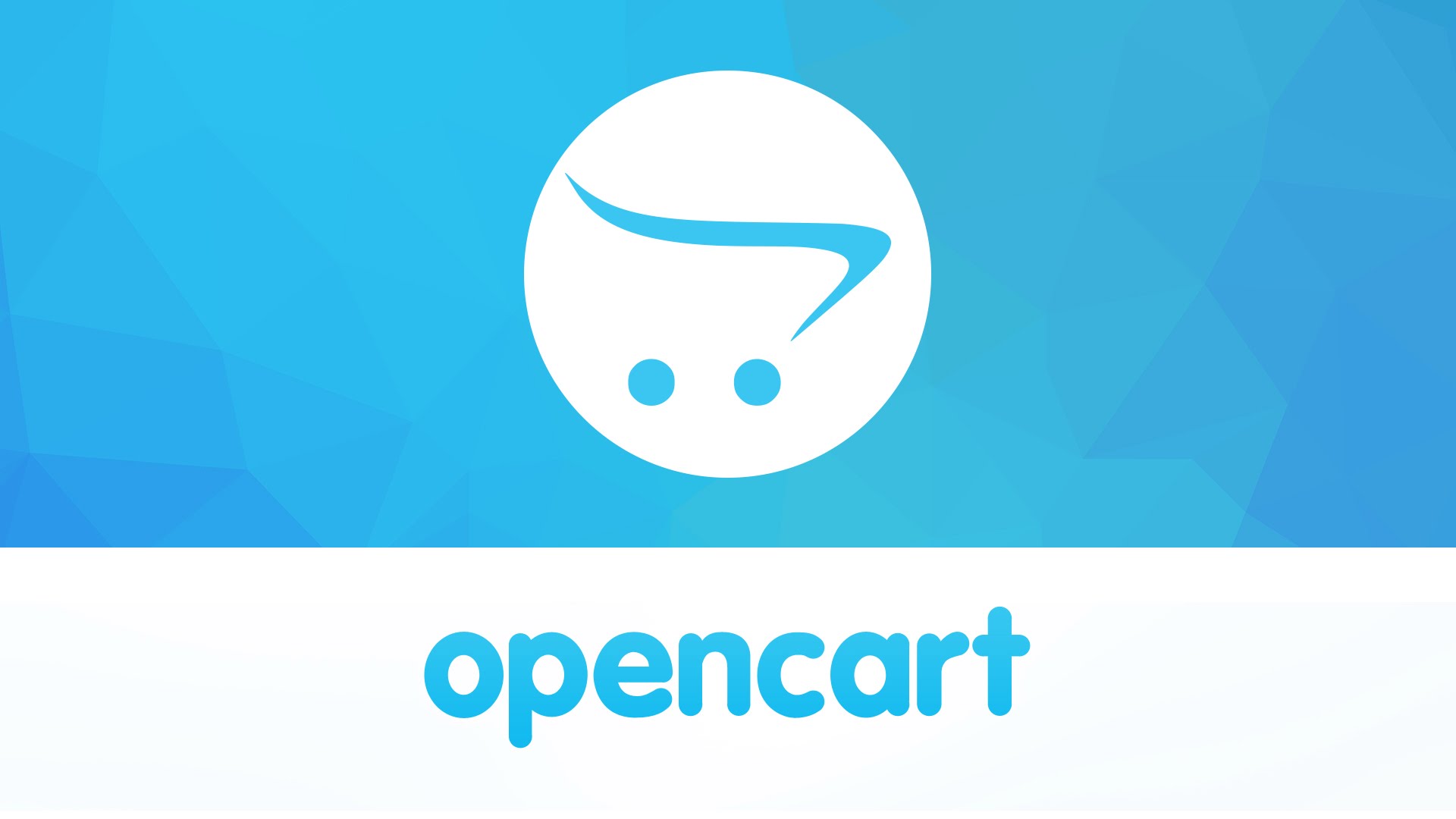 One of the main advantages of using OpenCart is that it is a free platform, which can be particularly appealing to small businesses with limited budgets. OpenCart also has a range of features and tools to help merchants manage their online stores. However, keep in mind that there is a good deal of effort required to fully customize the store and it may seem more complicated than doing so on Shopify.
Shopify vs OpenCart: Detailed Comparison
Pricing
When it comes to succeeding in eCommerce, cost should not be the only factor you consider when selecting your platform. Nonetheless, maintaining a budget is necessary, and thankfully Shopify vs OpenCart offer competitive costs that can match any need or purpose.
Shopify Pricing Plans
Shopify offers a variety of pricing plans to fit different business needs. You can pick a free trial to experience and evaluate this platform if it's the right choice for your business. After this free period, they offer a basic plan which starts at $29/month and includes all the essential features to get your online store up and running.
As you move up to the higher-tier plans, you get access to more advanced features such as gift cards, abandoned cart recovery, and professional reports. Their most expensive plan, the Advanced Shopify plan, costs $299/month and includes all the features of the lower-tier plans, plus additional benefits such as advanced report building and third-party calculated shipping rates. All of these plans come with a domain name, SSL license, and web hosting already included, unlike open-source platforms.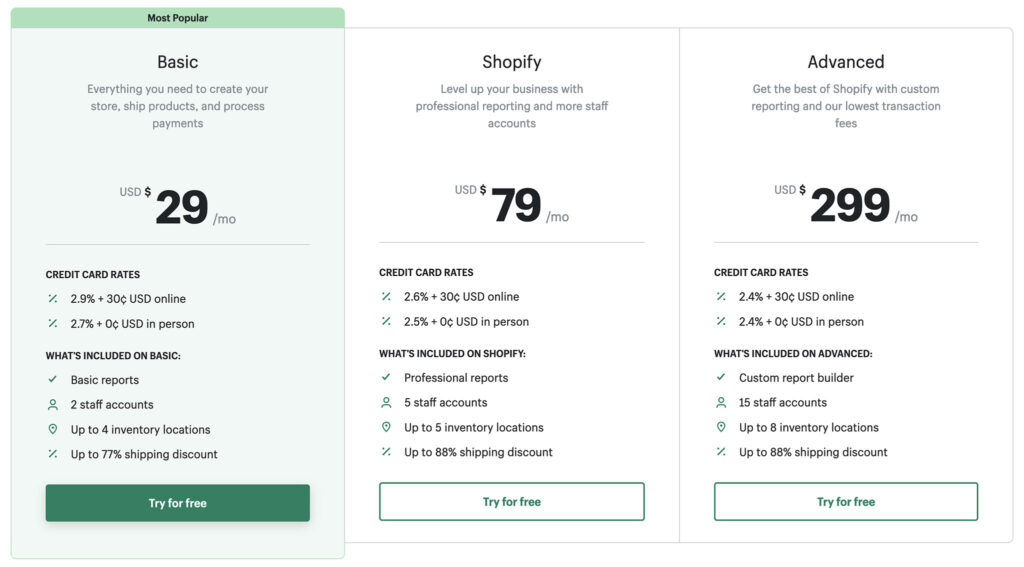 Notably, to meet the demand of expanding your online presence, Shopify Plus is developed and designed for large-scale enterprises with costs of more than $2000. And the more you continue to grow, the need for additional third-party applications and add-ons will become increasingly essential. Unfortunately, these purchases can quickly start becoming pricey.
OpenCart Pricing
OpenCart is a free open-source platform. This means that the software itself is completely free to use, and you won't have to pay anything to get started. This can be a great option for small businesses or startups that are looking to minimize their expenses. OpenCart's marketplace offers more than 13,000 extensions, both free and charged. If you need additional features or functions, be prepared to invest in your business.
Although this eCommerce platform is free, you'll still need to pay for hosting, domain name, and any third-party plugins or themes that you might want to use. To get started, an OpenCart site will cost you a minimum of $4/month for web hosting. As your business grows, these fees can increase significantly. When it comes to customizing the website and taking advantage of powerful plugins and add-ons, expect to pay one-time or annual fees that range from as low as $10 up to $489. Regular themes may come at a cost between$16 – $999 (OpenCart themes). If you want comprehensive customization exclusive to your brand, that's when hiring a developer becomes necessary.
Ease of Use
Shopify Ease of Use
Getting started with Shopify is relatively easy when you don't need technical skills or any line of code to build and manage your store. You just need to enter your email address, your store name, and your password to create a new Shopify store.
After completing the registration process, you will be brought to your dashboard and welcomed with a concise setup guide. Everything you need is there, except one thing: setting up a delivery option. This convenient guide provides straightforward instructions for establishing your Shopify store in no time.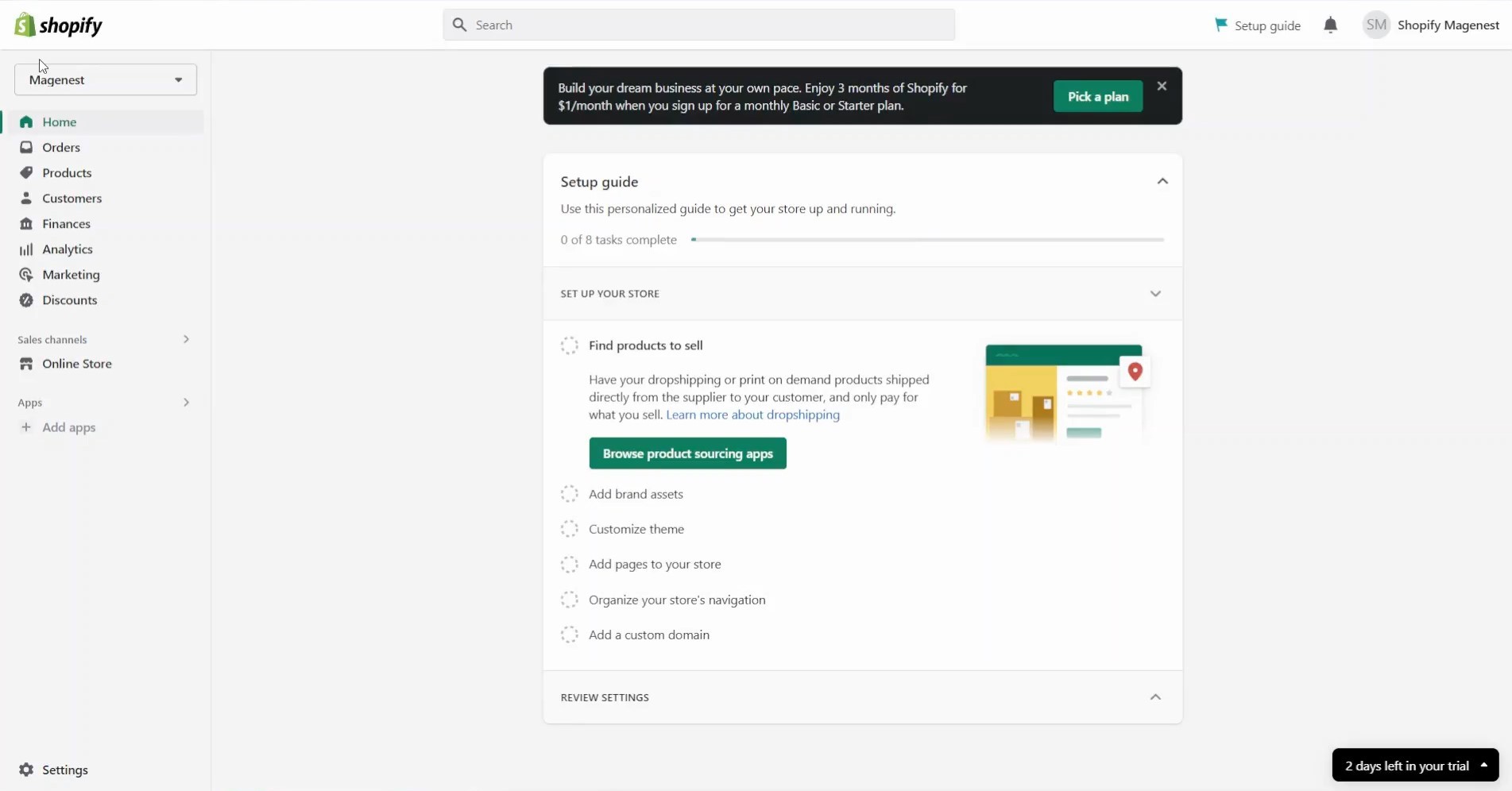 Shopify's Academy also provides an invaluable selection of videos that not only show you how to initiate your venture with Shopify but also provide useful advice and tips for success. Navigating Shopify's dashboard is a smooth and stress-free experience, thanks to its intuitive interface. From the secure setup guide to the conveniently labeled sidebar menu, you can easily find what you need in no time.
OpenCart Ease of Use
In the comparison between Shopify vs OpenCart, OpenCart can be a bit more complex to use, particularly for beginners. Before you jump right into the configurable process, you need to register and buy a domain, and hosting and then install the OpenCart software. 
In many instances, hosts may not do this for you, so it is essential that you do it yourself. To ensure your website runs on the HTTPS protocol and to get your domain name correctly pointed toward web hosting, an SSL certificate must be installed. After you have your hosting and Opencart set up, you will be taken to the dashboard so that you can begin managing your website.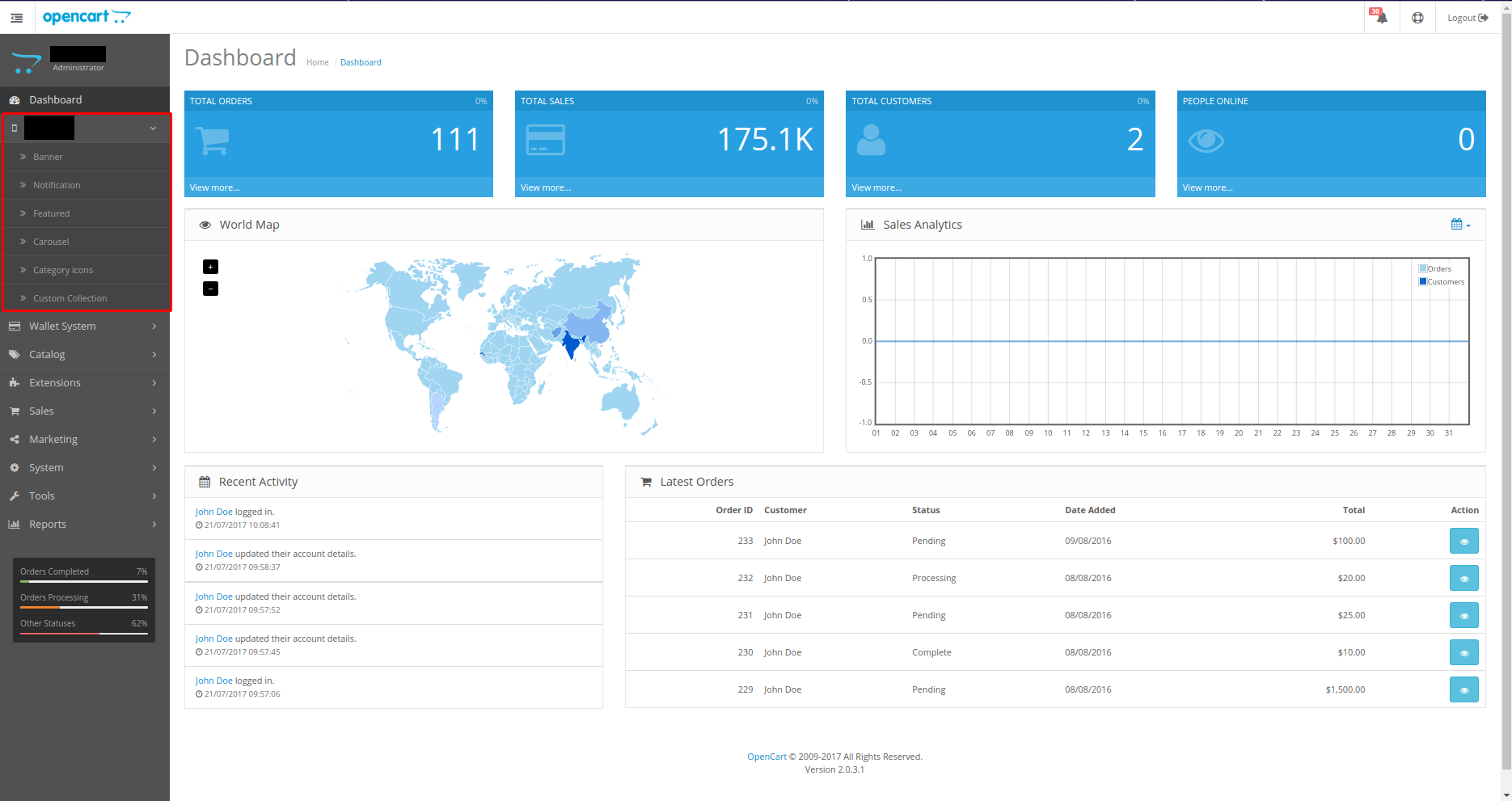 Unlike Shopify, OpenCart doesn't have solid instructions or guides to help you configure your store. You need to find the online documents or figure it out on your own. The admin dashboard has an organized layout, yet certain features may challenge users to use it properly. Payment gateways and delivery methods require configuration as extensions instead of being found in Settings like on other platforms, this is where the difficulty lies.
Additionally, OpenCart doesn't offer a drag-and-drop interface as Shopify does, so you'll need to use code or a third-party page builder to create custom pages and make changes to the design of your online store.
Hosting and Performance
Shopify Hosting and Performance
Shopify is a fully hosted platform, which means that it handles all aspects of hosting, including security, maintenance, and software updates. Shopify uses its own web hosting service, which is optimized for performance and reliability. This means that you don't have to worry about finding a separate web host, managing server resources, or dealing with technical issues related to hosting. Also, Shopify owns a strong hosting environment that provides:
Unlimited Bandwidth
Unlimited Storage
Global CDN
PCI Compliant Hosting
Global CDN
Free SSL Certificate
In terms of performance, Shopify's fully-hosted solution is designed to deliver fast page load times, even during high-traffic periods. Shopify also uses a content delivery network (CDN) to speed up the delivery of static assets, such as images and videos, to customers all over the world. A Shopify user revealed that when he was utilizing a London-based server while the rest of his hosting was located in North America, an average loading time per window was estimated to be 1.6 seconds.
OpenCart Hosting and Performance
OpenCart is a self-hosted platform, which means that you are responsible for finding a web host, setting up the server, and maintaining the website's security and performance. This can be a significant challenge, particularly for beginners or those without technical knowledge.
OpenCart's performance can be more variable, as it depends on the quality of the web host, server resources, and other factors. However, OpenCart is renowned for its lightweight platform, which offers an impeccable loading time of 0.37 seconds, a truly impressive feat.
Design and Customization
Shopify Design and Customization
Between Shopify vs OpenCart, Shopify stands out with its consistent, eye-catching themes. It offers an impressive selection of free eCommerce templates which come in two or three variations allowing you to find the perfect look for your store. Additionally, Shopify makes customizing the appearance of stores a breeze for its users. With no technical or design experience necessary, it's easy to create an attractive and elegant online store according to the company's CEO.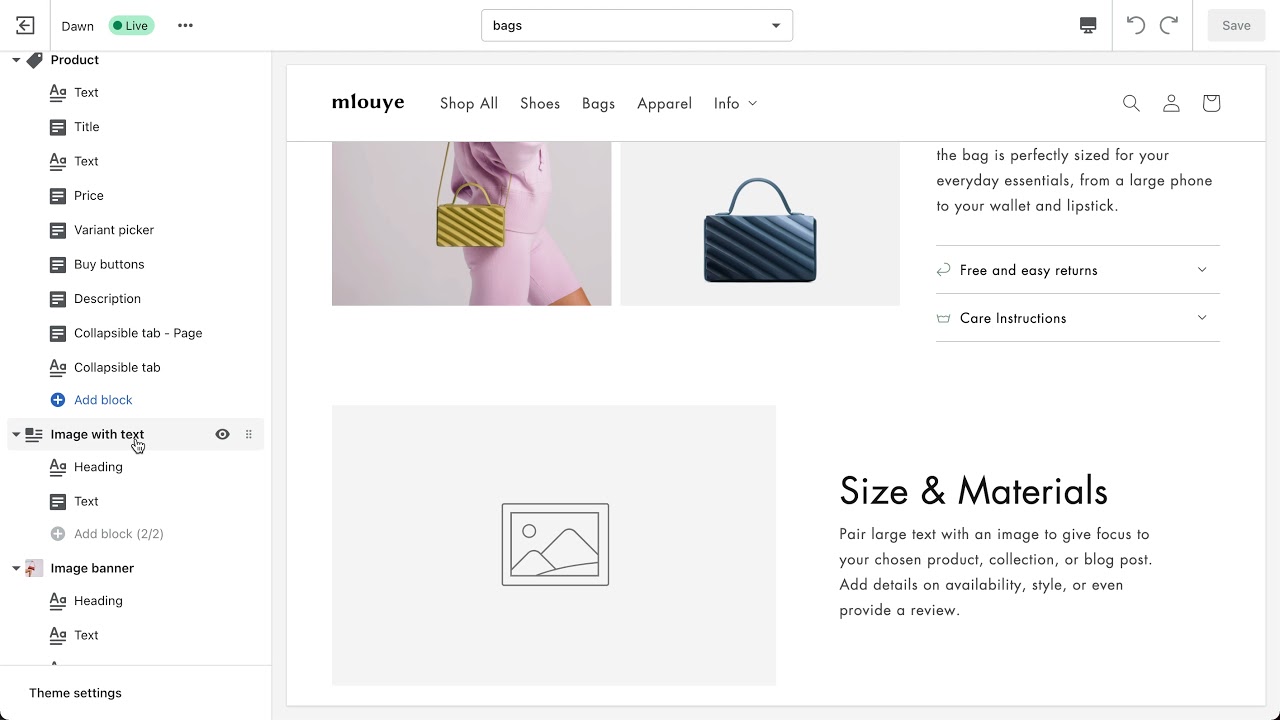 All the templates offered are mobile-responsive, easy to use, and designed to work well with different types of products and industries. In addition, Shopify offers a drag-and-drop website builder that makes it easy to create custom pages and edit your website's design without the need for coding knowledge. For more advanced customization, Shopify also provides access to HTML, CSS, and JavaScript code.
OpenCart Design and Customization
With OpenCart, eCommerce merchants have access to a wide selection of themes that are responsive and aesthetically pleasing. At the moment, there are over 1,600 templates available on the marketplace. If you're looking for a more advanced design layout, you can acquire templates from third-party vendors like ThemeForest or Template Monster.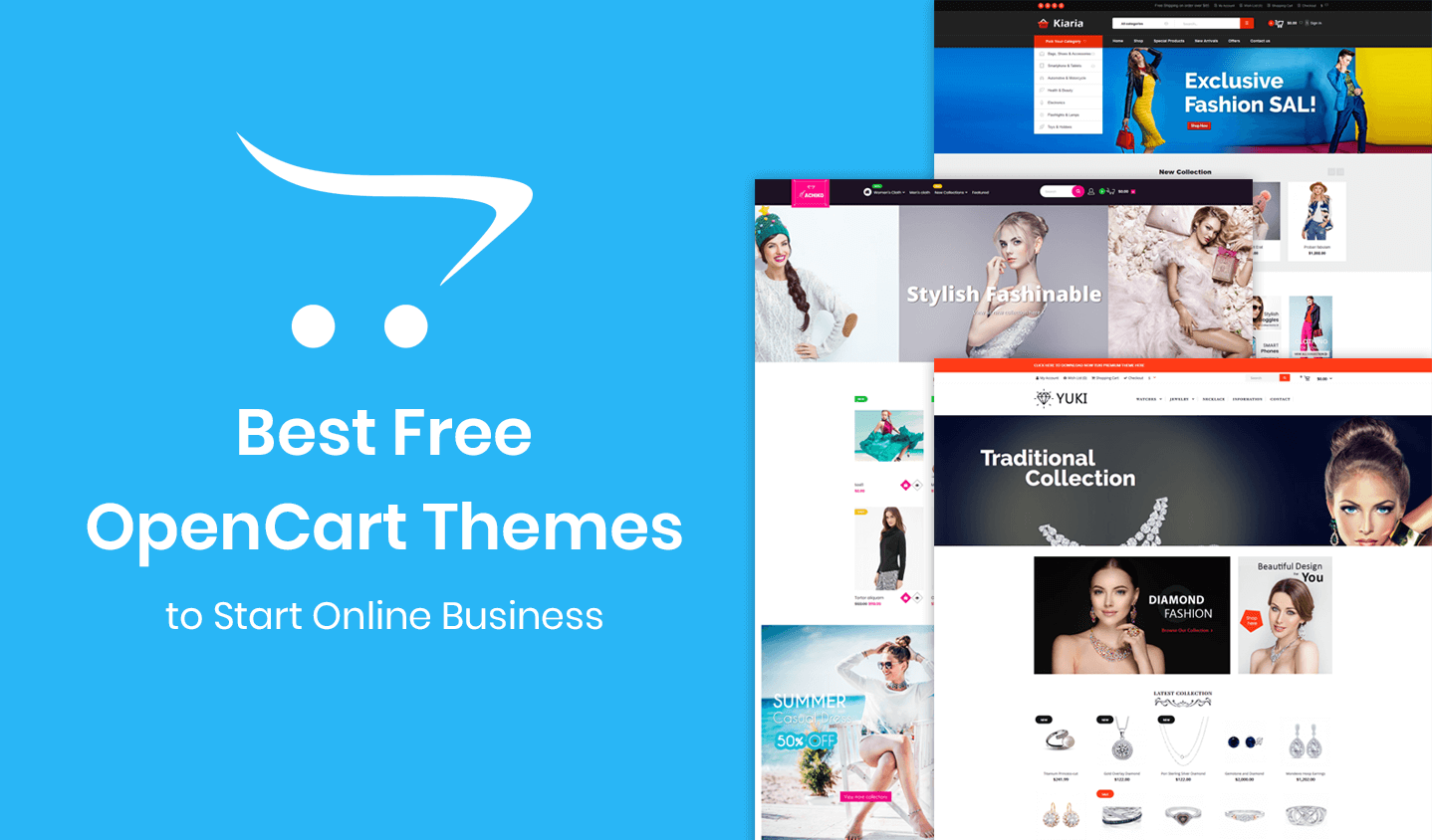 OpenCart is quite user-friendly compared to other popular open-source systems. Its powerful template framework helps you quickly and easily modify the aesthetics of your online store. It includes prebuilt modifications that make it easy to add them to your web page. Despite this, customization for eCommerce may still be relatively complex when coding skills are required. OpenCart allows for more granular customization of the website's design and functionality, with access to PHP and other server-side programming languages. By relying solely on foundational code, OpenCart allows you to become creative while expanding the abilities of your store and creating a tailored eCommerce architecture that matches up with your objectives.
SEO and Marketing Tools
Shopify Marketing and SEO Features
Shopify is saturated with numerous marketing capabilities, from email and SEO advertising to social media promotion. Shopify offers a comprehensive suite of SEO features to help you reach the top SERP ranks. You can customize meta tags, add images with alt text, build 301 redirects, and generate an XML sitemap. Additionally, they provide SSL certificates for all content hosted on your domain as well as during check-out processes in your shop, giving shoppers added assurance that their data is safe and secure.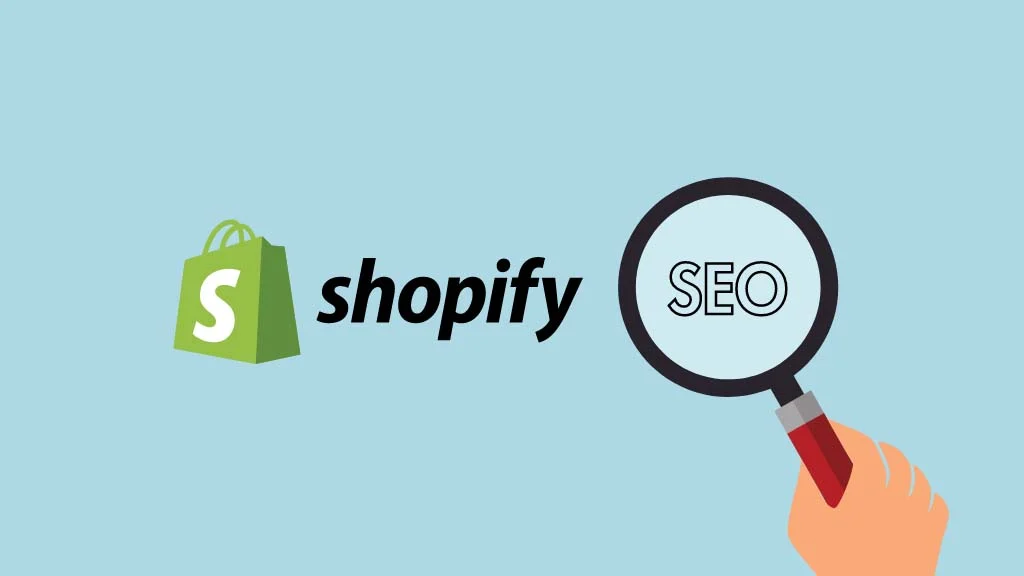 In addition, Shopify has a built-in blog feature that allows you to create and publish content to attract and engage potential customers. As your website traffic begins to increase, you can use a variety of lead nurturing tools available in the App Store. One powerful method at this stage includes initiating visitors on an on-site targeting tool for generating an email list and then following up with email marketing tools.
OpenCart Marketing and SEO Features
OpenCart is optimized to be SEO-friendly, but it won't automatically configure itself. You need to take the time and effort to properly set up meta-data, product details, categories, and web pages in order for them to match your chosen SEO concepts. For a simpler experience with better results, there are several successful SEO extensions available on the market for you that can make everything easier.
OpenCart provides a basic range of SEO features, yet it is up to you to optimize them. Unfortunately, the website does not come pre-configured for search engine visibility like many other eCommerce solutions do. This means that if left unchecked, OpenCart will likely not provide the best possible performance on search engines.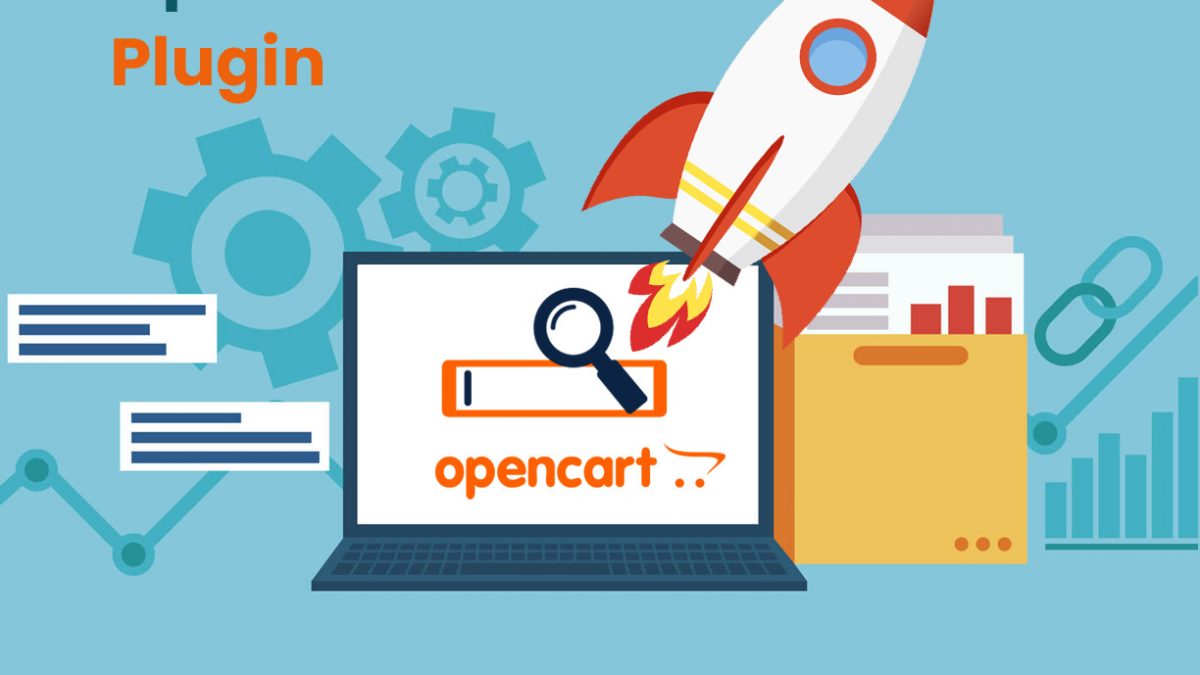 An array of amazing features such as email marketing, social media sharing, and integrations with third-party tools are integrated into this eCommerce platform to enhance your digital presence. Take the extra step by creating custom ads that are tailored for your desired targets, then maximize its potential even further through utilizing its affiliate capabilities which will assist in setting up coupons and discounts for promotions.
Store Management
Shopify Store Management
Compared to Shopify vs OpenCart, Shopify is a beloved eCommerce tool for good reason. You can unlock instant access to an array of indispensable features from day one, such as gaining real-time insights into your sales data with the help of its robust back-end and limitless integrations.
Shopify offers a simple and user-friendly interface for managing your store, with features such as inventory management, order tracking, and the ability to print shipping labels directly from the platform. Shopify also has a mobile app that allows you to manage your store on the go, with features like product editing and order fulfillment.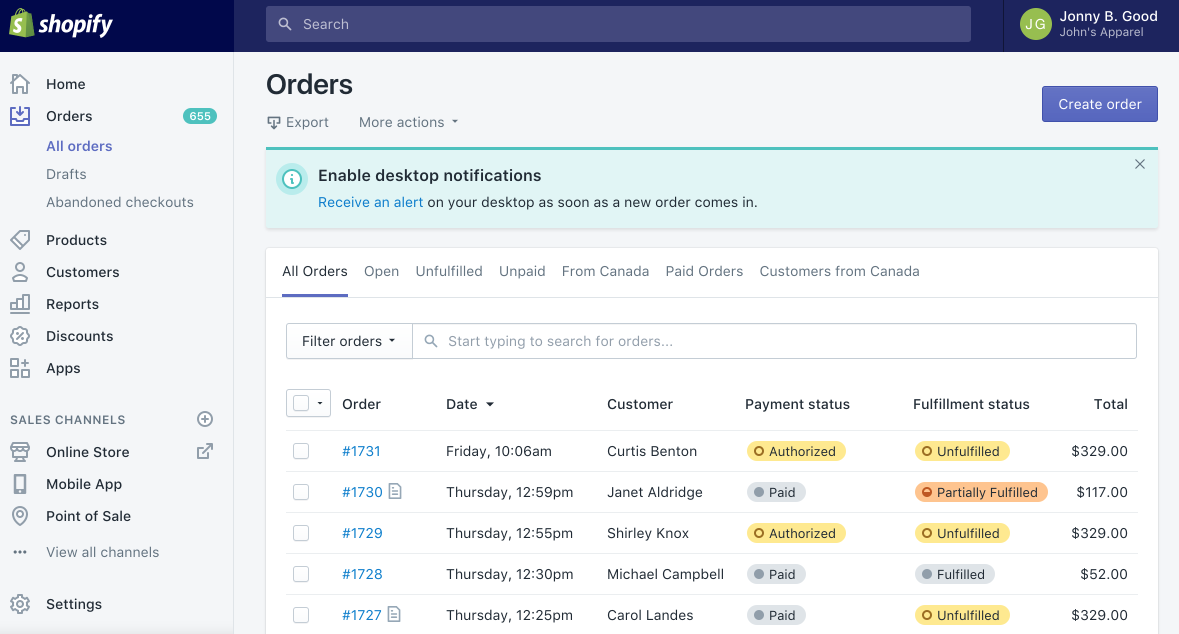 Like WordPress and Prestashop, Shopify provides the same user-friendly eCommerce capabilities as other popular offerings, while allowing you to leverage social media giants like Instagram and Facebook for selling online. Further, it grants direct integration with Amazon and eBay, ensuring that even small businesses can gain a more prominent foothold on the web through SEOs & marketing instruments at their disposal.
In addition, Shopify also provides a range of built-in features to help you streamline your store management, such as automatic tax calculations, abandoned cart recovery, and a range of payment options, including credit cards, PayPal, and more.
OpenCart Store Management
Unlike Shopify, OpenCart is not a pre-hosted platform, making it less equipped in terms of functionality as well as store management. If you've ever utilized an open-source platform for store management and customization, then OpenCart will be familiar to you. Although there aren't many additional features, some of the capabilities are not as straightforward as they could be. A range of store management features, such as inventory management, order tracking, and the ability to print shipping labels are offered. However, OpenCart's interface may be less intuitive and more complex than Shopify's, requiring more technical expertise to use.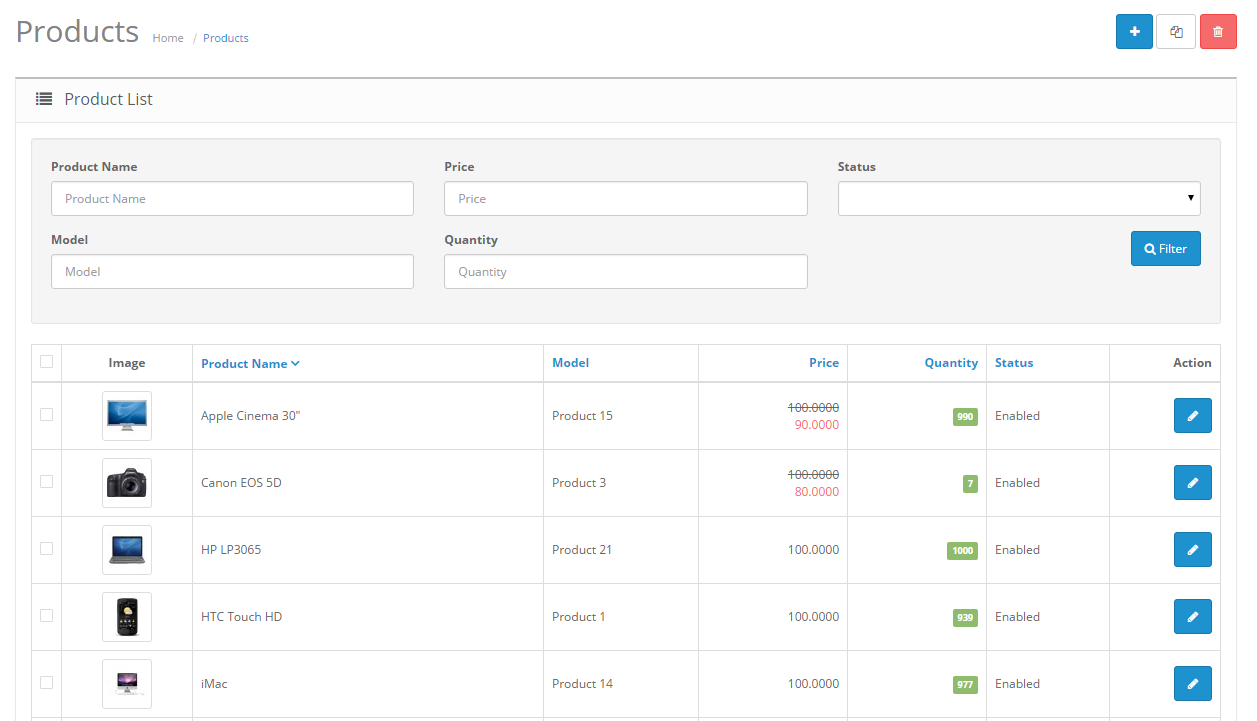 When it comes to product information for your store, tabs are often scattered and disorganized making the process of locating important details such as list prices much more difficult. OpenCart gives you the ability to make customizations and alterations for both your store and POS solutions but still has certain restrictions. The platform is already equipped with 53 pre-installed payment methods such as Square, PayPal, and Authorize.net… in addition to over 1000 extra payment gateways that can be integrated by an experienced developer familiar with the system's requirements.
Despite the fact that OpenCart offers a supportive community with pre-built integrations and tools to make store management easier, it cannot compete with the out-of-the-box convenience of Shopify. If you're looking for an effortless way to set up your shop quickly and efficiently, you should consider investing in Shopify.
Payment and Shipping Options
Shopify Payment and Shipping Options
The most noteworthy difference between Shopify vs OpenCart in terms of payments is that Shopify provides its own internal payment service, named Shopify Payments. If you're located in one of the countries where Shopify Payments is supported, then you can take advantage of quicker payment processing without any delay. Furthermore, if you upgrade your plan to a higher tier, even lower transaction fees await than what's usually seen through other online payment processors.
Of course, Shopify also offers a wide range of payment options, including credit and debit cards, PayPal, Apple Pay, and Google Pay, but they also charge that additional transaction fee to use a third-party processor.

In terms of shipping, Shopify offers a range of integrations with major shipping carriers, such as USPS, FedEx, and UPS. Merchants can also create custom shipping rates and shipping rules, as well as print shipping labels directly from the platform. Shopify also offers real-time carrier shipping rates, which automatically calculate shipping rates based on the destination, package weight, and dimensions.
OpenCart Payment and Shipping Options
In contrast, OpenCart offers remarkable flexibility in terms of payment processing. With 36 built-in payment options and a variety of extensions available on the marketplace, you could use all kinds of secure digital systems to manage your payments. However, OpenCart does not offer its own payment gateway and does not require any additional transaction fees, meaning you'll be able to save more money on the processor charges.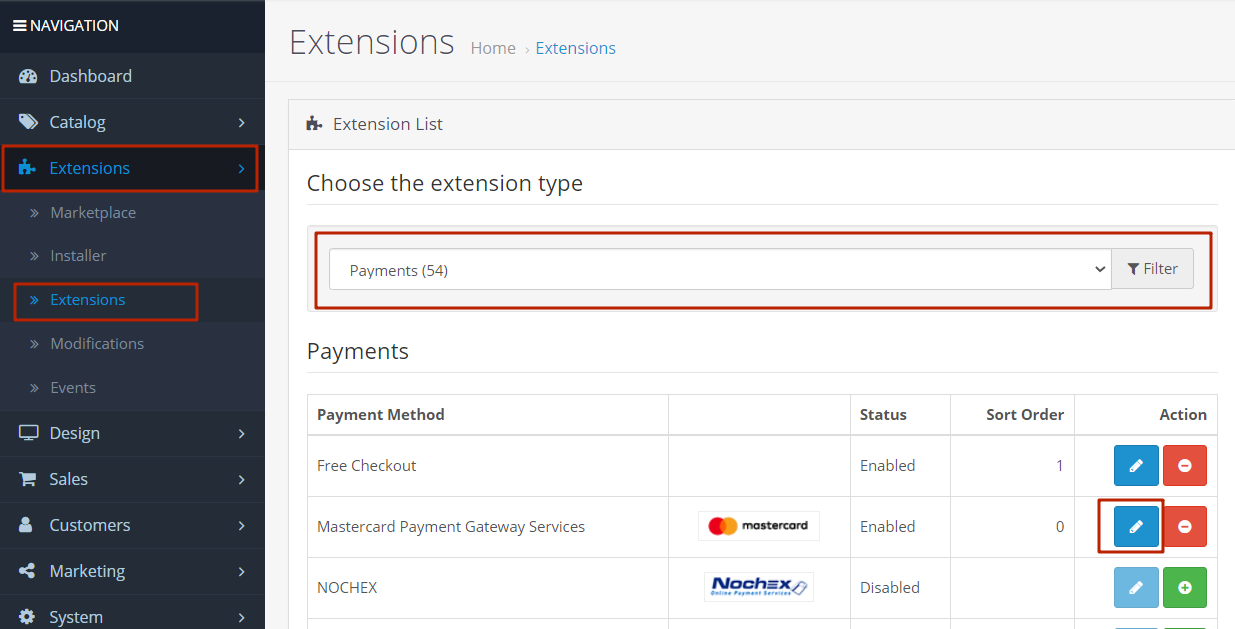 To emphasize, OpenCart is far more convenient for multi-currency stores given its potential to sell in any currency with automatic rate updating and taxes that can be adjusted. On the other hand, Shopify's multi-currency feature can only be used when it's merged with Shopify Payments.
When it comes to shipping options, OpenCart also has integrations with major shipping carriers, allowing merchants to create custom shipping rules and rates. OpenCart offers the ability to print shipping labels directly from the platform.
Apps and Extensions
Shopify Apps
Shopify has a robust app store, which offers over 8,000 apps for merchants to choose from. These apps cover a wide range of features, including email marketing, social media integration, dropshipping, customer service, and more. Many of these apps are free, while others come with a monthly subscription fee or a one-time purchase cost. Shopify apps are easy to install and integrate with the platform, making it simple for merchants to add new features to their stores without any technical expertise.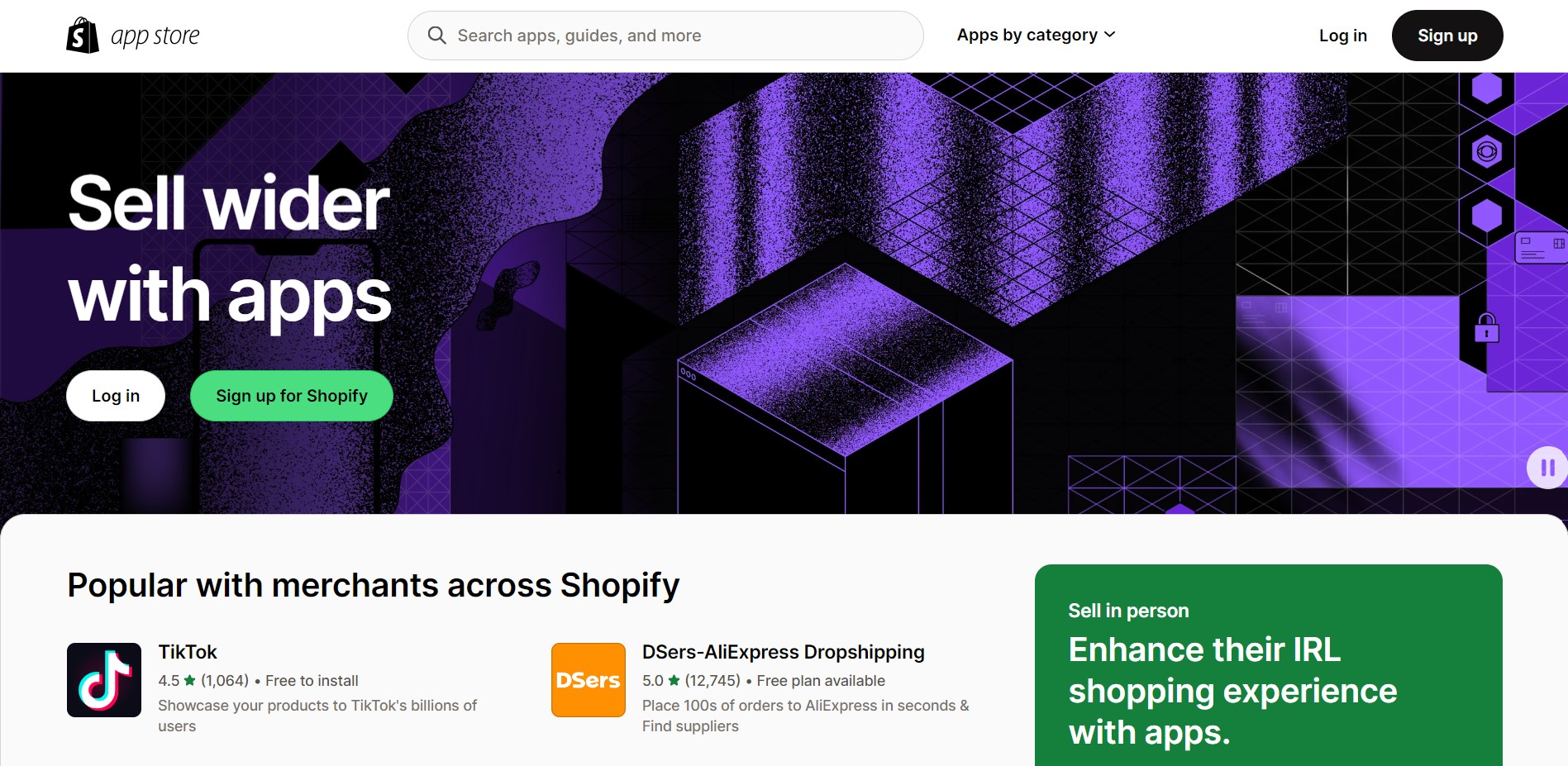 The Shopify App Store is a marketplace where you can find and install various apps to enhance the functionality of your Shopify store. Some of the most popular apps on the Shopify App Store that you can name are Oberlo, Privy, Yotpo, Shogun, Smile.io, and numerous other third-party apps. These apps are just a few examples of the many options available on the Shopify App Store. The app store is well-organized, and you can browse apps by category or use the search function to find specific apps that meet your needs.
OpenCart Extensions
OpenCart is the ideal solution for applications and add-ons, with over 14,000 extensions obtainable in their Extension Store (including product feeds, reports, shipping methods, and payment gateways). Plus, its user base of developers has made it simple to personalize your store at an affordable price.
OpenCart gives an advantage over Shopify, as the majority of extensions on offer are specifically made for eCommerce. If you select it to build your online store, this will deliver a great benefit since all these apps work in line with what you require. Furthermore, if you possess coding skills then you can utilize them to craft custom fields that join up with the extensions.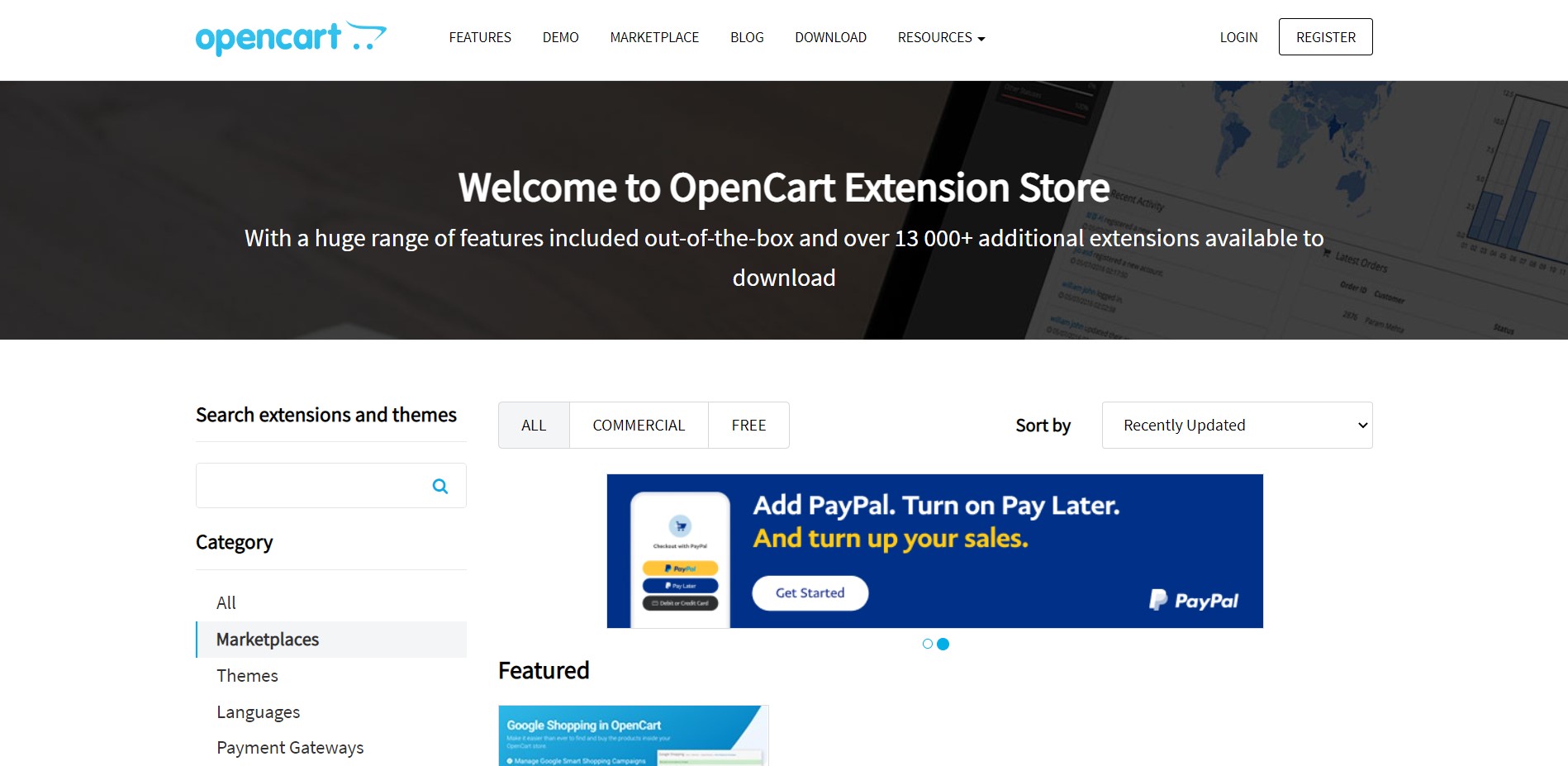 About The OpenCart Marketplace, it is a platform that allows you to discover and install extensions that can improve your OpenCart store's functionality. Some of the most popular extensions on the OpenCart Marketplace include OpenBay Pro, Journal 3 Theme, SEO Pack Pro, Mailchimp Integration, PayPal Express Checkout, Live Chat, and multiple other third-party extensions that you can name them. The OpenCart Marketplace is easy to use, and you can browse extensions by category or search for specific ones that meet your needs.
Customer Support
Shopify Support
Shopify is a hosted platform, offering unparalleled support options that are available around the clock. With phone calls, live chats, emails, and Twitter messages all attended to 24/7 by expert personnel, you're sure to receive help whenever it's needed. Shopify's support team is known for being knowledgeable and responsive, and they often go above and beyond to help merchants solve their problems.
Furthermore, they maintain an active forum that is regularly monitored by their support staff and other users who are willing to provide helpful advice whenever possible.
OpenCart Support
OpenCart also has a support center with a knowledge base and a community forum where merchants can get help and connect with other users. However, OpenCart's customer support options are more limited than Shopify's. While OpenCart does offer email support and a ticket system for merchants to submit support requests, they do not offer phone or live chat support.
Shopify VS OpenCart: Which One Is Best for Your Business?
It can be daunting to select between two web development and store-building products that aren't similar. For example, while Shopify vs OpenCart both enable you to list an infinite number of items for sale online, how your brand is constructed with each tool varies dramatically. Thus, it is essential to consider the variances carefully before making a decision on which one to utilize.
While both of these solutions equip you with the means to construct a successful website for selling digital and physical products, their similarities stop there. Shopify is a hosted service that offers you absolutely everything necessary from the start. Should you require additional features such as email marketing integrations, it's just one click away.
In contrast, OpenCart is a completely open-source platform that you'll need to manage and develop on your own. The technology itself comes at no cost, however, costs accumulate when it's time to invest in hosting services, registering the domain name associated with your website, and hiring an extra developer for additional support.
For entrepreneurs who crave a swift and straightforward way to initiate an online presence without any difficulty mastering the basics, Shopify is likely your best bet. With abundant features to explore, you can make sure that your business stands out from its competition in virtually no time.
If, however, you yearn for the flexibility to make drastic modifications to your store on a more intricate level, OpenCart is an optimal choice. Although there are costs associated with its open-source solution in the long run, it comes absolutely free at first and offers plenty of features if you know how to take advantage of its open coding system.
In Conclusion,
In conclusion, both Shopify vs OpenCart are excellent e-commerce platforms, and each has its own strengths and weaknesses. Shopify is a great all-in-one solution for those who want an easy-to-use platform with great design options, top-notch customer support, and a large app store with useful features. OpenCart, on the other hand, offers greater flexibility and control, as well as more customization options, making it a better fit for those with more technical expertise. Ultimately, the question of Shopify vs OpenCart comes down to assessing your business needs. The right choice for you hinges on what features and capabilities fit best with your individual requirements.