Shopify is one of the rising stars in eCommerce. There are thousands of stores built on this platform. If you're looking for some inspiration when it comes to starting your own Shopify clothing stores, this article is for you!
In this blog post, we will show you 10 of the best Shopify clothing stores out there. These stores are killing it in terms of design, branding, and sales. So if you're looking for some fashion inspiration, or just want to see what's possible with Shopify, then keep reading!
Top 10 Best Shopify Clothing Store Examples
Fashion Nova
Fashion Nova is the world's top brand for ready-to-wear clothes and lifestyle products. This business is well-known for providing the season's hottest looks to millions of people all around the world, earning them the distinction of the #1 Most-Searched Fashion Brand on Google in 2018. This makes them become one of the most visited Shopify clothing stores in the world.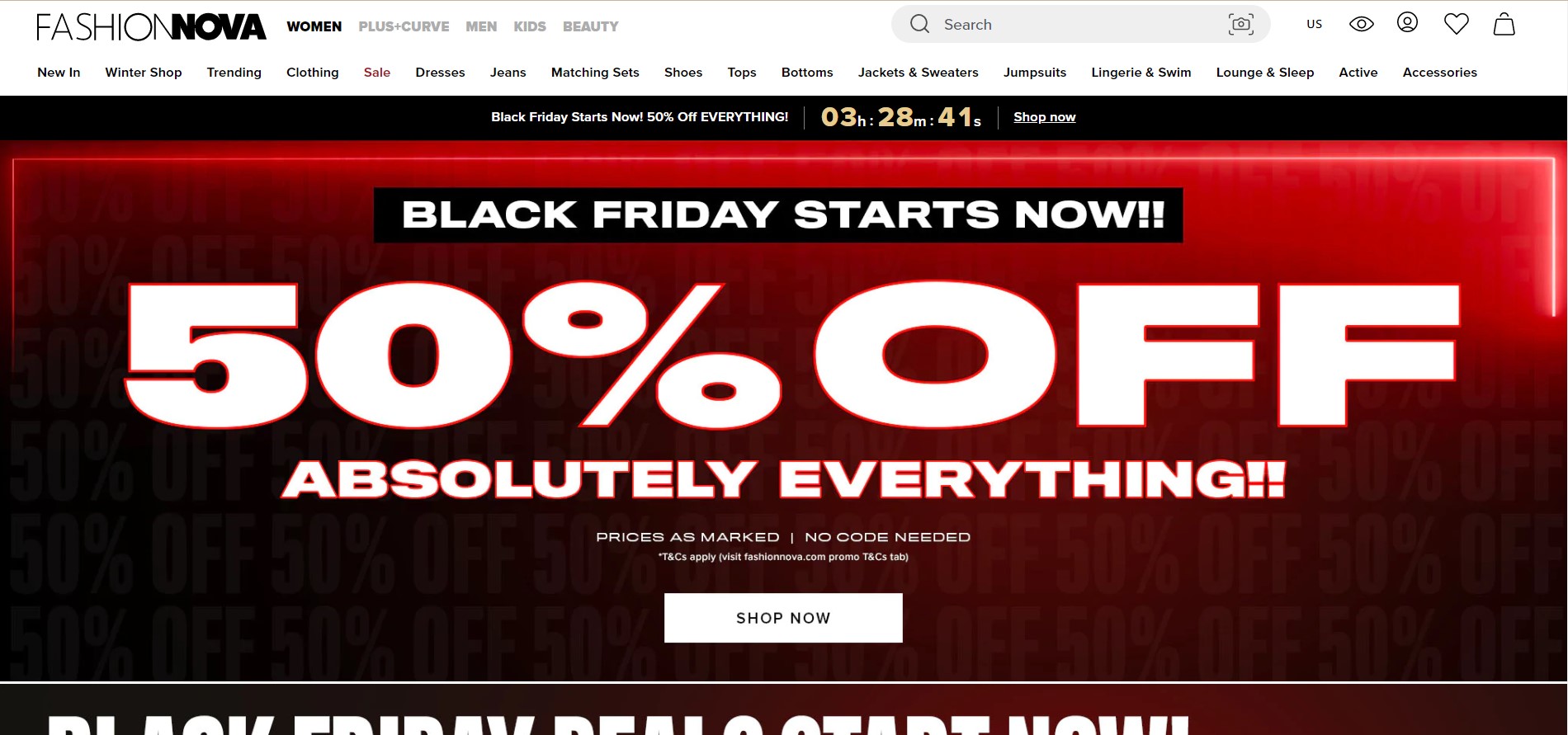 They provide collections for women, men, curves, and kids as a Los Angeles-based brand with 5 retail outlets around Southern California. They are a pop cultural phenomenon, with over 25 million social media followers, including celebrity admirers and collaborators. Their clothing is featured in music videos by celebrities such as Cardi B and Kylie Jenner.
Take a look at their online store, the most important point of this brand is pricing and it is displayed everywhere. Fashion Nova is an encouragement for entrepreneurs with large budgets, who want to offer a wide range of products and provide high-quality and helpful content for website visitors.
Gymshark
Gymshark is one of the most popular Shopify clothing stores in the fitness apparel industry. It was founded by Ben Francis in 2012 and has rapidly grown into a billion-dollar business, with 18 million followers, 14 successful online stores, and millions of customers worldwide.
Ben Francis, the founder of Gymshark, started their company with just a sewing machine and printer without further goals. Today, they offer an impressive array of fitness apparel and gear that emphasizes performance, quality, and comfort. Additionally, Gymshark is really an expert in using social media platforms for its marketing strategies. Their Instagram feed is filled with people wearing their gear.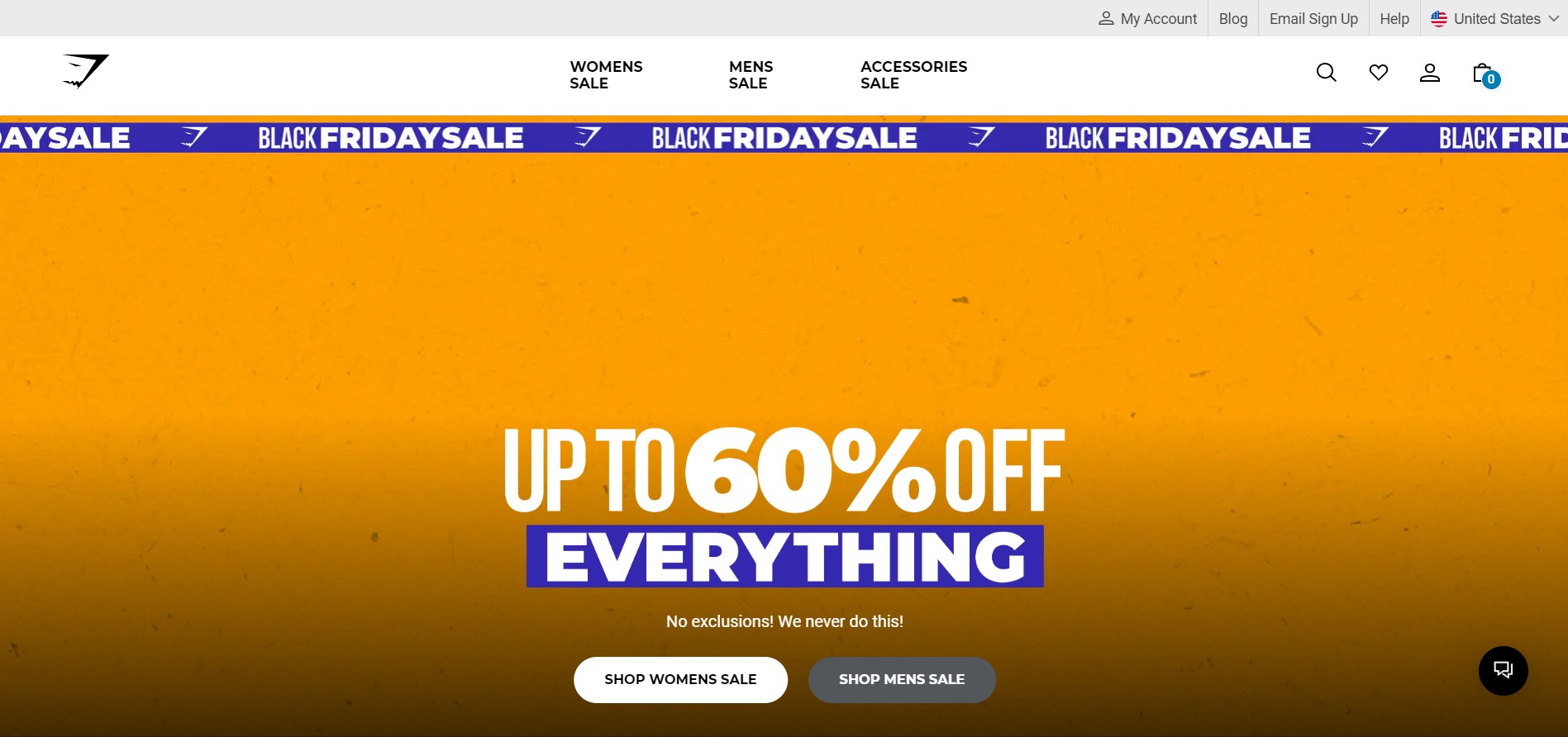 Gymshark's user-friendly website design makes it a cakewalk to browse through various types of products. At the top of the homepage, there are only three drop-down gender option buttons for navigation. The store is also highly responsive, making it just as easy to search on a mobile device. Plus, each product displayed comes with an informative description.
Gymshark is a perfect example of how to connect with customers. By displaying new arrivals, discounts, payments, and other key details on the homepage, Gymshark has built strong relationships with its customer base.
Hiut Denim
Hiut Denim is a brand that offers luxury biker denim for everyone. Founded by Marc Wenn in London, it has built a reputation for providing only the best quality products to its customers. What's impressive about this successful Shopify clothing store is that it offers a measuring guide to help shoppers find their perfect size, as well as washing instructions to keep their pair of jeans looking clean and shiny.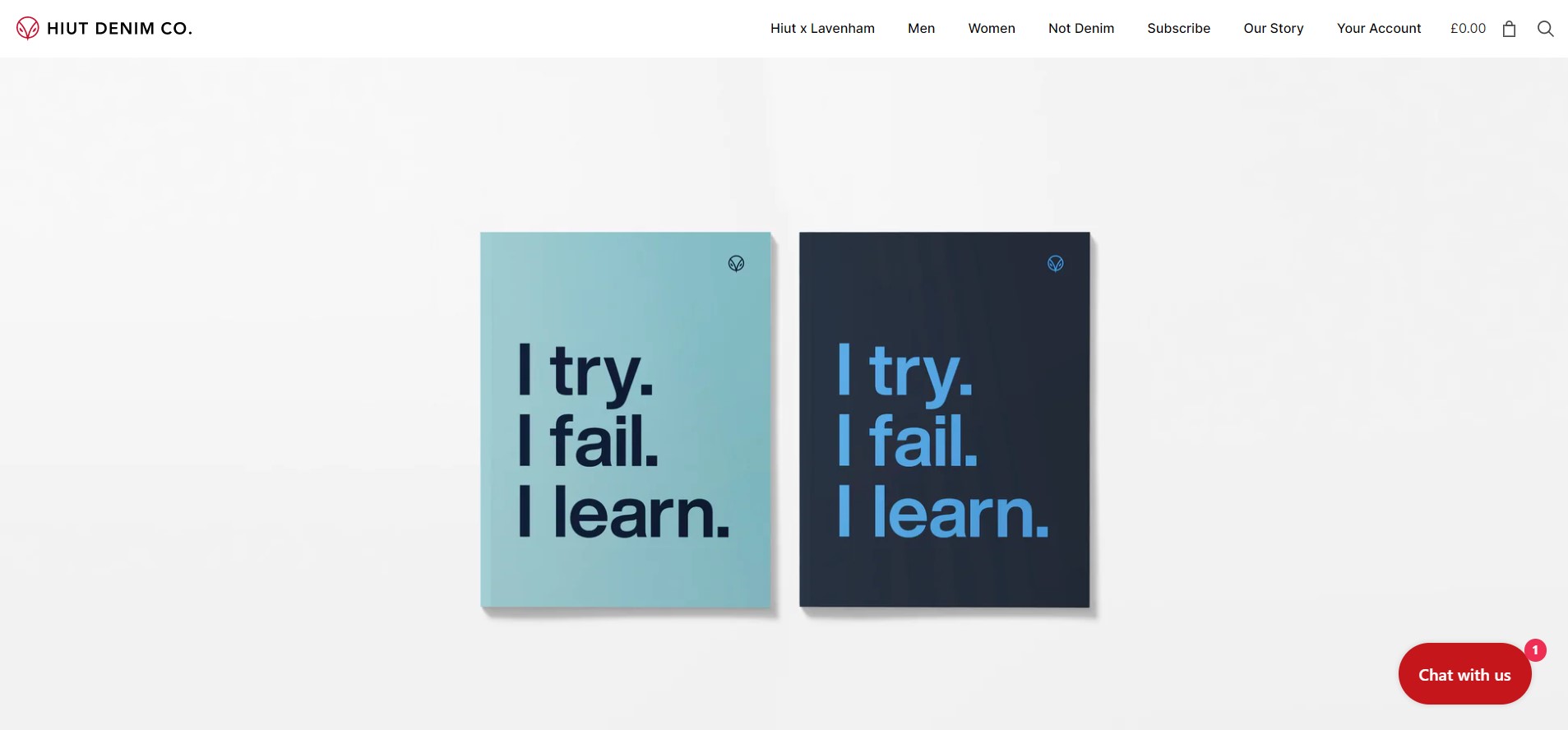 To accommodate their international customers, Hiut Denim offers standard shipping that takes up to 30 days. However, they also offer DHL express delivery for those who require their purchase more urgently; this service delivers the product in about 7 days.
Hiut Denim's Shopify store is well-organized and user-friendly navigation, with minimalistic full-width images that showcase the product clearly. This help customers find products and make buying decisions easier. If you're looking for an example of a successful jeans brand launched on Shopify, Hiut Denim is the perfect option.
Negative
Negative is a unique Shopify store clothing that specializes in comfortable apparel for women. They design their products without any lace, frills, padding, or decorations that usually appear on woman's underwear. They focus on making sure the product images are clearly visible and attractive to customers with a minimalist vibe.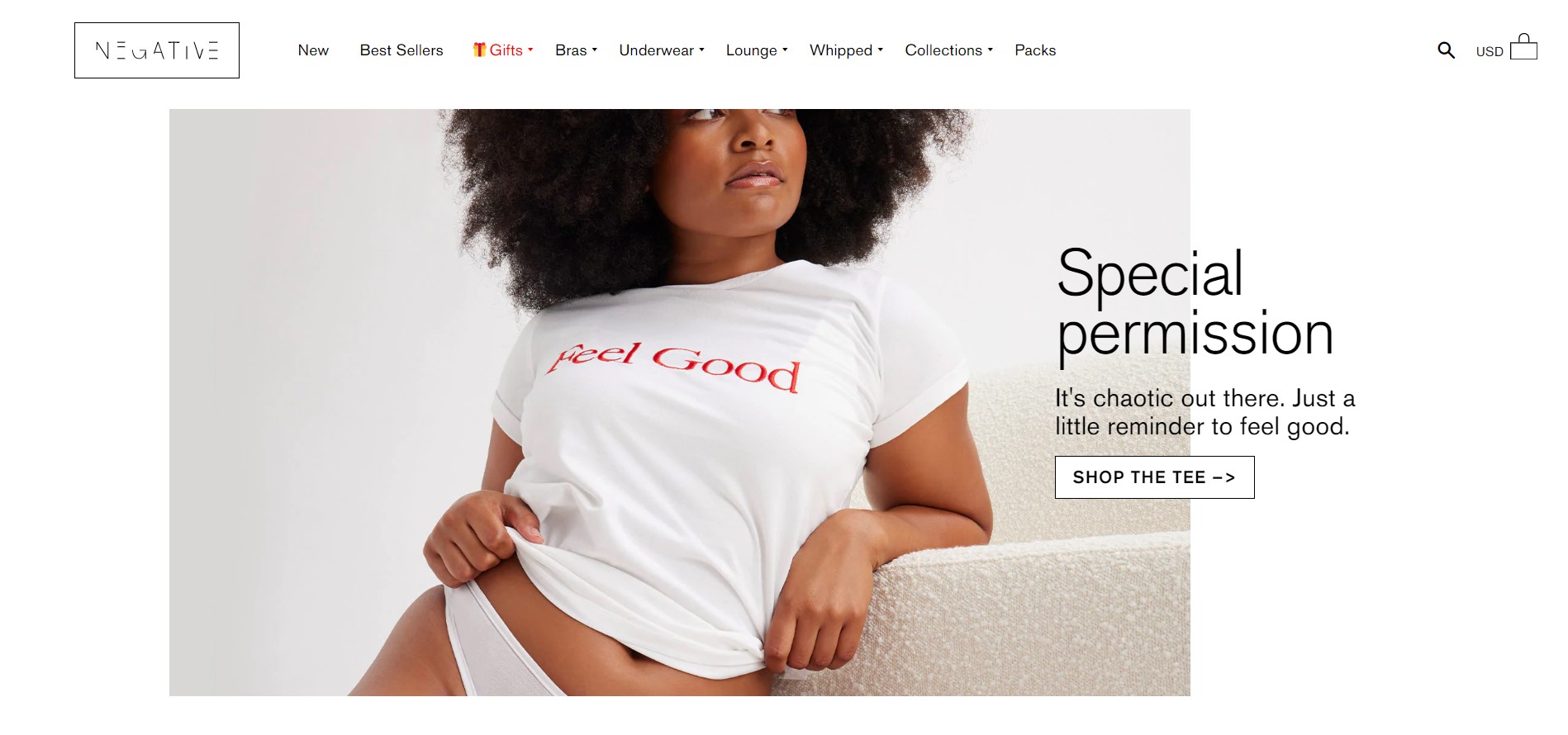 Minimalist style is the core of Negative underwear's brand identity and mission. The company's goal is to provide customers with simple, clean designs that emphasize comfort. Professional images are used on product pages in order to give visitors a sense of what they can expect, a no-frills experience uncluttered by excess details or elements.
Negative's approach to store design is captivating, and all product photos are clear and stand out. By utilizing the same techniques, your store will easily grab potential customers' attention.
Roden Gray
Roden Gray is one of the most popular stores for men's clothing. It carefully curates collections from the best menswear brands around the world, so you can always find stylish and high-quality clothes.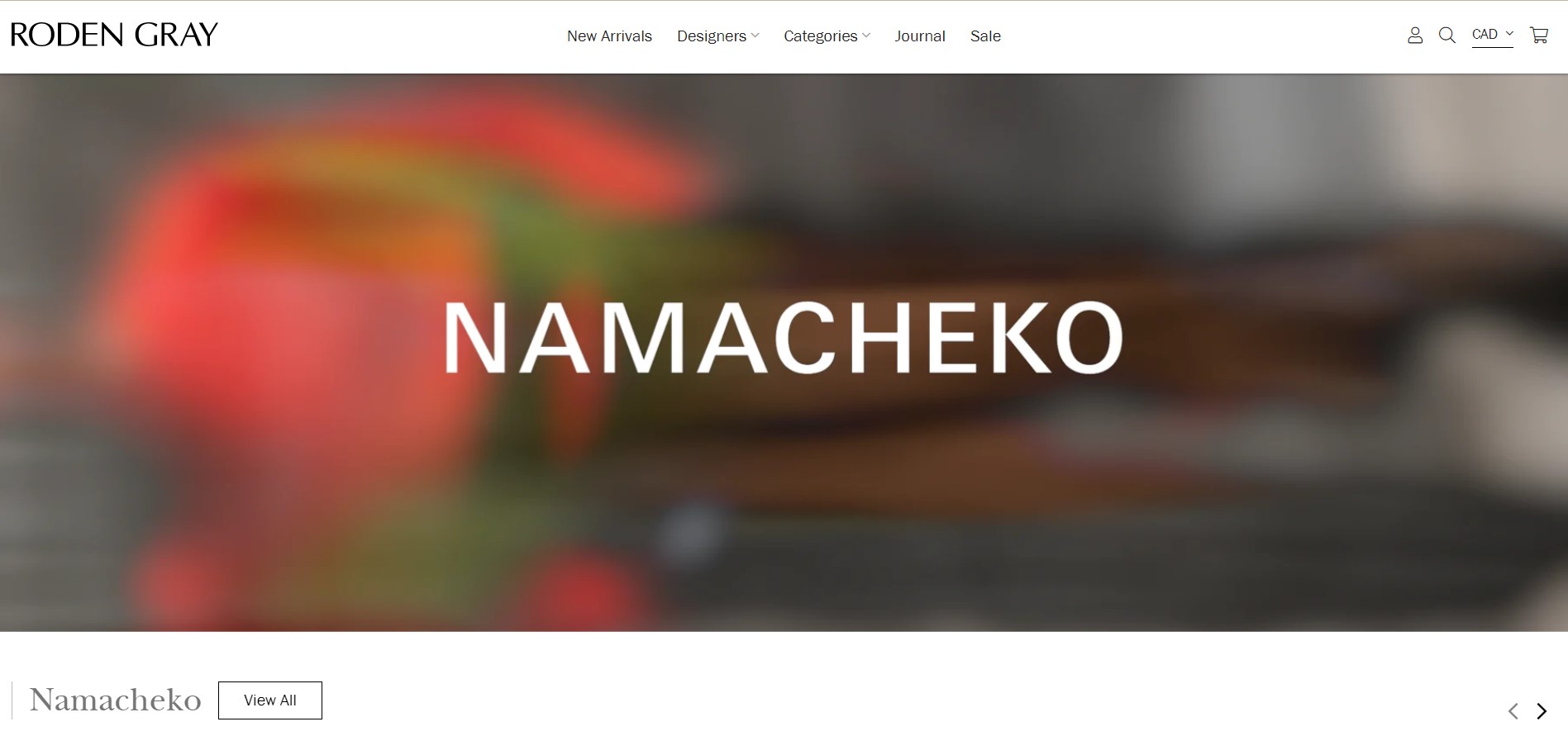 Roden Gray does not design or sell its own clothing. Rather, they hand-pick items from many brands and fashion designers globally. By doing this, they are able to promote a selection of apparel that is one-of-a-kind and honors various cultures as well as design languages. The only thing these items have in common is their excellent quality.
In addition to their online Shopify store, Roden Gray also has a physical store location in downtown Vancouver.
Greats
Greats, established in 2014, is Brooklyn's first sneaker brand that focuses on practicality and aims to provide versatile sneakers without the "BS attitude" of iconic retro sneakers for both men and women.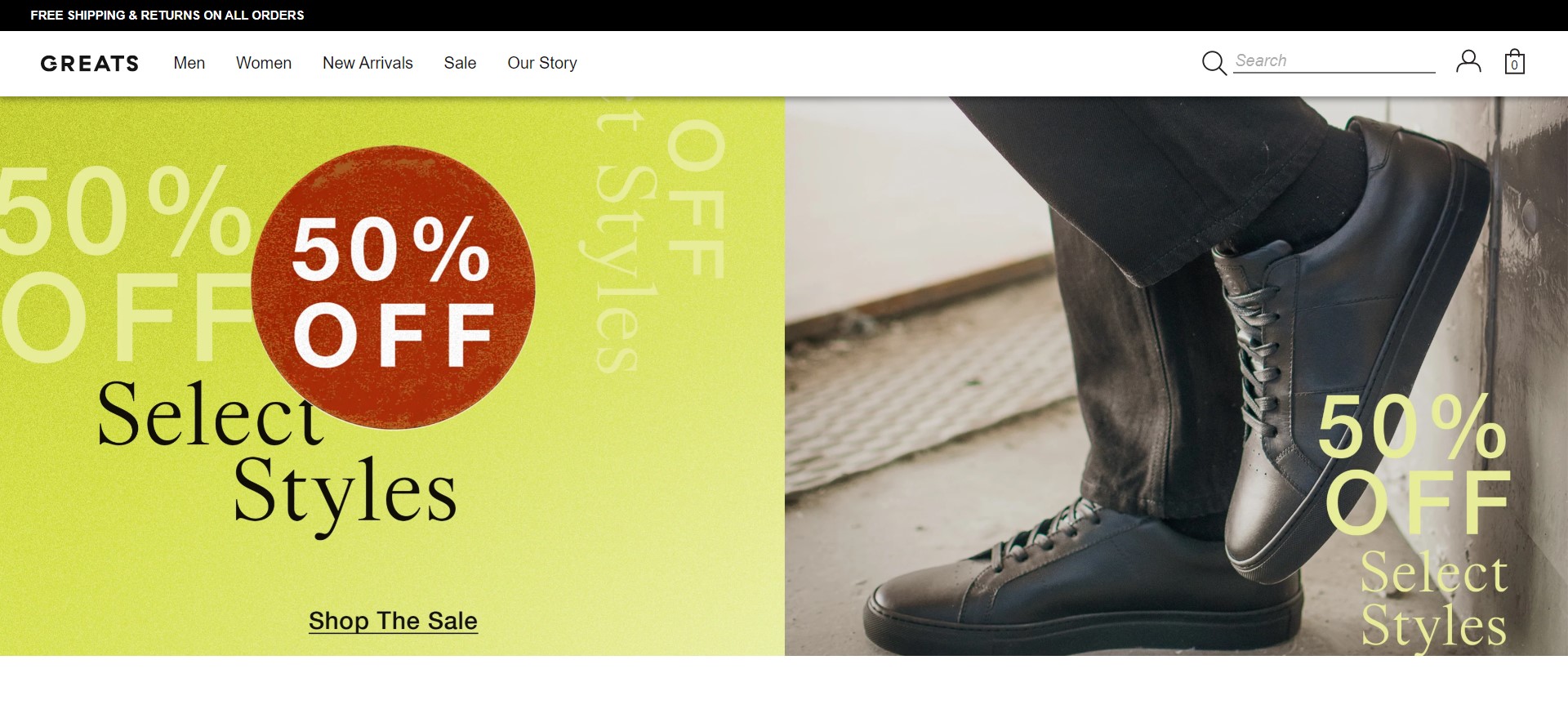 Not only do Greats make sneakers that look amazing and work with any style, but they also emphasize sustainability and ethical labor practices. And if that's not enough to get you on board, their Shopify site is designed flawlessly and definitely worth a visit.
Jimmy Jazz
Jimmy Jazz is a retail chain that specializes in hip-hop-inspired clothing. You can find streetwear, sportswear, shoes, and designer clothes from over 80 popular brands, such as Nike, Jordan, Adidas, and Polo Ralph Lauren.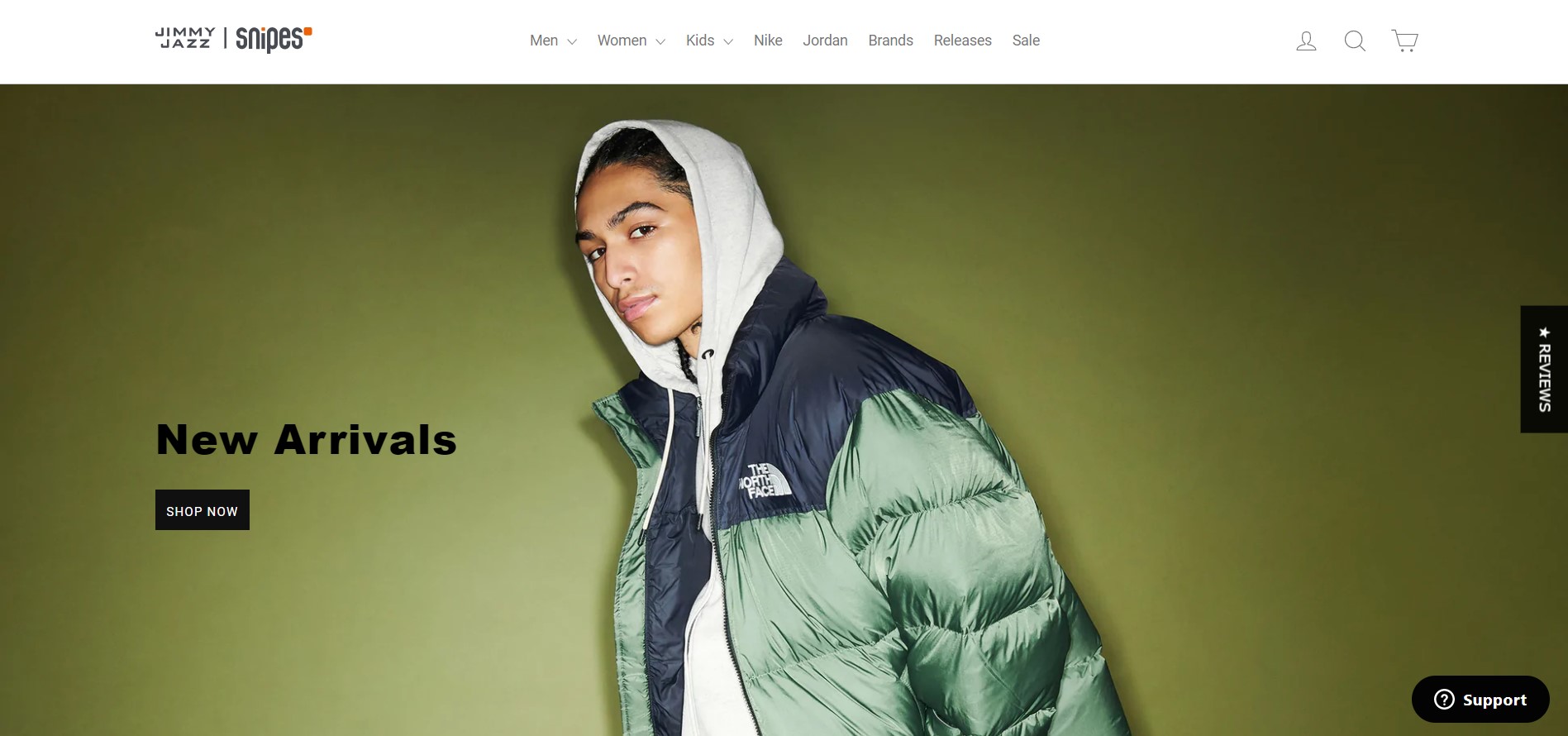 Their homepage has a minimal and user-friendly design, which emphasizes their products as the priority. Additionally, their product pages have all the useful information but are still uncluttered and easy to navigate.
Alo Yoga
Alo Yoga aspires to bring the relaxation and peace of yoga to people all over the world. They offer encouragement and support for anyone on their wellness journey. Alo Yoga is an excellent example of a Shopify clothing store that you should spend time exploring.
They not only sell yoga clothes, but leggings and accessories that customers can wear in a studio setting, on the street, or anywhere else.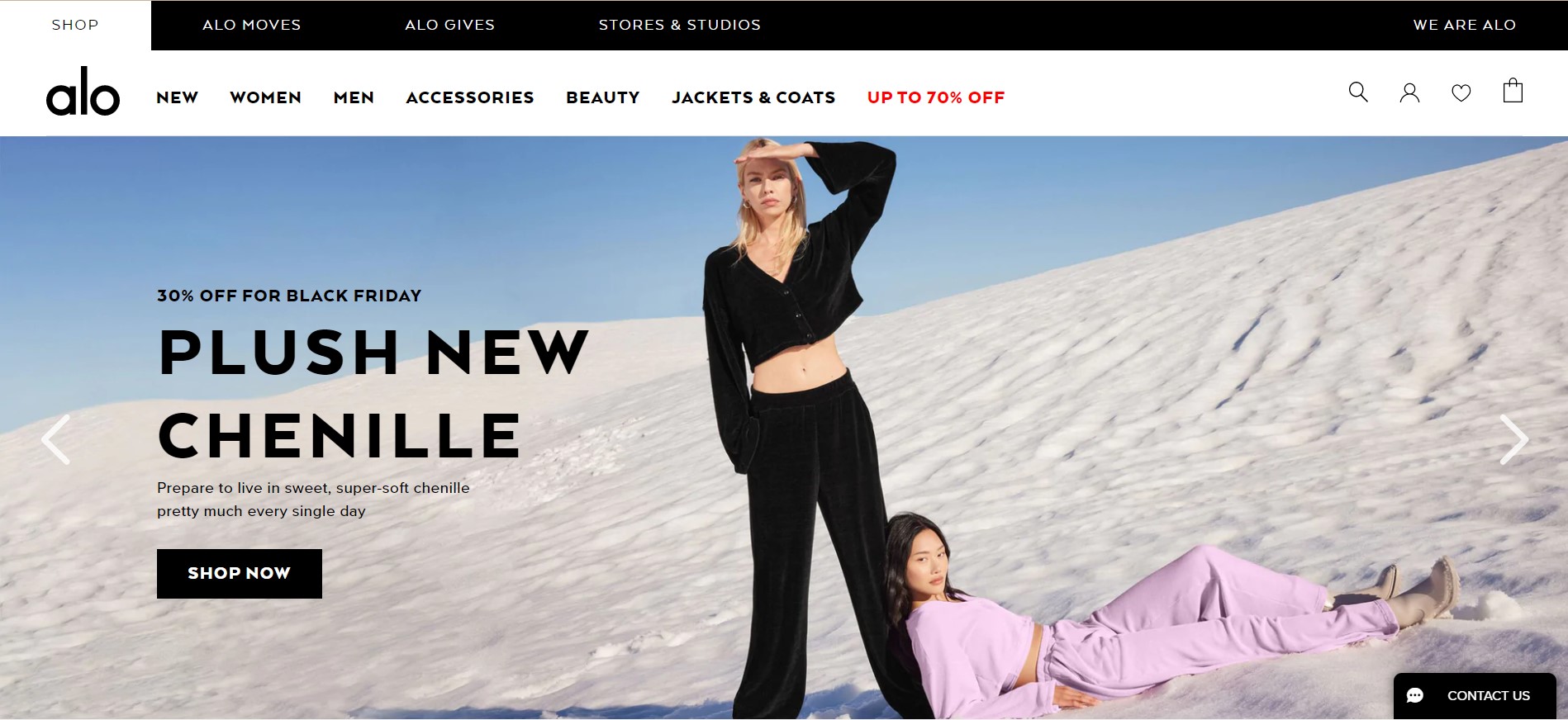 Alo Yoga's physical stores in New York and California have a simple yet elegant design that their online store mirrors. As soon as potential customers see the website, they will be captured by its stunning design which is easy to navigate, providing a smooth browsing experience.
Beyond Yoga
Jodi Guber Brufsky, a yoga teacher, founded Beyond Yoga because she was tired of not being able to find activewear that fit her body and lifestyle outside the studio. This store is the perfect place to find stylish and affordable yoga apparel, workout clothes, and activewear. With a variety of leggings, joggers, tops, and bras to choose from, you're sure to find what you're looking for.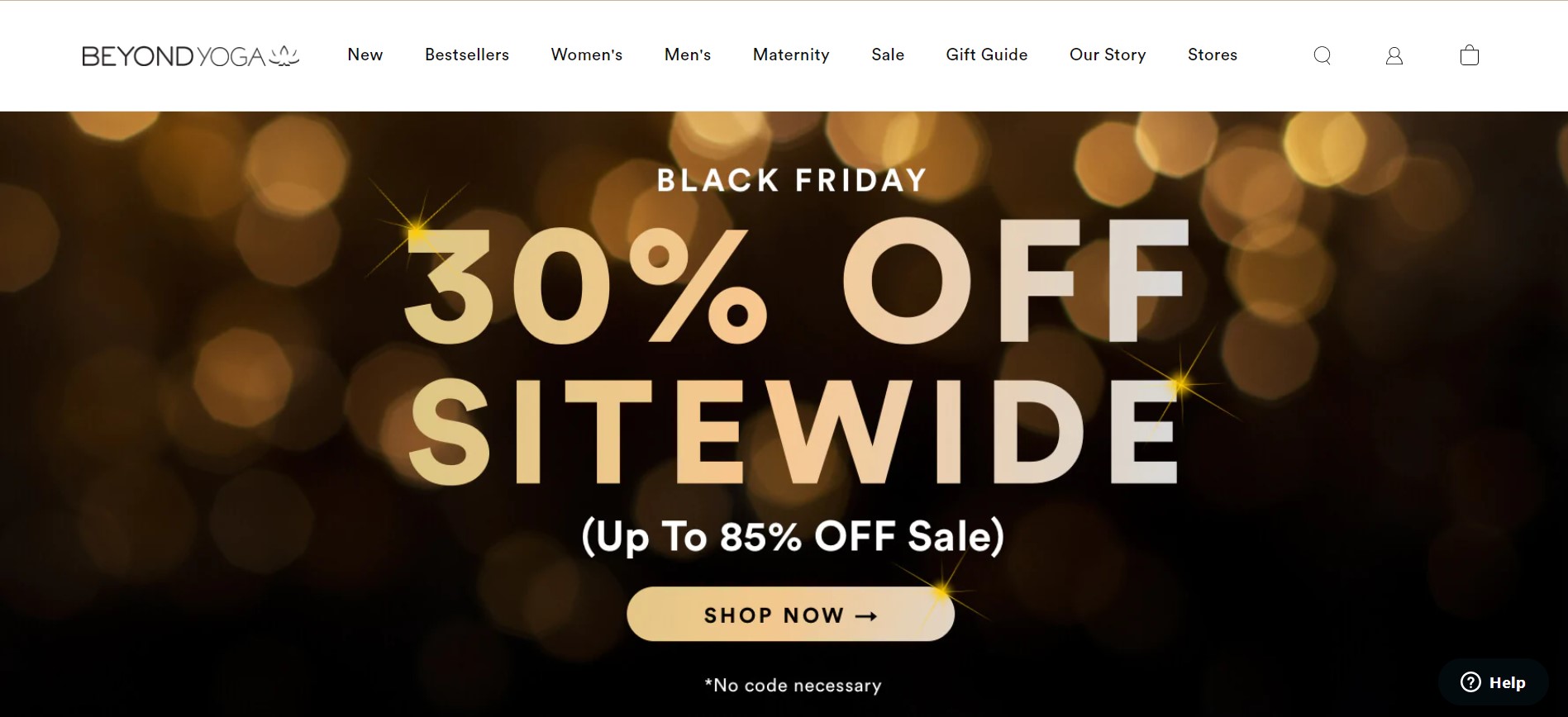 As soon as you encounter their Shopify store, multiple images appear to give visitors an idea of their latest collections. The site's design makes it easy to scroll down and see everything available while also having a menu that shows all collections at once in a fixed location.
Designing an online store that is both appealing and informative can be a challenge, but Beyond Yoga has done it with flying colors. Their natural aesthetic and focus on body positivity make them one of the most striking yoga clothing stores around.
Posh Peanut
Posh Peanut is the perfect combination of practicality and fashion. The brand's goal is to provide customers with high-quality, adorable products while delivering an excellent customer experience. They offer a trendy selection of clothing for kids, useful accessories, and stylish matching outfits for the whole family.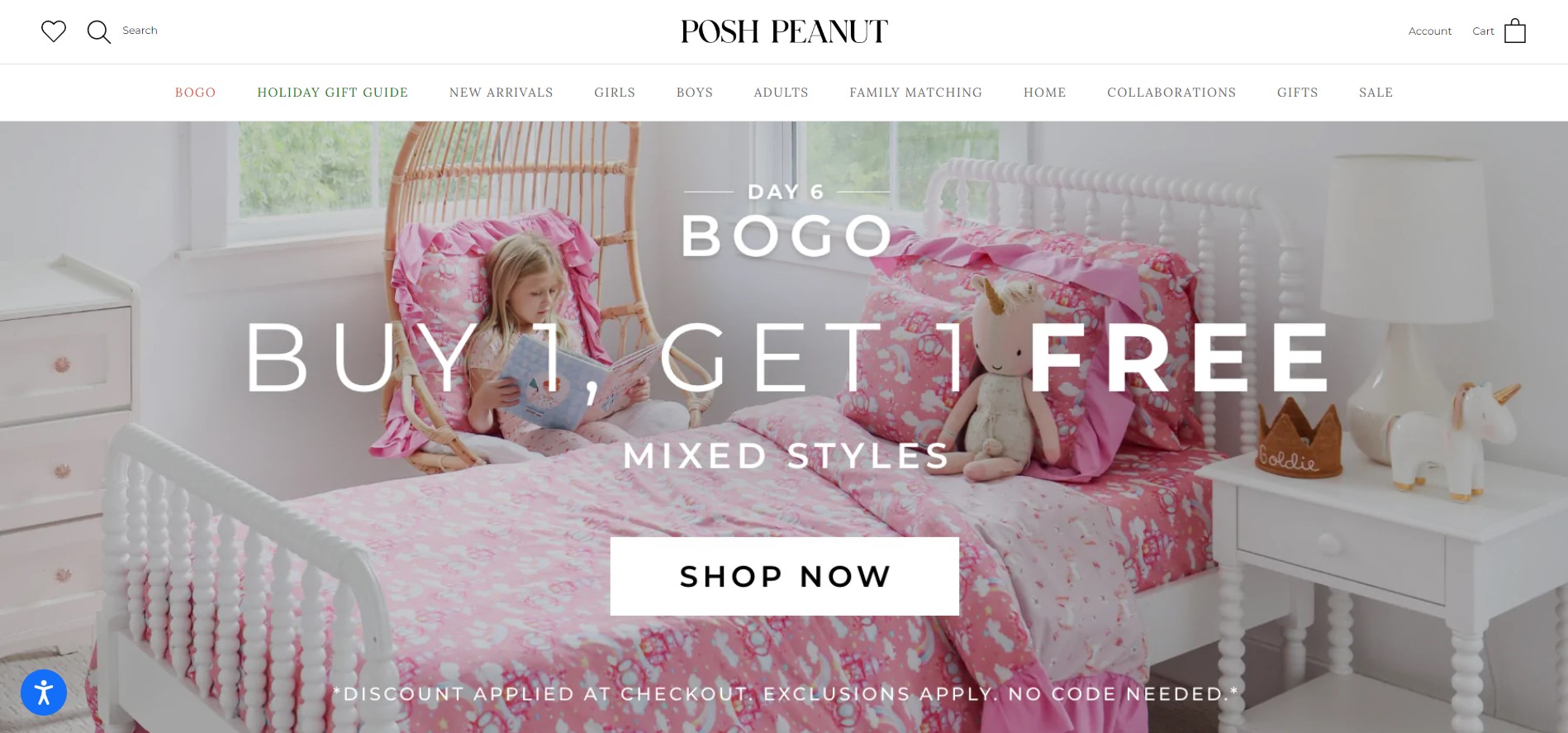 Posh Peanut is one of the most excellent Shopify clothing store examples for its clean, user-friendly, and modern design. Customers can see how lovely the clothes would look on their baby with beautiful real-life images. The website is easy to navigate so that customers can find what they want without any difficulty. There are lots of great Shopify clothing stores for kids and babies, but Posh Peanut is definitely worth checking out.
Wrap up
Starting a Shopify clothing store can be a great way to jump into the world of eCommerce. These 10 Shopify clothing stores are perfect examples of what's possible with this platform. If you're looking for inspiration, or just want to see some amazing design and branding, then be sure to check out these stores! And if you need help building attractive similar stores, drop us a message and our experts will be with you in no time. Or there's another convenient way that you can discover our outstanding Shopify store development services to know more about our team and our ability in implementing Shopify projects.