Do you want to make money with a T-shirt store? Are you looking for the best Shopify T-shirt store examples and strategies to help grow your business? With the right guidance, planning, and strategy, opening your own unique online T-shirt shop on Shopify is one of the most rewarding entrepreneurial endeavors you can take.
In this blog post, we share some of the top Shopify stores in different niches along with helpful tips on how to start up your own successful online T-shirt store.
10 best Shopify T-shirt stores for your consideration
TeeFury
There is no other Shopify T-shirt store like TeeFury. Their amazing designs are all the work of TeeFury artists, who have a love for producing limited-edition T-shirts.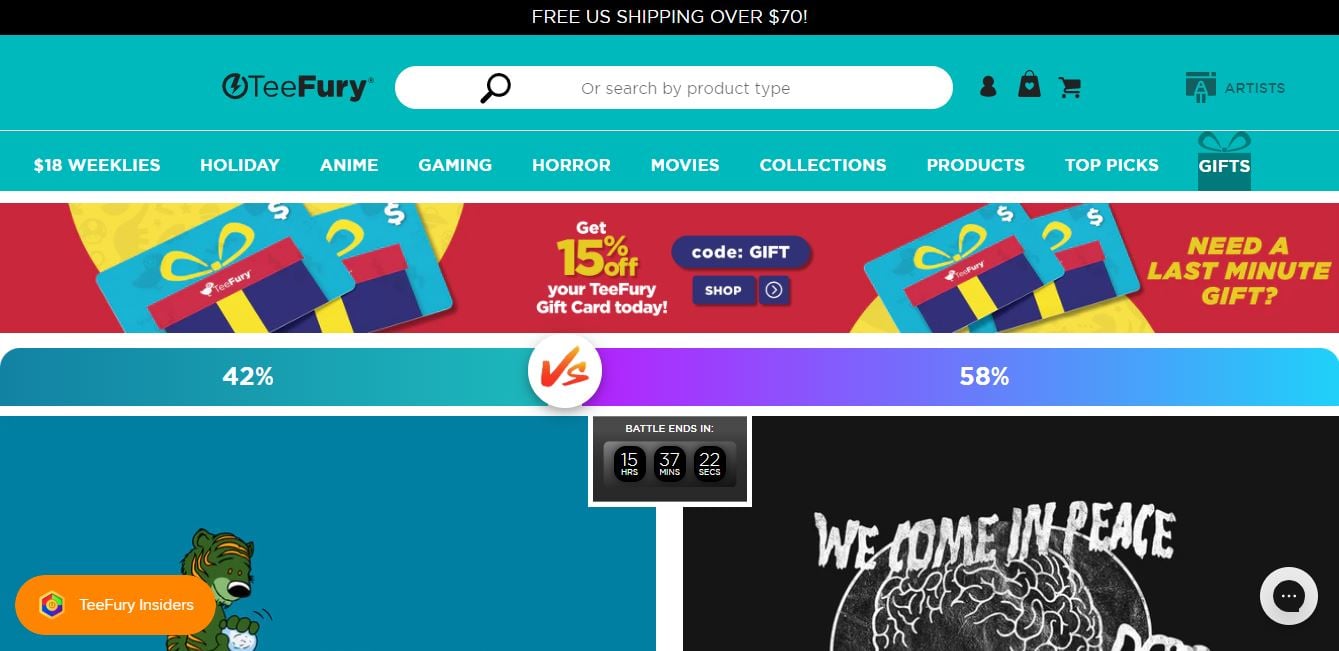 For men, women, and kids, they provide a huge selection of imaginative and humorous T-shirts. Whether you enjoy gaming, anime, or pop culture themes, TeeFury has a little something for everyone.
TeeFury's Shopify store quickly draws attention by capitalizing on customers' FOMO because two new designs are introduced every day. You will miss the opportunity to get them at a discount if you don't decide to buy before the closing date.
m00nshot
A Shopify T-shirt shop called m00nshot promotes itself as a place where artists are free to pursue their hobbies. They provide distinctive T-shirts that make their consumers happy thanks to their own love for original designs.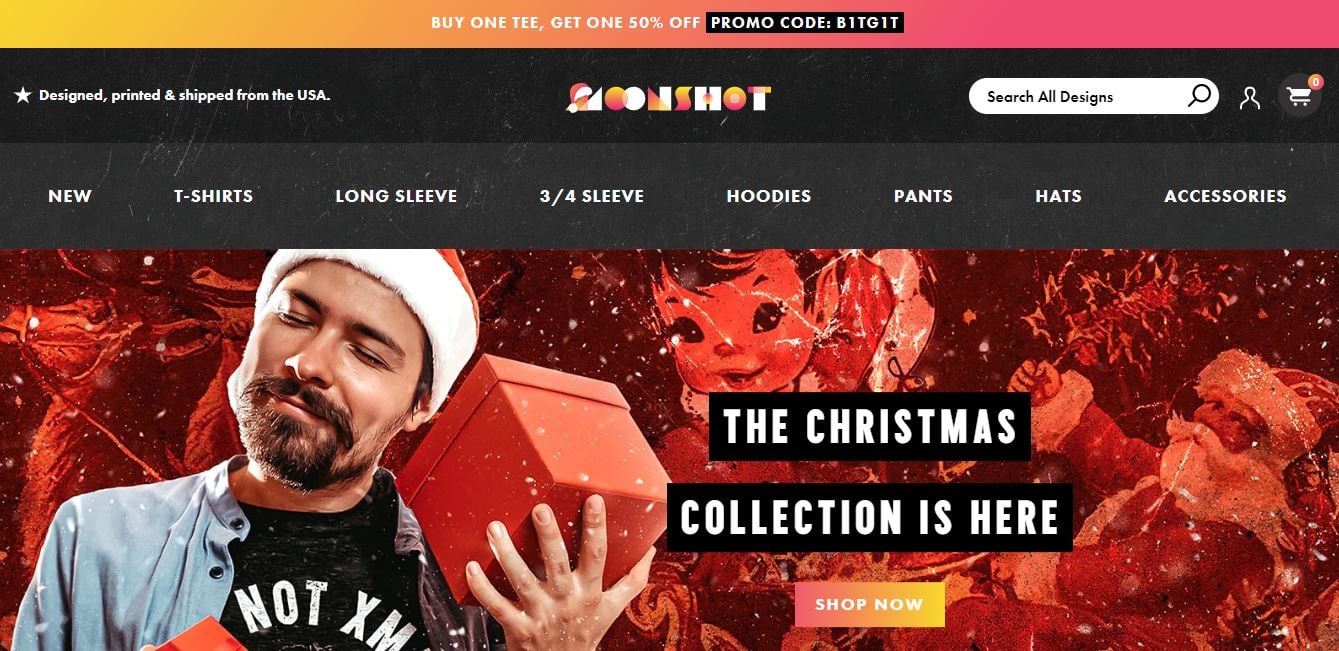 The company offers a huge selection of distinctive T-shirts, tank tops, jeans, caps, sweatshirts, and accessories for sale.
M00nshot has a unique visual style. A visitor is welcomed with a stunning hero banner that features their motto, Non-heinous designs for all mankind, and showcases several collections as soon as their web store loads.
Surfside Supply Co.
Shopify's Surfside Supply Co. has a well-defined brand identity. It is, in a nutshell, a clothing brand for those who enjoy comfort, ease, and beachwear.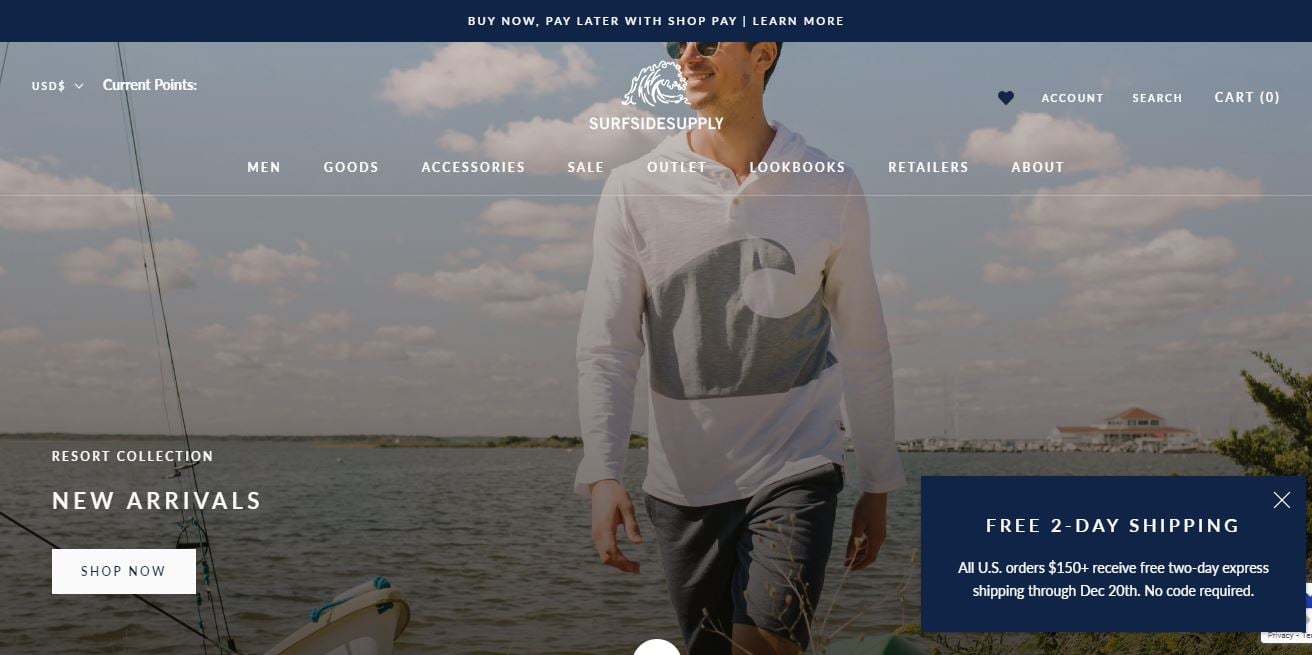 They provide a wide variety of T-shirts, swimsuits, and casual apparel for all occasions in their well-designed online store.
Surfside Supply Co. has established a strong brand identity, and the company's website is a real representation of its constant enthusiasm for beachwear. They facilitate online shopping with an intuitive design.
100MPH
As the name implies, 100MPH is a T-shirt shop for all-wheel lovers who want to show off their passion for speed in their clothing. They offer a tee for every sort of wheel, including motorcycles, rally cars, F1, hot rods, and vintage vehicles.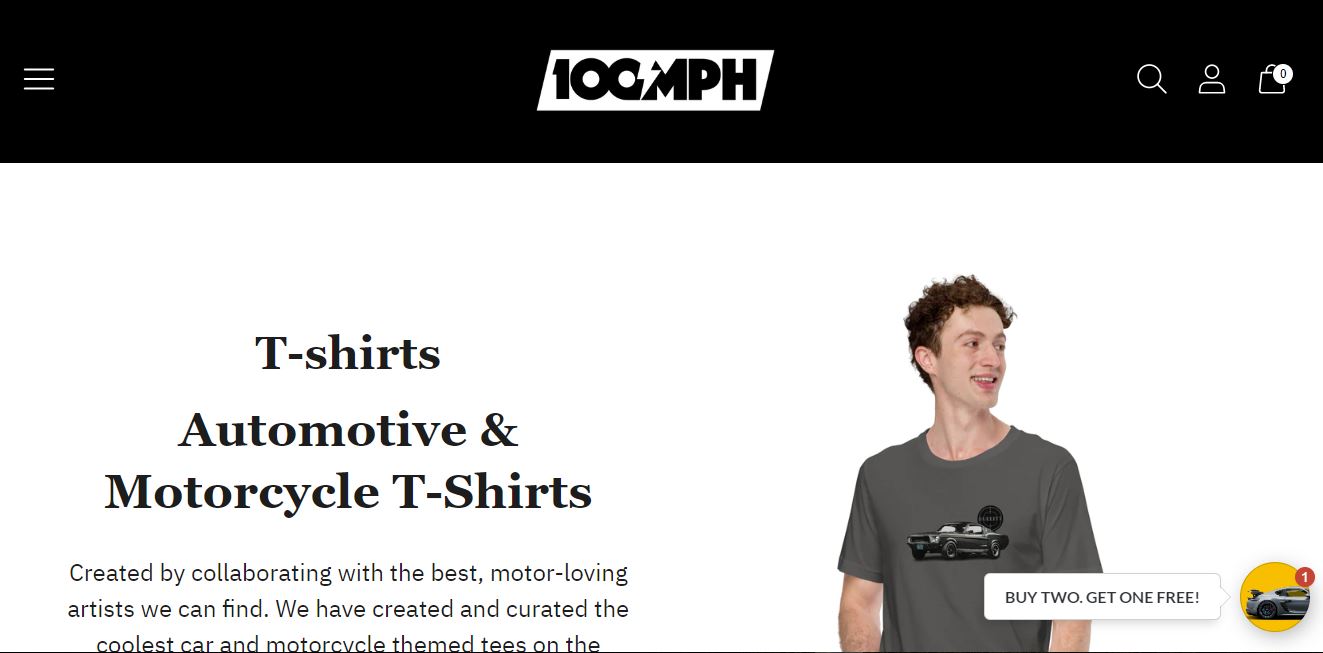 You may easily browse the store page and filter the items by category, brand of bike, automobile, or race. It is simple, convenient, and uncluttered. With a few clicks, you can quickly find everything you're looking for.
Among the T-shirt Shopify stores, this site is a great example of how to sell T-shirts online since it has T-shirts for everyone, whether you're a fan of all things speed or want some originality in your daily dress game.
Tees for Humanity
Tees for Humanity is a fashion Shopify T-shirt store that caters to those who do not have a particular fashion sense. Everyone can be its potential customer.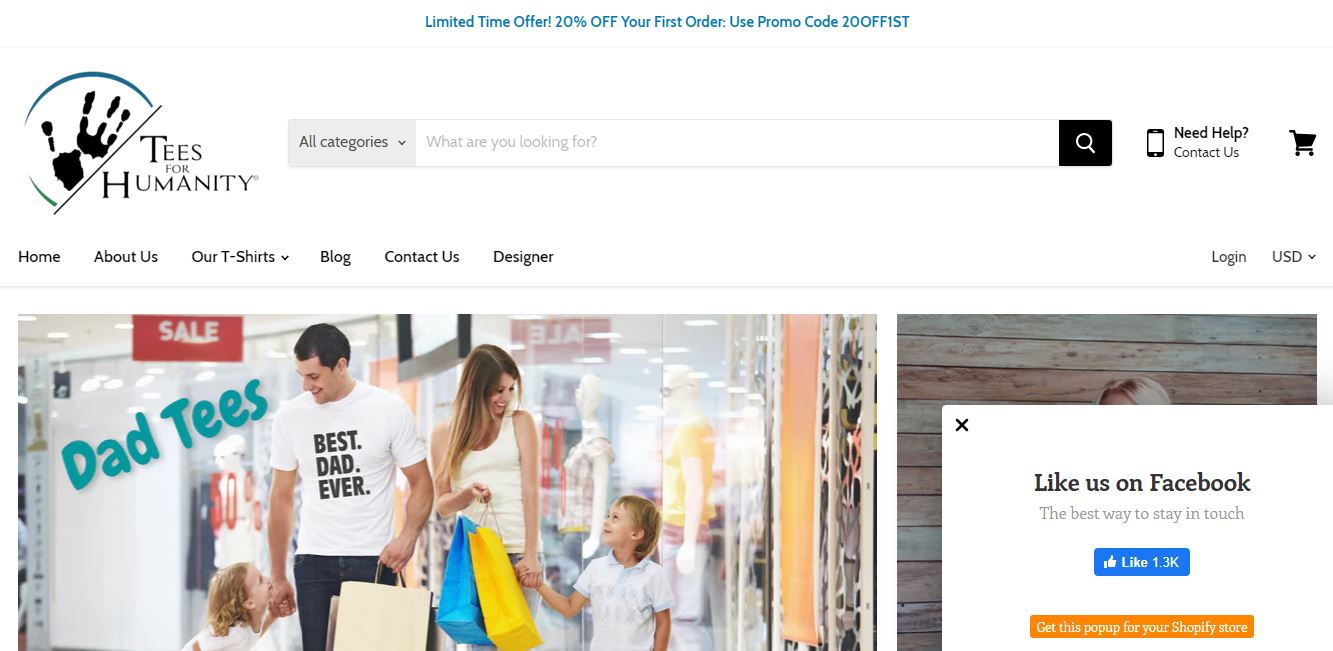 For both men and women, they provide a huge selection of well-fitting T-shirts. They frequently have promotions in their store. With this tactic, they urge customers to make larger purchases. Anytime a consumer wants inexpensive T-shirts, they will immediately choose Tees for Humanity.
Tees for Humanity appeals to a wide array of customers with its frequent sales, affordable T-shirts, and user-friendly website. This is a nice illustration of how to sell shirts on Shopify.
Shirtwascash
Shirtwascash is a company with a special aesthetic style. The business quickly stands out by providing unusual, unique, and amusing T-shirt designs.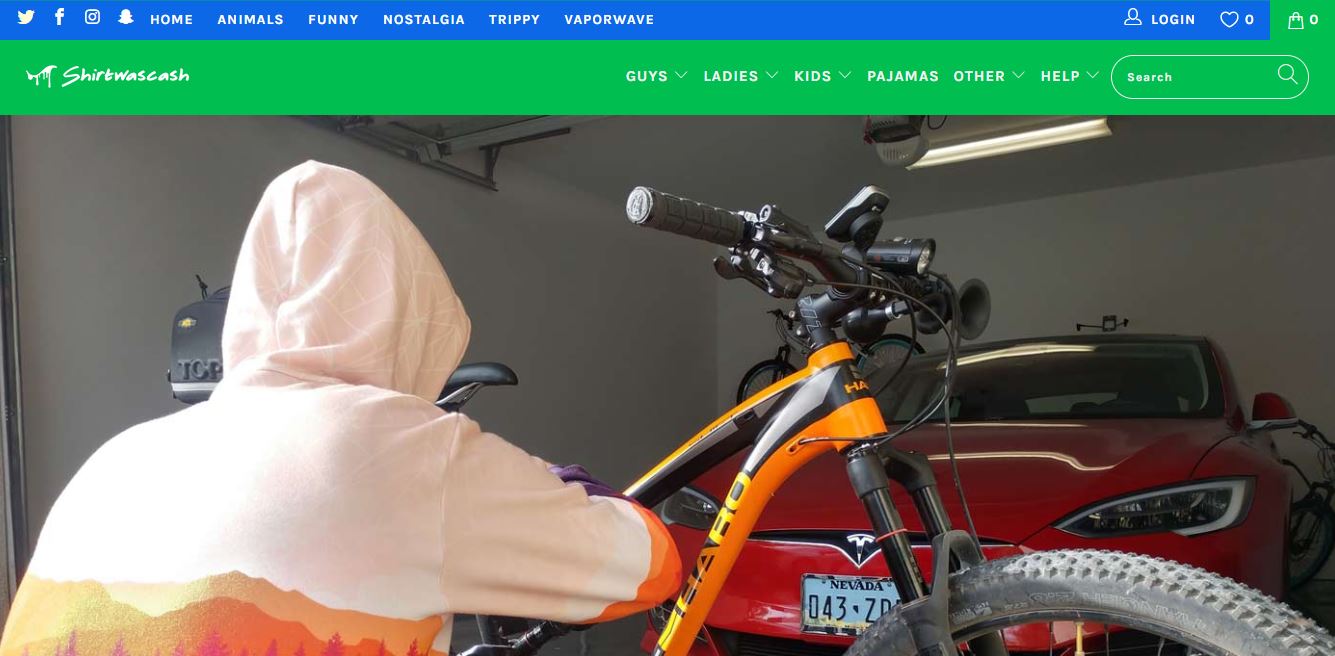 T-shirts, hoodies, sweaters, leggings, joggers, swimsuits, matching pajamas, and many more items are available for purchase. Their entire line of items features numerous designs.
Despite having a complicated design, their website makes a fantastic initial impression. The customer's attention is immediately captured by the page's bright, bold, odd, and thought-provoking graphics.
With a well-curated Instagram feed, Shirtwascash creates a sense of community; it's obvious that they have no trouble establishing genuine connections with their customers.
Factory43
The well-designed layout of Factory43's website, which lets the images speak for the company, must stun anybody who views it for the first time. The style of the product page is straightforward yet effective, with squares representing the pattern on T-shirts.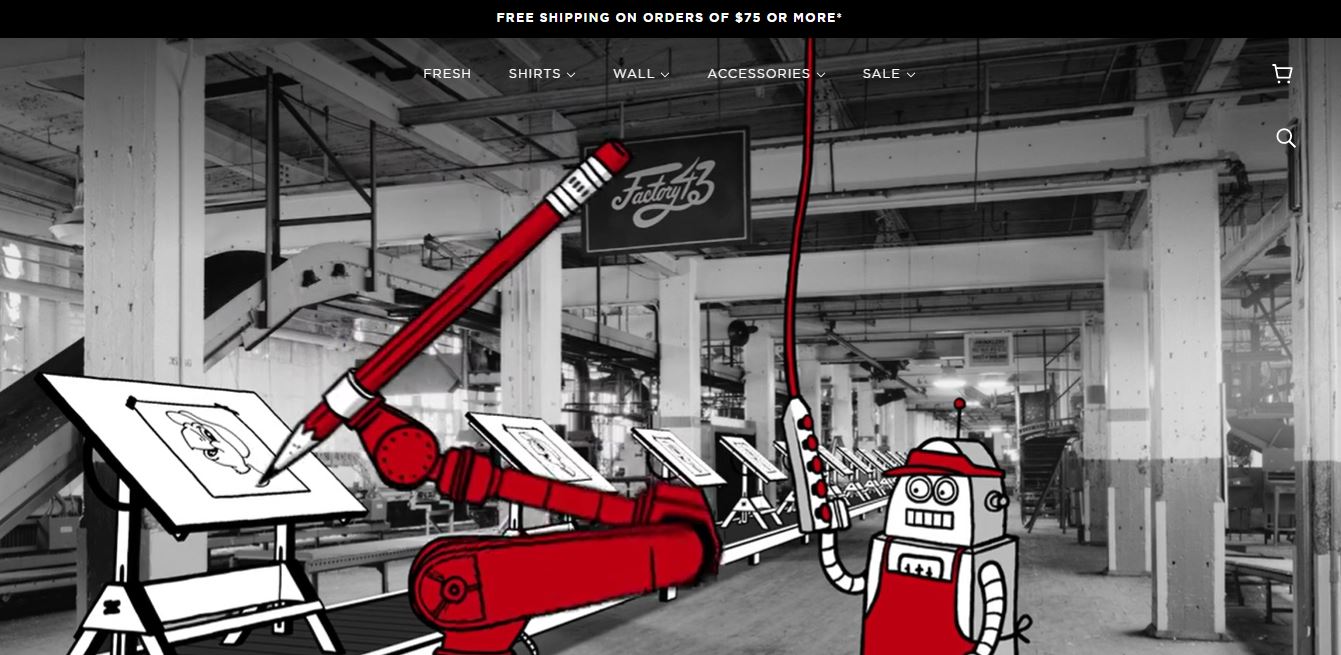 The amazing T-shirt designs of Factory43 are what set the company apart from the competition. The store prioritizes quality over quantity. Despite having a limited selection of designs, they are attention-grabbing at first glance.
Additionally, Factory43 has pages set up on Twitter, Facebook, Instagram, and Pinterest. For example, its Pinterest account receives up to 66,000 views per month.
The Organic T-shirt
The global demand for organic products has skyrocketed in recent years. The Organic T-shirt guarantees to provide T-shirts made entirely of cotton as a result. In addition to providing comfort for clients, it also reduces environmental pollution.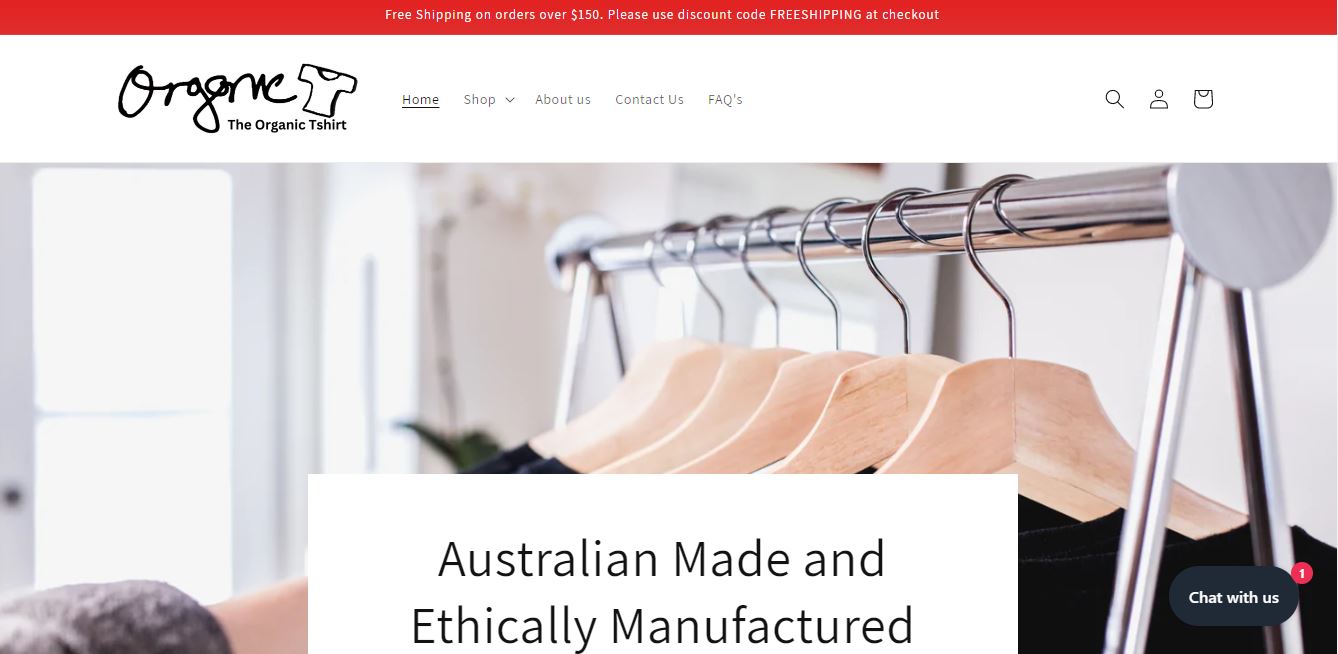 As customers become more environmentally conscious, they are more likely to stay away from buying from companies that have unethical business practices. Consequently, The Organic T-shirt has gained the love of many thanks to its dedication to social responsibility.
Think Pup
Think Pup's shirts featuring particular dog breeds have nailed their target market. By cleverly labeling those shirts, such as Corgifornia, which appeals to corgi owners in California, the business touches dog lovers' hearts. That's a brilliant method to go deeply into the market!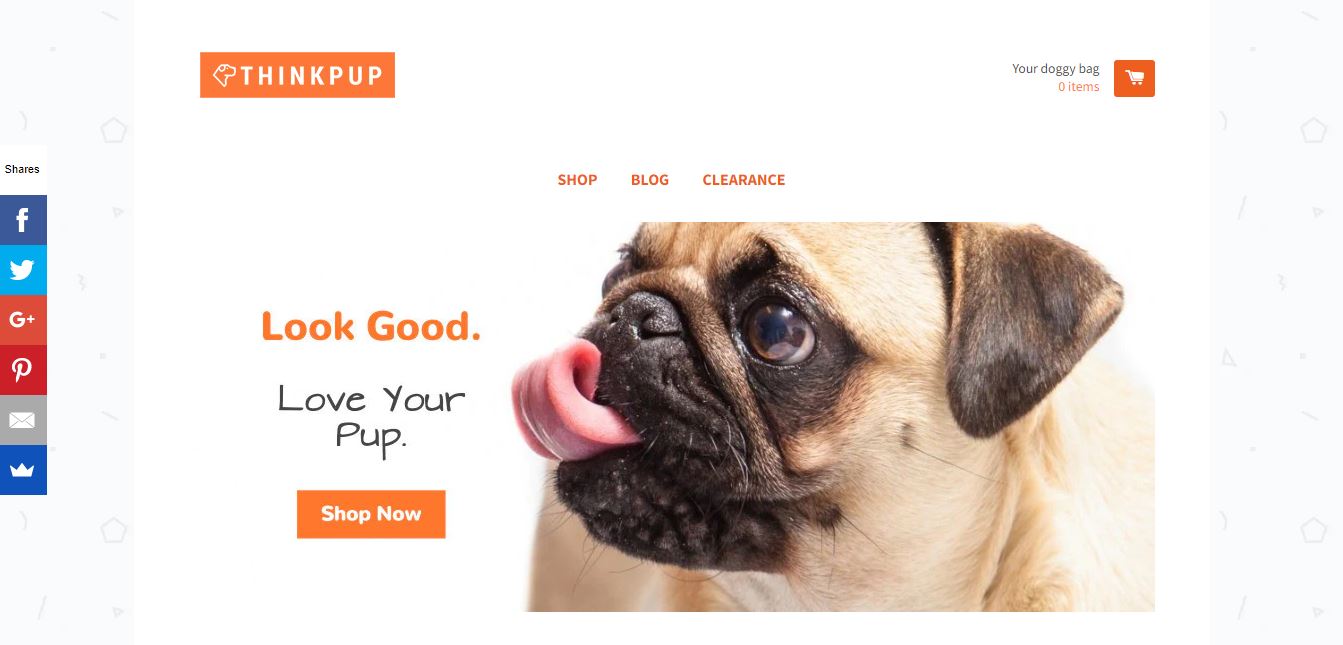 The Shopify T-shirt store gets a ton of traffic just by putting lovely puppy pictures on its Facebook. By encouraging users to use the hashtag #thinkpup in their postings, they even get users to advocate for the brand on their own initiative. It's a win-win situation since their pets are then highlighted and the brand is promoted.
The company tries to meet the desires of its customers by modifying a shirt's color or implementing a shirt concept. Their kind treatment enhances the reputation of the business and fosters consumer loyalty.
Underground Printing
On their first visit, customers must feel overwhelmed by the variety of selections. Underground Printing can meet the demands of the majority of customers thanks to its extensive selection. It explains the site's great traffic volume.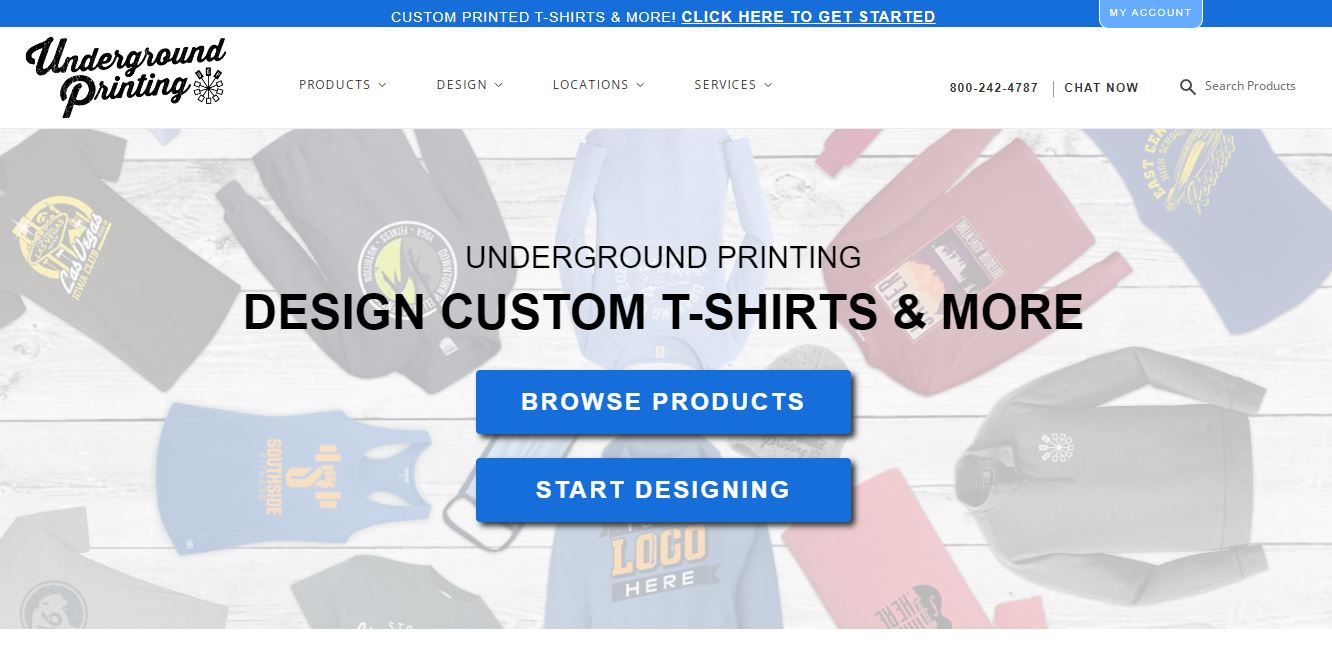 By using various forms of communication, the business demonstrates its desire to help. Customers can contact the shop's number or use the chat feature on their website to communicate with the staff.
Due to its long history, Underground Printing has been able to establish itself as one of the most successful Shopify T-shirt store examples in the market. Customers tend to favor brands with more experience in the industry when looking for a reliable one.
How to set up a Shopify T-shirt store in 5 steps
Choose a niche
Because there are so many Shopify T-shirt stores, choosing a sector is essential. This will help your shop stand out from the competition by giving it a focus and an identity.
How do I choose a niche? Think about your favorite activities. Do you have a favorite pastime or a specialized interest? Perhaps you belong to a community and have realized that there aren't many amusing or fascinating T-shirts about it. Finding an area you are interested in always helps.
Perhaps you have a good sense of humor or an eye for visually appealing designs. These qualities might assist you in developing a specialization and focusing on the type of work you wish to produce.
Create a design
Once more, it helps if you are passionate about the subject since it will assist you to come up with design concepts.
The most important thing is that the designs need to engage with the audience you want to sell them to, so put your primary attention there.
Not an artist? There are still choices available to you. Visit freelance platforms like Upwork or Freelancer, or think about visiting a community for designers like Designhill.
Alternatively, look for artists in your field on DeviantArt; you could discover one there who is open to taking on freelance work.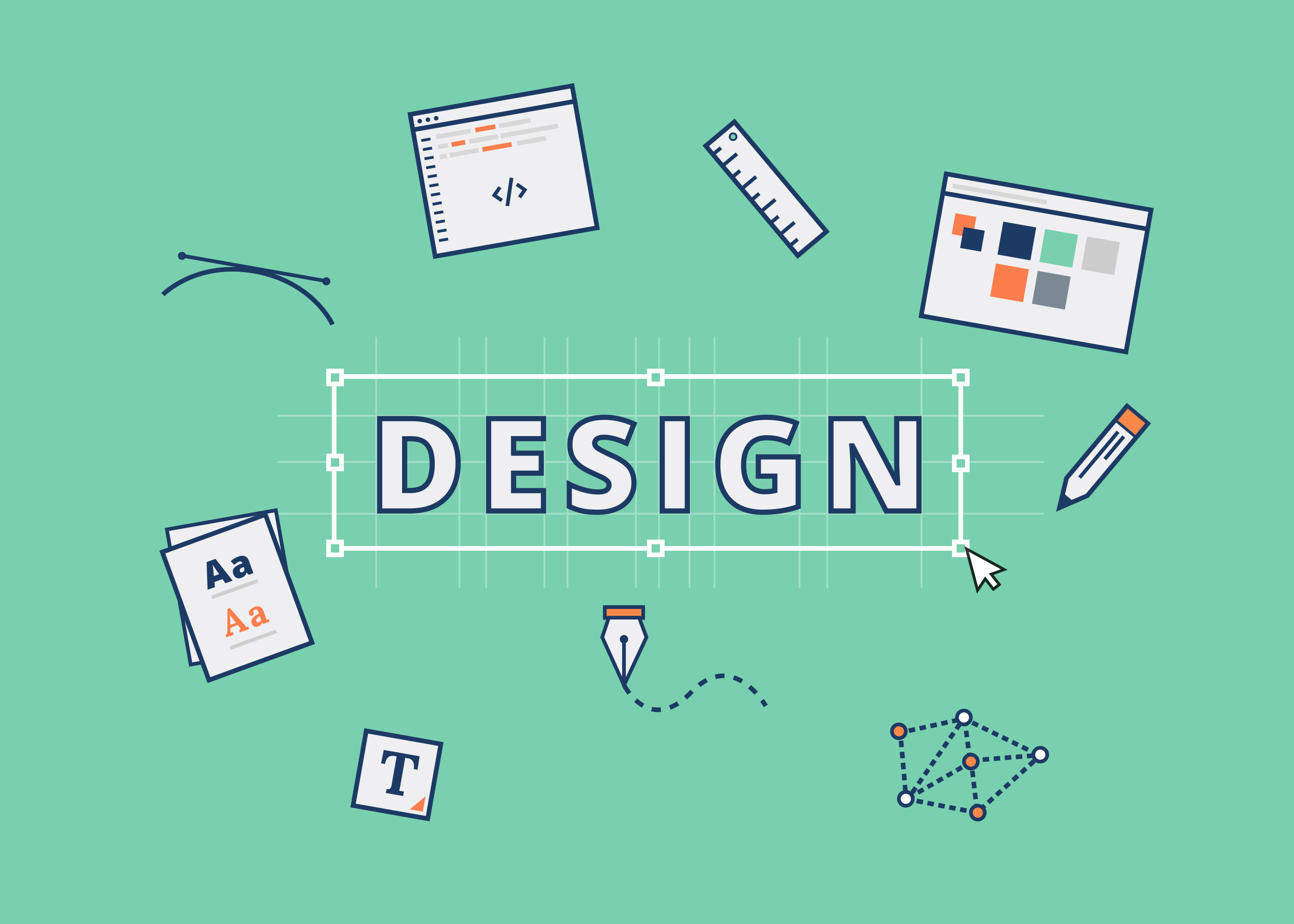 Select a printing method
The two primary options for printing are:
You may design each T-shirt yourself if you like total control. Consider heat transfer printing, direct-to-garment printing, or screen printing as a few alternatives. Each has a different overall cost and learning curve.
This is the simplest solution, particularly if you want to sell a lot of goods. You may print, package, and ship the products using print-on-demand services; many of them work well with Shopify.
Review products
It's time for some product testing. If you're employing a print-on-demand service, you'll need some examples of your goods to photograph in addition to checking their quality of construction. Wash them and see the results.
You might also want to experiment with several T-shirt fits to see which ones you like most.
Build a brand
It's time to go to Shopify! Making a Shopify website involves a few steps, but overall it's rather easy.
Social media may be used to establish a brand identity in addition to the shop itself. Due to its emphasis on visual content, Instagram is a fantastic option. A carefully designed Instagram account may provide a clear sense of the nature of your company. Look into more social media networks as well.
Designing your print-on-demand shirts
There are several approaches you can take when developing the graphic design for your shirts. Each choice has a different degree of complexity, and there are solutions even if you don't consider yourself to be creative or design-savvy.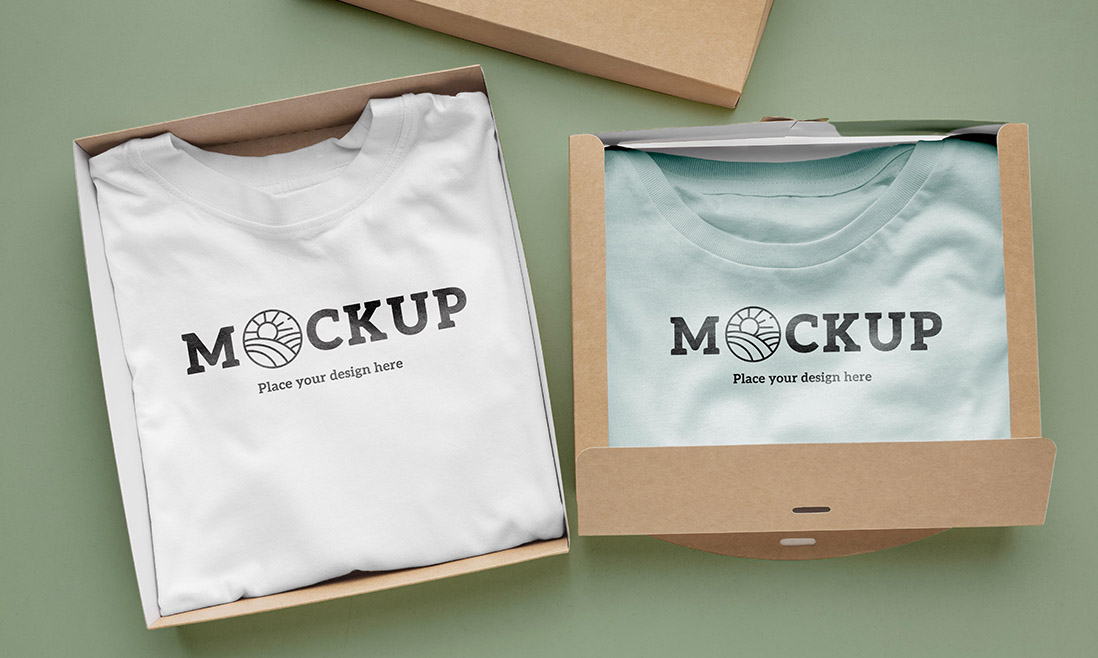 Create T-shirt designs yourself
Making your own shirt graphics is a terrific idea if you're creative. You could already be a graphic or creative artist with a specific design in mind. Alternatively, you could decide to design print-on-demand goods using the logo and other visual elements of your company.
To determine which shirts and printing techniques you want to use for your designs, use print-on-demand services. Custom T-shirts have a particular charm since they draw buyers who might wish to wear distinctive T-shirt designs that aren't available from some of the more well-known companies. Just be careful not to let the cost of producing your own designs reduce your profit margins.
Buy design templates
If you want to make it yourself but need some help, online T-shirt templates and mockups can certainly assist. Look at places like Designious, Tshirt Factory, and Creative Market for templates and design elements you can utilize in your shirts.
Hire someone
Outsourcing is a great choice for people who can't or don't want to design their own print-on-demand shirts. You may hire expert designers to make you a one-of-a-kind design to put on your shirts. Find excellent designers who can realize your concept by asking friends and family for recommendations or by visiting Shopify Experts.
In Conclusion,
If you're looking to get started with a T-shirt Shopify store, take inspiration from some of the best in the business. Brainstorm what makes your own T-shirt designs unique and how you can stand out from the crowd. Use high-quality images and product descriptions to show off your shirts in their best light.
You can also encourage customers to buy by offering discounts or free shipping. By following these tips, you'll be well on your way to building a successful Shopify T-shirt store.
If you're looking for more help building your own Shopify T-shirt store, please contact us today. With years of experience in providing Shopify development services, our team of experts can assist with product selection, shop design, and marketing.