If you're looking for some eCommerce inspiration, look no further than the top Shopify stores from big brands. These businesses have figured out what works and what doesn't when it comes to online retail, and they can teach us a lot about how to run a successful store.
In this article, we'll take a look at 20 of the best Shopify stores from well-known brands. We'll explore what makes them successful and see what we can learn from them. So without further ado, let's get started!
20 Top Shopify stores from famous international brands
1. Fashion Nova
Fashion Nova is a fast fashion retailer based in the United States. The firm is largely online, but it also has five physical locations. Fashion Nova is well-known for utilizing social media marketing, notably Instagram. Since relying on online platforms, the initial efforts of this brand might be optimizing the website. Let's take a look at their site.
What we can learn from Fashion Nova's website:
The importance of offering stylish and trendy products
Affordable pricing is key so you'd better highlight it
A well-designed website is essential
2. Victoria Beckham
Victoria Beckham is a world-renowned fashion designer, and her eponymous website is a reflection of her high-end brand. The store looks clean and simple, with a focus on the products. Therefore, we want to introduce this in our best Shopify stores list and it will be helpful if your business focuses on high-end or aesthetic products just like Victoria Beckham.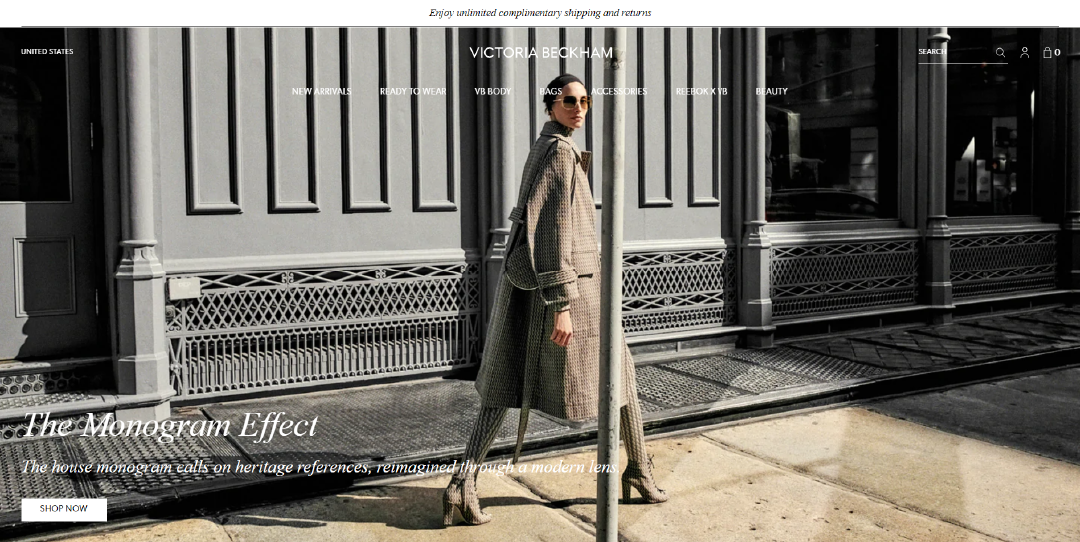 What we can learn from Victoria Beckham's website:
Less is more when it comes to design
The products should be the star of the show
Focusing on one niche is important
3. Casetify
Casetagram Limited, doing trade as Casetify, is a Hong Kong-based firm that creates phone cases and other accessories. The firm, which was founded in 2011, originally offered bespoke phone cases made from Instagram photographs. It then extended to provide variously designed accessories. One of the reasons people like Casetify is because its cases are compostable. They make their own material out of plants and bamboo that is disposable and biodegradable.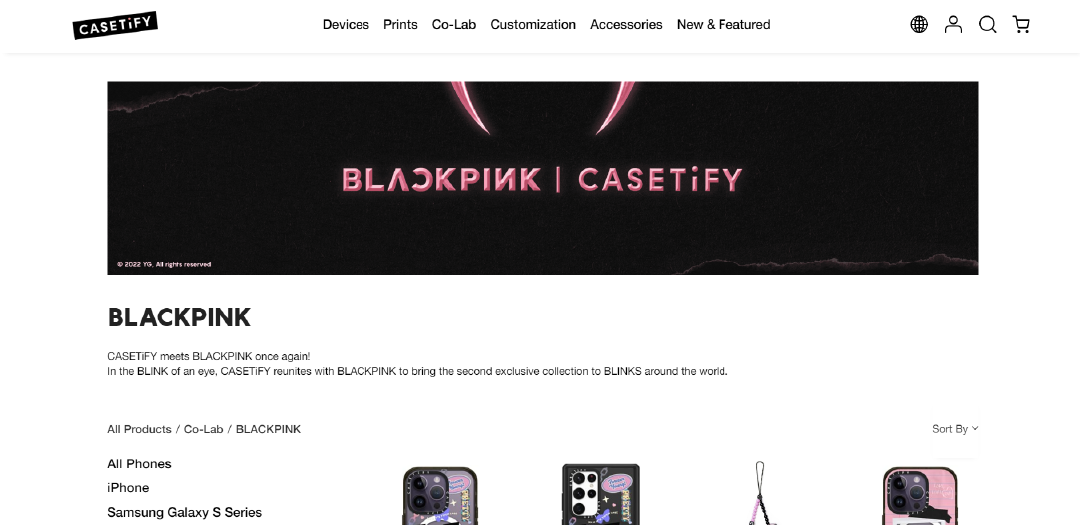 What we can learn from Casetify's website:
Offering a wide range of products is key
It's important to have something for everyone
A focus on one product category can be successful
4. Kylie Cosmetics
Kylie Jenner is a reality TV star and entrepreneur, and her cosmetics line is one of the most successful in the world. Kylie Jenner started Kylie Cosmetics, an American cosmetics firm. On November 30, 2015, the firm began offering Kylie Lip Kits, a liquid lipstick and lip liner kit. Kylie Cosmetics offers a wide range of products, from lipsticks to eyeshadows, and their website has a user-friendly structure.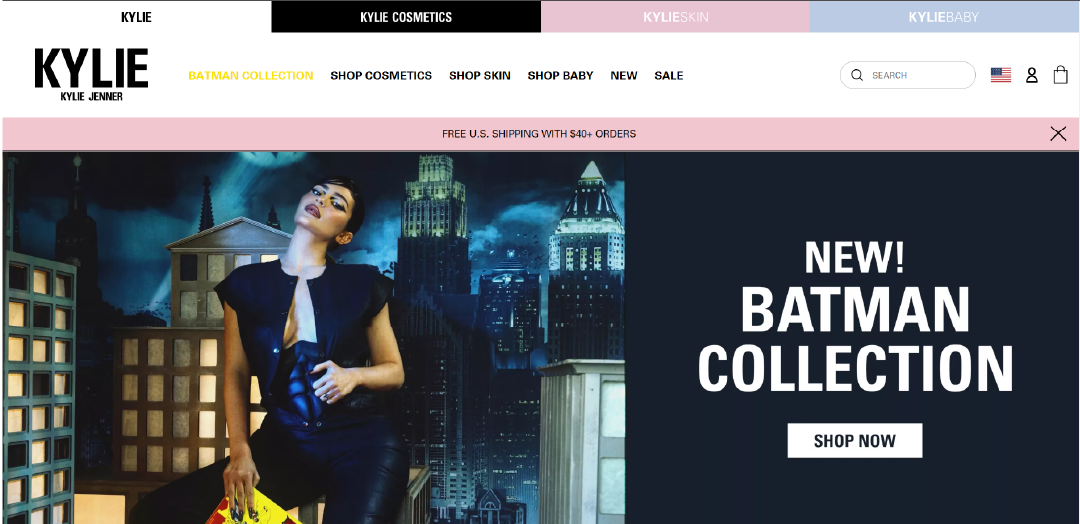 What we can learn from Kylie Cosmetics' website:
The power of celebrity endorsement
A wide range of products is important
An easy-to-use website is essential
5. Jeffree Star Cosmetics
Jeffree Star is a makeup artist, YouTuber, and entrepreneur, and his eponymous cosmetics line is one of the most popular in the world. Star claims he used his life savings to launch the company's beauty collection in 2014, beginning with three liquid lipstick colors. The firm is expected to sell $100 million every year. Jeffree Star Cosmetics online store is also a cosmetics company in this list of best Shopify stores that offers a wide range of products, from eyeshadows to lipsticks, and their website has amazing load time.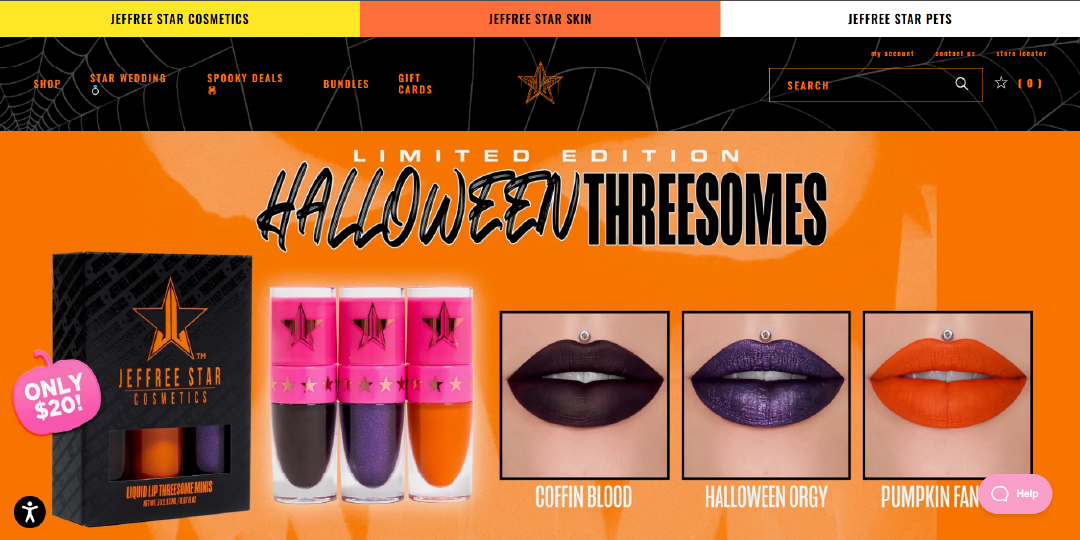 What we can learn from Jeffree Star Cosmetics's website:
The power of celebrity endorsement
Personal branding is important and it should be consistent
Theme and design should be stable across all platforms
6. ColourPop
ColourPop Cosmetics, popularly known as ColorPop, is a Los Angeles, California-based cosmetics company. Laura and John Nelson, siblings, launched the firm in 2014. ColorPop products are available online and at Ulta Beauty. They primarily manufacture goods for the eyes, lips, and face… Different from Kylie or Jeffree Star, this brand has its website designed with a similar theme to its new products, which makes its online store consistent.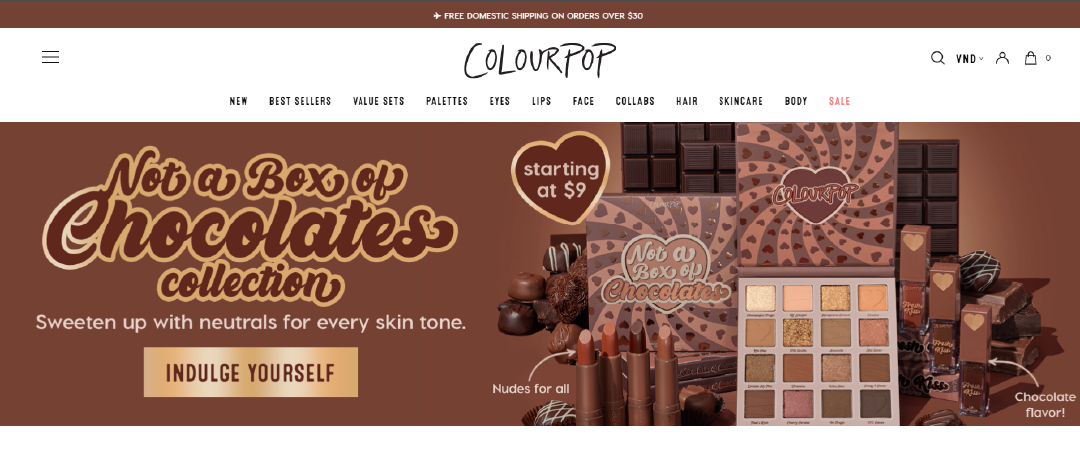 What we can learn from ColourPop's website:
The importance of offering affordable products
Visualized category
Nice product concepts
7. Decathlon
Decathlon is a family-owned firm that was created in 1976 with the concept that the greatest sports equipment should be available to everyone. This French sports product retailer is well-known for its affordable and high-quality products. Within the sports industry, the Decathlon store seems to stand out and it is a nice recommendation in our top Shopify store list for inspiring new sellers.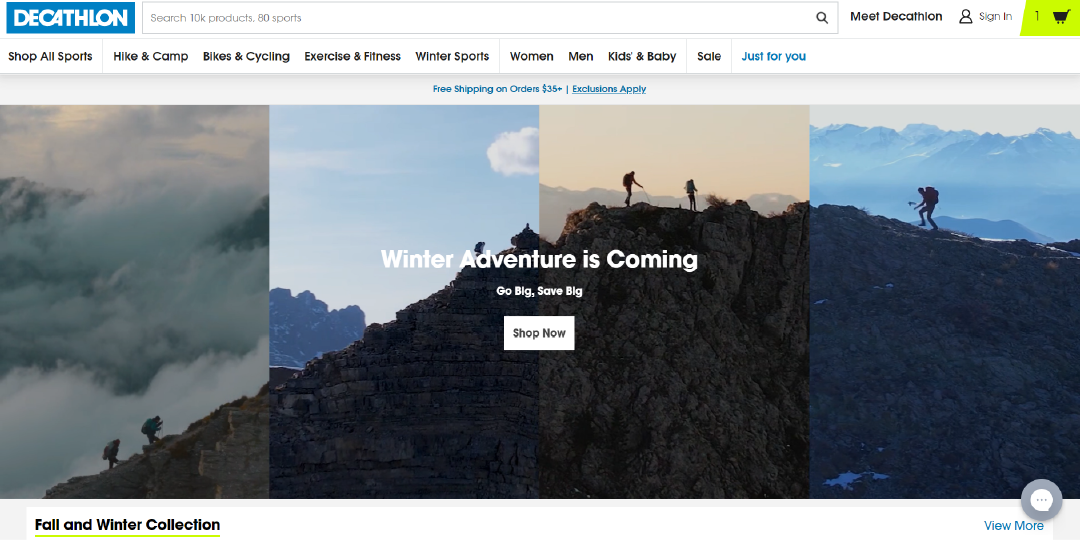 What we can learn from Decathlon's website:
Insightful categories
The use of customer reviews
A well-designed website is essential
8. GymShark
Gymshark's team can now focus solely on growing the brand and experimenting with innovative new products such as fitness apparel that can provide athletes with extra energy or next-generation wearables that may prevent injuries, thanks to Shopify. It is also a good sports store in the list of best Shopify stores.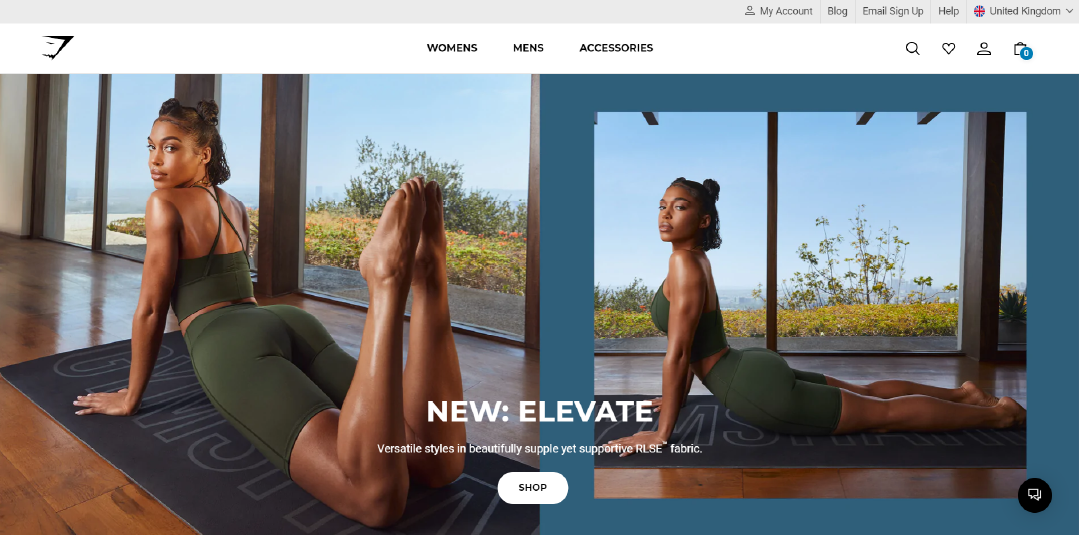 What we can learn from GymShark's website:
The importance of having an active social media presence
The use of influencers to promote products
Constant product pictures to produce the desire
9. Hiut Denim
Hiut Denim is headquartered in Cardigan, Wales, which was home to the largest jeans manufacturing in the United Kingdom until 2002. Hiut Denim was created in 2011 to capitalize on the jean-making skills and know-how that remained with many residents, demonstrate their commitment to craft, and bring production back to Cardigan. Hiut Denim focuses on details, happiness, and quality in order to make the greatest jeans, not the most jeans. All mentioned characteristics are well presented on their website, therefore this is an inspiring example among the top Shopify stores.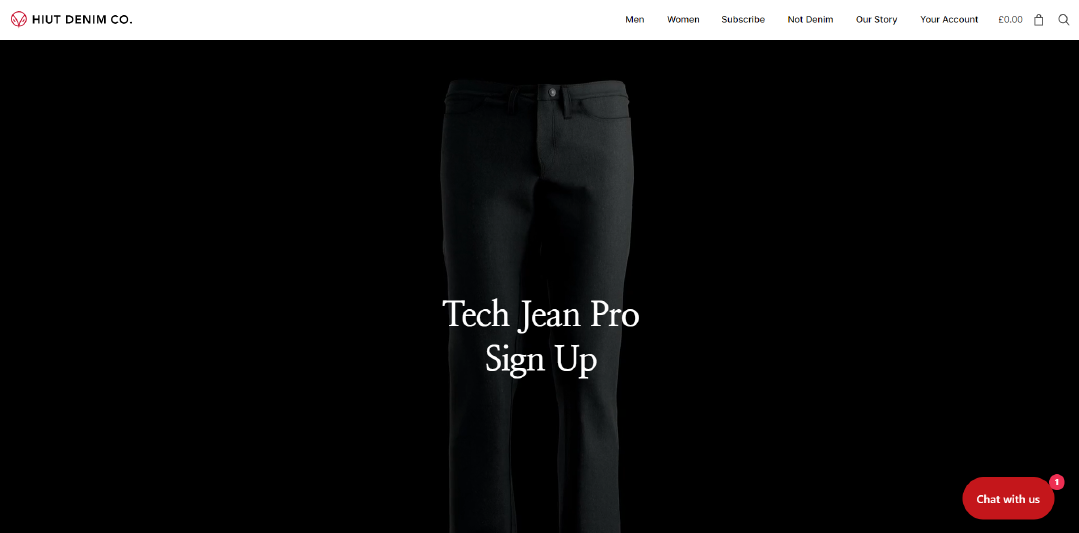 What we can learn from Hiut Denim's website:
The importance of having a clear and concise brand message
The use of sustainable materials is important
An easy-to-use website is essential
10. Cowboy
Cowboy motorcycles are manufactured in Belgium, where the company's headquarters are also based. Although Cowboy Bikes has expanded to sell across Europe (and make some of the world's most popular e-bikes), the company remains true to its roots, with operations centered in its home country. The company's initial product is a stunning motor-assisted bicycle aimed to appeal to new purchasers by offering a more attractive design, a cheaper price, and superior technology than the market is familiar with. Therefore, a dynamic and aesthetic website is a need to illustrate the brand's vision and image.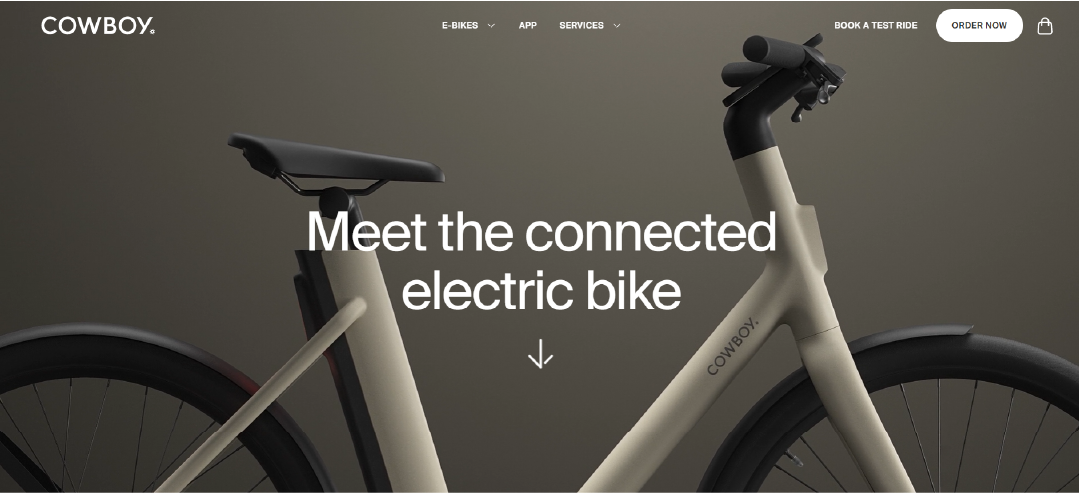 What we can learn from Cowboy's website:
UI and UX are important
The use of visuals and videos
Tech-savvy products and images
11. Partake
When Denise Woodard's daughter was diagnosed with several food allergies in 2016, she founded Partake to provide a variety of tasty, allergy-friendly foods that people with and without food restrictions may enjoy and share with confidence.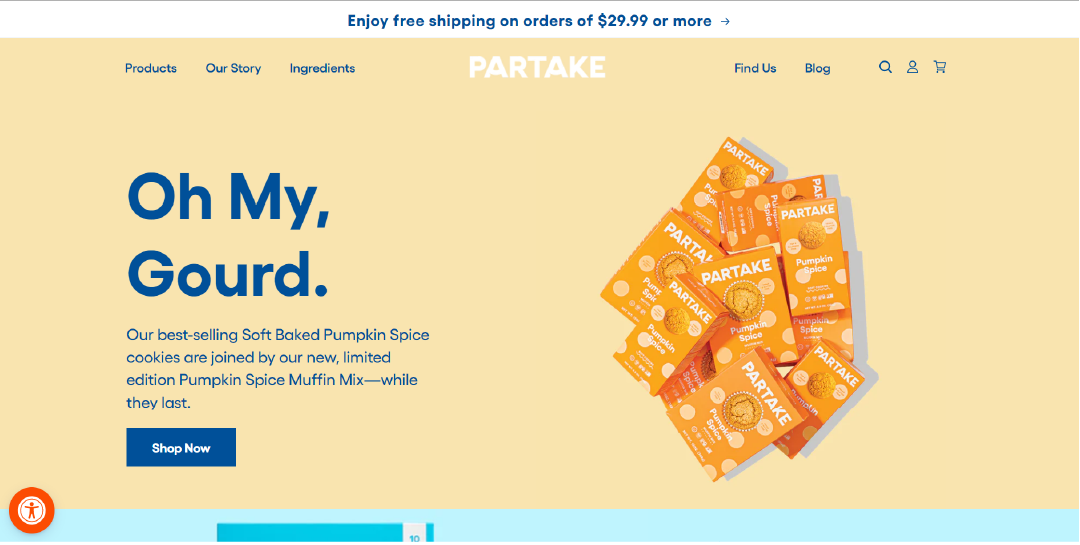 What we can learn from Partake Foods's website:
Colorful and eye-catching design
The use of allergen icons
Word puns content
12. Verve Coffee Roaster
Verve Coffee, a category designer of the West Coast Craft Coffee movement, is committed to providing the greatest quality coffee experience possible. Verve was founded on the coast of Santa Cruz, California, and now has retail locations in Los Angeles, San Francisco, Palo Alto, and Tokyo. Verve's world-class wholesale program includes many of Silicon Valley's top tech campuses, as well as some of the country's best restaurants, cafés, and grocers. Customers can enjoy Verve Coffee whenever and wherever they choose, thanks to new RTD and CPG innovations and a strong DTC channel.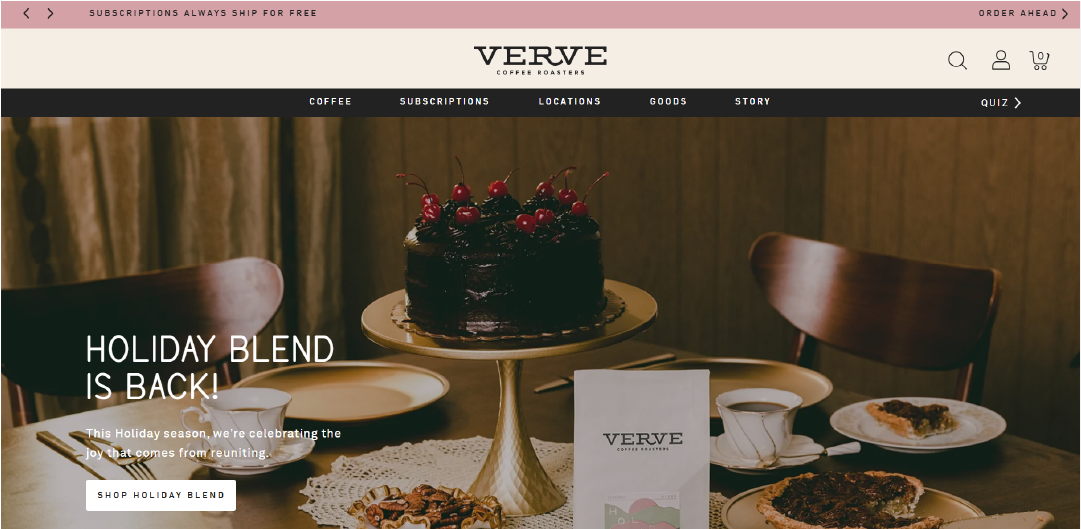 What we can learn from Verve Coffee Roaster's website:
Informative page
Storytelling is important
Interaction content
13. Taza Chocolate
Taza is all about cacao with a mission. Fundamental to its ethos is a strong dedication to ethical cocoa sourcing, developing lasting connections with its partners in a Direct Trade approach that eliminates the middleman to ensure farmers receive the best possible value. Taza takes pleasure in acquiring the best cacao in the most equitable way possible for the grower, while also making this process visible to its customers, who are invited to participate in the process from bean to bar.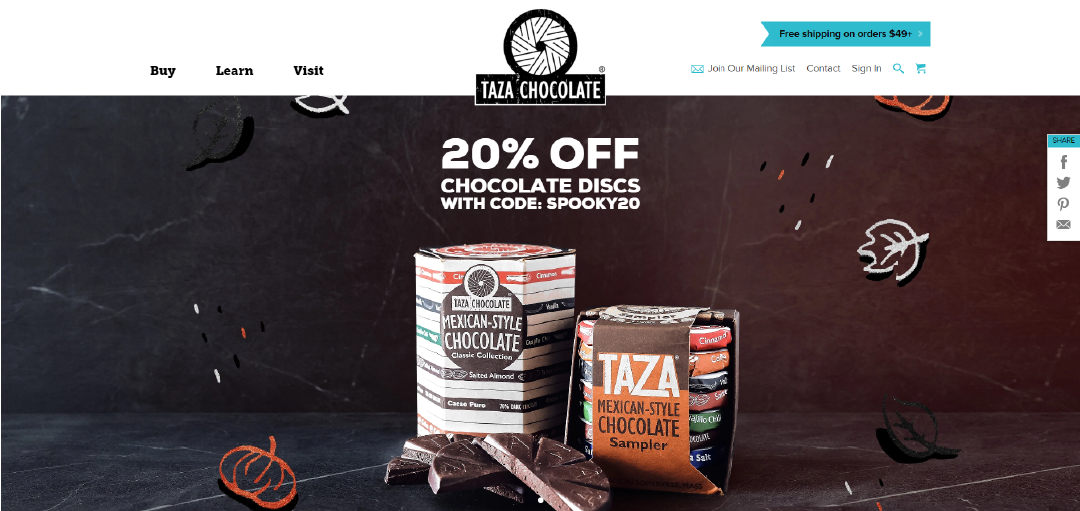 What we can learn from Taza Chocolate's website:
Value-added content is important
CSR efforts should be highlighted
The theme for special occasions
14. Package Free
Package Free Shop makes it easier to live a less wasteful lifestyle by offering sustainable alternatives for everything from toothpaste to laundry detergent to cat toys. Changing your buying habits to be more environmentally responsible might seem stressful, but there is comfort in knowing that every tiny adjustment you make contributes to a cleaner earth. Plus, there's a strong possibility you'll fall in love with a greener lifestyle—less waste to dispose of, amazing natural goods, and one-time purchases are just a few of the strengths of the brand.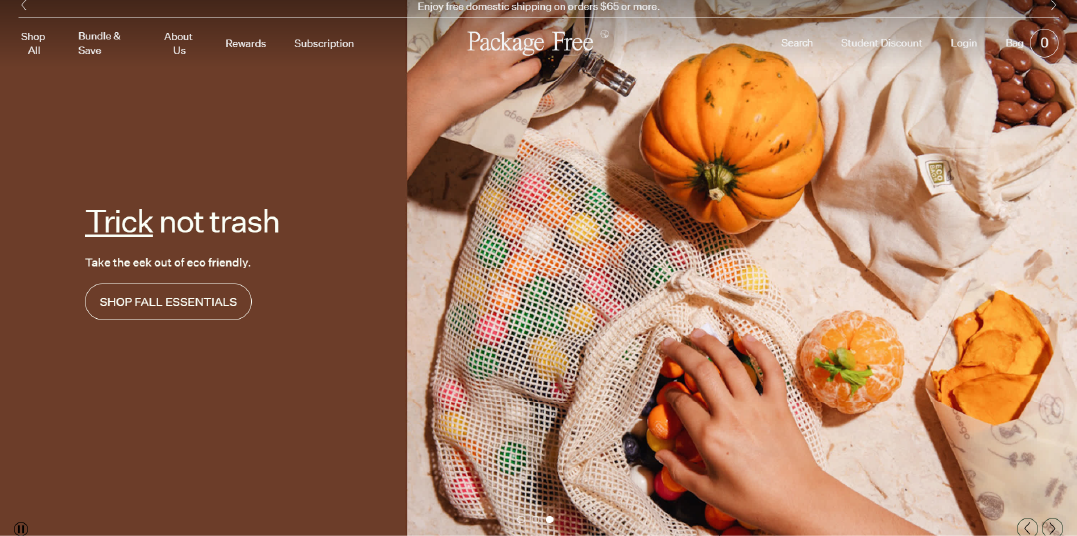 What we can learn from Package Free's website:
Sustainability is important
The use of icons and visuals
Motion graphics
15. Pipcorn Heirloom Snacks
Pipcorn is a family-owned company that creates wonderfully delicious salty treats using heirloom corn and other natural ingredients. According to the Pipcorn website, Pipcorn is a "mini" kind of popcorn. Each Pipcorn kernel is roughly half the size of a regular popcorn kernel.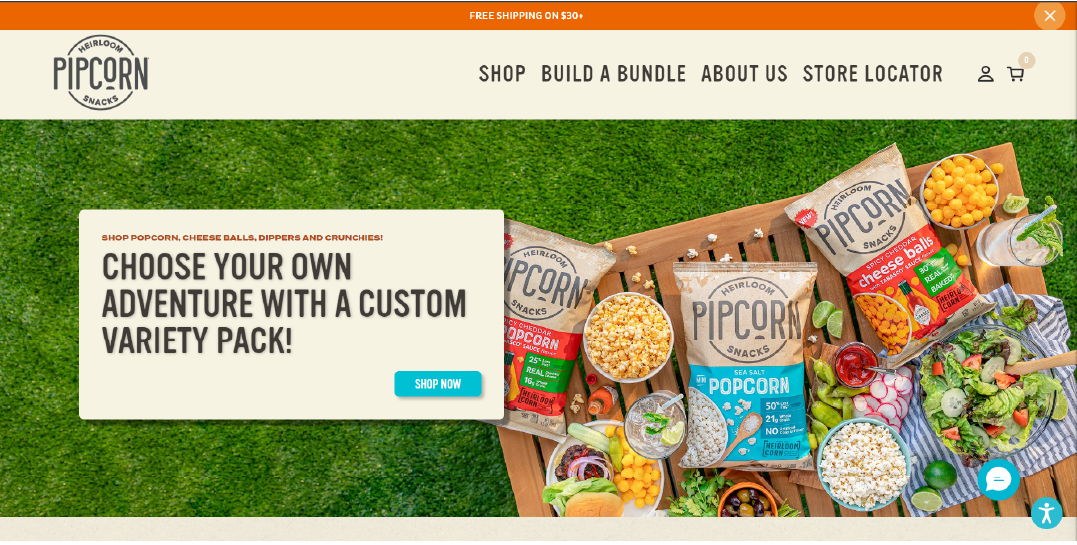 What we can learn from Pipcorn Heirloom Snacks's website:
The importance of a strong social media presence
Fun and creative content are key
16. Naja Co
This operator of an online eCommerce platform for selling women's lingerie is famous worldwide. Naja sells lingerie made from eco-friendly fabrics produced from recycled plastic bottles, allowing women to feel comfortable and empowered. If you are interested in niche fashion, it might be the best Shopify stores example for you.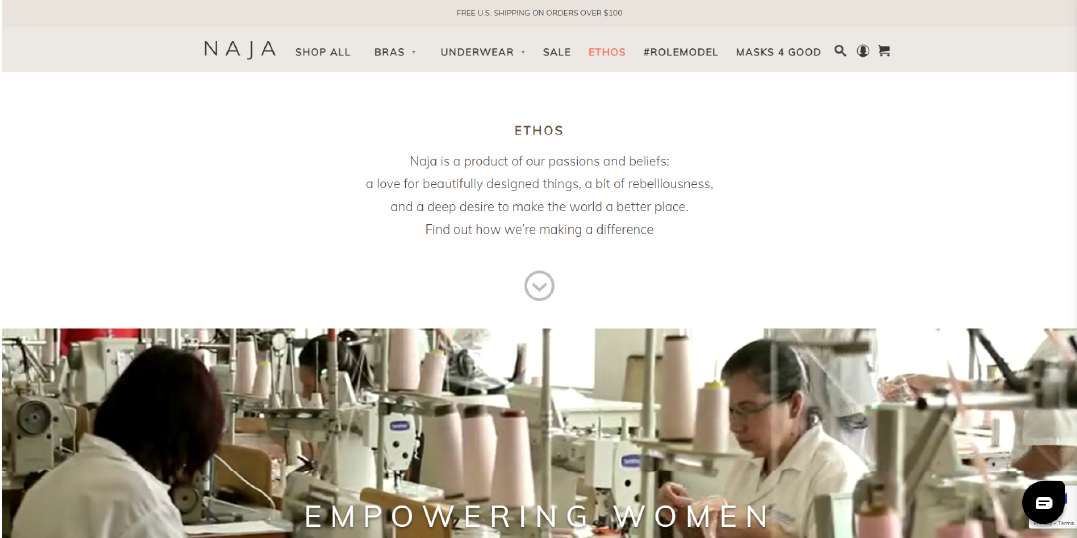 What we can learn from Naja's website:
The use of models of all shapes and sizes
Gorgeous product photography
Eco-consciousness is a strong point
17. SKKN By Kim
Kim Kardashian has dabbled in almost every aspect of beauty and fashion. It's no wonder, therefore, that she's finally put her own stamp on skincare. SKKN BY KIM, the mogul's eponymous skincare line, was revealed in early June, and the long-awaited collection is now here. The line includes several wonderful items with buzzy ingredients and really appealing packaging.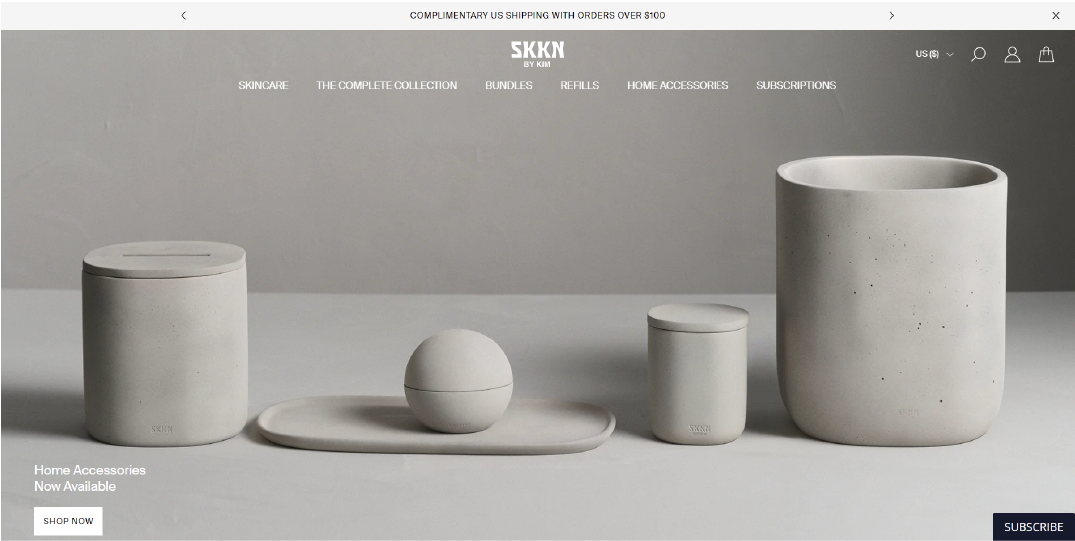 What we can learn from SKKN By Kim's website:
The use of a clean and simple design
The importance of using high-quality images
Informative product descriptions
18. Taylor Stitch
Taylor Stitch is a men's lifestyle brand based in San Francisco, California. They make sustainably constructed basics that look and work just as well in the city as they do in the great outdoors. They've made it their goal to question how the clothes business functions.
What we can learn from Taylor Stitch's website:
Unique product names
The use of positive customer reviews
Focuses on a few key products
19. Heinz
Heinz is a food company that's become popular for its ketchup and other condiments. Heinz's online store displays a lot of products such as ketchup to mustard. Moreover, their images for those products look stunning so it will be more likely to attract buyers.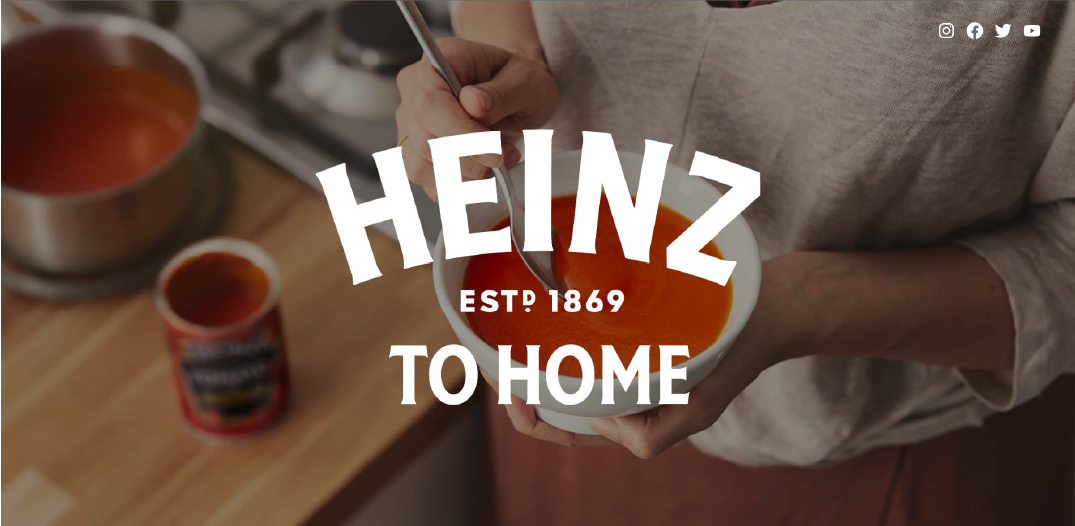 What we can learn from Heinz's website:
The use of visuals
The importance of a strong social media presence
Fun and creative content are key
20. Allbirds
Allbirds is a shoe company that's become popular for its sustainable and comfortable shoes. This brand is last but not least in our list of top Shopify stores, with a nice responsive design, it might be a good example for you.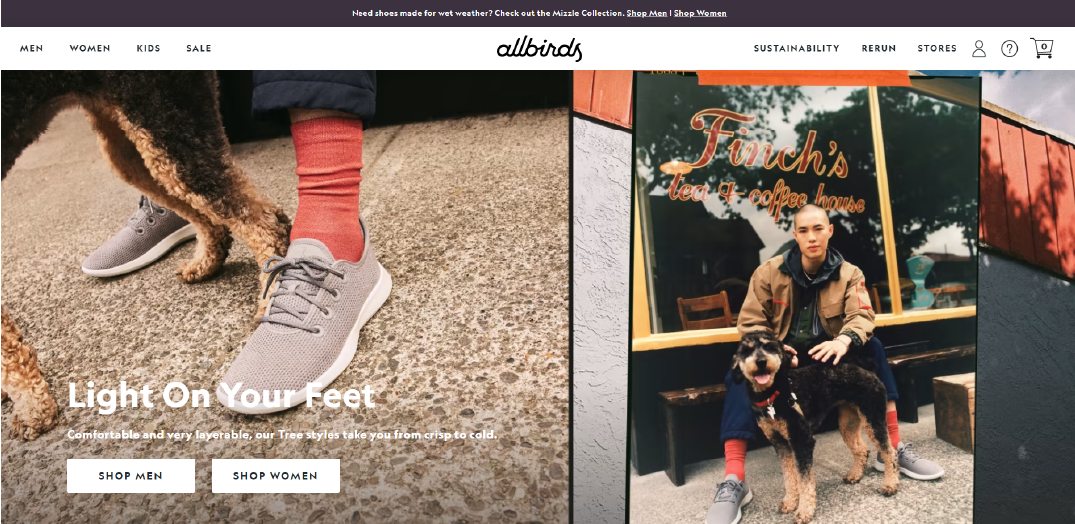 What we can learn from the Allbirds website:
Famous brand collaborations
The use of creative visuals
Compelling product descriptions
Wrap up on the list of 20 top Shopify stores
There you have it! 20 top Shopify stores from big brands to inspire your own eCommerce business. Take what you like from each of these sites and use it to create a store that's unique to you. If you need help creating stores similar to one of those on the list, our Shopify expert team is more than glad to help. Just drop us a message and we'll be with you in no time.