If you're looking for some inspiration for your own beauty store on Shopify, look no further! In this blog, we will mention over 10 of the best Shopify beauty stores out there. These stores are doing an amazing job at creating a beautiful and user-friendly shopping experience for their customers.
We'll take a look at their design, product selection, and overall branding to see what makes them so successful. So if you're in need of some inspiration, be sure to check out these amazing stores!
10+ Of The Best Shopify Beauty Stores
Lumin
Lumin is a newcomer to the men's skincare market. The firm, which was founded in 2018 with an emphasis on skin care subscriptions, has grown rapidly.
Their branding is elegant and gorgeous, with mint green and matte black accents. The parent business that owns Lumin is expanding into various men's care products, such as the Meridian Trimmer.
What is certain is that Lumin is allowing men to create a wonderful morning routine and care for themselves in ways that did not seem possible even a decade ago.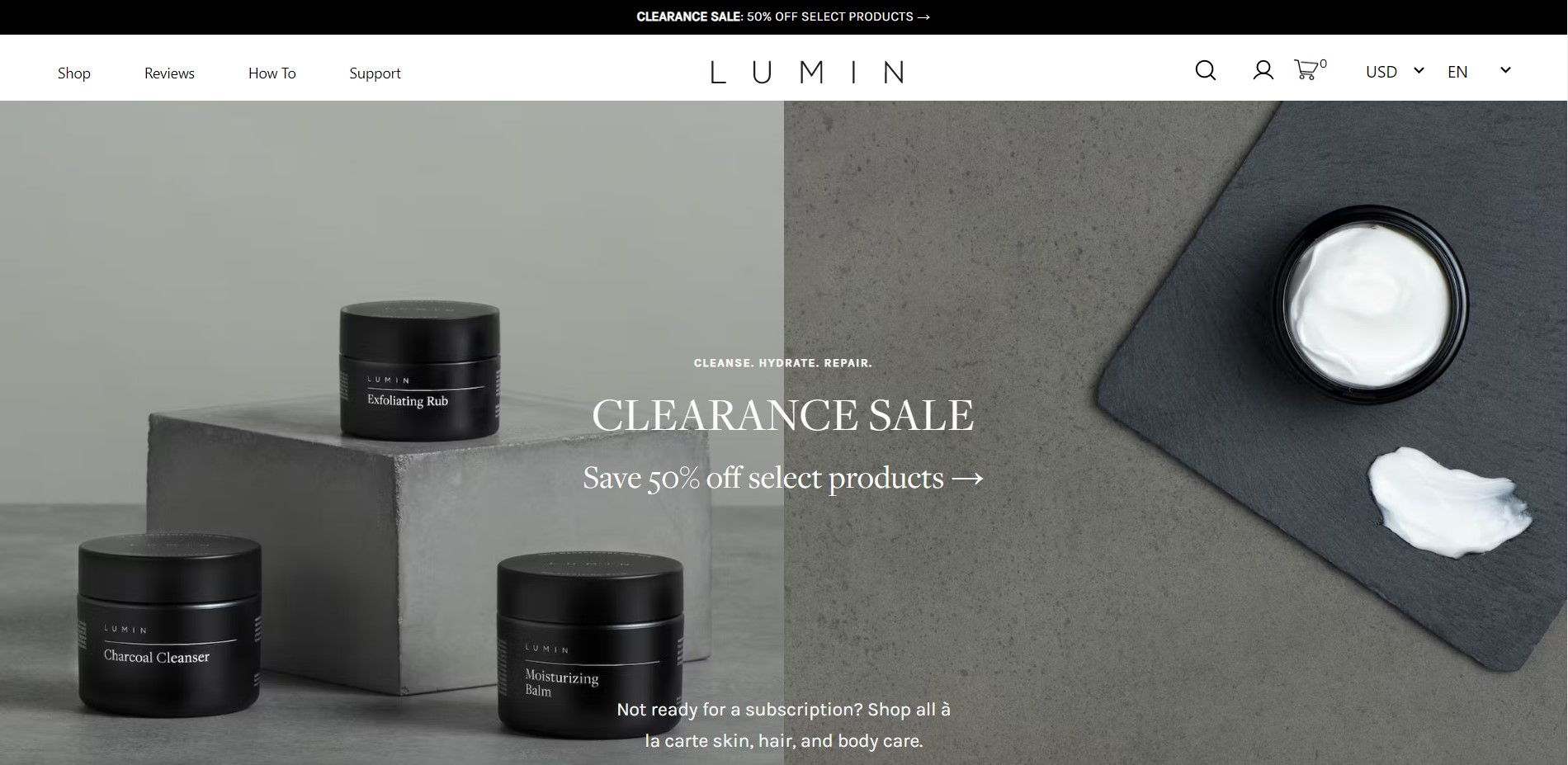 If you're looking for a Shopify store that has an amazing website design, Lumin is definitely one to check out. Their homepage is simple but elegant, and their product pages are beautifully designed and easy to navigate. They have a great selection of products, and their branding is fresh and modern. Overall, Lumin is doing an excellent job of creating a beautiful shopping experience for its customers.
Fenty Beauty
Fenty Beauty by Rihanna is one of the decade's fastest-growing beauty and cosmetics firms, with a worth of more than $2.8 billion. It is one of the top Shopify stores, with over 1.3 million website visits in February 2022 alone.
Let's take inspiration from Fenty Beauty's Shopify store design and discuss some of their design tactics that make their online store more user-friendly.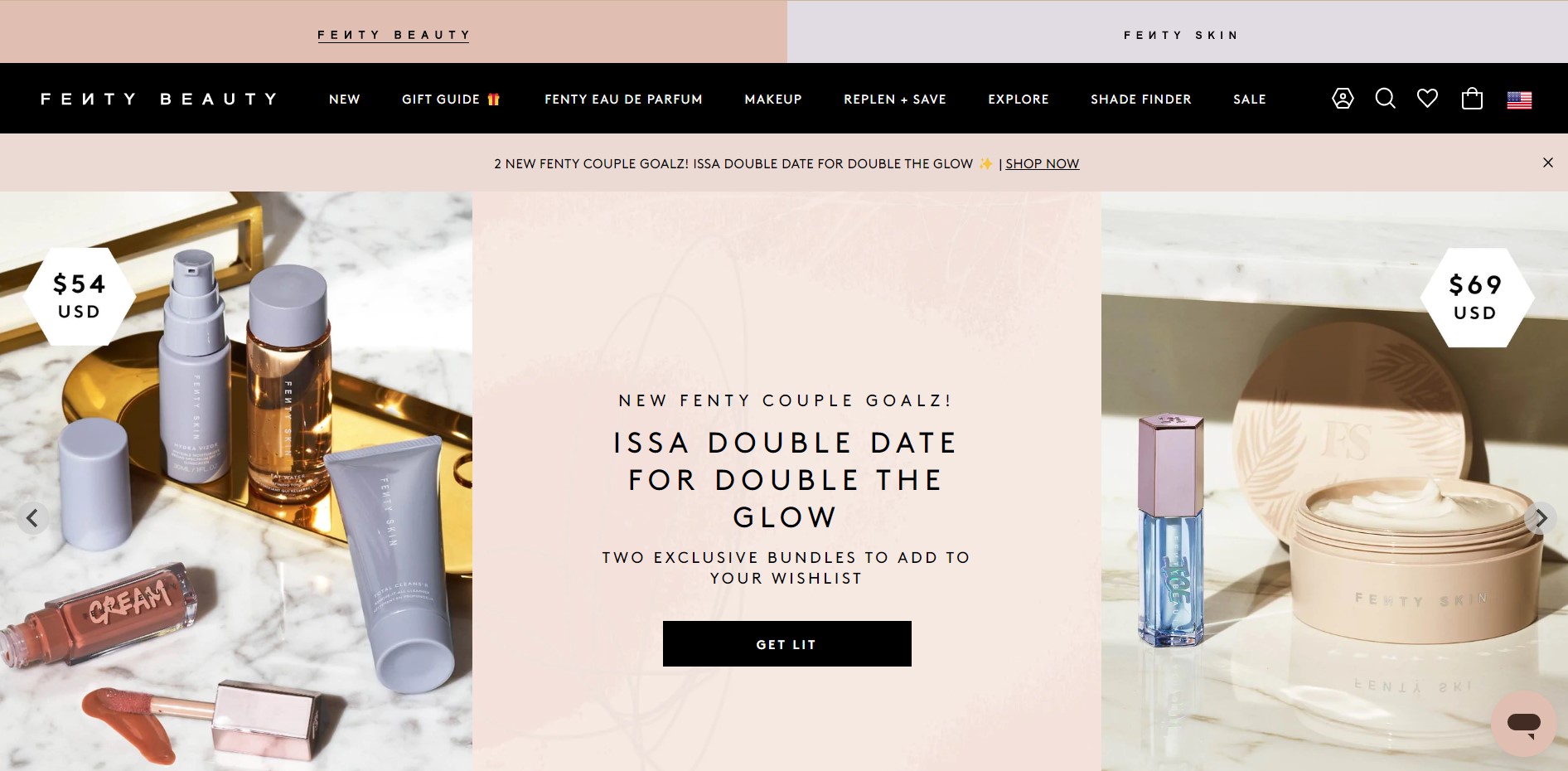 Fenty Beauty utilizes visuals that are sharp, strong, and clear. Take note of how they have showcased both the merchandise and Rihanna's face here. They have also deliberately used this area to bring a website user's attention to the new collection. It is difficult to overlook if it is placed in the middle with a large and obvious CTA button. This is a great method to entice your consumers to try out a new product or collection and thereby enhance conversions.
Morphe
Morphe, which was founded in 2008, is an innovative multinational cosmetic shop that has mastered the art of influencer marketing in order to develop its business. They've reached millions of clients through collaborations with prominent online celebrities like James Charles, Jaclyn Hill, Bretman Rock, Charli, and Dixie D'Amelio, leaving a lasting impression on the millennial generation.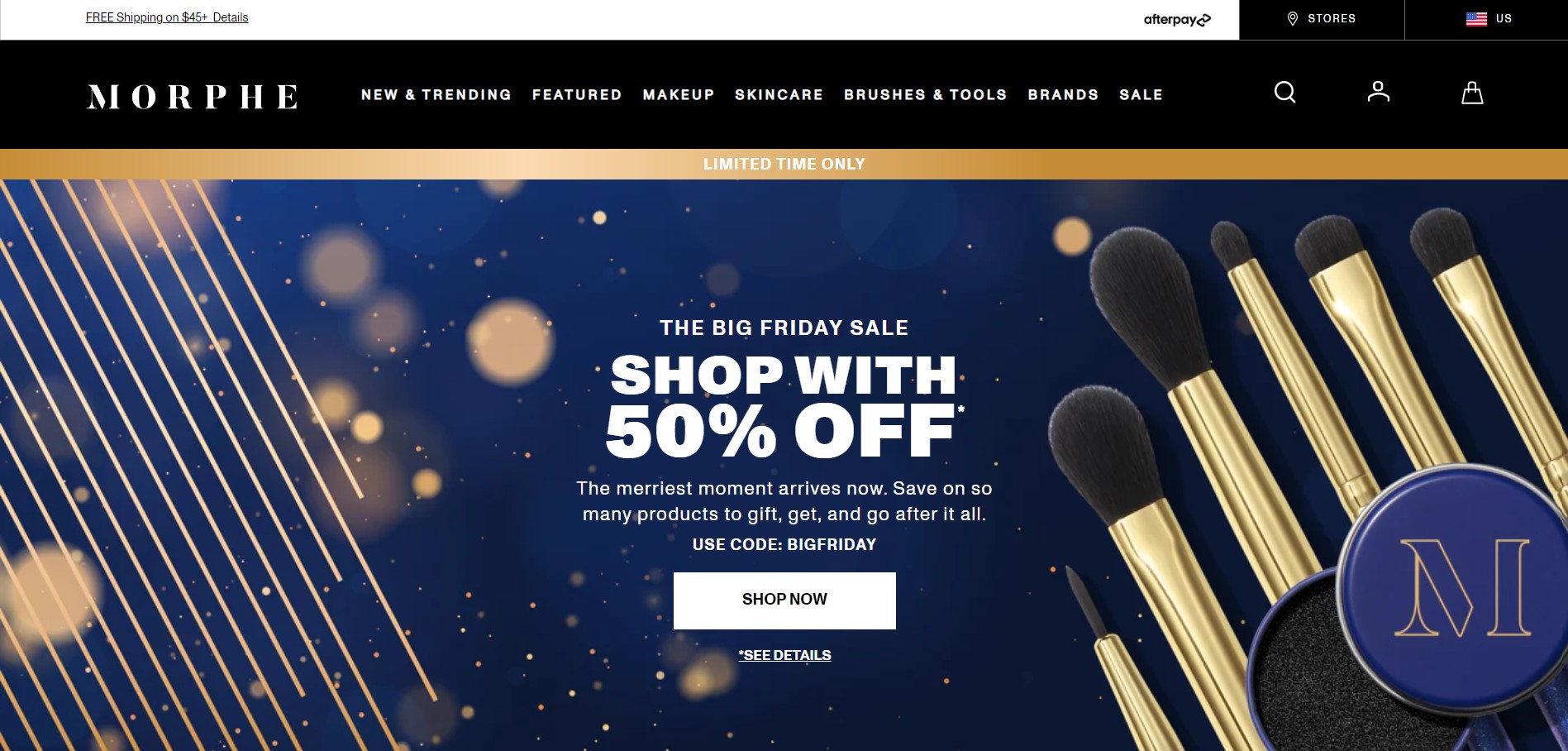 Morphe recognized a tremendous potential to expand its social reach by merging YouTube videos with almost 10 million views into its Shopify store. Morphe has elevated its website with shoppable video content, which has increased engagement and sales of its professional quality cosmetic items.
Morphe is yet another wonderful example of a Shopify beauty business with an outstanding website design. Look at their website, you will see stunning products photo and its makeup products are really making art pieces.
ColourPop
ColourPop Cosmetics is only two years old, but the Los Angeles-based beauty business "for stylish kids" already has nearly 2 million Instagram followers. Laura and John Nelson founded the popular brand with 31 eyeshadow tones for $5 apiece, and the line has now expanded to include eye and lip liners, cheek colors, and their best-seller, Ultra Matte Lips (Tulle sells out the quickest). Taylor Swift, Meghan Trainor, Taraji P. Henson, and Kristen Stewart have all been spotted using cult-famous lip colors, and let's not forget the time another Insta-famous beauty business released a similarly popular product.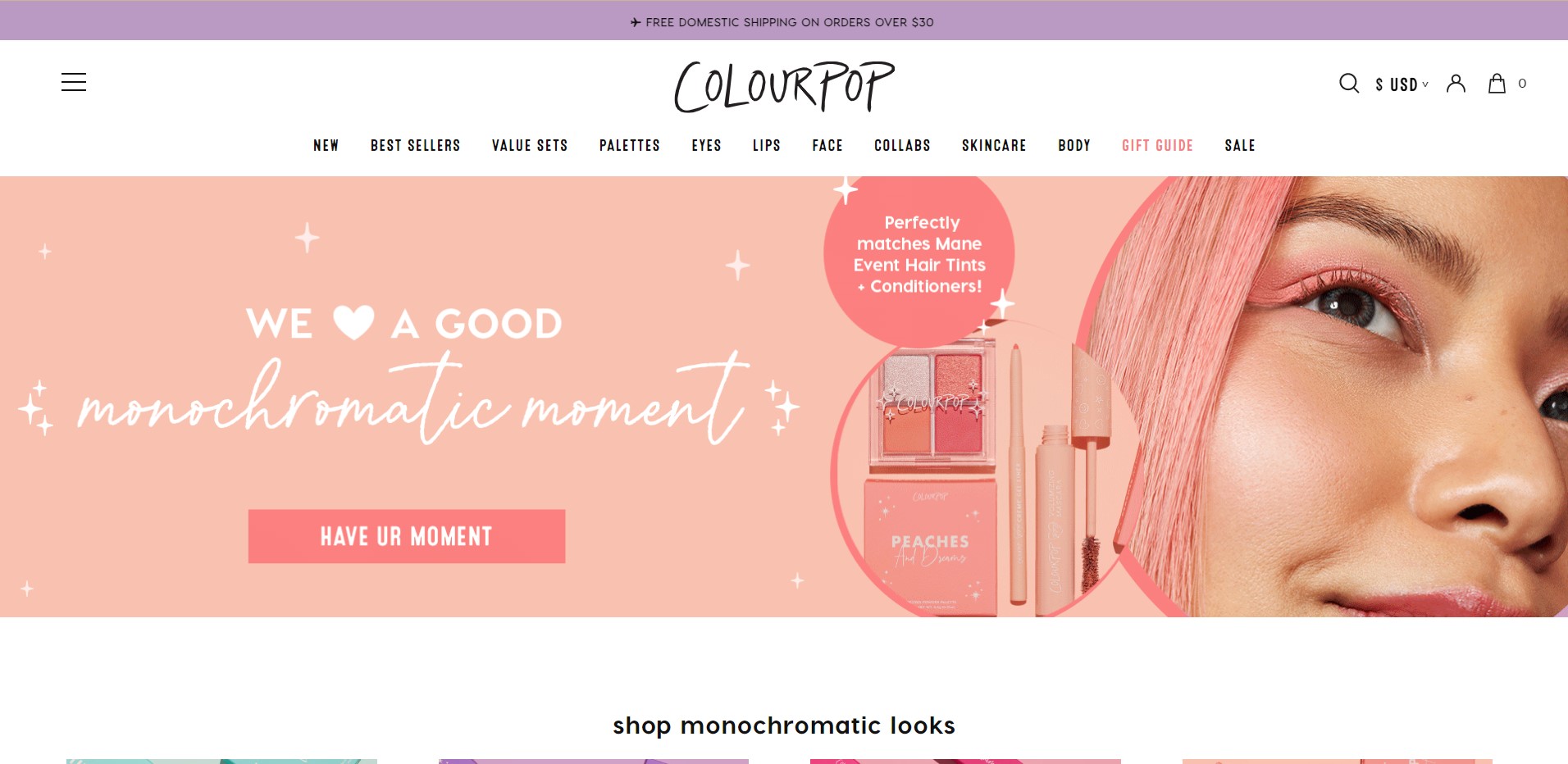 As their name, their online store is amazingly colorful and sweet. All items and categories are displayed very well with high-quality images. Another successful factor that this brand uses to improve their store is collaboration, they especially show their collaboration products with Harry Potter on their site with banners and a CTA button.
Snif
Snif is an online platform that allows people to buy scents. It is a specialist in cosmetics, consumer products, and eCommerce. Snif was created in 2020 and is based in New York, New York.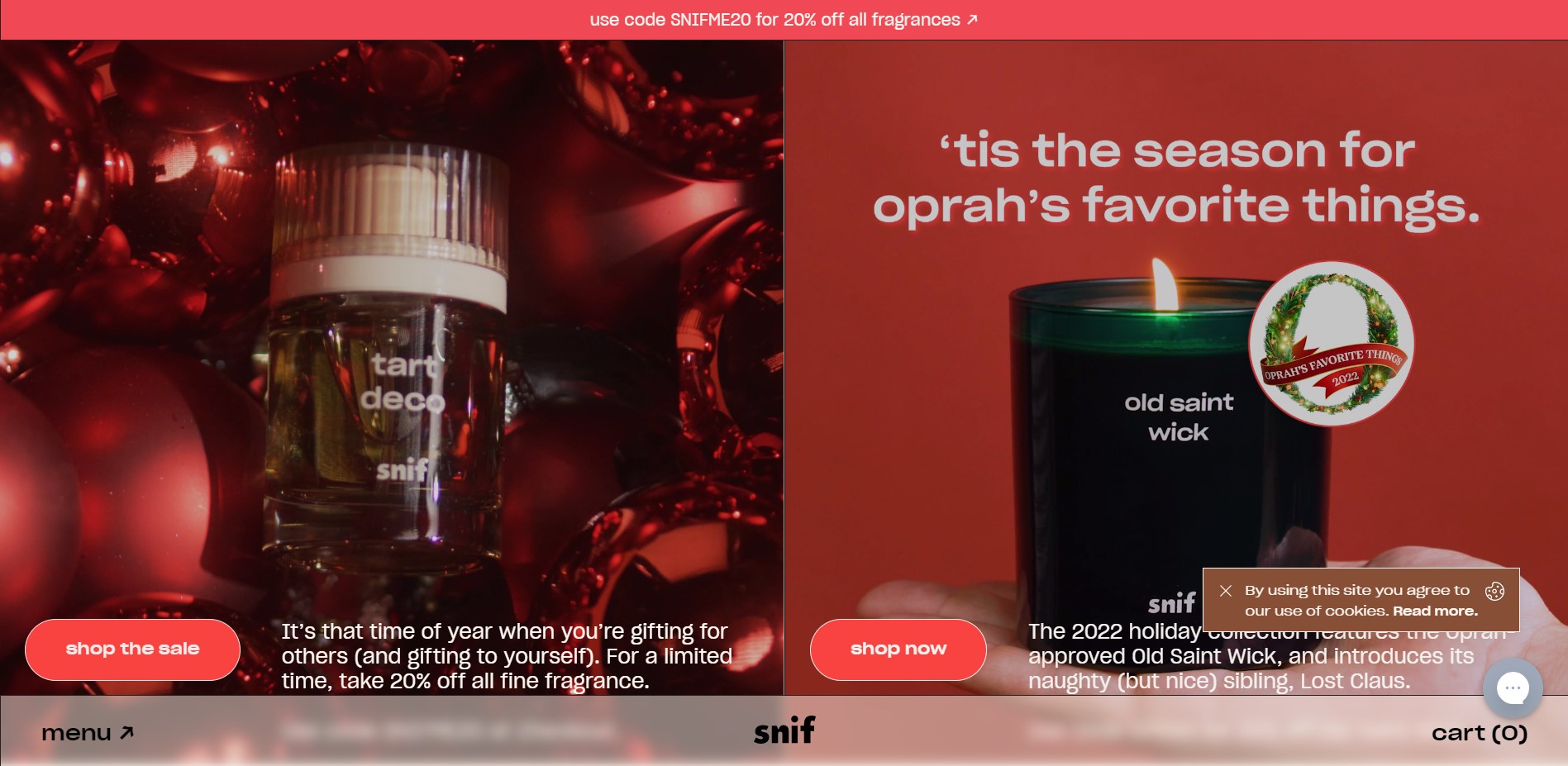 Snif's website is such an outstanding online store as they focus on young segments. At the first glance, they want to make sure customers will see gorgeous pictures and videos of their products, which bring great advantages of visual aid. Next, the benefits offered are also mentioned. Therefore, customers will not miss this opportunity to place an order with the discount.
Winky Lux
Winky Lux is a cosmetics company that was founded in 2014 by Natalie Mackey. The company has become well-known for its high-quality and luxurious makeup products. Their products are sold in over 1,000 stores worldwide, and they continue to grow in popularity every day. Winky Lux is dedicated to creating beautiful and user-friendly makeup products that its customers will love.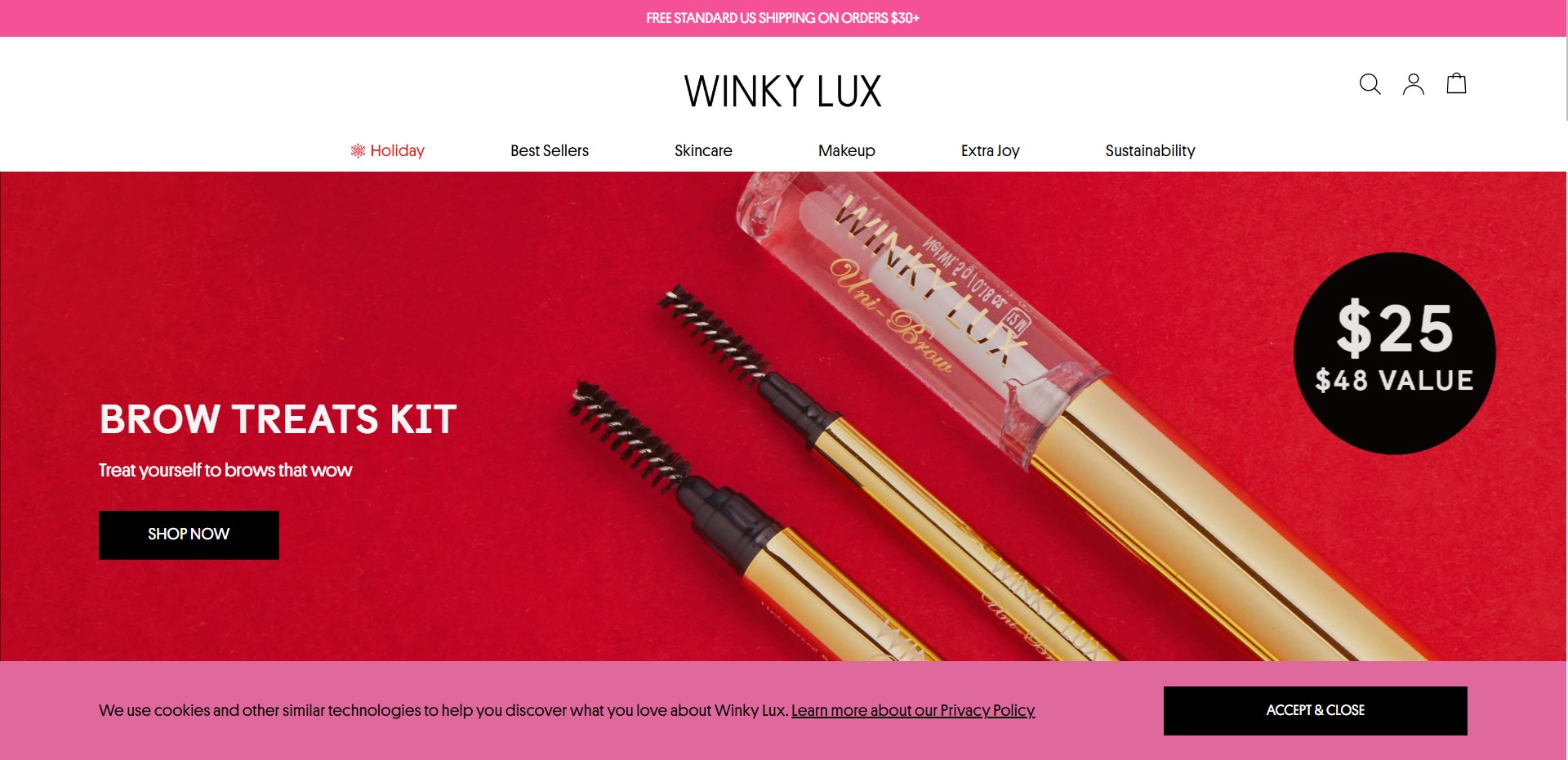 Winky Lux, purveyors of premium color cosmetics and makeup inspired by magic, brings the best ingredients to women at a reasonable price.
The Detox Market
The Detox Market began as a pop-up shop on Venice's Abbot Kinney Boulevard. That was in 2010, when the notion of clean beauty was new and many consumers were unaware of the ingredients or environmental impact of their personal care products.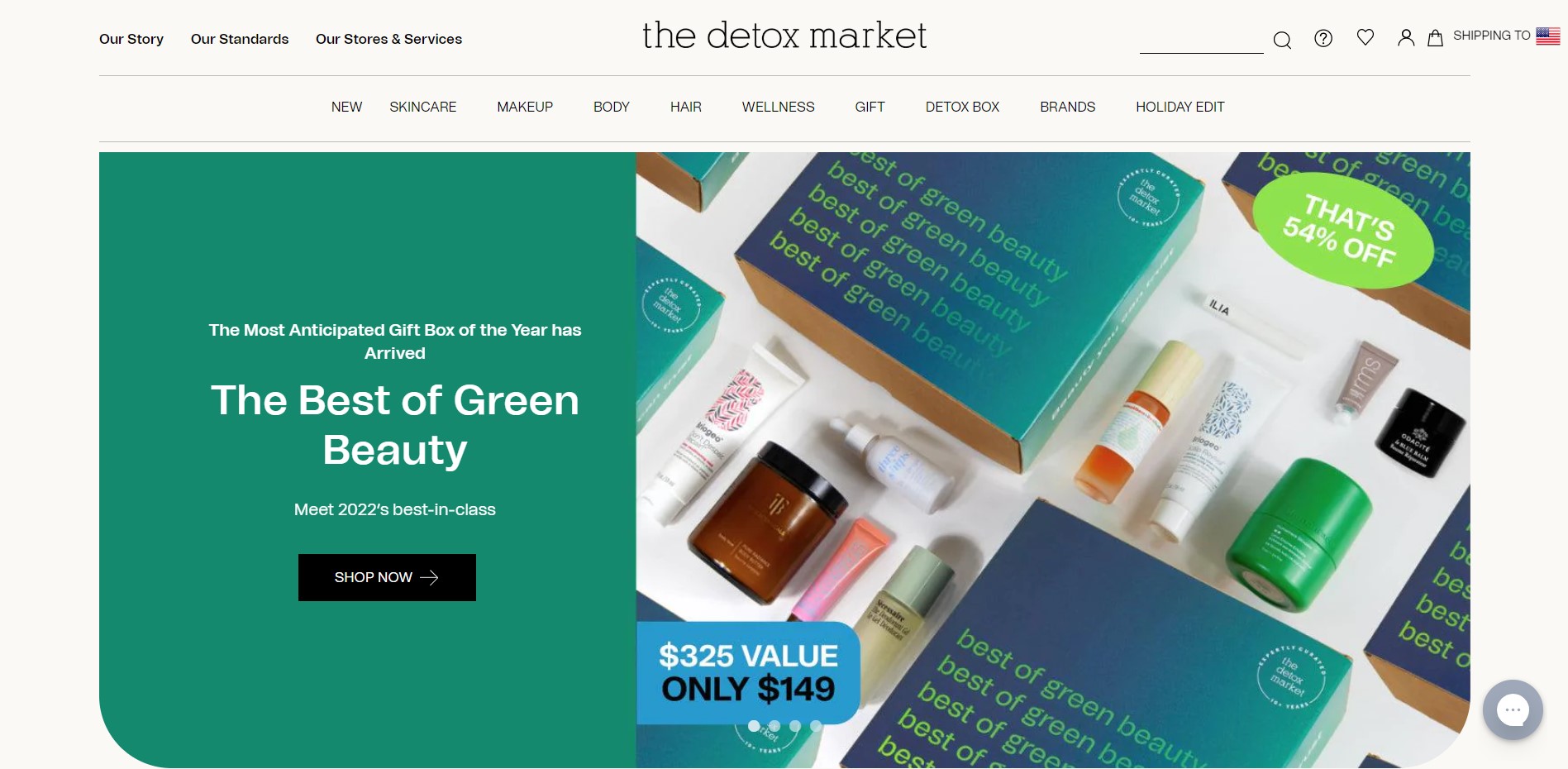 When seeking high-quality organic cosmetics, the Detox Market is a wonderful alternative. The company is dedicated to green beauty concepts, using only natural materials and solutions that are cruelty-free. The website of the Detox Market is a fantastic example of design simplicity, clarity, and intuitiveness.
Cake Cosmetics
Cake Cosmetics, established in Canada, is one of the greatest Shopify beauty sites. The cosmetic products they sell are not tested on animals and follow all fundamental environmental standards. There is a wide range of natural cosmetics for women, including hair, body, and skincare products. The website is user-friendly and has a fast internal search to quickly locate the necessary items.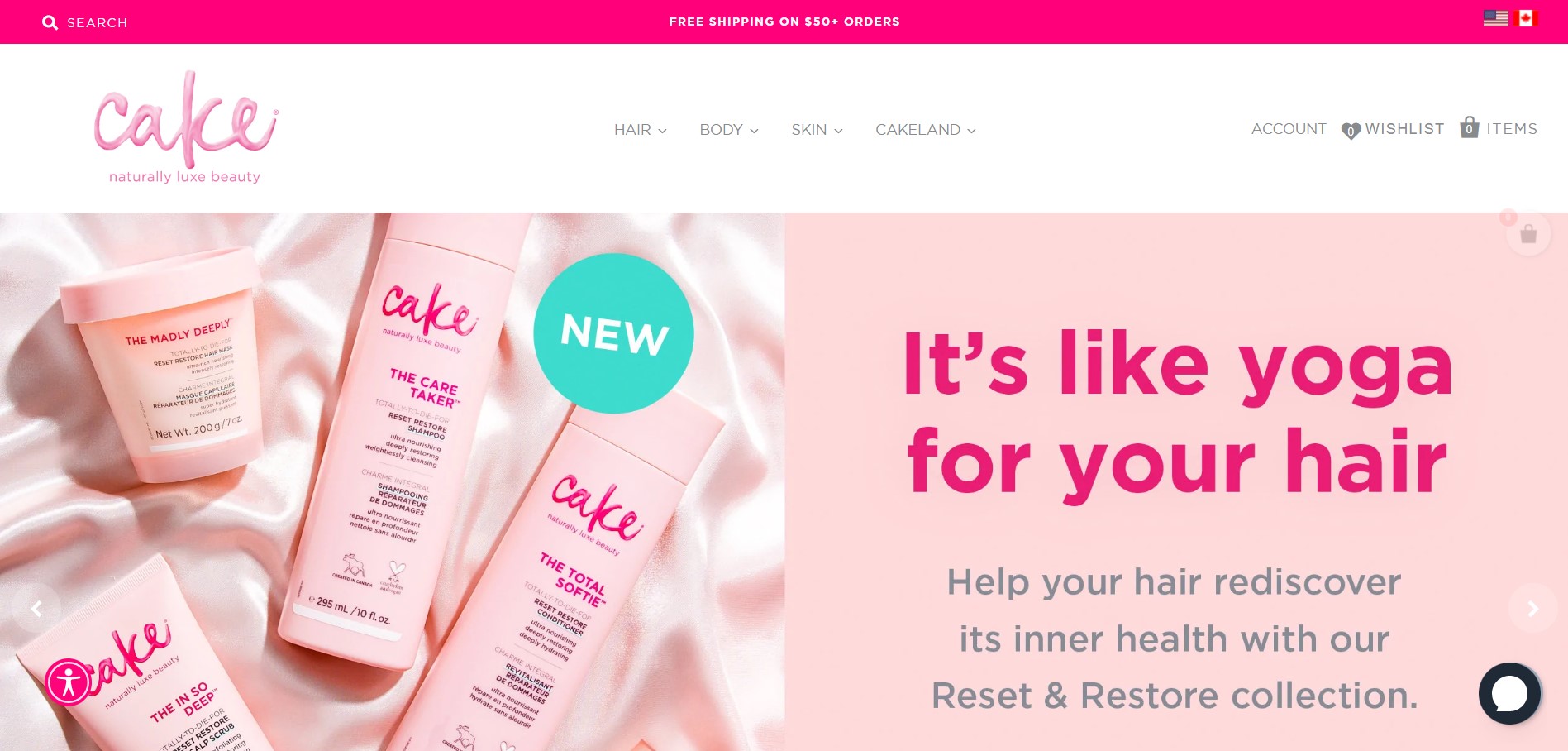 Klur
Lesley Thornton, Klur's founder, esthetician, and formulator had the vision to develop a brand that embraced the principles of clean, ethical, and inclusive beauty. An independent, self-funded, woman-owned and run business that prioritizes sustainability. These products were designed for people of different skin kinds, conditions, and ethnicities.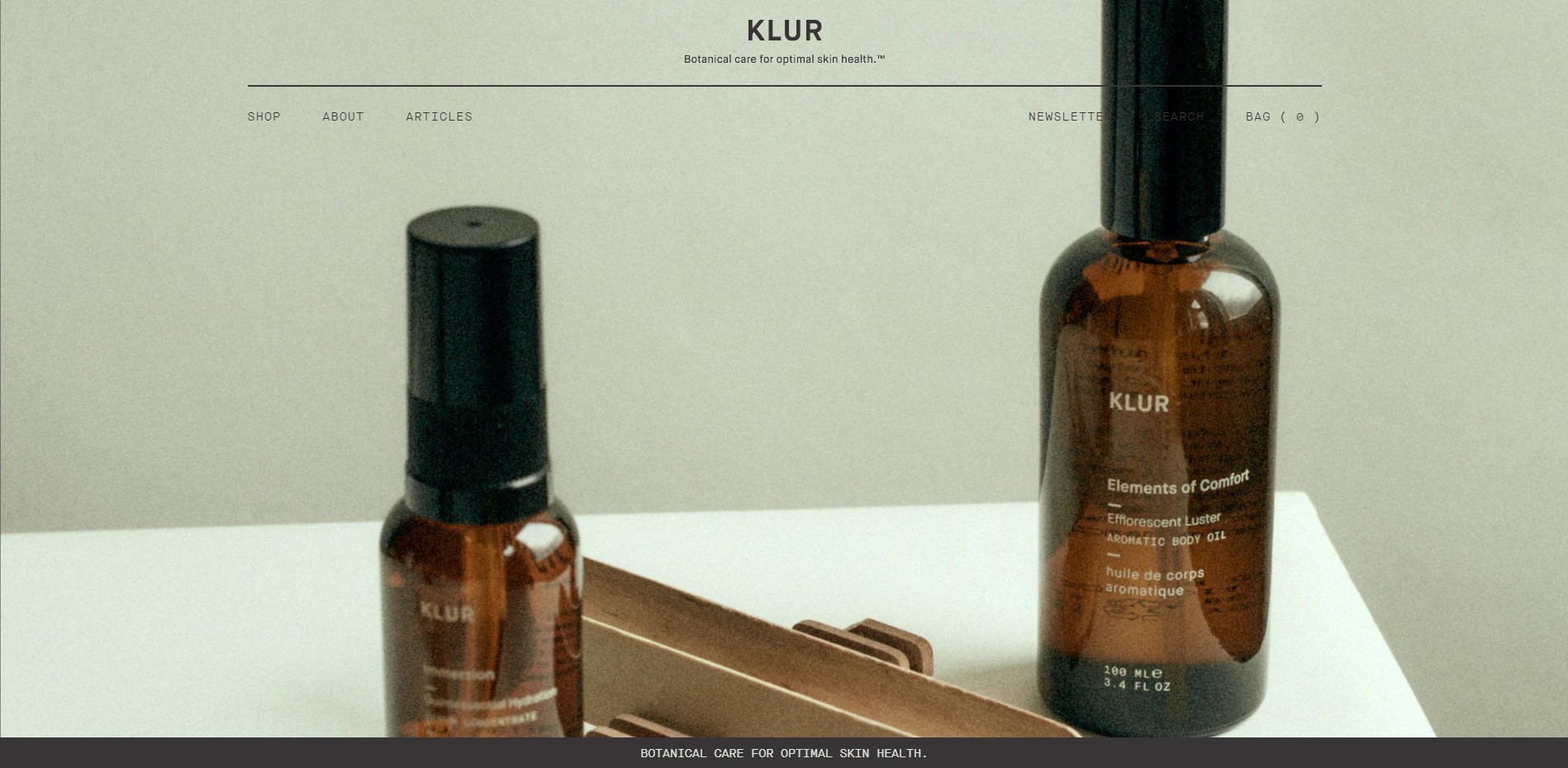 Klur is a California-based beauty firm with an exceptional website for professional and luxury skincare products. It also offers one of the most user-friendly and simple-to-navigate beauty and cosmetics websites. The brand aspires to embody clean, ethical, and inclusive beauty principles.
Briogeo
Briogeo hair care is 6-free, which means that the formulations are devoid of sulfates, parabens, phthalates, silicones, DEA, and synthetic color. All products are 90 to 100 percent organically derived and packed in recycled and recyclable bottles. Briogeo formulations are cruelty-free, vegan, and gluten-free.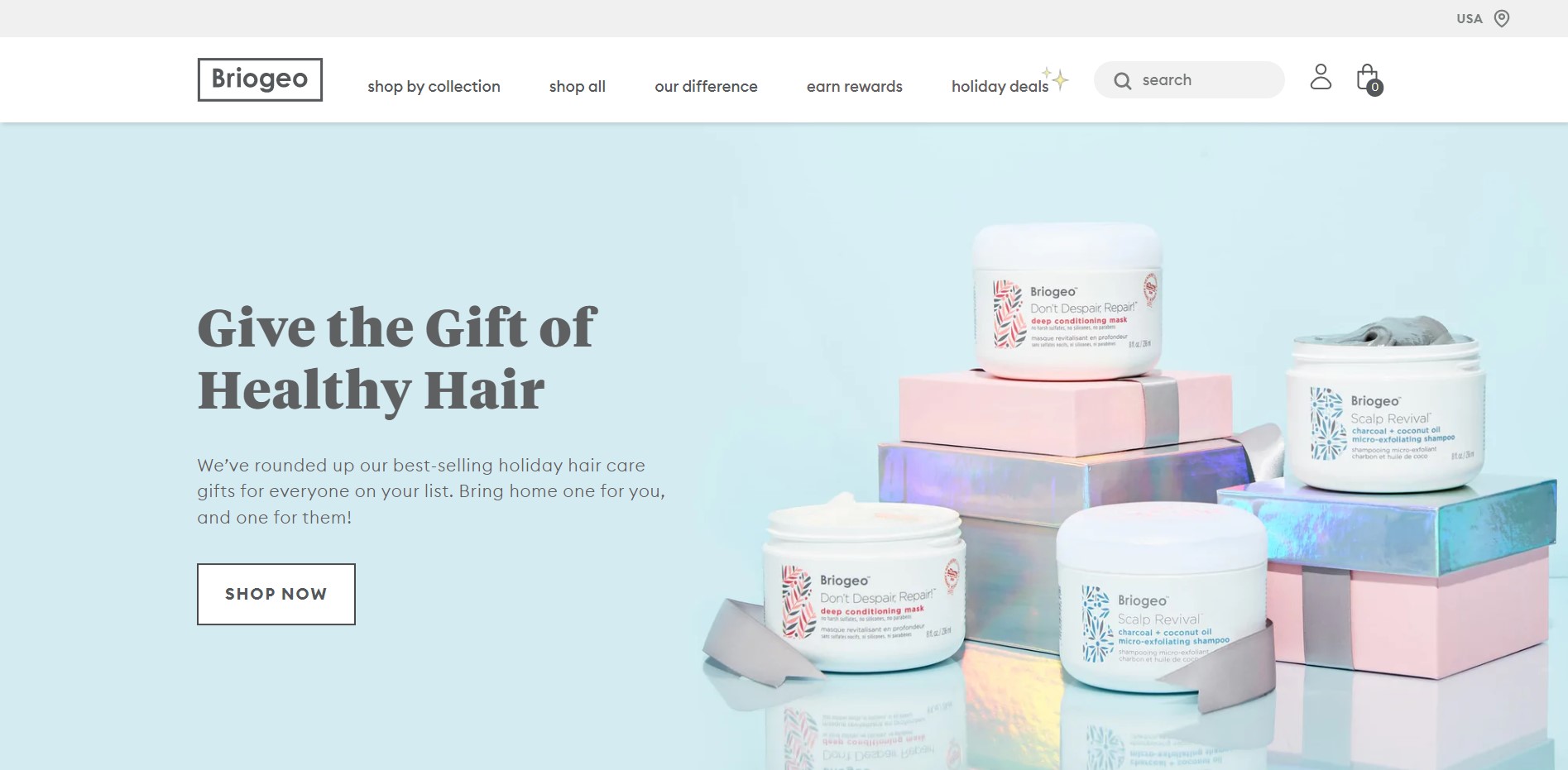 The website is visually beautiful and simple to use. It provides the option of watching films, reading a healthcare education blog, and even taking a hair quiz. These particulars personalize the buying experience. Furthermore, the brand provides a diverse assortment of solutions for various hair kinds and issues.
Soko Glam
Soko Glam is a Korean beauty product-focused online store. Charlotte Cho and David K. Cho launched the firm in 2012, and it is now one of the largest producers of K-Beauty goods in the United States. The website also involves helpful tips on using Korean cosmetics for the first time.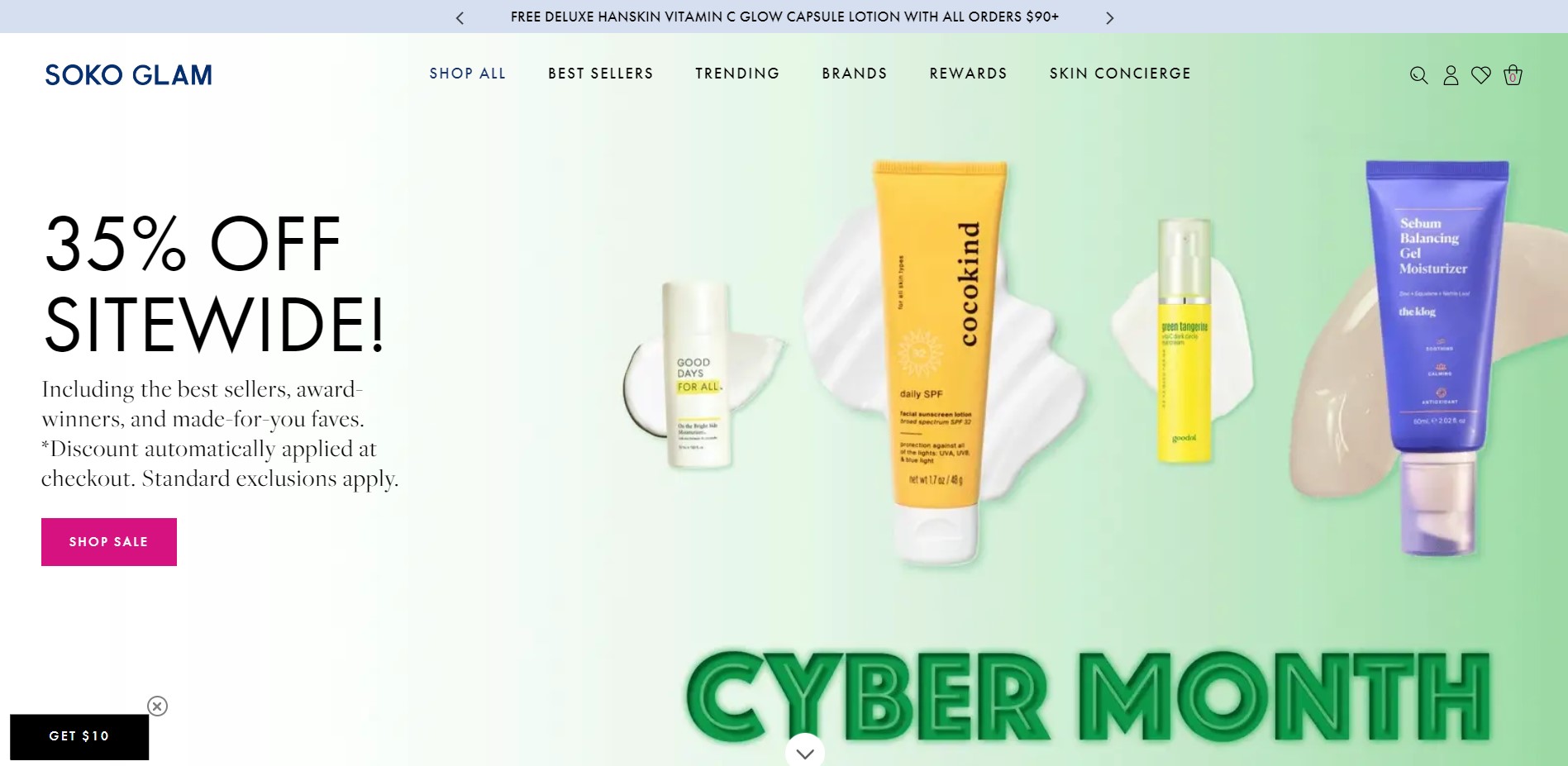 Soko Glam leverages the great advantages of Shopify and the website looks cool. Besides offering useful information, the brand has interesting visual aids from GIF images and trendy sans serif font.
e.l.f. Cosmetics
e.l.f. Cosmetics is a cosmetics company headquartered in Oakland, California. It was formed in 2004 by Joseph Shamah and Scott Vincent Borba. Bath and skin care products, mineral-based cosmetics, professional equipment, eyeliners, lipstick, glosses, blushes, bronzers, brushes, and mascara are among the items available.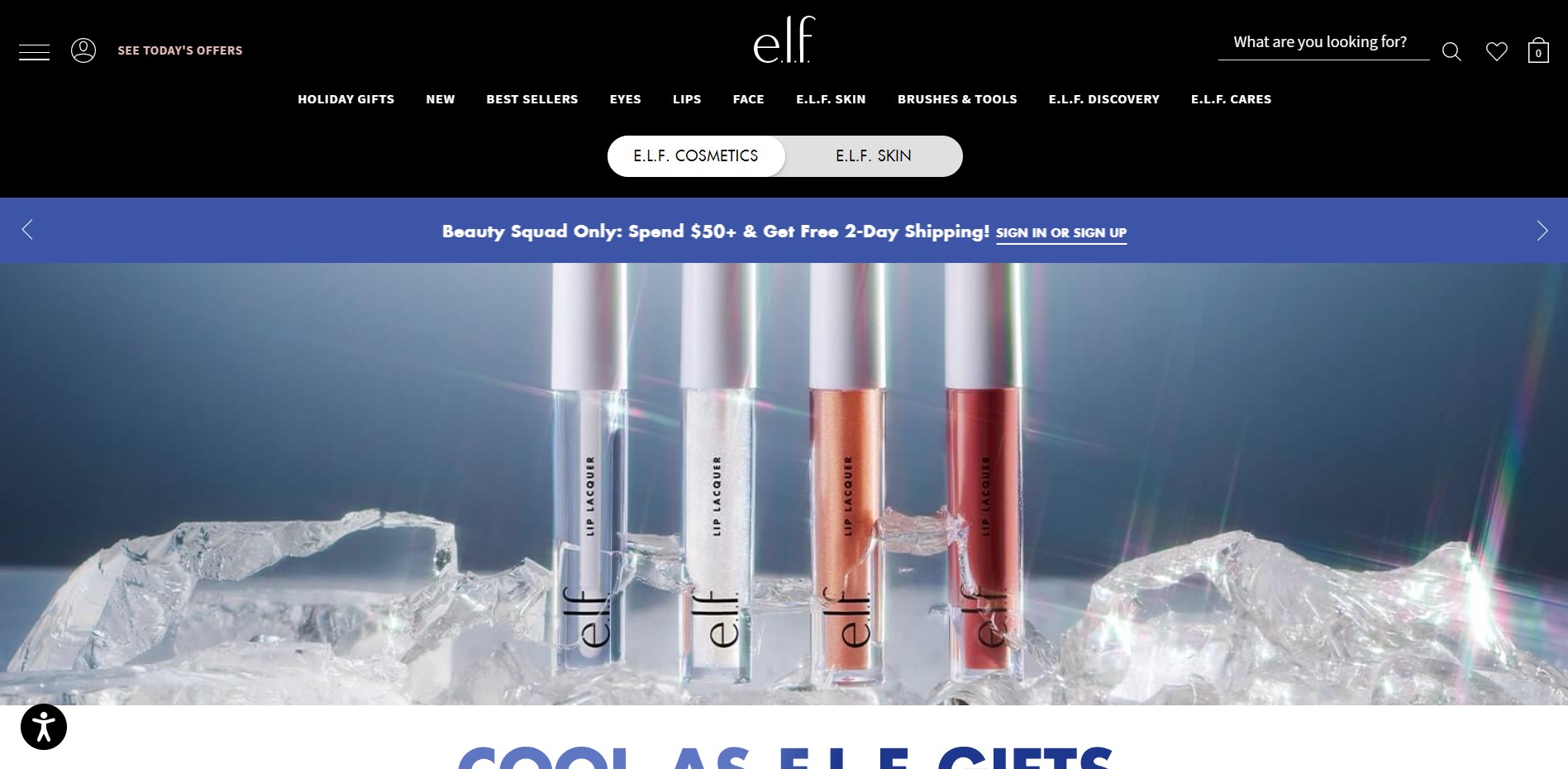 The clean and minimalistic design makes it simple to browse while yet looking stylish and sophisticated. The product images are also a strong point of e.l.f. cosmetics website, all the products are well displayed in multiple shades/tones so customers can find out what is best for them.
Wrap up about the best Shopify beauty stores
The beauty industry is booming, and it's no surprise that so many entrepreneurs are looking to start their own Shopify beauty stores.
We hope you found this blog post helpful! If you're in need of some more inspiration. Although we have only mentioned a few Shopify stores in this blog post, there are many more amazing stores out there that you can draw inspiration from. Be sure to browse through the Shopify store directory to find stores that align with your own personal brand and style. 
We wish you the best of luck as you start building your very own beauty store! If you need help building such aesthetic Shopify beauty stores, take a look at our Shopify store development services.