Shopify is a well-known platform that offers all of the elements necessary to establish, manage, and grow an online business. If you're thinking about using Shopify to launch and develop your online business, you may have a variety of questions, such as how much does Shopify make per transaction? Or which Shopify pricing plans are best for your businesses? Don't worry anymore! This article has come to give you solutions!
Shopify – An overview
Shopify is a popular eCommerce platform that enables businesses to create online stores to sell products on websites or via social media. Shopify is used by many SMEs because it is easy to use and has a wide range of features. The company also provides POS software for businesses to use in their physical stores.
Shopify has numerous obvious advantages, including but not limited to its low cost, scalability, and flexibility. The Shopify support method is designed to serve SMEs, so it has a casual style with live chat and SMS service.
Offering multiple tiers, specially designed for different scales of businesses, Shopify can attract companies from all industries and sizes. Nevertheless, each tier brings you a different set of features, which we will dive into later. However, all Shopify pricing plans allow users to sell an infinite number of products (either digital or physical) and permit you to pick a theme to use as a foundation for your store design. Being a SaaS tool, you need to pay a monthly subscription fee to use Shopify instead of a one-time payment for your license. With Shopify offering host domains already, Shopify enables its users to the reality of quick website launching and cost-effective tools!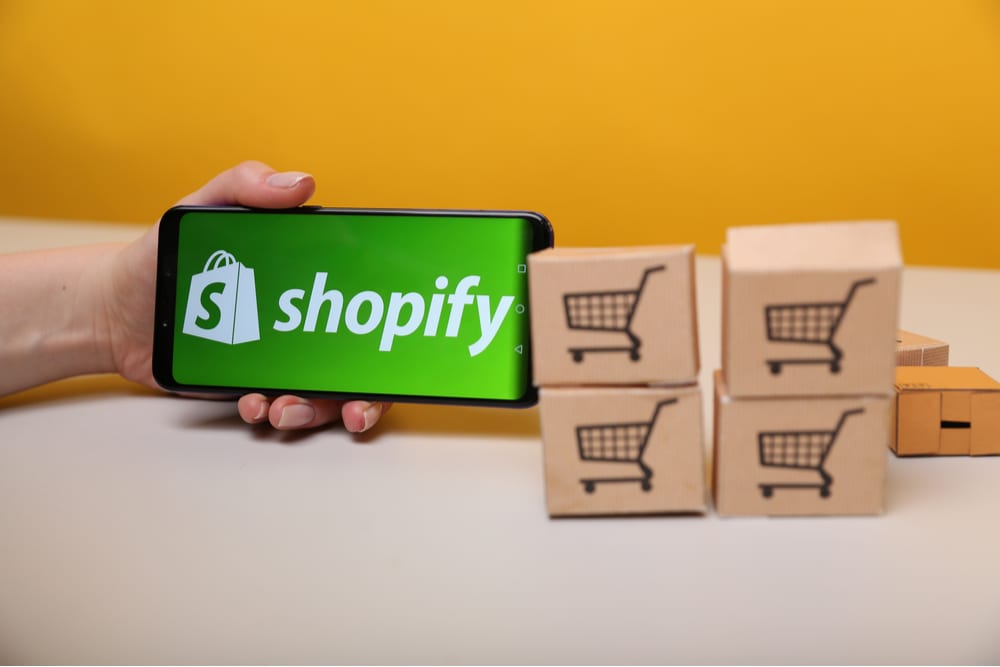 Overall, Shopify is surely a popular choice for businesses looking for a quick, yet sustainable eCommerce entrance. Shopify is for businesses on a tight budget, and/or merchants with little coding experience. However, its scalability and flexibility still make Shopify a good choice for many medium and big businesses. Many international brands, including Tesla and Netflix, still put their trust in the Shopify platform.
Shopify pricing plans comparison: What features are included in each plan?
There are 6 different plans: Shopify Starter Plan, Basic Shopify, Shopify, Advanced Shopify, Shopify Lite, and Shopify Plus. Each Shopify plan comes with a range of features that are appropriate for a variety of company sizes. This part will address the Shopify cost per month of these six plans, which start at $5/month and go up to $2000/month. The Shopify pricing and plans structure is pretty easy to understand: you pay a fixed license fee, which differs depending on the plan you select.
Starter Shopify: $5/month
Basic Shopify: $29/month
Shopify: $79/month
Advanced Shopify: $299/month
Shopify Plus: starting at $2,000/month
When you use Shopify Payments, the license fee above is already charged, thus total cost might be driven down a bit (though it is only accessible in a select number of countries, so not everyone can use it). In addition, if you use any payment gateway other than Shopify payments, there is an additional fee of 2% for Shopify Basic, 1% for Shopify, and 0.5% for Advanced Shopify.
Note that there's also a free Shopify for small business trial that allows you to test out all of the above plans in 14 days. This is a great way to see which Shopify plan is best for your business without having to commit to any long-term decisions.
Now let's take an in-depth look at the types of Shopify plans and features: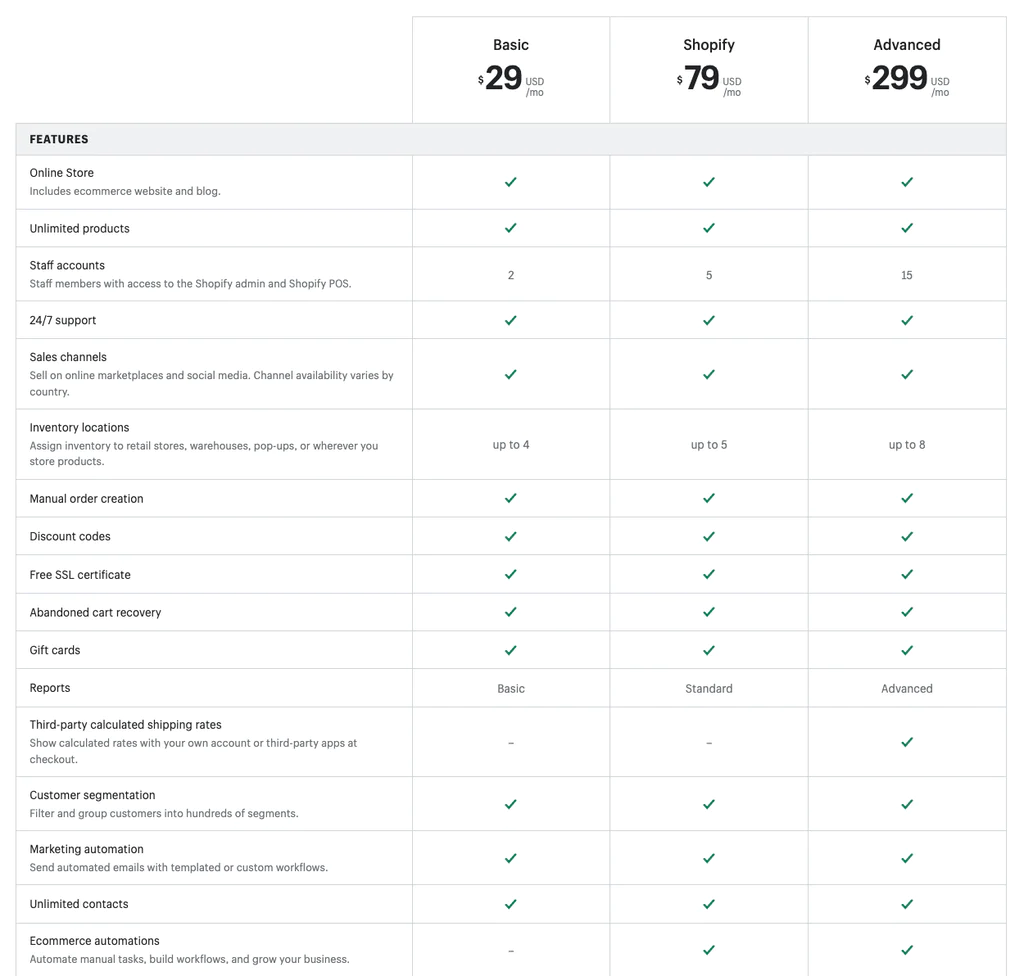 1. The Shopify Starter plan
The Shopify Starter plan is the first plan that Shopify offers for merchants who are just starting out and want to sell their products or services to customers via social media or messaging apps without an online store. In addition to the default features available on all Shopify pricing plans, the Starter plan offers the following features: competitive transaction fees, the default starting theme, reports, and international commerce.
This tier lets you create product links that you can share on social media posts or in messages. To start selling, activate your checkout by removing your storefront password or choosing a paid plan.
With just $5/month, you can add a Buy Button to your websites like your blogs or podcasts website. It's the key feature of this Starter plan. But please remember (keep in mind), this tier only works best for new merchants (in the free trial period or not) as its features are quite limited. One of the most notable limitations is no Shopify POS. You have 14-day to try, so we suggest that you try all the necessary features for your businesses within this 2-week period before actually committing to this plan.
Shopify Lite plan
For those of you who come from Australia, Canada, Ireland, New Zealand, and the United States, you can skip this session as this Shopify plan has not been available in these countries. For others, this is good news as this is a quite specialized plan for people who only need the Buy Button and POS feature.
With only $9/month, you have a staff account to manage your product-category updates, the Buy Button sales channels, POS features, analytics page, and financial reports on top of all Shopify default features. This is a great eCommerce plan for people who already have a solid fanbase/number of followers and wants to generate a bit more income.
2. The Basic Shopify plan
Priced at $29/month, the Basic Shopify plan is the plan to start with if you are serious about doing eCommerce for your business. This plan offers all the minimumly required features for running an online store for years: 2 staff accounts, proper access to the admin dashboard for products, orders, and customer information management.
With much competitive transaction fees and a whole blog session on top of Shopify's default feature, this should be your to-go choice if you are trying to sell online while already having a properly running business.
3. The Shopify plan
The Shopify plan is a great option for businesses that are growing and need access to powerful report types. The plan includes all the features of the Basic Shopify plan while cutting down the credit card rates and transaction fees, as well as providing top-notch reports.
With all the key data presented in these reports, you can check the details about customers' activities on your site for better customer insight understanding, and plan-making. With the mentioned features and 5 staff accounts, better international eCommerce capabilities, the price tag of $79/month for this plan is surely an appealing option for merchants trying to scale up their business or making their first steps into the international market.
4. The Advanced Shopify plan
The Advanced Shopify plan gives businesses everything they need to accommodate growth and conduct in-depth analytics for conversion rate optimization and expansion opportunities. This plan also offers the lowest credit card payment rate and transaction fees among the three most popular Shopify pricing plans.
The keywords of this plan are everything is unlimited. This means you can store as many products as you want, and post a limitless number of videos, images, and articles to bring in all the traffic your website needs. Not only that, if you have accounts with shipping partners, then this is the best option for you to offer your customers, as Shopify supports a part of the shipping costs on this plan for merchants.
The Advanced Shopify Plan costs $299/month and it covers all of the features of the Basic Shopify and Shopify plans while including the following features: 15 staff accounts, carrier-calculated shipping, customized elite reports, better international commerce, and so many more.
5. Shopify Plus
This is an enterprise-level plan that's ideal for focusing on running highly customized marketing automation and implementing desired UI designs. Shopify Plus offers more capabilities and support than the basic Shopify pricing plans, so the businesses that can fully take advantage of Shopify Plus are the large corporations doing business on the multi-continent scale, namely Rothy's, Heinz, Allbirds, DodoCase, or the Los Angeles Lakers.
Starting at $2000/month, which is a massive increase compared to the Shopify Advanced package, Shopify Plus gives businesses valuable benefits and features that no other Shopify plan can bring. As the more advanced option, features like security, automation, multi-currency selling, APIs, fulfillment, etc, are all parts of Shopify Plus.
One of the most useful features of this plan is fully automatic multi-currency selling. This allows Shopify Plus to use IP addresses to automatically detect a user's location and present your product prices in the appropriate currency.
Moreover, Shopify Plus also offers some special features:
Shopify organization admin: The Shopify organization admin enables you to manage all the stores in your organization from a single location.
Specialized apps and channels: Shopify Plus merchants have access to extra sophisticated Shopify tools that are built for high-growth companies.
Customizable checkout.
Unlimited staff: Shopify Plus supports unlimited staff accounts to help you grow your business without incurring additional costs.
Expansion stores: Shopify plus supports nine expansion stores for internationalization, separate physical locations, and other related purposes.
Themes: You can experiment with up to 100 Shopify Plus themes, keep seasonal variations of your published theme, or test modifications to a copy of your published theme by adding them to your Shopify account.
Shopify Pricing: Credit card rates explanation
This is 2022 now, so no business can run without accepting credit cards. But what are the Shopify rates charged for processing credit card payments?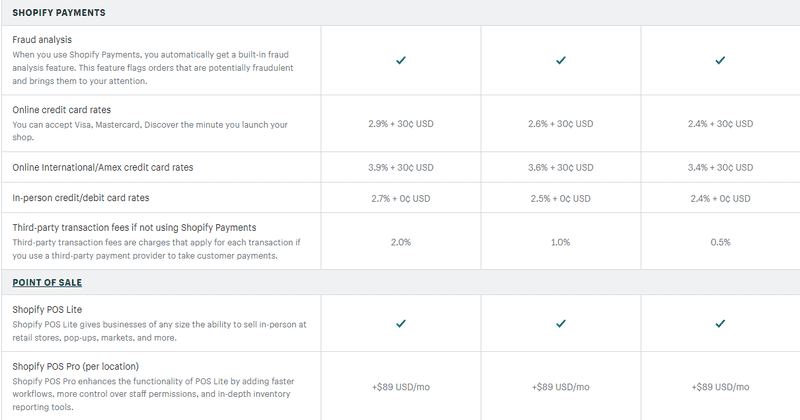 In general, Shopify's credit card rates are quite competitive. For most businesses, the rate will be 2.9% + $0.30 per transaction. However, there are a few factors that can affect your rate, including:
The type of credit card being used (Visa, Mastercard, American Express…)
The country where your business is located
The country where the customer is located
Whether or not you're using Shopify Payments
Overall, Shopify's credit card rates are reasonable, especially when you compare them to the rates offered by other eCommerce platforms. Moreover, different Shopify plans and pricing will charge different transaction fees and credit card rates. The transaction fees and other Shopify costs that merchants pay will depend on the specifics of their subscription plan. The following are the credit card rates charged by different Shopify pricing plans:
Basic Shopify plan: 2.9% + $0.30/transaction
Shopify plan: 2.6% + $0.30/transaction
Advanced Shopify plan: 2.4% + $0.30/transaction
Shopify Cost: Detailed breakdown of other costs besides licensing
1. Shopify website builder cost
Shopify domain name
Now, maybe you chose a Shopify plan on your own. After that, you need a domain name for your online store. Let's take a look at how much it costs.
Regularly, all Shopify pricing plans will offer you their default free domain myshopify.com. But you should have your own domain name because having a domain name named after a brand or company name will help a lot in increasing brand awareness as well as performing better SEO. If you already have a registered domain name, you can connect your domain name to Shopify freely, and completely manage your domain on the Shopify admin panel.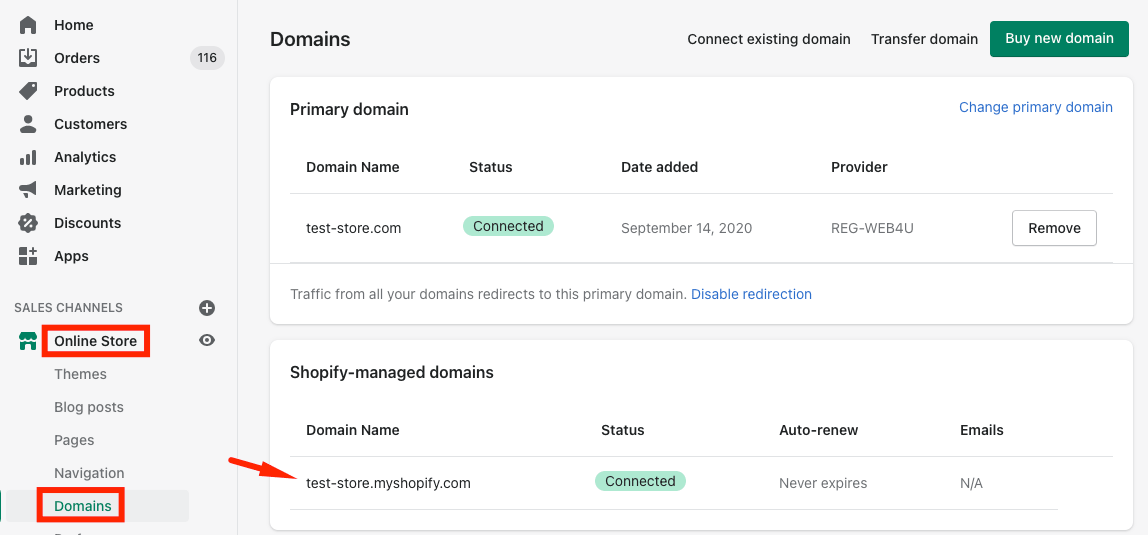 If you don't have a domain name yet, and you don't like the myshopify.com, you can buy it from Shopify. The most popular domain extension, .com, is currently $14/year. However, Shopify also offers other domains such as .net, .org, and .info for $17/year. There are also country-specific domains such as .us, .ca, and .co.uk (these domains do not have a fixed price internationally). Lastly, Shopify offers premium domains which can cost hundreds or even thousands of dollars depending on the domain name.
Overall, the cost of a Shopify domain name is relatively affordable and depends on your desire.
Shopify theme & design
Your website interface is really important. It is directly related to designing a smooth user experience, which in turn increases conversion rates. So, you need to choose an appealing theme for your website.
Luckily, Shopify offers so many themes for you, both free and paid. If you choose a paid theme, you should consider your company budget first, as the free themes already work quite well with beginners.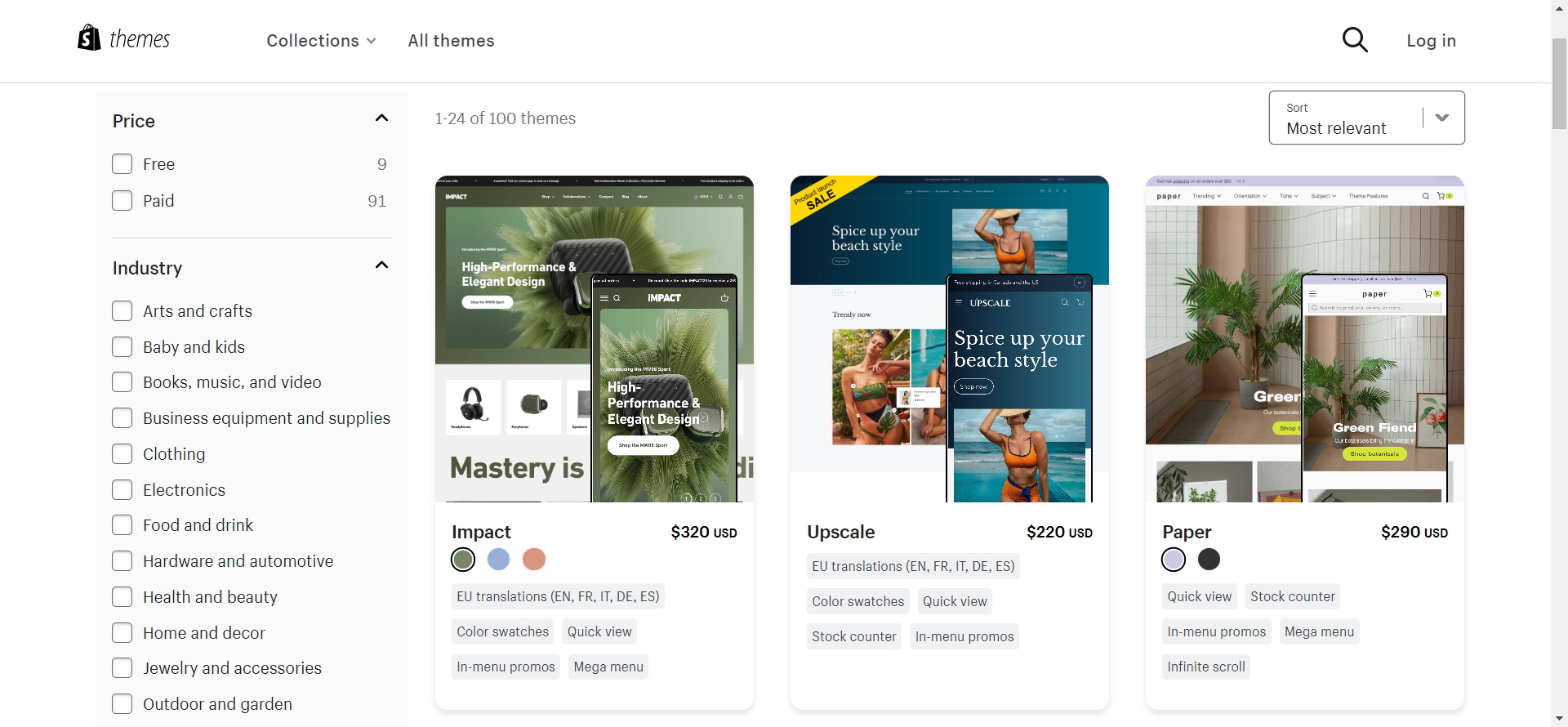 There is no one-size-fits-all answer to the question of Shopify themes and design pricing. The cost of a Shopify theme or design depends on numerous factors, including the complexity of the design, the number of pages, the features required, and the user experience design. Shopify themes can also be purchased from third-party marketplaces such as Themeforest, which offers a wide range of prices depending on the quality and features of the theme.
Shopify add-ons & integrations
Add-ons and integrations are important parts of a full-functionality website. So you should consider this factor when creating your online store.
Shopify offers you both free and paid add-ons and integrations that help you equip your website with some specialized features. Some are free, while others are not, so when considering Shopify add-ons and integrations costs, there are a few things to keep in mind.
First, some Shopify add-ons and integrations are offered by Shopify itself, while others are provided by third-party developers. Second, the price of a Shopify add-on or integration can vary depending on the features it offers and the level of support it provides, as there are add-ons with great features but little support. Finally, some Shopify add-ons and integrations may require a subscription fee, while others are offered as a one-time purchase.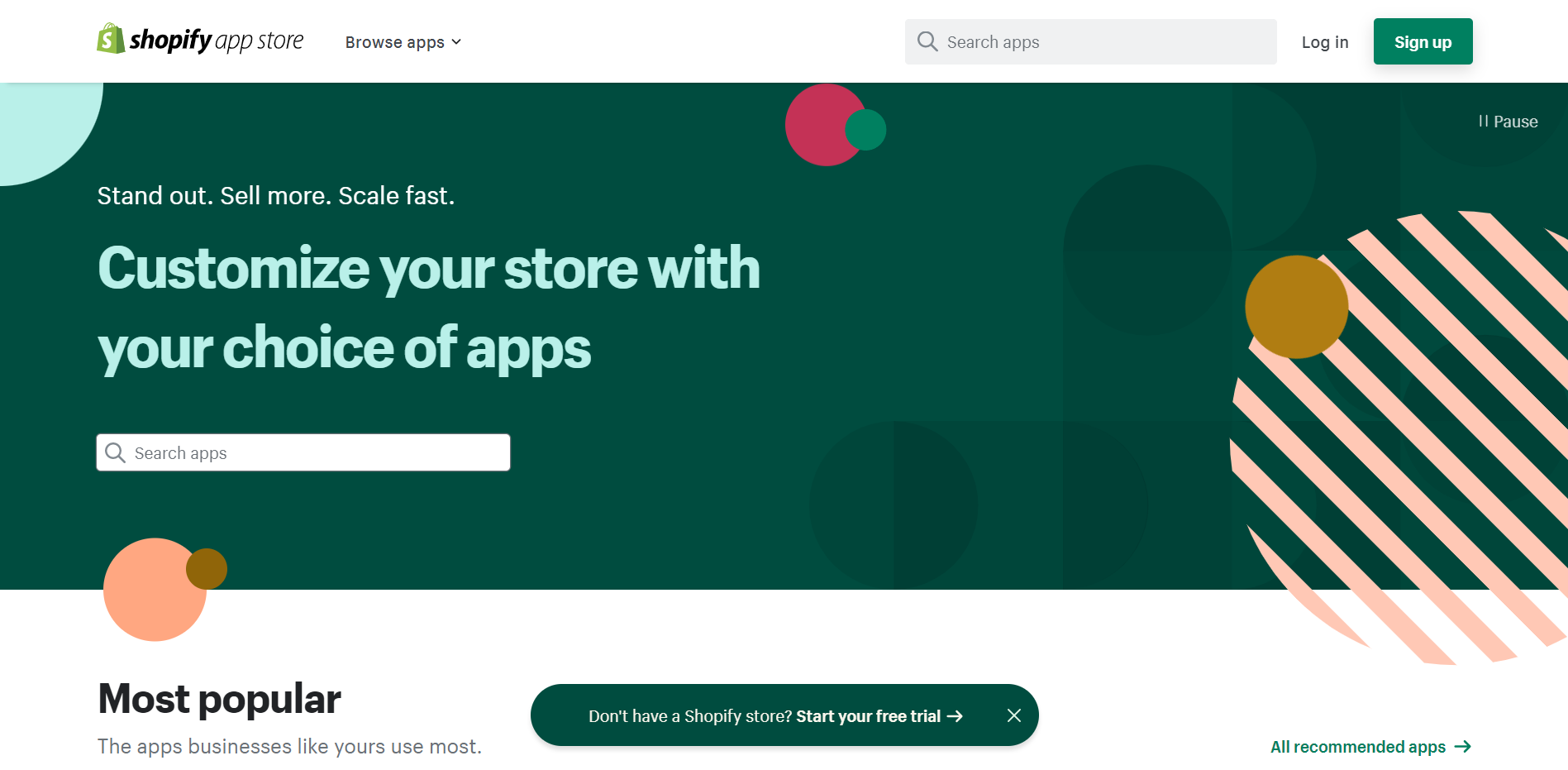 You can check some add-ons and integrations categories below:
Sales and marketing
Customer support
Store design
Security
Reporting
2. Shopify transaction fees
As a Shopify merchant, you're charged transaction fees whenever a customer purchases your store. But it only happens if you utilize third-party payment solutions to execute customer payments.
Transaction fees are calculated as a percentage of the total sale price and vary depending on which Shopify pricing plans you're on. For example, if you're on the Shopify Basic plan, you'll be charged 2% per transaction. If you're on the Shopify plan, you'll be charged 1% per transaction. And if you're on the Advanced Shopify plan, you'll be charged 0.5% per transaction.
Nevertheless, you can avoid these fees if you choose to use the Shopify Payment method. This is Shopify's payment system, designed to make the financial process easier.
3. Shopify POS pricing
With Shopify POS, you can expand your business significantly. It's simple to use and affordable since Shopify created its own POS system. It is available in Lite and Pro versions depending on whether you'll be selling online or in person.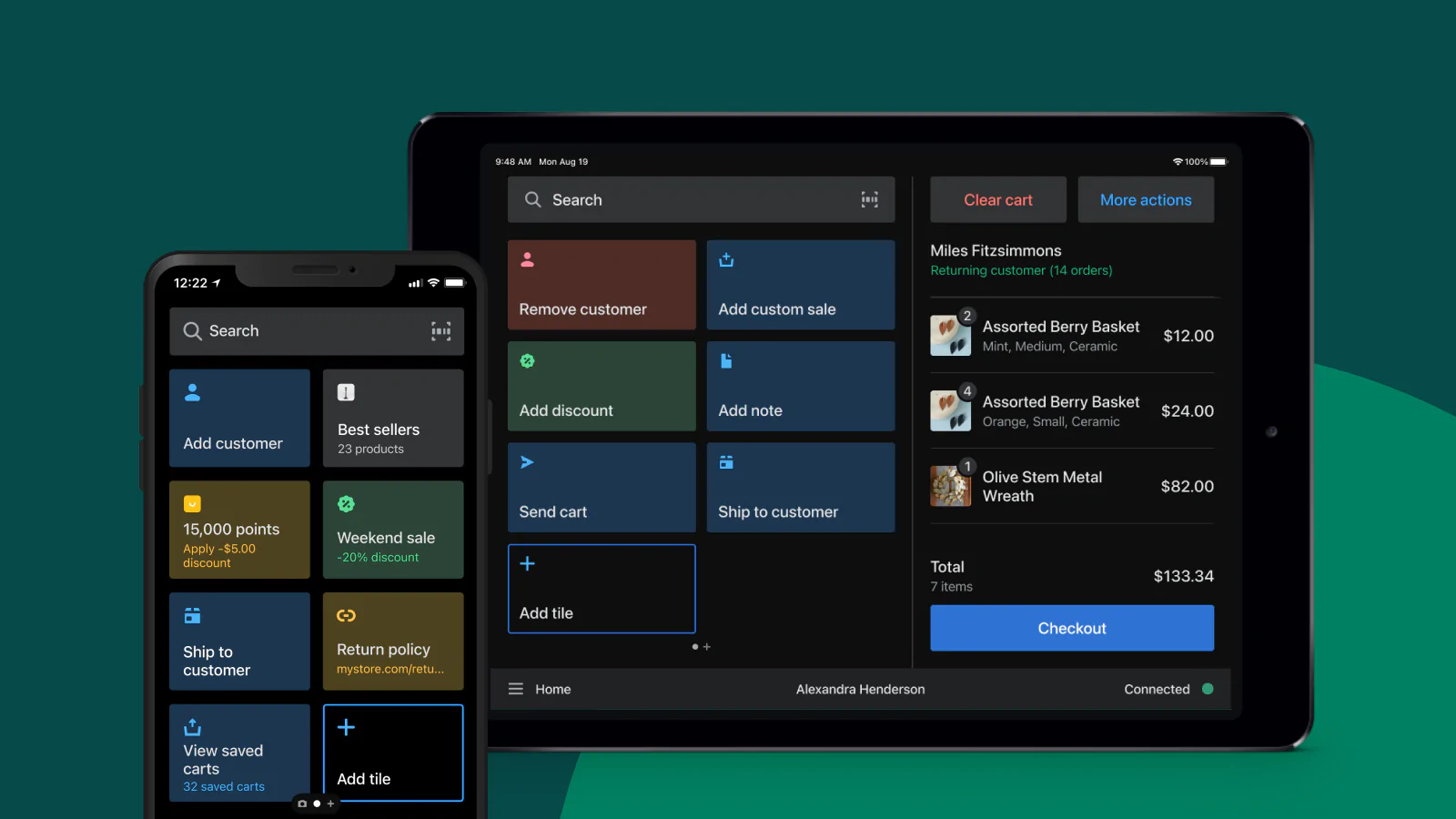 First, about the Lite version. This Shopify POS version is available on all Shopify pricing plans and may be used to manage orders, products, services, and consumer profiles. So it's extremely easy to access. There's also support for in-person credit card rates starting at 1.5% plus 0p.
If you're making physical sales at a higher level, consider using Shopify POS Pro. It's included in all Shopify plans – you just pay the monthly fee for your chosen Shopify package, plus an additional $89/month for each location you need to serve.
If you upgrade to Shopify POS Pro, you'll not only get all the features of Shopify POS Lite but even more:
Unlimited store employees
Unlimited registers
In-store reporting and analytics
Omnichannel selling features
Support for staff roles and permissions
4. Shopify store services (Optional)
You can always build your store from scratch if you have the time, which includes developing the store and customizing it according to your requirements. If your budget is pretty big but you don't have so much time, you can think about getting help from Shopify experts. Shopify store services can help you create a professional online store quickly and easily.
Shopify Experts is a marketplace where Shopify merchants can request help from professionals who are experienced with the platform. To create a job, click on the Create a job button in the top right corner of the site. This will bring up a form where you can provide details about the service you need. The Shopify Experts engine will then match you with a relevant expert.
How to reduce your Shopify costs
1. Use Shopify Payments to avoid Shopify transaction fees
When you use Shopify Payments, you save money on transaction fees. Shopify charges a fee when you use a third-party payment gateway like PayPal or Stripe, but as the number of merchants using this platform increases dramatically, Shopify develops its own payment gateway for optimal word processes. The payment gateway has the potential to save you a lot of money every month, as its credit card rates are often lower than PayPal's fees. We encourage using Shopify Payment so you can maintain low costs for your business.
2. Purchase your domain name
As we mentioned, when you set up a new Shopify store, you're given a default domain name (yourname.myshopify.com). You can purchase a domain name for $14/year on Shopify, but it does not include email hosting. We recommend that you compare these prices with a few external domain registrars (Namecheap, GoDaddy…) to save money.
3. Upgrade to a yearly plan
You can upgrade, downgrade or cancel Shopify at any time you want, as long as you're paying per month. To save money and keep the option to cancel open during the water-testing phase, it's best to begin with monthly plans. However, in the long-term run, upgrading to an annual or biennial plan would be more beneficial for you since they offer discounts of 10% and 20%.
How to choose the best Shopify pricing plan for your business?
A lot of Shopify pricing plans are offered to you with a lot of features in a wide variety of sizes. This can make you confuse a little bit. However, it is important to remember that choosing the right plan involves understanding what your business needs in order to be successful online.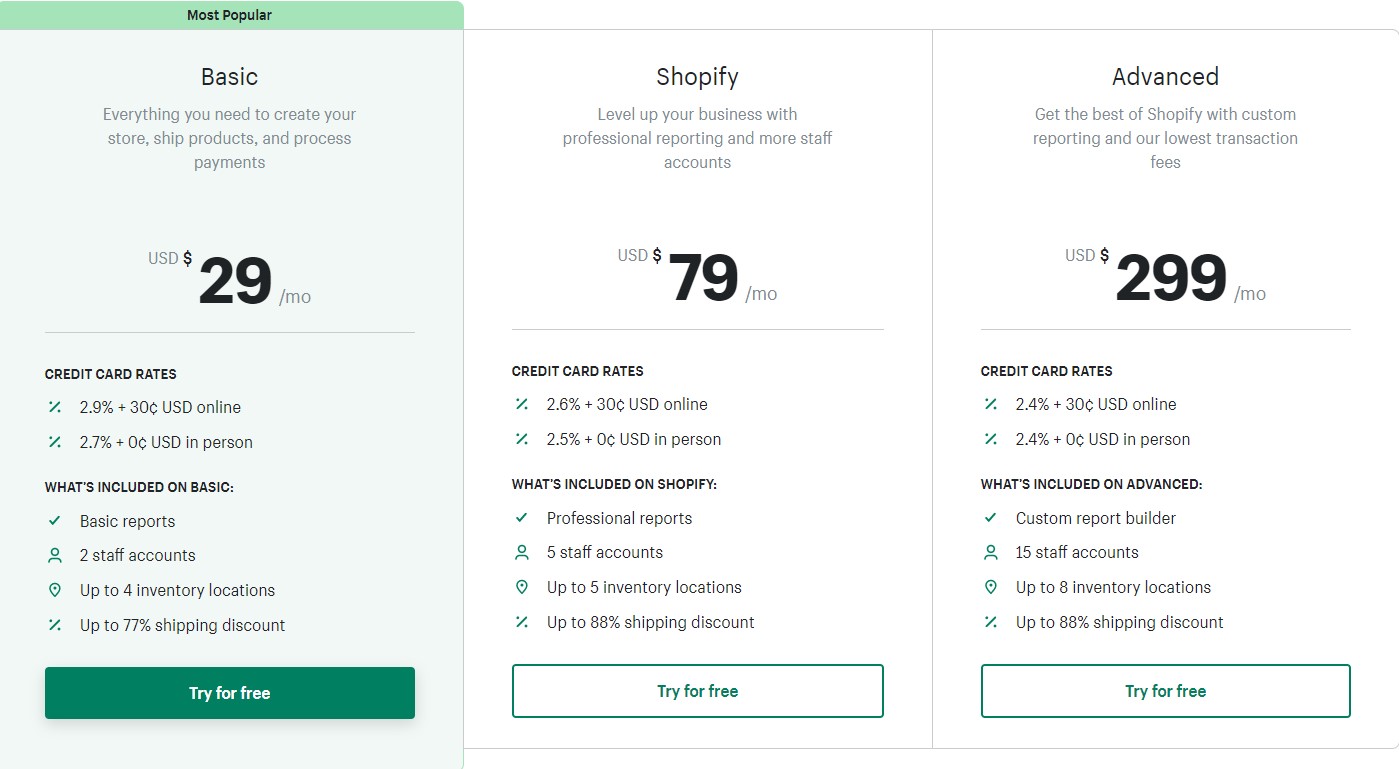 Before choosing the suitable plan, ask yourself the following questions:
How many products (SKUs) do you sell?
What kind of products are you selling? (Digital or physical)
Which size of your business is it? Do you need Shopify staff accounts to manage the data?
Are you selling products/services in one-time-payment formats or are you doing a subscription business?
What is your company's online budget?
How many customers do you have?
How much revenue and profit do you create each month?
Do you need additional features and apps to run your business online like analytics reports, customized themes and so many more…?
After asking yourself these questions, you can consult our Shopify plan comparison above and recommendations below.
1. Starter Shopify plan
The Starter Shopify plan (and the Lite Shopify plan) is a great choice for businesses that are just getting started with eCommerce. It provides everything you need to get started selling online through channels like social media or your existing website. Plus, the starter plan is very affordable, making it a great option for businesses on a tight budget, but this package is not enough for growing businesses.
2. Basic Shopify plan
The Basic Shopify plan is the most cost-effective of all Shopify pricing plans for small businesses. Unlike the Starter plan, this model of Shopify allows you to receive help with an infinite number of products. You need that flexibility if you have a wide product range.
Furthermore, with this plan, you can set up your online store and use abandoned cart recovery tools as well as phone assistance, which is more appealing than the Starter package. You're also given two staff accounts to make managing your product and ordering easier. However, you won't have access to expert analytics or gift cards.
3. Shopify plan
The Shopify plan is the most popular choice for businesses that are looking to set up an online shop. It is a comprehensive platform that provides everything you need to create and run a successful online store or even enhance your offline presence.
If you upgrade to this package, not only will you have lower credit card rates, but more staff accounts to manage effectively. In addition, with professional reports included in the package, you'll be able to monitor and analyze your customers' data easily. With those insights available to you, converting potential customers into paying ones becomes simpler than ever before. Also- now with gift cards as an option through this package – it's easier than ever to keep your current satisfied customer base while continuing to strive for excellence and a larger customer pool.
4. Advanced Shopify plan
If you're looking to do more business and make a bigger profit, the Advanced Shopify plan is for you. This plan is more expensive. With its low monthly credit card payment and better shipping conditions in the US, this option makes it easier for your customers to get what they want without hassle.
Furthermore, you'll be able to take advantage of all of Shopify's other fantastic features. For managing goods and orders, you have the ability to create up to 15 accounts. Carrier-calculated shipping lets you connect with a third-party delivery service to provide your customers with current shipping rates and options at the time they make an order in your store. You also have the option of customizing your professional reports as needed.
5. Shopify Plus
Shopify Plus is the enterprise-level solution for huge enterprises that need to grow at a breakneck speed. Shopify Plus isn't for beginning firms since it's intended for businesses that generate a lot of money on a monthly basis. The price difference between other Shopify pricing plans and Shopify Plus is significant, so budget accordingly.
Shopify Plus ensures that your teams have all they need to succeed. You'll be supported by a dedicated support team who will assist you in developing an exciting new launch opportunity. Your developers also gain greater access to the Shopify platform for customization, specialized APIs, and cart scripting as a result of this. This means you can make your store more personalized.
Choosing the suitable Shopify plan is a critical task for your company and it needs to be taken carefully. Below is our detailed guide video on how to choose the Shopify plan for your store that can help you make an informative decision.
Shopify vs Competitors – Alternatives to Shopify
When it comes to eCommerce platforms, there are so many popular options on the market. But which one is the right choice for your business?
1. Wix
In this section, we've compared Shopify and Wix. Shopify is a complete eCommerce platform that gives you everything you need to start and maintain an online business. It's suitable for all sizes of businesses, from small firms to multi-continent corporations.
Wix offers a more limited selection of eCommerce features compared to Shopify, as it is merely a website platform for content originally, so it is simpler to use and less costly. The Wix Business Basic plan starts at $27/month, cheaper than Shopify. Additionally, Wix does not charge transaction fees for any of its plans. There is also a free trial available so that you can explore the platform before making a commitment.
2. Squarespace
Squarespace is a website builder that offers eCommerce features. While Squarespace doesn't have as many built-in features as Shopify, it does offer a wide range of integrations, plugins, and default themes to help you add the functionality you need.
The main difference between Shopify and Squarespace is that Shopify is a dedicated eCommerce platform while Squarespace is a website builder with eCommerce capabilities. This means that Shopify offers more features and tools specifically for online stores, while Squarespace gives you more flexibility to build any kind of website front-end you want.
The basic Squarespace eCommerce plan, Squarespace Business, costs $23 a month and includes a 3% transaction fee.
3. WooCommerce
If you're looking for alternatives to Shopify, then you might want to consider WooCommerce. WooCommerce is a popular eCommerce platform that allows you to create an online store with WordPress. While Shopify is a great platform, it can be expensive and has some limitations. WooCommerce is a great alternative if you're looking for more flexibility and customization options for your store.
If you want a plugin with handy SEO functions, lots of customization options, and scalable scalability, WooCommerce is the way to go. If you'd rather have more control over your design, don't mind experimenting, or if your primary marketing objective is to drive traffics through content for search engines, WooCommerce is the way to go.
To Conclude,
We hope that this article has helped you more confident about understanding exactly how much Shopify implementation cost when you decide to use it. Shopify pricing plans vary depending on the tier you choose. Moreover, you need to pay additional Shopify fees like transaction fees and credit card rates, add-ons, and integrations…
To get the most out of Shopify, we recommend that you first use the free trial period to see if it is a good fit for your business. After that, you can decide whether to upgrade to the Basic Shopify plan or monthly basis. If you find that this platform works well for you and meets all your needs, then consider upgrading to the Shopify plan, the Advanced Shopify plan.
Do you intend to give Shopify a try? Have you ever used this system for your company? Do you have any questions regarding Shopify or want to use it to start an online business? Contact our experts to get more useful information.