Not only is Shopify a popular eCommerce website-building tool, but it also allows business owners to access customer profiles, inventory management, and payment processing in the physical world with Shopify POS. With this solution, merchants can easily combine their online shops with brick-and-mortar stores. In this article, we will provide detailed information about the Shopify POS system, especially Shopify POS Pricing, one of the most concerns that many merchants care about when making a decision of choosing a POS solution.
What is Shopify POS?
Before we explore Shopify POS in more detail, let's first understand exactly what a POS system is. For many of us, the term POS has become familiar. But for those who don't know, POS stands for Point-of-Sale and refers to the moment when a customer completes (or decides to make) a purchase during their retail transaction.
The POS system is a combination of hardware, software, and payment processing services that businesses use to take payments from customers either in person or online. In other words, the POS system is what allows you to manage inventory and staff in your store, check out customers, accept various forms of payments, and transfer those funds into your bank account.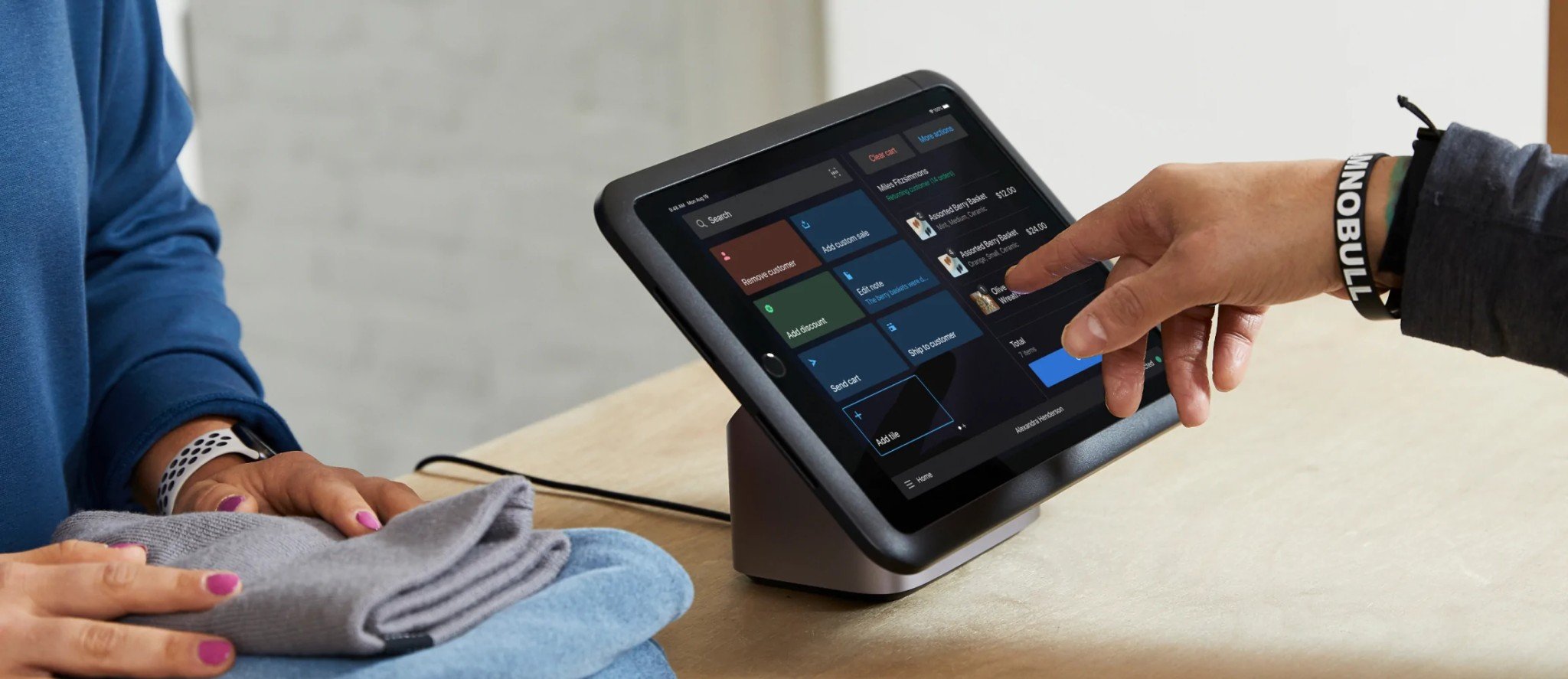 The Shopify POS system, just like other software systems, has a quick and easy checkout process. This makes it stress-free for store owners to sell at various locations, whether it's an outdoor market, physical storefront, or temporary pop-up shop.
By syncing directly with your Shopify store, this software can help you keep track of orders, customers, and inventory from different sale channels. Even if you are not a Shopify user, it is possible to use the POS system as a standalone application for your physical store.
You need a standard Shopify plan to use Shopify POS. The majority of Shopify pricing plans come with the basic version of Shopify POS, which is called Shopify POS Lite. If you upgrade to Shopify Plus, you can integrate Shopify POS Pro into your store instead. Without a large budget to upgrade to the Plus plan though, and still wanting access to those features in Shopify POS Pro; you can opt into paying an additional monthly fee to have a Pro POS version on your existing Shopify store plan.
Shopify's POS Lite version is the free solution that comes with most paid Shopify plans. Depending on your company's needs, you might have to pay for extra hardware and some premium apps, but you can keep costs low with this version. Shopify Pro is the more extensive app solution meant for experienced sellers in the physical world. This solution comes with a host of features to help improve customer relationships and sales.
Shopify POS Pricing
Shopify POS software system pricing
As we mentioned in the previous part, Shopify offers two different Shopify POS plans: Shopify POS Lite and Shopify POS Pro. While all Shopify pricing plans come with Shopify POS Lite already equipped, opting for Shopify POS Pro pricing will be an additional $89/month for each location. Nevertheless, this option is available at no extra charge to all users on the top-tier plan, which is Shopify Plus.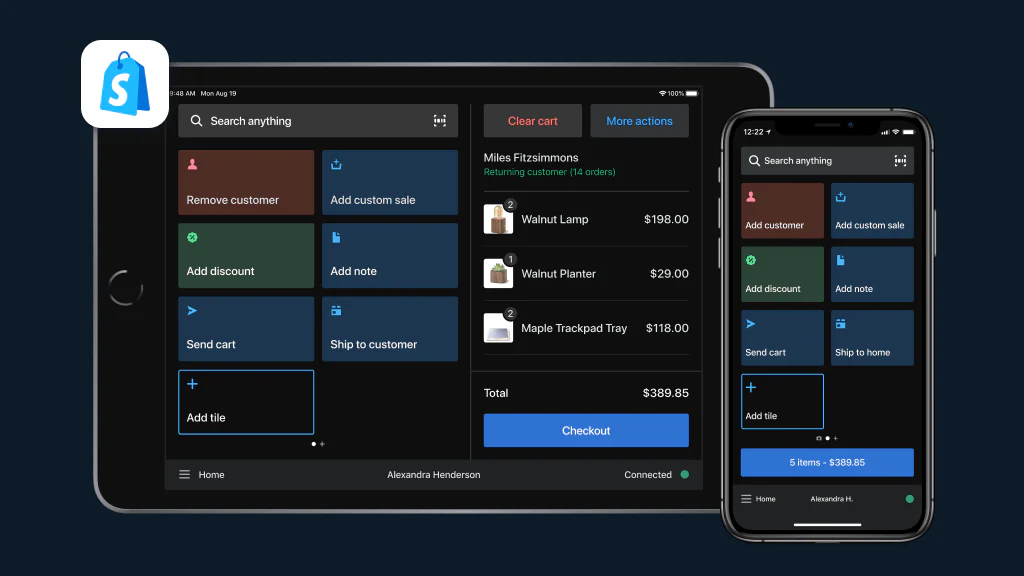 Before you can use Shopify POS, you must have a Shopify eCommerce subscription. This can be one of the following: Shopify Lite, Basic Shopify, Shopify, or Advanced Shopify. We have discussed Shopify pricing plans in another article, you can check it out here. If you want to add premium apps or other features later on down the line, you may need to pay additional fees in addition to your original costs.
As a part of the Shopify ecosystem, Shopify offers a 3-day free trial for every POS system plan to their Shopify merchants. Besides, you can save more with an annual Shopify POS pricing commitment that provides a discount.
Shopify payment processing cost
Although there is a fixed initial cost for both Shopify POS Lite and Shopify POS Pro, store owners should take the additional transaction fee into account. Different pricing plans result in different Shopify POS transaction fees. In other words, the higher your subscription tier is, the lower percentage of extra money you will be charged per transaction.
Although Shopify Payments's functionality is included in all subscription plans, you also have the option to use third-party providers like Authorize.Net, PayPal, Amazon Pay, or Braintree for payment processing. Keep in mind that you'll need to factor in their fees when determining your Shopify POS cost.
Below are the Shopify Payments processing costs, according to which plan you choose:
| | | | | |
| --- | --- | --- | --- | --- |
| | | | | |
| Rate per transaction for in-person | | | | |
| | | | | |
| Additional transaction fee for not using Shopify Payment | | | | |
Shopify hardware cost
Keep in mind that the Shopify POS system can be integrated into any hardware running on either iOS or Android. This merchant software possesses the power to connect with other devices like barcode scanners, receipt printers, and card readers in order to speed up check-out times for customers in your store.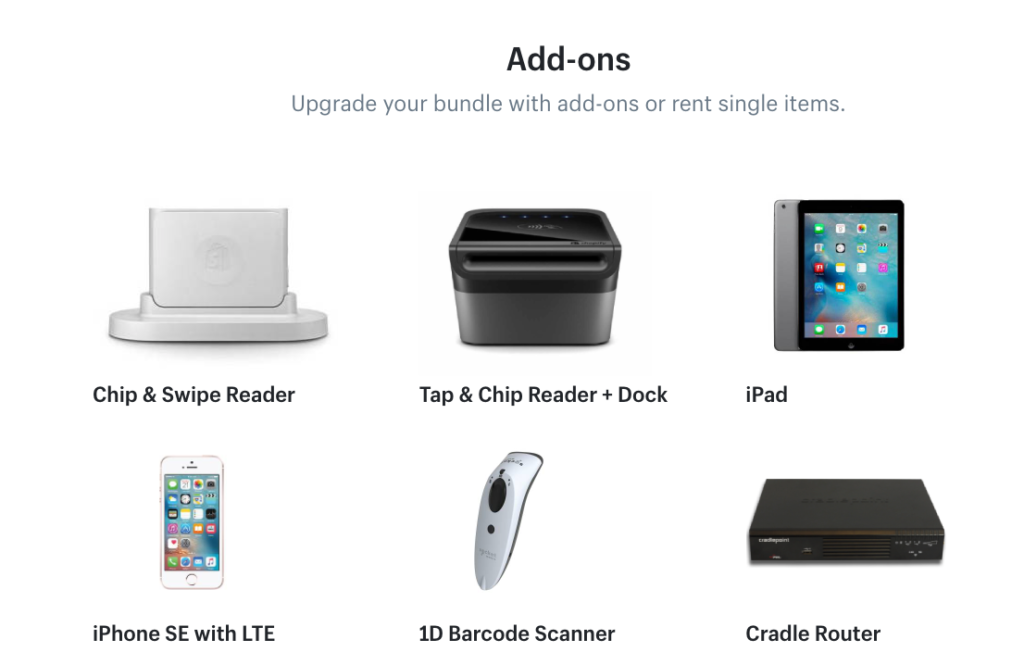 In addition to being able to use an iOS or Android device you already own, Shopify POS also offer the following point-of-sale hardware for purchase:
A Chipper 2X BT card reader or Tap & Chip card reader: 49$
Retail Kit: $219
Shopify POS Go mobile device: $399 ($429 with case)
You can buy more POS hardware, like card readers and receipt printers, on the Shopify website. Some of the standard hardware accessories and their prices are below:
Barcode scanners: $229 to $329.
Label printers: $299 to $499.
Receipt printers: $299 to $369.
Cash drawers: $139 to $159.
Differences between Shopify POS Pro and Lite
Shopify POS Lite and Pro are perfect for managing your Shopify account and taking payments offline while providing a user-friendly environment best suited for small businesses. If you want to do omnichannel selling with a physical store, look no further than Shopify.
When comparing Shopify with other POS solutions such as Lightspeed and Square, it's apparent that Shopify offers many more benefits, including access to staff roles, iPhone app access, and a wide variety of inventory tracking tools. That being said, you would get more support for in-person sales if you upgraded to the Pro version.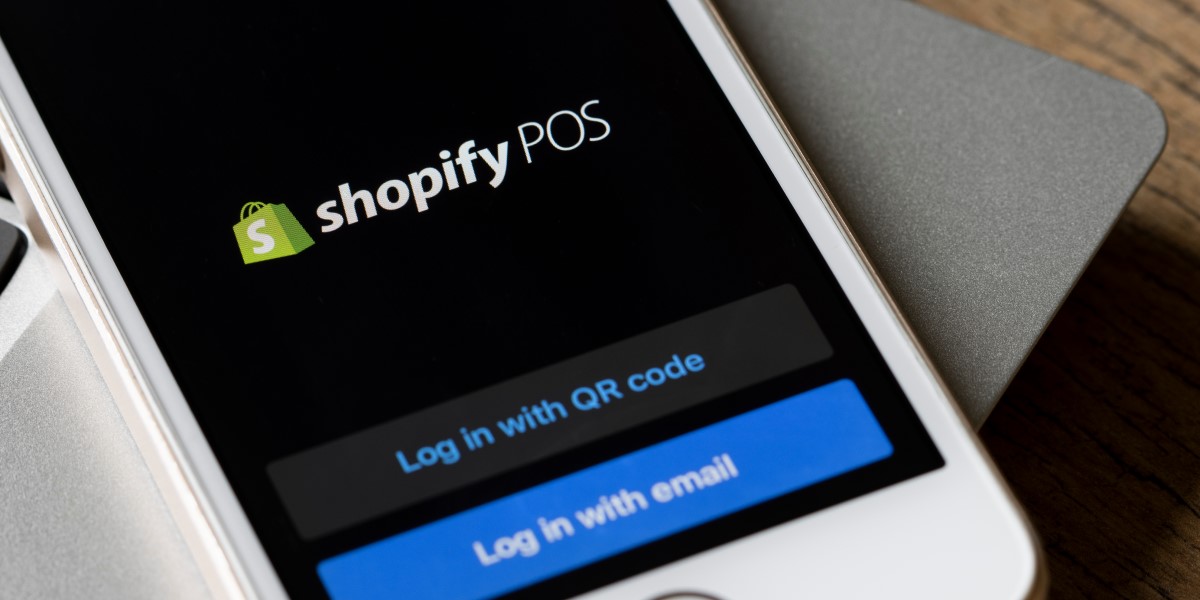 There're a few differences between the Shopify POS Pro version and the Lite version. The Pro version of the Shopify POS offers automatic discounting, which Lite does not. With Pro, you can also set up triggers for promotions like buy-one-get-one-free or discounts when customers reach a certain spending amount.
POS Pro not only provides customers with more options for accessing purchased products, but it also affords business owners the choice of buy-online and ship-to-customer solutions. You can now enable customers to purchase items online and pick them up in-store or have their items shipped to them directly.
Besides integrating with email marketing tools and social media solutions, Shopify POS Pro can also help to foster your relationships with customers in different ways. For example, when you gather customer information, you can make item suggestions based on what customers bought before from you. Not only that, the Pro version allows the admin to utilize the advanced features for staff roles and permissions. You can choose who will be responsible for which task so you can make the most out of your team. With Shopify Pro, you also get access to demand forecasting tools that give you valuable insights into your business.
Pros and Cons of Shopify POS
Any platform or app has its own pros and cons. Before using an app or integrating an extension, you need to consider it carefully. Below we will perform some key pros and cons of the Shopify POS system.
Pros of Shopify POS
Features support multichannel selling
Shopify POS is perfect for merchants who want to sell through both physical storefronts and online as well. You can use Shopify POS to customize the interface of your app, check out customers quickly, and digital receipts. In addition, you can add an unlimited number of products and categories, track inventory levels, sync orders across all sales platforms, and create marketing campaigns. Finally, with Shopify POS, you can develop a loyalty program for customers and generate reports from both online and in-person sales data.
Integrated Shopify Payment, flat-rate payment processing
Shopify Payment plans are included with every Shopify plan, and all plans are compatible with the Shopify POS system. While some credit card processing companies have hidden quote-based rates or fees, Shopify Payment with flat-rate fees that are easy to understand, merchants don't need to worry so much and focus on their business goals.
No matter which type of credit card your customer uses, you will always anticipate the processing rate. In addition, if you subscribe to a higher-level eCommerce plan, you will be able to access lower processing rates.
Usability
Shopify POS is the perfect choice for new and experienced business owners, as it has a user-friendly interface that can be set up quickly.
Shopify also offers 24/7 customer service via email, live chat, and phone for all plans except Shopify Starter. You can access a range of helpful resources directly on the Shopify website, including informational articles, webinars, a community forum, and both video and written tutorials.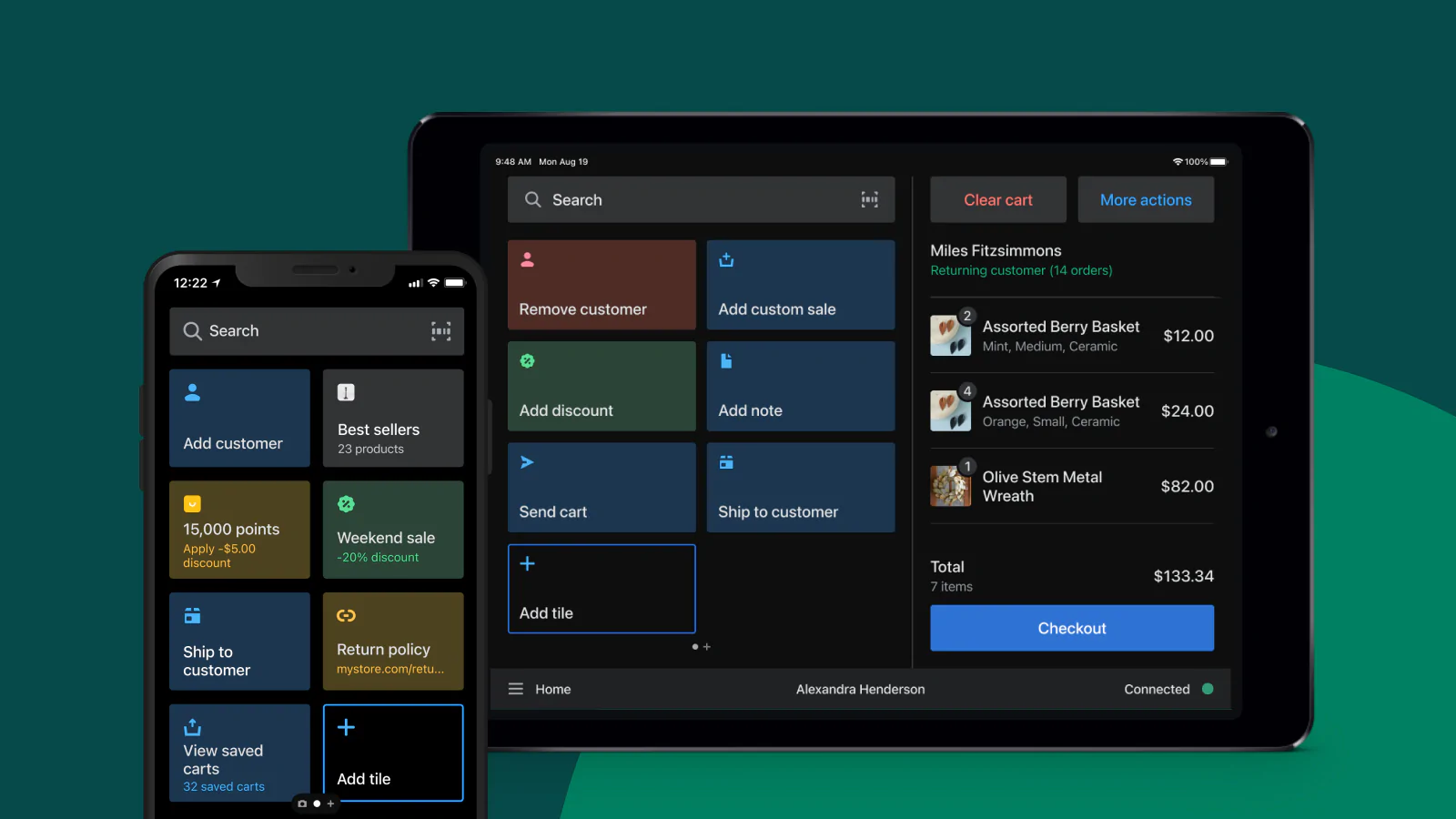 Cons of Shopify POS
Focus more on eCommerce
If your business is primarily online, Shopify POS is a great option that integrates heavily with the eCommerce platform. However, if you are mostly focused on brick-and-mortar sales, there might be alternative POS options available that better suit your needs in terms of features and price.
Similarly, Shopify POS doesn't offer many features that would be useful for restaurants or food-service businesses. In contrast, restaurant POS systems like Toast or Clover can provide capabilities such as online ordering, tableside payments, menu and table management, and delivery integrations.
How Does Shopify POS System Work?
Now we all capture some basic information about the definition of Shopify POS, Shopify POS Pricing, and some key pros and cons of this system. Now, let's explore how the Shopify POS system operates!
Store management
Shopify's POS system comes with top-tier features to help merchants manage their products, staff, and inventory more efficiently. With this POS software, store owners can add unlimited products to their POS catalogs, group products automatically using the smart collection feature, and create product variants based on color or material type.
This software is not only helpful for managing your inventory, but also for keeping track of the status of your products. You will be able to see where they are and how they are doing as they move between channels. If you have an online store or brick-and-mortar business, this software can help take some stress off by organizing everything for you.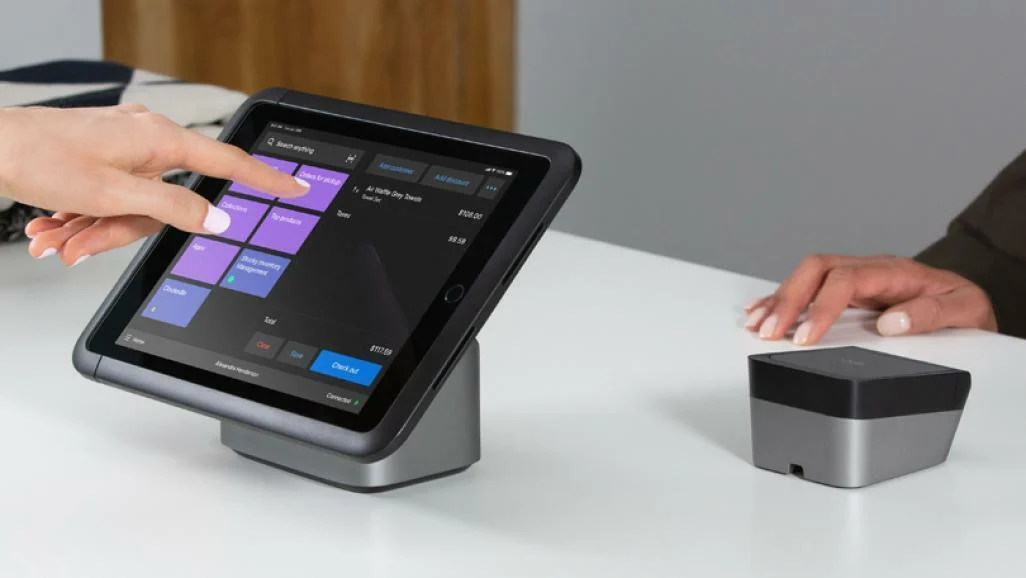 Moreover, managing staff using the Shopify POS system is easy. It enables store owners to create unique PINs for each staff member through an admin account. This login pin will help merchants monitor orders and any cash register activity of employees.
The Lite version of Shopify POS is only able to add a maximum number of employees to your POS. However, if you'd like unlimited staff members along with the ability to assign roles and accessibility, you should upgrade to the Shopify POS Pro.
Customer management
Shopify's POS system is an excellent way to turn customers into brand advocates by easily collecting their information and analyzing insights from it. Whenever a customer finishes a purchase, whether in-store or online, their information will be uploaded to their customer profile immediately.
The Shopify POS system has some features that let store owners keep track of every customer, including info about their orders, how much they spent, what they bought before, and any other notes from past interactions. This will come in handy when making suggestions for future purchases or categorizing customers.
Additionally, the Shopify POS system also provides customers' personal information like name, age, address, phone number, and email with the customer profile. This information can make your email list more abundant, and create a huge amount of leads. These email addresses can be useful when companies run marketing campaigns for new products/services or promotional events.
Checkout process
The Shopify POS system has a customizable grid that allows store owners to streamline their checkout process. This grid has important features like products, discounts, and shipping options within easy reach. These features will improve staff performance and help serve customers more effectively. You can fully personalize this grid so that it meets your specific workflow needs.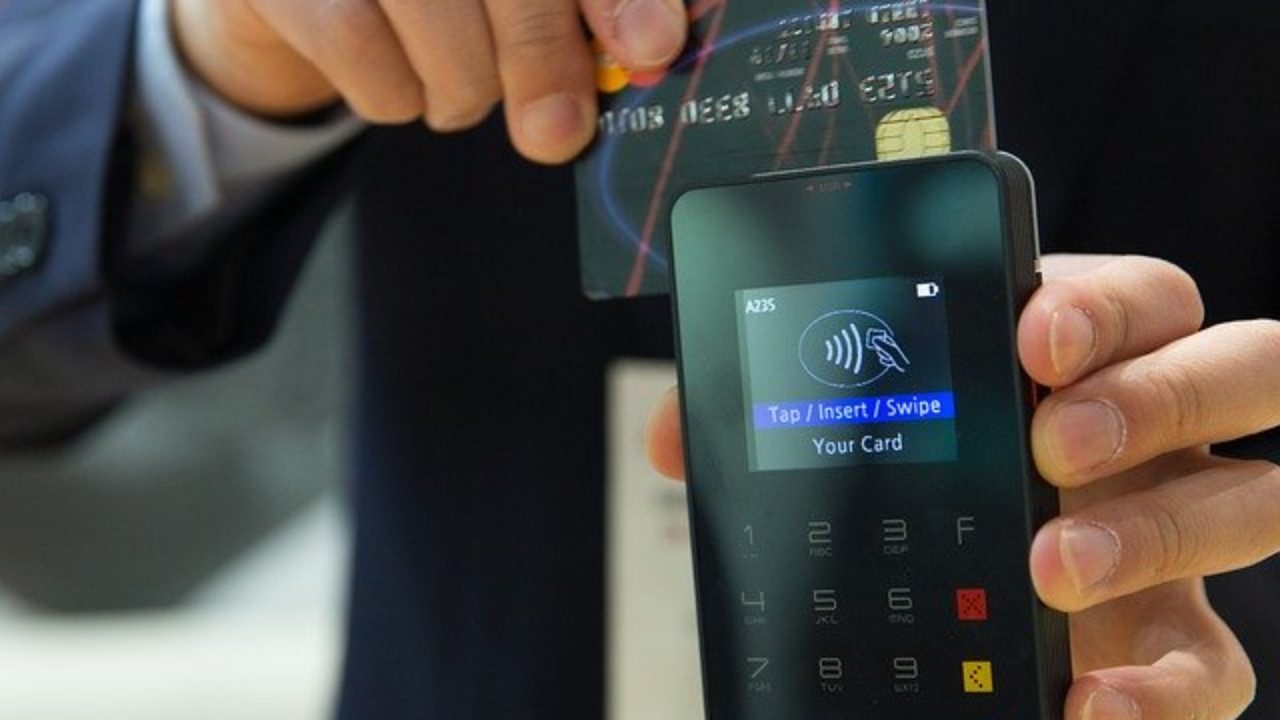 In addition to a search function, this POS software also has a global search feature. This global search allows you to access any products and variants that match the keyword and add them to the cart directly. Furthermore, store owners can easily add custom discount codes on the main screen before completing checkout.
Report and analytics
The Shopify POS system provides a comprehensive view of your business with its report and analytics features. This POS software allows users access to different types of reports, including retail sales, cash flow, finance, discount, product, and daily sales. By focusing on various eCommerce metrics, these reports give you helpful information to gauge the expansion of your store.
Shopify also provides an overview report, which allows store owners to assess at a glance how their stores are performing. This report contains essential data for your business such as sales, tax, discounts, and shipping fees. By utilizing this overview report, the Shopify POS system aids store owners in monitoring the store's progress and discovering methods to boost sales.
How to Set Up Shopify POS System?
Choose a Shopify pricing plan
Before you start to set up a Shopify POS system, you need to subscribe to one of the Shopify pricing plans, that we mentioned in the previous part, for your business. You can refer to our recent articles about this topic or you can check out the table below to capture the summarization of the three most basic Shopify pricing plans.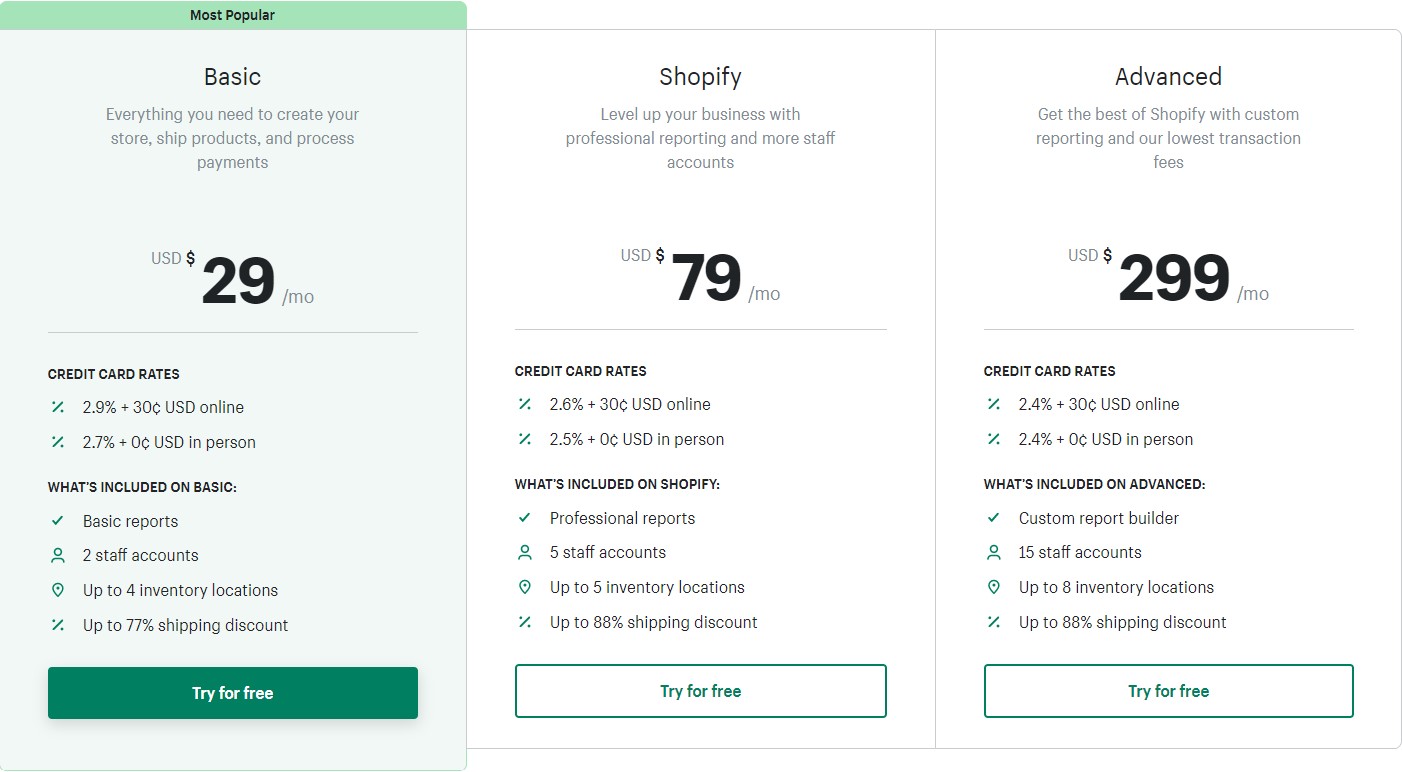 Keep in mind that Shopify POS Lite is automatically included in each Shopify pricing plan, no need to upgrade. However, if you want additional features, the Pro version costs an extra $89/month.
Connect to your hardware
You have chosen your Shopify pricing subscription plan and selected the Shopify POS version. The next step is to connect this software to your hardware devices. You can purchase Shopify POS hardware directly from Shopify, or find a compatible model from any retailer. Because the system integrates with many types of devices, you are free to select the one that best suits your needs.
Set up the Shopify POS app
Finally, you will need to set up your Shopify POS app. If you need assistance, make sure to contact Shopify customer support.
To Conclude,
Shopify POS is an excellent choice for merchants who want to do business using both online and offline channels. This POS system has outstanding features that will support you in every aspect of managing your store, from inventory tracking and orders to customers, ensuring a consistent customer experience. The Shopify POS pricing is transparent and reasonable, making it easy for merchants to calculate their business costs and strategy.
If you want to migrate your store to the Shopify platform, or if you want to learn more about using Shopify POS, don't hesitate to contact us today. We have a wealth of experts on our team with extensive experience in eCommerce, and Shopify specifically. With this confidence, we can provide you with tailored solutions for your business through Shopify.