As pet owners, we often have to find the perfect balance between spoiling our furry friends with all of their must-have products, while being mindful of our budget. Thankfully, Shopify makes it easy to launch and run a successful pet store.
With entire marketplaces dedicated to specialized pet products and the convenience of selling from an online store, you can provide your customers with everything they need for their beloved animals—all at affordable prices.
In this blog post we'll discuss some inspiring examples of great Shopify pet stores alongside the best themes currently on offer – so keep reading for more information about how you can create your own shopping experience!
Consideration of the 10 best Shopify pet store examples
Furbo
Furbo is a leading brand in the field of pet technology, known primarily for its innovative and interactive treat-dispensing camera designed for dogs. Furbo aims to bridge the gap between pet owners and their furry companions, even when they're not at home, by providing a way to monitor, interact, and care for pets remotely.

Furbo has gained popularity among pet owners who want to stay connected with their dogs while they're away. It's particularly useful for people who work long hours, travel frequently, or want to monitor their pets for various reasons. The treat-dispensing feature, in particular, adds an interactive and engaging element that can help with training and maintaining a positive relationship with pets.
Healthy Spot
Healthy Spot is one of the most impressive Shopify pet store examples currently on the market. That's because they offer more than just quality products at affordable prices: they create a shopping experience that is tailored to our beloved furry family members.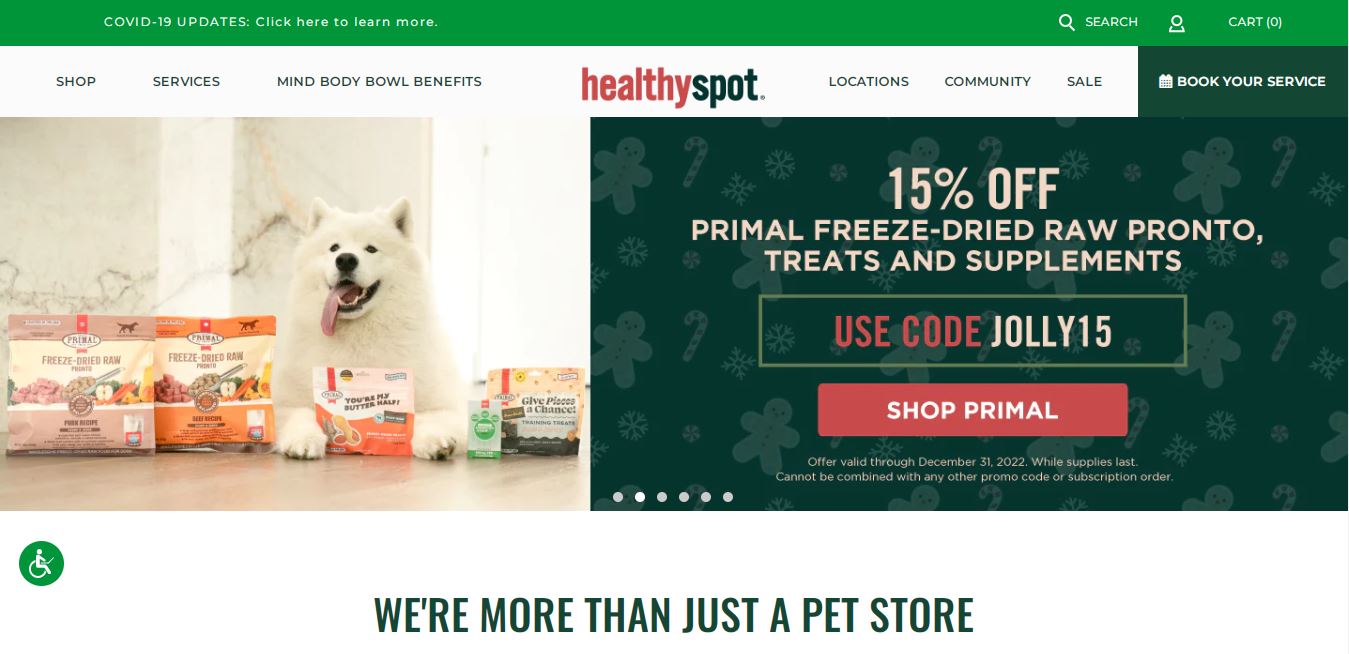 From an extensive collection of toys and natural foods, to travel gear and even a full home spa for pampered pets – a healthy spot really does it all. Add in their commitment to giving back with their philanthropic initiatives, like their pledge to donate 10% of purchases from a specific product line, and it's easy to see why Healthy Spot is setting the bar for pet store success.
An excellent store design, along with product ratings and an easily navigated shop page that includes autocompleting recommendations and photos for those suggestions, further increases this feeling of confidence. Additionally, they have a sizable blog where visitors may post comments and a huge online community where individuals plan events in local towns and cities.
Rocco & Roxie Supply Co
The slogan from Rocco & Roxie Supply Co, a pet treat manufacturer, is simple Best friends deserve the best treats. The store is a terrific example of an online retailer employing language and content to pique interest before leveraging superb design to deliver the finishing blow.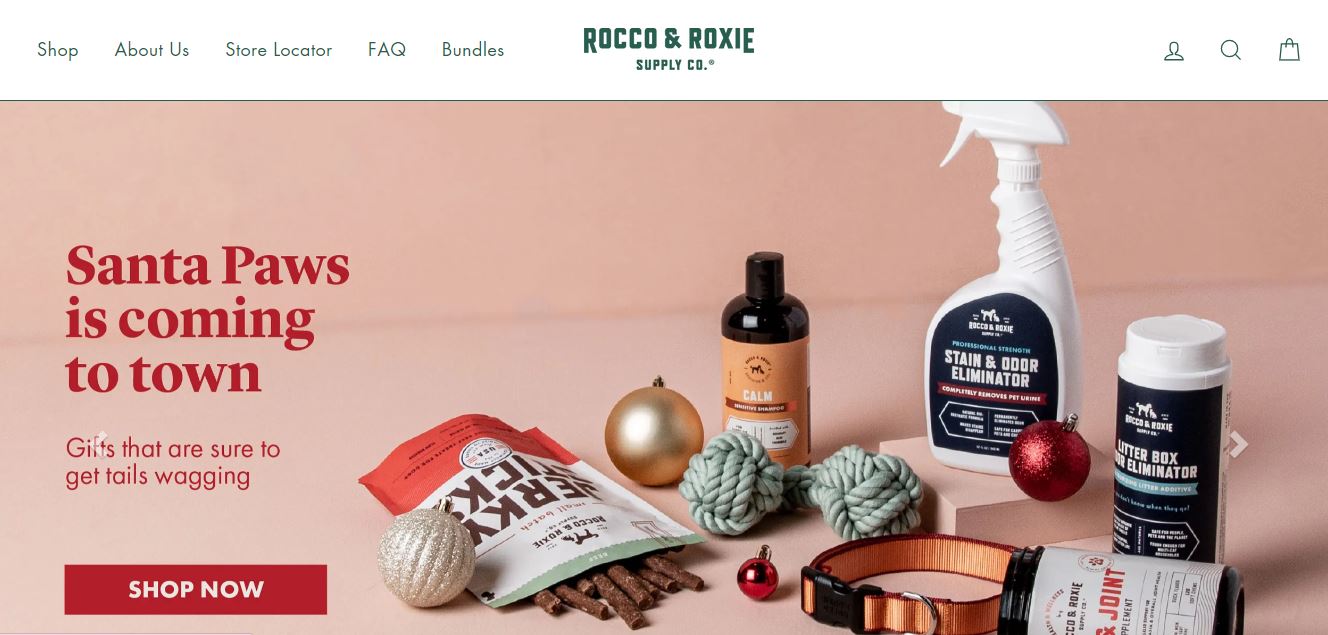 Every remark is genuine and sounds more like a companion informing you about their brand than a sales pitch.
The various product kinds are attractively presented in collections, which then lead to a product listing page, which, once a product is selected, leads to a dedicated product page with all the necessary information about the chosen product, including reviews. The checkout procedure is simple and fast, which significantly reduces the number of abandoned carts.
Petsense
Petsense's goal is to provide excellent pet goods at reasonable costs. There are no thrills, no one-on-one connections, and no handcrafted, gourmet vegan snacks. The amazing part about Petsense is that they are aware of who their consumers are.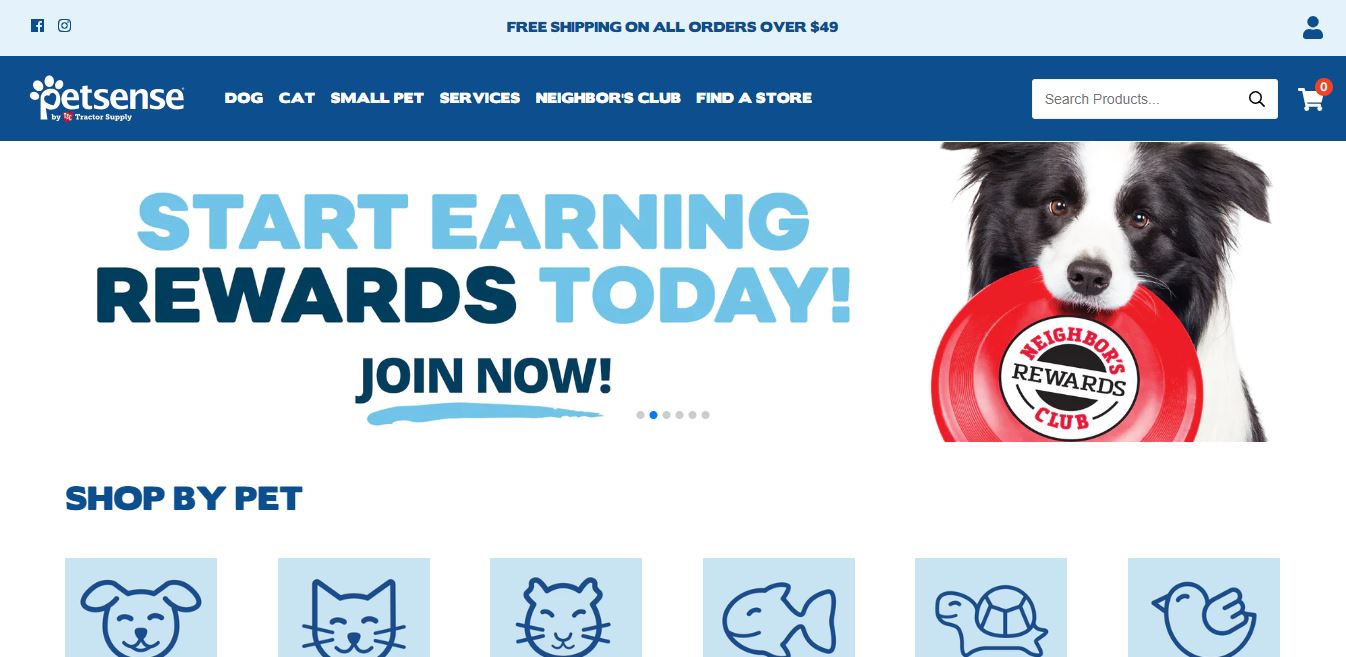 They then used this information to design the store appropriately. Therefore, when you get on the landing page, the first thing you'll notice is a banner advertising a 10% discount!
Because the store categories are separated into Dog and Cat alternatives, they are simple to navigate. Once one is chosen, you have the choice of additional filters and categories to make it as simple as possible for you to find the items you want.
Dog Quality
Dog Quality is included on the list because it is an excellent illustration of locating a niche inside a specialty. The store chose to concentrate on accessories for senior dogs rather than just dog accessories like so many other Shopify pet supply companies out there.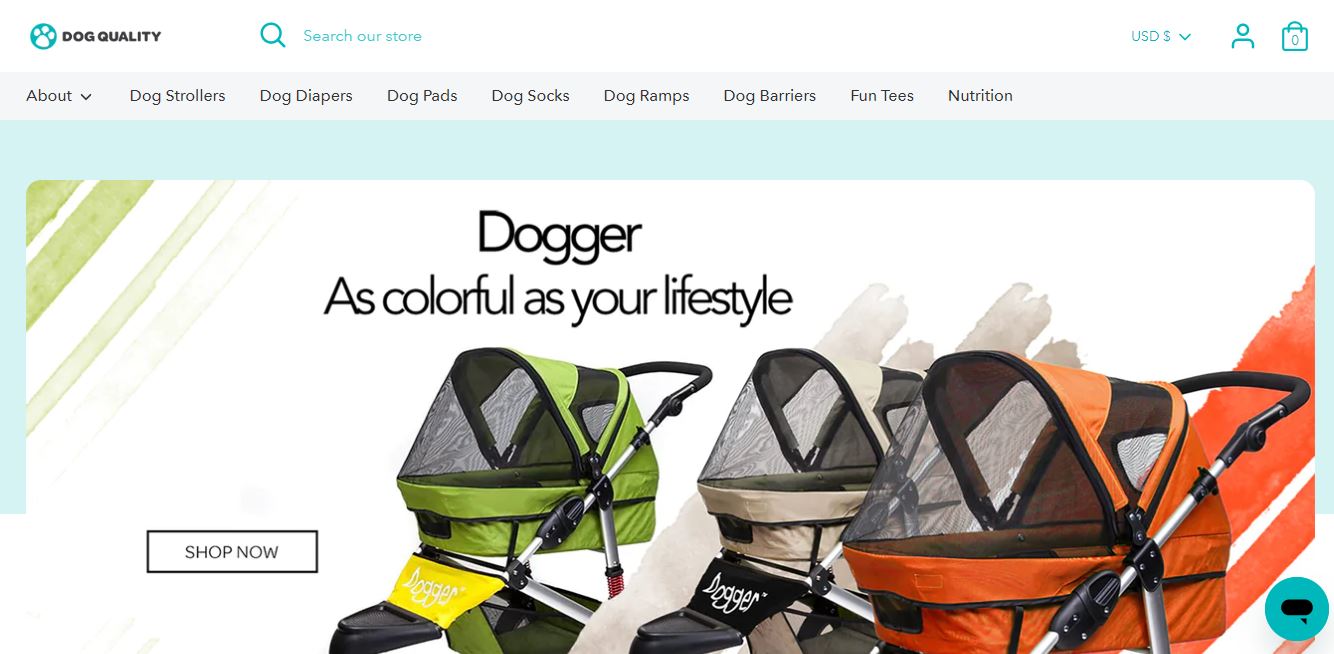 They specialize in everything from dog strollers to dog diapers to ramps for elderly friends who finds it difficult to climb onto the bed for morning cuddles.
When dealing with such sensitive issues as canine mobility and incontinence, the design must be both playful and lively while also respectfully showcasing the items. It increases that degree of confidence since each product has its own description and feedback.
PetCulture
PetCulture, based in Australia's New South Wales, not only specializes in pet food, litter, toys, and other accessories but also gives members personalized counseling with pet insurance and professional veterinarian advice.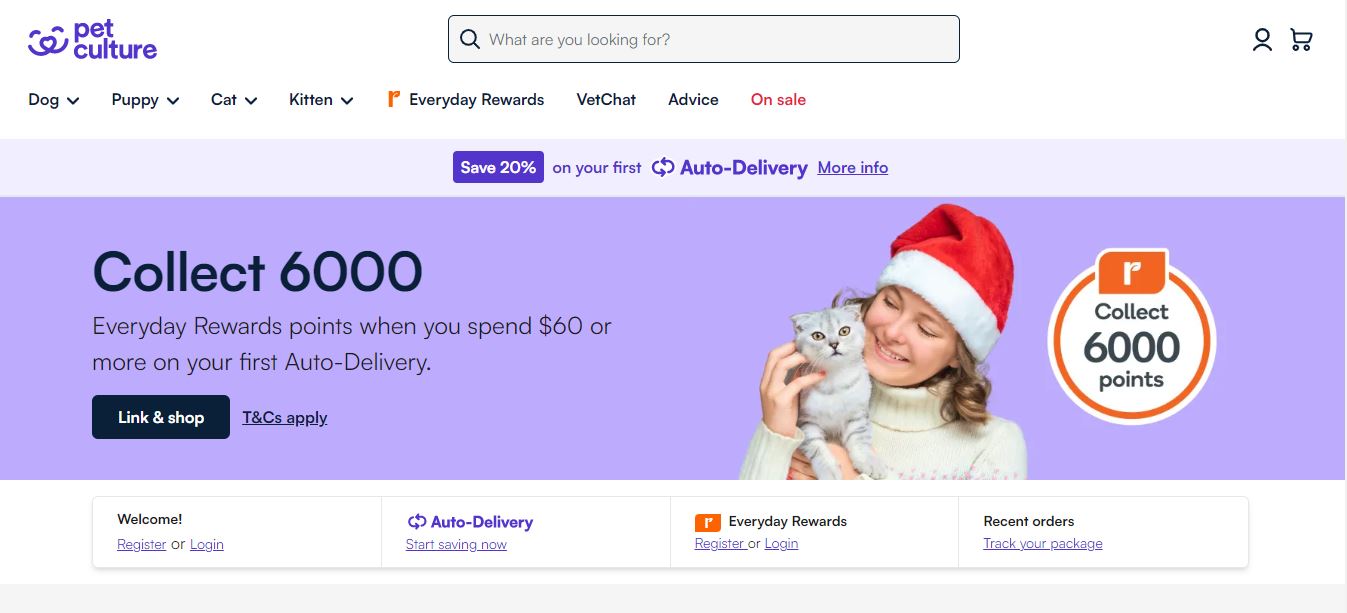 Their website serves as a one-stop shop for pet owners online and offers a thorough, individualized experience, along with auto-delivery functionality and a reward points system.
This Shopify pet store has a headless architecture, with Shopify Plus serving as the backend for online sales. The Australian brand witnessed a 100% month-over-month revenue increase after its quick 120-day start.
Gunner Kennels
In 2015, the heavy-duty dog crate company Gunner, which takes its name from creator Addison Edmonds' own dog, set out to create Man's Best Kennel. Gunner wanted a website that was as durable as the items they were selling since every aspect of their crates was created and put through real-world testing to guarantee the protection of their four-legged clients.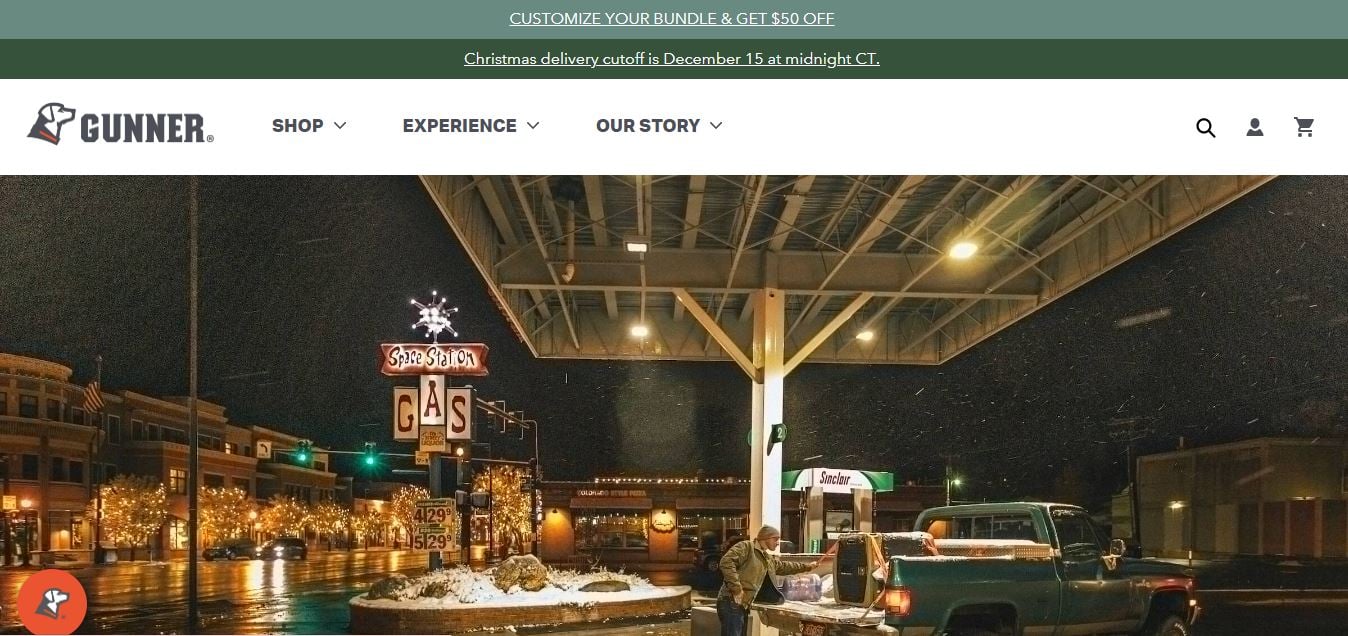 With the aid of Shopify specialists, the D2C business that was migrating from Magento to Shopify Plus created 3D models of its crates so that customers could view every aspect of the item before making a purchase.
Gunner Kennels' financial situation significantly improved as a result of Shopify's native support for 3D modeling and augmented reality technology, and they are still doing well on the platform.
YuMove
Charlie, a loving chocolate labrador who became elderly and was just able to move on and off the couch, served as the inspiration for YuMOVE, according to co-founder John Davies. Davies made the decision to launch the UK's top-selling veterinary joint supplement brand after experimenting with numerous alternatives.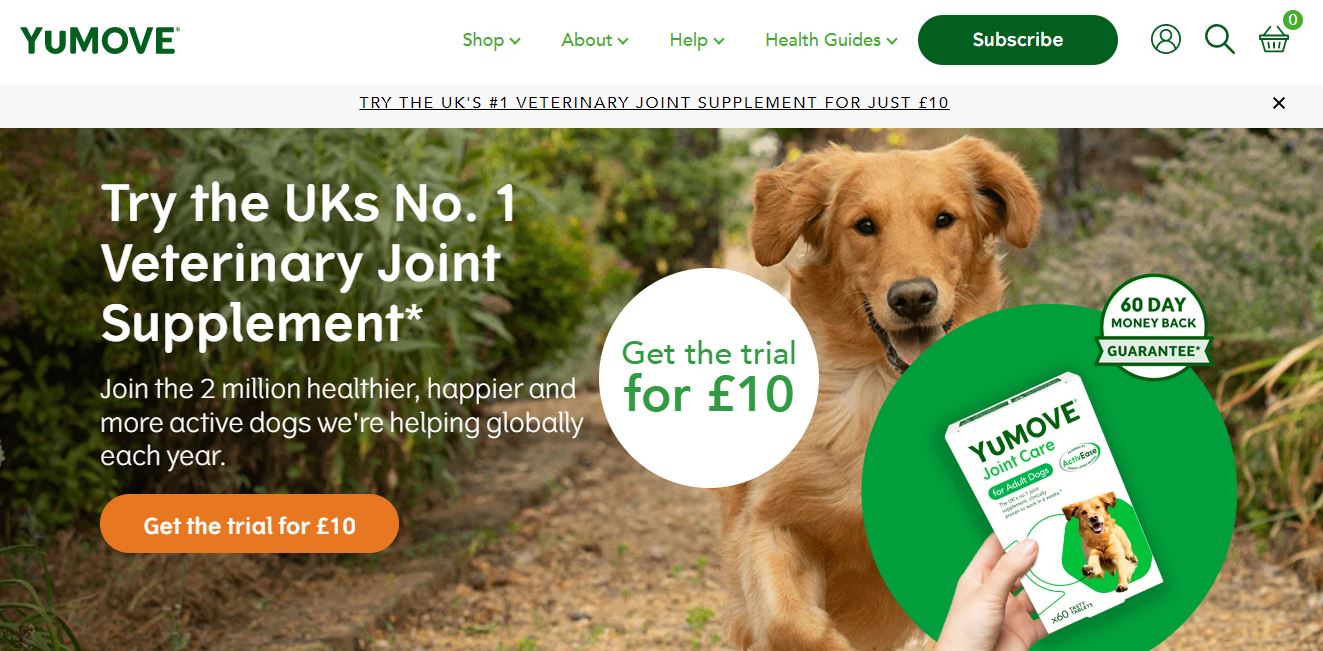 With over 15 years of expertise and a passion for animals, YuMOVE is committed to ensuring that every dog, cat, and horse has a mobile and happy existence. To this end, they provide sustainable products and pet goods with all-natural components on their D2C eCommerce website. Both single-purchase and subscription options are offered for products.
Pupnaps
Pupnaps, a conscious pet business, revolutionized how much significance we place on the sleeping patterns of our animals by delivering man's best friend the finest sleep imaginable. The conscientious pet brand went viral in Australia with its unique Calming Dog Bed and has given a peaceful night's sleep to over 100,000 puppies throughout the world since its launch on Shopify in 2019.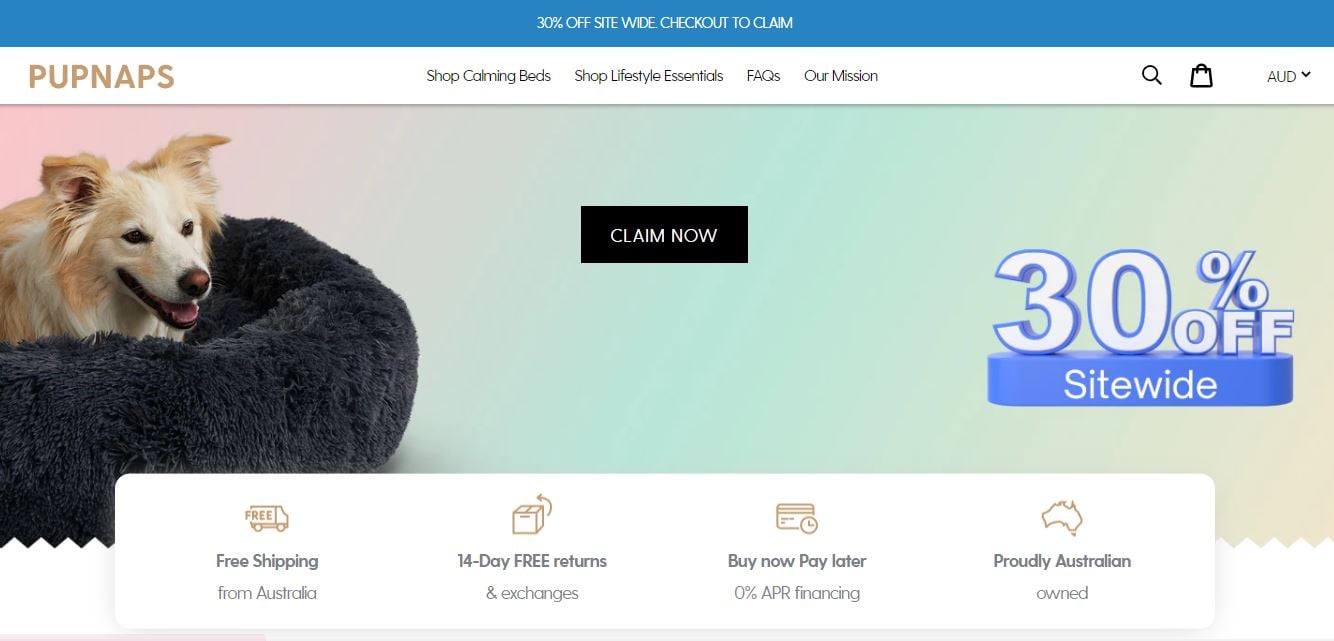 Among the pet Shopify stores, Pupnaps uses zero-party data to provide visitors with relevant interactions across their websites. The demands of their four-legged buddy will then be catered to with personalized product recommendations and vital information after visitors complete a brief survey to determine which bed matches their pet the best.
Forthglade
Forthglade was founded in 1971 by a team of Devonian dog enthusiasts. It is currently a global leader in natural pet food. They employ their 50 years of knowledge in pet nutrition to give excellent wet, dry, and natural treats created in the heart of the Devonshire countryside. They are passionate about maintaining dog food that is wholesome, nourishing, and uncomplicated.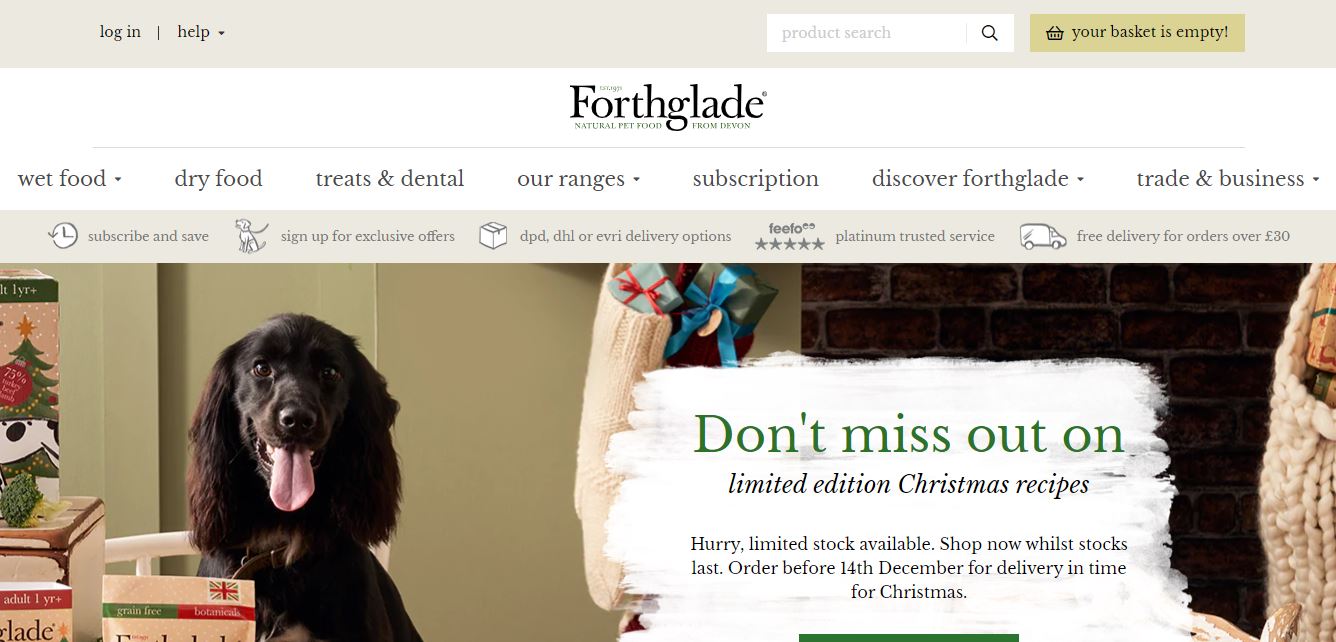 While their products are accessible in local shops all across the UK, such as Waitrose, Sainsbury's, and Pets at Home, Forthglade wanted to maintain the availability of their whole range online and eventually turned to Shopify Plus after outgrowing their own custom platform.
Things to keep in mind when building your Shopify pet stores
Even before a potential buyer lands on your home page, you've already lost them if they don't think your product is of the standard their pet deserves. This trust in quality frequently has more to do with how the goods are presented than with the thing itself.
As a result, there are three key areas on which you should focus while setting up your Shopify pet business. They are focusing on a niche within a niche, having a professional and effective page design, and having a reputation and trust.
Credibility and confidence
Because customers are purchasing items for loved ones, even if they are furry, feathered, or scaly, your store has to have the best reputation possible. People will escape the room if they are even somewhat suspect there is mistrust.
The best method to build trust is via your words. Your content and text should be perfect. Nothing instantly conveys to visitors that this website is unreliable than poor language or unclear information. Using a professional content or copywriter to create the phrases that will impress your consumers may seem like overkill.
Expert and Effective Design
The layout and functionality of your Shopify pet store play a role in whether or not it gives off the impression that it is legit after the initial impact of the content on it. A clumsy website negatively affected under the weight of carelessly thrown-together information on a landing page can turn off as many customers as a website linked with spelling errors.
A Sub-niche of a Niche
Last, but not least, look for a niche within the pet supply sector. By looking at social media and the purchase patterns of your prospective customers, you can obtain this very quickly.
For instance, keeping pigs as pets is getting more and more popular. Instead of focusing on cats and dogs, why not try to fill that niche? Alternatively, if you want cats and dogs, try to focus on senior cats and dogs. But like with anything, you should avoid narrowing your focus too much. Nobody wants to hear about your business for diabetic albino chinchillas!
5 best Shopify pet store themes 2023
Branchy theme by TemplateMela
The Branchy Shopify Theme is a multi-store theme made for electronics, mobile, computers, megastores, beauty, cosmetics, food, toys, and multi-stores. Additionally, you can entirely select the color in the variety shop. This is a lovely theme with a distinctive style and matching colors.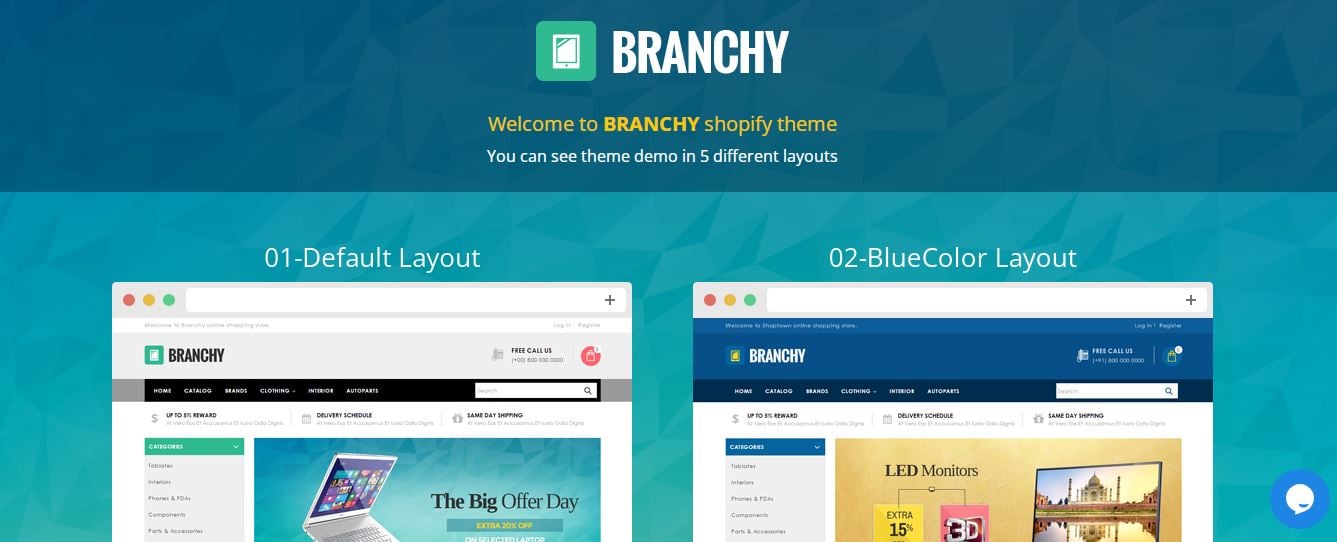 In addition, Branchy Shopify Theme has a ton of strong modules, like a Mega Menu, SEO, a Revolution Slider, and Font Awesome icons, among others. Selecting Branchy as your store's Shopify theme will undoubtedly satisfy you.
Key features:
Easy to customize and install
Flexible admin panel
Include 1500+ font awesome icons
Build on HTML 5 and CSS3
Unlimited colors and banners
No core modifications
Catchy theme by TemplateMela
The Catchy Shopify Theme is a stunning and distinctive style that works with all kinds of shops, including those that sell electronics, cell phones, computers, food, furniture, toys, vehicles, books, and more. This theme's flawless use of color and composition attracts shoppers right away.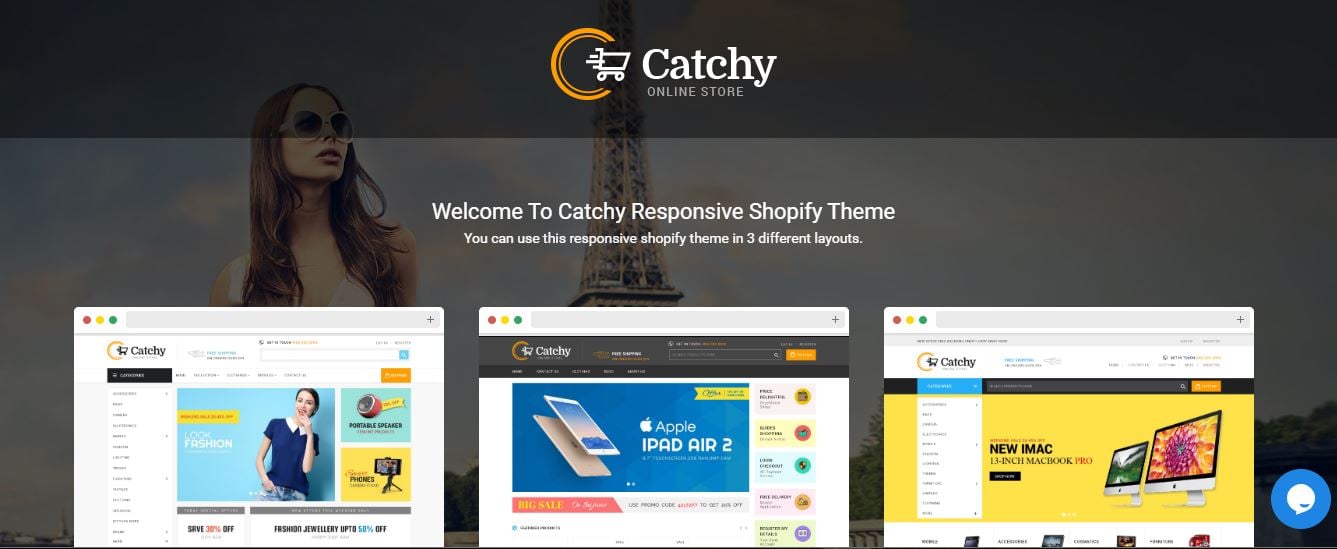 A versatile control panel is another feature of the Catchy Shopify Theme that helps online store owners operate more effectively. Another excellent feature of this theme is the abundance of strong modules it includes to make your shop absolutely wonderful.
Key features:
Include 1500+ Font awesome icons
Optimize SEO better
Multiple colors included
Easy to customize
Support HTML 5 and CSS 3
Responsive design, Nice theme
My Pets theme by Themes-hub
The Themes-Hub team's My Pets is an excellent theme for numerous pet companies. With many readymade parts, My Pets is a completely ideal theme for an animal care store.
It will help you create your own online company. This theme suggests pet services, chew toys, animal care, and veterinary care for your animals.
Key features:
Enable Drag & Drop
Mega-menu
Able to display banner and video banners with content
Show testimonials to raise your reliability
View products in a grid view or list view
Petmart theme by Nvttheme
The Petmart Responsive Shopify Theme by the Nvttheme team is a great theme for any pet store Shopify, veterinary clinic, or dog training classes, as well as stores that sell goods like pet food, pet toys, and other pet-related items. There are a number of ready-made homepage variations available, so you can quickly match your anticipated store.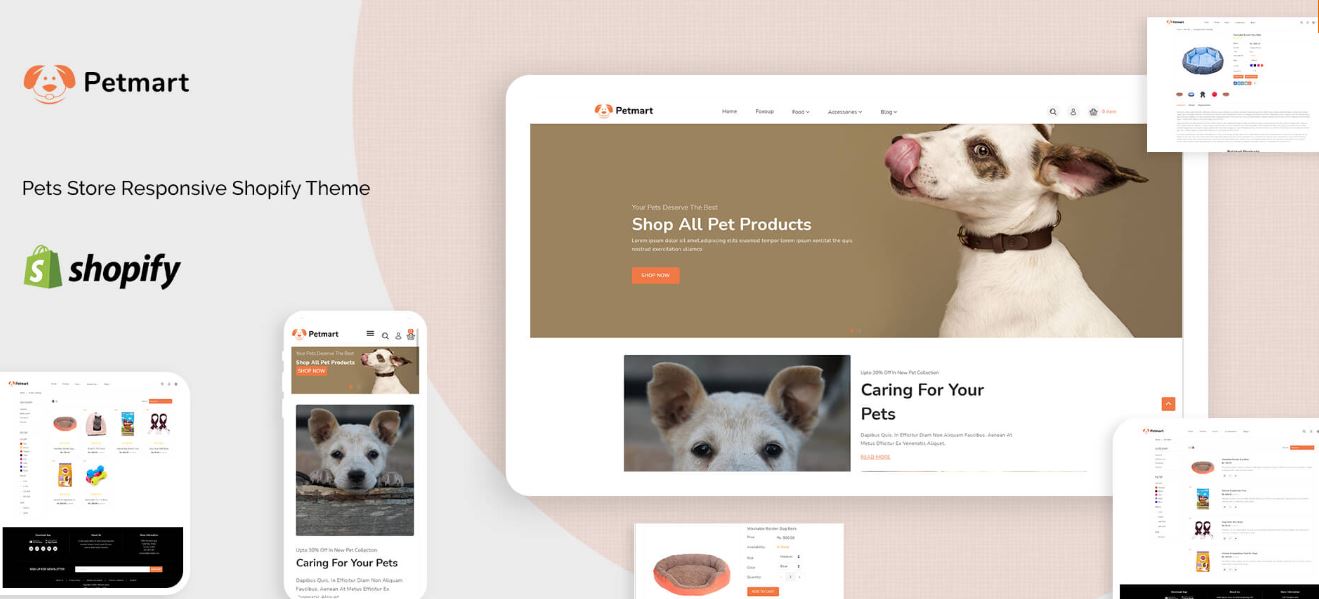 This theme is completely responsive and, of course, works with all devices. Additionally, Petmart enables QuickView to make it simpler for your consumers to take a fast glance at anything appealing.
Key features:
Feature QuickView
Customer Reviews
Able to display products in grid and list mode,
Built with HTML5 & CSS3 & Sass CSS
Google Web Fonts
SEO optimized with Google's rich snippet
Marten theme by Theme-4web
The Marten – Pet Food Shopify Theme, created by the Theme-4Web team, is a great theme for a variety of pet food companies, including those that provide food for puppies, kittens, birds, and aquariums. Marten is incredibly adaptable to your business needs and quite simple to adjust.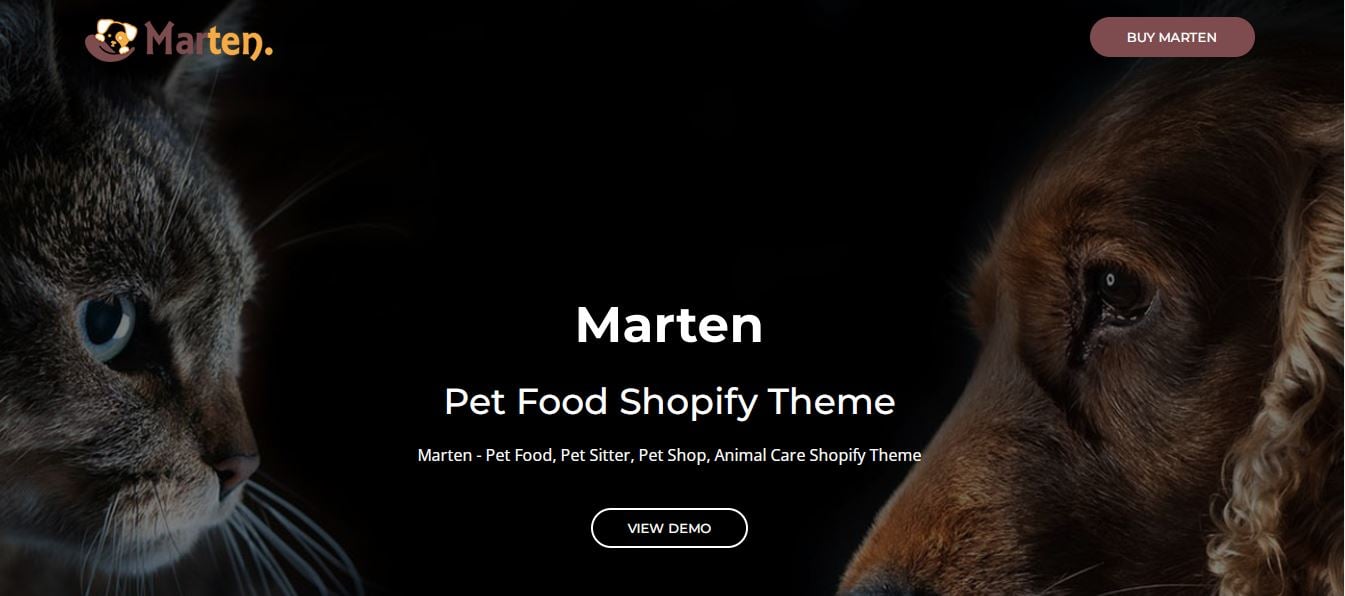 The quickest method for you to download this theme is by using the Quick Install option we've given. With two distinct homepage variations and several inside pages, including Products, Blog, Food, About, and Contact Us, Marten is sure to meet your needs.
Key features:
Provide 100% responsive homepage versions
Support Mega-menu
Able to enable Quick View
Enable Ajax cart and View in Grid/List/Single Product mode
Display Drop-down shopping cart
In conclusion,
If you're looking for more inspiration, be sure to check out some of the best Shopify pet stores in the business. They are doing an excellent job at showcasing their products and services, and they can serve as great sources of inspiration for your own online store. Running into trouble building or optimizing your Shopify pet store? With just one message, our Shopify experts will be assisting you or you can refer directly to our elite website development services to gain more insight and information about our ability and professional skills.