In today's digital age, social media has become a powerful tool for businesses to connect with customers and drive sales. And with almost three billion active users in the first quarter of 2022, Facebook is by far the most popular social media platform. In the past, the only way to attract customers was to have a physical store. Later, businesses started setting up online stores to reach people digitally. Nowadays, social media platforms have become virtual spaces, providing an opportunity for businesses to connect with customers from all over and share their brand's story with a brand-new community. This allows for an authentic and personalized experience for customers while expanding the reach of the business. Therefore, in this article, we'll explore some Shopify Facebook store examples for inspiration that can help you boost your online sales and grow your business.
What Is A Shopify Facebook Store?
Shopify Facebook store, in essence, is an extension of the Shopify store website. This feature provides merchants with the ability to showcase and sell their products and services directly through the Facebook Business page.
Facebook, being the largest social network globally, is a great platform for businesses to generate leads and increase their visibility. However, there are some downsides to using Facebook for advertising. For instance, the average click-through rate (CTR) for Facebook ads is relatively low, standing at only 0.9% across all industries. The CTR varies across different sectors, with legal and retail ads having the highest average CTRs of 1.61% and 1.59%, respectively, as of August 2020. Depending on your business niche, the average CTR will vary.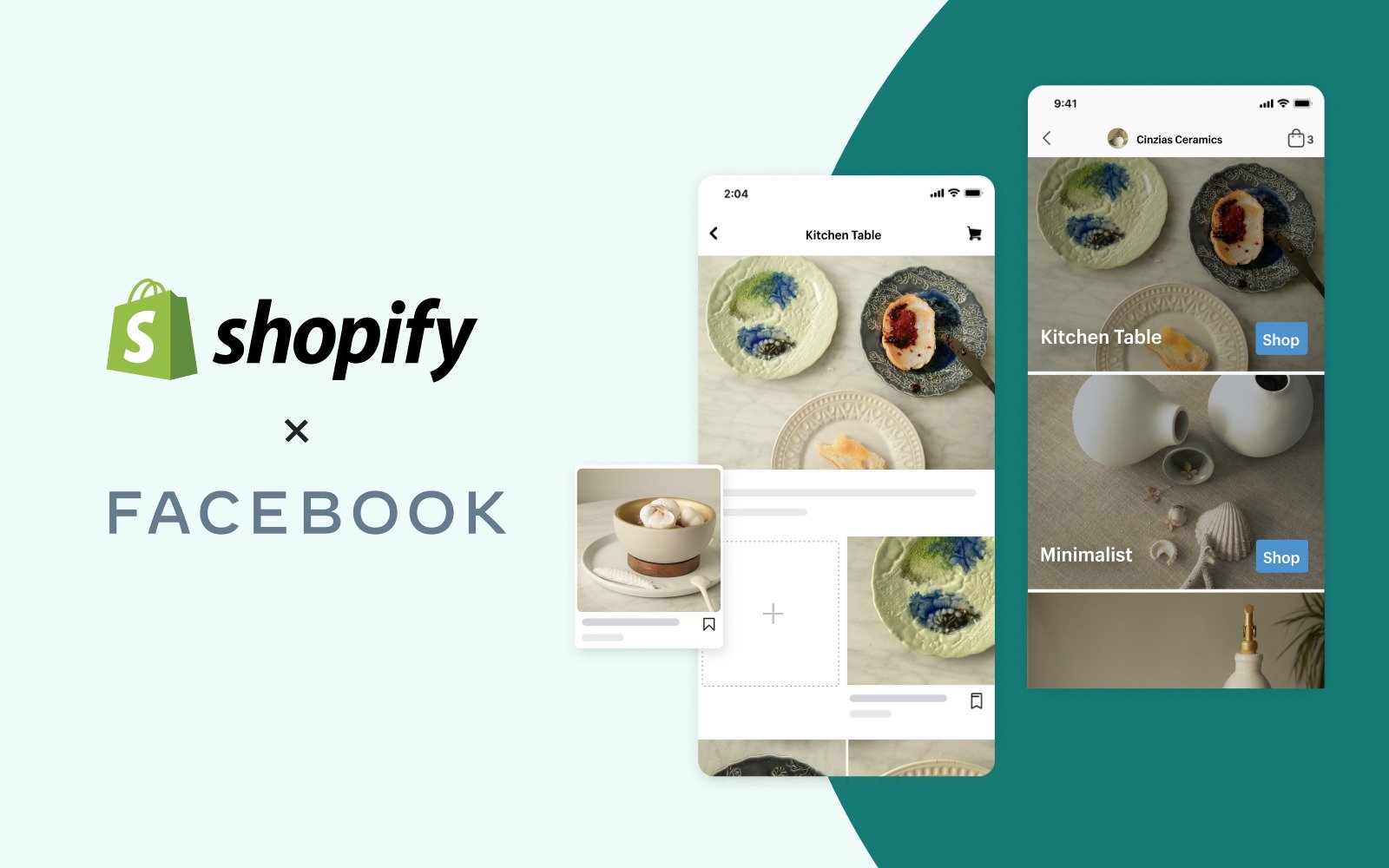 In contrast, the CTR for featured snippets on Google searches is significantly higher. The first two results on Google have an average CTR of 23.3% and 20.5%, respectively, while the tenth result still averages 2.3%.
Despite this, Facebook users tend to browse beyond the first three posts on their news feeds. Similarly, it is not easy to attain one of the top three positions in Google search results. Moreover, the conversion rate on Facebook is remarkably high, with the fitness industry having an average conversion rate of 14.29%.
Another downside to using Facebook for advertising is the platform's guidelines, which can be tricky to navigate. Businesses run the risk of having their Facebook page or shop suspended for violating Facebook's policies. As such, it's always advisable to have an eCommerce store separate from a Facebook shop to avoid any risks associated with a Facebook suspension. In this case, a Shopify Facebook shop should be primarily for promotional purposes.
Although Facebook is a platform that has many downsides with low CTRs across multiple fields and strict advertising policies, it's still a potential place for merchants to explore and utilize for their online businesses when its conversion rate is relatively high compared to other social media platforms. It's also easy to implement selling and with the features of a social media platform, businesses can increase their online presence and reach more customers through a vast user base. Thus, the store's integration with Shopify also makes it easy for businesses to manage their online sales and inventory in one place.
Top 12 Inspiring Shopify Facebook Store Review Examples 
Manitobah Mukluks
Manitobah Mukluks is a Canadian-based company that specializes in handmade mukluks, moccasins, and accessories. They have a strong focus on indigenous traditions and culture, and their products reflect that.
Their Facebook store features high-quality images of products, along with detailed descriptions and pricing information. They divided their products into collections with accurate prices that help customers easily browse through the various categories of products, including men's, women's, and children's footwear, and accessories.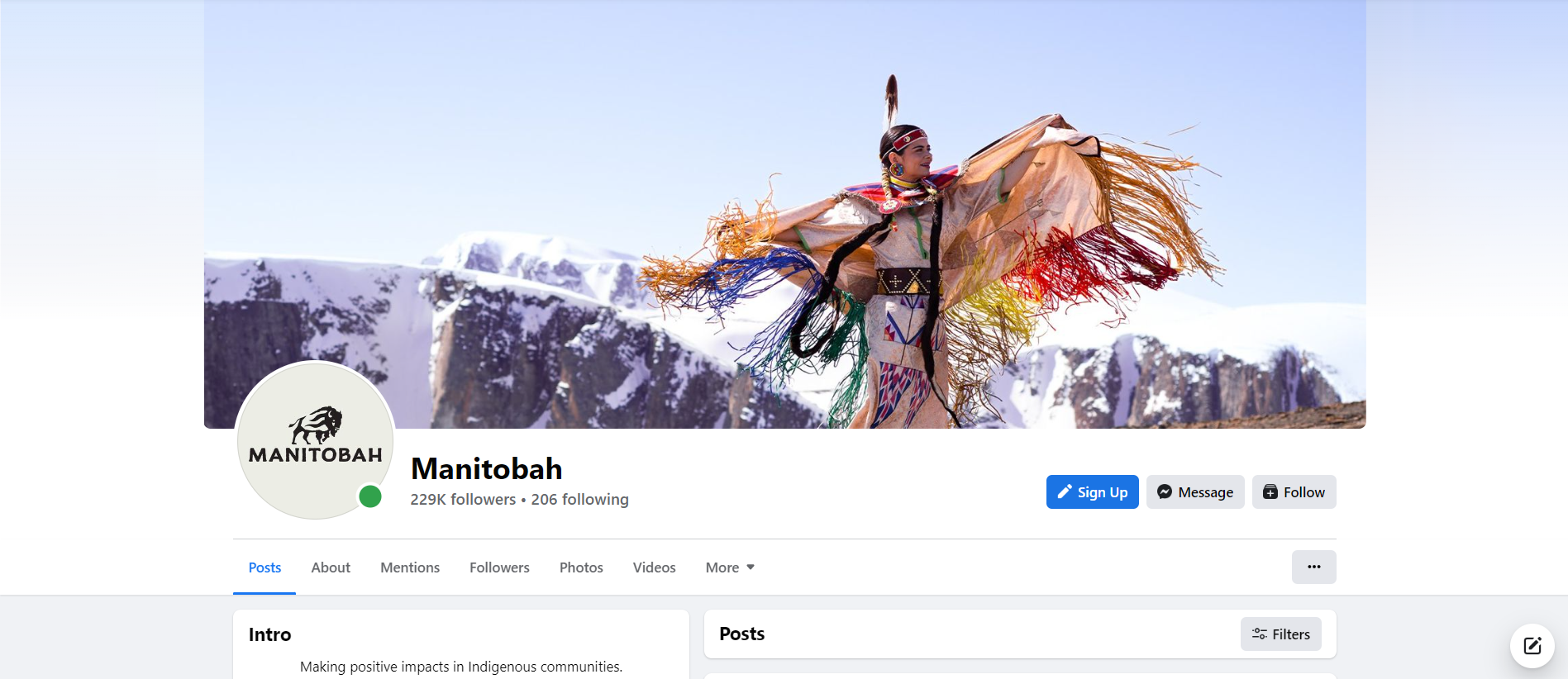 This Shopify Facebook store review has created a series of videos that showcase its products and the indigenous communities that inspire them. These videos not only highlight the products but also tell the story behind the brand, making it more than just a shopping experience.
Manitobah Mukluks excels at building a community on its Facebook Business page by showcasing its customers and their posts, demonstrating that they are attentive and responsive to its audiences.
Partake Foods
Partake Foods is a brand that produces snacks and food items that are devoid of the eight major allergens, ensuring that children with dietary restrictions do not feel excluded. The company is dedicated to enabling everyone to consume nutritious, delicious, and safe food.
The company's Facebook page has an eye-catching and visually appealing layout that highlights its products and mission. They use Facebook to promote their products, offer exclusive discounts and giveaways, and share content related to their brand values, such as allergy awareness and inclusivity.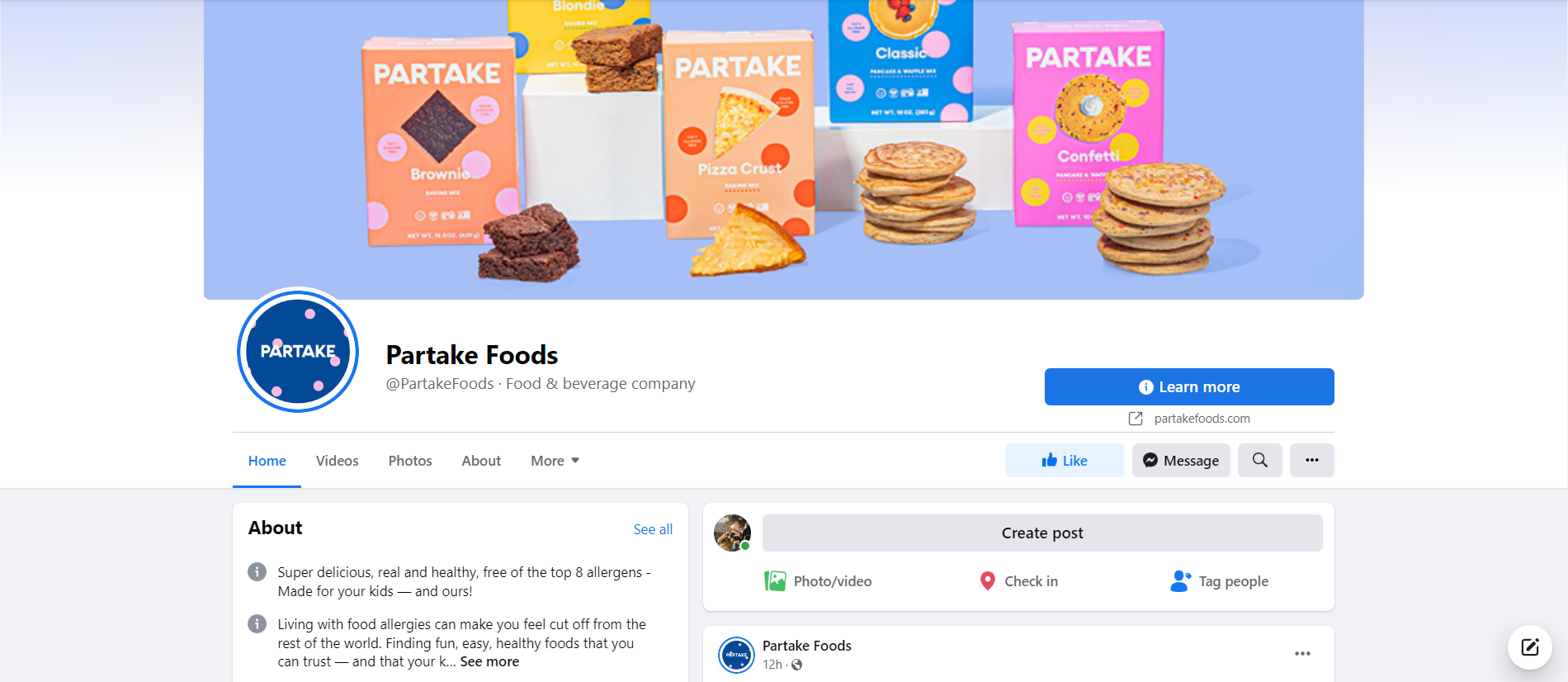 One of the standout features of Partake Foods' Shopify Facebook store review is the use of customer reviews and user-generated content. They often share posts from satisfied customers and their families who are delighted to find a tasty and safe treat they can enjoy.
Partake Foods also regularly posts recipes, tips, and other content that complements its product line and resonates with its target audiences. They use Facebook's powerful targeting capabilities to reach potential customers who have an interest in allergy-friendly or healthy snacks.
Todd Snyder
Todd Snyder is a men's luxury fashion brand that has a strong presence on Facebook with its Shopify Facebook store. They use their page to showcase their high-quality products and offer exclusive deals to their followers.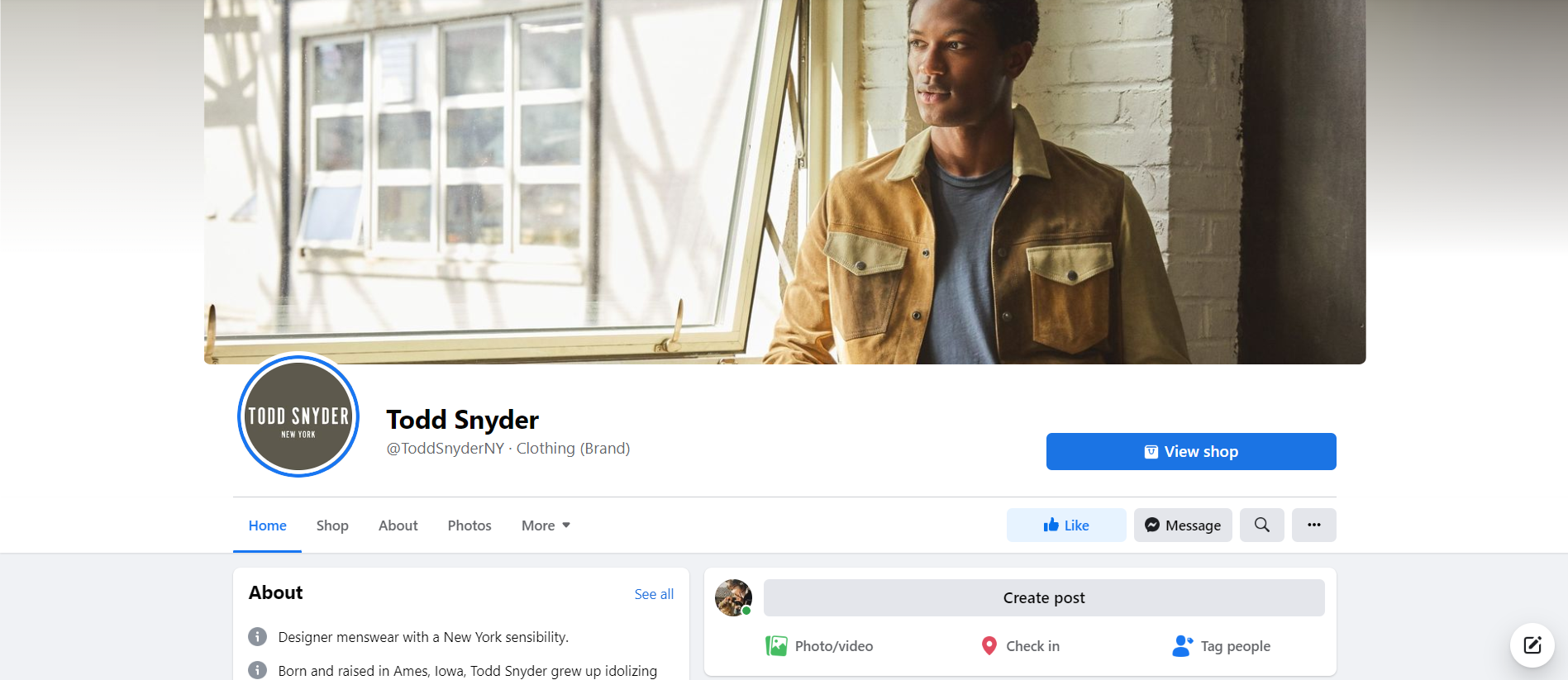 On Facebook, it's possible to advertise an entire collection in a single ad. Todd Snyder used this feature to showcase their Made in L.A collection, which includes various clothing items made in their L.A factory. Customers can click on the Buy Now button, which will redirect them to the corresponding collection page on Todd Snyder's Shopify Facebook store review. From there, shoppers can add specific products to their cart and view them directly on the retailer's website.
In addition, they also use Facebook to promote their events and collaborations with other brands. Through their page, they aim to create a community of fashion enthusiasts who share a passion for classic American style.
Naja
Naja is a lingerie brand that is committed to promoting sustainability and empowering women. Their luxurious lingerie is designed to fit women of all shapes, sizes, colors, and backgrounds, and they strive to create a socially conscious and inclusive brand.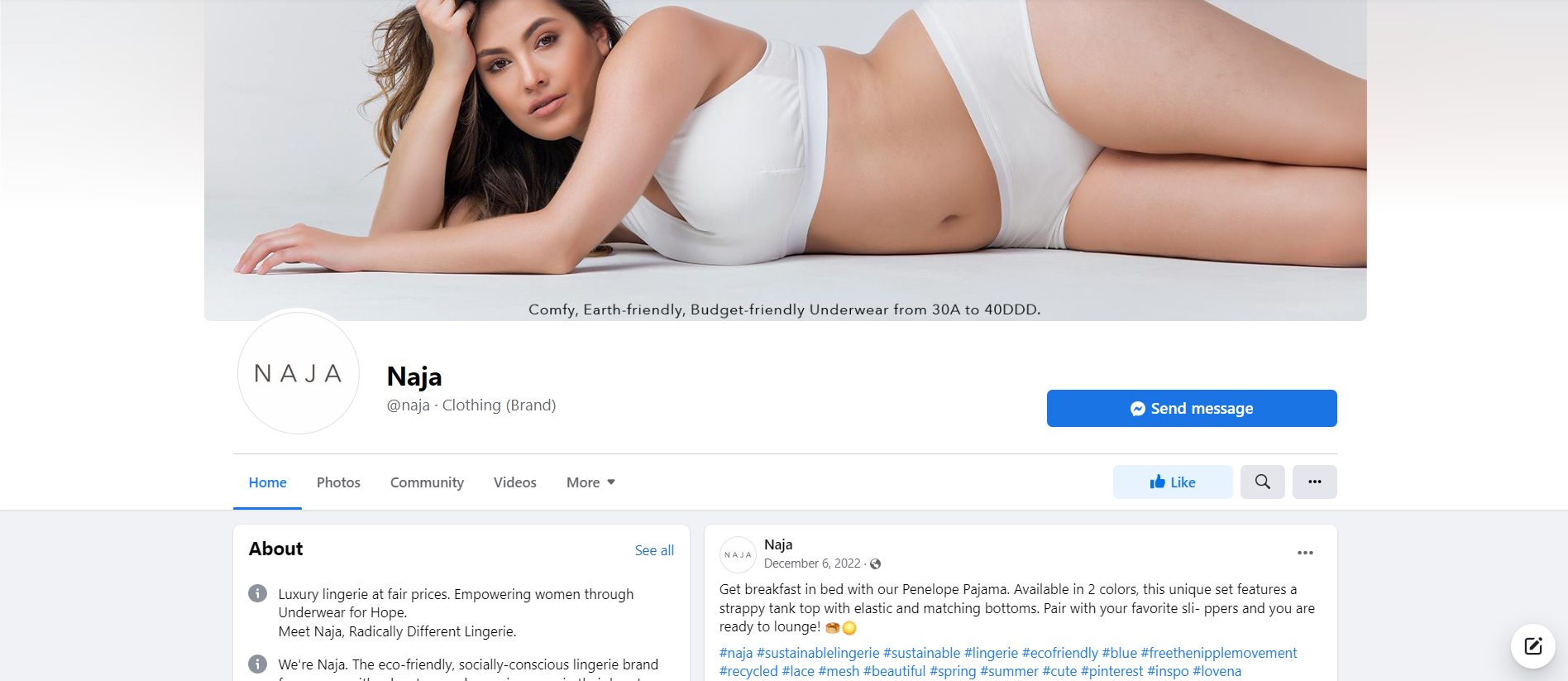 Through the Facebook Business page, they provide authentic photos that make their audiences feel welcome and friendly. They also utilize Facebook's ad features to promote their products and encourage customers to visit their website to make purchases.
The content of their page is very human with the topics that their target audiences care about. This makes them feel like they are talking and discussing with a friend, not a business and especially not a machine. In addition, they have a section on their Facebook page dedicated to customer reviews, allowing potential customers to see the positive experiences others have had with their brand.
Flourist
Maybe at the first glance, you can think that this is a flower brand until you realize that it's a name of a pun. Flourist is an online bakery and flour mill that uses locally sourced grains to produce high-quality products.  Their Shopify Facebook store review features a wide range of artisanal bread, baking tools, and pantry staples like flour and grains.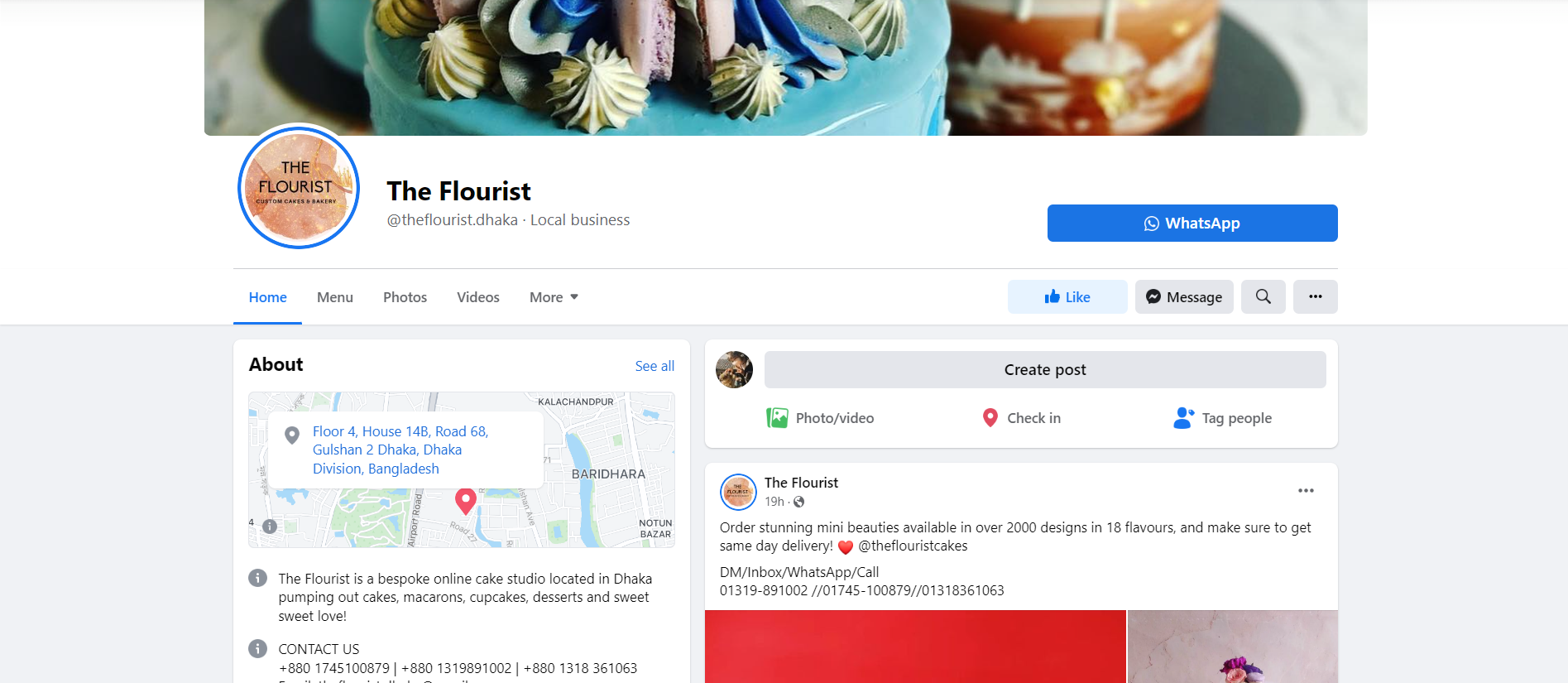 With an emphasis on sustainability and community, Flourist offers a subscription service for regular customers and provides recipe inspiration for those who want to get creative in the kitchen.
Although Flourist is not as active on Facebook compared to the other examples mentioned, they still have a respectable 57k likes. Their visually appealing content showcasing delicious food is what makes them stand out as an excellent example of a Shopify Facebook store review. That's also a reason why we feature them in this list for inspiration and learning.
Gymshark
Gymshark is a fitness apparel and accessories brand that has leveraged the Shopify Facebook store to showcase its products and connect with its audience. With almost 2 million likes, Gymshark's Facebook page features a mix of workout tips, motivational posts, and product promotions.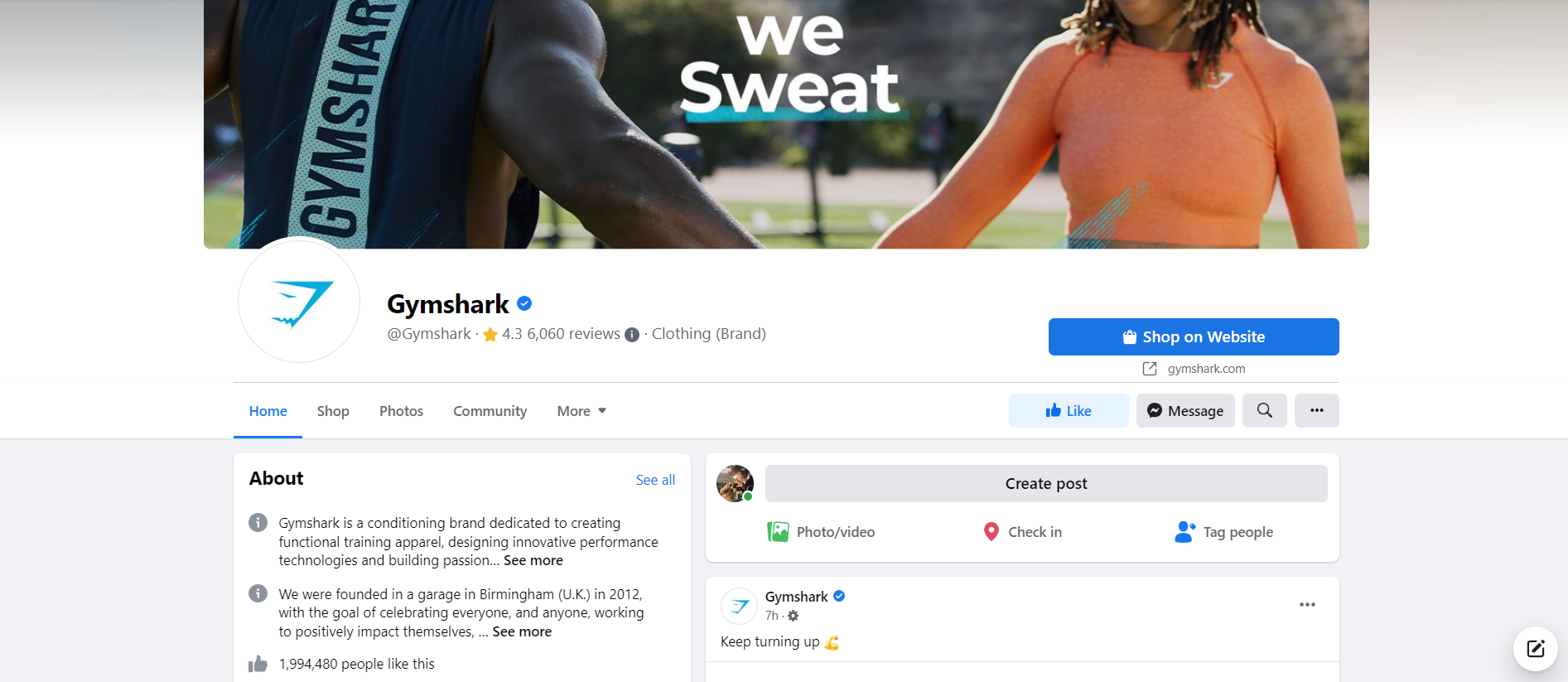 Their Facebook store features a variety of Gymshark's products, from leggings and sports bras to gym bags and water bottles. Users can browse through the collections and click on the products to view more details and purchase them through Gymshark's website.
In addition, Gymshark has utilized Facebook's video and live-streaming features to engage with its audience and showcase its products in action. This has helped them build a loyal following and establish themselves as a leader in the fitness apparel industry.
Meow Meow Tweet
Meow Meow Tweet is a vegan and organic skincare brand that uses natural ingredients to create unique, natural and cruelty-free products such as deodorant, menstrual pads, toothbrushes, and shampoo. Meow Meow Tweet's products are produced in small batches with minimal waste, and each month they select a different non-profit organization to receive donations.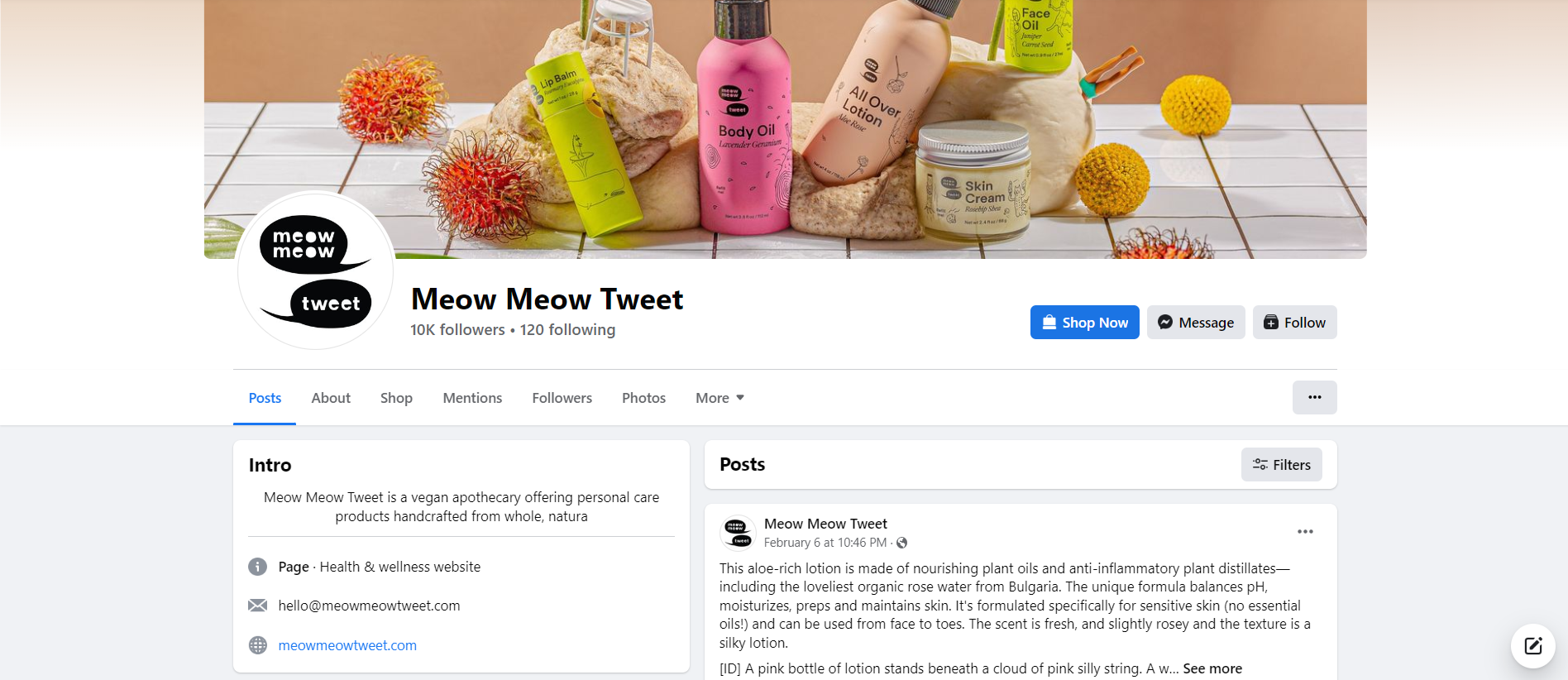 Their Shopify Facebook store review has a visually appealing and seamless design, with a colorful layout that makes browsing through their products a refreshing experience as well as their commitment to sustainability and ethical practices. Moreover, their Facebook store offers all the available options for a product, making it unnecessary to visit their website when making a purchase.
They also use Facebook to promote new products and offer exclusive deals to their followers. Meow Meow Tweet's Shopify Facebook store features its entire range of skincare products, making it easy for customers to browse and make purchases directly from the social media platform.
Ketnipz
Ketnipz is a brand that specializes in T-shirts and hoodies that showcase their gender-neutral character, Ketnipz. Established in 2017, the brand has gained worldwide recognition and has accumulated over three million followers on Instagram.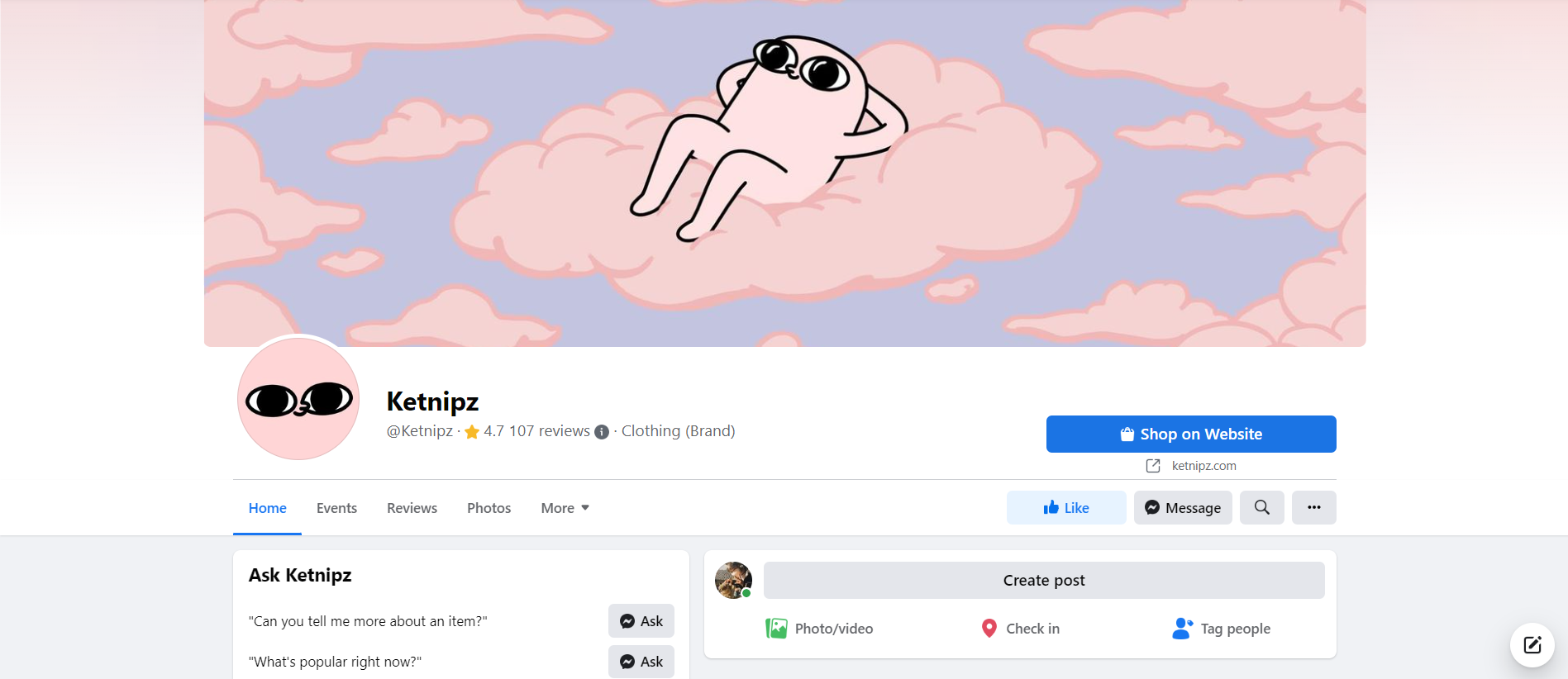 With over 200,000 followers, Ketnipz is a prime example of utilizing a Facebook page purely for promotional purposes. This Shopify Facebook store review is filled with vibrant and playful designs that cater to a youthful and fun-loving audience. From apparel to accessories, each product showcases Ketnipz's signature style and has garnered a considerable following on Facebook and other social media platforms.
While visitors can access their online storefront through the Shop on Website button, the Facebook page itself does not have a dedicated shop section. For those looking to establish an online presence as an artist or with an existing fan base, emulating Ketnipz could be beneficial.
BLK & Bold
BLK & Bold is created by Pernell Cezar and Rod Johnson to share the love of coffee and tea and it is truly a specialty coffee and tea brand that aims to create a positive impact on youth in underserved communities. For every product sold, a percentage of the profits goes towards supporting programs that help young people succeed.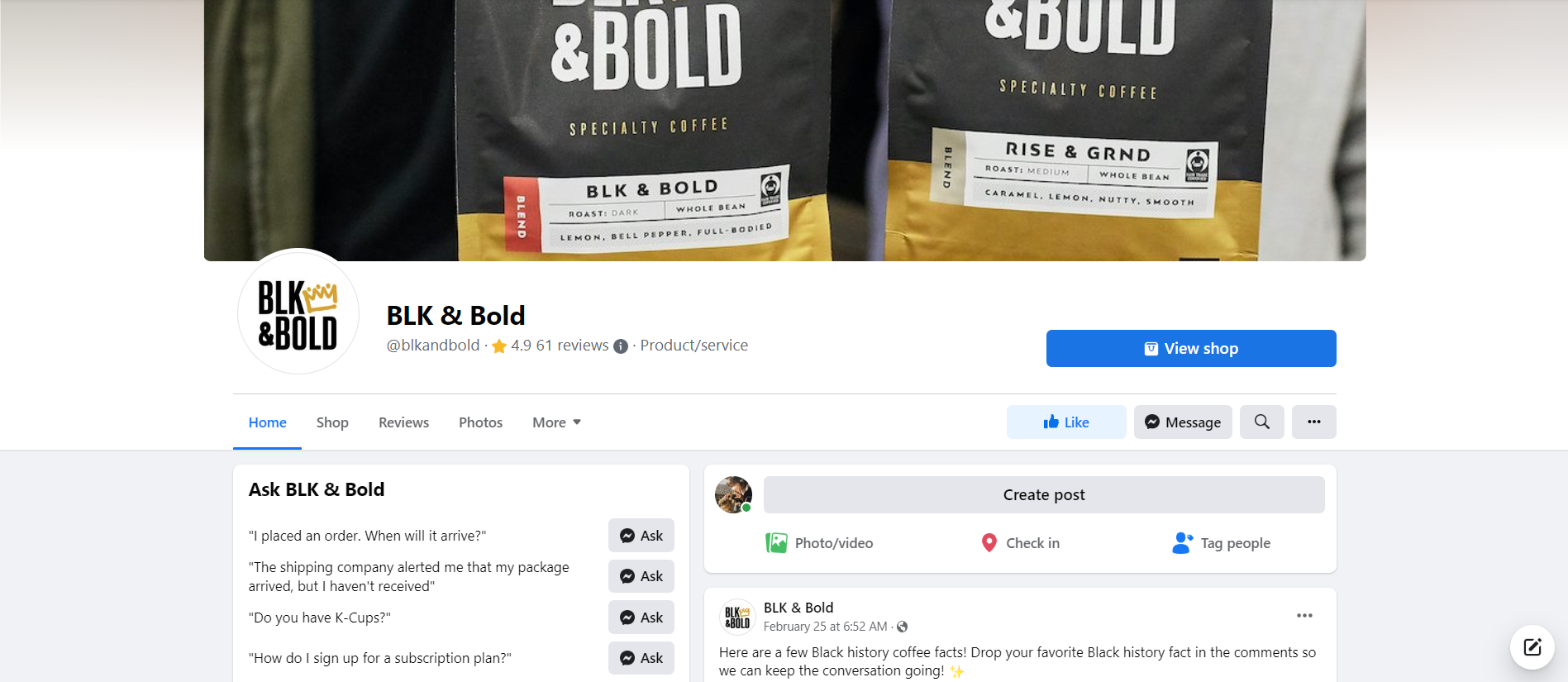 The company has a Shopify Facebook store where customers can purchase their products and learn more about their mission. The store features a clean and organized layout with high-quality product images and descriptions. They also make use of customer reviews to build trust and credibility with potential buyers. Additionally, with video, they can illustrate more visually how you can utilize BLK & Bold's coffee and tea in a completely new way.
How To Integrate Your Shopify Store With Facebook
Integrating your Shopify store with Facebook can be a great way to expand your business's online presence and reach more customers. Fortunately, setting up a Shopify Facebook store is a straightforward process. Here are the steps to follow:
Create A Facebook Page For Your Business
If you already have a Facebook page for your business, you can skip this step. Otherwise, create a Facebook page for your business by logging into your Facebook account and clicking on the Create button in the top right-hand corner. Follow the prompts to set up your page and fill out all the necessary information, including your business's name, address, phone number, and website URL.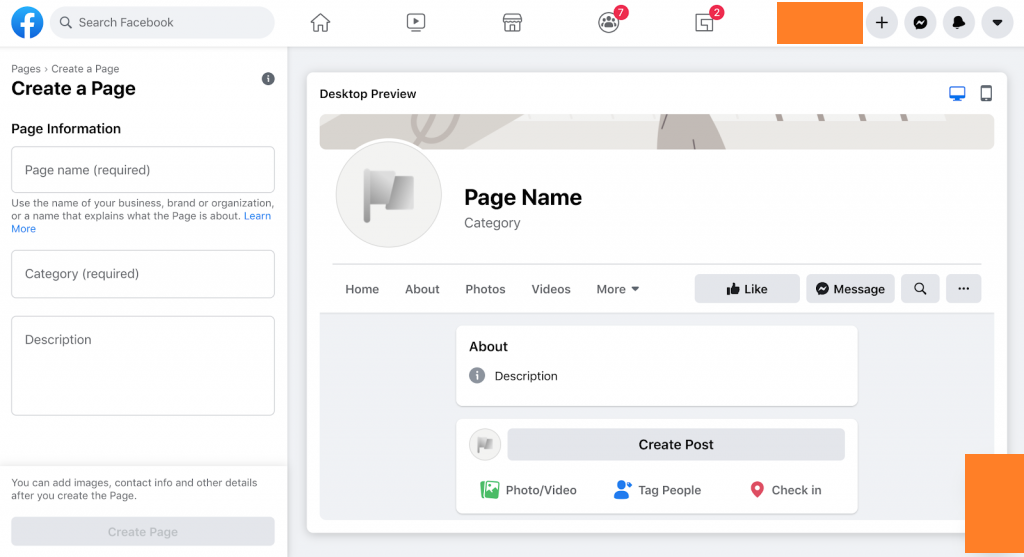 To help people locate your business, you have the option to select up to three categories that best describe your business. It is recommended to choose specific categories that accurately convey the nature of your business, making it easier for potential customers to understand what your business is all about.
Install The Facebook Sales Channel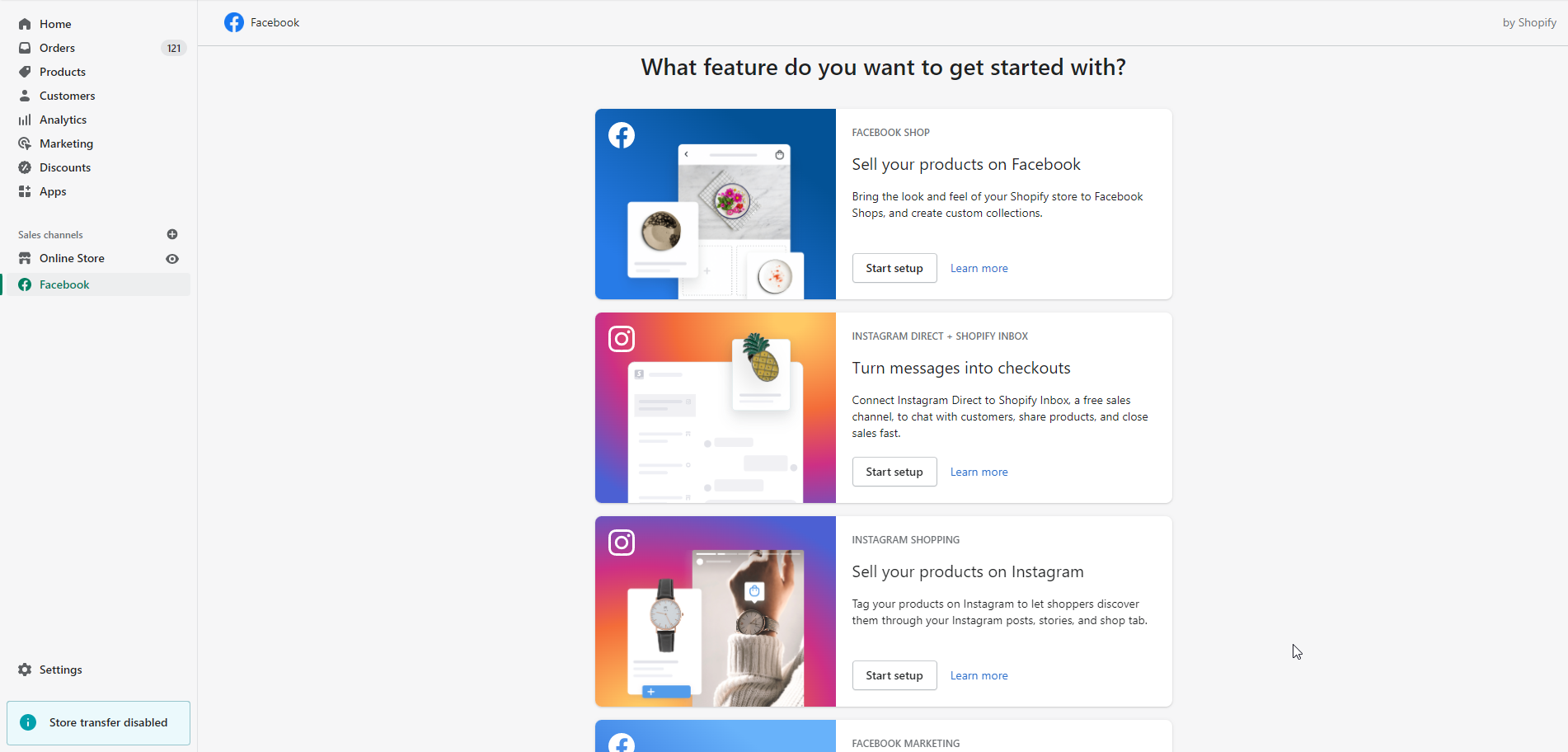 After setting up your Facebook Business account, you can integrate directly your Shopify into your Facebook Business with the Facebook sales channel. The process is straightforward:
In your Shopify account, go to the Sales Channels section and click on the Add Sales Channel button. Find and select the Facebook sales channel, and follow the prompts to install it.
Once you've installed the Facebook sales channel, connect it to your Facebook page. Select the page you created in the first step and follow the prompts to authorize Shopify to manage your page and products.
In the Facebook sales channel settings, you can configure your store settings, including the products you want to sell on Facebook and the currency you want to use. You can also customize your store's appearance on Facebook and set up shipping and tax options.
Once you've set up your Shopify Facebook store, you can start selling your products on Facebook. Your products will appear on your Facebook page's Shop tab, and customers can browse and purchase them directly on Facebook.
Advantages Of Running A Shopify Facebook Store
Among the popular social media platforms, Facebook stands out as one of the most powerful tools for businesses looking to promote their products and services to a vast audience. Integrating your Shopify store with your Facebook shop offers several advantages to businesses that want to take advantage of the platform's massive user base. Here are some of the advantages of running a Shopify Facebook Shop:
Increased Visibility
By integrating your Shopify store with Facebook, you can take advantage of the platform's massive user base and make your products more visible to potential customers. With a Facebook Shop, users can browse and purchase your products without leaving the Facebook app, providing them with a seamless shopping experience.
Additionally, regardless of whether you already have your business on other social media platforms like Instagram, you are selling on eBay, or just starting out and looking to explore the world of social media, Facebook provides one of the best platforms where you can connect with your target audience and begin to engage with them.
Start With Low Cost
For many online sellers, especially small and medium businesses, who have a limited budget, a Shopify Facebook shop is an ideal option. With a presence on the Facebook marketplace, you can easily showcase your eCommerce products and services, without the need to create an external online store. While having your own website or company logo can be beneficial, it is not a requirement for starting to make sales on Facebook. This can save you money and resources, as you can establish an online presence without the need for a separate website.
Improved Customer Engagement And Brand Awareness
Facebook is a great platform for building relationships with your customers and engaging with them in meaningful ways. By running a Shopify Facebook Shop, you can create engaging content, share product updates, and interact with your customers directly, strengthening your relationship with them. Based on you can reach a wider audience, increase brand recognition, and build a loyal customer base.
More Sales Opportunities
As you may know, in brick-and-mortar stores, cross-selling has been studied and implemented by entrepreneurs in a unique way. These sales techniques typically involve products that are commonly needed or used by customers.
Similarly, on Facebook, you can leverage the platform to cross-sell products by sharing valuable content with your community and encouraging them to make purchases of related or complementary items through your Shopify Facebook shop. Cross-selling techniques may involve recommending, offering discounts on, or bundling related products together to encourage customers to purchase more.
Moreover, with Facebook Shop, you have a chance to expand your reach to potential customers who might not have found your website otherwise. Additionally, the seamless checkout process offered by the Facebook Shop can help reduce cart abandonment and increase conversions, resulting in more sales for your business.
The Problem With Facebook Stores In 2023
One of the biggest issues with Shopify Facebook Shops is the level of competition. With so many businesses now using this platform, it can be difficult for smaller businesses to stand out and gain visibility among the sea of other shops. This is especially true in certain industries, where the market may be oversaturated with similar products.
Another issue is the changing landscape of social media. As social media platforms continue to evolve and change their algorithms, it can be difficult for businesses to keep up and ensure their content is being seen by their target audience. This can make it challenging to drive traffic to a Shopify Facebook Shop, even with the help of paid advertising.
In addition, there are concerns about data privacy and security. As consumers become more aware of data breaches and the ways in which their personal information is being used, they may be hesitant to make purchases through a Shopify Facebook Shop. This could lead to a decrease in sales and revenue for businesses using this platform.
In Conclusion,
So as you can see, there are so many amazing Shopify Facebook stores out there that we can't name them here. By taking inspiration from these businesses, you can create a unique and successful Facebook shop that stands out from the crowd. Utilizing your Facebook Business page to its fullest can educate, motivate, and create a feeling of connection for your customers. It's an effective way to build strong relationships with your clients and drive sales to your online store. If you're seeking a Shopify development agency to help you build your online presence, or you want to connect your existing Shopify store to your Facebook Business but you meet some troubles in the process, don't hesitate to contact our specialists, we have plenty of Shopify developers who understand clearly about this platform to get your back.