Nowadays, more and more people are becoming attracted by the advantages of setting up an online store with Shopify. With several Shopify development services available, it can be difficult to choose one for your business requirements. Therefore we have compiled a comprehensive list of the top best Shopify development services from reliable providers that will make selecting just a bit easier. On our shortlist, you'll find 7 dependable solutions offered by premier Shopify development providers. Make sure to check them out if you're aiming toward optimizing your Shopify store performance today.
Top 10+ Best Shopify Development Services
Brainvire
Brainvire is among the top best Shopify development services. With their skilled and experienced Shopify experts and developers, they are able to help customers determine what they need from a store and how best to go about constructing it so that it meets or even exceeds those needs.
Brainvire not only sets up and customizes store elements for you, but their Shopify experts also integrate advanced features such as marketing and payment tools. You can sit back and relax while they take care of all the tiresome tasks associated with maintaining a Shopify store so that it runs smoothly at all times.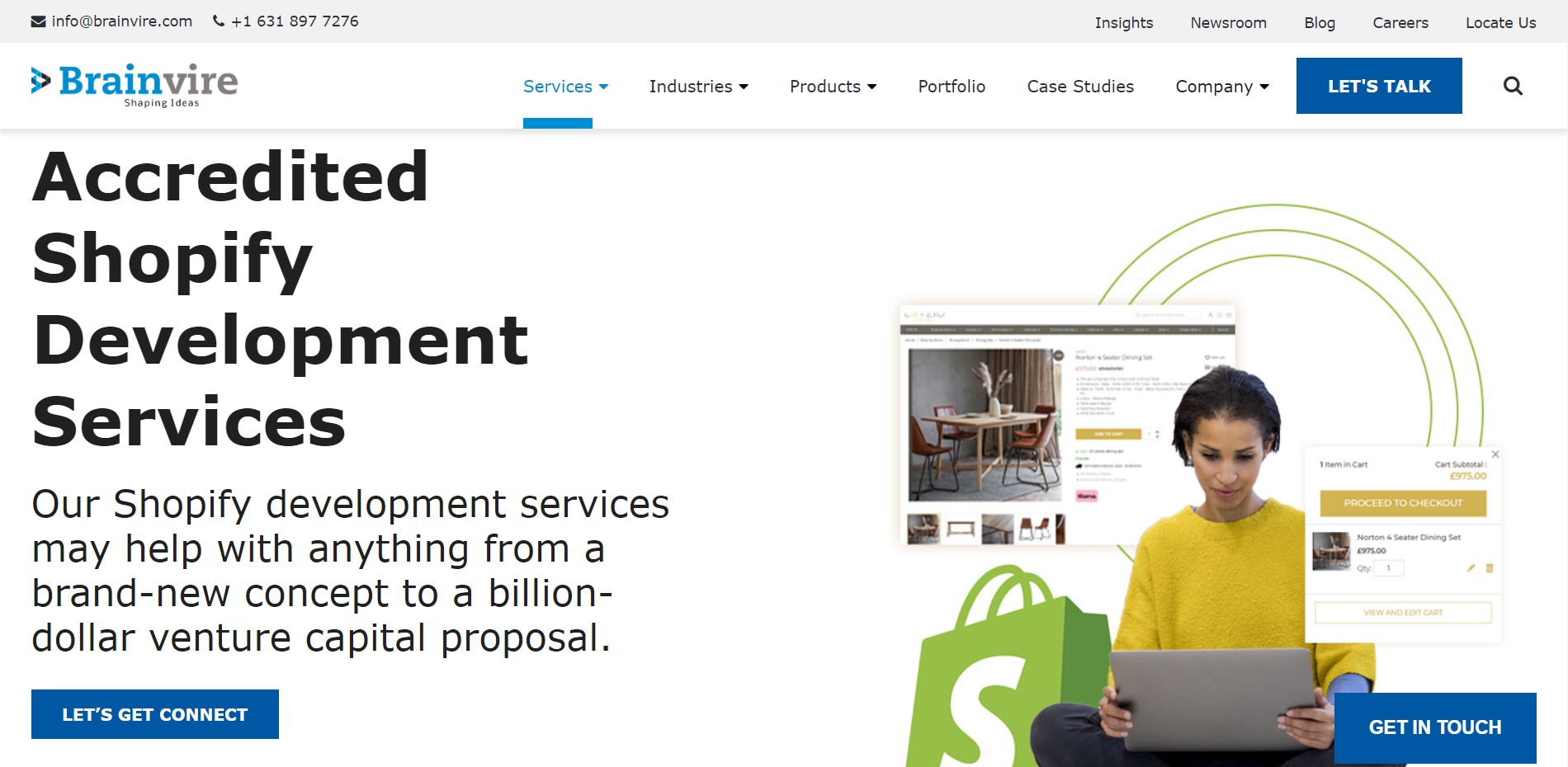 Shopify development services of Brainvire include:
Custom Shopify eCommerce development: Branvire has completed many tight-deadline projects all over the world and can help you with your high scalability requirements by providing real-time resources.
Shopify design services: They will assist you in increasing your conversion rates with excellent website designs.
Shopify theme development & customization: They can build themes from scratch or modify existing themes to do anything the user desires.
Shopify migration services: The Brainvire team has years of experience in Shopify development and can help you migrate your online store to the platform with no errors.
Shopify integration: By integrating Shopify Apps, Brainvire can help you add value to your store.
Shopify QA & testing: Improve website performance with feedback and suggestions from experts.
Shopify maintenance & support: With the help of these expert Shopify developers, you can back up your store data, follow up with customers, and add extra features.
Magenest
With many years of experience, Magenest become the best Shopify development service in the world right now. If you are new to Shopify, in the process of transferring from another platform, or require help to improve your existing site, Magenest's Shopify development services have got you covered. With years of experience and some very complex stores already developed, they have the best Shopify website developers who can take care of everything for you so that you can focus on other areas of your business.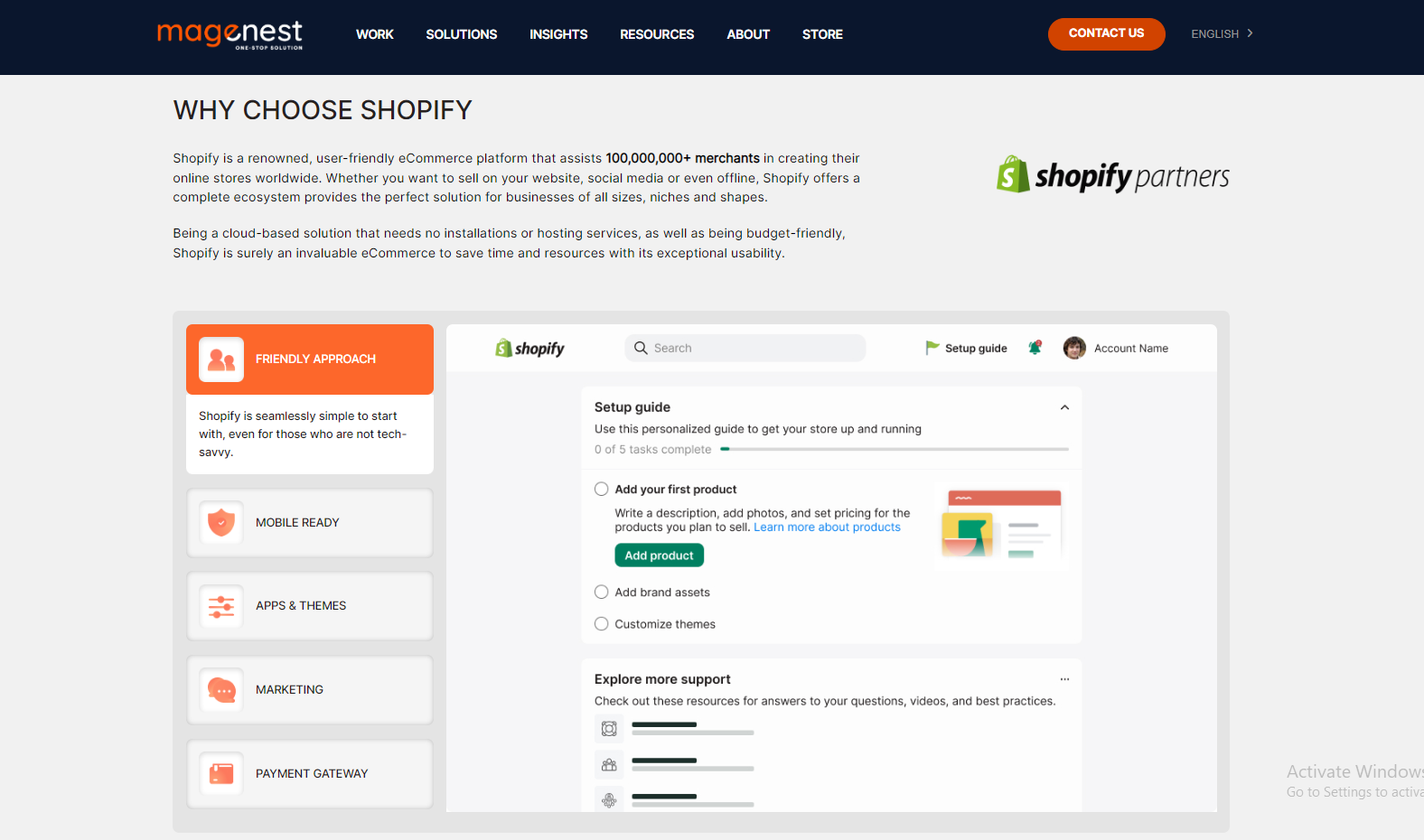 Shopify development services of Magenest include:
Shopify website store development: With professional Shopify developers at your disposal, you can meet any development needs for your Shopify stores.
Shopify site setup/configuration: Harness the potential of the Shopify eCommerce platform and let your business thrive with their tailored solutions.
Shopify design services: Unlock the full potential of your online store with our expert in Shopify design services, tailored to create visually stunning and highly functional eCommerce experiences that captivate customers and drive conversions.
Shopify migration: No matter which platform you're using currently, they can assist you in migrating to Shopify quickly and easily. We'll handle all of the data transfer and conversion for you.
Shopify optimization & maintenance: Already got your site built and designed? We can help your business resolve performance issues and make your website perform efficiently.
Shopify theme development: Their services will help you improve the overall experience for your customers and conversions on your Shopify store with excellent and user-friendly theme designs.
Shopify custom app development: If your website is already designed and built, they can help improve its performance so that it runs more efficiently.
SEO & Digital Marketing: When your website is ready, they will help you with SEO and digital marketing so you can start gathering traffic.
Amasty
Amasty's Shopify development services are one of the best Shopify development services with 12 years of experience. They provide solutions that are designed to promote business growth and increase revenue. Before starting any website development, they carefully analyze your business and its requirements. Their approach focuses on conversions, responsive design, and SEO-optimized stores for the best Shopify development services possible.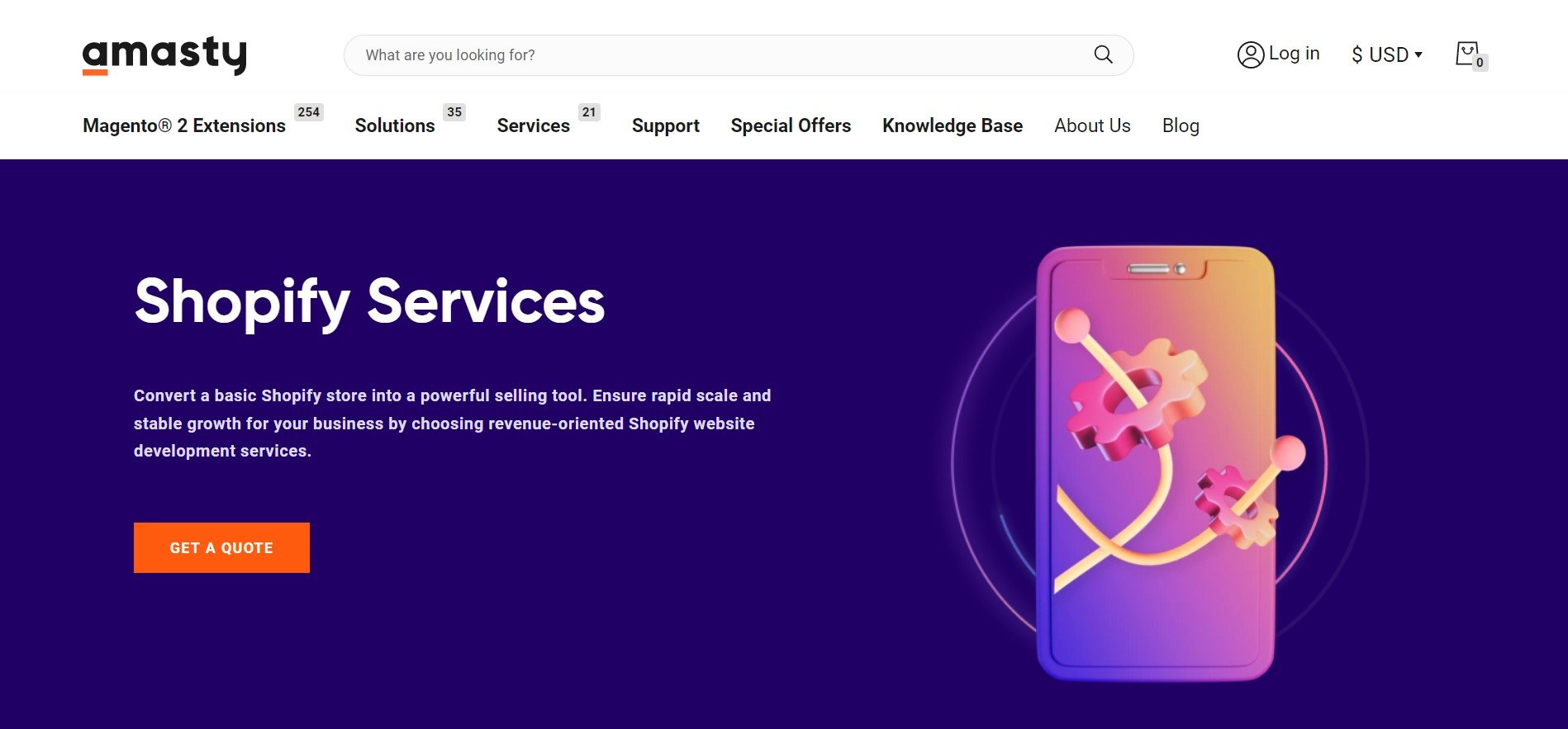 Shopify development services of Amasty include:
Shopify migration from Magento: Migrating your Magento store to Shopify is quick, low-cost, and bug-free with our help.
Shopify theme development & customization: A responsive and outstanding storefront design for your Shopify store.
Shopify custom import service: Smoothly third-party system import to Shopify with no data loss.
Shopify integration service: Easy integration with ERP, CRM, and other systems to Shopify.
Techasoft
Techasoft has been a top Shopify development company for 6+ years, with 100+ websites in various industries under their belt. Their eCommerce development services can make your brand stand out from the competition and provide a seamless customer experience that will increase your revenue. With years of experience with Shopify, Techasoft can build you an outstanding store without any hassle.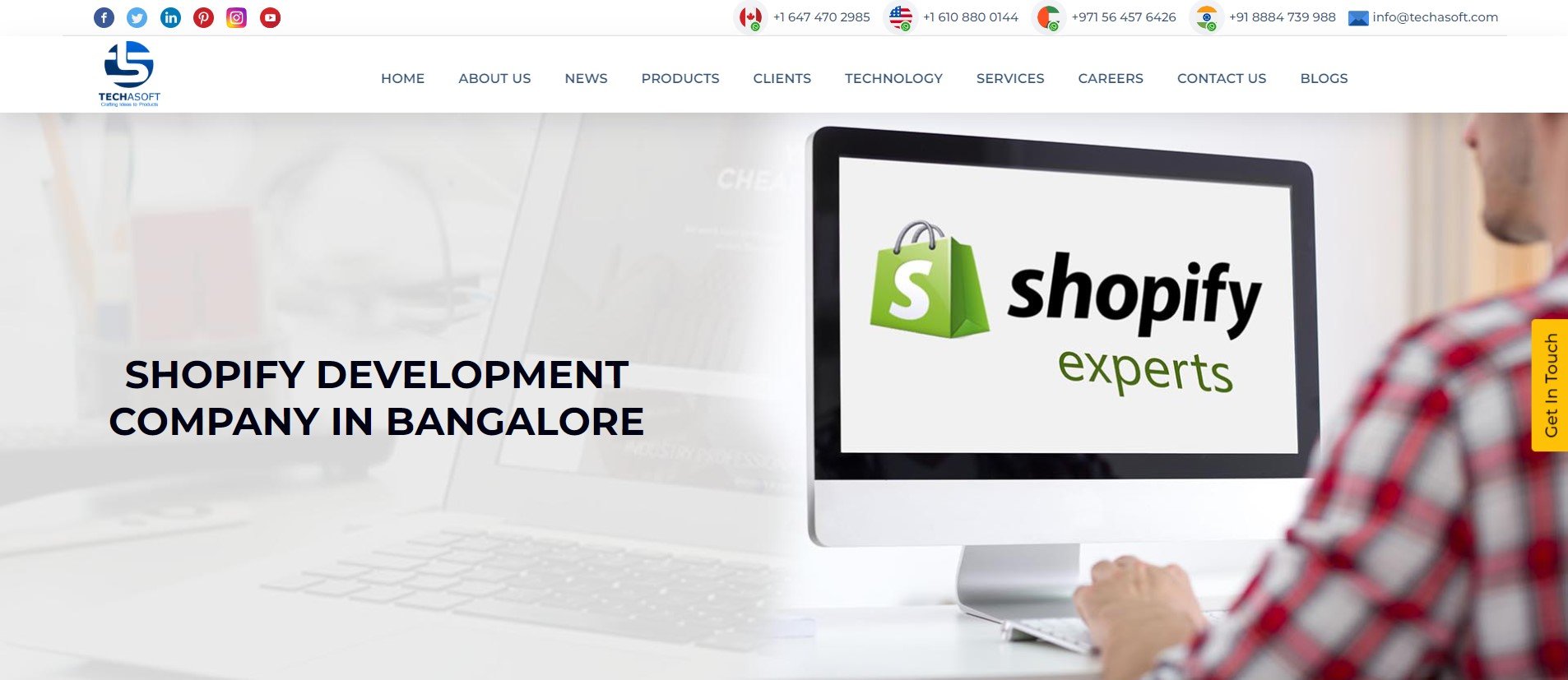 Shopify development services of Techasoft include:
Shopify app development service: Make your users' experience easier with our great Shopify apps and websites.
Shopify integration: Adding a payment gateway, shopping cart API, and new plugins to your Shopify Store will give it more features and functionality.
Shopify migration service: Smoothly convert to Shopify from any other eCommerce platform with a low price.
Shopify website development: Website development from the ground up to help you achieve your business goals.
Shopify SEO: While developing your Shopify website, they will also take care of optimizing it for search engines.
Damcogroup
With an abundance of experience spanning 25+ years, Damcogroup has earned its reputation as one of the best Shopify Development Services. Working with 24+ industries and providing a mixture of design, development, and marketing services for all sorts of businesses, they will help you create powerful yet responsive online stores in no time. To make sure that your business stands out from the crowd, you can choose the trusted experts at Damcogroup.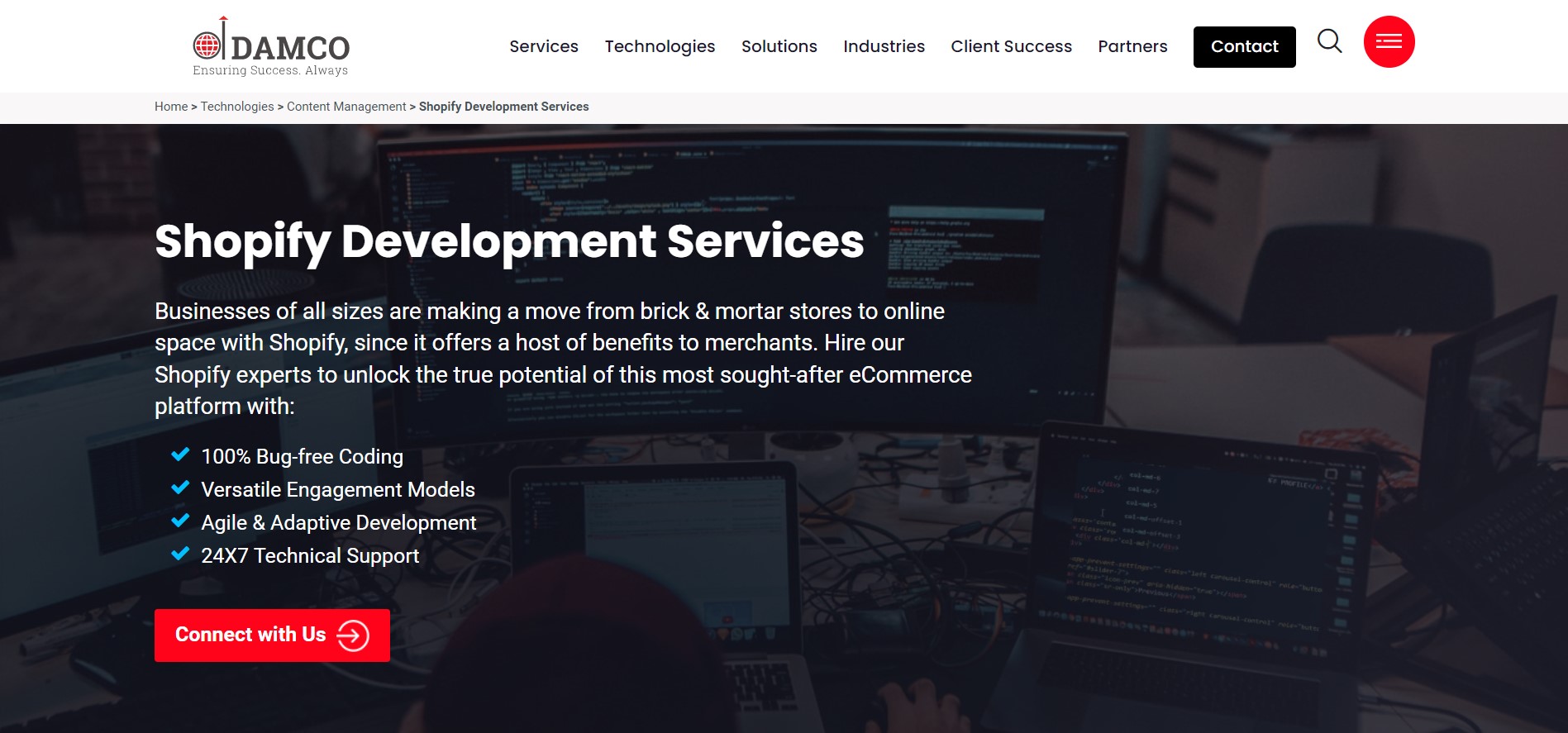 Shopify development services of Damcogroup include:
Shopify store setup: Make the most out of your business goals with a swift setup and configuration of a Shopify store.
Shopify theme development: Transform the look and functionality of your Shopify store with expert UI/UX developers to create an unbeatable user experience.
Shopify design solution: Make your Shopify store accessible for all with a reliable and professional mobile app, perfectly tailored to run across any device.
Shopify maintenance and support: Get access to the full suite of Shopify maintenance and support services.
Shopify migration: Seamlessly transition from your existing eCommerce platform to Shopify with no interruptions.
Third-party integrations: Take your business to the next level with our third-party integration services that include shopping carts, payment gateways, shipping options, social logins, APIs, and QuickBooks integrations.
Liquify
For more than 10 years, Liquify has been a loyal partner of Shopify and is now an accredited Shopify expert. They offer excellent web design and development services to both Shopify and Shopify Plus merchants, including well-known brands like Kerry Group or Izabel London. Their top capabilities include customizing themes for the platform, logo creation & branding, and providing audits/consultancy help with Shopify Plus support & service solutions. All of these are necessary components in creating a successful business model.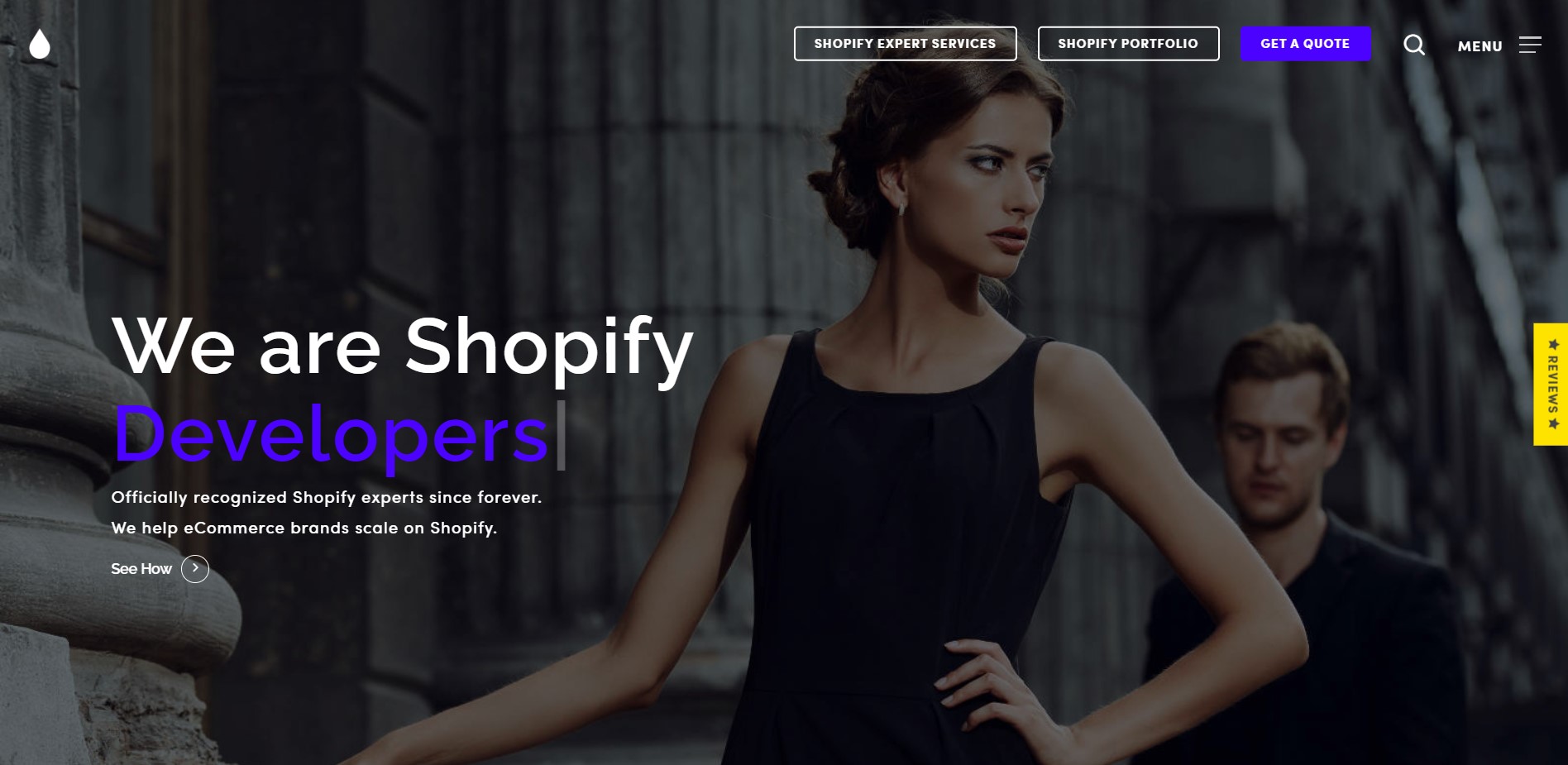 Shopify development services of Liquify include:
Custom Shopify development: With yearly Shopify developers, they can accomplish any development requirements for your Shopify store.
Shopify theme development service: Custom-designed Shopify theme to make your storefront more personalized and outstanding.
Shopify app development service: Leverage your online business with Shopify app customization, they can easily customize apps for both private and commercial purposes.
Shopify migration service: seamlessly migrate your online store from any platform to Shopify without any data loss.
Shopify SEO & content marketing: Boost your online presence and rank your website higher in search engines with their SEO & Content marketing strategy.
Shopify audit & consultancy: supporting clients who need advice and strategy.
Softloft
For over a decade, Softloft has been creating ground-breaking software solutions to help businesses bring their stores and projects to life. As one of the top best Shopify development services in the industry, they have amassed extensive experience working with eCommerce growth trends. With this knowledge, you can trust them to build your dream Shopify store – no matter how complex it may be – as well as provide an extensive range of specialized services for all your needs.

Shopify development services of Softloft include:
Shopify store setup: Utilize the power of Shopify eCommerce and make your business a success with their custom solutions.
Shopify design and development service: They offer a comprehensive suite of design and development solutions for your Shopify store.
Shopify theme development service: Their Shopify website developers can create interactive and user-friendly themes for your store.
Shopify app development service: Take your online business to the next level with Shopify app customization and integration.
Shopify migration service: Connect with a Shopify developer to securely and effortlessly transfer your business over to Shopify.
Third-party API development: Integrating and developing for Shopify stores with third-party APIs.
PSD2HTML
PSD2HTML stands out from the rest with its team of leading Shopify developers and a decade's worth of experience in providing an extensive range of services. Not only do they fulfill your requests, but also offer you effective solutions that will help expand your business. Having finished over 100.000 projects, you can trust them to safeguard the privacy of your store data. PSD2HTML is the perfect choice for those seeking leading-edge Shopify development expertise.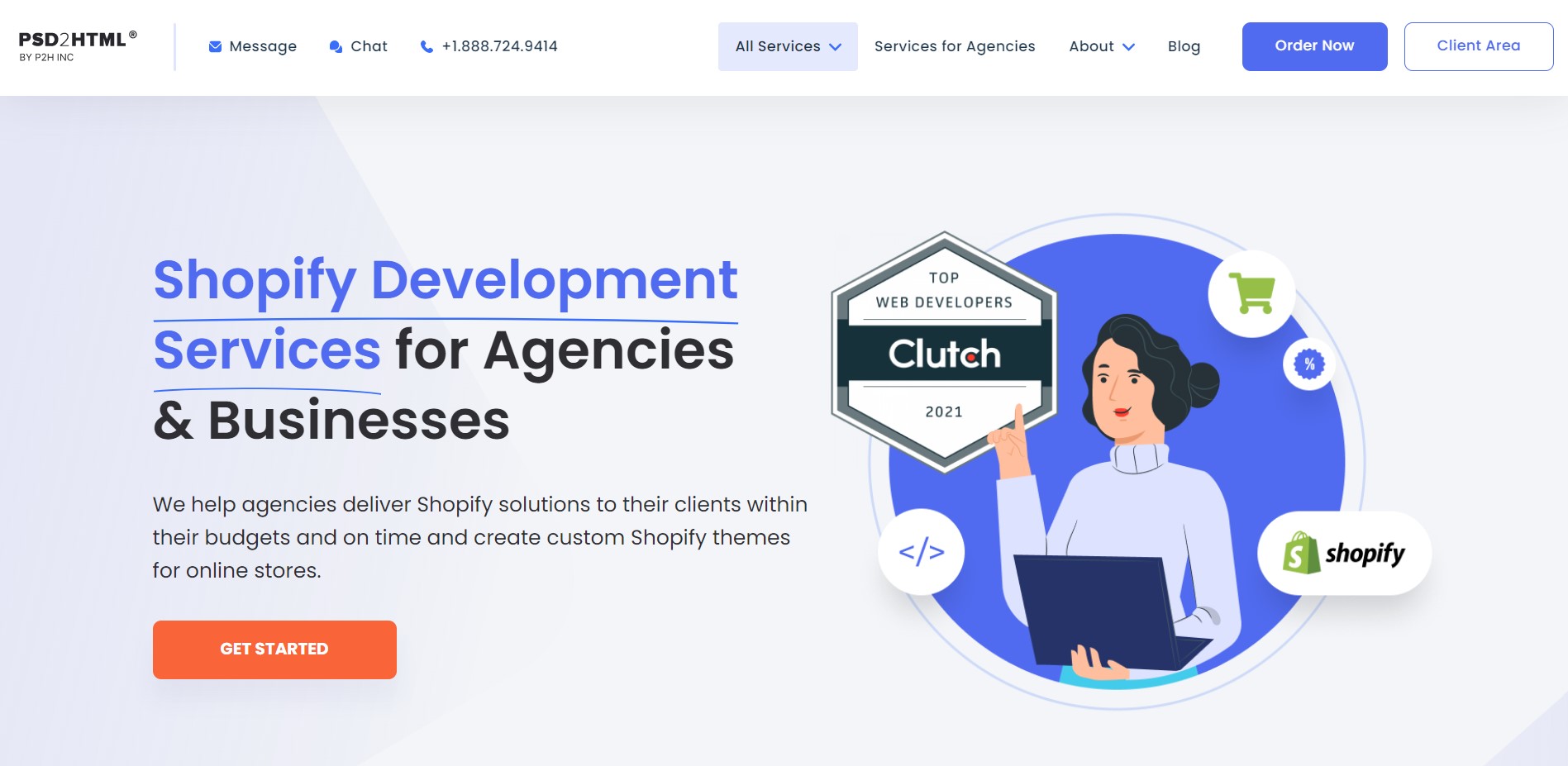 Shopify development services of PSD2HTML include:
Customize designs for Shopify store: You can give them any sort of design, and they will craft a custom Shopify theme exclusively for your business that is tailored to all of your needs.
Shopify theme customization: Quickly adjust your existing Shopify theme to accommodate all of your desired specifications.
Shopify migration service: Transition from WordPress, PrestaShop, or Magento to Shopify with ease.
Shopify app integration service: Give your Shopify store a competitive edge by integrating powerful Shopify Apps.
Eastside Co
Eastside Co is an internationally accredited eCommerce agency, renowned as a Premium Shopify Expert and also an official Shopify Plus partner. They have completed big projects for international powerhouses such as Nike, Unilever, and Hera. Their comprehensive suite of eCommerce services includes everything from the design and development of your Shopify store to marketing solutions spanning SEO, PPC, email marketing campaigns, and content creation…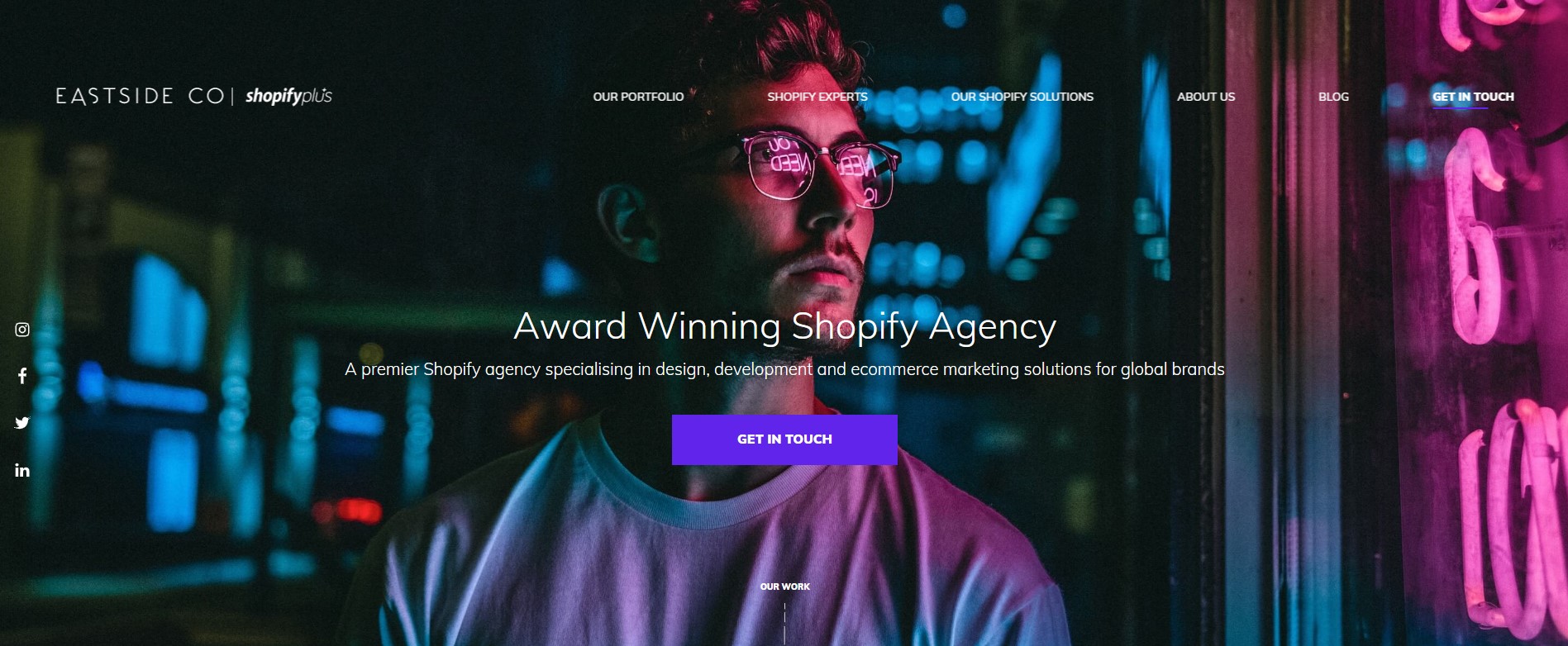 Shopify development services of Eastside Co include:
Shopify design and development: Craft online experiences that not only look stunning but also captivate customers from the moment they arrive on your site to when they confirm their purchase.
Shopify marketing service: Combining knowledge about customers along with their expertise in Shopify, they craft a comprehensive strategy that is both successful and accurately portrays the company's brand.
Shopify migration service: Moving your eCommerce business from one platform to Shopify in a breeze.
Shopify app development: Their brilliant Shopify app developers have created a vast selection of apps accessible from the Shopify application store.
Codup
With 8+ years of experience and 1000+ clients across the globe, Codup stands out from the crowd as a leading eCommerce development agency. Having successfully completed 3000+ projects over their tenure, they specialize in creating stunning Shopify stores that perform exceedingly well. Whether you are an aspiring entrepreneur looking for basic solutions or a large corporation seeking highly-sophisticated solutions, Codup is one of the top Shopify development services for your needs.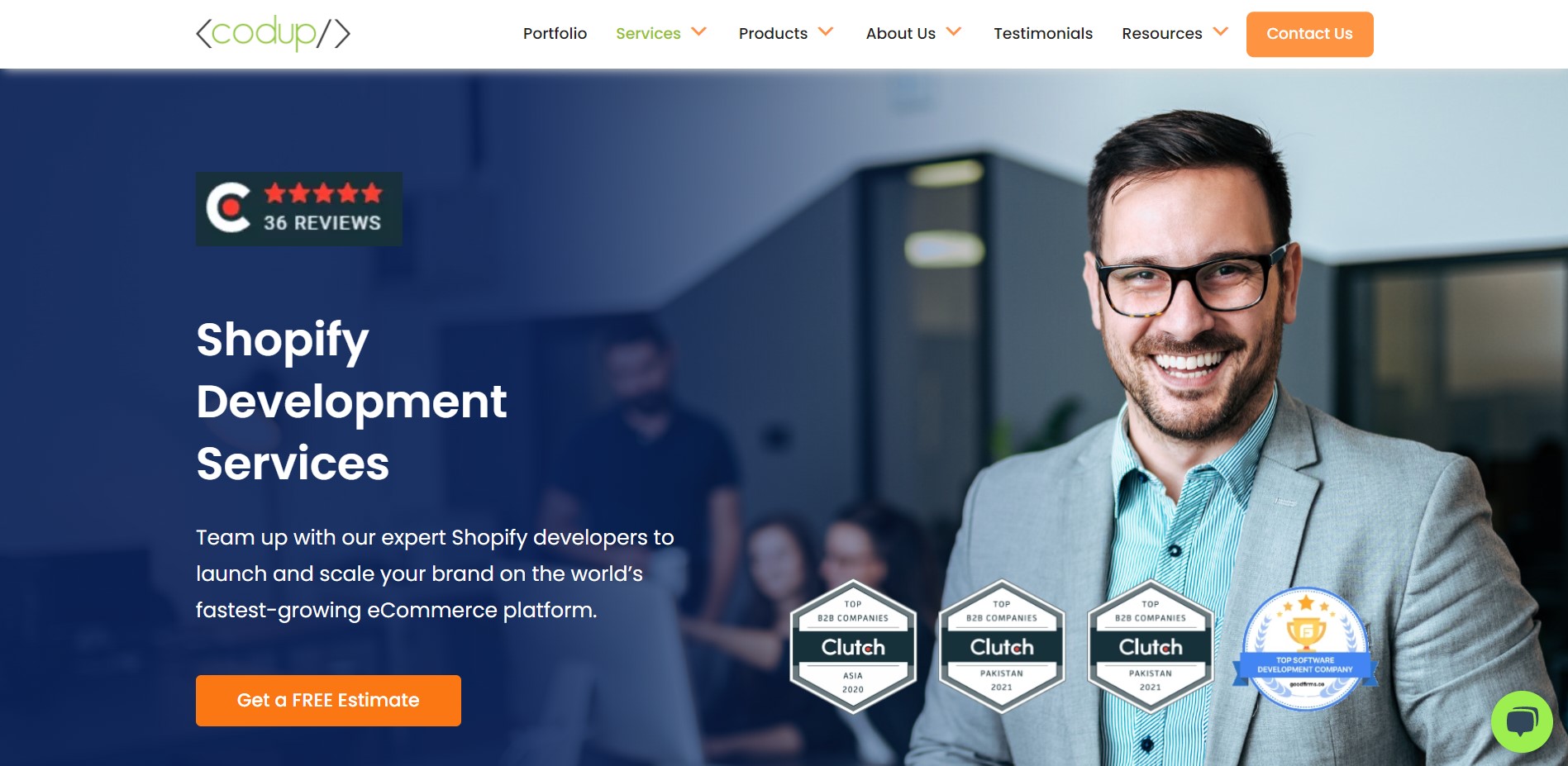 Shopify development services of Codup include:
Shopify store setup: Accelerate the launch of your Shopify store by customizing it to fit your unique needs.
Shopify design service: Transform customer engagement and conversion rates with a captivating website design.
Shopify theme development service: Whether you're creating a theme from the ground up or just tweaking an existing one, they have everything covered.
Shopify app development service: Unlock new possibilities and make more sales by building custom Shopify apps specifically for your business.
Shopify migration service: Migrating all of your data, apps, design elements, and modifications to Shopify in order to streamline efficiency and improve SEO.
Shopify Plus service: Accelerate your growth and become more agile with their reliable Shopify Plus services.
Shopify API integration: Ensure seamless and dependable synchronization between your CRM system or payment gateway with a Shopify website.
Uncap
Uncap has been recognized as one of the best Shopify development services since 2014. Their main goal is to provide support for small, medium, and large businesses in scaling their Shopify operations. Not only do they guarantee that your store follows industry best practices but also optimize it with conversion-driving tactics. With experience from working on a variety of projects worldwide, Uncap will be an invaluable partner for all your eCommerce needs, all thanks to its modern approach!
What Can You Expect from the Top Best Shopify Development Services?
Shopify Website Development & Customization
Investing in a Shopify development service is the perfect option if you need to make changes to your website's coding. By introducing updates and alterations, such as on the bottom of the page or its navigational menu, product pages, blog pages… you can create an aesthetically pleasing layout that will draw customers in. Furthermore, upgrading certain functionalities and features ensures customers have an enjoyable shopping experience.
Developing a Shopify website requires coding and technical proficiency. Thus, not every retailer possesses the necessary knowledge or even an adequately equipped development staff to do it on their own. This is why web developers and companies offer store setup and customization services, allowing merchants to overcome these obstacles with ease.
However, Shopify website customization is a valuable service that helps you create a user-friendly and organized site. Shopify developers have made the most popular platform, making it one of the simplest eCommerce development start-ups and highly rated for its ease of use. As a result, more people are opting to build their online businesses using this amazing platform.
With little effort, website owners can quickly and easily customize their services to make online purchasing simpler for customers. This helps alleviate the frustrations consumers typically experience when dealing with technical issues or troubleshooting.
Shopify Theme Development & Customization
Finding an appropriate Shopify theme for your online business is crucial, as it serves as the groundwork for any visual brand. As a theme designates the basic arrangement of a store's look, consistency with one's branding should be considered from day one.
As an eCommerce business, you are well aware that website design and usability play a crucial role in your success. Your website should be built to draw customers in with ease and provide them with the ability to swiftly navigate it as they search for what they're looking for. Slight changes such as adding a few extra clicks can lead them closer to the checkout process faster than ever before. This will undoubtedly improve their online shopping experience on your site.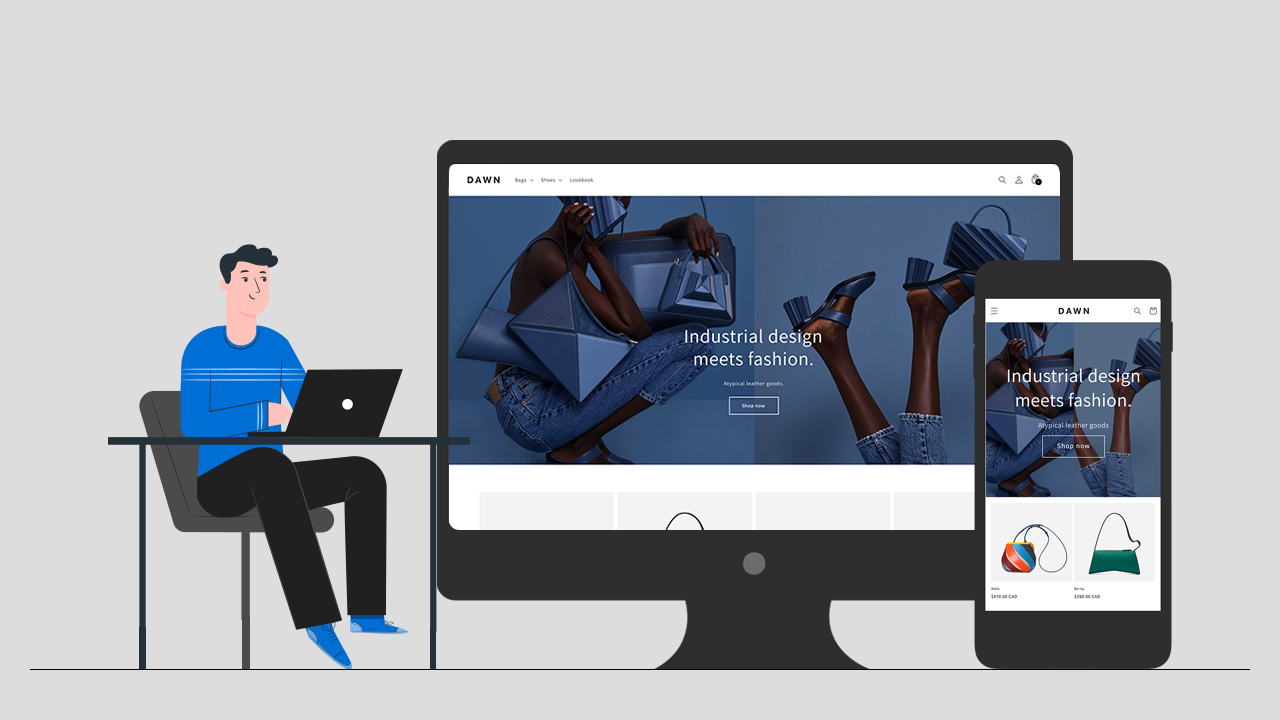 If you want something truly unique, then creating a custom Shopify theme tailored to your brand and products is the way to go. With Shopify's themes, customization options are limited. However, if you invest in an exclusive design for your store upfront it will pay rewards down the line as your business grows. Furthermore, redesigning your store occasionally can help ensure that it remains up-to-date with current requirements.
Shopify 3rd-Party Integration
Shopify is an incredibly powerful eCommerce platform, boasting a multitude of impressive features and capabilities as well as simple integration with multiple systems. With such versatility at your fingertips, you have the resources to build and grow your business without limits.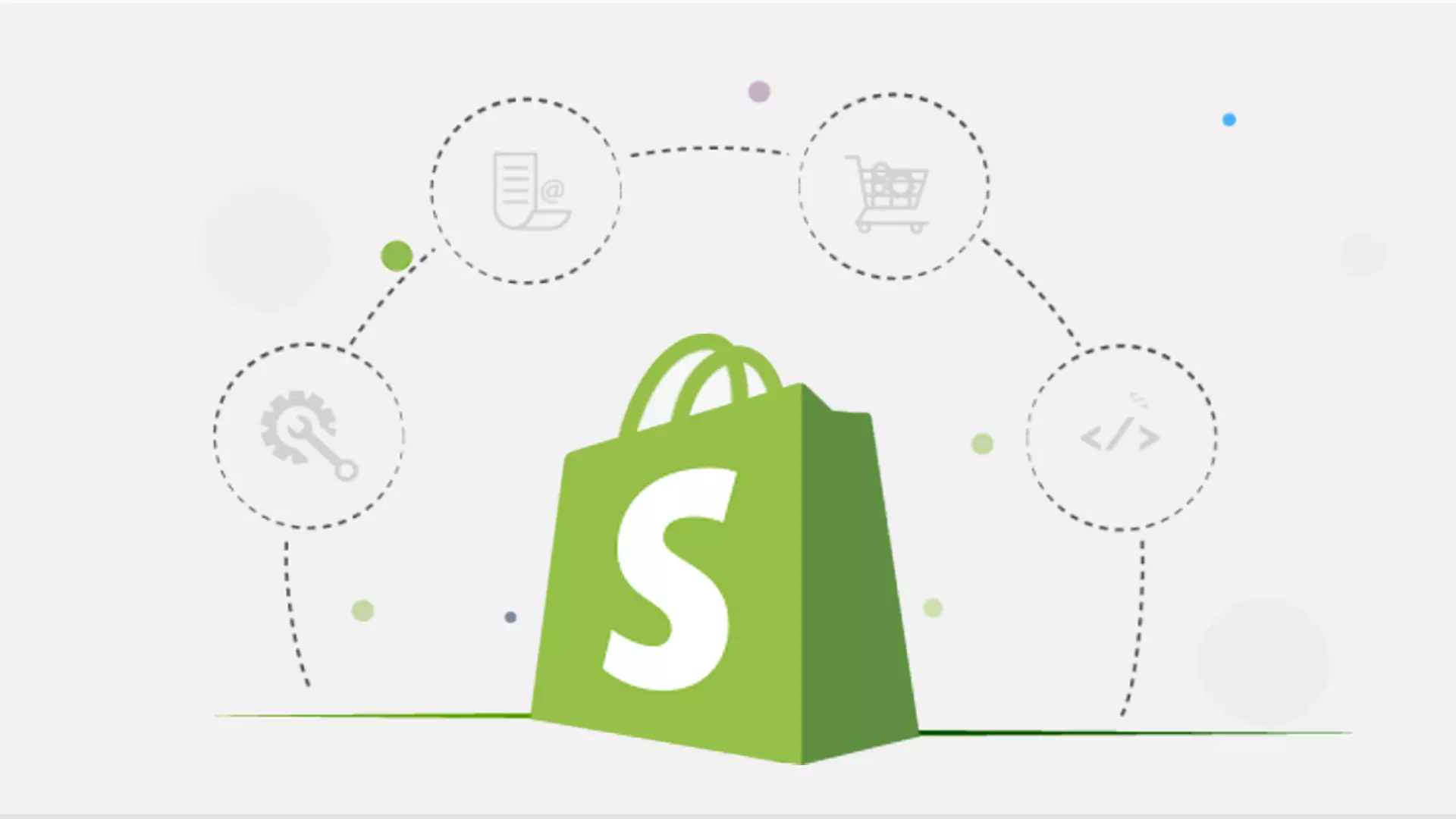 When you pursue a Shopify store, it's only the beginning. To ensure greater business success and cultivate an improved customer experience, store management, and marketing strategy, connect your platform with other third-party services for optimal efficiency. There are many apps that can easily link to these integrations in the official Shopify Store. However, if you want something custom-tailored to your brand and system requirements then enlisting a 3rd Party Integration Service is essential.
Shopify Migration Service
With numerous eCommerce platforms out there, businesses can readily open their online store and start selling. Many merchants attracted by the advantages of Shopify have transferred from other platforms such as Magento, WooCommerce, PrestaShop, or OpenCart to Shopify. Fortunately for these entrepreneurs seeking a transition to Shopify, data migration is achievable. There are abundant services and agencies that specialize in proficiently migrating websites quickly onto this platform. All you need to do is reach out for help.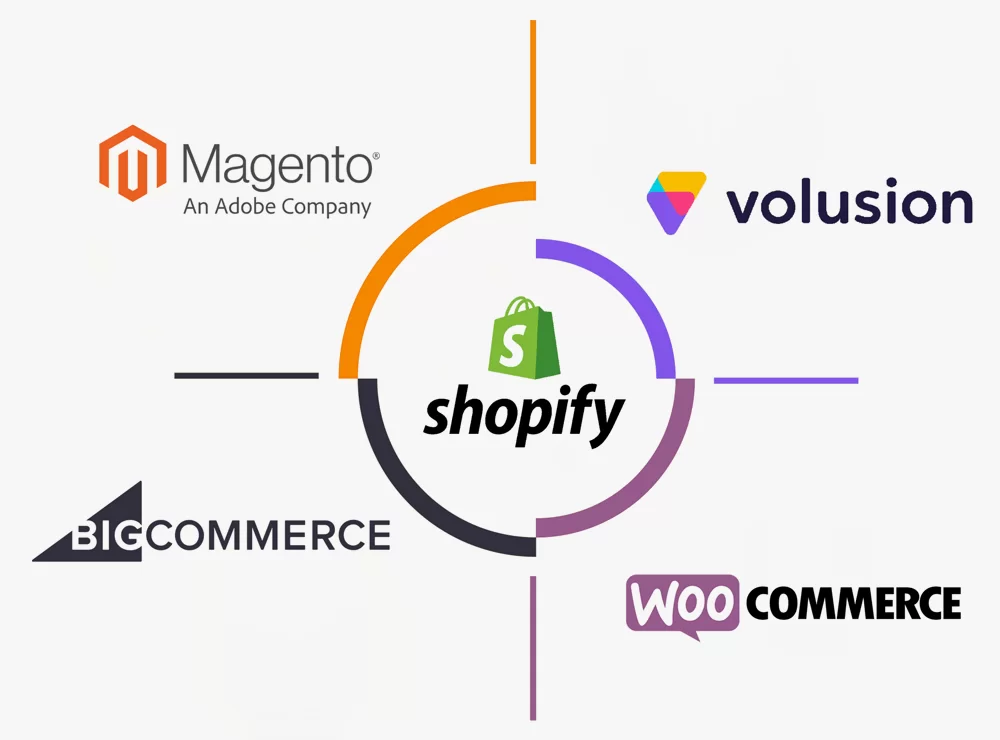 Transitioning your website from a different platform to Shopify is anything but straightforward. Perhaps the migration could lead to data loss, erasing the SEO efforts you've invested in. Thankfully, with Shopify's Migration Services at hand, store owners can make this process stress-free and easy.
Shopify Updating and Maintenance
Keeping your eCommerce website up-to-date and error-free is an ongoing responsibility. As new features are constantly being added, bugs must be addressed promptly to maintain a competitive advantage over other sites. If any problems arise with the site, you need to have immediate access to assistance. Otherwise, customers may abandon it or money could be lost.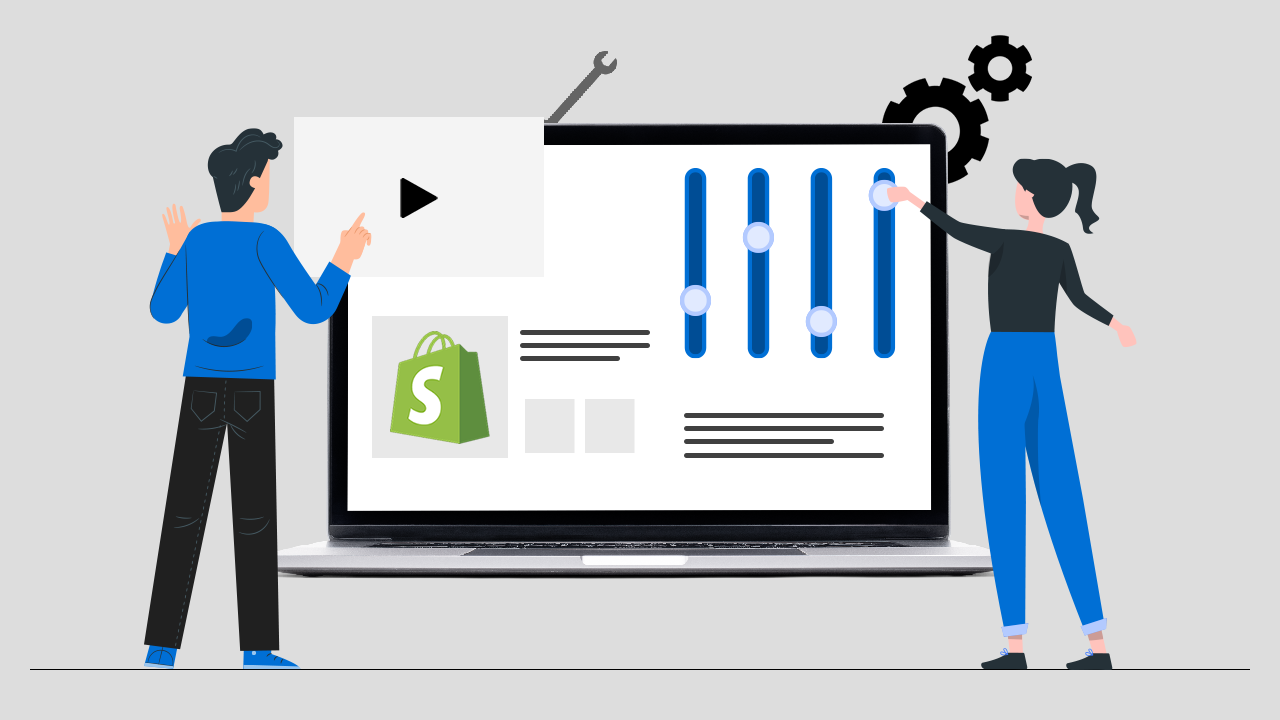 When talking about creating a successful and lasting online store, it is essential to consider Shopify Updating and Maintenance services. For those who don't possess coding or technological skills, the best option may be to hire professionals for regular optimization and maintenance of their stores. As your business grows you might have to upgrade from Shopify Plus and need a top-notch Shopify Upgrade Service that can help with this transition.
Shopify SEO service
Agencies and developer companies are likely to offer Shopify SEO and marketing services in addition to other development services because not only is it a great tactic for boosting conversion rates, and generating organic traffic, but also optimizes the online store from within.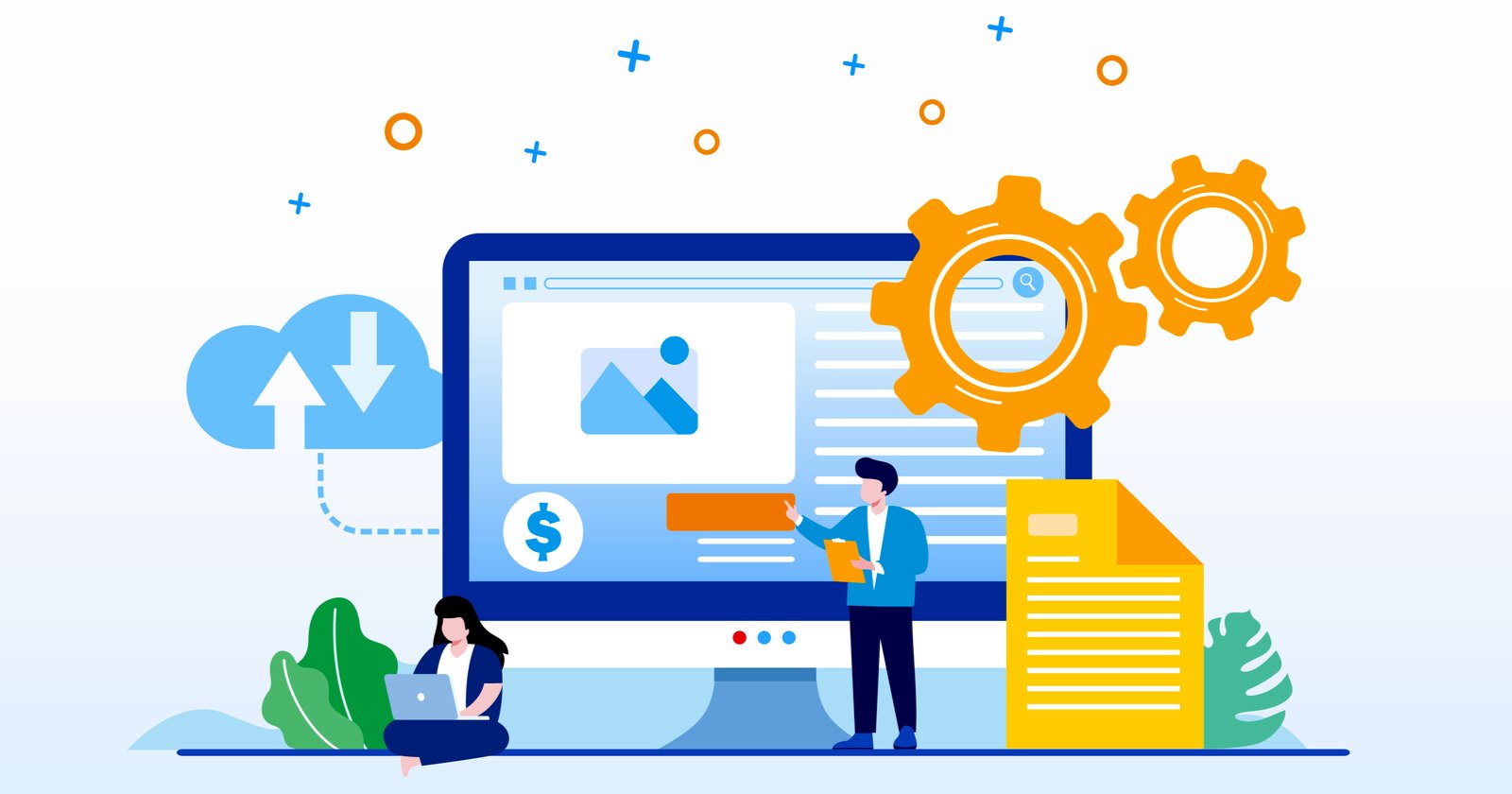 SEO services are varied, ranging from optimizing SEO options to providing marketing and SEO advice with the aim of improving conversion rates. This can include installing XML sitemaps and Google Analytics, performing keyword research and content audits, as well as refining page titles for maximum impact.
Shopify Plus enterprise services
Businesses operating with the Shopify Plus version are typically enterprise-level and require sophisticated Shopify development services. These places have a large customer base, necessitating complex procedures to be completed. Thus, they ought to employ personnel skilled in this field.
Upgrading to Shopify Plus opens the door to an abundance of enterprise services that can enhance your store. From custom development and integration to maintenance and theme design.
In Conclusion,
Shopify is a great way for businesses to quickly and easily launch their online presence. It's straightforward to establish the basics, but if you want an eCommerce experience as unique as your brand then the Shopify development services can help make that a reality. This post will take an in-depth look at the list of the best Shopify development services set up ahead of 2023.