The expansion of e-business is accelerating at an unprecedented rate, and it is likely to explode in the next few years. An eCommerce CMS is a good option if you want to develop an online store.
So, of all the options out there, which platform is best for you? The more power and flexibility you have, the more you'll need a developer to assist you to get started. In this post, we'll take a look at two of the most complicated CMS platforms: Magento and WordPress – what is the better choice.
While both WordPress vs Magento is powerful in their own right, there are several differences that make either platform better suited for your specific blend of resources, objectives, and personnel. Let's take a closer look at these differences and find the best one to help you build your online store successfully.
What is Magento?
When it comes to eCommerce, Magento is best suited to big websites that need more extensive functionalities. To get the most out of Magento, you'll either need to be able to handle some of the more technical aspects of the platform on your own or have the money to hire a professional to do it for you. In fact, Magento is the better choice if your main focus is increasing eCommerce sales.
There are two Magento versions:
Magento Open Source: This version of Magento is free and open source. In other words, it's a free download for expert users.
Adobe Commerce: Previously known as Magento Commerce, this is the paid edition that offers better performance and scalability for professional enterprises.
What are the advantages of Magento?
Magento has a wide range of features and is designed to grow with your business. It's capable of handling big and even several shops, thanks to its modular design.
Magento is an easy-to-use platform for web developers.
Due to Magento's outstanding assortment of additional capabilities, eCommerce plugins aren't as essential.
There are a variety of premium themes to choose from.
Magento's search engine optimization (SEO) capabilities are exceptional.
What are the disadvantages of Magento?
Magento is a platform that caters more to web developers than to small business owners. This means you'll face a high learning curve when you're trying to start a business as a solopreneur without any web design or programming knowledge.
The corporate package is quite expensive, making it appropriate only for large enterprises with specialized web design and development teams.
Despite the fact that Magento has a large user base and a vibrant forum, several users have complained that the community is often filled with spam. It is not well monitored, which results in inadequate technical assistance.
What is WordPress?
In terms of open-source content management systems (CMS), WordPress is one of the most popular, and it is mostly used for content-driven websites like blogs. WordPress, in contrast to Magento, is not a native eCommerce platform for online companies; rather, it is WooCommerce, a WordPress plugin, that distinguishes it as a robust and widely used eCommerce solution.
WordPress is available in two different versions: WordPress.com and WordPress.org.
WordPress.com: It's totally free. You may make use of it without having to pay for either hosting or a domain name.
WordPress.org: The platform itself is completely free of charge. However, you will want a hosting account, as well as maybe some efficiency-enhancing features, which might be rather expensive.
What are the advantages of WordPress?
By combining WordPress and WooCommerce, you gain access to a powerful content management system (CMS).
Because the platform is supported by a highly active and flourishing community, there are always instructions, tips, and techniques to follow, as well as other users to network with on the site.
WordPress's backend is easier to use than Magento's, making it the more user-friendly choice for people who are new to the world of web development.
WordPress is SEO-friendly.
What are the disadvantages of WordPress?
You'll have to shell out money for plugins and extensions if you want to access more advanced capabilities. WordPress may become more expensive as a result of this.
There are still some development skills required to get the most out of this ecommerce platform.
Magento vs WordPress: Similarities
On the surface, both platforms seem to be architecturally identical. Magento and WordPress are both free and open-source software solutions for eCommerce websites. This allows you to have almost limitless scalability and customization. Furthermore, With their wide range of customization options, they are both SEO-friendly and may be freely themed. In all cases, you can easily add, alter and manage your material in the most straightforward and efficient manner imaginable.
However, both WordPress and Magento demand a high degree of technical expertise. As a consequence, it seems that mastering these platforms will be difficult for non-techies and amateurs. For now, let's compare and contrast two software platforms:
WordPress vs Magento: Some Key differences
WordPress vs Magento: Ease of Use and Support
As open-source systems, WordPress and Magento are free to use. The package does not include any customer service. This means that you'll have to rely on their online forums and self-help material to get you through any problems you may be having with them.
Fortunately, both platforms have substantial and active user populations. The winner is undoubtedly WordPress in this case. Overall, it has a larger and more active community, and there is no dearth of self-help resources accessible on the site. You'll be able to discover a solution to any difficulty you may have.
Magento also provides access to their solution partners, which are listed on their website. But you'll have to pay a charge if you want to employ these professionals to help you with certain assignments. In addition, Rapid deployment packages, which include budgetary guidance, are also available from Magento for businesses looking to launch a revenue-generating website as quickly as possible.
WordPress vs Magento: Themes and templates
WooCommerce Storefront is the greatest free option accessible for WordPress users, and it is also the most popular. You can concentrate on your content while simultaneously increasing sales with this easy-to-customize WordPress theme that integrates seamlessly with WooCommerce. If you sign up for one of Bluehost's WooCommerce-specific plans, the Storefront theme will be installed for you automatically.
Magento customers, on the other hand, are likely to choose a paid, bespoke theme for their huge enterprise-level websites. A bespoke theme may cost anywhere from $600 to $25,000, depending on the size of the eCommerce business.
WordPress vs Magento: Plugins and extension
There is an extensive selection of free and paid Magento extensions available in the Magento marketplace, covering everything from accounting and finance to content and customizations to customer service to marketing and payment gateways & security.
For WordPress, WordPress's enormous plugin library has over 58,000 free and commercial plugins. In essence, you will be able to locate any WordPress plugins that will satisfy all of your logistical, technological, and marketing requirements.
WordPress vs Magento: eCommerce
Even though both Magento and WordPress are extremely capable eCommerce platforms, Magento is the more powerful platform for selling online. As a default, Magento includes a number of useful sales capabilities, such as the listed below:
Recently viewed and compared products.
Options for free shipping.
Create alternative pricing points for different types of customers, such as wholesalers and retailers, to maximize your profits.
Upload numerous photos per product.
One-page checkout.
WordPress, on the other hand, provides a variety of eCommerce features that aren't integrated into the system. This means that you will have to install an eCommerce-specific plugin, which might cost a lot of money and effort in terms of compatibility, maintenance, and upgrades.
WordPress vs Magento: SEO
Both WordPress and Magento come pre-installed with adequate SEO tools, but these may be enhanced with a few modifications and plugins.
It's critical to use WordPress themes that are well-coded and adhere to best practices, as well as to install a plugin like Yoast SEO to handle key per-page information such as custom page names and meta descriptions.
Similarly, if you're using Magento, make sure to choose a theme that's well-written. Because Magento is not typically designed with content marketing in mind, you may find that optimizing your SEO will require a little more elbow grease. And one of the most underappreciated features of Magento is the importance of including title and alt text for each and every picture, which may greatly enhance traffic from image searches.
WordPress vs Magento: Price
In comparison to Magento, WordPress is more cost-effective. Magento's robust built-in eCommerce capabilities come at a premium price, and even if you're using an open-source installation, you'll still have to pay a premium in Magento development hours if you want to completely personalize your shop and make it your own.
Magento's paid-for solution is ideally suited for established B2C and B2B retailers, including corporations. To obtain a quotation, please contact our Magento sales team. However, as a point of comparison, the cost of Magento's corporate solution might range anywhere from $22,000 and $125,000 each year.
In addition, With both open source systems, you'll be responsible for securing your own web hosting as well as a domain name for your website. Domain names are often available for purchase for roughly $15 per year.
WordPress Pricing
WordPress is a completely free platform to download and use. Just though the program itself is free to download does not imply that it will be fully free to operate your website on this platform after it has been installed on your system. You'll still need to buy the items listed below.
The domain name ($12/year).
WordPress hosting fee (from $3.95/month).
Security (from $50, on-going or one-off charge).
Developer fees (from $50/hr).
Because of the open-source nature, WordPress also greatly depends on customization themes and plugins.
Paid theme (from $30).
Plugins ($0 – $1000).
It is quite difficult to predict the final Magento cost. You will not have to pay anything to download and install Magento since it is an open-source software solution. However, you will still be required to pay for certain optional extras like web hosting, a domain name, and other efficiency-enhancing features.
Here are Magento 2 price estimation:
It's true that Magento's price is completely uncompetitive in the marketplace. It is important to remember, however, that Magento is a full-featured eCommerce platform, which means that you may begin operating your online shop immediately.
WordPress vs Magento: Hosting
When it comes to hosting, there is no practical difference between WordPress and Magento. Both systems will be supported by hosting providers. WordPress and Magento have been around long enough for the majority of hosting providers to provide one-click installation of their respective platforms for their customers. Determine which hosting company will give you the performance levels necessary for the number of visitors you anticipate receiving on your website.
Magento vs WordPress – What is the better choice?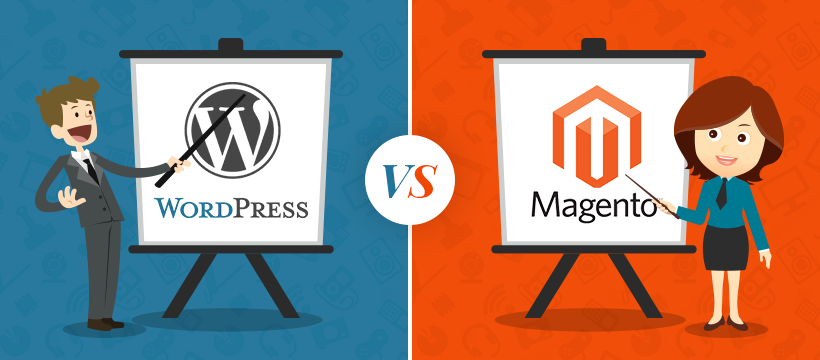 Who is Magento best for?
For eCommerce enterprises with a primary emphasis on the sale of items or services, as well as businesses with strong financial and operational capability.
Require a comprehensive set of eCommerce-specific features and capabilities.
Allow businesses to maximize the potential of their webstore in the digital world.
>> Read more: Everything you should know about Magento B2B Features
Who is WordPress best for?
For those whose goals revolve on content marketing, cost-effectiveness, and the dissemination of material.
It is necessary to have an appropriate and user-friendly web design choice, especially if the web is not just focused on the sale of goods
Perfect for creating blogs, building communities, sharing shops, and other similar activities.
In Conclusion
Both WordPress and Magento are ideal platforms for assisting companies of all sizes in establishing their own online storefronts. While the final decision on which platform to use is a matter of personal opinion, Magento is a good option for business eCommerce sites, while WordPress is a good choice for goods that rely heavily on content marketing.
If you're looking to add eCommerce functionality to your website, you may be feeling a little overwhelmed with the variety of options that are available to choose from. We're here to help. If you have any questions regarding our service, please don't hesitate to contact our team.