When it comes to eCommerce platforms, Magento is always amongst one of the most popular ones thanks to its full ability to flexibility and customizability. While Magento is long praised for its SEO power, there are many factors online merchants need to pay attention to in order to drive more organic traffic. In this article, we will look at 8 best practices you can apply to improve Magento SEO Optimization at your store.
Key components of Magento SEO
Search engine optimization, or SEO, is a set of practices to help you optimize your store website to make it rank higher in the search result pages, such as Google and Bing. SEO is one of the most effective marketing tactics as it helps rank your page in a higher position, making it more appealing to users when they search for solutions and product recommendations on Google. Thus, your site will get more organic traffic without using other paid marketing channels.
When mentioning SEO, there might come a long list of practices, tips, and tactics that makes you overwhelmed to apply all of them, but in fact, there are only three main types of SEO that you need to focus on to reach a well-rounded organic search strategy.
On-page SEO
On-page SEO, or on-site SEO, refers to the optimization of each and every page on your site. On-page SEO helps search engines to understand the content of your site and decide whether your site is a trustworthy and valuable source to the community. 
Technical SEO
Technical SEO includes all practices that are non-content elements of your site. These SEO components help search engines crawl and index your site better and enhance users' experience when they visit your Magento site.   
Off-page SEO
The final key Magento SEO type is Off-page or off-site SEO. This technique is about strengthening the relationship your web store has with other websites. While the previous SEO types often concentrate on your web content and site infrastructure, which are strictly related to Magento, off-page SEO is all about promoting your website and it happens off your pages/website
Best Magento SEO practices
Now that we have learned all the main types of Magento SEO, it's crucial to understand that all our best practices are aimed at enhancing these factors, and in turn optimizing SEO at your Magento site. 
Optimize Magento URL structure
One of the best practices to enhance on-page SEO optimization is to rewrite your Magento URL structure to be neat, clean, and keyword-focused. As Magento allows users to freely make changes to links on your site to be more SEO-friendly, the previous URLs will be automatically redirected to the new one.
It's advisable that you keep all your homepage, product catalog, and CMS page URLs concise and descriptive. However, if your Magento store holds a large range of products, you might want to opt for a flat URL. 
This can be done by going to Stores >> Configuration (under Settings) >> Catalog >> Search Engine Optimization, ticking No in Use categories path for product URLs, and ticking Yes for Use Canonical Link Meta Tag for Categories.
A good product URL should follow this structure: https://mystore.com/product-name/
Craft effective meta title & description
Metadata, including meta titles and meta description, have an enormous impact on your site rankings on SERPs, as well as the click-through rate of your site. The general tip to optimize your meta title and description is to ensure they are within the character limit and the content must be relevant and useful for customers.  

Generally, your page title should include the keyword you are targeting and contain less than 70 characters. The meta description is responsible for a brief overview of your page, and while the field accepts up to 225 characters, it's advisable to keep it between 150-160 characters in length.
Generate & submit a sitemap
Sitemap.xml allows Google to understand your Magento site and discover important URLs on your site regardless of your site's architecture. In other words, an XML sitemap helps you to communicate with search engines to help it identify what pages need to crawl and index.
Fortunately, Magento default settings possess the ability to create a sitemap.xml file. In order for an XML sitemap to be published on your site, you need to generate your sitemap.xml file. This can be done pretty easily in a few configurations from the Magento backend:
To enable sitemap generation, go to Stores >> Settings >> Configuration >> Catalog >> XML Sitemap >> Generation Settings and set Enabled to Yes.
Next, you might need to configure your sitemap. Go to Marketing >> SEO & Search >> Site Map, and click on the Add Sitemap button.
For Filename, enter sitemap.xml
For Path, enter the URL path you want to link with your sitemap.xml file.

Configure the robots.txt file
When search engine crawlers access and index your site URLs, the robots.txt file will show them the right direction on how to crawl your site. A properly set up robot.txt file can restrict crawlers' access to certain pages and directories on your site, which can reduce a huge amount of time and resources for the crawling process.
Upgrading from the previous version, Magento 2 default also allows you to configure the robots.txt file by a few simple configurations from the admin panel.
Navigate to Content >> Design >> Configuration. Select Edit on the Store View you want to adjust.

Expand Search Engine Robots and you can edit custom instructions of your robots.txt file. However, this field does not contain a one-size-fits-all option, but rather depends on your Magento store. Please be aware that the main goal of this section is to direct crawlers to the high-priority and valuable pages of your site.
Convert site to HTTPS
Google long confirmed that security is a top priority, and since 2014, HTTPS was considered a ranking signal, proving that your site should be converted to HTTPS as soon as possible. In order to be served over HTTPS, your Magento website will need an SSL certificate, which is issued by the Central Authority (CA). Normally, your hosting provider could generate a certificate for your website, so please consult them about this first.
Once you get your SSL certificate, you can enable it in your Magento backend. Go to Stores >> Configuration >> General >> Web and expand Base URLs (Secure). Change the Use Secure URLs on Store and Use Secure URLs in Admin from No (default value) to Yes. Now all your secure URLs will start with HTTPS.
Optimize images
Another actionable tip for Magento SEO Optimization at your store is to optimize all images on your site for search engines. There are three key practices to improve image SEO that you should pay attention to.
Firstly, reduce image size before uploading to your Magento site. Displaying a lot of high-quality images might significantly affect your site's speed and user experience. Therefore, it's essential that you compress images, which is good for both image SEO and website speed.
Secondly, clearly state what your image is about on the image's filename instead of using the default image name. In order to rank images on your site, it's also essential that you include some main keywords for that particular image, which is particularly helpful to help Google index your images for relevant searches.
Another image SEO factor is images' alt texts. This text will be displayed to describe the function and appearance of an image on your Magento page. As alt tags are helpful for both visitors and search engines to understand your images, make sure to include main and sub-keywords and set your alt text properly.
Enhance your site speed
It comes as no surprise that your site speed plays an important role in its ranking on search engine results pages. When optimizing your Magento store for SEO, improve your Magento site performance as much as possible. Here are some ways to help you do that:
Browser caching helps improve subsequent page load speeds without putting pressure on the server. This can be done by going to the Magento Admin Dashboard, and navigating to ​​Store >> Configuration >> Advanced >> System >> Full Page Cache.
Magento PWA is undoubtedly a key feature in enhancing site performance, as PWA has the ability to deliver greater speed for mobile users, compared to other mobile platforms and native apps. Speeding up your Magento site performance with PWA not only satisfies Google's Speed Tests, but your users will benefit greatly from a better site experience. There are three available options for Magento PWA integration, including utilizing Magento 2 PWA Studio, contacting a Magento PWA provider, and using Magento 2 PWA Theme. If you are considering building your own Magento PWA, SimiCart provides a comprehensive and cost-effective solution to help you leverage your site's performance.
Merge and minify JS and CSS files:
By merging and then minifying JavaScript and CSS files, the number of separate CSS files will be condensed into one. This action will help reduce the number of files customers need to request every time they land at your Magento site and thus improve load times. You can do this by going to Stores >> Configuration > Advanced > Developer and changing your JavaScript and CSS settings.
Create an internal link structure
The internal link structure contains all the pages on your Magento site and its relationship. Crafting a good internal linking structure helps search engines crawl your site without any difficulty and understand its structure easier.

A great network of internal links can be built by using the related product feature on Magento default settings. In the Catalog, go to Products, then choose a product you want to edit its internal link structure. Go to Related Products, Up-Sells and Cross-Sells > Related Products > Add related products. Now you only have to add all URLs of the related products you want to display on that particular product page.
Rich snippets
This is an excellent innovation of Magento 2 which now enables rich snippets to be added to all product pages by default. Thanks to this setting, product pages will be more easily understood by search engines and can result in better rankings and click-through rates. It is very useful for potential customers who are looking for specific products online and merchants who want to ensure their products are easily found by search engines.
Rich snippets are a type of structured data that can be added to web pages in order to provide more information about the page content. This can include things like star ratings, product details, availability, reviews, and a lot more. Here's a rich snippet for the search term: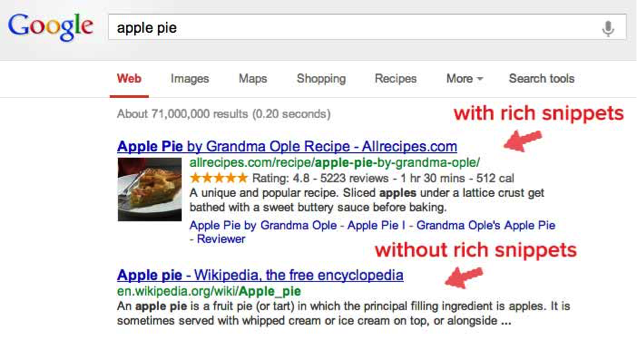 Final words
Magento SEO Optimization is not a simple task, but it requires a huge amount of time and effort in order to make your website appear on page one. There is no single tactic to help you do that, and it's also essential to combine some useful techniques to get the best results. We hope that our article can help you get a fresh view of some best actionable SEO practices and tips to fully optimize your Magento store for search engines. For more information on SEO optimization, check out our SEO services right now.