Magento is an open-source platform that empowers thousands of online stores worldwide. It also comes with a highly active community of developers and companies that provide Magento's solutions and services to global users, so it is not easy to choose a Magento agency to develop the eCommerce website for you. In this list, we narrow down some of the Top Magento development companies which stand out among various Magento partners in the world and we'll also discuss the criteria that might be used to make a good pick.
Top 13 Magento Development Companies in 2023
Absolute Web Services
Absolute Web Services or AW, as the name implies, is a full-service development company based in the US. In detail, they specialize in eCommerce platforms, along with business websites & applications. AW presents a perfect combination of a typical web development company and a digital marketing agency.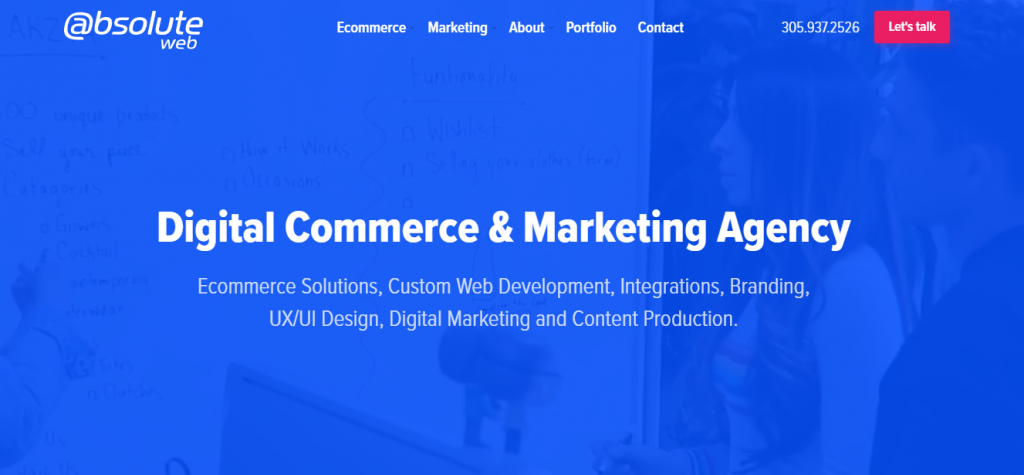 Despite the positive sides, AW has a certain downside point. Instead of solely focusing on Magento's development, the solution provider works with multiple eCommerce platforms namely WooCommerce, Shopify, and BigCommerce. Hence, there is a chance that they might run the risk of being a generalist rather than a Magento specialist.
Magenest
Founded in 2015, Magenest started as a Magento Extension Provider and has shifted focus toward Magento 2 Development services since its announcement and become a Magento Business Solution Partner. Their workforce includes 16 Magento 2 Certified Developers and 6 certified professional developers and 3 certified solution specialists.
Magenest determined itself as a top-notch system integrator that served both B2B and B2C customers. Since then, the company has evolved into a top-tier end-to-end digital solution, delivering a wide range of digital services to global businesses. Thanks to its reputation with over 20 Magento certifications and various awards, Magenest has got the nod to provide business solutions to famous clients such as Nestle, Heineken, and Universal Music.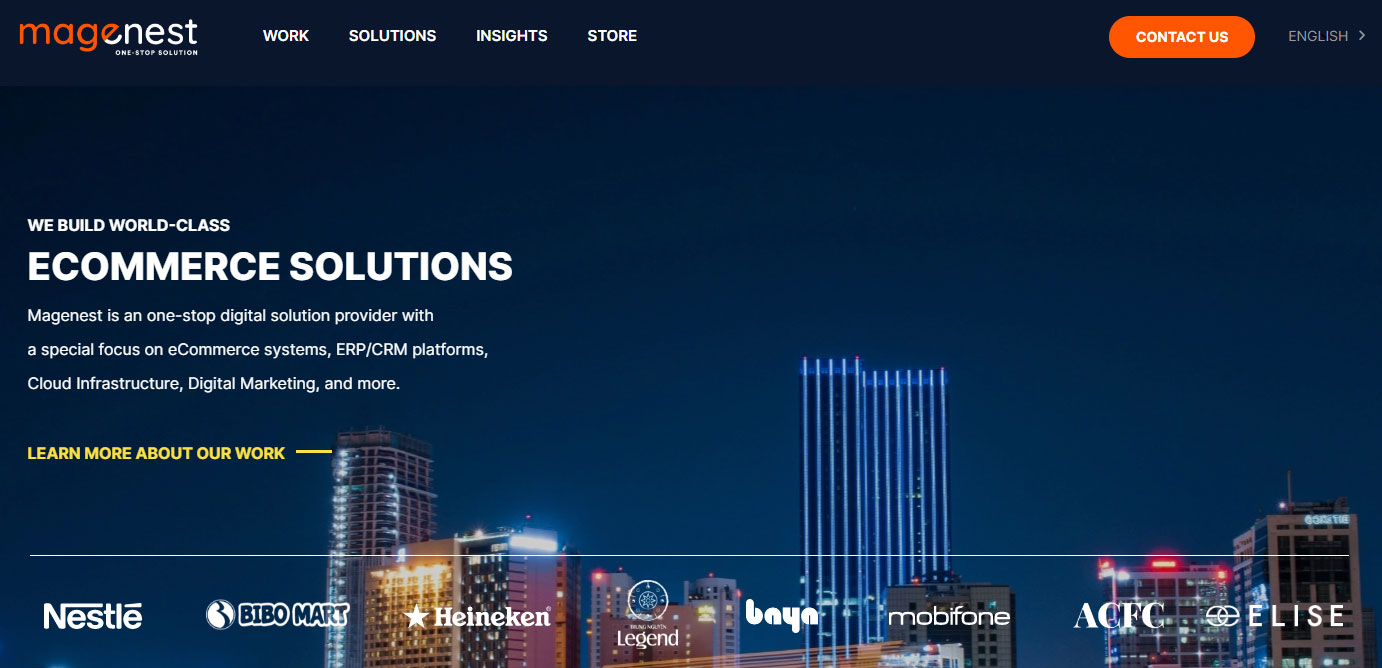 Magenest is currently considered the best Magento development company due to its one-stop solution package, including business process & workflow design, CRM & ERP onboarding, accounting chart of accounting setup, and payment gateway security consultation. These solutions are integrated with e-stores according to the specific demands of customers. With Magenest, your business is empowered by cutting-edge extensions and effective full-stack eCommerce systems. Learn more about the Magento service by Magenest right below.
Magently
Magently is among the top Magento development companies that are officially certified as a Magento Solutions Partner. Starting in 2013, the company has done multiple projects and helped SMEs develop to the next level. Specifically, with an engaged team of experts, Magently delivers Magento-based solutions for eCommerce retailers, including web development, custom modules, migration to Magento 2, and maintenance.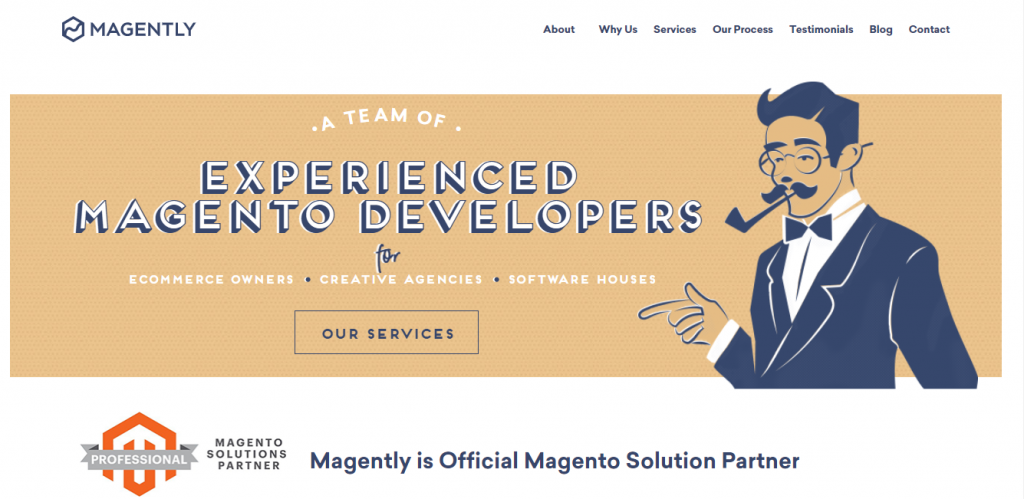 With Magently, users can easily set up Magento-based stores and modules and customize extensions with the best UI & UX standards. However, as a newbie in the race, this solution provider still has a long way to go to gain proven expertise.
Panda Group
Founded in 2013, Panda Group is a trustworthy web development company based in Poland. They provide many services including eCommerce development, SEO, and web development to SME clients in the eCommerce industry.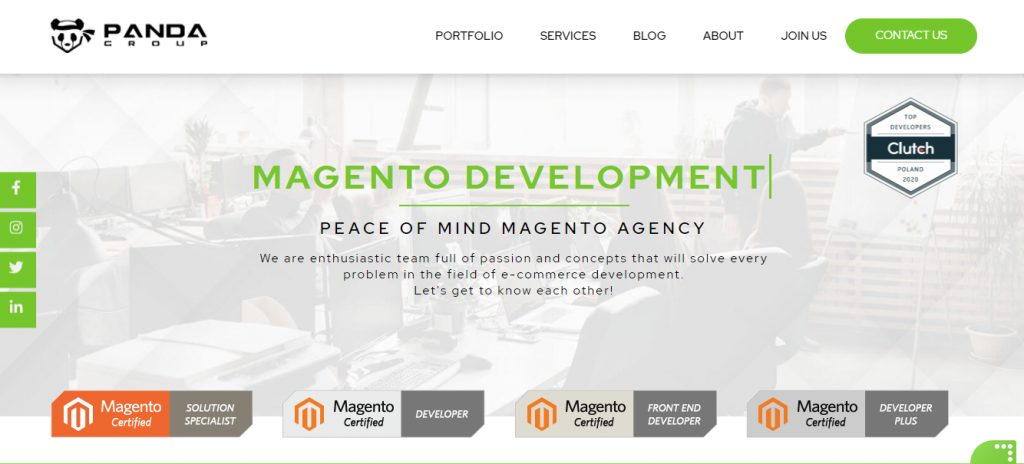 Panda Group is a pretty solid choice for a Magento web solution. Throughout 7 years of development, the company has delivered specialized Magento eCommerce services in over 50 projects universally.
Zfort Group
Over the past few years, AI technology has become one of the core aspects that Zfort Group focuses on.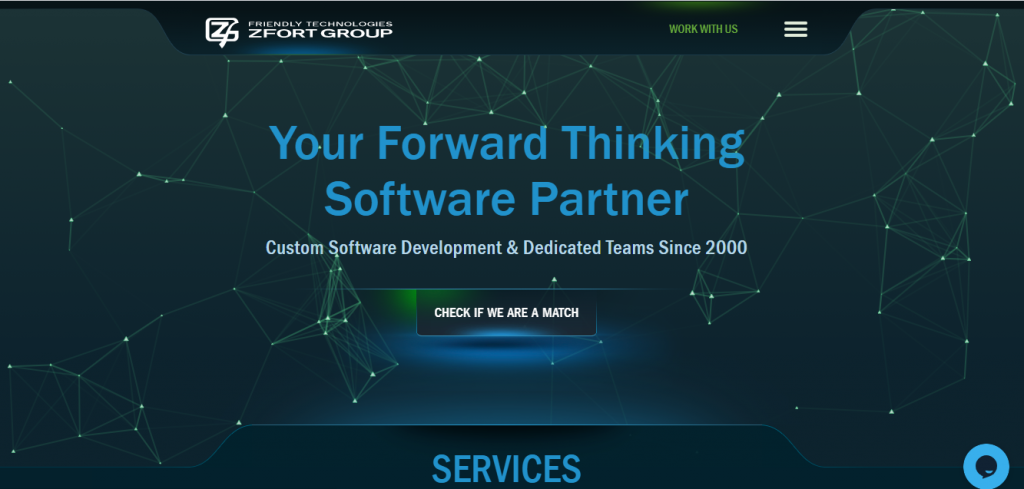 Although the system is a one-size-fits-all choice, you might need some consideration if you desire to build a company with a deep focus on eCommerce. Zfort Group's Magento expertise and testimonials still require time to be sharpened.
Mageplaza
Mageplaza has empowered more than 110,000 clients in 180 countries since its launch in 2014. These numbers are hard evidence that Mageplaza is receiving complete trust from clients worldwide.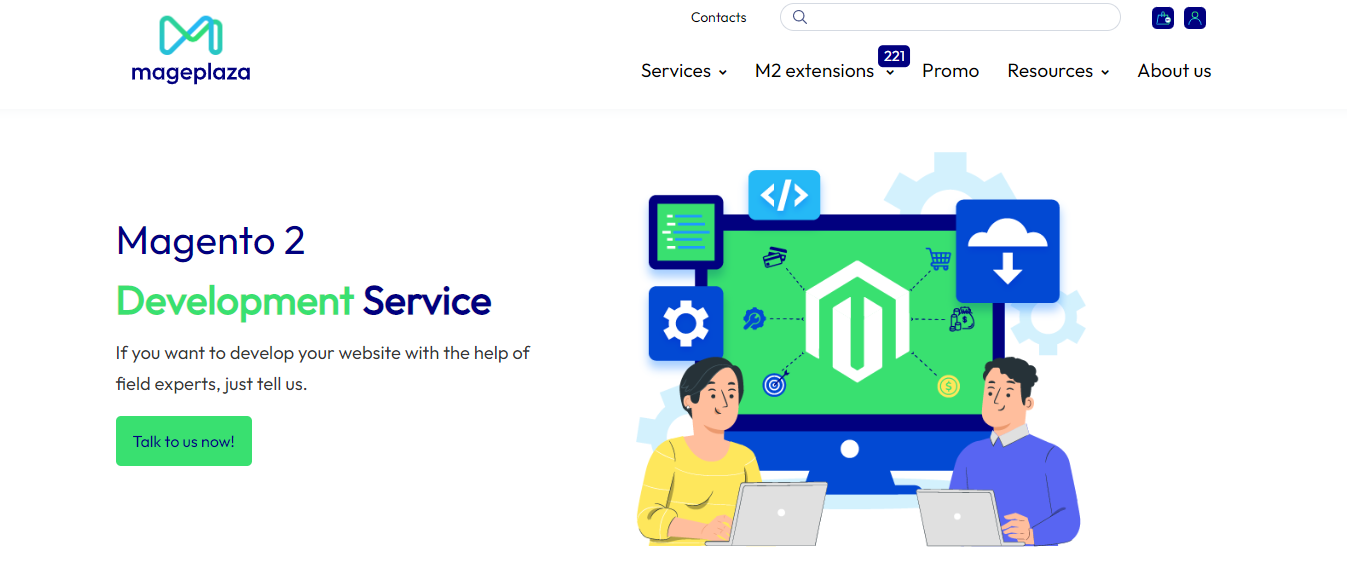 For eCommerce shops, Mageplaza offers Magento-based solutions, such as Magento Development Services, Magento Support & Maintenance Services, Hire Magento Developers, Magento Integration Services, and Magento Upgrade Services. In addition to providing a large selection of Magento 2 extensions packed with features, Mageplaza is dedicated to supplying numerous development services. They offer a trained and committed staff, including Magento developers, UX/UI designers, marketing experts, and customer service agents.
IDS Logic
IDS Logic is a universal software development company with expertise and agility. Since its starting point in 2007, IDS Logic has helped companies capitalize on great business opportunities with industry-specific and impactful software solutions. Their core technical expertise lies in eCommerce solutions, mobile apps, CMS, and Microsoft technologies.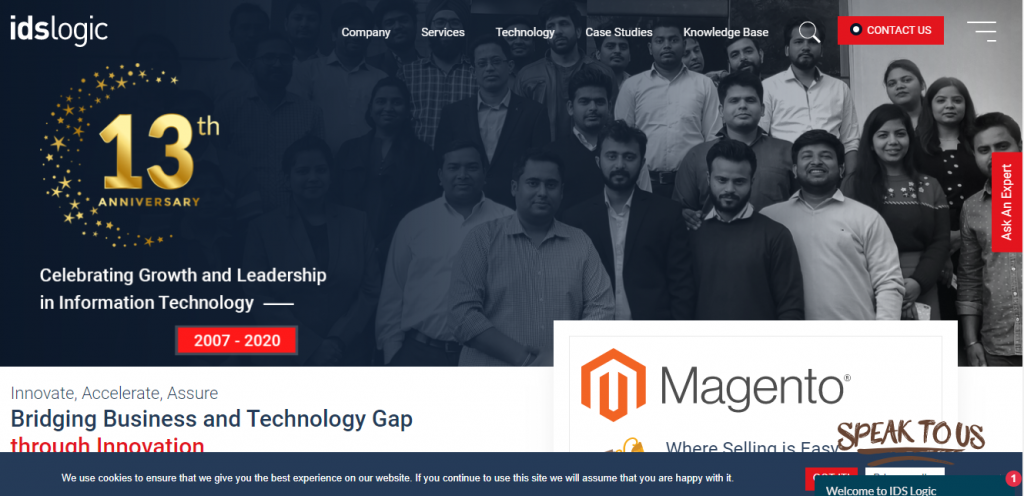 In comparison with other brands on our list of top Magento development companies, IDS focuses its energy on digital services on the whole. These multiple disciplines might be a downside point for users who take Magento eCommerce as the core structure for their business.
BelVG
BelVG is also a good sample of high-quality outsource Magento service to take into consideration. This solution provider has reached the global customer base, but they are particularly popular among EU users. Hereby, BelVG can be a wise investment to make if you're specifically targeting customers in that continental.

Regarding the eCommerce industry, BelVG is among the top-rated partners which specialize in the development of e-stores on the most popular platforms: Magento, Shopify, Prestashop, and WooCommerce. Again, its multi-platform support might pose a risk of being too general rather than specific to Magento development.
Elogic
Founded in 2009, Elogic is one of the high-quality outsource Magento service software that is empowered by dedicated Magento teams. The company acts as an eCommerce specialist, offering Magento migration solutions for various e-shop owners.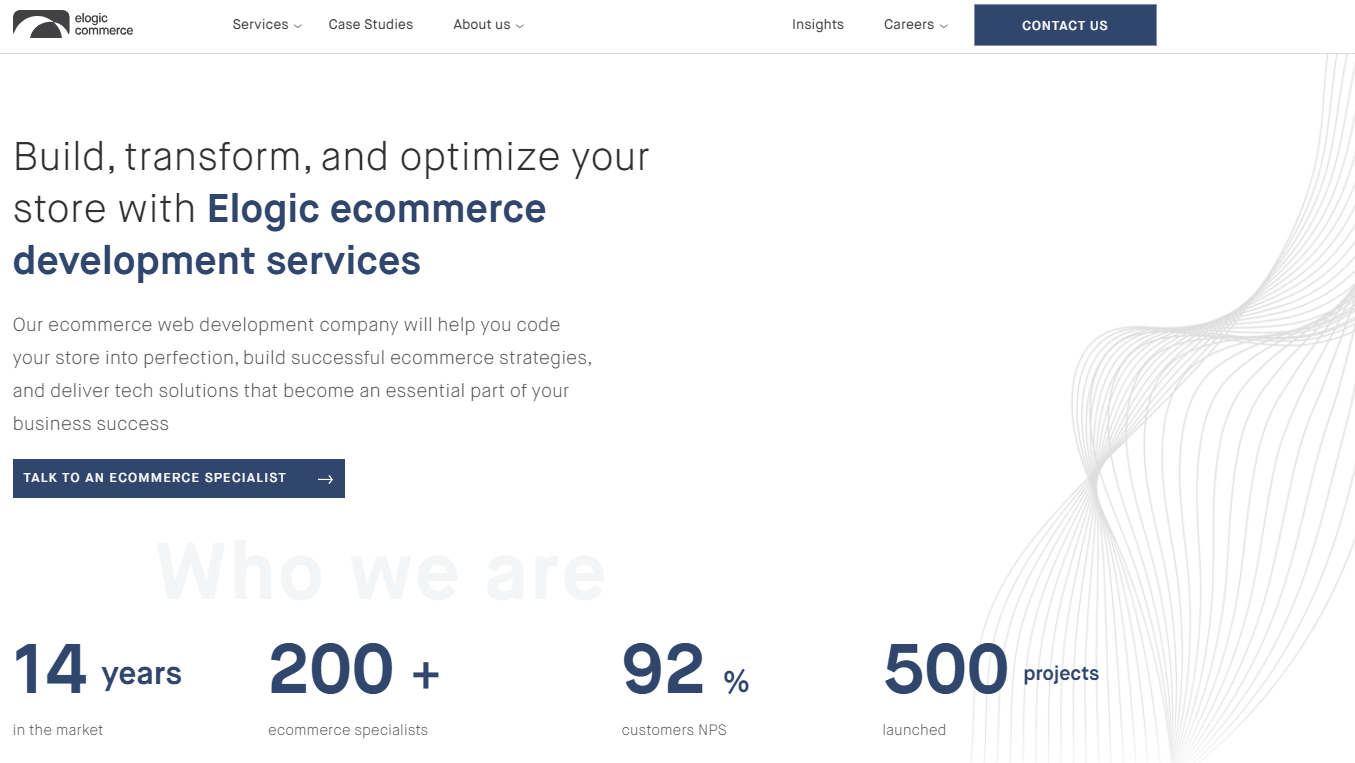 With a pretty good knowledge base, it's worth taking a look through Elogic before you decide to work with them. However, the limited customer base, with mainly the US and UK markets can be a real challenge for businesses from other parts of the world to reach out to this solution provider.
Whidegroup
Whidegroup is a perfectly balanced team that takes Magento optimization as one of its focuses. The services delivered by the company mainly involve tweaking server setups and getting rid of unnecessary code. With Whidegroup, customers can enjoy a highly performance-driven eCommerce site.

However, they might not be an ideal choice if you're looking for a beautiful user interface or custom builds.
Magneto IT Solutions
Finally, we have Magneto, a great example when it comes to the top Magento development companies. This solution partner offers a comprehensive range of services, from business strategy, and consultancy to app design and development.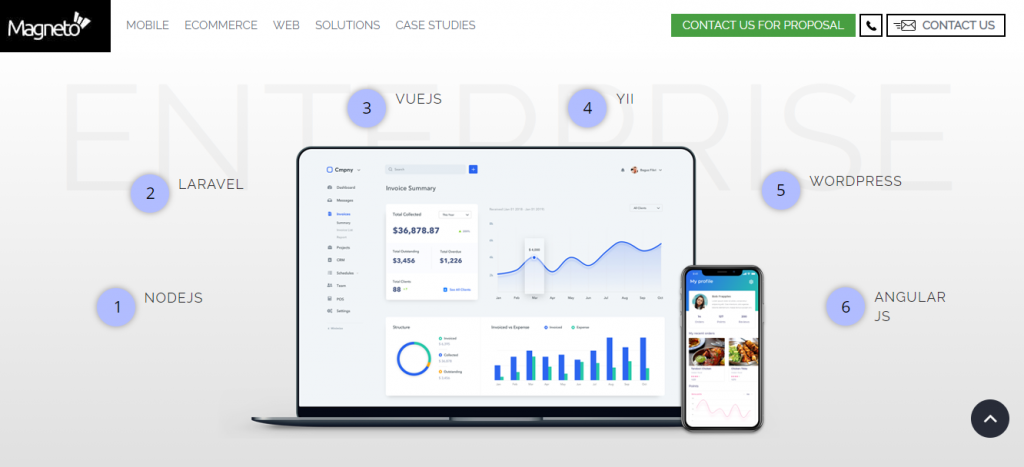 With the high rate of happy customer experience, Magneto IT Solutions could be a decent choice to help with a little bit of everything. Having said that, if Magento eCommerce is the ultimate goal you want to target, then you need to take a careful look before deciding to opt for Magneto. This is because your desire is just a small part of the services that the company delivers.
Vaimo
Vaimo is on the list of the best Magento eCommerce development company in Sweden that was founded in 2008. Until now, they have achieved great success by becoming the top Magento 2 development agency. To hold this state, they focused 100% of their workforce consisting of a crowded team of more than 450 specialists scattered across 15 countries.
For more than ten years, the company proudly supported more than 400 B2B and B2C brands and merchants to explore the best solution for their online eCommerce.
Vaimo is a global elite partner with 91 Magento 2 certified professional developers, 46 solution specialists for Magento 1, and 15 specialists for Magento 2.
The company specifically provides a full-service omnichannel agency, a full spectrum of services, and strategy consulting, and especially supports your omnichannel for better work.
Atwix
Atwix was founded in 2006 and became the best Magento agency in 2011. They are praised as Magento's number 1 contributors in 2018 with 364 code contributions to the platform within that year. They are recognized as a full-service agency. The company has worked with many projects for more than a decade and confidently supports you in the long term not only with building sites but also with improving and supporting them continuously.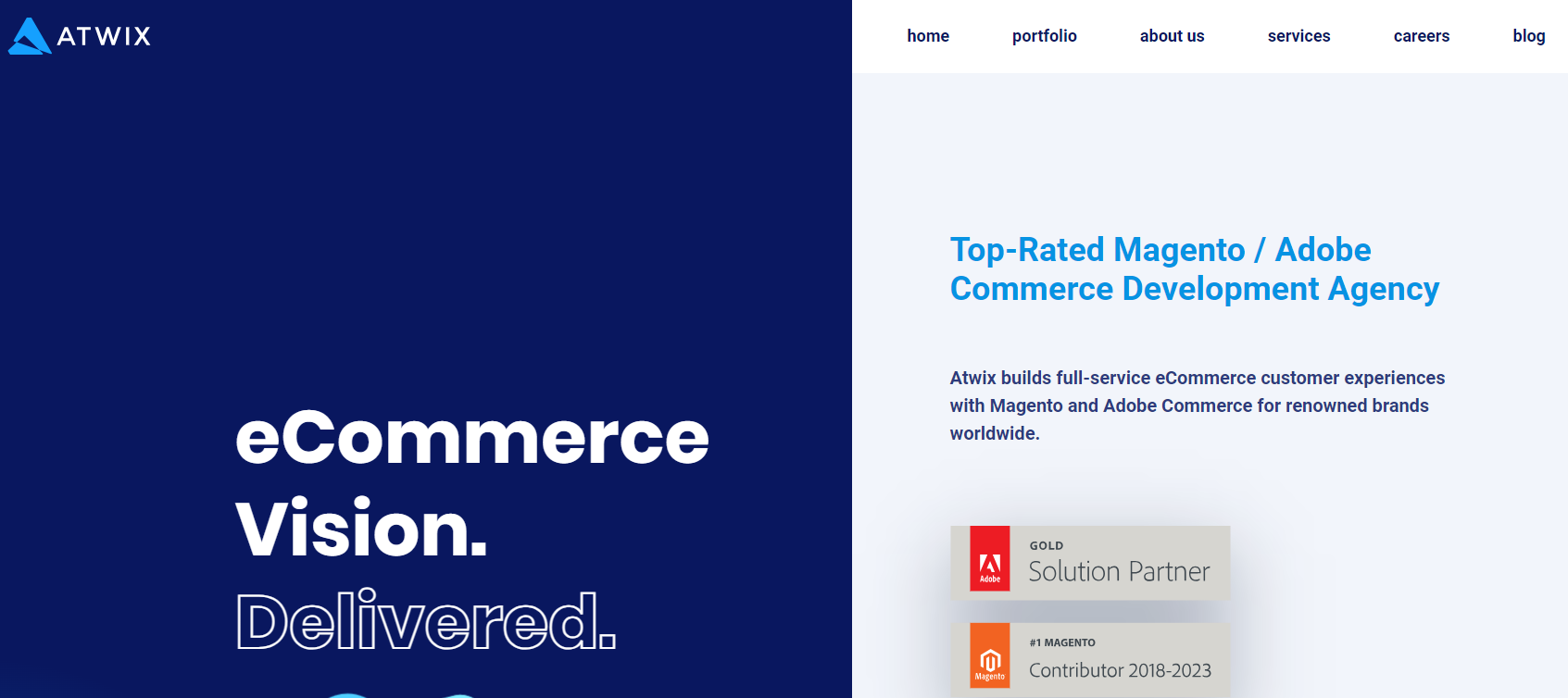 They have 25 certified staff that exceed Magento 2 certification exams. Atwix also stands out as one of the top Magento web development companies. Services offered by Atwix are website design, website development, performance development, Magento Maintenance, and ERP integrations.
In general, the firm is one of the most famous Magento 2 development companies for providing services including web development, and mobile optimization. If you want to transform your business into digital (CRM, SEO, mobile apps) you can create a project with them.
How to Choose a Magento Development Company?
Choosing the right developer is a difficult and time-consuming process. A single decision can have a significant impact on the future success of your eCommerce store. Now that you've got some possible options for the top Magento agency in your hand. To help you streamline the decision-making process, we've come up with a comprehensive guide of 5 steps, as below.
Clearly State Your Needs
It's incredibly important to outline your needs so that the third-party provider you choose knows exactly what work to be done. This will help to cut down on development time for your e-store and save a huge amount of money in return.
A basic understanding of the product range, market data, customer demands, and competitors is one of the important requirements. Analyze your business goals based on available data, and have a clear picture of the type of eCommerce store you need. You need to take a look at the budget required for building the website, it will improve your return on investment in the later stage of development.
Choose a Certified Team
Expertise varies among Magento development companies. That's the reason why when you're about to hire a Magento development company, you should always ask them about the certifications of their engineers and their partnership with Magento.
The best choice is a company that is a Magento Partner that ensures a variety of high-quality requirements that other non-partner companies cannot provide. To become a Magento Partner, the agency's developers must be Magento trained and certified, and the company needs to stay updated by delivering a number of high-quality Magento sites each year. Magento offers training and certification in sales, marketing, and development through Magento University, which ensures that all aspects of a development agency can be trained.
Checking Customer Reviews Carefully
Checking the reviews and the reputation carefully if possible, make sure to ask about how long the agency has been active in the market, how many developers can work on your project, what reputation the company has, and how it's going to protect your sensitive information, and how efficient its communication flow is. The answers to these questions will give you a clear idea about the capabilities and operational scope of a Magento design and development services provider.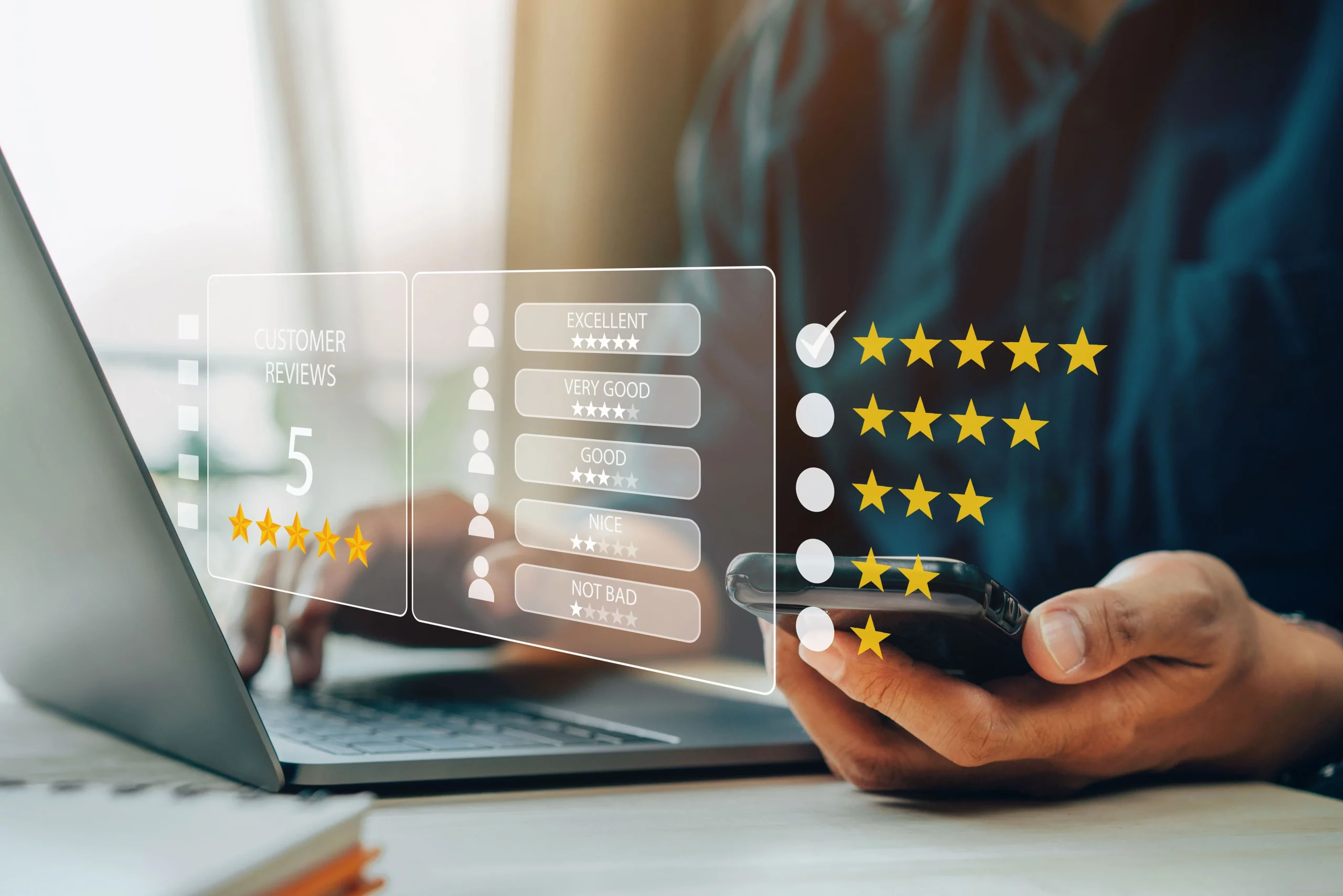 You can try using such rating resources as Clutch to evaluate the prospective Magento development agency. The Clutch shows a rating of Magento development companies. For example, for Magenest, our rating is 4.8, which means that we do provide effective and innovative solutions for the eCommerce market.
Security Assurance
It's important to pay attention to the size of the team and ensure the security of sensitive data. The best Magento web development companies are well aware of that. They provide all the right mechanisms to keep their clients' confidential information well-guarded against anyone from the outside.
A non-disclosure agreement, or NDA, is one of the most effective data security techniques. By signing it, a Magento eCommerce web development company guarantees that the client's personal information will not be shared with other individuals and businesses.
Ensure Direct Contact with the Solution Provider
Effective communication is also an extremely important aspect to keep in mind when choosing a Magento website development agency. Direct communication is vital when it comes to building a new e-store or re-platforming an existing one. As the party to channel capital into your business, you have to speak to the developer team to address any prompting issues and doubts. This practice will help you avoid many undesirable changes and bugs. At the same time, the Magento development company you hire should also feel comfortable reaching out to you if needed.
Mistakes to Avoid When Hiring a Magento Development Company
It's better to avoid:
Going for lower prices: When it comes to hiring Magento developers for your company, the best quality services at the most reasonable costs should be your priority. At the same time, below-market costs should be considered a red flag, and you should compare them to the rates of the Magento eCommerce app development agency you are considering hiring for your next project.
Denying continuous development: Work on a website should not stop as soon as the project is up and running. There is always a need for security checks, Magento upgrades, performance improvements, and other related tasks. If a Magento development company you hire does not offer ongoing custom eCommerce store development and support, in the future, you might need to find another company to provide related services.
Paying little attention to technical expertise: This way, you will not have to doubt Magento developer skills, as they will be able to offer innovative approaches to eCommerce development. We recommend you select a company that has in-house certified Magento specialists.
Ignore the verification of expertise: When businesses hire a Magento developer, they often skip another important step – verification of credentials and expertise. By evaluating the vendor's portfolio, you will be able to identify projects that are similar to yours. Make sure not only to look through case studies but also to visit the developed eCommerce websites and see how they work.
Conclusion
Magento eCommerce platform brings enormous advantages to e-shop owners. We hope that after reading this article, you can get the awareness needed to make the informed decision that may affect your business.
Take your time as you've come to the right place. You're all packed to go ahead and start working on your Magento store with Magenest, the number 1 option on the list. We are here to provide solutions and recommendations for the success of your e-shop!