Before developing an eCommerce site based on the Magento platform, any merchants have to define the Magento pricing in detail. However, it is not easy because of the different costs you have to pay like license, theme, hosting, domain, development, etc. To help you have precise and detailed information about Magento pricing, we will evaluate the key factors affecting Magento enterprise costs. All the costs will be estimated on the Magento 2 pricing – the common and newest version that merchants use!
Magento pricing plans based on editions
To understand the expenses of creating a Magento store, it is necessary to first comprehend the Magento eCommerce cost based on three versions:
Magento Open-Source
If you use this edition, the Magento eCommerce price is absolutely free. To get started, just download and install Magento. You have practically endless modification options to tailor the store to your specific needs. However, fees such as domain registration, hosting, design, and development would cost more than $15,000 to establish and launch the business.
Some of the best features of Magento Open Source are:
Product variants – add customizable features to your products such as color, fabric, or size, thus allowing your customers to set customize your product to best match their preferences
Mobile-optimized email templates – send emails that look awesome on all screen sizes, including but not limited to mobile devices
Magento Commerce/Adobe Commerce
How much is Magento Commerce?
Unlike Magento Open Source, the Magento Commerce pricing starts at $22,000. The high cost of all the features is the drawback. However, this edition offers out-of-the-box features like a drag-and-drop page builder, a built-in B2B module, powerful content staging, rich business intelligence reports, and 24/7 support. Magento Commerce pricing will rise in tandem with your Gross Merchandise Value (GMV) and Average Order Value (AOV).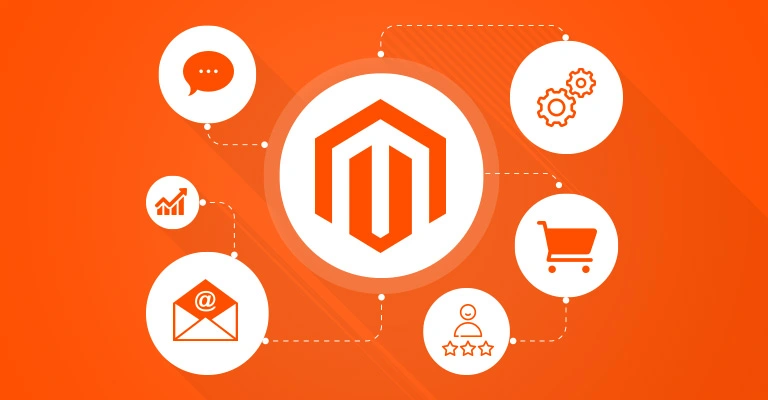 Some of the best features of Magento Commerce are :
Customized promotions – create personalized promotions to help increase the rate of your conversions.
Drag-and-drop CMS – use the built-in content management system's drag-and-drop feature to easily customize your content.
Customer loyalty tools – create exclusive private sales events and wishlists, and also offer rewards points.
Visual merchandising – organize products on your catalogs by categories such as popular items to help improve the user experience.
Magento Commerce Cloud
The Magento Cloud pricing starts at $40,000, higher than Magento Commerce price. In addition to the features listed above, Magento 2 Cloud pricing offers faster page performance, and security, in addition to the capabilities stated above. Magento Commerce Cloud, like the on-premise equivalent, has a tiered price structure.
Notable features of Magento Commerce Cloud:
Adobe Commerce Application
Core Application Support
Business Intelligence Pro
Single-tenant, dedicated infrastructure
Deployment Tools
Larger dedicated staging environment
Faster support response time
Increased customization available
50 GB of testing
Disaster recovery and data retention
Varnish-based CDN
Image Optimization
DDoS protection and WAF
Performance Monitoring Tools
Infrastructure support
Technical Account Manager
High Availability Architecture
Automated data backup
Expansive monitoring and alerting
Scale globally on AWS and Azure
How much does Magento cost?
Here is the list of costs you have to pay when developing a Magento eCommerce site, including:
License
Hosting
Domain
SSL certificate
Magento development cost
Magento website design cost
Extensions
Payment methods
SEO
Maintenance
Support service
License cost
Magento is available in two major variants. When considering Magento for your online businesses, the first cost you should keep in mind is the licensing cost, which differs for each edition.
Magento Open Source is a free-to-download edition. You can set up anything manually, including hosting, domains, security, and extensions.
Magento Commerce (Adobe Commerce) and Magento Commerce Cloud are designed for enterprise-sized businesses. Compared to their younger sibling, Magento Open Source, these editions include more unique built-in capabilities, and their codes are automatically optimized. As a result, your yearly sales will define the price policy for Magento Commerce and Magento Commerce Cloud as follows:
| | |
| --- | --- |
| Annual gross revenue | Less than $1,000,000 |
| Magento Commerce | $22,000/year |
| Magento Commerce Cloud | $40,000/year |
| Annual gross revenue | $1,000,000-$5,000,000 |
| Magento Commerce | $32,000/year |
| Magento Commerce Cloud | $55,000/year |
| Annual gross revenue | $5,000,000-$10,000,000 |
| Magento Commerce | $49,000/year |
| Magento Commerce Cloud | $80,000/year |
| Annual gross revenue | $10,000,000-$25,000,000 |
| Magento Commerce | $75,000/year |
| Magento Commerce Cloud | $120,000/year |
| Annual gross revenue | More than $25,000,000 |
| Magento Commerce | $40,000/year |
| Magento Commerce Cloud | $40,000/year |
Hosting cost ($10–$800/month)
The web host is important for your store to be displayed for customers. Choosing web hosting is a crucial step for building eCommerce businesses as it can directly impact your customers' experience when visiting your online shops. By choosing your best web hosting provider, you'll enhance your website's performance, search engine rankings, and a lot more.
The hosting cost for Magento also differs based on the edition you select. If you choose the Magento Commerce Cloud version, the hosting cost will not be a big deal as it is already included in the plan. For Magento Open Source and Magento Commerce customers, however, this is a significant concern.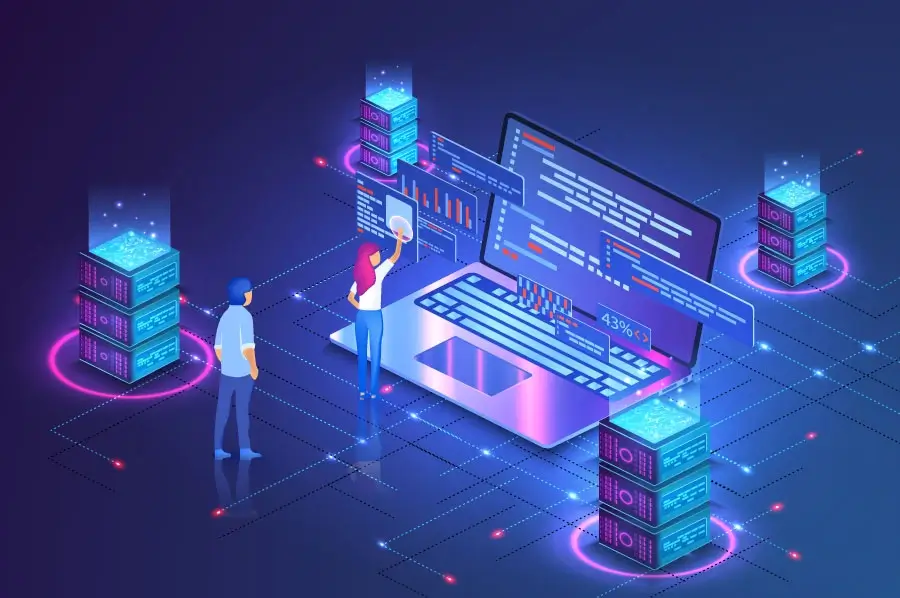 Website hosting is classified into four types: shared hosting, cloud hosting, virtual private server (VPS) hosting, and dedicated hosting. Magento sites require specific storage to run efficiently and effectively, so cloud and dedicated hosting are two of the best options. These plans are the most expensive, but they are worth the investment because they offer large storage, full control over sites, seamless scalability, and robust security features to help you build the best Magento stores.
The hosting cost will vary based on the web hosting provider and the hosting plan you choose. For example, Cloud hosting can be between $10-$400/month, while dedicated hosting can be up to $800/month. You should carefully consider your businesses' needs to choose the best Magento hosting provider that is optimal for your online stores.
Cost of the domain ($10 – $500/year)
The domain name for your store is important because it represents your online presence; therefore, it should be appealing and memorable. You can buy an expired domain name or a brand new domain name for your eCommerce business. As a result, annual domain name pricing will vary:
A brand new domain typically costs between $10-$15/year. With this option, you can have your own unique brand name as well as complete control over it. Moreover, the risk of inheriting bad backlinks will be reduced.
Expired domain costs can range from $20-$500/year. You can benefit from the potential for quicker search engine rankings and faster indexing by search engines. The existing quality backlinks from these domains can also boost your stores' visibility on SERPs.
SSL certificate ($50–$600/year)
SSL is an important factor in the security of your store. Having SSL certificates can ensure the privacy and security of your online transactions and customer information.
The typical cost of an SSL certificate is $50–$600/year, depending on the level of security you want for your store. This price can also be impacted by the provider that you choose.
Magento 2 development cost
As an open-source platform, Magento requires considerable technical expertise for the development of the stores. If you aren't tech-savvy, there are three solutions for you to choose from:
Web development agency ($50 – $350/hour)
The most expensive of the three options is to hire Magento web development services. However, it can be worth the investment as you can leverage high-quality and professional Magento experts. You can work with skilled and qualified Magento developers who can turn your idea into reality and provide you with close assistance throughout the development of your eCommerce stores and increasing your sales. Moreover, a development agency can assure you great support and quickly handle any complexities and problems that may occur. In this way, not only that you can have yourself a professional and efficient website, but also save considerable time and effort to self-develop a Magento store.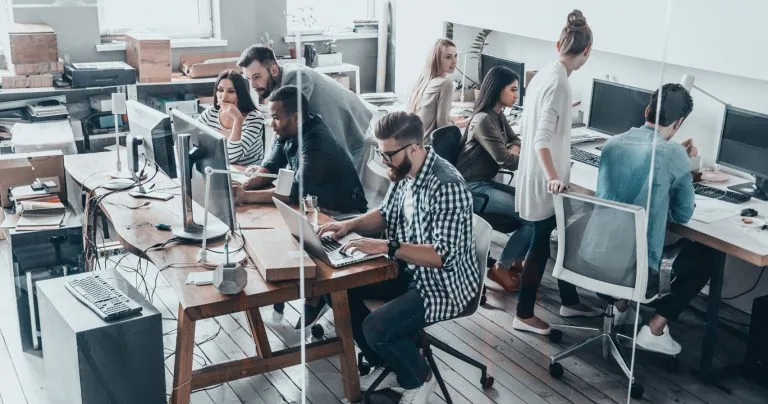 If you want to find a prominent agency, just contact Magenest! As a leading Adobe Solution Partner agency in APAC, Magenest has completed a variety of Magento projects for global brands and transformed their eCommerce systems.
Freelancer ($10 – $200/hour)
Hiring a freelancer is a less expensive option than hiring a web development firm. While agencies provide an account manager, a freelancer can communicate directly with you and is more responsive. Some freelancers, however, make promises they cannot keep. As a result, they are unable to manage the project and may abandon it in the middle. As a result, it is essential to carefully choose a freelancer based on their portfolio and reviews. For freelancers, here are some estimated Magento costs:
South-East Asia: $10–$20/hour
Eastern Europe: $20–$60/hour
US, UK, and Western Europe: $150 – $200/hour
In-house development team ($60,000 – $120,000/year)
Many mid-sized and large eCommerce organizations prefer in-house development teams to keep up with the frequent store-level developments and changes. The most significant benefit of working with such a group is the extremely quick turnaround time and precise control over the development cycle, thus ensuring the performance and long-term growth of your eCommerce businesses.
Magento development costs between $60,000-$80,000/year when you hire a junior developing team (with a year of experience on average). Following that, the developer's fee doubles for every year of experience. For an experienced Magento developing team, wage costs might reach $120,000/year.
Magento website design cost
Your store's appearance plays an important role in purchasing decisions of customers when shopping online. A store with eye-catching decorations and a user-friendly interface will attract more buyers to visit and purchase your products.
Magento allows for complete flexibility and customization for your storefronts, which can be done in two ways:
Use an existing Magento theme: Magento comes with hundreds of website templates to choose from, both free and paid options. For paid themes, the price varies from $30-$499 depending on functionality, layouts, and popularity.
Create your own one-of-a-kind theme: To construct your own design, you'll need to engage a website designer. A bespoke Magento theme might take anything from 40-160 hours to design. Besides, the minimum hourly wage is $40, with a total cost of $5,000 or more.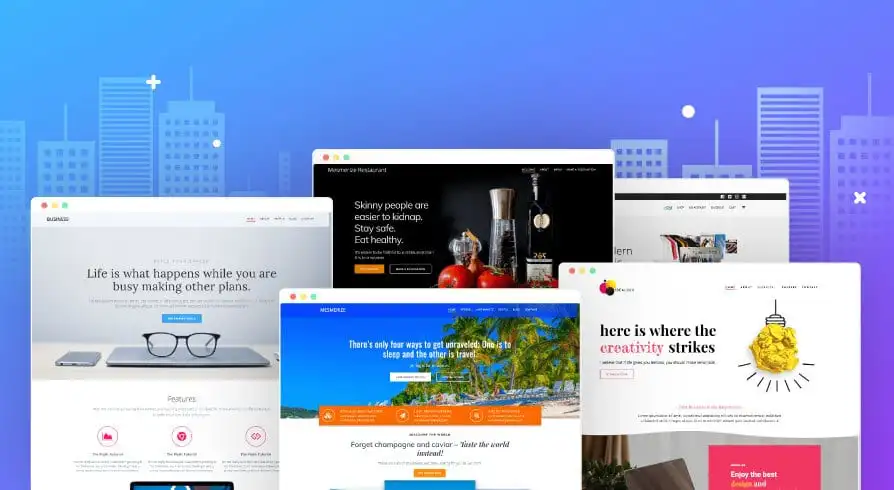 It's critical to consider the rising mobile usage and income of clients while implementing a bespoke design. As a result, for a mobile-friendly user experience, you should focus on making the website responsive on all types of devices, including tablets and smartphones.
Extensions ($60 – $600/extension)
Extensions are standalone modules that extend the functionality of your Magento platform, thus increasing the performance of your stores. Magento offers you a wide variety of third-party extensions on the market, provided by its certified partners and innovators. Some extensions are free to use, while others can cost thousands of dollars.
These extensions can be utilized for:
Features for customer service
Enhanced navigation using layers
Advanced search
Notice: You should connect the developers before finishing and purchasing any Magento extensions to ensure version compliance and probable issues with current extensions. There's always the possibility that an extension can create issues and slow down website load times. As a result, experts recommend keeping Magento extensions on the store to a bare minimum.
With the exception of a few free extensions, the majority of high-quality and advanced extensions will cost a one-time payment. A Magento extension can start from $60-$600, depending on the features and the extension provider's reputation.
As an Adobe Solution Partner, our certified Magento developers offer you various extensions and third-party integration that can help boost your store's performance. Check out our Magento stores to find out more!
Payment methods (3% – 5%/transaction)
Stripe, Authorize.net, and PayPal are the most common eCommerce payment options, accounting for 75.6% of global payment transactions. There are no setup fees with these payment processing providers. The cost for a successful transaction, on the other hand, starts at 2.9% + $0.30. You can conduct more research to find the best cost-effective payment service provider for your company.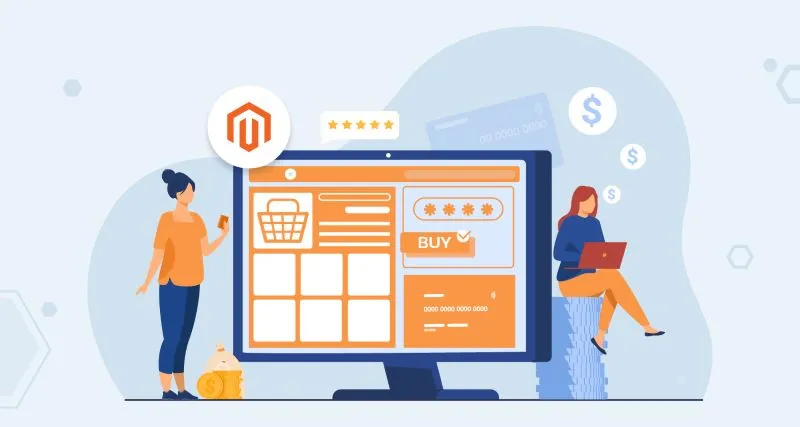 If you want to improve your customer buying experience by offering various options for payment gateway, our Magento 2 Payment Gateway Extension is here to help. With prices between $0-$299, you can integrate different gateway along with other services to extend your store's functionality and streamline the payment process.
SEO ($10,000 – $40,000/year)
To attract clients in this highly competitive eCommerce market, online businesses must invest in website advertising and search engine optimization (SEO). You'll need to engage an agency or a freelance SEO consultant with a track record of helping Magento stores to rank high in Google search results for this. The services usually cost you between $10,000-$40,000/year.
Magento SEO professionals offer a variety of connected services, including:
Analysis of Competitors
Website Audit
Keyword Research
Revised product pages
Page Speed Improvement
Google Analytics reporting and integration
To further increase your stores' potential to boost organic traffics and conversion rates, Magento also offers SEO extensions that can help you with it.
Structured Data for SEO: By using this extension from outer/edge, you can easily add structured data markup to your website. This extension is free for both Magento CE and EE.
Rich Snippets: This Atwix extension can add structured data to your website's HTML code, allowing search engines like Google to better understand and display relevant, detailed information to potential customers.

Magento Open Source: Starts at $129
Magento Commerce and Commerce Cloud: Start at $210

SEO Toolkits: SEO Toolkit by Amasty for Magento 2 is designed to boost your store's SERP ranking. It includes page optimization tools such as the One-Click SEO analysis feature, which assists you in determining the SEO performance of each page. You can make your own meta tag templates, insert rich snippets, and set up unique product URLs.

Magento Open Source Edition: Starts at $405
Magento Commerce: Starts at $749
Magento Commerce Cloud: Starts at $1,095
Maintenance ($80 – $125/hour)
Your Magento store will require updates and routine maintenance work throughout normal operations to maintain seamless functionality. This implies you'll have to budget for both regular and unscheduled maintenance.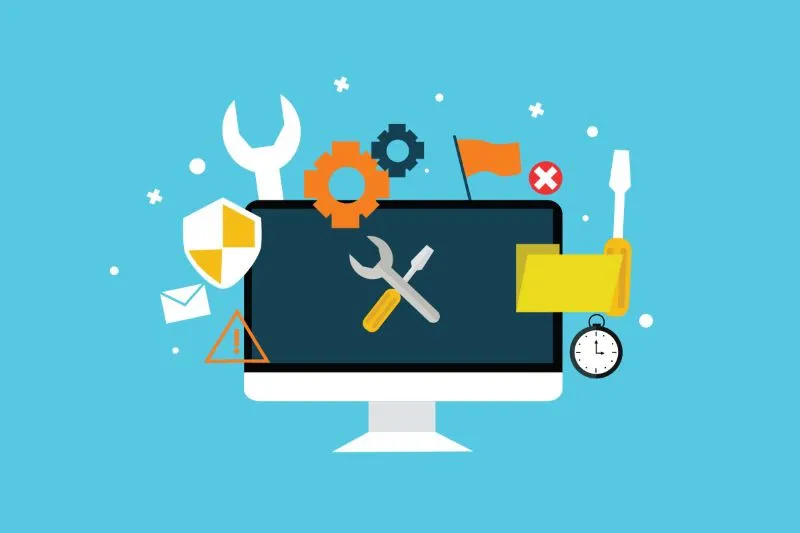 Maintenance helps to keep the shop stable and avoids any problems from disrupting operations. In general, maintenance entails installing updates and security fixes. The cost of these operations varies determined by the job's nature, frequency, and competence. It also varies by agency and is often calculated based on the developer's hourly rate.
Support service ($30,000 – $40,000/year)
Despite the business size, your store requires active help in case something goes wrong. Support and maintenance tasks sometimes overlap, and both are provided by the same provider. The customer support that you will have to supply is a crucial consideration. This is a broad domain with many different outlets and activities. The average annual cost of Magento customer care professionals is roughly $40,000.
The cost for support service differs based on Magento editions. Magento Open Source's free edition does not include this service. Therefore, you should consider outsourcing Magento developers for comprehensive Magento development and support.
On the other hand, with Magento Commerce and Magento Cloud editions, where support services are included in the plan, you can submit a ticket for any technical issues and receive support anywhere. Their response time and scope are, however, constrained by Magento's functionality. Consequently, you may still need to have your own Magento development team to handle other issues involving third-party extensions, integrations, and custom logic for instant support.
Audit and optimization ($45,000 – $55,000/year)
It is highly recommended to conduct an audit and optimization of a Magento website on a regular basis. A comprehensive audit can identify areas of the website that need improvement and provide recommendations for optimization, which can help improve the website's performance, user experience, and search engine rankings. As well as that, optimizing a Magento website can help reduce page load times, which can result in lower bounce rates and higher conversions. It can also improve website security, enhance mobile responsiveness, and make the website more user-friendly.
A basic audit and optimization of a small Magento website may cost a few hundred dollars per year, while a more complex website may require more advanced optimization and ongoing maintenance, which can cost several thousand dollars per year. Some Magento development companies may offer ongoing maintenance plans that include regular audits and optimization updates, which can be more cost-effective than paying for individual audits and optimizations. On average, the cost can be roughly between:
Magento Open Source: $4,5000/year
Magento Commerce and Magento Commerce Cloud: $5,5000/year
Elements impacting Magento prices
Besides the above factors that contribute to Magento pricing, there are other elements that can make a considerable change in your Magento budget
Amount of customization
The amount of functionality and customization you desire for your Magento store can greatly influence the overall cost. As a highly flexible and customizable platform. Magento allows for the freedom to serve your specific business requirements. However, it is important to note that the more complex your customizations are, the higher the development cost. Advanced features, distinctive design elements, and specialized functionality can all result in increased pricing.
Number of integration and Third-party extensions
As your businesses scale up, you may want to integrate other tools and applications to enhance the functionality and capabilities of your online store. This is made easy in Magento as this platform offers a wide range of integrations and third-party extensions for you to choose from, ranging from shipping providers, payment gateways, and CRM, to SEO tools, and more.
The number and complexity of integrations you need for your sites also count toward the increase in overall cost. Each application may require custom development, configuration, or licensing fees, which can add up to your budget depending on the requirements of your store.
Level of maintenance and assistance
The level of maintenance and assistance you desire for your Magento store is another element that can affect the pricing. Magento is a robust platform that requires ongoing maintenance to ensure optimal performance and security. The cost of such services can vary based on the complexity of your requirements and the level of support you need. Regardless of the cost, you will receive responsive and prompt support for your problem, increasing efficiency and saving you significant time and effort.
Conclusion
There is no exact Magento enterprise pricing because it depends on the scope of the projects. As a result, the Magento pricing list represents how you want to achieve your company objectives and make decisions as a store owner. Furthermore, the cost of developing a Magento website varies substantially due to the reputation, expertise, and services offered by different suppliers. Nevertheless, we can at least agree with each other that the total cost for:
Magento Open Source ranges from $12,000 to over $60,000
Magento Commerce ranges from $43,000 to over $190,000
Magento Cloud Commerce ranges from $60,000 to over $250,000
Choosing reliable Magento product and service suppliers is critical. In the long run, the success of your eCommerce business is a product of your efforts and those of your valued partners.
If you want to develop your Magento website, just book a free consultation with Magenest to explore our solution!