What should you do before starting a B2B eCommerce online store?
The very first and most important step is to choose a suitable platform from various options. And Magento B2B eCommerce is one of the most popular options on the market now. Not only does it have a ton of features and extensions available, but it also has a robust B2B mode that can accommodate businesses of all sizes.
In this blog post, we'll take a look at some of the key Magento B2B features and benefits of Magento B2B mode and discuss how you can get started using it for your business. So whether you're already using Magento or are just considering it, read on to learn more about Magento commerce features.
What Is Magento B2B?
Magento B2B is a powerful eCommerce platform that enables businesses to streamline their online sales operations. It comes with a range of features that make it an ideal solution for businesses of all sizes.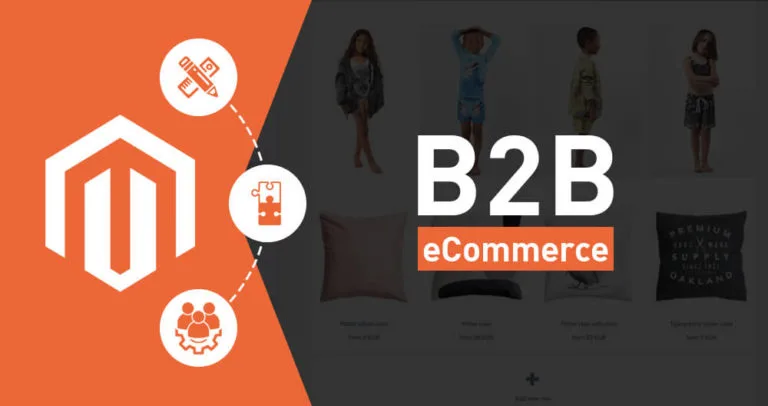 Magento B2B platform is a great solution for businesses that want to sell their products online. The extension provides all the features needed to manage customers, inventory, orders, and shipping. With the Magento B2B module businesses can save services online. It comes with a number of features designed to help businesses manage their sales, customers, and inventory.
In addition, by taking advantage of Magento B2B features, businesses can save time and resources while providing their customers with a superior online shopping experience.
Some of the key features of Magento B2B
Advanced Quoting Features
Unlike B2C eCommerce, the price in B2B business is personalized. Hence, customers can negotiate with sellers for better pricing due to the bulk order volume they intend to purchase.
However, B2B admin users may receive many emails and calls to negotiate the price with customers. It's incredibly difficult to manage so many negotiations; consequently, problems might appear.
Hence, a quote system is necessary in this case to streamline pricing negotiations. When you enable the B2B quote function, authorized buyers can start dealing for better prices right in the storefront. They submit a request to negotiate their expected price without writing an email or making a phone call.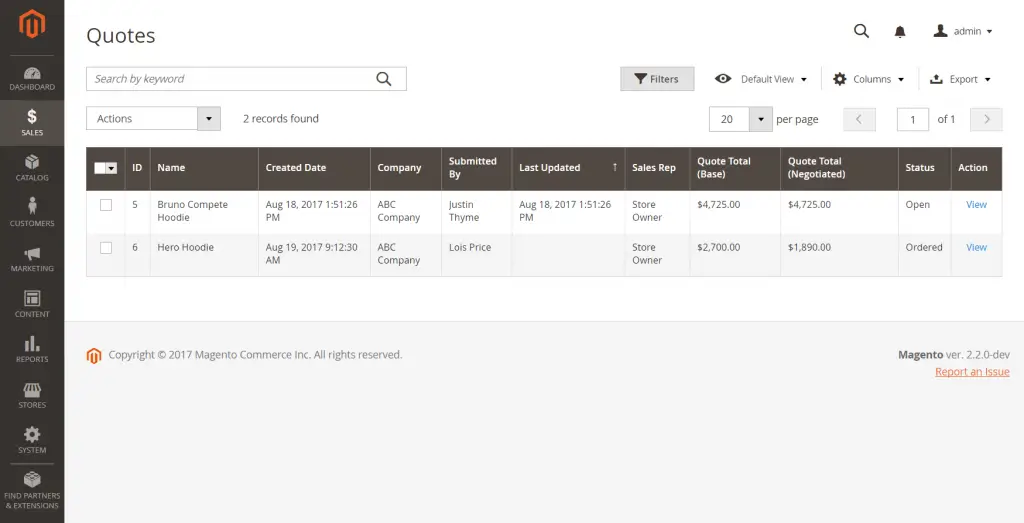 Notably, it is much more convenient for quote management. Once a customer submits a request, it will be immediately updated in a grid table of the store backend, and the admin can approve, or reject this request conveniently. The quote information is continuously updated between buyers and sellers:
Buyers receive notification emails about their quote status, then they can convert quotes to orders if they agree with the store admin or continue to update quotes for more negotiation.
Sellers repeat the process (approve or reject) in the backend.
Company Account
As we know, B2B businesses target different customer segments, usually manufacturers, wholesalers, and distributors who don't purchase products and services for consumption purposes. For that reason, the B2B sales process is much more complicated than the B2C one.
In the process, not just one but many people are involved in the decision-making. Hence, the company account functionality is necessary for B2B businesses to allow multiple users with pre-defined roles and permissions.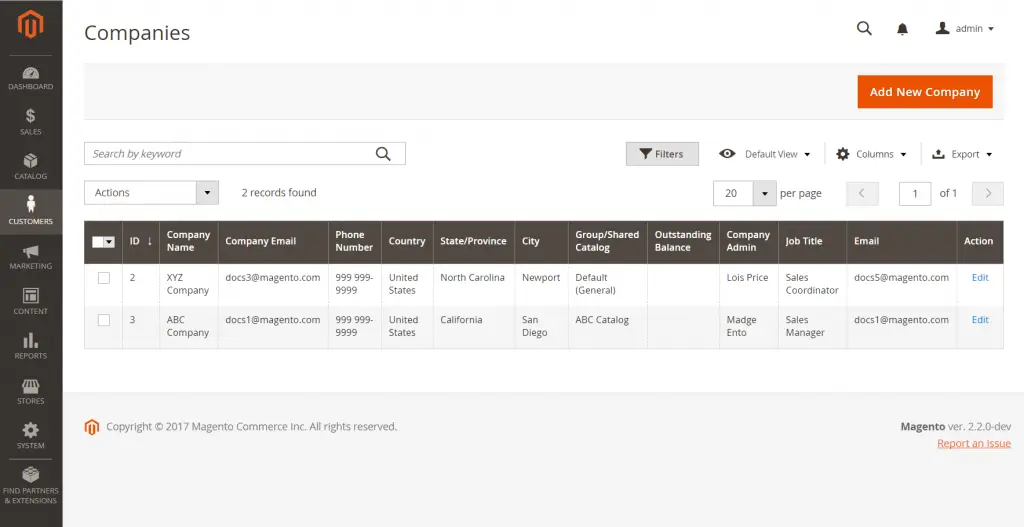 The benefits of this feature are:
Provide unlimited company users, which means you can create as many accounts as you need. This capability enables effective collaboration and smooth communication among various teams, departments, or subsidiaries.
Provide smart hierarchical access and permissions based on role and responsibilities, improving business management while also increasing security and lowering the risk of unauthorized access.
Offer a store credit option to help you manage your credits and payments. By providing a convenient and flexible payment method, this simplifies financial transactions, simplifies credit management, and increases customer satisfaction.
Empower administrators with the management of all accounts, ensuring a smooth operation and maintaining a consistent standard and practice across all accounts.
In this way, multiple decision-makers can be updated with transparent information, therefore supporting each other in the sales and purchasing process without transmitting the information orally.
Quick Order Entry and Requisition Lists
Magento 2 B2B comes with quick order entry and requisition lists. This can help streamline the ordering process and make it easier for customers to find the products they need.
The Quick Order function allows customers to order multiple products by specifying names, and SKUs or entering many SKUs manually in a form. More conveniently, customers can import a CSV file including every detail of a product and then add it all to the cart with one click.
For B2B stores, a second delay can mean a loss of revenue, and any extra step in the customer journey chases customers away. That's why the Quick Order feature is a must-have for every store that wants to serve professional customers efficiently.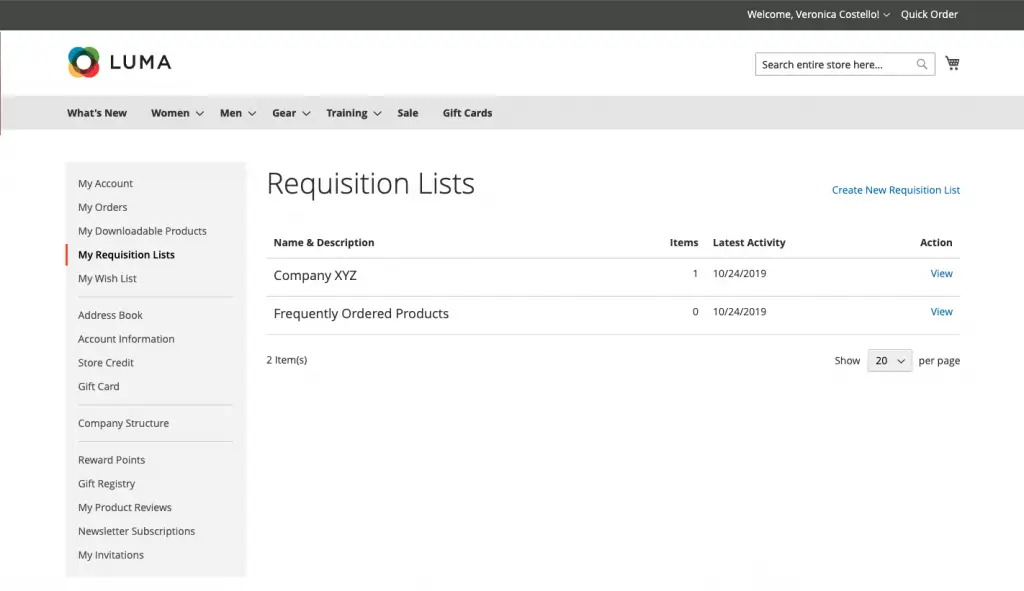 Benefits:
Enhance the B2B shopping experience: letting customers order multiple products at once without having to search for each product individually
Drive more sales: making it easier for customers to order the products they need, which then motivates them to come back and place repeat orders in your store.
Magento 2 Requisition List means that customers don't have to repeat the whole process the first time they purchase at the store. They don't have to find the products and repeatedly add them to the cart. Items are directly added to the cart from the list. Therefore, it saves time for buyers when purchasing frequently-ordered products.
The requisition list is quite similar to the wishlist, but their difference is extremely important. Both lists comprise all kinds of products a buyer wants. When it comes to a wish list, those products are deleted once the buyer orders them. But for a requisition list, the products stay on that list. This way, when it's time to reorder, your wholesale buyer doesn't need to waste time starting from scratch or risking forgetting important items.
For B2B companies, this means a greater conversion rate, more repeat business, and increased average order values (AOVs).
Customized Catalogs and Price Lists for Customers
Magento 2 B2B can help you customize your catalogs and price lists to match the specific needs of your business and provide a personalized option for each customer group. The Shared Catalog feature allows you to display two types of catalogs to end-users: public (for individuals and all website visitors) and custom (for companies for whom you can create special offers and discounts). This enables merchants to target larger market segments and offer customized promotions.
When it comes to creating price lists, you can create requisition lists that make it easy to reorder products based on the customer's intent, such as best-sellers or the latest collection. Magento 2 B2B also offers tiered pricing, so you can offer discounts based on volume purchases. With Magento 2 B2B, you'll have everything you need to streamline your operations and provide a great experience for your customers.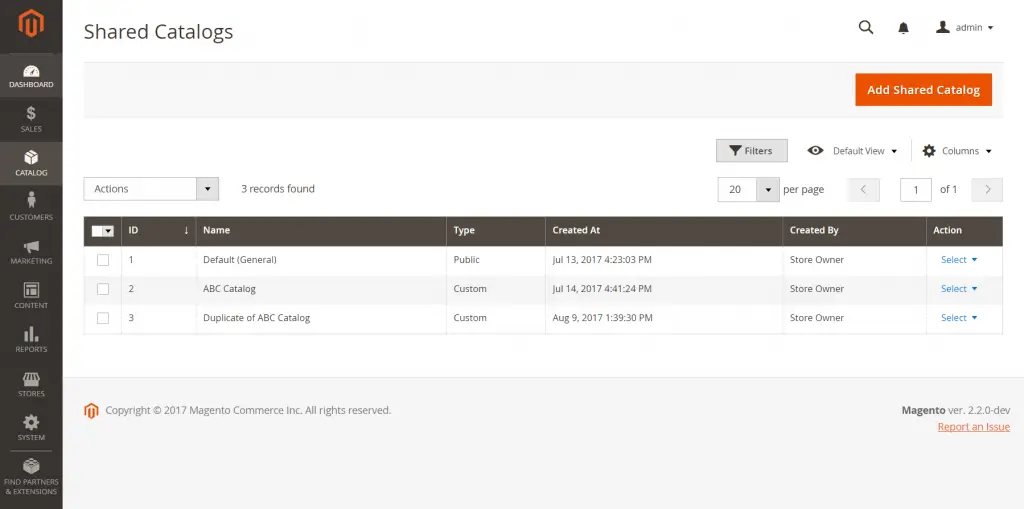 Benefits:
Enable businesses to offer unique price lists with different values and discounts and personalized product assortments to cater to the diverse needs of B2B clients.
Provide businesses with the ability to include or exclude any item from their stores, facilitating inventory management and catalog generation.
Enable businesses to set different prices for products and apply fixed or dynamic pricing models to attract customers through percentage discounts.
Through this customized pricing and catalog offer, your customers will have a more personalized experience, which will increase their engagement and satisfaction, thereby increasing your business's conversion rates and sales.
Advanced Shipping Options
Shipping is an important component of customers' purchasing journeys; thus, your delivery options need to be as adaptable to your customer as possible. Magento provides full automation of all steps involved in the transportation of products, including logistics operations and optimization of goods turnover while taking warehouse locations into account. This can provide your businesses with enhanced control and flexibility in managing your shipping processes.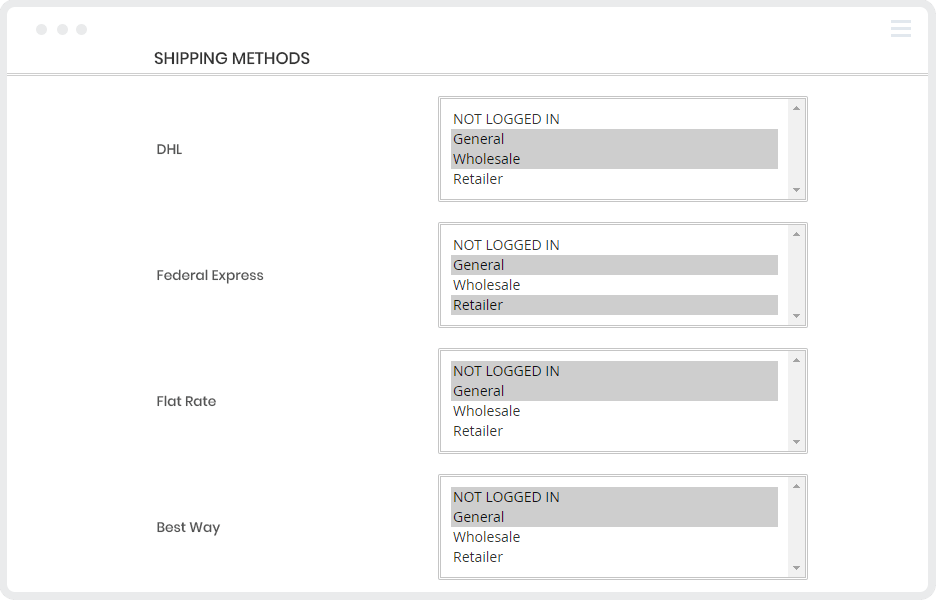 Magento B2B advanced shipping options encompass a range of functionalities that can help you define and implement complex shipping rules, methods, and options based on various criteria. These benefits include:
Establish shipping rules based on order weight, destination, product type, customer group, and order total. This enables the creation of shipping methods that are tailored to specific business requirements. For instance, some customers may desire delivery to multiple locations. Providing this customer with the option of split delivery will enhance their shopping experience.
Offer integration capabilities with multiple shipping carriers, such as FedEx, UPS, DHL, and USPS, allowing your businesses to gain access to a wide range of shipping options and services that are tailored to customers, thus, creating a better customer experience.
Allow for the optimization of the order fulfillment process through the use of specific shipping rules, automated calculations, and carrier system integration. Your businesses can reduce manual effort and eliminate errors, thereby improving order processing and delivery times.
Advanced shipping options in Magento provide you with extensive control over your shipping processes. Collectively, these features result in increased operational efficiency, enhanced customer experience, decreased shipping costs, and increased customer satisfaction.
Inventory Management Features
Magento B2B's inventory management tools are designed to help businesses save time and money by automating the process of keeping track of their stock levels. Magento B2B's replenishment rules allow businesses to automatically reorder products when they start to run low so that they never have to worry about running out of stock. Magento B2B's inventory management features help businesses keep their operations running smoothly and efficiently so that they can focus on their core business goals. Magento B2B features are the perfect solution for businesses that want to streamline their inventory management process and save time and money.
Magento B2B's inventory management tools will help your business to run more smoothly and efficiently so that you can focus on your core business goals.
Optimize On-site Search
As a Magento B2B website owner, you know that having a fast and optimized on-site search function is essential to providing a good user experience for your customers. Unfortunately, Magento's default search functionality leaves something to be desired in terms of speed and accuracy. Luckily, there are a few things you can do to optimize Magento B2B on-site search for better loading speed and more relevant results.
Magento B2B also provides extensive caching of page content and static assets on the server, which can help to optimize on-site search. This can improve loading speed and provide a better experience for users. There are a number of Magento B2B features that can help to optimize on-site search, including:
Generate Google sitemaps
Search engine-friendly URLs
Sort Popular searches automatically
Automatically generates popular search terms
The ability to create custom search algorithms and use Magento's powerful search engine optimization (SEO) capabilities can also help to improve the accuracy of on-site search results. You can find contact and discover the Magento development services for more information about how Magento B2B can help you optimize on-site search.
Security
Magento B2B features help improve security by providing better control over access to your site, as well as improved authentication and authorization tools. By using Magento B2B, you can ensure that only authorized users have access to your site and that they are properly authenticated before being able to view or make changes to any data. In addition, Magento B2B provides improved tools for managing passwords and user permissions, making it easier to keep your site secure.
Magento B2B comes with built-in security features that can help protect your online store from threats like malware and hacking. These features include:
Magento 2 Two Factor Authentication (2FA): This module adds an extra layer of security to your site by requiring users to enter a code from their mobile device in order to log in.
Magento Security Scan Tool: This tool scans your site for potential security vulnerabilities and provides recommendations on how to fix them.
Magento Enterprise Edition Firewall: This firewall blocks malicious traffic from accessing your site.
Mobile-friendly
In today's mobile-driven world, having a mobile-friendly platform is crucial for success. Magento B2B eCommerce solutions offer a great way to improve mobile experiences for customers. This is done through a number of features that make it ideal for mobile commerce, including:
A responsive design that automatically adjusts to any screen size
A touch-friendly interface that makes it easy to navigate on a mobile device
The ability to manage multiple Magento stores from one central backend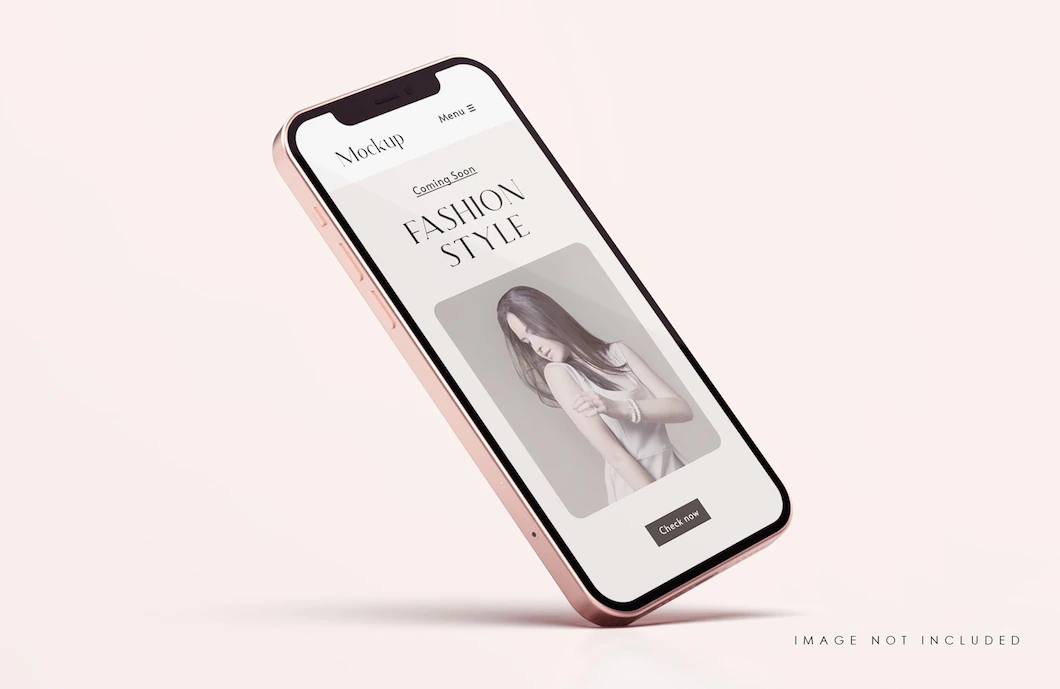 By optimizing Magento for mobile devices, your businesses can provide customers with a consistent and user-friendly experience regardless of the device type or size. This can result in increased customer loyalty and satisfaction. Moreover, by facilitating easy access and navigation, you can enable your customers to browse and place orders with ease, thereby increasing overall engagement and sales.
Support
Magento B2B offers businesses a convenient way to set up their store to support reordering. This extension provides businesses with the ability to manage their Magento store orders and customers in bulk, as well as to connect with their accounting software for streamlined order processing. Magento B2B also offers customer groups and pricing rules features to help businesses segment their customer base and offer custom pricing based on specific needs. As a result, businesses can save time and money by using Magento B2B to streamline their operations.
Furthermore, eCommerce business owners may utilize chatbots to upsell and cross-promote items with ease. Aside from that, they are available to answer any inquiries or address any issues that your site visitors may have 24/7. In this way, you can provide prompt support for your customers, thus improving their satisfaction and loyalty to your businesses.
Magento B2B support features benefit not only your customers but also your business throughout the operation process. It includes a comprehensive support network consisting of documentation, user forums, and community resources. In addition, Magento offers professional support services, such as technical assistance and customer support, to address any problems or questions your businesses may encounter. The availability of dependable support ensures that problems can be resolved promptly, minimizing downtime and maintaining a smooth B2B operation.
Advanced analytics
Magento B2B comes with advanced analytics that can help you track your website's performance and understand your customer's buying behavior. Magento with Advanced analytics enables store owners to:
Track their sales, conversion rates, and other key data points.
Get a complete view of their customers through detailed reports.
Make informed decisions to improve their business, such as marketing strategies, product development, and overall operations.
Magento's Advanced analytics is a powerful tool that can help store owners take their businesses to the next level. Magento B2B also provides a robust set of tools for managing customer accounts, orders, and shipping. These features make Magento B2B an ideal platform for businesses that want to streamline their online operations.
Feature Payment
Magento B2B features also come with flexible payment options to cater to diverse business requirements. It supports numerous payment options, such as credit cards, online payment gateways, purchase orders, and invoicing. Moreover, Magento 2 also offers the Shipping & Payment By Customer Groups extension, which allows you to decide on certain shipping and payment methods individually for each type of customer.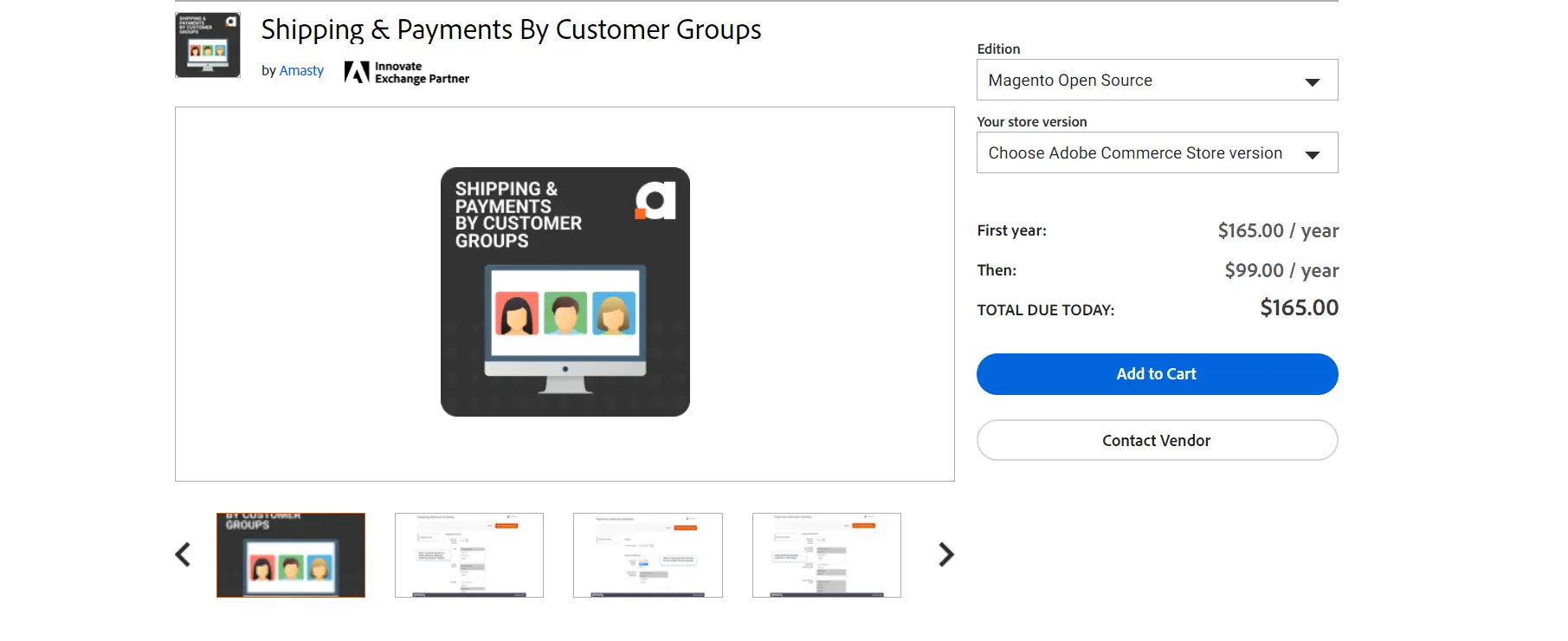 Another feature that supports flexible payments of Magento B2B is the purchase order (PO) option. With this feature, businesses can complete their checkout from merchants without having to pay the whole price. This is a default Magento B2B feature, so no additional extensions are required to use it. Additionally, merchants will be able to limit each account and monitor client credit information. This feature can be advantageous for your customers if they need your products but are unable to pay for them at the time of purchase.
It is indeed true that these flexible payment extensions and options can bring great benefit to your B2B eCommerce businesses:
Enhance customer relationships with businesses by streamlining the payment process and minimizing payment obstacles.
Improve customer experience and loyalty through a convenient order and payment process and a personalized payment offering.
Third-party Integrations
Being a highly flexible and open-source platform, the ability to easily integrate with a wide range of third-party apps and services is among the most significant Magento B2B features. Some popular Magento integrations include:
Payment gateways
Shipping platforms
Marketplace integrations
CRM software
ERP systems
Inventory management tools
This capability allows businesses to leverage their existing technology investments and centralize data across multiple platforms, thus creating other benefits for your B2B eCommerce businesses.
Improved efficiency through the elimination of manual data entry and repetitive tasks. By integrating with essential business tools, your businesses can facilitate real-time data synchronization, reduce the risk of errors, and free up valuable time and resources.
Enhanced functionality by leveraging additional functions provided by third-party apps. To illustrate, your businesses can enhance customer management with the integration of CRM software.
Streamline operations by offering your businesses a holistic view of their B2B operations and making informed decisions based on accurate and up-to-date information. When your business's performance is supported by the integration of other applications and platforms it can help create a seamless and effortless user experience for both customers and store owners.
Wrapping up about Magento B2B features
Magento B2B is a powerful eCommerce solution that enables businesses to sell online. It offers a wide range of features and functionality, making it an ideal choice for businesses of all sizes. Currently, it is priced on a subscription basis, with prices starting at $12,000 per year. This includes access to the software, support, and updates. For businesses that need more customization or integration, the price can increase significantly.
In summary, to run Magento 2 B2B smoothly, businesses need to have a dedicated team of developers and system administrators. The size of the team will depend on the size and complexity of the Magento 2 B2B implementation. If you're looking for a Magento development agency that can grow with your business, Magenest is definitely worth considering. Check out our guide for the best B2B digital transformation success or check out our Magento Development services to learn more about how Magento can benefit your business or get started on a project. We would be happy to help!