If you're looking to build a B2B website for your company, then there are many things that need consideration. Magento is a great platform that can help your business enhance the user experience and make it more appealing. One thing we recommend when you start planning to build a Magento store is determining how much does Magento B2B cost before getting started so it can fit into one's budget effectively – this way not only do they get what their funds could afford but also prevent any unexpected costs from popping up during construction.
In this article, we will show you what it will cost when designing your own Magento 2 business-to-business site. Check it out if you want to optimize varied costs during construction time.
Which Magento 2 Edition Fits with Your B2B Business
Magento 2 is now available in three different editions: Open-Source (formerly known as Community Edition), Commerce (previously known as Enterprise Edition), and Commerce Cloud (formerly hosted). Each edition comes with its own set of capabilities, pricing points, and advantages. When choosing the Magento 2 edition that best fits your B2B business, you need to consider the specific needs, resources, and goals of your business.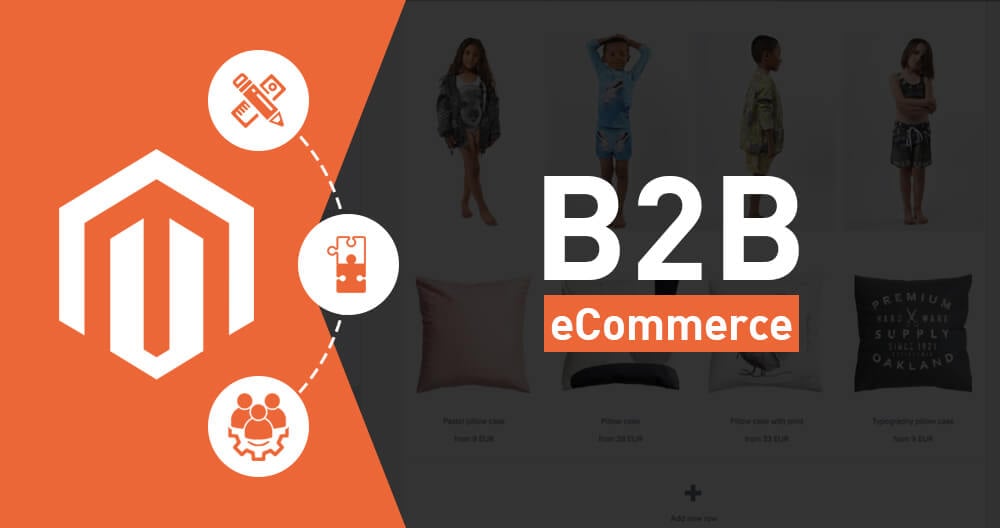 To help you make the best decision for your business, let's take a look at each edition of Magento 2 in more detail.
Magento Open Source (Magento Community)
Magento Open Source is the free and open-source version of Magento 2. But with this, you will still need to pay web developer costs and hosting services that are necessary when launching your site or maintaining it in its current state – then these can be costly. For example, a reliable $50 – $500+ monthly fee depends on how much traffic comes into an account each month.
The platform allows for a considerable amount of customization, and you can extend its functionality with free or paid extensions available in the Magento marketplace. However, for a B2B operation, you might need to invest in developing or purchasing additional modules since the out-of-the-box B2B features are limited in this edition. Also, it requires in-house technical expertise or an outsourced development team to set up, customize, and maintain.
Magento Commerce (Magento Enterprise)
Magento Commerce is the paid version of Magento, an enterprise-level version of Magento 2. It's designed for businesses that are looking for a more robust and scalable solution. The cost of a Magento 2 Enterprise Solutions Edition license begins at $22,000 per year for businesses that generate less than $1 million in revenue, with Magento B2B pricing tiers increasingly dependent on revenue.
This is a premium, licensed version of the platform that includes a range of advanced features, including robust B2B functionalities like company accounts, shared catalogs, custom pricing, quote management, and quick ordering. This makes it more suited for medium to large businesses that require more complex eCommerce solutions. It also includes enhanced performance, scalability, security features, and 24/7 technical support from Adobe.
Magento Commerce Cloud (Hosted)
With the release of Magento 2 and its new cloud-based product, Commerce Cloud has become a popular option for those who want to take advantage of self-hosted eCommerce without having servers. For businesses with annual revenue under $1 million, pricing starts at $40,000. As an incentive for new Enterprise Solutions Cloud Edition customers, Magento will let them pay for the system on a monthly basis.
This version includes all the features of Magento Commerce, plus cloud-based capabilities like high scalability, global availability, and robust performance. It also includes managed services like automated updates, backups, and expert support. This edition is ideal for businesses looking for a scalable, fully managed, and feature-rich eCommerce solution without the need to handle the technical aspects of hosting and infrastructure management.
How Much Does Magento B2B Cost?
The expenses associated with Magento's B2B solution can fluctuate significantly due to numerous considerations. These can encompass the business's size, the intricacy of the undertaking, the quantity of SKUs, and the extent of necessary customizations, among others. Despite these variables, we can generate an aggregated estimate by examining individual cost elements. This compiled information can be viewed below.
| | | | |
| --- | --- | --- | --- |
| | | | |
| | | | |
| | | | |
| | | | |
| | | | |
| | | | |
| | | | |
| | | | |
| | | | |
| | | | |
| Total Magento development fee | | | |
Magento B2B Cost: For Magento 2 Open-Source
Domain
When it comes to developing your site, it is important to spend some money on buying domain names. This will help customers reach the Magento B2B cost plan and explore what you have available for their needs.
The prices for domains vary depending on whether they are new or expired. A one-year-old domain will typically cost between $10 – $15 per year, but you may have to pay up to $500 if the site is already out of date.
Hosting
As you can see, the Magento B2B cost of hosting service varies depending on your website size. For websites with low traffic or that serve a smaller audience such as personal blogs, it may be worth considering shared hosts which cost $2 – $15 per month – this way they will not break the bank but still provide enough space for basic functionality without overburdening yourself in case demand grows unexpectedly large.
As a result, before making a final decision to work with a hosting company, let's think it through very carefully. Below is the list to estimate the Magento B2B cost of hosting for a website:
VPS (Virtual Private Server) hosting: $20 – $80 per month
Dedicated hosting: $80 – $300 per month
Cloud hosting: $4.5 – $240 per month
Extensions
For those using Magento Open Source, it's essential to equip your store with B2B modules that can extend the functionality of this platform. There are popular extensions developed by companies like Magenest & Mageplaza costing between $599 – $3,000 and you could use them if needed.
To reduce bloat issues or disable unnecessary features when utilizing multiple extensions together, you should approach a suitable agency that specializes in customizing Magneto so that you can get all its benefits without paying extra fees or having unnecessary features enabled by default.
Theme
Theme choice can be daunting when you're building a B2B website because of the different needs and requirements compared to your business's consumer-facing site. A ready-made theme may cost between $99 – $499 on average, but there are also pre-made themes available at an affordable price point or higher quality ones that will offer more customization options such as color schemes and layouts within each page element like text size changes, etc. The more personalized your business needs, the more expensive your Magento B2B costs can be.
Third-Party Integrations
When you're processing orders with specialized payment terms or negotiating custom pricing from clients, having your store integrated into other software can improve the efficiency of order management. For example, if you're using an enterprise resource planning system (ERP) then it can take care of much tedious bookkeeping like keeping track of payments for each client individually instead of in one big spreadsheet; this will help your b saves both money and resources.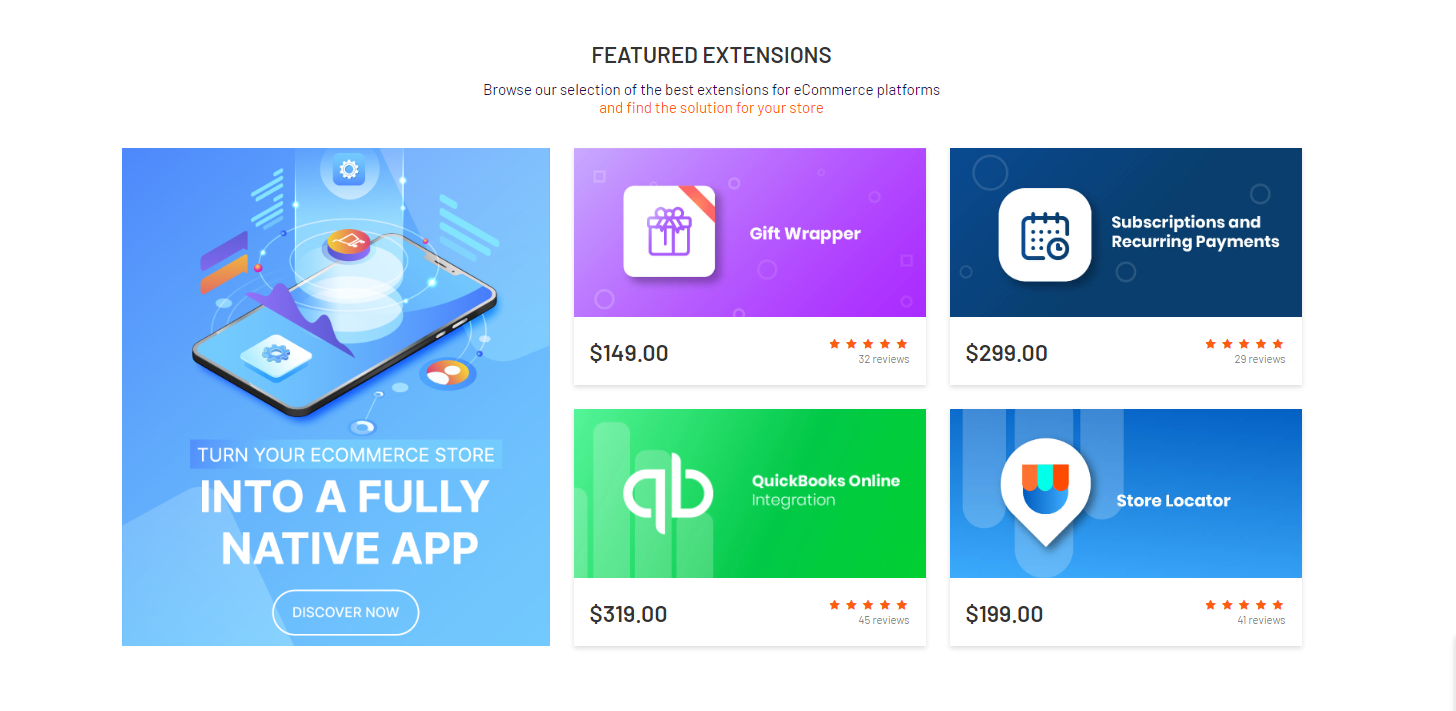 However, it will also require a lot of work on both ends, the integration between Magento and ERP systems or other software typically costs about $5,000 – $30,000 depending upon how complex these connections between different programs need to be made (and this figure may change based upon what exactly is being integrated.
Support & Maintenance
The support task and maintenance of Magento stores is a major concern for any business. You may require professional assistance with things like performing routine platform upgrades, squashing bugs, or tackling performance-related issues that could potentially harm the success rate of running an efficient operation.
The average Magento B2B cost per month for support can range from $200 – $10,000 depending upon the expertise needed but be prepared because this doesn't come cheap. It is essential for you to budget wisely in order to keep your store running smoothly and also avoid costly downtime due to accidents that could occur without proper precautions taken beforehand.
Additional Considerations
Marketing is also an integral part of any business and the cost can vary significantly depending on what you need. For example, if your company has a small budget but wants to be well-known in their industry then they might only pay $4,000 – $28,000 per month for all things marketing related such as website hosting & SEO efforts while larger businesses may require more than this at times because there's always something else involved like advertisement designs or social media campaigns which also have sticky costs attached to them each month.
Another cost that a business should consider is performance optimization. B2B websites often have a larger product catalog and more complex pricing structures than B2C websites, which can lead to slower page load times and reduced user experience if the website is not optimized. Optimizing the performance of a Magento B2B website can improve website speed, reduce bounce rates, and increase customer satisfaction, ultimately leading to increased sales and revenue. A well-optimized website is not only able to handle higher traffic volume but also able to improve search engine rankings, making it easier for potential customers to find the website.
Magento B2B Cost: For Magento 2 Commerce & Commerce Cloud
As the figure demonstrates, the total cost of Magento Commerce might range from $22,000 to $125,000. In addition, you will also have an annual platinum support fee which varies depending on your purchase package but can range anywhere between $40,000 – $190,000 per year.
Magento Commerce incorporates complete B2B functionality with your current store. This edition has all the functionality you need to run a wholesale eCommerce company. On the other hand, if you want it customized, it may end up costing you a small sum.
Besides, you don't have to spend money on Magento 2 B2B extensions, there are other costs involved with using it. You'll need a theme and development of course as well as maintenance & support for when things go wrong, which is identical to the Open Source version too.
Hiring Freelance or Developers for Magento B2B Development Cost
Hiring an Agency
Hiring a Magento B2B agency will be the first thing that comes to mind if you are looking for a solution that is both comprehensive and professional. Since they have experience developing sites for both B2B and B2C, they will effectively give businesses a boost with a relatively short development time and useful insights – practices.
Magento B2B cost for agency rentals will vary depending on the expertise and value of each developer's portfolio. For example, popular rates range from $25 – $200 per hour with some agencies charging up to four times this amount!
Hiring a Magento Developer
In contrast to the preceding choice, a freelance developer does not demand significant financial investment. The hourly Magento B2B cost of freelancers might potentially be lowered by more than half compared to that of the Magento 2 B2B web agency, depending on their credentials, experience, and country. However, keep in mind that this is simply an average price and that certain well-known developers may charge as much or more than a traditional advertising agency charges.
When hiring a freelancer, it's important to know exactly what degree of competence they have in various areas like development, design, customization, and so on. In addition, they need to be capable of managing their workload and doing it in a satisfactory manner because there is a good likelihood that they may be given many website development tasks all at once.
Hiring In-House Development Team
In-house development teams are one of the most popular choices among medium-sized and large-sized B2B companies because of the advantages of speed and complete control they offer. At this stage, you will be the one to take the lead in constructing your Magento 2 B2B website.
After numerous real-world "battles," the data almost never indicate any significant differences in the costs of in-house development teams between the Magento Open Source and Commerce versions. If you want to hire a junior developer, you should be prepared to pay between $60,000 and $80,000 annually on their compensation, but a senior Magento developer might ask for as much as $120,000 annually.
In conclusion,
Building a sales website is not an easy task to complete. But the help of experienced and certified Magento developers can help you to minimize costs effectively.
Magenest is the leading digital transformation company that offers a one-stop solution package, including CRM and ERP onboarding and a comprehensive package of Magento development services. Our experts are skilled in providing security consultation to help you set up payment gateways that meet the specific demands of customers as well. Furthermore, with our powerful extensions coupled with effective full-stack eCommerce systems, you can be sure that your online store will function smoothly no matter what challenges arise in its operation. If you are interested in learning more about how much Magento B2B costs, or need help configuring and setting up your site, CONTACT US today we are willing to support you.