As a business owner, you know that choosing the right eCommerce platform for your website is essential to your success. But with so many options available, it can be difficult to determine which one is right for you. In this blog post, we'll compare Magento vs nopCommerce, two of the most popular eCommerce platforms on the market. We'll take a look at their features, pricing, and support options to help you decide which one is best for your business.
nopCommerce vs Magento: Overview
Magento
Because of its great degree of flexibility, Magento today runs around 120,000 online retail businesses. This is one of the top options for eCommerce technology. The highly scalable, powerful platform with a huge library of extensions is excellent for anybody trying to build a name for themselves — start-ups, conventional merchants, and multinational corporations.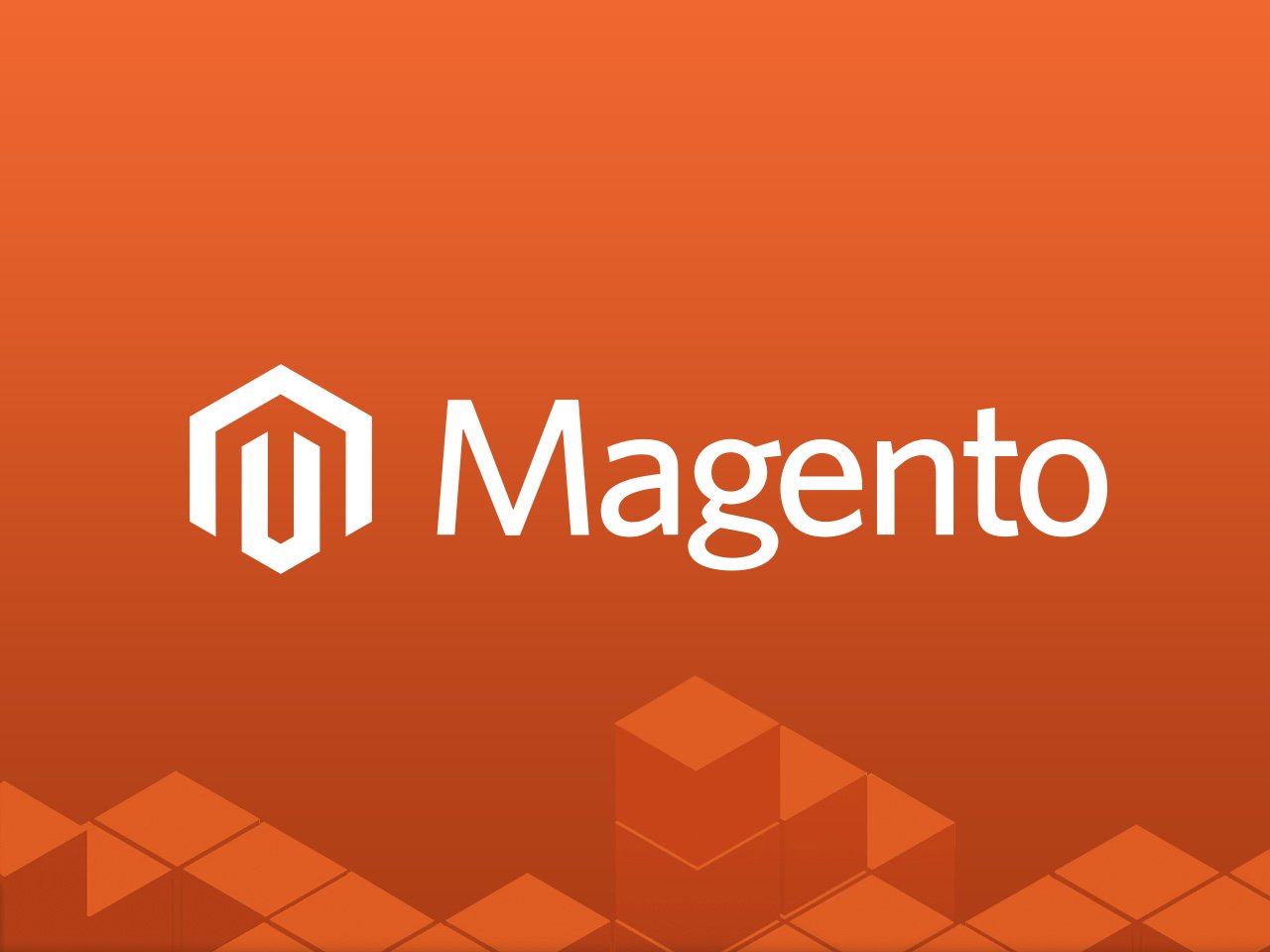 Magento is well-known for having two unique versions. The Magento Community Edition (CE) software code may be downloaded for free. Once the process is complete, developers may freely alter and customize the code to match their specific requirements. The price structure for Magento Enterprise (EE) Edition, on the other hand, is dependent on the company's size and budget. This edition is an appropriate solution for medium to large-sized business owners. This package includes technical help for installation, usage, setup, and troubleshooting.
nopCommerce
On the other hand, nopCommerce is an open-source eCommerce solution that is simple to set up and configure, as well as offers some useful features like mobile commerce, one-page checkout, gift cards, and other basic and sophisticated capabilities. One typical issue with nopCommerce is the requirement to run your own server, as well as the requirement to use Microsoft licensing.

It provides a flexible and scalable solution for selling products and services on the Internet. Developed using ASP.NET and powered by Microsoft SQL Server, nopCommerce offers a robust set of features, customization options, and extensibility, making it a popular choice for both small and large businesses.
Magento vs nopCommerce: Comparison
Scalability
Magento
Magento is well-known for its scalability. A self-hosted Magento Open Source version enables up to 250,000 SKUs, which gets even larger on a cloud Magento edition. A Magento store can handle 2,500+ orders per hour and has quick response speeds of less than 500 milliseconds for catalog and add-to-cart pages. So, if you're looking to expand quickly, Magento is the way to go.
nopCommerce
Although a lot depends on your hosting provider, nopCommerce works well for small businesses with little traffic. There is no technical restriction to the number of SKUs you may upload. However, the nopCommerce team admits that they are experiencing some performance challenges with a large number of items. Although a little customization can address this problem, SMEs should be prioritizing nopCommerce.
Ease of use
Magento
The store setup process in Magento is similar to nopCommerce. After you've configured the hosting environment, you'll need to download the source code using Composer and use the command line to deploy it. The main difference is in the technology used: to design a Magento shop, the development team must use PHP. If you want to operate your online store smoothly and avoid risks because of unskillful developers, hiring a professional development team is a must!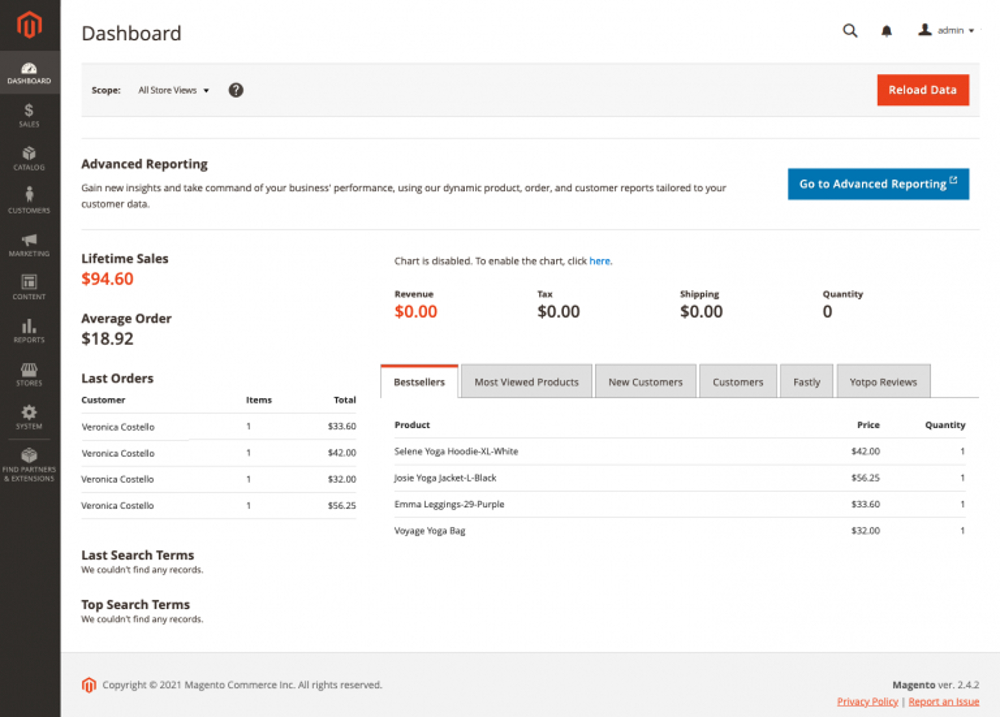 With many years of experience in accomplishing various projects with famous brands, Magenest can create the most powerful eCommerce website and propel your online business to new heights. Let's connect with us or easily discover our full package of comprehensive Magento web development services!
nopCommerce
Before installing nopCommerce, you need to configure the hosting environment and obtain the source code. To compile and deploy the code, your development team has to use Microsoft Visual Studio or Microsoft Azure, which automates the entire installation process.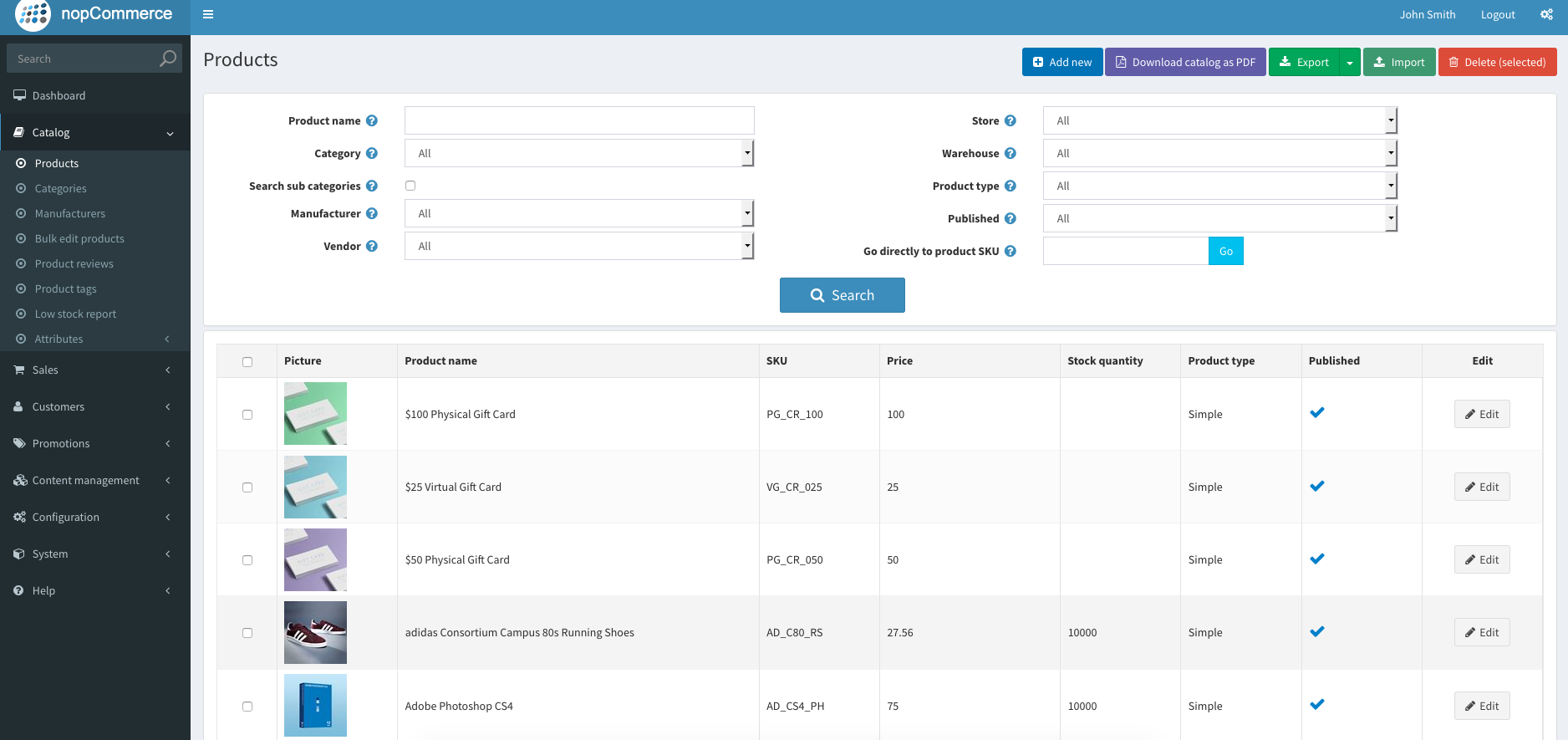 Establishing a nopCommerce store, however, is not easy because it requires developer-level abilities. You should be familiar with.NET, MS SQL, HTML, and CSS at a minimum.
Features
Magento
In Magento, there are differences between Magento Open Source Edition (CE) and Commerce Edition (EE). Magento Open Source was created with all key features and does not fall short of any other eCommerce platform. Importantly, you may improve the usability of your online store by installing third-party modules. Some of the features offered in both Magento 2 CE and Magento 2 EE are as follows: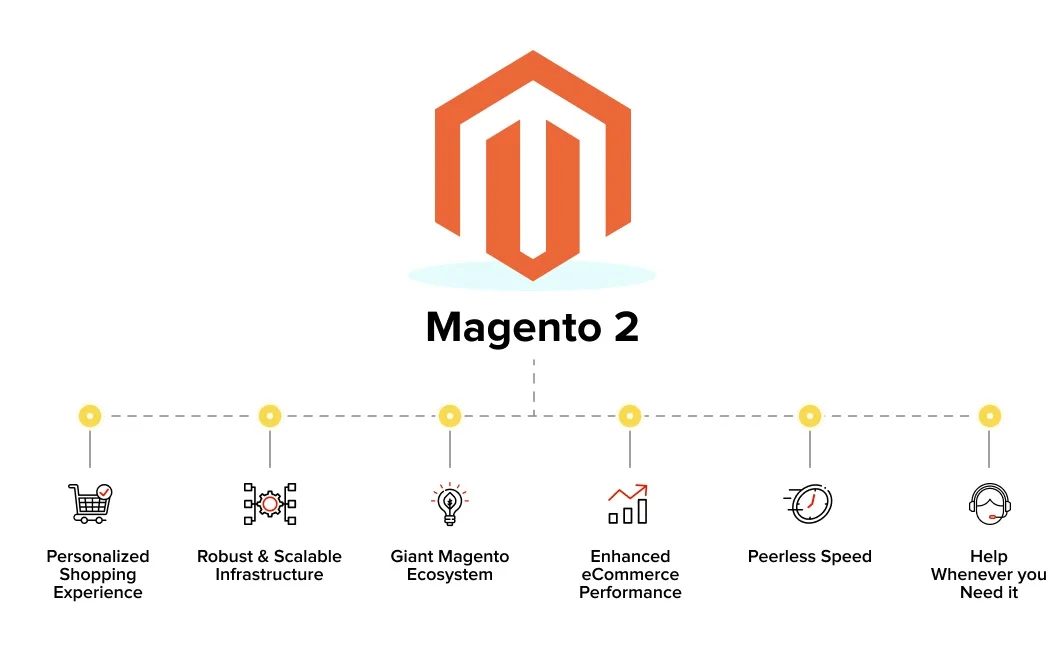 Checkout/payment/shipping integration
Catalog administration
Product management
Order management
Marketing/promotional elements
Conversion tracking software
Reporting and analytics
Mobile Commerce
With Magento Commerce, your business will be aided by a slew of distinctive features that are included at no extra cost. Some of these characteristics are as follows:
B2B Capability
Variable pricing tools
Customer loyalty tools
Product recommendations
Content Staging and Preview
Dashboards for Customer Segmentation
nopCommerce
nopCommerce includes a robust feature set. Here is a list of the features that a merchant will receive with nopCommerce:
Responsiveness on mobile devices
Numerous storefronts
Support for multiple vendors and drop shipment
Product management
Basic SEO tools
Discounts and coupons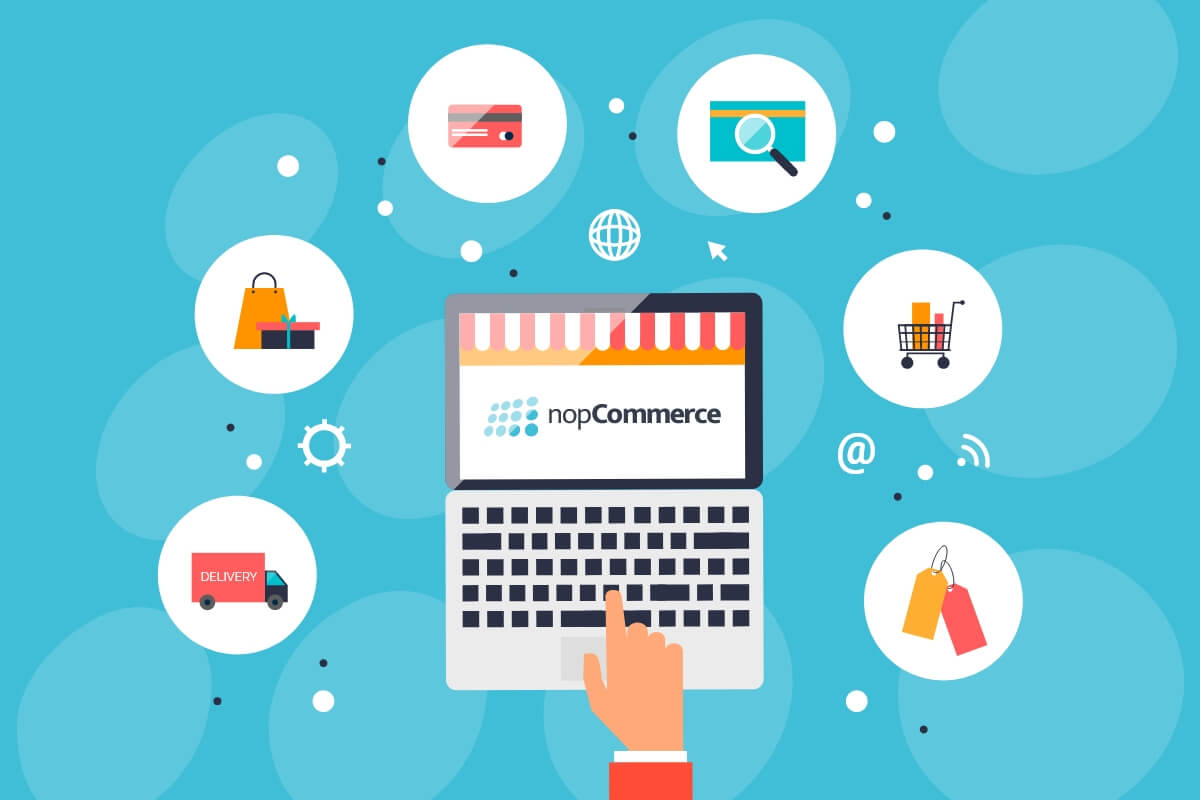 nopCommerce will give merchants a full toolset to manage their eCommerce business. However, this platform has some problems due to the lack of Marketing Automation, Conversion Tracking, and Review Monitoring.
Security
nopCommerce
NopCommerce is considered to be more secure than Magento in terms of security. It is built on ASP.NET and is hosted on a Microsoft server. Since its inception, the platform has only received exactly one security patch. Users are not required to upgrade to the most recent versions on a regular basis, and there is no problem with versions issued years ago.
Magento
With Magento, you may achieve the best level of security by frequently applying security patches. However, this does not imply that using Magento is unsafe. Everything will be alright if you update your Magento version/security patch to the latest ones and follow security best practices.
User support
Magento
Open Source users in Magento may only get help from the community or forums. Magento Dev Docs, Forums, Magento Stack Exchange, and other popular resources are listed below. Meanwhile, Magento Commerce provides its customers with free, round-the-clock official technical help via a ticketing system or via phone.
nopCommerce
With nopCommerce, you may contact them for premium assistance, which costs $499 for three months or $999 for a year. This is another downside of using nopCommerce that might increase your costs.
Price
nopCommerce
nopCommerce is completely free to use. The fees will be incurred as a result of hosting and, maybe, extensions. However, merchants have to pay specific expenditures, including:
Hosting fees: $3.75- $100/month or more.
Copyright removal key (optional): $250 – $3500 for numerous sites. You must pay a license removal fee to remove the Powered by nopCommerce link at the bottom of the footer.
Themes: $100- $400.
Extension: $0 to $300/plugin or extension.
Premium support (optional): $83.25 – $166.33/month.
Development (optional): $17-$150/hour.
To use nopCommerce on your eCommerce website, you should plan to pay between $700 and $400 each month. That is the price of a fully working and well-designed nopCommerce-powered website.
Still, if your site's catalog has more than 1000 SKUs, this figure can grow to roughly $1000, and perhaps $4000 for an enterprise nopCommerce site.
Magento
There are different range costs according to the edition you choose.
Open-source edition ($15,000 to $ 22,000): Suitable for small companies who need a high-quality, scalable eCommerce site to establish an online presence and increase revenue.
Commerce edition ($22,000 – $70,000): Suitable for an established eCommerce firm looking to move or upgrade from an existing site (with a large number of products and vast customer base).
Commerce Cloud ($70,00+): Fit with the major corporation with a sizable financial resource and aims to use the entire catalog of Magento capabilities.
If your site's requirements are sophisticated, the cost will be substantially more. Magneto 2 outperforms cloud-hosted performance at scale.
Sum up
Regardless of the battle between Magento vs nopCommerce, both systems have acquired the faith and loyalty of a number of globally famous enterprises. Just connect with us if you want to know which platform is best for your business. With experts and developers, we are committed to offering high-quality goods and services to successfully improve your business.