You want to start an online store. You're trying to figure out which eCommerce solution is best for you. It really comes down to two choices: WooCommerce vs Shopify. Both have their pros and cons, so how do you know which one will work better for your specific situation? Let's find out!
WooCommerce vs Shopify: An overview
The comparison between the two most popular eCommerce solutions is extremely hard. You need to consider many important factors like ease of use, pricing, design and themes, payment options… But before we go in-depth into that comparison, we need to know the basics and highlight of two eCommerce platforms, what makes them different from each other and other platforms?
Shopify – What makes it unique?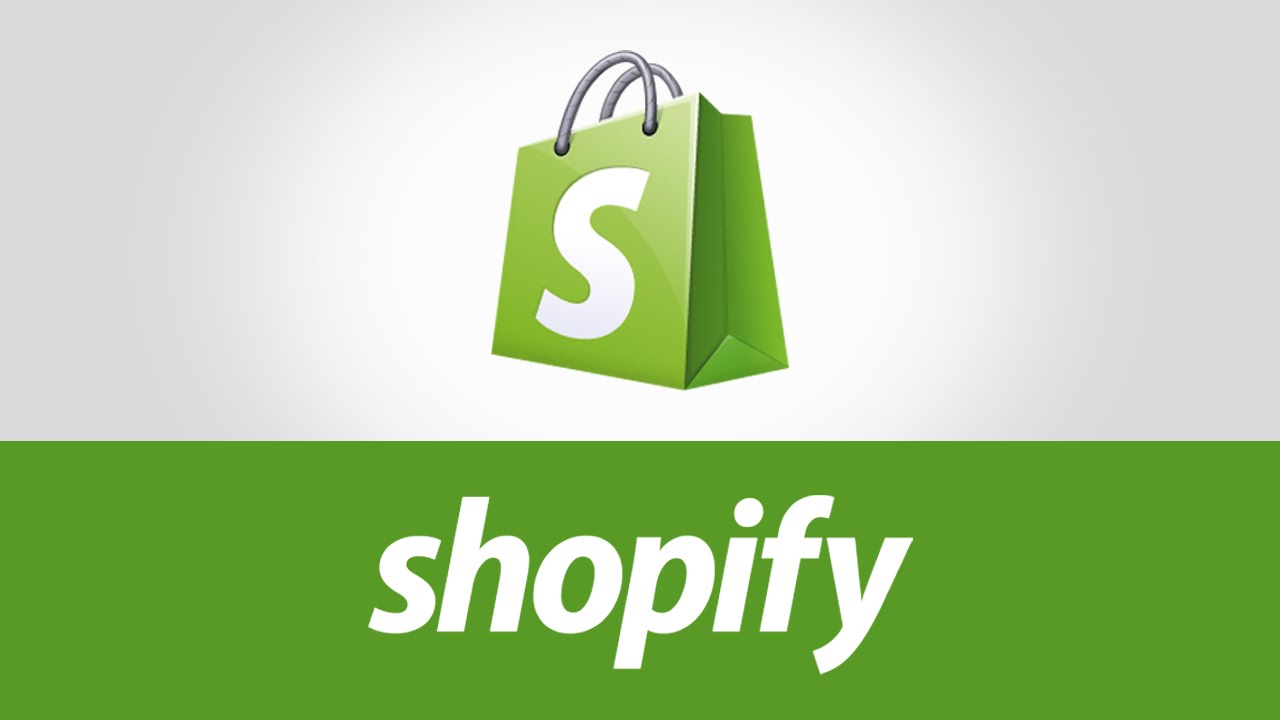 We've written about Shopify and how to start a Shopify store before. Briefly, Shopify is an all-in-one eCommerce platform that helps you create an online store without coding experience and offers all the necessary tools to establish, manage and grow an online business. With multiple tiers and standalone, premium versions, Shopify can cover all types of eCommerce businesses. It also has its own app store for you to equip numerous extra functionalities.
With Shopify, you don't need to worry about technical aspects of creating an eCommerce website such as hosting, domain, coding, security… With no free plan, Shopify passively guarantees that the platform will bring eCommerce success to your business.
WooCommerce – What distinguishes it from other eCommerce platforms?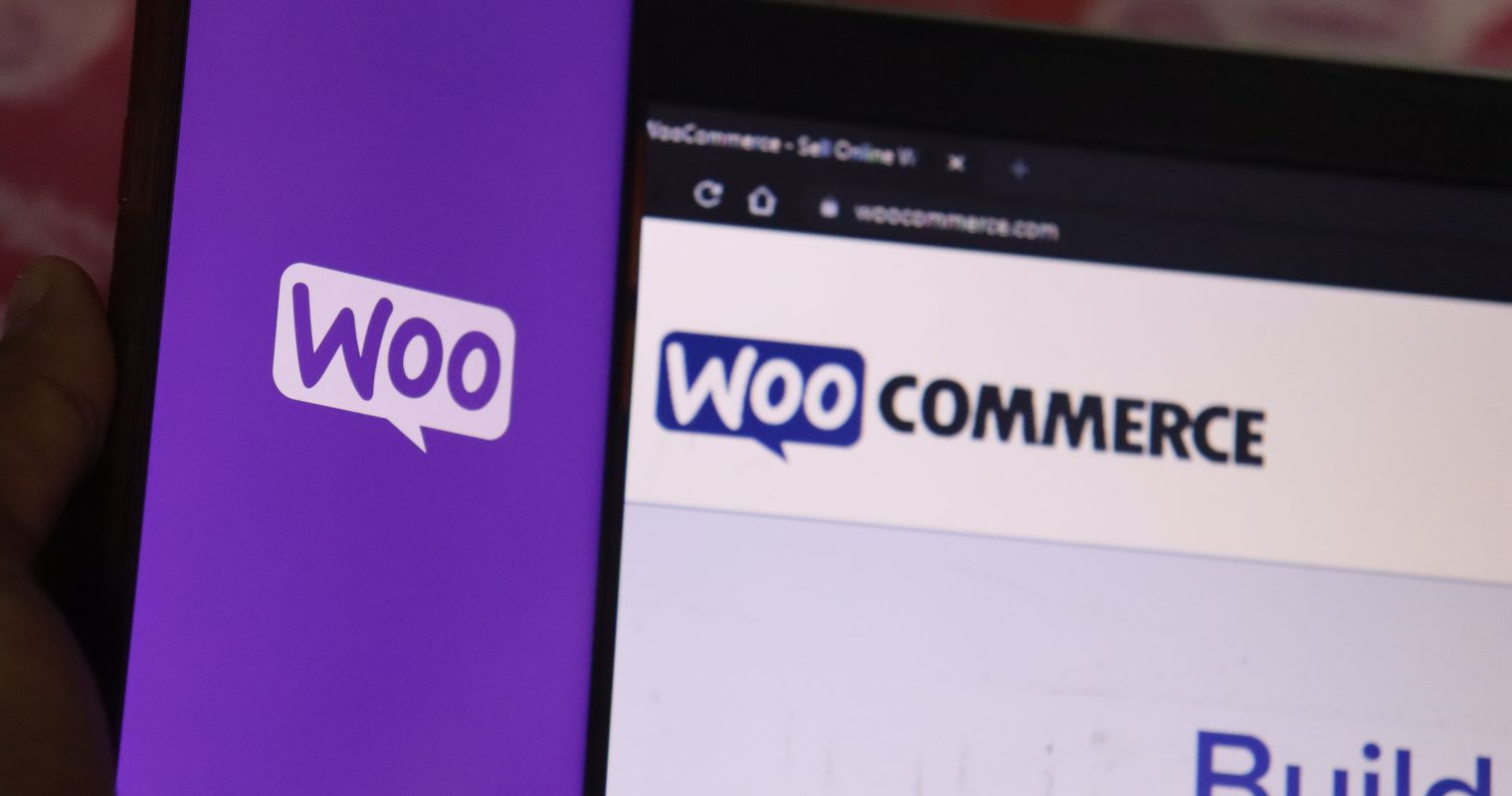 WooCommerce is an open-source plugin built for WordPress and it's free. For beginners, starting your online stores with WooCommerce will be a bit trickier than starting with Shopify: you need a hosted website and of course, you need to have WordPress installed, too. With much more barriers, the fact that WooCommerce is the most popular eCommerce platform in the world, more popular than Shopify, is interesting.
The deciding factor for this fact is that WordPress is the most popular website platform now, as it is the best content management system (CMS). If you are already used to working on WordPress, WooCommerce may be your best option. It offers you the perfect familiarity while trying to run your first online store if you are already working on WordPress websites. Moreover, based on the nature of the open-source platform, you can customize every aspect of your store and add custom extensions easily (something Shopify can't, we'll discuss in detail later).
WooCommerce vs Shopify: What's the difference?
Both Shopify and Woocommerce are pretty great to start your online business. The decision to choose between WooCommerce vs Shopify depends on your needs and skill level. So, let's dive deeper into the comparison WooCommerce vs Shopify to find out which platform is the most relevant for you.
Ease of use
Shopify is undoubtedly the easiest eCommerce platform to use. They guide you through every step of creating your store, from adding products to publishing content. With Shopify, you can be confident that you won't make any major mistakes as you build your online store. Additionally, they take care of hosting for you so you don't have to worry about a thing!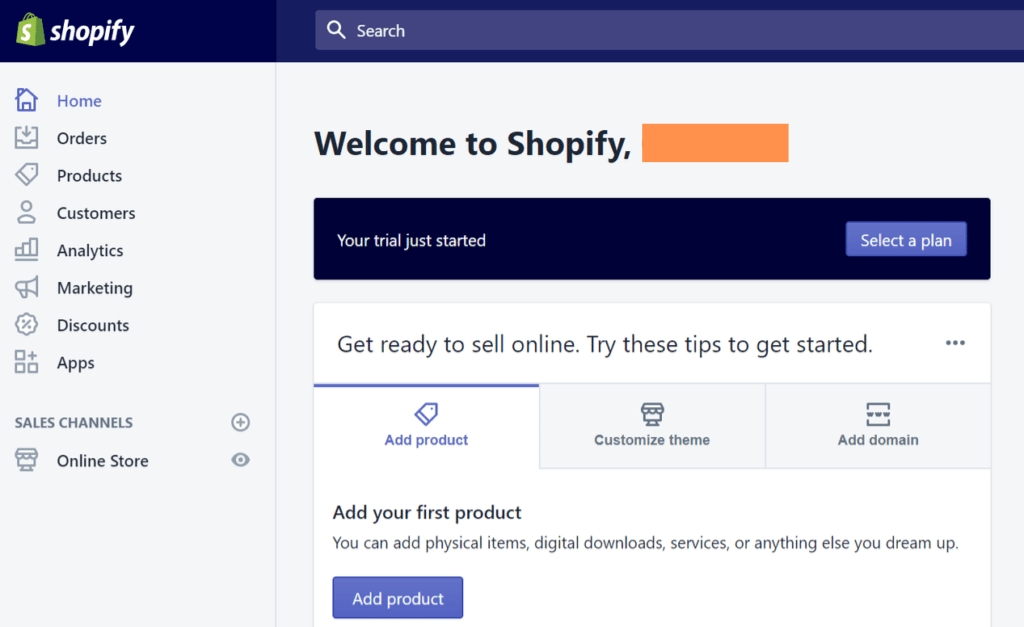 WooCommerce is easy to set up too but you need to consider some steps before starting your store. These steps include installing or updating your WordPress on your website and installing the WooCommerce plugin. It can be a bit overwhelming for your first time.
Winner: Shopify
Pricing
The main difference between Shopify vs WooCommerce is the pricing proposal. While Shopify has set pricing, WooCommerce has flexible pricing.
At first, WooCommerce appears to be cheaper because it is free. However, when you factor in other costs such as web hosting ($5-15/month), the domain name (around $10/year), premium themes ($59 one-time payment), extension fees ($0 – $100/month), plug-ins, and custom coding, it can become quite expensive.
Shopify offers three pricing plans to suit your needs and budget. Therefore, it's easy to track your spending:
$29/month for Basic Shopify
$79/month for Standard Shopify
$299/month for Advanced Shopify
For a clear view of the pricing comparison between WooCommerce vs Shopify, we'll compare Shopify's pricing plan with Bluehost's. Below is a table for a quick overview:

If you're not totally satisfied, Shopify offers a 14-day free trial for you to test and Bluehost offers a 30-day money-back guarantee. Also, both Shopify and WooCommerce have enterprise pricing plans which are only available after getting a quote and they're only for enterprise-level businesses.
Winner: Shopify is easier to calculate but WooCommerce is more flexible. So a draw.
Build Time
Shopify is the best option for those with limited time or technical skills. Creating a store on Shopify is quicker and easier than WooCommerce, and you don't need to worry about manually setting up your store because Shopify stores everything you need in one place.
If you want to build a store that is more reflective of your brand style and interests, WooCommerce would be a better platform for you. With Shopify, the goal is mainly to generate sales quickly, while WooCommerce offers more creative control.
You also can save time when using WooCommerce with one handy service – Bluehost. With Bluehost, you'll get hosting services, one-click WordPress installation, and 24/7 support.
WooCommerce's setup wizard is helpful for general information, but if you need more specific answers to difficult questions, you won't find them there. The website also requires a higher level of tech knowledge from users and doesn't provide help in certain areas.
So we recommend you to use Shopify if you're just starting out an online business.
Winner: Shopify.
Design and Themes
Your website's theme style is really important because it's the first thing your customers encounter when they visit your website for the first time. Luckily, both Shopify and WooCommerce offer professional themes to make your website look fresh.
Shopify provides a theme store with 70+ free and paid themes, over 100 when counting variations. While some are premium (between $150-300), many are free. All the templates come with mobile responsive designs so they look great on any phone or tablet.
Premium themes offer more flexibility, but if you want to completely customize the appearance of your store, you'll need to learn and use Liquid or hire someone who can code in it. Luckily, there are many third-party providers such as Themeforest which has over 1,200 Shopify themes available.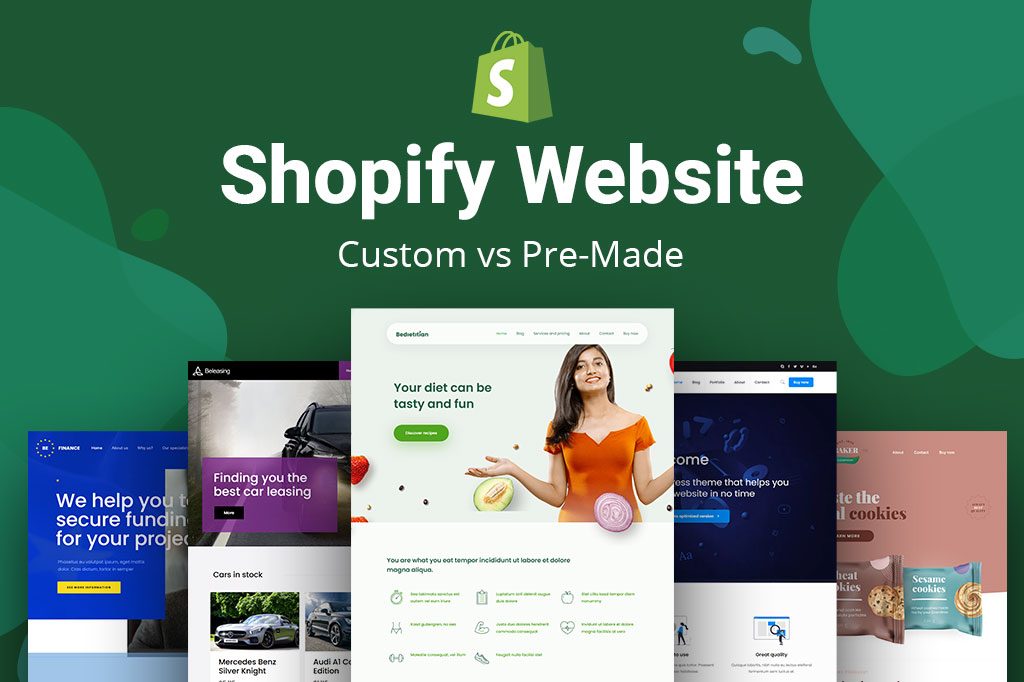 WooCommerce doesn't have its own theme store, but you can find themes from third-party sources. For example, also on Themeforest, there are more than 1000 WooCommerce themes available with prices varying from $14 to $139. While free themes exist, they don't come with support if you run into issues later. Additionally, the amount of time and effort you're willing to invest, as well as your technological skills, will play a role in how successful your WooCommerce design looks.
Winner: Shopify.
Product presentation and features
Overall, both platforms are great for building an online store. They have the features you need to get your business up and running smoothly.
With their platform, you can easily create product descriptions, upload engaging pictures, allow users to zoom in and out images, add variations such as product color or size, and add videos.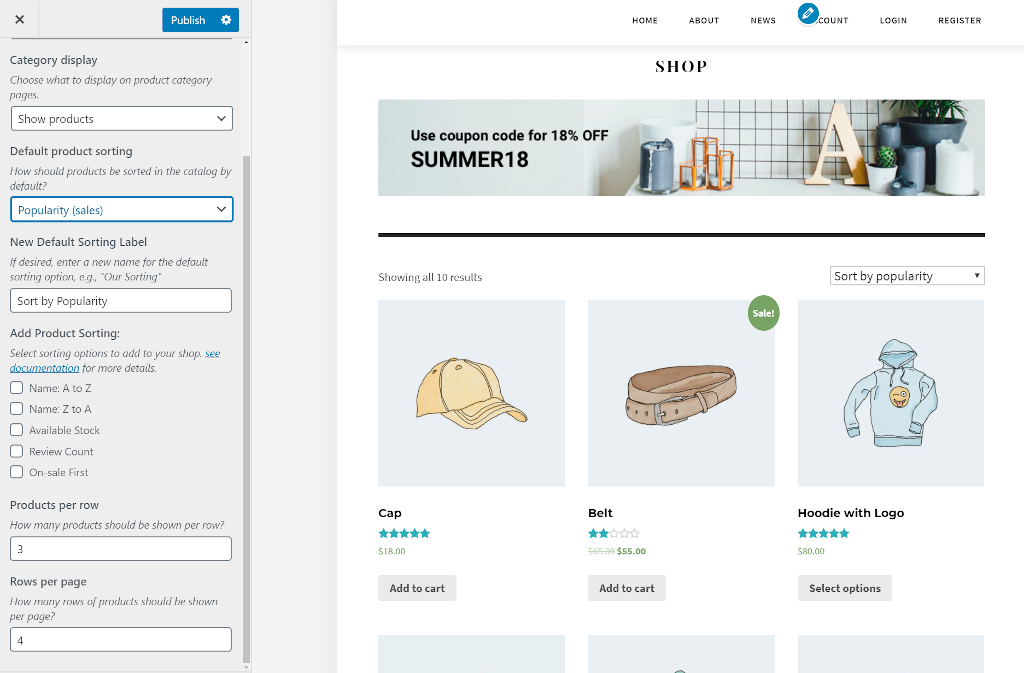 If you want to add extra display options, such as AR/VR demos or product reviews, both Shopify and WooCommerce make it easy. Simply enable the desired extensions or apps from their enormous libraries – around 100 for WooCommerce and 200 for Shopify.
Winner: they're both excellent at this criterion, so the result is a draw.
Inventory Management
With WooCommerce, you can manage your inventory with great flexibility. You are able to create reports and make changes to product attributes without any limitations on how many products you have. However, to really get the best performance out of WooCommerce, you'll need the help of some third-party apps.
With Shopify, you can have full control over your inventory tracking system. Under the hood, you can track stock levels and get alerts when items are running low. You can also generate automated purchase orders and in-house revenue reports. Additionally, you can add single or bulk items as well as customers, orders, and other data manually or by importing CSV files. And there are lots of apps available to help run your business smoothly.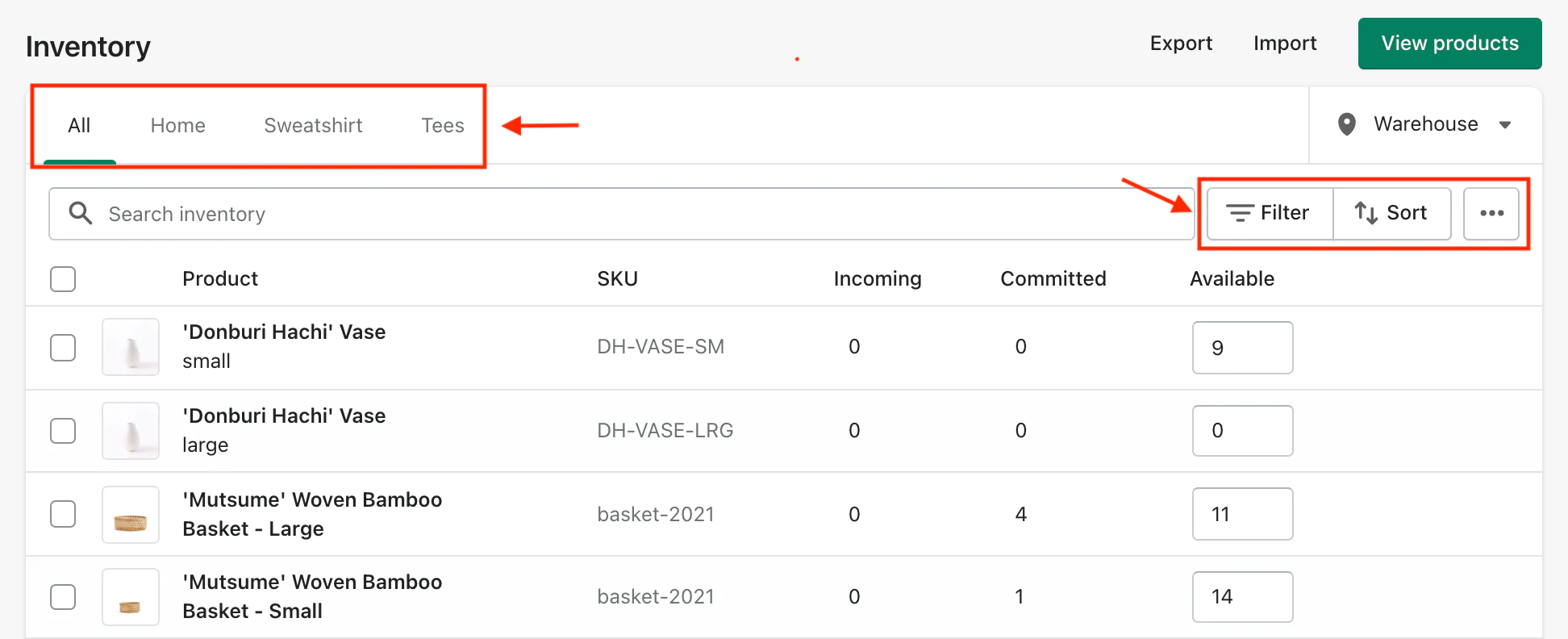 To sum it up, WooCommerce doesn't limit how many variable products you can manage, but to get the most out of it, you'll need help from third-party assistance. On the other hand, Shopify gives you full control over its inventory system so that running your store is more straightforward.
Winner: Shopify
Add-ons and Integrations
These two eCommerce platforms are powerful, but you always need outside software and services to help your store grow such as email marketing tools, lead generation tools, analytics platforms, and outreach programs… Shopify and WooCommerce both have directories for extensions that work with many third-party services.
Shopify has an App Store with a variety of third-party add-ons that you can purchase to customize your store. The store offers hundreds of apps that cover every potential feature you could want, such as inventory management, orders & shipping, sales & conversion… There are 5899 total apps and extensions on the Shopify App Store, which were developed by both in-house teams and third-party developers.
With WooCommerce, you have access to over 59,000 WordPress plugins, many of them free. You can use these add-ons for payment gateway integration, lead generation tools, eCommerce SEO optimization, performance-enhancing features, social media connectivity… With so many options available, there's almost no limit to what you can do with WooCommerce.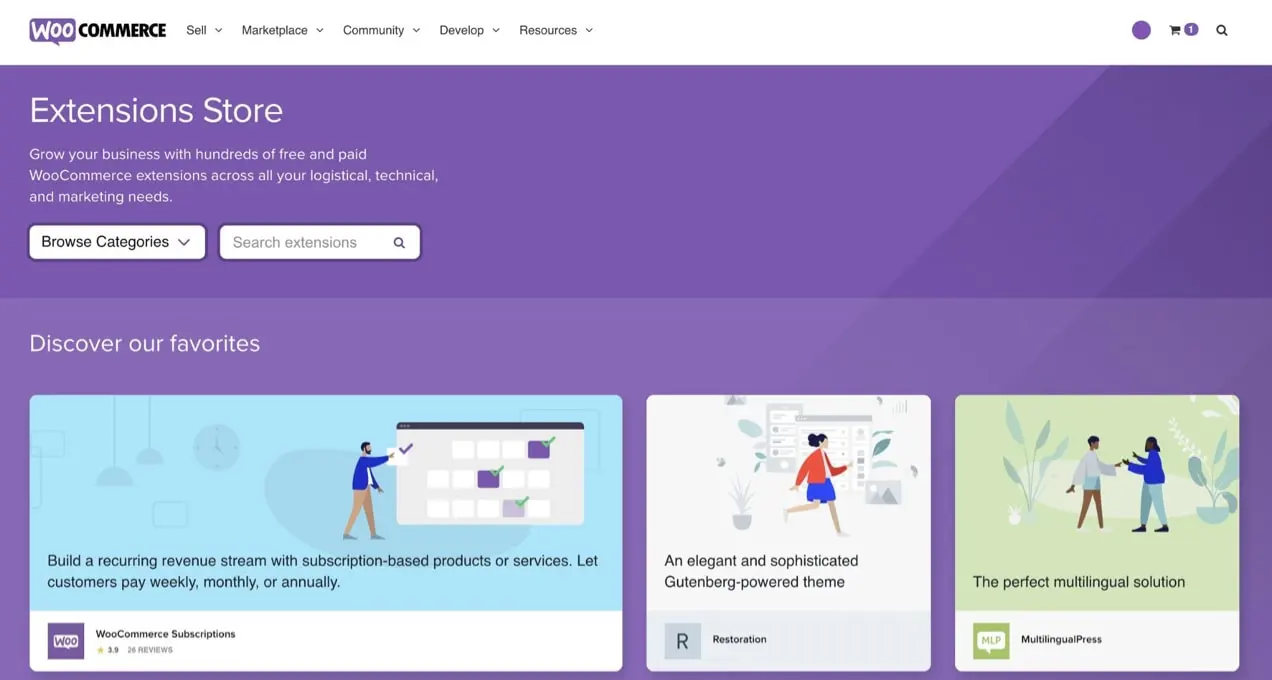 WooCommerce has more integrations and add-ons available than Shopify because the entry requirements to create integrations for WooCommerce are lower. With most third-party tools and service providers, you can find a plugin that will allow for seamless integration with your WooCommerce store.
The ease of integration and use for apps on both platforms are pretty much the same, but the catch here is the pricing system. With WooCommerce, you are offered options of one-time payments for the apps, while you do not have that on Shopify. All Shopify pricing system is subscription based, so keep in mind that the longer you use Shopify apps, the more costly they become.
Winner: WooCommerce
Payment Gateways
It's vital to choose a platform that offers multiple payment options to ensure optimal customer satisfaction. Let's see how Shopify vs WooCommerce compares in this category.
Although Shopify has numerous payment gateway options for customers to use, the company imposes a 2% transaction fee on all sales made through third-party providers. If you're willing to pay $299/month for the Advanced Shopify plan, that rate decreases by half to only 0.5%.
Shopify also provides its own payment option called Shopify Payment. Shopify Payment doesn't charge transaction fees but it offers credit card rates starting from 2.9% + 30¢ for the basic plan which gets lower for other plans.
WooCommerce offers multiple types of payment options to choose from. PayPal and Stripe payments are available by default, but you can also utilize WooCommerce Payments which is powered by Stripe. Additionally, there are integrations for Authorize.net, Amazon Pay, Square, Alipay, and more that you can install.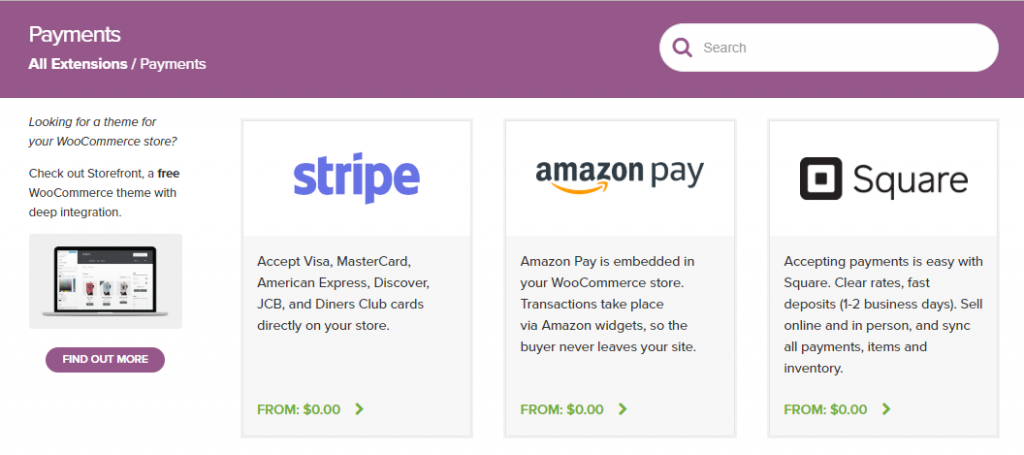 With no barriers to entry, any payments company can create add-ons for WooCommerce and provide support for it. As a self-hosted platform, you'll only be charged transaction fees by your payment gateway or bank. Unless you're using WooCommerce Payments, WooCommerce will never charge you a % fee on credit card payments.
Winner: WooCommerce
Customer Logins and Checkout options
Both platforms offer customers the option to log in and process their payments, or to check out as incognito guests.
With Shopify, you can decide if you want customer logins to be required or optional. Customers will then be able to view their order history and status, as well as save delivery and payment information. One interesting thing is that orders placed before a customer create a login can still be linked to their account later on, as long as the same email address is used.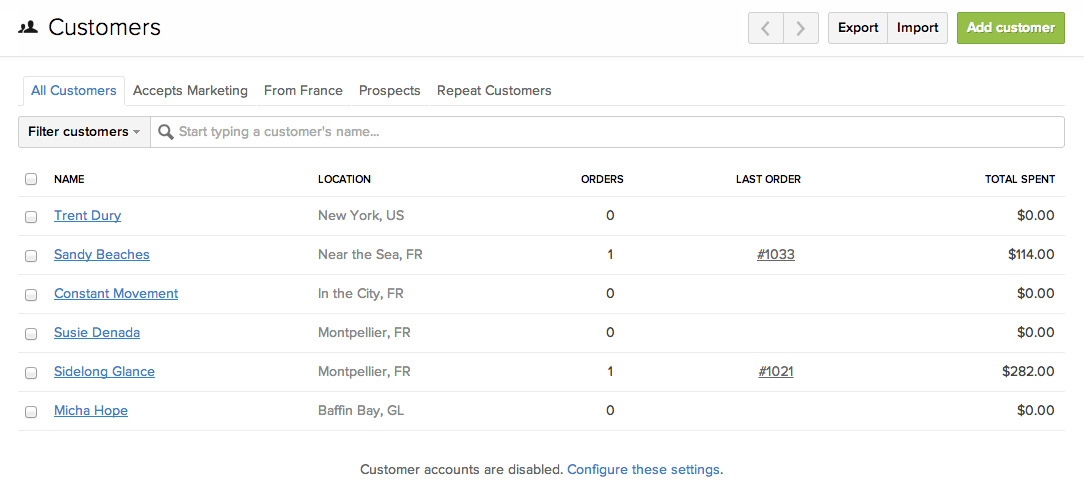 Although WooCommerce offers a basic My Account feature, you may want to enhance it with plugins, depending on your needs. Also, please notice that it is possible to enable social logins via plugin – though they come at a price tag of $49 – $79/year.
Moreover, both Shopify and WooCommerce make it easy to send automatic emails to customers who don't complete their purchases (Abandoned cart recovery). All of Shopify's plans include this feature by default. For WooCommerce, you'll have to use one of the many available plugins. Though most are free, it still takes some time for installation and configuration.
With Shopify, you can skip the shopping cart page and go straight to the payment page with just a few steps. The same is possible with WooCommerce themes.
Winner: Another draw
Shipping Cost Settings and Carrier integration
Shopify and WooCommerce both allow businesses to price shipping based on different criteria such as location, speed of delivery…
If you want to be more specific, you can also offer real-time shipping cost estimates at checkout. Your customer will see an exact price based on the day your carrier picks up the parcel (USPS, FedEx, UPS, and many more companies are available). With WooCommerce, you have to use paid plugins to show real-time rates. You could combine it with Shipstation for extra convenience, it lets you print out shipping labels easily.
With Shopify, if you're on an Advanced Shopify plan or higher, third-party-calculated shipping rates are free. If you're on Basic Shopify, it costs $20/month to add this feature. Nevertheless, if you switch from a monthly to a yearly subscription, it's free. You simply need to speak with the support team to activate this great money-saver.
Winner: It depends on your needs and settings, so another draw
Tax Settings
There is not much difference between the two platforms: both allow you to present prices with taxes or without. Shopify will automatically calculate US and Canadian taxes for store owners in the US, Canada, EU, UK, Norway, Switzerland, Australia, and New Zealand. If you want to offer VAT exemptions for your customers in Europe Union, you'll need a paid plugin (Exemplifi).
WooCommerce offers an automated tax service if you pay for a plugin (such as TaxJar). If you only have one tax nexus, the service is free. That sounds pretty great.
Winner: draw
Dropshipping
When operating dropshipping business, the appearance of your website will be the same as an online store. Your visitors can browse the web, look for their desired products, add them to carts, and make payments. The process is not different from other eCommerce websites.
Shopify integrates with several dropshipping marketplaces like AliExpress, Oberlo, and Printify. However, before you set up your Shopify site for Dropshipping, keep in mind that each marketplace has its own fees associated with membership as well as shipping charges.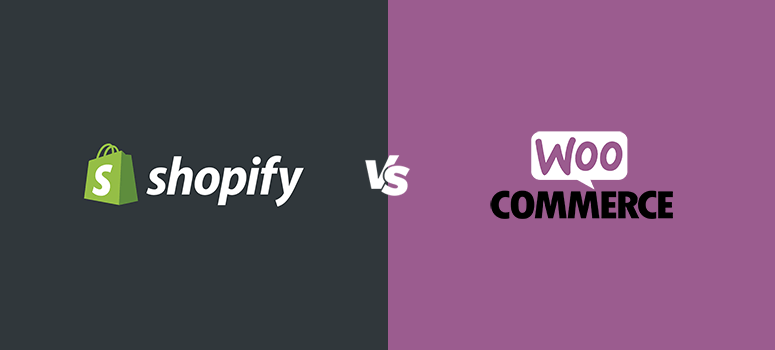 Many dropshipping businesses choose WooCommerce because of the numerous, flexible plugins that make the process much simpler to establish.
With WooCommerce, you can find extensions that enable vendors to import products and immediately fill orders from your site. You could even create an eCommerce marketplace, where other vendors could sell their items. However, it's important to remember that your supplier may have order requirements, membership fees, or other charges.
Winner: WooCommerce for long-term investment, Shopify for short-term dropshipping businesses
Scalability and Growth
As your business grows, you will need more tools and resources to handle all the challenges that come with growth. Both Shopify and WooCommerce can offer you the capability to handle these problems, but they are not equal. So let's take a look!
As we said in the previous part, Shopify is an eCommerce platform for those who don't have the technical knowledge or coding experience. You don't have to worry about performance, security, and scalability when you use Shopify. Once your business grows, all you need to do is upgrade your Shopify plan.
Its infrastructure can handle businesses that are constantly expanding without you experiencing any data loss, backups, updates, or security breaches. They also offer enterprise services as part of the Shopify Plus plan, which makes the growing pains much more sustainable. The only drawback is that it will add to your business expenses; however, this cost will be negated by not having to hire or manage an in-house IT team.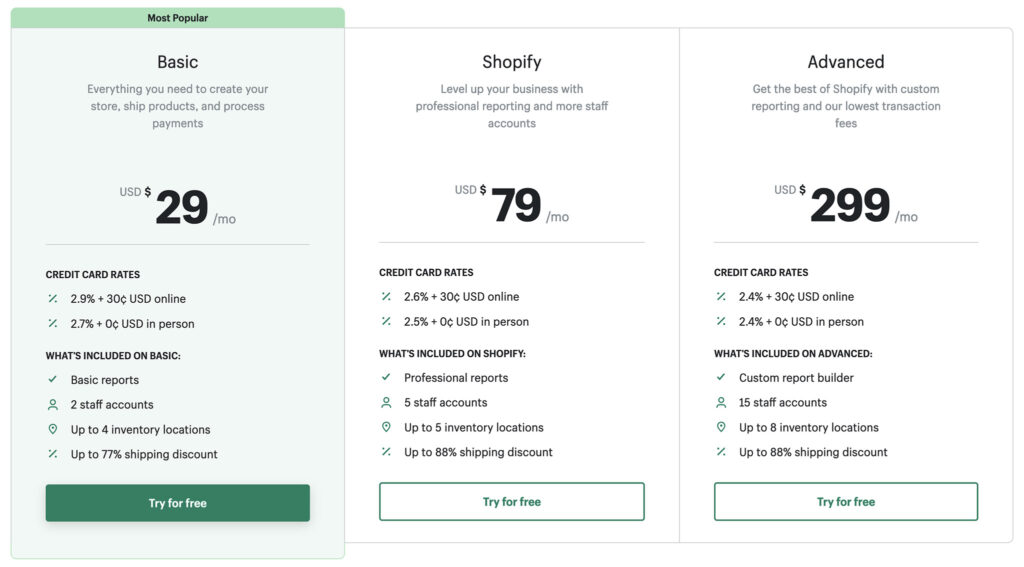 Otherwise, WooCommerce is a self-hosted platform that requires you to take care of updates, backups, and security for your website. For this reason, as your store becomes more expands and gets more traffic, your starter WooCommece hosting plan will become inadequate.
Luckily, because you have full control of your WordPress site, when it comes to growth management there are many options available to you. By upgrading your WooCommerce hosting, you will have more control over which resources you upgrade. This way, you only pay for what you need instead of wasting money on features you'll never use.
Winner: Shopify
Marketing Elements
In order for any business to be successful, it needs customers. Marketing tools help businesses reach new people and create a connection with them. But which platform will allow you to share your brand the most?
You can use Shopify to run multiple email campaigns using apps such as Seguno and Constant Contact. WooCommerce also uses plugins for its email campaign features, allowing you to integrate with MailChimp and send personalized emails with ease.
Shopify gives you the chance to take your business multichannel by integrating with popular sites such as Facebook, Amazon, eBay, and Pinterest. By advertising on these platforms at no additional cost to you Shopify exposes your company to a much wider online audience. With WooCommerce, integration is possible with Amazon, eBay, and Instagram for $79 but you can also advertise on Facebook for free.
Winner: Shopify
SEO capabilities
To come to a comprehensive conclusion about the SEO capabilities of the two platforms, we need to consider factors such as SSL Certificates, Auto XML Sitemap, 301 Redirects, Apps, and Plugins for SEO.
WooCommerce has a definite advantage when it comes to SEO because it is built on a dedicated blogging platform. With the WordPress editor wizard, WooCommerce users can easily edit body content, redirect URLs, meta descriptions, alt tags, and other page elements to optimize product pages. There are also many SEO plugins available for WooCommerce that can help you further optimize your store. Yoast SEO is perhaps the most popular one.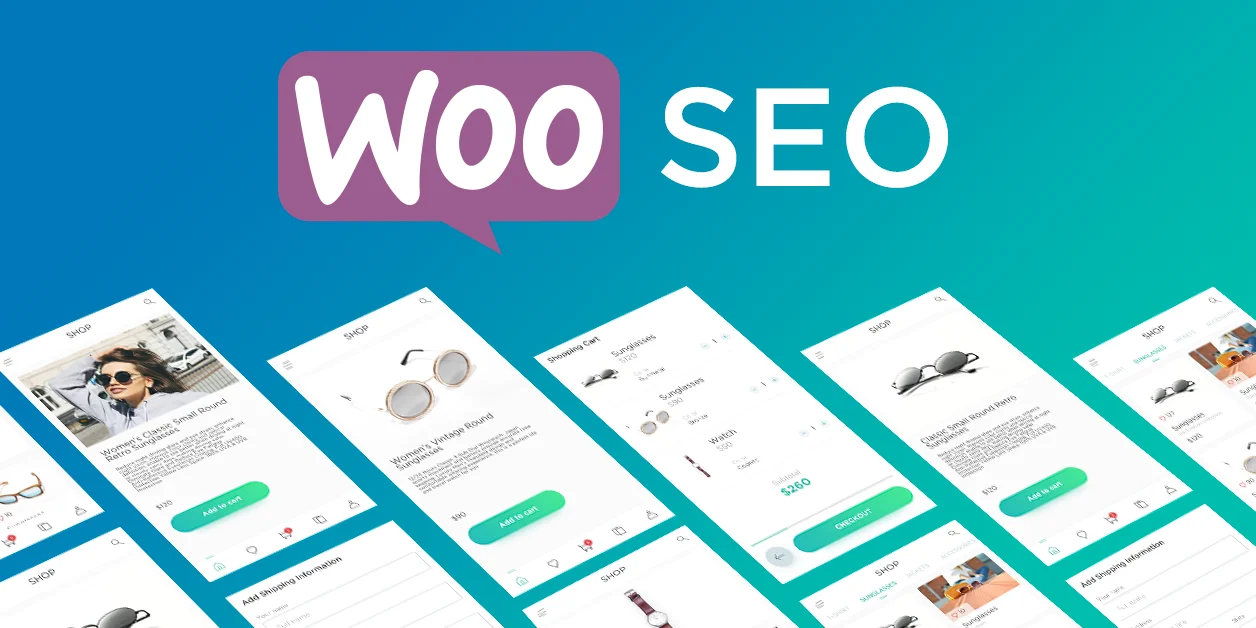 Although Shopify has some advantages, it also falls short in certain areas, particularly SEO. Because users are not able to fully customize their URLs. This is a result of Shopify's inflexible URL structure which does not allow for modification in some sections of your store URLs. In addition, it can be quite challenging to create sub-categories on this platform.
However, Shopify still has all the necessary components for eCommerce SEO, and they're easy to use. Shopify's apps are also straightforward to install and operate.
Winner: WooCommerce
Blogs and Content
WooCommerce's strongest features come from its Blogs and Content. It integrates all of the Writing Blog Functions that have made WordPress so trusted over the years.
You can easily create a WooCommerce blog by adding posts from the WordPress Admin dashboard. Additionally, you can make sure your customers have a great blogging experience by using templates on Storefront – WooCommerce's default store design – or investing in well-designed blog templates on ThemeForest.
With Shopify, the blog is an easy-to-use feature. With minimal effort and time investment, you can set up a blog post on Shopify. You can easily personalize your blog design through Shopify's site design theme or use apps for more customization options in creating landing pages.
Winner: WooCommerce
Page Speed
Customers have very little patience, and if your site takes too long to load, you will lose not only current customers but potential ones as well. Therefore, when choosing the right platform for your online store, take WooCommerce vs Shopify page speed into account.
The performance tests showed that WooCommerce is quite slow. The average page loading time for all monitored stores was 776 milliseconds, and the average cart page took 1.32 seconds to load.
Shopify's web pages load in a mere 309 milliseconds – much faster than the ideal loading time of 500 milliseconds that Google recommends! Therefore, Shopify provides an excellent overall user experience.
Winner: Shopify
Mobile Apps
Shopify's app is easy to use, mobile-friendly, and lets you see your store's sales, most popular customers, orders, and abandoned checkouts. You can also edit product details like lists, inventory collections, gift cards… Shopify's Reports section is incredibly useful. All the analytics you need are there, including the ability to create custom reports.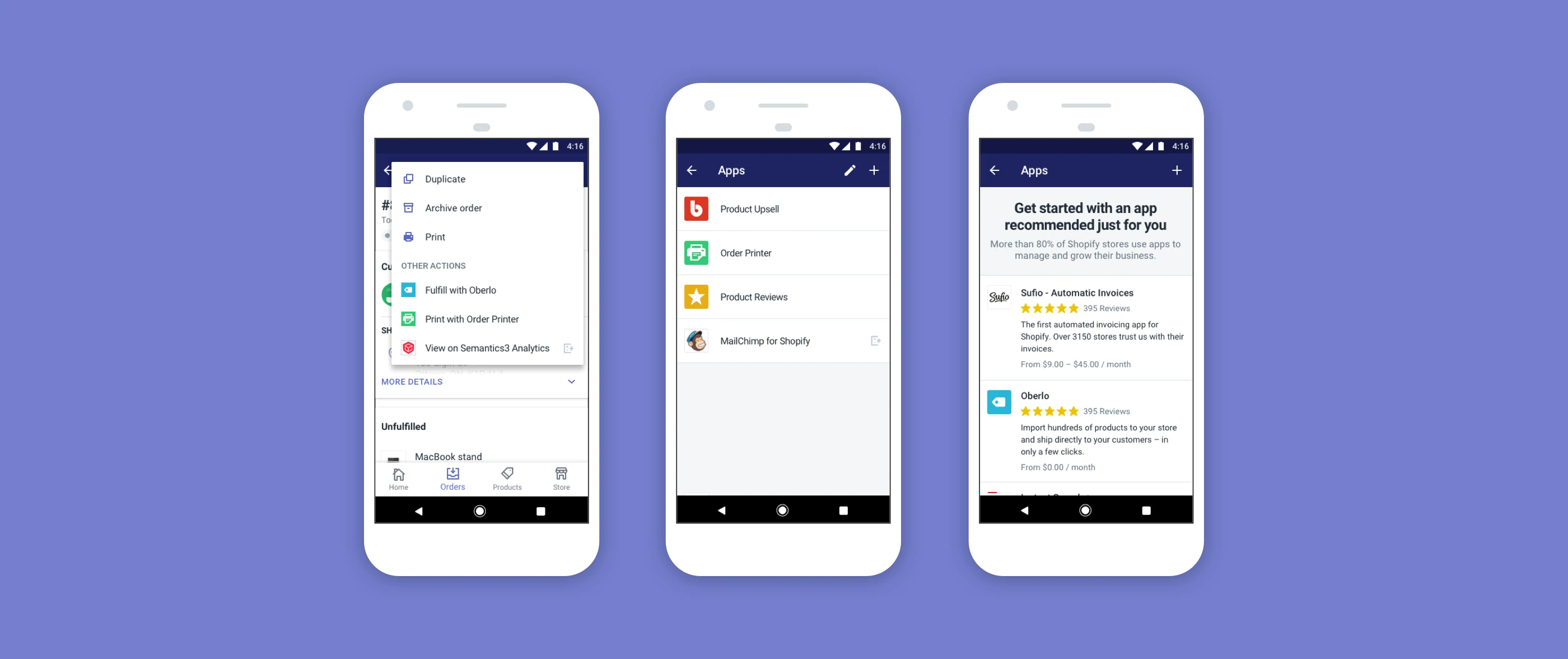 The WooCommerce app's installation is much more complicated when you compare it to Shopify. Before you're able to use it, the Jetpack plugin must be installed. After that, logging in to the app with your WordPress.com account information will be compulsory.
The WooCommerce app homepage gives you three key stats to track visitors, orders, and revenues. You can also use the Orders and Products sections to add or edit products as needed. For product searches, there are various filters available for streamlining the process.
Winner: Shopify
Security
Shopify is a hosted service, which means that you don't have to worry about security issues. As soon as Shopify becomes aware of any potential holes, they work quickly to fix the issue.
Shopify even encourages people to hack into its platform. Shopify offers rewards to anyone who can find potential weaknesses in their system through Hackerone. Although it may not sound great at first, this makes the platform much more secure overall. Additionally, Shopify is PCI compliant so you can accept credit card payments without worry.
You can protect your account by using two-step authentification. Shopify provides all its customers with a free SSL certificate. The only area where Shopify lacks is backups. To download a copy of everything in your store, you'll have to find and use a plugin like Rewind which costs $3/month for very small stores (up to 20 orders) but the price increases rapidly once you exceed 600 orders per month ($39/month).
In contrast, WooCommerce has weaker security. WordPress is a popular platform among hackers and therefore has continuous security issues. If you install WordPress & WooCommerce on your own server, it's your responsibility to update the security, which can be difficult if you're alone or taking time off.
Winner: Shopify
Support
All Shopify's plans come with dedicated personal support so you can contact them anytime day or night.
WooCommerce relies on its large community of generous geeks because it doesn't have any official support unless you purchase a WooTheme. However, there are plenty of forums with guides and technical step-by-steps out there that can help.
Winner: Shopify
WooCommerce vs Shopify: A quick comparison table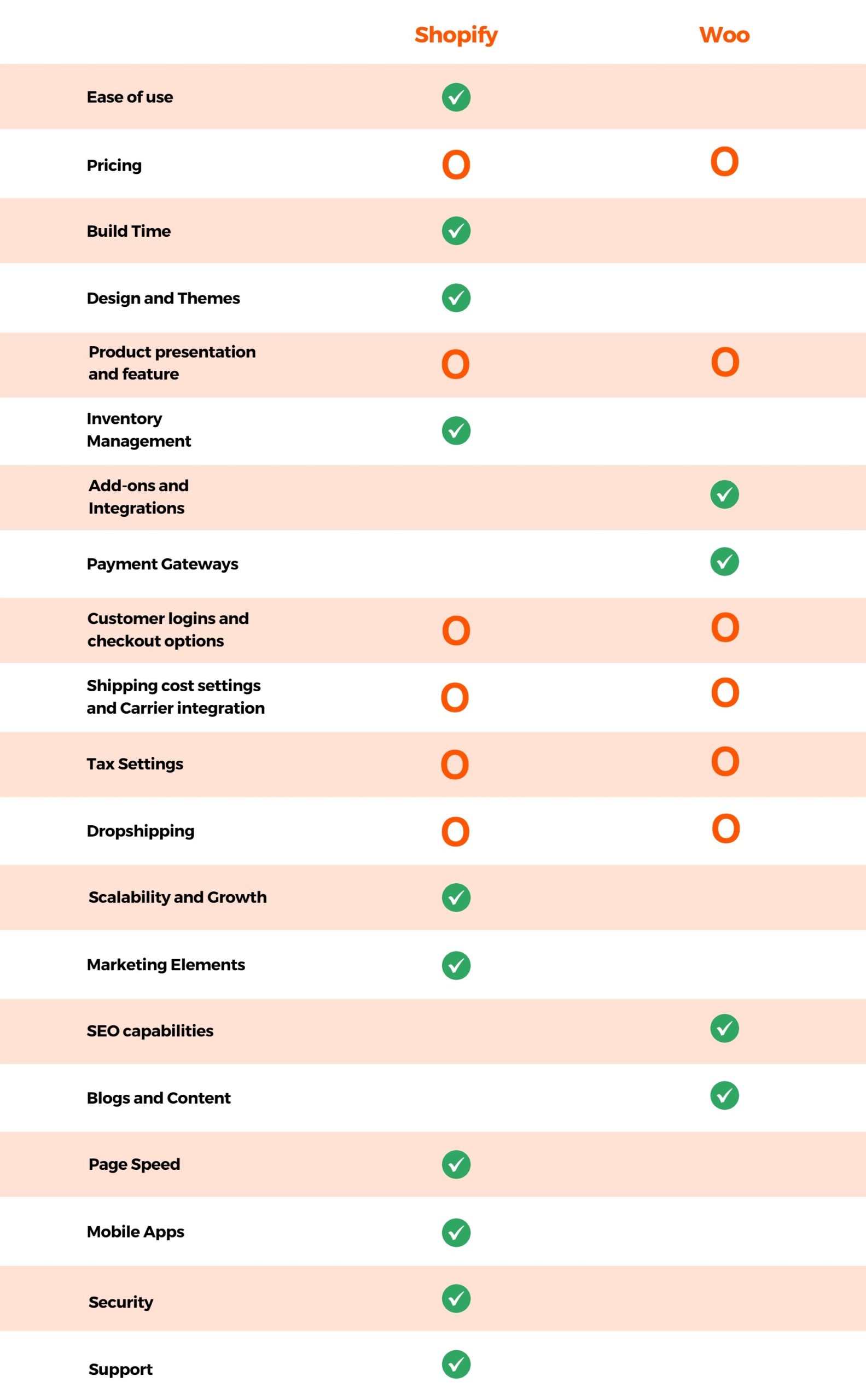 WooCommerce vs Shopify: which is better for your store?
In the end, Shopify defeats WooCommerce by a score of 10:4, with 6 draws. But it is just numbers and every comparison is unperfect. Each platform has its own pros and cons. You should consider all the aspects of them to choose the right one for your business.
If you want a solution with great SEO features that is also highly customizable and scalable, having more control over your design, don't mind getting your hands dirty, or if your primary marketing strategy is driving traffic through content for search engines, then WooCommerce should be your choice.
If you're just starting out in eCommerce and/or if you want to avoid technical details, Shopify is a great choice for you. Also, if you're looking to test things out and try a few products, Shopify offers a 14-day free trial now so that you can see how it works.
To conclude,
We know that choosing the right platform for each business is not an easy task. Hopefully, this article can help you know the pros and cons of Shopify vs WooCommerce and you can identify and evaluate the most relevant platform.
If you're still confused and don't know which platform is right for your business or how to implement an online store, connect with Magenest right now. We would be happy to help you find the perfect eCommerce platform.