The eCommerce retail industry is growing rapidly, and it's no surprise that businesses have taken to online shopping platforms more than ever before. Shopify has become the go-to platform for those looking to start their own stores or improve the ones they already have. As such, entrepreneurs must do an extensive search when selecting a reliable Shopify Design and Development Agency – one that understands the latest trends in Shopify innovation, customization, and SEO optimization.
With this blog post, we've put together a comprehensive list of the top 15 Shopify Design and Development Agency to watch out for in 2023. Whether you're just starting on your business journey or are ready to take your store's success even further with updated features – these firms can help you get there. Read on as we explore each company's capabilities individually!
Top 15 Shopify Design and Development Agency to Look out for in 2023
Command C
Command C stands out among the top Shopify Designers and Developers, with a reputation for creating innovative solutions.

Command C has been providing digital solutions to online retailers for more than a decade. Their diverse array of services includes strategy, migration, and building-stabilizing eCommerce stores so that our clients can experience sustainable growth. They specialize in meeting the needs of B2C and B2B merchants who generate anywhere from $200 million – $150 million annually. With strong project management competencies coupled with an extensive understanding when it comes to tackling technical dilemmas, they have managed to establish long-term relationships within our clientele base over time.
Investing in Command C is an investment you can trust. They're committed to doing more than just helping – they want to build a long-term relationships with their clients, as their business partners rather than one-time vendors. At Command C, your return on investment (ROI) matters most – that's why every client has a dedicated project manager and tech lead who are well-versed in platforms like Shopify, Magento & BigCommerce; ready to share the benefit of years of expertise.
Magenest
Magenest is leading the way in Shopify Design and Development Agency, establishing itself as a top choice for businesses seeking cutting-edge solutions.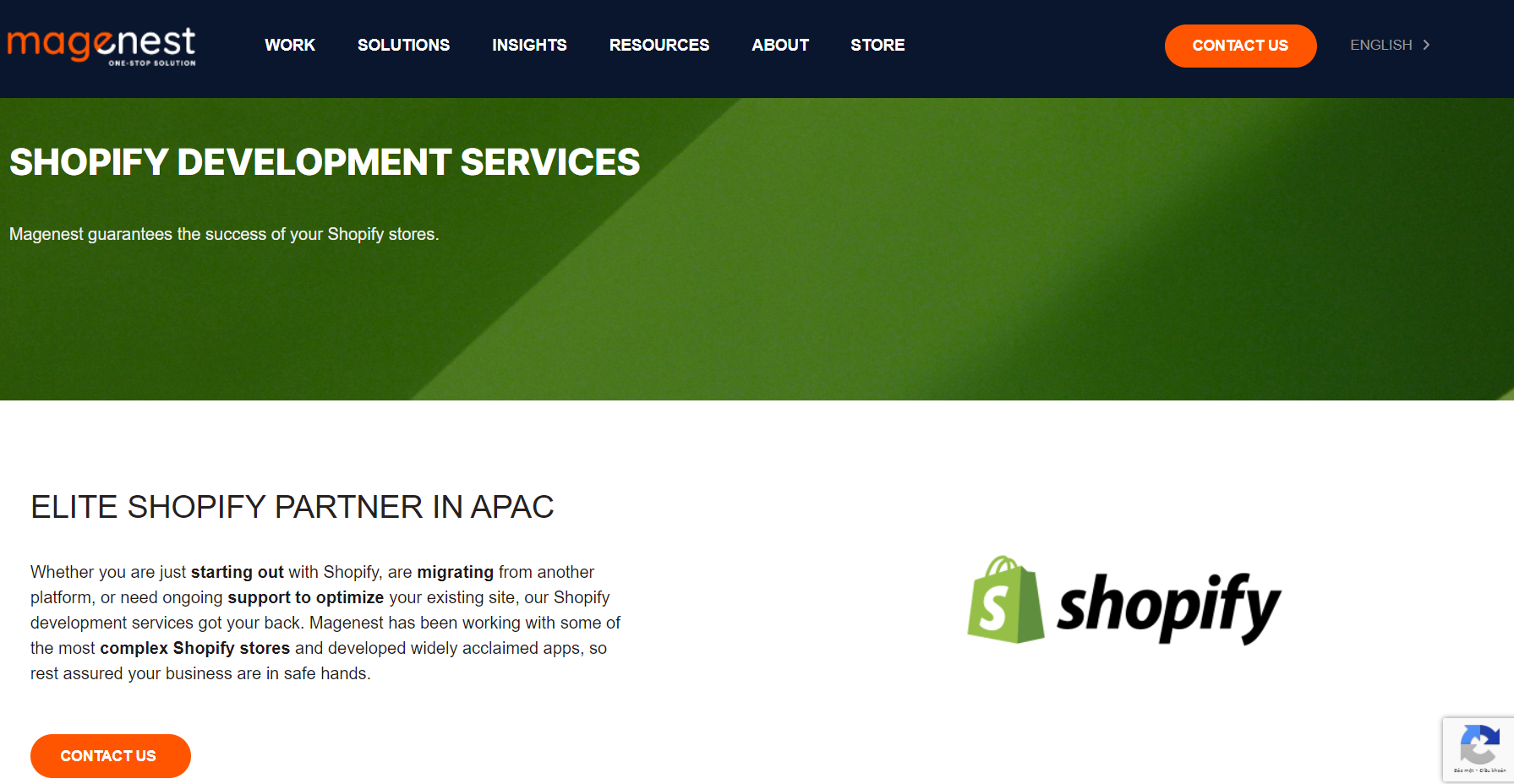 As one of the most experienced companies in Shopify Design and Development Agency, Magenest has your back whether you're new to the platform or looking for ways to improve an existing site. Through their streamlined services and top-notch website developers, they make it easy so that business owners can focus on managing other areas while leaving this part up to experts.
With professional Shopify Designers and Developers at Magenest, you can unlock the upcoming potential of your eCommerce business. From custom store development and setup/configuration to seamless migrations from other platforms, let Magenest help make sure that your Shopify website runs smoothly and efficiently. Magenest's experienced team is ready to assist with all maintenance needs too.
Magenest offers a comprehensive set of Shopify Design and Development services that are sure to help merchants achieve success. From stunning theme designs for enhanced customer experience, custom app developments to optimize existing website performance, as well as expert SEO & digital marketing support – they have you covered when it comes to creating your online store.
Magenest is an exceptional Shopify Design and Development Agency, ready to assist you with all your eCommerce needs. Contact us now and our Shopify Experts will be with you for dedicated assistance.
Commerce-UI
Commerce-UI is a leading force in the world of Shopify Developer and Designer, showcasing their expertise as innovators in this space.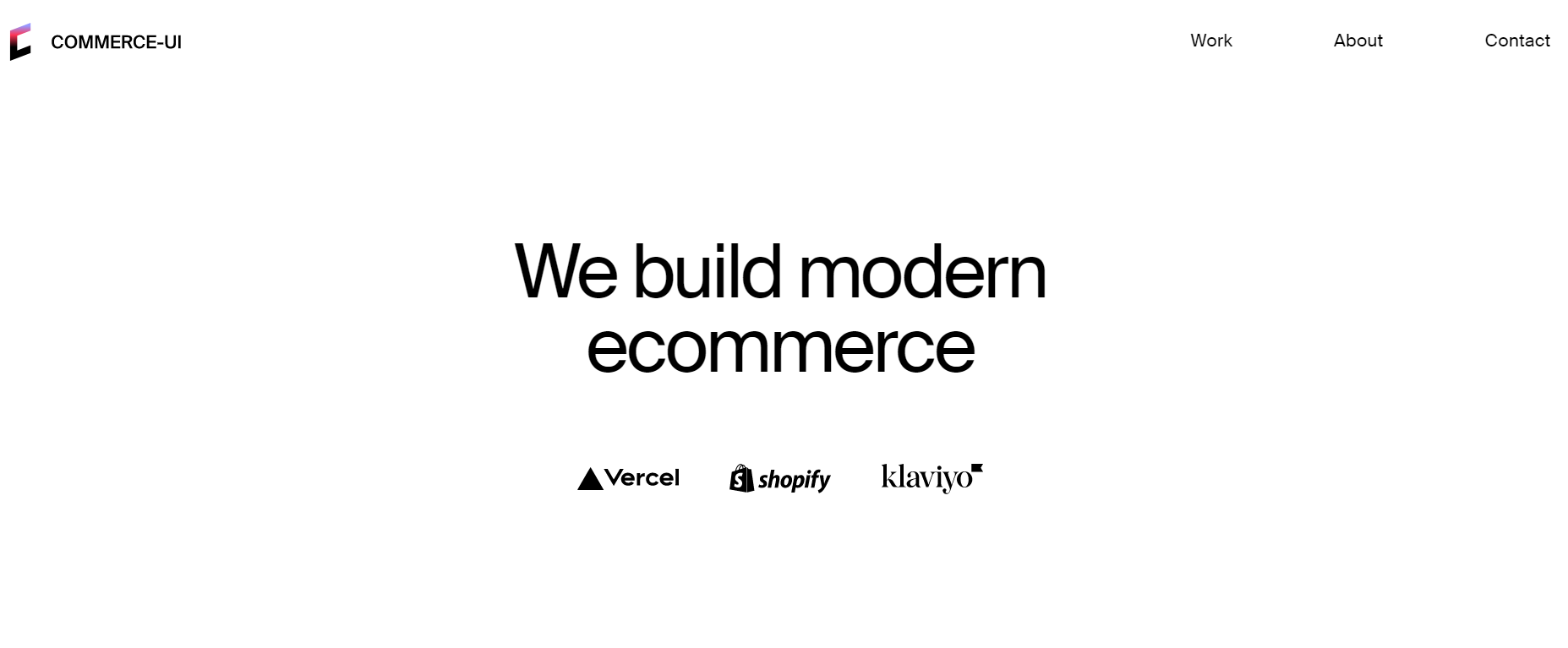 For over 8 years, Commerce-UI has built a reputation for crafting custom online shopping experiences with precision design and cutting-edge technology. They have worked closely with prestigious designers & brands like Rolex, OuraRing, Blackroll Magda Butrym, and Splits59 to ensure their visions are realized in production-ready code.
With excellent experience across multiple platforms from headless Shopify (React/ NextJS/ Vercel) through Storefronts such as Magento or commerce tools down to Swell Commerce – the sky's the limit at what can be achieved.
P2H Inc
For companies seeking Shopify Design and Development Agency, P2H Inc is one of the leading providers.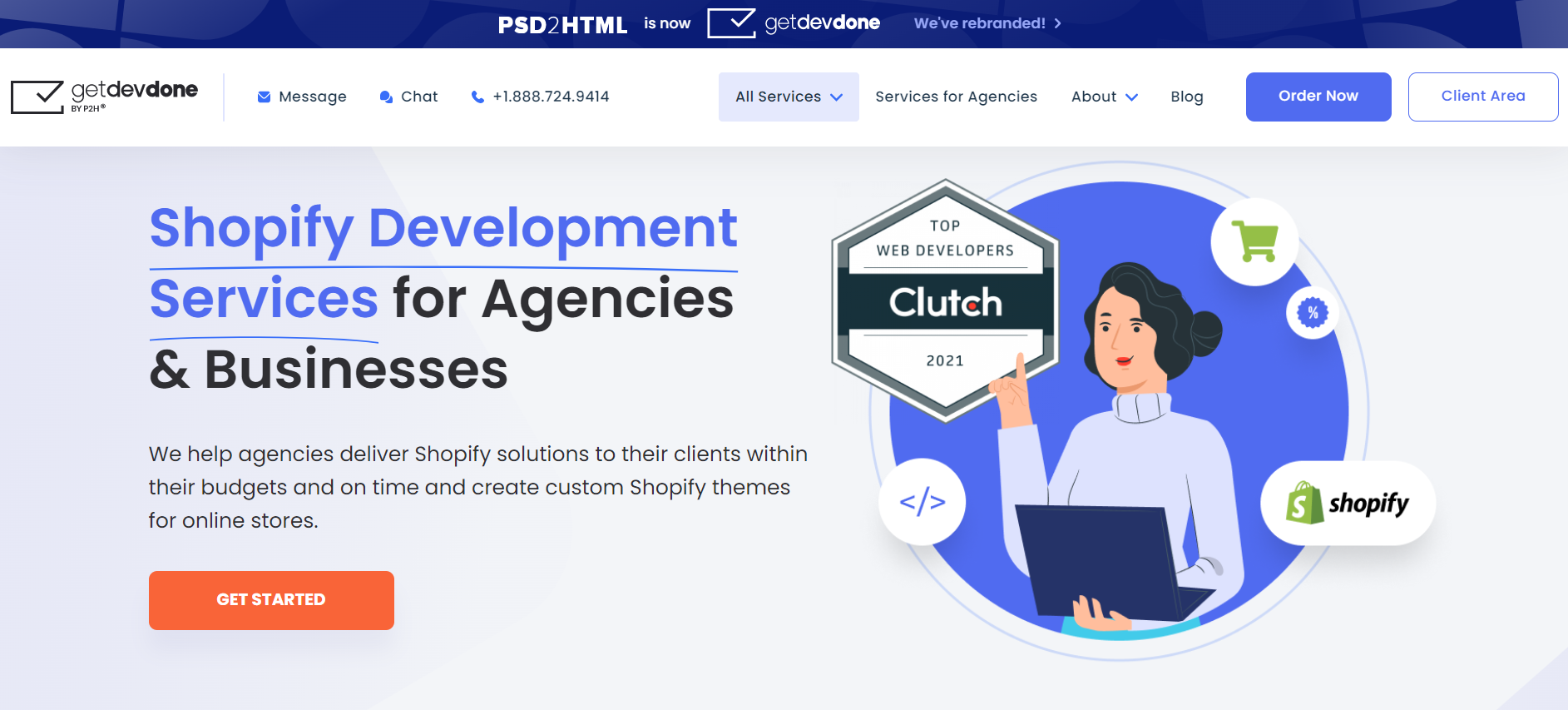 With expertise in website creation, mobile development, UI/UX designs, and much more – they are the perfect partner for agencies of all sizes who require outsourced services; including digital marketers or advertising executives looking to add value through high-quality websites & online stores. Furthermore, their advanced capabilities ensure that even those within business niches where success depends on momentum – such as Startups – can optimize their chances with the best possible tech offerings from a trusted brand like P2H Inc.
P2H Inc specializes in the development of cutting-edge projects such as single-page applications, custom website themes, and email templates that adhere to all major service provider requirements. They additionally provide website creation on a variety of content management systems (Shopify, Magento, BigCommerce, WordPress, Drupal, etc.), cross-platform mobile app building with React Native or similar frameworks, backend services for popular modern platforms plus UI/ UX design so clients can create sleek user interface designs – further complemented by performance optimization & security enhancements.
Uncap Commerce
Uncap Commerce is an elite Shopify Design and Development Agency, offering outstanding services to customers.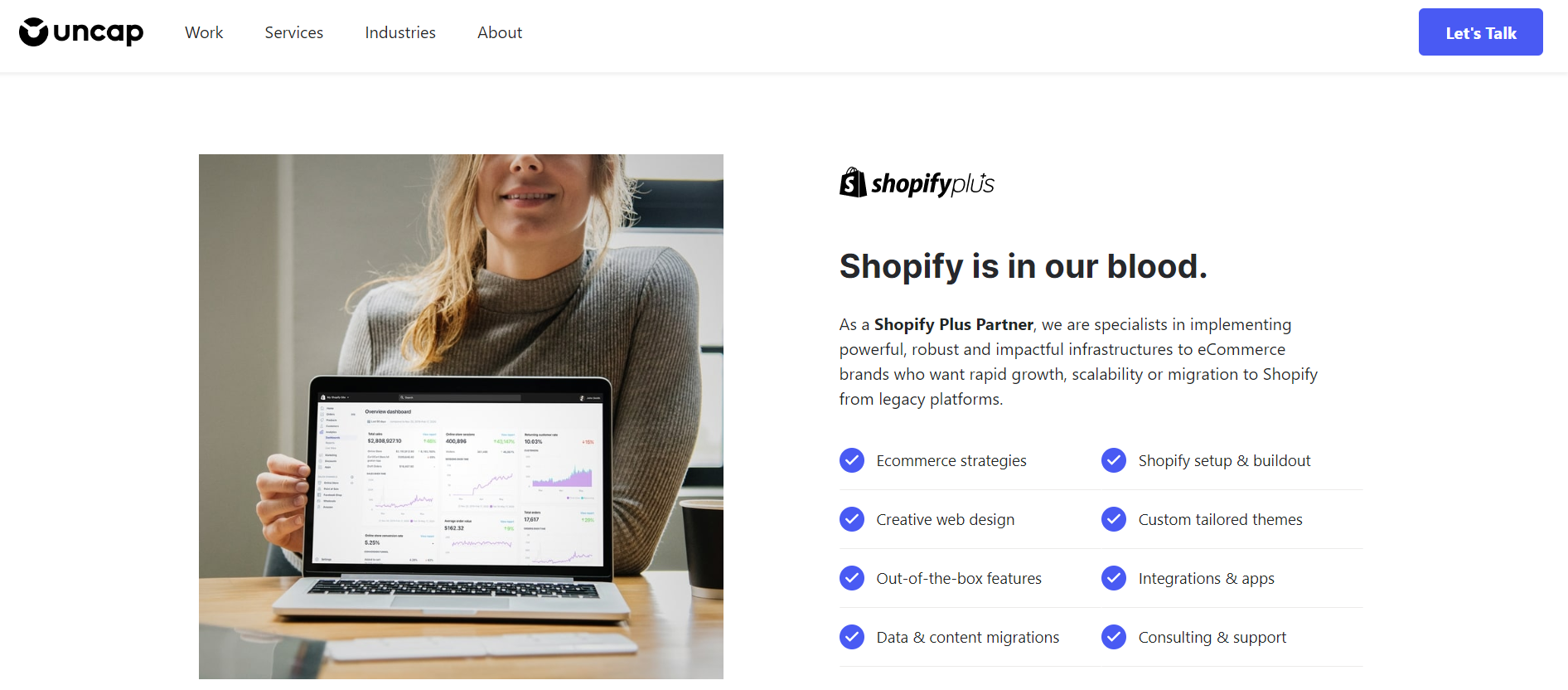 Uncap Commerce is Chicago's trailblazing digital agency – pioneering in developing detailed eCommerce strategies to revolutionize the customer experience. Combining their impressive Shopify expertise and exceptional project management, they are heralding success for businesses everywhere – helping B2B and B2C merchants achieve long-term commercial growth through cutting-edge technology solutions.
As an example of excellence, Uncap flawlessly migrated a Magento site to Shopify with custom features alongside guaranteed improvements on the website's performance. Besides, Uncap Commerce is the go-to for successful website transitions, whether you're a plant grower looking to move from WordPress to Shopify. With expertise in custom design, third-party integrations, and data transfers – as well as setting up your new Google Ads account – Uncap can make sure it's smooth sailing every step of the way.
Dynamic Dreamz
Dynamic Dreamz is leading the way in Shopify Designers and Developers services, conquering all competition.

With 16+ years in the eCommerce and web-development industry, Dynamic Dreamz is a team of tech professionals who strive to make value additions for clients. Specializing in Magento, Shopify, WordPress PHP/ MySQL & CMS development services with 1800+ successful projects completed leads us as well-equipped experts offering professional edits and customizations using an exclusive customized Shopify theme capable of giving your business that extra edge it needs.
Dynamic Dreamz's range of services includes: Shopify Plus Development Customization; PSD To shop customization; App customization – all powered by cutting-edge technology integration techniques from our highly experienced specialists
Sunrise Integration
Sunrise Integration is an experienced leader in the custom Shopify Developer Designer and workflow solutions space.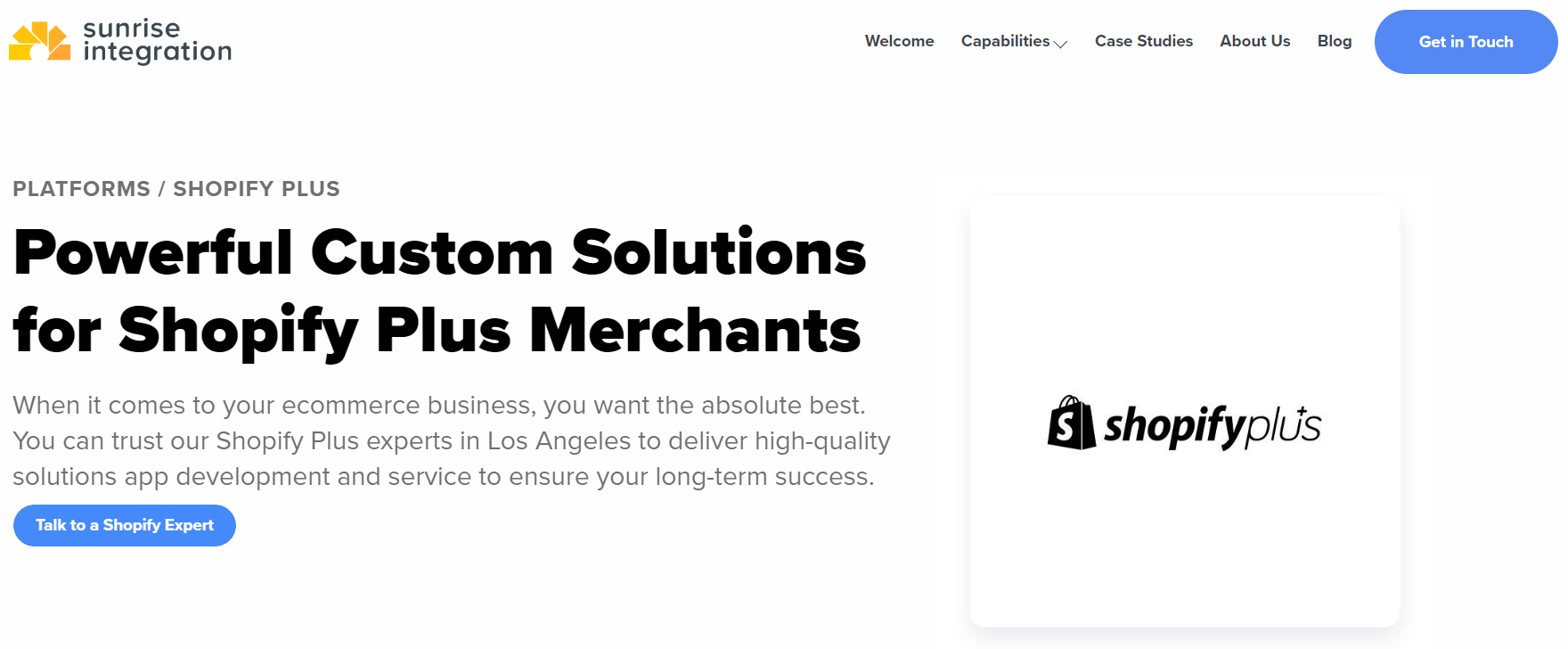 Their veteran team has helped startups to Fortune 500 companies over the span of 20 years bring web and mobile applications from concept to reality, all with a cutting-edge advantage unthinkable for competitors.
With specialties ranging from e-commerce sites like Shopify, and Bigcommerce as well as SaaS platforms such as Amazon, eBay, or WordPress; Sunrise delivers end-to-end enterprise solutions tailored specifically for organizations of any size across multiple industries including retail healthcare finance apparel logistics among many others.
Propeller
Propeller has firmly established itself as one of the leaders in the Shopify Developer and Designer space, making them an invaluable asset for any business looking to succeed.

For the past two decades, Propeller has delivered a unique blend of expertise and flexibility in its quest to craft exceptional online experiences. Their cross-disciplinary team – made up of designers, developers, strategists, and product managers – works with clients from ideation through post-development launch.
Each service offered is optimized for maximum visibility across all devices as well as improved conversions thanks to insights collected based on consumer data analytics. Whether it's UX/ UI Design or custom web & eCommerce builds (including Shopify Plus), each digital solution developed by Propeller guarantees best-in-class results every time.
Superco
Superco is a Shopify Design and Development Agency, that consistently delivers industry-leading solutions.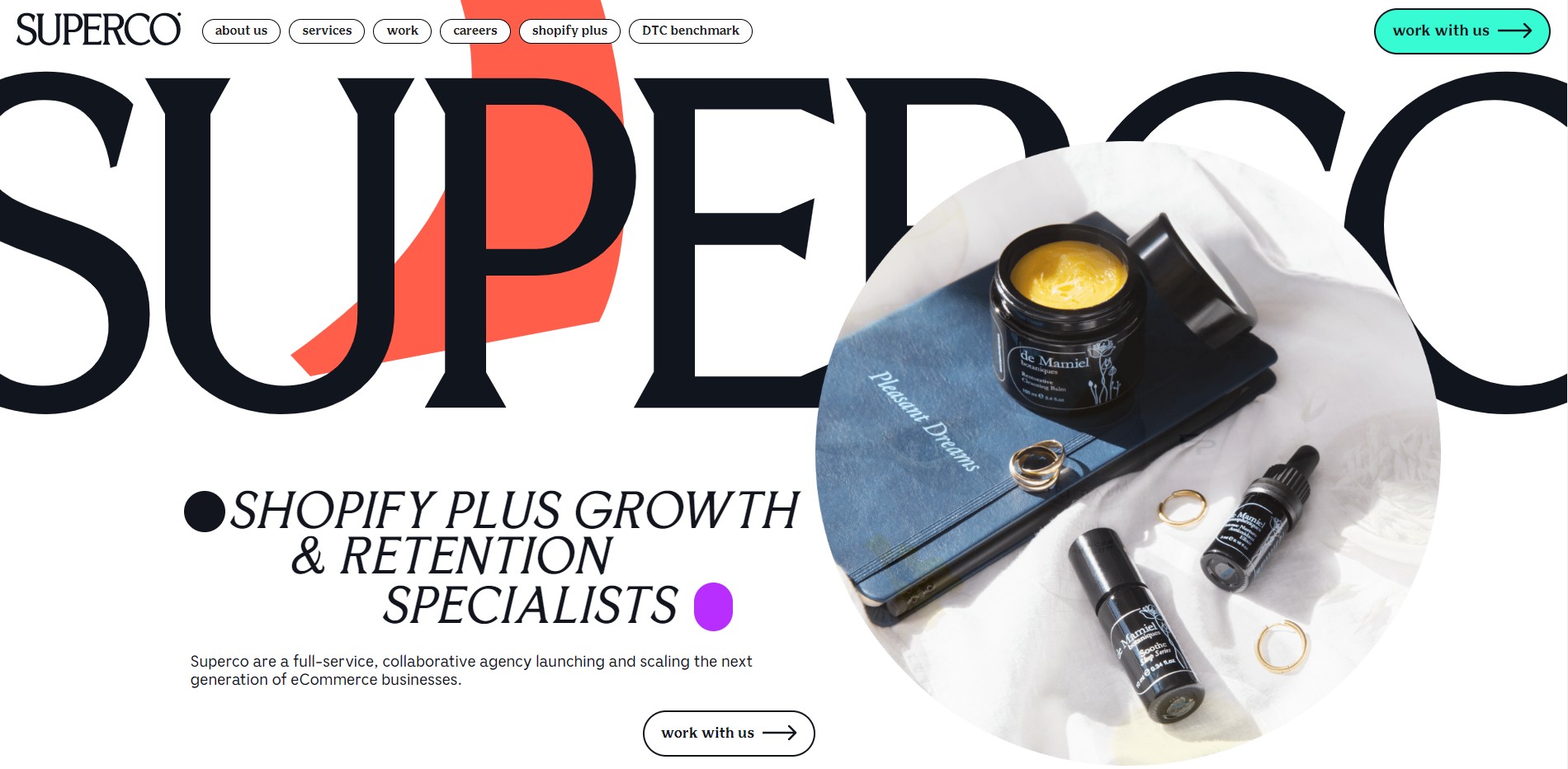 Superco, and Shopify Plus experts with extensive experience in the industry and over 50 clients served. Their team of professionals is fully-equipped to take on projects spanning from small website tweaks to complex custom app integrations – all while maintaining an eye for details like UX design, conversion rate optimization and subscription & retention strategies that help maximize your online business success.
With years of expertise under their belt coupled with dedicated eCommerce store design knowledge paired up together create a unique package when it comes to helping you bring your aesthetic vision into reality whilst driving more customers towards long-term engagement. SuperCo is the go-to expert in developing effective and attractive digital experiences. With their technical prowess, they take on complex challenges that leave other developers stumped. SuperCo has created a number of private & public applications to extend Shopify's features for specialized business needs.
To ensure optimal performance right from launch, rolling out Conversion Optimisation audits are conducted first before any testing and improvement take place afterward. The team then guides you further with Lifetime Value/ Retention Optimisation through building customized subscription flows designed to increase customer engagement levels with your brand long term.
Ambaum
Ambaum is one of the leaders in the Shopify Design and Development Agency, delivering innovative solutions for businesses to maximize their success.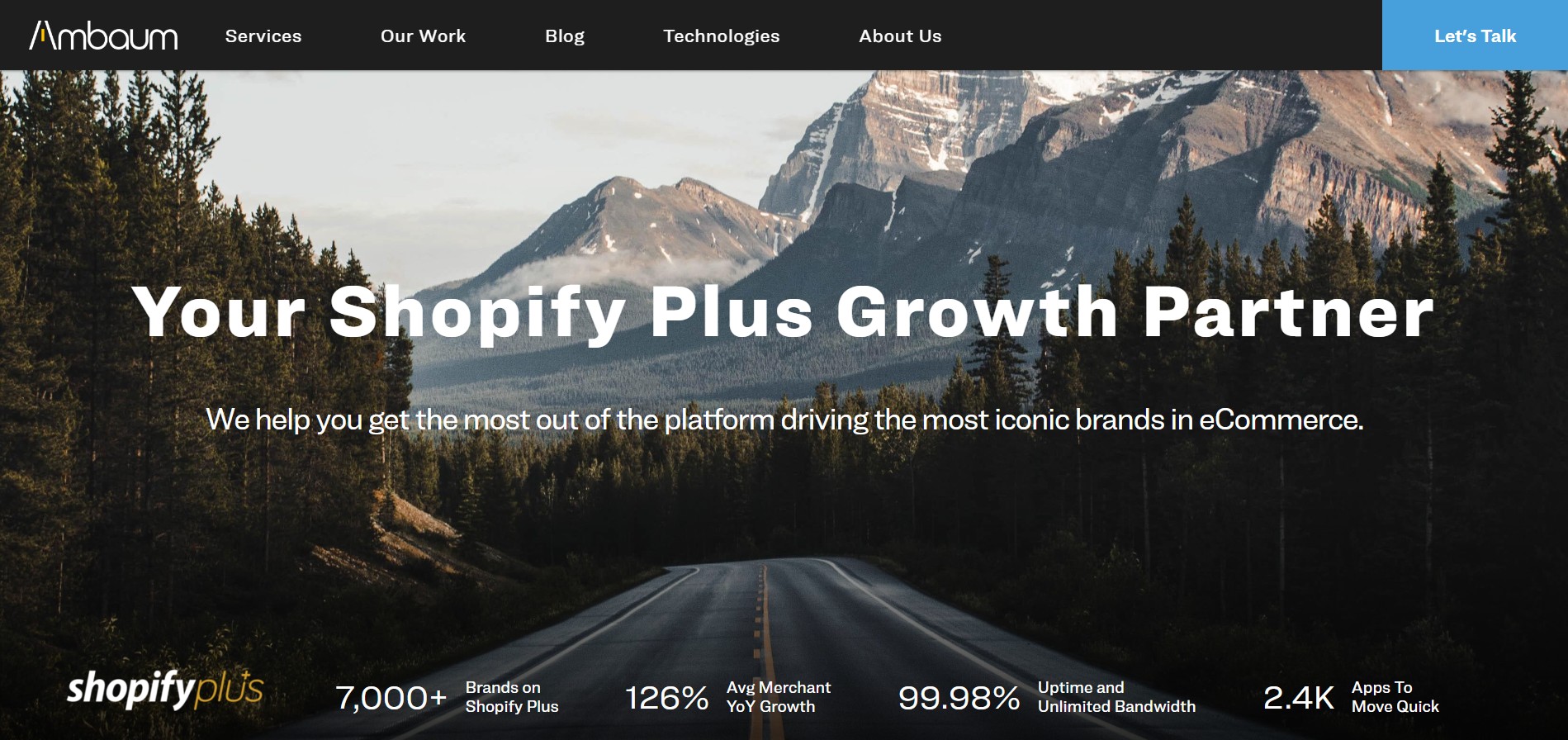 Ambaum is revolutionizing eCommerce with a fresh outlook. With expertise in design, development, and growth marketing at their disposal to provide the best results possible for your Shopify Plus website, Ambaum's crew of web professionals can help you add depth and value to your brand by helping create meaningful customer relationships that lead to lasting loyalty.
Based out of Seattle, they have an impressive track record delivering successful migrations for existing companies looking to switch over from other platforms as well launching new brands on Shopify Plus. Let them take the reins so you can reach larger audiences while allowing customers to build connections with your brand – all through one dynamic source!
Absolute Web
Absolute Web is setting new standards for Shopify Designers and Developers with their innovative approach.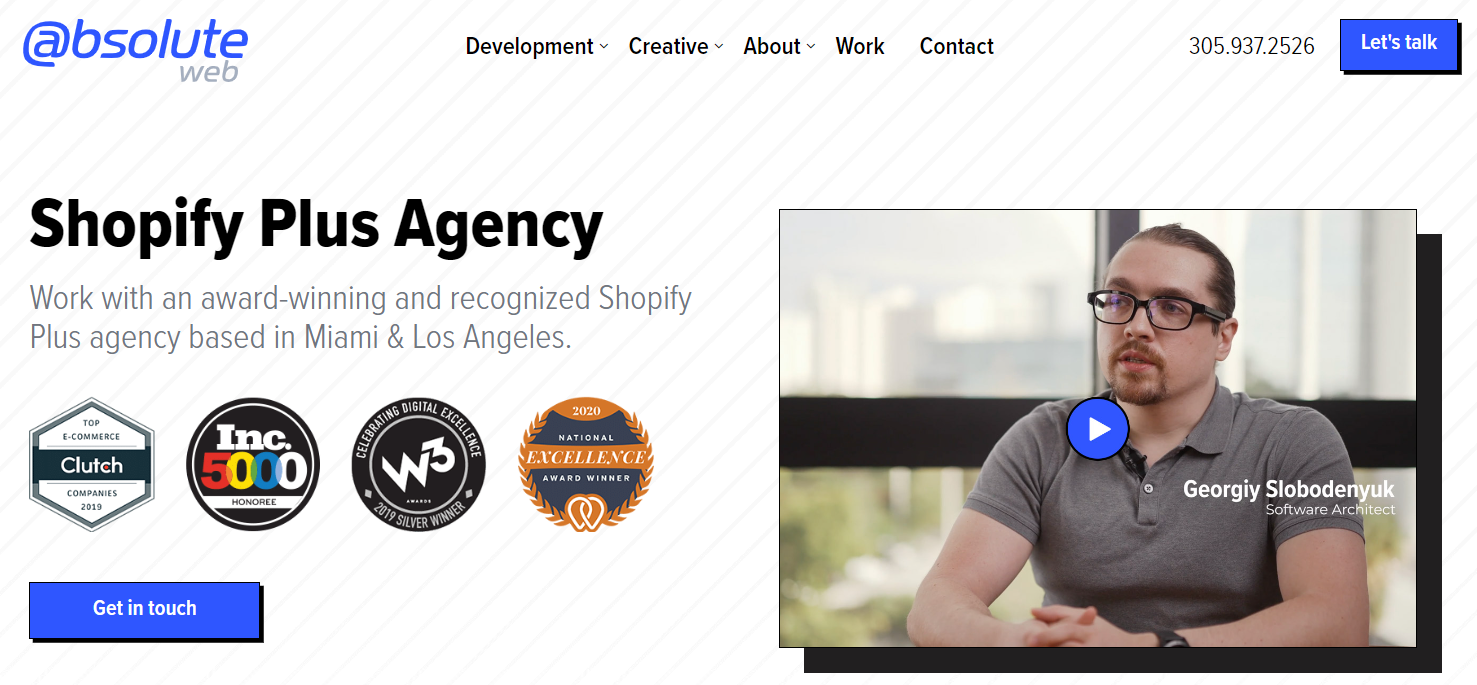 Absolute Web is an expert in full-service eCommerce, providing digital solutions that optimize web experiences and increase lead generation.
For more than two decades, their passionate team has crafted strategies to bridge the gap between marketing campaigns and sales processes for clients – ultimately driving enhanced awareness of their business's products or services. This cutting-edge approach accelerates results with the goal of boosting companies' bottom lines through targeted tactics and innovative thinking.
Netalico Commerce
As one of the leaders in the Shopify Developer and Designer, Netalico Commerce offers cutting-edge solutions to help your business flourish.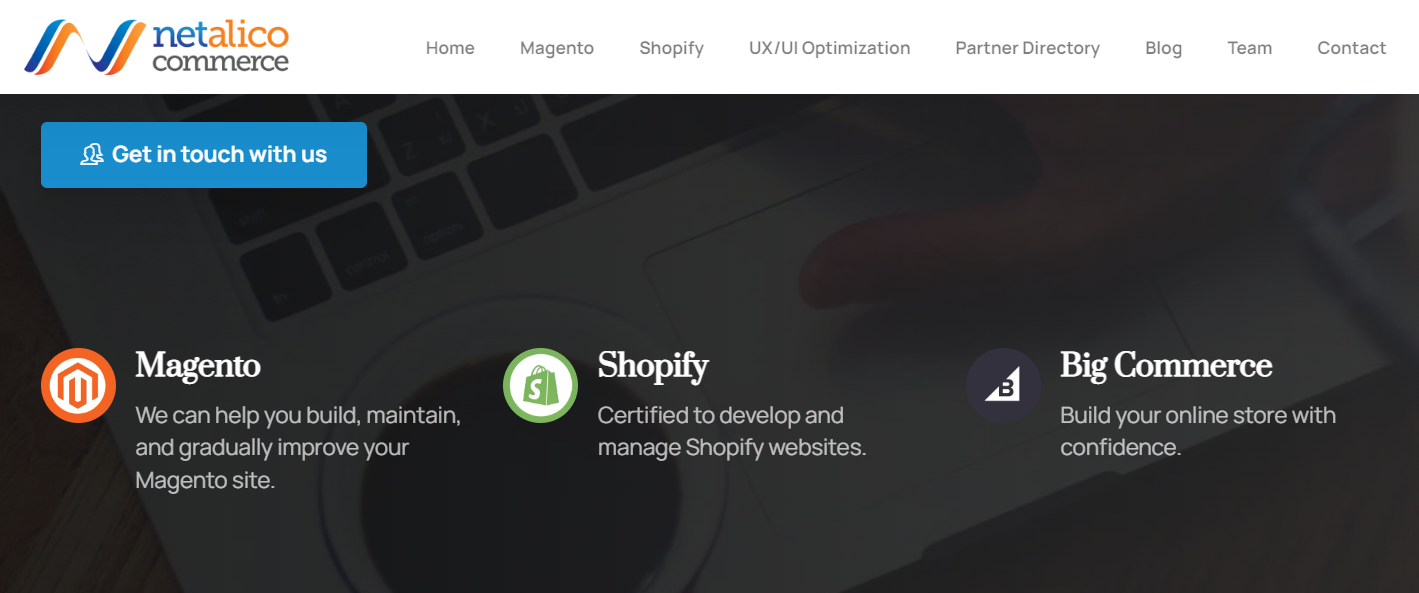 Netalico Commerce is a specialized eCommerce development agency devoted to providing top-notch performance for Shopify, Magento, and BigCommerce merchants. With over 40 years of combined expertise in the field, Netalico Commerce delivers lightning-fast websites with high conversion rates as well as smart and scalable code that stands out from the rest. What truly sets them apart though is their dedication to customer service – they build long-term relationships through personal support unmatched by any other vendor in their space.
Netalico Commerce offers cutting-edge web development solutions for Magento, Shopify, and BigCommerce. Their experienced team has a deep understanding of eCommerce merchants' needs from past experiences – offering custom-tailored designs to fit your business objectives; delivering support through the daily challenges you face; as well as providing proactive ideas that can take your site up a notch. No matter what type of online store you're building or how messed up things were left by other developers, trust in Netalico Commerce's certified expertise.
Transform your store's customer journey with Netalico Commerce and its data-driven designs. They'll collaborate closely to develop a unique, thoughtful design tailored directly to you – no cookie cutters allowed. Keep the focus on growing your business without worry; they have eyes for detail in making sure that safety is the top priority along with keeping everything up-to-date. With fast agile support from an experienced partner rather than just another vendor, become part of the bridge connecting your eCommerce team and website today.
SPLIT Development, LLC
SPLIT Development, LLC is a top-tier leader in offering cutting-edge Shopify Developer Designer. Their expertise enables us to empower our clients with the power of eCommerce.

SPLIT Development, LLC is a vibrant and quickly growing web production team geared to put businesses at the forefront of digital solutions. Their widely varied services include custom eCommerce platforms, Shopify, WordPress & WooCommerce integration; plus development for startups utilizing cloud systems & databases with lightning-speed technology.
SPLIT Development, LLC helps make your project stand out in style – they provide bespoke branding design along with marketing materials (including product) as well as UI/UX conversion optimization techniques … all specifically tailored towards online commerce shops or website apps.
VT Labs
VT Labs has cemented itself at the top of Shopify Design and Development Agency, delivering superior results for their clients.

Since 2016, VT Labs has been a trusted leader in full-cycle custom software development. Our commitment to scalability and headless architectures, optimized by the usage of Shopify Plus platforms make us an unbeatable team for clients looking to tackle even the most technical projects. They don't let anything slow you down – that's why they strive every day towards eliminating bottlenecks so their clients can reach their goals faster with top-notch code and systems ready for any challenge.
VT Labs offers extensive experience in the world of eCommerce, ranging from PWA and SPA development to custom Shopify Apps. They specialize in building powerful integrations with 3rd-party APIs while also providing effective solutions such as ERP systems and advanced MVPs. Their team provides a full suite of services spanning frontend & backend development, UI/ UX design, software testing & QA for an optimized user journey to ensure high customer satisfaction levels. With their insight into project management principles along with assistance during discovery phases VT Labs is your go-to solution provider.
DigitalSuits
DigitalSuits is a top-tier Shopify Developer and Designer, providing clients with quality designs to enhance their online presence.

DigitalSuits provides cutting-edge software development solutions for startups, and small and medium businesses in the US, Canada, the UK, and Israel.
With their startup background knowledge as an advantage – Digital Suits are industry leaders when it comes to developing innovative business strategies that drive eCommerce growth & SaaS products specifically designed for Retail Companies alongside Real Estate & Insurance providers alike. Step into the future with this leading digital team.
Conclusion
We have discussed the top 15 Shopify Design and Development agencies to look out for in 2023. These are the agencies that focus on creating Shopify stores with sleek, interactive designs and interesting animations. With top-notch expertise in all areas of digital media, each agency can create powerful solutions for all types of businesses. Whether startups or established companies, these agencies are sure to provide unique, customized solutions at an affordable cost.
Moreover, they offer complete post-project support to ensure ongoing customer satisfaction. If you're looking to launch your own Shopify store and want a reliable partner to help you out, then these are definitely the best options available. For more information & knowledge about Shopify Stores contact Magenest today! We look forward to hearing from you and helping you create your perfect online store!