B2B models differ significantly from B2C models, as the latter directly sell products to customers, while the former involves transactional modes like manufacturers, wholesalers, and retailers. The B2B commerce industry has almost $12 trillion at stake, and its hard-earned experience cannot be replaced by any other system. As a B2B business, it is important to have a strong online presence to reach out to potential customers and drive sales. Shopify, one of the most popular eCommerce platforms, offers a range of features and tools that can help B2B businesses to set up an online store, manage inventory, process orders, and more. Therefore, in this article, we will discuss some best Shopify B2B examples of eCommerce businesses with best practices and pricing to help you establish your own.
How Shopify B2B eCommerce Works
Business-to-business (B2B) refers to the direct sale of products and services between two businesses. This model differs significantly from business-to-consumer (B2C) sales, where businesses sell directly to consumers. B2B eCommerce involves transactions between a manufacturer and wholesaler or a wholesaler and retailer through an online sales portal.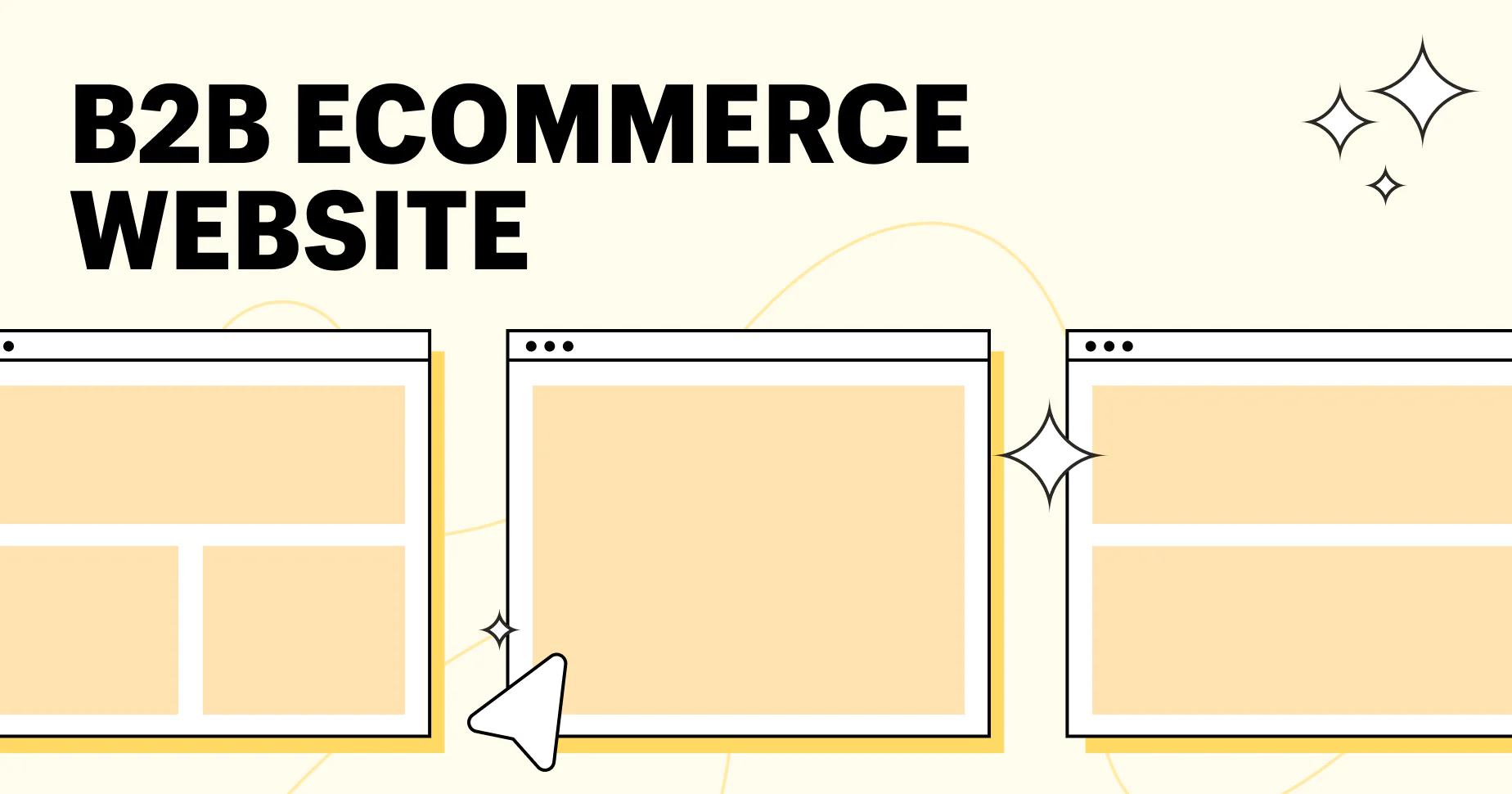 B2B eCommerce is one of the fastest-growing sales models, with the global B2B eCommerce market estimated to be worth over $12 trillion. Innovation and technology from B2B eCommerce platforms have driven this growth. Traditional B2B business models involved labor-intensive and manual sales and marketing processes. However, digital commerce has helped these businesses reduce costs and improve efficiency through eCommerce automation.
B2B sellers work with wholesalers, large retailers, organizations such as schools or nonprofits, and resellers. Buyers and sellers can now meet in one digital home, place and manage orders from their mobile phones, and create new opportunities for businesses to connect with distributors and suppliers.
Technology applications and digital transformation in the B2B market are inevitable. With the born and development of the Shopify platform, this process is boosted faster. Shopify B2B eCommerce is a new business model where businesses use the Shopify platform to sell products or services to other businesses. This model enables B2B businesses to set up an online store, manage inventory, process orders, and more.
Shopify B2B eCommerce offers several key advantages, including:
Automated sales processes
Reduced infrastructure and overhead costs
Fewer intermediaries
Ability to reach a mass market at scale
Omnichannel branded presence available 24/7
Better partner relationships
High employee productivity
Top 10 Best Shopify B2B Examples
Microfiber Wholesale
Microfiber Wholesale is a B2B eCommerce business that specializes in selling microfiber cleaning products, including towels, mops, cleaning kits, and custom-printed cleaning products. Despite being a B2B business, their website resembles a B2C website with features like a free shipping and returns bar, toll-free customer service number, reviews from cleaning professionals, and educational articles.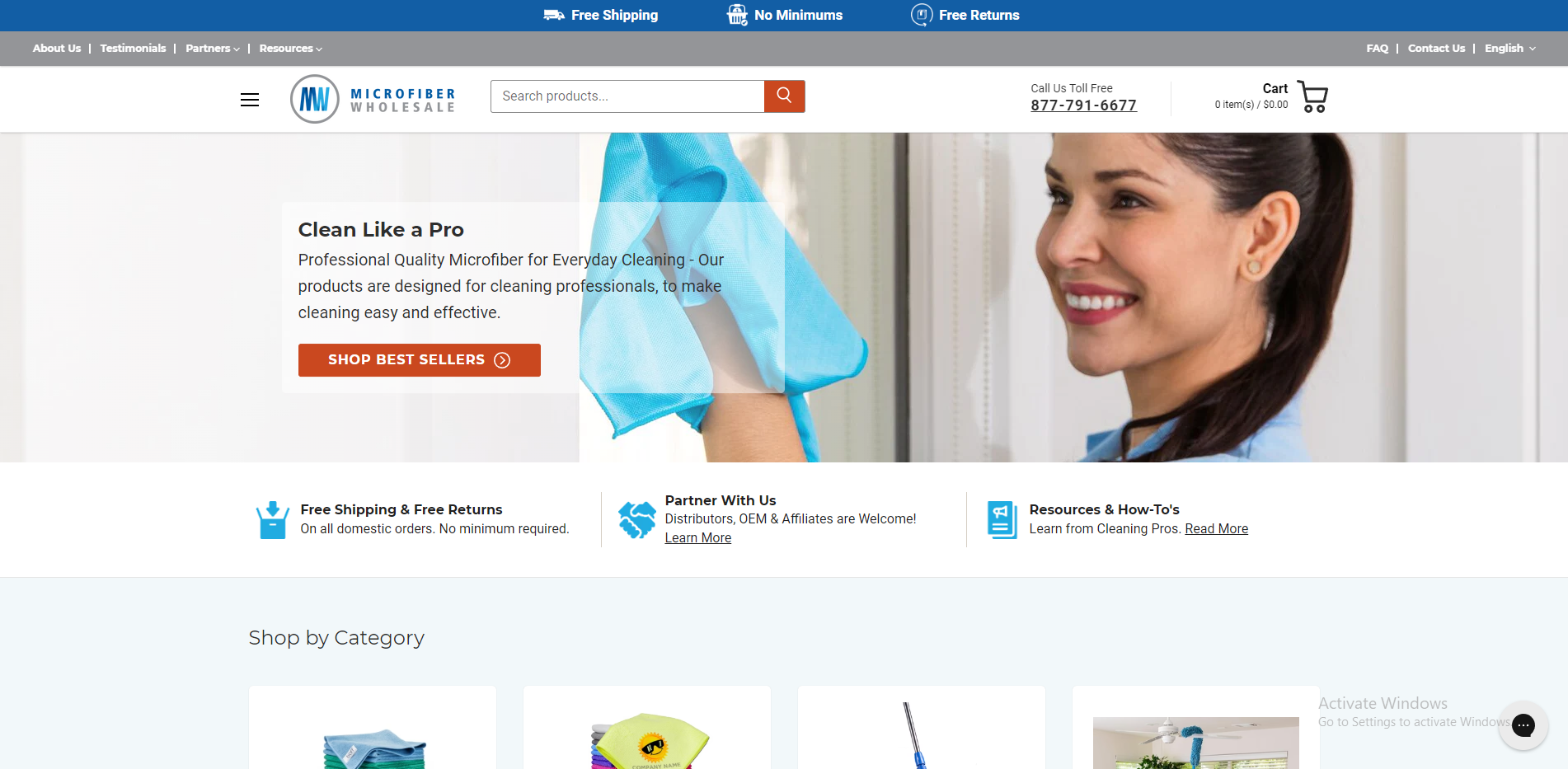 Microfiber Wholesale's website is designed to be self-service, providing customers with all the information they need to make a purchase directly on the website. For example, their product pages include charts, colors, dimensions, quantity discounts, item numbers, real-time availability, and an Add to Cart button.
Another important feature of Microfiber Wholesale's Shopify store is the ability to offer personalized product recommendations to their customers. By using data analytics and machine learning, they can analyze their customers' purchase histories and provide tailored recommendations based on their preferences and behavior.
Microfiber Wholesale also offers a range of payment options to their customers, including credit cards, PayPal, and purchase orders. This flexibility allows businesses to choose the payment method that best suits their needs.
Ultimately, with over 100 helpful videos and articles and a focus on user experience, Microfiber Wholesale prioritizes making it easy for customers to find the information they need and make informed purchasing decisions.
Mac Tools
Mac Tools is a global provider of automotive hand tools, power tools, tool boxes, and electronics that has been serving more than 1,200 wholesale distributors, professional technicians at dealerships and garages, and individual consumers since 1938.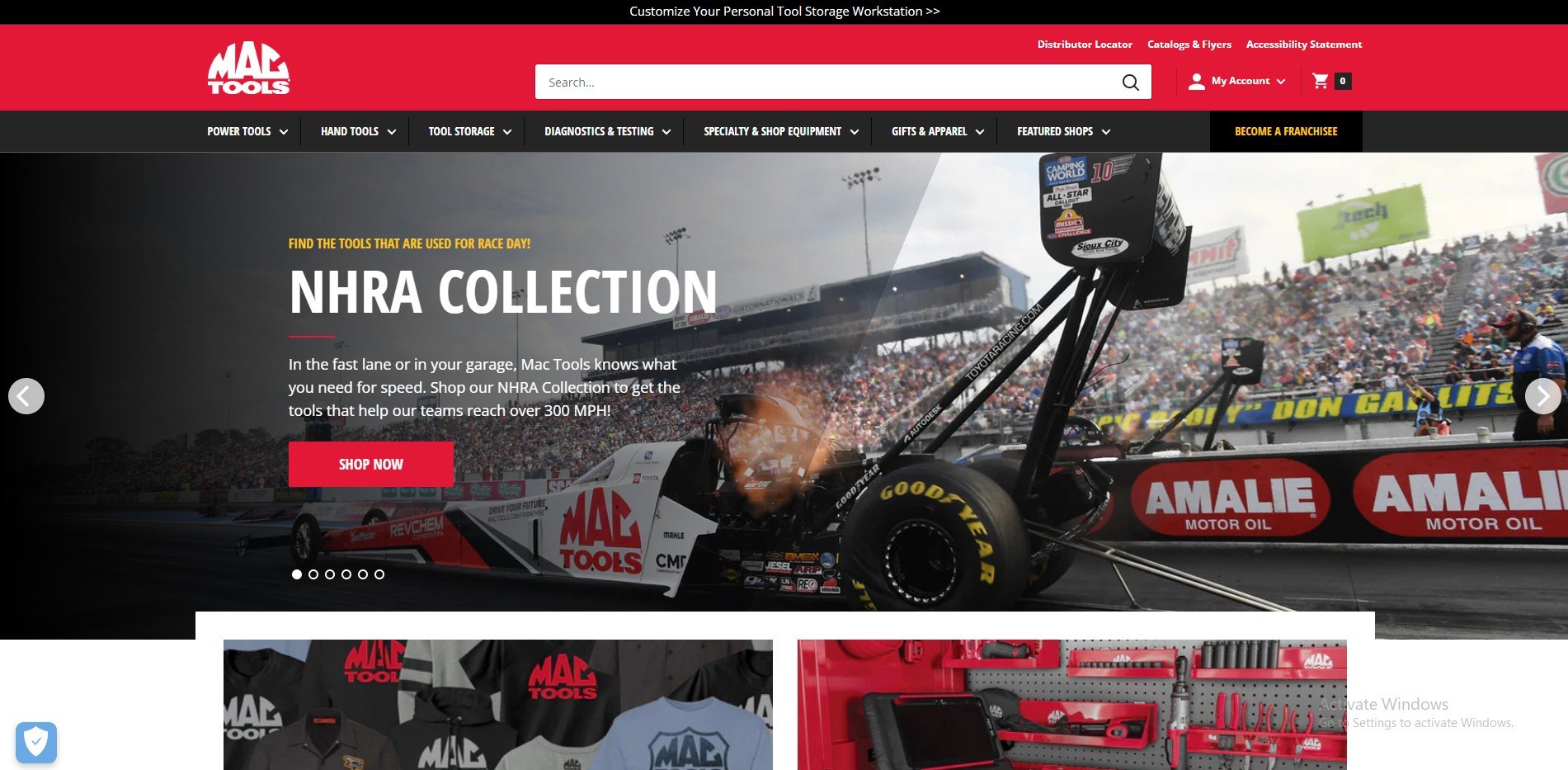 Mac Tools' Shopify B2B eCommerce store features product category pages that are designed for easy filtering, product selection, and checkout. Customers can use the filters on the left to find the right solution for their needs and add products to their cart. For products that aren't available, the call-to-action button reads Call 800-MACTOOLS instead of the usual Add to Cart button.
Dealerships and garages that want to become a franchise can easily do so through Mac Tools' franchisee portal. This portal provides information about the application process, preparation, mentorship, and training, and allows potential franchisees to fill out the form to get started.
Mac Tools is a modern B2B and direct-to-consumer (DTC) business that leverages Shopify Plus to add advanced features such as search functionality, a franchisee finder, and a customization tool to deliver the highest level of customer satisfaction. By utilizing the capabilities of the Shopify platform, Mac Tools has been able to establish itself as a leader in the automotive tools and equipment industry and provide exceptional service to its customers.
Primera
Primera is a B2B eCommerce business that specializes in manufacturing and selling specialty printers, including color label printers, label applicators, disc publishers, and printing accessories. Their customers include a range of businesses, such as universities, medical companies, wineries, coffee manufacturers, non-profits, TV stations, and more.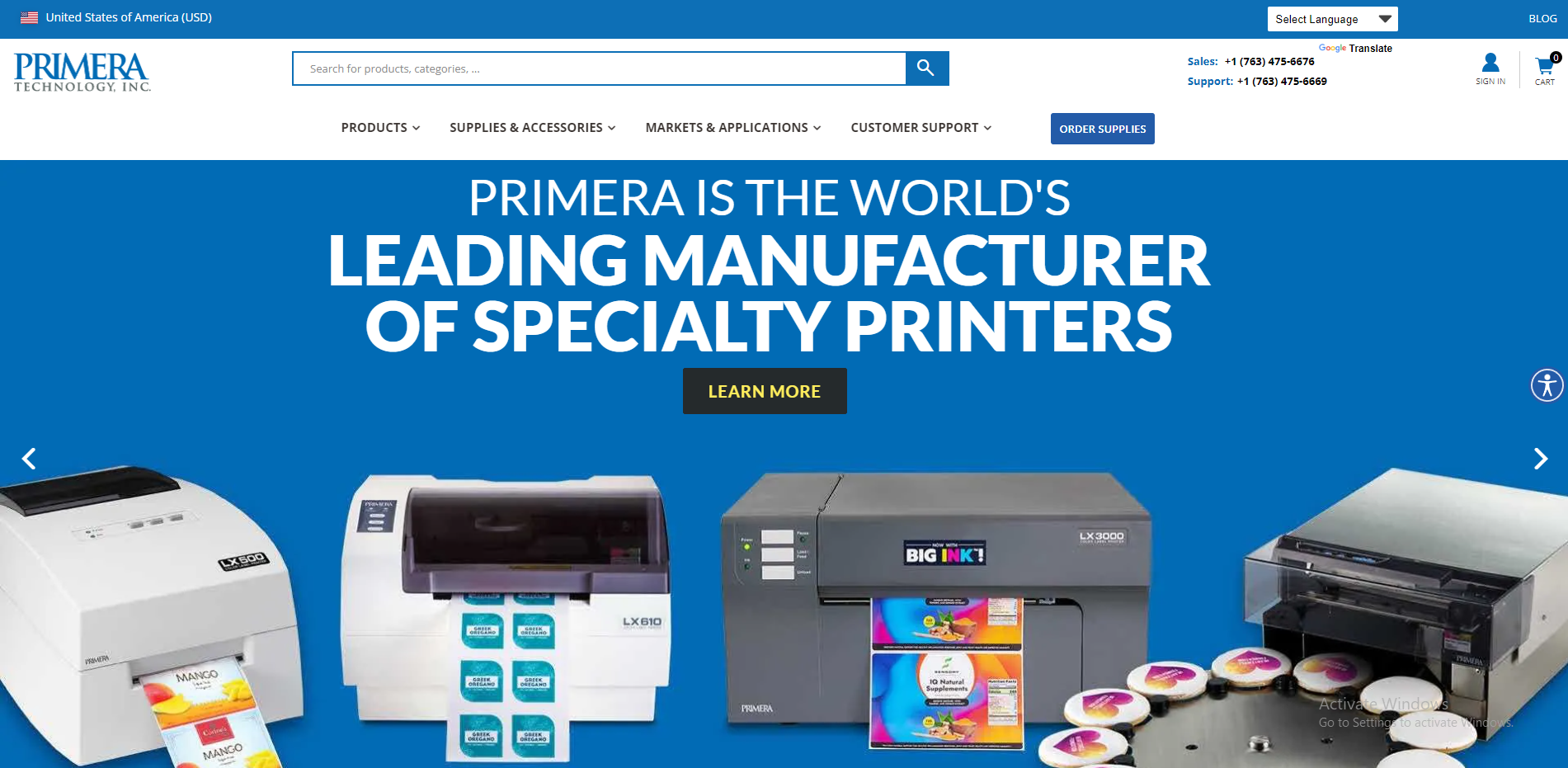 Primera's B2B eCommerce store stands out with its thorough product pages that are optimized for self-service business buying. Customers can easily find a quick overview of the product, its availability, its SKU number, and an option to choose the voltage at the top of the page. This allows them to quickly identify if the product is the right fit for their needs.
Further down the product page, Primera provides customers with detailed information about the product, including printer and label specifications, product brochures, support for the specific product, FAQs, and customer reviews. All this information is consolidated on one page, making it easier for businesses to make informed purchasing decisions.
In addition to providing thorough product pages, Primera's B2B eCommerce store allows customers to compare products side-by-side using the product comparison page. This feature enables businesses to compare prices, features, availability, and B2B payment options to choose the best product for their specific needs.
Overall, Primera's B2B eCommerce store demonstrates how businesses can leverage the Shopify platform to create a user-friendly and informative online store. By providing detailed product pages and a product comparison tool, Primera has been able to establish itself as a leader in the specialty printer industry and provide exceptional service to its customers.
Death Wish Coffee
Death Wish Coffee is a well-known coffee brand that specializes in strong and delicious coffee. They started as a small coffee shop in Saratoga Springs, New York City, and have since expanded to the wholesale industry. To align with its high-quality products, the brand chose Shopify as a platform for its B2B online business.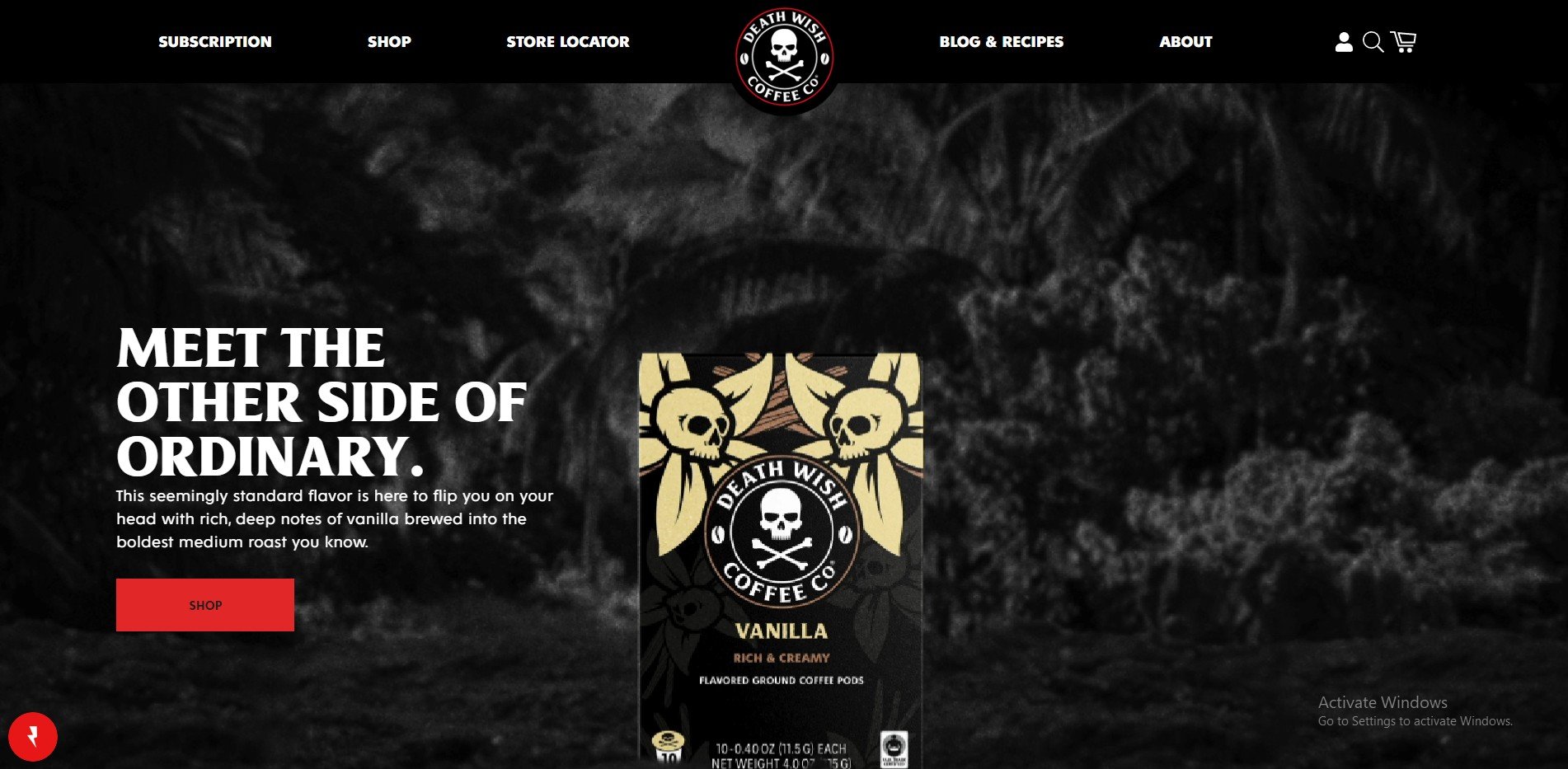 Death Wish Coffee integrated an ERP system into their Shopify B2B store, which helped them scale faster and achieve positive results. For example, the company was able to build a wholesale eCommerce business selling to major grocers and generate a quarter of a million dollars in sales, or $2,083 a minute, in the two hours after the Super Bowl.
Their Shopify B2B store features a user-friendly interface that allows businesses to easily place and manage orders. They offer discounts and customized pricing for bulk purchases and provide a range of payment options to make the ordering process as seamless as possible. In addition, their B2B store allows businesses to track their orders and receive automatic notifications of order status updates.
Death Wish Coffee's success is a great example of how businesses can leverage Shopify's B2B eCommerce platform to expand their reach and achieve significant growth. By integrating an ERP system and utilizing the features and tools provided by Shopify, they were able to scale their business and achieve impressive results in the competitive coffee industry.
Dermalogica Pro
Dermalogica is a professional-grade skincare brand that was founded in 1986 by Jane Wurwand, a skin therapist. In addition to catering to consumers, Dermalogica also serves skin therapists through its Dermalogica Pro site. The entire eCommerce section is gated with a login page, but there is a lot to be learned from how Dermalogica Pro approaches its B2B website.

The Dermalogica Pro site is designed to be an ultimate educational hub for skin care professionals. It leads them toward the most relevant and valuable resource based on their needs. The site includes a learning hub login page, workshops, virtual events, product fact sheets, and comparison charts.
One of the biggest resources on the Dermalogica Pro site is their blog, an interactive interface where skin care professionals can explore retail and professional products, ingredients, treatment protocols, and skin concerns. All these resources make it easy to see why many skin therapists buy from Dermalogica again and again, even without viewing the eCommerce side of the site.
In addition, product pages link to Face Mapping PRO, a digital platform for professionals to start their client appointments and treatments from.
Beard & Blade
One of our top Shopify B2B examples is Beard & Blade, a company based in Australia that specializes in men's grooming products for shaving, beard and mustache care, hair styling, and skincare. Originally named Shaver Hut in 2007, the company has grown to become the largest Australian store in its niche.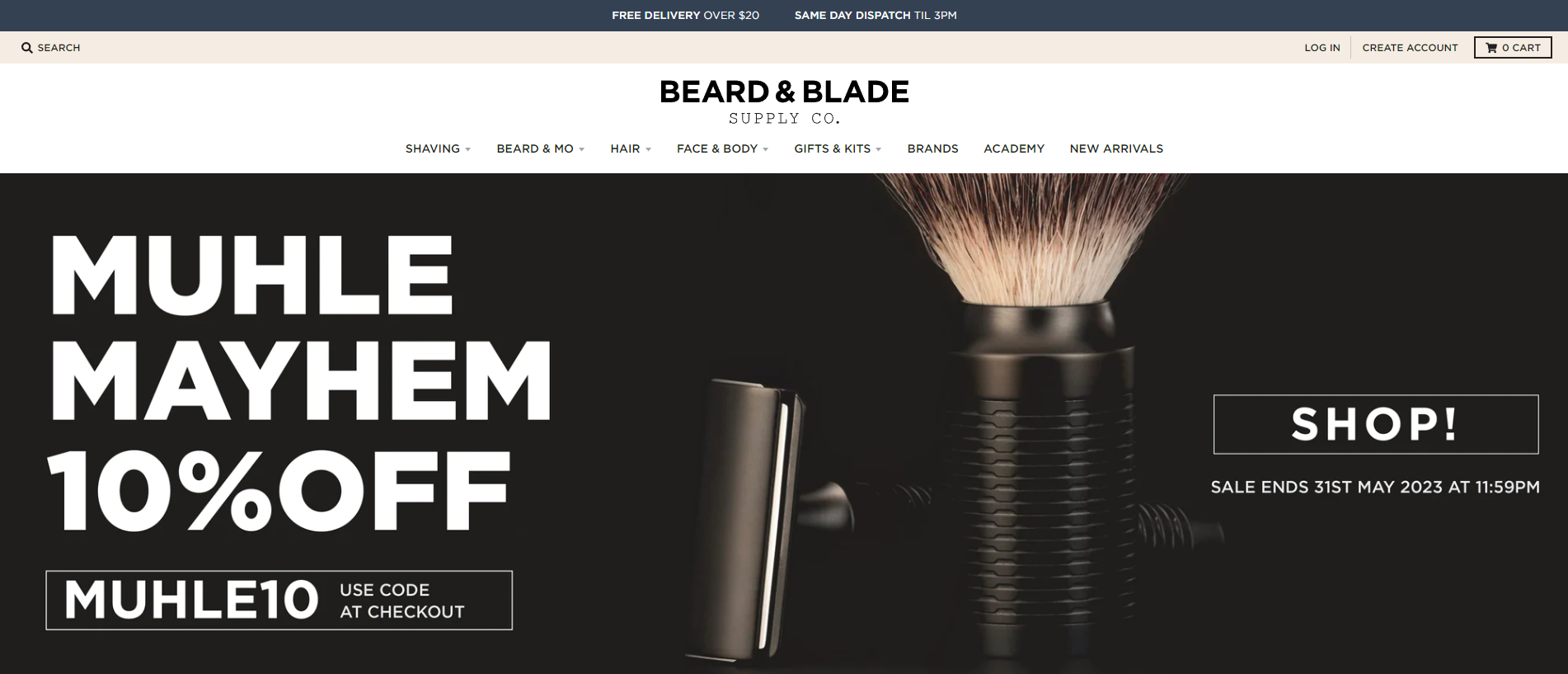 With their Shopify B2B website, Beard & Blade provides a seamless customer experience and is committed to continuously expanding its product range and improving customer support. They offer free delivery, personal live chat support, and free returns, which impress end-users.
Not only do their end-users benefit from their products and services, but their community of barbers, salons, and other retailers also benefit. This is due to their dedication to establishing strong supplier relationships.
With a wide range of products that cater to every grooming need, from beard oils to hair pomades, Beard & Blade is a one-stop shop for men's grooming. Their B2B store is an excellent example of how Shopify can be used to create a successful and customer-focused online store.
eFashion Paris
eFashion Paris is a B2B marketplace that offers thousands of styles from 600 Parisian brands to fashion professionals. The website sells clothing and accessories for men, women, and kids, and requires customers to log in to see prices, detailed collections, and wholesaler information.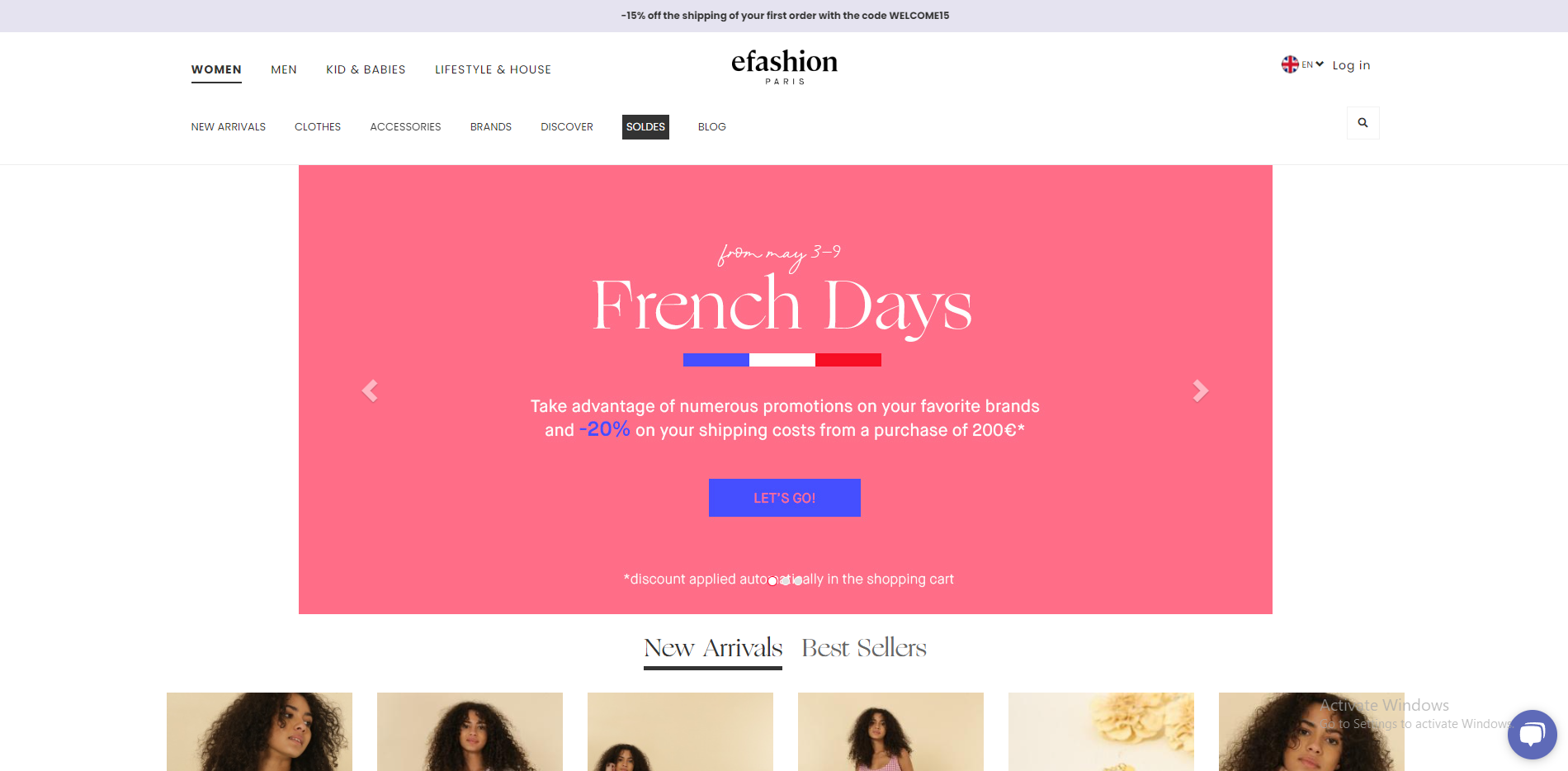 While potential customers cannot add items to their cart without logging in, they can still browse the extensive product catalog and use filtering options to narrow down their search by brand, color, material, characteristics, and style. Each product page outlines the quantities and sizes included in each pack and for each color, making it easy for buyers to plan their product range and inventory.
For customers who are not already logged in, clicking the checkout button prompts a pop-up with a video that shows how the ordering process works and offers the option to register as either a retailer or a vendor.
eFashion Paris provides a user-friendly experience for B2B customers by understanding their needs and making it easy to discover the right products for their business.
Great Lakes Biosystems
Great Lakes Biosystems is a company that offers eco-friendly water treatment products for both professionals and consumers. After the migration to Shopify Plus, Great Lakes Biosystems was able to provide a better user experience for its customers. The website's redesign showcased the company's eco-friendly water treatment products for both professionals and consumers in a more effective and visually pleasing way.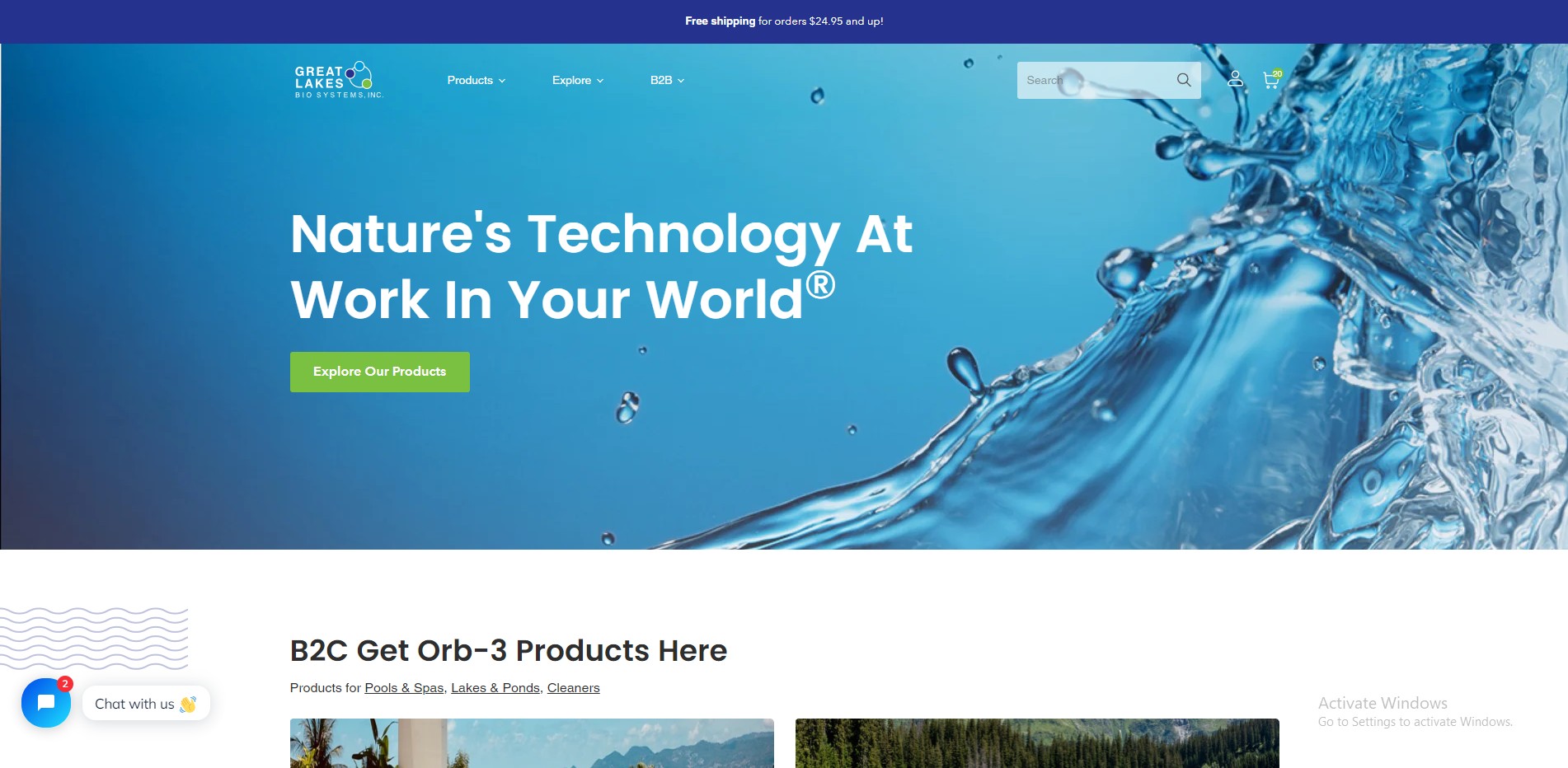 One of the key features added to the website was a blog (their Explore section on the menu), which helped to educate potential customers about the products and their applications. The blog provided a platform for the company to share industry insights, company news, and product updates, which helped to establish Great Lakes Biosystems as a thought leader in their industry.
Additionally, the new Shopify Plus platform allowed for easy integration with various third-party apps, which enabled the company to automate several business processes. This helped to streamline operations and improve efficiency, ultimately leading to better customer service and higher customer satisfaction.
Great Lakes Biosystems is a great example of a B2B company leveraging Shopify to showcase its eco-friendly products and educate its customers. The company was successful in establishing itself as an industry leader while also improving its operations and customer experience.
Grainger
Grainger is an American company that specializes in providing industrial supplies and equipment and is listed in the Fortune 500. With over 1.6 million products, they offer a diverse range of industrial facilities management solutions through their online platform. Grainger has made billions of dollars in eCommerce sales, thanks in part to their well-optimized search feature, which is particularly beneficial for B2B buyers.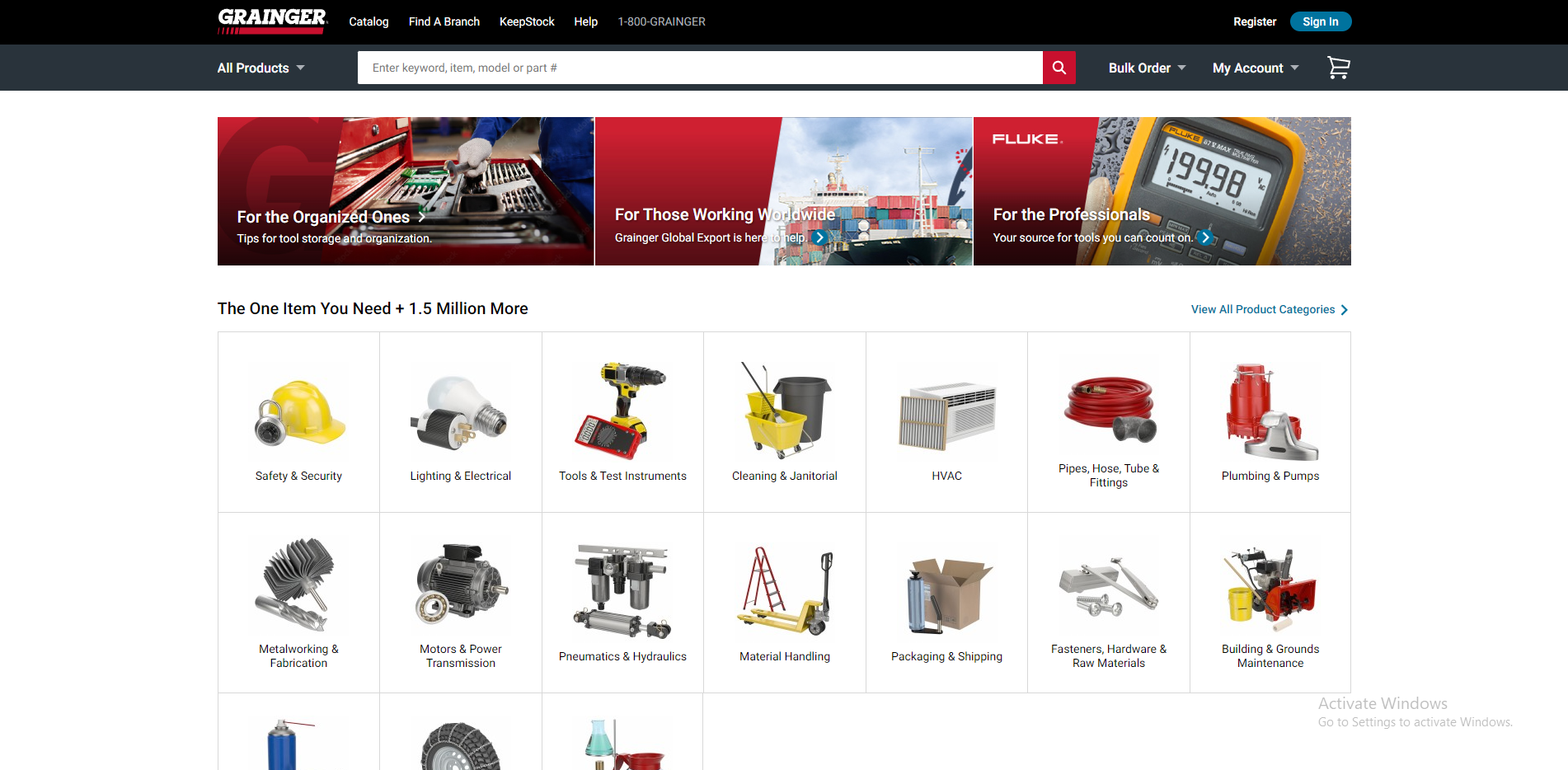 The search box on Grainger's website is optimized for ease of use and helps customers find the products they need quickly and efficiently. The search box includes an autofill feature that suggests products and corrects misspellings, making the search process smoother. Additionally, the filter menu on the left-hand side of the screen allows users to refine their search results by product specifications, such as watts, lighting technology, and the appearance of the light.
When users select a specific product, Grainger allows them to compare it with other products, making it easier to make informed purchasing decisions. The website is also optimized for mobile devices, making it accessible to customers on the go. With these features, Grainger has proven to be one of the most successful B2B Shopify examples, offering a seamless shopping experience for their customers.
Beauty Solutions
Beauty Solutions is a B2B company that provides beauty professionals with products, tools, and education to run a successful business. Operating in seven states in the US, Beauty Solutions allows beauty professionals to easily research products by brand or type, such as hair colors, extensions, makeup, or tools.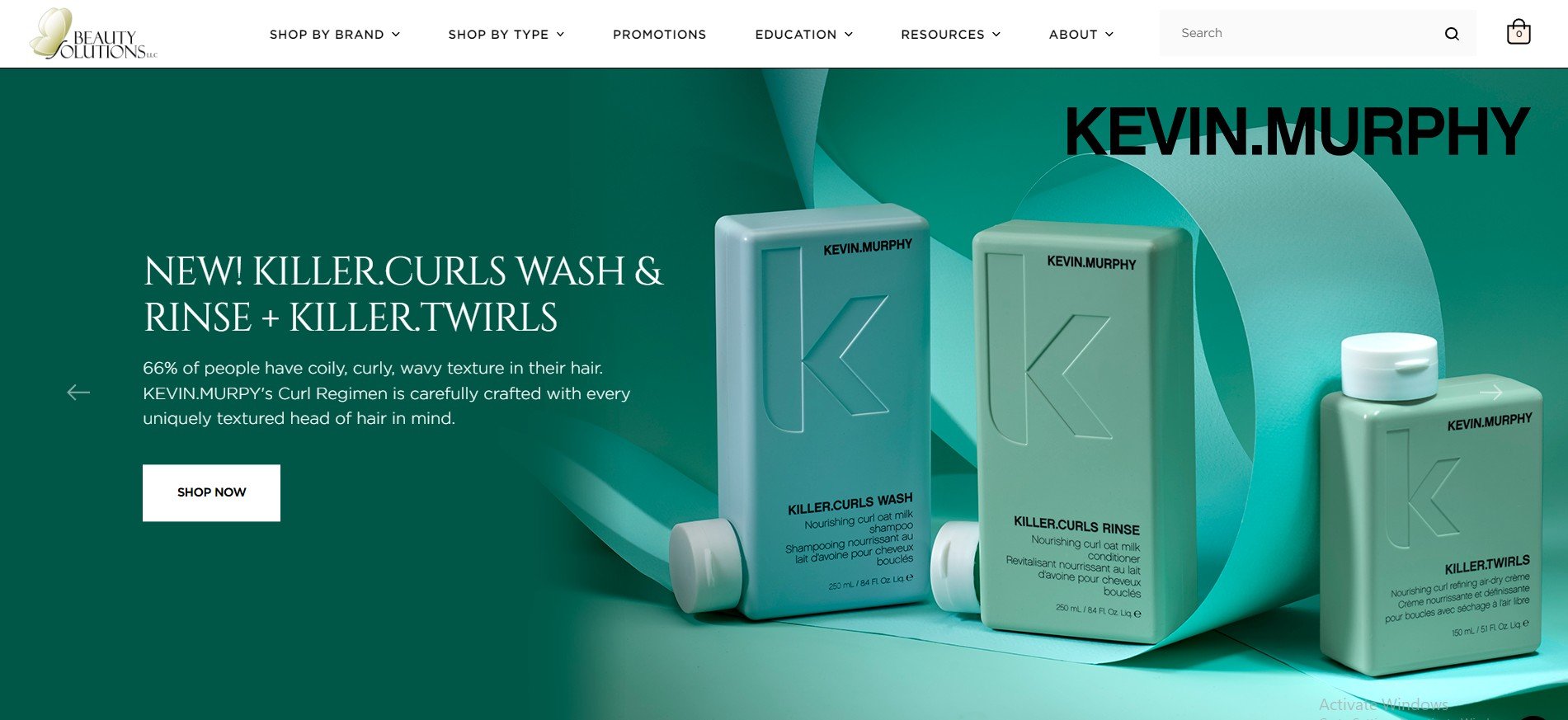 Customers can filter products by customer ratings, stock availability, size, and product line. Product pages provide information on product availability and sizes in stock, allowing beauty professionals to plan their purchasing according to their needs. They can also find and book training sessions, product demonstrations, launches, and happy hours through the website.
To see prices and place an order, visitors need to have a cosmetology license and request login credentials from Beauty Solutions. Having an account allows customers to save items to a wish list, track orders, view previous orders, and use multiple shipping addresses.
Beauty Solutions also offers a library of comprehensive education videos available to every visitor. This feature helps customers stay informed about the products and best practices in the industry. Overall, Beauty Solutions' website is an excellent example of how to provide a comprehensive and educational experience to B2B customers.
Best Practices for B2B Shopify Stores
Experience Personalization
Personalization is an important aspect of B2B Shopify stores. By providing a personalized experience, you can show your customers that you understand their needs and preferences, and can tailor your offerings accordingly.
One way to personalize the experience is by offering personalized product recommendations based on the customer's browsing and purchase history. You can also use data analytics to provide targeted marketing campaigns to customers based on their preferences and behavior.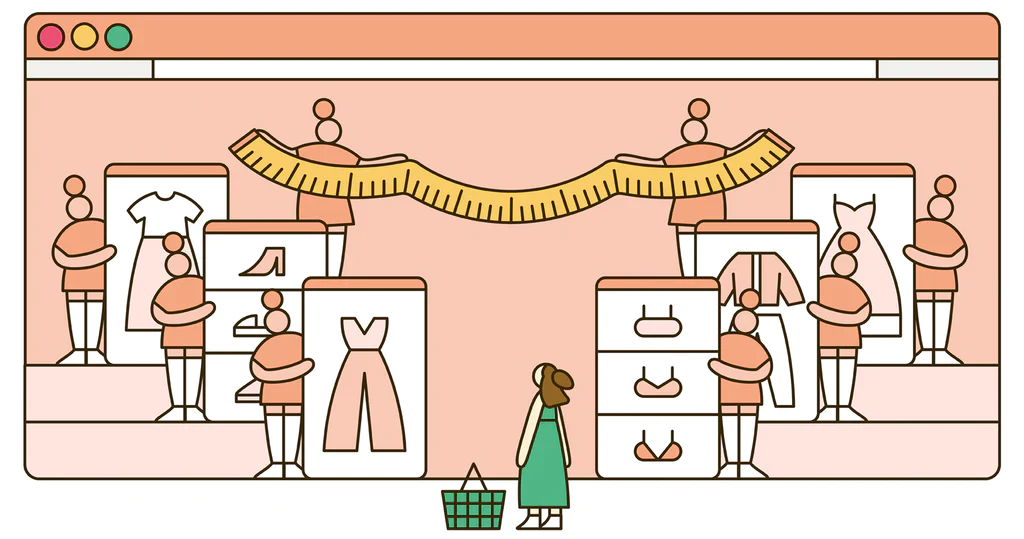 Another way to personalize the experience is by allowing customers to create customized orders with specific quantities, delivery dates, and other specifications. This can be done through features such as bulk ordering or custom pricing.
Additionally, you can personalize the experience through customer support by offering dedicated account managers or personalized customer service that caters to the specific needs of each customer.
Integration with Other Systems
Integration with other systems is an important best practice for B2B Shopify stores. This involves connecting your Shopify store with your existing systems, such as your CRM (Customer Relationship Management) and inventory management systems.
By integrating these systems, you can streamline operations and improve efficiency. For example, when a customer places an order on your Shopify store, the information can automatically flow into your inventory management system, updating inventory levels and triggering a restocking order if necessary. This can help ensure that you always have the right products in stock and reduce the risk of overselling or stockouts.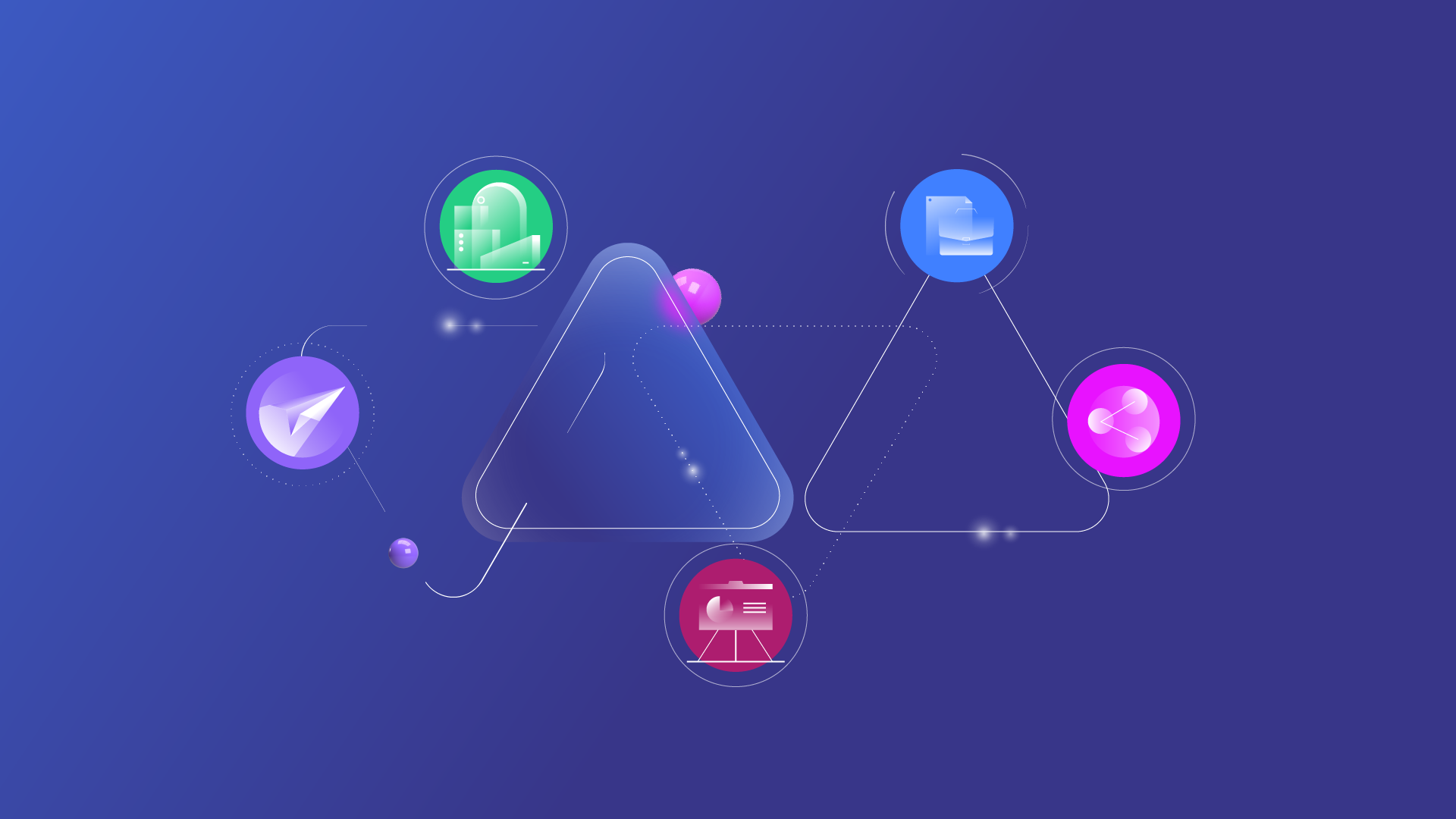 Integration can also help provide customers with accurate and up-to-date information, such as order status and tracking information. This can help improve the customer experience and reduce the number of inquiries and support requests your team needs to handle.
Shopify offers a range of integrations with popular CRM and inventory management systems, such as Salesforce, Hubspot, and QuickBooks. If you have custom systems, you may need to work with a developer to create a custom integration.
A Transparent Pricing System
In B2B eCommerce, pricing can be more complex than in B2C eCommerce, as B2B stores often offer incremental discounts based on the number of units purchased or negotiate prices with big customers. To avoid confusion and disorganization in pricing, it's crucial to have a clear pricing rules system in place that accounts for these different discounts.
A transparent pricing system should be able to handle different pricing tiers, custom pricing for specific customers, and any special pricing rules or agreements. Additionally, the pricing system should be integrated with inventory and order management systems to ensure accurate and up-to-date pricing information for customers. With a reliable pricing system, B2B eCommerce stores can effectively manage pricing and increase customer satisfaction.
Bulk, Schedule, and Subscription Orders
Purchasing large quantities of items is more common for business buyers than for consumers. In fact, 15% of company decision-makers say they would place an order worth $1 million or more online, so it's crucial to treat your eCommerce site as a one-stop shop for both big and small purchases. Therefore, allowing your customers to place bulk, schedule, and subscription orders through your online store could lead to huge orders.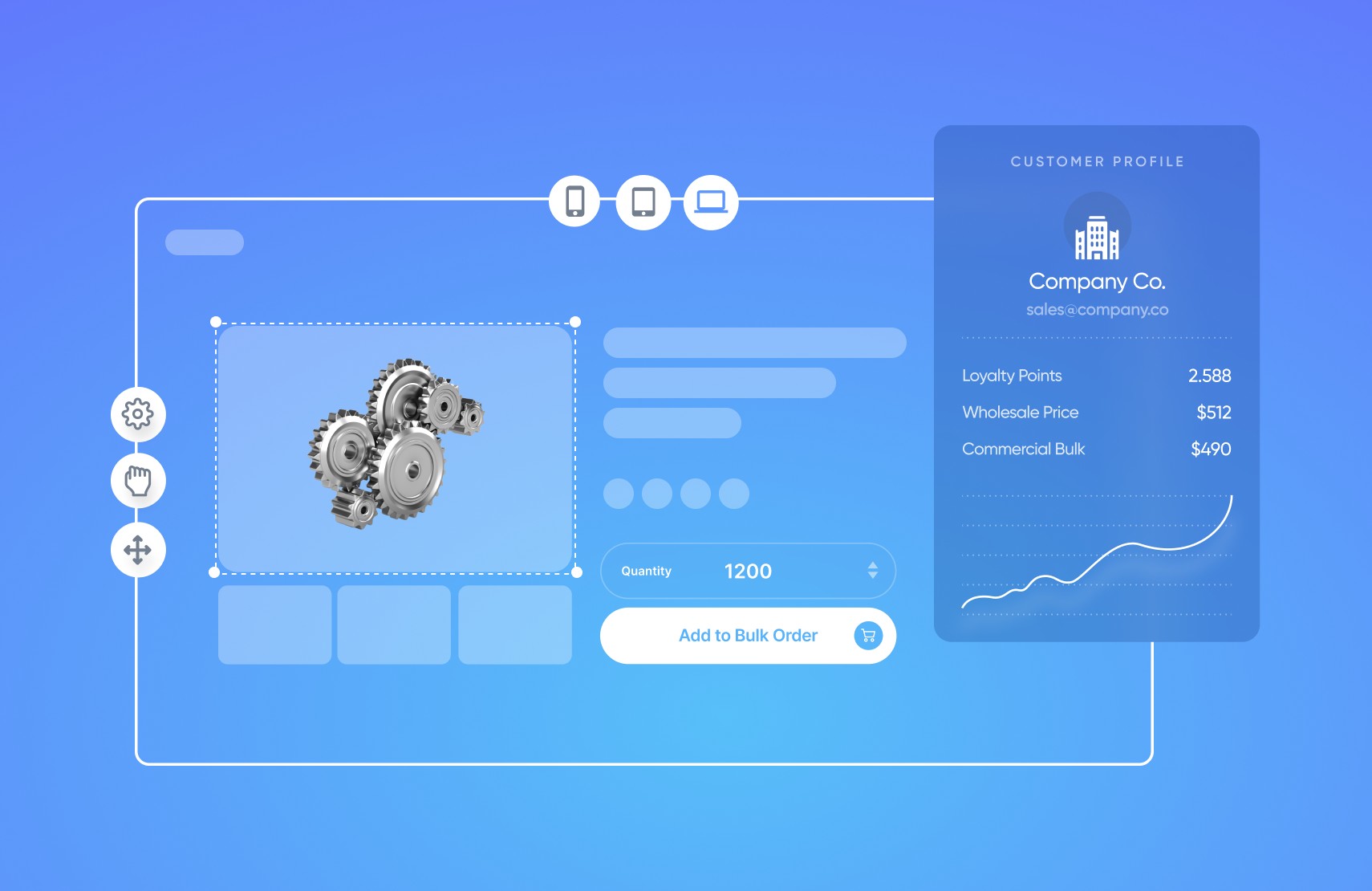 Bulk ordering allows customers to purchase a large number of products at once, typically with discounted pricing based on the volume purchased. This can be especially beneficial for customers who regularly purchase large quantities of a specific product.
Schedule ordering allows customers to set up recurring orders, which can be especially useful for businesses that need to regularly restock certain products. This feature ensures that customers never run out of inventory, and helps streamline the ordering process.
Subscription ordering allows customers to receive a recurring shipment of a product on a regular schedule. This is particularly helpful for businesses that require a steady supply of a particular product, such as office supplies or industrial chemicals.
By offering these features in your B2B Shopify store, you can provide a more convenient and efficient ordering process for your customers, and increase the likelihood of repeat business. It also helps to build a strong relationship with customers, who appreciate the ability to easily purchase the products they need on a regular basis.
B2B Order Self-service
B2B buyers are increasingly comfortable managing their orders, even large and complex ones, through an eCommerce site. This is why creating a self-service B2B eCommerce site is a great option for those customers who want to control their accounts and orders independently, without requiring assistance from your team.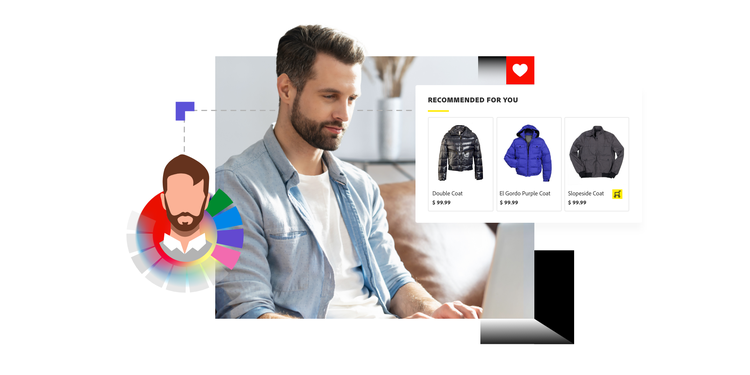 Modern software can allow you to offer self-service options, which can cater to independent-minded customers. Combining the option to interact with a salesperson with self-service options can provide the best of both worlds, creating a hybrid sales model. According to McKinsey research, B2B purchases in 2021 were split almost equally between self-service, remote human interactions, and in-person sales, demonstrating the value of offering self-service in addition to traditional sales methods.
A Reliable Shipping System
Having a reliable shipping system is crucial for all eCommerce businesses, especially for B2B companies. It's important to ensure that orders are delivered on time and without any missing items, as this is essential for maintaining customer satisfaction.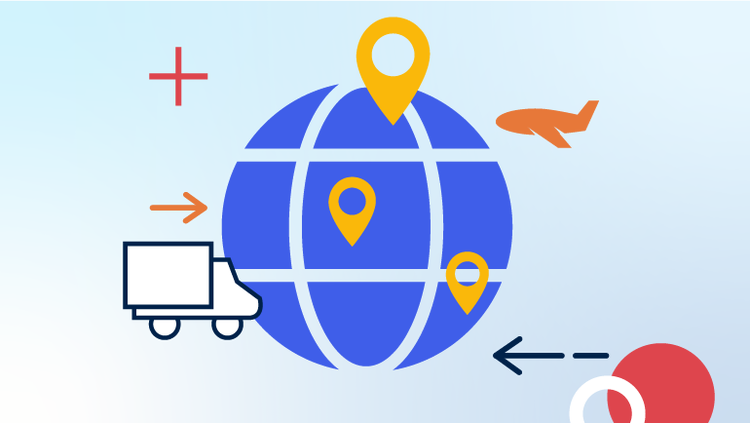 However, shipping B2B goods can be more complex than shipping B2C goods due to the more intricate supply chains involved. While courier businesses like FedEx and UPS can simplify B2C shipping, B2B eCommerce companies must pay close attention to their shipping processes to ensure they are robust.
Fortunately, managing shipping through Shopify is a viable option for most B2B eCommerce businesses. The platform has a powerful system that can handle a wide range of shipping options. Additionally, there are numerous apps available to further customize your shipping strategy if necessary.
Pricing and Features for Shopify B2B
Shopify offers various pricing plans for B2B eCommerce stores, depending on the size and needs of your business. The plans range from basic to advanced, with increasing features and benefits as the price goes up. However, if you're on a tight budget, it may be worth considering some of the newer B2B eCommerce platforms, as Shopify's pricing is slightly higher in comparison. Below are some most suitable Shopify pricing packages for B2B companies to build their own stores.
Basic Shopify
While the Basic Shopify plan can work effectively for some B2C eCommerce businesses, it may not be suitable for B2B eCommerce companies even if the owners have tight budgets or small products number. The Basic plan has limited features and functionality compared to the more advanced plans, such as the Advanced Shopify plan or even Shopify Plus plan, which is designed for high-volume businesses.
Obviously, The Basic Shopify plan has limitations such as a maximum of 2 staff accounts, limited access to discount codes and gift cards, and no support for custom reports or third-party calculated shipping rates. For B2B eCommerce, businesses may require more advanced features such as custom pricing, tiered pricing, bulk ordering, account-based purchasing, and integration with ERP or CRM systems. These features can be found in higher-tier Shopify plans or through the use of third-party apps and plugins.
Shopify
The Shopify plan is $79 per month and provides more features than the Basic plan, such as lower credit card fees at 0.3%, advanced report-building tools, and professional reports. This plan is recommended for businesses with higher sales volumes, as it offers more advanced features to analyze and manage your online store's performance.
Gift cards are also included in this plan, and the credit card limit is slightly lower than the Basic plan. This package is ideal for very small businesses looking to scale up quickly and generate a revenue of just over $5,000 per month. Before upgrading to this plan, it is advisable to review your Google Analytics to assess your online store's performance and ensure that the Shopify plan's additional features are worth the investment.
Advanced Shopify
The Advanced Shopify plan is the most expensive option but offers lower credit card fees and the best shipping rates in the US. This plan is necessary if you need real-time carrier shipping, which automatically calculates delivery costs through a third party. It also includes a robust report builder for creating custom reports.
We recommend the Advanced Shopify pricing plan for small to medium-sized businesses generating more than $10,000 in monthly revenue. It also allows users to enhance their Shopify B2B webshops with essential functionalities by installing applications.
There are many Shopify B2B app providers available to choose from, making it easy to empower your B2B store and add additional features.
Shopify Plus
Shopify Plus is a high-end pricing plan and the most ideal solution tailored for enterprise-level B2B eCommerce businesses with complex needs. This plan is customizable and offers unique features such as custom checkouts, APIs for integrating with other systems, dedicated account management, and 24/7 priority support.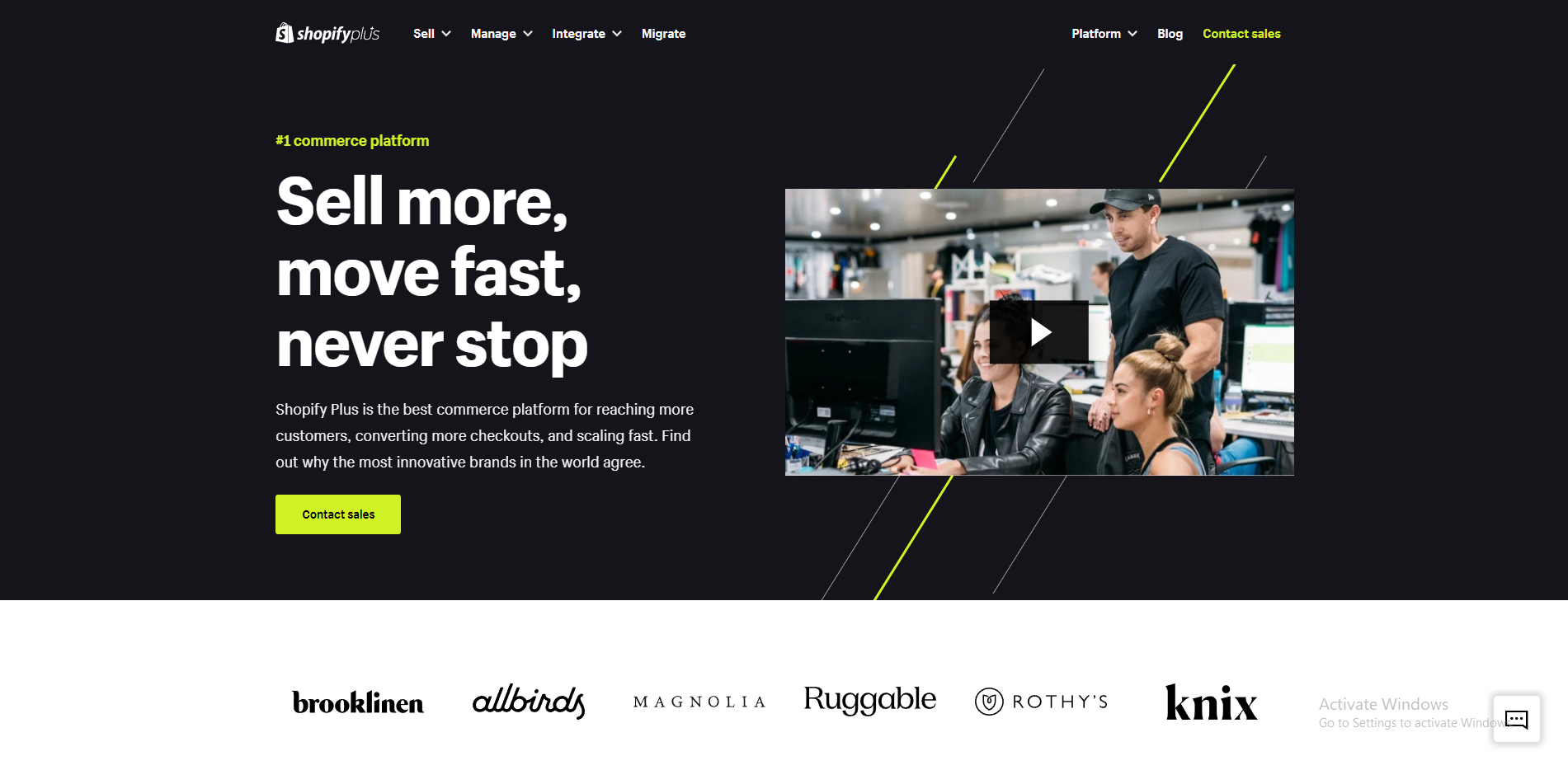 The pricing for Shopify Plus is not publicly disclosed and varies depending on the specific needs of each business. However, the plan is typically priced at a monthly fee starting at $2,000, with additional fees for services such as customization, support, and development.
Shopify Plus is recommended for large B2B eCommerce businesses with high sales volume and a need for advanced features and customization. The plan also supports multi-channel selling and global expansion, making it an ideal choice for businesses with a strong international presence.
In conclusion,
The above successful Shopify B2B examples demonstrate the importance of prioritizing customer needs and personalization, integrating with existing systems, offering self-service options, and implementing a reliable shipping system. By following these best practices, B2B eCommerce businesses can improve customer satisfaction and increase revenue.
As B2B eCommerce continues to evolve and trends shift, it's crucial for businesses to stay up-to-date and adapt accordingly to meet the demands of corporate customers. However, developing a comprehensive B2B eCommerce website on the Shopify platform may be a daunting task without the help of experts. At Magenest, we have a plethora of Shopify developers and specialists with years of experience providing Shopify website development services, who can give you the best consultancy and immediate support to create a great site, boost your brand to a higher level, and gain more trust from your customers and partners.