Printing on demand is a great way to get your business off the ground without large investments in inventory. Shopify offers a number of print on demand services, making it easy to get your products printed and shipped directly to your customers.
There are a number of print on demand shops that are doing an excellent job with their store designs and product selection. Here are some of the best print on demand Shopify store examples.
10 Best print on demand Shopify store examples
StomaStoma
Abrams, a freelance designer who loves graphics, started StomaStoma with his wife. StomaStoma sells baby one-pieces and t-shirts with inspirational slogans and amusing images online.
Though each design has a distinctive touch that people don't instantly identify or relate to, it's not a typical clothing store since they are universal pieces that anybody may wear.
The two created their business utilizing a Shopify website template and free resources. And their main channel for interacting with customers is social media.
Printify
Printify is one of the best print on demand Shopify store examples to create and manage stores without prior experience. It offers online merchants a unique combination of great products and beautiful designs. Its cutting-edge technology will help you increase efficiency and decrease turnaround times.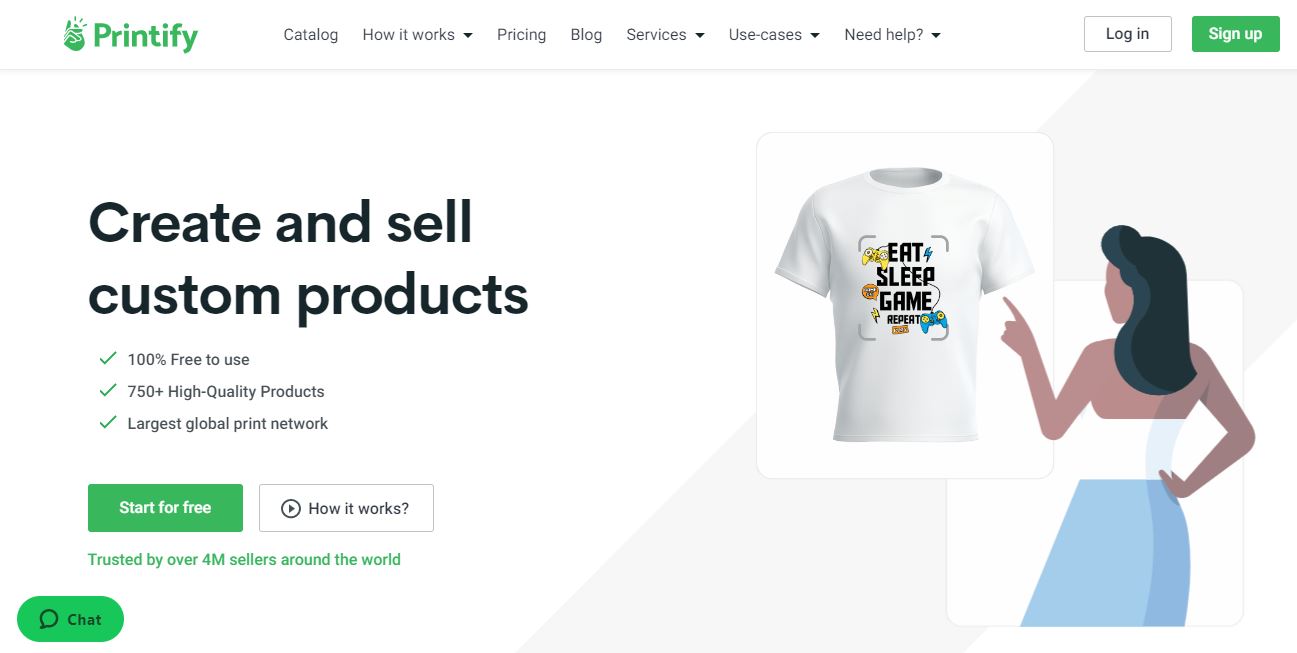 From apparel to accessories, Printify's product range is impressive with versatile customization options to make the perfect item for customers. Furthermore, thanks to its extensive pool of printers in over 20 countries, the fulfillment of orders is faster than ever.
Iconspeak
Georg and Florian, a married couple, started their POD Shopify company – Iconspeak in 2013 from a friend's garage in Switzerland.
When they noticed a significant increase in viral movement, they decided to focus on more business aspects rather than just making a good product and having fun.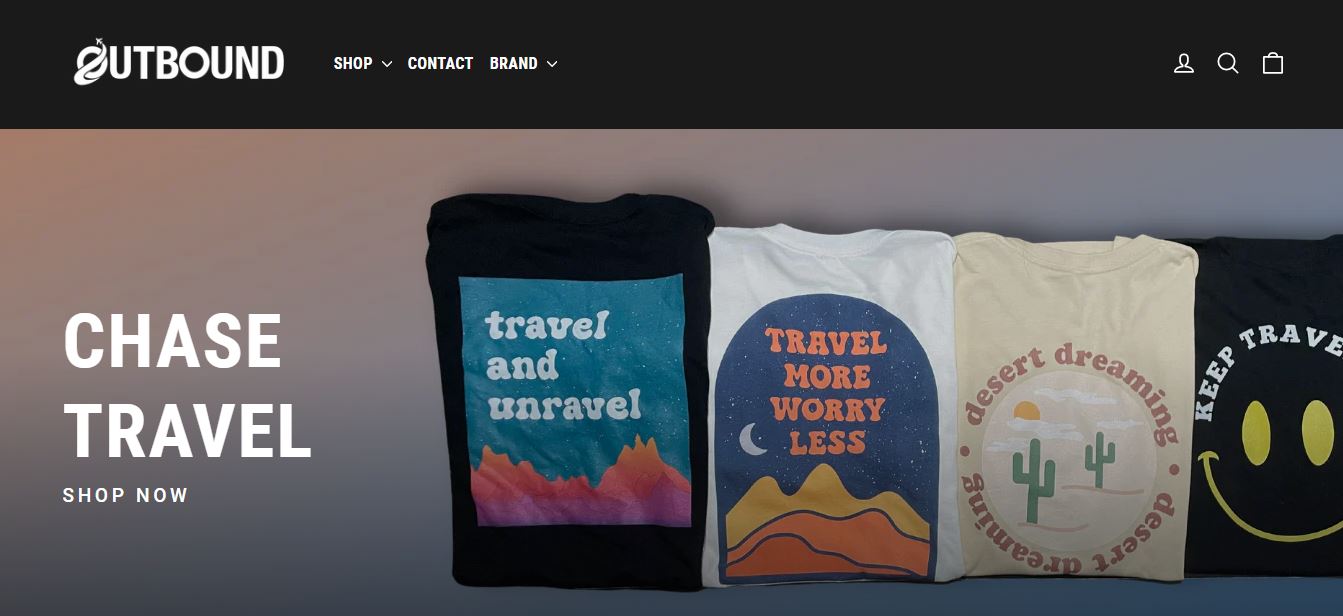 A media report sparked their enormous popularity and paid off for their dedication to the business. Then, they soon found themselves filling up to seven orders every minute.
Classic Dad
The Shopify company has established a devoted following on Facebook and Instagram. Classic Dad then expanded into one of the leading POD Shopify stores. Its start was from its humble beginnings as a fun social media page spreading dad jokes.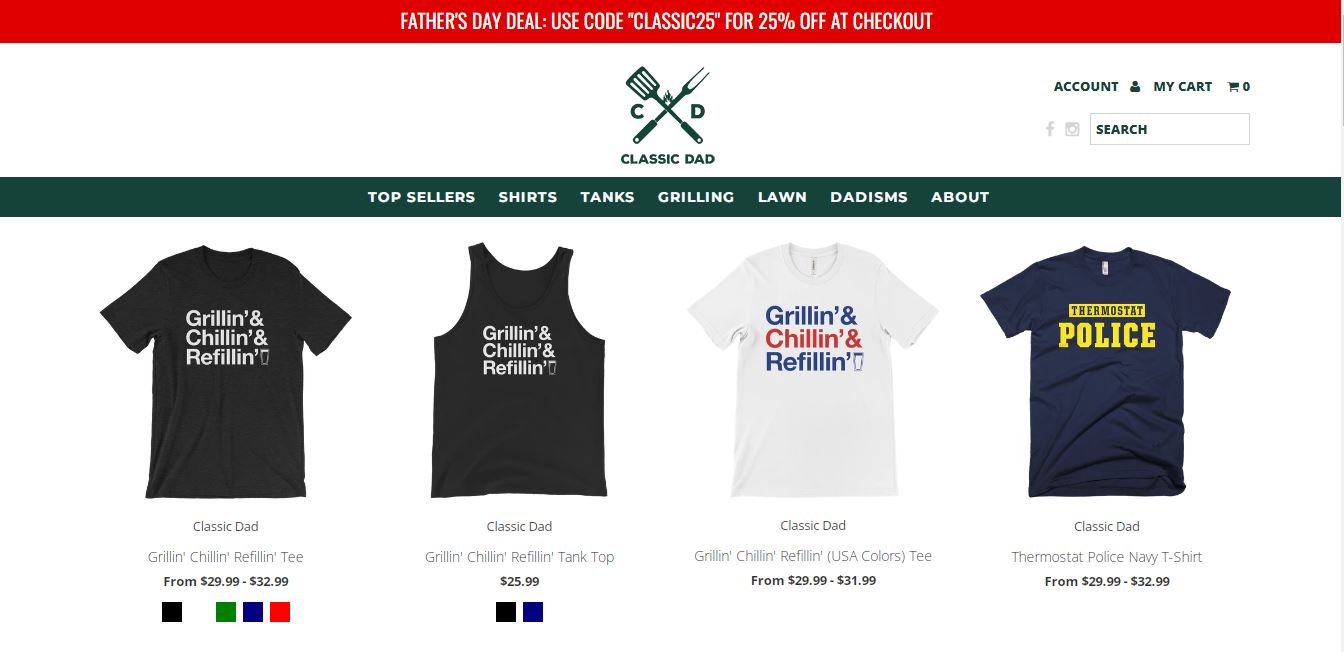 The team behind it started getting requests for products, so they started seeking merchandising partners.
The brand was successful because of the POD fulfillment service they put up using an app on Shopify, with the very first sale coming through a Shopify feature.
Hats, t-shirts, mugs, aprons, and clothes designed for new or experienced dads, who have diverse interests, sizes, and preferences, are just a few of the goods sold by Classic Dad.
iLikeMaps
Olivier Gratton-Gagne, who opened the Shopify business in 2012, is the owner of iLikeMaps. Gagne was drawing map posters and developing his website at the time. Therefore, he didn't really expect it to turn into a full-time profession.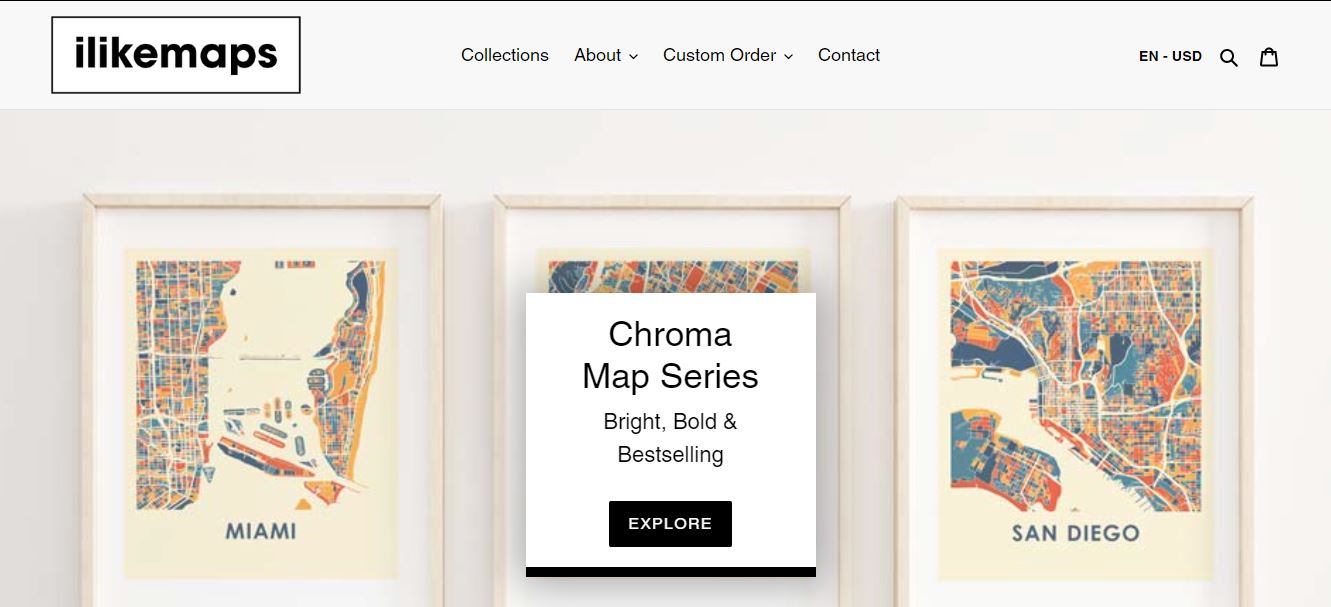 Despite running an Etsy store, Gagne decided to expand his pastime due to the expansion of his customer base. And he created new sales channels. He began working on a Shopify store.
The website and the supporting systems for the firm are both custom-coded and powered by Shopify. Additionally, he has a sizable merchant network that sells his goods in real shops.
Printful
Printful is one of the most popular print on demand Shopify store examples for good reason. They have an extensive catalog of products, and their shop design is clean and professional. They also offer great customer support, which is important when you're running a print on demand business.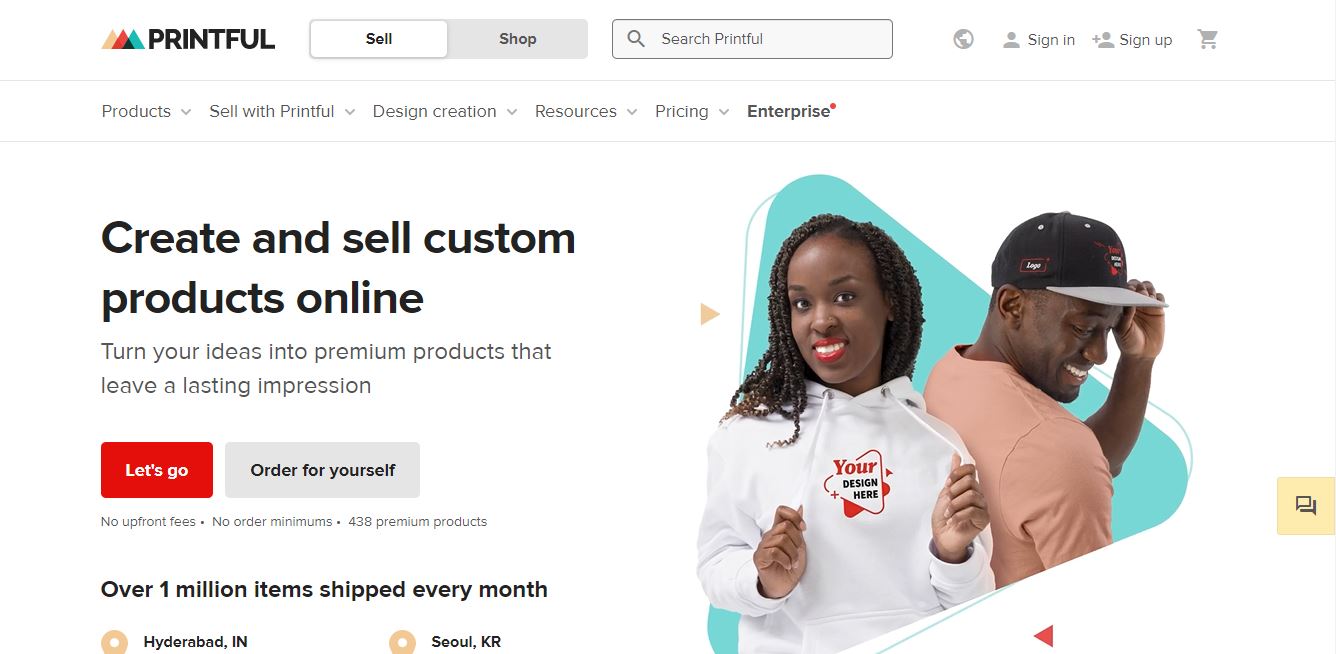 Because of its large range of premium goods and brands (such as Gildan, American Apparel, etc.), simple-to-use mockup generators, and possibilities for personalizing the unboxing experience, Printful is a well-liked alternative among print-on-demand websites.
Printful offers a variety of products in addition to clothes, including mugs, pillows, mattresses, framed posters, beach towels, aprons, and more.
Lulu Direct
Many of the tools you'd need are available on Lulu. It is a self-publishing platform for creating, printing, and dispersing your own books and ebooks. It belongs among the largest print-on-demand firms.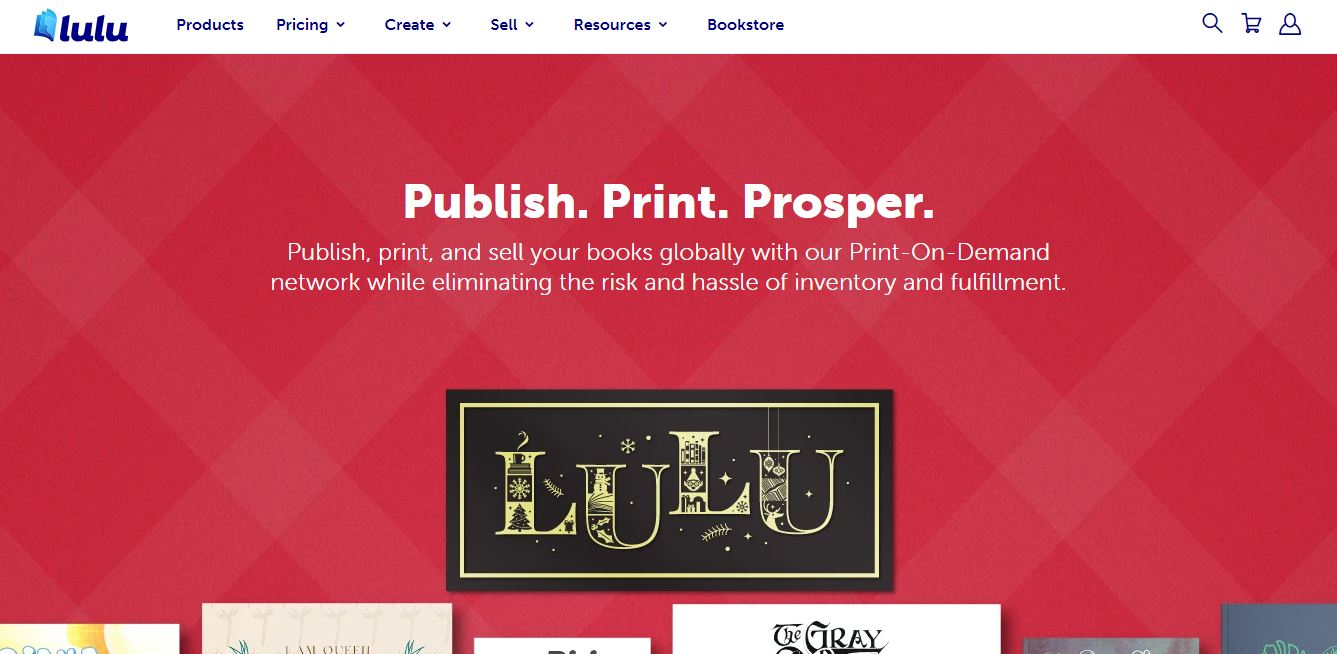 You may create your own book product with Lulu Direct, which offers print-on-demand services, by selecting from a variety of book sizes, binding options, and page/print quality possibilities.
Lulu Xpress offers free templates to get you started even if it doesn't come with an editor built in. To assist you to estimate the cost of your job, it even features a straightforward pricing calculator. That includes different delivery solutions.
Gooten
Similar to the other Shopify print on demand store examples, Gooten provides a large selection of customizable goods, including some that are exclusive to the company, including calendars and dog beds.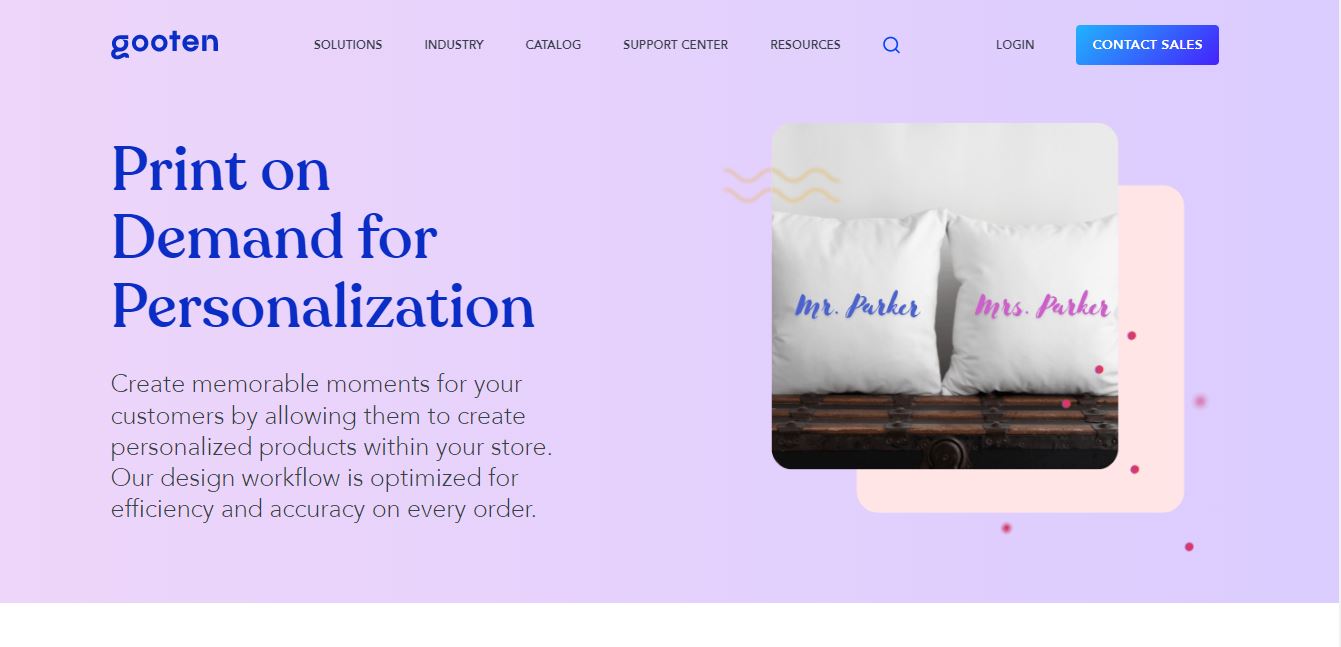 However, there is also a lot more variation among Gooten's products in terms of print quality and shipping because it employs an international network of vendors and drop shippers to print its products. However, it also implies that the cost of the goods and the shipment will probably go down.
Gooten offers an easy-to-use picture editor that helps you have a good idea of how your finished output will seem.
TeeSpring
TeeSpring is a popular print-on-demand platform that empowers creators and entrepreneurs to design, create, and sell custom products online without the need for upfront costs or inventory. The platform primarily focuses on custom apparel, but it also offers a variety of other products like accessories, home decor items, and more.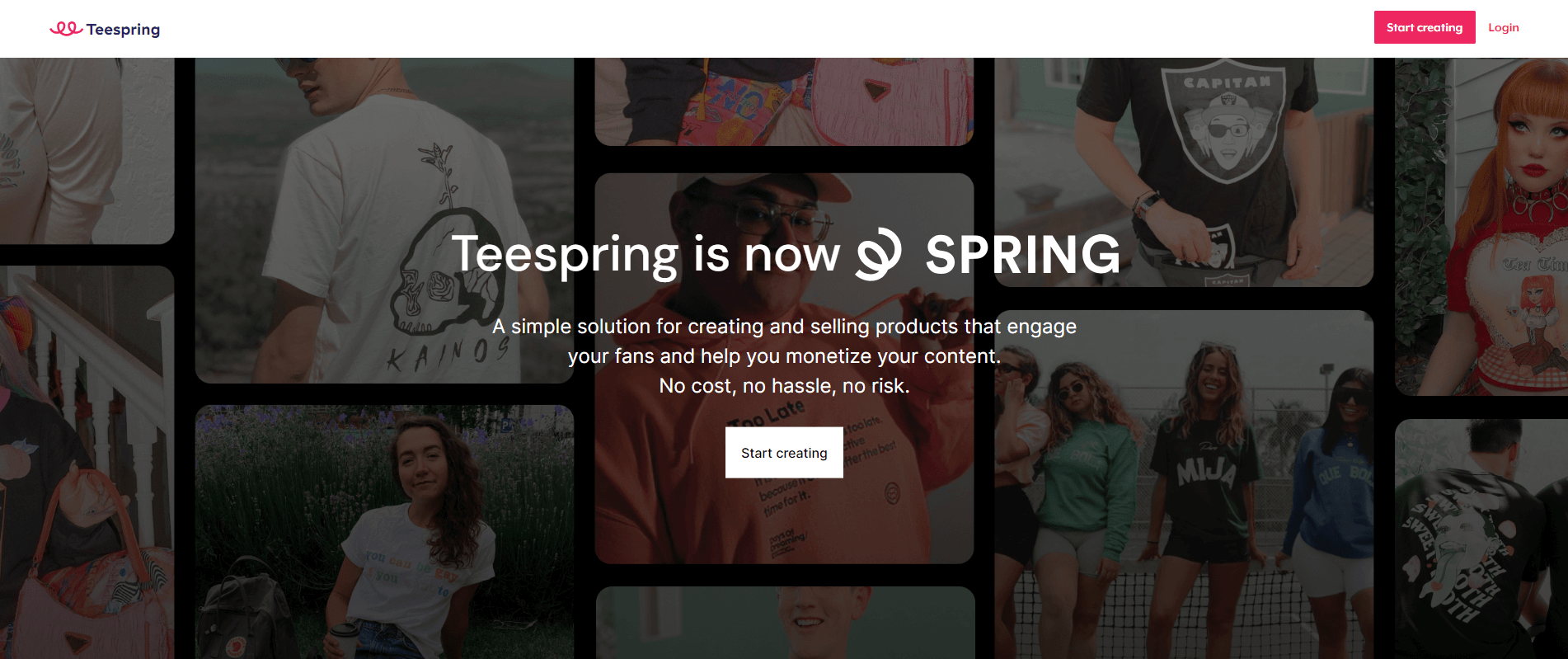 TeeSpring offers a straightforward way for individuals, artists, influencers, and entrepreneurs to turn their creative ideas into real products and generate income. The platform's user-friendly interface, extensive product options, and integration with social media make it a popular choice for those looking to start a print-on-demand business.
Redbubble
Redbubble is an online marketplace and print-on-demand platform that allows independent artists and creators to showcase their artwork and designs on a wide variety of products. The platform's name, "Redbubble," is a play on words that combines "redbubble" with "bubble," symbolizing the creative and imaginative space it provides for artists to share their work.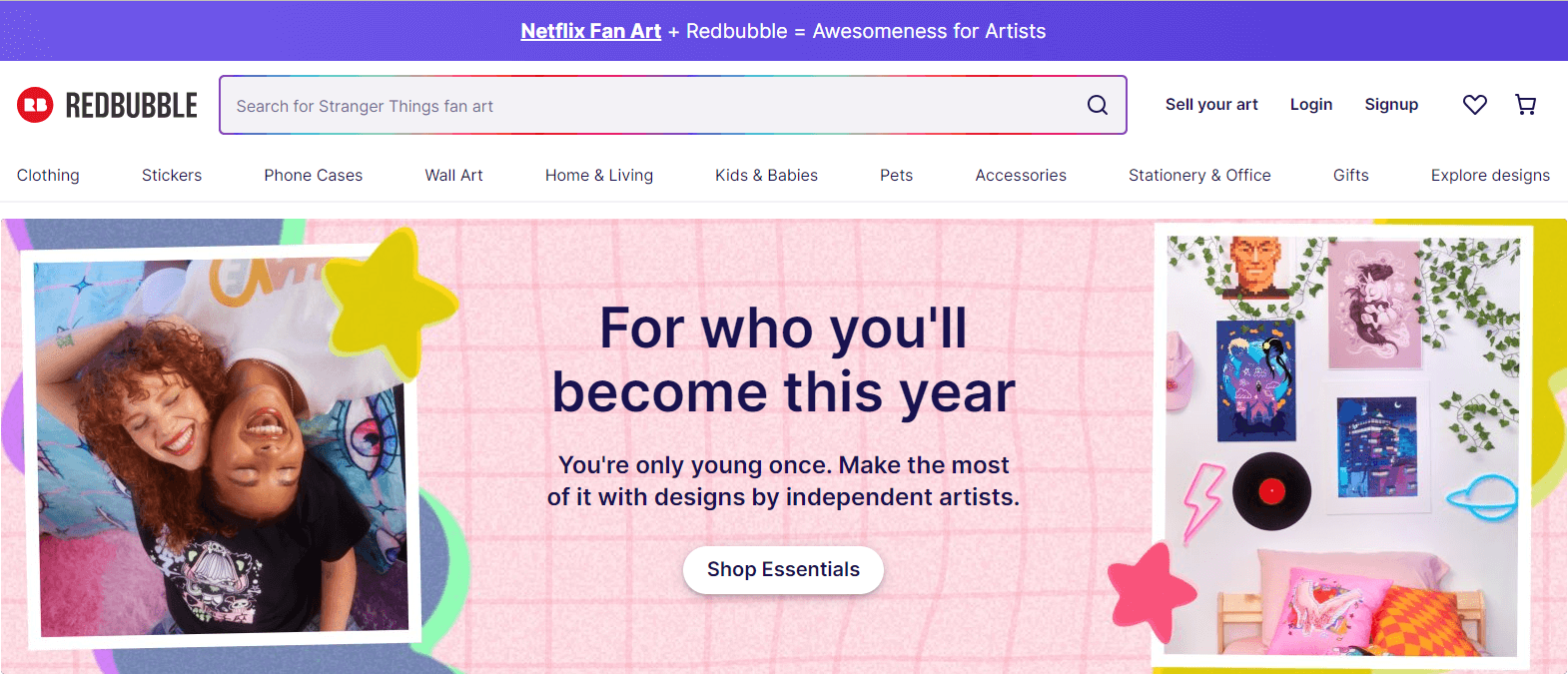 Redbubble's platform encourages self-expression, individuality, and creativity, making it a popular choice for both artists looking to showcase their work and consumers seeking unique and personalized products. It has gained a reputation for offering a wide variety of designs that cater to diverse tastes and interests.
How to start the top print on demand Shopify stores: some pointers
Although using a print-on-demand service may be simpler than keeping track of your own inventory, there are certain specific factors to keep in mind when using this method. Fortunately, there are innovative solutions available for most of the difficulties you'll encounter.
Here are some of the most useful advice to build the best print on demand Shopify stores:
Always request samples
When selling products online utilizing print-on-demand services, it is important to ensure the quality of the products.
The best method to make sure your physical product is what you expected it to be is to purchase it yourself so you can personally experience how it feels when it arrives. If a sample discount of up to 20% off or free delivery is offered by a provider, like Printful, be sure to take advantage of it.
Samples are useful to have on hand for taking your own product images for your website and social media profiles in addition to confirming product quality.
Make wise shipping decisions
Even if you don't ship the items directly, shipping still creates enormous difficulty in terms of shipping prices and timings, as well as how to manage consumer expectations. The top print-on-demand businesses will be open and honest about shipping and take action to alert customers of any potential delays.
When it comes to shipping, you should be sure that you are taking printing times into account. Whatever the delivery schedules are, remember to allow two to four days—or perhaps more, depending on the product—for manufacture.
Always be honest about shipment schedules; otherwise, you'll have a support mailbox overflowing with inquiries regarding shipping. To help clients understand shipping, include a description of what to expect on your FAQ page or think about building a distinct Shipping page.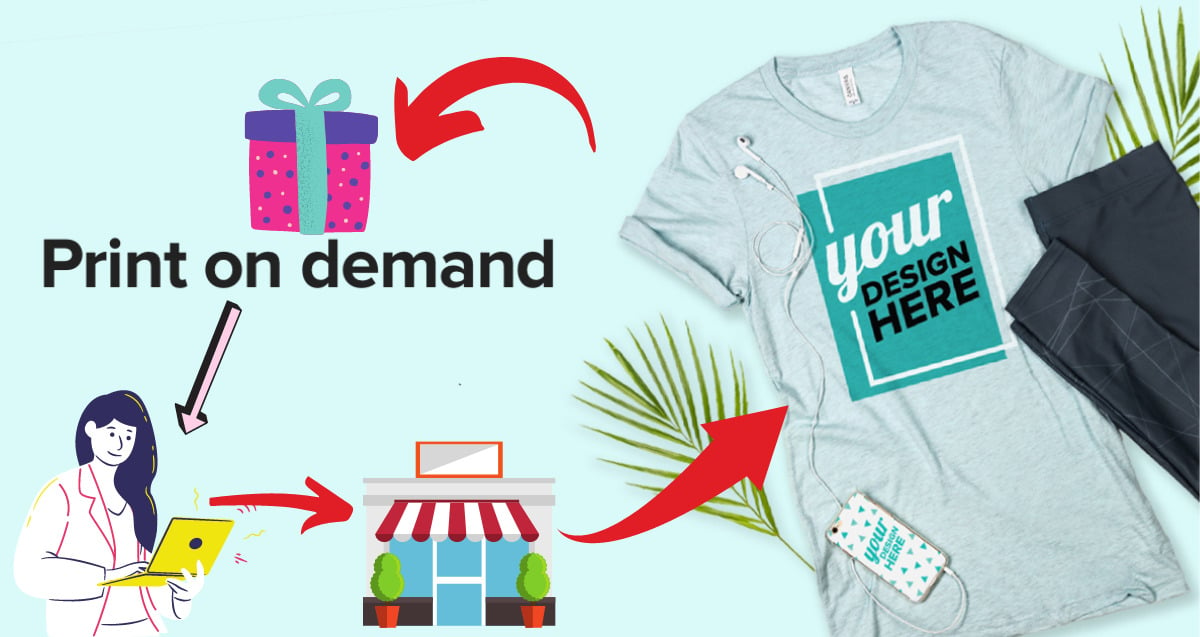 Make product mockups to showcase your offerings
Mockups work well as an alternative to actual items and will be clearly seen on your product pages. Models will help you take engaging images of your products.
Several print-on-demand businesses can assist you in making your own mockups that display your items as a flat lay or on a human. However, there are a lot of free mockup templates and other services that may potentially make your items come to life.
Since these mockups are what will actually persuade people to purchase your items, going the additional mile might actually pay off. You may also look for templates on Mockup World or Behance if you are comfortable with the mechanics of Photoshop or another photo-editing program.
Pick your niche and develop an audience
With print-on-demand items, your margins will be a little narrower, so you'll want to position your brand strategically. Your targeting will be considerably more exact if you have a properly defined audience, which might actually help you cut customer acquisition expenses and increase your potential revenues.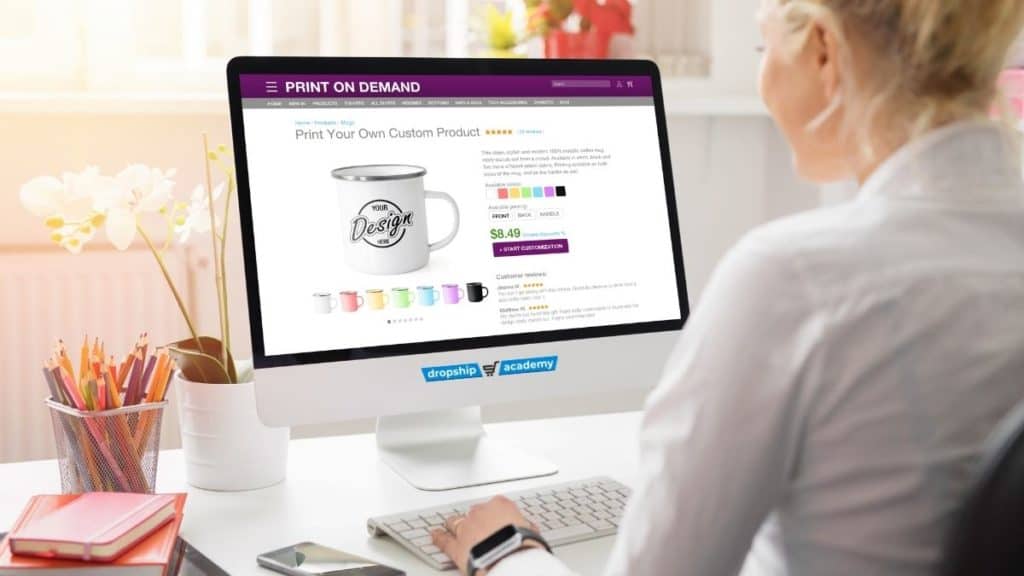 A niche makes it simpler to build an audience that can be used as a resource. You can start using the following marketing strategies right away:
Create or curate content for your target audience using your Instagram account.
Spend $10 initially on Facebook adverts to test your products with your intended market.
Gather visitor email addresses so you may continue to promote them for free.
Establish a website store on your own
On marketplaces, customers have selections and an easy way to find products. However, they don't offer a purchasing experience that you can manage. You now have a special chance to establish Shopify print on demand stores.
When you build a branded storefront on top of an eCommerce platform like Shopify, you have control over the experience. This involves how consumers interact with you and your business, as well as how they evaluate and use your store.
In order to manage everything from a single dashboard, it also offers connectors with leading POD providers. Not to mention the lesser costs you'll spend by running your own business.
Customers who aren't tied to stores like Etsy or Amazon could appreciate exploring your site and learning more about your business. It is simpler to remain in touch with customers and develop a connection that goes beyond the marketplace thanks to your email list, retargeting advertisements, and social media profiles. Additionally, having your own website may be quite beneficial in further reinforcing your brand.
If you find setting up a website a daunting task, you can consider choosing an agency like Magenest. Offering comprehensive Shopify store development services, Magenest brings a blend of technical expertise, creative design, and strategic insight to your project. Whether it's crafting a user-friendly interface, integrating advanced features, or optimizing your store for search engines, their team ensures that your online presence is powerful and effective.
In Conclusion
The successful print on demand Shopify store examples show that it is possible to make a profit in this industry. By following the advice in this article, you can improve your chances of success. Have you started your own print-on-demand store yet? What has been your experience so far?
Please don't hesitate to contact us if you are concerned about creating and running print-on-demand stores.