For entrepreneurs looking to make big waves in the eCommerce industry in 2023, there's no better place to start than by exploring the top Shopify Stores in USA. Shopify is a popular platform amongst businesses of all sizes due to its ease-of-use and rich feature set. With millions of merchants onboarding every year, it's one of the most attractive companies for store owners across industries.
In this blog post, we'll take a look at some of the top performing Shopify Stores in USA that you should keep an eye on come 2023, complete with advice on how you can learn from their success and position yourself for success against them. Let's dive right in!
How many Shopify Stores are there in the USA
Despite the year-long pandemic, Shopify Stores in USA have seen strong growth across multiple quarters and even more remarkable increases when compared to last year. The most recent quarter saw a 16.7% increase from Q3 2022 with an impressive 52% jump over 2020's figures for the same period – illustrating just how resilient US entrepreneurs are in our ever changing modern world. Since early 2023, our platform has seen rapid growth with an impressive 12,844 active Stores now utilizing the system.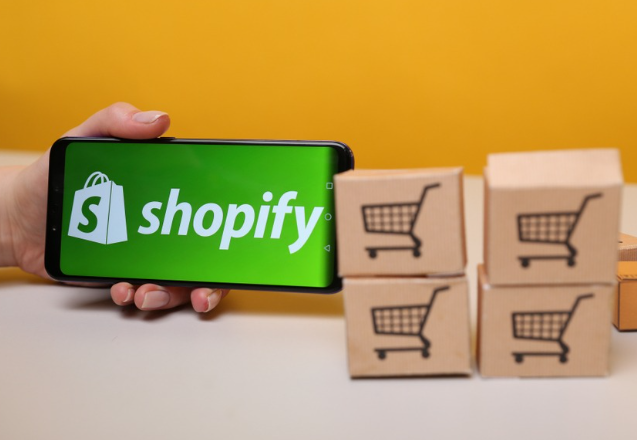 With an impressive catalog of Stores worldwide, identifying which country is a home to any eCommerce store may be intuitive; but pointing out the exact location in terms of state-level or city and street addresses require more effort. Here's what we know about Shopify stores located within the United States – California dominates with 147,317 registered shops on its soil followed closely by Florida (82,222) and Texas (74,283). All these facts are part of Store Leads' exhaustive list detailing U.S.-based Shopify Stores locations.
Shopify Stores USA are plentiful, with an impressive 130,773 having an unknown location. Los Angeles and New York lead the way as two of America's most bustling cities for online retail entrepreneurs, logging 28,602 and 17,892 respectively according to Store Leads statistics covering a top 15 list.
Top Business Niches for Shopify Stores in USA
The American economy relies on the powerhouse of Shopify Stores, with Apparel products leading 33% in industry verticals across the United States. Home & Garden and Beauty & Fitness follow closely behind at 12.1% and 11.3%, respectively – showing how diverse our nation's eCommerce landscape is.
The following are top 5 Business Niches for Shopify Stores in USA:
| | |
| --- | --- |
| Business Niches | Shopify Stores (est) |
| Apparel | 318,800+ |
| Home & Garden | 116,800+ |
| Beauty & Fitness | 108,900+ |
| Food & Drink | 55,800+ |
| People & Society | 38,500+ |
10 Best Shopify Stores in USA to Look out for in 2023
The following are the 10 best Shopify Stores in USA: Death Wish Coffee, Huel, Triangl, United by Blue, Ketnipz, Wolf Circus, Made in Cookware, Lunchskins, Kim Kardashian West Beauty (KKW), and Beauty Bakerie.
Death Wish Coffee
Death Wish Coffee has officially joined the ranks of prestigious Shopify Stores in USA, offering customers a unique opportunity to savor its renowned dark roast blend.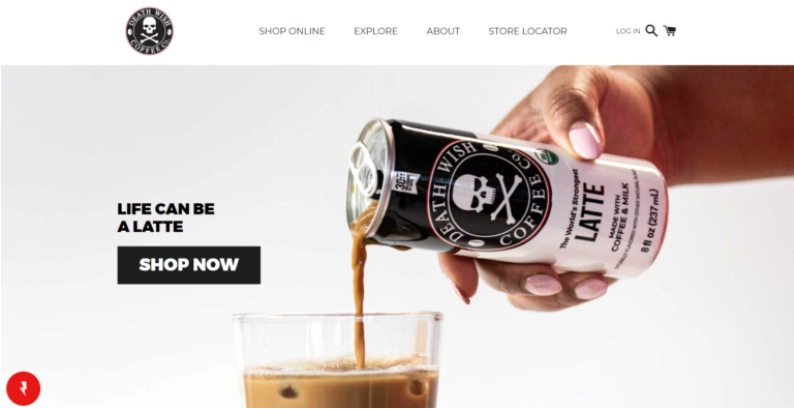 With a sense of boldness and daring, Death Wish Coffee's website stands out from the rest with its promise to be the world's strongest coffee. Those brave enough to try are enticed by a warning that this product is highly addictive – it almost poses an unspoken challenge.
The site continues this attitude in all aspects – their blog titled 3 Reasons Why You Hate Your Coffee, offers no-nonsense advice; while customers can sign up for newsletters under Never Miss A Mug. This exceedingly rebellious spirit makes the brand hard to ignore. Additionally, they provide an alternative solution when confronting those everyday problems we didn't know existed – like having bad tasting coffee.
Death Wish Coffee offers a no-nonsense shopping experience, making it simple and straightforward to navigate between coffee varieties, merchandise items, or subscriptions. Their homepage bolsters the customer experience with not only their most up-to-date offerings but also highlights the original product that started it all – Death Wish Coffee! Every purchase is backed by their 100% No BS Guarantee along with over 1,000 positive reviews from satisfied customers whose cravings have been sated.
Huel
Huel is on the list of Shopify Stores in the USA, providing quality food and an unparalleled customer experience.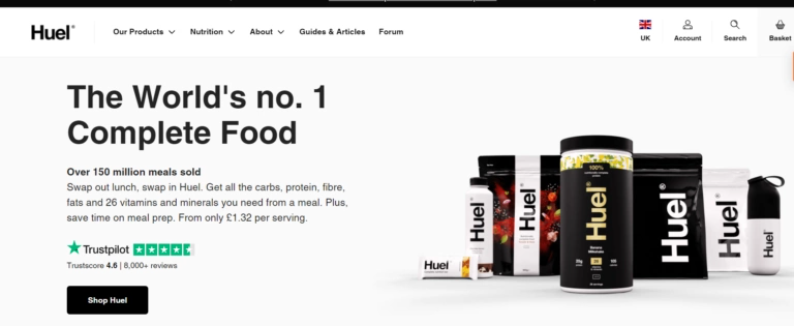 Julian Hearn revolutionized the diet and fitness industries with Huel (Human + Fuel) in 2015. By providing nutritionally complete, convenient food at an affordable price while having a minimal environmental impact – Julian truly made a mark. Death Wish Coffee takes less aggressive marketing approaches but is equally well-known within these communities; however, it was Huel who paved the way first.
Upon entering Huel's website, visitors will immediately know they are dealing with a top-notch product. Clear and concise messaging speaks to their target audience while highlighting the 150+ million meals sold worldwide. Fitness goals can be further supported through additional content that reinforces how customers benefit from this solution backed by an impressive Trustpilot score of 4.6 | 8,000+. Building trust in the brand is critical for success and stands out on its homepage as proof of quality service delivery.
Triangl
Triangl is a fashion-forward retailer, renowned for its stylish Apparel and is now included on the esteemed list of USA Shopify Stores.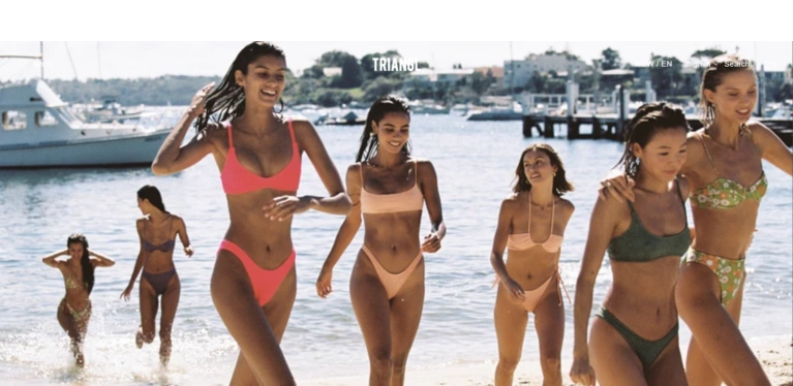 Triangl is a successful Shopify Store, climbing the rankings with its uncluttered web design that puts products front and center. By creating exclusivity through their limited range of swimwear – only available on Triangel's website – they've become known as the go-to destination for all things stylish beach attire.
A popup window welcomes visitors upon loading the site; inviting them to join in via email or social media for exclusive discounts & perks. It's clear this retailer has mastered a simple yet effective marketing strategy: no pushy sales, just quality products within an engaging buying experience.
United by Blue
United by Blue is also one of the top Apparel eCommerce Stores in the United States, proudly listed as a Shopify Store.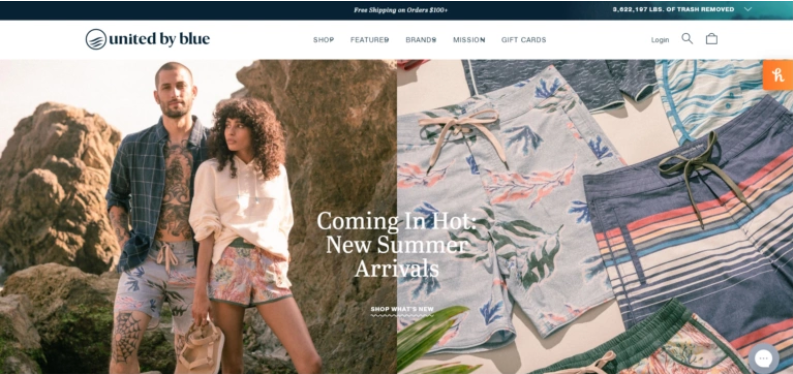 United by Blue is quickly rising in popularity, as shoppers recognize its commitment to creating not only stylish clothing but also a more sustainable future. Along the top of their homepage, you'll find an inspiring message that demonstrates how sales are positively impacting the environment – 3,622,197 lbs of trash removed.
This figure updates and refreshes real-time so customers can track United by Blue's success at reducing plastic pollution. To learn even more about this mission visit their website under the "Mission" tab or explore seasonal options in one glance with features like hero banners and new arrivals sections on all web pages.
Find the perfect new addition to your wardrobe with our user-friendly navigation bar. Featuring four main categories: women's, men's, bags & accessories, and sustainable living – each seamlessly broken down into subcategories for a simple shopping experience.
Ketnipz
Ketnipz is a leading Apparel brand in the USA, renowned for its presence on Shopify Stores across the country.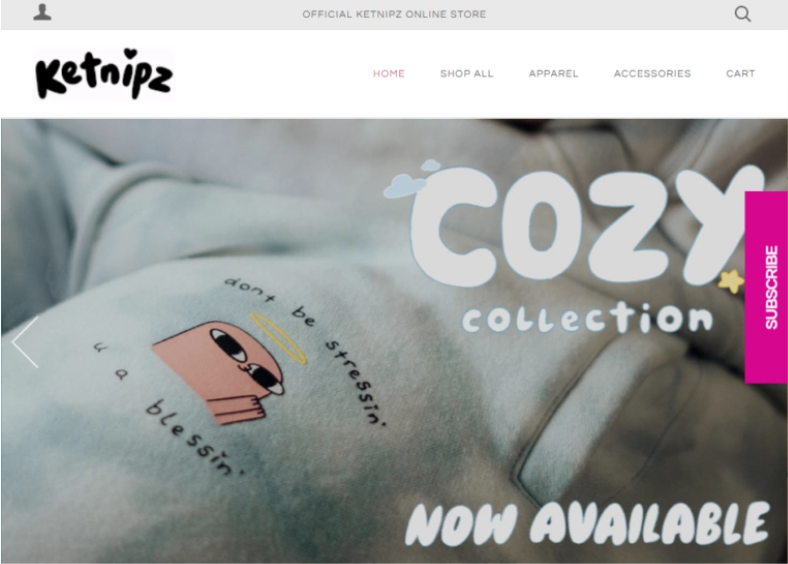 Ketnipz is an innovative Shopify Store that offers unique apparel and accessories created by the artist Harry Hambley. It boasts a vibrant, inviting atmosphere with convenient navigation options plus a helpful search bar for customers to find products quickly.
A noteworthy feature of this online shop is its newsletter signup: no need to close it before you can browse. However, some additional category filters (e.g., clothing type) would be advantageous in further optimizing customer experience; similarly, while mobile optimization looks great on smaller devices, desktops could use improvements too.
Wolf Circus
A top-tier Accessories brand, Wolf Circus is one of the most sought-after Shopify Stores USA. This highly acclaimed company offers a variety of luxurious pieces to elevate any wardrobe and add timeless style that complements your individual look.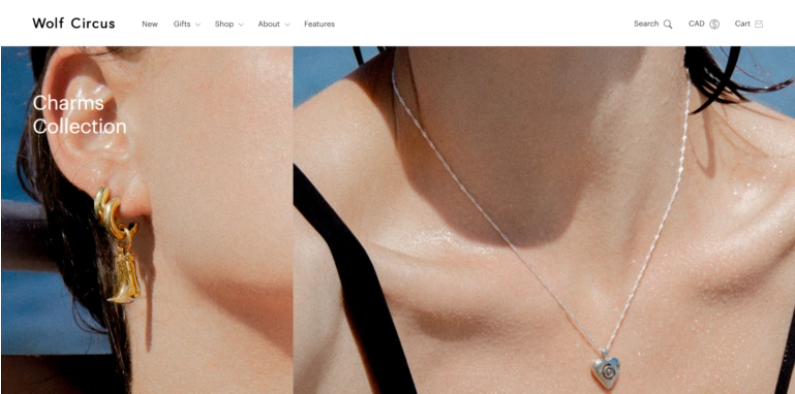 Wolf Circus shines on the Shopify marketplace, offering an organized and straightforward online shopping experience. The clean website design helps customers easily navigate various categories. An impressive hero image featuring one of their popular items leads visitors to a helpful gift finder search engine while live chat/ help center links offer even more support should help be needed along the way. While it can take some time for certain elements such as subscription popups to load, overall this is an excellent eCommerce site for your shopping needs.
Made in Cookware
Made in Cookware is proud to be listed among the best Shopify Stores in the USA, offering a quality selection of products for the Home & Garden.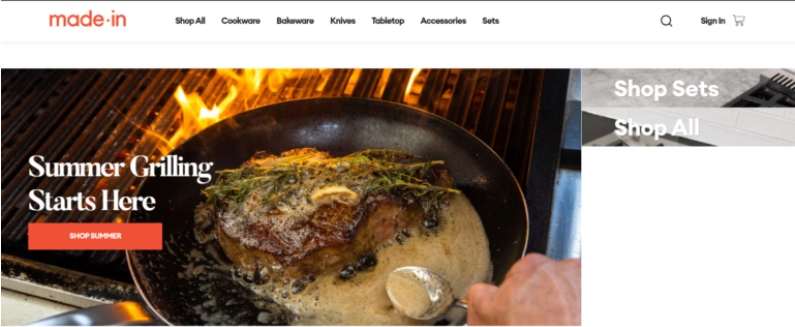 Offering top-tier cookware and kitchen essentials, this Shopify Store impresses with its high Alexa ranking and visually appealing design. It features an inviting image showcasing seasonal products on the front page for shoppers to easily access sets or browse all categories; moreover, testimonials from respected chefs guarantee trust in quality materials and craftsmanship. Although it may be slightly slower than expected when loading on desktop devices, mobile-optimized browsing yields a more polished experience overall.
Lunchskins
Lunchskins is a leader among Shopify Stores offering premier Kitchenware products for customers across the United States.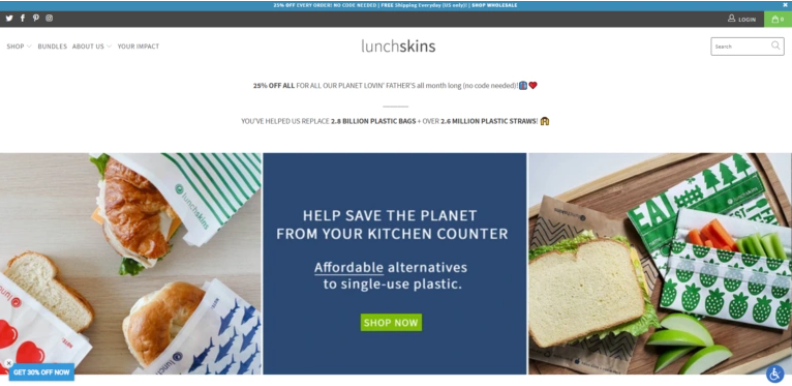 Visit this top-tier Shopify Store's homepage and you will be presented with an opportunity to receive 30% off your order – all that is required in exchange is a phone number. A savvy strategy for maximizing data collection.
By purchasing from Lunchskins, shoppers can make an impact on the environment. The website conveys this proudly with statistics about how much waste has been safely diverted away: 2.8 billion plastic bags and over 2.6 million straws. Behind all of that is a blog full of high-quality engagement expertly curated for SEO optimization – making it both effective in driving organic traffic as well as engaging to read.
Kim Kardashian West Beauty (KKW)
Kim Kardashian West Beauty (KKW) is a remarkable addition to the esteemed list of Shopify Stores in the USA; an innovative platform inspired by Beauty.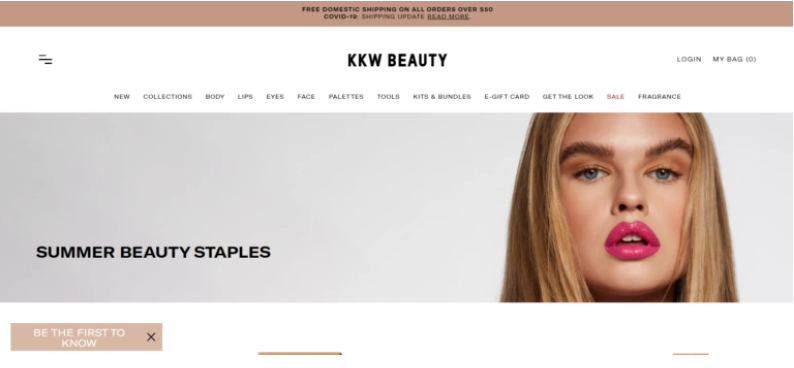 Shop Kim Kardashian West Beauty (KKW), the online store run by Kim Kardashian West that offers a selection of stylish and sought-after products. Easy to navigate with helpful categories, shoppers can keep up on the latest items as well as access must-haves for their favorite influencers – all while being able to send requests if an item is out of stock. Plus, find even more from Kim Kardashian West Beauty (KKW) via her social media accounts linked directly to the store!
Beauty Bakerie
Beauty Bakerie is one of America's premier Beauty stores, available for purchase on Shopify. With years in the industry and a dedication to quality products, it's no surprise that this business has become synonymous with cosmetics and personal care items.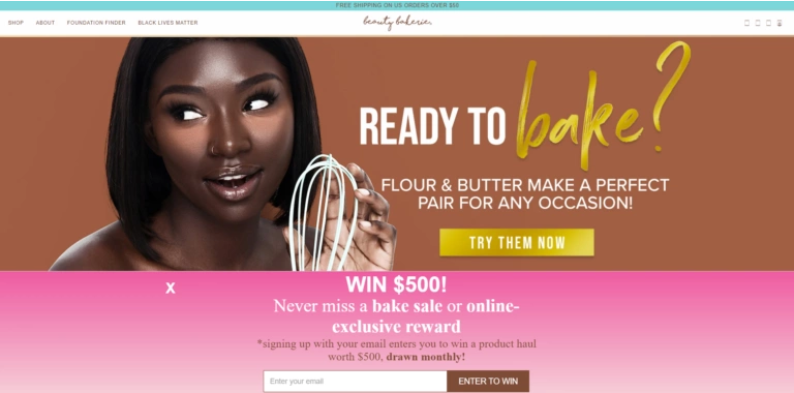 Beauty Bakerie is revolutionizing the cosmetics industry by making an innovative, delicious connection between makeup and baking. With products like breakfast in bed eyeshadow pallet, lollipop liner, and milk & honey highlighting palette – each with a playful name – this brand knows how to make beauty both tasty AND approachable! Their website speaks for itself; you'll find that their signature friendly sweetness extends beyond just the product pages all over the blog posts, FAQs sections, and more.
Shopping with this brand is not just a transaction; customers come away feeling part of something bigger. With prominently featured social media buttons, shoppers can stay connected to the company and its mission for good. Customers are also privy to mention in publications as well as valuable reviews from fellow patrons – creating an immersive experience that ties them directly into the personal story behind it all.
Conclusion
In conclusion, Shopify Stores in the USA have been growing exponentially over the years as more and more business owners move their operations online. We've discussed in depth the various business niches that have seen success through Shopify Stores as well as a list of some of the top stores to look out for come 2023. It is all dependent on you and your own hard work and ingenuity if you want to succeed or even see success with your own Shopify Store. Do some research and experiment with different strategies before taking a leap into what will hopefully be a prosperous future with your own Shopify Store!
At Shopify Stores, we believe in empowering our community and helping them create the career paths of their dreams. We're here to answer any questions you have about starting your journey toward success. Don't hesitate – to get in touch with us today, refer to our Shopify development services now!