Whether you're just starting out or looking to expand your existing online store, it's important to choose the right platform that fits your business needs. Shopify and eBay both have a lot to offer, but they cater to different types of businesses and have different strengths. By comparing Shopify vs eBay, we'll help you determine which one is best for your business.
In this article, we compare the two platforms and provide insights on which one might be better for your specific needs and goals. We begin with a brief overview of Shopify and eBay and then compare the two platforms in terms of ease of use, customization options, payment processing, marketing and SEO, customer support, and pricing. By the end of this article, you'll have a better understanding of the comparison of Shopify vs eBay and be able to make an informed decision on which platform is best for your business.
Overview of Shopify and eBay
Shopify Overview
Shopify is a cloud-based eCommerce platform that provides businesses with the tools and resources needed to create and manage an online store.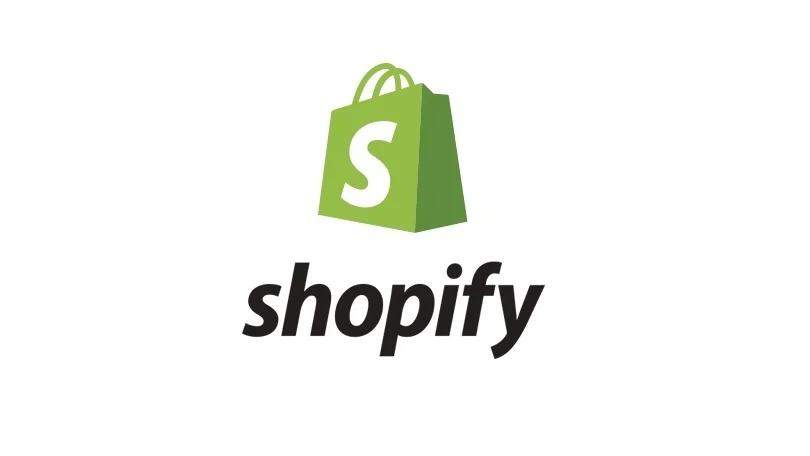 This SaaS (software as a service) was designed to make it easy for businesses of any size to establish a professional and functional online presence, without the need for extensive technical knowledge or experience.
eBay Overview
eBay is a global online marketplace that provides a platform for businesses and individuals to buy and sell goods. eBay allows individuals and businesses to sell a wide range of products and services, including new and used items, to global audiences. This marketplace is known for its auction-style listings, where buyers can bid on items, but it also supports fixed-price and buy-it-now listings.
General Features and Functionalities of Shopify vs eBay
Shopify
Shopify is a comprehensive eCommerce platform that offers a range of features and functionalities to help businesses create and manage an online store. 
Ease of use
Running your own Shopify store doesn't require you to be a smart techie. Shopify already has a built-in store structure with a variety of templates that are adaptable and customizable, saving you the bother of starting from scratch. If you choose not to use Shopify's builder, you can also develop bespoke solutions.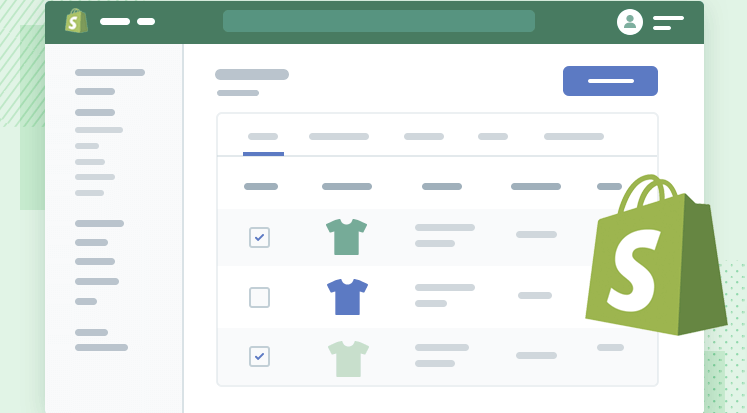 The Shopify interface is simple and understandable, even for beginners, even though the store won't be up and operating in a matter of clicks. Even beginners can enjoy starting because of the built-in tools and features, which make the process easy.
Customization options
Shopify provides a range of customization options such as the flexibility to personalize your store with paid themes, third-party apps, and your domain name to allow store owners to make their online stores unique and reflective of their brands. Compared to an eBay Store, setting up your website requires more work, but you have far more control over the outcome.
eBay
eBay provides a wide range of features and functionality for both buyers and sellers.
Ease of use
Starting up on eBay is simple. Create a seller account by registering with your email address, and you're technically good to go. While some people merely sell individual things, real businesses build an eBay store instead of settling for just a seller position.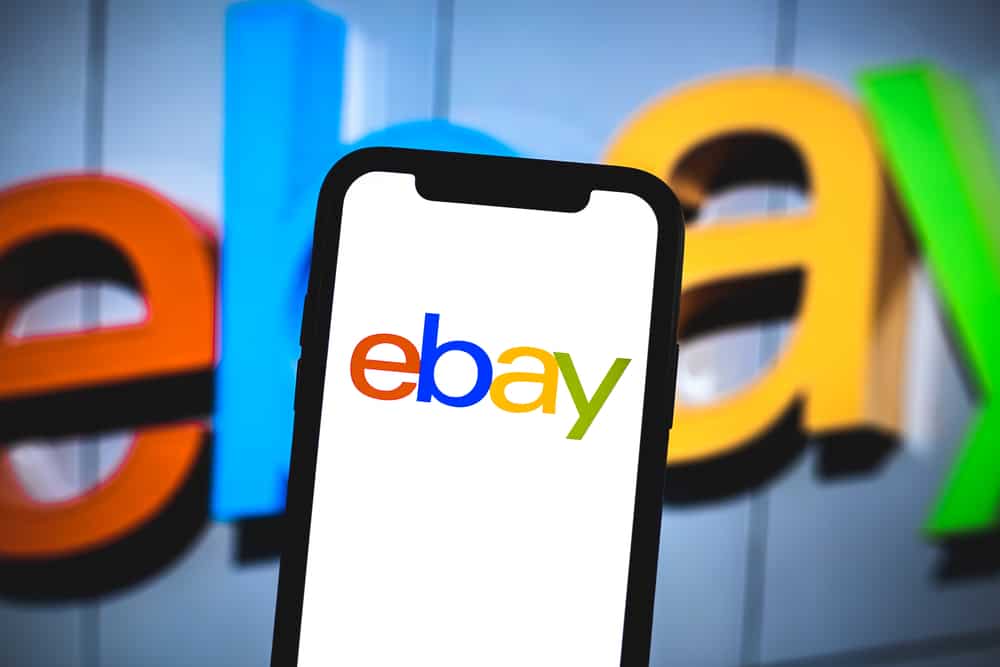 Multiple advantages come with an eBay Store subscription for your online business. From charge reductions to a larger inventory, more frequent monthly postings, and useful tools and services. The simple setup is user-friendly for beginners and necessitates no prior technical expertise.
Customization options
eBay provides limited customization options for sellers to personalize their listings and stores including
Store Design: Sellers can create an eBay store and customize its look and feel to match their brand using eBay's store design templates.
Listing Templates: eBay provides customizable listing templates that allow sellers to create a consistent look for their listings, including customizing text, images, and layout.
Store Categories: Sellers can create custom store categories, making it easier for buyers to find the items they're looking for.
Listing Enhancements: eBay offers several listing enhancements, such as bolding, highlighting, and gallery images, that help to make listings stand out and attract more attention.
Feedback and Ratings: eBay provides feedback and ratings for sellers, allowing buyers to rate their experience and providing transparency and accountability.
Payment options comparison
Shopify
As a comprehensive eCommerce platform, Shopify provides multiple payment options to make it easy for merchants to receive payments from customers. It supports over 100 payment gateways, including well-known options like PayPal, Stripe, and Google Pay, as well as lesser-known options.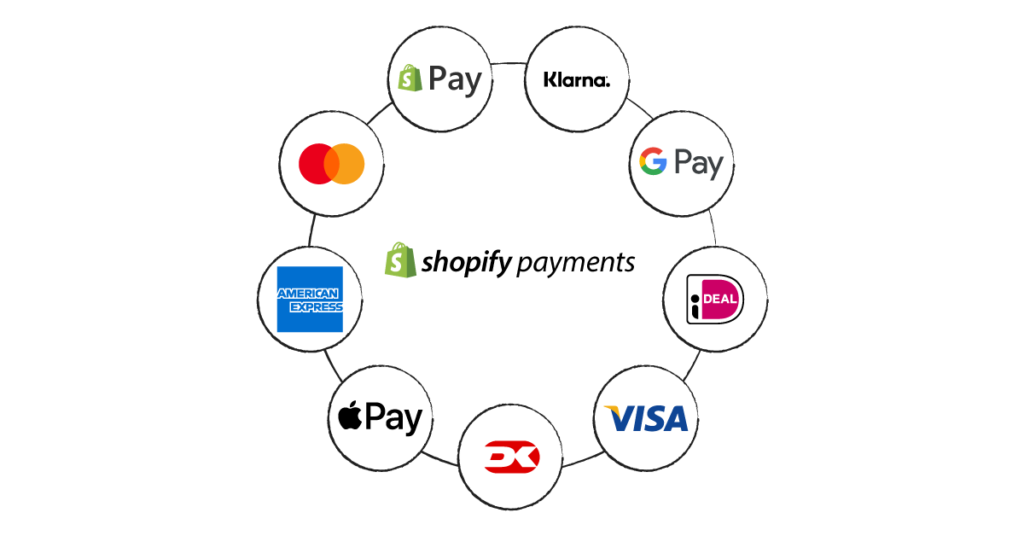 However, if merchants choose to use a third-party payment gateway instead, they are to pay transaction fees from their sales. If you don't want to pay this fee, check out Shopify's proprietary payment gateway, Shopify Payments, which eliminates the need for merchants to pay transaction fees for payment processing.
Shopify will charge you a transaction fee for each time a customer buys your product and completes a transaction, and the amount varies depending on the Shopify plan:
Basic 2%
Shopify 1%
Advanced 0.5%
eBay
In the past, PayPal handled all of eBay's payments; however, this changed in June 2021. Since then, eBay has created its own payment systems, which allow payments to be made without first going via PayPal and directly into your bank account.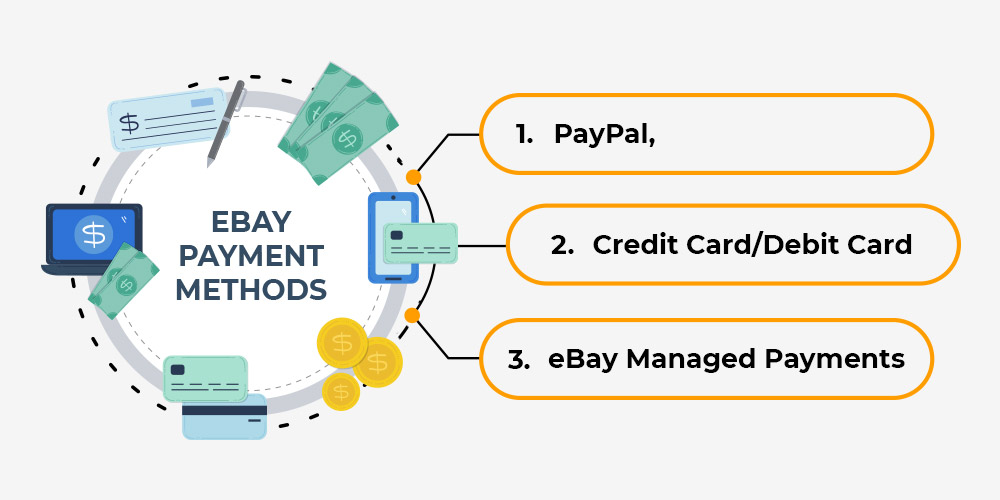 This yields the advantage of allowing customers to select from a variety of payment options rather than being limited to PayPal. Now, payments can be completed using:
Visa
Mastercard
American Express
PayPal
PayPal Credit
Apple Pay (Mobile-only)
Google Pay (Mobile-only)
There are still a few fees associated with each order that you place. The sum is determined by the category that your listing belongs to and may include:
Insertion Fees: On eBay, insertion fees are required and are valid for 30 days, and a fee of $0.35 per item.
Final Value Fees: A percentage of the product's final sale price is taken by eBay as its fee. Including handling and shipping but excluding sales tax It varies depending on the category.
Advertising Fees (Optional): Based on the final sale price of the goods, sellers select advertising rates (%).
Customer support comparison
Shopify
Over time, Shopify's customer support has developed into a more polished operation.
The market offers 24/7 customer service hotlines in a few different regions of the world. By phone, email, or live chat, users can get in touch with support and communicate with them.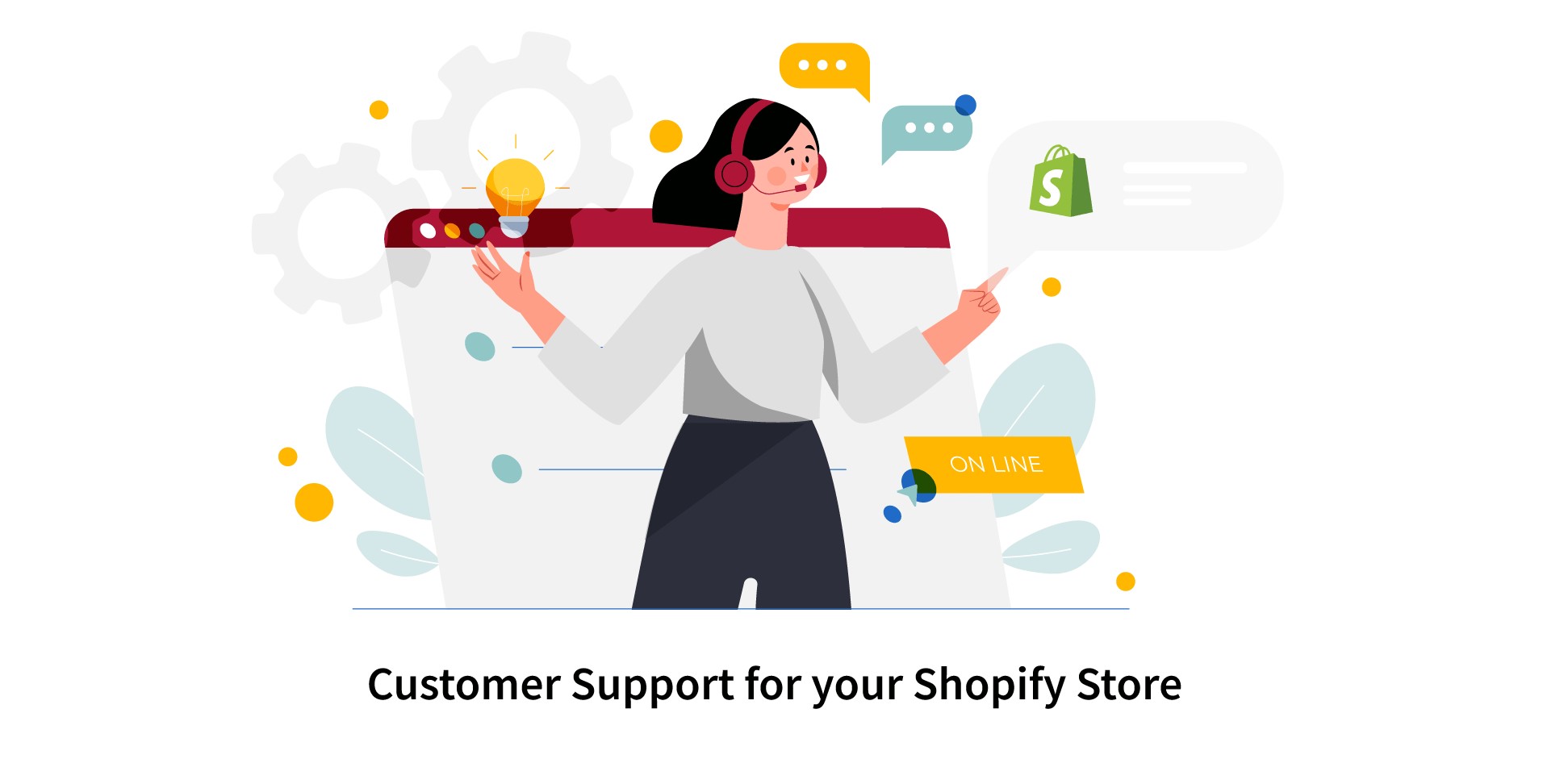 The company's customer support representatives are informed and essential experts in anything Shopify-related. In some instances, neither the client nor the support staff may be able to resolve the problem. When this happens, they will suggest some alternative paths for you to go in order to obtain the answers you are yearning for.
Shopify also provides a useful knowledge base. You can look up answers to frequently asked questions or read advice from other clients. Additionally, you can post any queries or worries in the Shopify community on the web.
eBay
Depending on the plan you purchase, eBay offers a variety of support and help options. eBay Concierge is a feature of higher-lever subscription plans that give users access to more support choices than the standard offering. Live chat and email are the main methods of support for the fundamental one.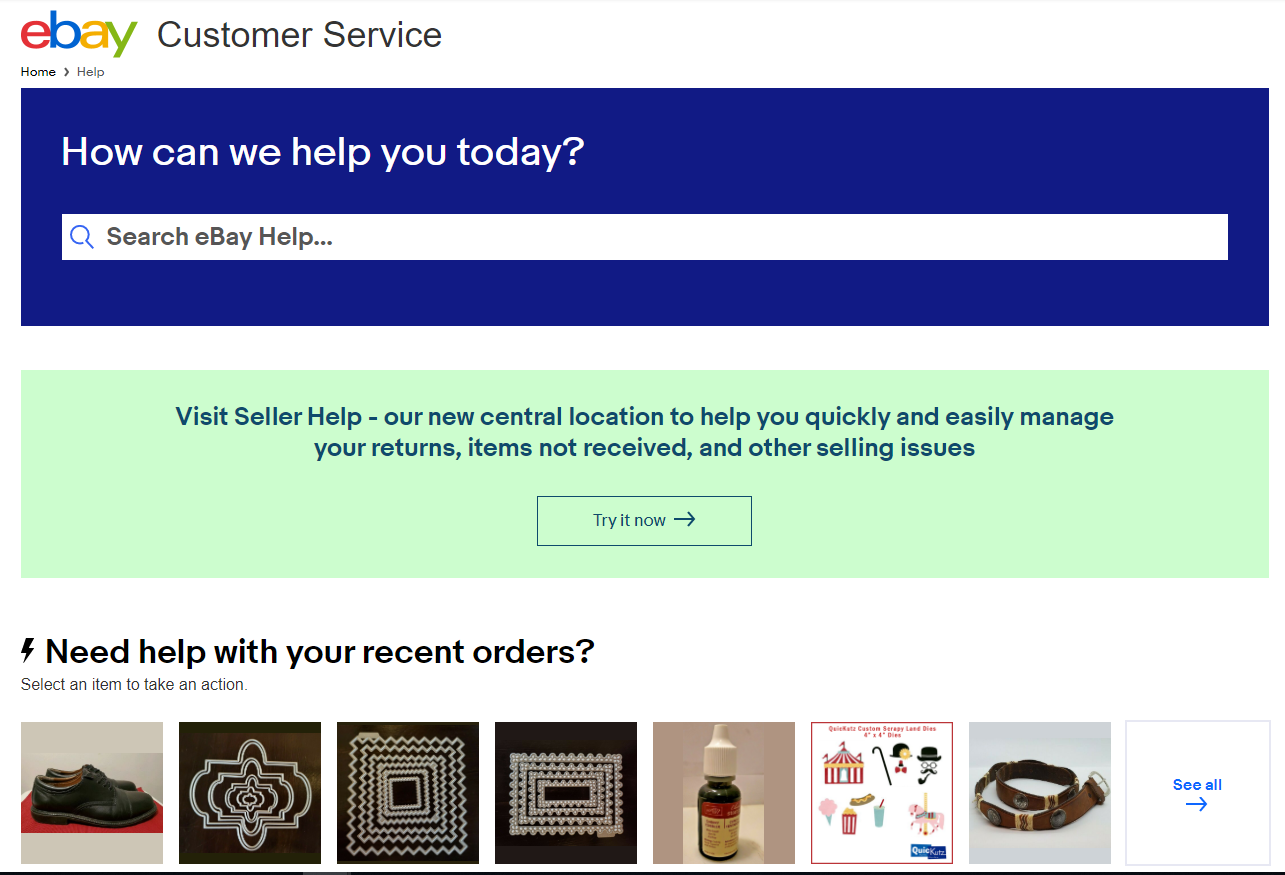 However, the support offered by eBay varies depending on the subscription level. With the Concierge plan, you may get in touch with knowledgeable members of the support staff, receive sales and marketing training, and obtain assistance with shorter wait times. Additionally, you can get more help with bad ratings and listings that don't meet eBay requirements. Additionally, you get access to a wealth of documentation and training resources.
Marketing and SEO comparison
Shopify
It's crucial to keep in mind that if you use Shopify, you will be managing a website. It requires time and effort on your part to promote it and increase traffic.
You have complete freedom when promoting your Shopify store, your products, and discounts using Shopify email campaigns and content marketing. Increase traffic with your blog, and send 10,000 messages every month for free for ad campaigns, promotional updates, and more with Shopify Email.
Integrations with social media are yet another fantastic marketing element. Shopify enables connections to all the major social media networks, including Twitter, Facebook, Instagram, and others. Advertise your store with relevant tags and advertisements.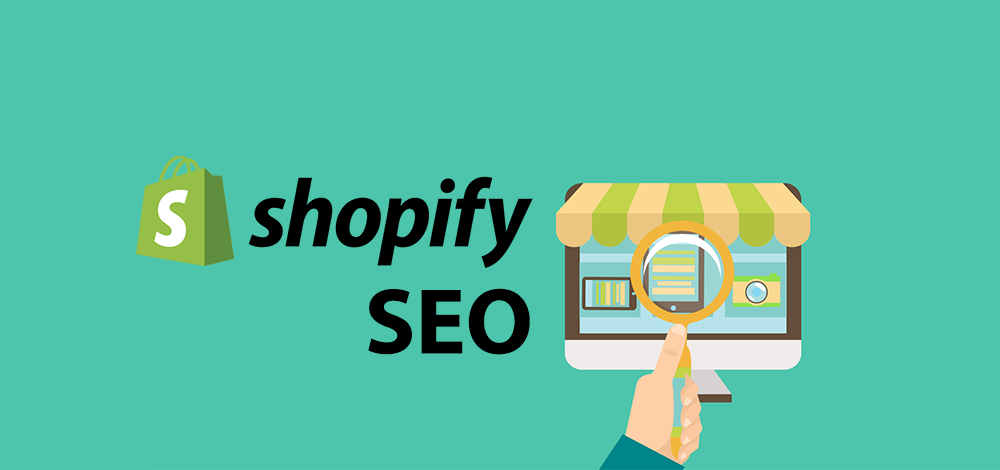 Shopify offers a variety of SEO options, including meta descriptions and titles, tags, 301 redirects, unique URLs, canonical tags, image optimization, and more. All those elements will aid in your store page rising to the top of search results.
eBay
An online marketplace called eBay has its own built-in search engine.
Other than that, eBay provides a limited number of Facebook, Twitter, and Pinterest social network integrations. The integration buttons, however, allow you to share your products right away.
When it comes to email marketing, eBay is strict and less accommodating than Shopify. Although eBay Store subscribers can email their subscribers newsletters, there isn't much room for customization in the templates. Additionally, it maintains a close check on what should be included in the communications, limiting your creative freedom when it comes to the materials you provide.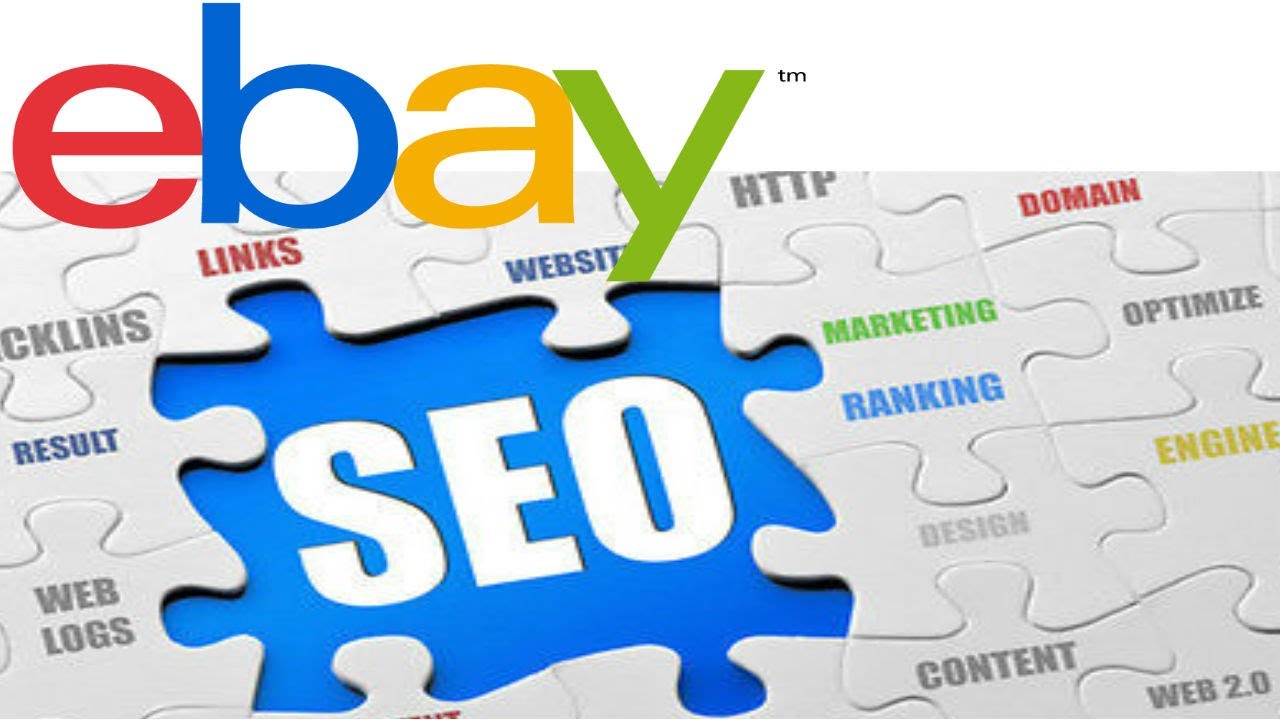 Additionally, it could be challenging to create a customer list for email campaigns on eBay. Others may argue that it's not worth the trouble. Because eBay doesn't give sellers newsletter metrics, they must create promotional messages without any guidance.
eBay runs its own game about SEO. Due to eBay's popularity, there is a significant quantity of traffic. While standard SEO elements like keywords in headings, descriptions, image alt tags, and more are available. But that's basically it. There aren't many tools available on eBay to help you navigate the SEO rankings.
Cost Comparison
Shopify
Shopify offers different pricing packages.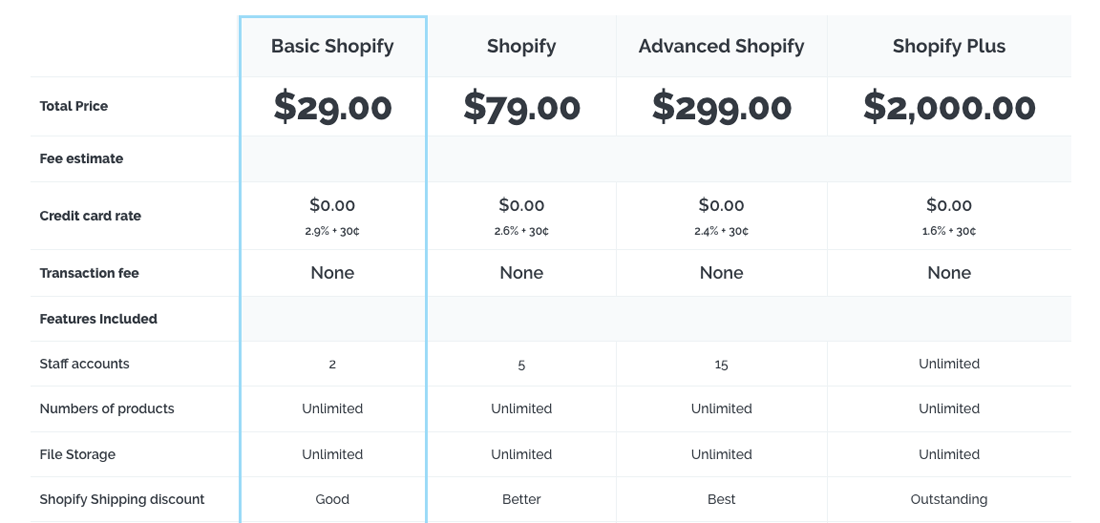 eBay
eBay offers five pricing options, including: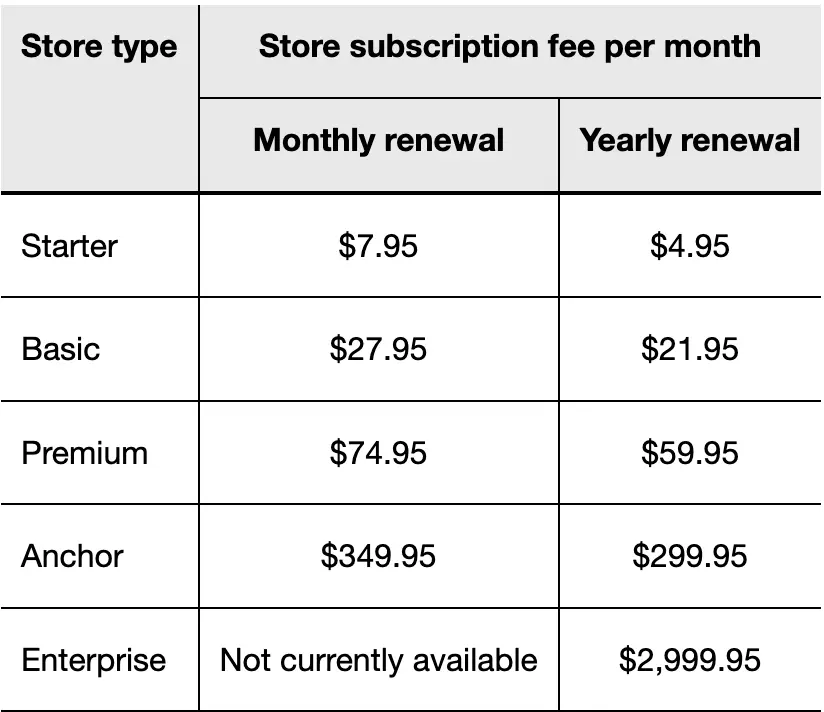 Shopify vs eBay: Which to Choose?
The decision between Shopify vs eBay will depend on factors such as the type of products you want to sell, the level of control you want over the branding and design of your store, and your overall business goals. Both platforms have their pros and cons, and it's important to consider these carefully before making a decision.
Choose Shopify, if:
You want a quick solution because you're new to eCommerce.
Your small business needs to grow and expand.
You desire total creative control over your brand's shop.
You want a wide range of SEO, eCommerce, and marketing tools
If you're looking to build an online store and have complete control over the design, functionality, and branding, Shopify is the better option. It provides a wide range of customization options, marketing tools, and integrations to help you grow your business.
Choose eBay, if:
You desire a simple store setup.
You want to try out eCommerce but you only have a small store and have no plans to expand.
Your storefront doesn't require or need to be under your creative control.
Advanced SEO and eCommerce tools are not necessary.
If you're looking to reach a large, established audience of potential customers, eBay may be the better choice. As a well-established marketplace, eBay has a large user base and a proven track record of helping sellers reach new customers and grow their businesses.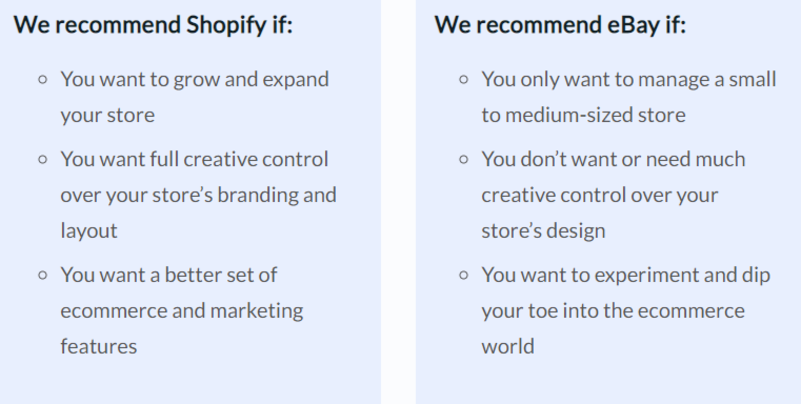 As a whole, when comparing eBay store vs Shopify we consider that Shopify is the better choice of the two. In the long term, it will allow you a lot more room to expand, and your store will appear more professional. Additionally, you may integrate eBay with your store through Shopify's app store if you truly want to use it!
How to combine Shopify and eBay for maximum profit
The good news is that you are not required to utilize one of these platforms over the other if you don't want to. Both can be used simultaneously!
This implies that you may use Shopify to create a completely personalized, polished web store while utilizing eBay as an additional sales channel and growing your customer base. To get started, all you have to do is visit the Shopify app store and download the eBay app.
Here are some tips for combining the two platforms: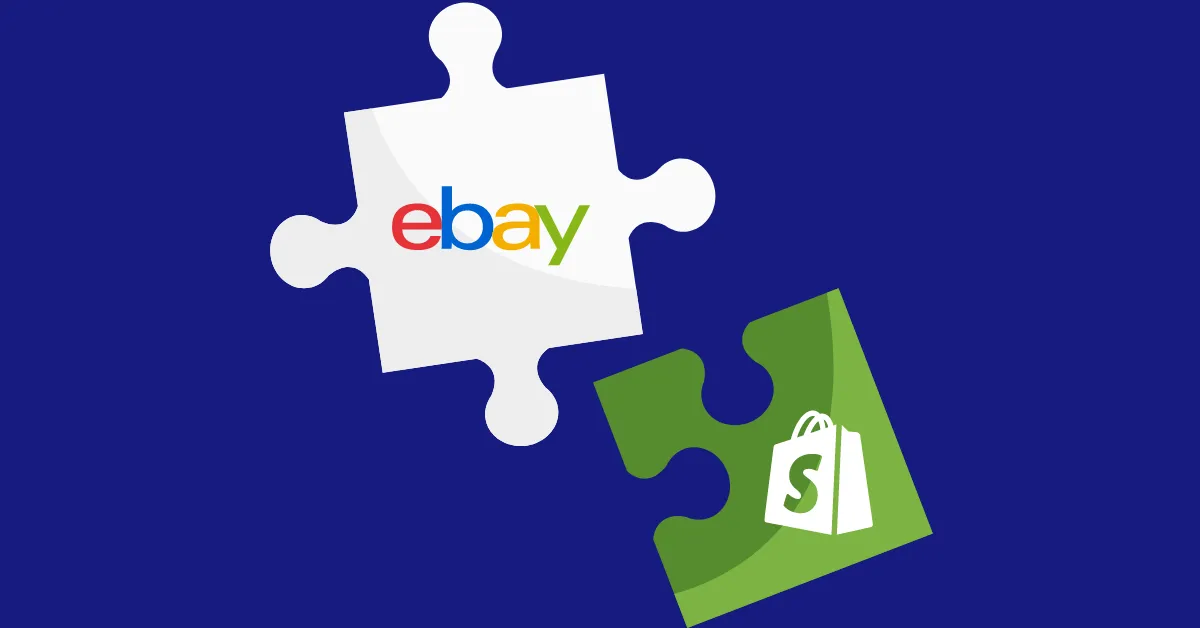 Utilize sales on both platforms: Use Shopify to create a professional-looking online store with a custom domain and branding. Then, list your products on eBay to reach a wider audience of potential customers. By selling your products on both platforms, you can tap into the unique benefits of each and reach new customers who may not have found your store otherwise.
Synchronize your inventory: Synchronizing your inventory means that when you make updates to the products in your Shopify store, those changes will be reflected automatically in your eBay listings. This includes updates to product information, such as descriptions and images, as well as changes to inventory levels, prices, and shipping options. By keeping your inventory in sync, you build trust with your customers, and avoid over-selling a product or having to cancel an order due to an error in your listing information.
Optimize your product listings: Make sure your product listings on both Shopify and eBay are well-optimized with high-quality images, detailed descriptions, and competitive prices. Also, you should take notice of the products that perform well on each platform. There will certainly be products that perform well on both platforms, but there will also be products that only perform well on one platform.
Utilize marketing and advertising: By effectively marketing and advertising your products n both Shopify and eBay, you can reach a wider audience, generate more leads and conversions, and grow your business. This can include email campaigns, social media integrations, and advertising on eBay and Shopify.
Monitor your sales: Regularly monitor your sales on both Shopify and eBay to see which platform is performing better for specific products. You should consider factors such as the number of orders, the average order value, the total revenue generated, and the profit margins for each platform. You should also take note of any fluctuations in sales over time and analyze the cause of these changes.
By combining Shopify vs eBay, you can reach a wider audience, optimize your product listings, and take advantage of the best features of both platforms to grow your online store and maximize profits.
In conclusion,
Both Shopify and eBay are great options for online sellers, each with its own unique features and strengths. When it comes to deciding which one is better, it ultimately depends on the specific needs and goals of the user.
Shopify is a dedicated eCommerce platform that provides a wide range of customization options and marketing tools, making it a great choice for those looking to build a branded online store. On the other hand, eBay has a large, established audience and a proven track record of helping sellers reach new customers, making it a great option for those looking to reach a wider audience.
Ultimately, the choice of Shopify vs eBay will depend on the size of your business, the type of products you sell, and your goals for your online store. Both platforms have their pros and cons, and it's important to carefully consider these before making a decision. In any case, either platform can provide a strong foundation for building and growing a successful online store. However, by combining the two platforms, sellers can reach a wider audience, optimize their product listings, and take advantage of the best features of both platforms to grow their online store and maximize profits.