Are you planning to build an online shop for music? Shopify is one of the leading eCommerce platforms for setting up and managing your own music store. With Shopify, building a website is easy and intuitive, making it ideal for musicians who are looking to get their music out there quickly and efficiently.
In this article, we will be exploring the reasons why Shopify is the perfect platform for music stores, as well as looking at 15 of the best Shopify music store examples. We will also look into how to build a Shopify music store and give advice on what makes a great Shopify shop.
So if you're looking to create an online shop for your music, Shopify is a perfect choice. Read on to discover why Shopify is the best platform for music stores and how you can create one of your own.
Why is Shopify a Good Choice for Music Stores?
Shopify is a great choice for music stores of all sizes, from small independent stores to larger operations with multiple locations as it offers a comprehensive suite of tools to help you manage your business. Shopify helps you provide your customers with a great shopping experience, making it easier to turn visitors into loyal customers.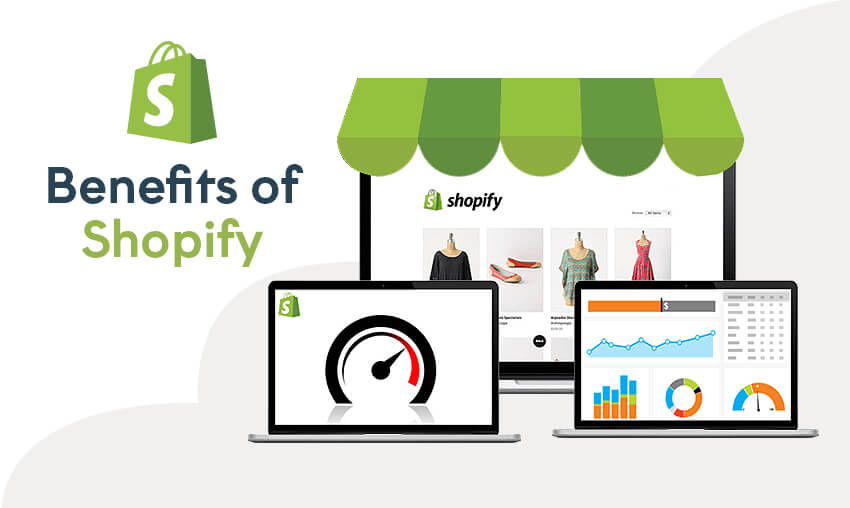 Shopify also offers flexible pricing plans that are tailored to the needs of your music store. Shopify is an ideal platform to build a successful music store and take your business to the next level.
Easy to use
The last thing an artist wants to deal with is complicated website development. With Shopify, setting up a music store is straightforward and efficient, and you can start selling quickly. You can quickly and easily build a professional website without any coding or design experience. You just need to pick a theme and add content to get started.
Shopify facilitates the creation and upkeep of completely customized online music stores while offering engaging merch discovery experiences to fans. Musicians can establish a go-to platform where fans can easily obtain tracks and official merchandise. Despite its flexibility, the Shopify platform nevertheless has a dependable backend in case of an unexpected spike in traffic or sales. This is crucial for musicians who desire to develop a comprehensive marketing strategy for their new albums or merchandise collections.
Affordable
The cost of creating a professional website might be high, but Shopify allows you to launch a website with an array of services for as little as $29 per month. And you can always upgrade to one of their pricier plans if you require additional features. Shopify is, all things considered, a very affordable option for musicians.
Offering great features
Shopify provides powerful eCommerce features such as product and inventory management, secure payments, online ordering and shipping options, abandoned cart recovery, loyalty programs, and discounts.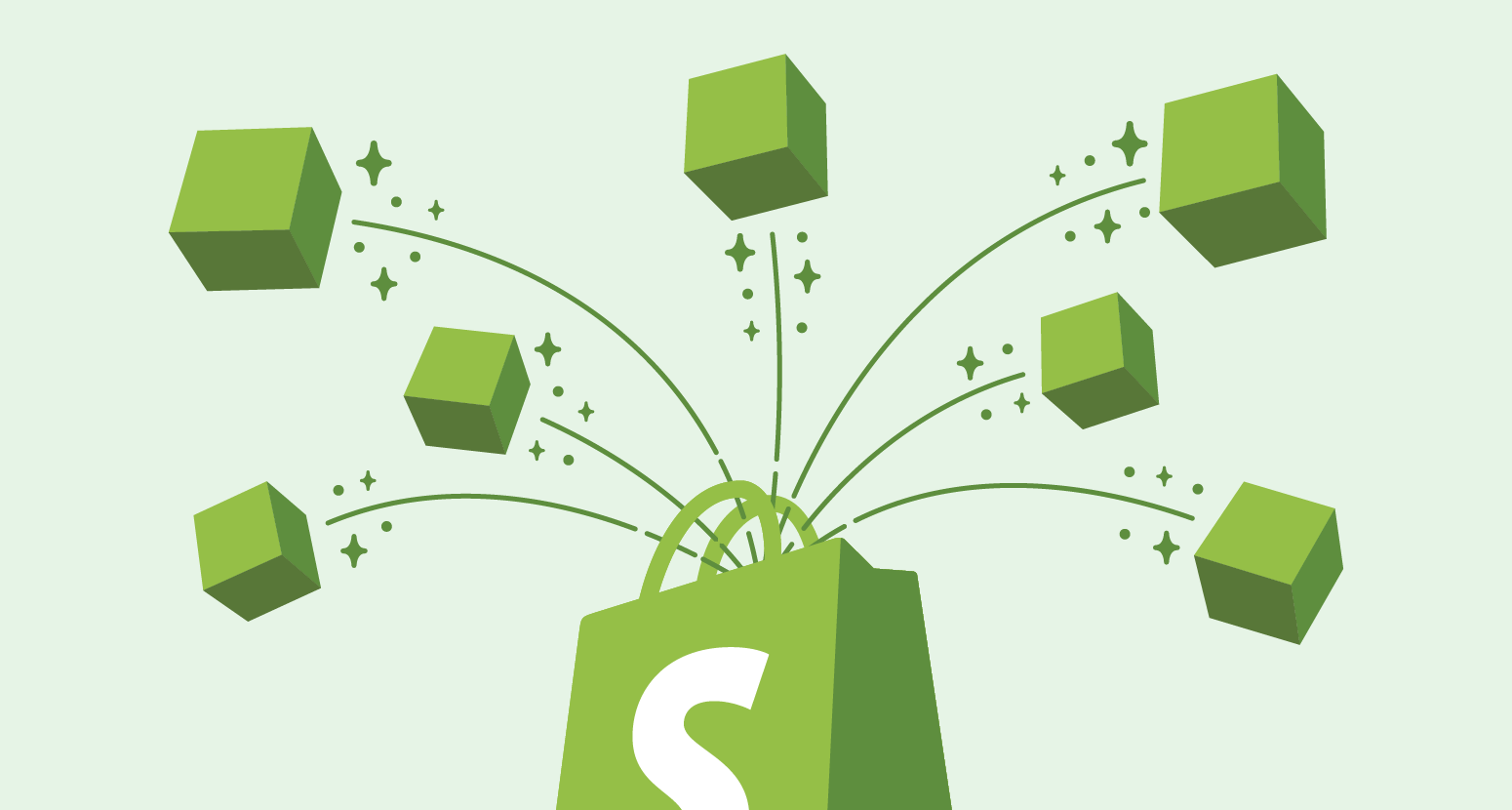 Shopify also has an extensive library of extensions and apps that enable you to customize and enhance your music store even more. Shopify's built-in analytics helps you understand how customers interact with your site, track customer behavior, and measure the success of campaigns. Shopify also offers excellent customer service, making it easy for you to get help when needed.
15 Best Shopify Music Store Examples
Lady Gaga
The well-known musician Lady Gaga has a Shopify store that reflects her sense of style and personality. T-shirts, hats, and mobile phone cases are among the goods items available in the store from Lady Gaga's line. Additionally, there is a section for her music where followers can buy CDs and online downloads.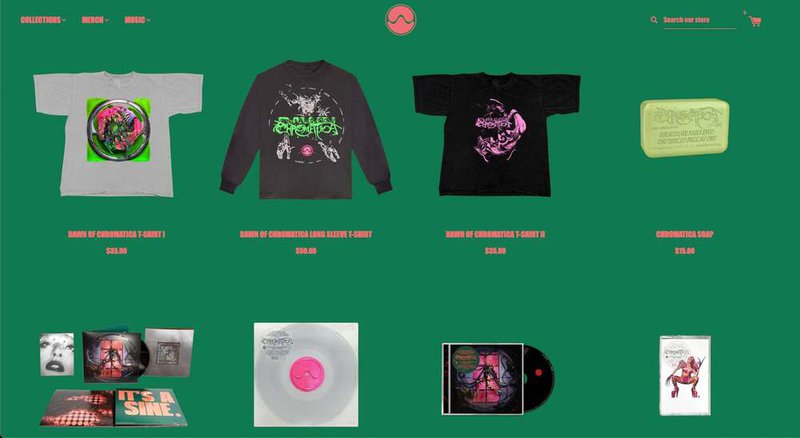 The website is super-minimalist, which allows pages to load quickly. This would be appreciated by eager fans. You are aware of the irritation experienced when a site's slowness prevents you from making a purchase. As an interactive touch, using GIFs to display products is intriguing.
Billie Eilish
A musician, Billie Eilish, launched a Shopify store under her name – Billie Eilish store. The singer's favored colors, bright green and black, are applied on the straightforward website.

More merchandise is available if you scroll down, but that is all there is. T-shirts, hoodies, and accessories are just a few of the items available for purchase at the store. Additionally, there is a place in the music store where you may purchase tickets for her upcoming events.
Beyonce
Beyonce's Shopify business is one to check out if you're searching for one that knows how to put up a good performance.

To accommodate the hundreds of thousands of admirers clamoring to purchase some of Queen Bee's official merchandise, she needs a dependable eCommerce platform. Beyonce's Shopify music store keeps things straightforward but highlights its sales with bold Helvetica fonts. Her store is sleek and modern and offers a wide range of products, including signed memorabilia, CDs, and t-shirts. Large product photos and sticky product details are present even on the product pages, adding a special touch.
Bastille
Bastille is a fantastic option to take into consideration if you're looking for a new online music store. Shopify's Bastille is a music and music-related product-focused website. Additionally fascinating are the fonts utilized for the site's logos that strengthen the band's identity.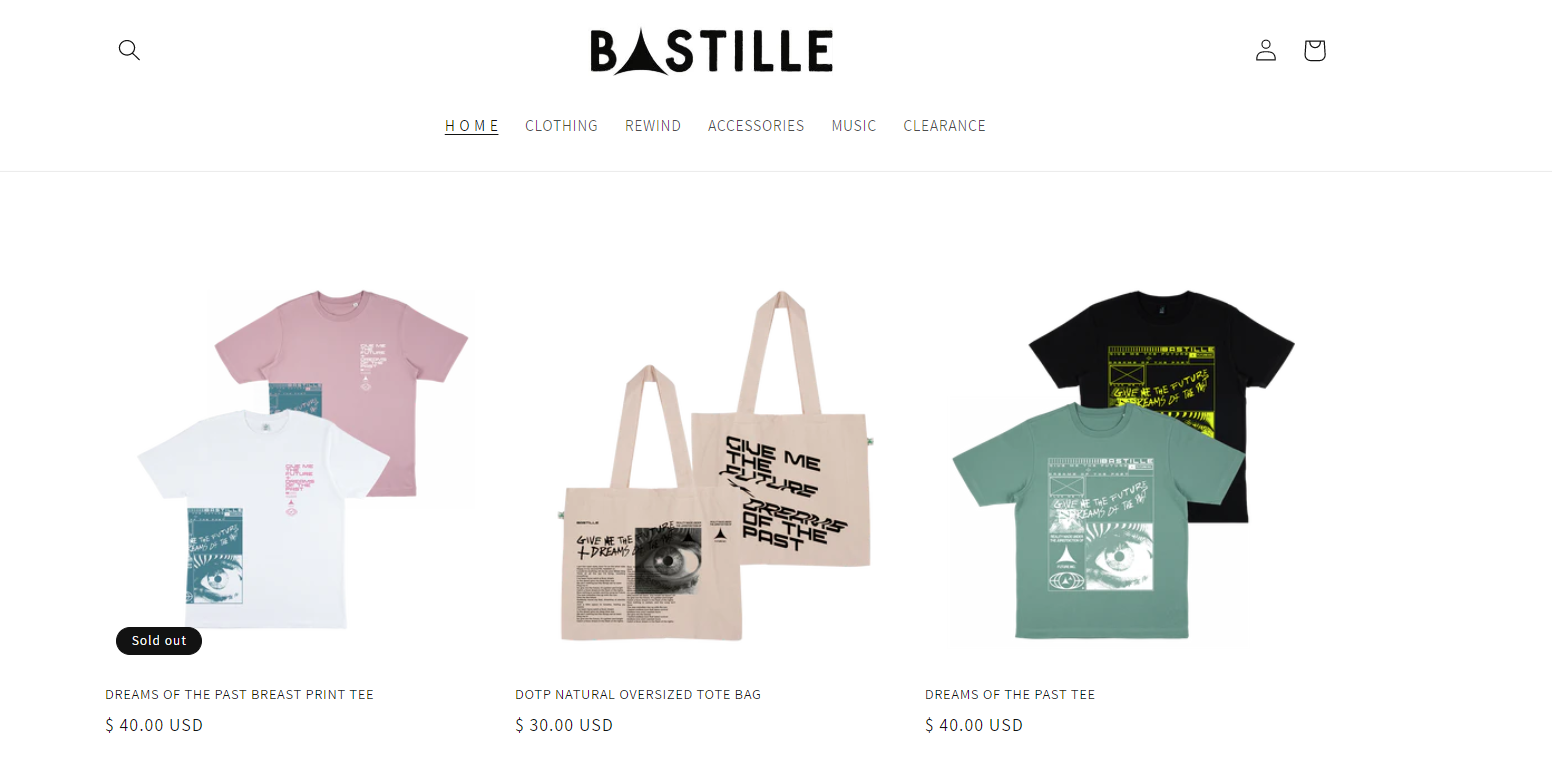 The large selection of items that Bastille offers is one of the features that set them apart from other music retailers. Bastille sells digital downloads, T-shirts, and other stuff in addition to traditional CDs and vinyl LPs. On the webpage, a visitor can view the name and price of a product that enhances the customer experience.
Time+Space
Time+Space has provided top-notch tools for the production of high-quality music for more than 20 years to musicians, composers, music producers, audio engineers, music arrangers, and other creatives. To create computer-based music, they provide top-quality virtual instruments, sample packs, music production equipment, and effect plugins from the world's top manufacturers.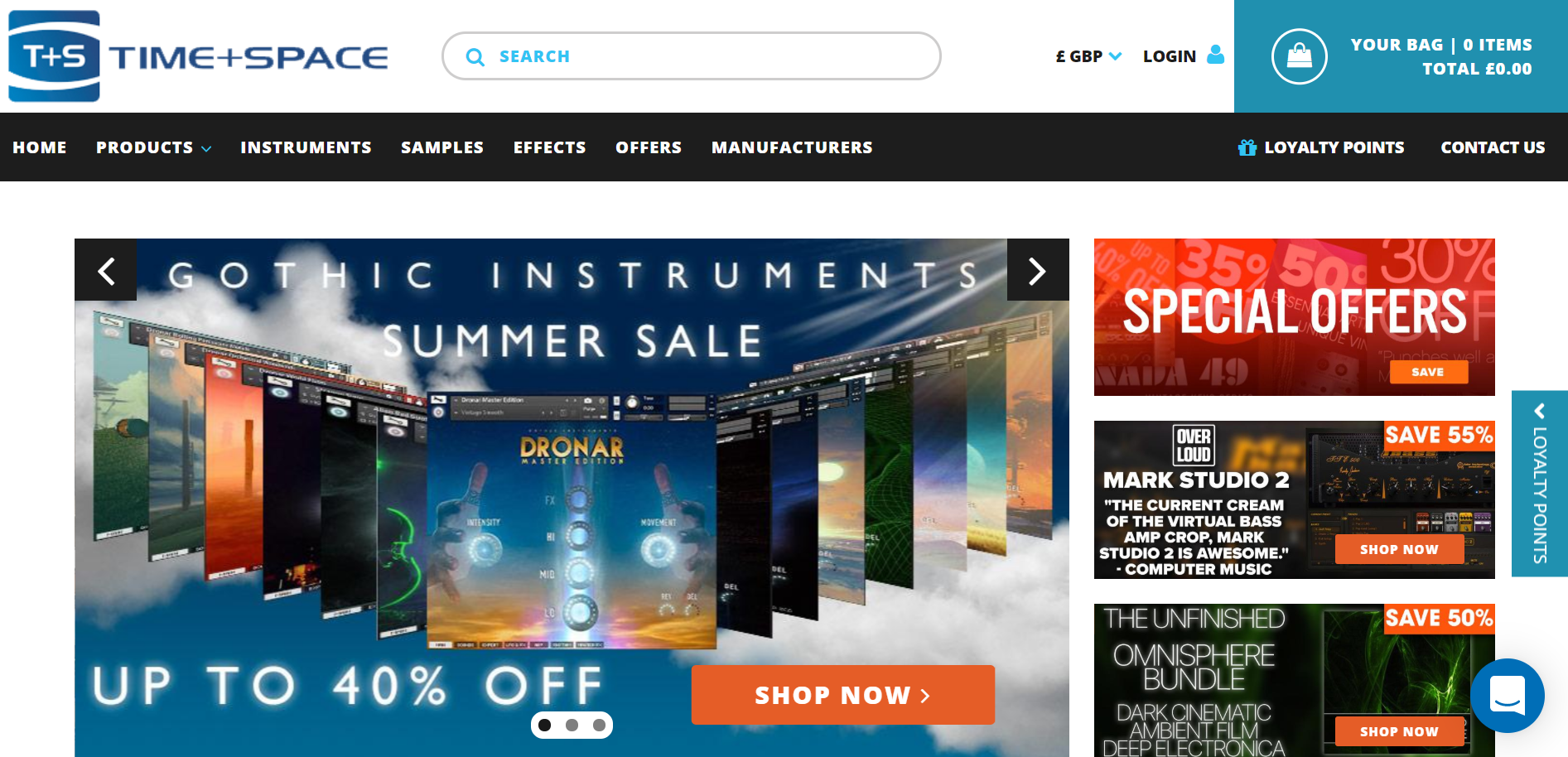 Quickly highlighted with predictive search results is the search bar. Users would not have to sort through a large number of products if they already know which one they want. Moving customers down the purchasing funnel is also made possible by the user reviews' inclusion as a star rating.
The loyalty program is yet another important feature of this store. Additionally, they have a dedicated landing page for their loyalty program in addition to the typical LoyaltyLion widget in the bottom right corner of the screen. The advantages of the program, how to earn points, and how to use points are all laid out for visitors on this website.
Shoreline Music
Given that it was one of the first ever internet retailers of musical instruments, Shoreline Music is a Shopify store that focuses on music-related products. The store sells what the proprietor is passionate about, and it expands through word-of-mouth. The strategy of developing a carefully curated niche on musical instruments worked successfully for them and helped them gain a foothold in the market.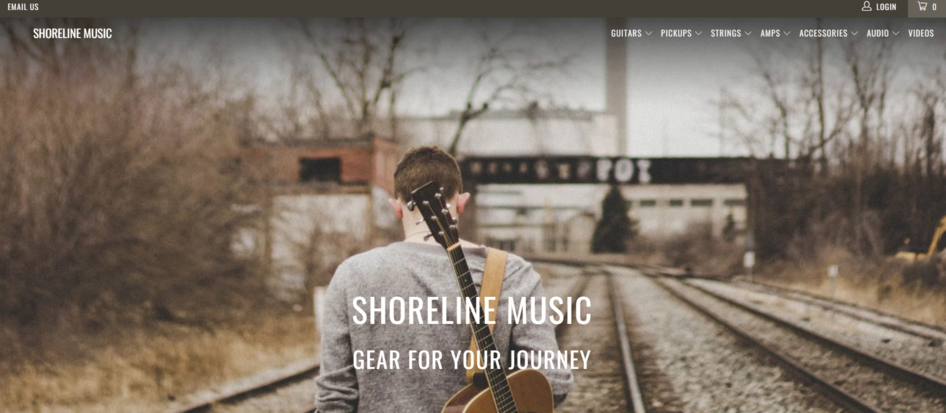 The store's layout is simple, and the primary tool for customers to view products is a dropdown navigation bar. There are many different products they sell, such as CDs, vinyl records, cassettes, and t-shirts. They have an excellent range of music, with everything from vintage rock to modern pop. Visitors can view all the product lines that are accessible by simply hovering their cursor over the bar.
Additionally, they feature a loyalty program where consumers may accumulate points for each purchase they make and redeem them for savings on subsequent purchases.
Newbury Comics
Independently run and operated, Newbury Comics is a store that sells pop culture and music memorabilia. Music lovers should check out this website because it has a wide selection of vinyl and CDs from a variety of musical genres. On average, 200–300k people are visiting this Shopify Plus music business each month.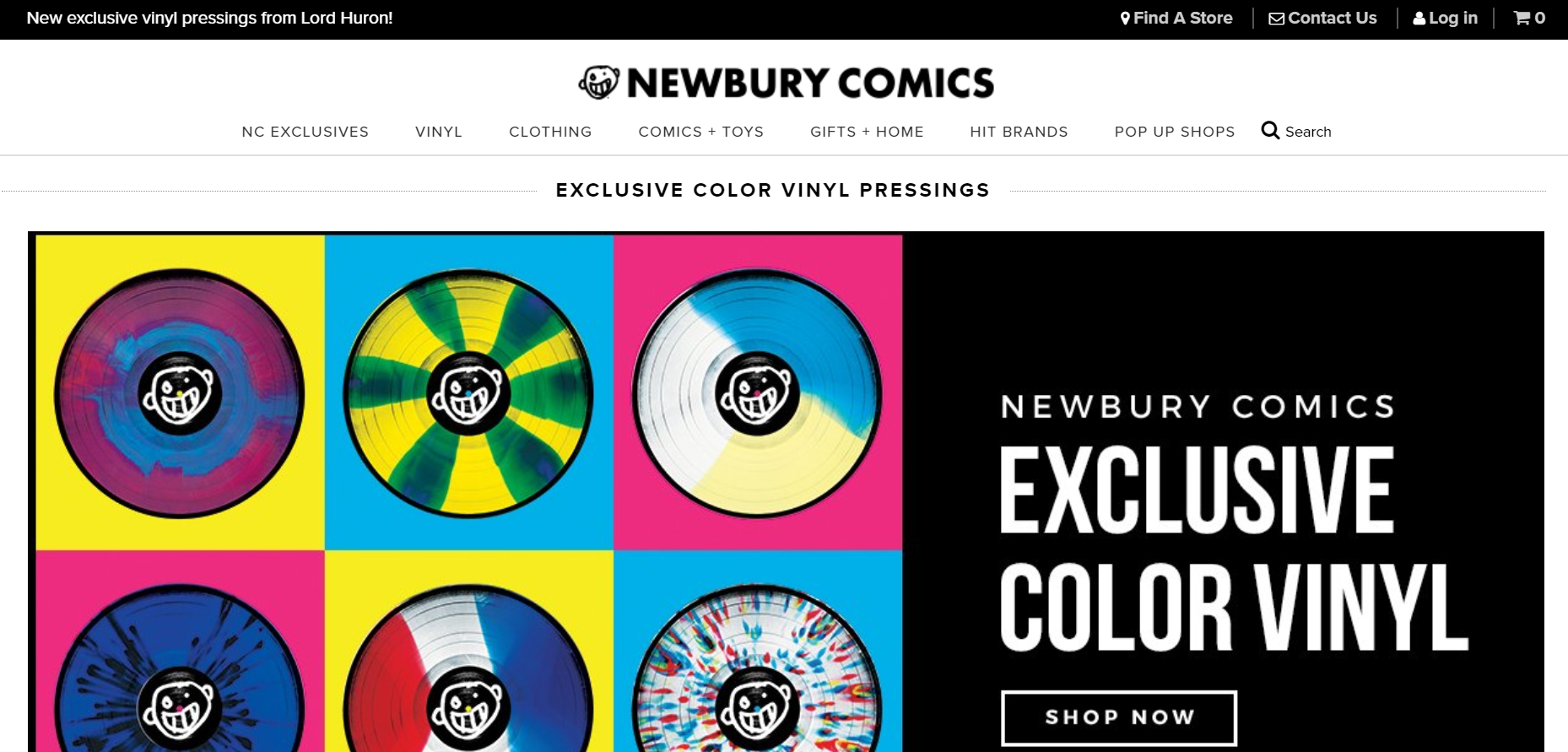 The use of high-quality images and product photography gives the online store an established sense right away. For music enthusiasts seeking products, there are also lots of details. Simply by looking at the design and professional presentation, you can tell that the brand is knowledgeable about music and pop culture.
Lollapalooza
The shop at Lollapalooza is just as unique as the festival itself, which is truly one of a kind. If you can't attend in person, Lollapalooza's Shopify store offers a live feed of the event so you can experience it virtually. On their website, they also sell merchandise and tickets.

The store has a pleasing combination of neutral hues, and the banner's color changes frequently. It exudes a lively mood. The merchandise shop links to the main Lollapalooza website, giving it a unified and polished appearance. There are several things with obvious prices on the webpage. To increase conversion rates, the sale of products is displayed.
W.A.S.T.E. Headquarters – Radiohead
Radiohead Shopify music store is an online store that offers a wide selection of music from the popular artist Radiohead. The store features albums, singles, EPs, and live recordings from Radiohead's extensive catalog. Customers can purchase physical media such as vinyl and CDs or digital downloads in various formats like MP3, FLAC, and WAV.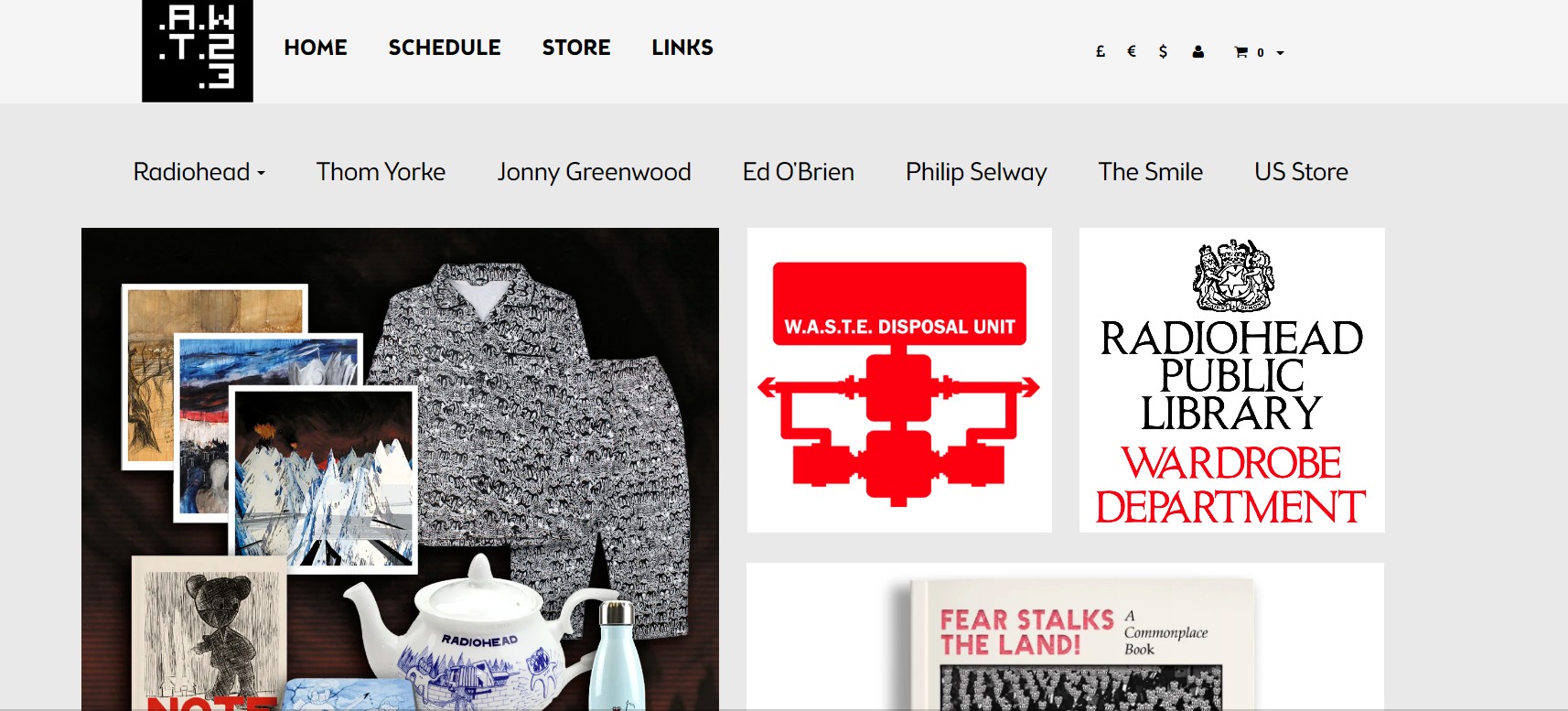 Additionally, the store has a selection of merchandise including t-shirts and posters. All purchases are conveniently fulfilled through Shopify's digital payment system, making it easy to purchase music or merchandise from anywhere in the world. Radiohead Shopify Music Store is an ideal destination for any fan of Radiohead looking to find their favorite tunes and collectibles.
The choice of a grey background enhances the visibility of product photographs with white backgrounds and is consistent with Radiohead's style. They've spent decades portraying a subdued tone of resistance and insurrection, so some disarray is appropriate. The ability for followers to delve more into the universe of the brand makes shopping by artists intriguing.
Party Rock Clothing
Party Rock Clothing Shopify music store provides an online platform for musicians, bands, and other music industry professionals to showcase their collections and sell their products. The store offers a wide selection of apparel and accessories, including t-shirts, hoodies, hats, and more. All products are designed and printed in the United States using high-quality materials.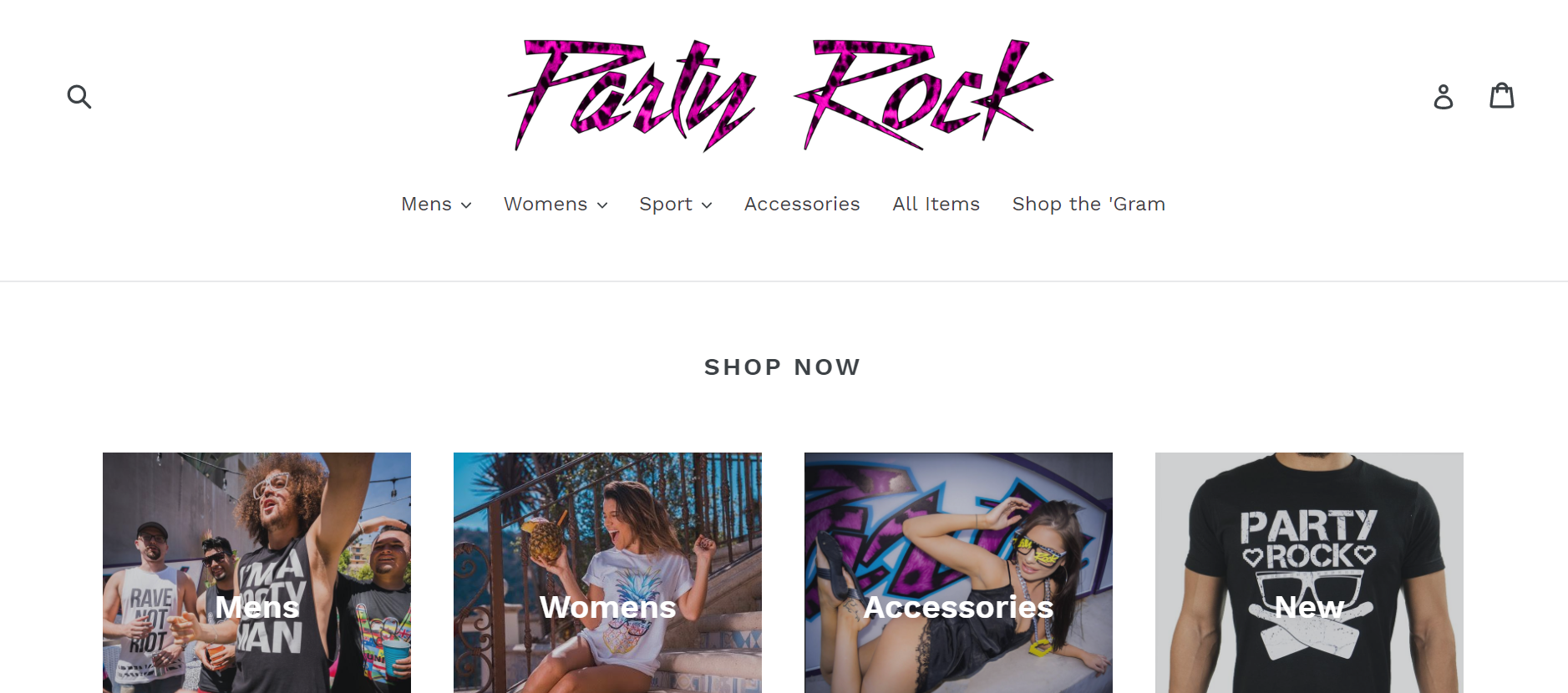 The shop the look feature is well used in this store improving user experience. The site's color swatches and rollover photos are two other intriguing features. This feature makes it possible for users to quench their curiosity without ever leaving the collection pages.
Foo Fighters Official Store
The Foo Fighters Shopify music store is a great source of music and merchandise. This store is "grungy," but it's also spotless, which is extremely in line with the "mass appeal rock" of the Foo Fighters. Multiple products on the homepage with straightforward buying processes encourage incredibly quick sales, making this a perfect setup for selling music merchandise.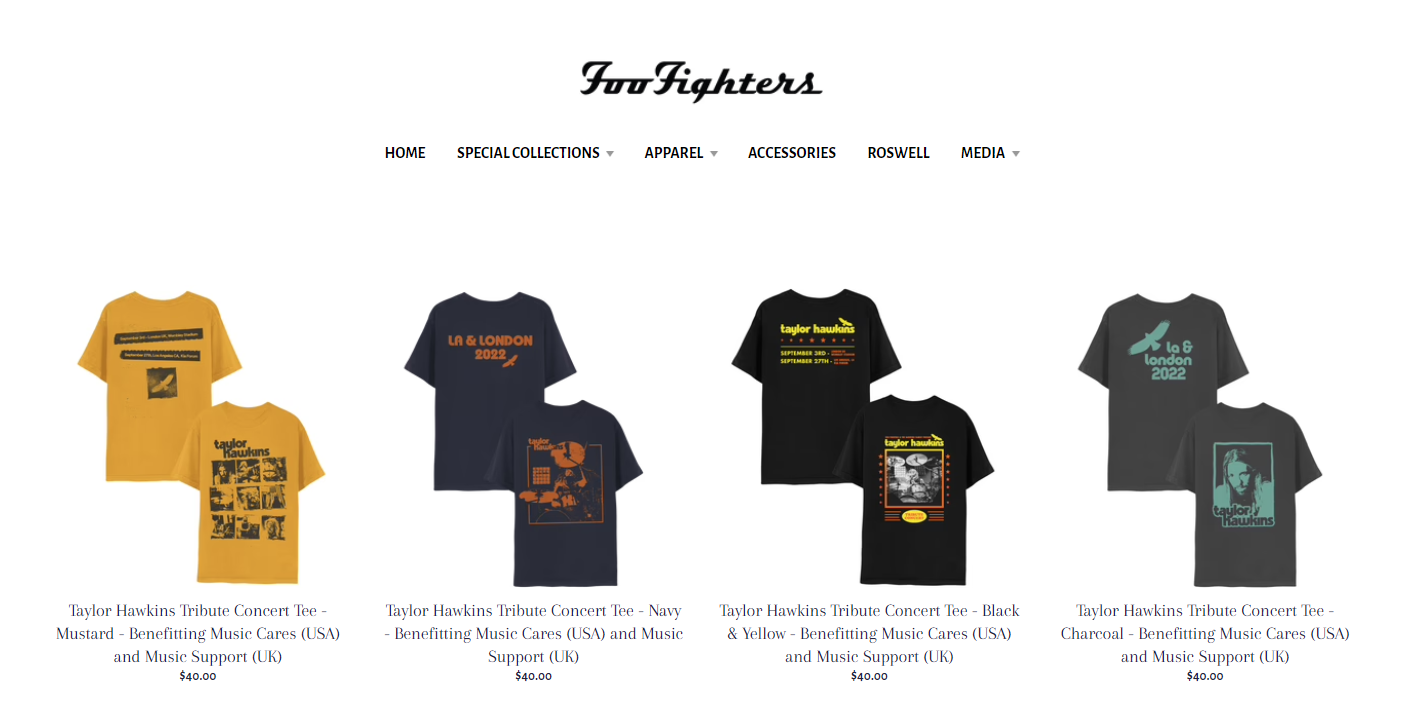 Customers can purchase digital music in the form of downloads, stream tracks directly from Shopify, or even buy physical CDs. In addition to their albums, customers can find exclusive items such as t-shirts, hats, vinyl, and more – all featuring the iconic Foo Fighters logo.
Post Malone
Post Malone is one of the most popular artists right now, and many of his followers are looking for a website where they can purchase his merchandise. Similar to Lady Gaga's store, the website keeps things straightforward and uses a simple black background to let the products stand out more. Post Malone is a Shopify store that offers goods associated with music. T-shirts, caps, and vinyl records are just a few of the things that are available at the store.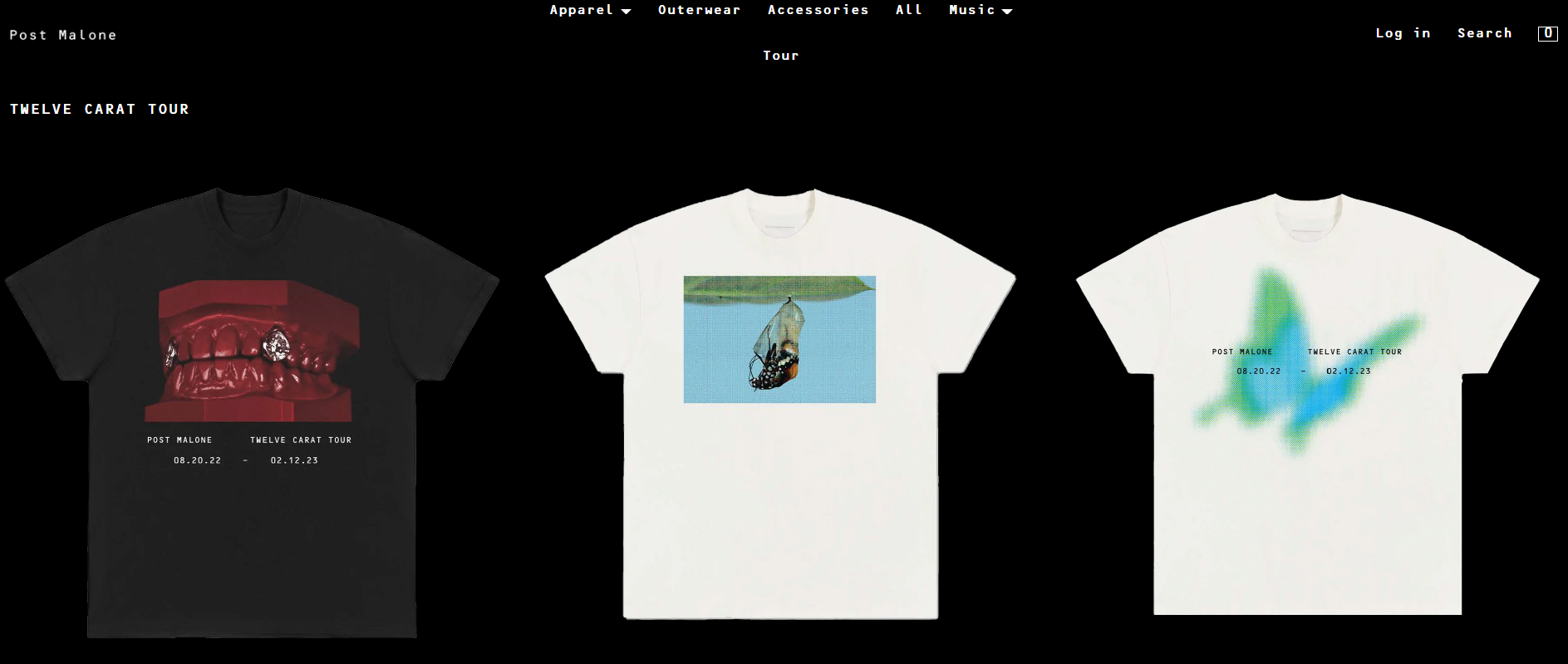 The good news is that Post's eCommerce site offers a search field and filter. The products are shown and given prices, and the store is well-designed and simple to use. Fans may quickly search for products and filter them by Best Selling, Low to High Price, or New to old date, as well as the opposite.
Haim
Fans may purchase amusing tees and hoodies from the American pop-rock siblings' HAIM store in an editorial style. This is an excellent illustration of how Shopify stores can be tailored to highlight a band's distinctive flair. The layout of the HAIM store is unusual and out of the ordinary. Large lifestyle photographs arranged in a collage arrangement with a variety of orientations give it an editorial feel.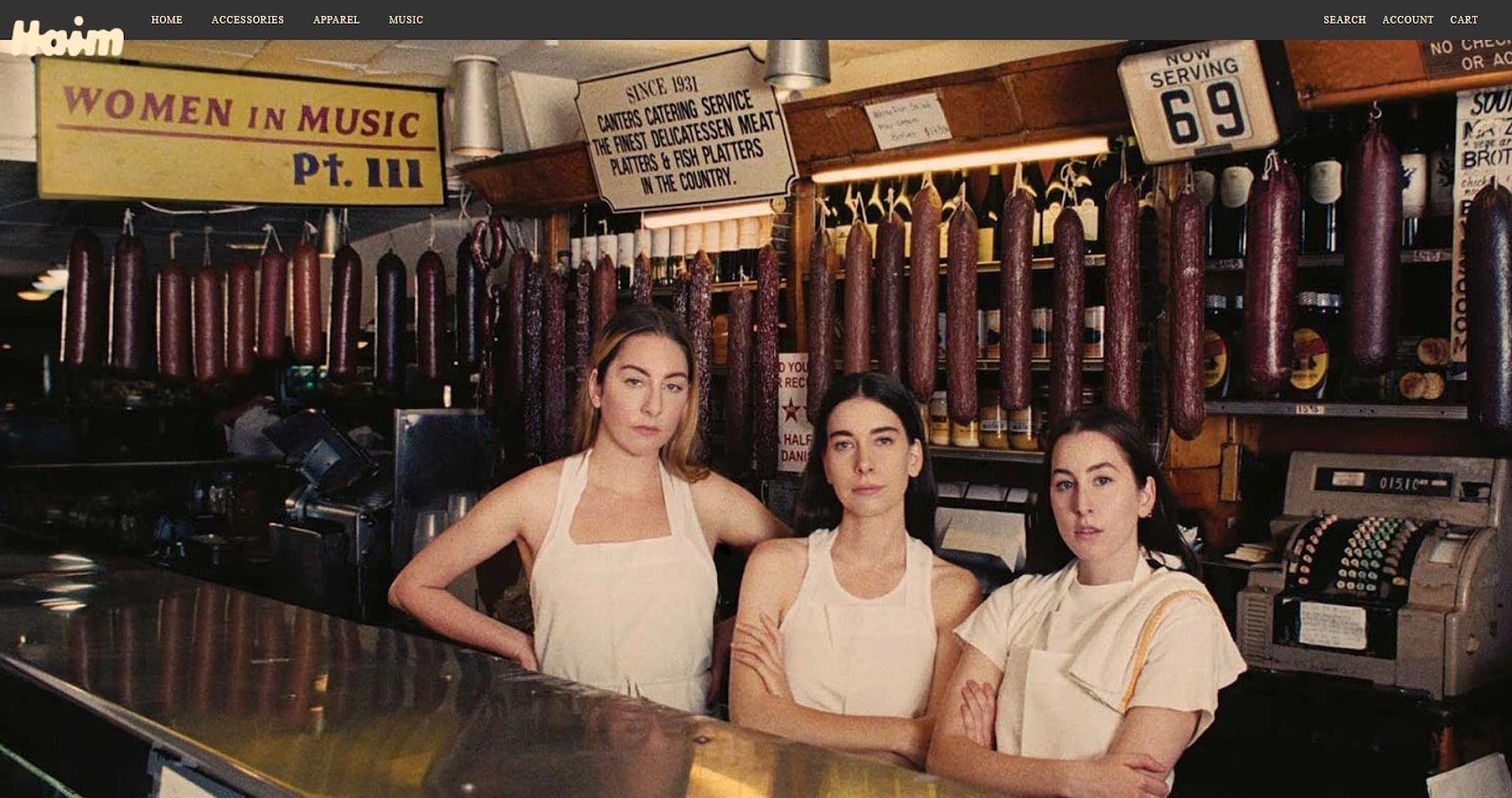 Instead of using flat product photography, they mostly rely on lifestyle pictures, with the Haim sisters themselves making up the majority of the images. This is a fun and unique method to provide merchandise to fans.
Justin Timberlake
The Justin Timberlake Official Shop is a Shopify music store that offers official merchandise, music, and exclusive product lines. The Shopify-powered platform allows fans to purchase items from the official Justin Timberlake store in one place. Customers can access the store from any device with an internet connection, making it easy to shop for new releases and classic Justin Timberlake music.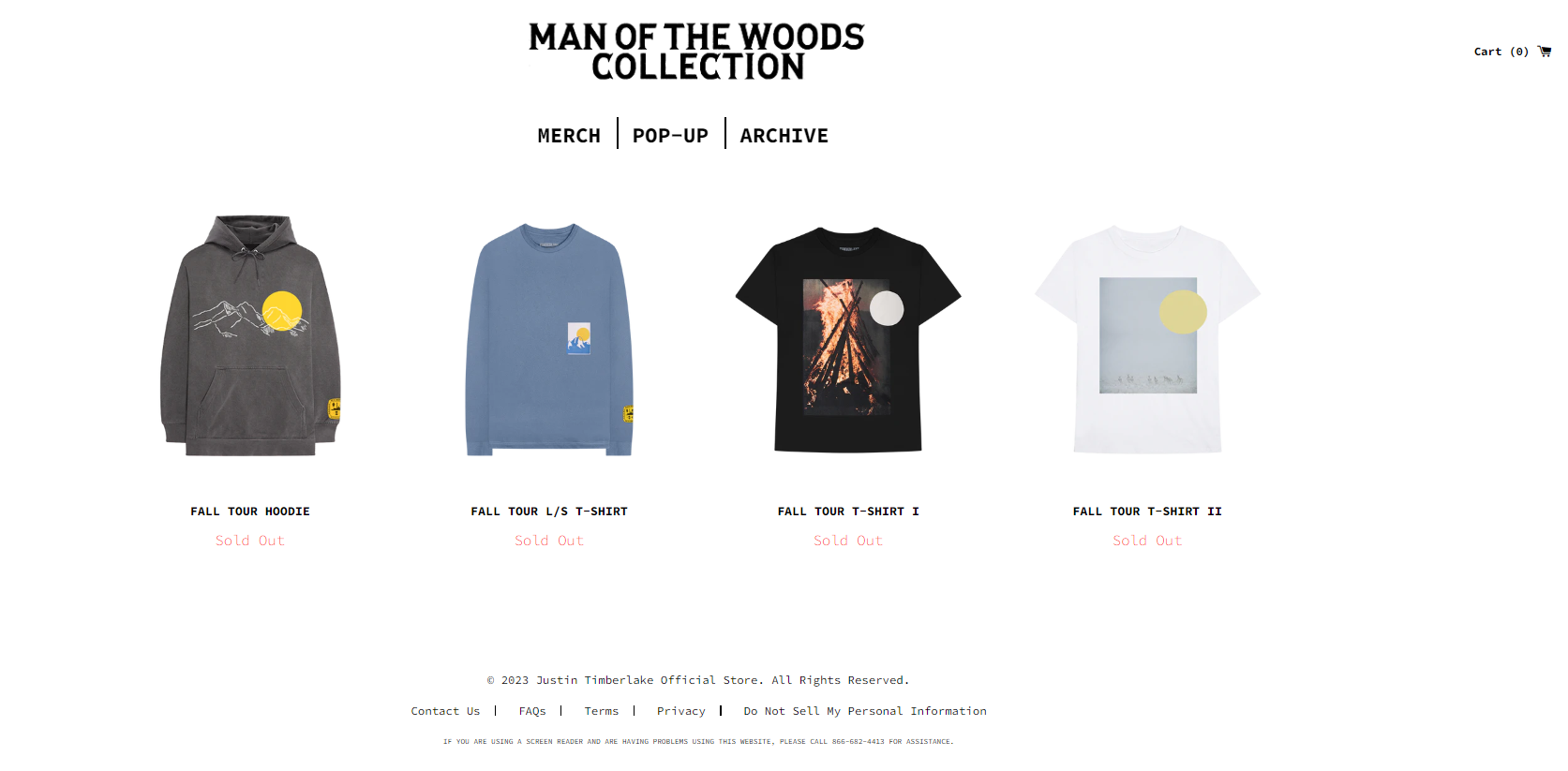 The Shopify store also offers high-quality apparel and accessories, as well as exclusive collaborations with leading brands. Additionally, the Shopify music store is designed to be secure and easy to navigate, providing a hassle-free shopping experience. Customers can learn more about Justin Timberlake's latest releases and products by browsing featured collections or using the search tool.
Christian McBride
The minimalist yet elegant design of Christian McBride's store will appeal to music fans. For instance, attractive album covers displayed as thumbnail photos transform an online store into an eye-catching gallery page. Additionally, the site's simple navigation makes it simple to browse and shop.

On his official website, listeners can purchase McBride's songs by clicking the Shop link. Since the website and the store have the same general aesthetic, palette, and layout, the integration is seamless.
How to Build a Shopify Music Store?
Deciding on the products
When building a Shopify music store, determining the products you want to offer is key. To ensure success with your Shopify music store, think carefully about which items will appeal to your target audience and align with your goals.
The type of Shopify music store you create will depend heavily on the type of product(s) that you choose to offer. For instance, if you choose to focus on selling records, CDs, and cassettes, then your Shopify store should be tailored toward vinyl enthusiasts. Alternatively, if you're offering digital music downloads and streaming services through Shopify, your Shopify store should be optimized for those customers who favor convenience and accessibility over the physical format.
It's important to think about the products you choose to offer in terms of both quality and variety. Quality products with reliable delivery are essential for Shopify music stores, as customers expect to receive their orders in good condition and on time. Additionally, Shopify music store owners should strive to provide a wide selection of products so that customers have the opportunity to explore multiple genres, artists, and albums.
Creating your Shopify music store
Creating your Shopify music store is simple and easy. To get started, you will need to sign up for Shopify. You can use Shopify's 14-day free trial to test the platform out before committing to a paid plan.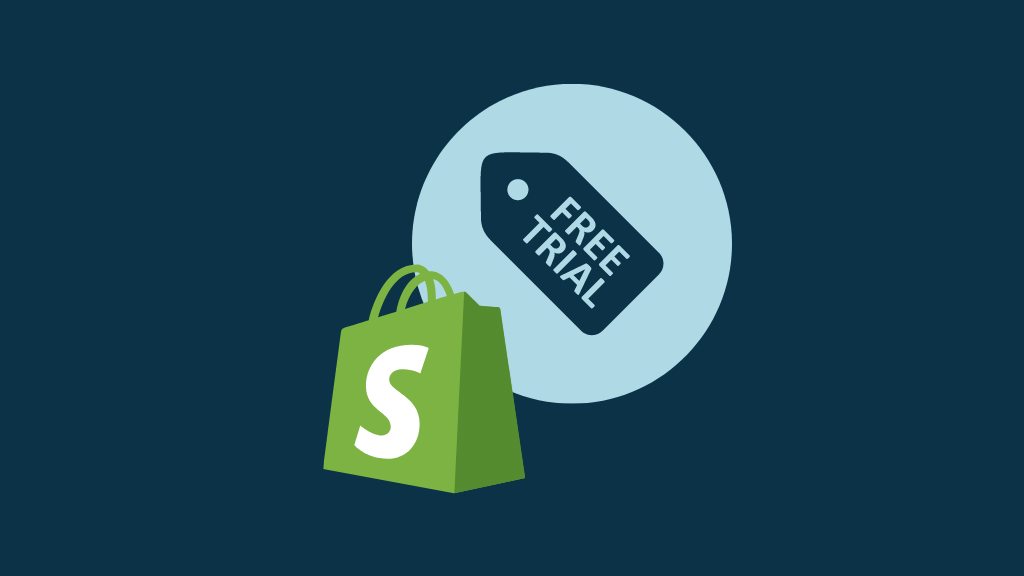 Once signed in, Shopify will lead you through an onboarding process that will help you set up your Shopify music store. During this process, Shopify will guide you through setting up payment options, adding products and services, creating shipping and taxes settings, customizing the look of your shop, and more. Checkout our detailed guide on this matter for the fastest
Once your Shopify music store is set up, Shopify's analytics tools can help you track customer engagement, conversion rates, and more. Shopify also offers Shopify apps to enhance the features and functionality of your Shopify music store.
Market your store and music
When building a Shopify music store, it is important to establish a marketing strategy in order to get the most out of your Shopify music store. Here are some key steps for marketing your Shopify music store:
Develop a strong social media presence: Social media is an important tool for boosting sales and improving customer loyalty. It is essential to create a strong presence on major platforms such as Instagram, Twitter, and Facebook.
Start building an email list: By gathering customer emails, you can build a base of potential customers and extend your reach. Use tools like Shopify's Email marketing feature to send promotional offers and other updates to your customers.
Offer discounts and promotions: Shopify's discounting feature allows you to offer discounts to encourage customers to purchase from your store. Utilizing promotional offers can be an effective way to increase sales.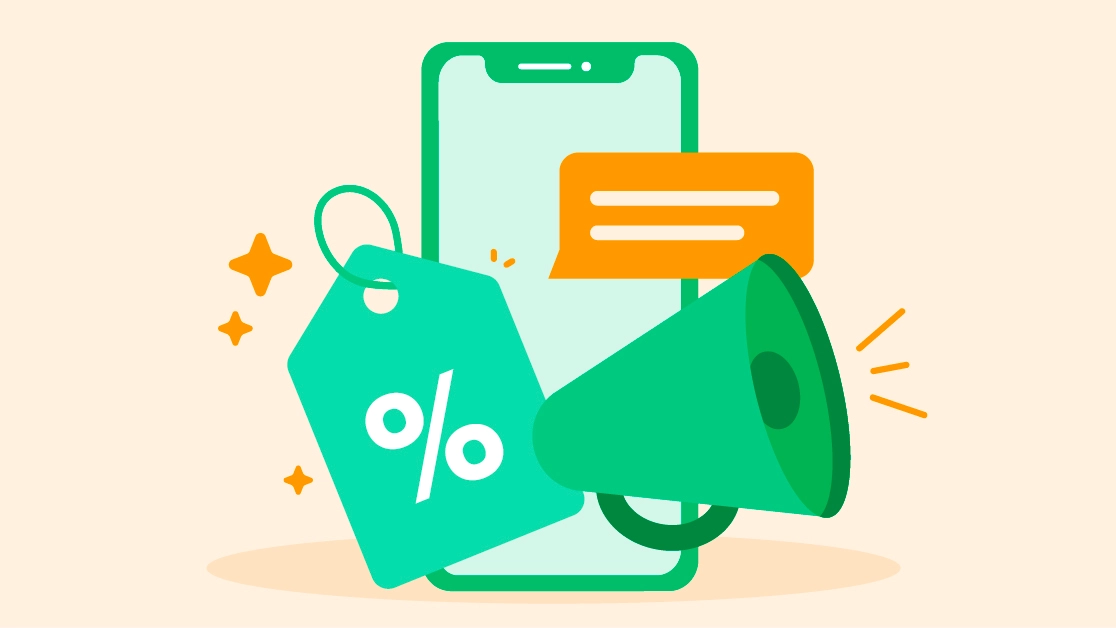 Optimize for SEO: Search engine optimization (SEO) is essential for increasing the visibility of your Shopify music store. Ensure that you include relevant keywords in product descriptions and page titles to boost search engine rankings.
Focus on customer service: Providing excellent customer service is a key component for keeping customers coming back to your Shopify music store. Make sure that you respond promptly to any comments or queries from customers and ensure that all orders are processed quickly.
By following these steps, you can effectively market your Shopify music store and increase sales. With the right strategy and tactics, you can create a successful Shopify music store. If you're ready to take the next step and create a Shopify music store, our Shopify website development services have everything you need.
In conclusion,
Shopify is a great platform for building an online music store. Shopify provides users with an easy-to-use interface and access to powerful tools to help create a successful online business. Shopify also offers robust security features, making it one of the safest solutions for setting up your music store. Plus, Shopify's flexible pricing plans and various payment methods make it a great option no matter what size your music store is. The 15 Shopify music store examples featured in this article can provide you with inspiration and ideas for building your own Shopify store. With Shopify's features, tools, and resources, you're sure to have a successful Shopify music store.
Shopify is the perfect solution for musicians, record labels, and music stores of all sizes looking to expand their business online. Get started today and build an amazing Shopify music store!