Online furniture stores can be highly profitable, whether you're selling your old furniture or starting a small store. A great-looking storefront with an efficient backend is essential for Shopify furniture stores, especially when you find your best-selling items and experience a surge in traffic.
In this article, we'll be discussing some of the best Shopify furniture stores currently on the market. These stores were chosen based on creativity and inspiration, so if you're looking to set up your own Shopify store or are just in need of some ideas, this list should help!
Top 10+ Shopify Furniture Stores examples for 2023
Stone Forest
If you're hoping to transform your hobby into a business, look no further than Stone Forest for inspiration. The company is made up of artisans and designers who want to share nature's beauty with the world. The founder realized his passion for stone carving in his early 20s while working as a mountain and river guide. He was constantly surrounded by natural beauty and started sculpting stones in his free time.
Stone Forest is committed to using only natural materials, such as stone sinks and garden fountains, in their award-winning designs. The talented team of artisans and designers strive to bring the unique energy and beauty of nature into people's everyday lives.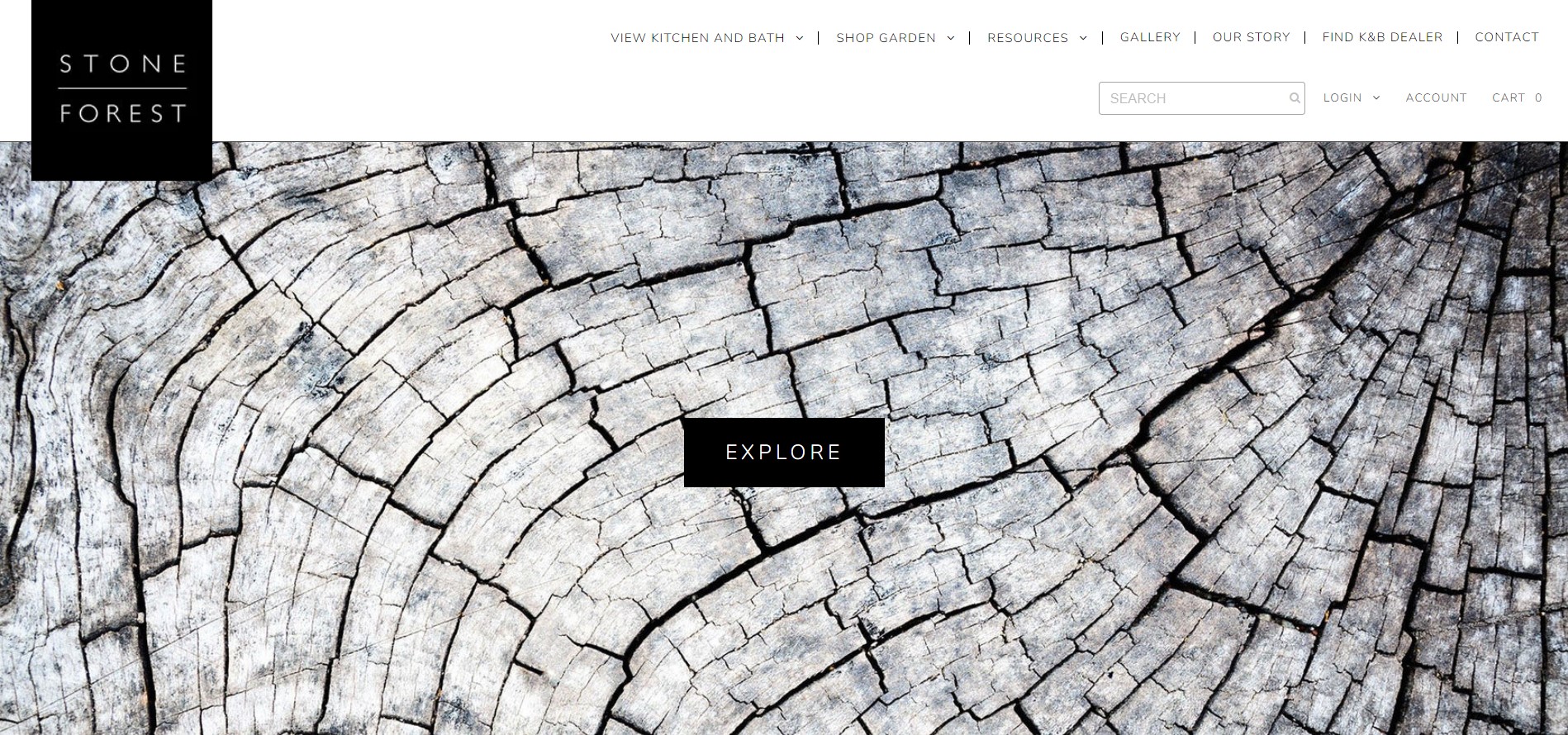 From the moment you enter the website, you are met with beautiful banner images in black and white. As you scroll down, more furniture options become available in an array of colors. Stone Forest Shopify store did not skimp on style when it comes to their website design, they hit the nail right on the head.
If you want to sell high-quality furniture, Stone Forest is a great example to follow. They use few colors in their products, which makes them stand out more easily in a crowded market.
Fyrn
Fyrn is a furniture company based in California that has been around for 100 years. They offer high-quality woodwork and craftsmanship to people who want their furniture to last. Their goal is to create modern heirlooms or furniture that will become part of their customer's memories.
How have they achieved this goal? They believe that their patented Stemn bracket is enough to make their chairs durable, replaceable, and simplistic. This design means that Fyrn can offer customers the choice between buying chairs unassembled or pre-assembled.
Their products are sourced from reliable, responsible suppliers. Plus, the packaging is recyclable too. They strive to provide customers with eco-friendly options and inspire people to buy less disposable furniture.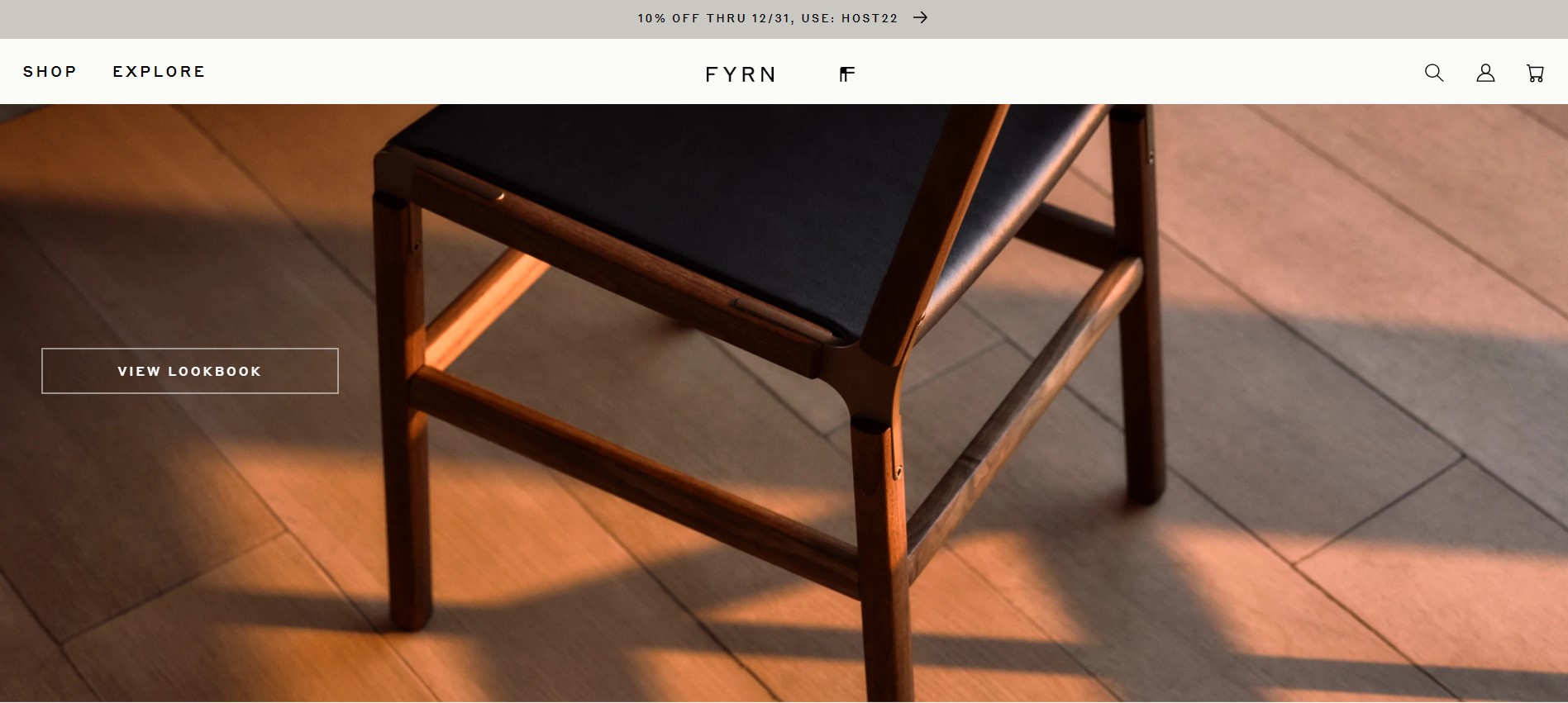 Fyrn is very similar to IKEA in the sense that you can buy already pre-assembled chairs or ones meant for home assembly. The company offers many instructional videos on their website to help buyers with getting furniture ready (there are also 3D models of the products). Another similarity Fyrn share with IKEA is that there is no customer review section. However, there is a trading program specifically for design professionals and artists.
Rustic Trades
Rustic Trades begins with a married couple, Clay and Maggie, looking for the perfect dining table to complete their home. After days of scouring through store after store, they couldn't find anything that met their expectations. That's when Clay came up with an idea: "I'll build you the perfect dining table."
Since then, what started as a time-filler has become a full-time business. Just like the first one, all tables are still handcrafted with the finest materials and quality carpentry techniques. Rustic Trades only use supplies from American companies so you can order with confidence, knowing your table will be designed to fit your lifestyle perfectly.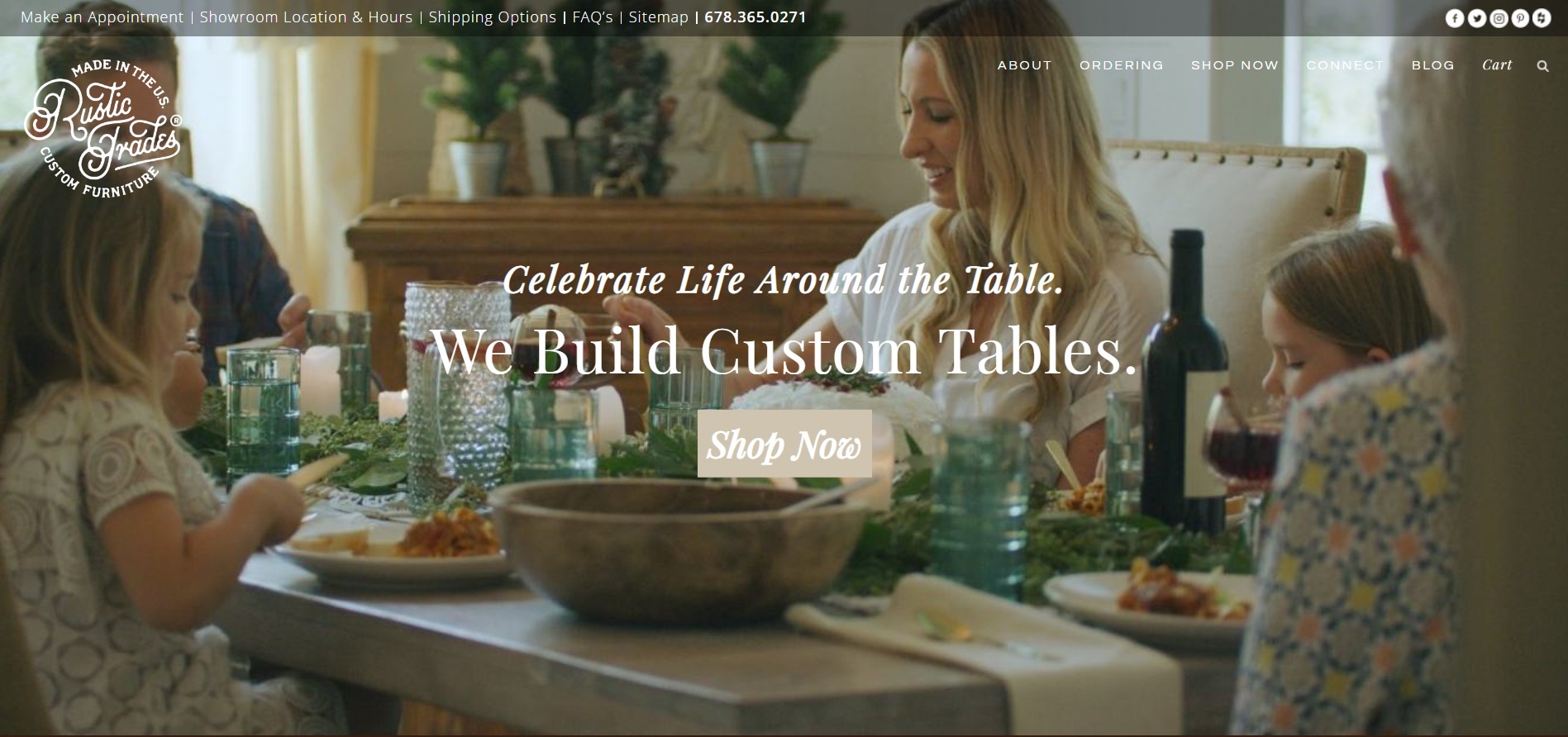 Rustic Trades is one of the perfect examples of Shopify furniture stores that filled an existing gap in the market. The founder learned the necessary skillsets after initially discovering the opportunity, proving that you don't need to be an expert manufacturer before starting your own company.
Floorplan
Floorplan, an established rug company based in Los Angeles, is not only available online but also has a physical presence via pop-ups and local shops. Their consistent success with customers can be seen through their numerous features on well-known platforms such as Houzz, Shopify, and Apartment Therapy. When you visit their website, Floorplan doesn't shy away from showing off these accomplishments by featuring the articles prominently on the homepage.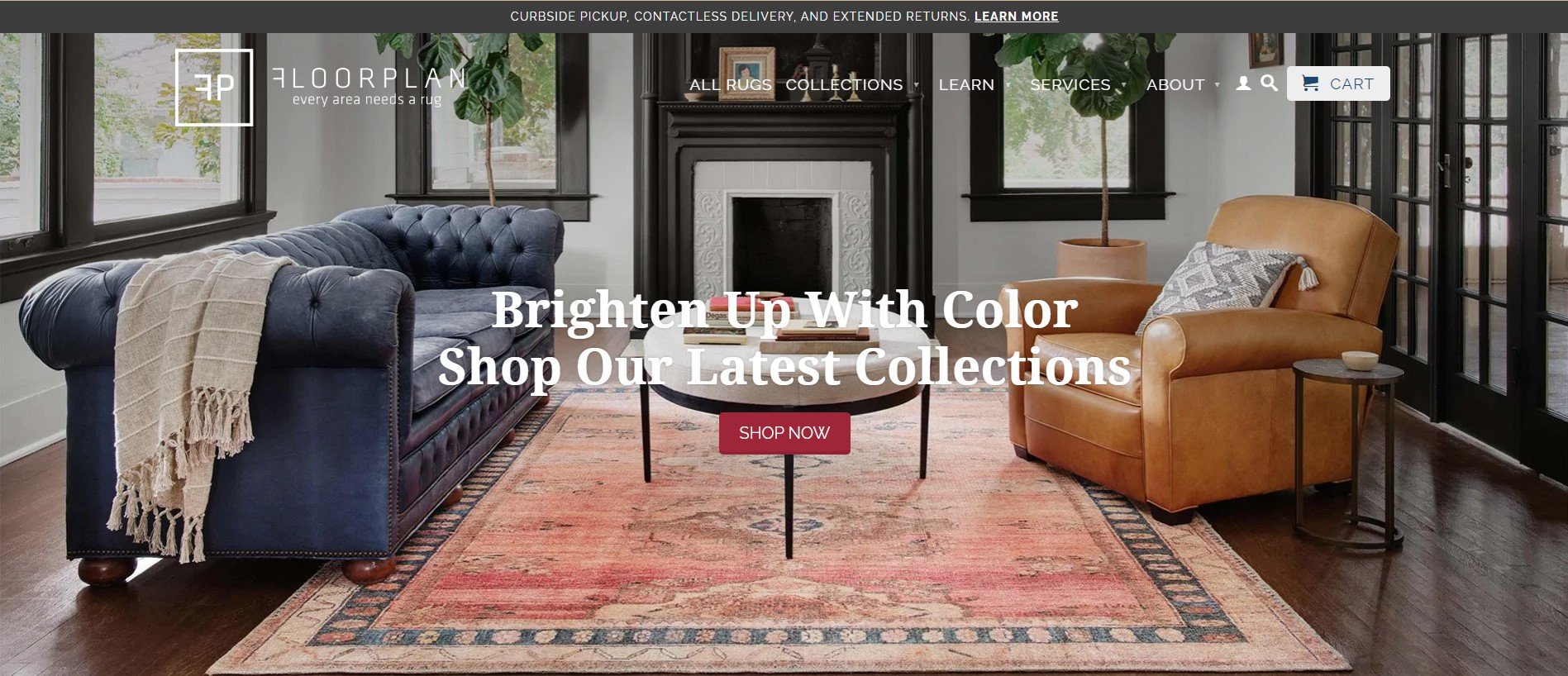 The Floorplan website is simple and easy to use, with only one banner image. Visitors can scroll down or navigate through the different categories of items. We really like the featured rug section on the homepage, it allows buyers to see which rugs are trending or on sale. In addition to rugs, the company offers other services such as rug cleaning, local delivery, and custom rugs.
A key downside of Floorplan is customer reviews. We went through their entire catalog of rugs and not once did we see a single review or rating, so potential customers have no way of knowing which products are loved by previous buyers. This is detrimental because reviews oftentimes play a deciding role in whether someone makes a purchase from your website or not.
Brosa
Brosa is a company that plans to change the way furniture stores do business. The founders were unhappy with how much customers had to pay for the costs of shipping, importing, and selling products in bulk. By starting their own business, they hope to create a fairer system.
By selling only through their Shopify store, Brosa has cut out the intermediary to allow consumers to purchase luxury furniture at an affordable price. They have a team of skilled manufacturers located in Australia, China, and India that take care of everything from product design to shipping.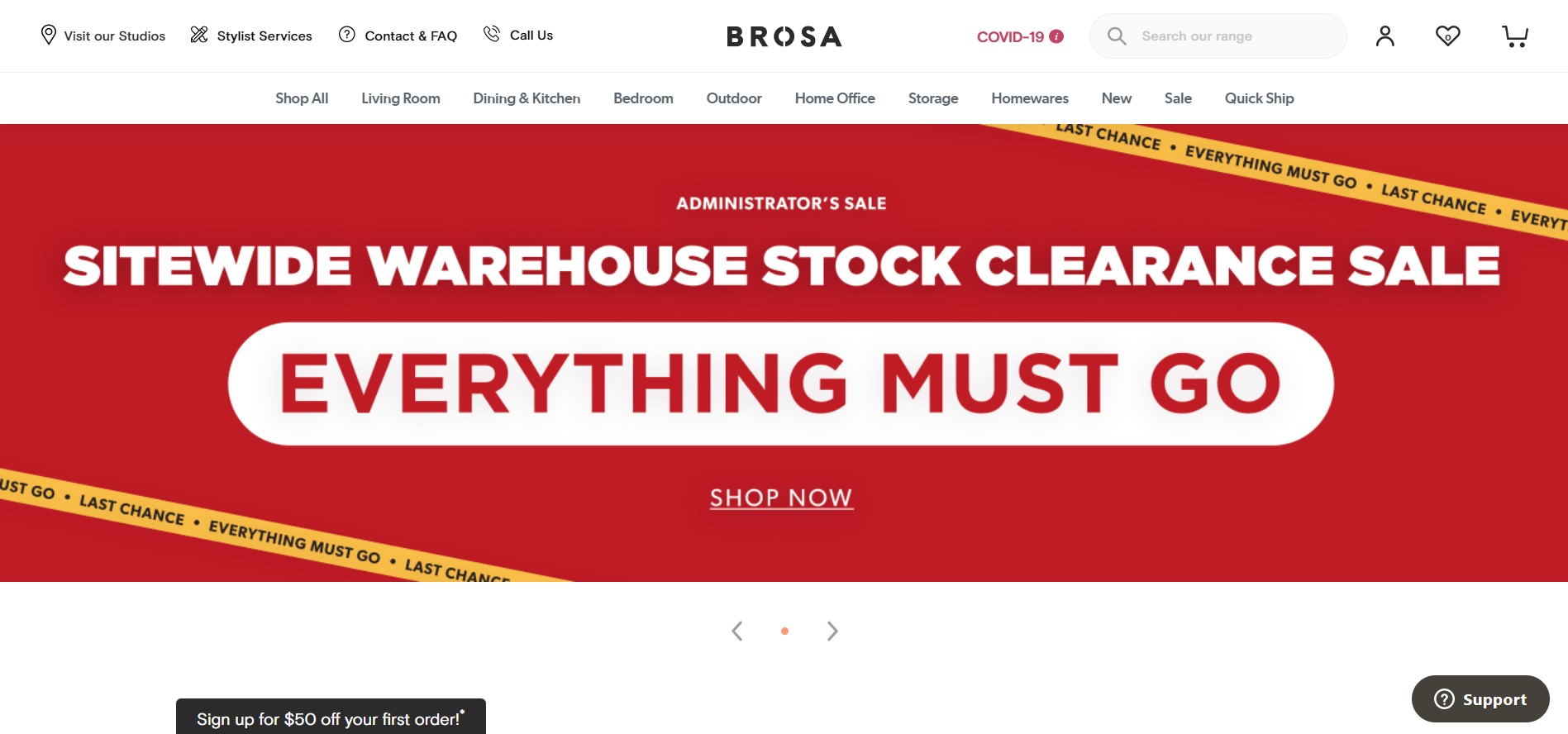 With their past experience in eCommerce stores and marketing, the Brosa founders knew exactly how to set up and run their business smoothly. What's more, they found a way for their Shopify furniture store to not only survive but also thrive with satisfied customers. You also can use this knowledge to build your online business or to use Shopify web development services. Just remember to put customers first and keep them coming back for more.
Dazzling Spaces
Dazzling Spaces is the perfect source of inspiration for any company planning to open Shopify furniture stores.
Although the website might look straightforward, it's still fully functional and allows Dazzling Spaces to put its products front and center. Additionally, it gives users easy access to different pages through navigational menus. Even so, this isn't even their biggest accomplishment on Shopify.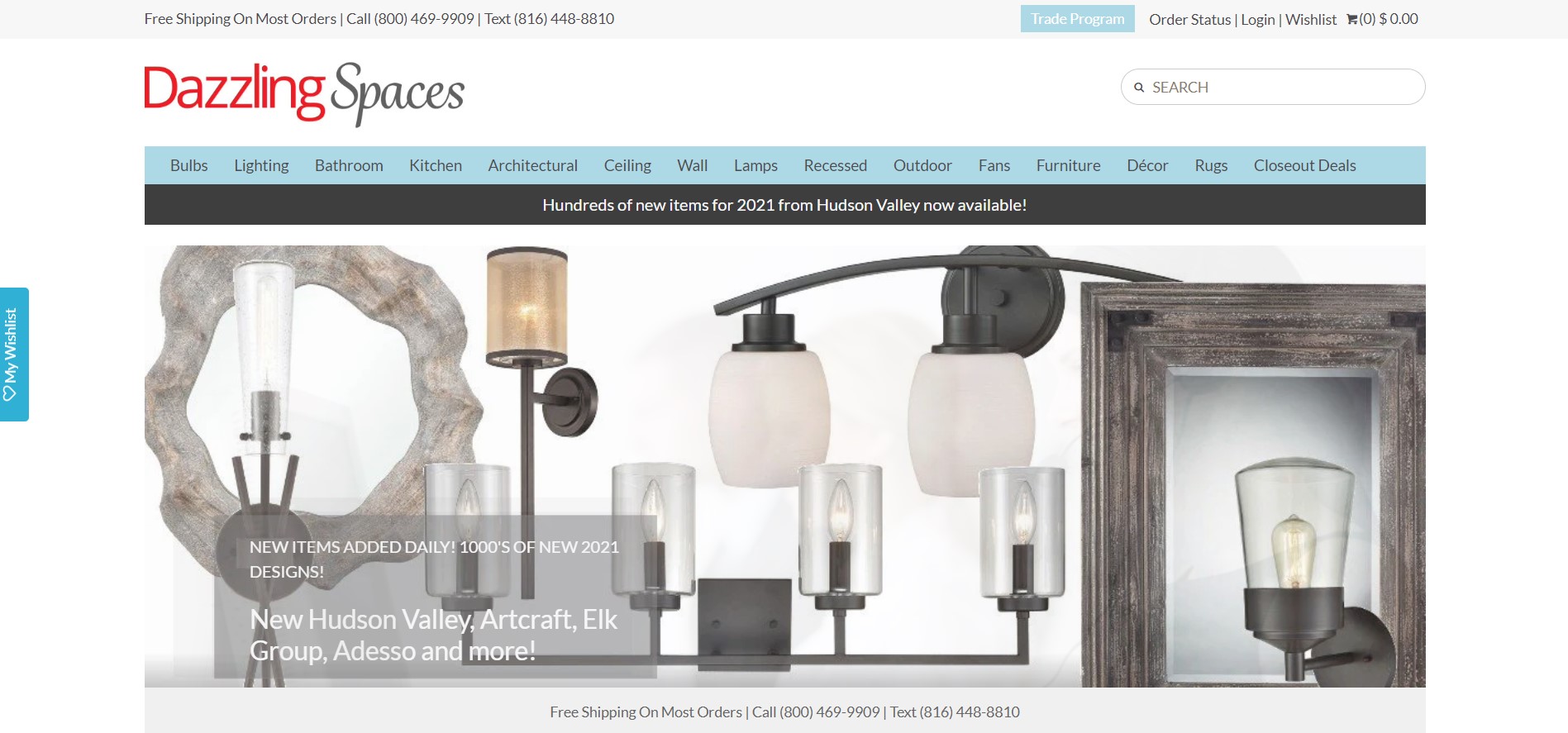 Dazzling Spaces produces all its products in-house to keep better control of the workflow, from production to sales. They offer eco-friendly and energy-efficient items across several channels namely B2B, wholesale, retail, trade, and D2C. By manufacturing everything themselves they can monitor the quality closely and make sure that only excellent goods leave the factory floor.
Dazzling Spaces makes it easy for you to see the importance of operating your products on all of your sales channels.
Soaring Heart
Soaring Heart is a company that offers handmade mattresses with organic and all-natural materials. The goal of Soaring Heart is to have customers sleep without discomfort. These toxin-free materials including natural elements have been known to help people who suffer from chronic pain, allergies, and sleeping issues get some relief.
Soaring Heart has been a reliable and trusting business for the past 30 years, due largely in part to their ability to keep up with changing technologies such as online shopping. They also donate profits toward charities and offer scholarships for students looking to study in the field of sleep research. Soaring Heart's values are grounded in three core areas: comfort, craftsmanship, and community.
Soaring Heart has a simple website with many images and health certifications that you can find by scrolling to the bottom of the page. The company is proud to be made with Shopify, which helped them transition from offline to online selling smoothly. You can also find their Instagram and blog feed right on the homepage, although I found this a bit distracting. Having said that, Soaring Heart still provides a good experience for users overall.
Inside Weather
Inside Weather is a different, more personal way of furniture shopping that is easily accessible to everyone.
Like those featured on the list, they offer customized manufacturing to visitors and can even take care of delivery within a few days. By allowing you to tailor your orders and dispatching them ready-to-assemble, they're able to do this efficiently. Plus, each item is easy enough to put together that it'll last for years.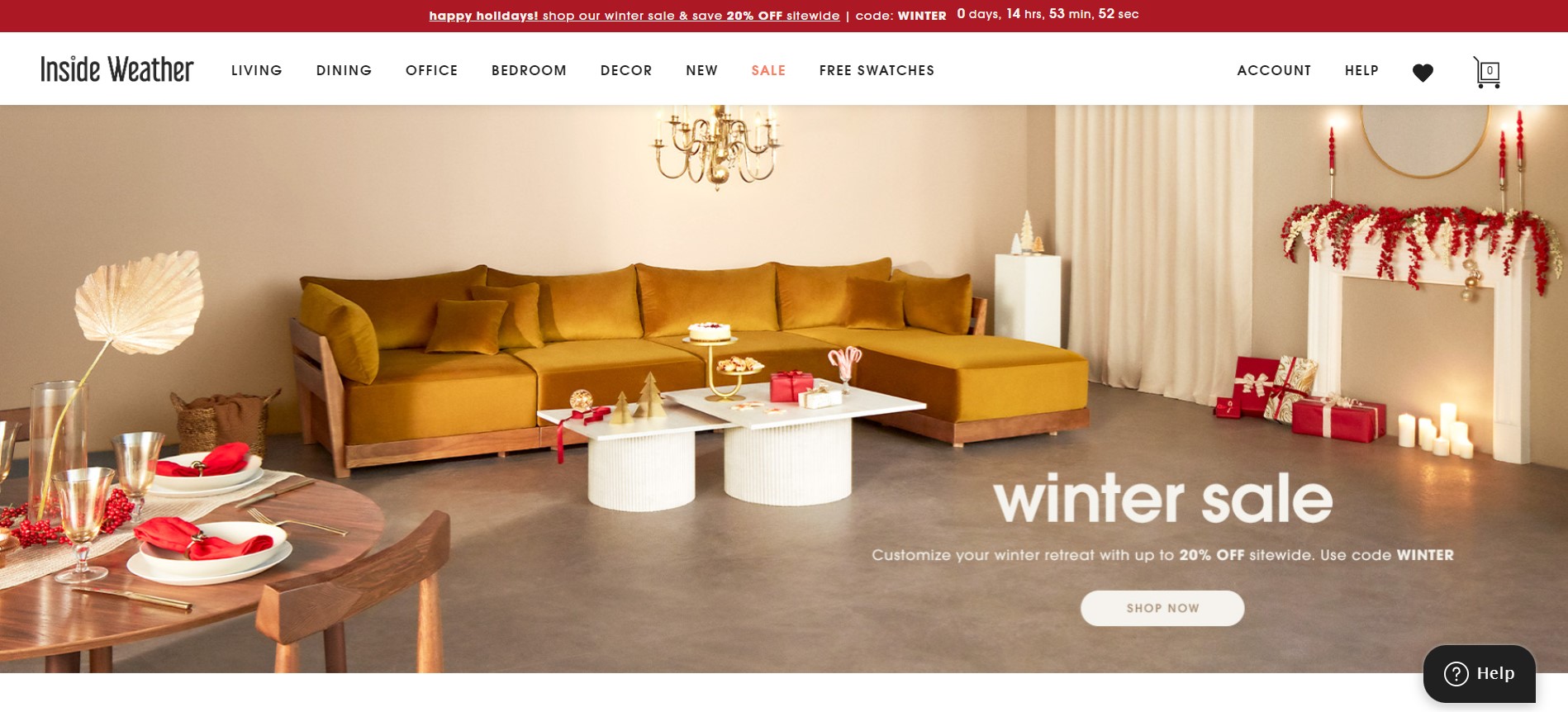 Not only does this work help the environment, but it also benefits our customers. With traditional mass production methods, furniture that doesn't sell and is sent to landfills is factored into the costs, but Inside Weather operates differently. If you want to reduce your lead times while sustainable practices, be sure to check them out!
ARTISURN
The talented artisans at Artisurn hand-design each and every cremation urn so that customers can properly honor their loved ones or beloved pets who have passed away.
This company is already unique because it partners with artisans to design urns that celebrate the deceased's life. The company was started by the founder when they lost a close friend and couldn't find an appropriate urn for their funeral.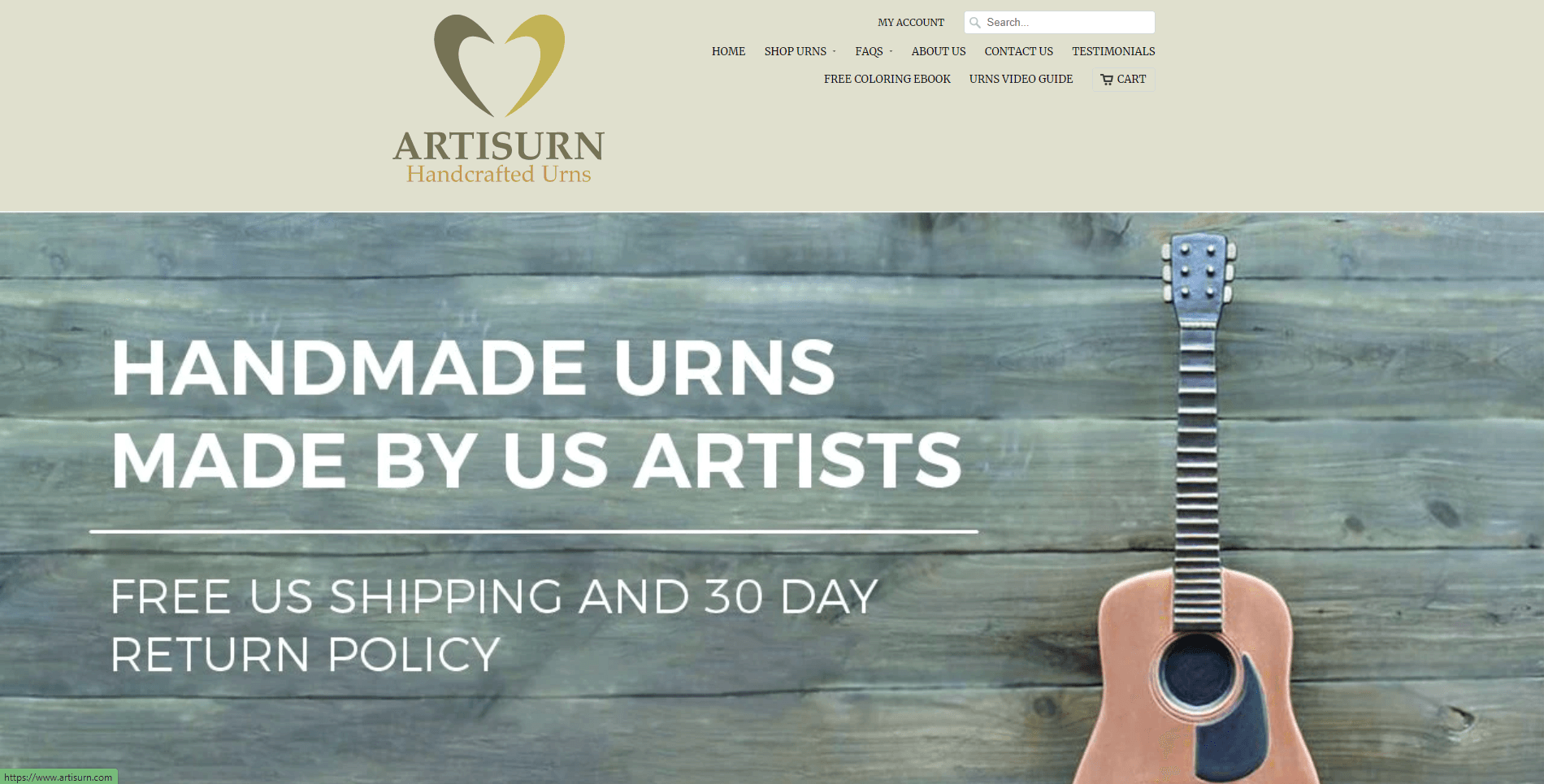 In addition to crafting beautiful urns, they also maintain a series of blogs focused on helping people who are struggling with grief.
If you want, your business can be inspired by something personal to you. However, always remember to be helpful and respectful instead of self-serving.
Bend Goods
Bend Goods makes beautiful, handcrafted furniture from recyclable materials. If you have a specific design in mind for your product, we would be more than happy to create personalized options for you.
Bend Goods is committed to creating beautiful furniture that can be used in a variety of settings. Whether you're looking for something to spruce up your backyard or want to add a touch of class to your restaurant, Bend Goods has the perfect piece for you.
The brand's founder remains passionate about art and design and pledges to continue creating products that not only look beautiful but fulfill a purpose. When presented with the opportunity, they quickly found success in furniture by taking some strings and crafting them into functional artwork.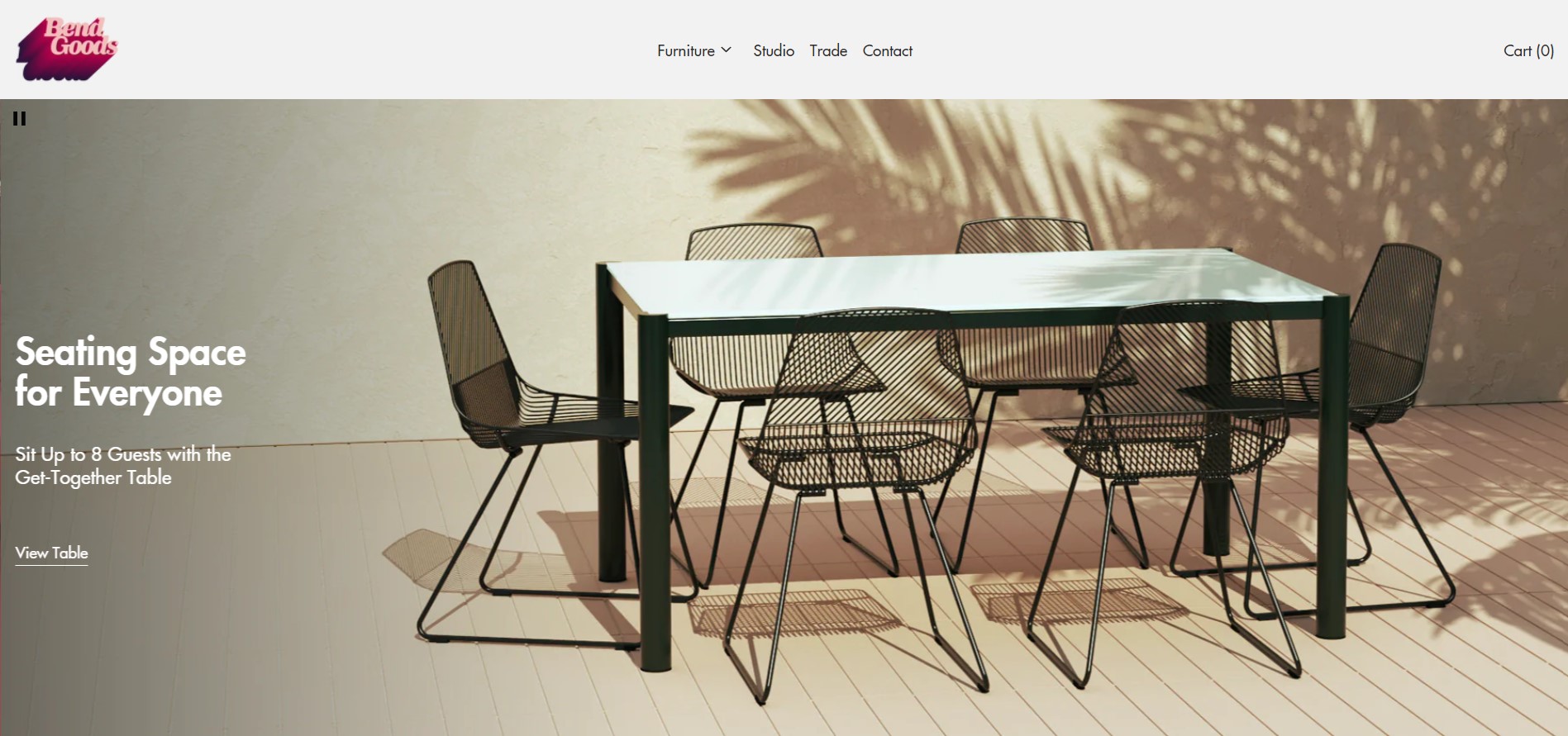 Bend Goods is one of the most fantastic Shopify furniture stores with a unique vibe that visitors can immediately feel. Inspired by the Los Angeles art scene, the website promotes the brand as a group of skilled artisans with quality products. With many large and impressive images, consumers can see what they are paying for. However, I believe that Bend Goods could improve its mobile experience.
Ettitude
Ettitude, based in Australia, is all about providing high-quality bedding and loungewear made from 100% organic bamboo. Not only is bamboo great for sensitive skin, but it also fights bacteria and is better for the environment. Plus, you can check out their 2020 Impact Report to see how Ettitude positively affects the environment.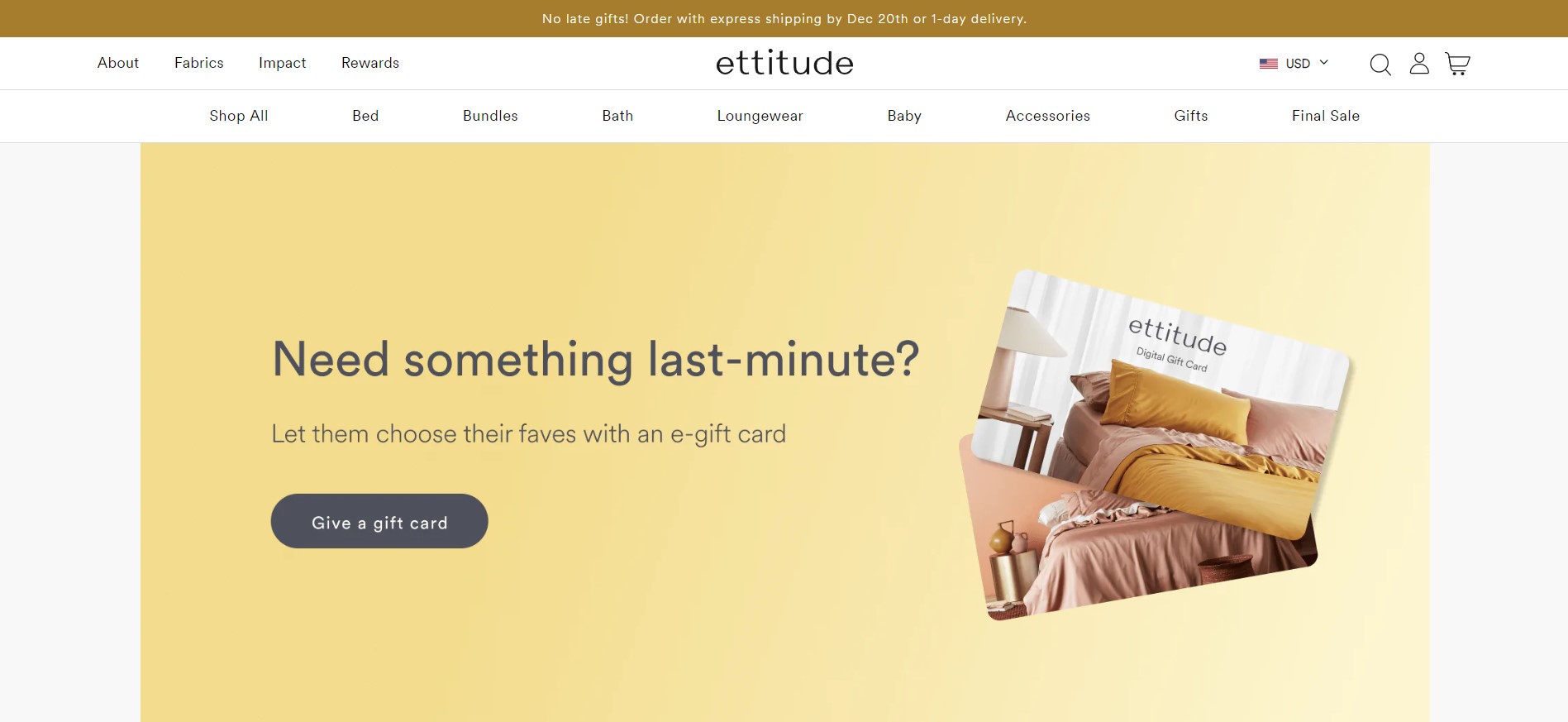 Ettitude's website is designed to make visitors feel comfortable and curious about their products and technology. And with over 5000 5-star customer reviews, it's certainly working. The store itself has a Shopify look that you can see in other similar stores but is still clean and efficient.
Ettitude's product pages are definitely worth taking a closer look at. Not only are the products displayed beautifully with closeups and gifs to show how the materials feel, but customers can also leave reviews complete with real photos. This social proof is extremely valuable for encouraging new buyers to make a purchase.
Onske
Onske is an online furniture retailer based in the UK that focuses on providing industrial-style items with personalized service. The company quickly realized there was a market gap and took action by building its website, contacting suppliers both in the UK and abroad, and going to trade fairs to find more information.
Onske utilized social media platforms to increase brand awareness and employed Google Shopping to list their products in sales-related search queries. Shopify met the majority of Onske's needs for a backend system, including fulfillment shipping which can be completed within three working days despite being complicated for any furniture store.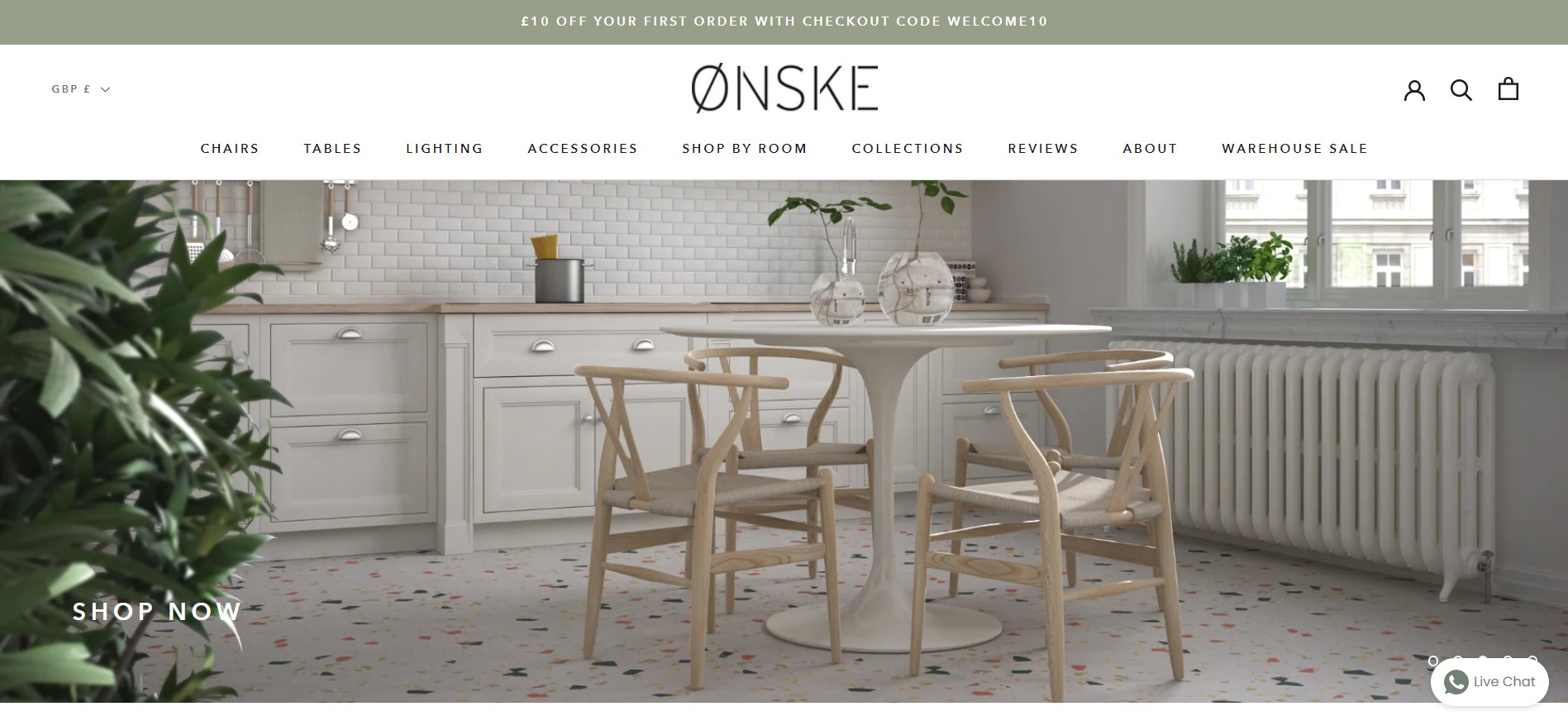 Onske has a very user-friendly website design that makes it easy for visitors to move around and explore. The social proof page with testimonials is also excellent for building trust with potential customers.
If you want social proof on your Shopify furniture stores, try adding testimonials to the front page. Another option is to use an app like Shopify Photo Reviews, which lets customers upload pictures of purchased items.
Onske's website could be more desktop-friendly. Mobile customers have a much better experience, though, as the site is well-optimized for convenience.
Eva
Eva is a Shopify furniture company that specializes in mattresses, linens, pillows, bed frames, and more. Their special mattress combines pocket springs with memory foam to give buyers the perfect night's sleep. The best thing about this mattress is that it's delivered in just a small box, so customers can easily carry and unpack it.
The Eva mattress was so successful that the company quickly expanded its product line to include linen sheets, pillows, and bed frames. The goal is to help customers have a simple living lifestyle with extreme comfort and good sleep. With an Eva bed, you can wake up feeling refreshed and ready for the day ahead.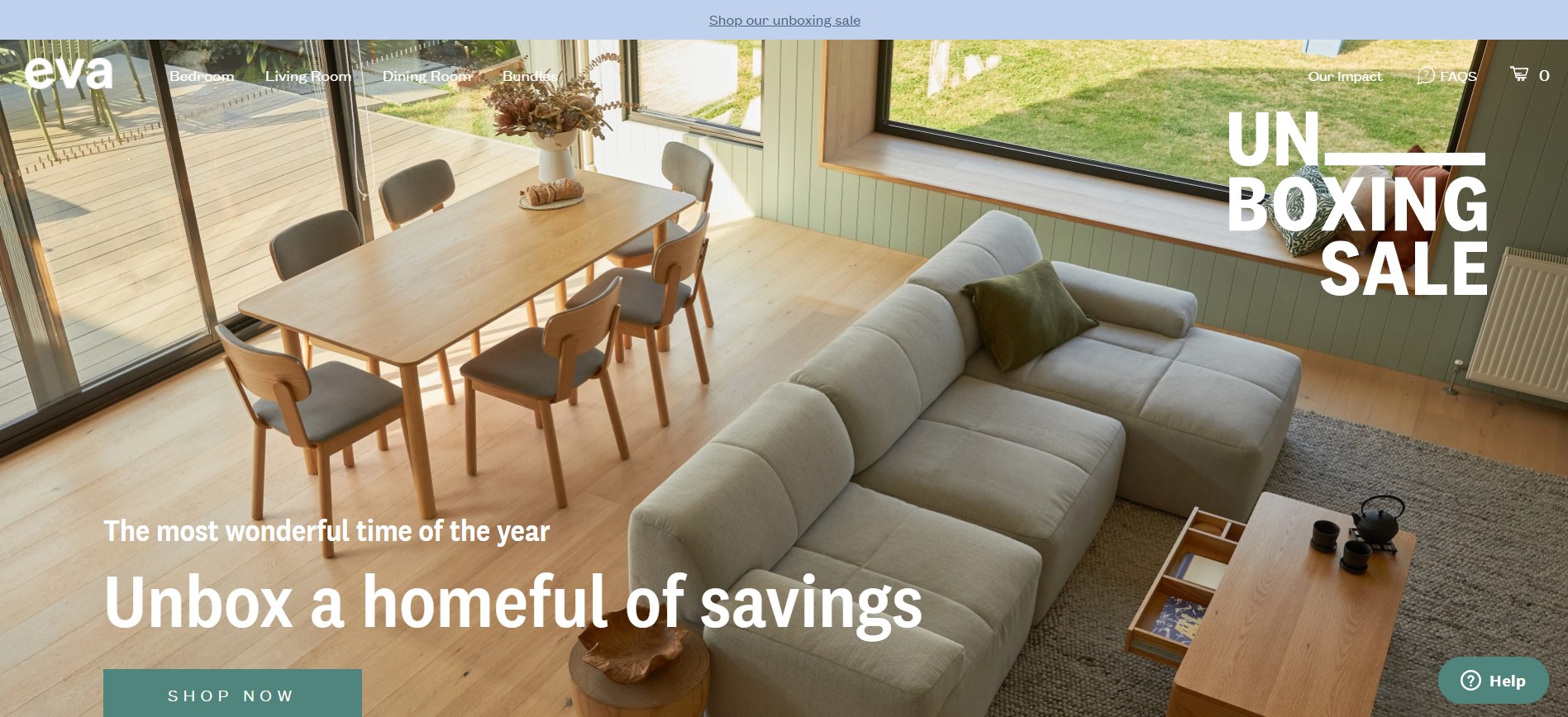 The Eva furniture store quickly provides visitors with an overview of the good services they can expect, such as free delivery, a 12-year warranty, and a 120-night free trial. There are also many awards to attest to the product's quality and customer testimonials to show buyer satisfaction. The overall design is sleek and mobile-friendly.
If you want to learn how to quickly show your unique services on the homepage, as Eva did with their website, this is the place for you. If you have a competitive edge, make sure visitors know about it right away. Also, remember that a good mobile experience is essential for any eCommerce website nowadays, so pay attention to that too.
Top 5 Themes For the Best Shopify Furniture Stores
Goodwin
With over 14 Homepage layouts and 50+ additional customizable pages, Goodwin is the perfect theme for your Shopify website. Whether you're in fashion, accessories, shoes, bags, and especially furniture, this Shopify theme has something special just for you. And with a competitive price of $114 comes not only numerous updates but also dedicated support services too. Make sure to take advantage of all that Goodwin has to offer today.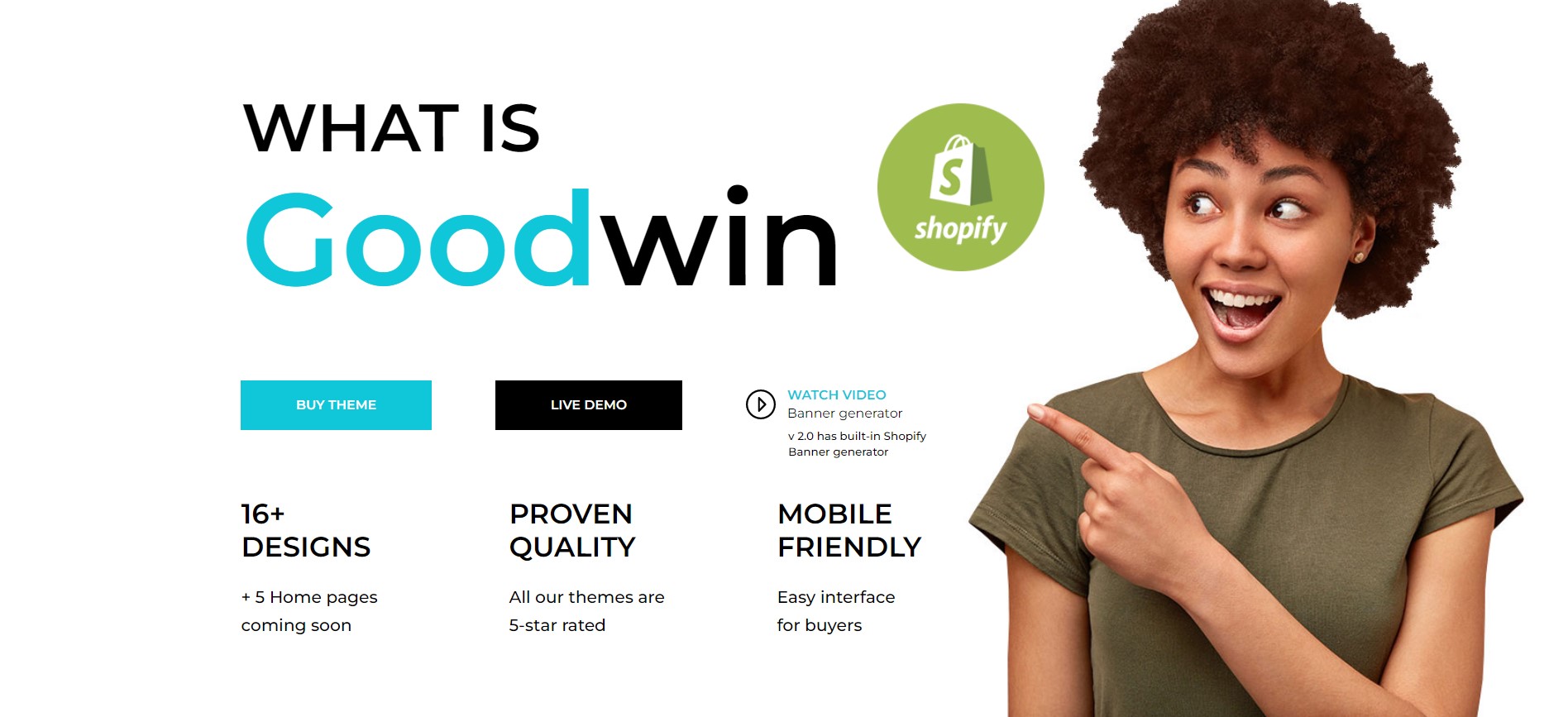 Goodwin has an incredible rating on ThemeForest, totaling 80 positive reviews at 4.9. Whether you need it for Shopify furniture stores or whatever else, Goodwin is incredibly easy to control and customize, perfect for any purpose you may have in mind. Don't miss out on this fantastic opportunity to modernize your Shopify furniture stores today.
Vodoma
Vodoma is the ultimate Shopify theme for any eCommerce website. This multipurpose platform will instantly enhance your site's performance and give you access to a world of customers with its multilingual feature. Plus, build customized banners in no time to advertise your products, all without compromising on quality or design. By integrating smart upsells, cross-sells, and search suggestions with highlighted text into your store, customers will have no trouble discovering what they need. Additionally, the multitude of features your website offers makes it truly exceptional in comparison to other stores. Customers can rest assured that their shopping experience is certain to be effortless and stress-free resulting in a fantastic boost in sales.

The price of the theme is just $69, far cheaper than Goodwill and yet the quality is still guaranteed by Envato. The themes are always updated promptly and Vodoma's support team is incredibly passionate about their work. This product has 39 reviews on Themeforest with a rating of 4.97 (almost 5), making it clear that this item can be trusted to deliver excellence in design.
Layla
Come and explore Layla Furniture, a theme specifically crafted to showcase the beauty of all things furniture from modern designs to classic pieces. Showcase your range of furniture for any occasion and decor with this delightful theme that is designed exclusively for both residential and commercial spaces. With Layla Furniture, you can tastefully display an array of elegant furniture items, fixtures, products, and equipment solutions.
Layla Furniture theme is a great choice for the best Shopify furniture stores looking. This Shopify-designed theme features everything from Homepage and About Us pages, to Product Portfolios and Contact Us forms. This theme has a price of $59 with many features integrated relevant to the furniture stores. The dedicated support team is always available to help through emails, phone calls, or video tutorials.
Timber
Timber, a Shopify themes furniture template, is the perfect solution for anyone looking to create an online furniture store with all of the features necessary for quick and successful sales. Whether you are needing to sell home furniture, office supplies, soft furnishings, or accessories, Timber has it all. With its minimalist administrative panel management, this site will be a breeze. Moreover, there's always room to add additional features that could help increase your customer service and boost overall store conversions even further.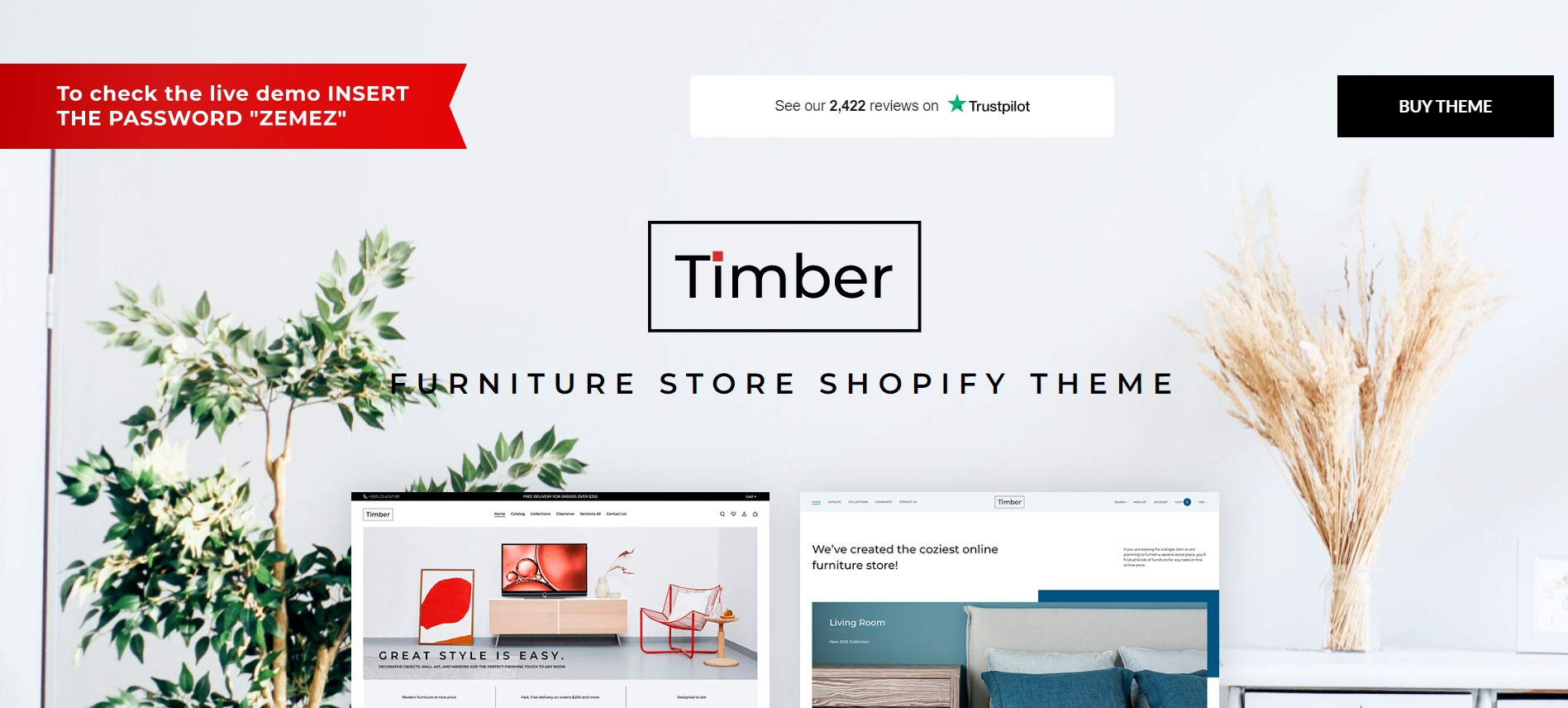 The Timber theme costs only $39, a remarkably affordable cost for such an elite Shopify product. The quality of the design is guaranteed by Envato, and if you ever encounter any issues while setting up your store, no worries, Timber's support team is highly skilled and always available to lend a helping hand.
Anadi
Anadi is a minimal-style furniture Shopify theme with powerful Shopify page builder Sections. With Anadi, you can bring a really authentic look and feel to your web store. It is suitable for furniture, interior design, home decor and appliances, kitchen accessories, bags, and backpack stores. Anadi includes customizable homepage layouts that can be changed to your own taste within a few minutes. Moreover, explore plenty of great options and features with this premium Shopify theme Anadi. This will create the perfect place to display your collection and promote new products and hot store & sale offers.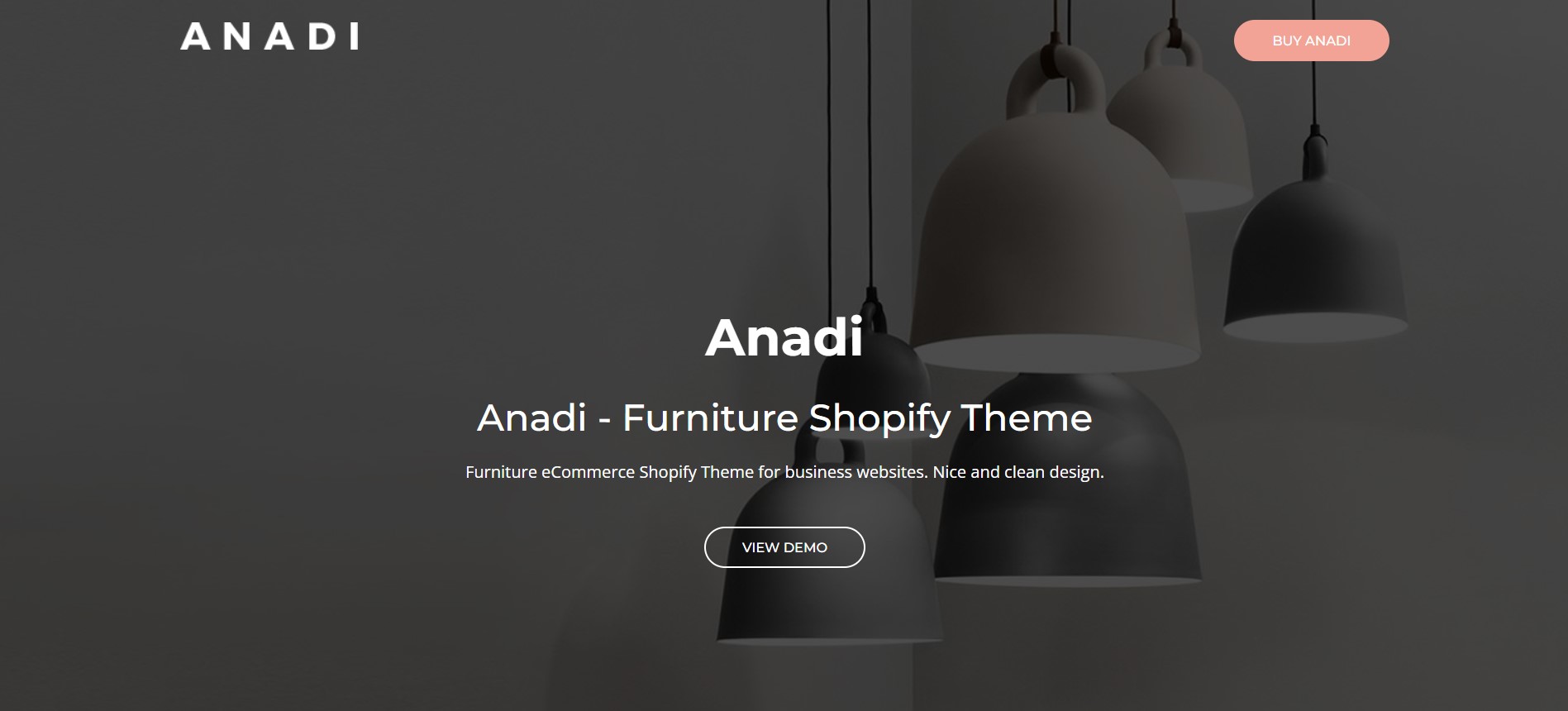 The cost for the theme is only $48, yet you can still be sure of its high-quality thanks to Envato. Anadi's customer service team is incredibly thorough and ready to aid if any issues arise while installing or configuring your store.
In conclusion,
Our thirteen best Shopify furniture stores list has come to an end. We hope you were able to take away some inspiration from each store that you can apply to your own Shopify store. Getting inspiration from these other stores is great, but it's even better if you aspire to be on future lists such as this one.
What types of furniture do you plan on selling in your store? Are you having difficulty conceptualizing how to promote your brand-new Shopify furniture store? If so, don't hesitate to reach out for help. We have plenty of experienced professionals in the Shopify field who would be more than happy to assist you through this process.