The eCommerce industry has grown significantly in this day and age. The Magento eCommerce development platform has met all the requirements of online retailers in order to create a seamless shopping experience. Magento is a highly powerful eCommerce development platform that was created with every type of online company demand in mind. However, it is a sophisticated platform that needs the use of expert Magento developers to set up or maintain your site in the long run. A Magento developer must have sufficient knowledge and competence to provide you with prompt, dedicated, and cost-effective services. Find out the article below to answer the question, should companies and agencies outsource Magento development projects.
What is an Outsourcing Magento development project?
Magento is an open-source eCommerce platform that is handy software for online businesses and the world's largest eCommerce platform. Magento is very easy to use, versatile, and fast. Because of its sophisticated, scalable architecture, Magento is the most popular CMS (Content Management System) for creating online stores all over the world. It is compatible with the most recent technology, such as PHP7.

Outsourcing is a business technique in which a task, process, function, or component of a corporation related to software development is delegated to a third-party provider. The supplier could be an individual or a company, depending on the nature of the activity. Outsourcing is most often employed in the IT sector today.
Business owners/entrepreneurs will be able to receive a variety of IT functions by leveraging outsourcing services in order to give the best results for their clients. Aside from that, it can relieve them of financial, time, and a variety of other burdens that in-house workers cannot give. Clearly, the advantages of outsourcing are not surprising for firms and it is advised that firms should ​​outsource Magento development.
What are the types of Magento outsourcing development?
The development budget will differ depending on whether you choose In-house, Agency, or Freelancers. Furthermore, the pricing of Magento Development Service is determined by the quality and experience. You will pay more for a highly experienced developer or agency, and vice versa.
Your decision will be influenced by three factors:
Costs that are not explicitly stated.
The developer's experience.
Flexibility and amount of commitment.
Here are 3 popular types when you outsource Magento development
In-House Development
You can bring a Magento developer with solid experience in Magento development and other eCommerce development platforms to your team. Having an in-house team refers to hiring and maintaining a dedicated team of Magento developers who work exclusively for your company. These developers are an integral part of your organization and are able to work closely with your in-house teams.
Owning an in-house development team provides several benefits. A team that has a deep understanding of your brand and business goals is a significant advantage. You'll be able to conduct direct communication with your team as well as a complete control over the development process. Hence, this approach is highly responsive to changes and adapts quickly to evolving requirements.
However, building an in-house Magento team can be expensive and time-consuming. You need to invest in recruitment, office space, onboarding, salaries, and any other expenses associated with in-house employees. You may also need to spend more money and time interacting with new talent and ensuring that everyone on the team is on the same page regarding the development of a great app. Moreover, since Magento specialists are in high demand, turnover is a significant issue. Hence, more money should be spent on bonuses and retention programs to mitigate this risk.
Outsourcing to Agencies
Another popular choice for many businesses is to outsource Magento development to agencies. These agencies are composed of experienced developers, designers, and project managers who are well-versed in Magento's capabilities. By outsourcing to an agency, you gain access to a pool of expertise and resources without the long-term commitments associated with in-house teams.
One of the key advantages of working with Magento agencies is their collective experience. They possess considerable experience in working with a wide range of Magento projects and customers, giving them insights into best practices and innovative solutions. Agencies also have the infrastructure and tools needed for efficient development, such as project management software, quality assurance processes, and scalable resources. By transferring all of the work to the right hands, you'll be assured that your Magento development project to be completed in the shortest time with the highest quality.

Despite its amazing benefits, it's worth noting that outsourcing to agencies comes with several limitations. This approach necessitates a considerable amount of budget, as you'll be paying for their services and expertise. Communication requires careful management, as agencies often handle multiple clients simultaneously, thus aligning their priorities with yours can sometimes be a challenge. Nevertheless, a well-chosen agency has all the capabilities to deliver high-quality results and help you achieve your eCommerce goals in an effective and sustainable way.
Whether you want to build a Magento store from the ground up or migrate from another platform to Magento, the best solution is to choose a Magento development firm like Magenest.
Outsourcing Freelancers
In addition to hiring Magento development agencies, outsourcing the services to freelancers is also a common method. This practice involves hiring individual developers who work independently on specific tasks or projects. Hiring freelancers is usually a cost-effective solution, as they require lower overhead costs compared to agencies. This flexibility allows you to find specialized talent for specific tasks or short-term projects.
Many individuals choose to locate a freelancer for their work, but it has its own set of advantages and disadvantages. Freelancers are a good fit for small to medium-sized businesses with budget constraints. They can provide quick turnaround times for small-scale projects. They may also offer a more personalized approach and direct communication with the developer.
However, working with freelancers also has its downsides. The quality and dependability of freelancers vary considerably, and it may take more effort to find and manage the freelancers who best meet your needs. There may also be concerns regarding accountability, as freelancers frequently manage multiple projects concurrently, making it imperative to establish clear expectations and deadlines. Therefore, careful planning and communication should be prioritized as you choose this approach.
Why should companies and agencies outsource Magento development projects?
The complexity of Magento
Magento is a highly reliable, scalable, and adaptable eCommerce development platform. It is also a complex and strong platform. It is appropriate for any industrial segment and can meet all of your consumers' needs. If you want to create a fully working, next-level eCommerce store for your company, you must use every customization option and capability available on the Magento platform.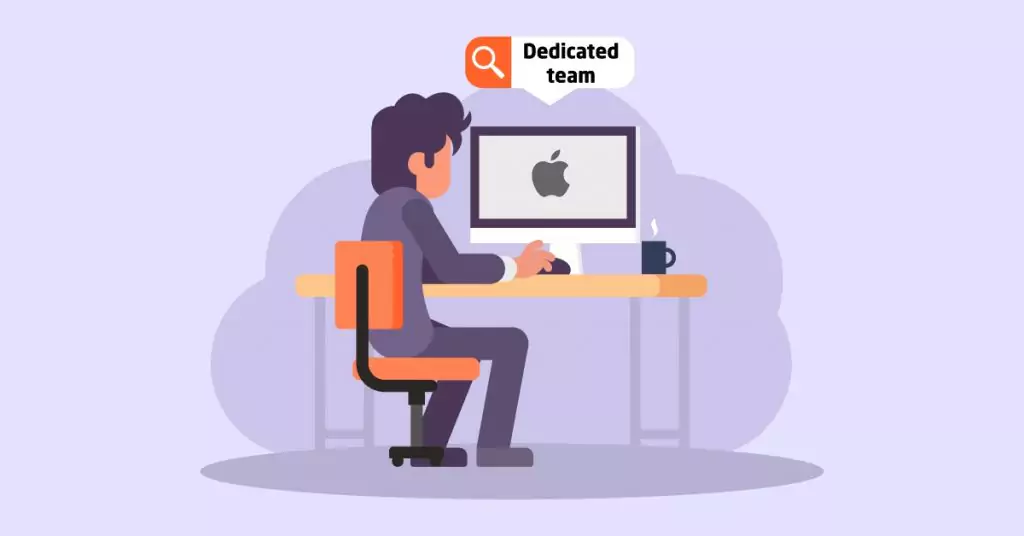 Whether you wish to stick with the default theme and choices or require bespoke installations, themes, or extensions, you should seek professional help. In this way, the Magento development team you select will determine the level of success you will achieve with your online business. Nonetheless, it is preferable to delegate tasks to professionals and concentrate on your business strategy. This will assist you in staying ahead of your rivals and generating more business.
5 benefits of outsourcing when you outsource Magento development
Better Project Outcomes
There are various domains where problems can arise in Magento development projects. Obstacles in project implementation may arise, as may design difficulties. Individual freelancers are cautious about assuming overall team accountability. However, with Magento Development projects, the team structure makes it clear from the start who is responsible for upholding the standards.
Enhance turnaround time
A normal turnaround time for project delivery is one of the reasons why most companies prefer hiring a development team. They deliver the highest quality development in the least period. Thanks to the abundant resources that are potential with companies that manage these services. If you have any crucial projects to be executed, they will live up to your expectations and satisfy the demands.
Durability and Continuity
This is the type of problem that Magento development teams always solve. When someone has worked with groups of at least 2-4 freelancers, they are bound to run into a circumstance where someone is unable to restart work for a variety of reasons. Things like these happen in real life, and they can happen to anyone on the in-house team, the dedicated staff, or freelancers.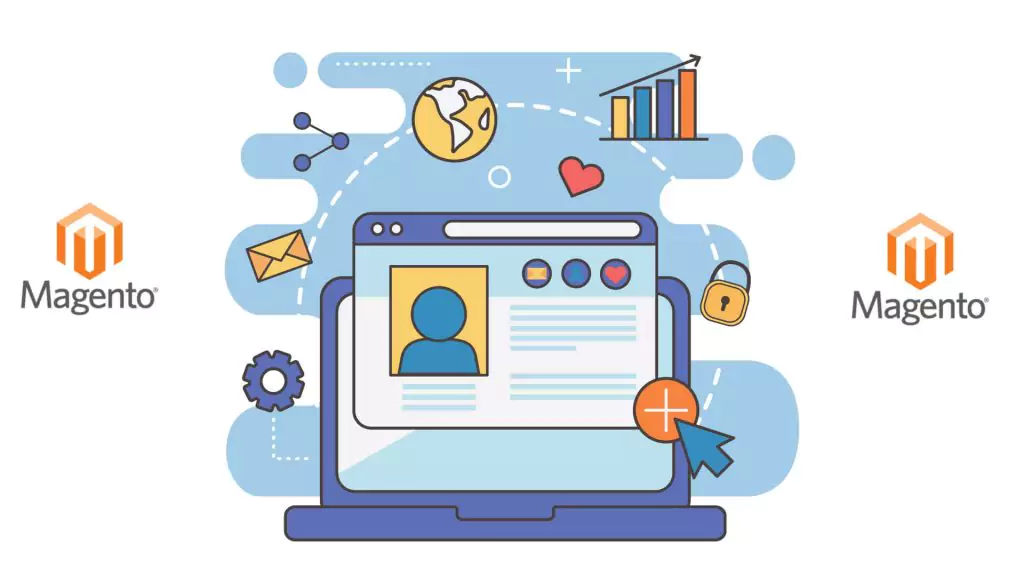 The difference is that you will not be left alone with a half-finished job in either instance, with an in-house team or a dedicated staff. There would always be someone who would provide the process briefly until a replacement could be identified.
Get Hired Experienced Developers
Some of the most skilled and intelligent developers choose to work on long-term projects with a high degree of responsibility. Working as part of a dedicated Magento team appeals to these developers in particular. A specialized team model for project development promotes putting developers' superior design and programming knowledge to use.
Uniqueness
How do you intend to distinguish yourself from the mass of eCommerce websites? With an increase in demand and the number of online retailers, competition is expanding all the time. The only way to survive is to incorporate distinctive qualities. You must concentrate on two critical aspects: distinctiveness and innovation.
A competent Magento developer will ensure that your website is totally personalized and one-of-a-kind. It will assist you in attracting a large number of visitors and generating a large number of leads.
How to choose the right agency when you outsource Magento development?
Now that you've defined your needs and established a budget, it's time to conduct some research and find a Magento web development company with extensive experience completing projects of comparable size, scope, and nature to yours.
Expertise and experience
When it comes to Magento, experience counts a lot! As a result, knowing how long a web development firm has been generating and managing Magento-based eCommerce sites is crucial. When reviewing them, inquire how many projects the agency has begun or finished. How many Magento web developers do they employ?
A company that has been designing Magento websites for a long time has accumulated a wealth of expertise and experience. Furthermore, genuine clients have proven their skills. As a result, the Magento web development company has been able to maintain its existing position. Furthermore, the agency's extensive experience allows it to work on projects in a wide range of industries.
Portfolio, Existing Projects, and Clients: It is best to investigate the Magento development company's technologies and previous projects. A portfolio shows a lot about a company, such as its work style, commitment to projects, and the stages and methods it uses.
Take References, Read Reviews, and Testimonies: The best way to determine whether a firm is good or bad is to read the reviews and testimonials. Before signing a contract, look over a Magento web development company's testimonials. Looking at their testimonials, you can tell how pleased their previous customers were. If their prior clients are satisfied with their work, they will surely recommend it.
Request Developer Profiles: The developers will be in charge of the Magento web company's work. That is why the developer profiles must be examined. You should be aware of their credentials, skills, and track record. This assures that your eCommerce store is in the finest hands possible.
Magento Partners
You can begin your search by looking for Magento partners. You will be given a list of agencies or businesses that can assist you with the particular services you require. These partners have registered businesses with competent and accredited Magento developers who offer full-service solutions. Magento development, design, customization, configuration, hosting services, SEO, and PPC services are all included. They also get access to any Magento support, extensions, and tools that your store may require.
As an Adobe Solution Partner for many years, Magenest has satisfied hundreds of clients from multiple fields with our elite Magento development service. Talk to our experts now to get a free quotation!
Certified Magento Developers
When looking for Magento development services, one of the first things to look for is a firm that has a skilled team of certified Magento developers. This gives you the assurance that your eCommerce website is being managed by experts who know what they're doing.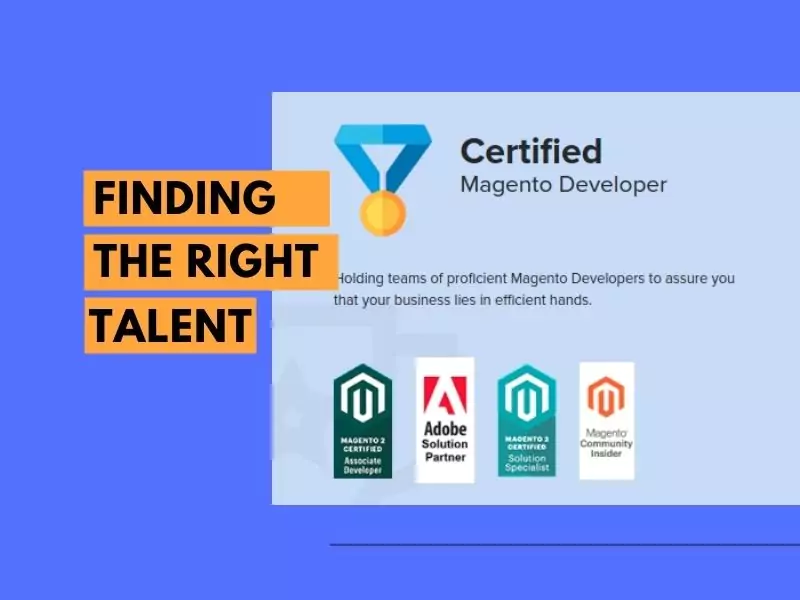 Despite the fact that Magento is open source and not subject to stringent coding regulations, it does have some standards, and Magento-certified developers are professionals in implementing these standards to projects. A Magento eCommerce development company must develop a specified number of Magento projects and have Magento Certified Developers on its team to qualify for the partnership.
Every year, these developers will be required to take an exam to ensure that they are up to date. When developers are certified, it signifies that they have received adequate training and that the organization invests in the professional growth of its engineers.
Security policies
When outsourcing, it is critical to address data security. As a result, ensure that your Magento development team provides clear and detailed data security standards, as data loss will have a significant impact on your organization.
However, there is no absolute guarantee that someone will not take your data. To avoid data leaking, get a thorough Non-Disclosure Agreement (NDA) while signing the contract.
The NDA is a legal contract that both the customer and the Magento development business must sign in order to acknowledge that the project and its important data will not be shared with anybody outside of the company without authorization. This can keep the agency from exposing your information, especially to a competitor.
In this instance, a website security certificate may also be useful. A website security certificate is a validation and encryption tool that is part of the HTTPS protocol that secures and encrypts data sent between the server and your browser. This can help to confirm that the website to which you are accessing is real and that the connection is safe and secure.
Magento development teamwork's workflow
Examining the Magento development team's workflow can help you determine whether they are a good fit for you. Typically, the development methods are disclosed on their website or in documents. If not, simply inquire about the company's workflow. High-quality products will arise from a professional working approach. As a result, ensure that the agency works effectively, consistently, and devotedly toward your final goal.
Magento development must go through numerous stages, including planning, designing, developing, and optimizing. Ideally, the process should adhere to Magento development best practices to guarantee that the system is easily scalable and upgradeable. To ensure minimal downtime, the Magento development process should be tight, professional, and straightforward. As a result, you should pay close attention to the timeframe and project evaluation. This will give you more control over the entire project and give you an overview of whether you should outsource Magento development projects or not.
Get started with our Magento development services
As the leading Magento development service provider in the APAC region, we at Magenest take pride in offering businesses elite eCommerce development on the Magento platform. We have been working on Magento development since our foundation in 2015 and acquired 7+ years of experience in this field. As an official Adobe Solution Partner agency, our team has been trusted by hundreds of global agencies and world-renowned brands, including Heineken, Nestle, and Abbott, to successfully deliver their Magento development projects.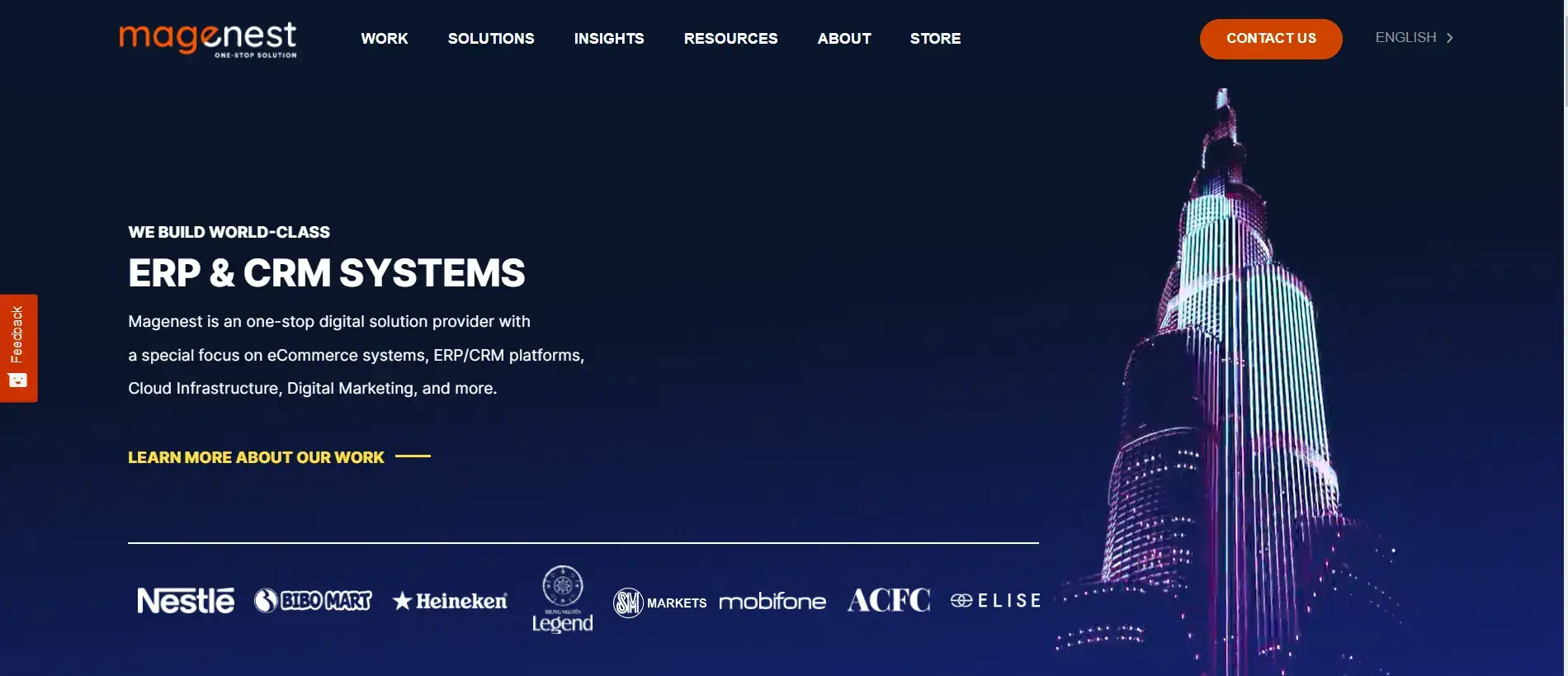 Magenest is comprised of developers, solution specialists, and designers who strive for unparalleled quality and originality. Our solid in-house team of certified Magento 2 developers has acquired profound expertise in implementing Magento solutions for clients across 5 continents with over 1,000 successful projects. In addition to committing to large projects, we also come with high-quality Magento 2 extensions to help you boost the functionality of your websites. We also provide dedicated support and maintenance services for the sustainable performance of your websites.
Whatever assistance you require as you outsource Magento development, Magenest is well-prepared to provide the best solutions. Here are some of the ways in which we can assist you with your Magento development project:
Conclusion
In this article, we have examined reasons as to why we should outsource Magento development projects. Choosing a Magento development solution is a difficult decision because it will require a big financial commitment. To achieve the finest results, you should carefully select the people with whom you collaborate. Magenest, the leading eCommerce development company in Vietnam, can create eCommerce stores from the ground up.