Small businesses need to find an eCommerce website builder that is affordable and easy to use. In this blog post, we will recommend the best eCommerce website builder for small business. We will also provide a few tips on how to get started. So, if you are looking for a good eCommerce website builder, you have come to the right place! Keep reading for more information.
How to find the best eCommerce website builder for small business
Depending on your demands, the best option for you will vary. For example, the modest online shop offering handmade goods is going to have different needs than the seven-figure dropship business.
Despite these variations, the following standards should always be taken into account when choosing a platform: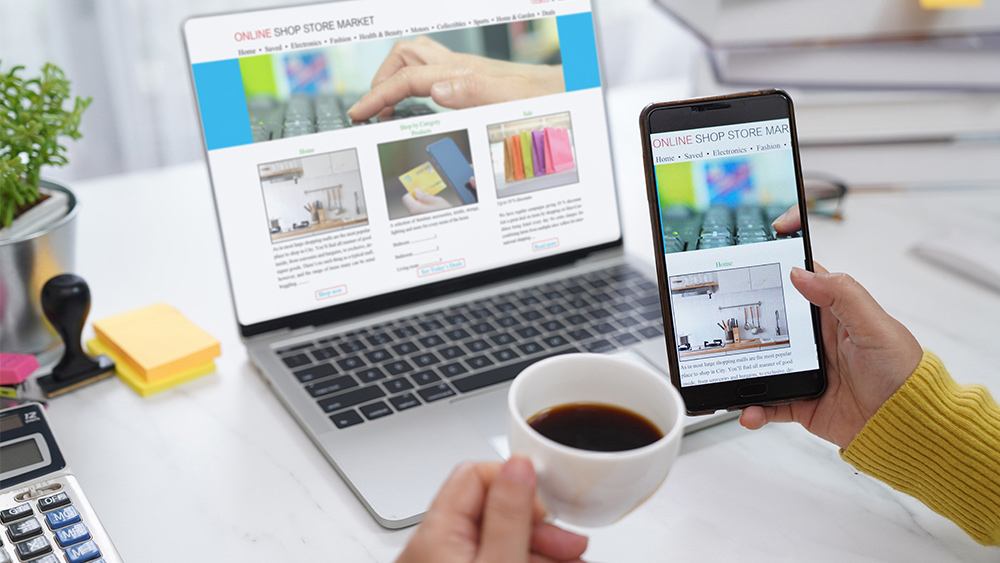 Ease of use
You might have little to no experience constructing websites if this is your first attempt at an eCommerce site. A site from scratch can be challenging to build if you have no experience with coding or web design.
The best eCommerce website builder for small business should make it simple to build an attractive yet effective website, even if you have no experience with coding. For instance, drag-and-drop website builders with simple customization options allow for quicker launches while also costing less money and time.
Even if your needs are more complex, such as having many online storefronts or a lot of products, you still want a website builder with a short learning curve.
Depth of customization
While looking for simple-to-use eCommerce website builders, we also wanted to ensure that users who desired more in-depth customization for their site could do so. For example:
If you wish to operate an omnichannel eCommerce business, social media integrations may be extremely helpful.
If you have a warehouse with inventory, you will require easy interfaces with your logistics/shipping systems and warehouse management system.
By leveraging SEO technologies, these systems also provide customization. These tools frequently take the form of plugins or dashboard extensions and are optional. Overall, they can be really useful if you want to incorporate SEO marketing into your growth strategy.
Additionally, these websites' templates allow for varying degrees of customization to meet your brand.
Quality and Variety of Templates
For you to quickly design a fantastic website for your eCommerce business, your eCommerce platform should offer a selection of themes. We examined two areas when considering the templates for each builder on the below list:
Quality: Make certain that the templates available were eye-catching and visually appealing. Indeed, a dozen very lovely templates are preferable to a hundred average ones.
Variety: Variety is important, even though the templates must look good. There needs to be a wide variety to choose from. By doing this, you can be sure that the eCommerce website builder will complement your unique brand and prevent you from coming off as a carbon copy of others.
Additional Considerations
You should also consider other factors, none of which have a significant impact on the final decision. You should take note of them since they might be significant to you.
Responsive customer support: The eCommerce website builder you choose should respond to your inquiries instantly. After all, you'll want that problem resolved right away if your website fails in the middle of a product launch.
Analytics and reporting: You can monitor the engagement and traffic to your website with this, and enhance the functionality of your website as a result.
Email integration: You'll need a branded email address utilizing your eCommerce store's domain if you're serious about branding and intend to scale your business. You can build a customized email address on some platforms, like Wix, or buy one from their website.
Pricing: Choose a platform that will not break your budget, but still provide you with the necessary features to start an online store easily and effectively.
List of the Best eCommerce website builder for small business
Shopify — Best all-around eCommerce website builder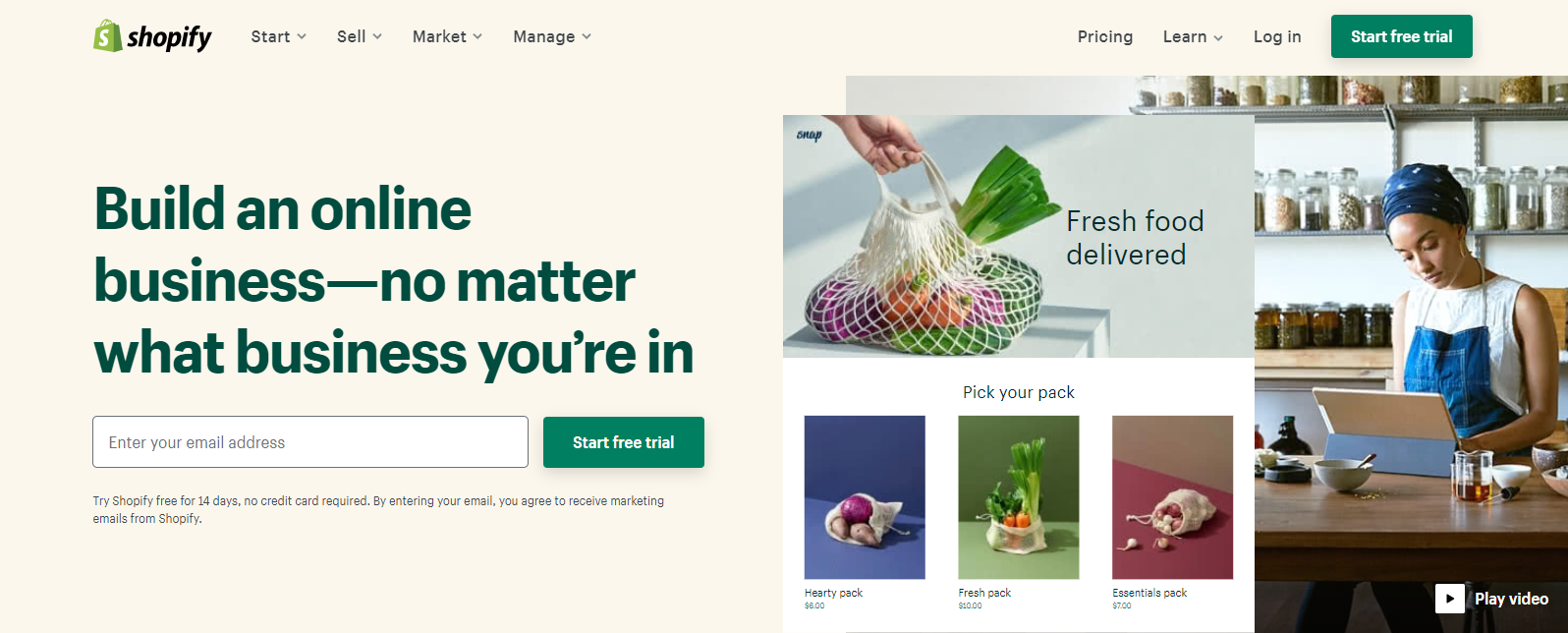 Among all eCommerce platforms, Shopify is the best eCommerce website builder for small business. It truly is a plug-and-play solution for anyone wishing to launch an online store quickly.
Shopify offers more than 100 free and premium themes to select from when developing your online business. Each theme's settings can be changed to achieve the desired result. You can increase the features and functionalities of your store by installing applications from the Shopify App Store.
For new users to get off to a good start, Shopify is the ideal option. You are free to sell your goods through as many platforms as you wish. So, there are no annoying limitations or trade-offs when using products as straightforward as Shopify.
Standard Shopify pricing plans:
Basic Shopify – $29 per month
Shopify – $79 per month
Advanced – $299 per month
Check Out our Shopify services if you truly want to thrive with Shopify.
WordPress — Do anything, including eCommerce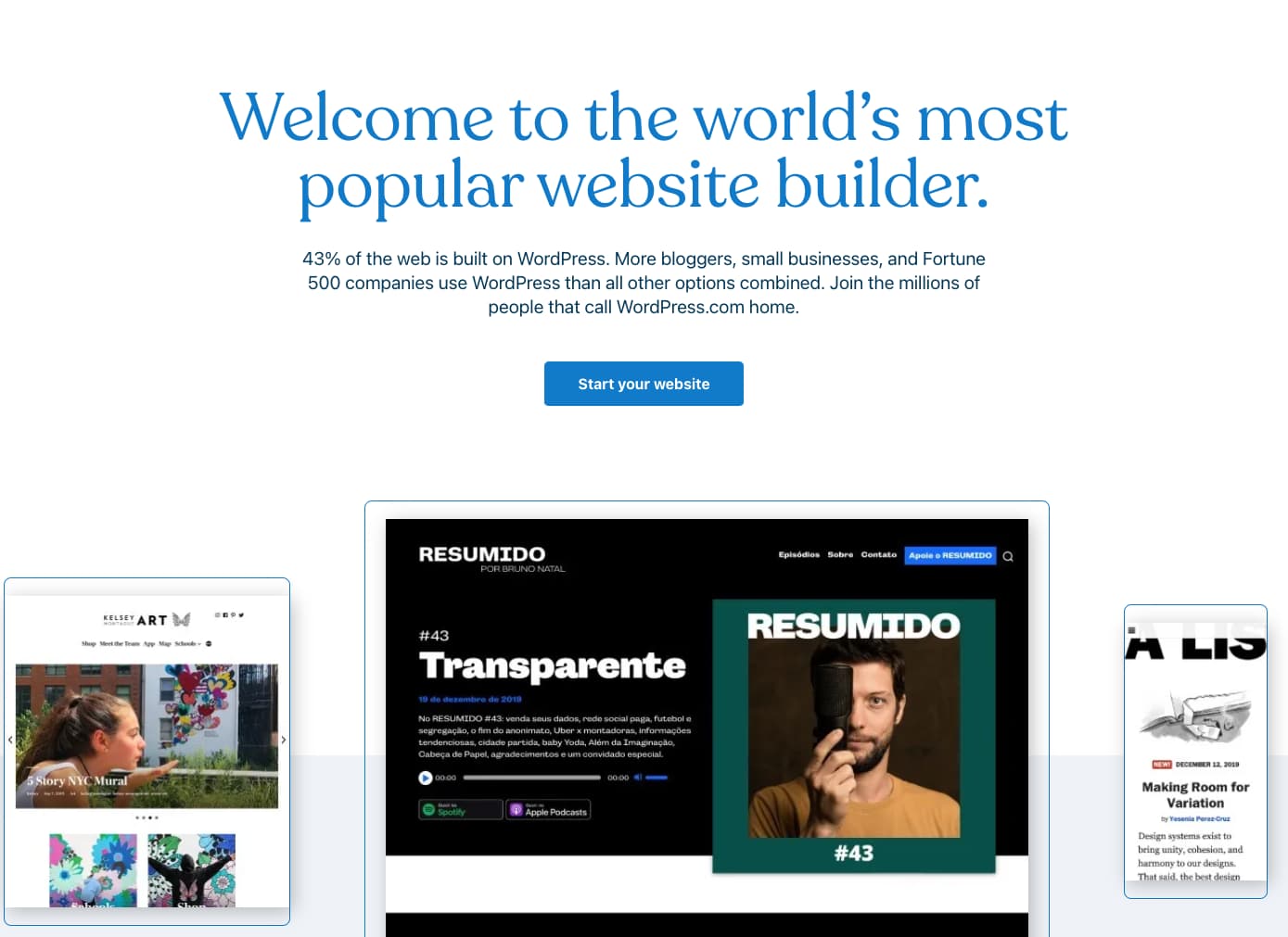 This adaptable platform is home to a wide range of personal and company blogs, marketing websites, interactive training sites, and eCommerce websites.
In fact, WooCommerce, a very well eCommerce plugin, powers approximately 3.5 million online stores, or 28% of all eCommerce websites worldwide. The most well-known eCommerce plugin for WordPress is WooCommerce, but it's not the only one. Using a variety of specialized eCommerce plugins, you may extend WordPress with a wide selection of online sales features.
As a tool for creating blogs for websites, WordPress gives you countless options for creating content and conducting business online. Basically, WordPress allows you to design anything you can imagine. Simply add an eCommerce plugin for sales functionality and a WordPress eCommerce theme for your overall appearance to develop any form of eCommerce website imaginable on WordPress.
Pricing:
When you're first starting out, WordPress may be the most affordable eCommerce website builder. WordPress is free, and the only significant cost is website hosting, which starts at $2.95 per month with Bluehost.
Wix — Best for launching an online store in minutes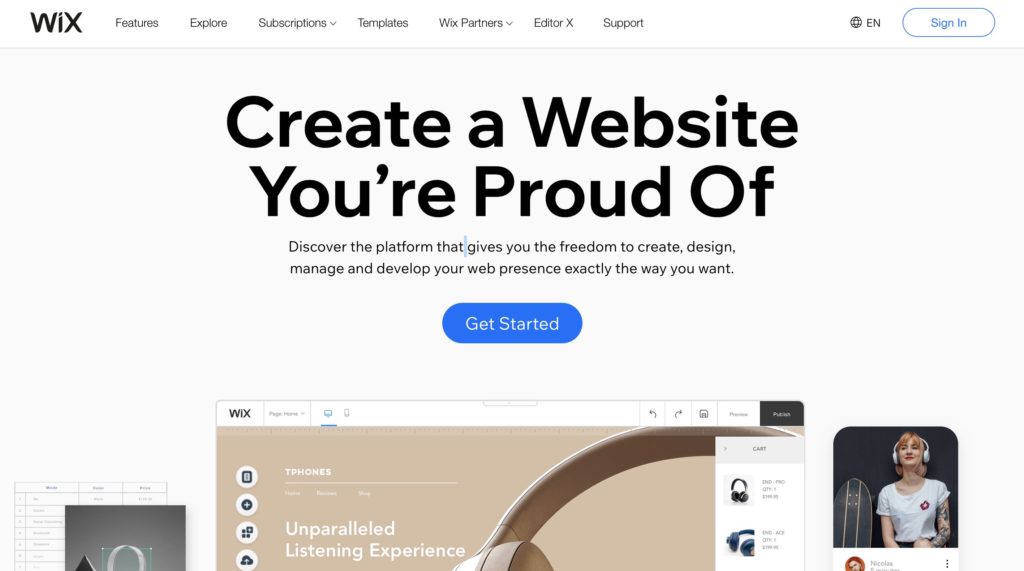 Wix has expanded recently by giving its consumers access to powerful eCommerce features. It is a whole integrated online business solution with a wide range of outstanding tools and capabilities, not simply a store add-on to their standard site builder.
It's incredibly simple to use. You can create your storefront instantly by selecting one of the many available hundreds of templates. Simply adjust the colors and include your logo to correspond with your branding before including your products.
The Wix platform's simplicity will make your life considerably simpler if you're building your first eCommerce website. Its immensely flexible framework is basically made for someone without any prior knowledge of web development.
Wix eCommerce pricing comes in three plans:
Basic — $27
Unlimited — $32
VIP — $59
Zyro — Best for simple online stores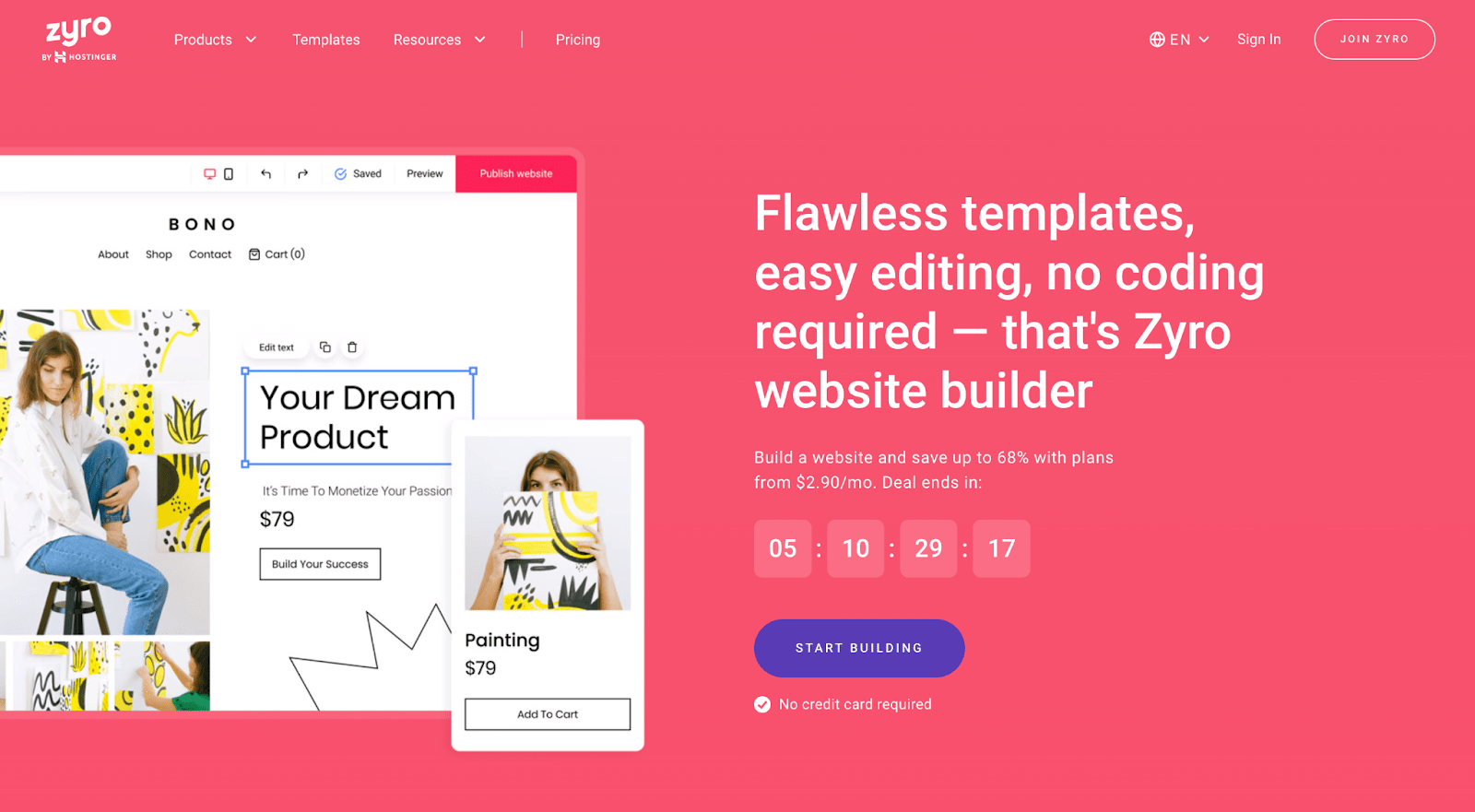 Zyro provides a cost-effective approach to starting a straightforward online business. Although Zyro doesn't have as many bells and whistles as some of the other suggestions, it is the best option for those searching for a quick and inexpensive way to start selling online.
You are not required to know how to code. There is no need to switch between preview and edit modes. All you have to do is rearrange the elements till you have the desired configuration.
Zyro stands apart from its competitors, thanks (partly) to its advanced AI business solutions. These technologies use machine learning and artificial intelligence to assist you in developing your brand identity by:
Business name generator
Slogan generator
Logo maker
AI content generator
AI heatmap
Zyro prices and plans:
Business —from $3.59 per month
Advanced Store —from $14.39 per month
BigCommerce — Best site builder for multichannel selling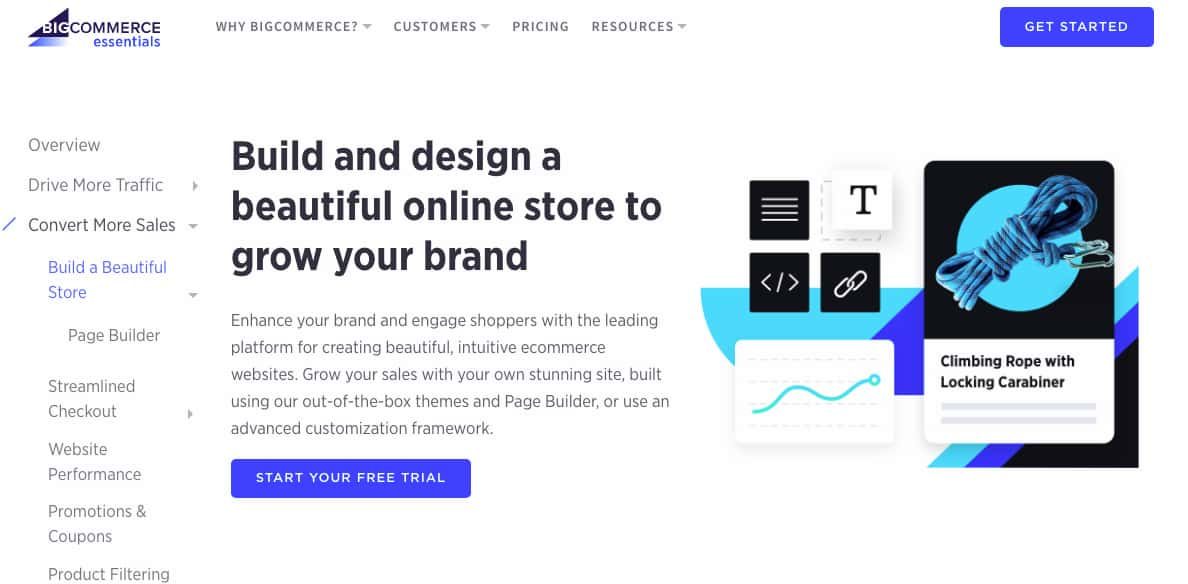 It is an expert in cross-channel marketing with the most popular options to sell on Google Shopping, eBay, Amazon, Facebook, Instagram, Pinterest, and POS. BigCommerce ought to be at the top of your list if you intend to use omnichannel commerce.
The website builder itself has a drag-and-drop feature that makes designing the website simple and quite intuitive.
The drawback is that it's not the easiest website builder for beginners. That's a result of the extra features' propensity to increase complexity. The platform is made to aid in the speedy scaling of bigger eCommerce businesses. Therefore, if you're just getting started, you'll probably end up paying more for features you won't use.
However, BigCommerce is ideal for you if you want to be able to use a ton of eCommerce and website modification options without having to pay extra for applications or extensions.
The price points for BigCommerce:
Standard — $29.95
Plus — $79.95
Pro — $299.95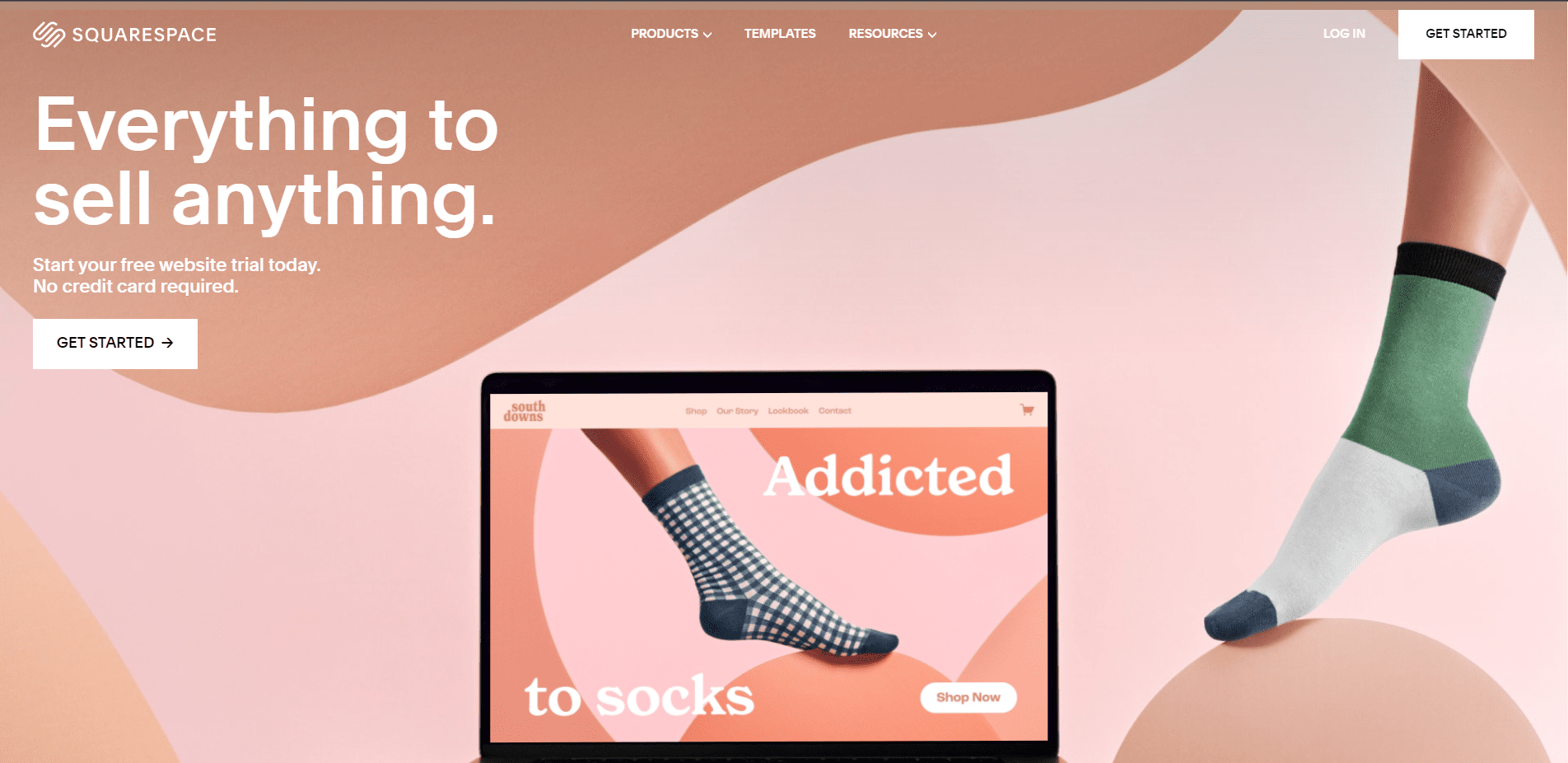 It is simple to link your website to social media accounts and send fresh material in real time to Facebook, Instagram, and other platforms using Squarespace.
Whether you're a true professional who enjoys diving in and creating a website to your exact design specifications or a total newcomer who just wants a wonderful-looking website straight from a template, it makes no difference.
Using Squarespace, anyone can create a cutting-edge, visually attractive online store. The user-friendly and incredibly responsive drag-and-drop builder makes it simple to alter every component of every page.
The Squarespace platform comes with a huge number of apps. But there isn't a marketplace or app store for one-click installations. You will need to utilize code to install any third-party applications that are not already included with Squarespace.
Squarespace has four different plans:
Personal — $14
Business — $23
Basic Commerce — $27
Advanced Commerce — $49
Square Online — Best for physical retailers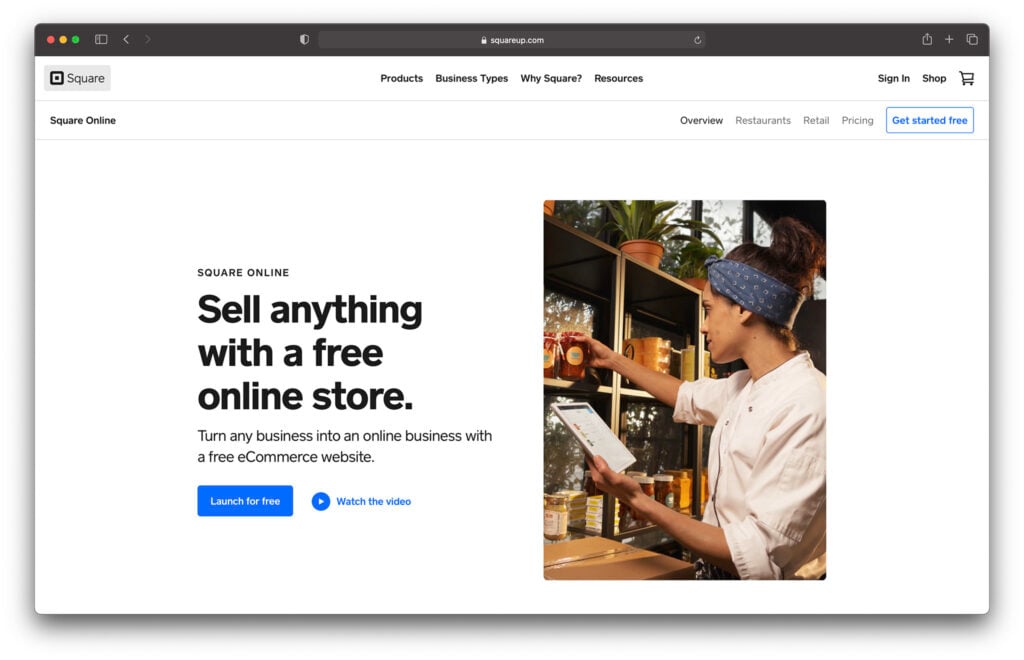 It's especially advantageous if Square is already your preferred point-of-sale solution. The website and Square POS will be able to work together without any issues. Additionally, you'll be able to improve your inventory management, accept all major credit cards, and link with your current Square POS.
When it comes to this term, Square excels. Using Square POS and their website builder, you can instantly connect your inventory so that you can check your real-time supply. This reduces overselling and maintains client satisfaction.
Furthermore, you'll be building a central database for your sales. You won't need to manually enter your sales for the day, week, or month into a different database because everything is handled by one system. Also, their analytics and reporting solutions can help you analyze your sales data more thoroughly and improve it.
Complete Square Online pricing is as follows:
Free: $0 / month and 2.9% + 30 cents per transaction
Professional: $12 / month and 2.9% + 30 cents per transaction
Performance: $26 / month and 2.9% + 30 cents per transaction
Premium: $72 / month and 2.6% + 30 cents per transaction
Weebly — Best for small sellers who don't yet want to grow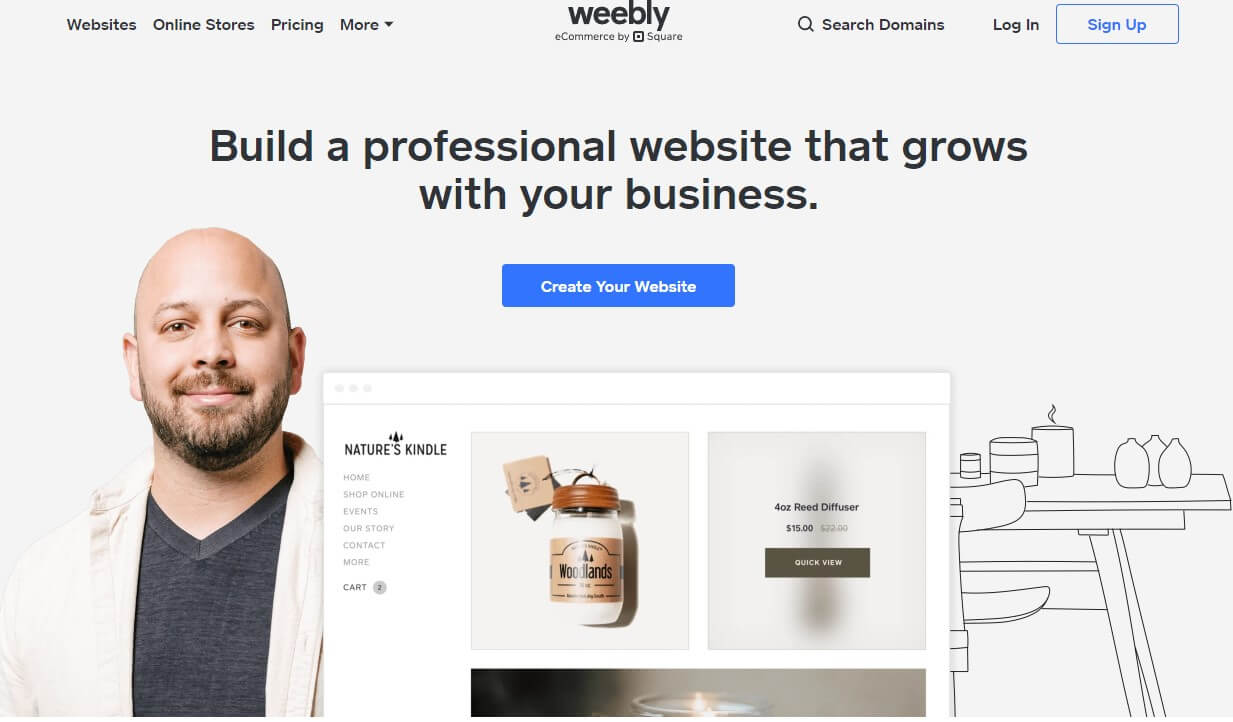 This is a wonderful choice for entrepreneurs who operate their own businesses and are seeking something that needs little care.
If you don't need to sell thousands of things with hundreds of variations, it won't let you do that like BigCommerce, but you'll still like the efficient platform.
You can launch your store with little to no work and no coding thanks to the drag-and-drop site builder. It only takes a very little amount of time to create a professional website with an online store.
Weebly makes it simple for business owners to create an online presence and grow through eCommerce. Moreover, popular payment gateways like PayPal, Stripe, and Square allow you to take payments.
Weebly's prices for online stores:
Free — $0
Personal — $6 per month
Professional — $12 per month
Performance — $26 per month
Shift4Shop — Best value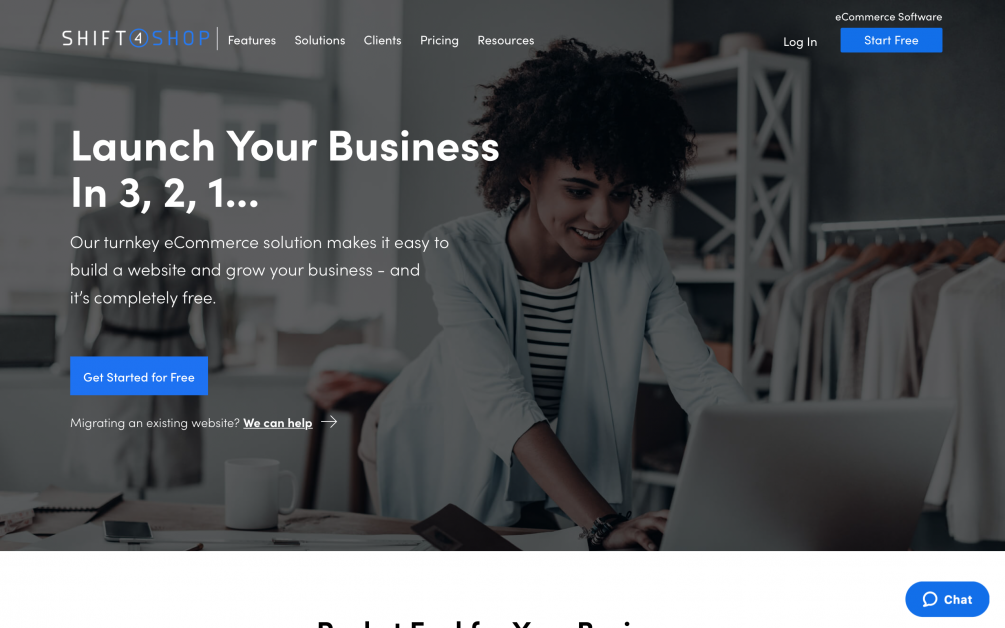 Shift4Shop, formerly known as 3DCart, provides enterprise-level eCommerce capabilities that are completely free. Contrary to other available free services, Shift4Shop doesn't sacrifice features. You are still getting all of the features and capabilities you would assume from an enterprise-level website builder.
Here's the problem. To benefit from this free eCommerce plan, you must use the Shift4 payment platform and reside in the United States.
Processing costs with Shift4 begin at 2.9% + $0.30 per transaction. This is a great bargain for you because it is regarded as the industry standard for eCommerce companies.
For seasonal firms, this is especially advantageous. As a result, you just have to pay the transaction-related payment processing fees and are not responsible for a monthly website fee during slow months.
You'll just need to sign up for one of the traditional subscriptions:
Startup — $19 per month
Basic — $29 per month
Plus — $79 per month
Power — $129 per month
Pro — $229 per month
Big Cartel – free to sell, but restricted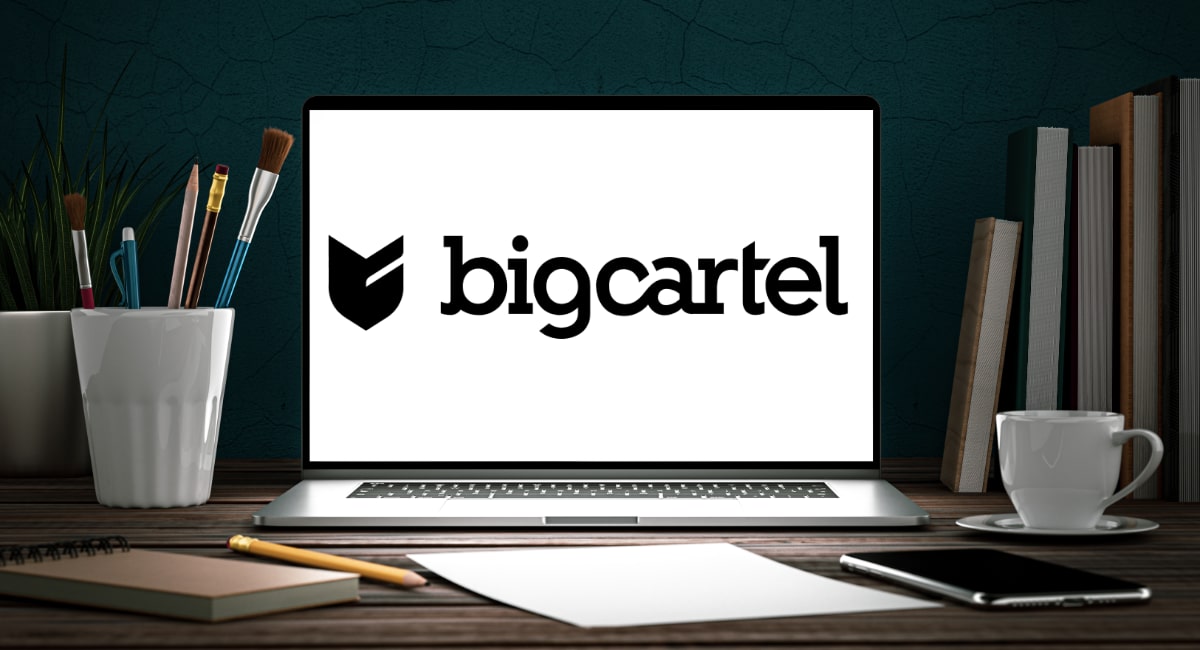 The primary selling point of Big Cartel is the fact that you may create, publish, and even sell without spending any money. That is quite unusual. Big Cartel challenges the standard that most other website builders for eCommerce require you to be on a paid plan in order to make sales on your website.
However, Big Cartel struggles to compete with other free eCommerce small website builders like Square Online. Big Cartel may have several advantages that put it on our list of the top eCommerce builders for small enterprises, but no builder is perfect.
It's intended to help artists, makers, and creatives sell their things online, thus it's best for selling a small quantity of one-of-a-kind items. Be ready to add each product individually as there is no way to bulk upload products.
Pricing:
The basic capabilities of Big Cartel's free plan only allow you to sell up to five products. All of Big Cartel's features are unlocked with the $9.99/monthly cheapest paid plan, which also allows you to sell up to 25 products.
Selz — Selling digital products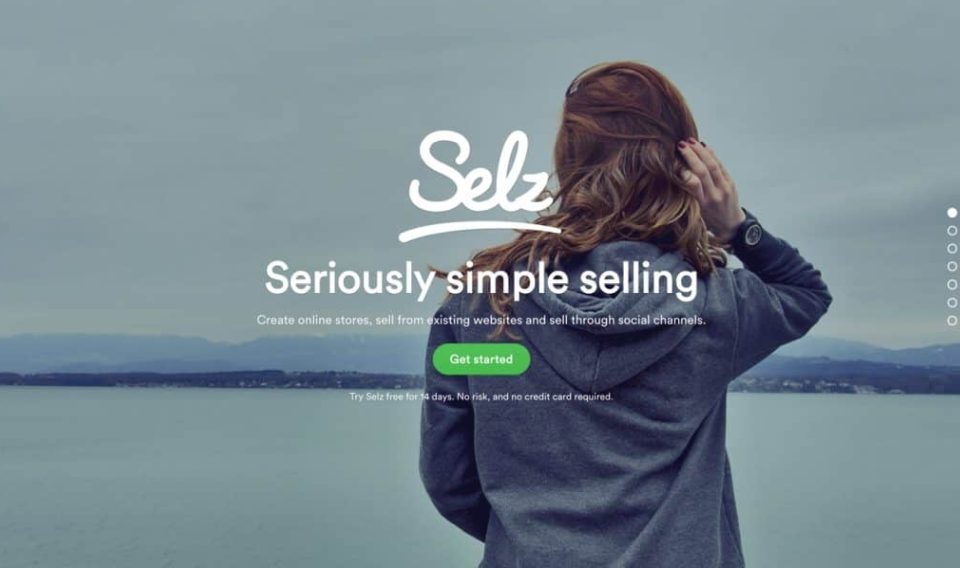 Selz is the final outcome from our list of the best eCommerce website builder for small business. This software offers a number of features specifically designed for these kinds of merchants, even if many of the other systems we've studied allow you to sell digital things. Additionally, you can sell both physical and digital goods, so you aren't limited to selling simply digital goods.
Additionally, Selz enables you to create and build your own website, and sell on an already-existing blog or website, as well as through Facebook, Instagram, Google Shopping, or Square POS.
Selz has three different plan levels:
Basic – $29 per month
Standard – $59 per month
Advanced – $199 per month
In conclusion,
So, which is the best eCommerce website builder for small businesses that fits your unique needs? This really depends on your business needs and how much technical expertise you have. 
If you're looking for a simple platform with all the features you need to get started, Shopify or BigCommerce are good options. Wix and Weebly are great choices if you want more flexibility in terms of design and customization, but be aware that you may need to do more of the setup work yourself. And if you're comfortable with coding and development, Magento could be a good option for building a custom eCommerce store from scratch. Ultimately, it's important to choose the platform that fits your needs – and don't forget to test out different builders before making your final decision! If you are still in confusion, don't hesitate to drop us a message and our experts will be right with you in no time.