Today Magento is one of the widely used eCommerce platforms. It's known for its scalability and flexibility that can help you build your own site or install extensions on top. However, while everyone focuses on getting the best Magento services, a desire arises to seek out the best Magento agency that can build your website or platform that considers most of your customer needs. A good Magento agency can help you build and manage your store while providing expert advice and support. And finding the right agency isn't just a walk in the park; there can be several considerations one should make before choosing one.
In this blog post, we will share with you some of the Magento 2 development agencies. If you are looking for an agency to help you with your eCommerce needs, here are some of the best ones to consider. So let's get started!
What is Magento Agency?
Magento is an incredibly powerful eCommerce platform that offers businesses of all sizes great flexibility and control over their online stores. But building and managing a Magento 2 website can be a daunting task, which is why so many businesses choose to partner with a Magento partner.
A Magento 2 development agency can provide you with valuable expertise and support, helping you to get the most out of your Magento store. They'll be able to help you with everything from design and development to marketing and optimization. Currently, Magento solution partners are divided into 5 levels: Community, Bronze, Silver, Gold, and Platinum. Agencies at each level will be offering a different set of values and price ranges for their clients.
Top 11+ Best Magento Agency Around the World
If you are looking for the best Magento agency to help you with your eCommerce needs, you have come to the right place. Here is a list of the top 11+ agencies around the world, based on our research.
Magenest
Established in 2015, Magenest is proud to be among the most reliable Magento 2 development services that serve both B2B and B2C clients. We offer a full-scale digital solution for customers, irrespective of their industry, with a particular emphasis on eCommerce systems, ERP, CRM platforms, Cloud Infrastructure, Digital Marketing, and more. The structure of these solutions is highly modifiable and can be tailored to the specific requirements of your industry and business.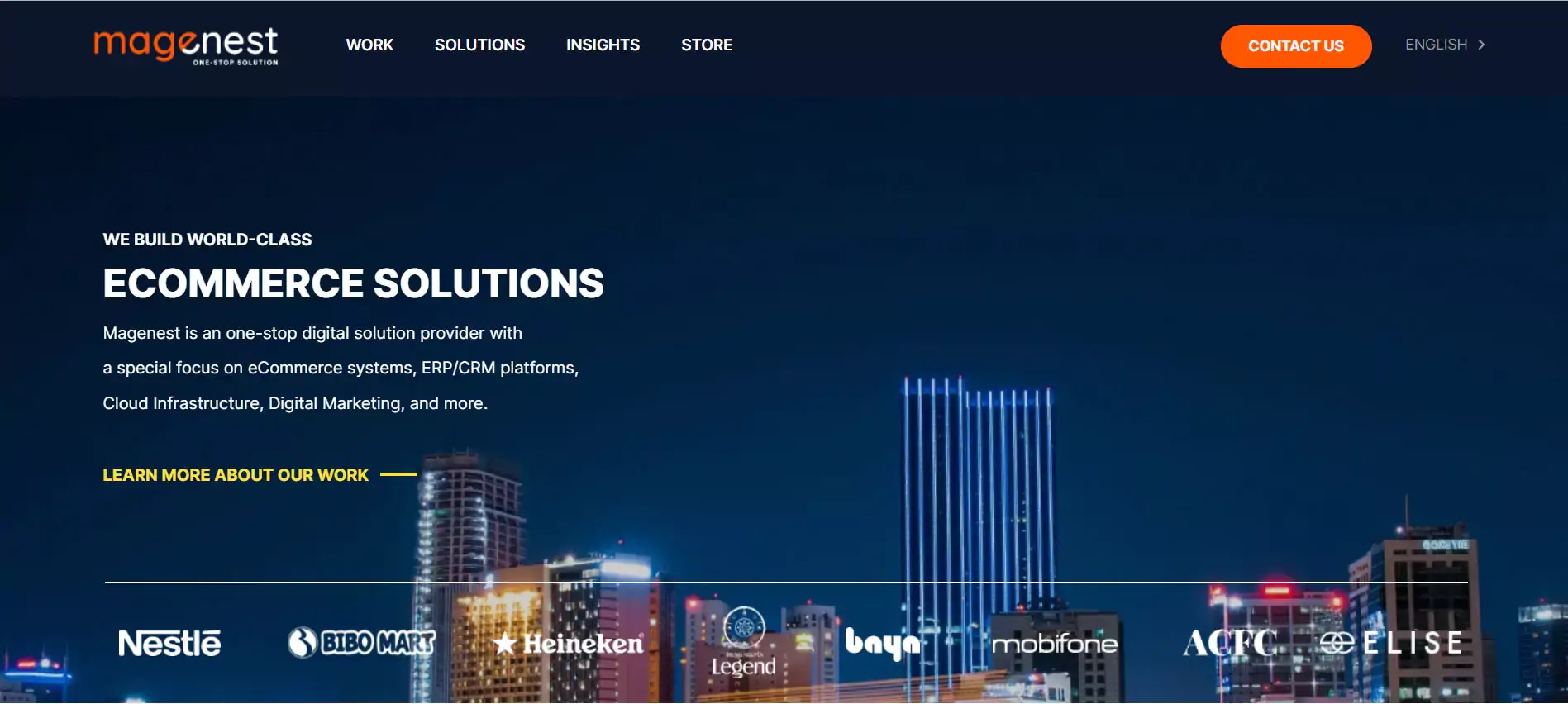 With expertise and years of experience working with numerous customers and various programming logic, business workflows, and management styles, we are confident in our capacity to develop your Magento websites from scratch. Moreover, as a partner of Magento, we also provide extensions and add-ons to your Magento 2 platform, namely prominent CRM services (Salesforce CRM, Zoho CRM, Vtiger CRM), the two most popular Accounting systems (Quickbooks, Xero), and payment gateways for various nations and regions.
Besides development, migration, and integration, our services also include audit & optimization, and support & maintenance. Magenest is also open to all types of outsourcing and white-label projects as well. Contact us for free quotations right now!
Vaimo
Vaimo is a leading expert in digital commerce and customer experience. Headquartered in Stockholm, Sweden, Vaimo has established itself as a trusted partner for businesses around the world. It delivers a full-service option from consulting, design, development, and support to analytics services to its global customer base of all business sizes and industries.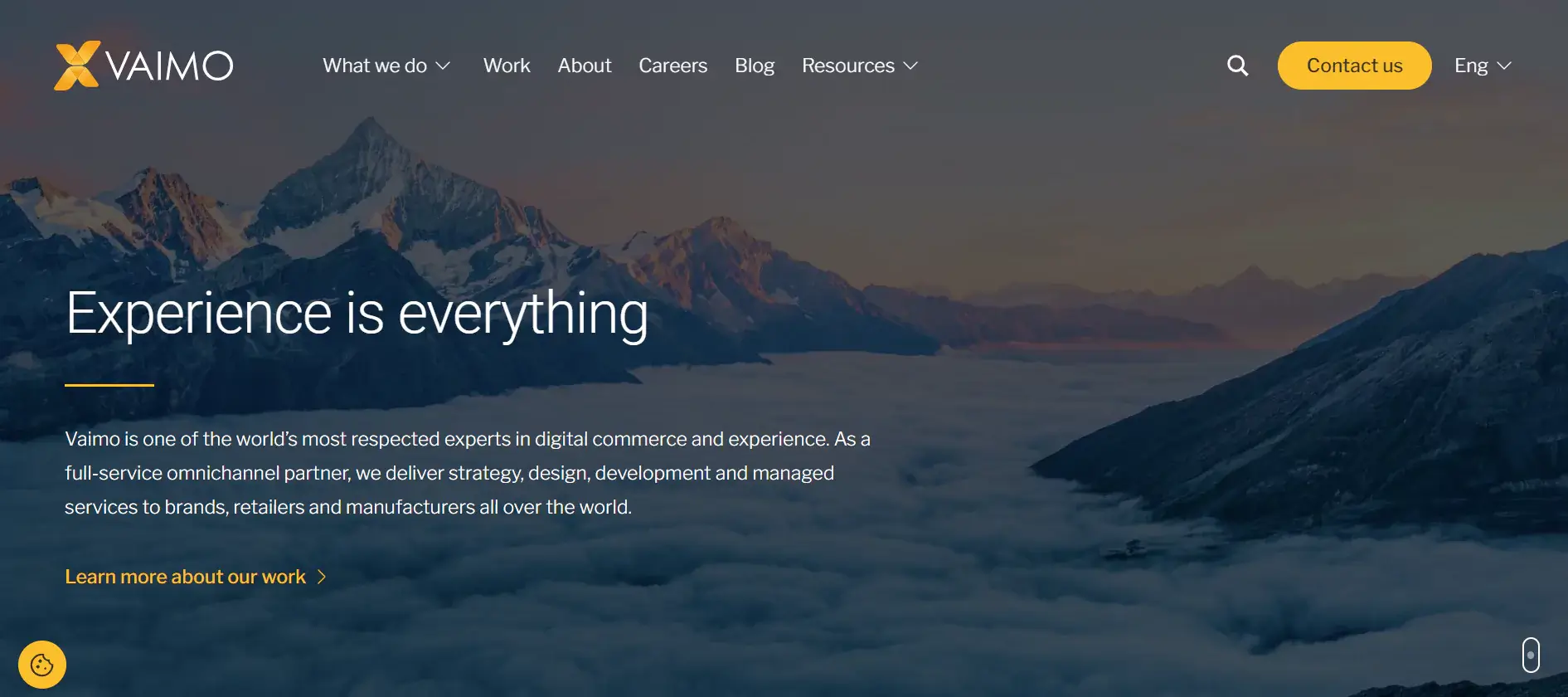 Since the first year of operation, Vaimo has co-operated with Magento. They have a team of 300 individuals and have worked on a number of well-known Magento 1 stores, such as Bjorn Borg, Gant, and Jack Daniels, among others, who are passionate about Magento and helping businesses grow. Since the introduction of Magento 2, Vaimo has delivered hundreds of Magento 2 projects globally and holds the highest Magento 2 developer certification level in the world. Recently, Vaimo officially became an Adobe Gold Partner in 2020.
Corra
As a Magento partner since 2008, Corra is one of the best Magento agencies in the world that have maintained the highest level of performance. This is the world's most certified Magento developer that has been recognized as a Magento Global Elite Solution partner. Their team is composed of highly qualified and trained professionals who maintain a large clientele throughout the years.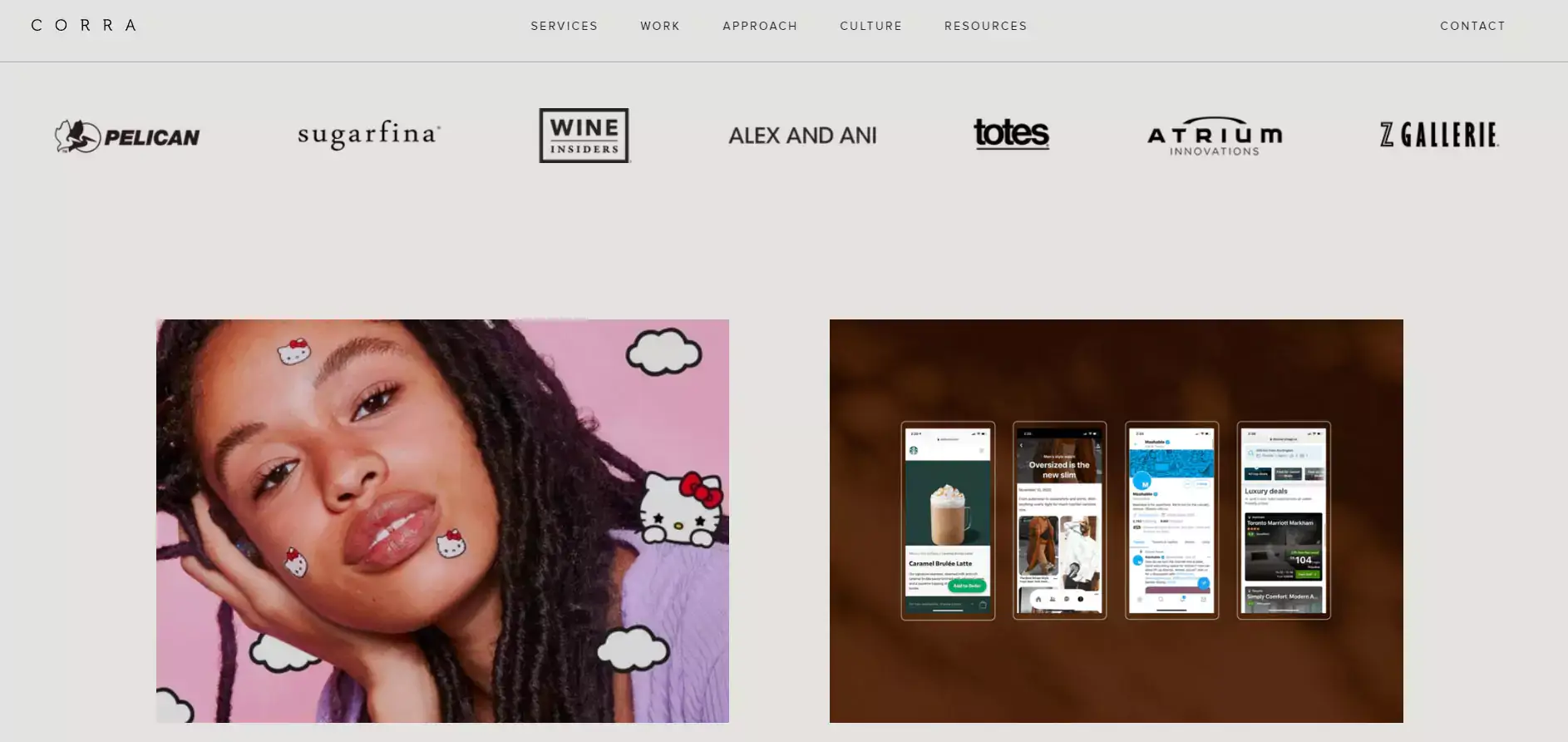 Being one of the first four inaugural Global Elite partners, Corra has been involved in testing and building new Magento products and releases. This allows your businesses to take advantage of Corra's direct line into Magento's products, thus enabling you to implement the newest and best practices. Apart from delivering Adobe Commerce services, Corra also offers:
Adobe Experience Manager: create and manage your digital experience across all channels with automated tools that make scaling effortless.
Adobe Target: help solve problems with mobile conversion
Adobe Analytics: unlock the granular insights that truly impact your bottom line
Corra has worked with a variety of clients, including Sugarfina, 7 For All Mankind, Eileen Fisher, and Baked by Melissa, among others. This gives Corra a significant advantage over its competitors because of its extensive experience with Magento 2 Enterprise Cloud projects. On average, it is reported that Corra's clients who migrate to Magento 2 with a complete redesign experience a 10-20% increase in conversion, a 10-20% decrease in bounce rate, and a 60% reduction in server response and page download times.
SQLI Digital Experience
SQLI Digital Experience, formerly Redbox Digital, is a globally recognized eCommerce agency. It is known for providing end-to-end omnichannel eCommerce solutions for major brands worldwide, in both B2C and B2B sectors. To provide the best digital customer experiences, the company has years of experience working with a variety of eCommerce ecosystems, including the full Adobe Commerce suite.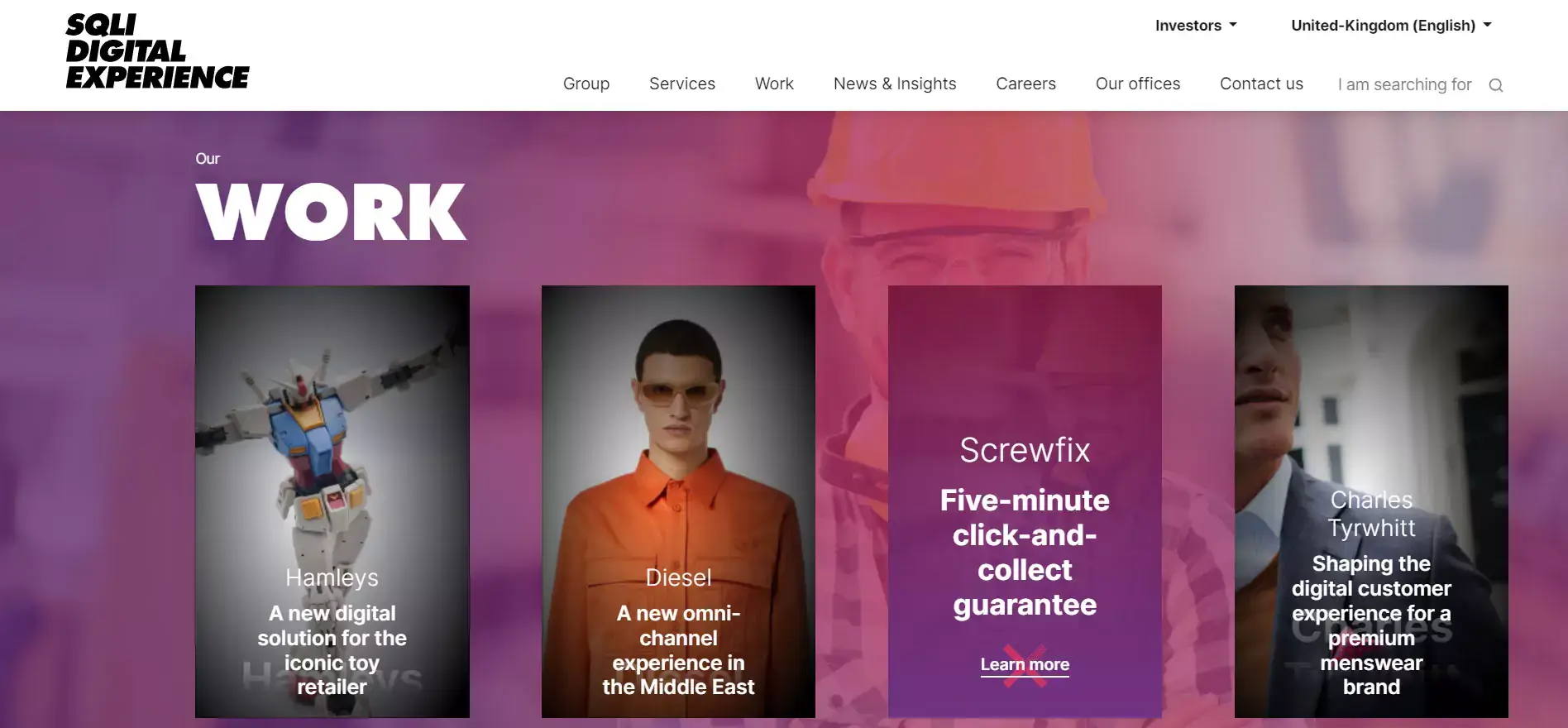 SQLI has been a long-term partner with Adobe Commerce Cloud since its collaboration in 2008. They have completed more than 150 projects across Europe and the United Arab Emirates in many sectors, from fashion, to transport, and leisure. SQLI, with over 135 certified experts, dedicated project managers, and a 24/7 support service, offers you a trusted hands-on, and collaborative approach to delivering an all-in-one Magento solution.
As a result of receiving this charter mark of excellence, SQLI Digital Experience is pleased to demonstrate the high-quality solutions it provides to its clients and partners.
Mageplaza
Mageplaza is a Magento eCommerce agency with over 9 years of expertise in the market. Mageplaza becomes a trustful solution agency for many Magento enterprises globally due to its top-notch Magento specialists, customer-center assistance, and innovations in every phase.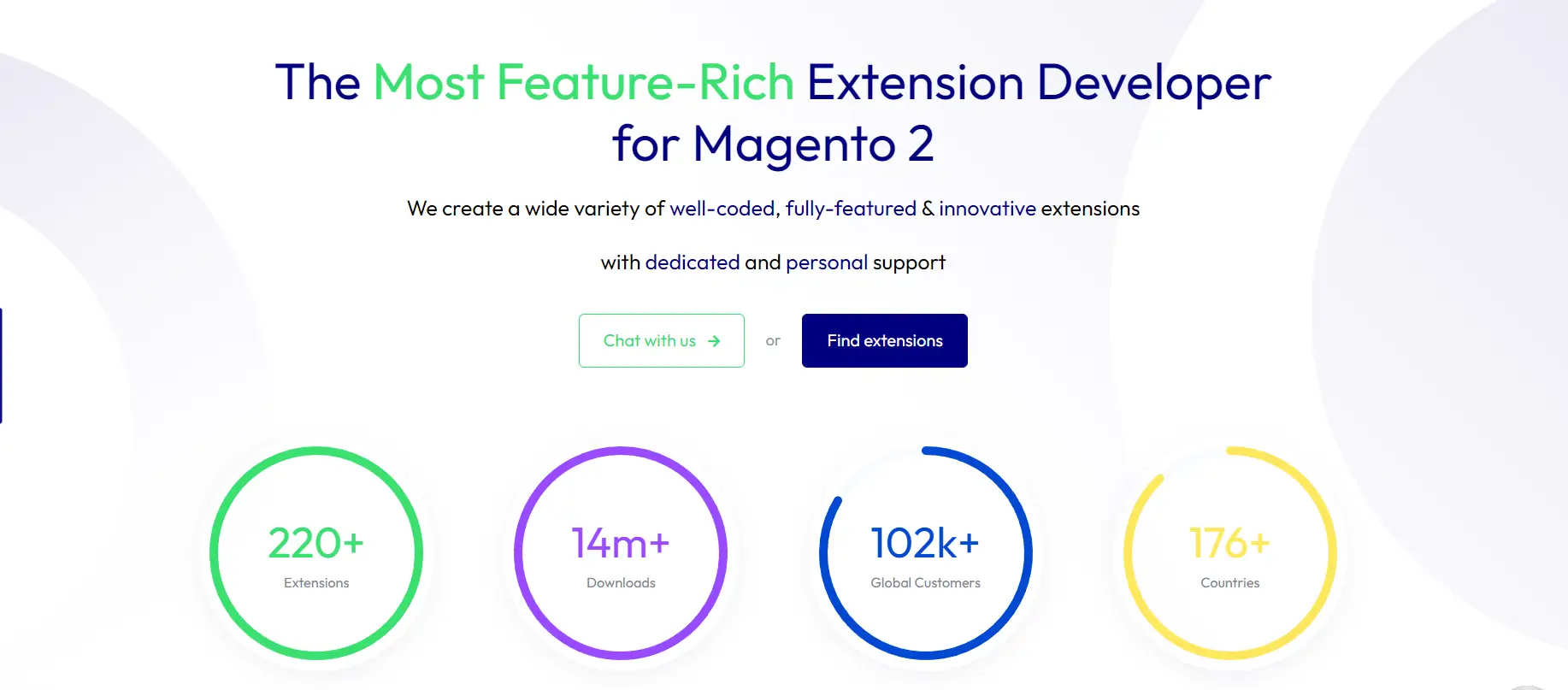 The company provides a wide range of solutions for B2B enterprises of all sizes. Mageplaza is an ecosystem of over 230 extensions that are highly compatible with the latest versions of Magento 2, ranging from improving the user experience, checkout, navigation, payments, shipping, and sales motivation.
For eCommerce shops, Mageplaza offers Magento-based solutions, such as Magento Development Services, Magento Support & Maintenance Services, Hire Magento Developers, and Magento Upgrade Services.
Unified
Unified is an agency resulting from the union of two long-term collaborators, Diligent Commerce, an expert in building seamless, best-in-class UX and design, and LogicSpot, an industry leader in technical build, performance, and strategy. With their official unionization in 2022, Unified brings a larger team of senior developers, designers, digital marketing experts, as well as the best project managers, account managers, and consultants in the business, allowing them to provide all-in-one solutions to all of their customers' needs.
Unified Magento services include various options for you to choose from:
Magento B2B
Magento 2
Adobe Commerce design & build
Integrations
Long-term support
Upgrades.
The company has built and sustained many long-term partnerships with Adobe Commerce. Focusing on strategy, brand, technology, and growth, Unified commits to providing an extensive site audit, offering your business a roadmap with vital strategic milestones. This comes with ongoing consulting and support, making it the best Magento agency for businesses that have limited technical expertise and are building their online stores from scratch.
Forix
Another Magento agency to be on the list is Forix, an experienced Magento 2 partner. With the capacity to sustain and optimize websites, Forix will help B2B and B2C businesses in their growth. They'd worked with a slew of high-profile clients on well-known labels including Adidas, Asics, and Sigma.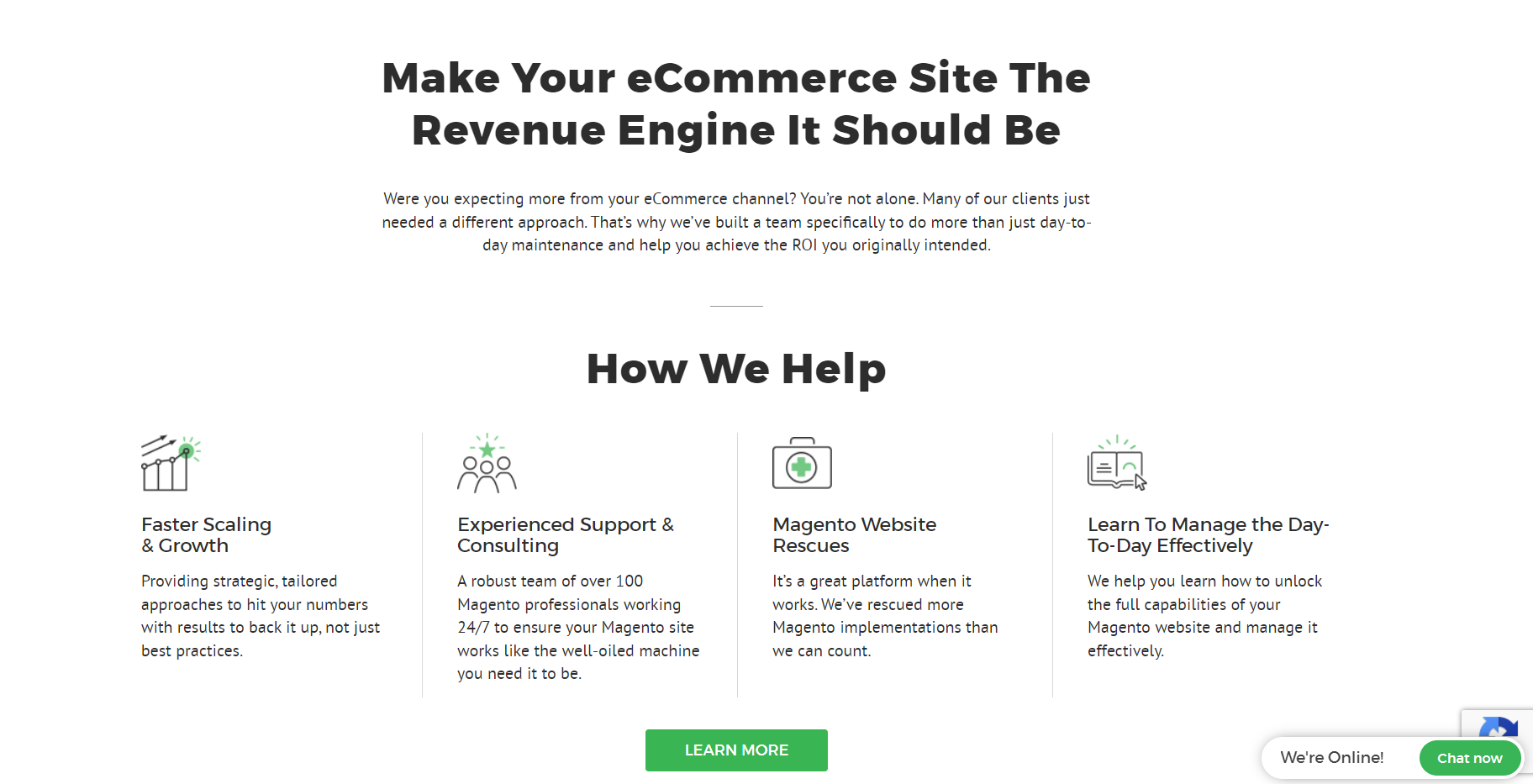 Also, having worked with Magento for more than a decade, along with more than 60 Magento-certified professionals, they are qualified to serve as your advisors and help your business succeed. Their notable Magento services include comprehensive eCommerce Optimization and Magento Maintenance Services.
If you want a service specifically for specific things like e-Commerce optimization services or maintenance services then this is the appropriate agency for you. Forix has been recognized as the Best Magento Agency of The Year by CIOReivew in 2019.
Space48
Space48 is a UK-based team of professionals that has a 14-year experience as an eCommerce agency. They focus on international projects and fast-growing brands. Following a premium pricing strategy, Space48 charges a hefty price for their services with their base rate starting at $300/hr.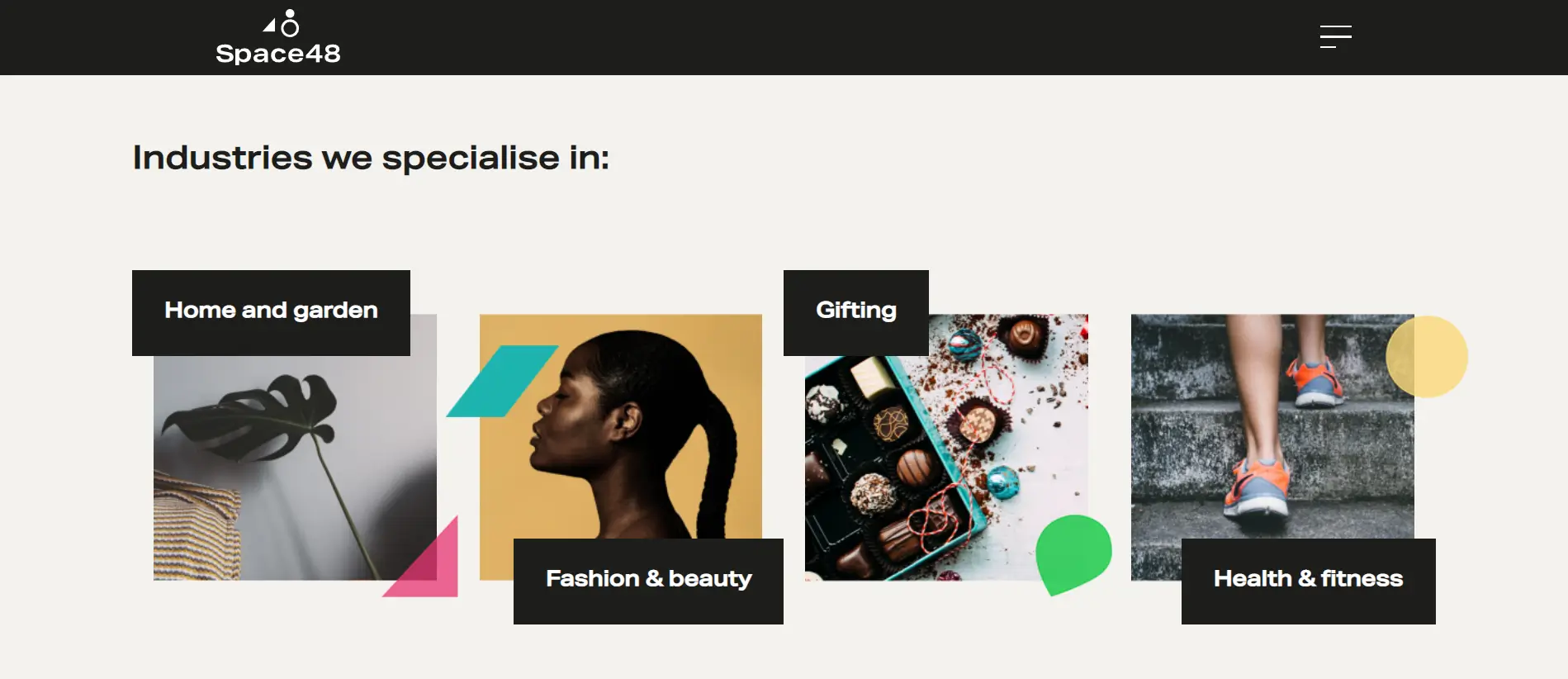 Taking eCommerce as the core of their business, Space48 is also a trusted Magento provider as a Certified Magento Developer and Master, Global Magetitan Developer Conference Creator along with more than 10 years of experience in working with this platform. They also specialized in some big Magento development projects and deal with retailers such as Silent Night, Gro, Taps.co.uk, Better Bathrooms, Charlotte Tilbury, and Naylors. Space48 main services include:
eCommerce marketing
Website development
App development
Strategy and Consulting
Atwix
Atwix was founded in 2006 and is known as a full-service Magento agency. Their services are centered on delivering end-to-end implementations, design and development, performance enhancements, and ongoing maintenance and support. Until now, Atwis has been one of the Magento Community's longest-serving and most-credentialed members.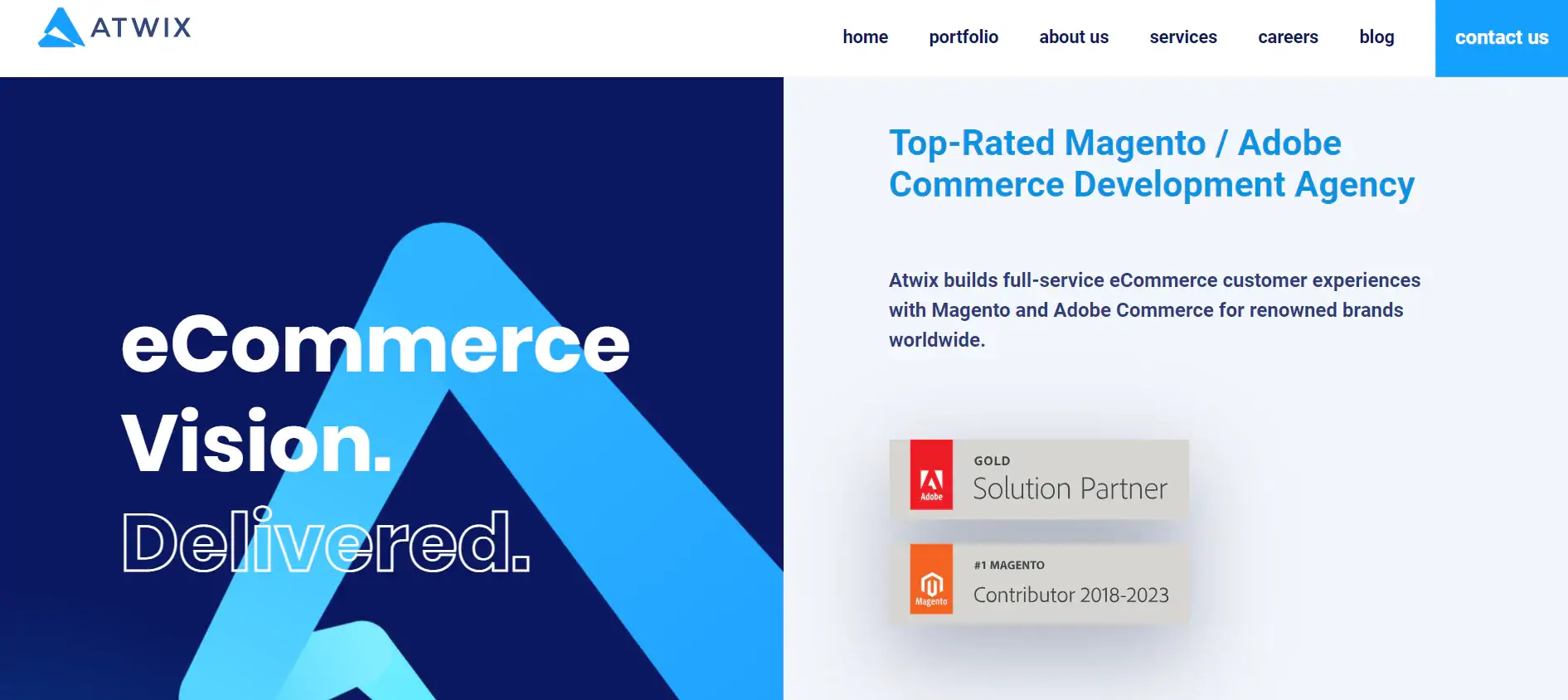 Atwix serves businesses of all sizes globally, with offices located across Europe. The firm has worked on various projects for more than a decade, and they can confidently help you in the long run not only with developing sites but also with upgrading and supporting them regularly.
Services supplied by Atwix include:
Magento 2 Development Services
Magento 2 ERP Integration
Magento 2 Migration Services
Magento Performance Audit
Magento SEO Audit
Magento Security Audit
Magento Design
Magento 2 Extension Development
Custom Magento Development
Magento Maintenance
Magento Support
Mageants
There are many Indian Magento 2 extension and development agencies that offer high-quality services and have a good reputation. That includes Mageants, one of the market leaders that was established in 2016. Their dedicated developer creates perfect Magento 2 extensions for your eCommerce business.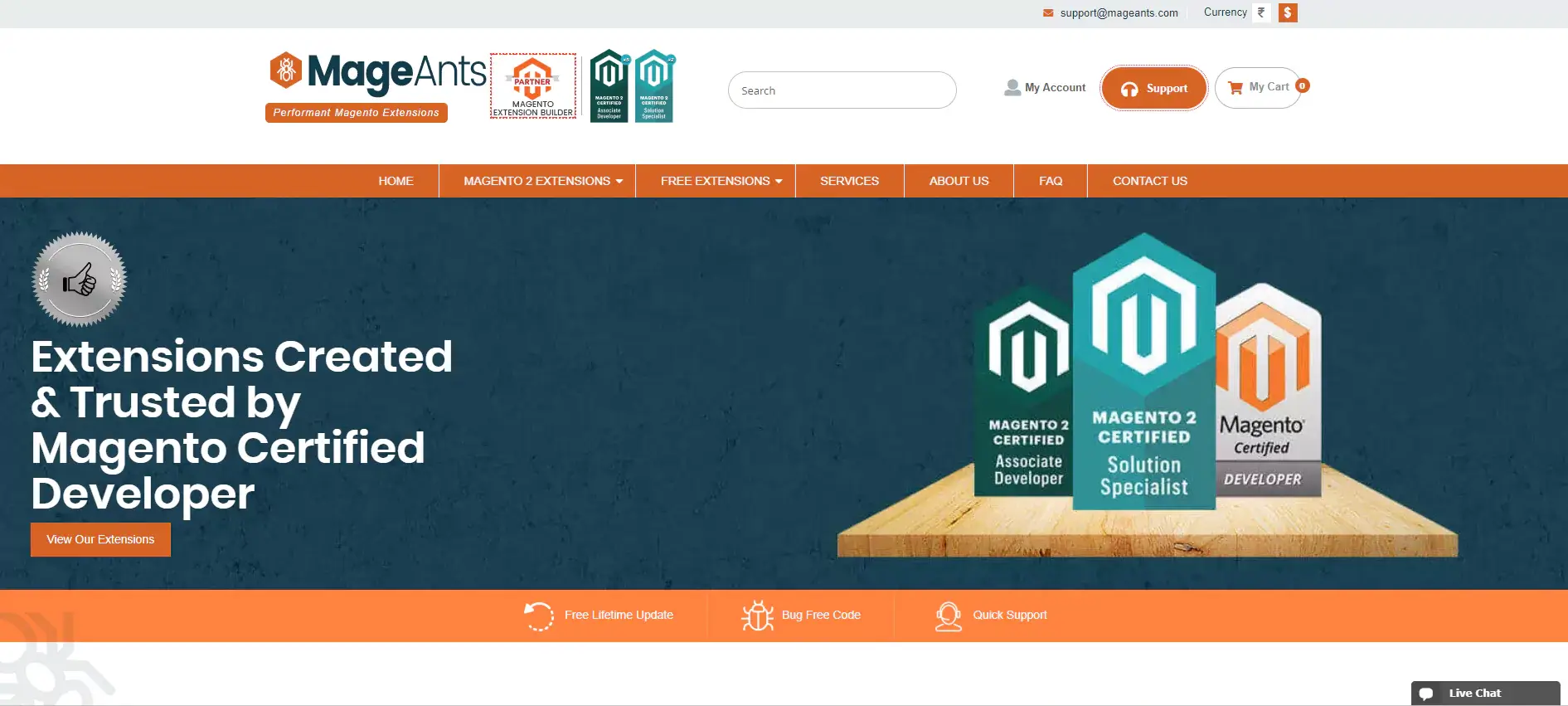 Mageants specializes in Magento extensions and theme development. The brand already has over 7 years of experience with Magento, offering more than 85 Magento 2 extensions. Mageants believes in quality work. It has over 500 Happy Clients all over the world. Highly experienced developers work with dedication and also update work for the client on a daily basis.
Mageants also offers a number of Magento services, notably:
Hire Magento Developers
Magento Extension Development
Magento Theme Development
Magento 2 Development
Magento 1 to Magento 2 migration
Magento 2 Upgrade Service
Magento 2 Hyva Theme Development
Magento 2 Support and Maintenance
iWeb
iWeb is a UK-based Magento 2 development agency that has a lot of expertise from its 28 years of experience. They commit to delivering exceptional customer experiences for B2B, B2C, and D2C clients. Examples of iWeb customers include Assa Abloy, Tresspass, Mountfield, Bimuno, and Travis Perkins.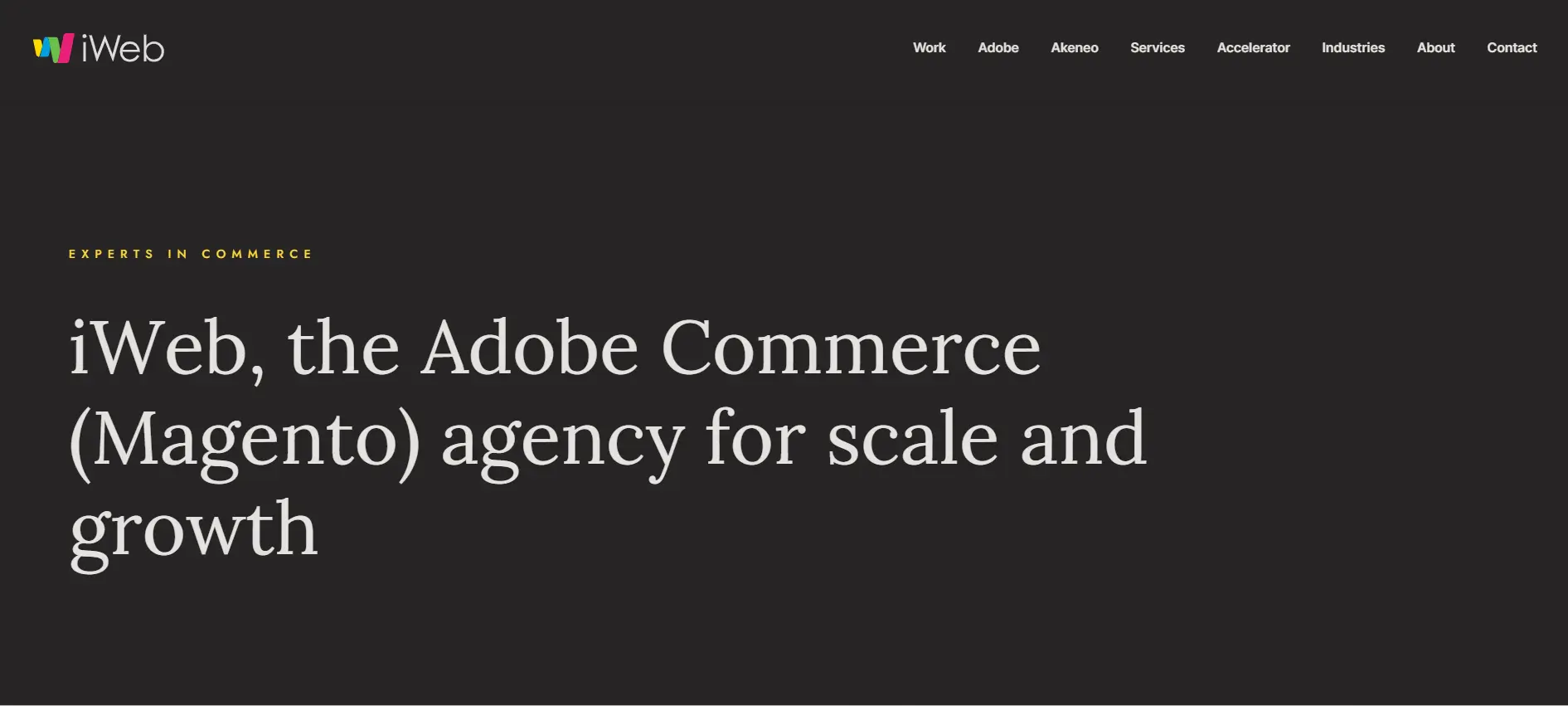 iWeb ranks as one of Adobe's Top 5 Magento Agencies in the UK. The company specializes in building multi-channel commerce experiences for B2C, B2B, and D2C customers on a single platform, thus offering you future-proof solutions from the catalog to payment to fulfillment.
Some Magento services provided by iWeb include:
Magento Commerce End-to-End Services
Integrating custom and native Adobe Commerce (Magento) features
Magento ERP Integrations
Magento Data Services
Magento Cloud Operations
Magento Project Rescue
How to choose the best Magento agency for your business
Choosing the best Magento agency for your business can be a daunting task, so how do you choose the best Magento agency for your business? Here are some tips:
Determine your needs
Before reaching out to any Magento agency, it is essential to have a clear understanding of your business' needs and requirements for Magento development.
Conduct a thorough scan of your business; evaluate your goals, customer research, competitors, and market insights. Factors such as inventory management, payment gateways needed, shipping options, multilingual or multi-currency support, mobile responsiveness, and integration with other systems, such as ERP or CRM, should also be considered. As soon as you get all of the necessary data, you'll have a clear vision of the specific functionalities you require for your eCommerce businesses.
Keeping this well-defined set of requirements in mind can help you narrow your agency choices. Therefore, you can determine whether that agency can meet your expectations and deliver the desired outcomes, resulting in a more effective decision.
Be clear on your approximate budget
Not all Magento agencies charge the same or offer the same services. So, you'll need to decide how much money you will spend on your Magento store's development.
Once you have decided on your business needs and requirements, setting the expected budget should not be a daunting task. Some types of costs for building a Magento store can include:
Licensing and hosting costs
Themes
Extensions
Customizations
Third-party integrations
It is important to note that building a high-quality and personalized Magento website will require a considerable budget and effort. Therefore, you should be clear on your financial resources and the money you can pay for these services, then choose the right Magento agency that can meet your expectations at an optimized cost.
Do your research
Before you settle on any agency, be sure to do your research and ask around for recommendations. There are plenty of great Magento agencies out there, but there are also a few bad eggs, so it's important to make sure you choose an agency you can trust.
You should conduct thorough research to identify potential Magento agencies, which can be done in some ways:
Explore online directories, industry forums, and social media platforms
Read reviews, testimonials, and case studies to gather insights into their reputation, client satisfaction, and project successes
Utilize search engines for agencies that specialize in your industry or have experience with similar business models.
After researching, you can now come up with a list of potential Magento agencies for your business. Now it's time to consider other criteria to narrow down this list to choose your best-fit Magento agency.
Check their credentials
Magento aspires to build an exceptional ecosystem. It offers a formal partnership program as well as a certification system for Magento developers and development agencies. The majority of top-tier Magento agencies are Magento partners with certified developers. So, you should keep this in mind when selecting the best Magento agency for your eCommerce businesses.
Look for Magento Certified Developer, Magento Solution Specialist, or Magento Business Intelligence certifications. This means that the agency has the necessary knowledge and experience to assist you in developing a successful Magento store. Magento Solution Partner certification also denotes a higher level of collaboration and expertise. As a result, if your company's needs are significantly complex and require a high-performing Magento store, you should look into agencies that are certified in this area.
Consider their experiences
Being a highly complex eCommerce platform, experience counts a lot for any Magento developer. When assessing an agency, look at their past projects to see if they're a good fit for your business and get to know how they work with clients.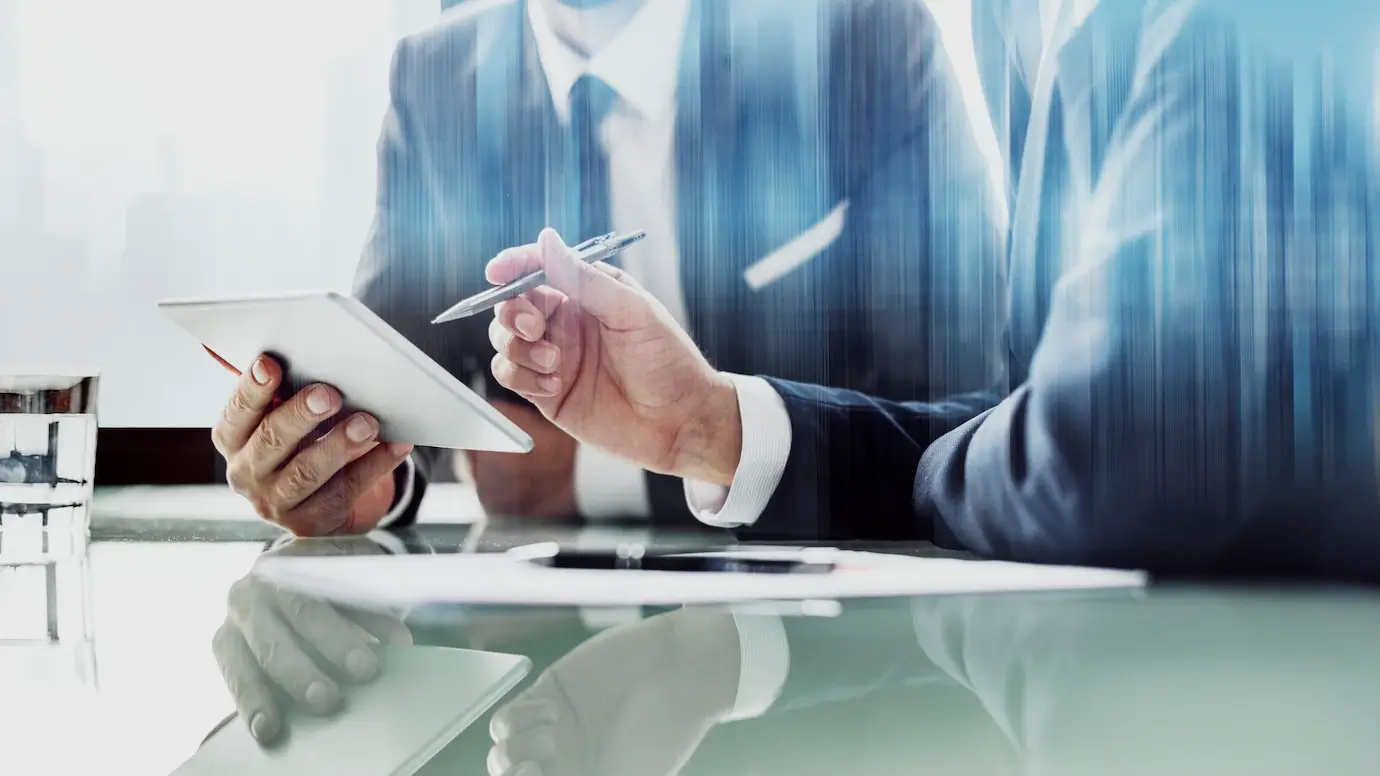 When assessing an agency, it's important to look at their past projects and see if they're a good fit for your business. Here are some recommended actions you should consider taking:
Evaluate the quality, quantity, and diversity of those projects
Assess the user experience, design aesthetics, and functionality
Look for innovative features, customizations, and integration capabilities
Asking for case studies and testimonials is also a smart move to get a better idea of what they can offer, thus seeing if they have experience in your industry or have tackled similar challenges that align with your business goals.
Although not all projects require veteran agencies, experienced Magento agencies can create high-quality and functional eCommerce stores for your company. You should also consider your businesses requirements carefully when deciding on this area.
Ask for a proposal
Once you've narrowed down your options, it's a good idea to ask each agency for a proposal. A comprehensive proposal should outline the scope of work, project timeline, milestones, pricing structure, and deliverables.
With this proposal, you can evaluate the clarity and professionalism of that agency, as it reflects the agency's understanding of your requirements. Consider how well they address your specific needs and whether they provide suggestions or solutions that align with your business objectives. Moreover, the expected project timeline and pricing structure can also give you an insight into how much time, money, and effort you have to put into your Magento store's development.
Make sure they're fully staffed
Another thing to consider is the Magento agency's size. Do they have enough developers to provide ongoing support and maintenance while also fulfilling existing clients' commitments before taking on new clients' demands?
A good Magento agency should be fully staffed with project managers, developers, designers, quality assurance specialists, and support personnel. You should inquire about the size of their team, their experience level, and their areas of expertise. It's important to confirm that they have the resources and capacity to handle your project efficiently and meet your deadlines.
Client collaboration and communication
Communication is essential in any agency-customer relationship. Magento agencies are no exception, as developing and operating a Magento store can be a lengthy process. As a result, you should always choose Magento agencies that understand how to deliver your words and have a cooperative attitude of goodwill.
To do so, you should first assess how that agency interacts and communicates with clients, as well as their responsiveness to inquiries and ability to understand and accommodate your specific business needs. This can also be evaluated using the portfolio assessment. A reputable agency will keep you involved throughout the project, soliciting your input and feedback, and expressing a desire to develop a fruitful and ongoing relationship with you.
In conclusion
We have introduced you to the 10+ best Magento agencies. Hope this blog will be useful for you to find the right Magento 2 development agency for your business. If you need help getting started or maintaining your site, we are here to help you. Magenest can help you get the most out of this powerful platform and take your online store to new heights. Check out the Magento services that Magenest is offering today and get some recommendations for the success of your store.