Of the many decisions, you make to drive success for your online business, choosing the most optimal platform is of the utmost importance. The eCommerce platform needs to contain all the functionalities and features that serve your business's goal. There are two big names that are no doubt cropping up: OpenCart vs Magento.
According to Ahrefs statistics, the global search volume of OpenCart vs Magento is 159,000 and 302,000 correspondingly. These numbers mean that merchants are much interested in the two platforms. Moreover, they tend to take a greater interest in Magento.
The following article will compare and explain where and how Magento goes miles ahead of OpenCart in terms of both functionalities and performance.


The following article will compare and explain where and how Magento goes miles ahead of OpenCart in terms of both functionalities and performance.
OpenCart vs Magento: Overview
What is Magento?
Released in 2008, Magento is an open-source eCommerce platform written in the PHP language. Magento represents around 8% of all eCommerce platforms available on the market, with more than 447,100 live websites and numerous Magento-certified developers.
It offers three editions. One is Magento Open Source, (previously Magento Community Edition). The second is Magento Commerce (previously Magento Enterprise Edition). And third is Magento Commerce Cloud Edition, which is a fairly new entry into the Magento platform.
Magento Commerce was derived from Magento Open Source and has the same core files. However, Magento Commerce has a bunch of advanced features and functionalities, exclusively for large companies. To have an in-depth look at the differences between Magento Open Source and Magento Commerce, you can refer to this article.
What is OpenCart?
OpenCart is a popular open-source online store management program. The first OpenCart public release was in 1999. This software is developed in the PHP programming language with MySQL database and HTML components, which is quite similar to Magento.
OpenCart has recently released OpenCart Cloud, a cloud-based version of an eCommerce solution hosted on Amazon Web Services (AWS).
According to BuiltWith statistics, OpenCart is possessing a 3% market share and powers more than 390,000 eCommerce sites across the globe.
OpenCart vs Magento: Key differences
Performance
Page load time is the average amount of time it takes for a page to show up on your screen. Loading time is one of the factors Google uses in algorithms that determine search engine rankings. This factor has an important effect on the users' experience. The longer the loading time a page takes, the higher the bounce rates and the lower time on the page it has.
According to a study carried out by Quanta, the Magento average page load time of all monitored stores reaches 665 milliseconds. The speed is a bit higher than the ideal speed set by Google, which should be less than 500 milliseconds.
However, the Magento site speed is still acceptable and fast enough to keep the clients rolling until the end of your website.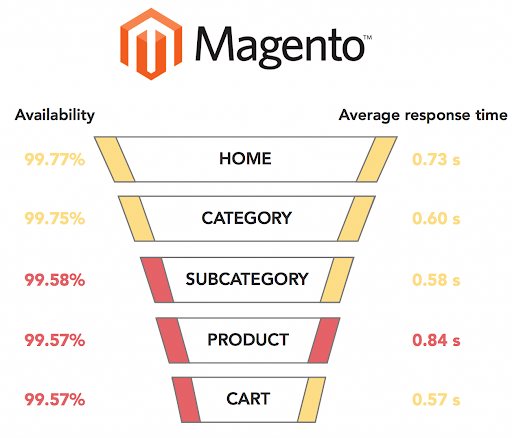 Meanwhile, the analysis of OpenCart sites' performance showed disappointing results.
OpenCart is one of the slowest platforms with an average load time of 831 milliseconds. It is 1.6 times higher than the ideal speed Google recommends for SEO and is 1.25 times higher than that of Magento.
OpenCart category pages load even more slowly with an average response time of 936 milliseconds.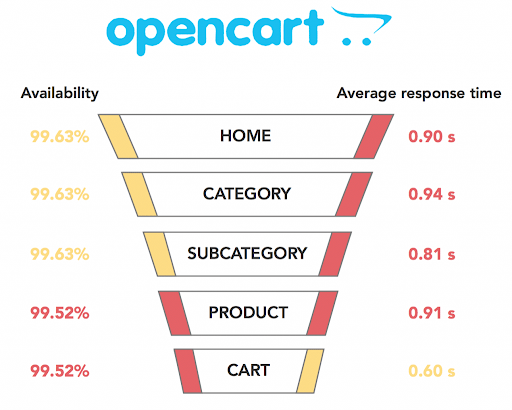 Cost/Pricing
Magento
Magento offers two major variants at different prices. For Magento Community Edition, the pricing situation is similar to that of OpenCart: free for entry, but need to spend on hosting, extensions, maintenance, etc. On the other hand, Magento Enterprise Edition comes with a price tag of $22,000+ annually, and it can go up to hundreds of thousands depending on the size and needs of your business.
OpenCart
Technically, the price of OpenCart is free. But that doesn't mean you can operate your platform free of any charges sustainably. Sooner or later, you'll need to upgrade your system with new features from modules, which can go as high as $300. Especially for starters, you need to budget a significant amount for basic expenses including web hosting, a domain name, and an SSL certificate.
Features & Extensions
The main major difference between OpenCart vs Magento is rooted in their features and extensions. Let's take a look at the basic features of OpenCart vs Magento:
OpenCart
Magento
User Management
Multi-Store
Options and attributes for products and categories
Discounts, coupons, and specials
Back-ups and restorations
Affiliates
Unlimited Categories & Products
Multi-lingual, multi-currency, and shipping methods
Marketing, promotions, and conversion tools
Search Engine Optimization
Site management
Catalog management
Catalog & Product browsing
Checkout, payment, and shipping
Order management
Analytics and Reporting
Mobile commerce
Customer accounts and service
International support
OpenCart is a lightweight eCommerce solution that comes with all the basic features you need to get started with your online store. Magento, on the other hand, is a more comprehensive eCommerce platform that offers a wide range of advanced features and options.
Security
Magento
Magento is certainly a platform of high security.
One of the priorities of Magento is ensuring the security of customers' data and digital experiences.
In 2015, Magento Security Patches were released to keep your online store always on top of security and your customers feel secure when shopping from your store. A patch is a change of code that fixes a certain vulnerability and is regularly automatically updated for better site performance.
When Magento releases updates for Magento Open Source editions, store owners can check information on security updates available for their edition. They can then know about the vulnerabilities as well as the updates to solve them.
Besides, Magento is making Content Security Policy (CSP) available for Magento Open Source. CSP provides a standardized set of directives that can confine browser content to allow only whitelisted resources to appear. It helps the browser to determine whether content resources are credible.
Magento users can also use third-party tools such as Mage Scan or MageReport. They will help you to check your online store for security vulnerabilities in Magento as well as some commonly used 3rd party extensions.
Furthermore, you can also take advantage of the Magento Security Guide which provides you with useful self-help materials to keep your customers' data safe.
OpenCart
OpenCart does not take responsibility for securing your website although it is easy for hackers to detect the vulnerabilities and attack OpenCart websites. The reason for these vulnerabilities is that OpenCart internal code is public. To avoid these threats, OpenCart just offers its users some suggestions aiming to protect their sites after they install OpenCart or let their stores go live.
Another OpenCart security weakness is that third-party extensions can have bad effects on security issues. They might contain potential vulnerabilities that let attackers make changes to already existing open-source plugins to compromise your sites installing them.
SEO and Marketing tools
Magento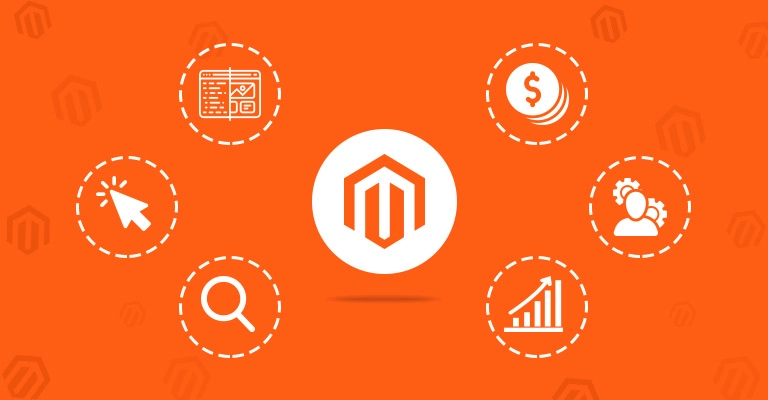 Magento is considered one of the best eCommerce solutions for search engine optimization (SEO). 
With Magento, SEO is automatically configured. This cart provides its users with many outstanding features to help merchants improve their site ranking and attract more traffic.
SEO best practices: Magento includes many features to support SEO including Metadata, Sitemap, and URLs Rewrites.
Catalog Navigation: optimizing the methods shoppers move from page to page through a store to provide easy access to the products in your catalog.
Catalog Search: configuring catalog to improve search results.
Search Terms: improving the effectiveness of customers by leveraging search terms.
Magento allows store owners to fully customize their stores' design and SEO functionality to make it easier for search engines to crawl your online store and understand its structure. For instance, users can easily set ideal meta-titles, keywords, and descriptions for products, categories, and CMS page keywords.
For Marketing tools, Magento offers store owners Marketing Menu, which provides access tools for managing Promotions, Communications, SEO, and User-generated content. Another strong point of Magento's Marketing is integrating with the following Google tools: Google Analytics, Google Privacy Setting, Google Content Experiments, Google Tag Manager, and Google Adwords. With these powerful tools, you can optimize the content, analyze your traffic as well as connect your catalog to shopping aggregators and marketplaces.
Besides all that, store owners can make use of more than 800 Marketing extensions including Advertising, CRM, Email, Marketing Automation, and SEO/SEM on Magento Marketplace. For instance, you can take advantage of these Email Marketing extensions to automate your Magento Marketing campaigns to skyrocket your sales.
OpenCart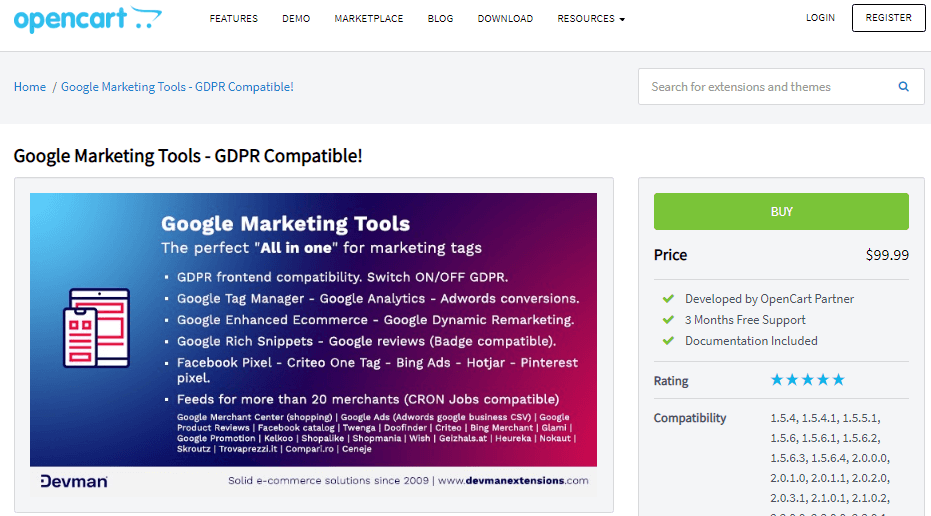 It is disappointing to say that one of the disadvantages of OpenCart is its SEO features. OpenCart just offers a basic set of SEO features and it is not as search engine friendly as it could be. Although there are different extensions that can help, it does not even come close to the endless possibilities that Magento offers, such as optimized titles, images, URLs, etc.
About Marketing tools, OpenCart store owners can access the dashboard to go to the Marketing field. There are submenus such as Marketing, Affiliates, Coupons, and Mail. This platform also offers Google Marketing Tools – GDPR compatible which includes Google Analytics, Google Tag Manager, Google rich snippets, etc. However, you need to pay additional costs to use this service.
Ease of Use
Ease of use is often a decisive factor when choosing an eCommerce platform. If you are not a tech-savvy person, you don't want coding skills to prevent you from building and launching your own site. However, at the same time, you should consider the performance of your platform and whether it will be able to scale as your business grows.
Magento
Magento is a bit more complicated to use. This platform is robust and heavily laden that not suitable for those who are not familiar with codes. However, if you are willing to put in the time to learn how to use it, Magento can offer a much broader view of your store operations and great features that OpenCart doesn't have.
OpenCart
Opencart is a good choice for those who are looking for an easy-to-use platform. As long as you set up an OpenCart store, you can immediately start working on it without any hassle. OpenCart offers a very intuitive interface and a simple installation process.
Store Management
Magento
The Magento Admin panel is rich in-store information. Store owners can view critical store analytics such as overall sales level, the average order amount, and so on. What's more, with Magento, merchants can adjust store sections directly from the Dashboard.
Moreover, Magento Catalog Management is considerably developed. It provides easy access to product creation, category, and inventory management tools, as well as shared catalogs for custom pricing in B2B stores. You have the ability to add unlimited products and categories, without any restricted attributes.
Shifting to Magento Order Management, you will have the ability to process orders.
View and edit order.
Review the following sections: Order and Account Information, Address information, Payment & Shipping method.
Review Items ordered including the item ordered, notes for this order, and order totals.
Besides, you can also create invoices and shipments, issue credit memos, and set up billing agreements.
OpenCart
From the Admin Panel, OpenCart users can track order statistics, and edit customer information, products, and various store sections.
OpenCart Catalog Management contains some control functions. Besides the ability to add unlimited products and categories, store owners can also make use of Filter to crawl through the inventory.
Come to OpenCart Order Management, which gives you the ability to view all of the order details made on their site, manually add orders, edit the details of existing orders, and print invoices.
There are sections where you can manually modify orders: Customer details, Payment details, Shipping details, Products, Vouchers, and Totals.
Community Support
Over time, the Magento community has expanded to include 450,000 members, many of whom are developers who are willing to offer their technical expertise. An extensive online community will be of great value to you if you are technologically adept and can pick and choose the answers you want…
Like Magento, OpenCart offers a Community Forum where individuals can exchange their expertise and experiences on running online companies. There are about 120,000 members of the community, which is equivalent to that of Magento. You may also buy specialized support services, which start at $99 per site per month and increase in price as your needs grow.
OpenCart vs Magento: What is the Better choice?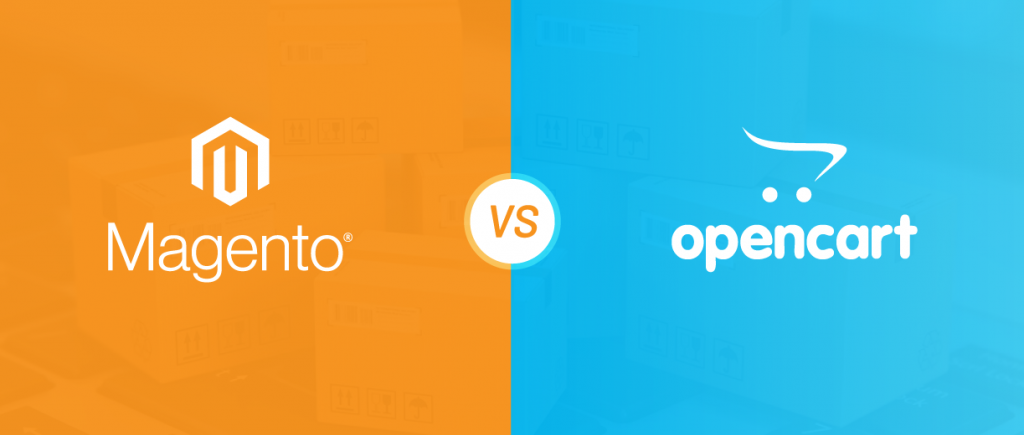 Both Magento and OpenCart are great eCommerce platforms, but depending on your needs, one may be better than the other.
Magento is an excellent choice for bigger businesses with higher expenditures. It has the scalability to handle the expansion of your company for many years to come, as well as any future requirements you may have.
On the other hand, Opencart is better for building your shop from the ground up since it is more straightforward and (nearly) free to use, but keep in mind that your company may outgrow it in the future.
In conclusion
In a nutshell, We've highlighted some of the best features of two of the most popular eCommerce systems, Opencart vs Magento. Hopefully, this blog can help you find out a suitable platform for your business. If you want to learn more about each platform or get started on building an online store quickly and easily. Feel free to contact us now!