Controlling business activities, and enhancing collaboration between employees while reducing operating costs is an all-time challenge for managers. One of the trending solutions that impressed most firms in recent years was applying ERP software. By the year 2020, the ERP software market is predicted to be worth nearly $42 billion, and the importance of these systems is obvious. The benefits that ERP brings are so impressive, but today there are a wide number of ERP software available in the market with a diversity of brands, functions, etc, and especially, prices. Find out below in this article the top best ERP software!
What is ERP software?
Enterprise resource planning (ERP) software is software that integrates and organizes data for the front and back office operations. ERP solutions combine a company's key operations, such as manufacturing, distribution, finance, and human resources, into a single software system. The platforms centralize data in order to reduce manual entry, make business data visible across teams, and can even integrate partner data to ensure high transparency and fluid operations. Top best ERP software can guarantee all the above activities are controlled.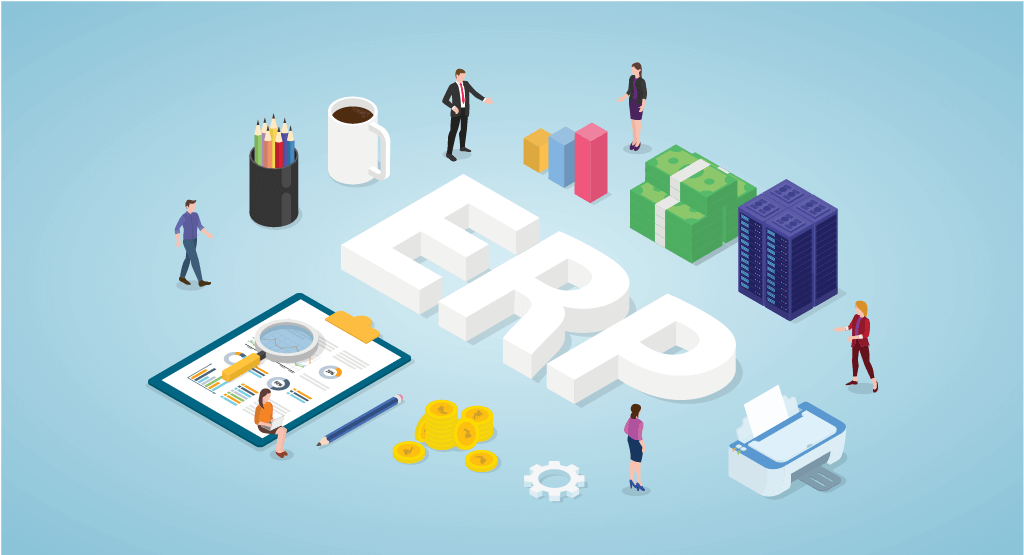 Manufacturing adjusts to changes in the sales pipeline in order to prepare for future workloads. HR then increases hiring to ensure that the plant is fully staffed. Using the most recent data, logistics determine the quickest routes. Warehouses understand their current inventory and can fill orders faster with existing products, reducing the load on the manufacturing team. Finally, the financial team uses up-to-date data to improve forecasting.
Major features and modules of top best ERP software
ERP software varies greatly depending on system, industry focus, and features offered; however, most systems will include several of these modules:
Integration: ERP software provides a fully integrated, user-friendly platform for analyzing, monitoring, and carrying out most data-driven tasks. ERP systems collect, store, and analyze data from all departments using a single database.
Automation: Top best ERP software automates time-consuming operations such as order entry, payroll, accounting, invoicing, reporting, and more. Automation reduces the number of hours your personnel would traditionally spend on these activities.
Human resources: HR software modules integrate your personnel information and records to all of your ERP's systems. Payroll, time tracking, individual department scheduling and timesheets, succession planning, and hiring information are all live in one place.
CRM modules: CRM modules streamline sales-critical information with production and product teams, provide complete customer contact information, and make account notes available to all stakeholders in the buy and production process.
Finance and accounting: This module collects financial information from other connected modules, providing a complete view of a company's revenue and spending, rolling up profit and loss reports from financial reports, and creating projections.
eCommerce: Integrate your company's ecommerce website with shipping, product development, and supply chain modules within an ERP; ecommerce integration will assist your team in drawing links between website health and business performance.
Supply chain management: Supply chain can back up the entire revenue stream. ERP software guarantees that other teams have visibility into the supply chain and can respond promptly based on the severity of the crisis.
>> Read more: Digital transformation in supply chain: Definition, Examples and Tips
Benefits of these top best ERP software in firms
An ERP solution, when effectively deployed, improves organizational efficiency, performance, and profitability. Furthermore, ERP can assist businesses in reaping the benefits of digital transformation.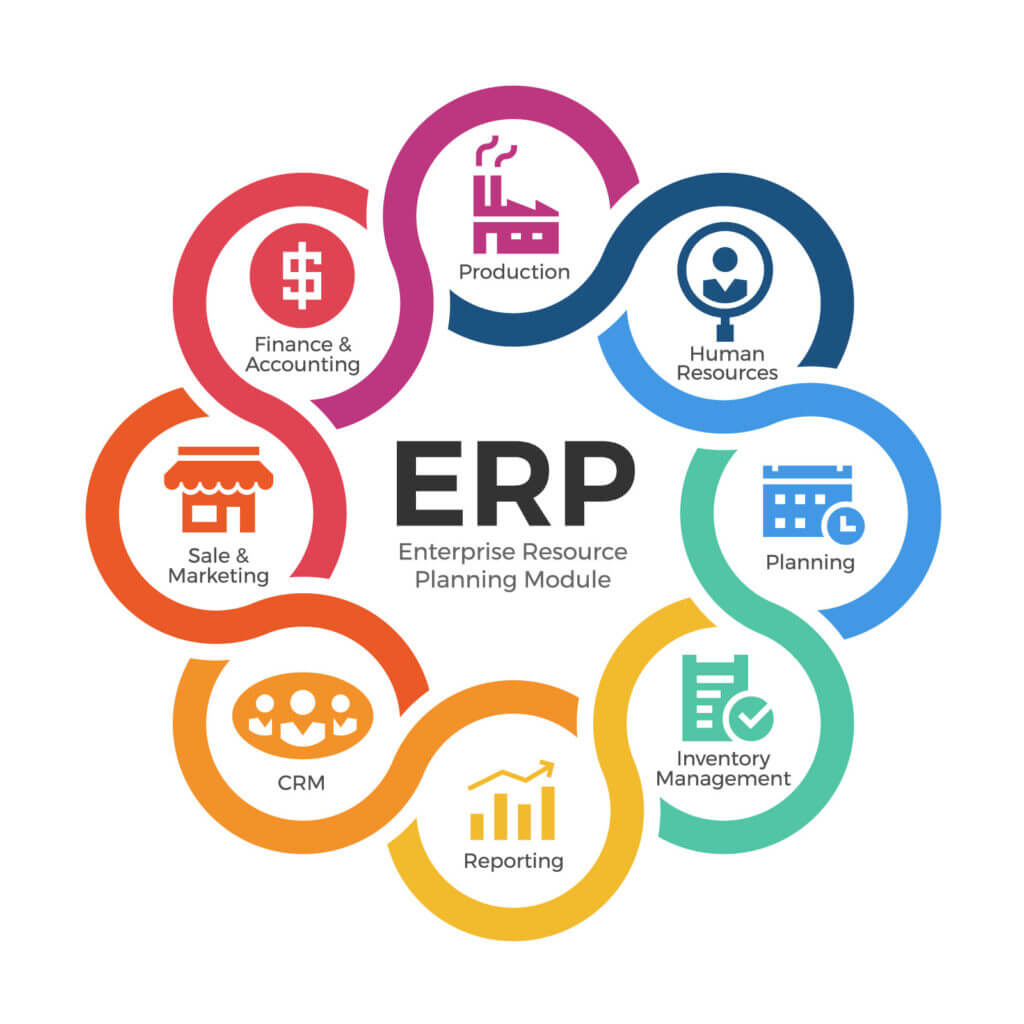 Reduced software overhead
ERP software enables teams to combine their tools into a single unified system. Instead of paying for individual subscriptions for supply chain management, core HR, CRM, shipping, and inventory software, teams pay for a consolidated platform that performs all of these functions. Depending on the size and complexity of the organization, lowering the number of software system subscriptions can drastically reduce monthly costs.
Improved communication
When all departments in the organization use a single program to plan and track business events, all business data is available for team evaluation. Many current ERP systems make significant investments in analysis tools and visualizations, allowing team members to build reports that illustrate progress, indicate inventory levels, and tell colleagues of victories. ERP software then acts as a single source of truth for stakeholders to compare successes and plan for roadblocks.
Silo removal
Business silos, in which teams work independently of one another to the detriment of everyone, significantly reduce company productivity. An ERP enables businesses to publicize their goals and teams to collaborate on their plans. Teams with access to the same data can compare notes across departments, assisting everyone in moving toward the big business goals.
Manufacturing process standardization
Sharing manufacturing plans and best practices can be critical for product and process uniformity in major manufacturing organizations with several sites. Manufacturing teams can use ERP systems to keep manuals, designs, regulatory documents, and crucial statistics for each process in a single, searchable area. This enables various departments within the organization to replicate processes across the county and country lines without sacrificing quality or speed.
Inventory lowering
Keeping more resources on hand than you need costs money, whether it's the number of widgets your company manufactures or the people who install them. ERP solutions provide inventory tracking and analysis, allowing businesses to function more efficiently. ERP systems can track assets from supply to sale by utilizing technology such as RFID tags, geofencing, and biometric data. Furthermore, many ERP systems will recommend inventory improvements over time. Companies that have fewer inventories can reuse storage space and save money on payroll.
Standardization of human resource data
Many ERP packages include Core HR items like payroll, scheduling, time clock, and benefits administration. These modules link the front of the house, the warehouse, and the C-suite. An ERP system with core HR functions can use time clock software to calculate payroll and benefits, and managers can access employee information when creating schedules. Employees are a company's most expensive and important resource, so connecting the software that controls them with the rest of the enterprise's data is critical.
Top best ERP software on the market – updated 2023
Let's find out below the top 7 best ERP software on the market and then consider the most suitable platform for your company: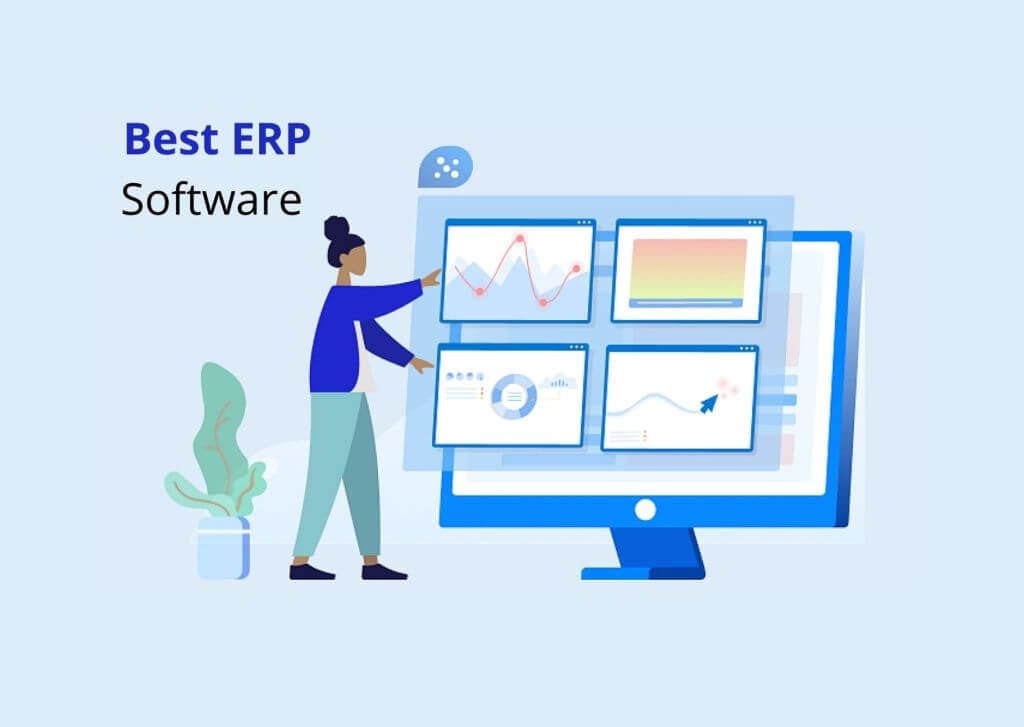 Odoo ERP Software
Odoo is one of the most used open-source and top best ERP software, which is customizable, fully integrated, and packed with a wide range of expertly designed functions. This software builds a dynamic community with more than 10000 available applications that are flexible and meet a majority of the needs of the business, such as Sales, Manufacturing, CRM, Project, Accounting, and Inventory.
Odoo is easy to install and test on many OS platforms. The cost of ownership is fairly low, which helps all business processes to reduce costs.
Odoo brings all business features together, which allows the team to work together and collaborate with other departments most effectively. Besides, with Odoo, businesses can create new users easily when expanding business scale. By integrating all the apps into one system for quick data analysis, managing through Odoo will help reduce business decision-making time.
Unlike other platforms, Odoo always updates the latest technology trends, which helps Odoo keep up with the most modern features and helps businesses always have the fastest access to the world's advanced technology solutions.
SAP ERP software
The word "SAP" stands for System Application Programming, this is the name of a unit established in 1972 by five members of the IBM company. Nowadays, SAP has grown to become a leading ERP software company with more than 232,000 customers, 30,000 companies, having branches in 188 different countries globally. SAP's position is now as valuable as the big guys in the software industry such as Oracle, IBM, Microsoft, etc.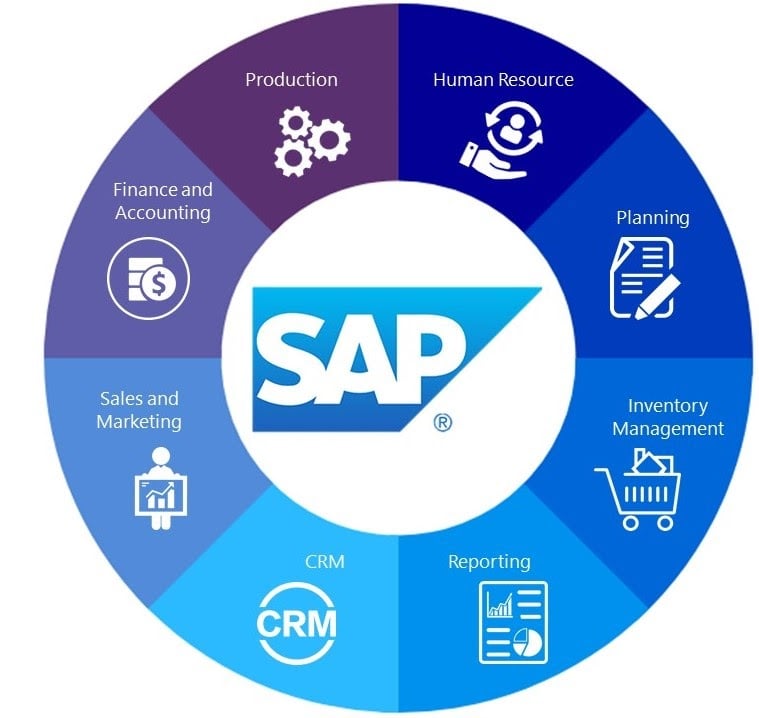 SAP software is a comprehensive solution that brings a wide range of enterprise resource planning (ERP) applications including customer relationship management (CRM), financial and accounting management, human resource management, and product line management, and supply chain management, all rolled into one.
SAP ERP is a one-size-fits-all solution, no matter the size and style of your business. This system is trusted to build a foundation and support not only large organizations but also mid and small size businesses. Thanks to SAP ERP, you can effectively manage your whole organization.
SAP ERP also provides integrated and customized software with customer partners of this unit so what you need is just pay for the modules you want. However, businesses should consider this before using this system because the cost is too expensive and it has many points that are not suitable for the business environment in Vietnam. For small and medium enterprises, you may find other business management software solutions that are more suitable for you.
Tally
Tally is an accounting software that provides features for small to mid-sized businesses to help people handle their finances. This ERP software for construction first appeared in 1986, it became a pioneer in the business software products fields. For more than 30 years, Tally has delivered path-breaking technology consistently. Nowadays, Tally is used by millions of users globally in 140 countries and continues to become the unchallenged leader in the enterprise resource planning software industry.
This system helps you monitor and manage payables and receivables effectively in your business. Besides, it provides a timeline regarding records purchases and bill payments. Creating customized invoicing on tracking orders, sales, and receivables is also included in Tally.
The business ratios are displayed in the dashboard, which enables users to access other financial reports, the ratios and numbers are presented visually by graphs and charts to analyze easily. Besides, inventory management and HR modules such as payroll generation are also provided in this system.
OpenBravo ERP software
Openbravo is a multichannel retail business that allows retail chains to create a personalized experience and transform their physical store. This system is currently the software of more than 6,000 individuals and organizations. The ERP system is based on open source and should run well in any web browser.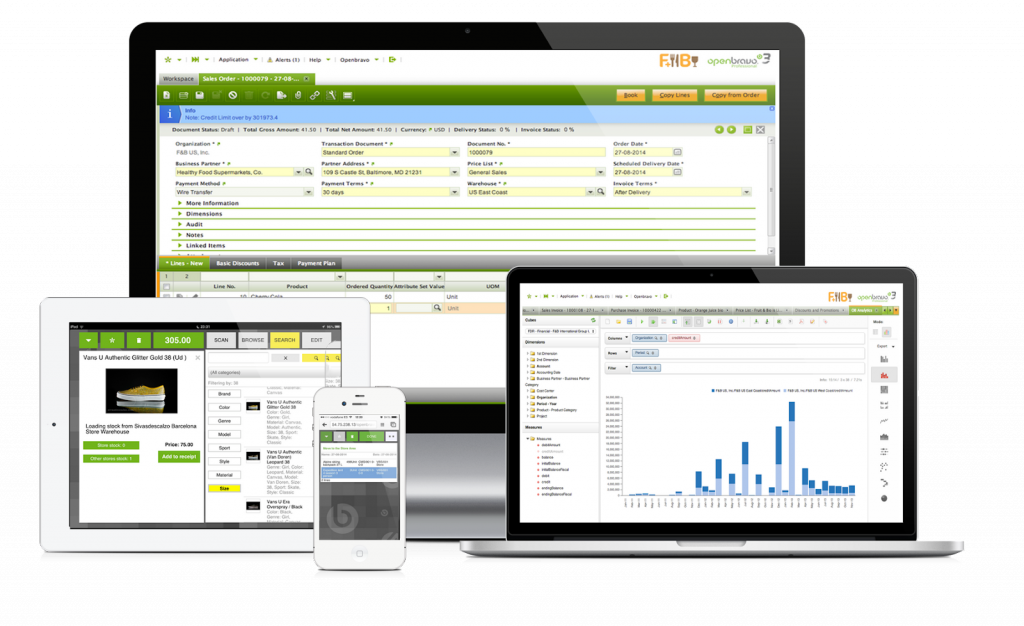 The software develops based on a modern, logical workflow that is suitable for the operating and management activities of specific organizations. This system is developed on both mobile and cloud, which makes it easy for businesses to innovate in the business operations of retail chains or restaurants. What today's omnichannel has to do is provide great shopping experiences to your clients and successfully build up to change and innovation. Openbravo can do this.
This management system has been successfully implemented in areas such as fashion. This ERP software for manufacturing is developed on open source code, thus Openbravo can run well in any web browser. Besides, Openbravo charges a monthly fee, based on the needs of the business, so you will have flexible pricing.
Deltek
Deltek is an integrated solution designed to support the entire operation process in the lifecycle of a project. This system provides many functions such as accounting, resource management, project management, reporting, labor, and compliance features, all in one product, which will help you develop your business efficiently.
Deltek Vision is a web-based solution available for on-premises deployment or cloud. With this system, your business will be developed effectively with a complete overview and you can control finances and your projects accurately. You can say that this ERP is "ERP software for manufacturing" because of all the functions it provides you. It's worth being called like that!
Microsoft Dynamics ERP
Microsoft Dynamics 365 is a foreign ERP software sold through agents in Vietnam. This ERP software is an enterprise resource planning software focused on SMEs as well as subsidiaries and divisions of large and multinational enterprises. These ERP applications are part of Microsoft Dynamics, a line of business management software owned and developed by Microsoft.
This software consolidates the functions of CRM and ERP and develops new features for the creation of new intelligent applications and assists in managing the business-specific functions of the business from the Sale process. Customer Service, Operations, Finance, Maintenance, Project Management, Marketing, and Customer Knowledge.
Besides, this system uses Business Intelligence (BI) and reports to provide users with real-time analytics and visualization, and easily monitor performance with high accuracy, thus you can have in-depth analysis capabilities. Besides, Microsoft's worldwide network of partners has the knowledge and skills to help you implement an ERP platform based on your business needs, then you can customize it according to your business needs.
Microsoft Dynamics 365 provides app support for iOS, Android, and Windows Phone. The app is also available offline, so users can work without a data connection, and the data will sync automatically once the connection is re-established.
Oracle ERP
Oracle ERP is resource management software for all sizes of businesses, thus it is the ERP software for small businesses in case you need it. Oracle is the full suite of integrated and global business functions that helps organizations reduce costs, make decisions, and increase performance.
This system is developed on the cloud platform, which helps businesses automate business processes. The platform is simple, easily scalable to serve various functions such as planning, purchasing, finance, reporting, project management, and other related activities. No matter if the size of the organization is small, medium, or large, the complexities of global business environments are solved by Oracle E-Business Suite applications.
This system is featured with a financial management software tool that can be easily integrated to generate reports based on the analyzed data, so this system from Oracle is designed to support financial management. Besides, Oracle ERP Cloud's risk management software provides you with a repository for risk control, to minimize the risks in your financial statements.
Conclusion
Through automation and interconnected data, firms can reduce risk, promote collaboration, and drive growth. ERP software has for sure connected data through a fully integrated system, which typically saves company money that would otherwise be spent on hundreds of unconnected apps. Considering the top best ERP software above can definitely offer perks for firms.