It is undeniable that one of the most crucial pieces of eCommerce strategy is websites. Websites are a fantastic way to gain brand awareness, acquire loyal customers, and increase sales. As eCommerce is getting more competitive every day, having a strategic eCommerce website builder can be super helpful, time-saving, and economical. In this guide, we've compiled a list of the best eCommerce website builders from around the web. Since you have specific needs for your business, we've also given a rundown of each website builder's most useful features.
1. What Is an eCommerce Website Builder?
The eCommerce Website Builder is a simple internet tool that enables users to create a website without any prior knowledge of design, code, programming, or development. The eCommerce website builders are essentially the same thing, but slightly more specialized for the online selling sector.
Top best eCommerce website builders like Shopify, Odoo, and BigCommerce are designed to be simple to use for everyone, from amateur to expert. The majority of them function as visual drag-and-drop editors, with online tutorials available for support.
2. Best eCommerce Website Builders Review in 2023
2.1. Shopify
Shopify is one of the best eCommerce website builder that not only includes outstanding eCommerce design templates, but it also allows for design customization based on business requirements. Along with visual customization, Shopify's app store allows users to add new functionality to their websites without having to write code or change the backend structure. These features include SEO tools, graphic builders, tracking tools, and many more.
Shopify is one of the best eCommerce website builder that not only includes outstanding eCommerce design templates, but it also allows for design customization based on business requirements. Along with visual customization, Shopify's app store allows users to add new functionality to their websites without having to write code or change the backend structure. These features include SEO tools, graphic builders, tracking tools, and many more.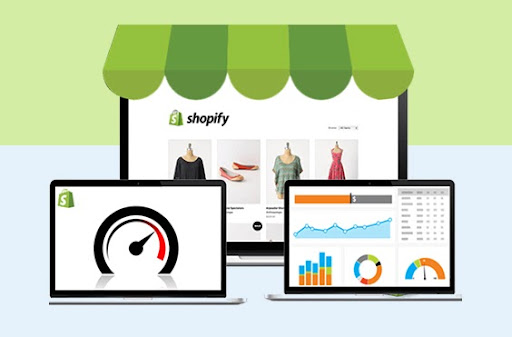 Additionally, Shopify Payments makes it simple to accept payments online. You can interface with over 100 payment channels from across the world, including bitcoin, PayPal, and Shop Pay. There are also over 4,000 free Shopify applications you can utilize to extend the functionality of your shop, keep eCommerce website costs down, and sell more online.
Best For:
New store owners, amateurs, and brands with fewer than 100 SKUs.
Brands that do not require a complex eCommerce infrastructure.
Business owners that wish to upgrade their store without the assistance of a developer or IT staff.
2.2. Magento
Magento is the most used eCommerce platform in the world. Although it is also well-known for being incredibly complicated, this platform has significant benefits that make it deserving to be at the first position on this list. Besides, the launching of Magento 2 has taken the platform to a higher level, accelerating many providers to create more effective solutions for B2B eCommerce firms.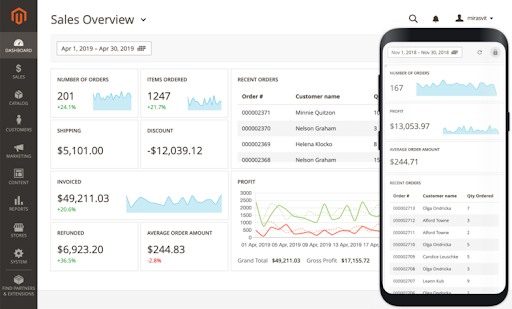 The backend and content management interface comply with the rule "what you see is what you get" allow store owners to build and customize features on their online stores on the fly. Magento is open-source and has several custom extensions that can share between multiple Magento users. Through one instance of Magento, you can manage numerous eCommerce stores with various languages and various currencies. Moreover, With SEO efficiency, it gives online stores have more opportunity to rank highly on search engines such as Google, Bing, and more. Magento can also support you to customize multiple levels of security permissions, control internal access, and ensure your site's safety.
Best for: Magento is a great solution for enterprises and stores handling a huge volume of sales.
You are into the benefits of using Magento and want to build your own Magento 2 website. At Magenest, Our responsibilities are to provide you the highest quality services with the most qualified web designers and developers. Also, all our technologies and IT solutions are up-to-date, willing to deal with any challenge. We have been serving thousands of customers, including big names like Heineken, Nestle, Universal… Get your website today!
2.3. Wix
Wix is the easiest eCommerce website builder for beginners on our list. The Weebly plus Square option is a close second, but Wix is the clear winner for creating a truly gorgeous e-commerce website right out of the box. In fact, with 110 million individual and small-business users, they are the top best eCommerce website builder in the world. Much of this is due to its exceptional usability.
Wix also has an e-commerce version of its popular website builder. It is not as feature-rich as Shopify and WordPress-powered e-commerce websites, but it does provide a very user-friendly e-commerce solution.
Wix allows you to quickly and simply create a variety of stunning websites. You can choose from over 500 website templates and then modify your website with simple drag-and-drop design tools. Wix's e-commerce website options additionally provide a plethora of online selling capabilities.
Best For:
Entrepreneurs who are new to eCommerce or who are not technologically skilled.
Companies that need an appointment or booking function.
2.4. BigCommerce
BigCommerce is an online storefront builder for large businesses. It provides web hosting as well as a variety of customization choices for tech-savvy business owners seeking to grow.
BigCommerce's advanced features include worldwide selling capabilities, SEO applications, and optimized stores, and multichannel sales capabilities on social and online selling sites—but these features are more complicated. It also performs well in terms of search engine optimization (SEO). The platform enables you to personalize your page titles and simply change the meta descriptions that appear in Google searches under each page title. All of these tools help search engines in locating your website when prospective consumers search for keywords related to your business.
On the whole, BigCommerce makes it pretty easy to get the support your online business needs to function. However, it is not a perfect solution.
While many eCommerce capabilities are built into the core BigCommerce service, some need the use of third-party apps.
As a result, it can acquire every single feature you want may necessitate a little additional effort. And if you require more than a basic home page and store, you may struggle—platform BigCommerce's isn't actually designed to create extra pages (at least not ones that look professional).
Best For:
Expanding your business.
Keeping track of your store's revenue.
Implementing cross-channel commerce.
In addition, BigCommerce offers tools like web hosting, app integration, 24/7 customer support, and more.
2.5. WordPress
WordPress is known as the best eCommerce website builder in the world, powering an extraordinary 34 percent — more than one-third — of all websites globally. This adaptable platform is home to a wide range of personal and company blogs, marketing websites, interactive instructional sites, and e-commerce websites.
In fact, WooCommerce, its most popular e-commerce plugin, today runs 28% of all e-commerce websites globally – over 3.5 million online businesses. While WooCommerce is the most popular e-commerce solution for WordPress, it is not the only one. Using a variety of specialist e-commerce plugins, you can add all sorts of sales capabilities to WordPress.
As a blog-based website builder, WordPress provides limitless content production and online commerce alternatives. Basically, if you can imagine it, you can create anything using WordPress. To construct any sort of e-commerce website possible on WordPress, simply add an e-commerce plugin for sales capability and a WordPress e-commerce theme to create your overall design.
Best For:
Create a website with a lot of material, such as informative articles, videos, and blog posts.
Sell digital products alone or in combination with other products, memberships or lessons.
Start an online store.
2.6. Squarespace
Squarespace is the next eCommerce site builder on the list. Its drag-and-drop builder makes it simple to use even for those with no technical experience. As with Wix, it began as a standard website builder rather than an online selling platform, so there may be a minor learning curve when putting up an online store.
Squarespace provides well-designed templates to help you get started building your store. After you've chosen a design, you can change the colors, text, and pictures to match your brand. You can also make payments using Stripe, PayPal, Apple Pay, and Afterpay while utilizing Squarespace as your eCommerce solution.
Best For:
Engaging with customers and sustaining customer relationships.
Managing orders and inventory.
Business owners who may need extra support when it comes to building and managing their store.
2.7. Odoo
Understand that website design is the secret key, giving your customers a hint to stay and keep exploring; Odoo has paid lots of attention to this part. Each website can operate independently, with different themes, brands, domain names, headers & footers.
The most typical problem is that your firm is brand new. You're not particularly good at design and don't have the funds to hire more people. Don't be concerned; he understands. We provide a FREE and EASY trial for you to try before making a decision.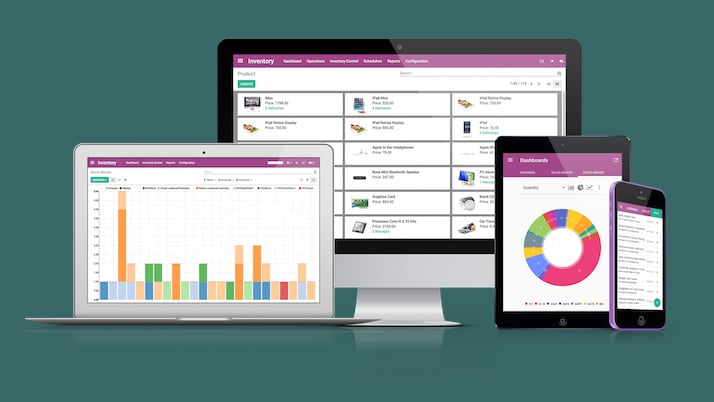 Odoo is the best website builder eCommerce store that incorporates many important business features such as eCommerce, newsletter, work, client portal, events, company blog, call to action, and so on. It is simple to use for both seasoned and beginner business owners. "Low-tech" is no longer an excuse for businesses.
Odoo provides customers many payment methods such as Paypal, Ingenico, PayUmoney, Adyen, Authorize.net, Buckaroo, Stripe, and SIPS Worldline. They all redirect customers to the 'Thank you' page on your websites.
Best For:
Optimize Your Website Design.
you can get rid of all the codes.
A Great Collection of Essential Features.
Convert Visitors into Customers.
Expand Your Website with Hundreds of Apps.
With more than 6 years of implementing technology solutions for businesses of all sizes, Magenest can you navigate the vast features of Odoo, choosing only the ones that fit your operations so you can avoid a clustered and painful experience. After deployment, our personnel training program and customer service will give you guidance and maintenance to ensure the workflow is at its best. Our team makes sure that your workflows are fast and accurate.
You can check out our extensions for Odoo here:
3. How to Find the Best eCommerce Website Builder For You?
Now, at this point, with all of these options in mind, you might be asking: What is the best eCommerce website builder? The answer to this question, however, is subjective. The best e-commerce website builder is the one that meets your unique needs. Therefore, as you try to sort through these (as well as any other) platforms, you can narrow down your options by keeping the following points in mind: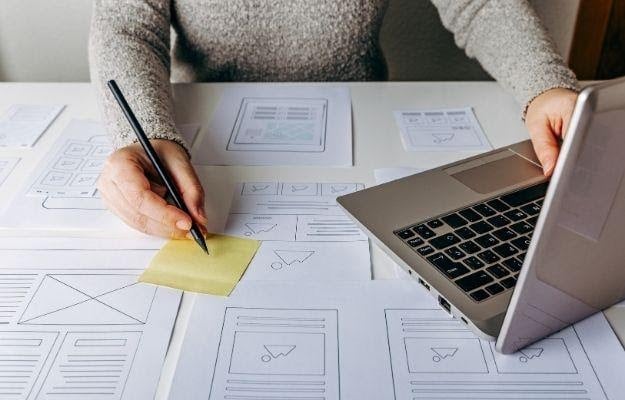 3.1. It Fits Your Budget
The first thing to do is figuring out the budget that you can spend on an eCommerce website builder. Also, take time defining factors such as domain registration, image, hosting, copy. While you can avail of several free plans, it's acceptable to pay between $5 and $50 a month for advanced features.
3.2. It Meets All Your Requirements
Before picking an eCommerce website builder, you list down what you need. It includes your business plans and which process you want to optimize. Including a free eCommerce website builder trial in your plan is also necessary. That will help you narrow down the options list.
3.3. It's Easy To Use
Even when you're an expert in this field, ease of use is still a key element. While most eCommerce website builders don't require code and program, it doesn't mean they all provide you with the same ease of use. When choosing a builder, look for one that offers drag and drop features. Also, pick ones that have an intuitive editor to make things easier to undertake any changes.
3.4. It has some Additional Considerations
Responsive customer support: You'll want to make sure that the eCommerce website builder you pick can respond quickly to any questions you may have. After all, if your site crashes in the middle of a product launch, you want it rectified as soon as possible.
Analytics and reporting. This allows you to track the traffic and interaction on your website, as well as optimize them.
Email integration: you'll need to be able to obtain a branded email address utilizing your eCommerce store's domain. Some systems, such as Wix, allow you to create or purchase a branded email address.
Pricing: Don't get us wrong, pricing is important. However, it wasn't necessarily a deal-breaker for how this list was arranged. Our point simply is that all of the products on this list are in line with what we believe to be the industry standard.
A builder like Shopify may be on the more expensive end of the scale, but it's nothing out of the ordinary given their quality and excellent offers. Each service on this list has relatively comparable pricing levels, and they all provide a free version with limited capabilities or (at the very least) a free trial.
Conclusion
Now that you know your options for finding the best eCommerce website builder, it's time to test them out. Each option comes with its own pros and cons, but hopefully, you have a better idea of which store builder is best for your business.