An eCommerce website is the gateway to selling online. You can use it either as an extension of your brick-and-mortar operations. Or as a standalone business venture. Today, many businesses want to start their online business but they have difficulty finding eCommerce website cost calculator tools or services. Thus, the cost to build an eCommerce website, especially for small businesses could be a burden.
It is almost impossible to guess the correct cost of building a website So "how much do eCommerce websites cost?" is an extremely frequent question for new eCommerce merchants. The answer will depend on myriad factors.
Don't worry, we are here to break down the cost and provide you with the eCommerce website checklist to minimize the eCommerce website cost. At the end of the article, you might find the best eCommerce website services option with the best eCommerce website development providers which can help you get over these challenges.
The checklist of eCommerce website cost
How much do eCommerce websites cost? is the first question that comes to mind for most small to medium enterprises when considering a new website. In fact, it's difficult to put a price tag as it depends on your budget and the goals you've set for your website and business.
Imagine you are building your dream home and you have the same question: "How much does it cost to build a house?" The cost will vary depending on aspects such as the kind of house, neighborhood, layout, total floor area, number of rooms, outdoor space, interior and exterior finishes, and more. The same goes for website development.
According to research, the average cost for an eCommerce website often ranges from $1,000 (for a small business website) to $95,000 and more (for a complex custom website).
In terms of actual dollars, the cost could be less than $1,000 or more than $10,000 to build a website for a small business.
A basic website might cost from $100 to $500, depending on your demands. The price of a feature-rich website might reach $30,000 or even higher.
The cost to build ecommerce website ranges from $2,500 to $95,000. It's possible that you'll have to spend much more to build a complicated custom website.
It is about $12,000 to $150,000 for the ecommerce website design cost, while routine website maintenance ranges from $35 to $5000 per month — or $400 to $60,000 per year.
Based on the above data, it is clear that there are various factors that influence the final eCommerce website price. Let's see some of the factors that affect the actual website development cost.
Website platform cost.
Hosting cost.
Template cost.
Add Ons and extensions cost.
Cost of website development packages.
Interactive Multimedia.
The cost of an eCommerce website platform
Ecommerce website platforms range in cost depending on their out-of-box features, the type of software they offer, and their level of service. There are several platforms to choose from, and choosing the right one is an important step in opening an eCommerce store. Let's take a look at some of the different types of eCommerce websites and their costs.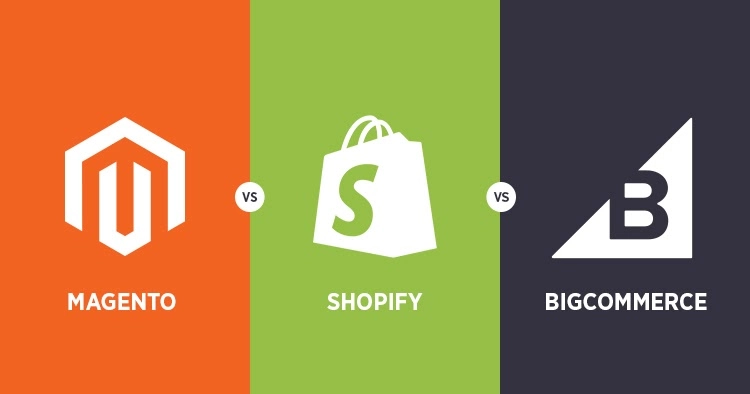 Magento eCommerce
One of the most popular platforms for eCommerce enterprises is Magento, which accounts for nearly one-third of eCommerce sites on the internet. Basic Magento Website Cost:
Magento Open Source is available for everyone to create an eCommerce website for free. This open-source platform is free to use and you are able to play around with the coding. Otherwise, Magento eCommerce is a premium version that costs more than $20,000 per year. The Magento eCommerce platform is more expensive than Magento open-source because it is all in one platform. With Magento eCommerce, businesses can get self-hosting from Magento Commerce Cloud, so that they do not have to find a third party for hosting their websites. Moreover, with the Magento premium version, you can find many significant additional features which can strengthen your website abilities without buying any other extensions or add-ons.
Some highlight features from Magento premium are listed below:
Better on-site searching with elastic search function.
Integrated B2B/ wholesale functionalities.
Page builder included.
Content management feature.
Advanced marketing features.
Bigcommerce eCommerce
This platform supports a wide range of functionality and business models that are based on SaaS platforms. To use this platform, you have to pay the monthly subscriptions from $29.95 to $299.95.
Shopify eCommerce
With the Shopify eCommerce platform, you can easily establish your eCommerce site with a high customization level. The price of the platform depends on your number of accounts and location, which costs from $29 to $299 per month.
The cost of an eCommerce website domain
Domain cost is the ongoing cost which means you have to renew them after a specific time. However, to save time, you can choose to pay for the eCommerce website costs for multiple years. The price of a domain name varies from $10 to $15 per year. That is the average price for general terms, in case you have something special, you might have to pay more than that. Remember, a short domain is highly likely to be more expensive than a long domain.
The cost of eCommerce website hosting
Once you have a domain name, you have to find where to store it on the Internet and pay for it. The price for eCommerce website hosting depends on the size of your website, the volume of visitors, the web hosting providers…
One of the most favored website hosting providers is Amazon. Amazon Web Service ( AWS) is a reliable and inexpensive website hosting service. AWS is able to store all information and data for the eCommerce website for small businesses and even the very large ones thanks to its scalability.
Some of the SaaS platforms such as BigCommerce or Shopify offer cloud hosting which could be included in eCommerce website packages, so you might find it more cost-effective with these packages.
On average the eCommerce website hosting price for a secure and dedicated host could vary between $80 and $1800.
>> Read more: Top 3 best websites hosting for eCommerce
The cost of the eCommerce website template
Today, you do not have to hire any website design company to build your site from scratch because it takes a lot of time and money. Instead, the diversified pre-built eCommerce website template from a website service development company will help you to build an attractive and engaging website that is more time-saving and reasonable.
Almost all eCommerce platform companies offer their own website templates which could be free or paid ones.
As you want to build your high-quality website, you should go for a premium eCommerce website theme and the price can range from a few dollars to thousands of dollars.
The cost of adds on & extensions for eCommerce website development
Similarly, many website developments provide add-ons or extension support, which allows you to develop your website fully functioning.
For the custom feature or function on a website, you might find some add-ons or extensions which are written by website development companies and ready to use. Some of the available extensions & plugins are very secure & supportive but some of them could be poorly written.
To design reliable, secure extensions, a great eCommerce website provider needs to spend a long time writing the code and testing the functions. So, some of the custom add-ons and extensions can have expensive pricing.
But it is valuable to find a good extension for your sites because the poor extensions can break your site and the core system. And then you have to pay more for your eCommerce website costs later.
Whichever you choose, you have to define clearly your requirements at first and then decide which are suitable options for promoting and growing your website.
The average price for valuable extensions probably is around $50-$250.
The cost of an eCommerce Website Interactive Multimedia
Visitors can have an engaging experience with interactive media. Multimedia — like video — is also handy for your site. You can use multimedia to complement product listings, photos, and descriptions so your customers get a better idea of what an item does. Using video also opens up the possibility to use YouTube and other social networks to promote your website.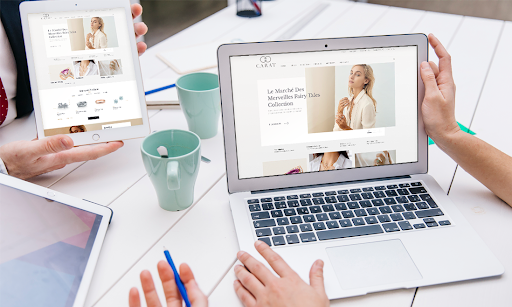 In terms of product descriptions, the video will bring a better idea of the product's materials and usage. That kind of eye-catching content not only helps increase customer engagement but also allows you to incorporate YouTube channels and other social networks to promote the business.
Things to Consider to avoid paying too much for a website
How much do eCommerce websites cost? Before you start, it's important to have a set plan so you avoid overspending. Some of the things to think about before developing your site include:
Your budget
Being aware of your budget for a website can help you through the process. Also, check your finances before making any final decisions on how much to spend and make sure you can afford it.
Remember that there are other ways you can spend less and achieve the same web design and functionality.
Features you'll need
There are a lot of factors to look at when hiring a web designer (here are 20). Reputation, price, and flexibility are among the most important factors to consider. Once you determine your budget, you should also consider the type of custom design you wish to build and the features you will need to achieve your goal.
Come up with a list of must-have features and put them on hold until you can add them. In this way, developing a website is made easier and less stressful. You can later add more to a site as it grows.
Is there a need for a custom-built website?
With pre-built WordPress themes, you don't have to hire a WordPress developer, saving a lot of money. So, ensure that the tasks you are hiring someone for you've tried but can't do them on your own. Doing so ensures you don't overspend on tasks you can do.
However, If you need a custom-designed theme and a site that performs in a specific way, then you will need to engage professional web designers and web developers to help you.
A solution to optimize eCommerce website development cost
Thanks to eCommerce platforms like Shopify, Magento, and WordPress… it is now easy for everyone to build their functional eCommerce websites. However, it could be a challenge for business owners to find all of these single mentioned things above which might take a lot of time and effort.
To answer the ultimate question: how much do eCommerce websites cost? We will give you a clear plan and support your business to find the most suitable eCommerce platform, We will also show you different ways to avoid overspending and maximize profits.
Magenest is proud to be the top website development provider and can help you overcome this challenge. Magenest has collaborated with a lot of Vietnam's businesses as well as foreign brands and other countries to build and develop eCommerce websites with the Magento eCommerce development service packages.
The company provides the website development service package includes an eCommerce platform, domain name, hosting, integrated extensions & plugins, a Customer Frontline Solution, and Cloud Infrastructure, etc. All of them operate in harmony and help the business maximize the potential of digital channels and optimize website presence as well as minimize the eCommerce website cost.
In summary
The eCommerce website comes with many kinds of stuff to choose from, The truth is, it's hard to define exactly how much do eCommerce website costs. The price differs and each website requires different functionality and features the web developer needs to work on. It takes time and money to find the suitable one without knowledge of website development services.
On the other hand, if you are still unsure of your decision, do not hesitate to let Magenest help you with our valuable Magento website-building services that are still cost-effective. Like and share the website development cost breakdown if you find it useful. Thank you.