Are you looking for a CRM system that is similar to Copper CRM but offers more features? There are a number of great CRM systems available that have a lot of the same features as Copper CRM. In this blog post, we'll take a look at some of the best Copper CRM alternatives. Keep reading to learn more!
What is Copper CRM?
Copper is a cloud-based CRM software that specialized in integrating and working with Google Workspace (aka G Suite). It helps businesses that utilize Google Workspace streamline their sales and customer management processes flawlessly. By consolidating all of your customer data into one centralized system, Copper makes it easy to track leads, manage deals, and monitor customer engagement. Copper is a well-known name in the CRM business, having raised over $87 million and having over 10,000 customers.

In addition, Copper offers a suite of powerful features to help you automate repetitive tasks, such as sending follow-up emails or scheduling appointments. With its simple interface and robust feature set, Copper is an ideal CRM solution for businesses of all sizes. Whether you're just getting started with customer relationship management or you're looking for a more robust solution, Copper CRM is worth considering.
Why Should You Consider Alternatives to Copper CRM?
While Copper is an excellent CRM and project management tool for Google workspace users, it falls short for enterprises that require greater flexibility.
Overly focused on G Suite
If your company wishes to use tools other than G Suite, Copper is surely not the best option. Because the tool restricts you to a specific set of tools, you lose the flexibility to select the software you want to use within the CRM system. As a result, while the Copper CRM interface with G Suite functions effectively, it can also be very restrictive.
Lower-priced versions have limited functionality.
The basic edition of the product lacks critical capabilities such as mass mailings, workflow automation, report templates, and goal monitoring. Because these functionalities are only available in higher-priced Copper software versions, the software quickly becomes a costly CRM solution.
Top Copper CRM Alternatives 2023
You've probably heard of these others if you're assessing Copper. Copper CRM has a limited feature set and is designed primarily for G Suite users. Other CRMs on the market have similar functionality, including G Suite connection, but each has its own set of advantages and disadvantages. Let's take a look at the best Copper CRM alternatives:
HubSpot Sales Hub
HubSpot provides a range of solutions that improve business productivity and revenue growth. HubSpot's CRM application is a strong tool for improving visibility into business processes. The application provides a comprehensive perspective of the sales funnel to assist you in tracking and managing all potential prospects. If you wish for an instant replacement for Copper, the Sales Hub of HubSpot can work well.

Nevertheless, the HubSpot CRM suite package is much more powerful than that. It can also be used to customize and automate marketing initiatives. The product also includes extensive reporting dashboards to assist you in tracking business performance and analyzing trends.
HubSpot's Key Features:
Contact profile enrichment via web forms, online activity, social media platforms, and so forth (not in the Sales Hub)
Send out bulk emails to increase lead nurturing.
Set alarms for crucial deadlines.
Use a centralized inbox to keep track of all conversations with clients and team members.
Built-in reporting allows you to simply track the metrics of your choice.
The advantage of HubSpot is easy two-way data synchronization with numerous business tools, which allows you to manage all activities from a single platform. Furthermore, all interactions are automatically recorded in the CRM system.
Cons of HubSpot: The free version has restricted capabilities. And email templates can be difficult to customize and necessitate technical knowledge.
Salesforce Sales Cloud
Salesforce is one of the market leaders in CRM systems, accounting for more than 19.6% of the global CRM market. It offers a strong and integrated platform for sales, marketing, support, information technology, and eCommerce. This unified access to all business data can be used to provide outstanding customer experiences.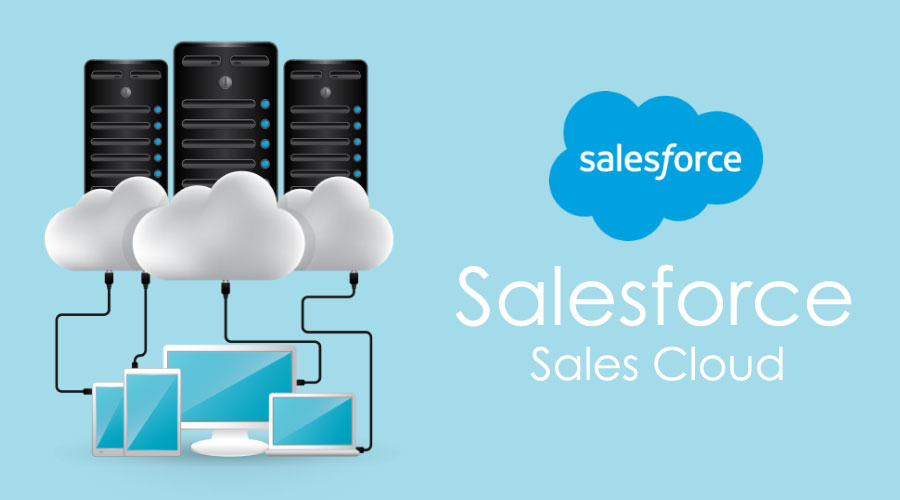 Salesforce's built-in intelligence can assist in making smarter business decisions and automating important business operations. Furthermore, the tool can be linked to a variety of different apps, with automated data synchronization across all platforms.
Salesforce CRM's Key Features:
Personalize marketing efforts to increase targeting and conversion rates.
Increase team efficiency by automating monotonous tasks.
Capture data from numerous sources to enrich contact profiles.
Create unique triggers to keep deals going through the sales cycle.
Get AI-powered recommendations to help you pick your next moves.
Salesforce is a very adaptable and dependable CRM because of its cloud-based access. Workflow automation saves time and increases productivity on a daily basis.
Cons of Salesforce: The tool's extensive feature set can be daunting. The installation is a time-consuming and complicated operation.
Nutshell CRM
Nutshell is an all-in-one CRM and email marketing platform that enables B2B companies to collaborate and close more business. Small to medium-sized businesses that know better than to overpay for software they'll never use prefer Nutshell because it is strong enough to support any aspect of your organization and easy enough to set up in less than a day.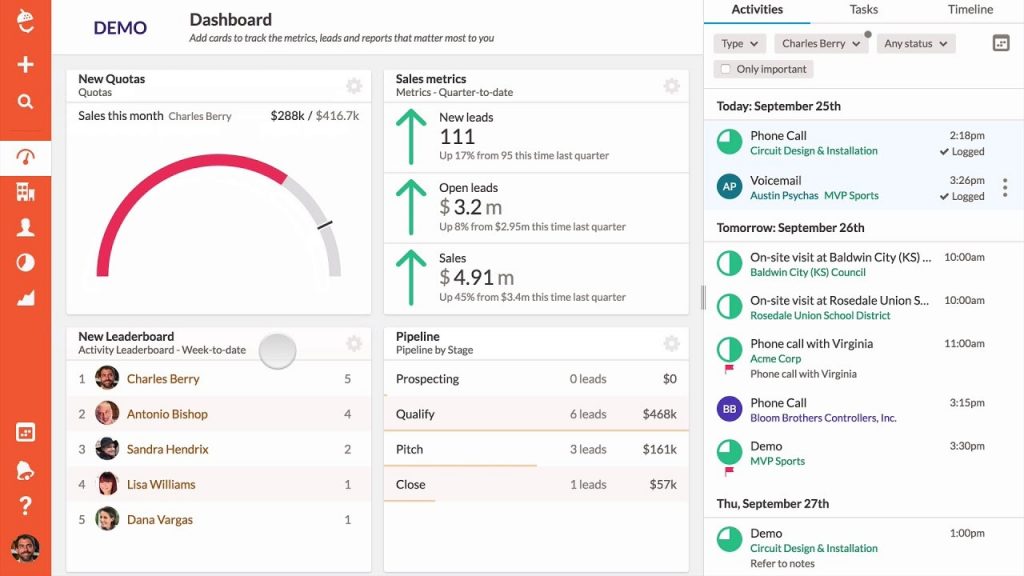 Additionally, customer testimonials reveal that Nutshell features frequently surpass those of the rivals in terms of both usability and comprehensiveness.
Some outstanding features of Nutshell:
Contact management
Sales automation
Flexible pipeline management
Comprehensive filtering and sorting for leads and reporting
Free onboarding assistance
Automated personal email sequences that can be triggered based on the pipeline stage
Built-in full-fledged email marketing suite
Embeddable web forms
Free live support
Cons of Nutshell: Data import and export might be difficult. Multiple attachments to emails are tough to incorporate.
LeadSquared
For companies of all sizes, LeadSquared offers a cloud-based marketing automation and customer relationship management (CRM) solution, being one of the best Copper CRM alternatives. It provides clients with services for businesses in a variety of sectors, including finance, e-commerce, education, health and wellness, marketing, real estate, software, and hospitality.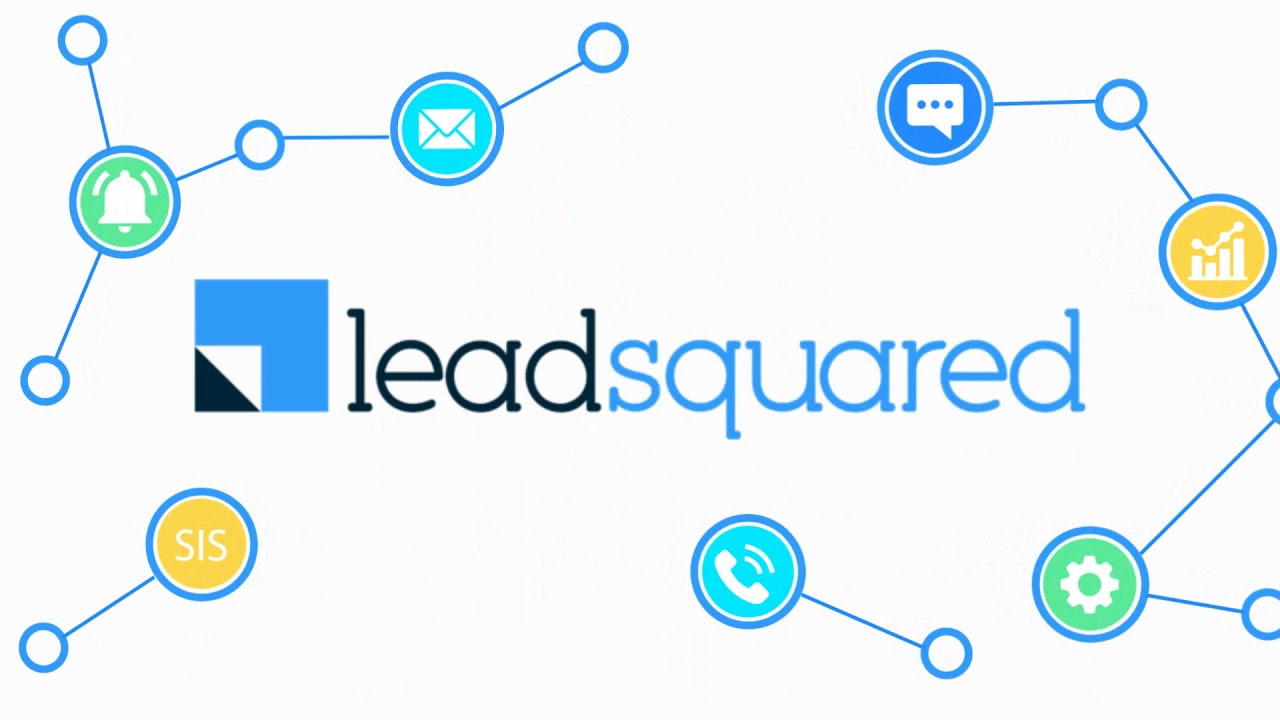 Users may automate operations like lead generation, marketing, sales CRM, reporting, and analytics with the aid of LeadSquared. The program is accessible on a subscription basis. It is compatible with most online browsers and also has an Android and iOS app.
LeadSquared also provides lead scoring, landing pages, marketing and sales insights, segmentation, and user access based on role. It is compatible with Super-Receptionist, Ozonetel, LiveChat, Olark Connector, Zopim, and GoToWebinar.
Cons of LeadSquare: It is necessary to improve customer service and reaction times for problem-solving.
Zoho
Zoho CRM is one of several programs available in Zoho's app ecosystem, which is similar to Salesforce's app exchange. Zoho CRM's reporting is solid, allowing users to report across products, locations, and applications. The CRM provides basic contact management as well as automation, such as transforming website visitors into leads.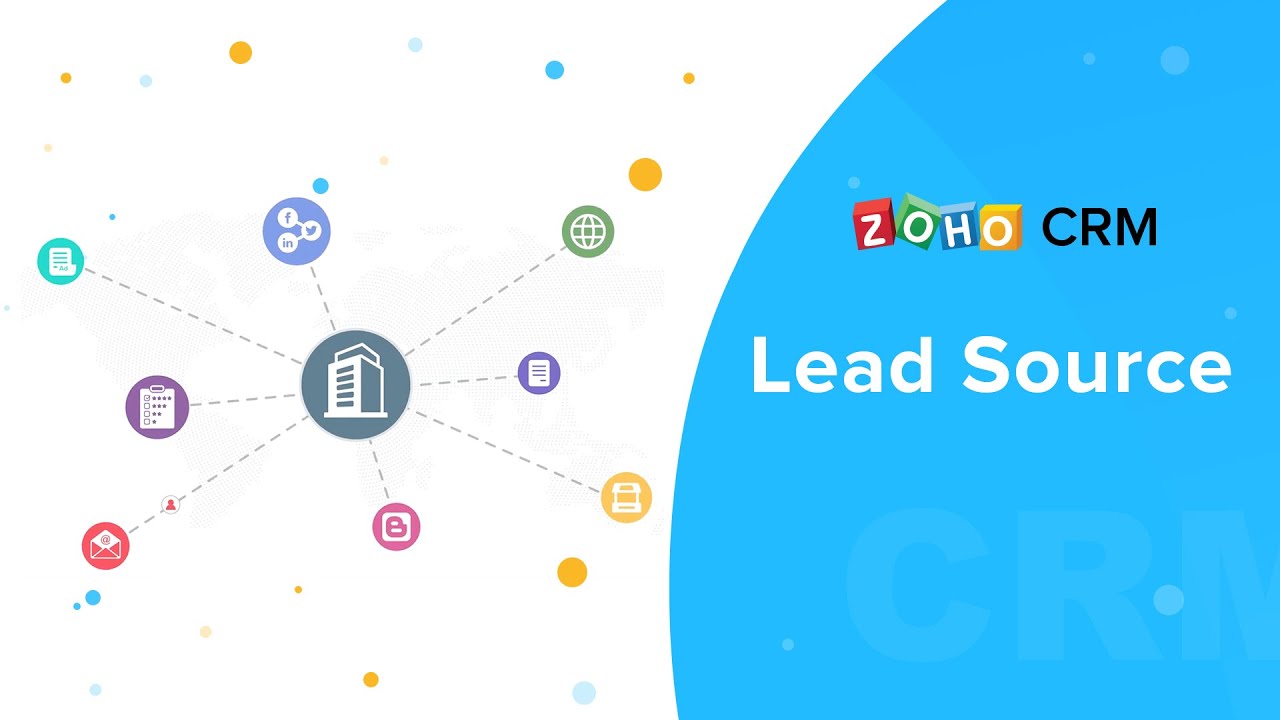 Noticeable features:
Integration with other Zoho apps
In-CRM emailing (limited #/user)
Dashboards and reporting
Integrates with Microsoft and Outlook
Workflow management
Cons of Zoho: Because Zoho's products are sold in bundles, getting a quote is challenging without demos, trials, and stress. For users who only want to utilize a CRM and a few other apps, this is annoying.
Insightly
Insightly is a CRM designed for businesses that have a straightforward and uncomplicated sales process. Their user interface is intuitive and enables the building of unique pipelines, as well as all of the tools and capabilities required to manage them. Filtering options in Insightly are popular among users because they allow enormous lists to be divided into smaller, more manageable pieces.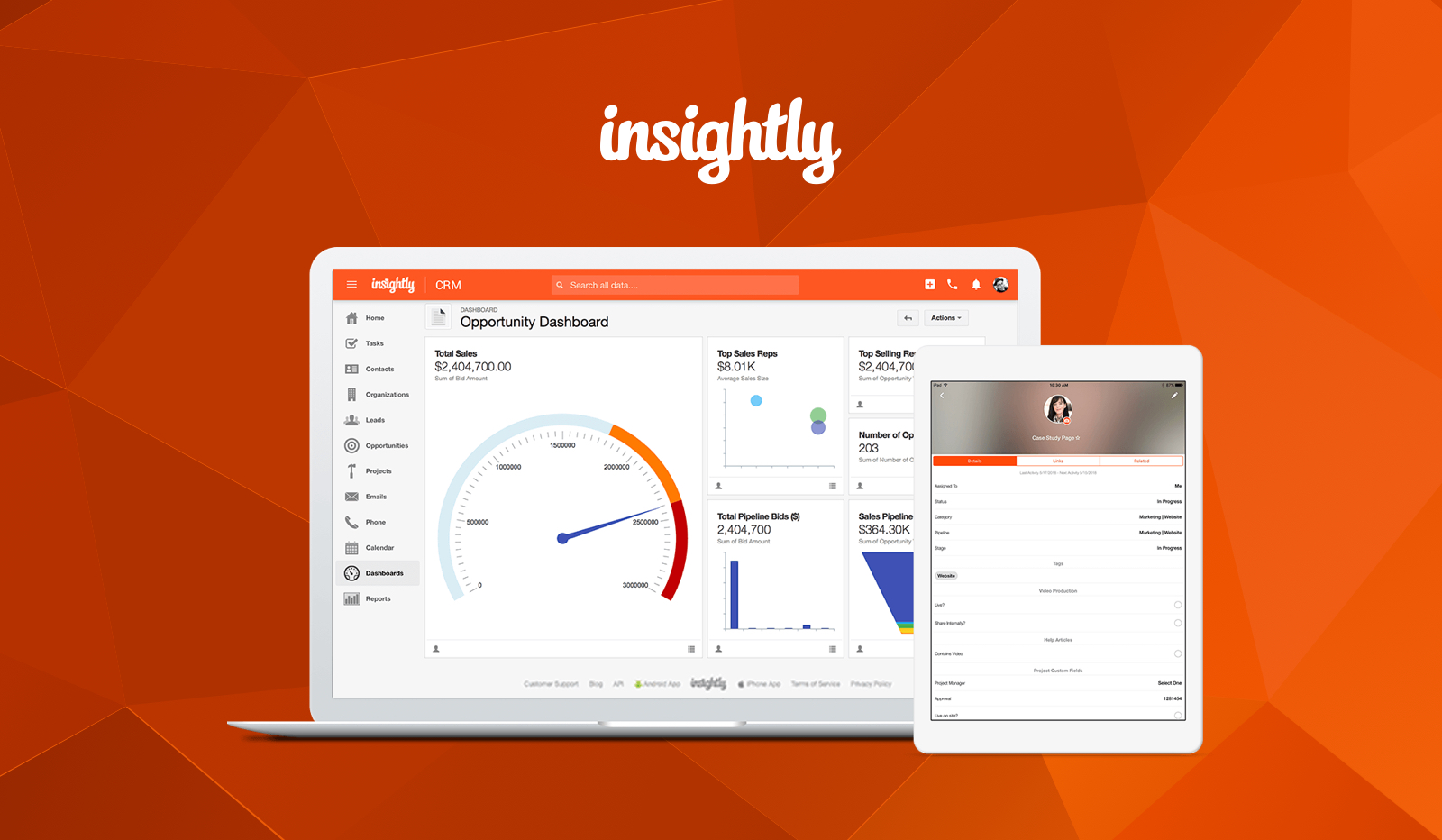 Key features:
Integrates with Gsuite, Microsoft, Mailchimp, and more
Custom dashboards
Custom pipeline builder
Opportunity reports
Cons of Insightly: It seems difficult to get started without onboarding and support plans. Additionally, email attachments can be lost, slow or useless sales reports, and crawling load times.
SugarCRM
SugarCRM integrates sales, marketing, and customer support. It avoids busy work and adds to increased productivity by automating important procedures. Because the solution is easily customizable, you can change workflows and modules to meet your specific business requirements.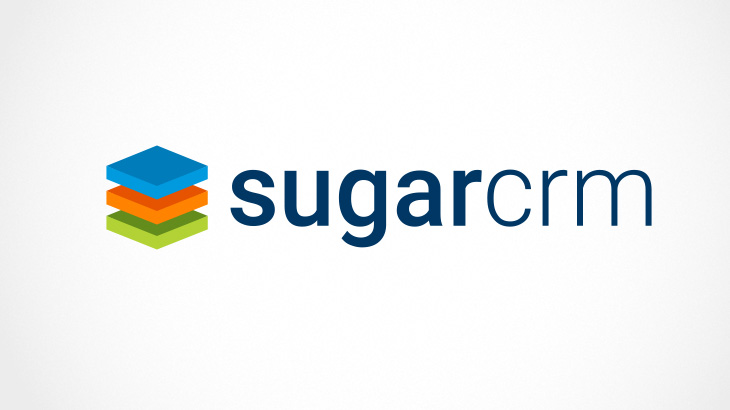 This sales and marketing automation tool enables you to attract prospects' attention and turn them into customers. SugarCRM allows you to create long-lasting client relationships by providing engaging experiences and increased support.
SugarCRM's Key Features:
Capture leads and contact information automatically and keep this information centrally located and accessible.
Create lead nurturing strategies that include many steps and touchpoints.
Discover profitable opportunities with AI-powered business analytics.
With a drag-and-drop interface, you may create automation sequences.
Keep up to date with real-time alerts.
The installation of SugarCRM is quick and simple. In addition, the appointment scheduling and task monitoring functions are effective.
Cons of SugarCRM: Some features are missing from the mobile application. The tool's user interface can be improved.
Pipedrive
Pipedrive offers a low-cost version for $12.50 per month that excludes the majority of the CRM capabilities that salespeople seek. Users must purchase the $50 version at least in order to run a business.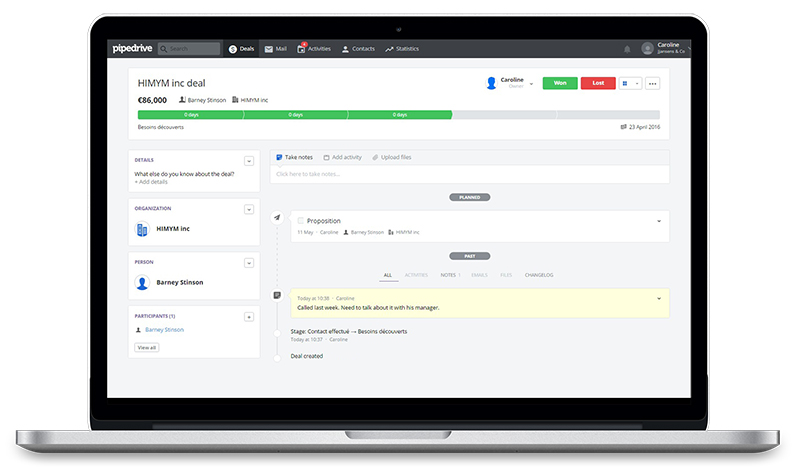 The more expensive editions have received positive feedback, portraying the product as a well-rounded and simple-to-use CRM with a simple user interface that allows sales teams to focus on selling without distractions.
Advantageous features:
Email sync
Email automation
One-click calling
Cons of Pipedrive: The reporting features and phone support should be improved.
Bitrix24
Bitrix24 is a robust CRM and task management system that assists businesses in making better use of their time and resources. This CRM application provides sales analytics and automation to help you increase your revenue. Furthermore, project management capabilities such as Gantt charts, time monitoring, and automated activities can aid in increasing productivity.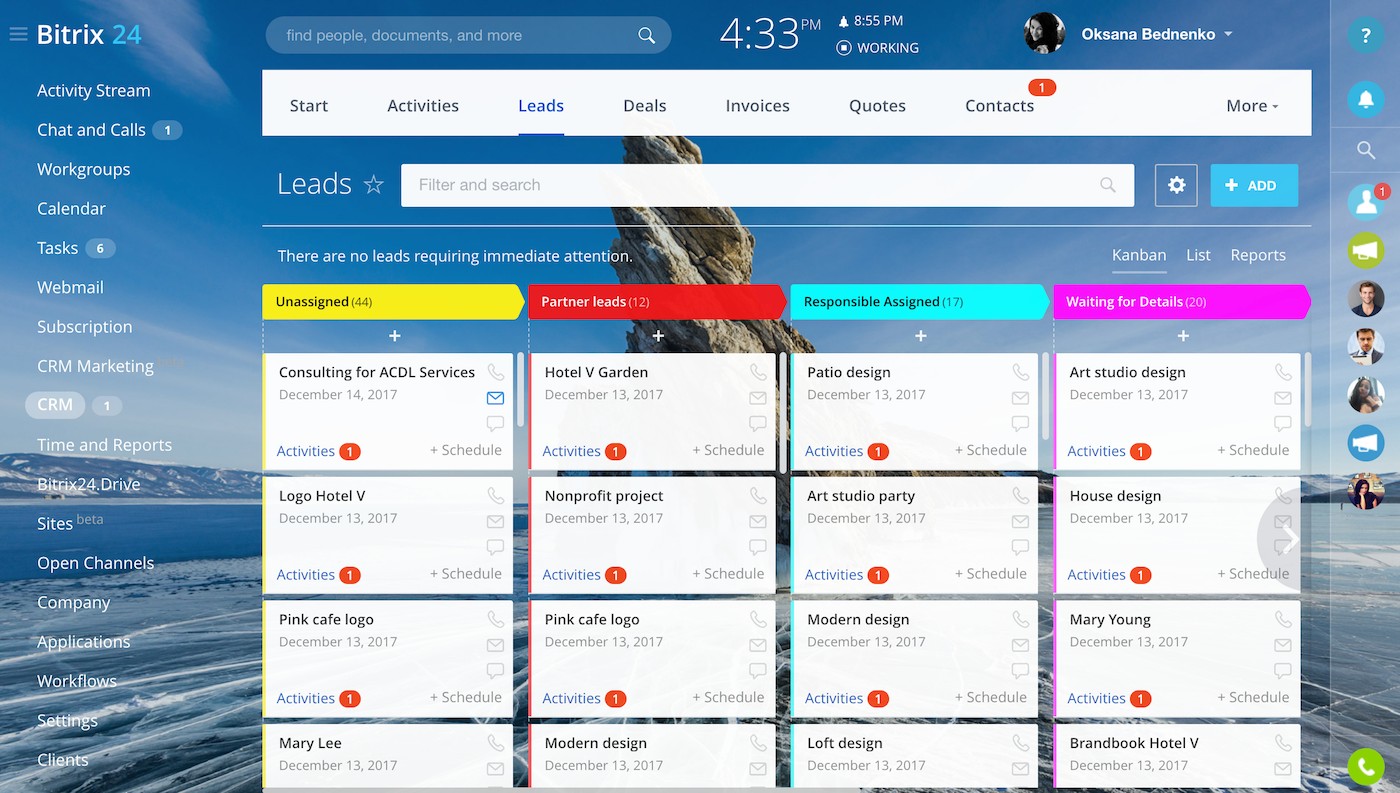 Bitrix24 also provides statistics and analytics to assist you to acquire a better understanding of your performance and identifying areas for development. You can also obtain activity reports to track the success of individual team members.
Bitrix24's main characteristics are as follows:
Increase your team's productivity by automating the workflow.
Leads can be captured from many sources, like web forms, and stored directly in your CRM database.
To keep track of all prospects, create a sales funnel with unique phases.
Schedule email marketing campaigns and track their results.
Improve team productivity through better collaboration, time monitoring, and remote working.
Bitrix24 enables you to create unique automation rules to keep things flowing. Leads can be obtained from a variety of sources, including web forms, social media channels, and so on.
Cons of Bitrix24: Technical help should be better and notification scheduling is a complicated process.
Conclude
While Copper is a great CRM, it may not be the best fit for every business. In 2023, there are several other CRM options that could be a better choice for your company. If you're interested in learning more about these Copper CRM alternatives or want help deciding which CRM is right for you, contact us and we would be happy to help.