Customer retention metrics are an efficient and inexpensive way to find retention issues and focus on creating customer retention strategies, which will boost your sales by at least 25%.
We are not joking. While a 5% increase in customer retention can lead to growth in returns from 25% to 95%, according to Bain and Co., many companies are indifferent to customer retention marketing due to a lack of insight into customer retention benefits.
If you're still not impressed, we'll provide one more statistic from the Gartner Group.
Let us ask you a question:
"On average, how many visits buy products in your store per month?"
Well, that's a pretty remarkable number. Now, multiply that average visitor by 20%, and you will get 80% profit in your future.
What do these numbers say?
That is, the more customers stay with you, the greater profits you can achieve in the future. Meanwhile, the strategies for attracting and converting new customers will take you 5 times the cost of your existing customer retention strategies, according to Lee Resource Inc.
So, start customer retention strategies from now on. But there are some more critical factors that you need to understand first. They are customer retention issues that cause losing revenue and turning your loyal customers away.
As we said initially, use customer retention metrics. This article will guide you from tip to toe, so…
Without further ado, explore now!
Introduce about customer retention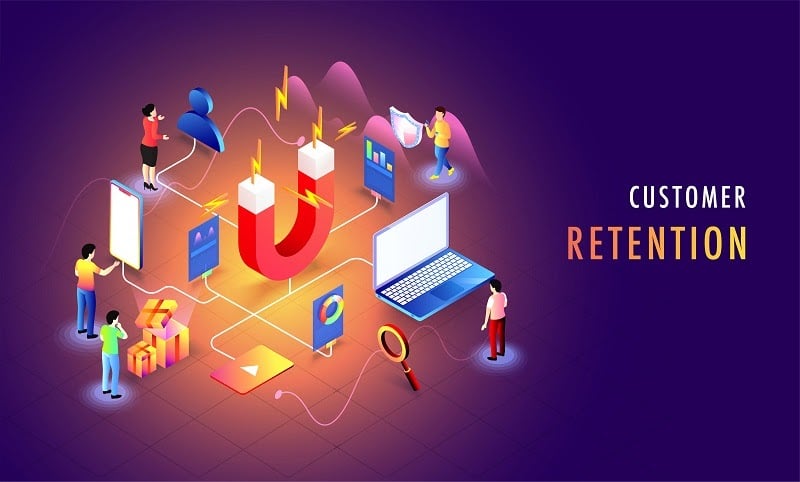 Customer retention is a company's efforts to motivate its customers to stay with the business for longer, not just limited to 1-2 purchases. It can run ads, strategies, create customer relationships, or something like that.
There is a relationship between customer retention and customer churn. While customer retention represents revenue that will stay with you in the future, customer churn talks about the revenue you will lose. In other words, the higher the customer retention is, the lower the customer churn will get.
This concept has been around for a long time, but only when the customer plays an increasingly significant role in the success of a business, it has been widely mentioned today. Understanding the importance of the customers, big companies we've worked with, and even our business are customer-centric.
However, there are still a number of reasons why many organizations take customer retention lightly and focus only on sales growth. One of them is the thought that they provide customers with high-value products and services at a competitive price which is enough for their customers to be satisfied. Besides, attracting new customers consumes less effort and resources.
If you are thinking the same way, the next section will change your mind.
Why customer retention metrics are vital for business growth
Save on marketing costs
Compared to converting leads into customers, customer retention metrics will save you a lot of time and money early on. When you want to attract new customers, you will have to invest in researching the buying habits of consumers, the markets as well as competitors, planning costs for marketing campaigns through all channels, etc. Meanwhile, when you have an existing customer base, you just need to extract data from them and come up with strategies tailored to each individual.
In addition, when you do customer retention, you will know which current problems are getting a lot of operational costs but not running effectively. From that, you will have plans for recovery and improvement, avoiding resource waste.
Make more profit
Not only do they help businesses save costs in creating a sustainable customer base, but customer retention metrics also have a role in maximizing revenue and profitability.
Many people think that attracting new customers gives them an easier opportunity to make money. However, we have to say that loyal customers offer more potential revenue even though it's hard to measure.
Here is the deal:
Loyal customers have the habit of spending more money on brands they trust, thereby increasing the number of inputs per order compared to what new customers bring to the business. The purchase frequency of loyal customers is also very noticeable. From a 90% increase in frequency and a 60% increase in order value, the profits that this group of customers brings to the business are 23% higher than the rest.
It's also worth noting that loyal customers might still be willing to spend money on your products when they go up in price, but be wary of this. It can turn customer retention into customer churn if you see your goals as current, not long-term, sales.
Outperform other competitors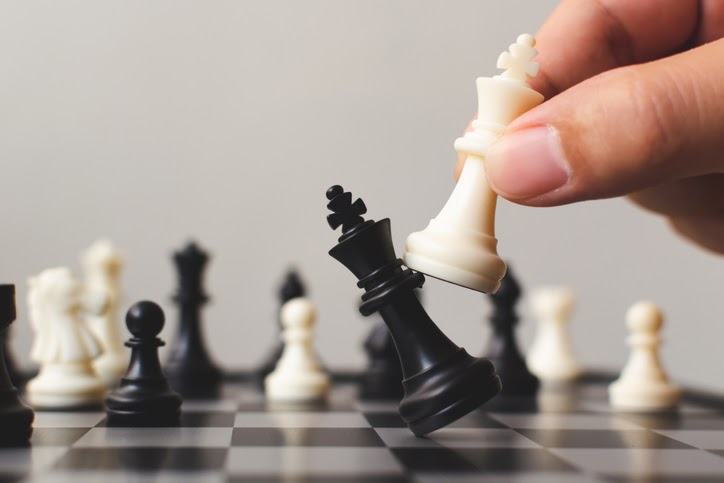 Customer retention can lead to customer loyalty, which drives them to buy from you instead of other brands. If things are not straightforward for you, as long as you use the appropriate and clever strategies, at least customers will remember your brand as a business always caring about their experience and interaction. So, you have won the race to conquer customers' trust and support in the market. Maybe all of your efforts will be rewarded in the future with customer conversions and an increase in sales, so don't get discouraged and give up.
Get more customer feedback
Customer feedback is the key for businesses to change the customer experience in a more positive direction via customer retention metrics. When you drive customer engagement and retention, you'll get more useful information than trying to reach new clients to exploit them. This is because today's users are fully informed by many sources, and loyal customers will feel a responsibility to share them with businesses to improve the quality of products, services, and customer experiences.
Get forgiveness more easily when something goes wrong
When your customer experience is poor, your customers will be disappointed, which will result in you having to pay compensation or give product replacement to the customers. Even if you negotiate and express your fault, there is a high risk that they will stop trusting you to use your services or products again. At a worse level, your reputation will also suffer.
However, things will be much easier if they are your loyal customers. When you do business with a willingness to listen and change for the better for your customers, it will be more comfortable for them to ignore and accept your apology when something goes wrong.
Reach customers with marketing activities
We often neglect the majority of email invitations from marketers, don't we? The main reason for this ignorance is that the customers have no demand for the products or services sent to them. Or, these brands are not enough to make them trust them when they first see them.
But, can you believe it?…
If it is a brand that they have used more than once or regularly support, the effectiveness of these marketing activities will increase up to four times.
Customer retention calculation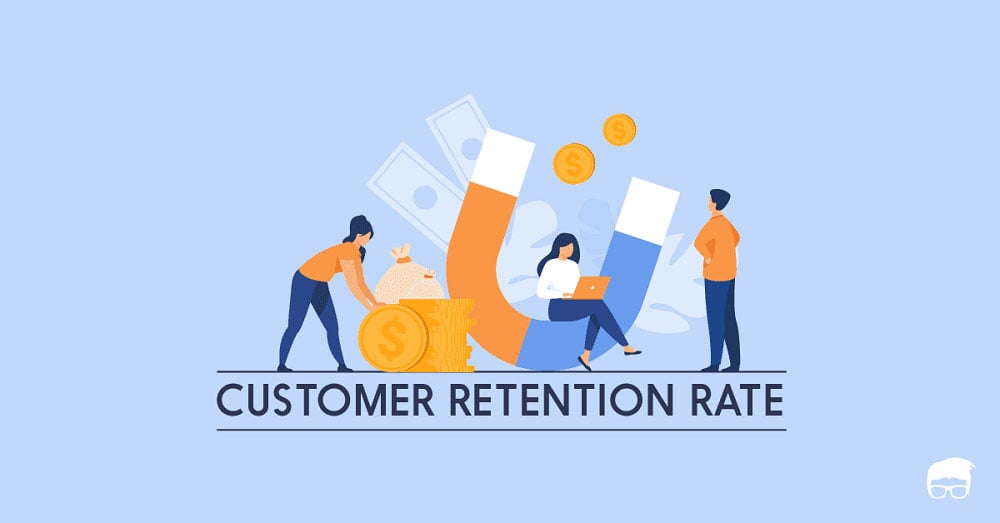 To measure customer retention, let's review its concept with us. It is the percentage of customers who continue to use and register your products or services over time. That is, they continue to buy from you after a certain period of time using it. As a result, it will be calculated based on the total number of customers making your purchase at the beginning of the period together with those people.
Specifically:
Customer retention rate = (Number of active users that continue their subscription in a given period/ Total number of active users at the beginning of that period) × 100
For the SaaS (Software as a Service) industry alone, research shows that 35% or more of the customer retention measurement within 8 weeks is relatively optimistic. However, it is only a subjective customer retention calculation when businesses have different goals, price models, customer journey, and sales process, etc. As such, you will need to measure it more with some of the 10 popular customer retention metrics as below.
10 Powerful customer retention metrics for your business
Customer churn rate
Knowing the customer churn rate means you will know the quality of your products, services, and customer experience. To be more precise, the lower this rate is, the more favorable and effective your customer retention strategy will be in the future.
Annual Churn Rate = (Number of customers at beginning of period – Number of customers at end of period)/ Number of customers at beginning of period
Repeat purchase rate
Repeat purchase rate will give you an insight into the purchase patterns of each customer segment and the effectiveness of overall marketing to drive your customer retention. With customer retention metrics, you will also know how to attract these targets with different experiential and transactional rewards.
Repeat Purchase Ratio = Number of returning customers/ Number of total customers
Repeat purchase probability
This customer retention metric shows the rate of customers with X purchases over a given period. If you take advantage of all the X variables you have, you will understand when your customers have the most and least repeat purchases of the year so that you can have the right strategies to get them back on track.
Repeat purchase probability = Number of customers that purchased X times (365 days)/ Total number of customers (365 days)
Average oder value
This metric allows you to see the value of each of your customers, which is the average amount of money each time a customer spends on your product or service. The higher this number is, the more you need customer retention strategies rather than spending money on attracting new customers.
Average Order Value = Total revenue (365 days)/ Total number of orders (365 days)
Profitability per order
Profitability Per Order will tell you the revenue each customer provides through buying your products or services. Then, you will know which products are more profitable and push their price up properly to maximize profit.
Profitability Per Order = (Total revenue (365 days) x Average profit margin)/ Number of orders (365 days)
Purchase frequency
Your revenue is also determined by the average frequency of purchases by customers. The high metric proves that customers trust the value you provide them. In return, you get more sales and profits.
Purchase Frequency = Number of orders (365 days)/ Number of unique customers (365 days)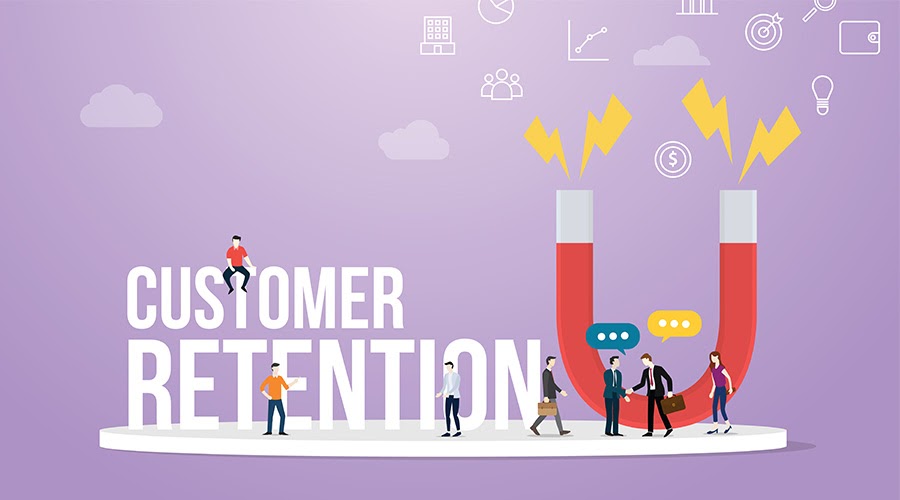 Time between purchases
Once you know the average time interval between customer purchases, you can initiate strategies to push them to shorten it to boost and maximize your sales. On a side note, you must calculate the Purchase Frequency before measuring the Time Between Purchases.
Time Between Purchases = 365 days/ Purchase Frequency
Customer lifetime value
What is worse than a customer who turns away from you? It is continuously investing in conversion without knowing the results. The customer lifetime value will give you a fairly accurate estimate of how much a customer will pay for your products and services over the course of your relationship with them.
Customer Lifetime Value = Customer value x Store's Average Lifespan
Redemption rate
It is one of the beneficial customer retention metrics to the store's loyalty program, namely, the customer will redeem points to receive rewards. Thanks to it, you will know whether the reward you offer is enough to attract customers, and then plan to revise.
Redemption Rate = Number of points redeemed / number of points issued
Loyal customer rate
How is it called a loyal customer? When he makes your store purchases at least four times a year. Identifying your loyal customers will help you focus on activities to attract and retain them.
Loyal Customer Rate = 4+ times (365 days)/ Number of unique customers (365 days)
Bottom line
It is considered difficult to assess customer retention and identify areas for improvement, leading to businesses having less interest in efforts to retain customers. Fortunately, customer retention metrics will help them do all of these to help save costs, drive future revenue, and have a strong customer base. If you are interested in deeper issues, feel free to reach out to us or visit our blog. There's a lot of information that we're willing to share. Also, like and share the guide if you find it helpful. Thank you.