Welcome to the world of excellent web design Thailand, where creativity and innovation converge to create digital experiences like no other. In this guide, we introduce you to the top 10 website design Thailand companies, each bringing its own unique flair to the realm of web design and digital marketing. Also, we dive into the reasons, factors, and tips to help you better understand how to work with a website design company in Thailand.
Top 10 best web design Thailand
Stars Commerce: Elevating Digital Marketing and Web Design in Thailand
Stars Commerce, a high-impact Performance Digital Marketing Agency based in the vibrant city of Bangkok, Thailand, is at the forefront of reshaping the digital landscape. With a mission to supercharge website performance, drive substantial traffic, boost conversions, and elevate revenue, Stars Commerce employs a range of strategies that guarantee results and provide a strong foundation for business expansion.
Their expertise spans Shopify Website Development & Design Thailand, SEO, Paid Ads, and Social Media Marketing, offering businesses a comprehensive toolkit for growth.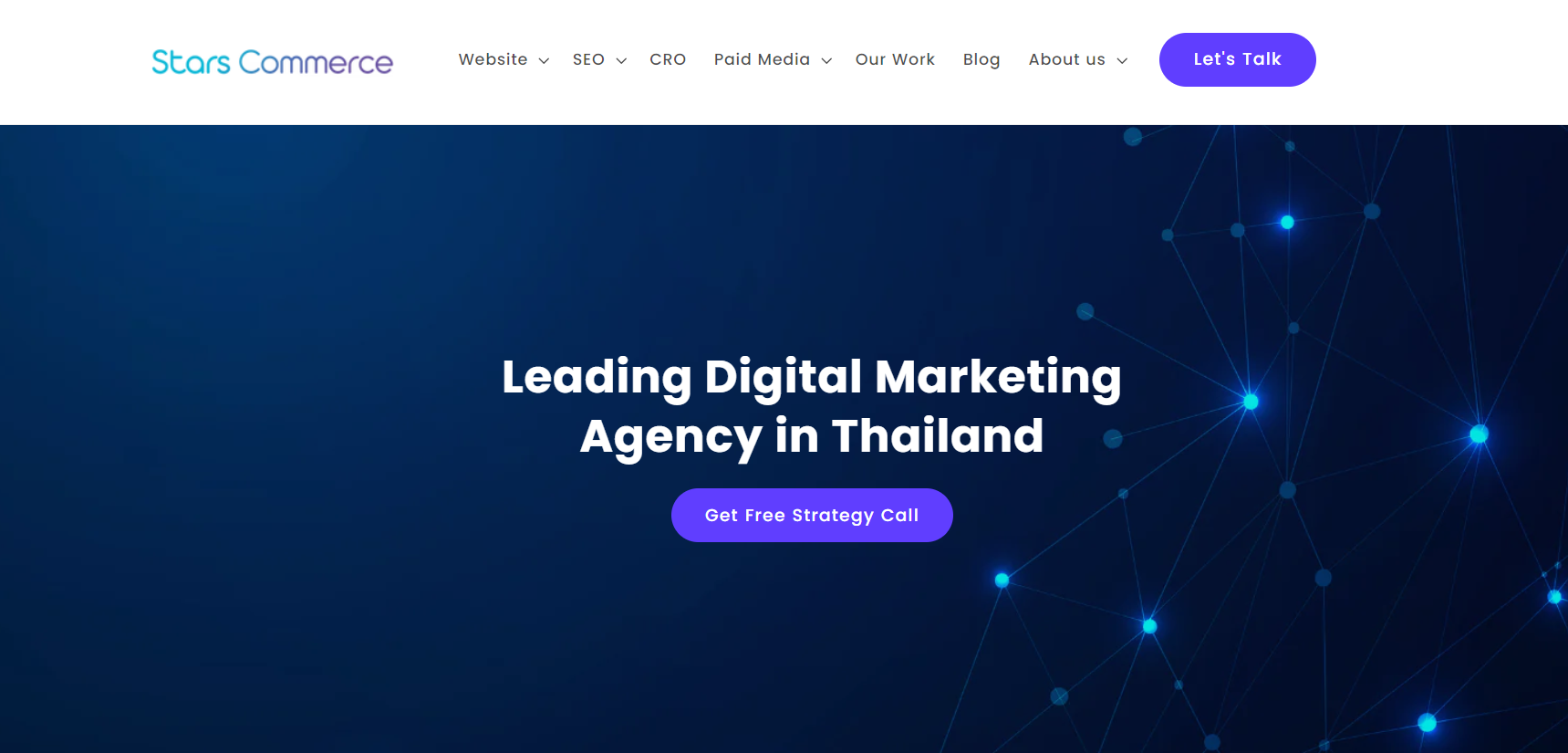 One of Stars Commerce's standout offerings is its Shopify Website Design, delivering visually stunning and user-centric online stores that enhance brand image and drive conversions. Additionally, their Shopify Plus Development services empower businesses with top-tier websites, optimized performance, and unparalleled customer engagement. Their commitment to seamless integration solutions further elevates eCommerce efficiency.
With tailored SEO strategies, PPC Ads, and Social Ads, Stars Commerce enables businesses to attract targeted traffic, achieve immediate visibility, and connect with the right audience across platforms. Their impressive track record of satisfied clients and success stories underscores their prowess in delivering exceptional digital marketing solutions and web design services, solidifying their position as the top best web design Thailand agency.
Magenest: A prominent website design Thailand agency
Magenest, a dynamic force in web design in Thailand and the digital transformation arena has made a remarkable entry into the Thai market after garnering international acclaim. Originating in Vietnam in 2015, Magenest swiftly evolved into a prominent solution provider in the Asia-Pacific region.
Their mission transcends traditional web design, focusing on crafting comprehensive and bespoke eCommerce systems tailored to the unique needs of businesses. Whether nurturing novice merchants or partnering with established organizations, Magenest empowers clients with a one-stop solution for digital transformation.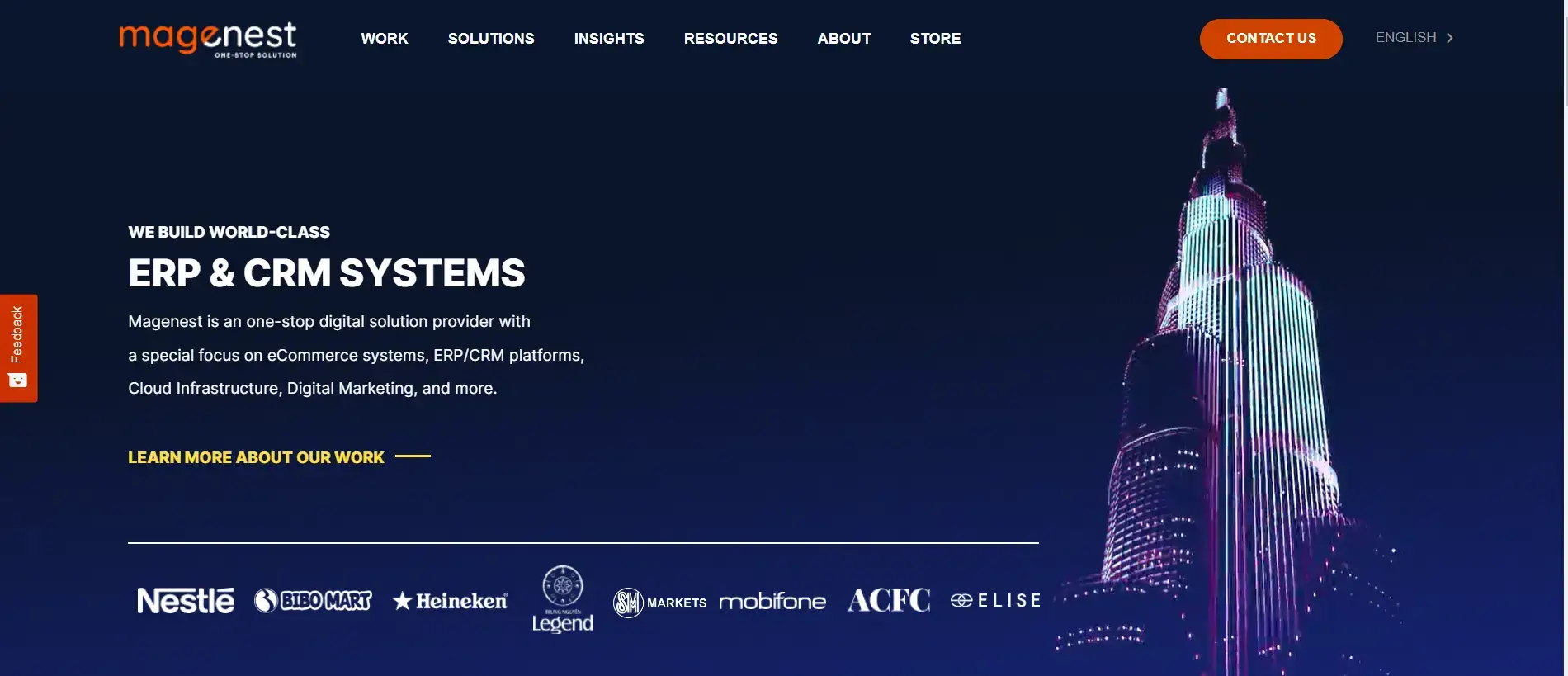 Their holistic approach sets Magenest apart, extending their expertise to encompass ERP, CRM, mobile app development, and more. They are dedicated to delivering seamless omnichannel experiences, fostering client success in the fast-paced digital commerce landscape.
Magenest's journey is marked by values such as speed, daring innovation, professionalism, and flexibility. With a global footprint spanning Vietnam and the United States, they have earned their reputation as an elite digital transformation agency.
Their impressive track record of successful projects, satisfied clients, and industry awards, including the prestigious Magento Imagine 2019 Top Magento 2 Certifications Award, solidifies their position as a trailblazing force in web design Thailand and the digital transformation realm, offering innovative solutions and unparalleled expertise.
Pronto Marketing: Elevating Web Design Excellence in Thailand
Situated in the vibrant heart of Thailand, Pronto Marketing emerges as a top-tier web design agency Bangkok specializing in WordPress and SEO services. With a strong focus on crafting impeccable online experiences, Pronto Marketing has established itself as a go-to partner for businesses seeking to boost their digital presence.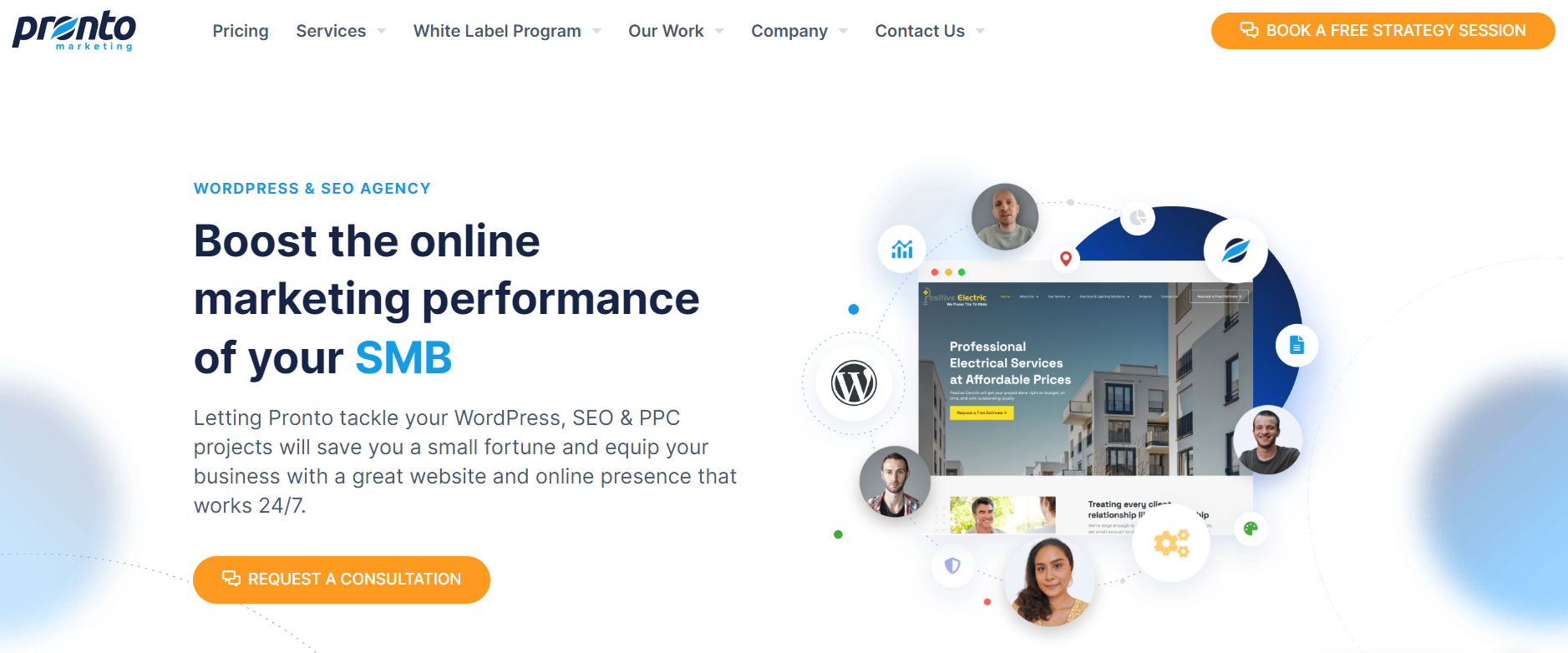 With over 14 years in the industry, Pronto Marketing has demonstrated an unwavering commitment to delivering exceptional web solutions. Their portfolio boasts the management of over 3,540 websites, underlining their extensive experience and success in the digital realm.
Furthermore, Pronto Marketing collaborates with more than 200 reseller partners, emphasizing their role as a trusted and respected player in the industry. Pronto Marketing's approach to website development is rooted in uniqueness.
Each website they build is a testament to their commitment to capturing attention, providing valuable information, and distinguishing their clients from the competition. They believe in understanding what makes a company special and translating that into a compelling online presence.
Pronto Marketing's dedication to excellence in web design Thailand is evident in its services, which are accessible to a wide range of businesses. With website development packages starting at just $3,500, they ensure that their expertise is within reach for SMBs looking to enhance their online marketing performance.
Div Block Studio: Professional Webflow Partner
Located in the serene Tambon Chalong, Div Block Studio is a dynamic web design Thailand and Webflow development studio that stands out for its growth-oriented approach and dedication to excellence. Their commitment to delivering fast, budget-friendly, and aesthetically driven web solutions sets them apart as a top choice for businesses seeking a transformative online presence.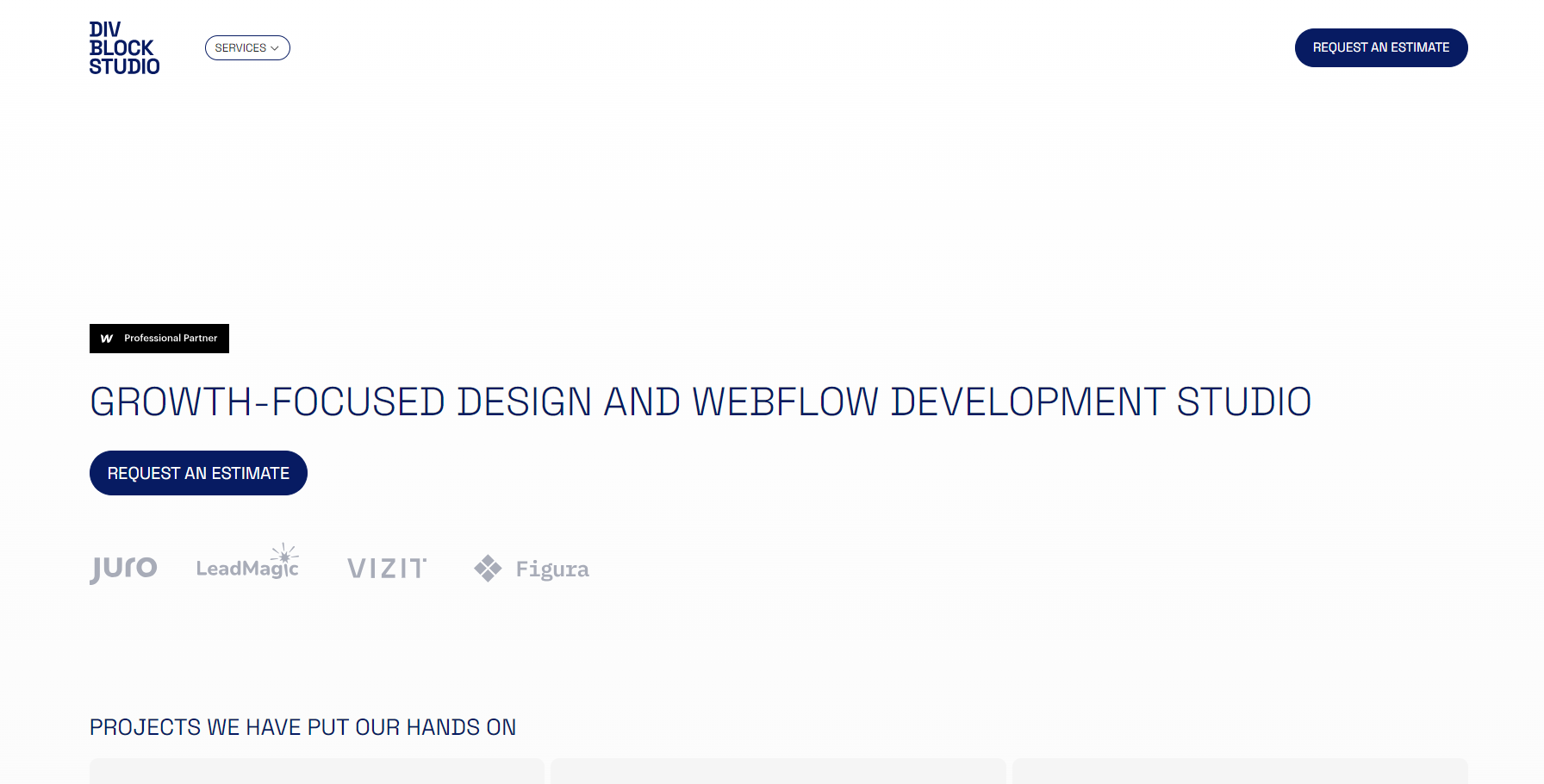 At Div Block Studio, clients can expect results in record time while enjoying the best value for their investment. With a deep mastery of Webflow, the team ensures superior development work that not only looks stunning but also functions seamlessly.
Gone are the days of unreliable freelancers and agencies, as Div Block Studio prioritizes professionalism and reliability. Moreover, their business-oriented mindset means that every project is crafted with a clear focus on aligning with the client's specific business goals.
Transparency is at the heart of their process, ensuring clients are fully informed and confident in their web design Thailand journey. With meticulous attention to aesthetics, Div Block Studio creates visually captivating websites that leave a lasting impression.
Intero Digital: Elevating Web Design and Digital Marketing
Intero Digital, based in the United States, emerges as a standout leader in the realm of website design company in Thailand, redefining success in the digital landscape. Their commitment to delivering groundbreaking results and comprehensive solutions sets them apart as a top-tier agency in web design Bangkok, Thailand.
With a diverse team of digital experts who seamlessly integrate with clients' marketing teams, they bring a collaborative spirit that ensures businesses meet their customers at every stage of their buying journey.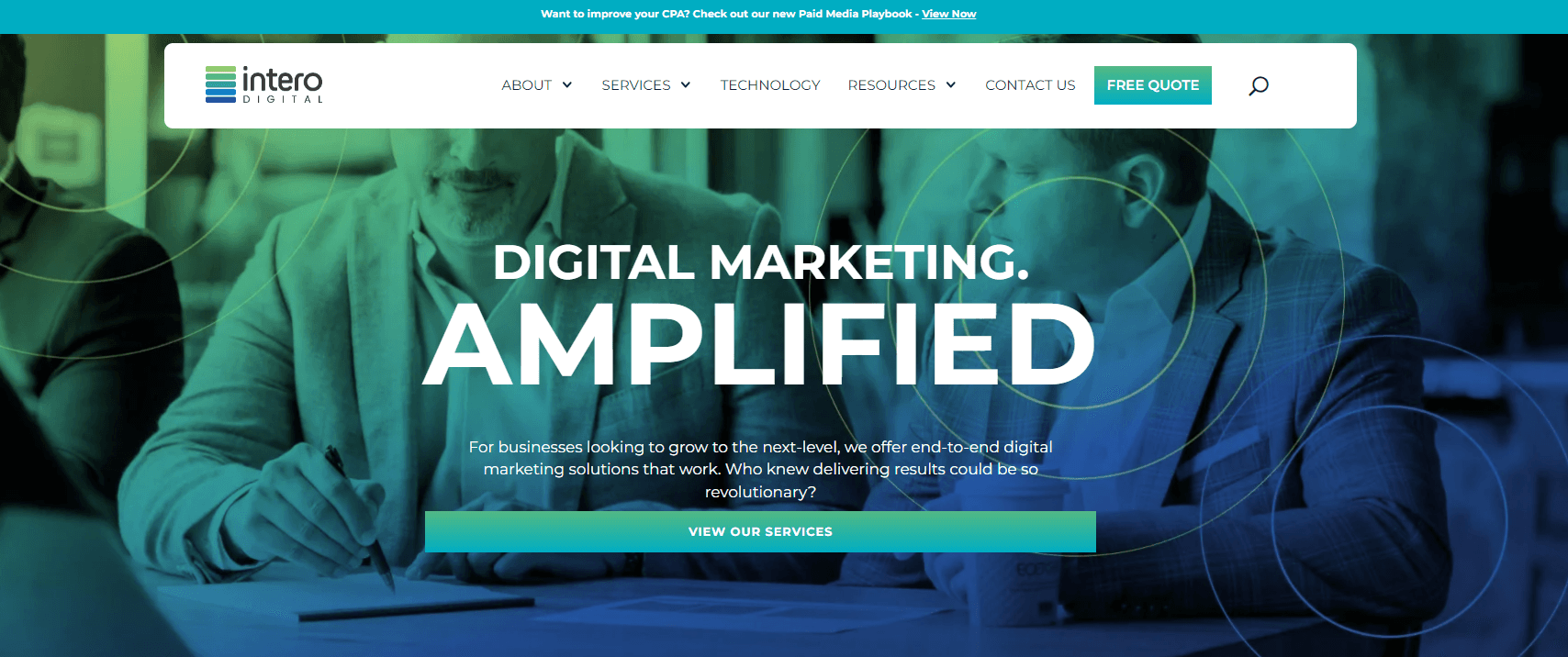 What truly sets Intero Digital apart is its innovative edge, leveraging cutting-edge technology to provide businesses with a competitive advantage. With over two decades of experience, they are not just pioneers but also forward-thinkers who have shaped the evolution of digital marketing.
Whether it's boosting SEO, generating leads, or driving sales growth, Intero Digital is the strategic partner that simplifies the complex world of digital marketing, ensuring businesses thrive in the digital age.
Greydient Lab: Pioneering Design for Positive Impact in Thailand
Nestled in the bustling heart of Bangkok, Thailand, Greydient Lab emerges as a trailblazing force in the world of web design in Thailand. Their mission revolves around creating a meaningful impact through world-class digital products and brand communications, transcending geographical boundaries to inspire change globally.
What sets Greydient Lab apart is its unwavering passion and commitment to authenticity, delving deep into every project to ensure it resonates with both its team and its clients.

At Greydient Lab, craftsmanship is not just a buzzword; it's a way of life. Their dedication to perfection is evident in their meticulous attention to detail, where even the smallest elements are handcrafted to provide the ultimate user experience.
They understand that design is not just about aesthetics but also about making information accessible and meaningful to people. This ethos is reflected in their comprehensive range of services, which span research and insights into design and implementation.
Greydient Lab's approach begins with thorough research, where they analyze societal, environmental, and technical shifts that have the potential to positively impact lives. From there, they craft a brand strategy, and user journey mapping, and conduct in-depth user research to ensure that their designs resonate with real people.
Their services extend to brand identity, interface design, experience design, and the development of design systems and prototypes. With a holistic focus on both form and function, Greydient Lab is at the forefront of website design Thailand scene, delivering impactful and authentic digital experiences that transcend expectations.
SomTamLabs: Elevating Digital Solutions and Web Design in Thailand
SomTamLabs emerged as a leading force in the realm of digital technology and web design agency Bangkok, Thailand. Their mission revolves around creating digital experiences that make a meaningful impact, globally.
What sets SomTamLabs apart is their unwavering passion for innovation, design, and user experience, making them the go-to partner for businesses looking to harness the power of mobile and web technologies.
With a dedicated team of experts, SomTamLabs specializes in crafting user-friendly digital solutions. They understand that an effective online presence is integral to a business's sustainability.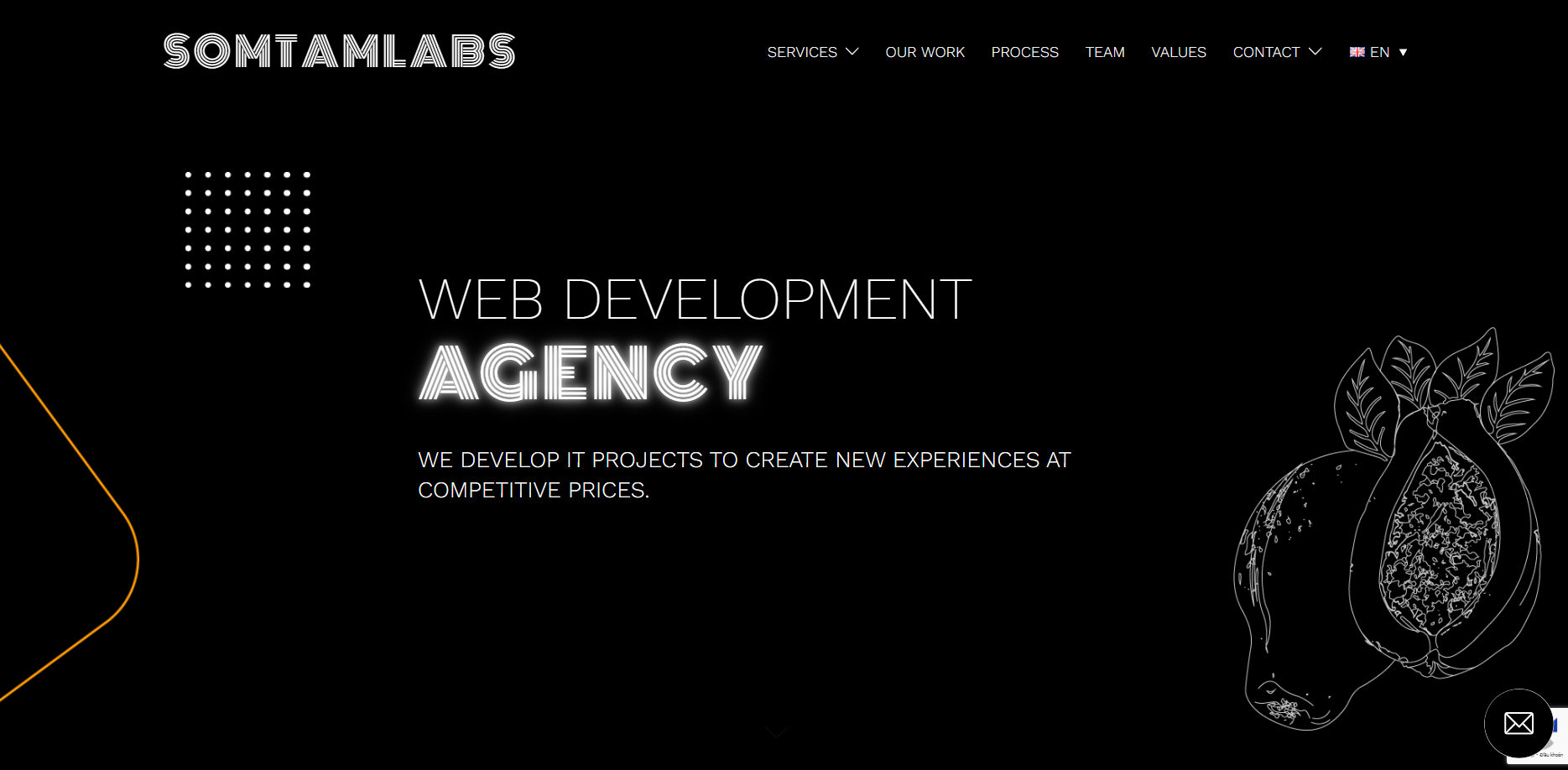 From mobile applications designed with precision to responsive websites adaptable to all devices, SomTamLabs ensures your digital footprint aligns with your goals. Their commitment to quality extends to ERP & CRM solutions tailored to your specific needs and digital marketing strategies that elevate your brand.
In an ever-evolving digital landscape, SomTamLabs stands as a beacon of competence and social responsibility, offering services at competitive prices while nurturing local skills. SomTamLabs thrives on core values that define its approach.
Competitiveness is embedded in their ability to offer cost-effective services from their base in Thailand. Proximity ensures a personalized project management experience, with regular updates tailored to your needs. Their dedication to undertaking ensures the success of your project today and into the future. SomTamLabs is the catalyst for businesses seeking to create impactful, user-friendly digital experiences in Thailand and beyond.
Lytbox: Empowerment Through Design, Strategy, & Creativity
Lytbox, a dynamic force in web design Thailand arena, specializes in developing bespoke eCommerce platforms tailored for Lifestyle, Beauty, and Health brands. Their mission goes beyond mere online sales; they strive to create digital platforms that contribute positively to the world by adding value to customers' lives.
As a Shopify Partner with extensive certifications and awards, Lytbox combines innovative design with a strategic approach to elevate eCommerce excellence.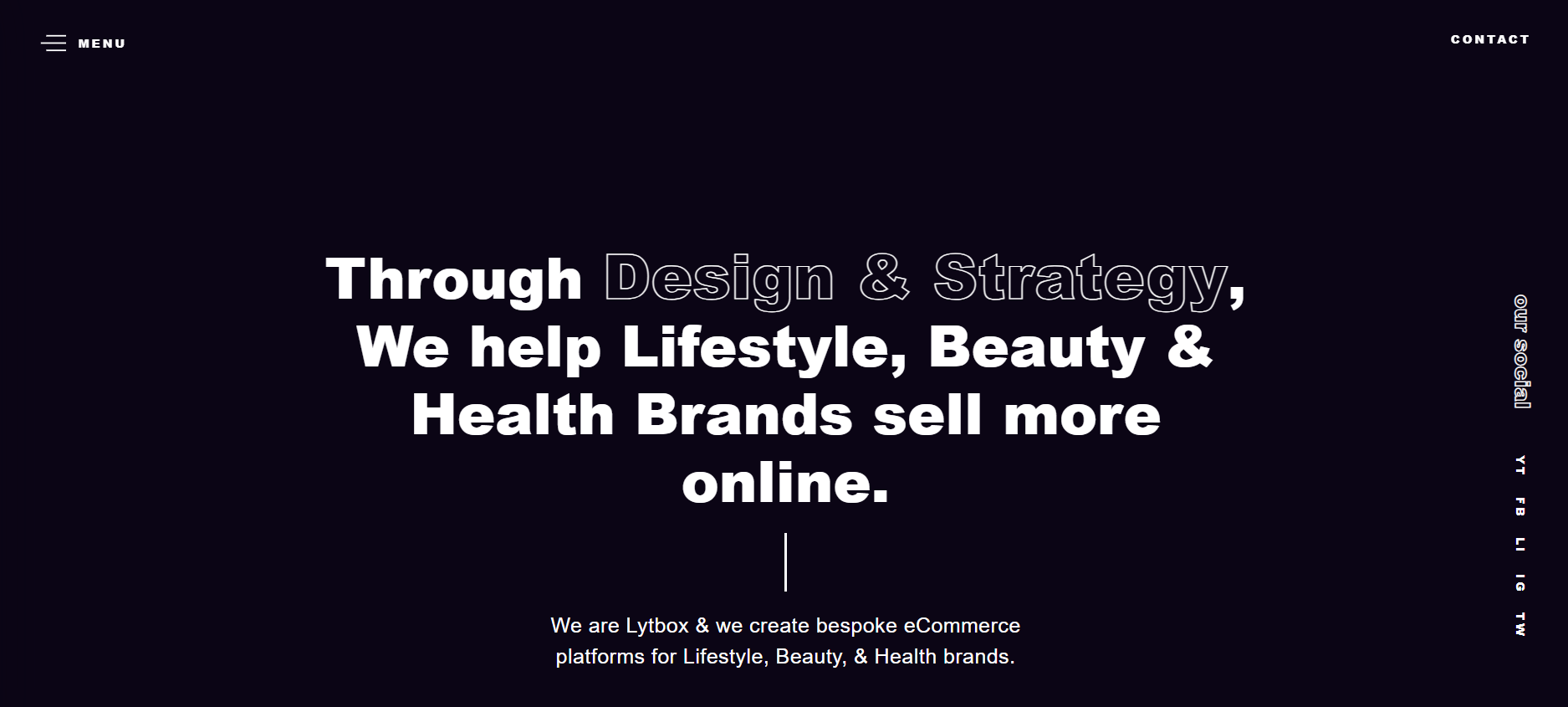 Their commitment begins with a clear brand identity and an effective strategy, ensuring that the eCommerce experience aligns seamlessly with the brand's values. Lytbox's expertise in WordPress, WooCommerce, and Shopify development ensures robust and SEO-optimized platforms that empower brands to succeed in the digital realm.
What sets them apart is their continuous improvement ethos, utilizing analytics, heatmaps, and user testing to drive ongoing conversion rates and sales growth. Lytbox is not just a web design agency in Chiang Mai, Thailand; they are partners for brands seeking to make a meaningful impact in the eCommerce world, where design and strategy converge.
In a world where digital presence is paramount, Lytbox emerges as a top choice for Lifestyle, Beauty, and Health brands in Thailand and beyond, where their commitment to creating meaningful connections through design and strategy sets them apart as a pioneering force in the industry.
Suzaku Productions Co.,Ltd: Crafting Digital Excellence in Thailand
In the vibrant landscape of web design Bangkok, Thailand, Suzaku Productions emerges as a premier web design and development powerhouse, dedicated to driving business growth through cutting-edge digital solutions.
With a decade-long journey marked by excellence and customer-centricity, Suzaku Productions specializes in designing and developing high-ROI websites that serve as the cornerstone of businesses' online presence. Their impressive track record has earned them the trust of industry leaders and a collection of prestigious awards.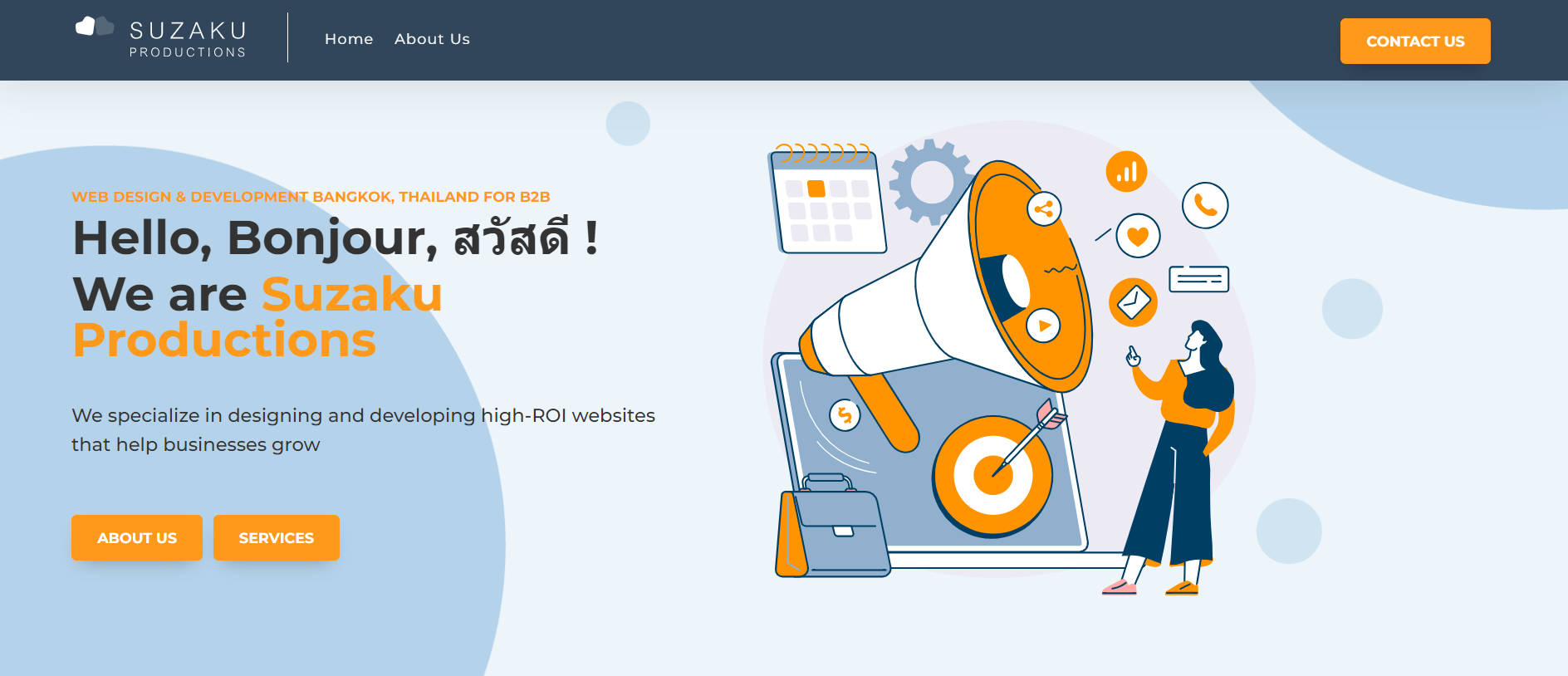 Suzaku Productions' services extend far beyond traditional web design agency Bangkok. They embrace a holistic approach that encompasses website development, SEO, lead generation, and marketing strategies. Their commitment to ROI and profit margin sets them apart, as they craft digital projects meticulously designed for maximum efficiency.
Through the integration of AI-optimized assets and data-driven strategies, Suzaku Productions propels businesses forward in the digital age, delivering websites that not only reflect brand image but also drive engagement, conversion, and ultimately, business success.
As Suzaku Productions embarks on the next chapter of its journey, its evolution from a simple web agency to a full-fledged digital powerhouse is evident. They stand as a testament to the power of teamwork, customer relationships, and a genuine passion for crafting digital assets using the latest technologies.
With numerous awards, recognition, and satisfied clients in their wake, Suzaku Productions is more than a website design company in Thailand; they are partners for businesses ready to embrace the future of digital excellence.
Brand vision: Elevate Your Digital Presence in Thailand
Brand Vision, an award-winning marketing agency hailing from Toronto, Canada, has an extensive portfolio of Thailand projects. That is why it is the preferred choice for businesses seeking top-tier digital marketing solutions and web design in Thailand.
From a third-person perspective, one can see that Brand Vision stands as a beacon of transparency and creativity, committed to transforming unique visions into tailor-made marketing strategies.
Whether the need is for captivating web design Thailand, brand identity development, SEO, or expert marketing consultation, Brand Vision provides a comprehensive array of services to meet diverse marketing needs. The intrinsic value of each brand is deeply understood, and this agency's services are designed to propel online presence to new heights.

The team at Brand Vision, comprising award-winning designers and developers, excels in crafting visually captivating websites that harmoniously blend aesthetics with functionality. From straightforward informational sites to intricate eCommerce platforms, their expertise shines.
From a third-person viewpoint, Brand Vision's branding and design team, enriched with extensive industry knowledge and experience, ensures that brands achieve consistency, memorability, and credibility within the digital landscape. When collaborating with Brand Vision, companies become part of a journey that has garnered numerous accolades, including being named the Top Canadian Marketing Agency of 2022.
Over a decade of experience has allowed this agency to engage with diverse businesses and industries globally, continuously improving services and expertise. Choosing Brand Vision as a partner guarantees the transformation of vision into reality and ensures that a brand shines prominently in the dynamic online world.
Why You Should Choose a Partner in the Top Best Web Design in Thailand?
Selecting one of the top web design Thailand agencies comes with a myriad of compelling advantages, each contributing to the appeal of this vibrant Southeast Asian destination for digital marketing and web design services.
Cost-Effective Services
Thailand is renowned for its ability to offer high-quality services at competitive prices. This cost-effectiveness is particularly advantageous for businesses operating on tight budgets or looking to maximize their return on investment.
A website design company in Thailand provides exceptional value without compromising on the quality of work, making it an attractive choice for businesses seeking cost-effective yet professional web design in Thailand and digital marketing solutions.
Skilled and Creative Talent Pool
Thailand boasts a diverse and skilled talent pool of web designers, developers, and digital marketers. These professionals are known for their creative prowess, technical expertise, and adaptability. Many have gained international exposure and training, allowing them to bring a unique blend of creativity and technical know-how to every project. Whether you're seeking visually captivating web designs or cutting-edge digital marketing strategies, Thailand's talent pool can deliver.
Accessible Communication
Effective communication is a cornerstone of successful collaborations, and web design Thailand agencies excel in this regard. Language proficiency is often a strength, with many professionals being proficient in English, the global language of business. Additionally, Thai culture places a strong emphasis on hospitality and interpersonal relationships, ensuring accessible and clear communication between clients and the agency. This makes it easier for clients to convey their ideas, requirements, and vision, fostering a more fruitful partnership.
Unique Cultural Perspective
Thailand's rich cultural heritage and diversity provide a unique perspective that can be harnessed to create websites and digital campaigns that resonate with both local and global audiences. Thai web designers typically draw inspiration from the country's traditions, aesthetics, and values, resulting in designs that are visually appealing and culturally relevant. This cultural insight can be a valuable asset when creating websites and marketing materials that connect with a global audience while retaining a touch of Thai authenticity.
Factors to Consider When Choosing a Web Design Thailand Agency
Portfolio and Previous Work
An agency's portfolio serves as a window into its capabilities and style. By thoroughly examining their past projects, you can gauge the level of quality and creativity they bring to the table. Pay close attention to the diversity of their work and assess whether their design aesthetics resonate with your brand's vision.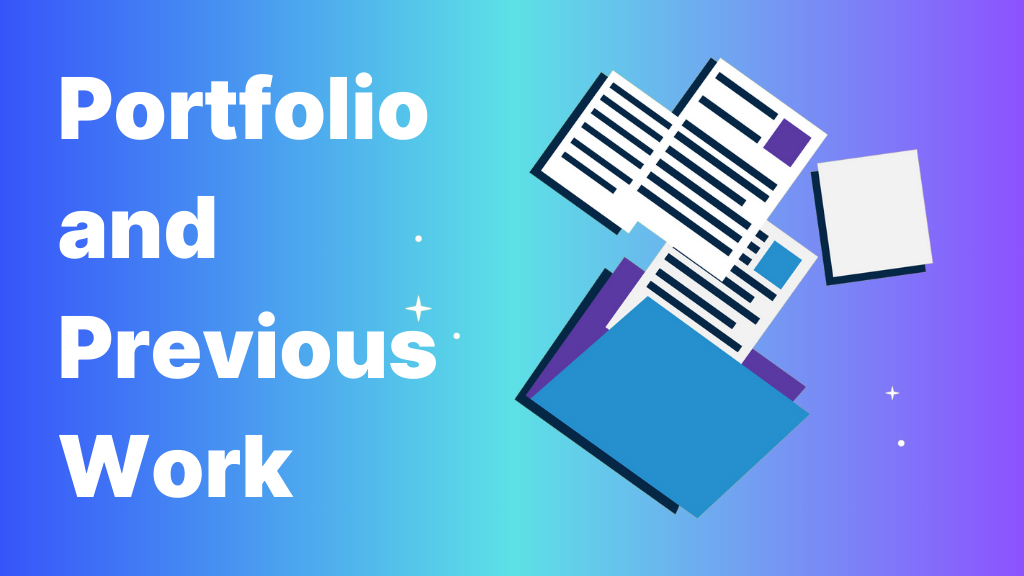 Moreover, scrutinize the user experience and functionality of the websites they've created in the past. This scrutiny allows you to evaluate their proficiency in delivering both visually appealing and functional websites. Additionally, inquire about the industries they've worked with, as experience in your specific niche can be a valuable asset.
Expertise and Specialization
Website design company in Thailand often has areas of specialization and expertise. Some may excel in crafting eCommerce websites, while others focus on corporate or branding projects. It's crucial to determine whether their core strengths align with your project requirements.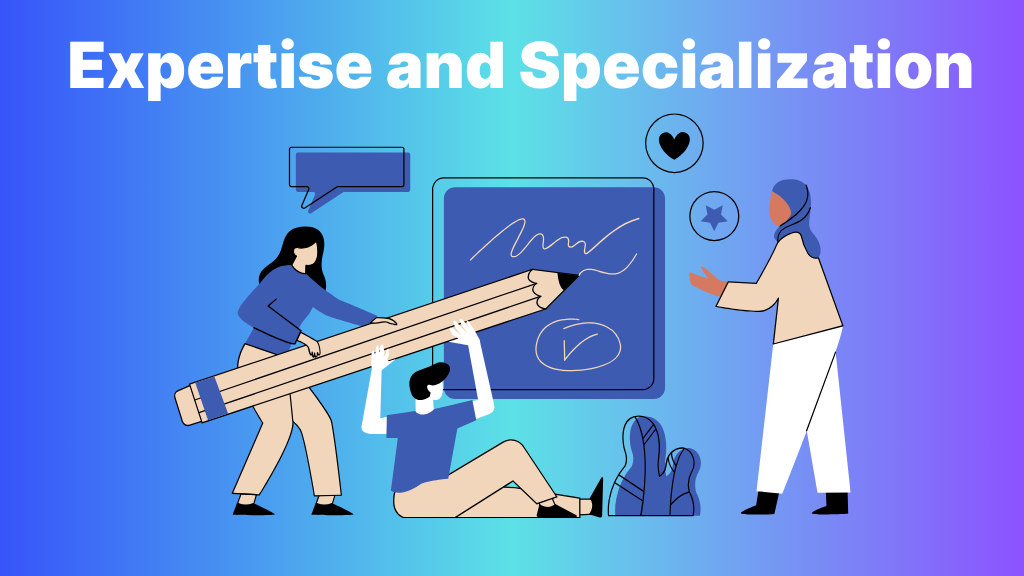 Evaluate their technical proficiency, such as their familiarity with web development platforms like WordPress, Shopify, or custom coding. Consider whether they offer complementary services, such as search engine optimization (SEO), digital marketing, or mobile app development, which can enhance your overall online presence.
Client Reviews and Testimonials
The reputation of a website design company in Thailand can speak volumes about their competence and client satisfaction. Seek out client reviews and testimonials to gain insights into their track record. Look for feedback on independent platforms or third-party review sites to ensure the authenticity of the testimonials.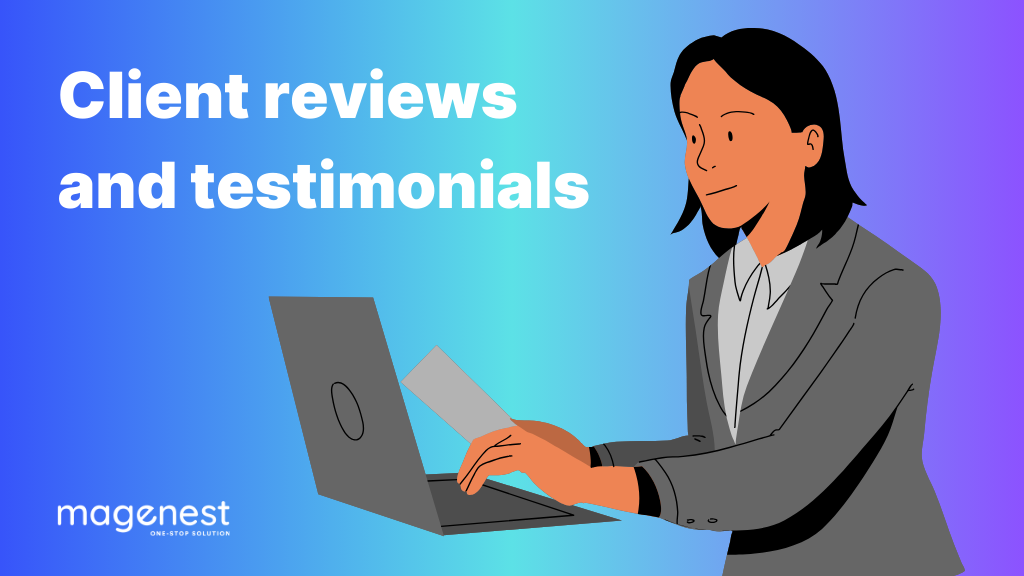 Whenever possible, reach out to past clients directly to gather firsthand insights into their experiences working with the agency. This step can provide you with a more comprehensive understanding of what it's like to collaborate with the agency and what outcomes you can expect.
Pricing and Budget
Web design Thailand projects come with varying price tags, and it's essential to ensure that the agency's pricing aligns with your budget constraints. Request detailed pricing information, including any potential additional or hidden costs that may arise during the project.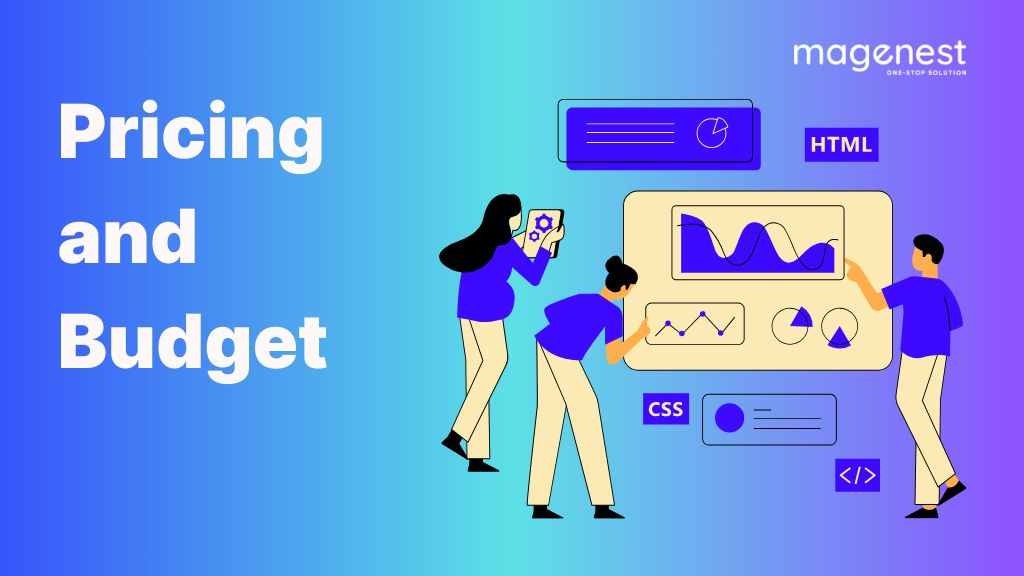 Moreover, delve into the agency's pricing structure to comprehend how they bill for their services. To make an informed decision, consider obtaining quotes from multiple agencies and conduct a thorough cost-benefit analysis to determine which agency provides the best value for your investment.
Communication and Collaboration
Effective communication is a cornerstone of a successful partnership with a website design company in Thailand. Assess the agency's communication channels and responsiveness. A web design Thailand project often involves a series of discussions, feedback loops, and updates, making clear and open communication vital.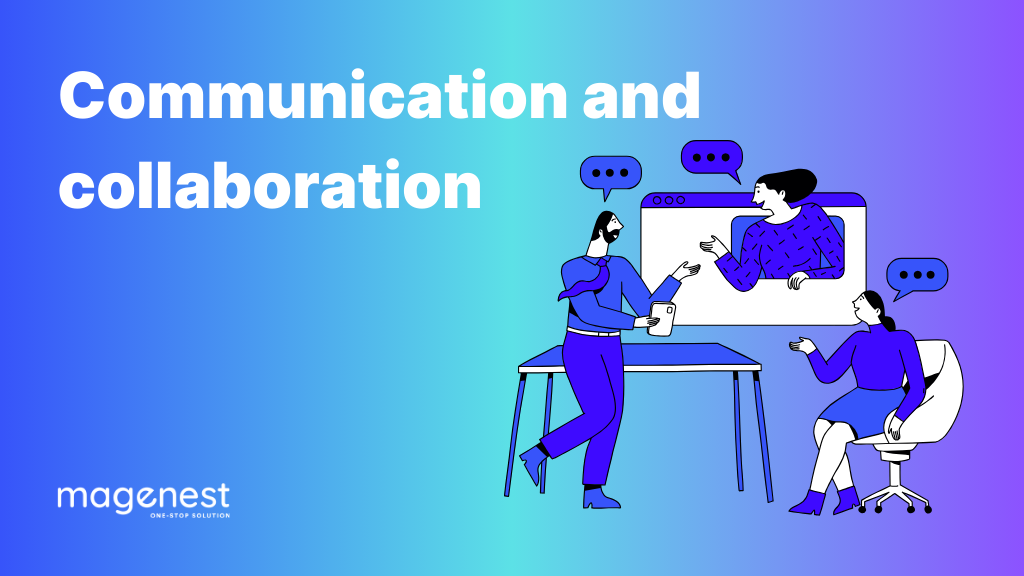 Furthermore, evaluate the agency's willingness to collaborate with you and incorporate your ideas and feedback into the project. A collaborative approach ensures that the final product aligns with your vision and objectives. Additionally, discuss project timelines, milestones, and the availability of ongoing support and maintenance services to ensure a seamless long-term partnership.
Tips for Collaborating with a Web Design Company in Thailand
Collaborating with a web design company in Thailand, or any other country for that matter, can be a highly productive and rewarding experience when approached with the right strategies. Here are some valuable tips to ensure a smooth and successful collaboration.
Clearly Define Your Objectives
Before embarking on a web design Thailand project, it's essential to have a crystal-clear understanding of your objectives and goals. What do you want to achieve with your website? Are you aiming to increase online sales, improve brand visibility, or enhance user engagement? By defining your objectives upfront, you provide the agency with a clear roadmap to tailor their design and development efforts to meet your specific needs.
Establish Open Communication Channels
Effective communication is the linchpin of any successful collaboration. Ensure that you establish open and transparent communication channels with the web design agency from the outset. Regularly scheduled meetings, video conferences, and email updates can help keep everyone on the same page. Additionally, provide the agency with a designated point of contact within your organization to streamline communication and decision-making processes.
Set Realistic Timelines
Web design Thailand projects often have multiple phases, from conceptualization and design to development and testing. It's crucial to set realistic timelines for each stage of the project.
Understand that quality work takes time, and rushing through the process may compromise the final result. Work closely with the agency to establish a project timeline that allows for thorough planning, creative design, and rigorous testing to ensure the website's functionality and aesthetics align with your expectations.
Be Open to Cultural Differences
When collaborating with a web design company in Thailand, or any international partner, it's essential to be open to cultural differences. Thailand has its own unique cultural nuances and work styles.
Embrace these differences as opportunities for enrichment rather than obstacles. Cultivate an atmosphere of mutual respect and understanding. This can lead to a more harmonious working relationship and may even result in creative insights that you might not have considered from your own cultural perspective.
Review and Feedback Processes
Establish clear review and feedback processes throughout the project's lifecycle. Encourage the agency to present design mock-ups, wireframes, or prototypes for your review and input. Constructive feedback is valuable for refining the design and ensuring it aligns with your vision. Encourage an iterative approach, where feedback leads to adjustments and improvements. Timely feedback also helps prevent potential bottlenecks and keeps the project moving forward smoothly.
Conclusion
The top web design agencies in Thailand offer a rich tapestry of creativity, technical prowess, and a deep understanding of the digital landscape. Whether you're seeking to revamp your website, launch a new digital venture, or enhance your online marketing efforts, these agencies are equipped to exceed your expectations.
With cost-effective services, a talent pool brimming with skill and creativity, accessible communication, and a unique cultural perspective, choosing a web design company in Thailand is a step toward digital success that you won't regret.