In the ever-evolving landscape of eCommerce, wholesale businesses play a vital role in connecting manufacturers with retailers and driving economic growth. This is also a model that can help boost your B2B performance. If you are seeking a reliable and efficient eCommerce platform for your wholesale business, Shopify Wholesale, with its easy–to–use and robust features, can come as the best solution for you to thrive in the competitive wholesale market.
In this blog, we will dive into the world of Shopify Wholesale, explore its benefits, name some successful Shopify Wholesale stores, and a basic guide on how to set up wholesale on your Shopify store. Whether you're an experienced seller or just starting out in the B2B world, join us as we unlock the secrets to success with Shopify Wholesale.
What is wholesale in eCommerce?
Wholesale is a B2B model where another retailer, business, or individual carry your products and market them to potential future customers. In wholesale eCommerce, wholesalers typically purchase goods in bulk at a discount price from manufacturers/suppliers and then sell those products to their customers at a higher price. Wholesale transactions often involve specific terms, such as minimum order quantities, volume discounts, and negotiated pricing.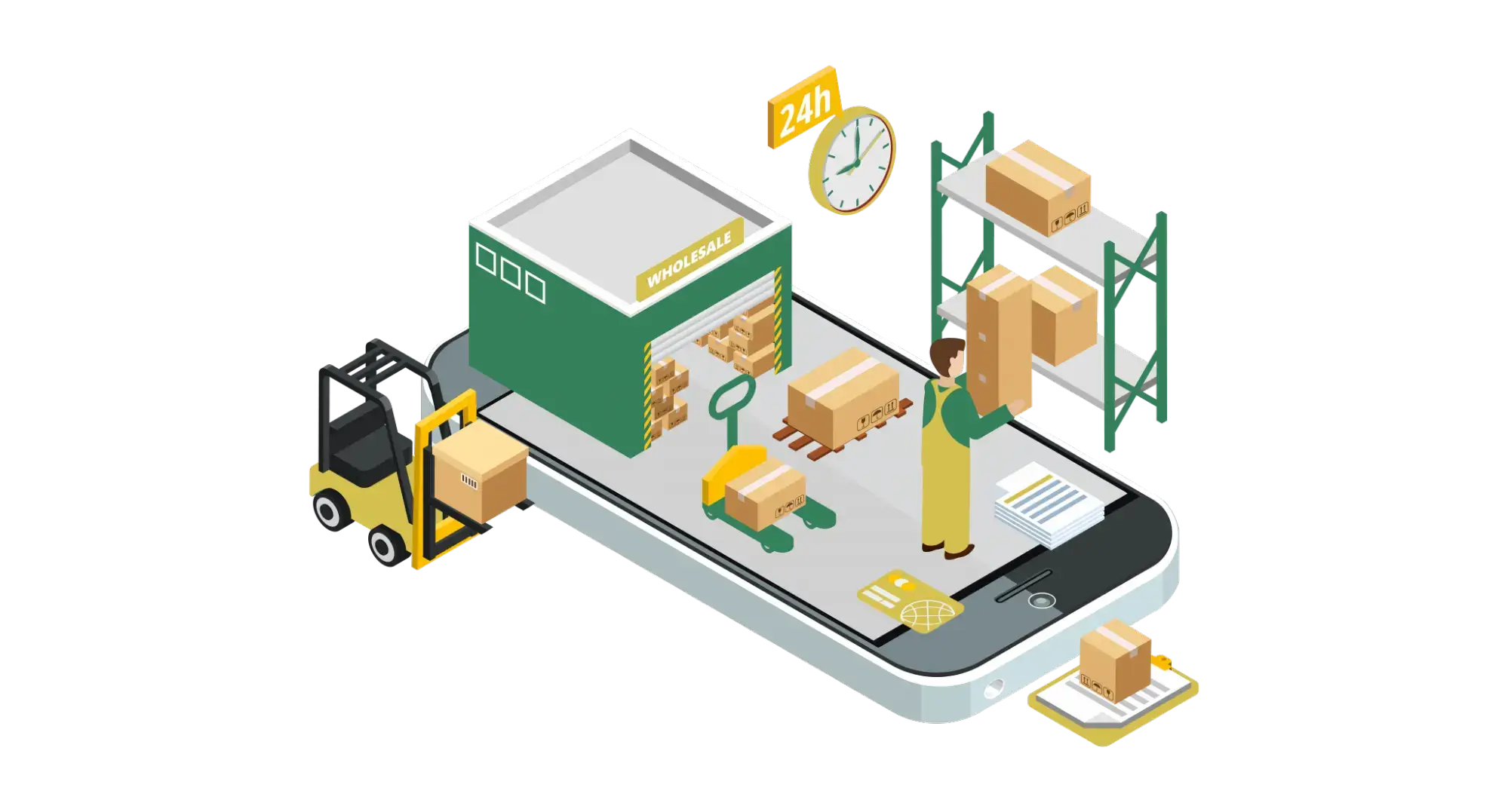 While eCommerce is boosting the performance of D2C brands by lowering entry barriers, wholesale is adapting to changing buyer expectations to make shopping easier and more convenient. In today's wholesale eCommerce, a variety of products are available in a single location, which satisfies buyers' growing desire for convenience and variety.
Selling your products in bulk at a lower price can help you generate more revenue in different ways. By letting gross margins be smaller, your products are given room to be marketed and promoted by re-sellers. In this way, your businesses reach a wider range of customers and increase brand awareness, thus enhancing sales.
Why choose Shopify Wholesale
Shopify is a well-known and reliable eCommerce platform that is trusted by many B2B businesses around the world to help create and run their online businesses with ease. Shopify B2B eCommerce offers a wide range of features that serve different needs of your business, including wholesale. Shopify Wholesale comes with considerable advantages for the effectiveness of your wholesale operations. Here are some reasons why Shopify can be a great tool for your wholesale development.
Increase sales
With B2B eCommerce experiencing massive growth and generating considerable revenue online, selling wholesale on Shopify is a great way to grow your businesses.
The platform offers robust features designed specifically for wholesale operations. With the variety of Shopify wholesale apps, you can easily transform your current store into a wholesale business and sell products in bulk to your customers. These wholesale apps offer you many features such as a custom wholesale order form, the option to display wholesale pricing, flat pricing, and a percentage discount for each product in your store.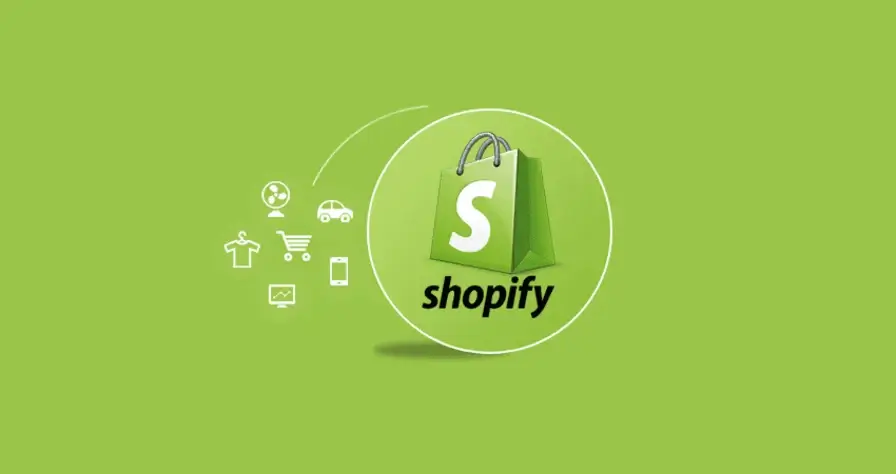 Shopify also offers many customizable options for creating a good-looking eCommerce store with available theme options, easy payment gateway/checkout integrations, and other unique features.
These features help create convenient online ordering and streamlined processes, which results in enhanced customer experiences, thus increasing sales volume.
Save time and effort
Shopify is a user-friendly platform, therefore, it also offers you an easy way to set up your wholesale experience. Shopify Wholesale offers an all-inclusive set of tools that automate and simplify various aspects of your wholesale business. You are allowed to manage customer accounts, handle pricing tiers and discounts, process orders, and monitor inventory levels with efficiency. This assistance reduces repetitive tasks, enables you to save considerable time and effort, and increases the productivity of your workflow.
In addition, as you begin your wholesale business, you delegate the responsibility of reaching customers and keeping track of inventory to other retailers or businesses. Your burden on this aspect is lessened, allowing you to devote your time and resources to other aspects of your business.
Leverage other brands' audiences to sell your product
For many businesses, finding new customers and building a loyal customer base is a daunting task as it can be expensive and requires significant marketing time and effort. Fortunately, Shopify Wholesale offers the ability to tap into the existing audiences of other brands as a solution to this issue.
By forming a wholesale partnership with an established brand that is already well-known in your niche, you can leverage the company's reputation to gain access to its customer base. Promoting your products through their channels is a way to extend your reach and acquire new customers without the need to invest heavily in marketing or expanding your own distribution network.
Enter new market with less risk
Expanding your business to a new geographical location comes with significant costs and efforts. Businesses may have to start from scratch given that this new market is totally new for you.
Shopify Wholesale provides an opportunity to enter a new market with reduced risk and overhead. Finding another retailer with an existing presence and supply chain in a new market help reduce this risk by cutting your setup costs. Another way is leveraging international retail stores or marketplaces like Amazon.
Ultimately, a wholesale distribution business model creates efficiencies that benefit both the retailer and the wholesaler. The retailer receives a new, often complementary, product to sell without investing in R&D, and the wholesaler saves money on marketing by gaining direct access to an existing customer base as well as the retailer's market presence.
Shopify wholesale features
Shopify offers two main ways for you to start your wholesale stores. You have the option of selling on the Handshake marketplace or creating a separate, password-protected storefront. Choose a solution that corresponds to the size and complexity of your wholesale operation.
Sell on Handshake marketplace
You can leverage Shopify wholesale marketplace known as Handshake. This is a wholesale marketplace that connects retailers with approved Shopify wholesale merchants, which requires no fees or commissions and is easy to set up.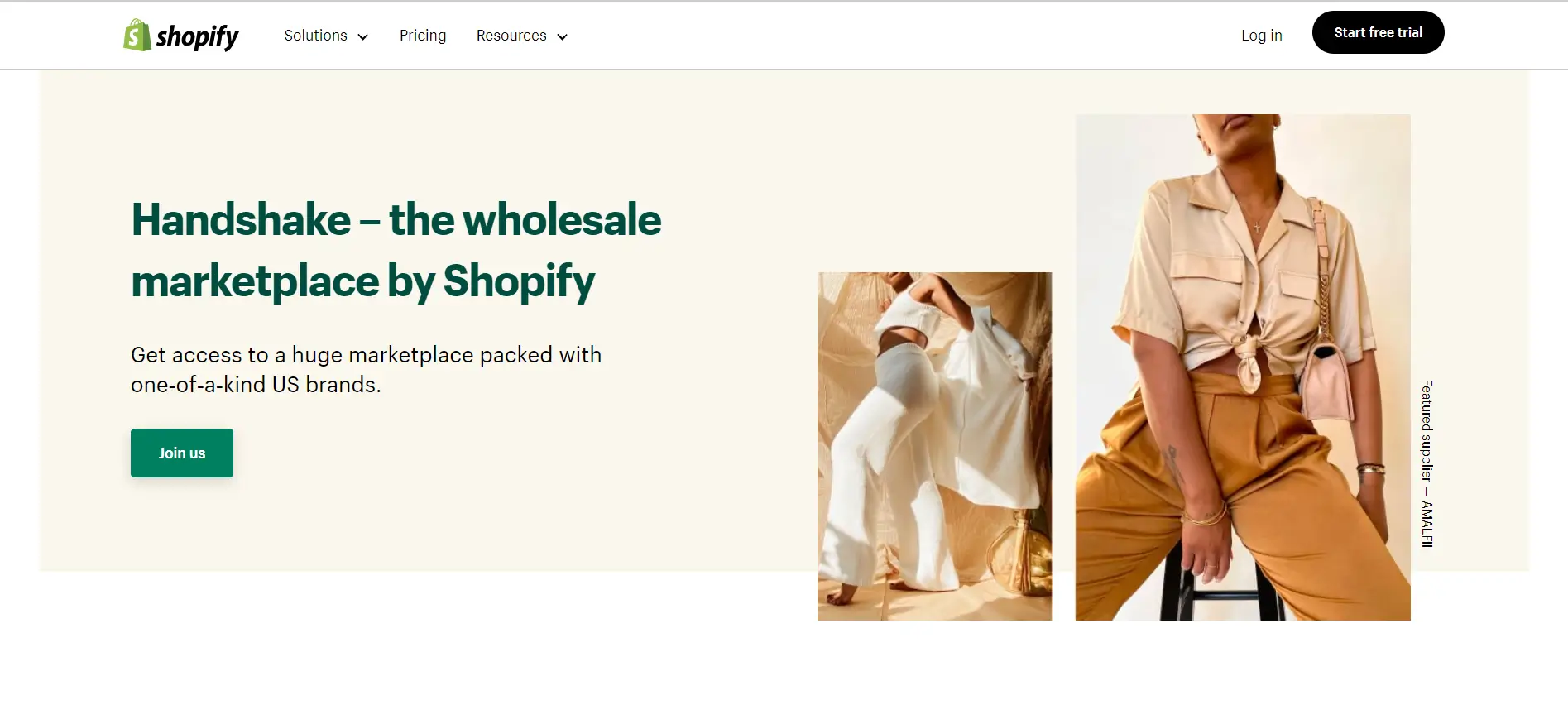 To sell on Handshake, you must apply for an account. If your application is approved, then you can install the Handshake sales channel to your Shopify admin, and list your wholesale business and products on the Handshake marketplace
It is important to note that Handshake marketplace does not approve for everyone to sell on its place and is currently available only to businesses located in the US.
Create a separate, password-protected storefront
You can add the wholesale sales channel to your Shopify admin in order to create a separate, password-protected storefront that extends your online store. You can offer wholesale customers custom pricing and process wholesale orders within the Shopify admin of your existing store. However, this channel is available only to the Shopify Plus plan.
Popular Shopify Wholesale store examples
Now that you've known basically about wholesale eCommerce as well as Shopify wholesale features. If you are still wondering whether you should start selling wholesale on your Shopify platform, here are some real-life successful Shopify Wholesale store examples for you.
Handshake
Handshake is a wholesale marketplace powered by Shopify that connects brands and retailers online to buy and sell wholesale. You can discover wholesale products from both established and up-and-coming vendors, spanning categories such as beauty and wellness, stationery, pets, and more.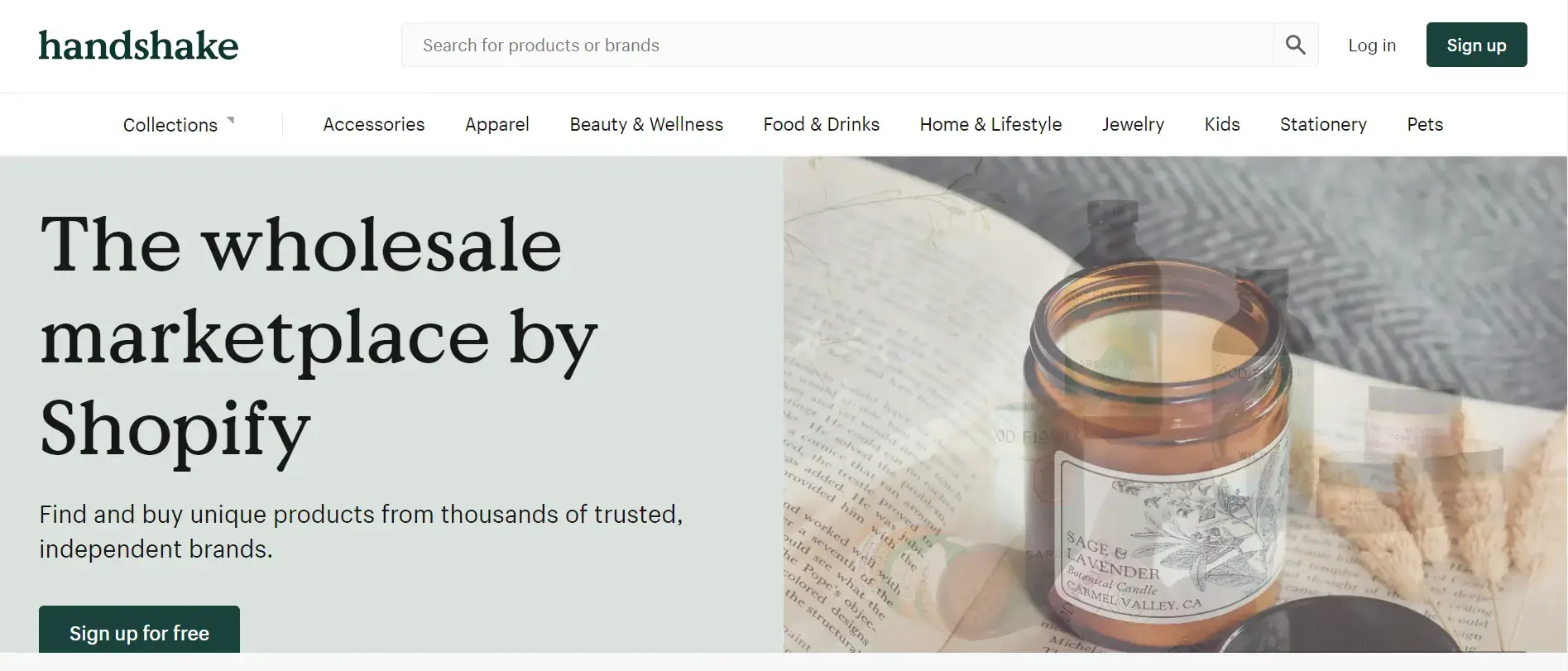 Handshake integrates directly with the Shopify ecosystem and curates an assortment of one-of-a-kind products from a flourishing community of reputable brands. You can find fresh new and unique ideas for your store as Handshake allows you to be the first to hear about new product launches and new arrivals. It also gives you the convenience to find and buy in-demand products on the move.
Faire
Faire is a one-stop shop for wholesale, operating in Europe and North America. It works toward a vision: to help small businesses come together to compete on a more level playing field with the likes of Walmart and Amazon. Faire has developed as the online marketplace trusted by retailers to discover their next best sellers from independent brands across the world.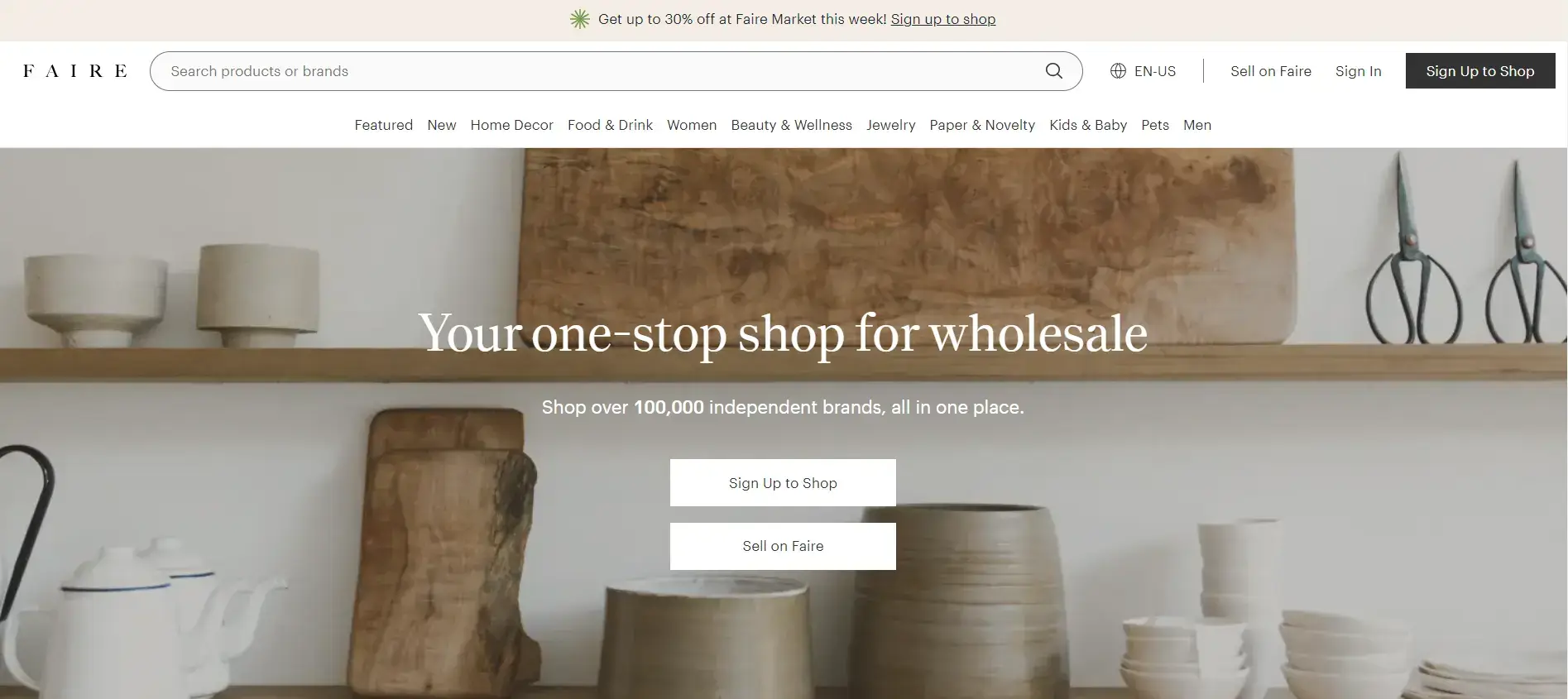 With 10 offices situated in different cities, Faire distribution covers 50,000 cities and offers over 100,000 independent brands. It's free to join this strong marketplace. You only have to pay a commission if Faire connects you with a new retailer through its marketplace.
Alibaba
Alibaba is the leading platform for global wholesale trade and China's most dominant online marketplace and app. It offers a place for B2B buyers purchasing wholesale items to resell. Buyers for these products are located in 190+ countries and regions, and they exchange 100,000+ messages with suppliers on the platform every day.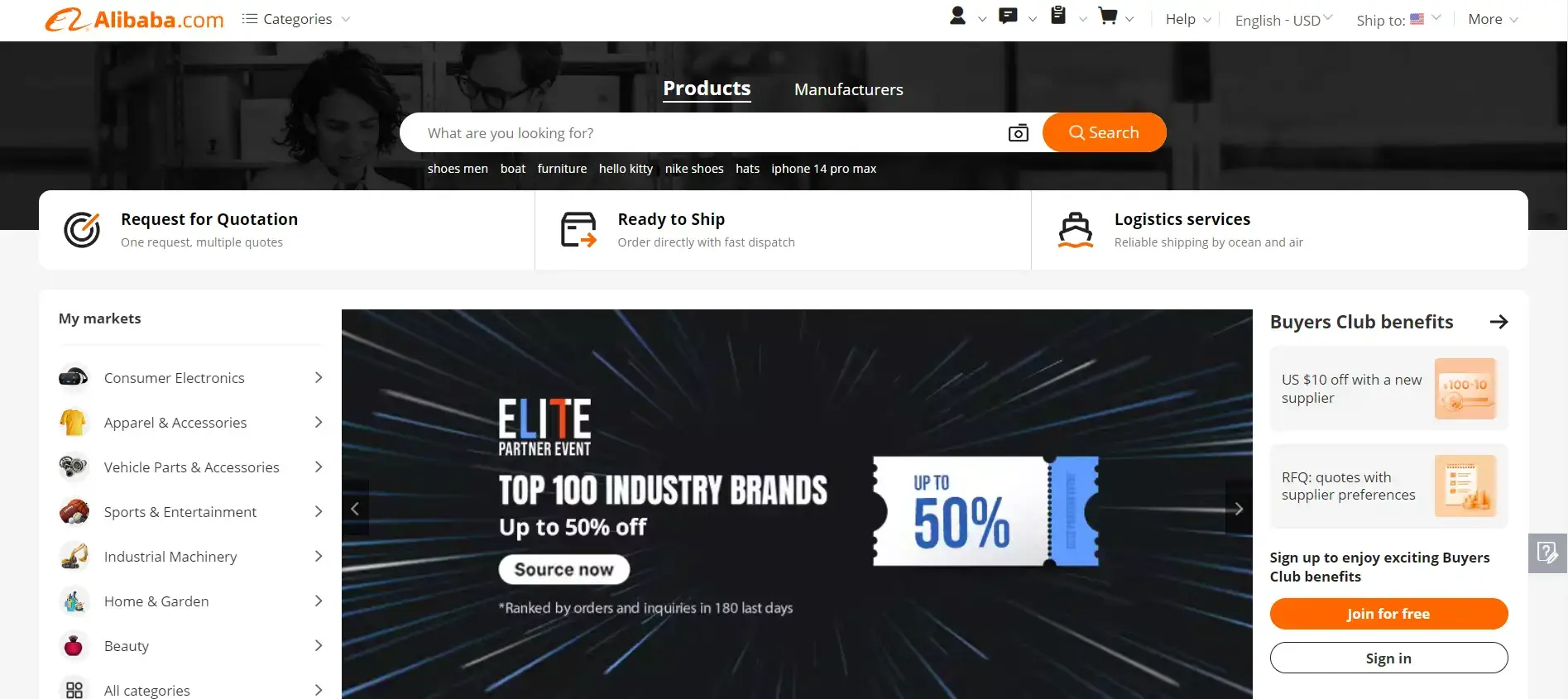 Alibaba is good for finding a wide variety of products, private label or white label items, and medium- to low-quality goods. Its marketplace covers 40+ product categories, including electronics, apparel and accessories, beauty, sports, and more.
How to start your Shopify Wholesale business
Decide what wholesale items to sell
There are many wholesale items to sell as a B2B business online. You should first determine the product or product categories you want to offer. Conduct market research to identify market demand, profitable niches, emerging trends, and unmet needs your business can serve. Consider factors such as pricing, competition in the market, and potential for growth when making your decision.
If you are working in the education sector, some products to consider wholesaling are arts and crafts supplies, educational software, writing utensils, notebooks, folders, etc. The clothing and accessories industry is also a potential sector for wholesaling as this serves people's basic needs. Popular product types include formal, casual, activewear, business, hats, and shoes.
Create a B2B eCommerce site
To start your wholesale businesses on Shopify, the first and foremost thing you need to have is a Shopify account. It's free to sign up for a Shopify account and a 14-day free trial, you can try out the platform without having to charge for anything.
If you have never used Shopify and are not familiar with this platform, check out our online courses on How to Start a Shopify Store in Just Over an Hour for a comprehensive guide to start with Shopify in a time-saving and effortless way.
Once you have your Shopify store ready, it is now time to select a theme for your store. Shopify offers a wide range of themes for almost every product category, so you're sure to find one that reflects your brand and enables a seamless wholesale experience for your customers. After choosing a theme, you are free to customize your store by creating a dedicated wholesale section or using wholesale-specific apps and plugins to provide a tailored buying journey for your wholesale clients.
Decide wholesale prices for products
Creating an appropriate pricing strategy is a critical aspect of creating a successful wholesale business. When deciding a wholesale price for a product, you need to consider factors including cost, markup/margin, the target market, and the competitiveness of your price compared with your competitors. If the product you are selling is trending and has high demand, you may consider setting the price higher. Alternatively, the price should be charged lower if your products are in low demand.
For wholesale pricing to be profitable, you must be able to ensure the profitability of your business while giving attractive prices to retailers, for example, retailers 50% off the manufacturer's suggested retail price (MSRP). Consider offering discounts based on purchase order quantities. This incentivizes larger purchases as customers are able to receive a better margin upon resale of your products, thus, helping establish long-term relationships with your customers.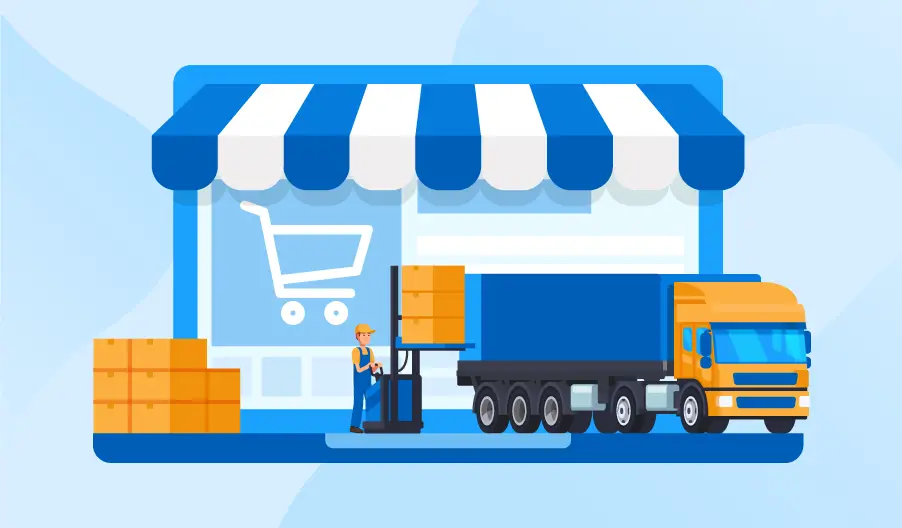 When you decide to sell your product in bulk and have it sold in more than one store, you might have trouble with competing stores undercutting each other on price. Therefore, you should work with your supplier or manufacturer to create an MSRP. This makes sure that the retailer will stick to the suggested retail price, so the price of the product will be the same in stores and online, ensuring a fair price for both you and your customers.
As the wholesale supplier, you get to decide what the rules are that your retailers have to follow, but keeping prices fair is key to the success of your retailers. If your retailers are able to profit from selling your product, they will come back and continue their orders.
Accept payments for wholesale orders
Now that you've enabled wholesale pricing, you need to set up a secure and efficient Shopify payment method to accept wholesale orders. Shopify comes with diverse payment gateways that can seamlessly integrate with your wholesale site. Consider options like credit card processing, PayPal, or bank transfers to offer convenience to your customers. For merchants who are already used Shopify Payments, they have the option to use credit card vaulting. It enables the secure storage of credit card data for future transactions.
Apart from setting payment gateways, you should also set payment terms for your B2B buyers. This allows you to set the time range for that company to finish their payment.
Shopify offers the following three payment terms:
None: Customers pay immediately for their orders at checkout.
Net (period): Customers may pay for their orders at any time between when they place the order and the due date. The terms available are seven, 15, 30, 60, and ninety days.
Due upon order fulfillment: Customers are required to pay before all items in their order are shipped.
Sell your wholesale products
Once you have all conditions for your Shopify Wholesale store ready, it's time to promote and sell your wholesale products. Here are some channels for you to reach your prospective wholesale customers:
D2C websites
One way to reach your prospective wholesale customers is by using your D2C websites. Usually, it is your retail customer that finds you first. When you increase your business online presence, you are available to other business owners who may be interested in carrying your wholesale products for resale on their websites. Therefore, your successful D2C advertising will higher the chance for you to be reached by these distributors.
Wholesale marketplace
The wholesale marketplace is also a potential place for you to promote your wholesale products. With a considerable number of retailers joining the marketplace to find and order products, this is the place where you can enhance your brand awareness as well as reach new customers. Conduct research to find marketplaces that fit with your business sector and products, are easy to integrate with your store, and target the same customer segment.
Trade shows and expos
Industry-specific trade shows, expos, and conventions are traditionally where retailers, wholesalers, and other stakeholders are brought together. These trade shows cover nearly every category you need, from home decor, and clothing, to F&B. Attendees are actively looking for new products and suppliers, making it an ideal opportunity to network and establish partnerships with potential retailers.
However, it's important to note that trade shows can be expensive to attend. They require considerable costs related to travel and booth fees if you want to exhibit there.
Collaborations with retailers
The dominant difference between wholesale and D2C businesses is that you don't need a large customer base to grow your business. Instead, you should prioritize customer retention. When a retailer successfully sells your products, they will return and continue to place repeated large orders.
Collaboration with best-fit retailers for your business can help establish this long-term relationship. A business that sells complementary products with your businesses is a good place to start. Some partnership strategies include limited-time promotions, exclusive product launches, or co-branded campaigns. Collaborative efforts can help you access their customer base while providing retailers with unique offerings to attract more sales.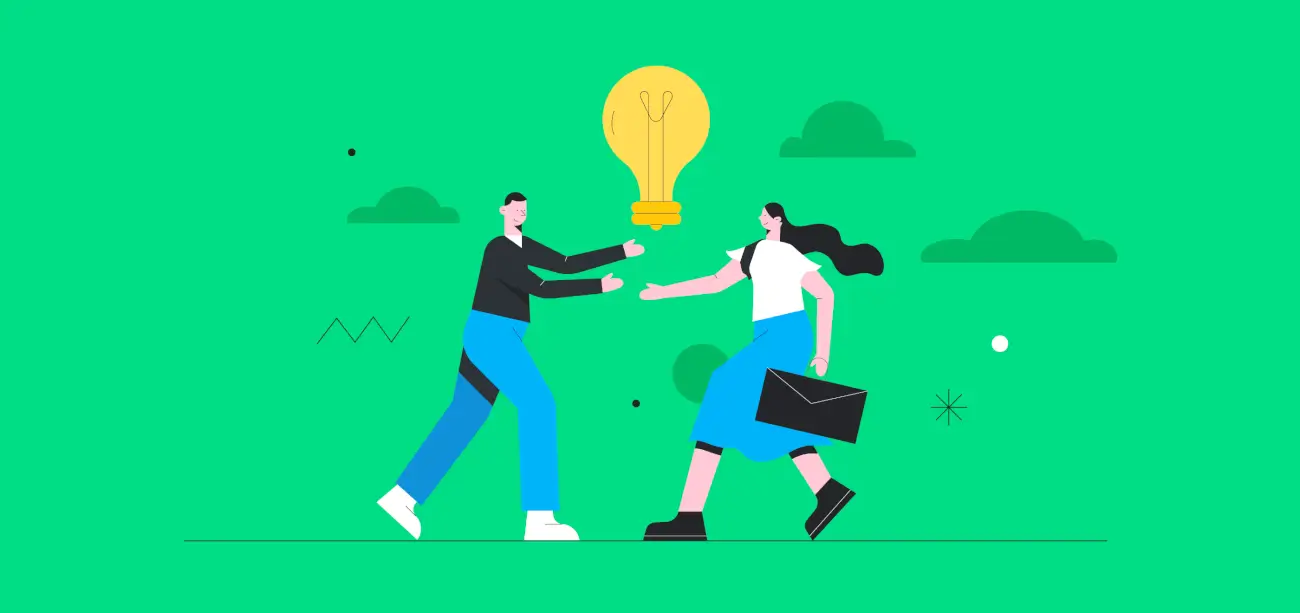 To find these retailers, you should reach out to them personally over social media, phone, or email. This is because some of the best wholesale partnerships are formed through personal contact and the development of trust and rapport. Therefore, if you find a brand that you admire, reach out if you believe that a partnership would benefit both parties.
Incentives for buyers
Offering incentives is a powerful way to attract and motivate buyers for your wholesale business. Consider providing discounts based on product volume, first-order discounts, or net payment terms to entice retailers to place larger orders and establish trust. Additionally, offering exclusive products, loyalty rewards, and marketing collateral support can further incentivize retailers to choose your wholesale platform. Other incentives could include offering:
Low order minimum requirements
Free delivery based on order total and destination
Various payment options
Bundle deals
Free samples and evaluations
You can also leverage your existing network of retailers and business partners for referrals and recommendations. Implement a referral program to expand your network and attract potential buyers through word-of-mouth marketing. To ensure long-term success, tailor your incentives to the needs and preferences of your target retailers, solicit regular feedback, and maintain strong relationships.
Above are the basic steps and tips for you to start your wholesale businesses on Shopify. To further assist online store owners on their wholesale journey. Wholesale Ted Shopify store, an educational organization that provides content for eCommerce entrepreneurs, offers The Ecomm Clubhouse course. This is a Shopify Education Partner-Approved course, which can provide you with actionable content to help you on your wholesale eCommerce journey on Shopify.
Best Shopify app for Wholesale
Wholesale Pricing Discount
Wholesale Pricing Discount is one of the best Shopify apps for wholesale. It comes with easy-to-set-up and high-quality features, including pricing features, volume, and tiered discounts, net payment terms, and custom shipping rates, which have contributed to making this app a complete B2B wholesale solution.

Features:
Discounts/specific prices for select customers
Volume/tiered pricing & quantity breaks
Bulk import/export of individual variant prices and volume discounts
Customizable Wholesale signup form
Offer net payment terms

Pricing:
A 21-day free trial is available
Basic plan: $19.99/month
Professional plan: $34.99/month
Enterprise plan: $44.99/month
Wholesale Order Form
Wholesale Order Form helps the order and re-order process become easy for your customers. You can easily set up a single-page order form on your Shopify store and enable retail and B2B customers to add multiple items to their shopping carts with a few clicks. Accepting bulk orders with a simple order form will help you increase your online store's revenue and provide customers with a seamless ordering experience.

Features:
Repeat or reorder products in a few clicks
Customizable single-page order form
Translate text, change colors, display inventory, barcodes, SKUs, sort products
Order Form or Matrix on each product page
Control the customers/visitors

Pricing:
An 8-day free trial is available
Basic plan: $12.99/month
Professional plan: $19.99/month
Enterprise plan: $24.99/month
Wholesale Lock Manager
Wholesale Lock Manager allows you to lock or hide products, collections, prices, or specific pages on your store and help save time and resources in running your wholesale business. You can control the visibility of your store's content for a specified set of customers. The app also offers other features that can make the store or specific pages password protected.

Features:
Hide store content by creating a lock for products, collections, or the entire store
Display products and collections based on selected customer tags.
Hide product prices from non-logged-in customers
Hide and share page URLs as a secret link with your customers.
Password-protect pages
Pricing:
An 8-day free trial is available
$6.99/month
B2B Wholesale Club
B2B Wholesale Club is an efficient way for Shopify store owners to add wholesale functionality and custom pricing to their stores. To illustrate, it allows you to tag your signed-in B2B customers and show them special wholesale pricing. The app comes with professional wholesale features which are everything a business needs to sell wholesale, such as net payment terms, quick order forms, custom pricing, order minimums, volume discounts, quantity breaks, product visibility, and more.

Features:
Create discounts connected to customer tags
Create discounts for different customer groups
Volume discounts and order minimums
Custom prices and product visibility
Net terms and quick order forms

Pricing:
30-day free trial available
Basic plan: $39/month
Professional plan: $69/month
Premium plan: $99/month
Free dev plan
Wholesale Pricing Now
With Wholesale Pricing Now, you are allowed to directly set discount groups and offer tiered pricing for their products. No complicated setup or developer resources are needed for this app. You can include embedded tiered pricing tables on product pages. Displays upsell offers to wholesale customers and provide wholesale discounts on particular products, collections, or the entire store.

Features:
Override shipping and tax charge
Net 15/30 terms to specify B2B customers who can place orders
Add multiple items in the cart on a single page & applies discounts
Multiple wholesale discount groups
Tiered and custom pricing

Pricing:
14-day free trial available
Free plan
Shopify Basic plan: $14.95/month
Shopify Standard plan: $24.95/month
Shopify Advanced plan: $39.95/month
Wholesale Gorilla
Wholesale Gorilla app is designed to provide store owners with a comprehensive and efficient wholesale experience. It comes with diverse extensive features, including net terms, custom shipping, order limits, product exclusions, and quantity breaks, among many other B2B tools. Wholesale Gorilla also offers great customer service, helping simplify your wholesale businesses.

Features:
B2B custom pricing, discounts, and inventory management
Automate order processing, net terms, and shipping rules
24/7 Customer service
Simple install and seamless integration
Pro Tier comes with CSV upload, exclusions, and more advanced features

Pricing:
30-day free trial available
Standard plan: $39.95/month
Professional plan: $149.95/month
Start maximizing your B2B performance with Shopify Wholesale today
The rise of eCommerce has reshaped the way businesses think about wholesale. A new wave of wholesale startups is actually thriving in this era. Both D2C brands seeking new sales channels and entrepreneurs seeking to reduce marketing expenditures are launching wholesale operations.
In this competitive market, the choice of the right platform can make all the difference in the success of your business. Shopify Wholesale stands as a reliable partner in your wholesale journey. Whit the right pricing strategy, a little know-how, and a best-fit wholesale app for your Shopify stores, you can initiate new revenue-generating partnerships and witness your businesses growth and success.
If you are still unsure about how to get started with Shopify Wholesale, or you need further support on the development of your store, our Shopify Development Services got your back!